Scroll down to catch a glimpse of Nursery 2016-2017
Nursery Celebration Day
Tuesday 27th June
Come and join us for group time at 11.40am or 2.50pm where we will present your child with a certificate.
If you can't come that day then let your child's keyworker know and we can arrange another time.
Remember Nursery closes at 11.50 am on Thursday 29th June for the holidays.
End of Term
As this session draws to a close and we reflect back on the year, all of the nursery staff are incredibly proud of all the children and the progress they have made. This wouldn't happen if it wasn't for all of you and the support you give us. Your encouraging words and friendly greetings help keep our energy levels up - a huge thank you from everyone. Mrs Maclaughlan would also like to thank the nursery staff team for all their hard work and perseverance this year and is very proud to have spent her last year at Letham Primary School in nursery working with such a committed and dedicated team. The team are looking forward to welcoming Miss Creedican as the nursery teacher next year.
June 2017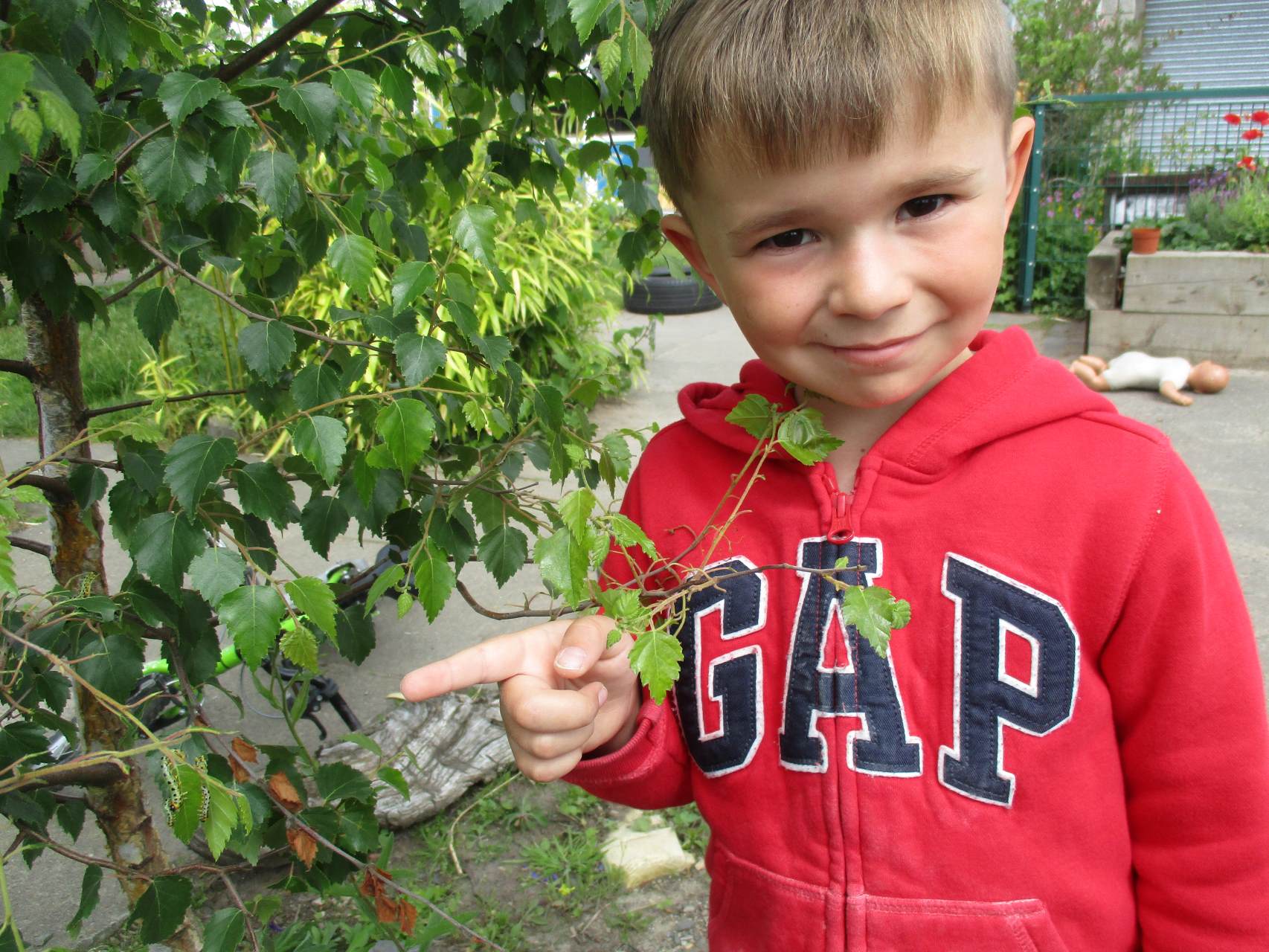 Tommi found some caterpillars on the tree.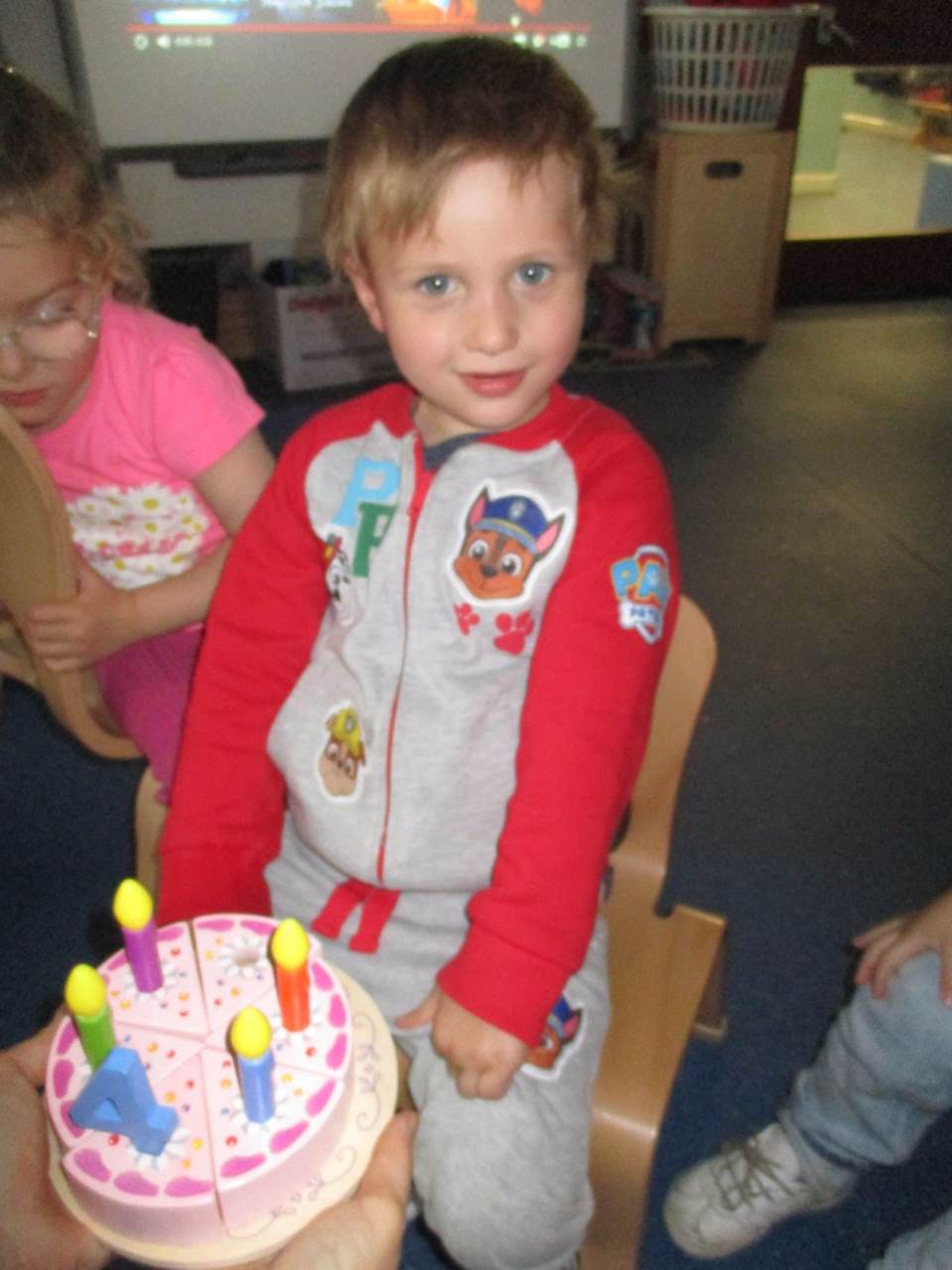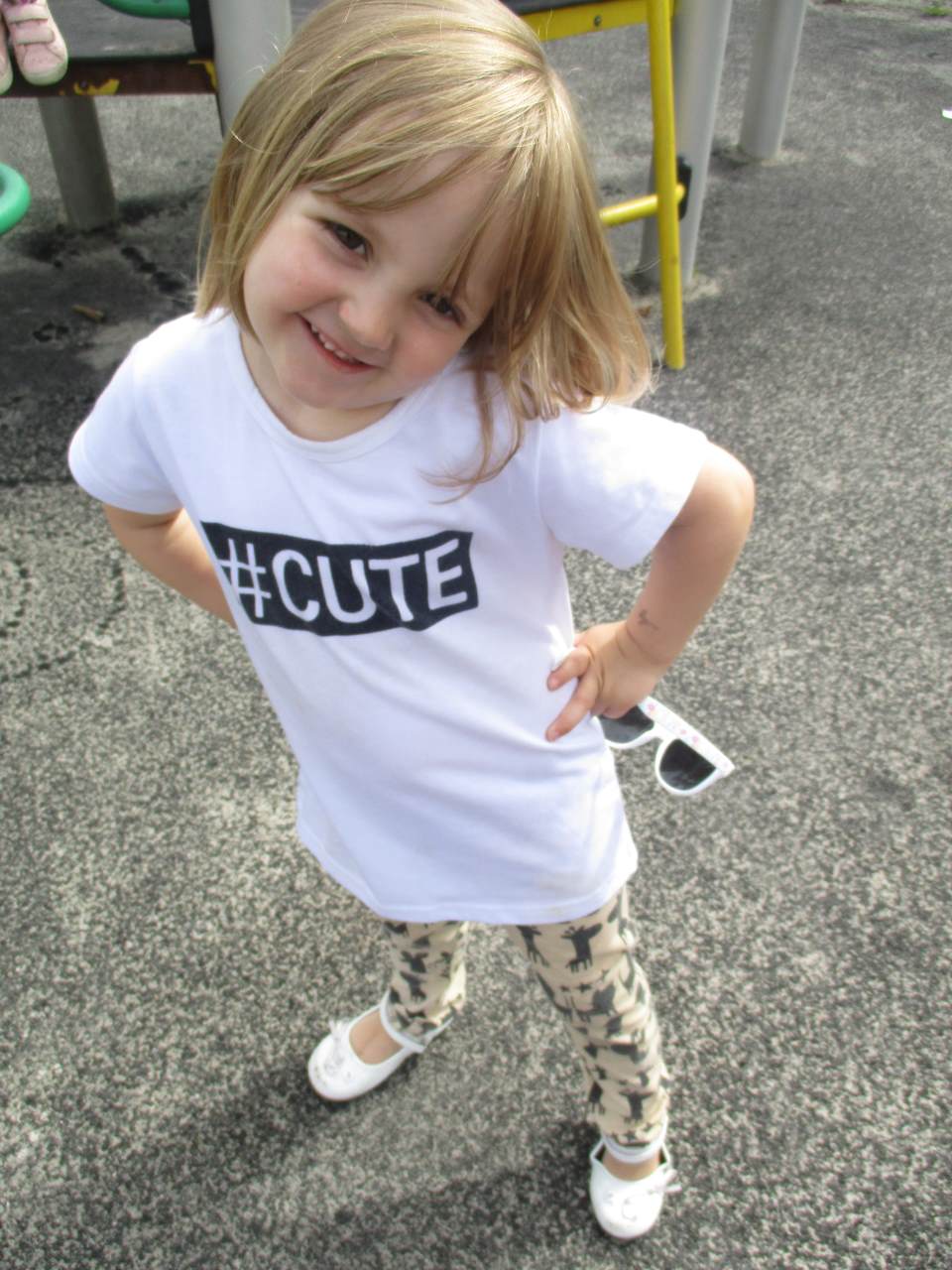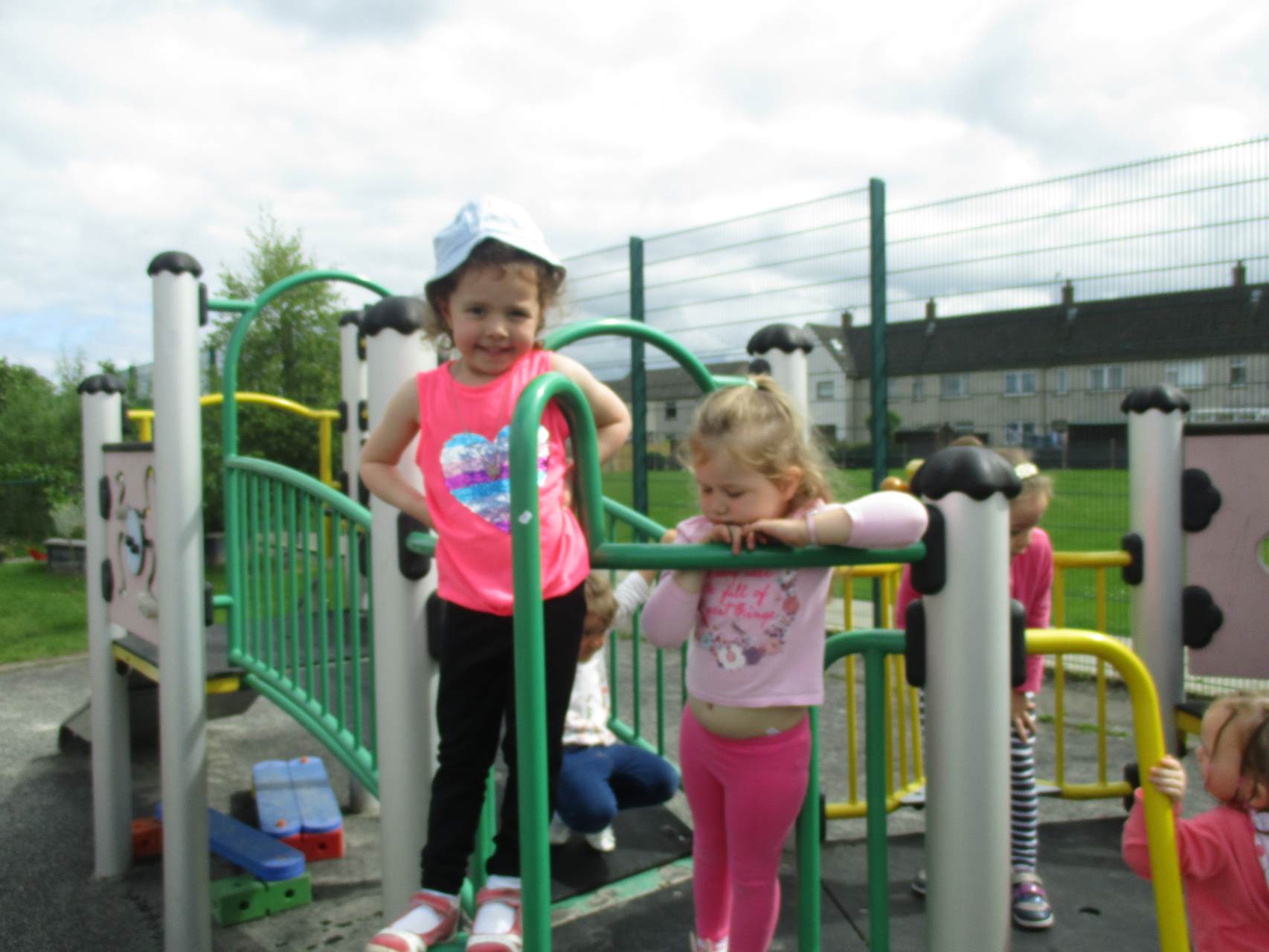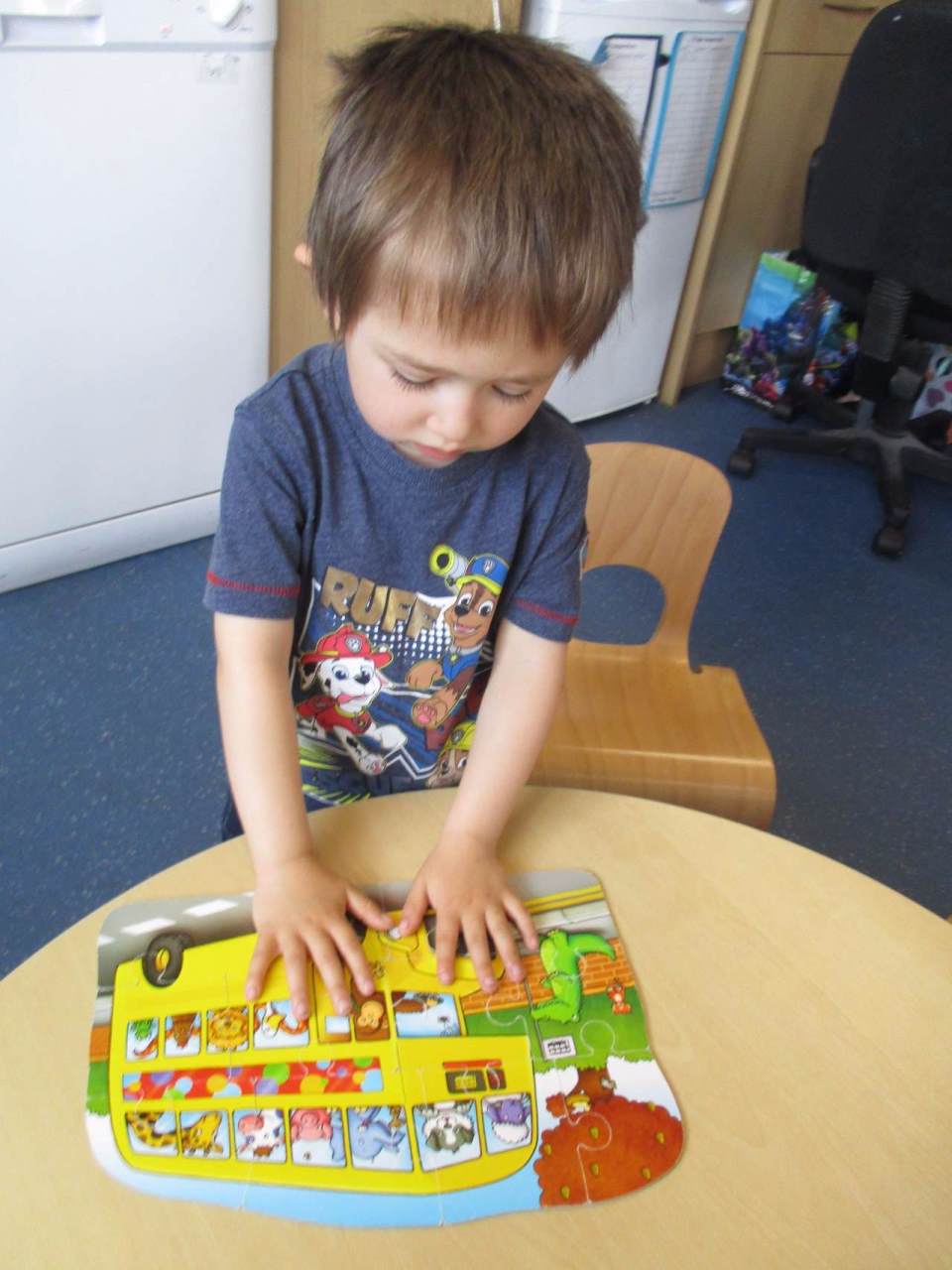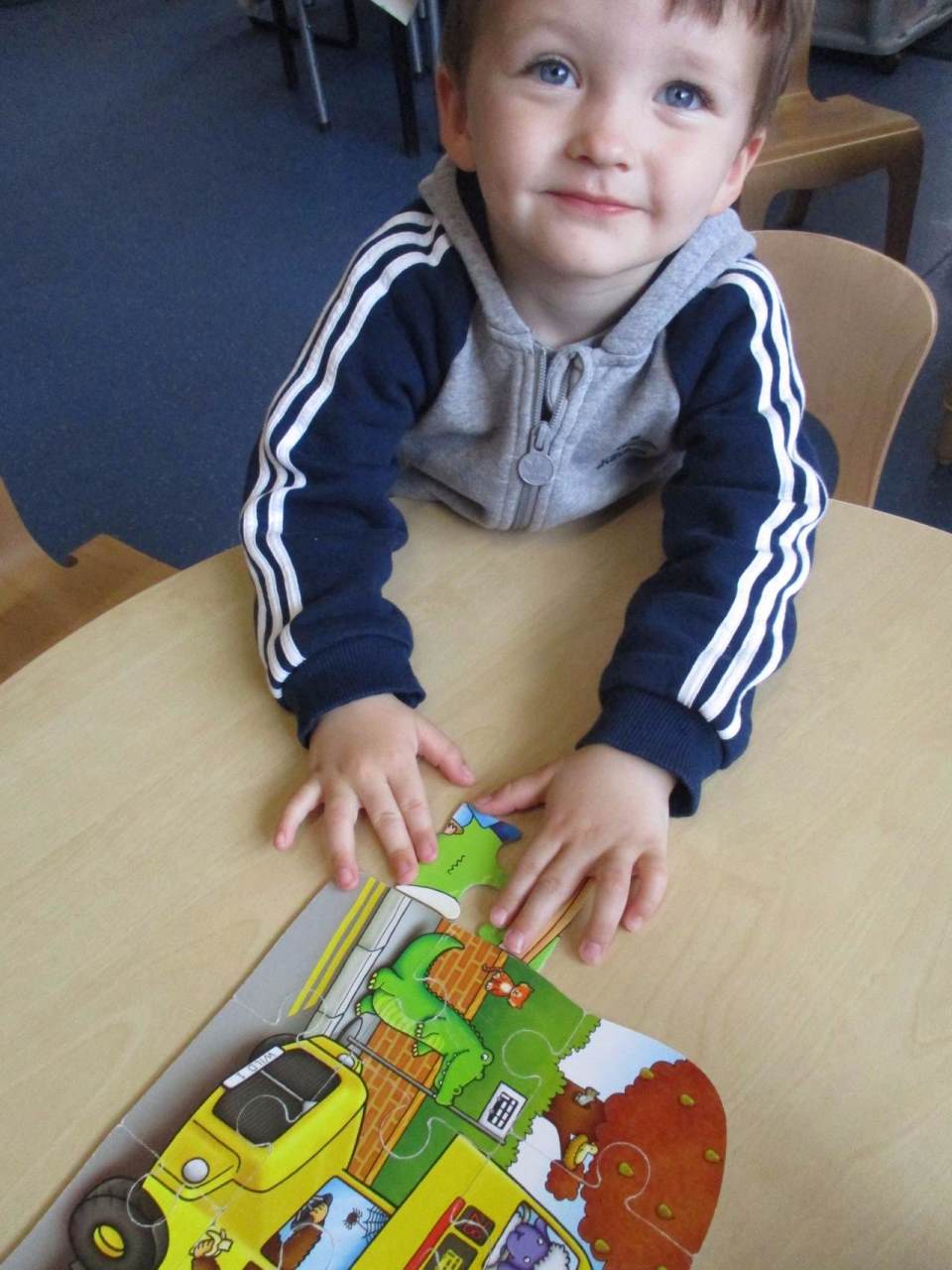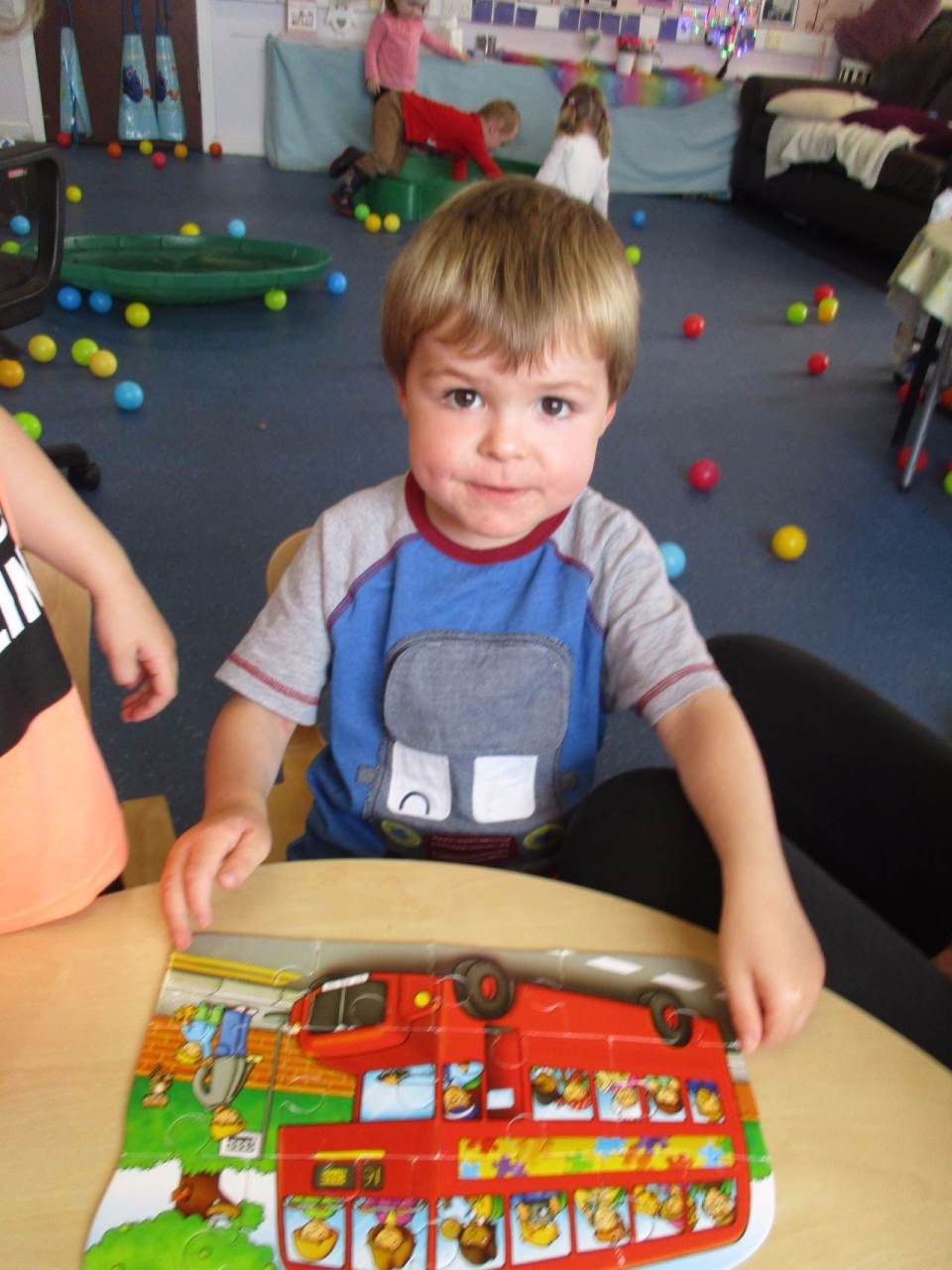 Mrs Mcoll had a big birthday - we think she must have counted wrong as there is no way she can be that old as she looks fantastic!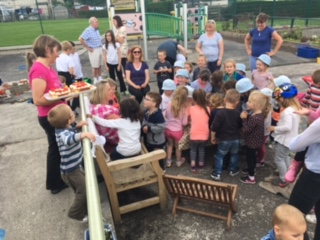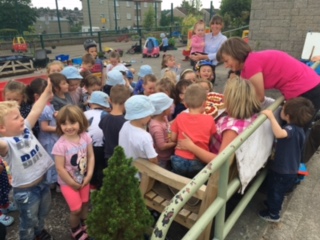 Nursery sports and Garden Party
Thank you to everyone who came to our sports and garden party. It was very busy with lots of morning children returning for the event and all children had plenty of support from their families. Miss Lennon and Mrs Maclaughlan would like to state that although they loved making ice cream cones for 50+ children they have no plans to change jobs and open an ice cream parlour. We have no photographs of the event due to the fact that all staff were incredibly busy keeping things running as smoothly as possible but know that lots of you were taking your own photographs. We hope you all had as much fun as we did.
Fun Run
Thank you to all who took part to raise money for school funds.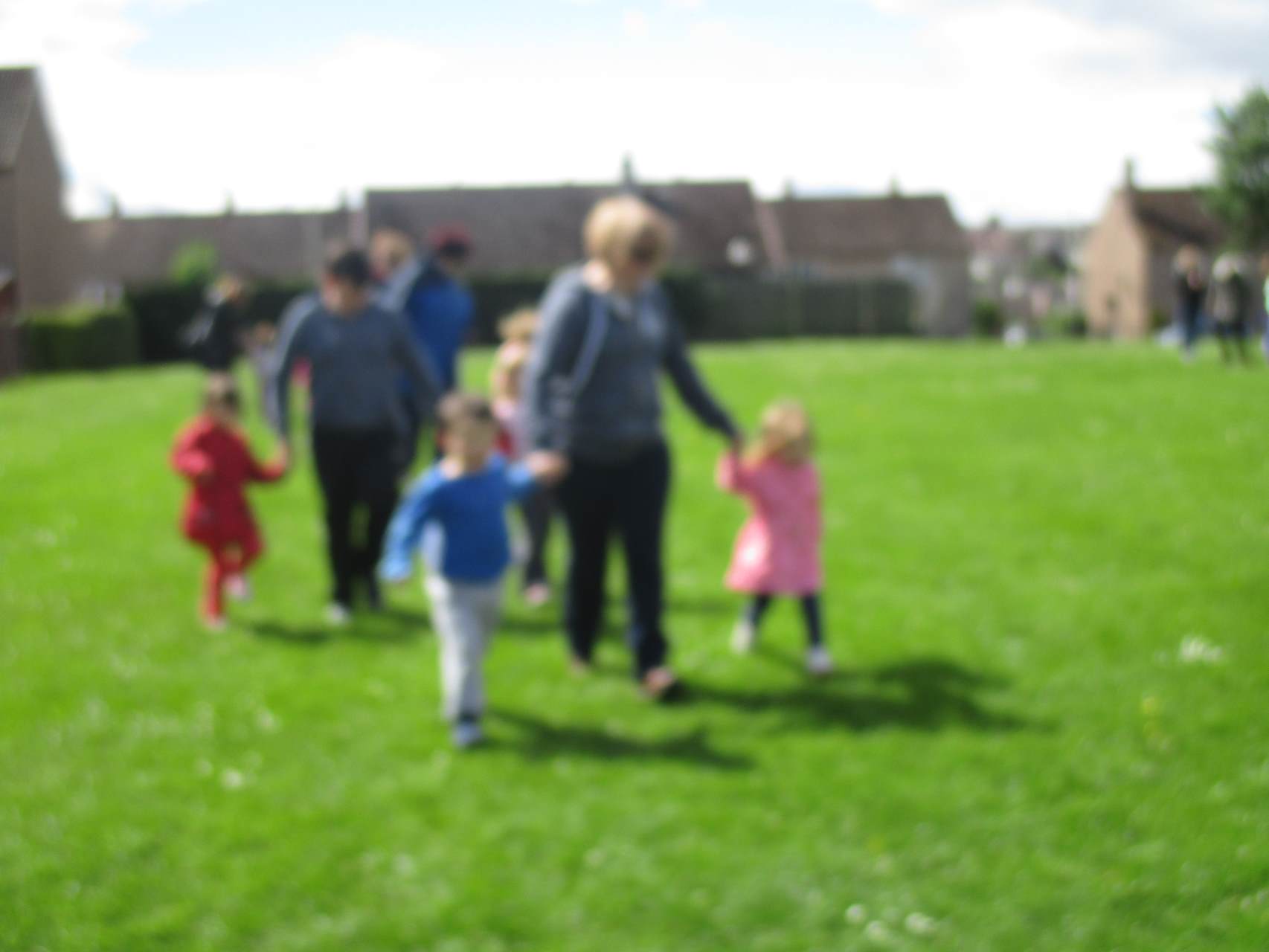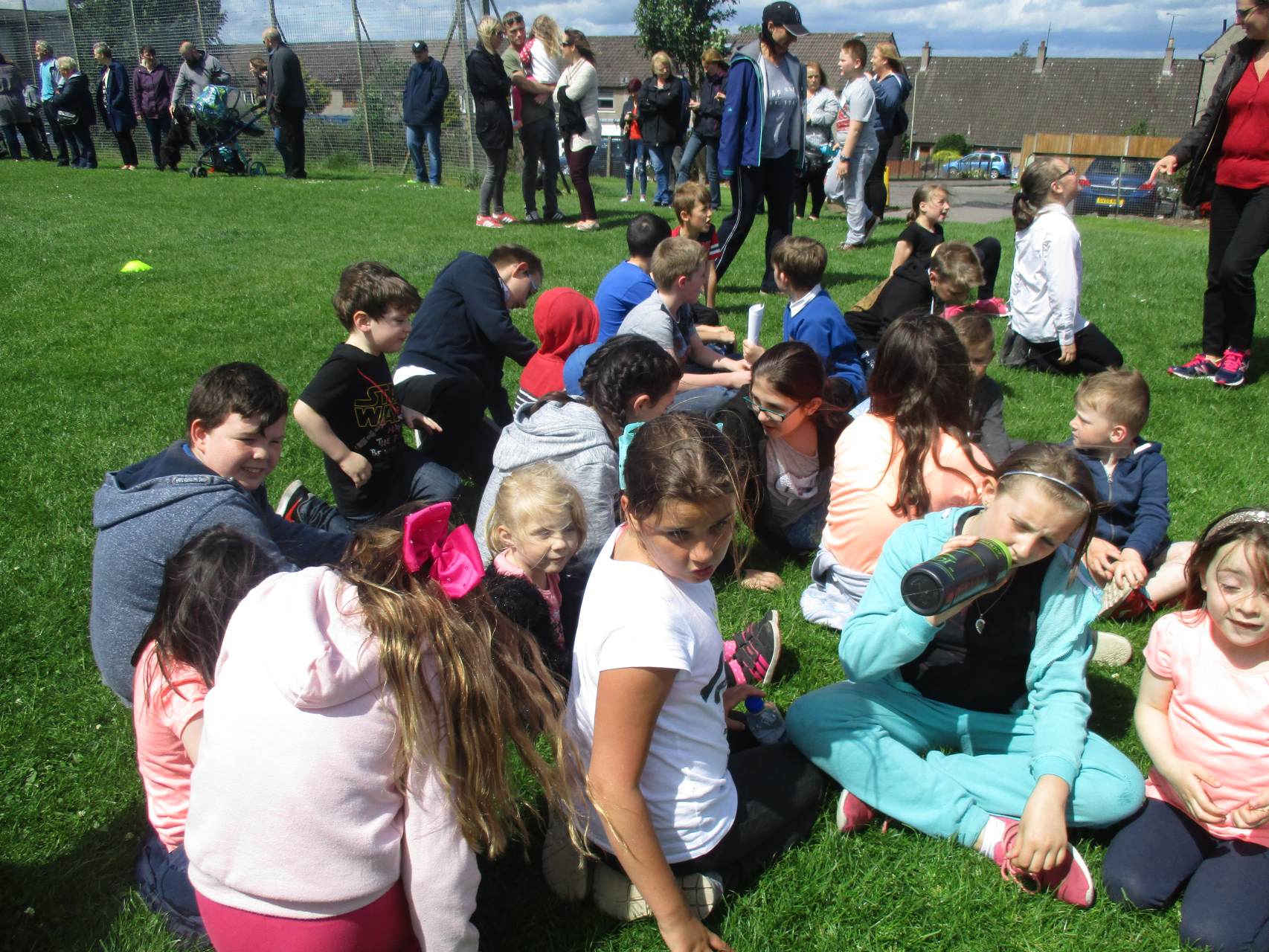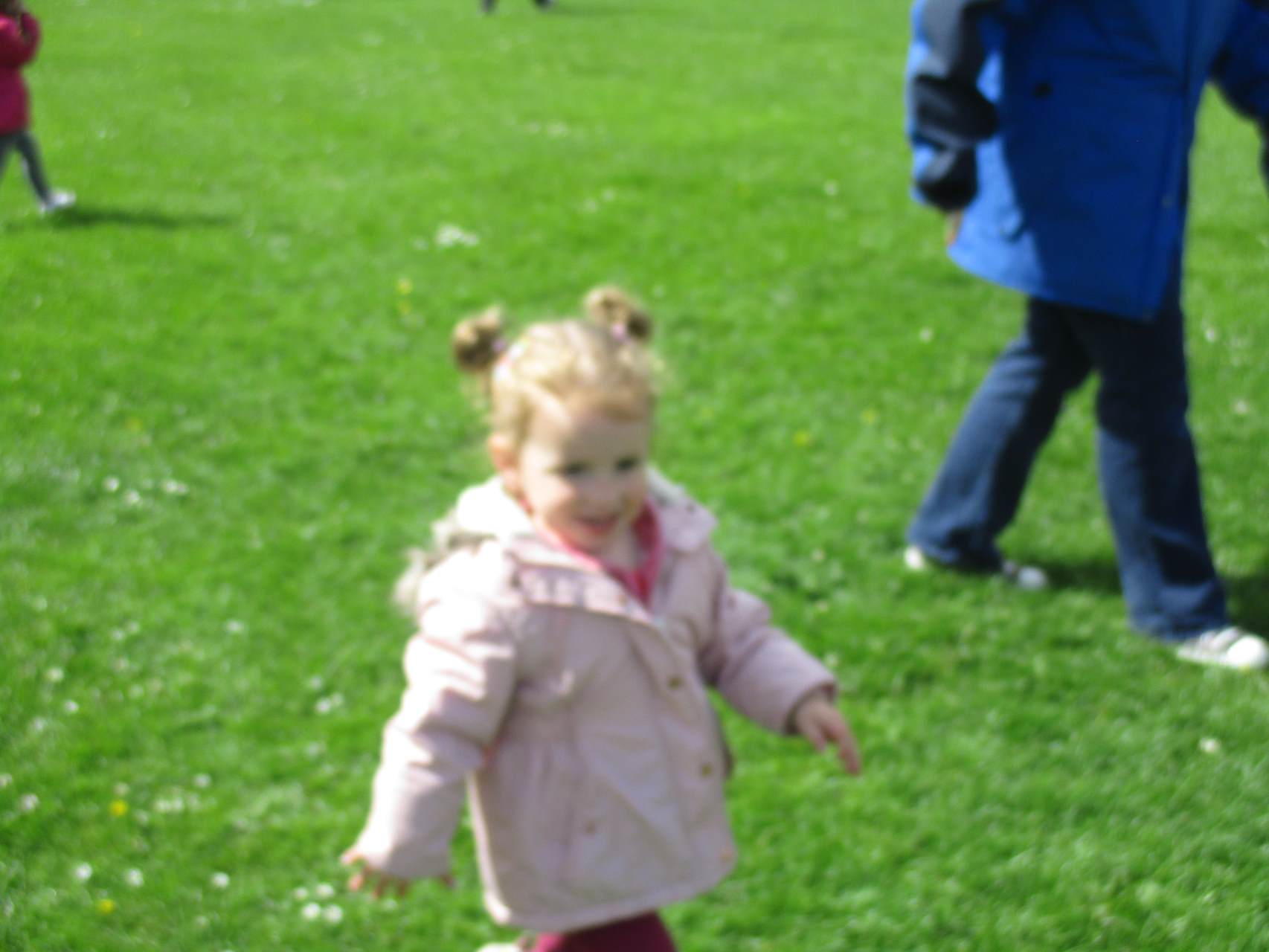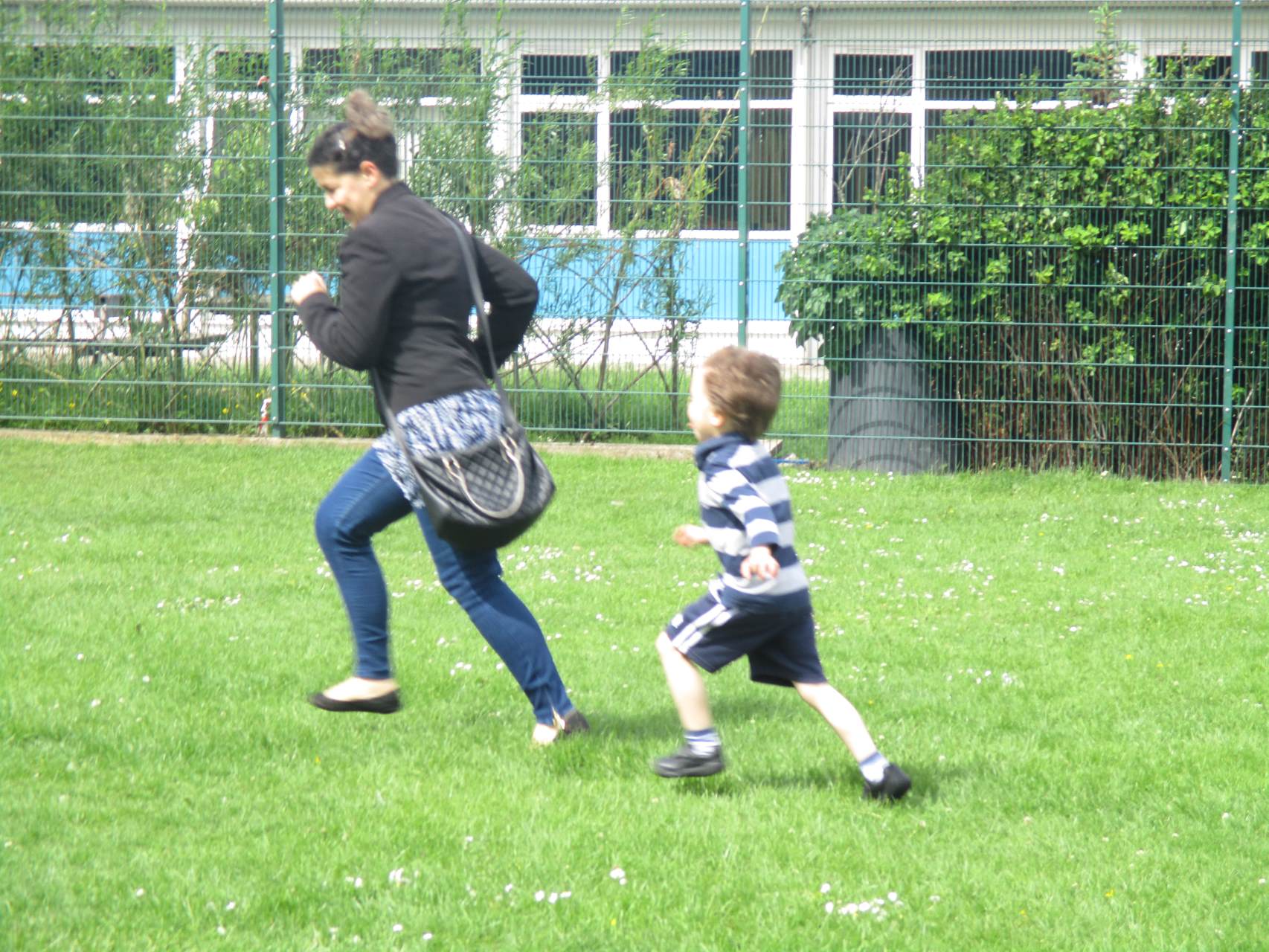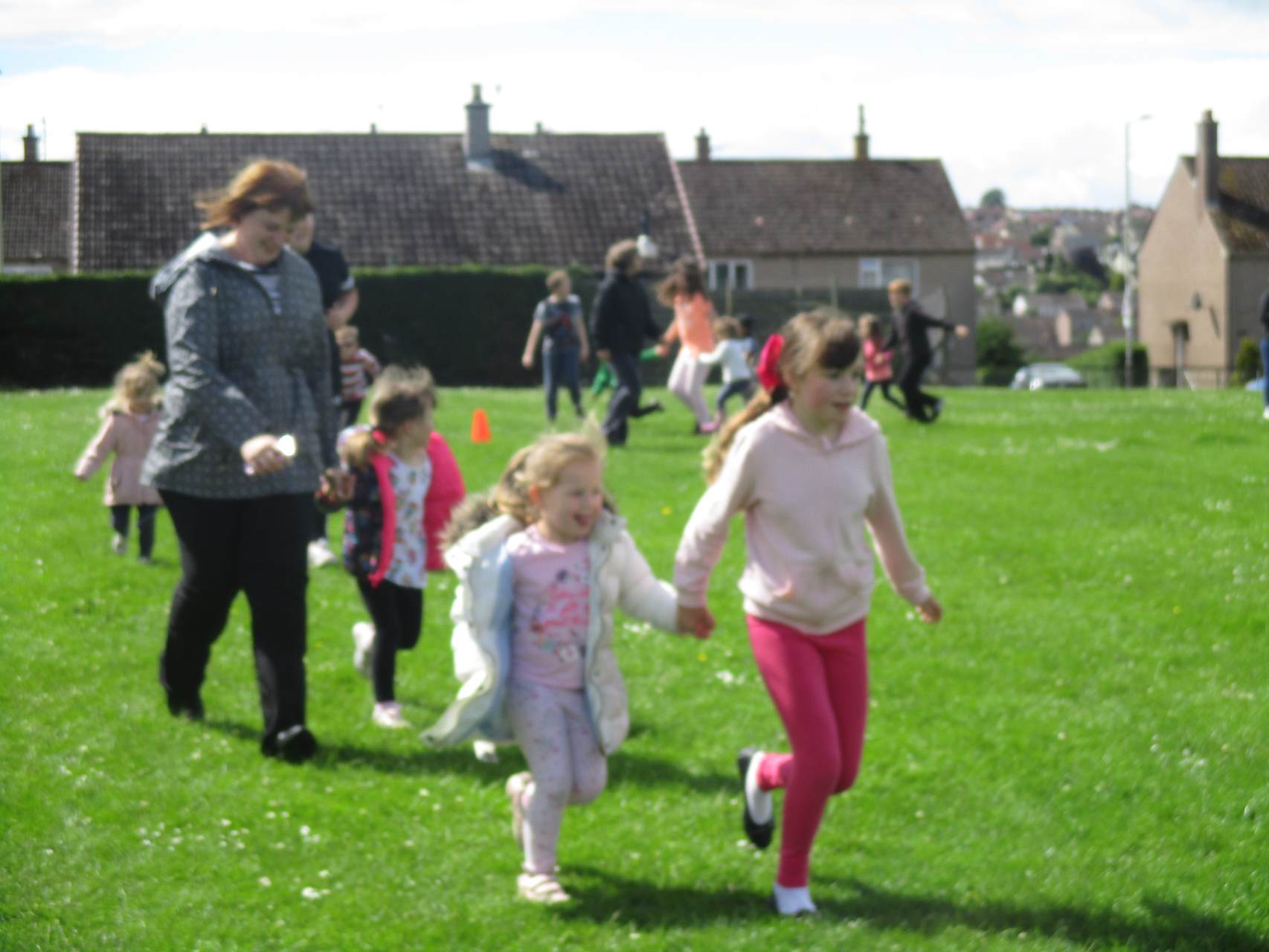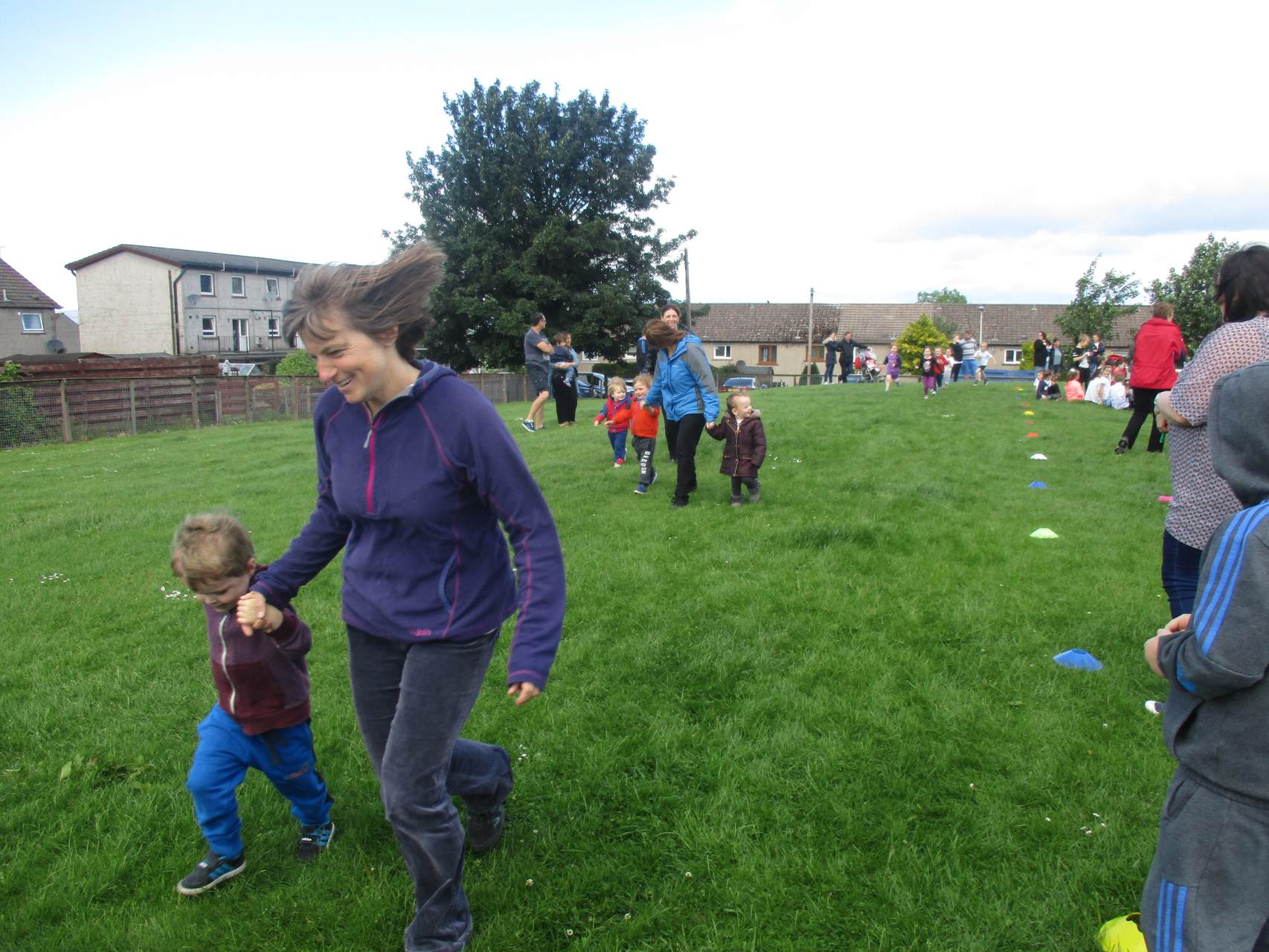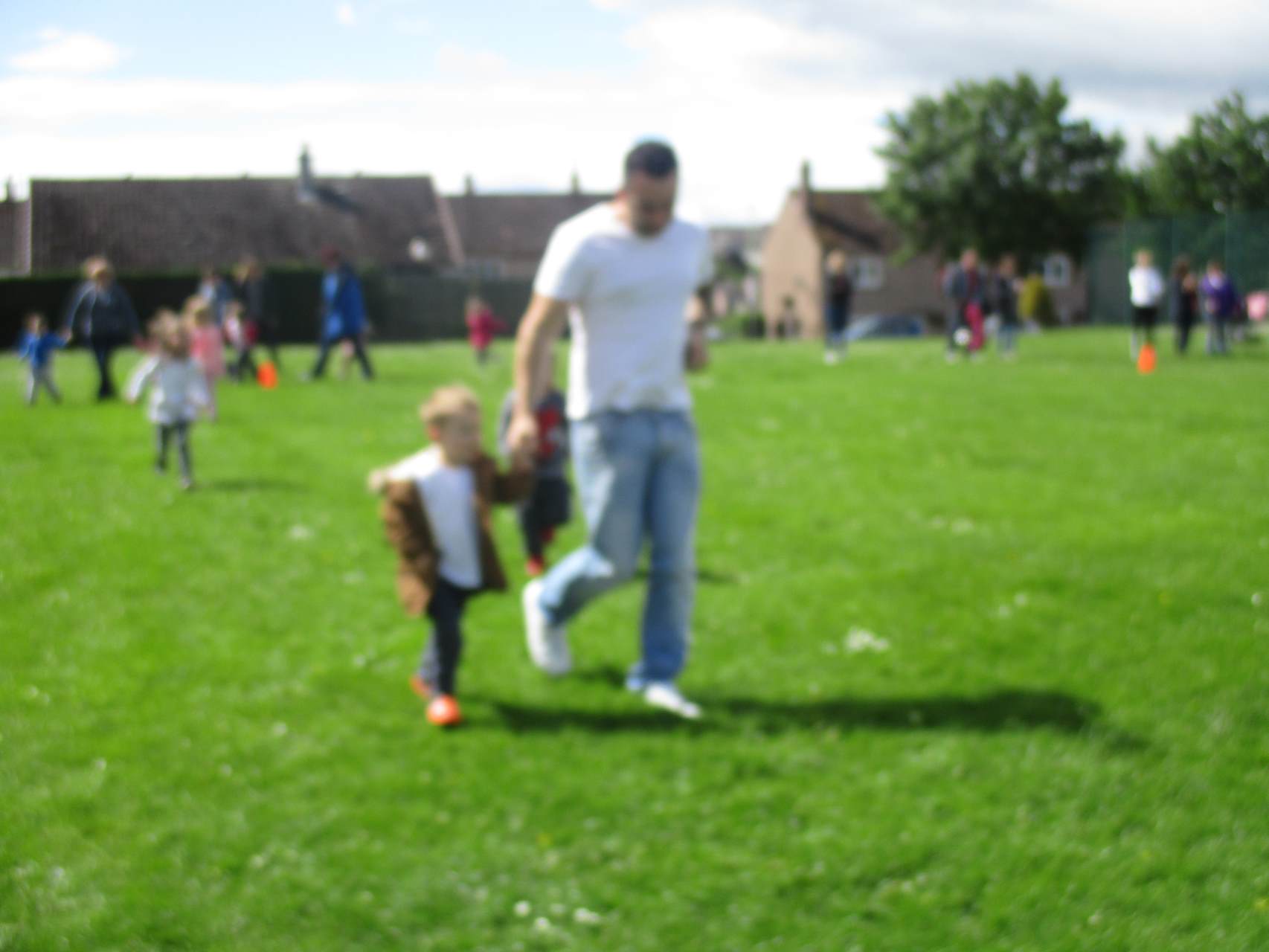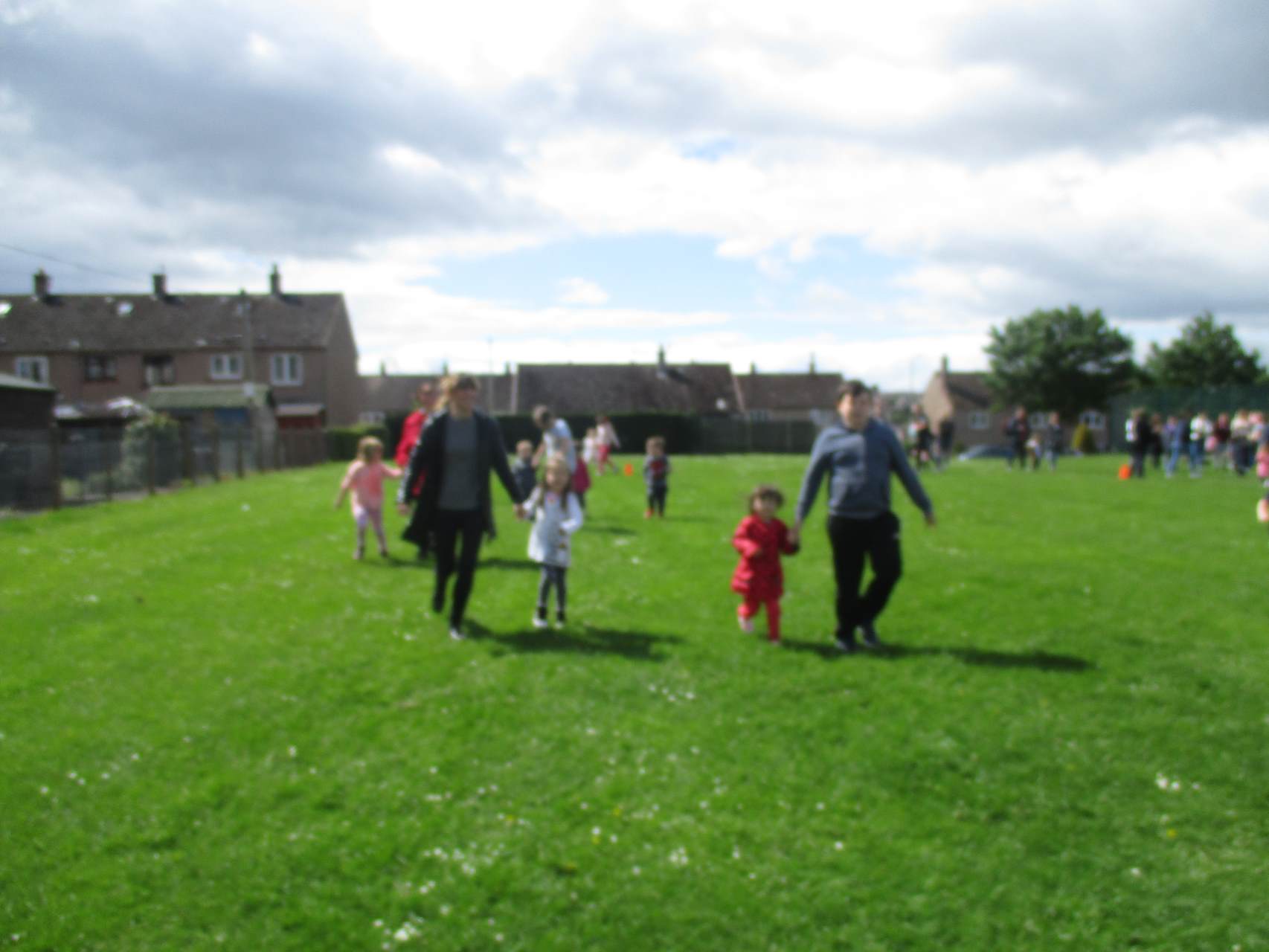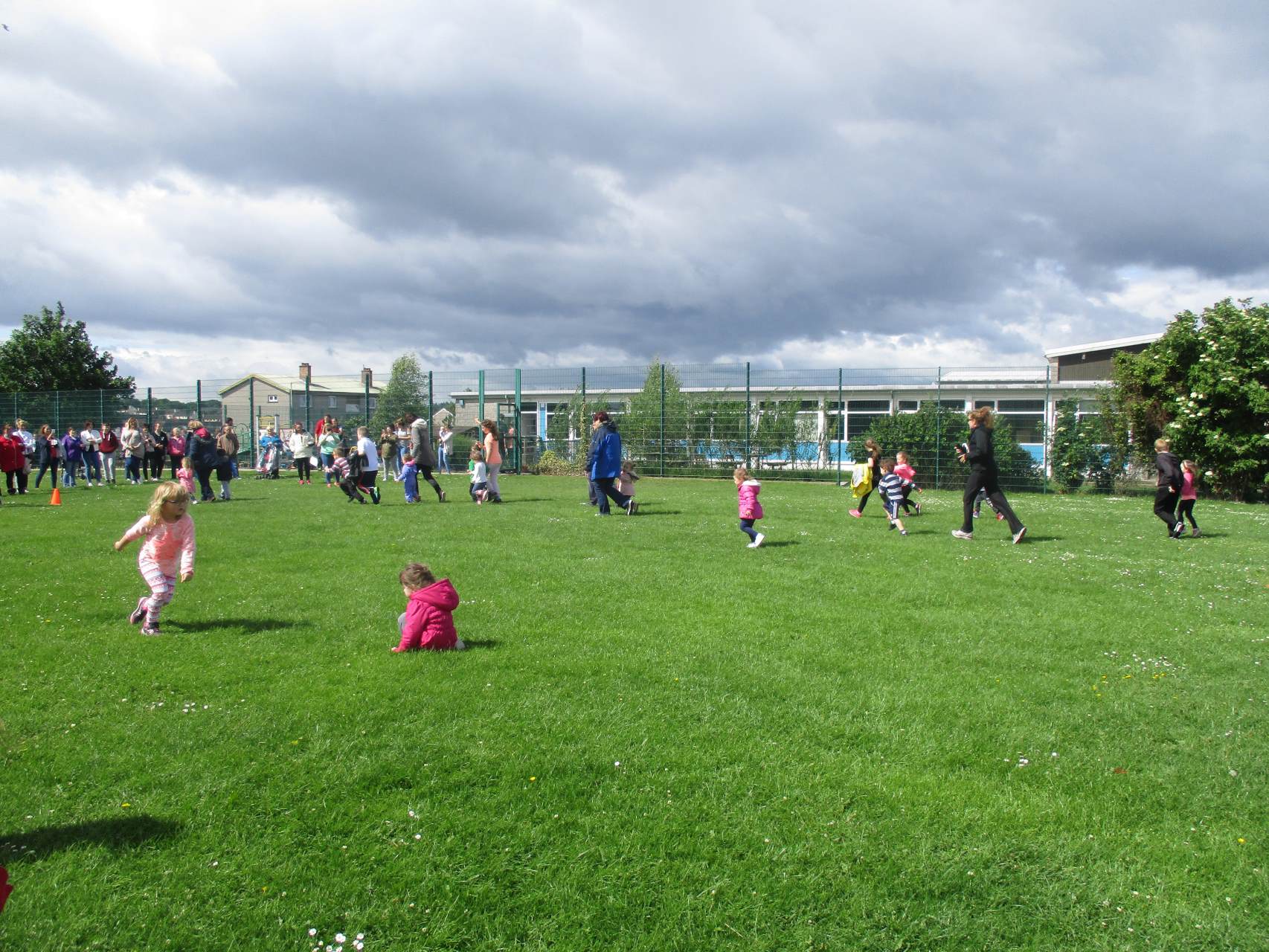 Nursery Sports and Garden Party
Thursday 15th June
2.15pm
All nursery children and families welcome.
Some photographs from our trips out and about in May
Gardening Scotland
The Butterfly Group went to Ingiliston to deliver the nursery pallet garden and then went to the park and beach.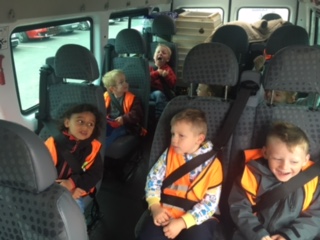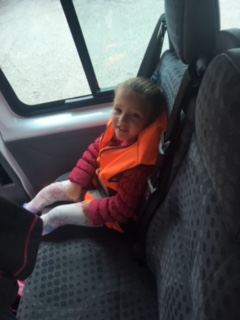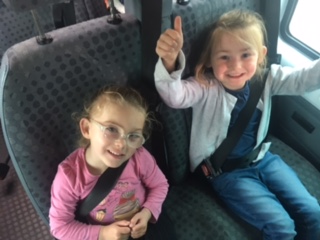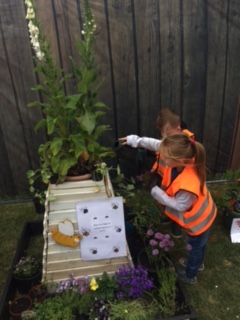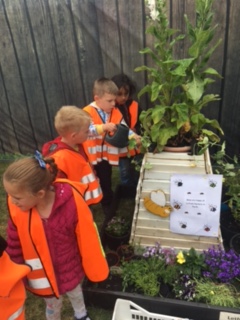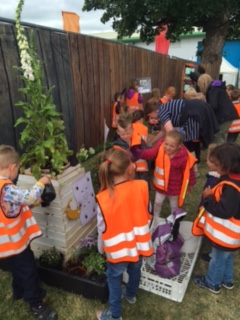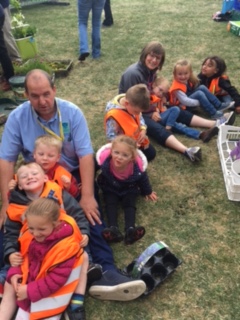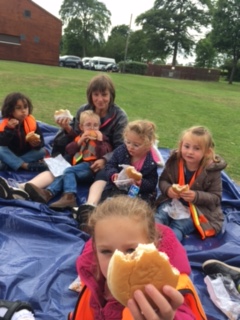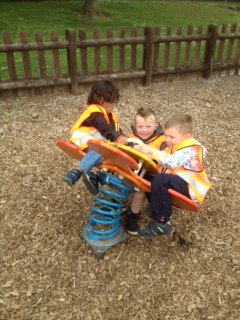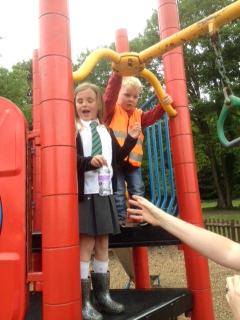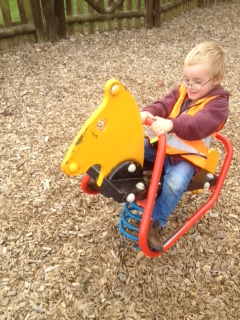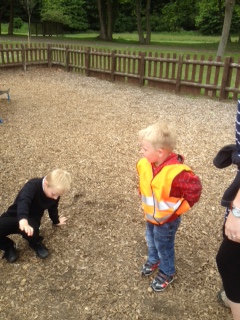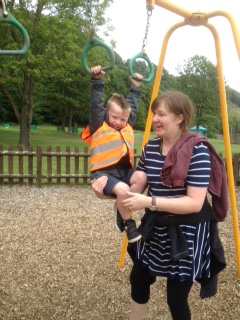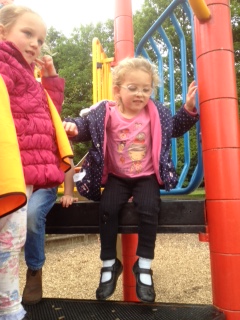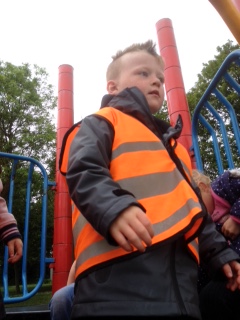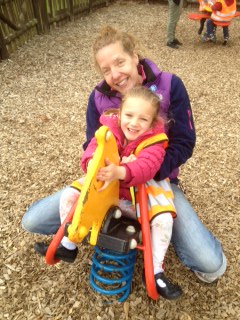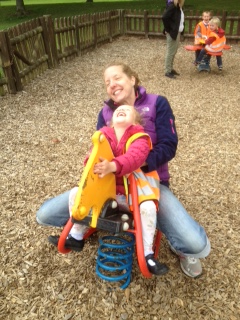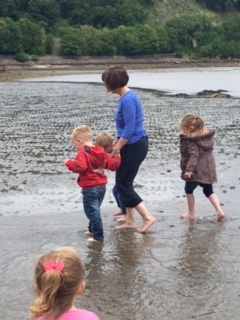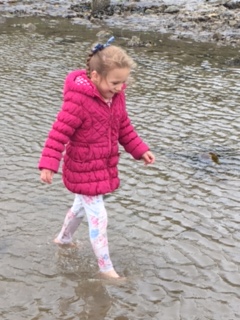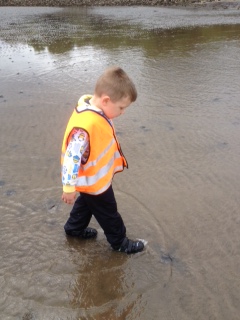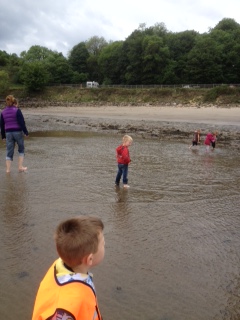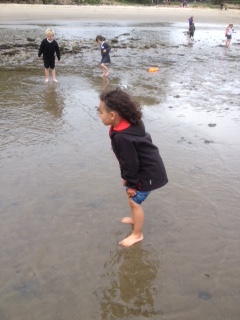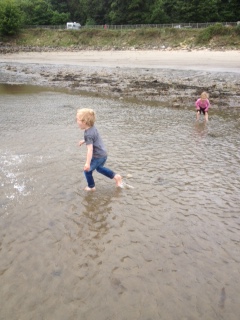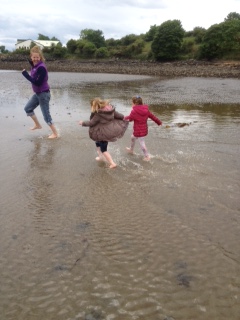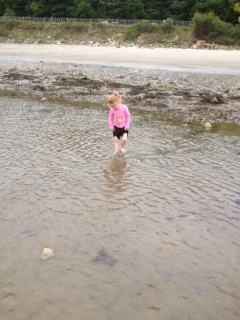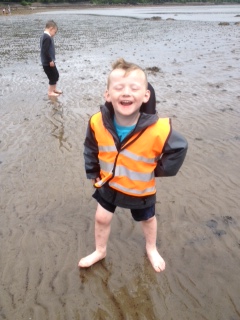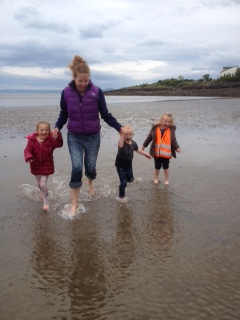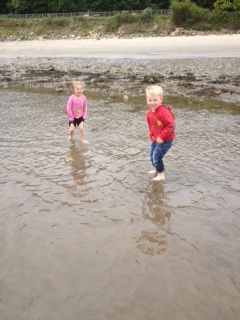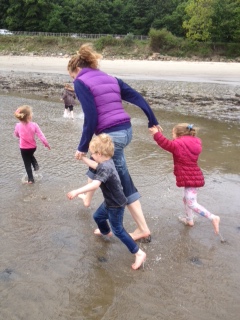 Our Pallet Garden won a Silver Award!
A trip to the North Inch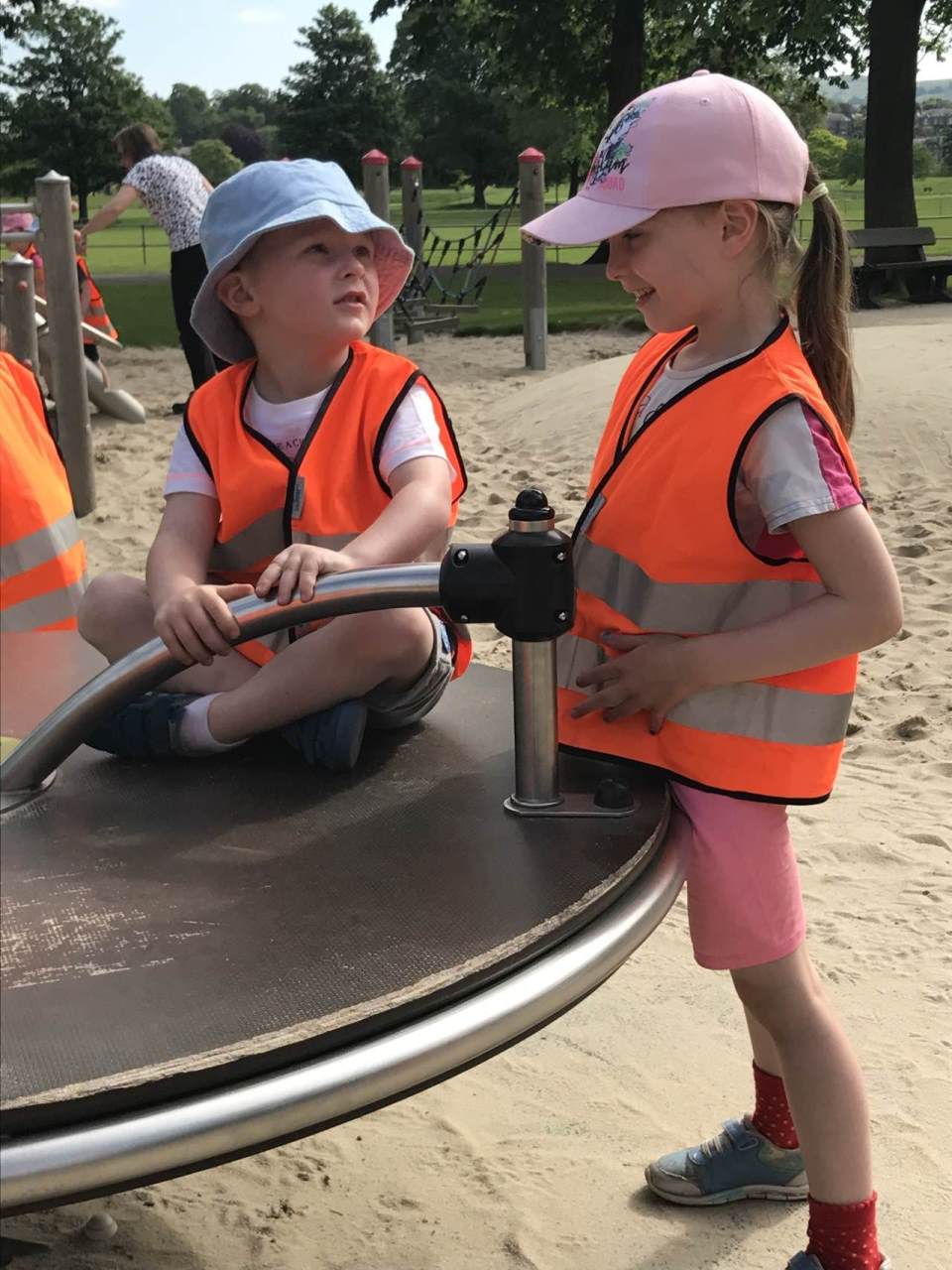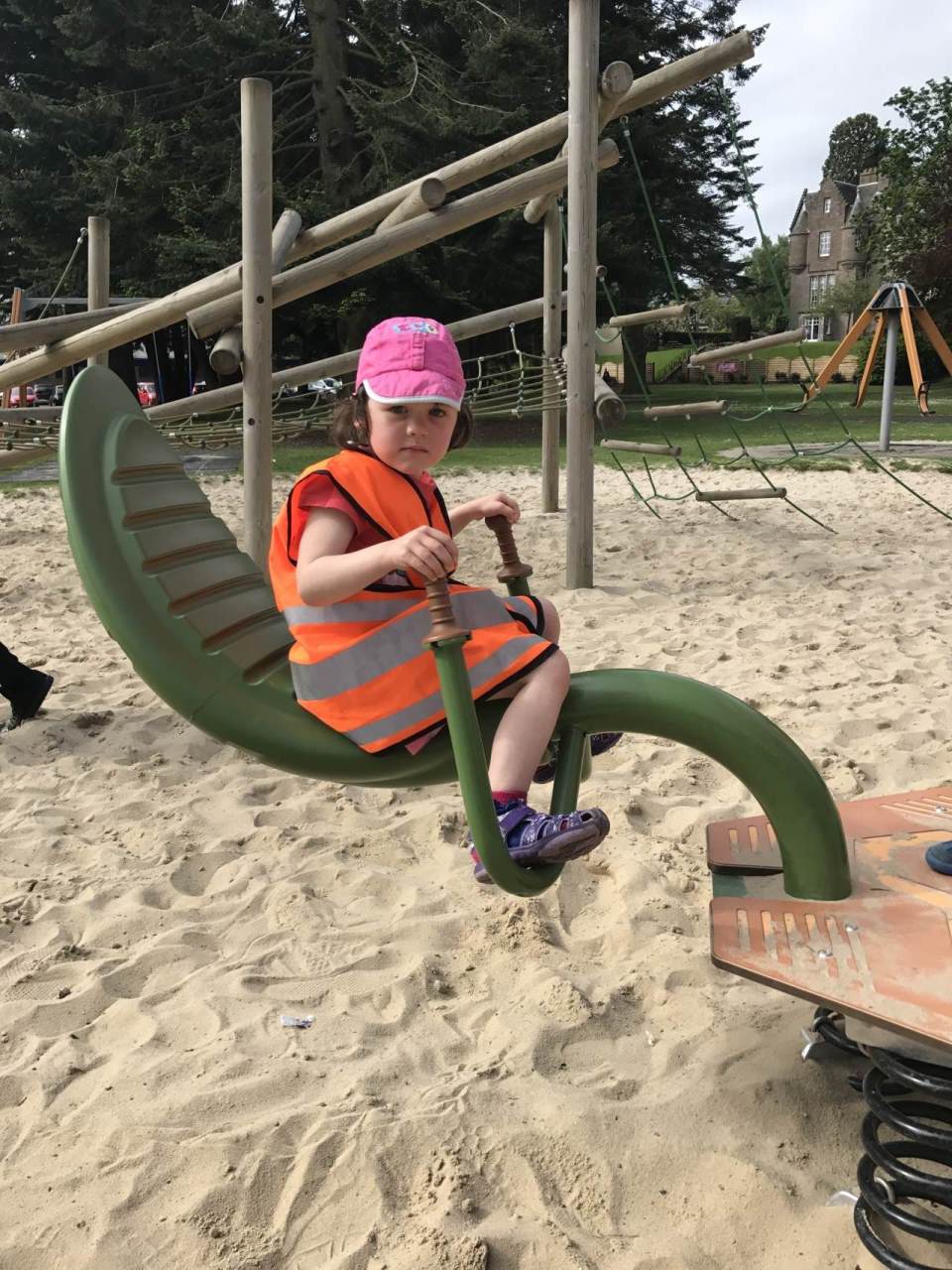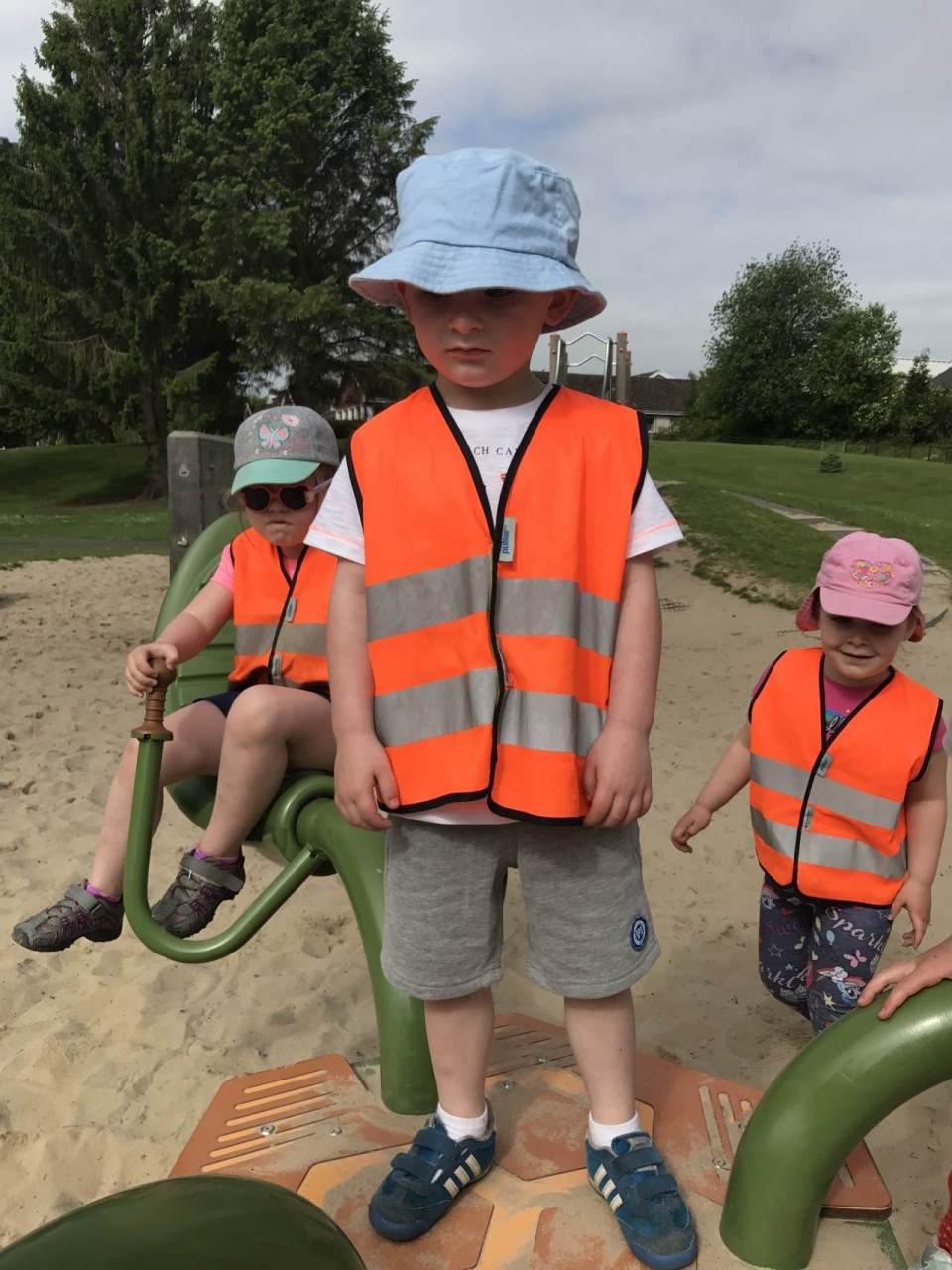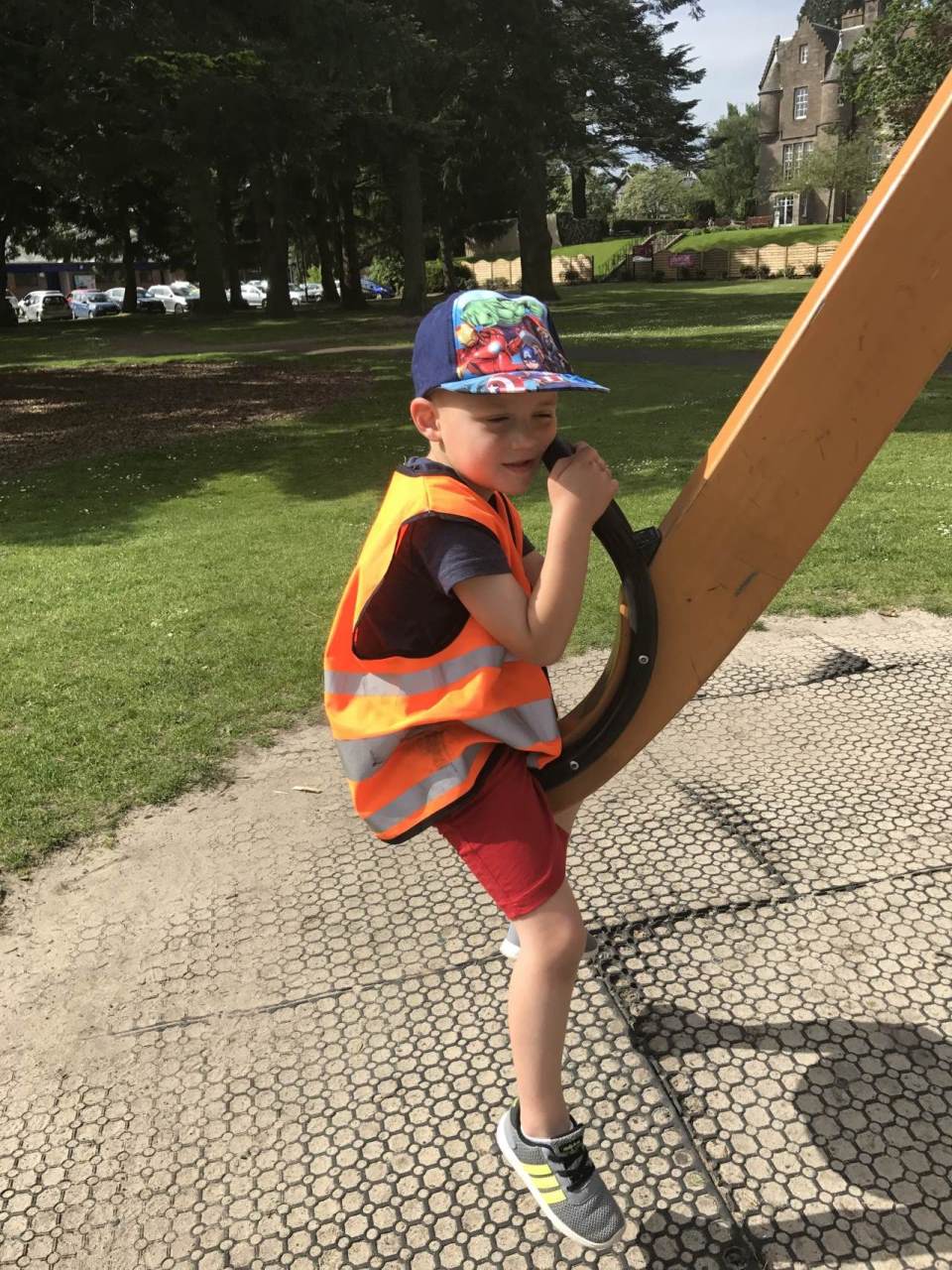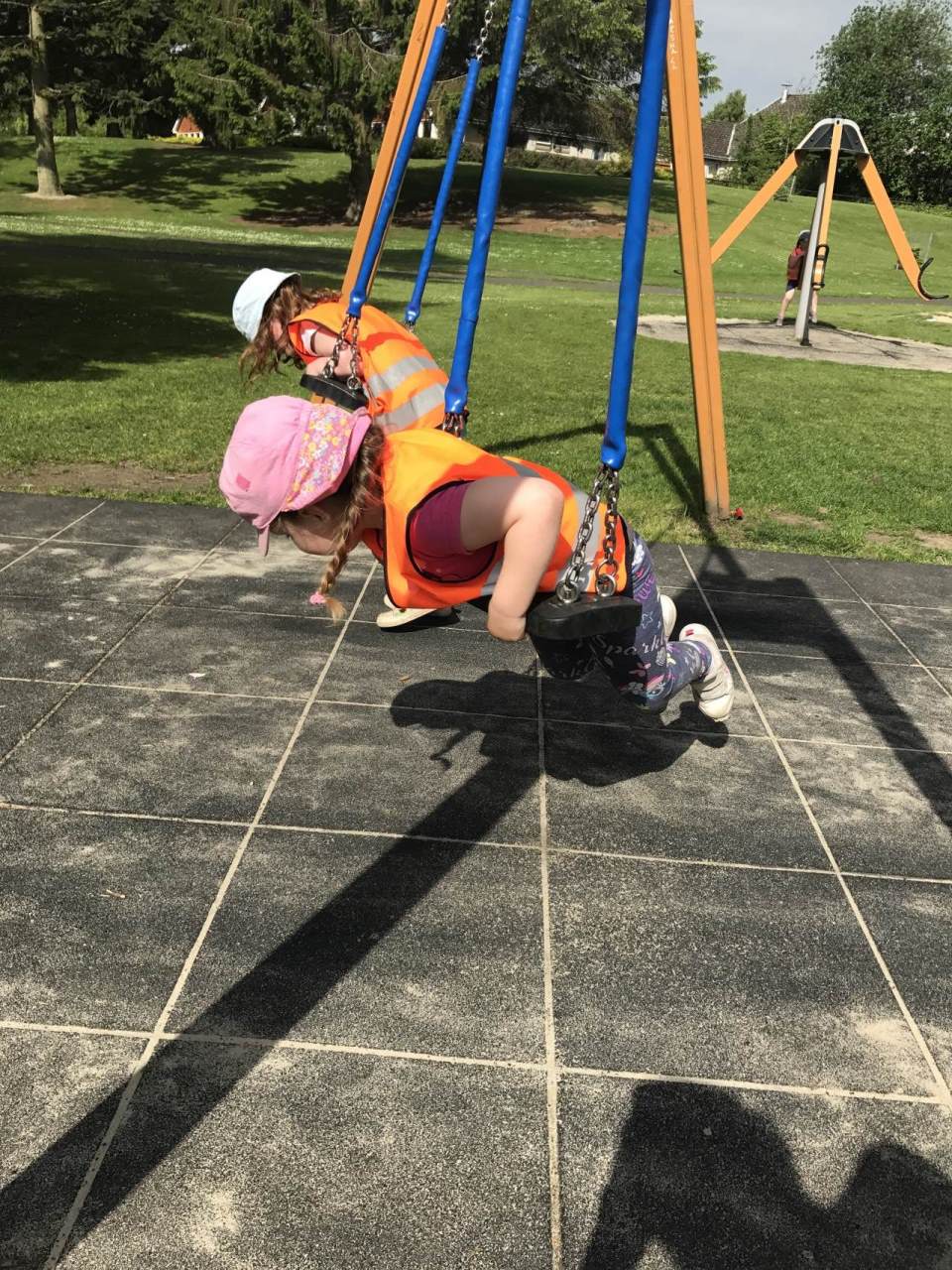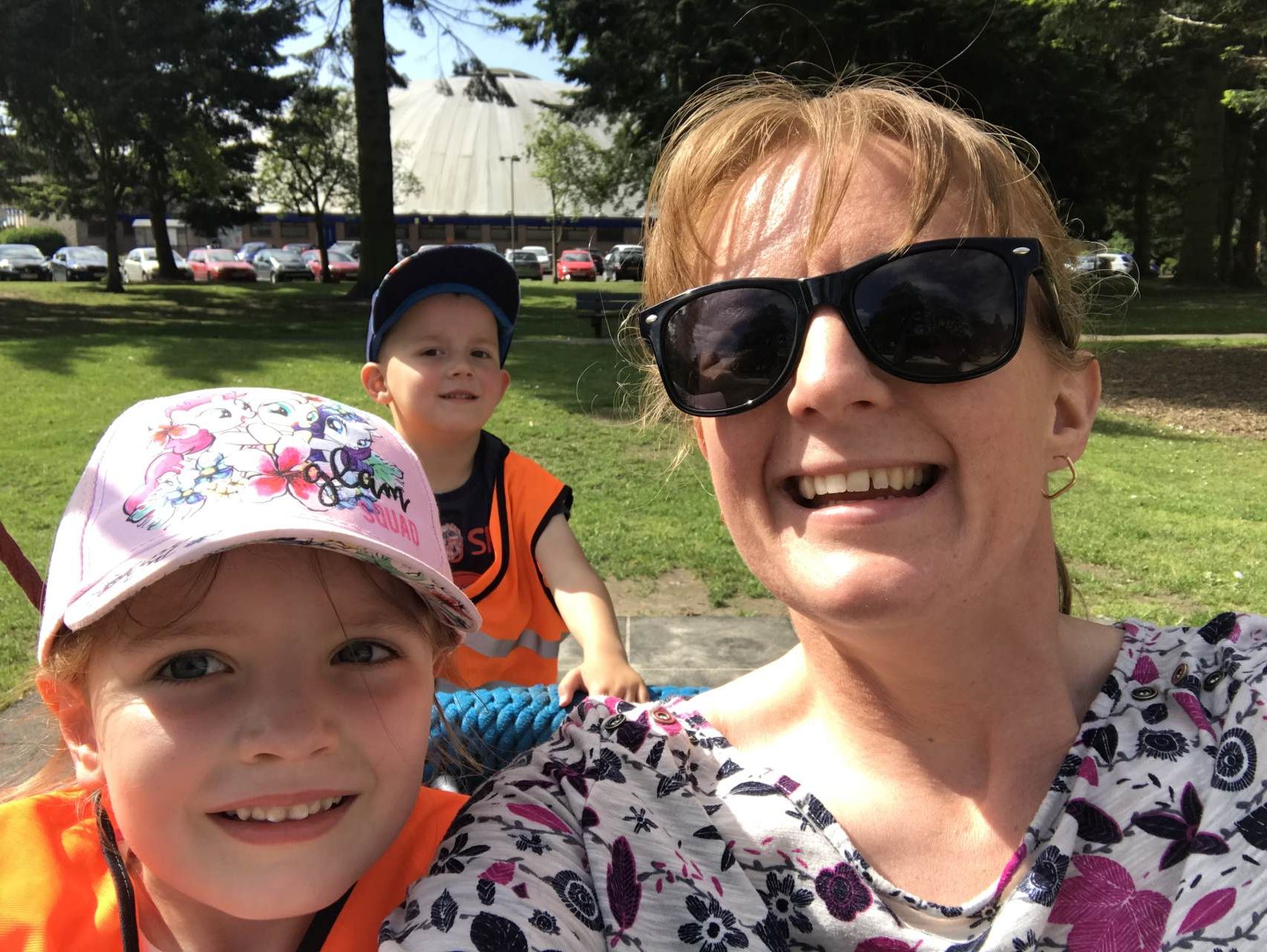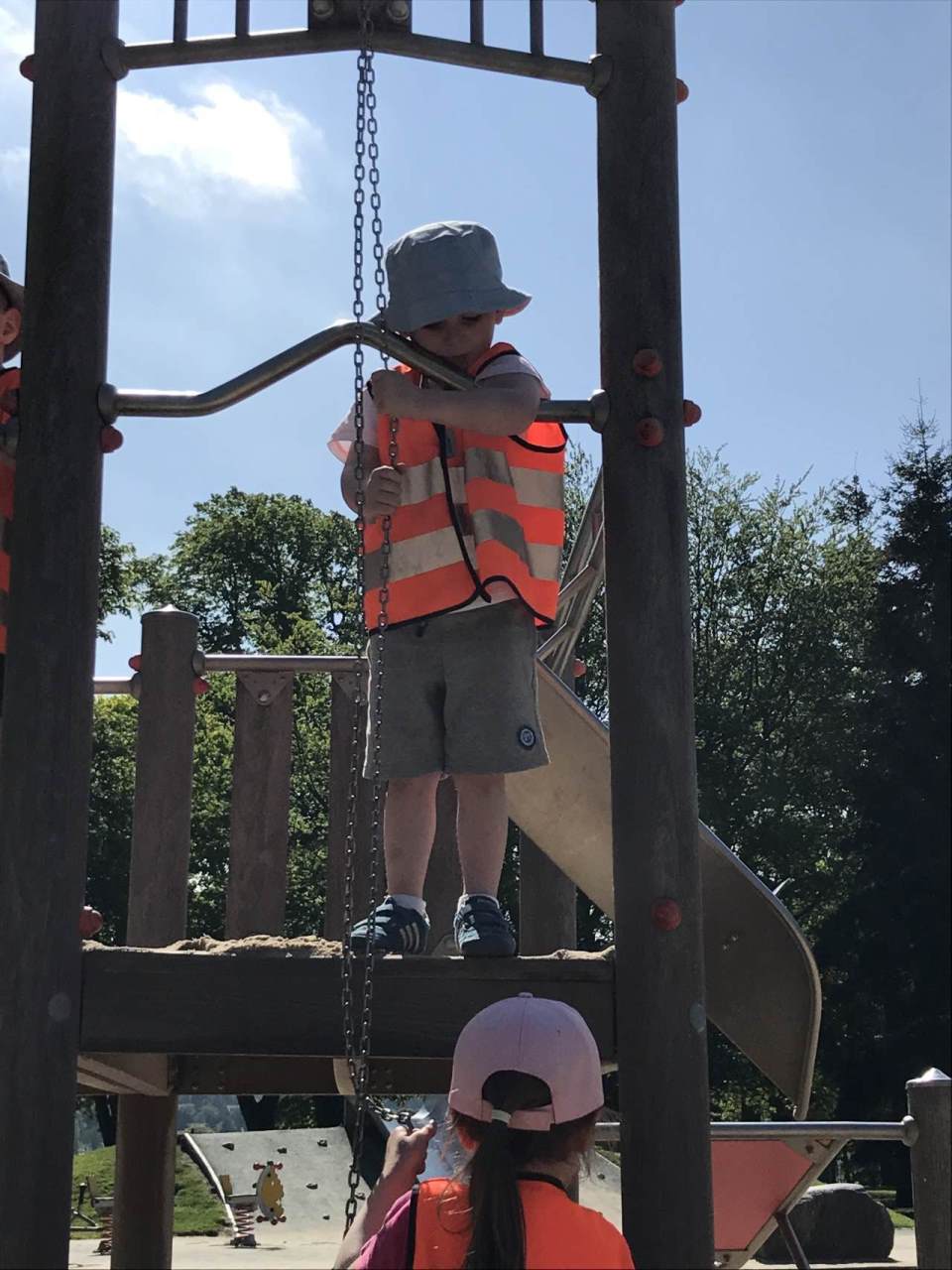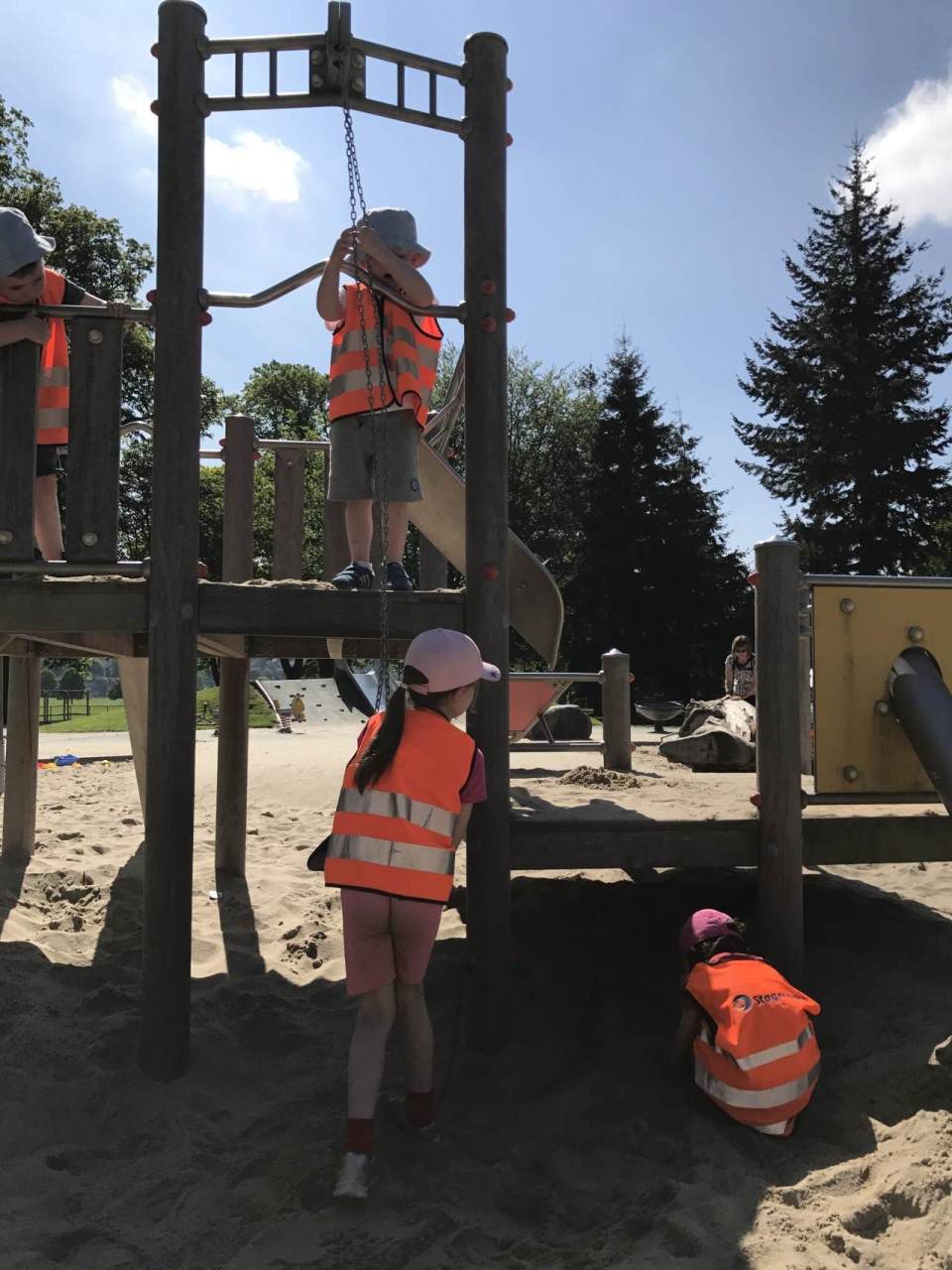 A big thank you to Southton for having us.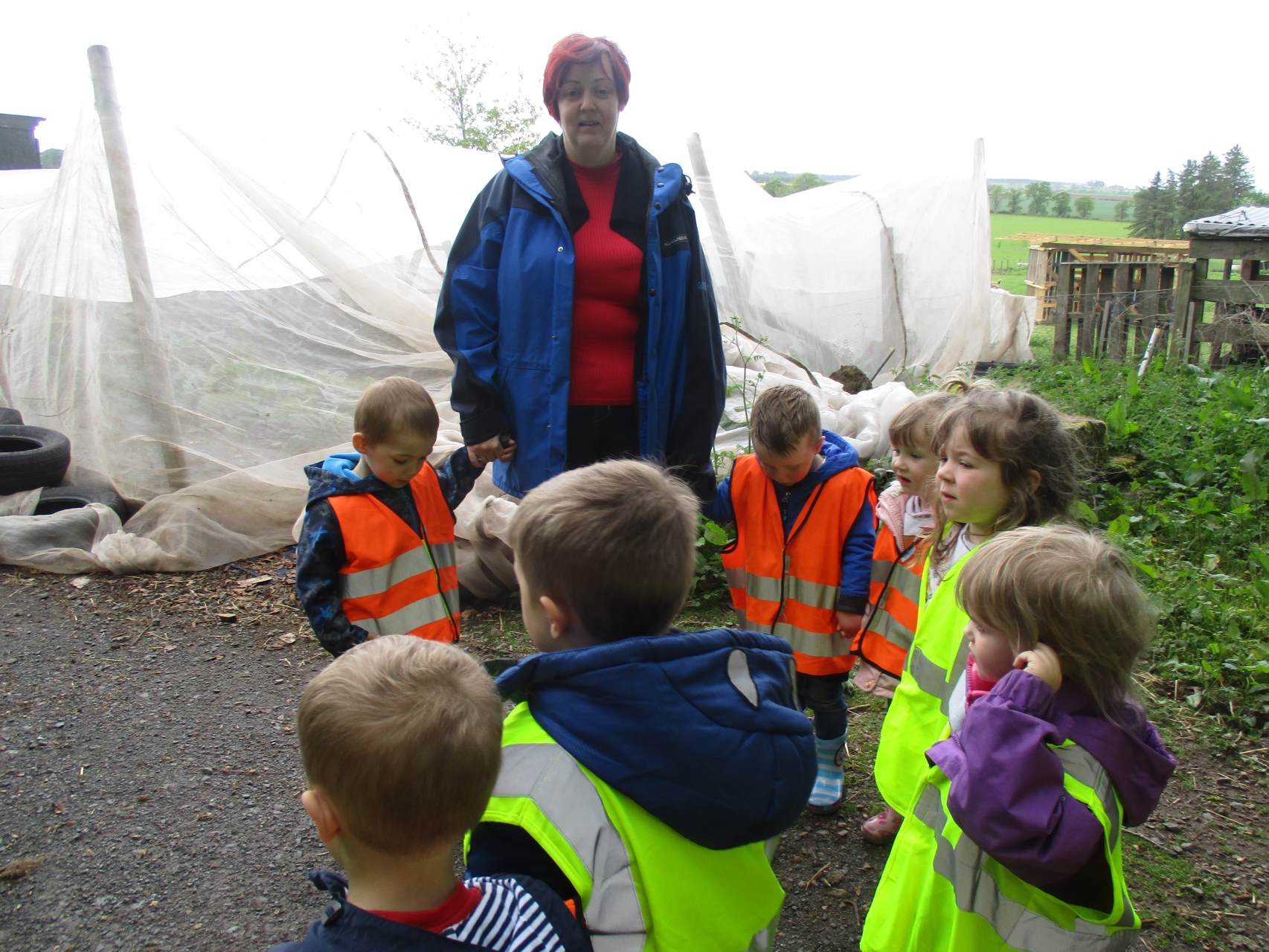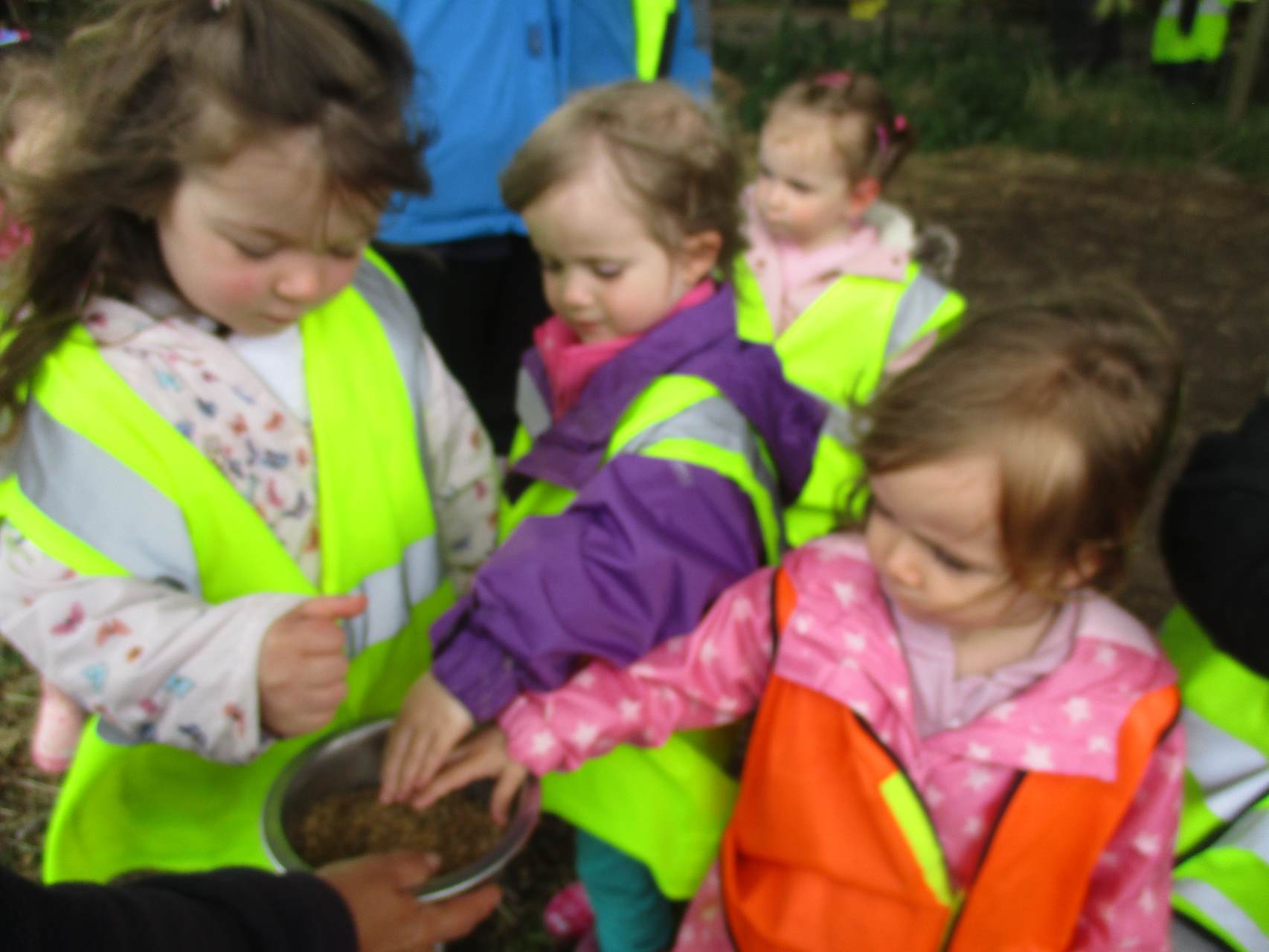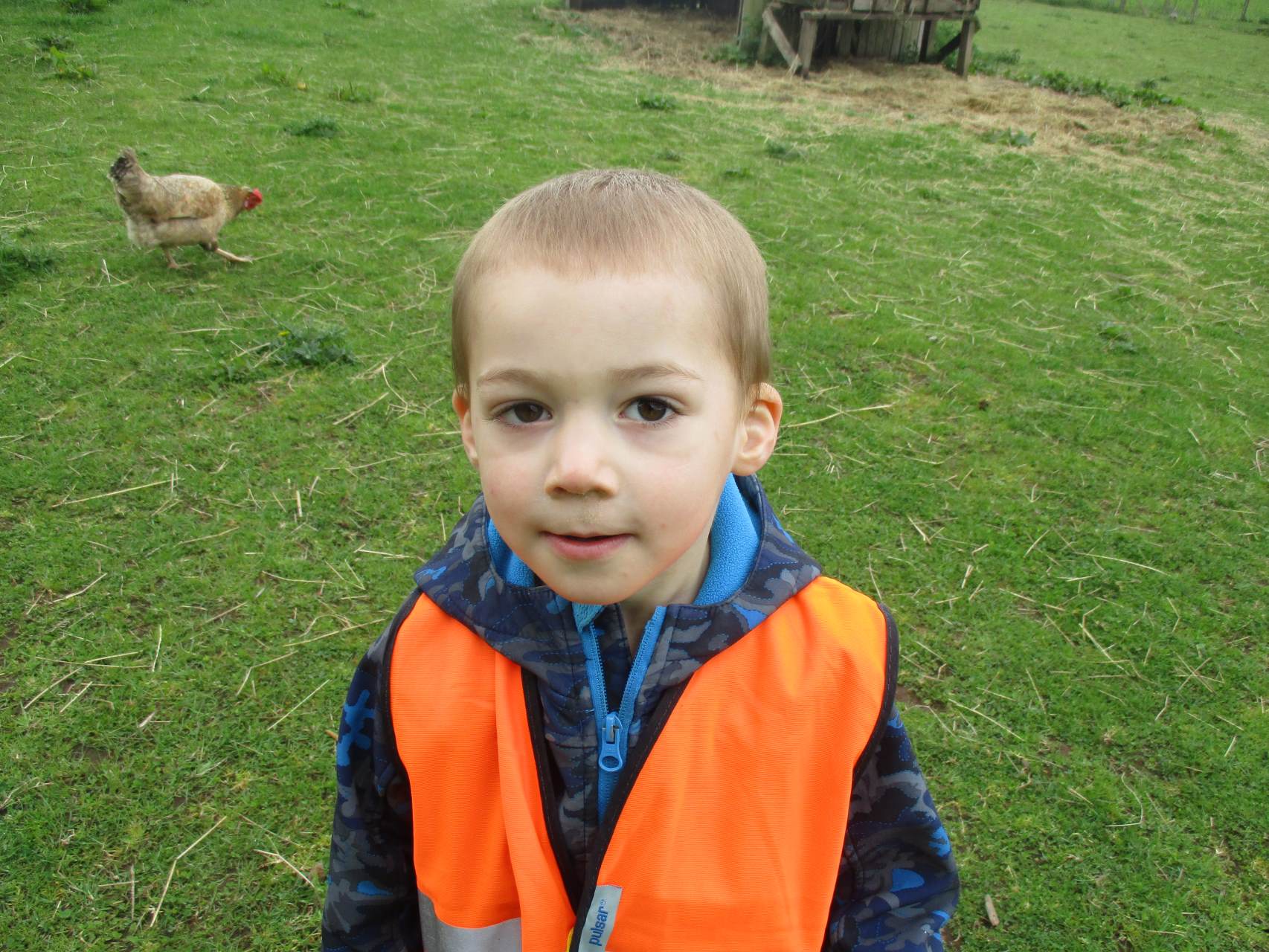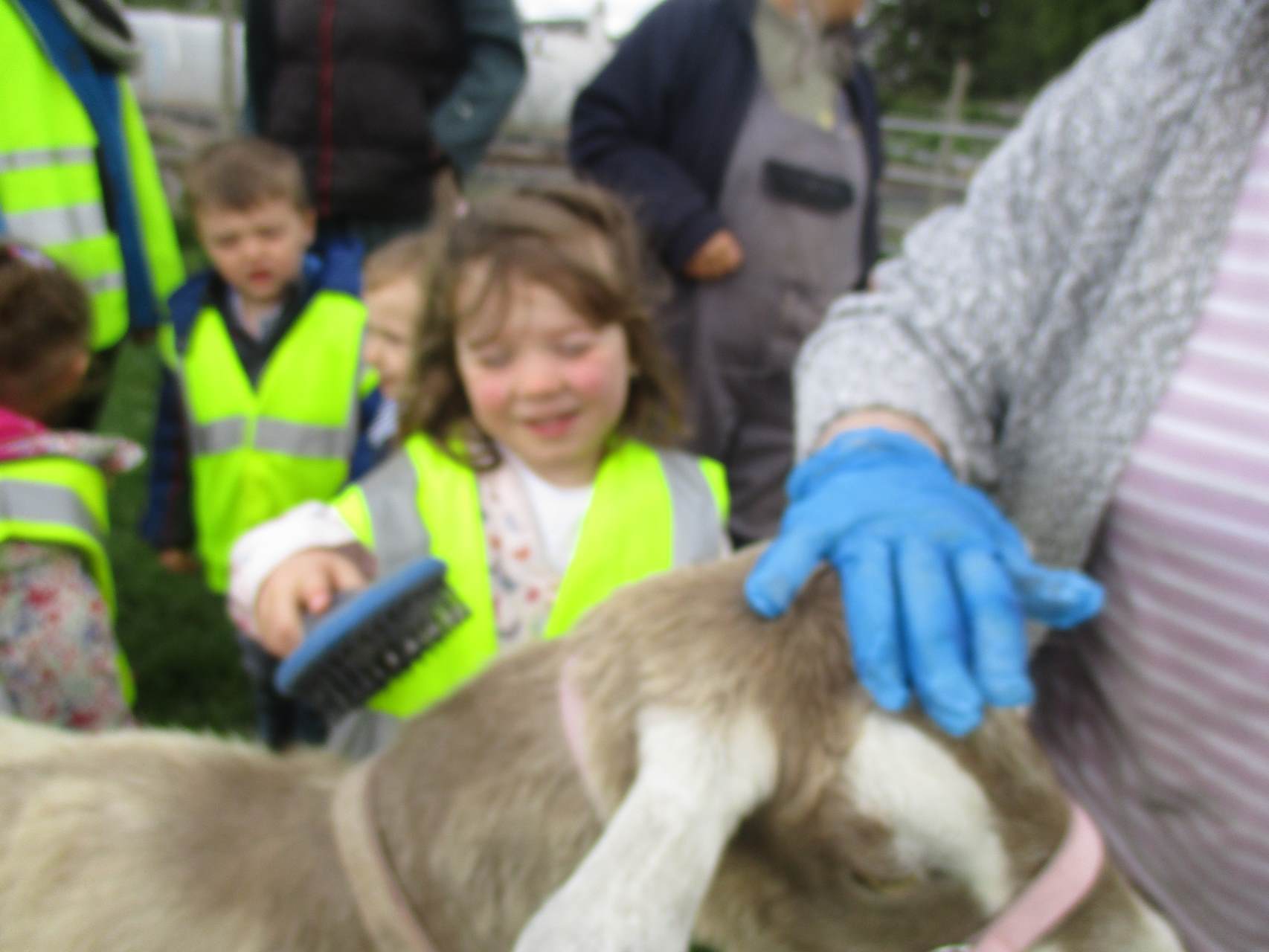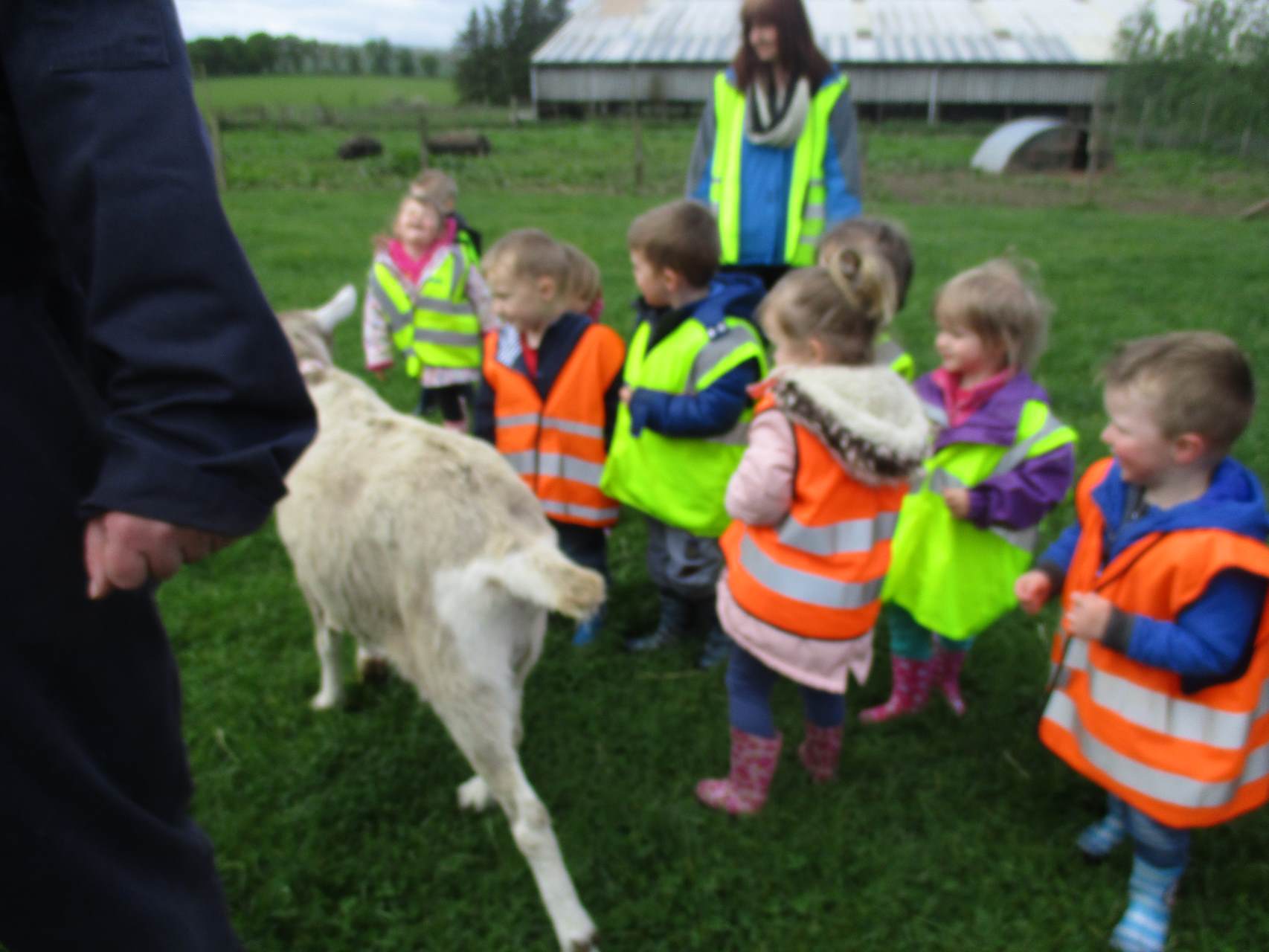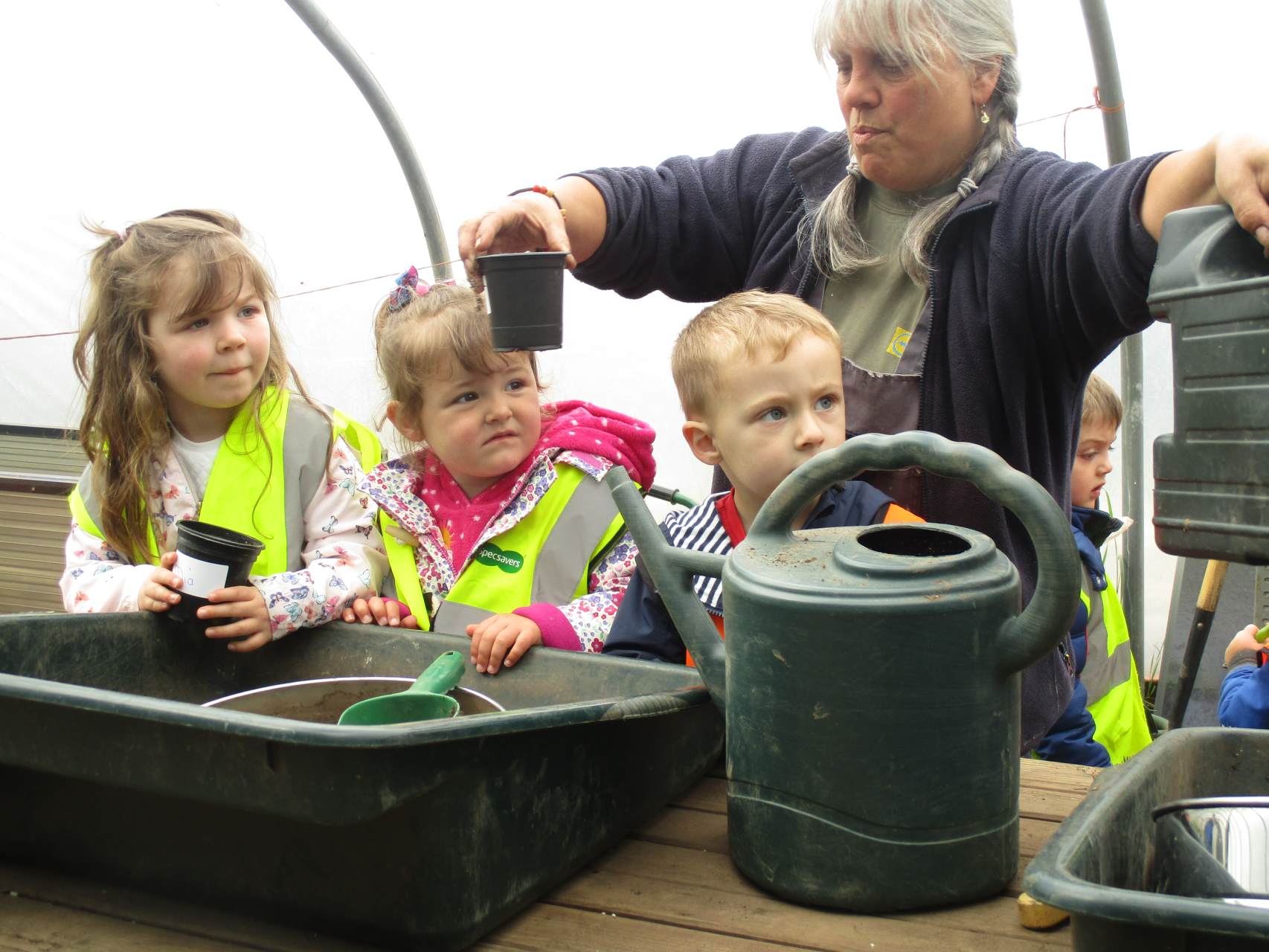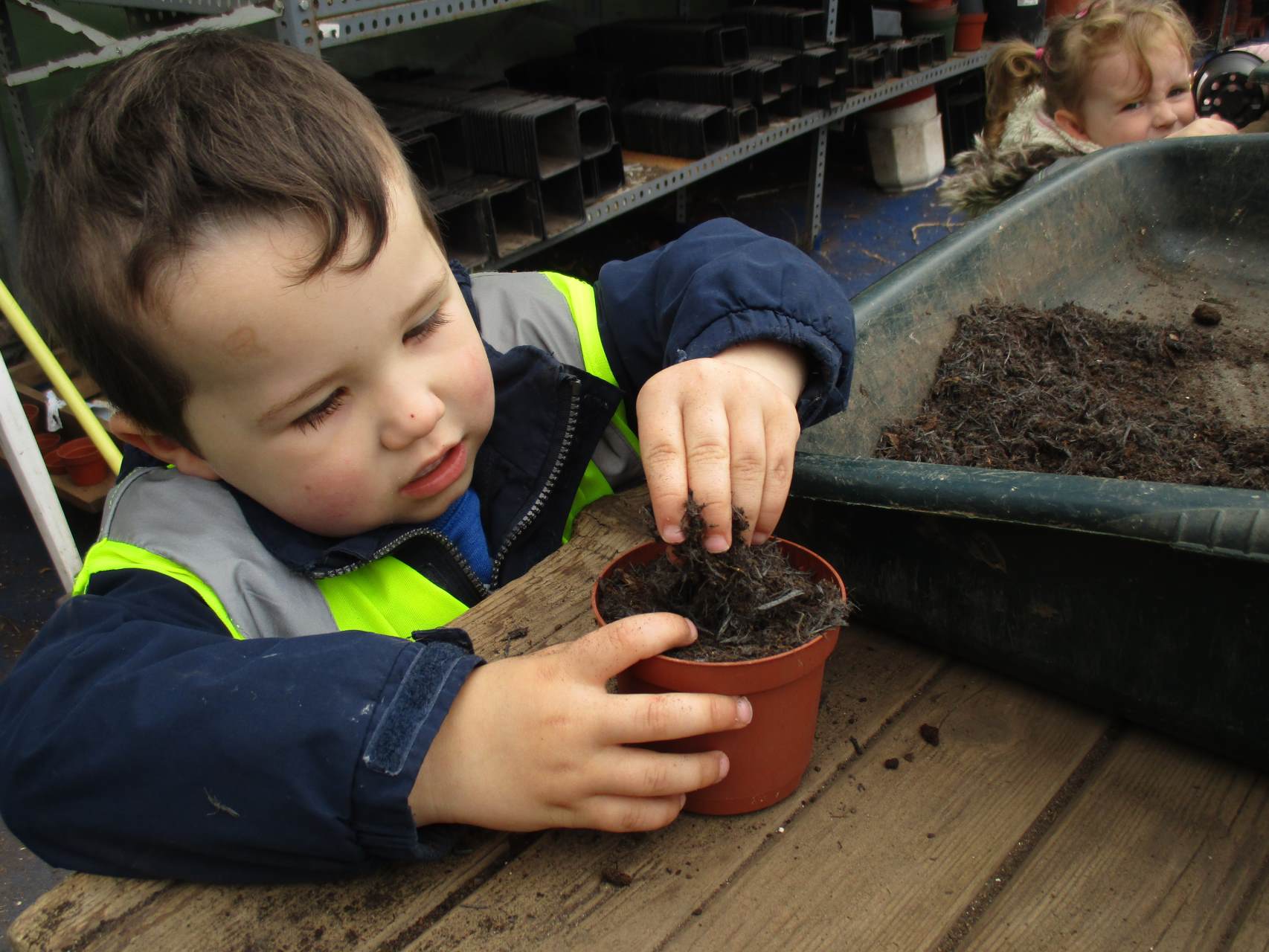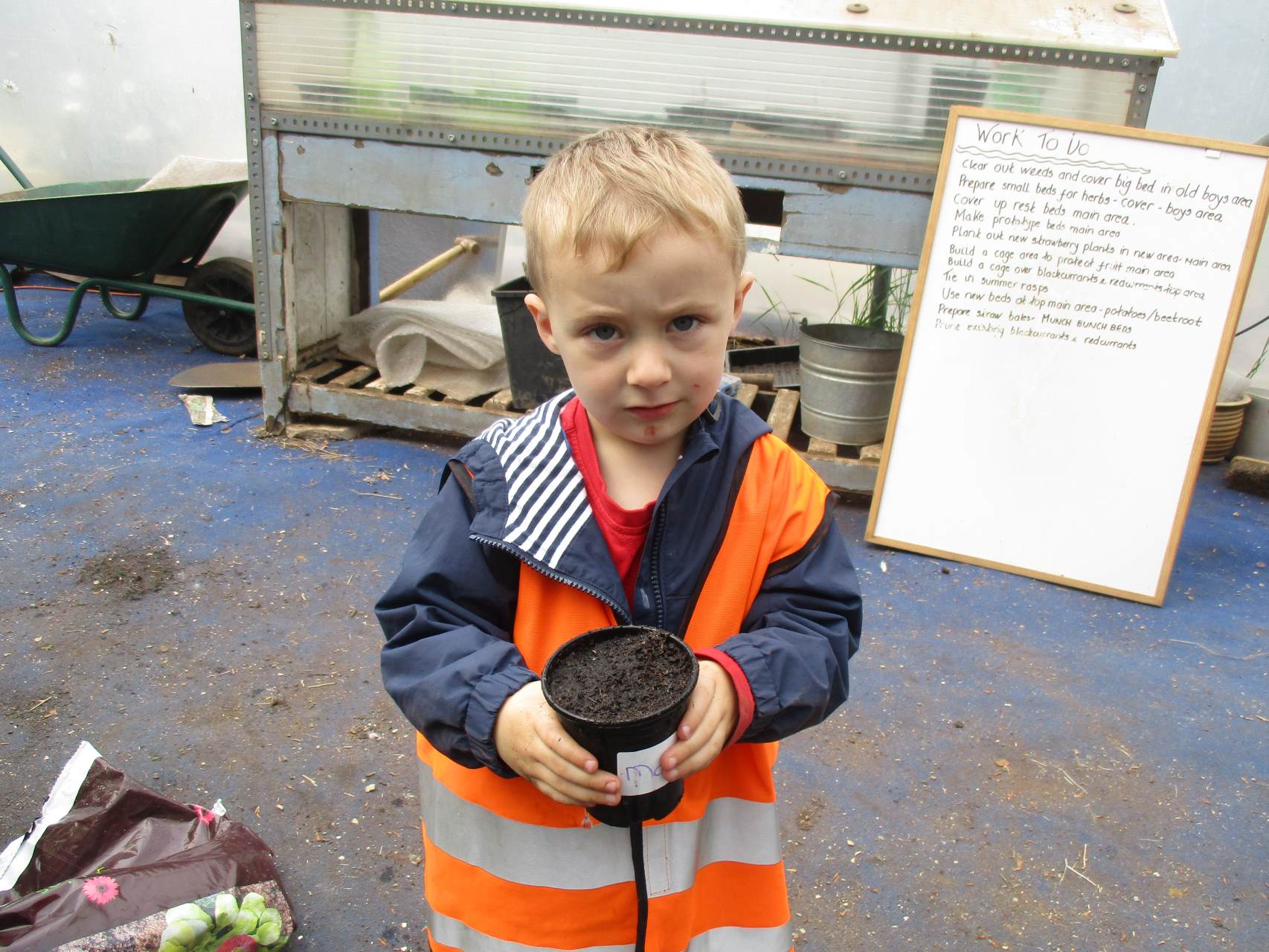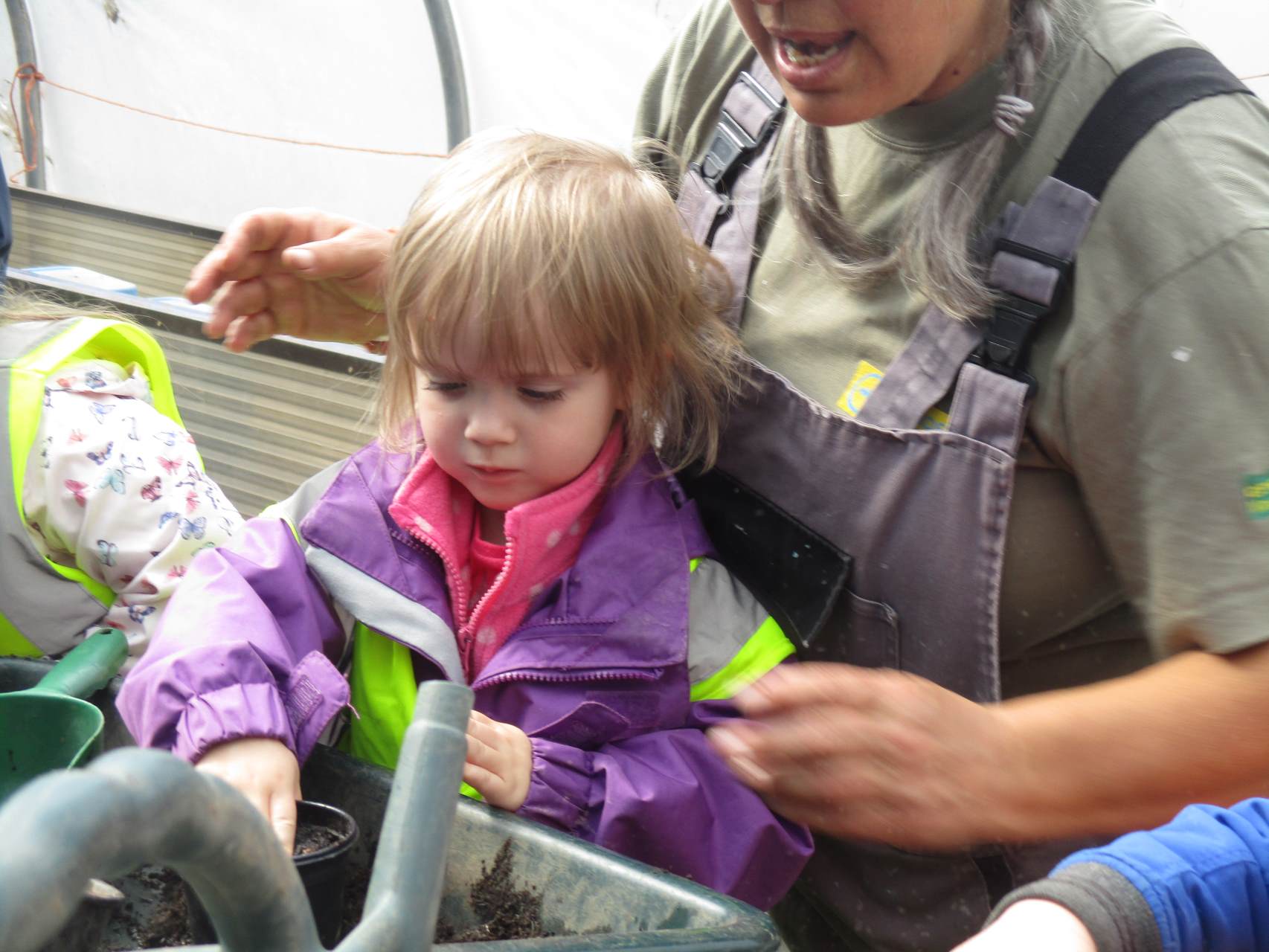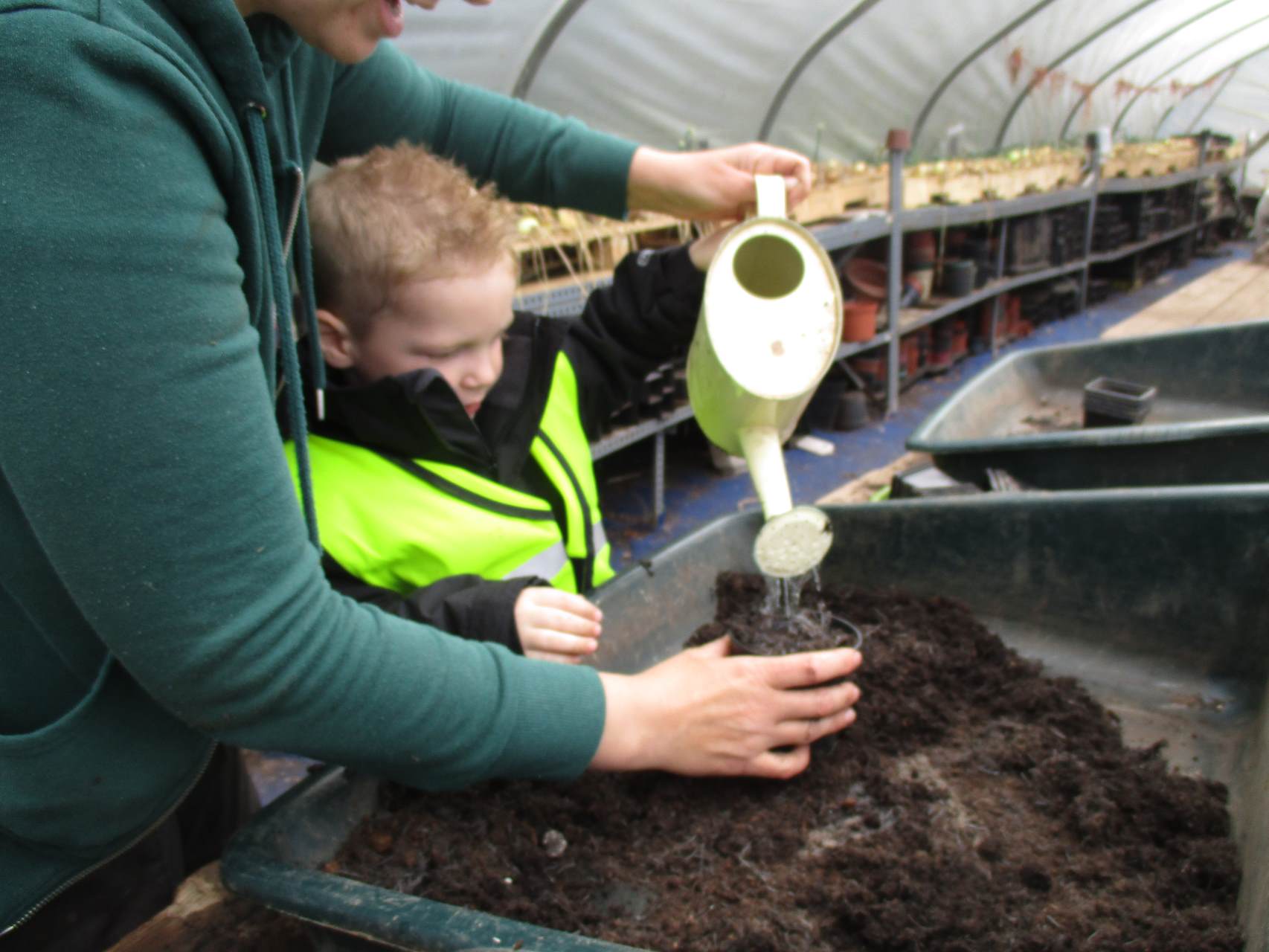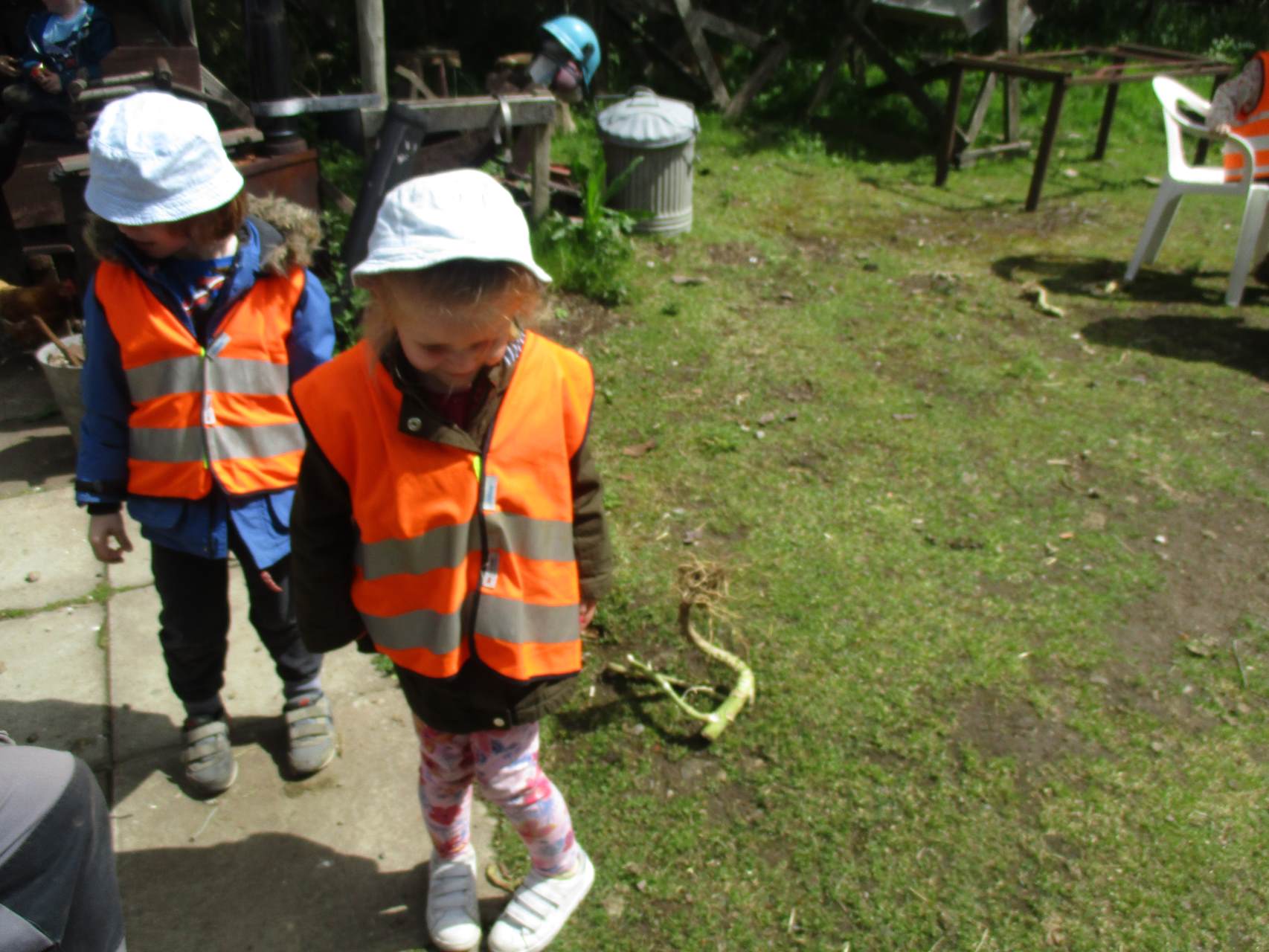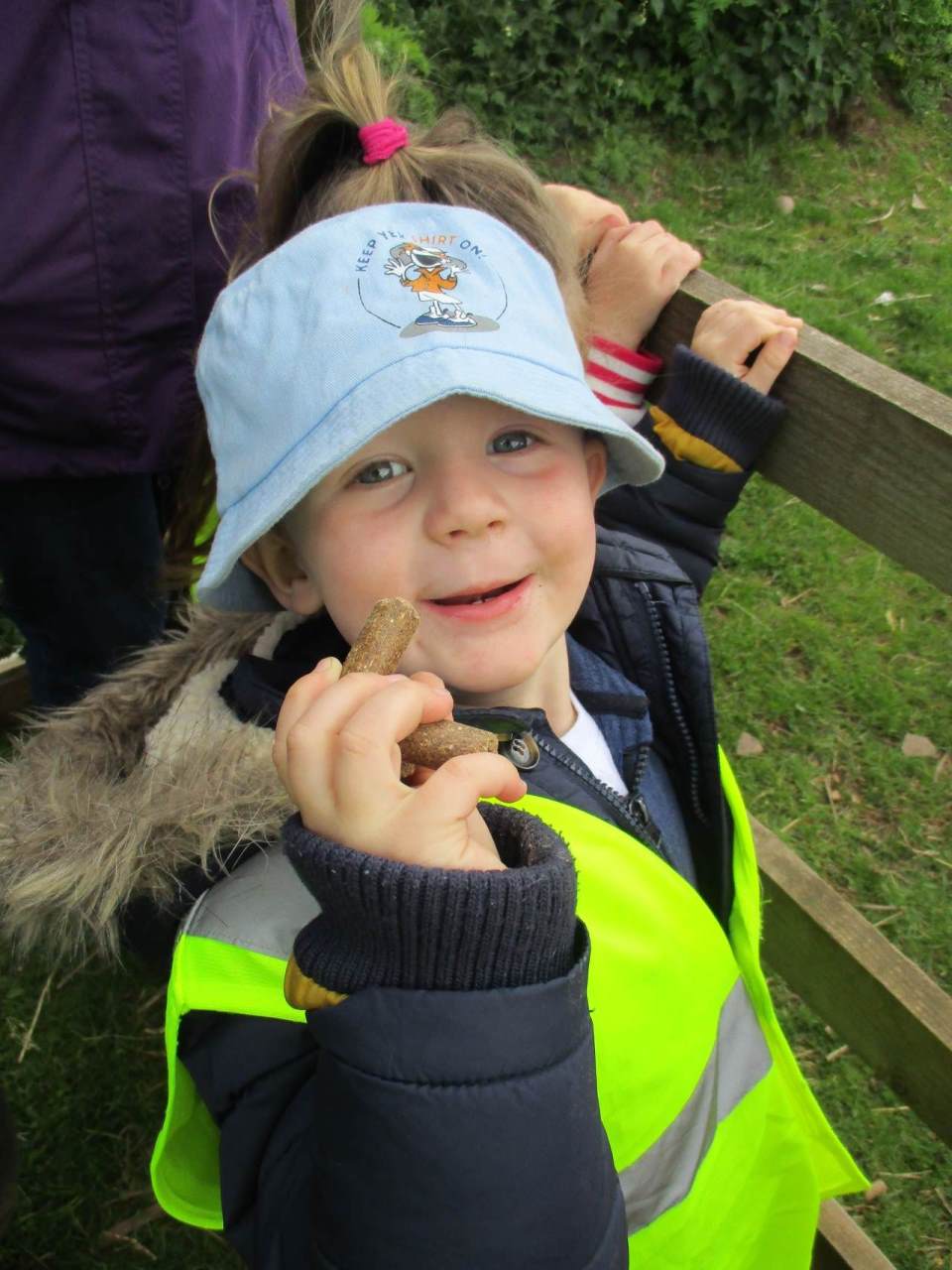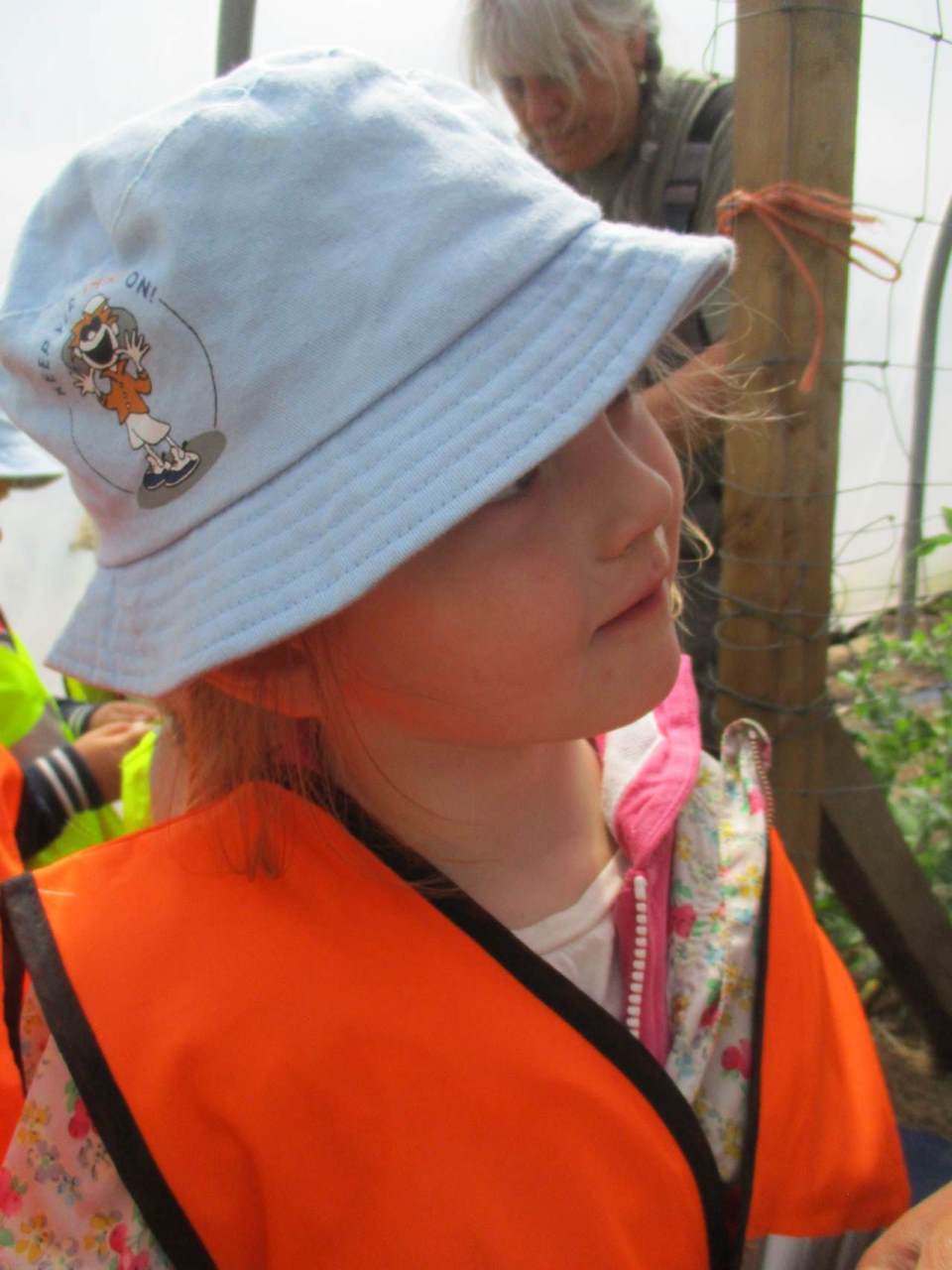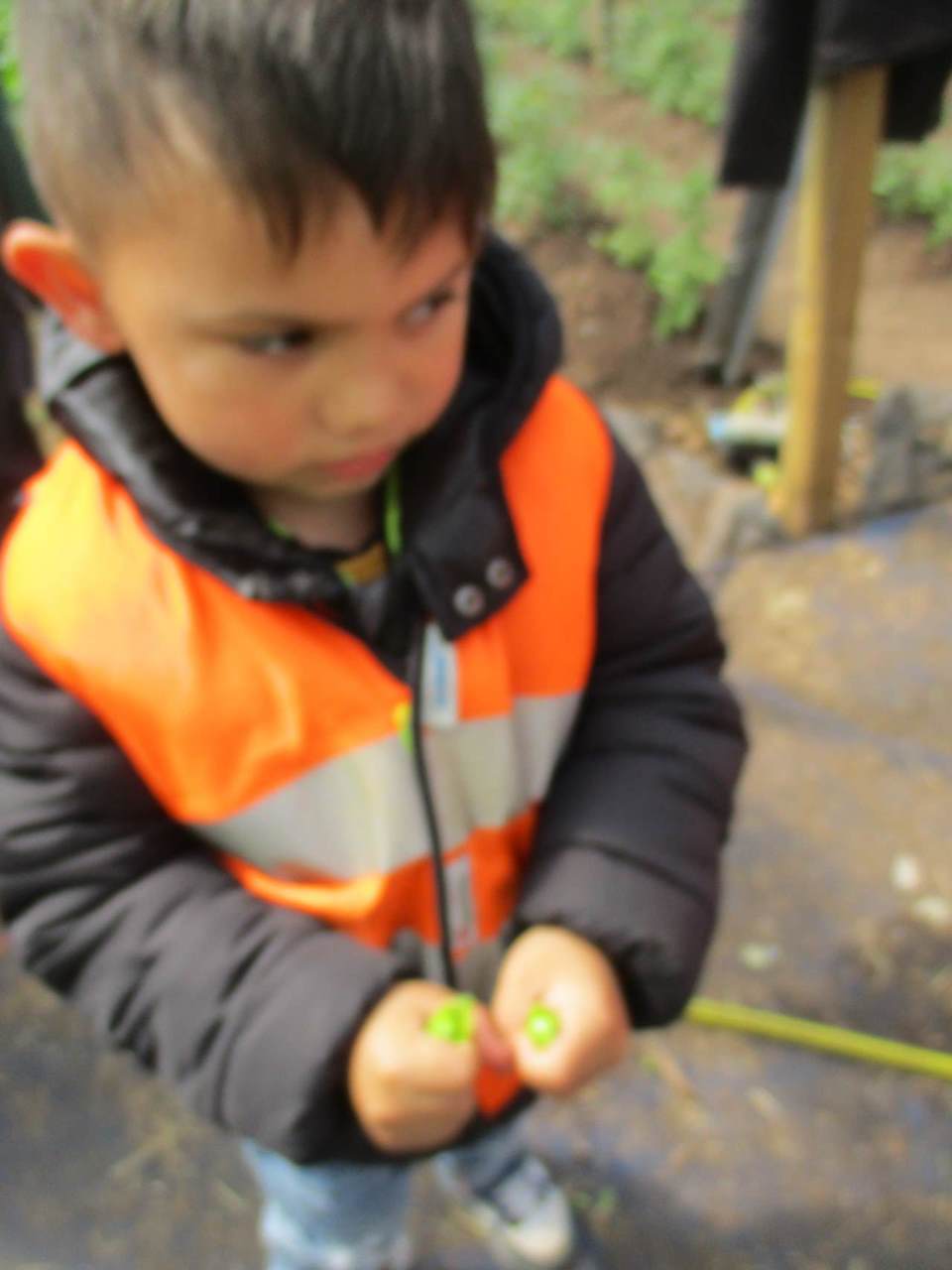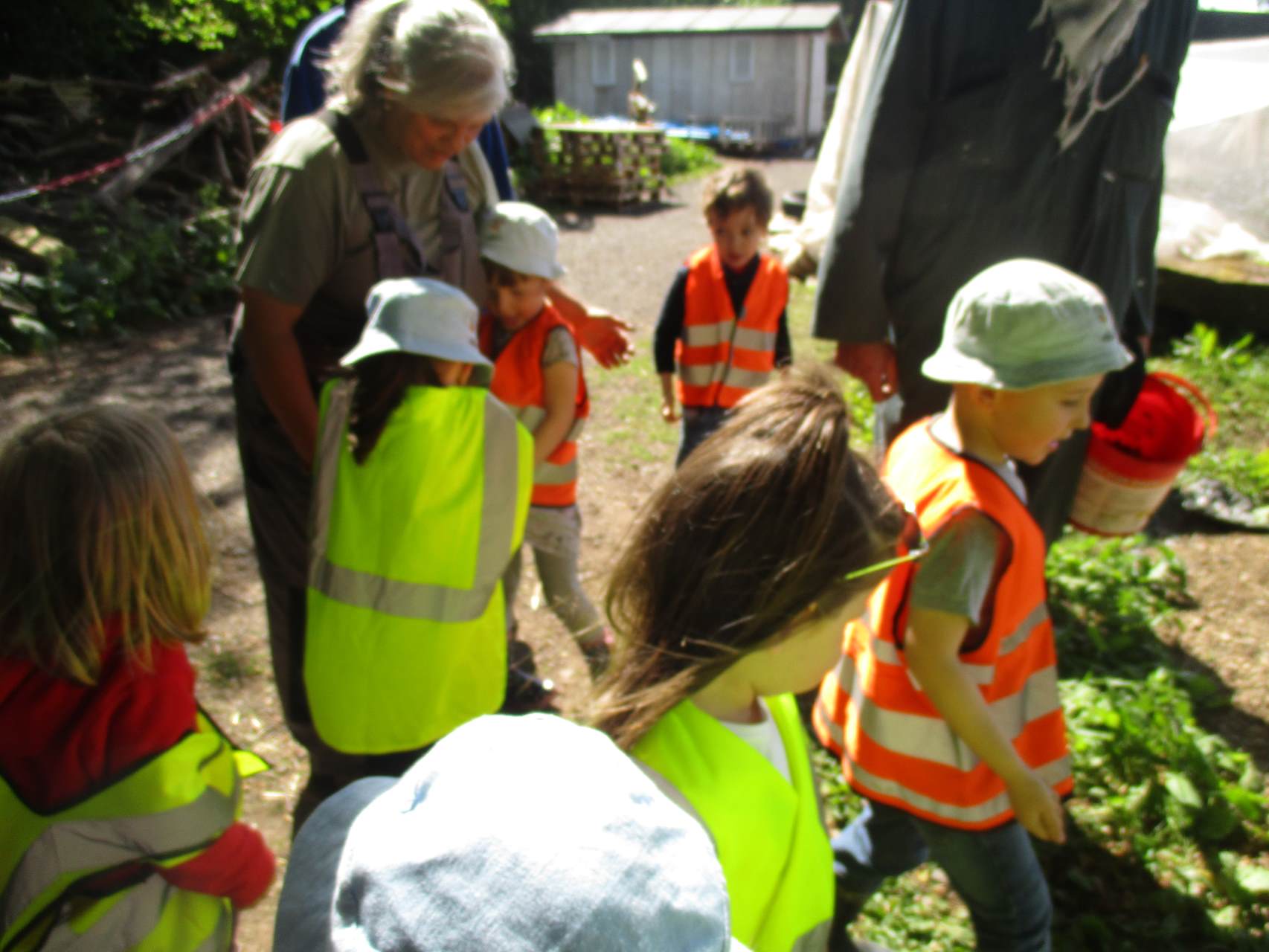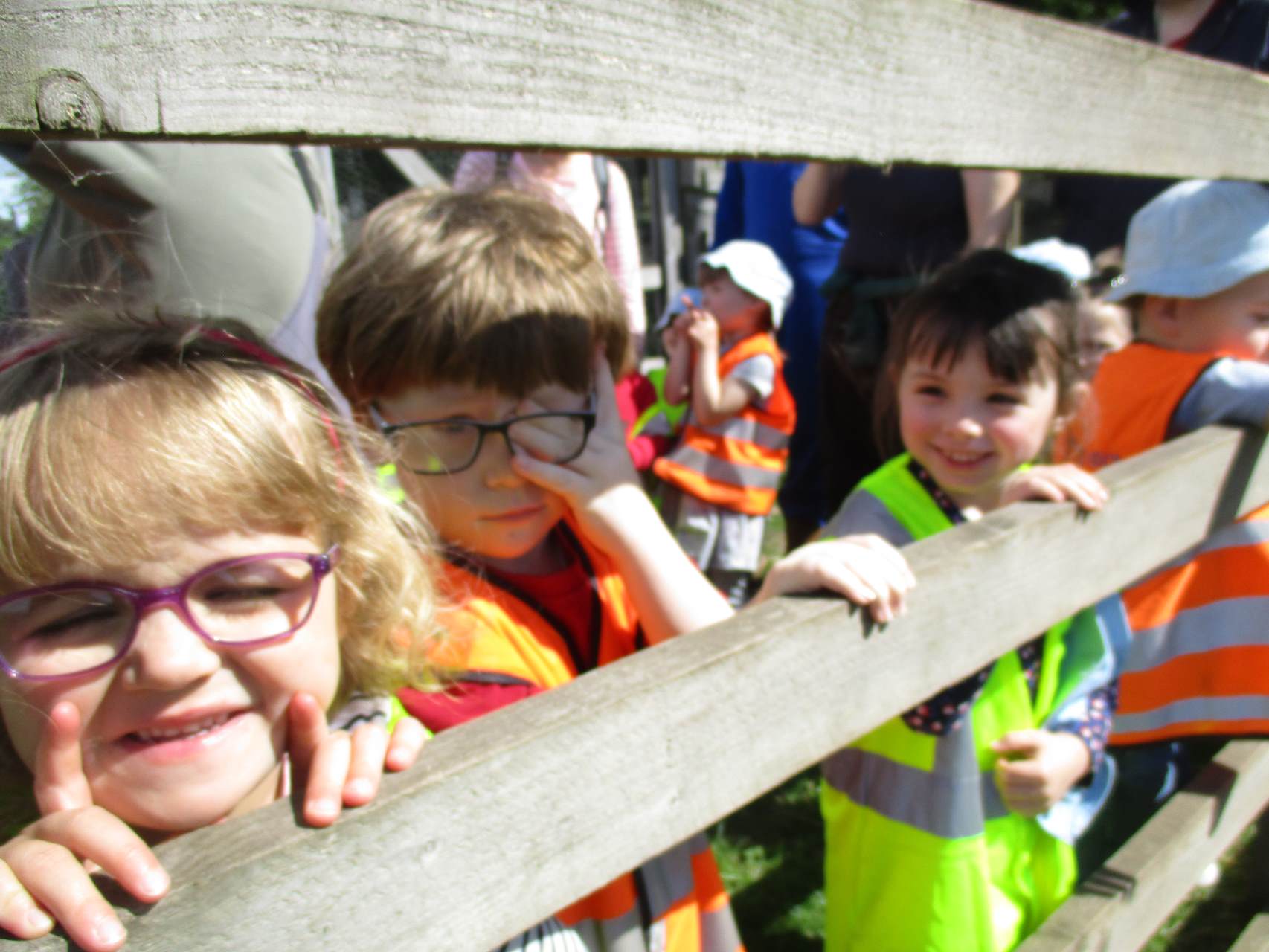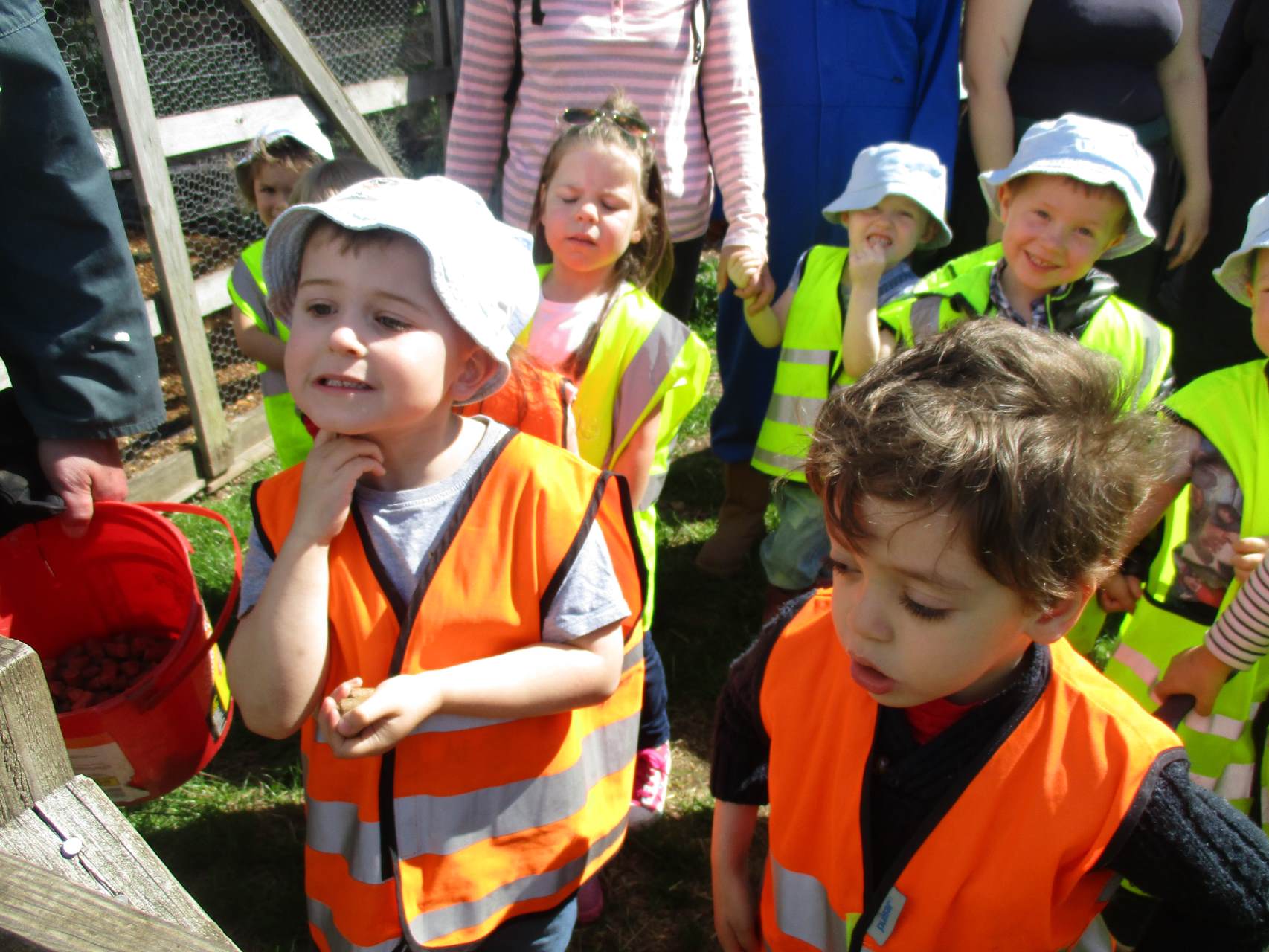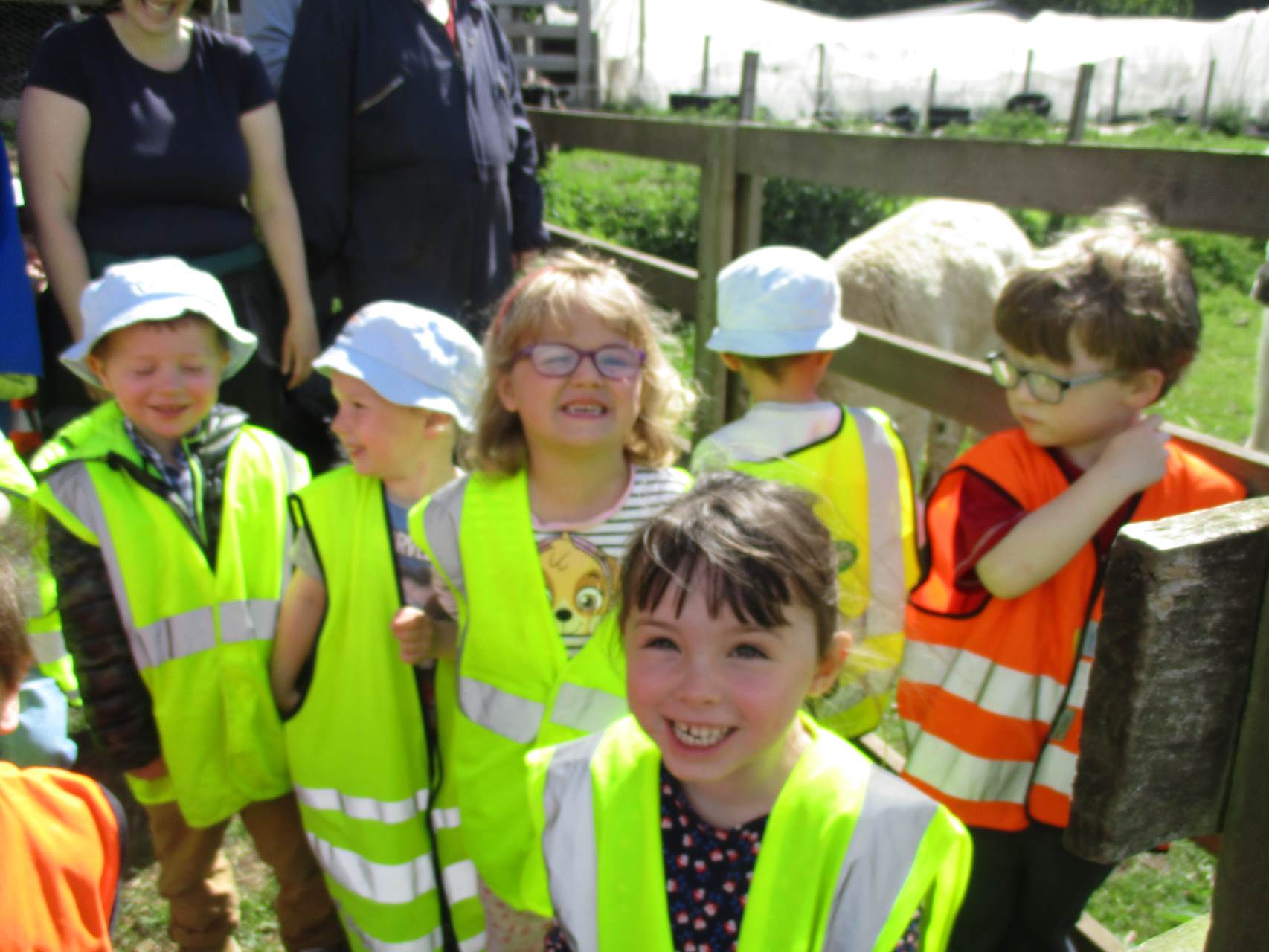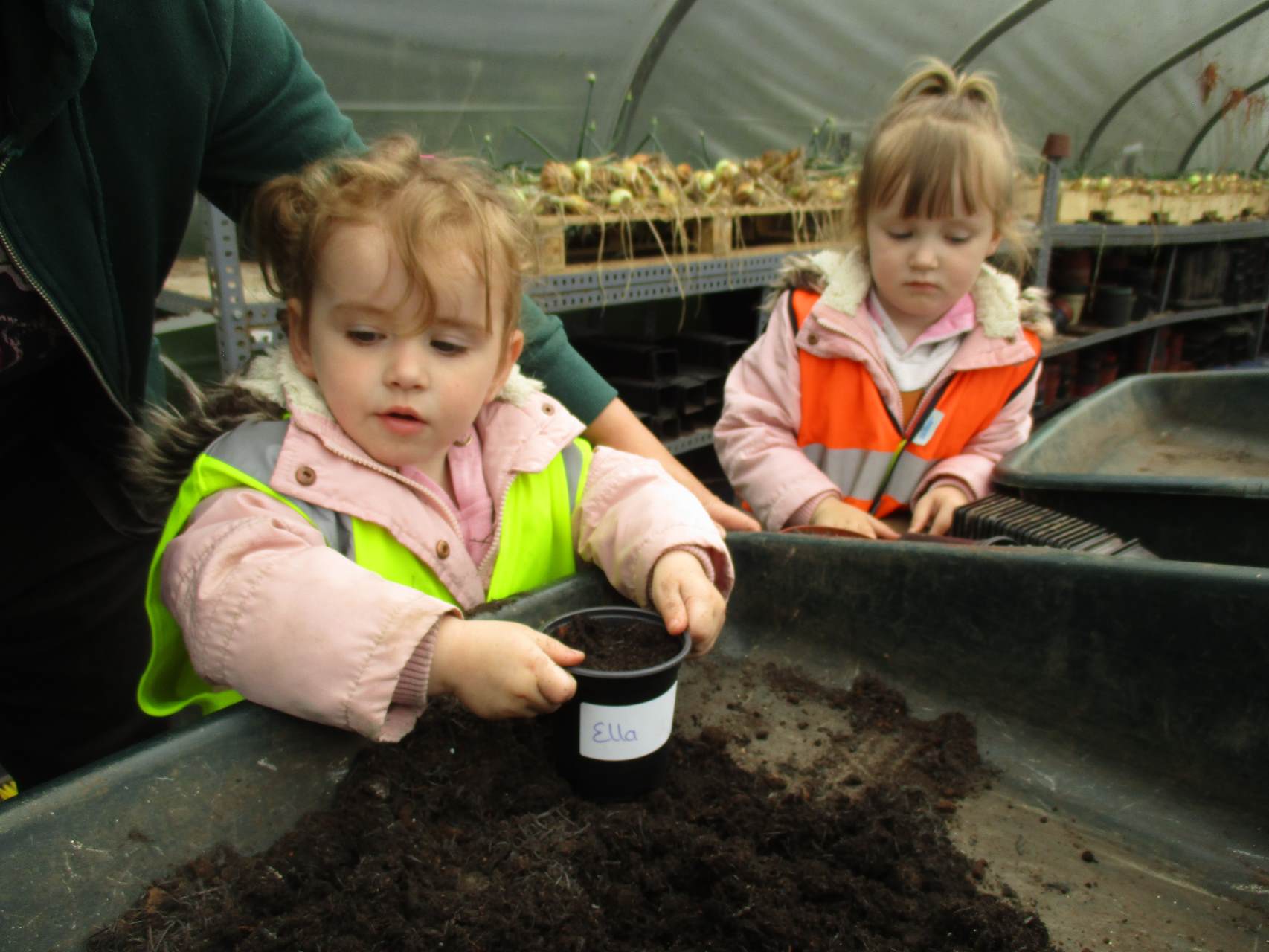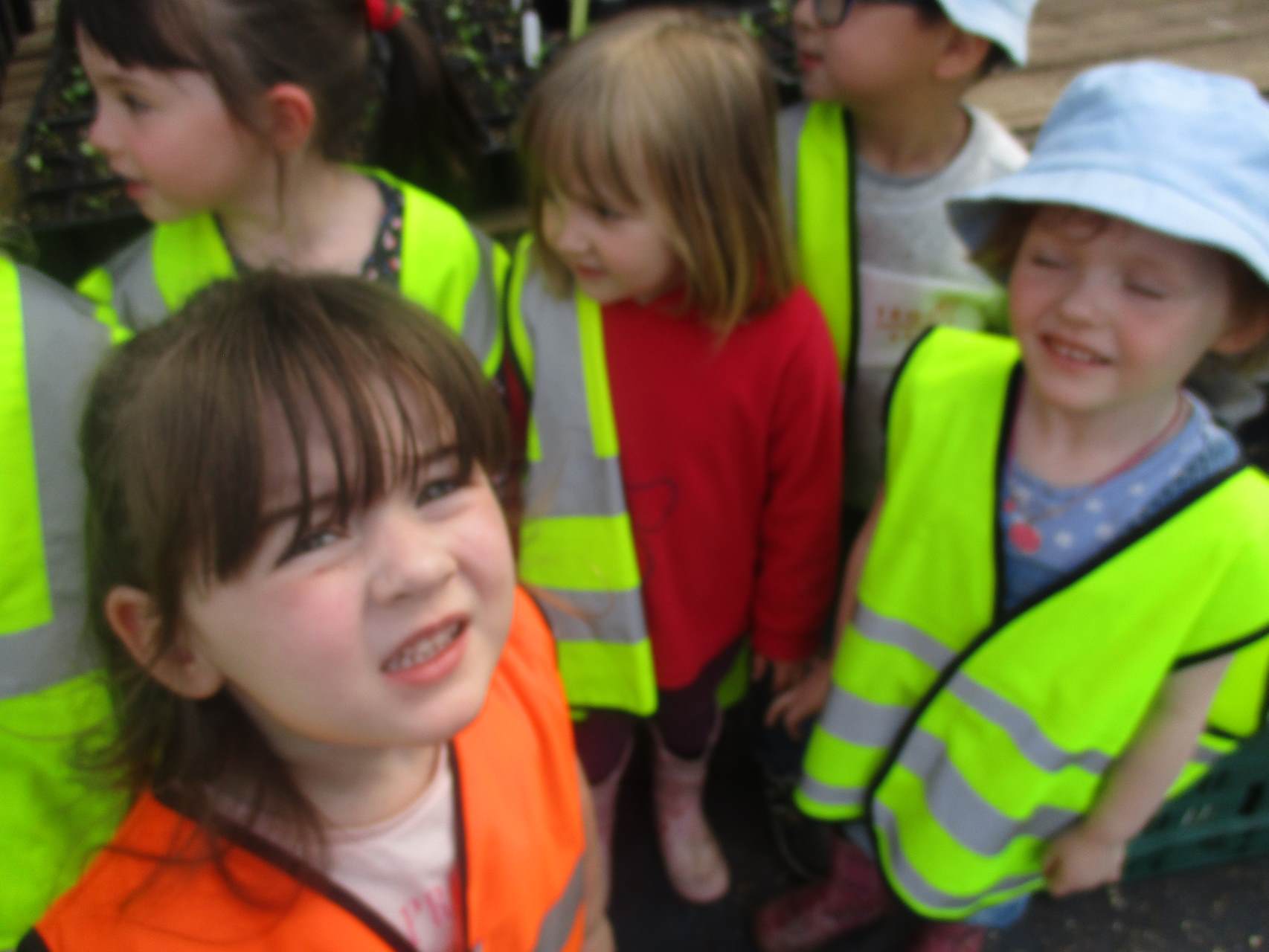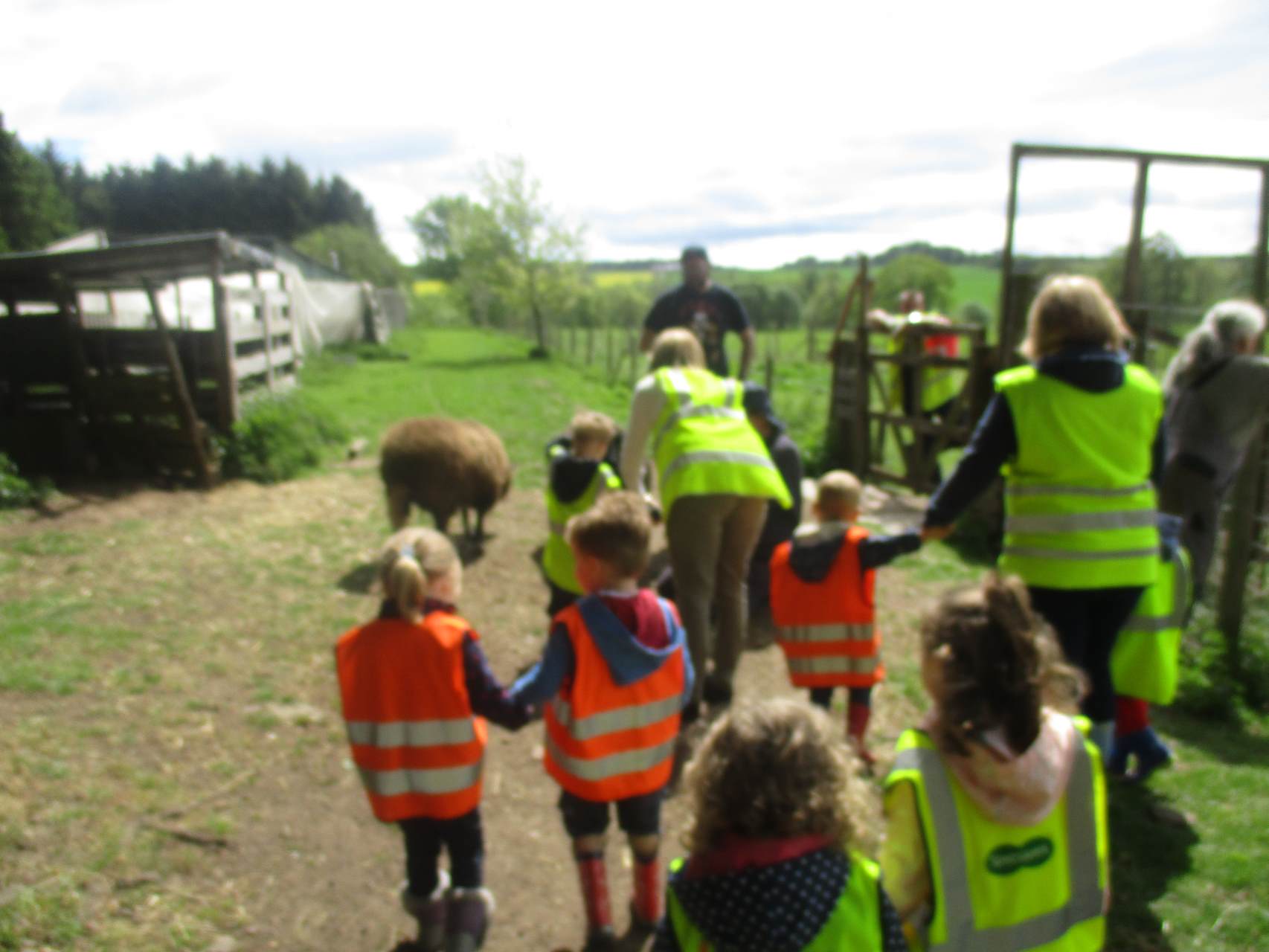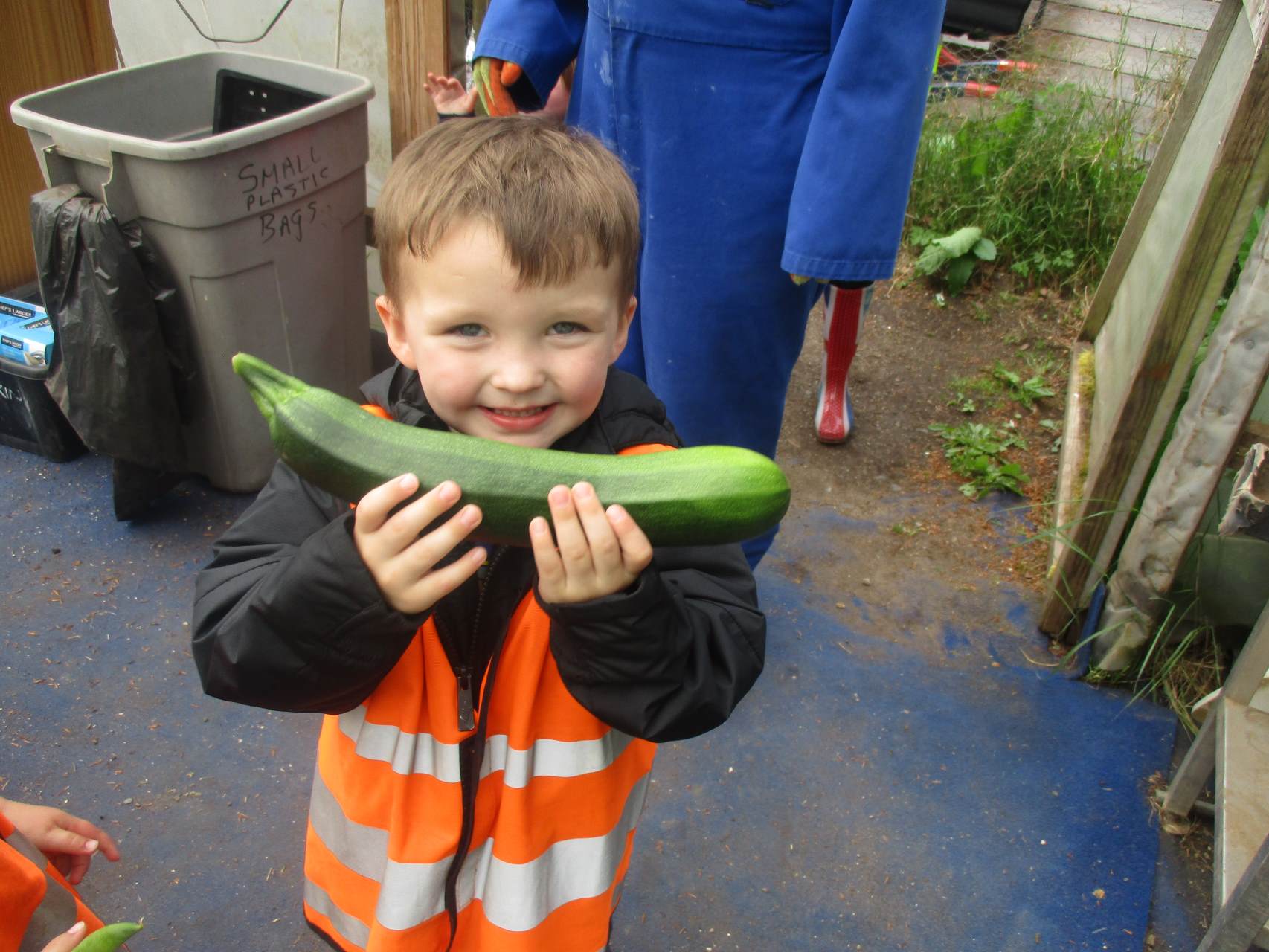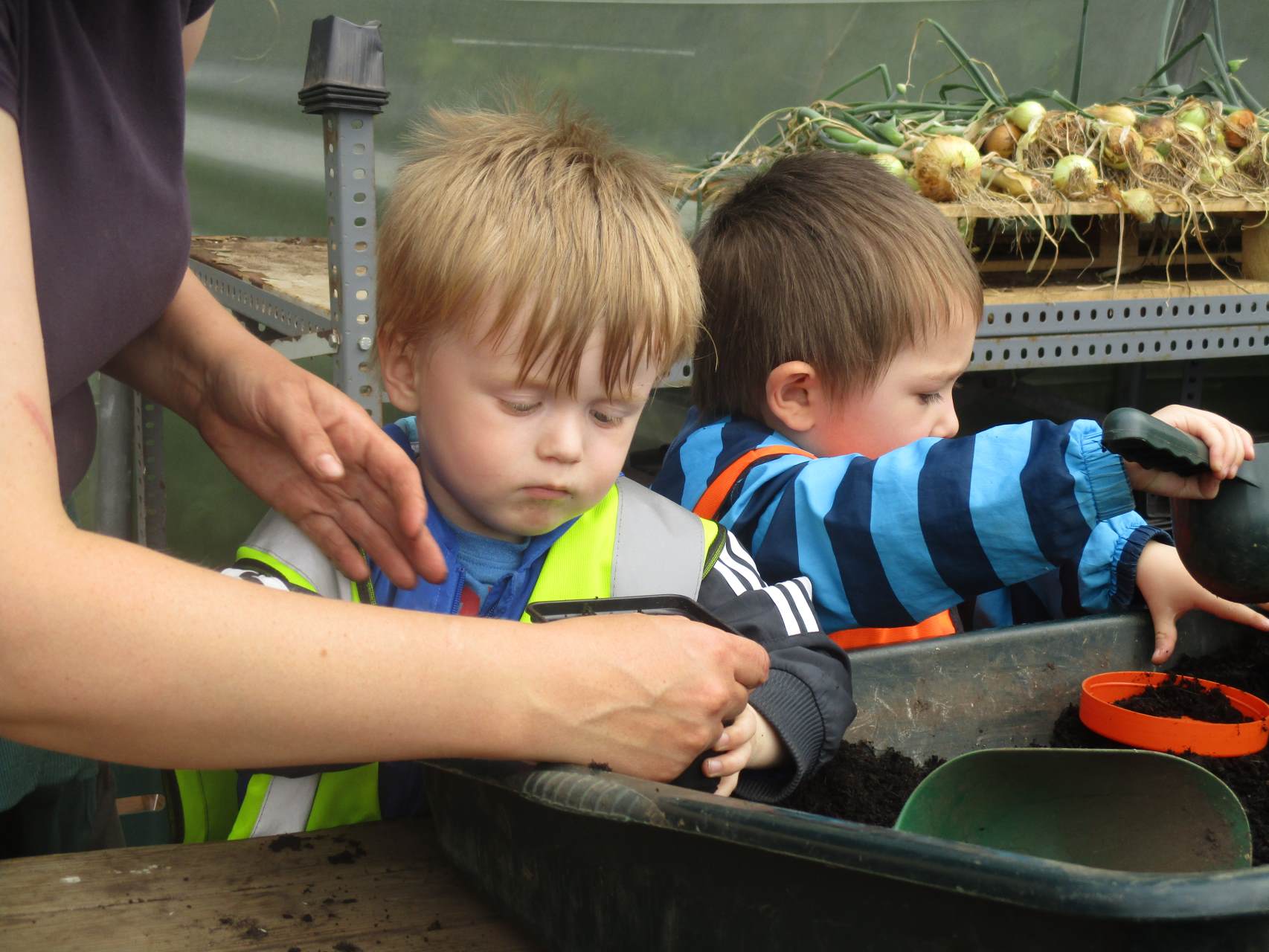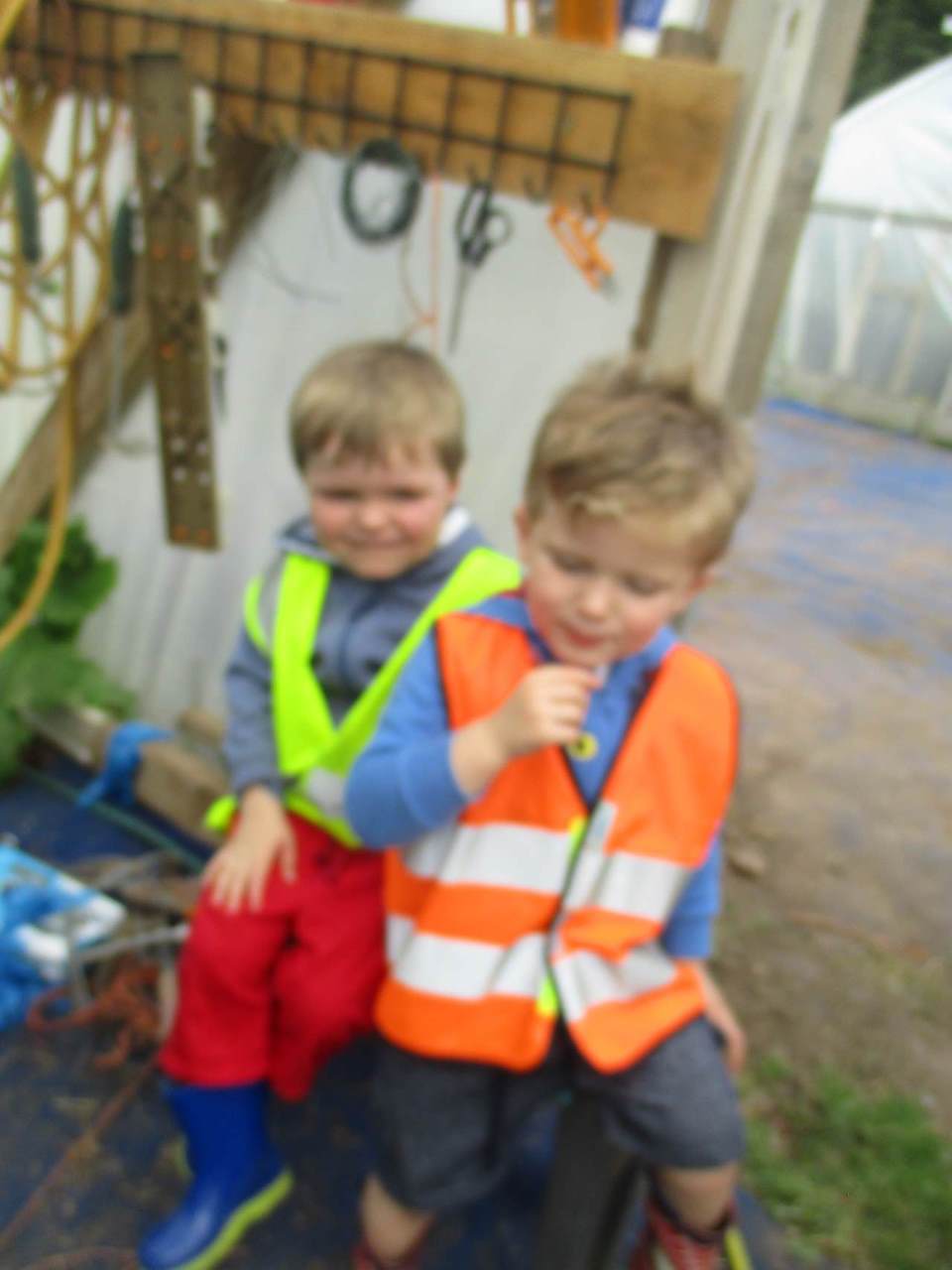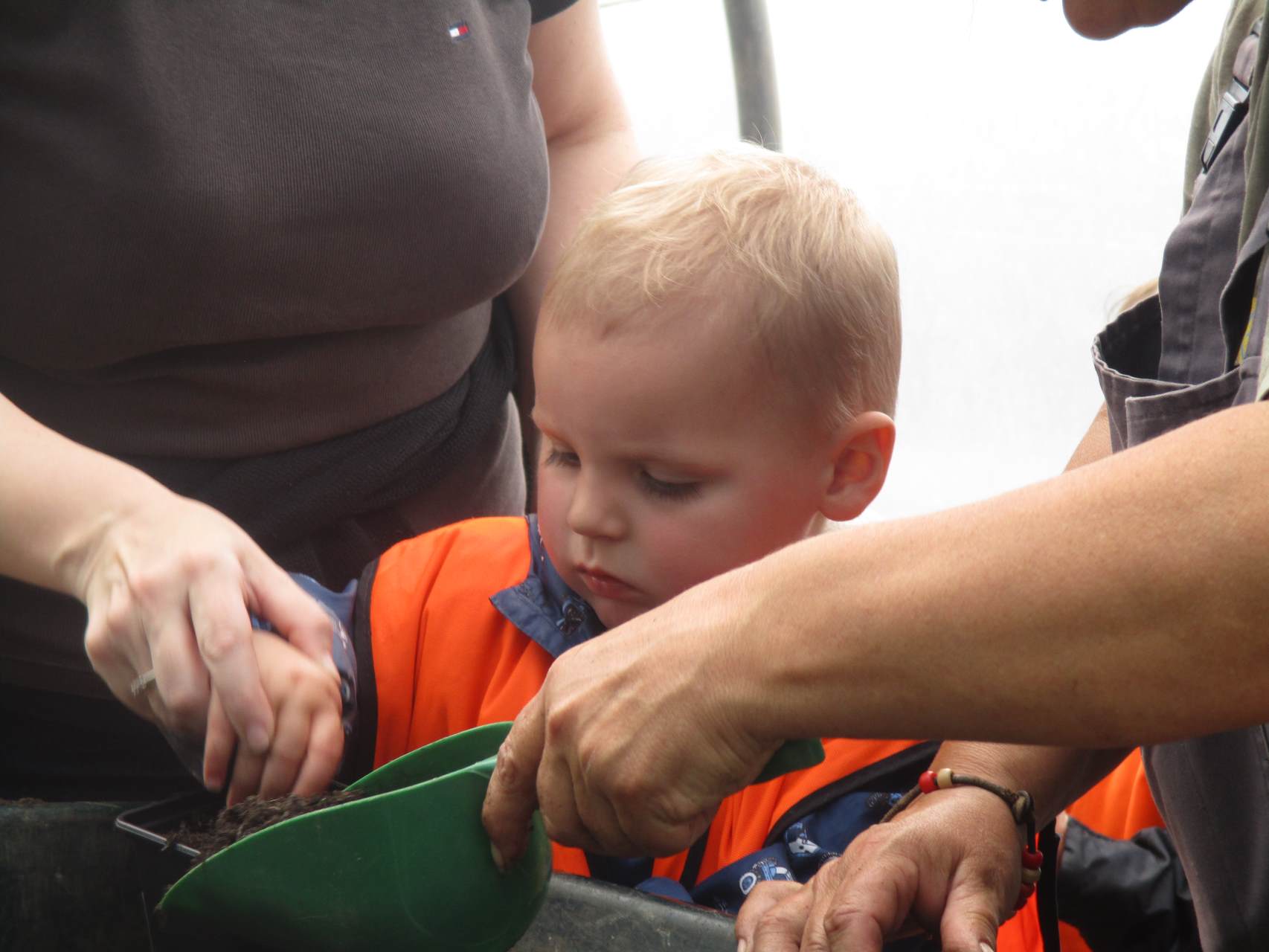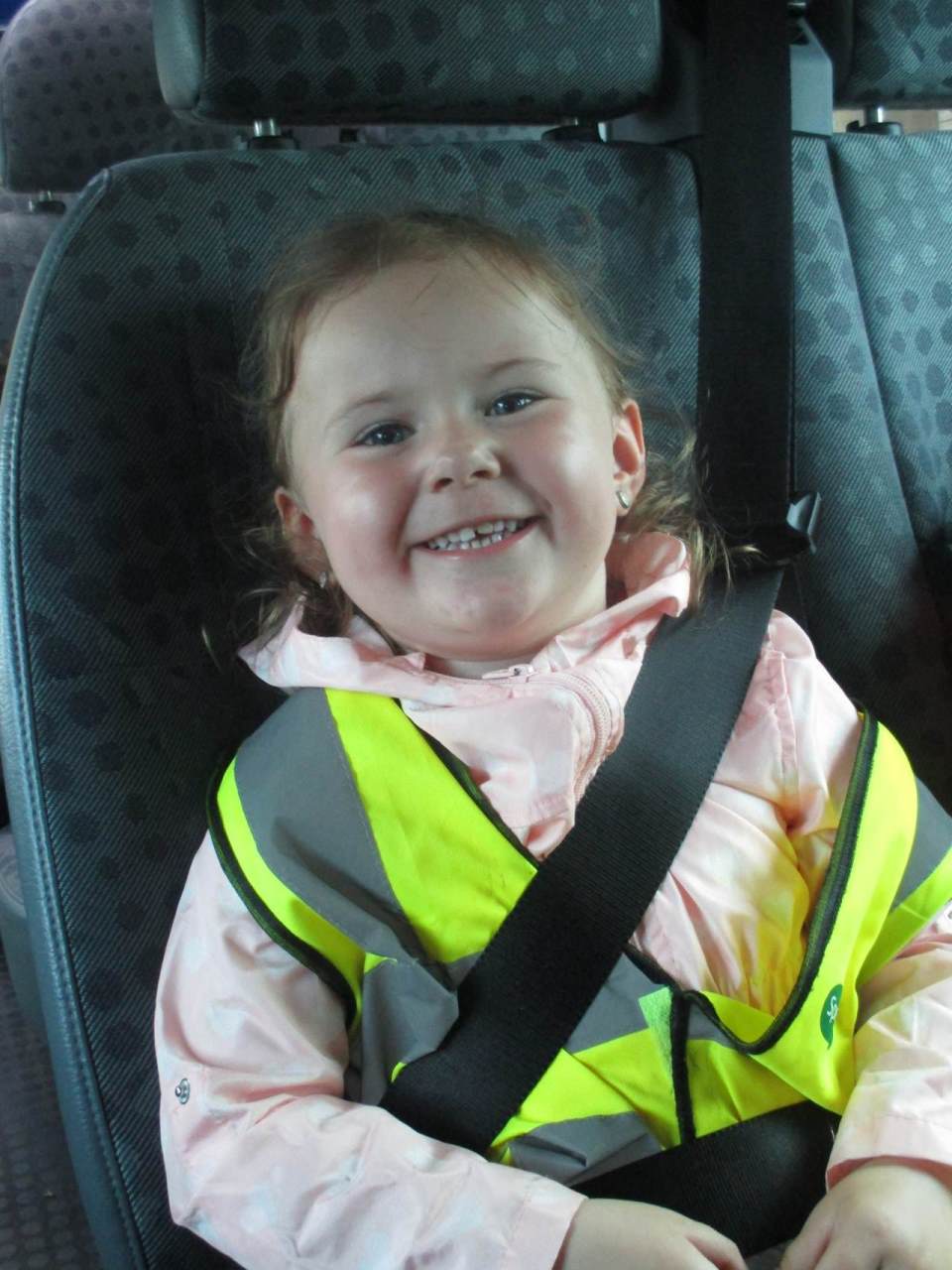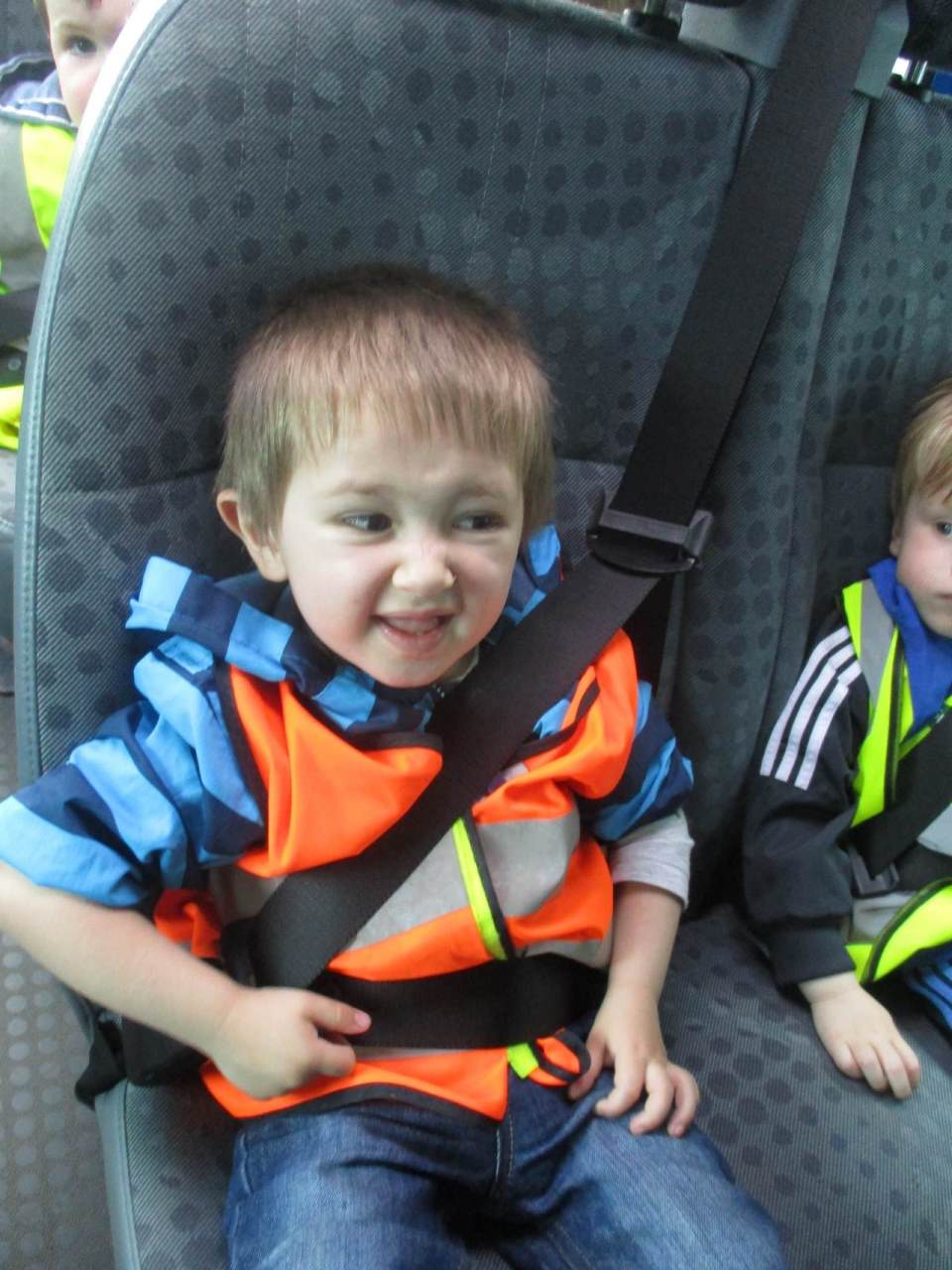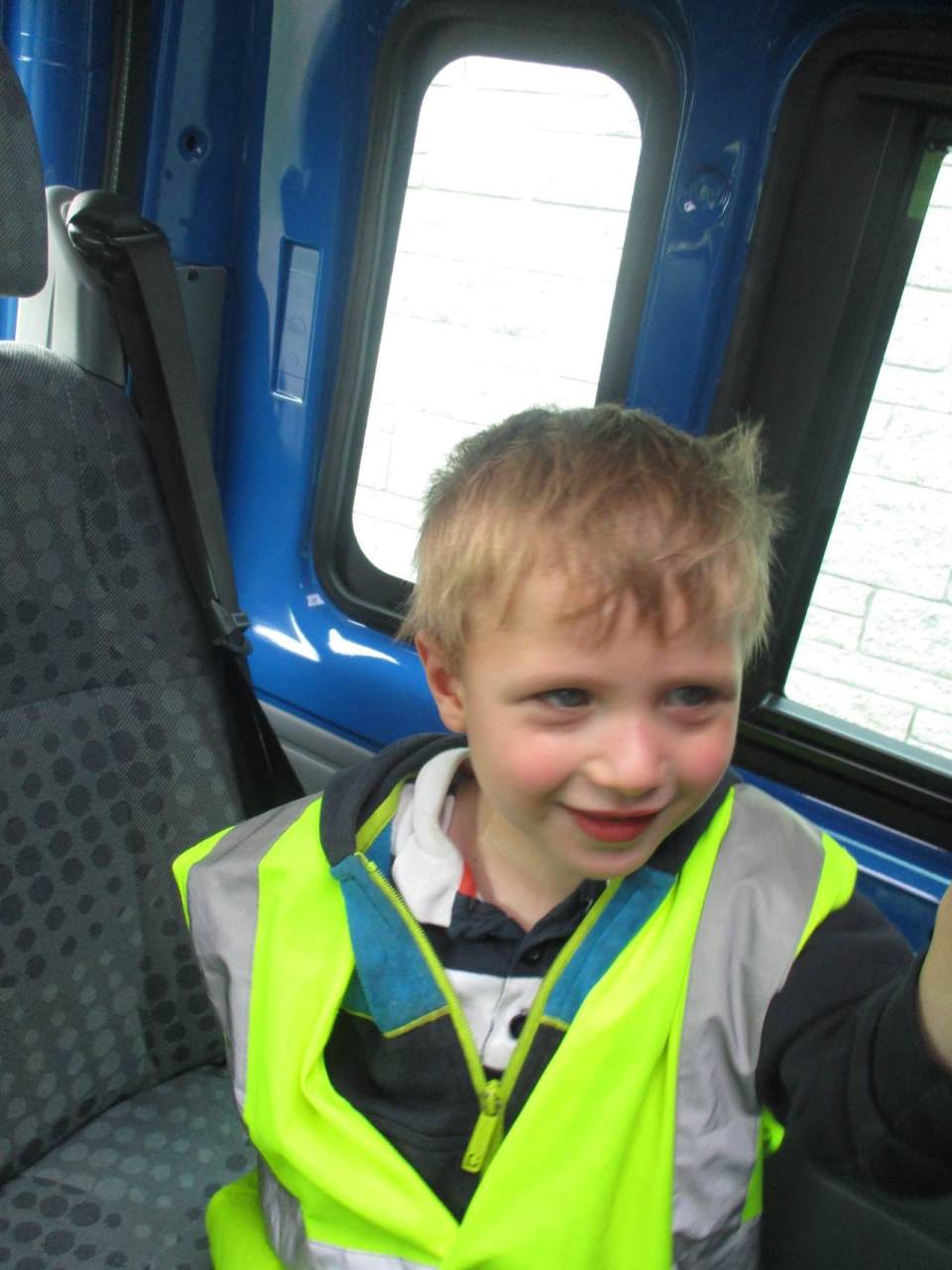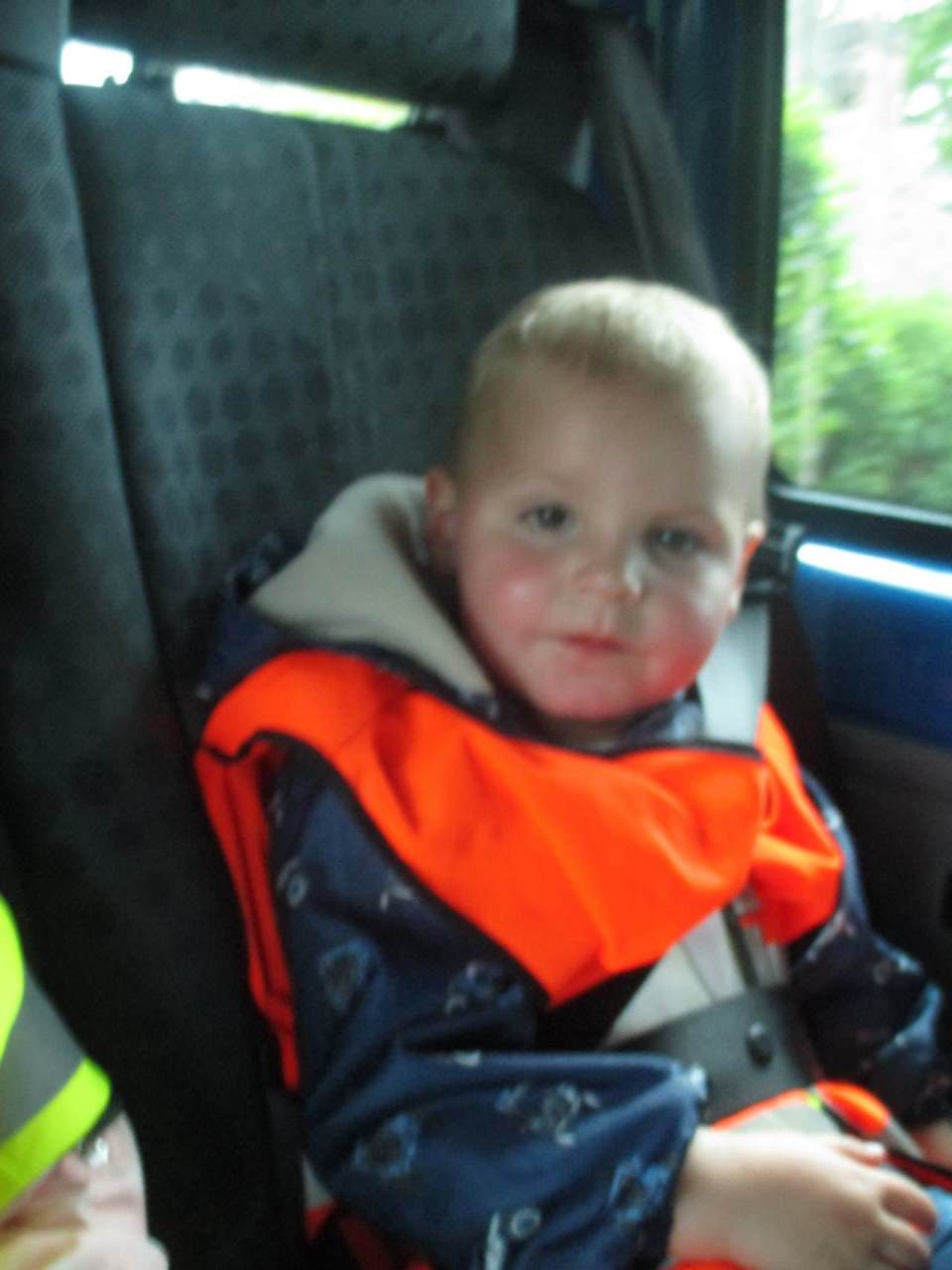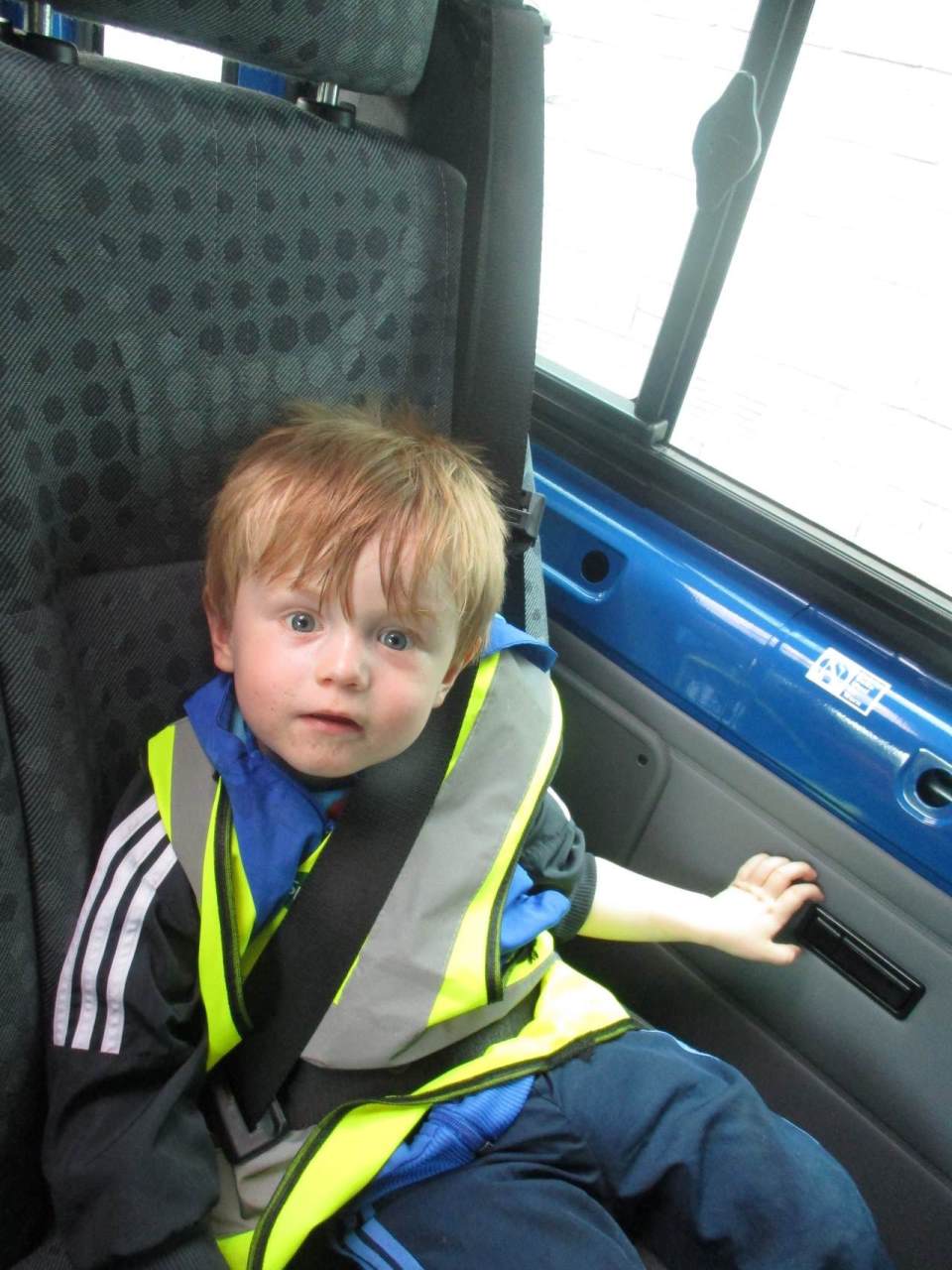 April and May
Since returning after Easter we have been busier than ever and our children are growing in confidence as they experiment and explore through play.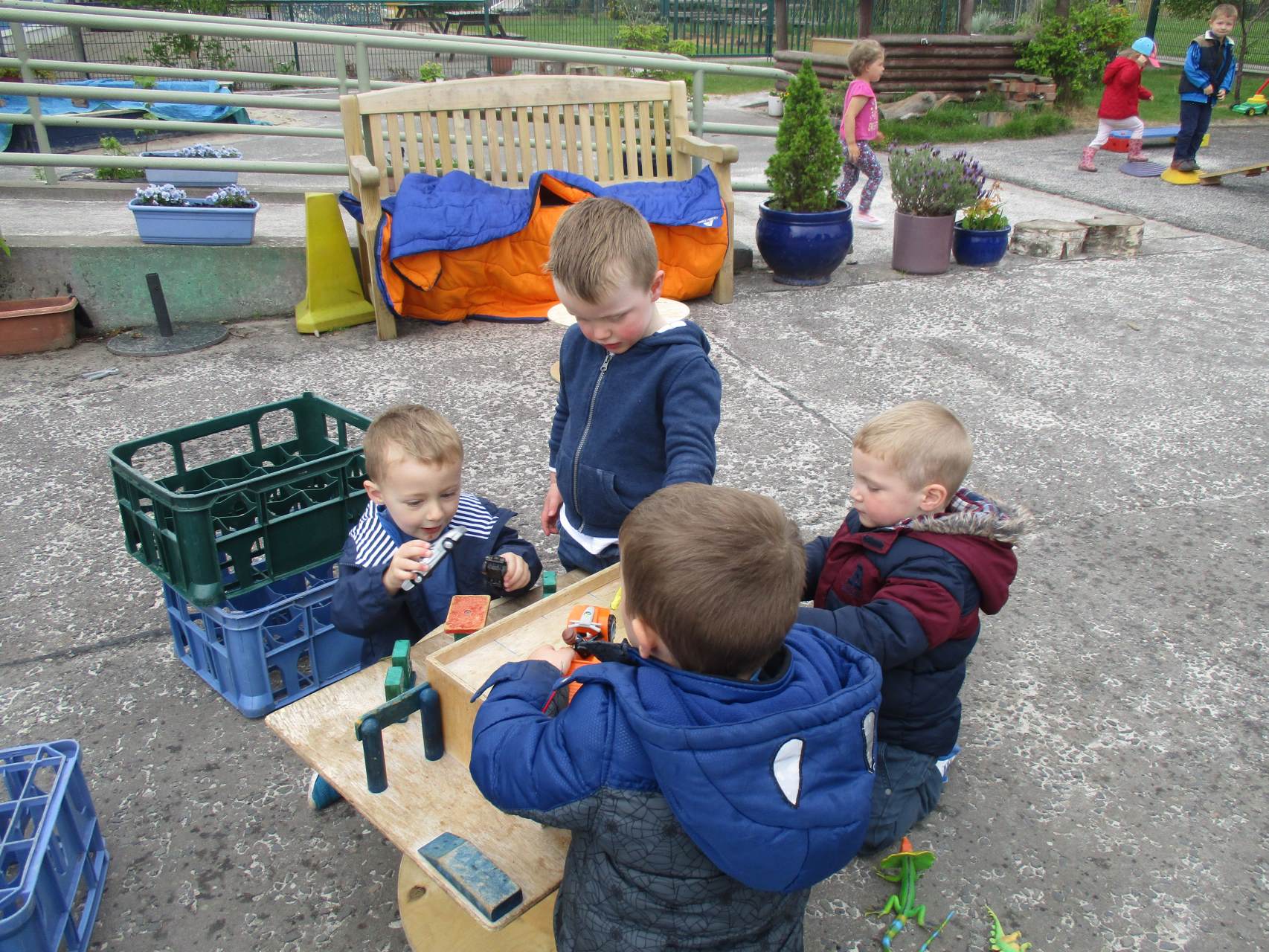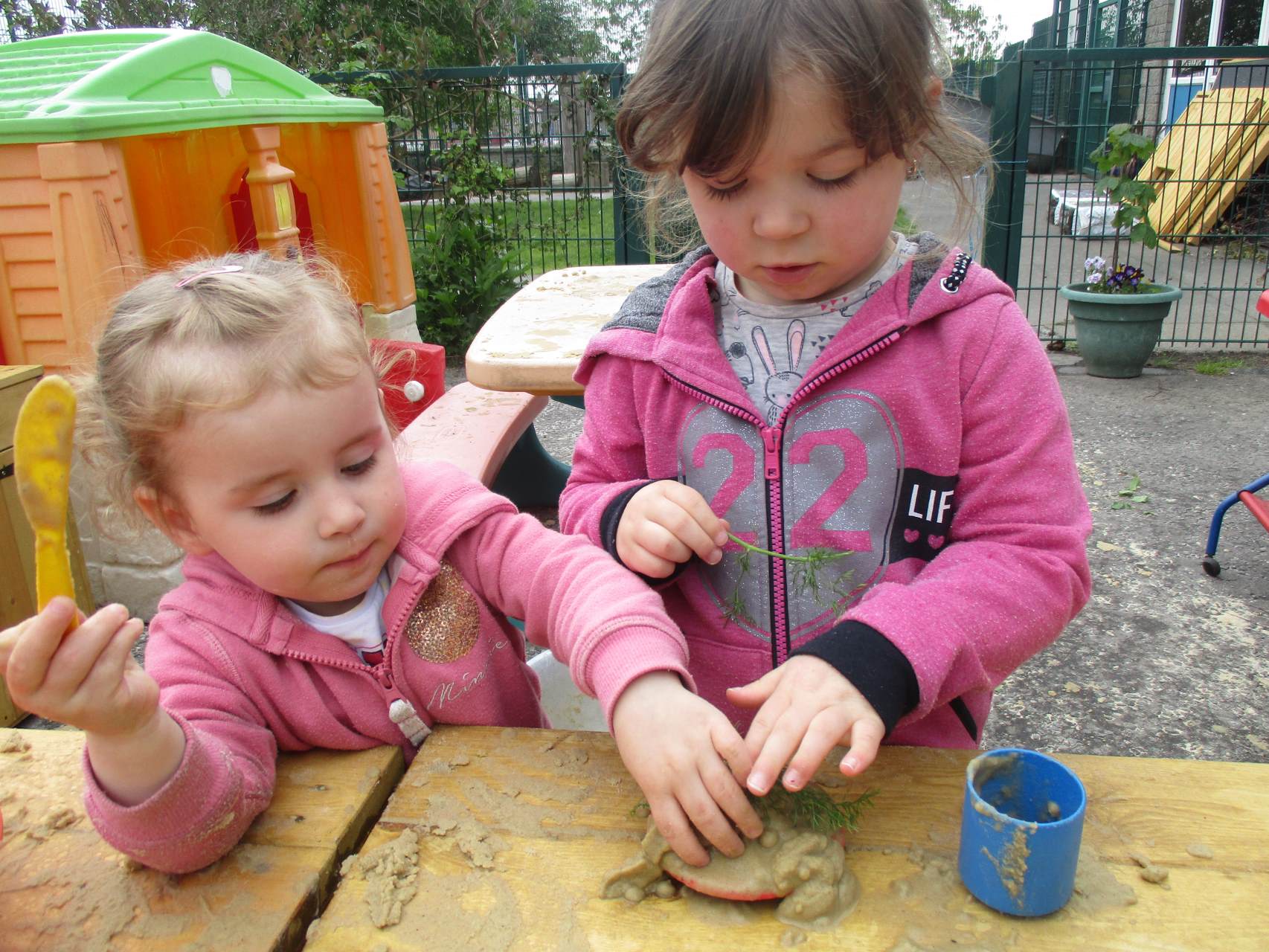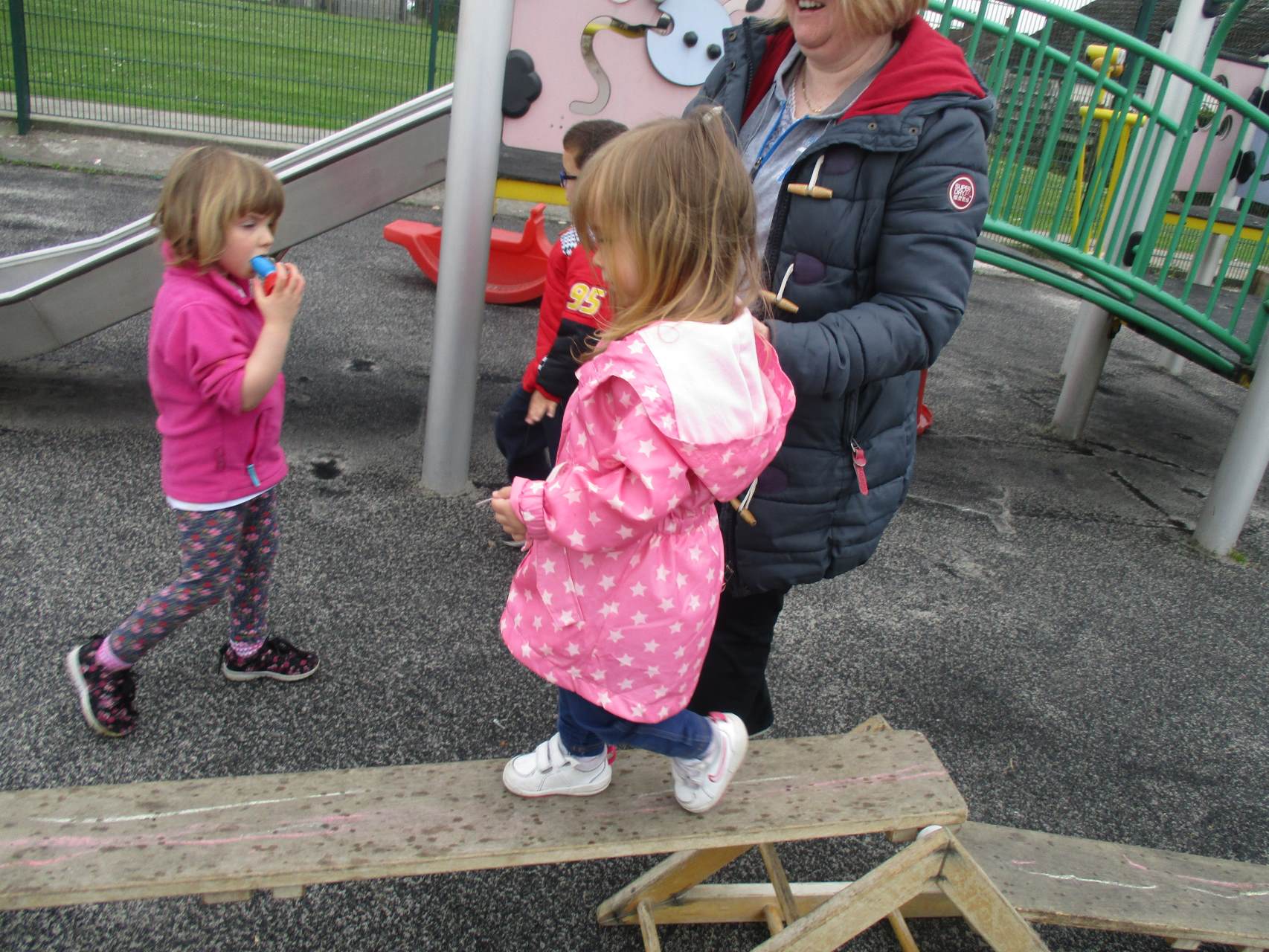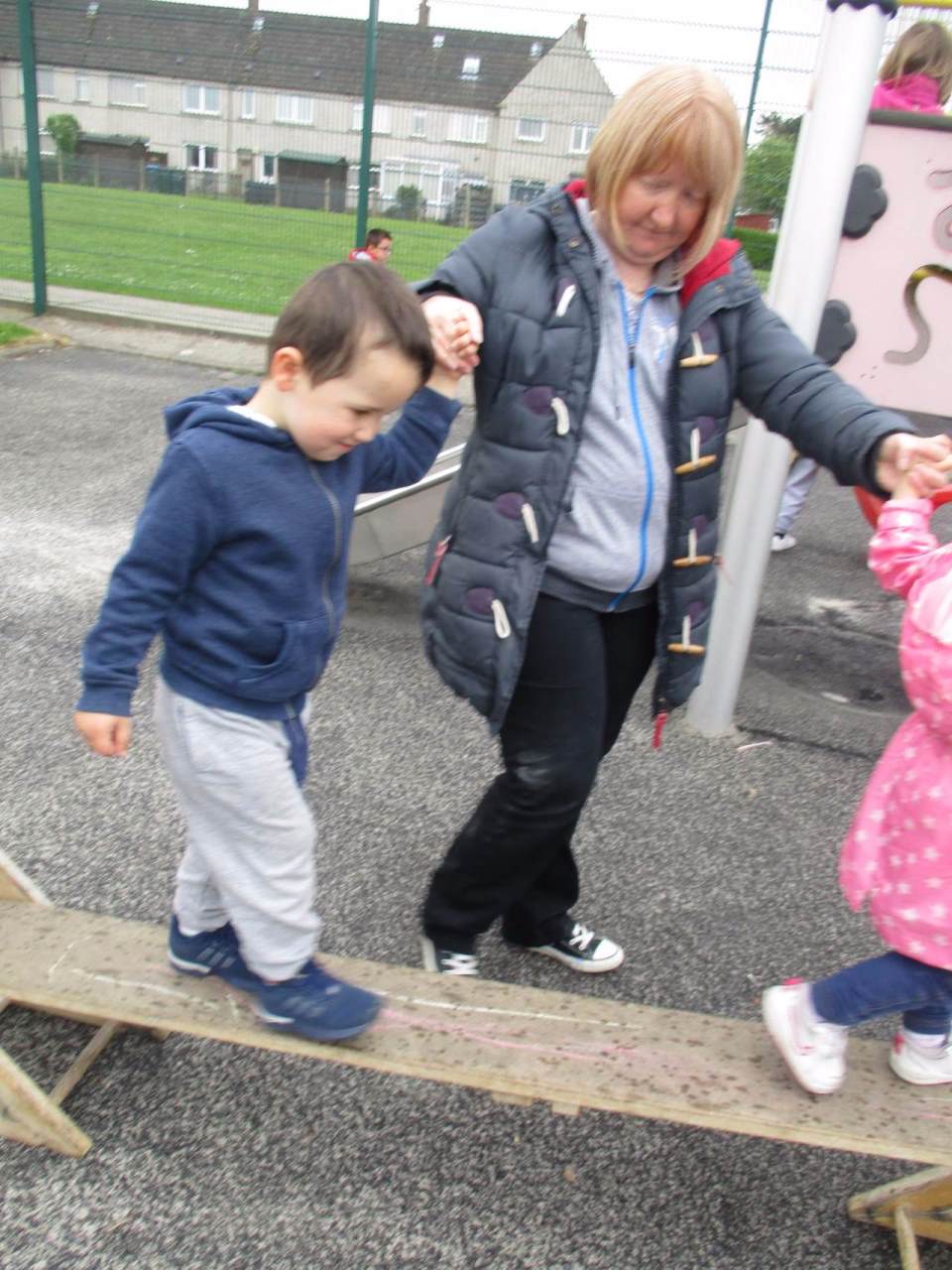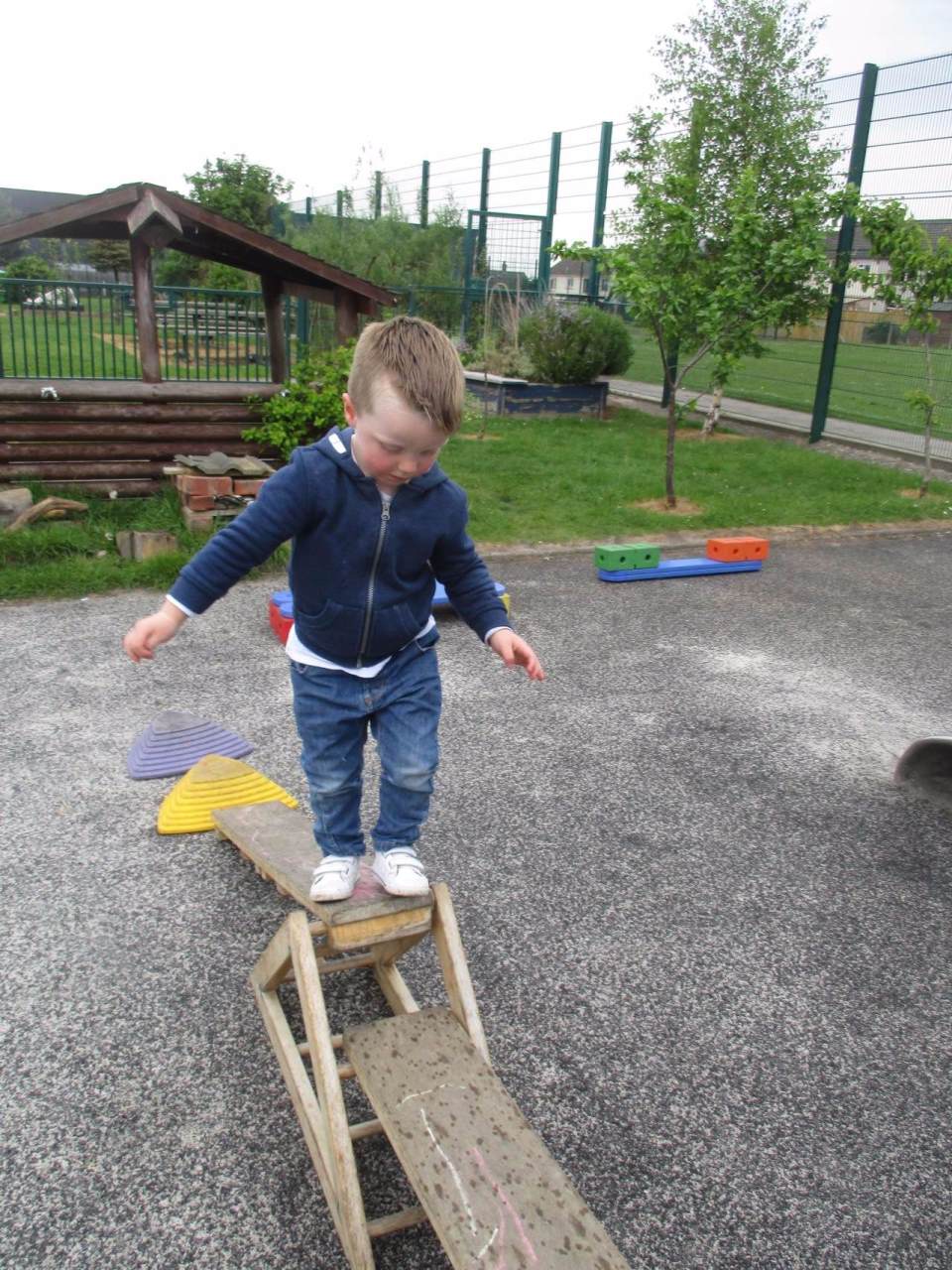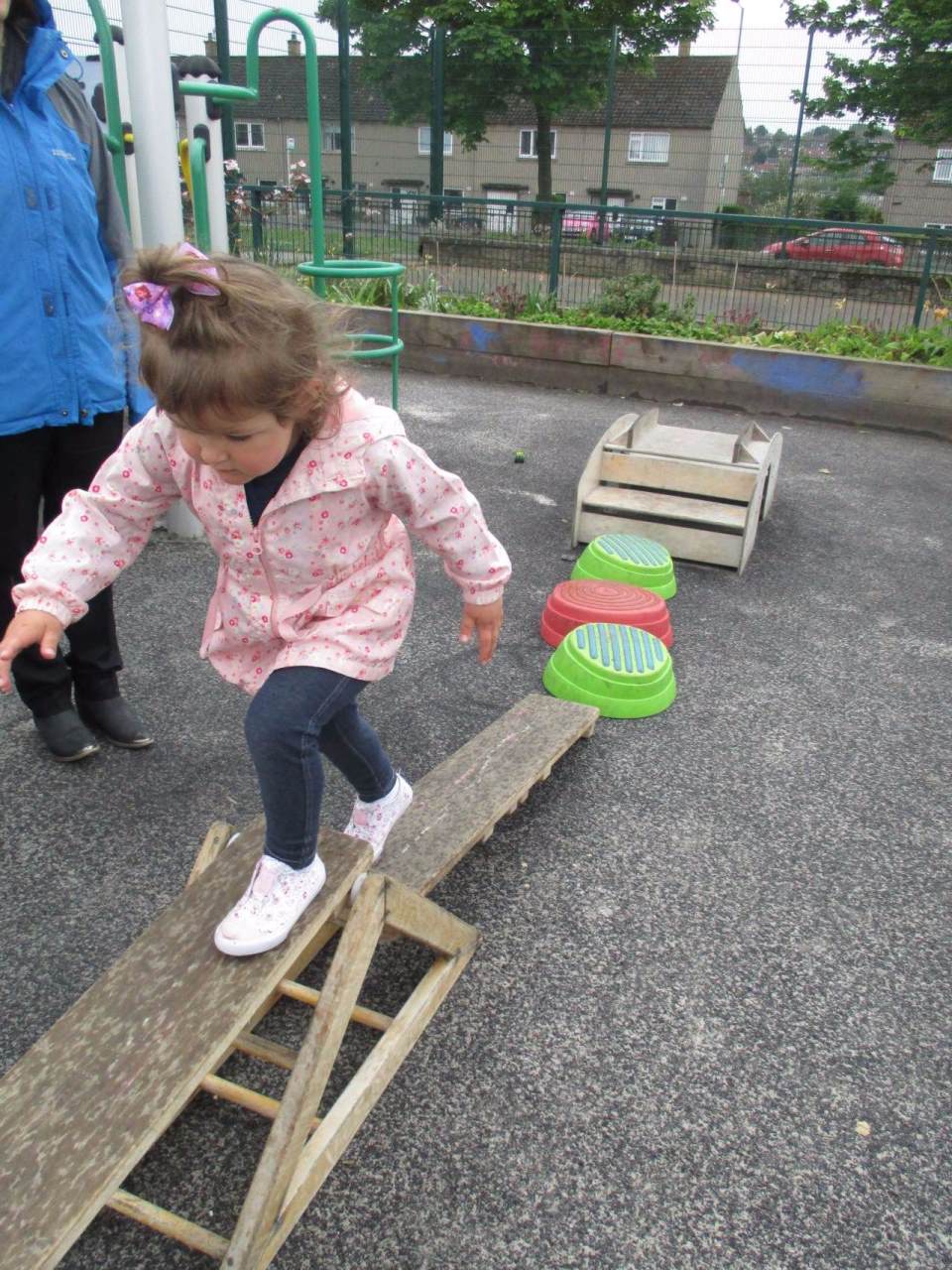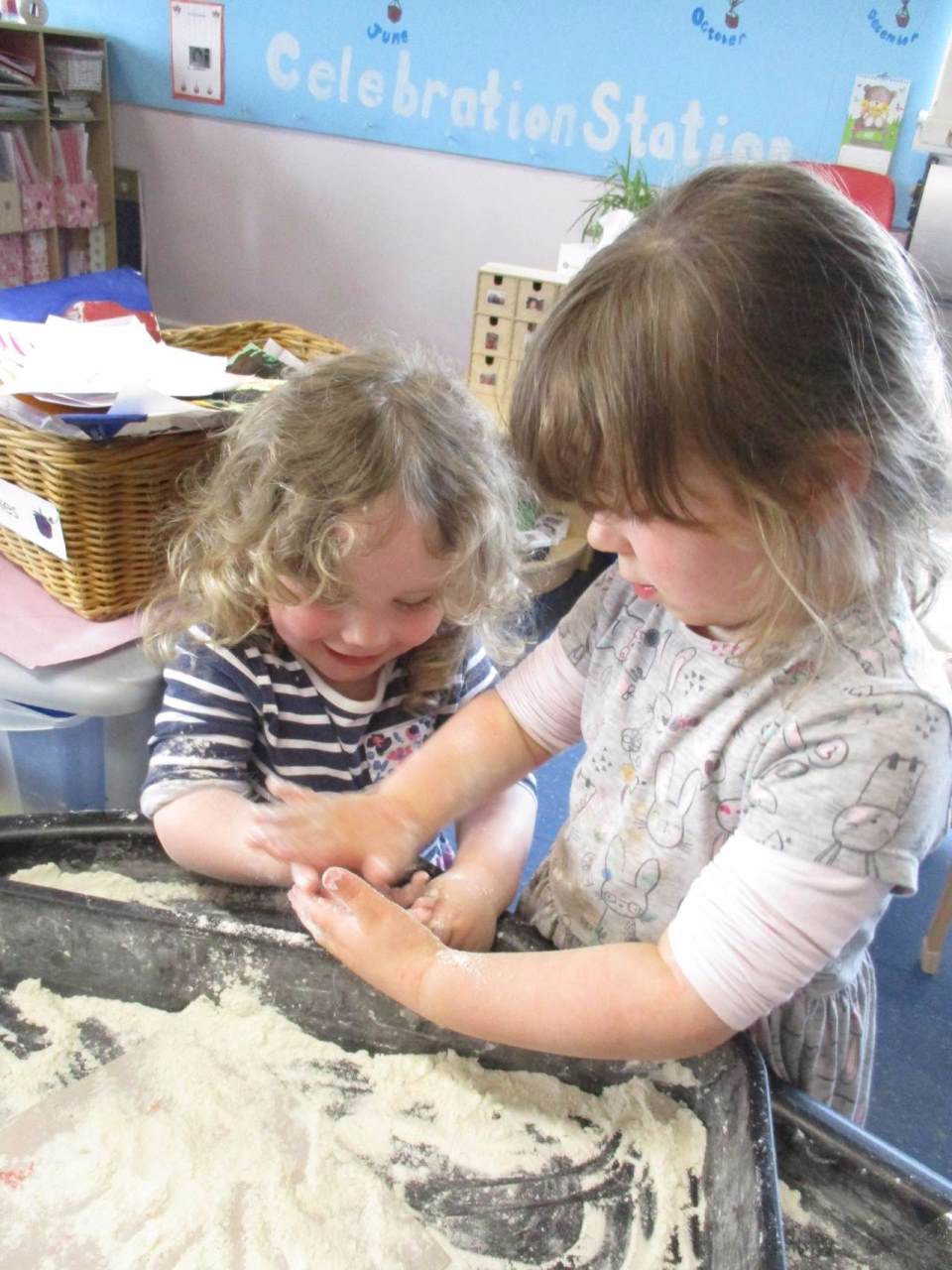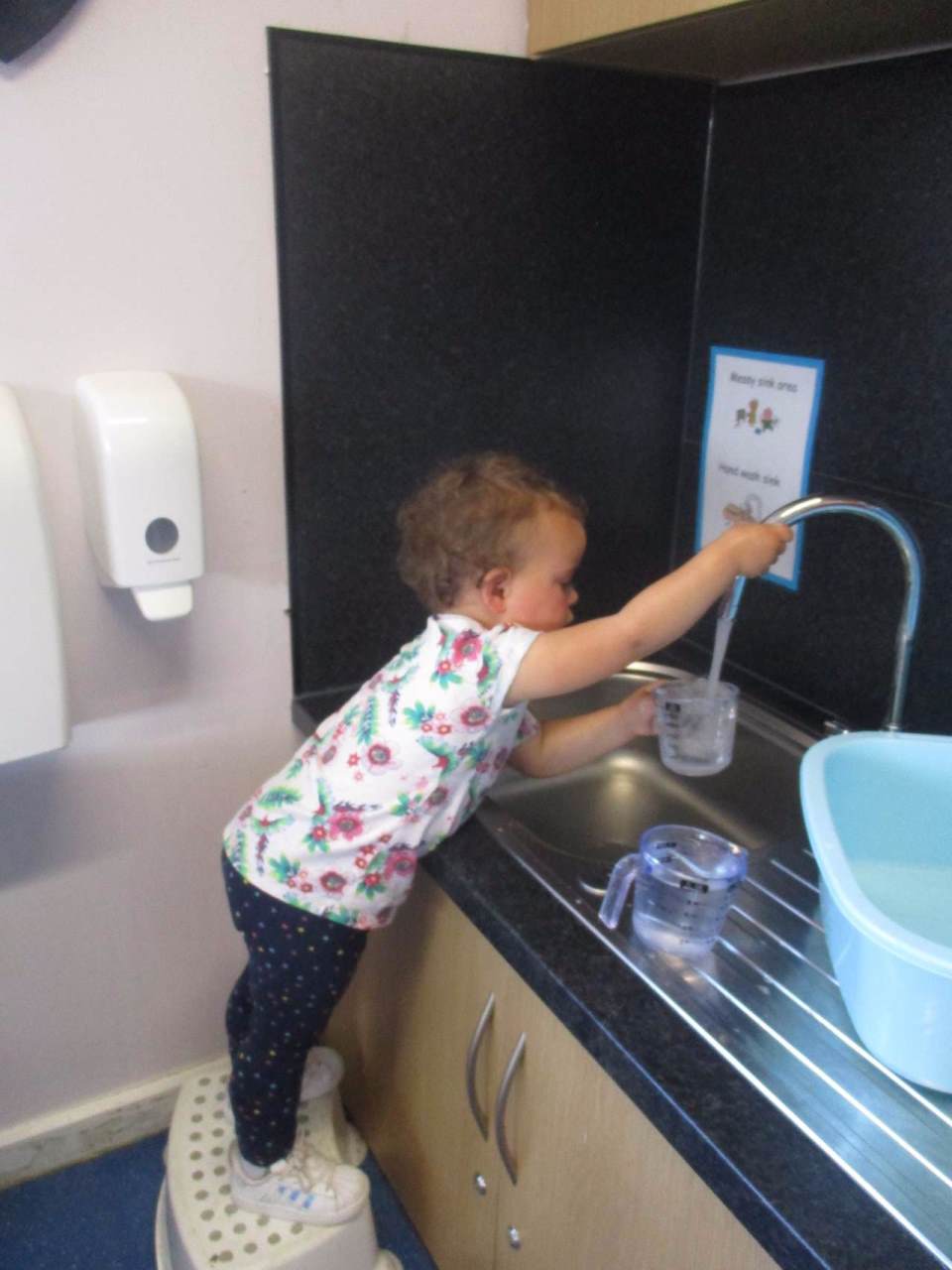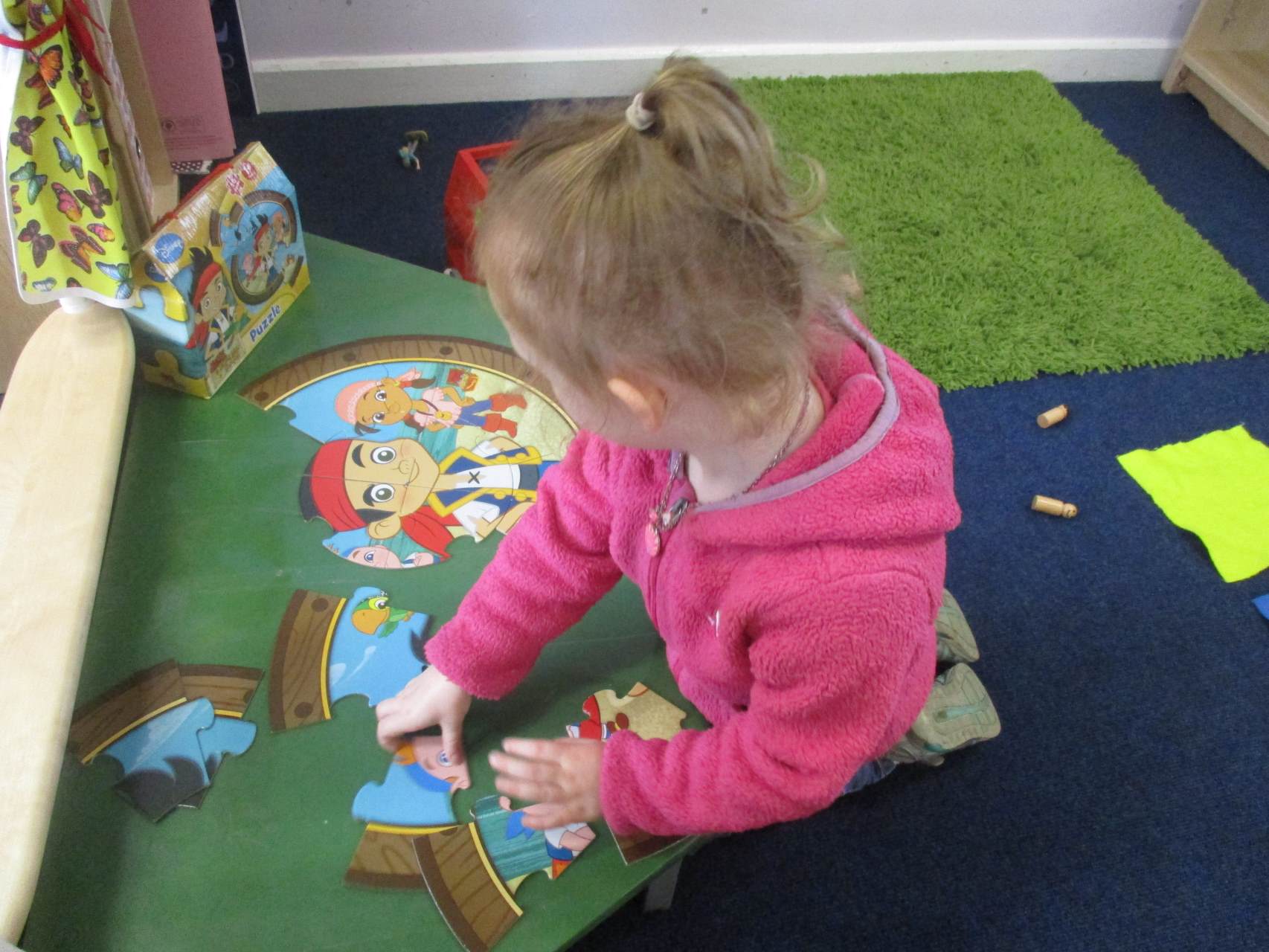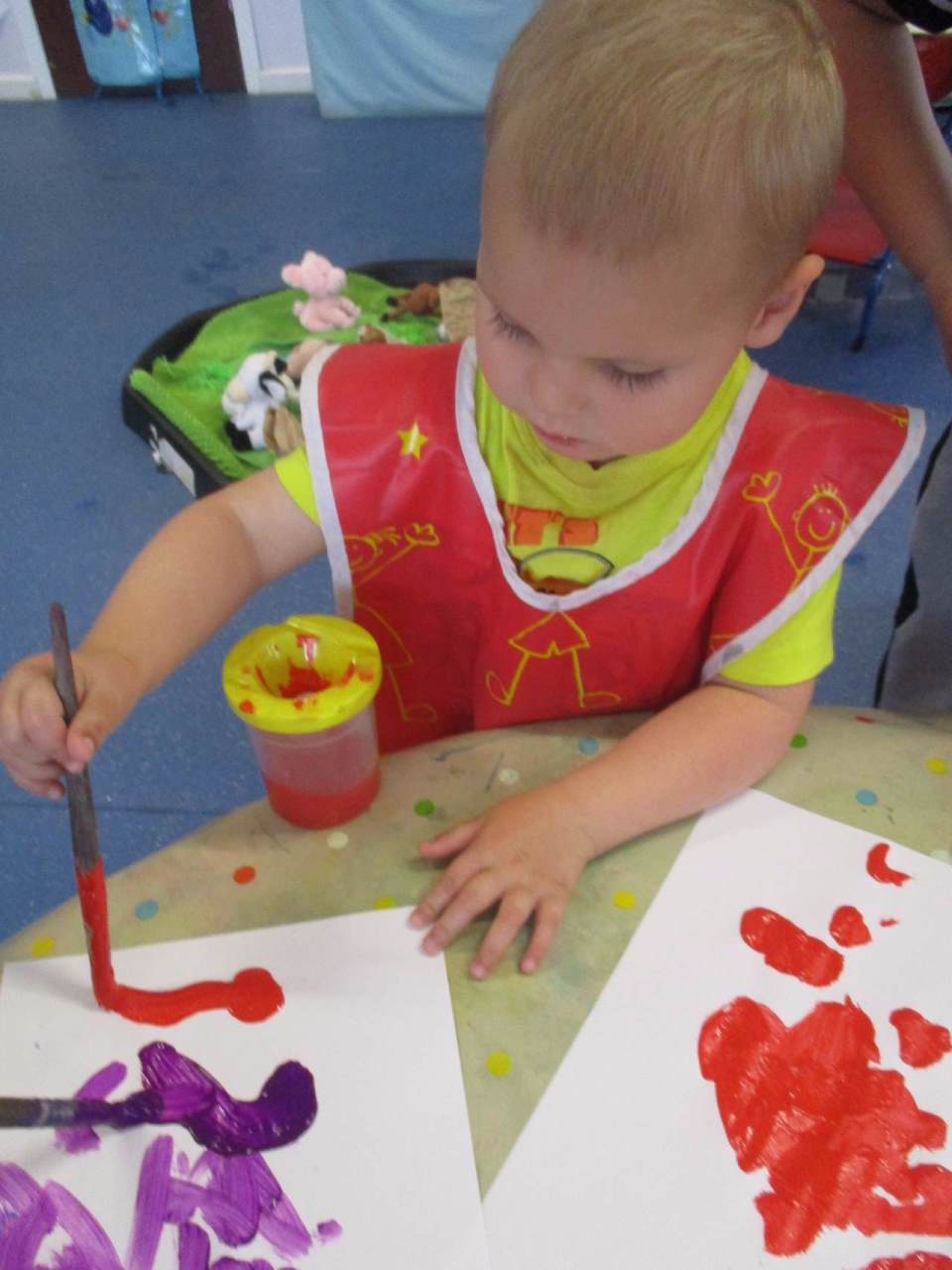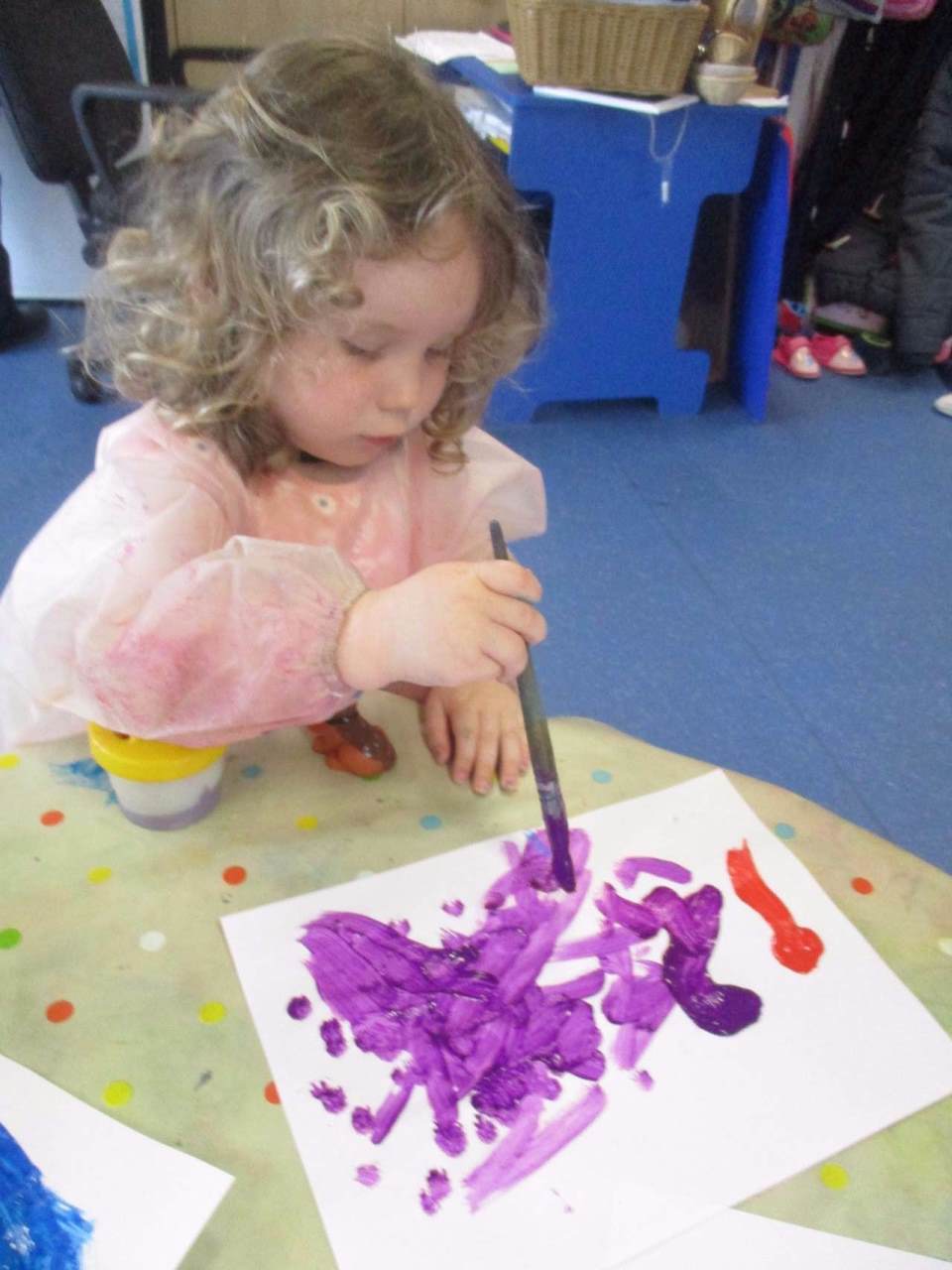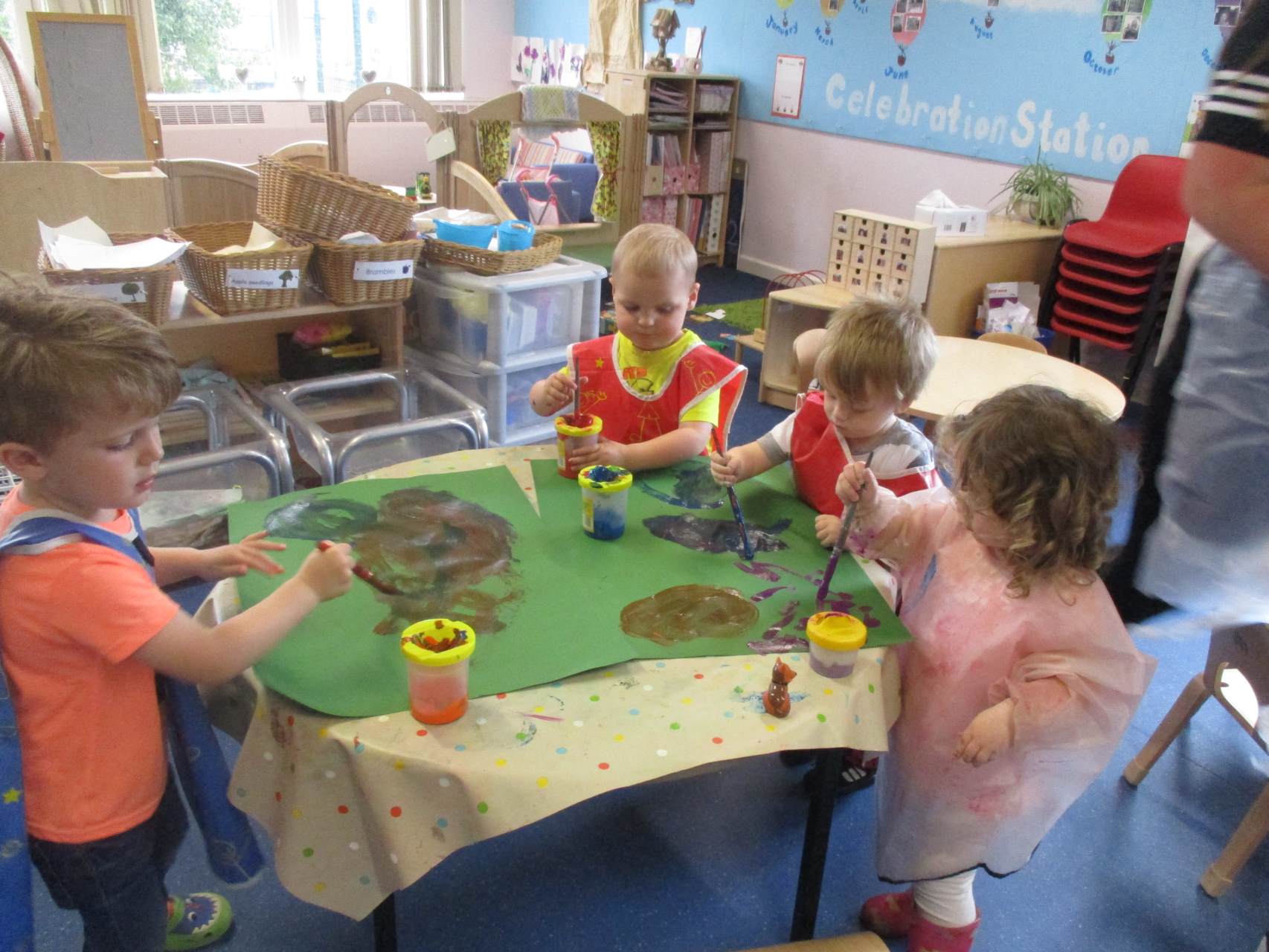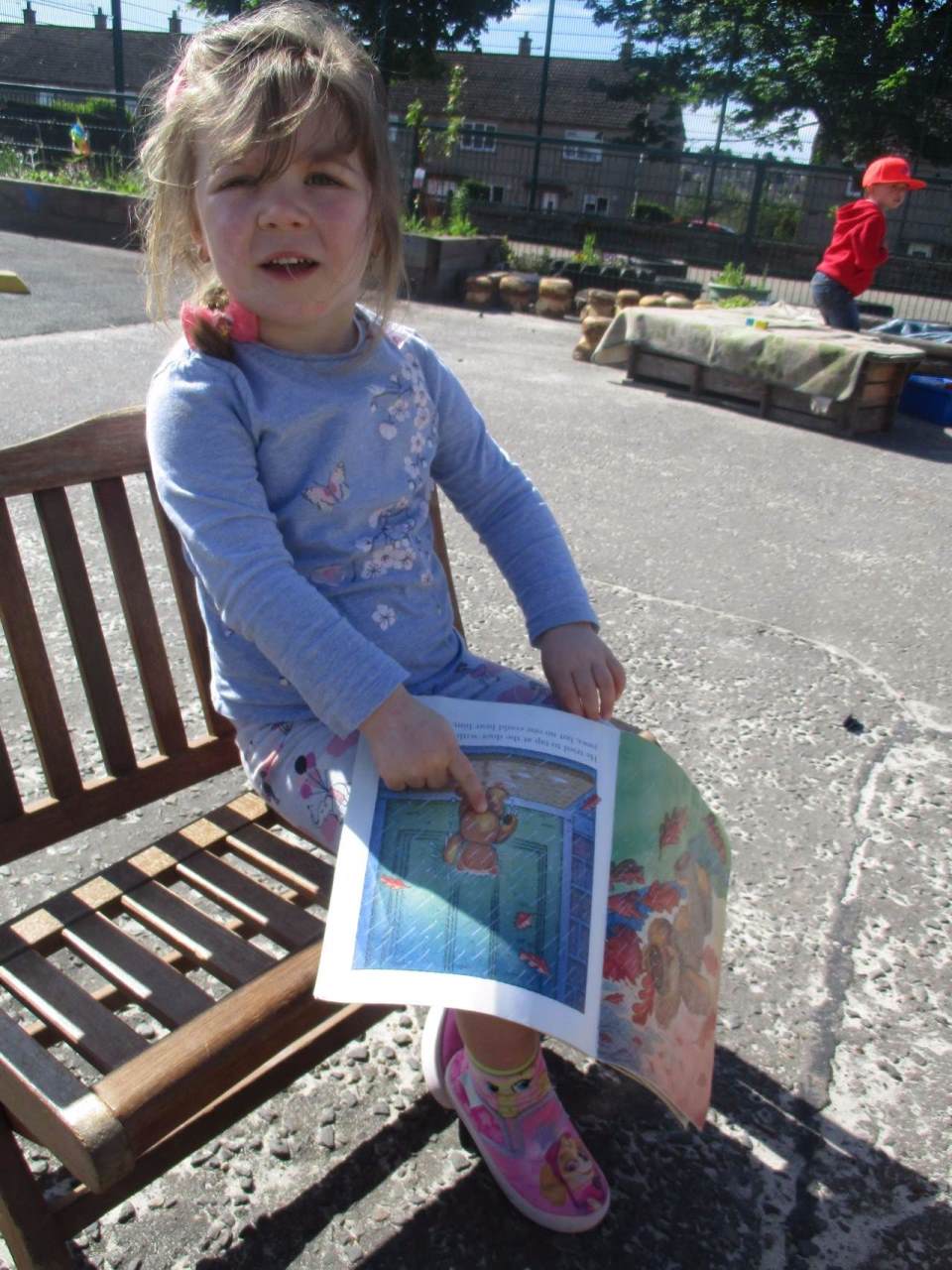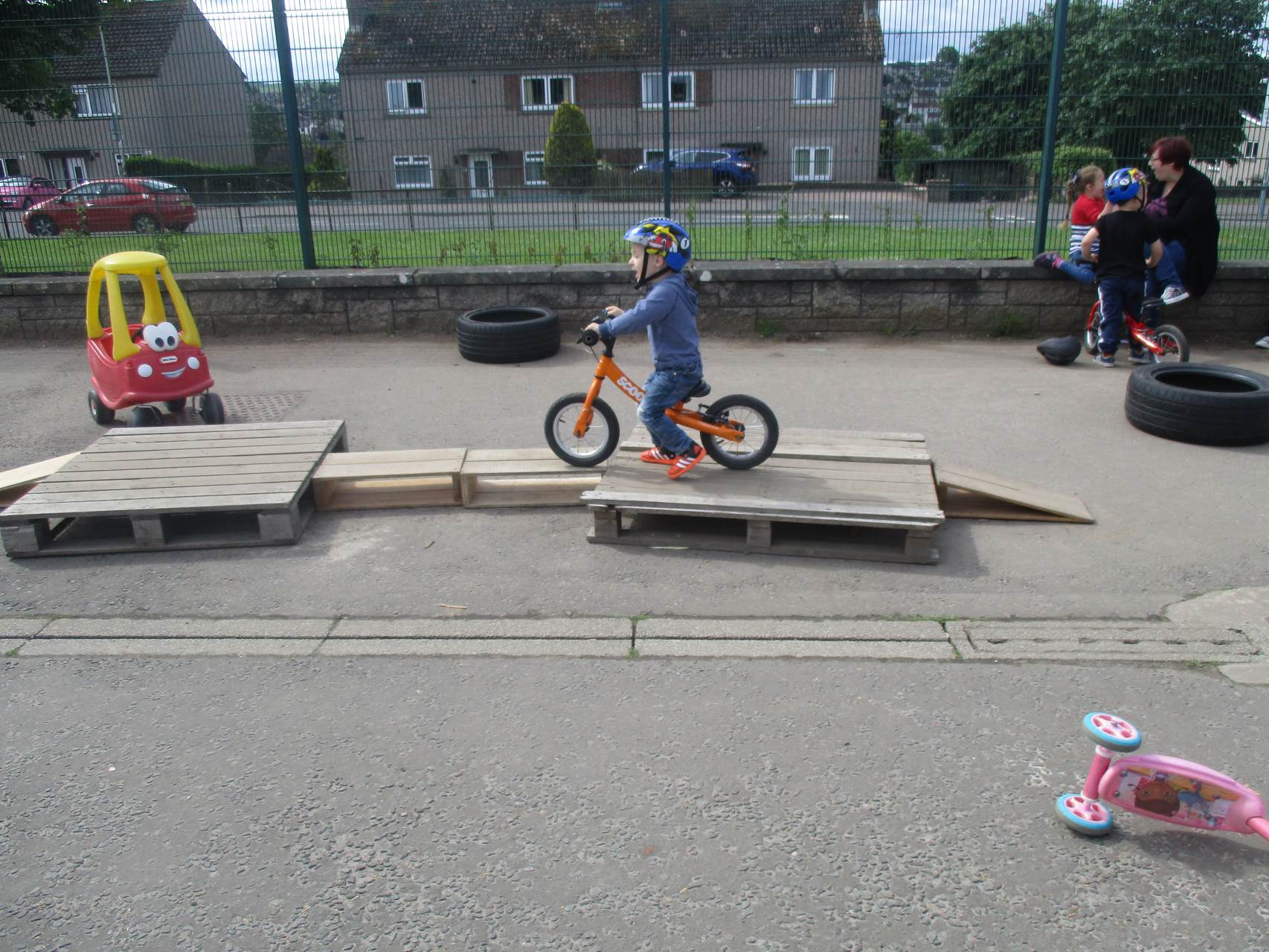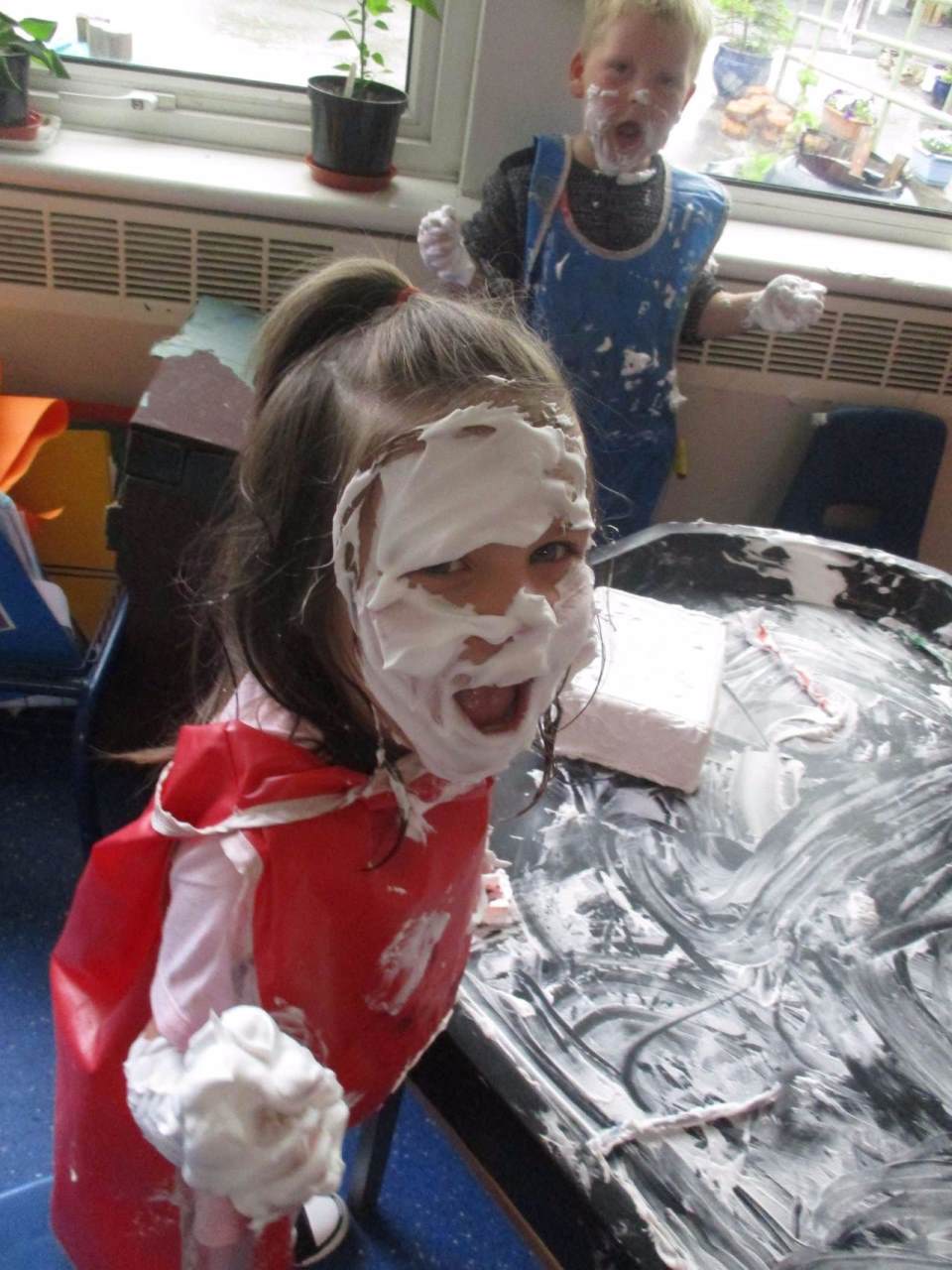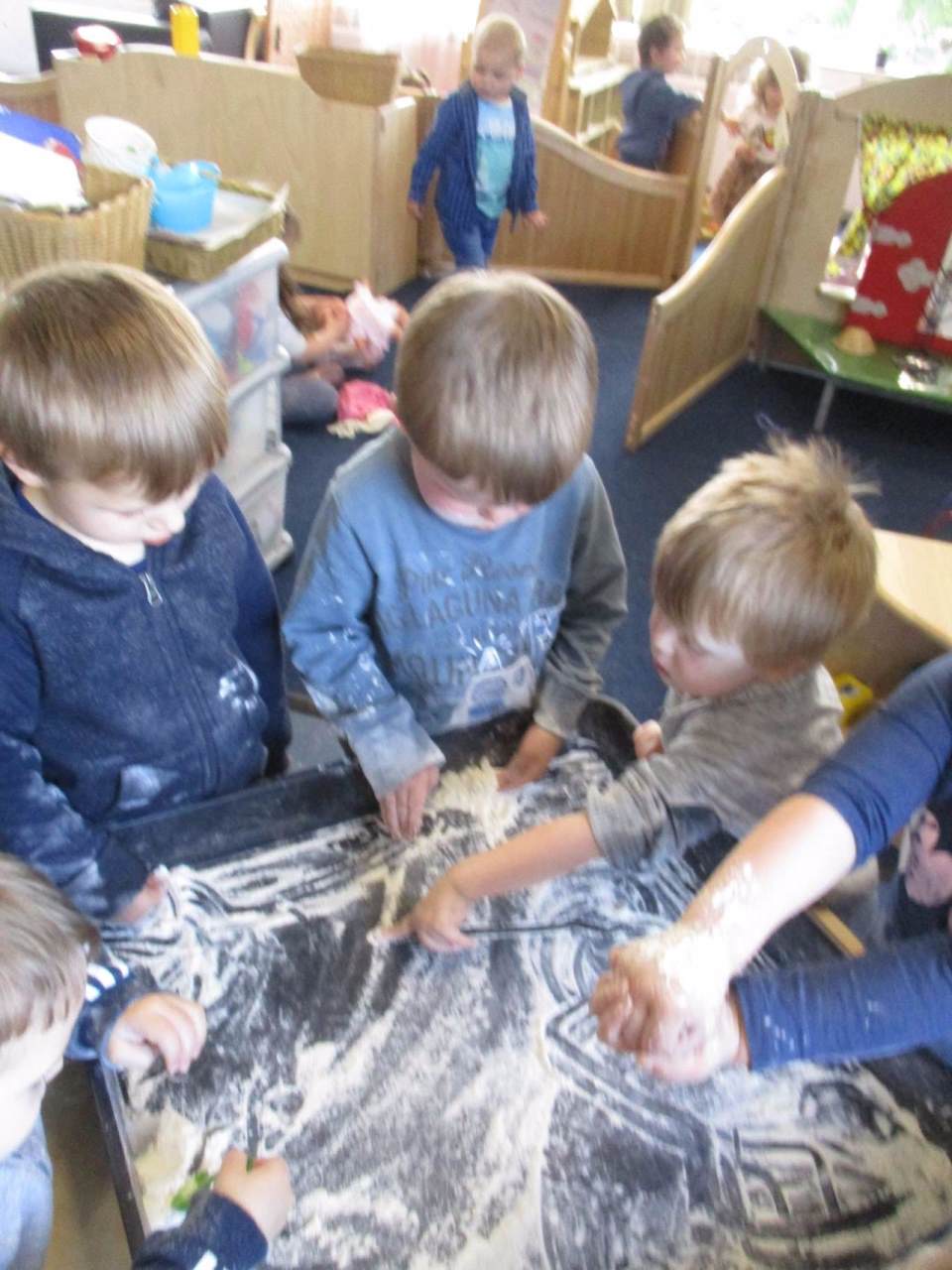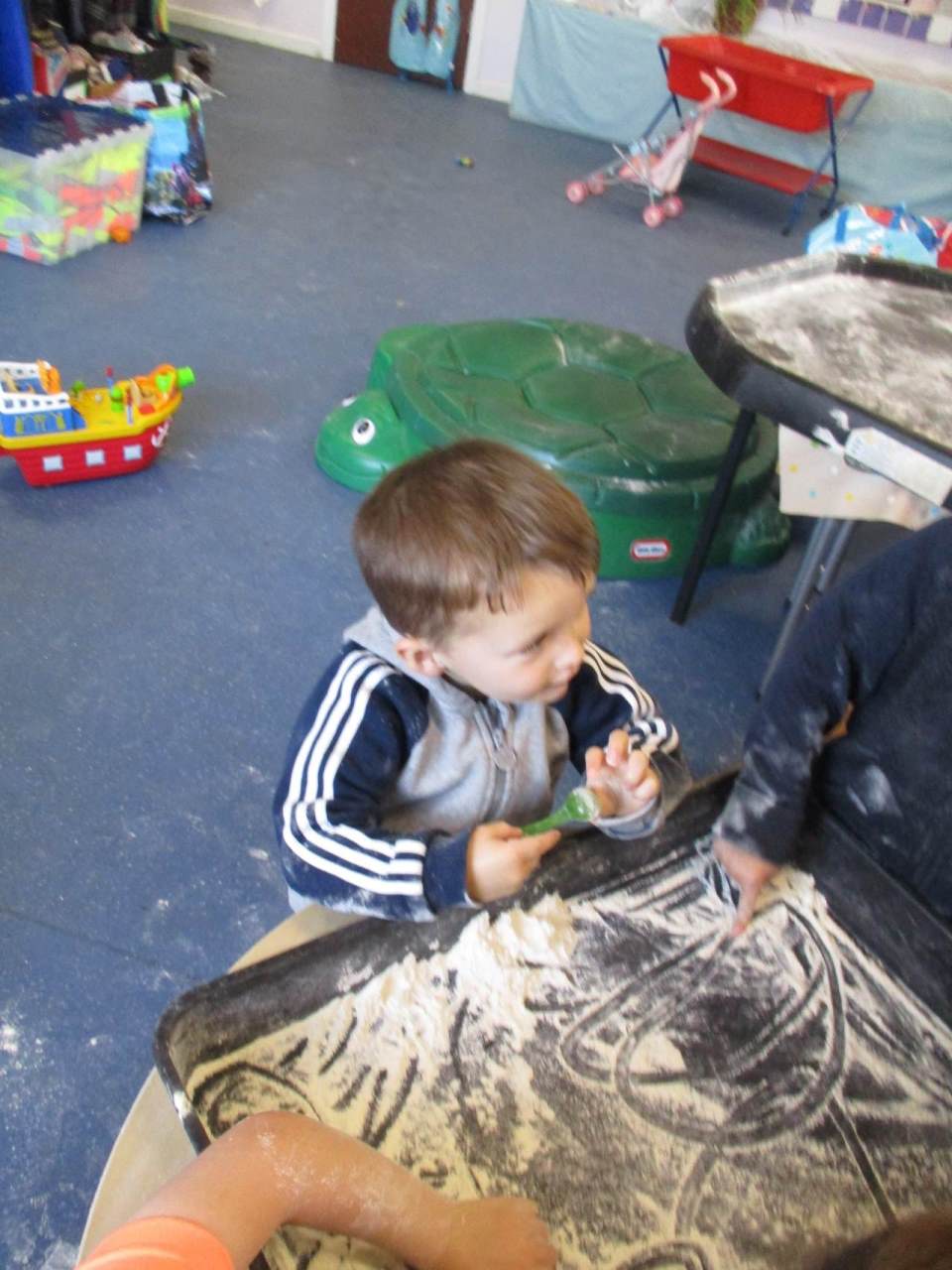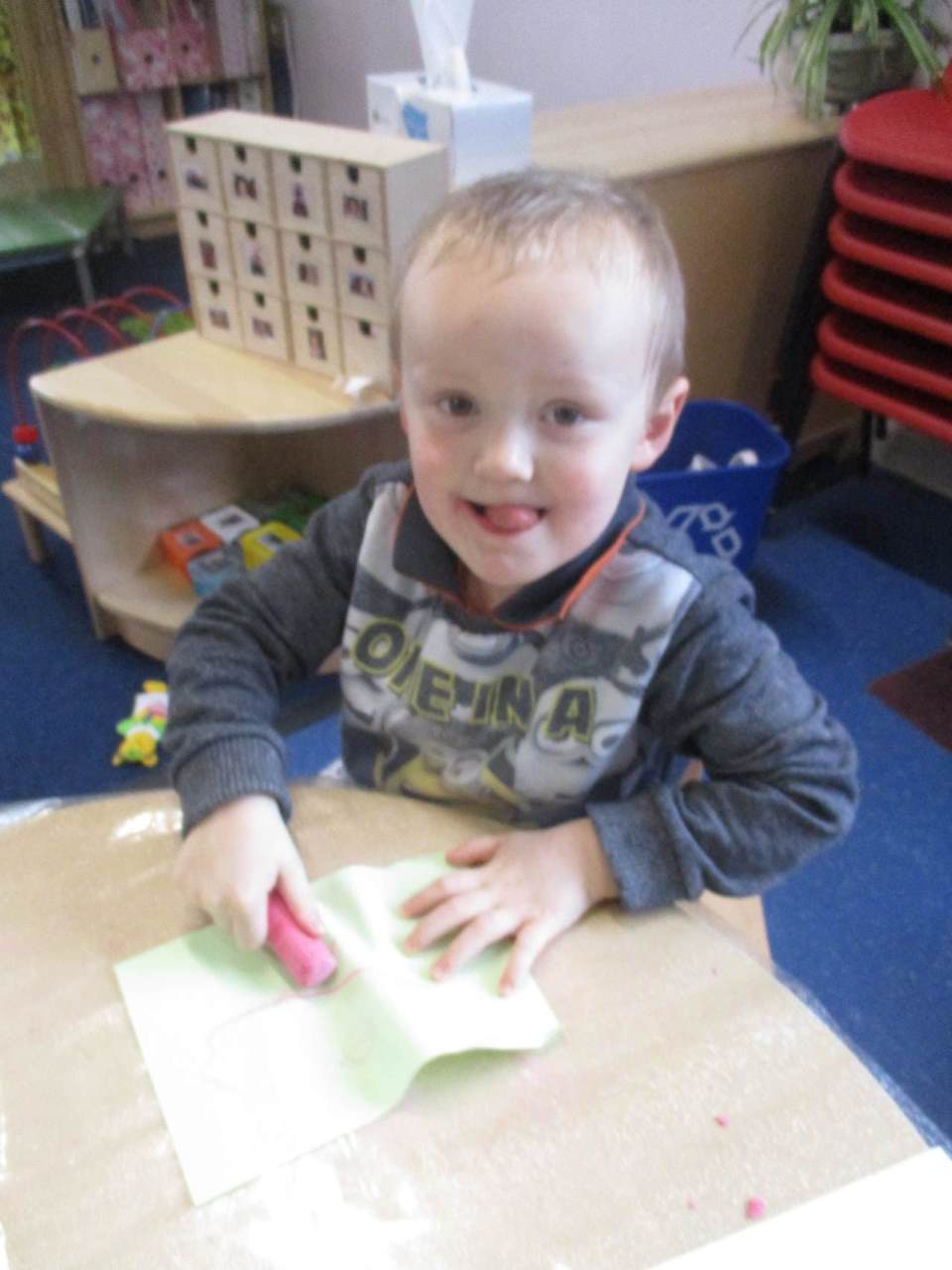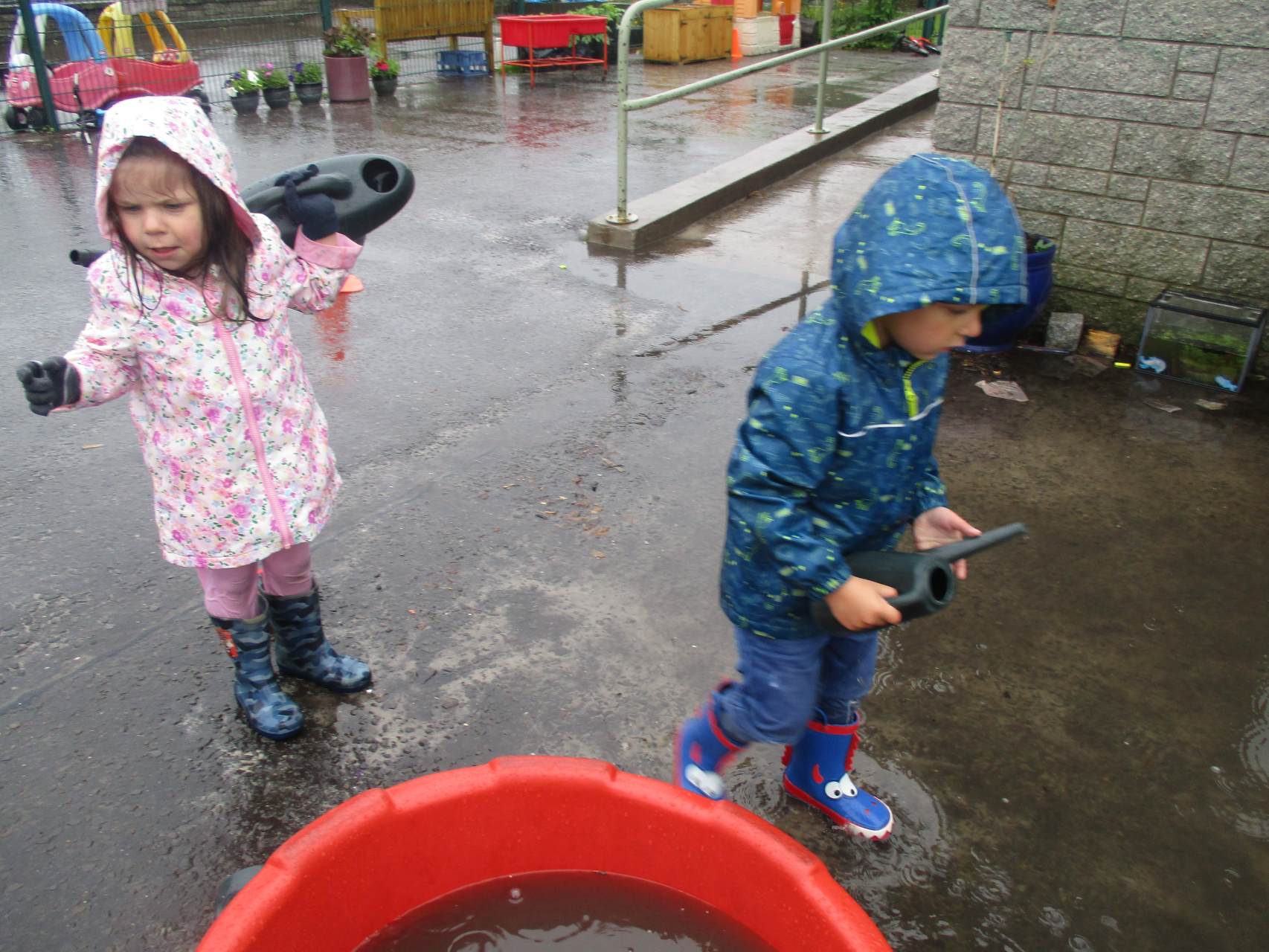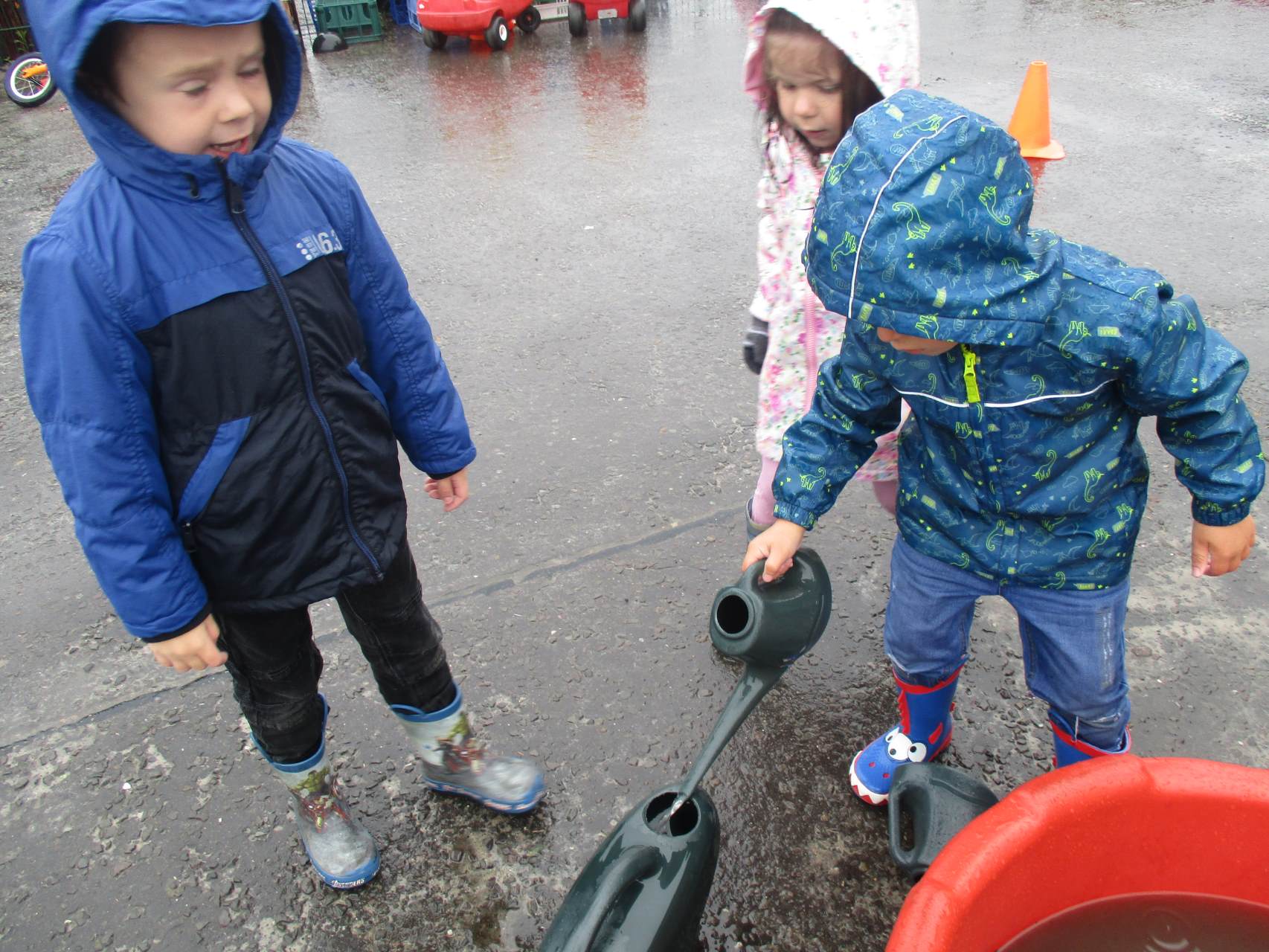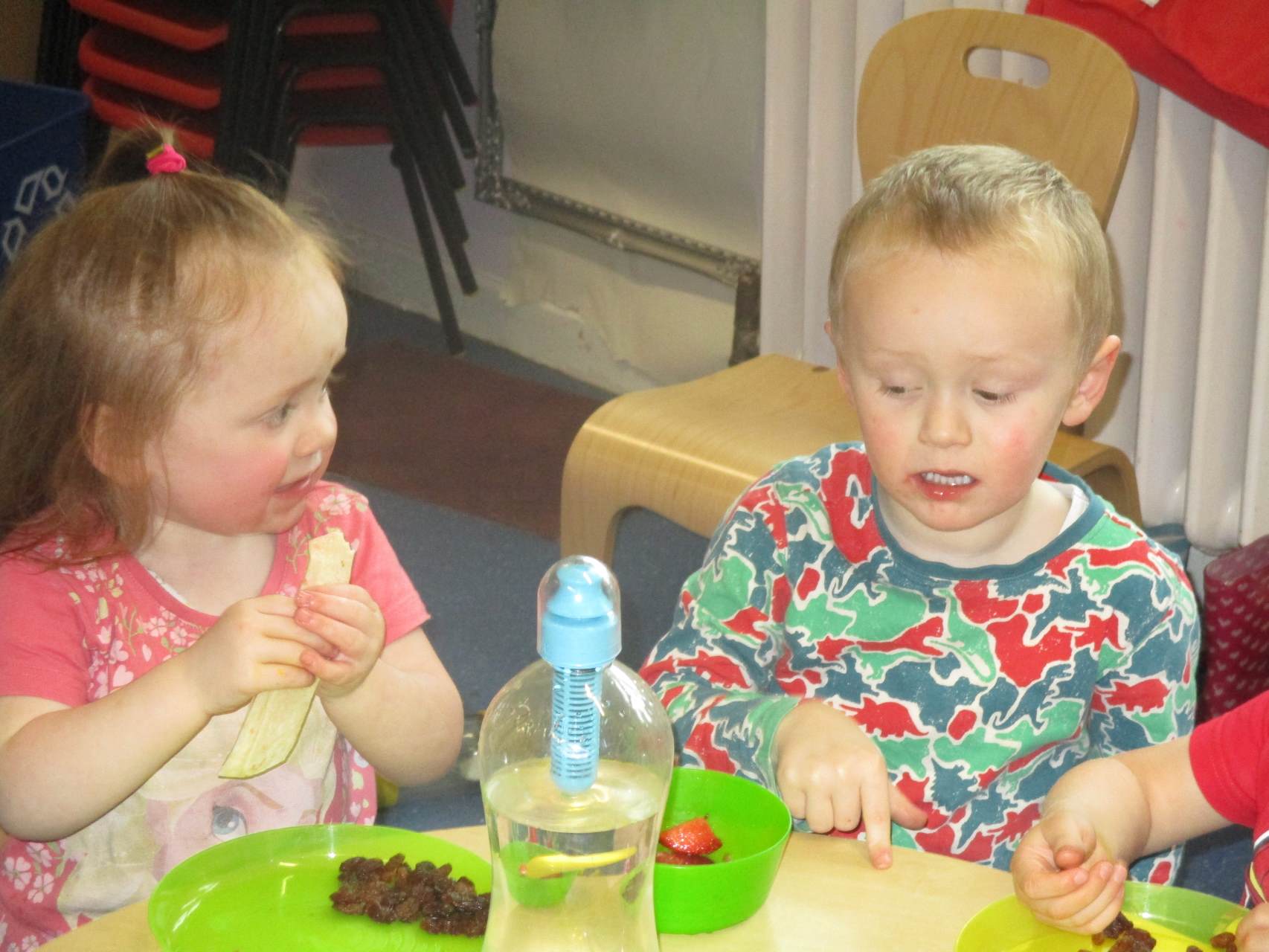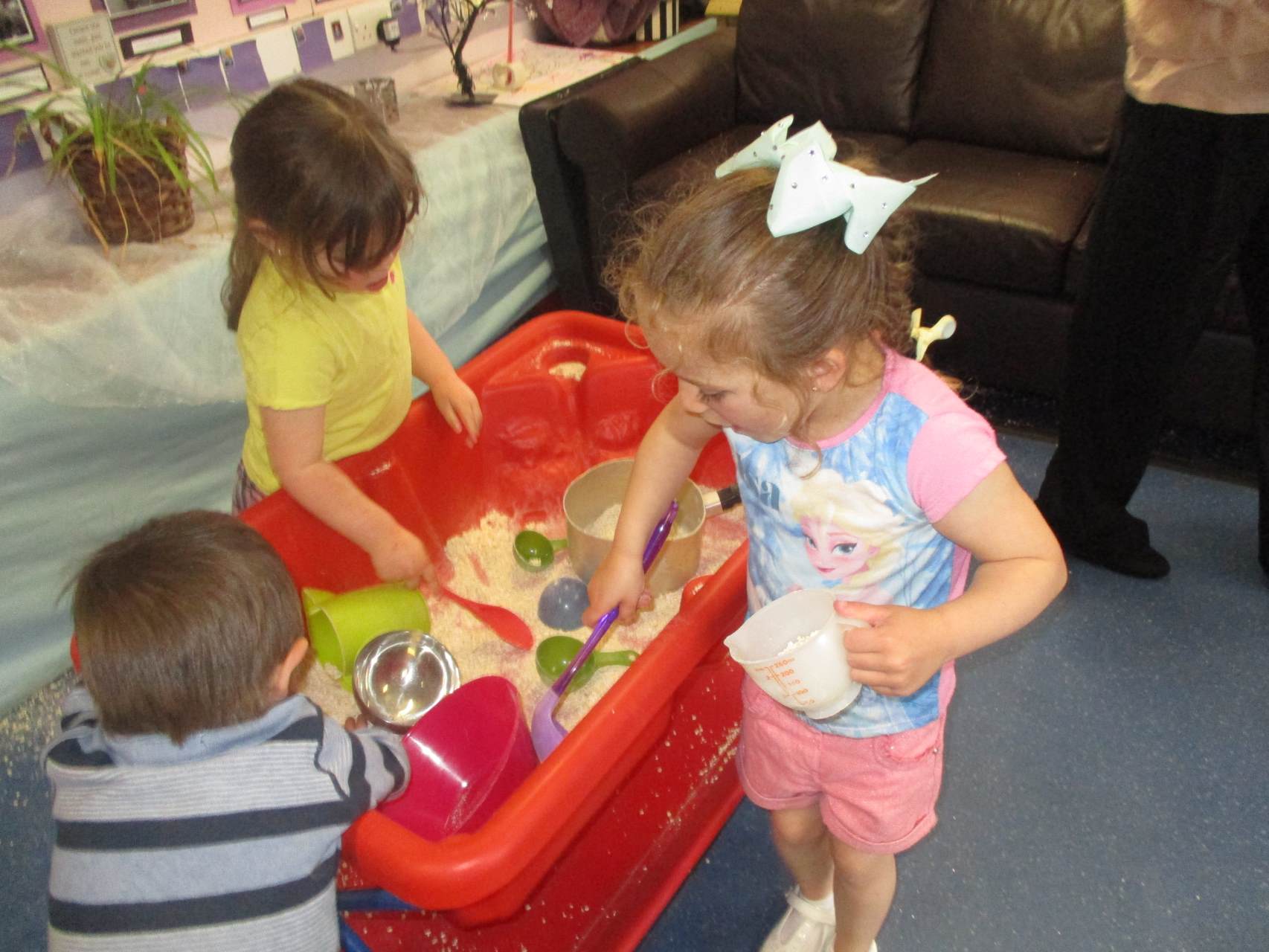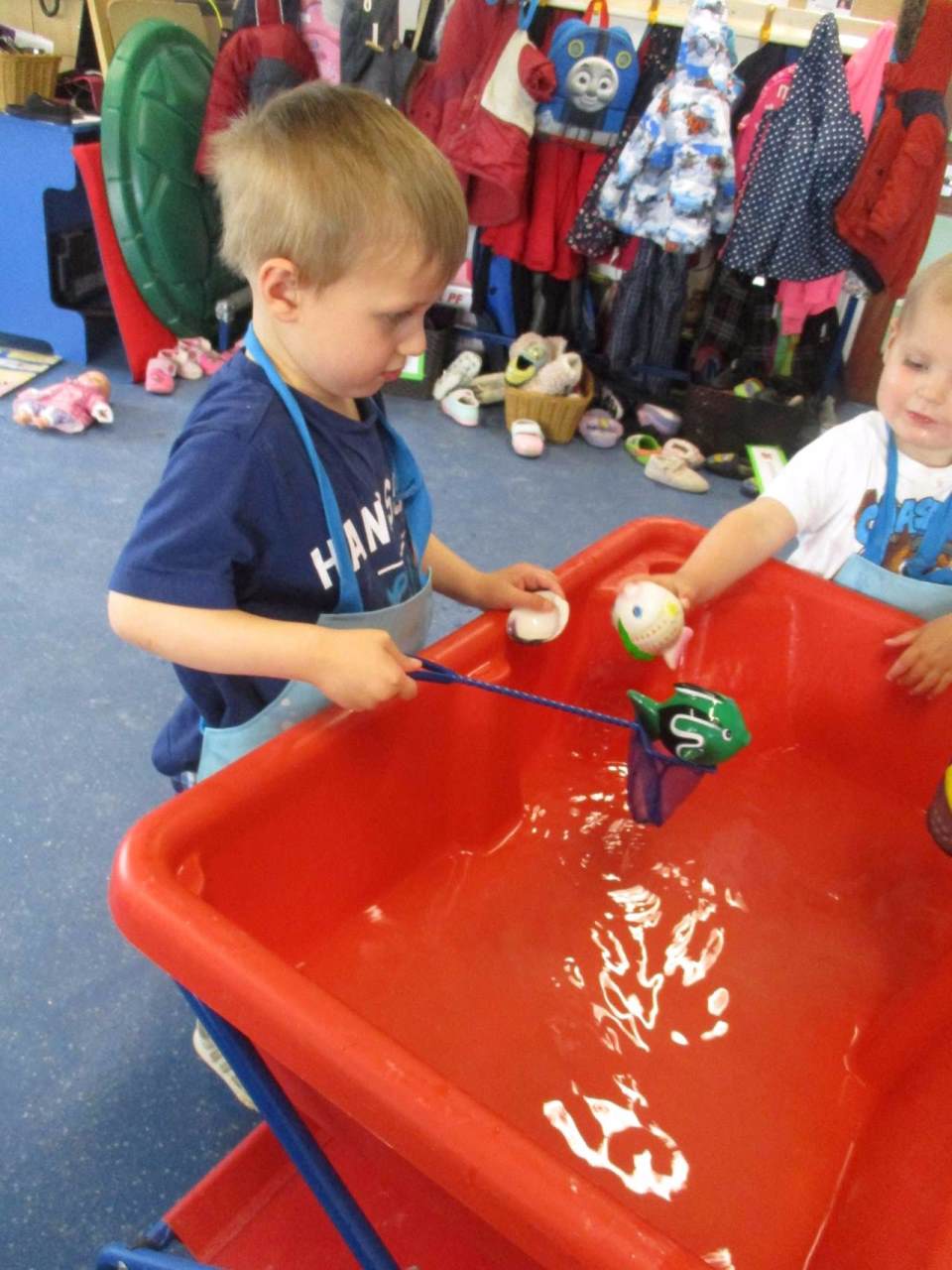 More March Merriment.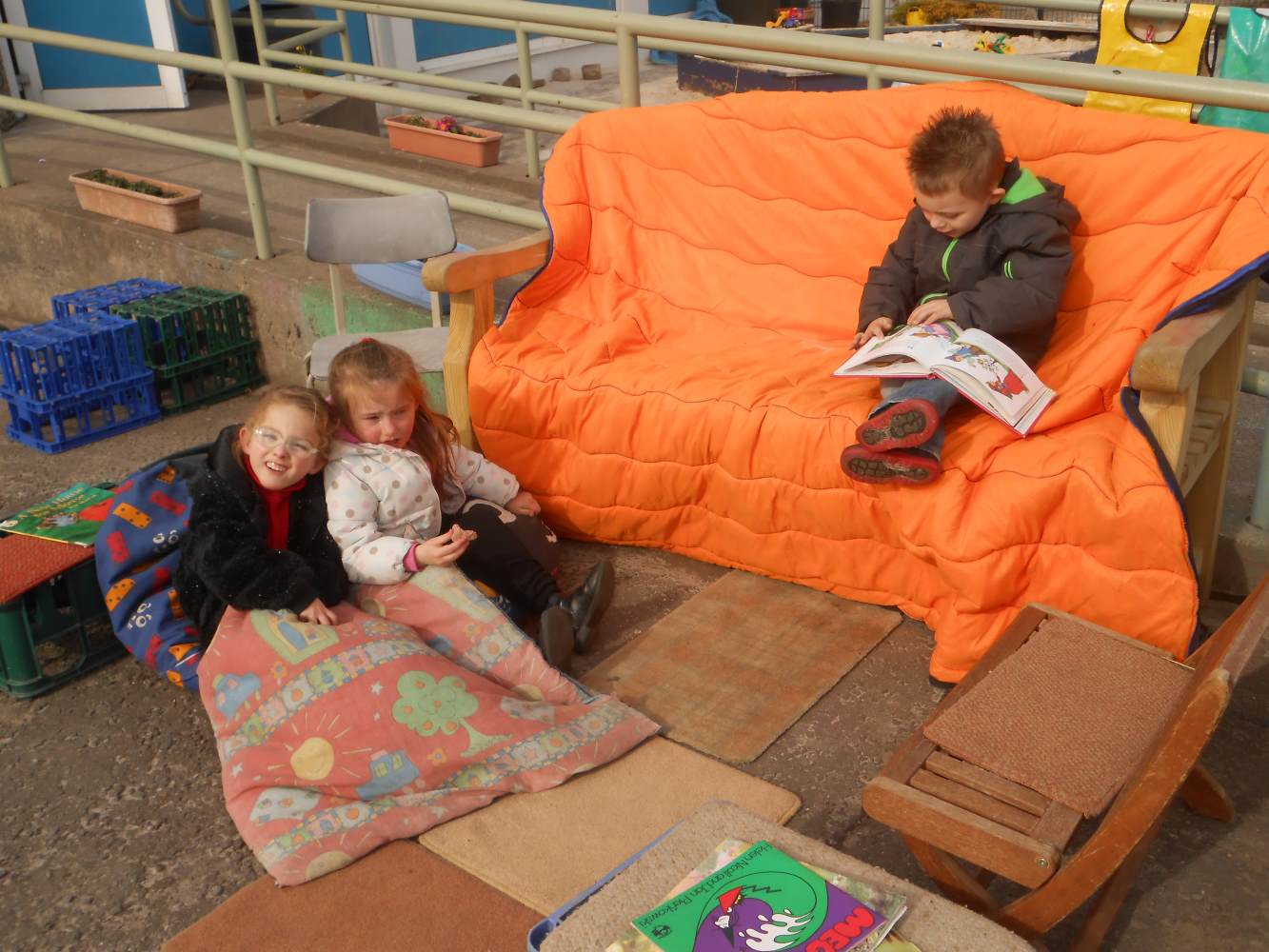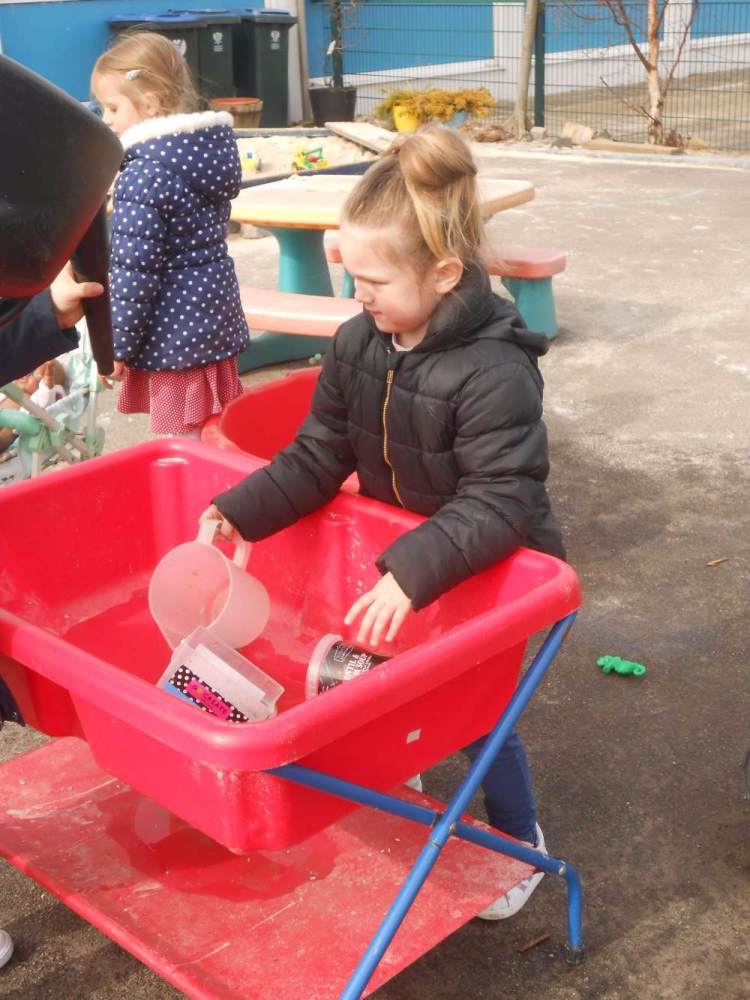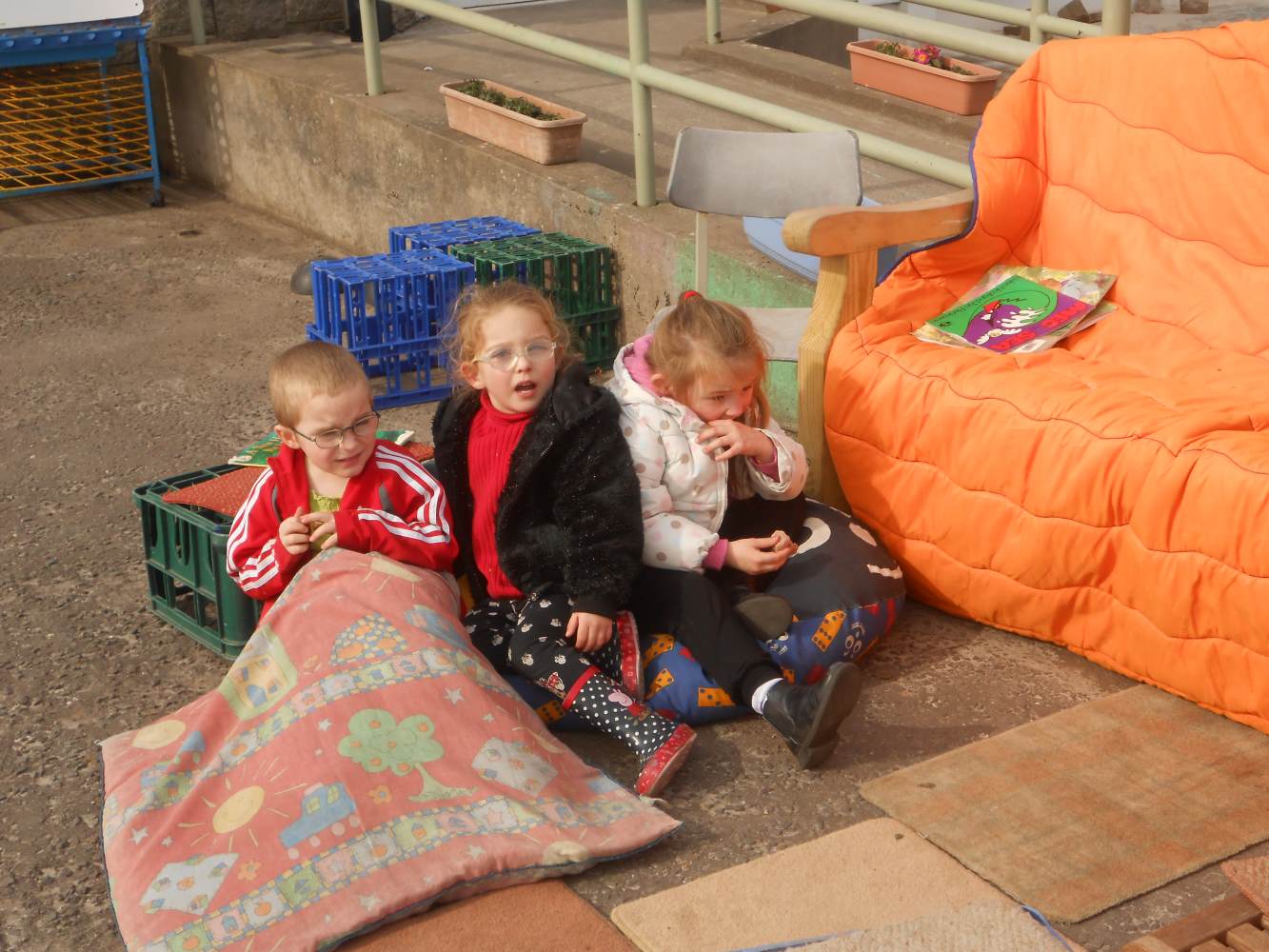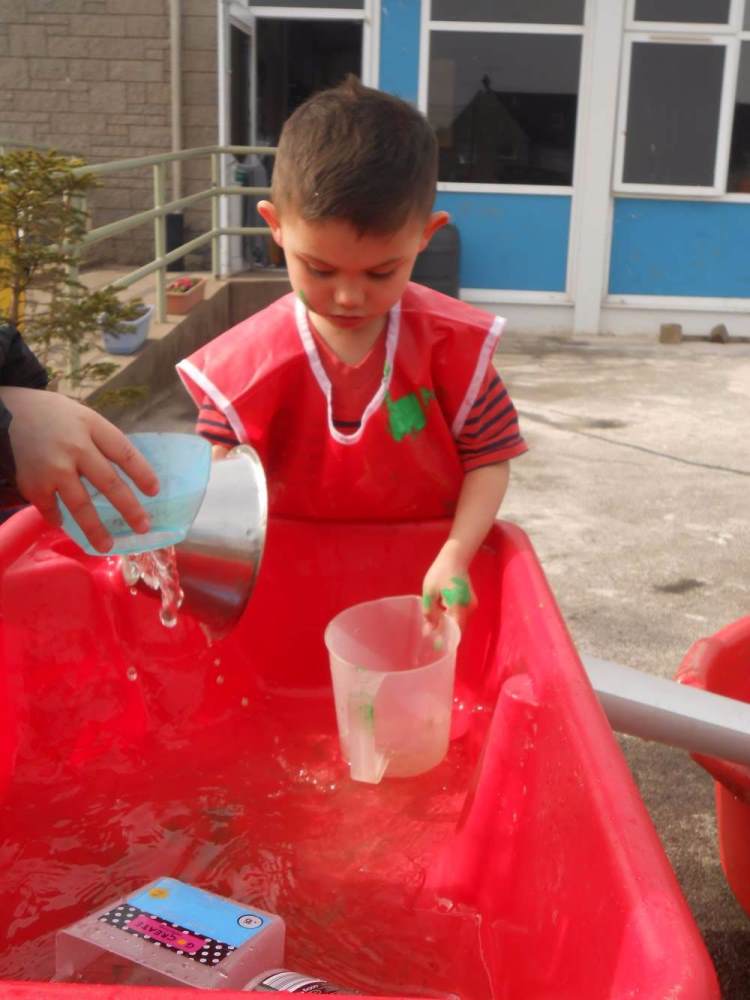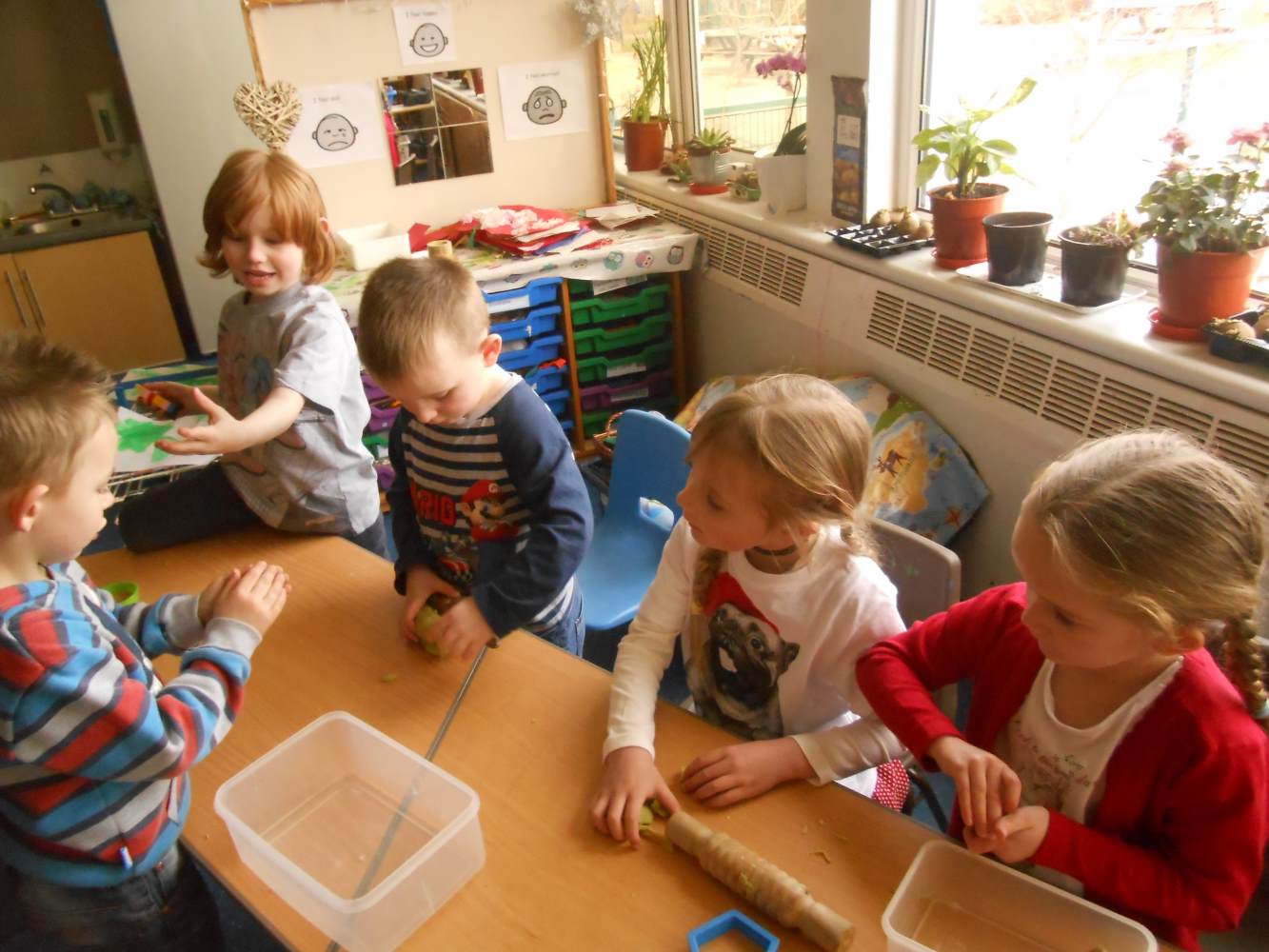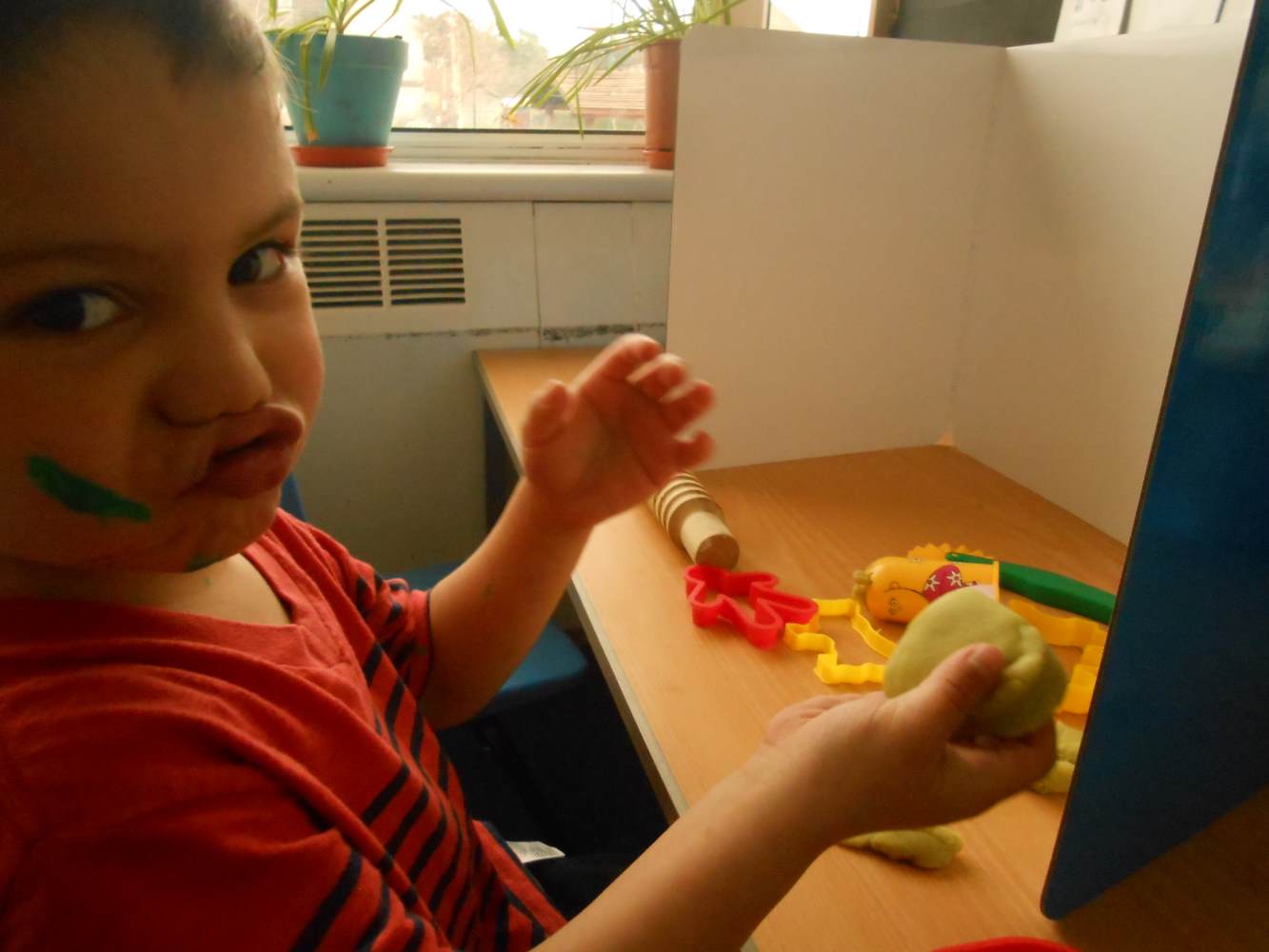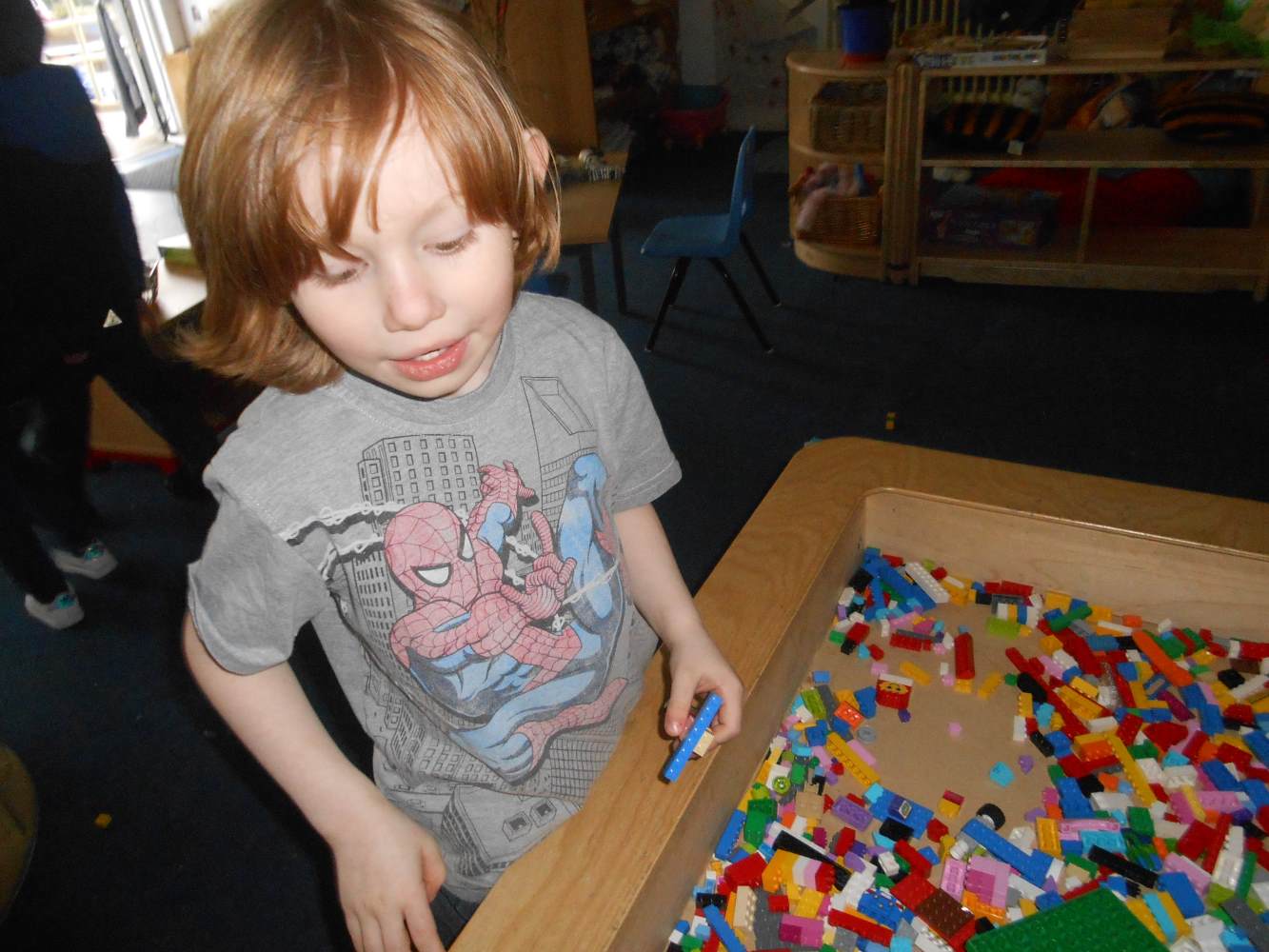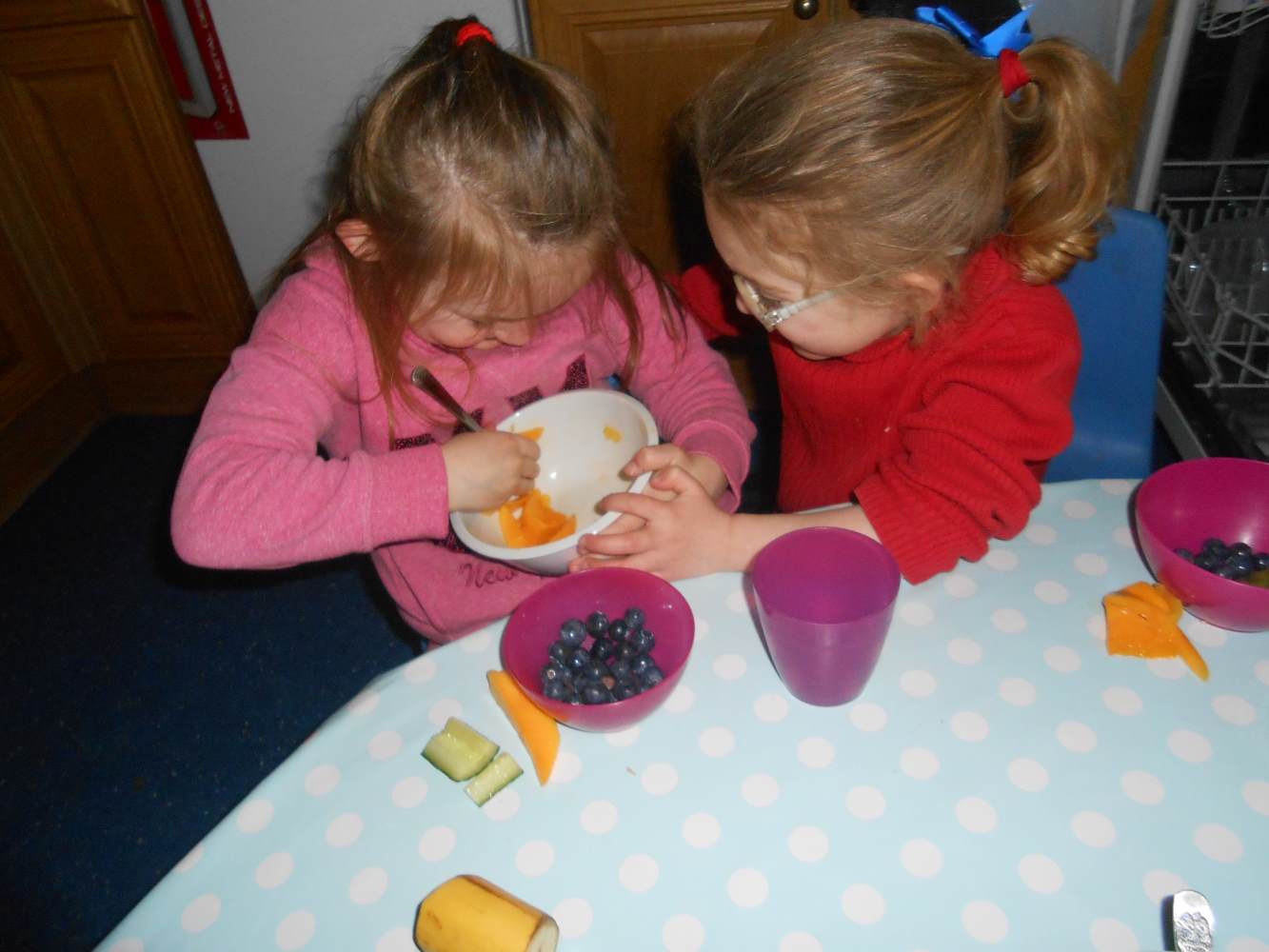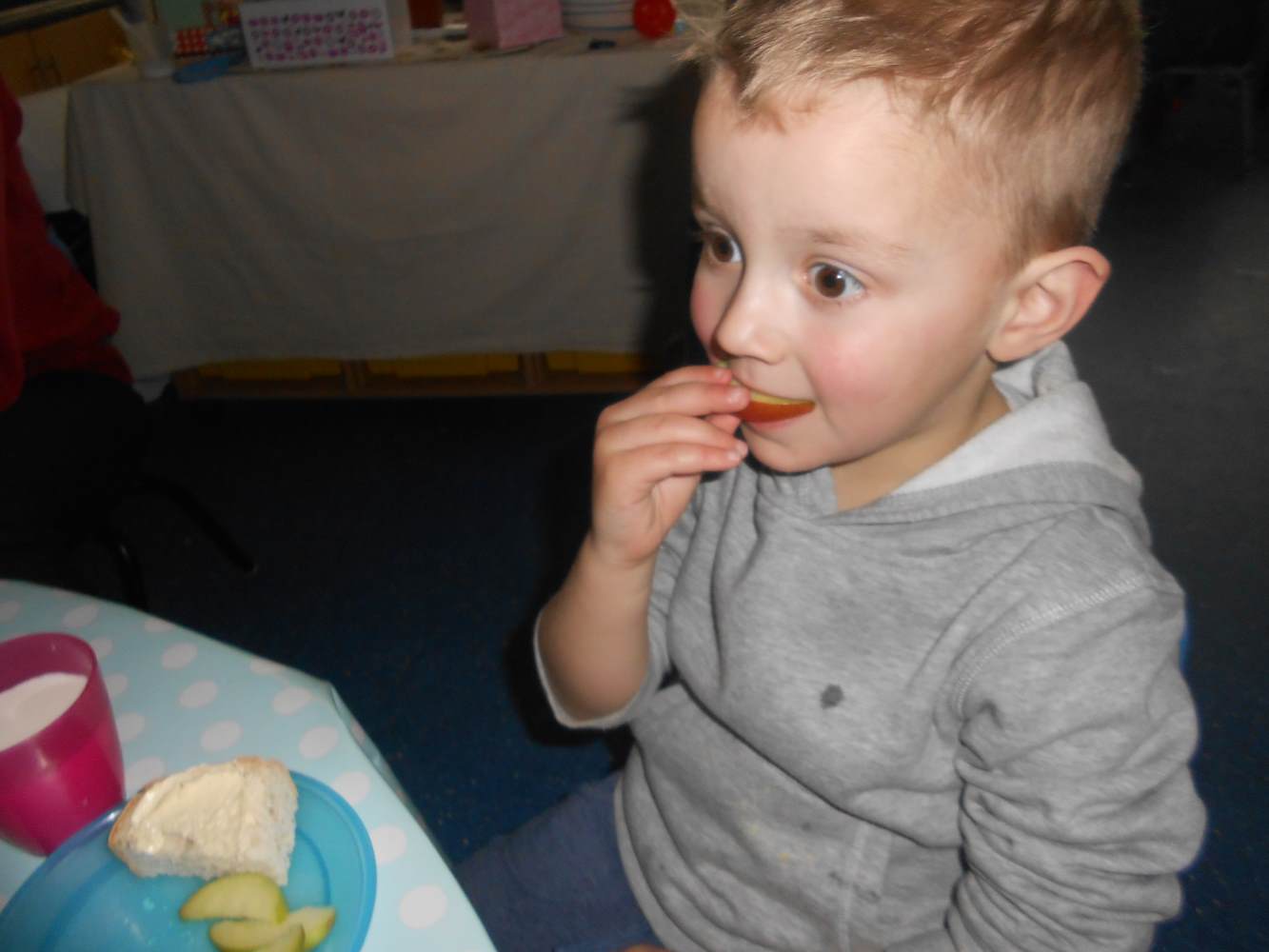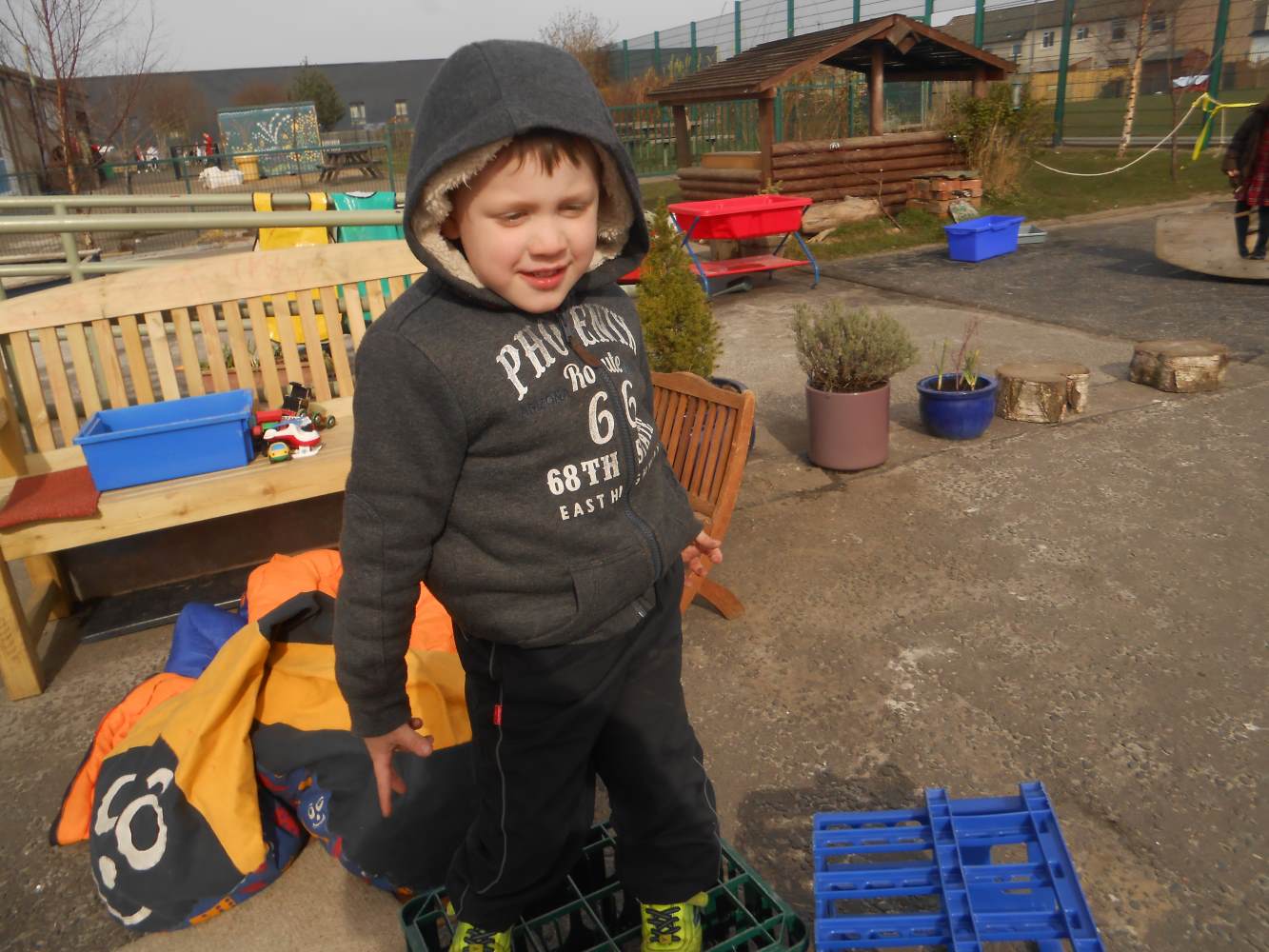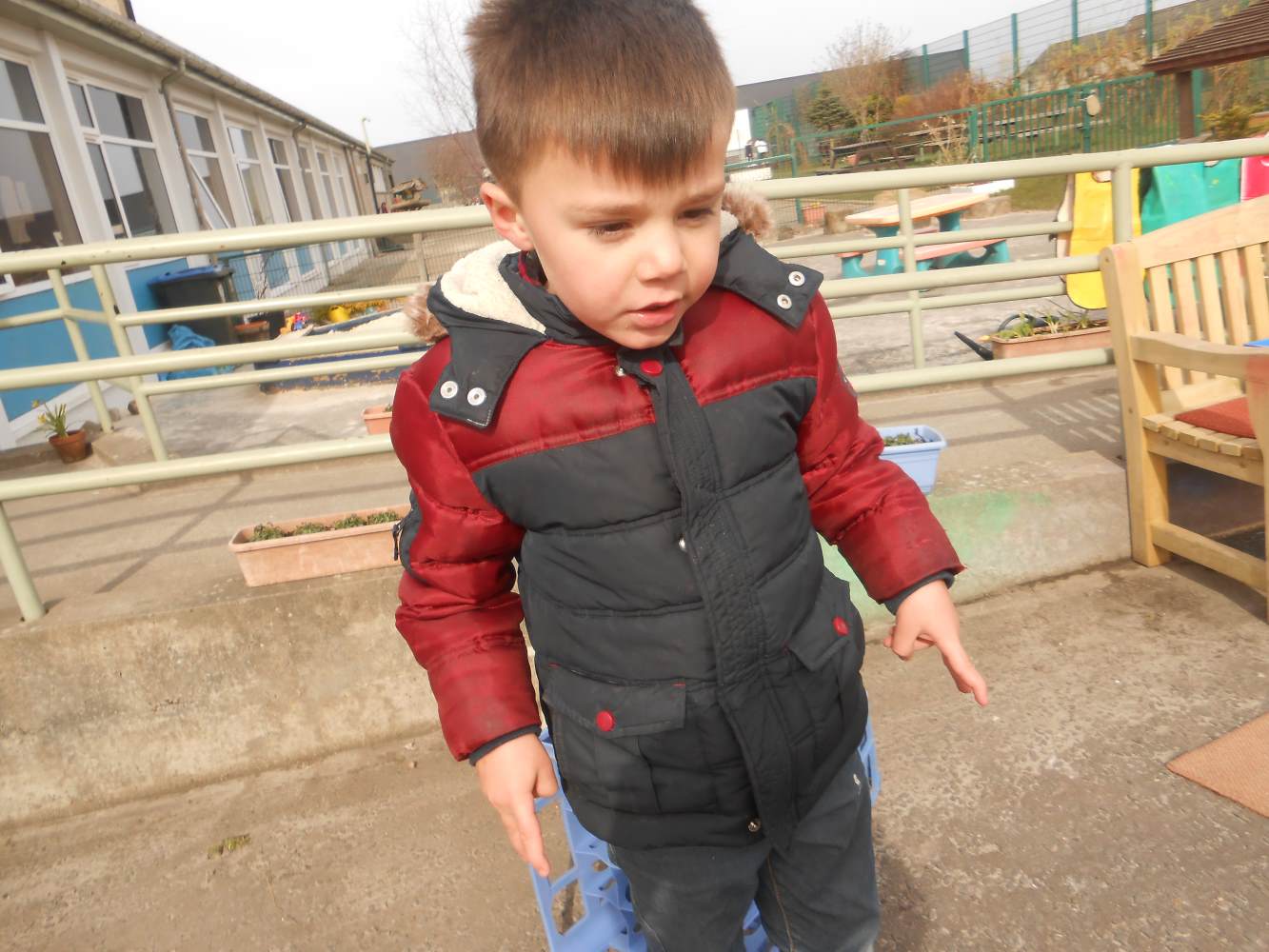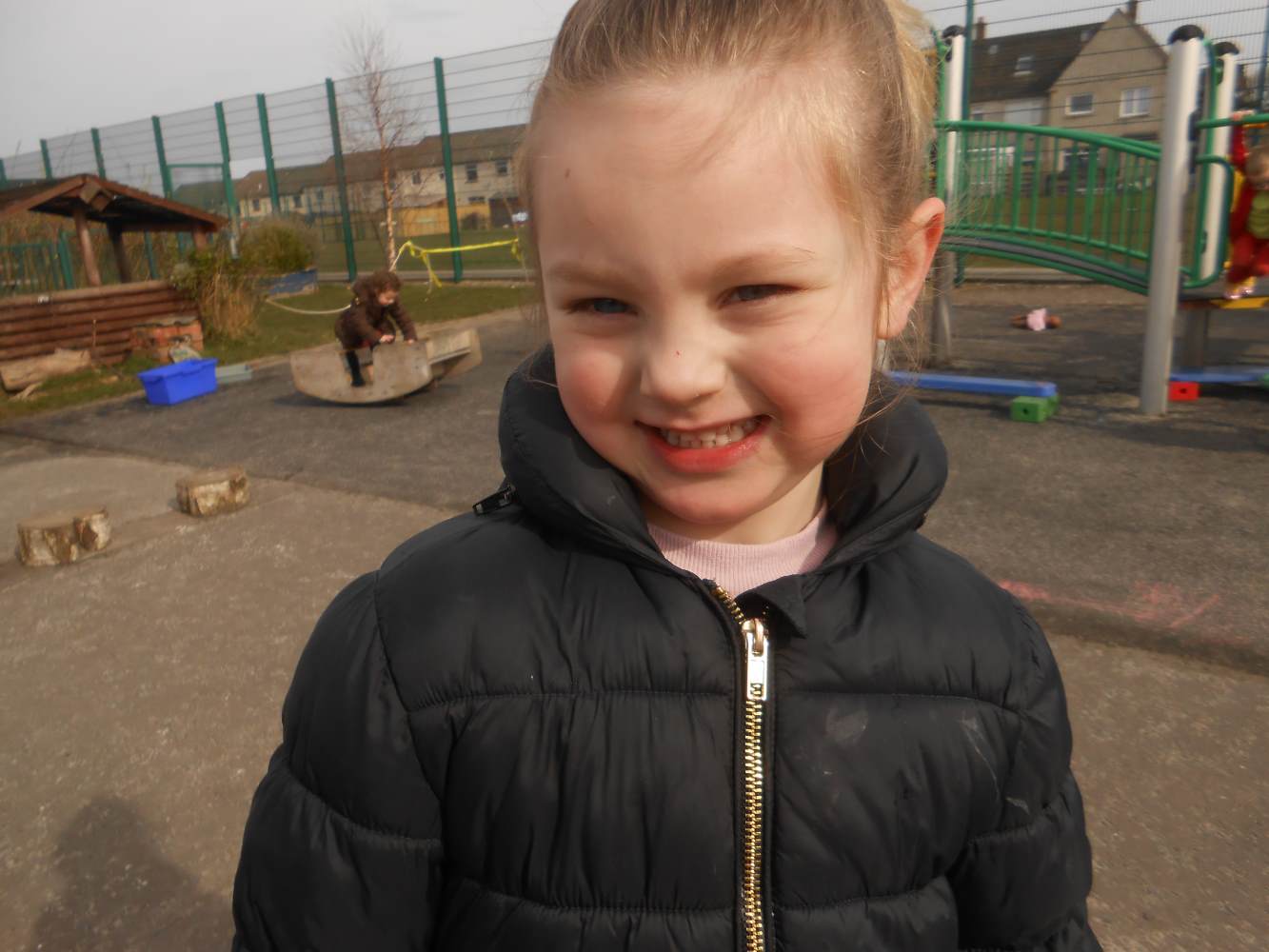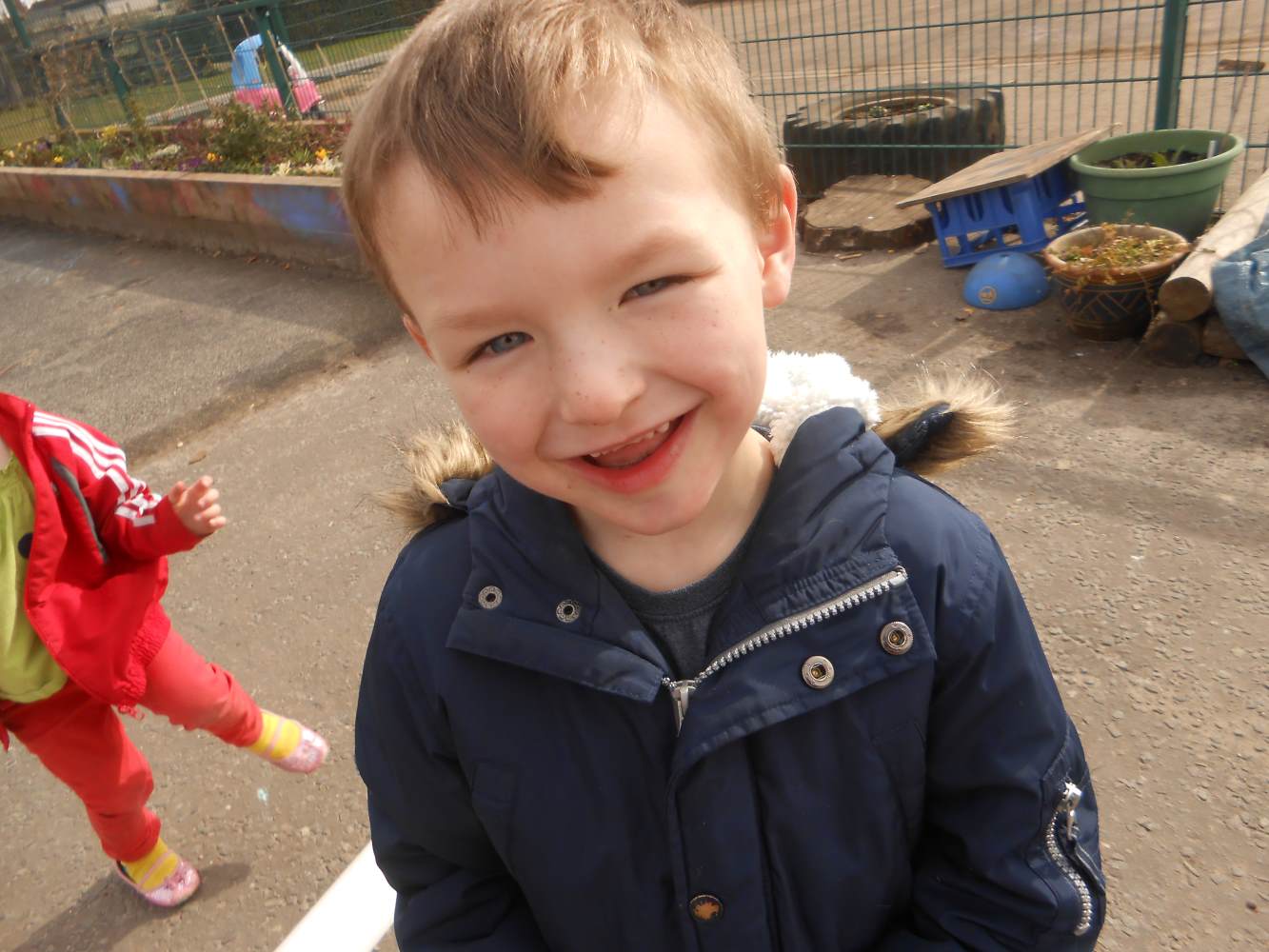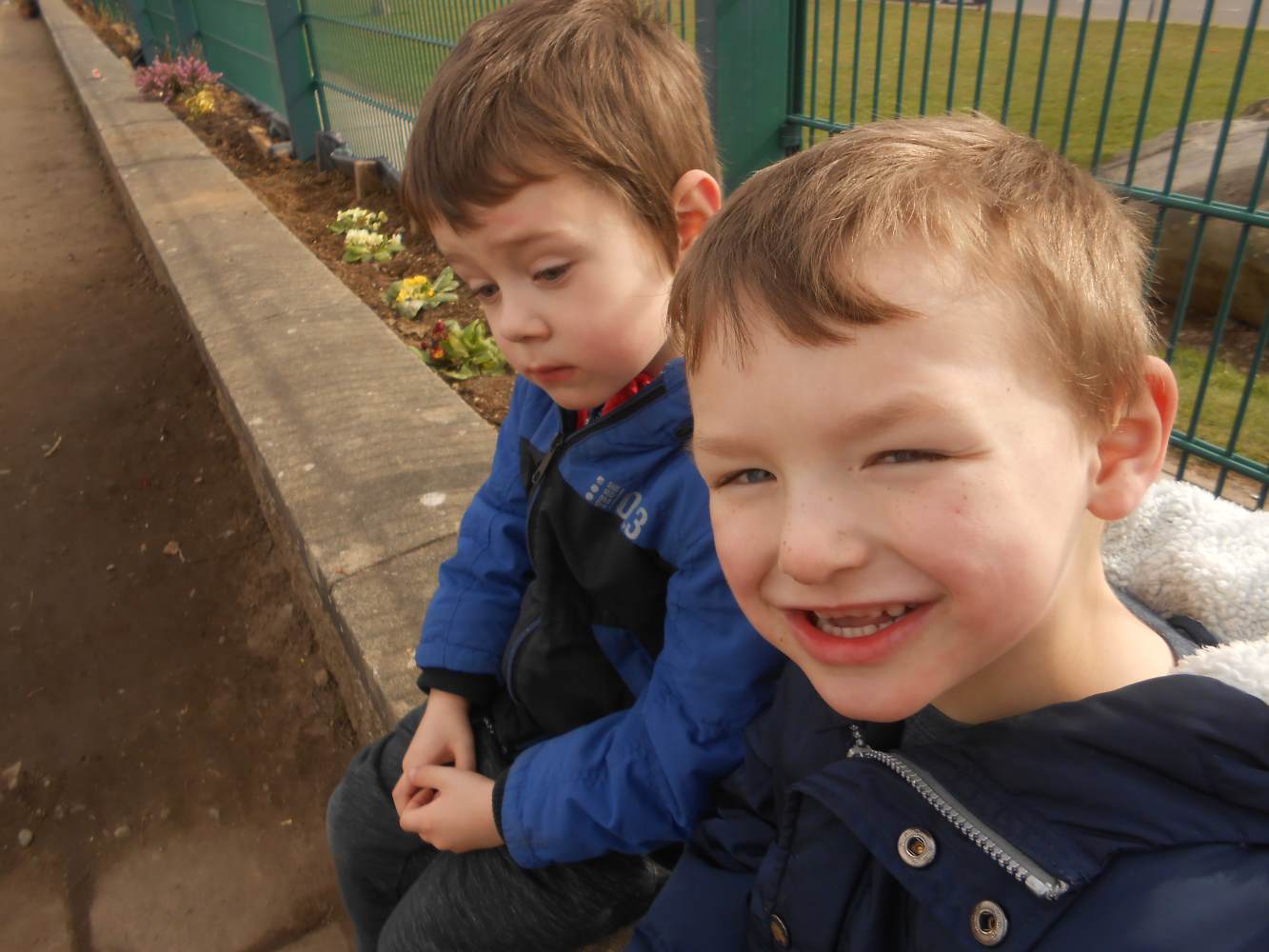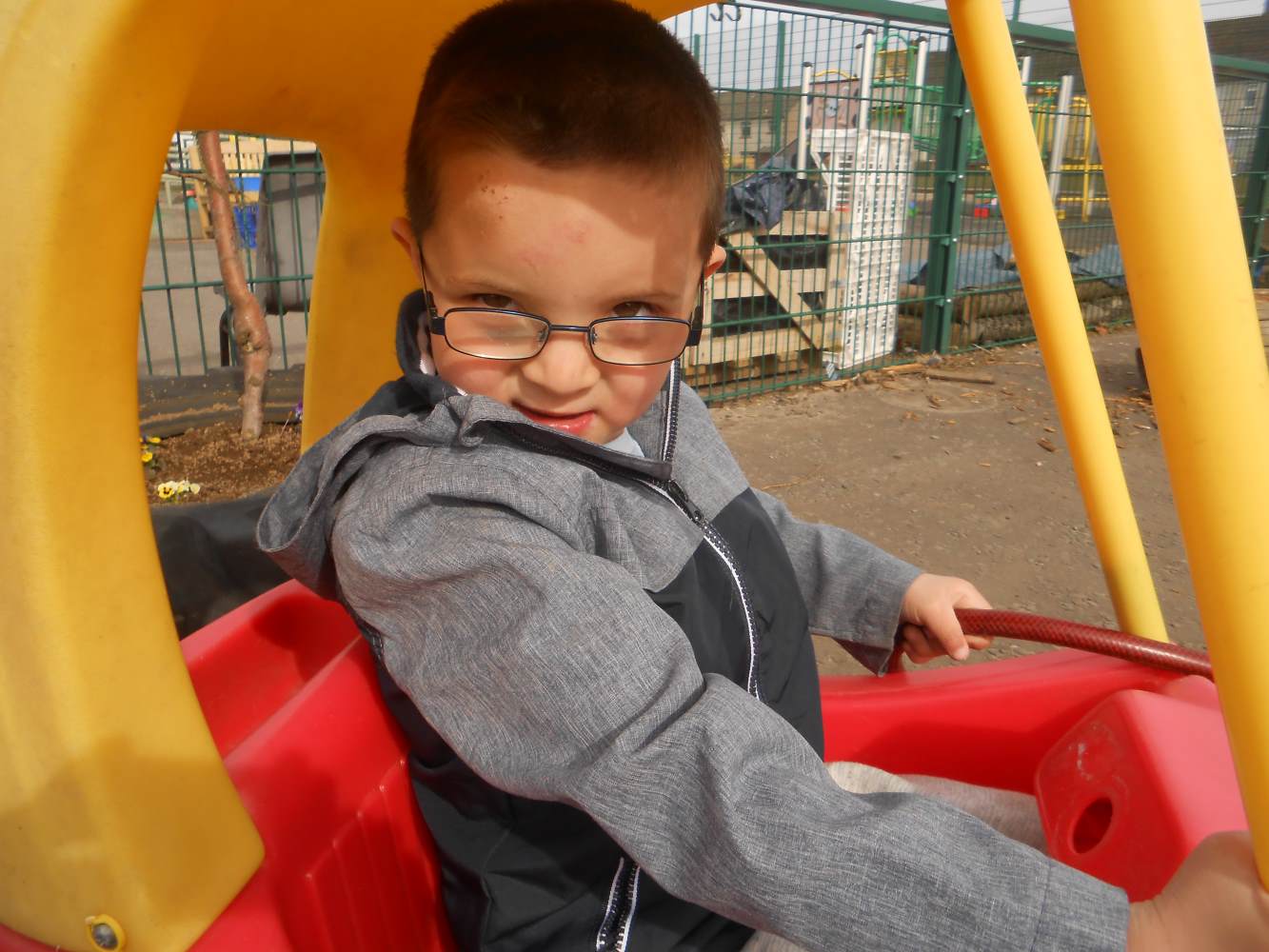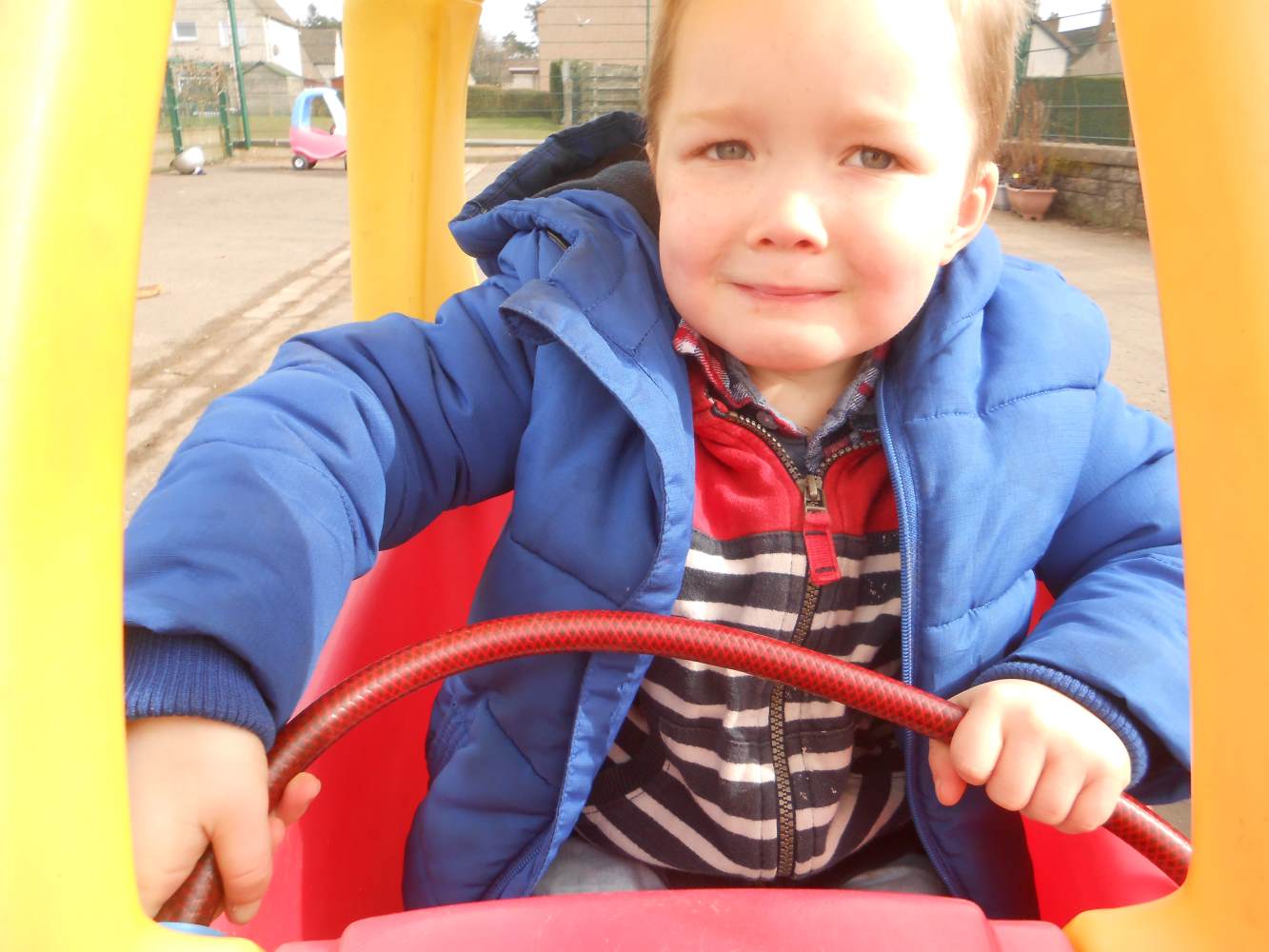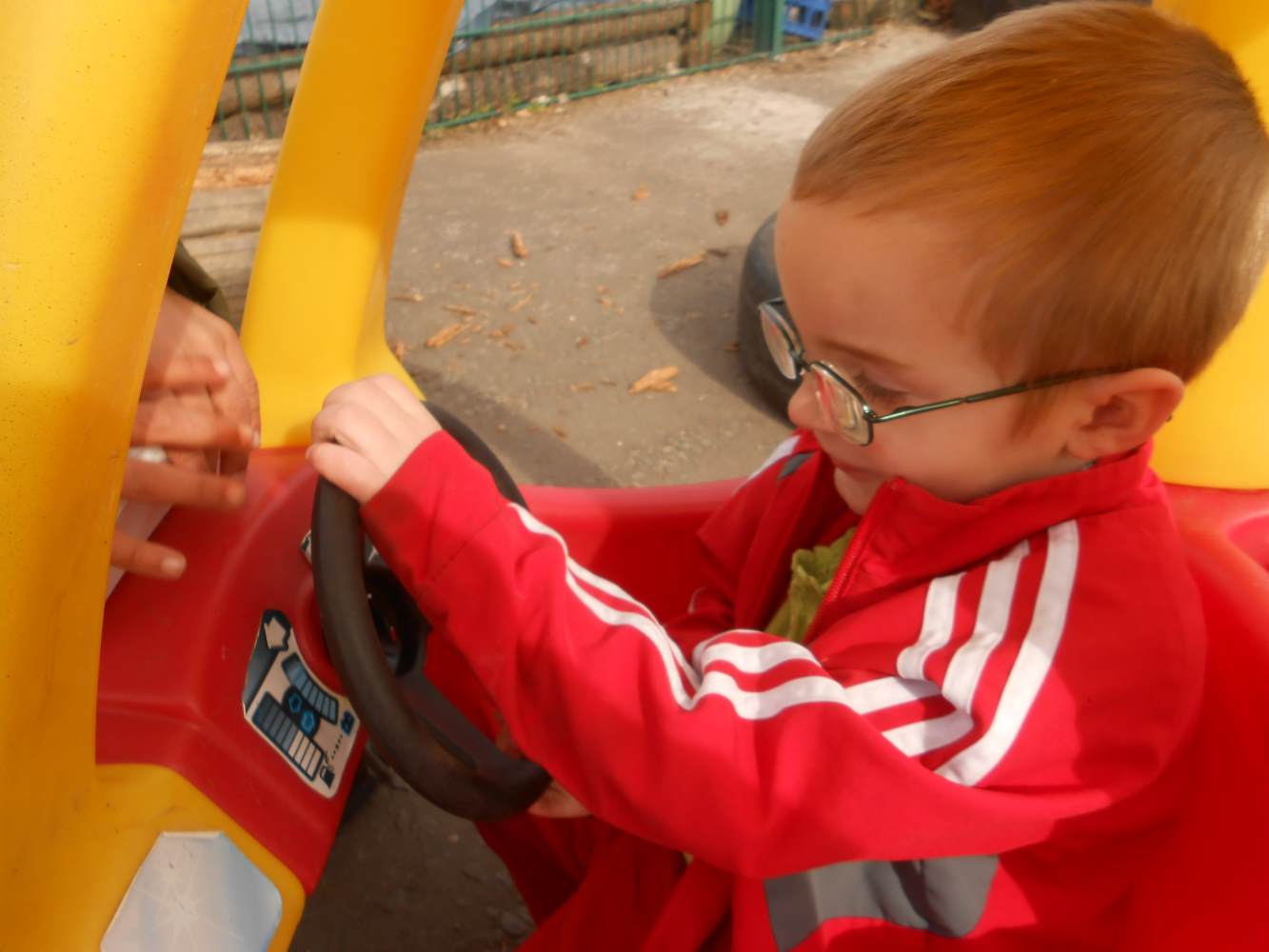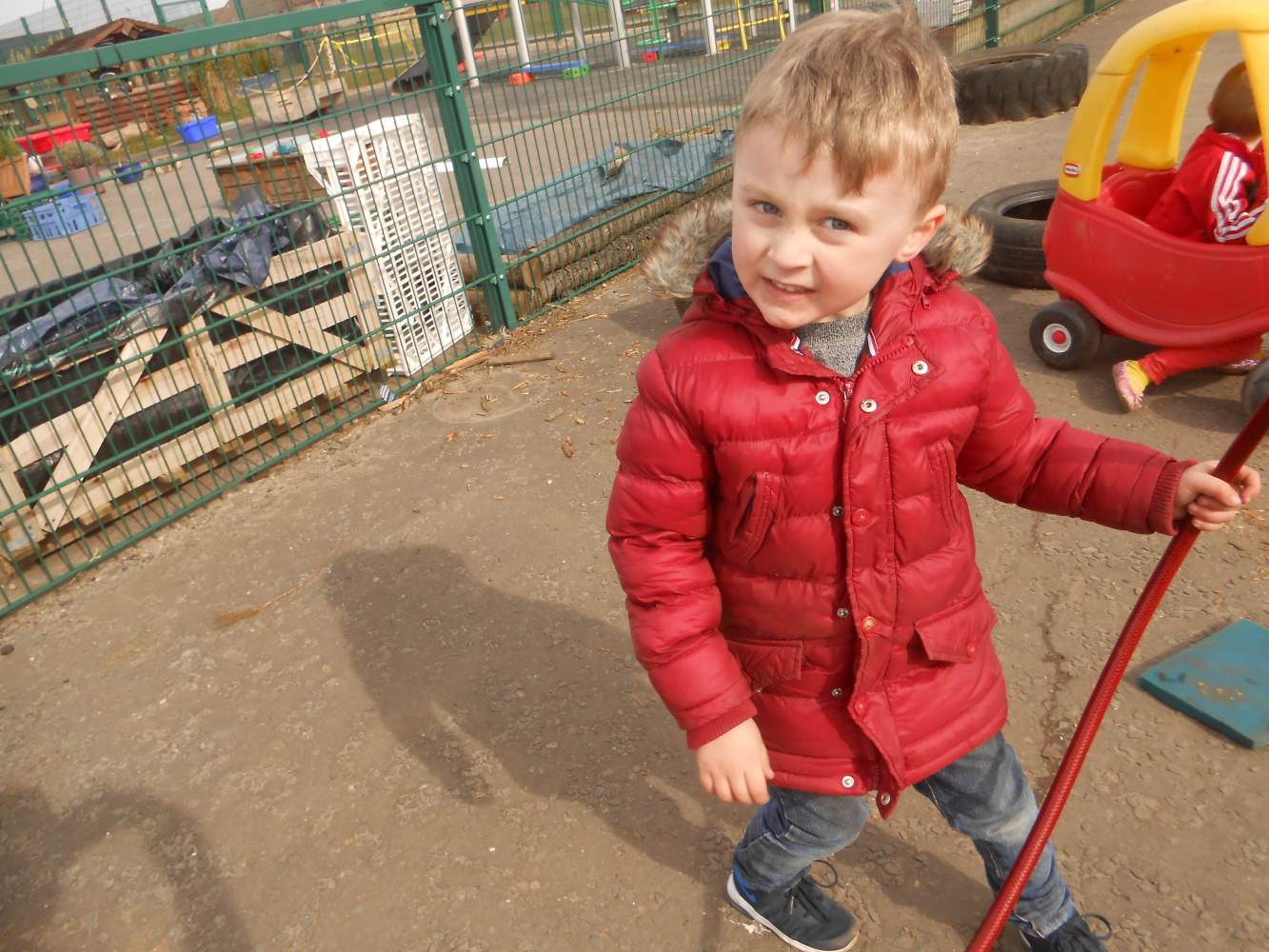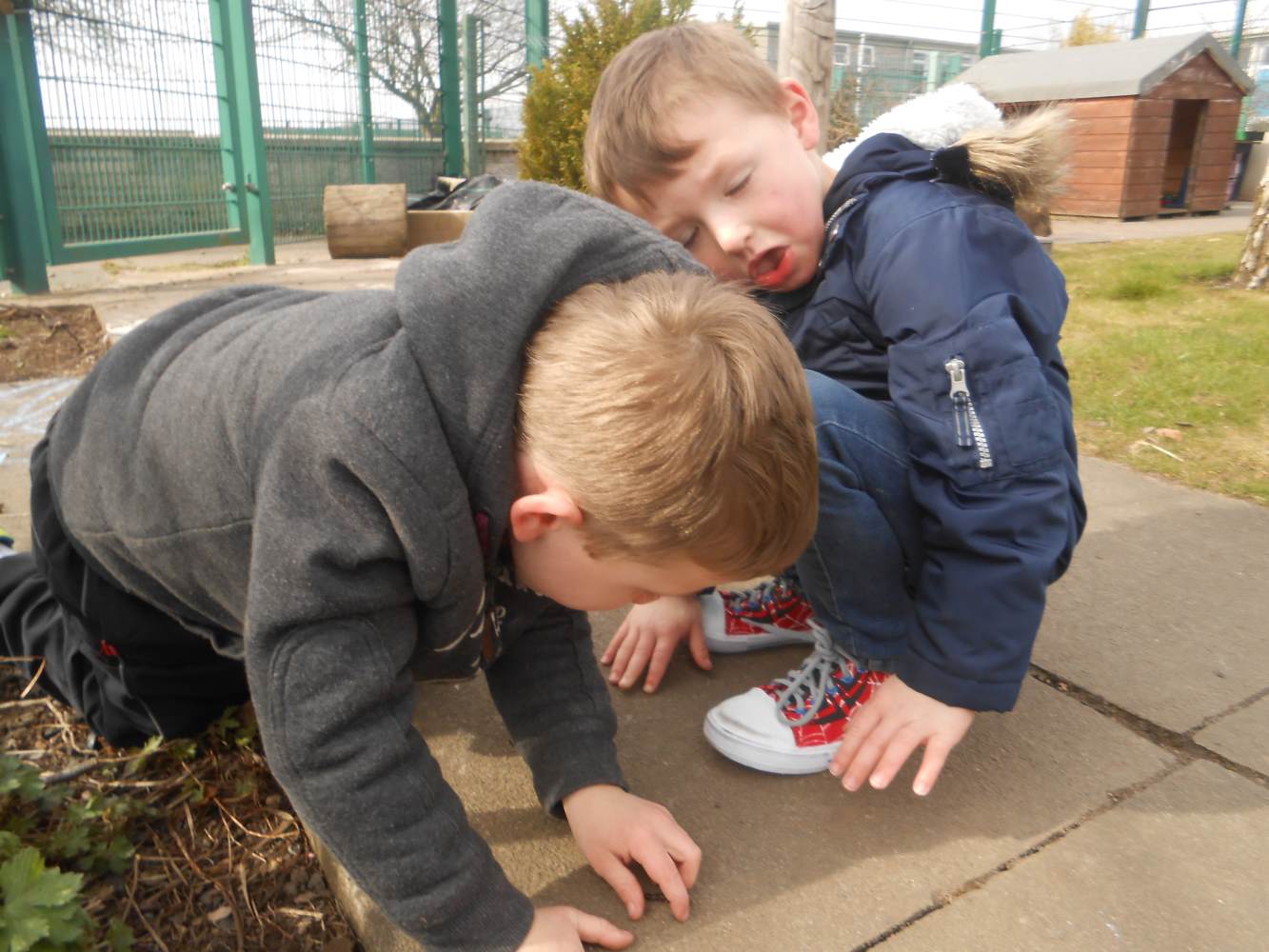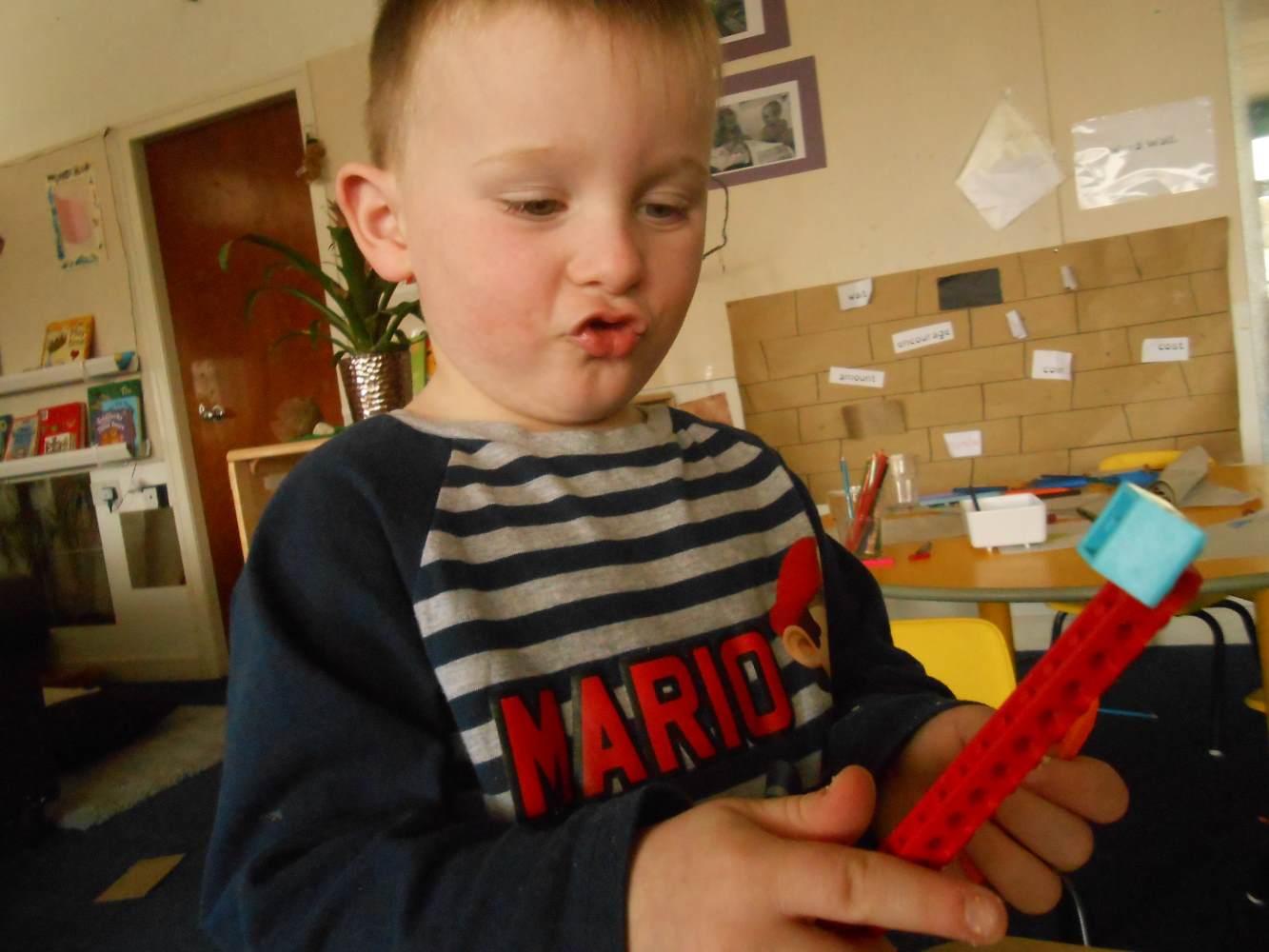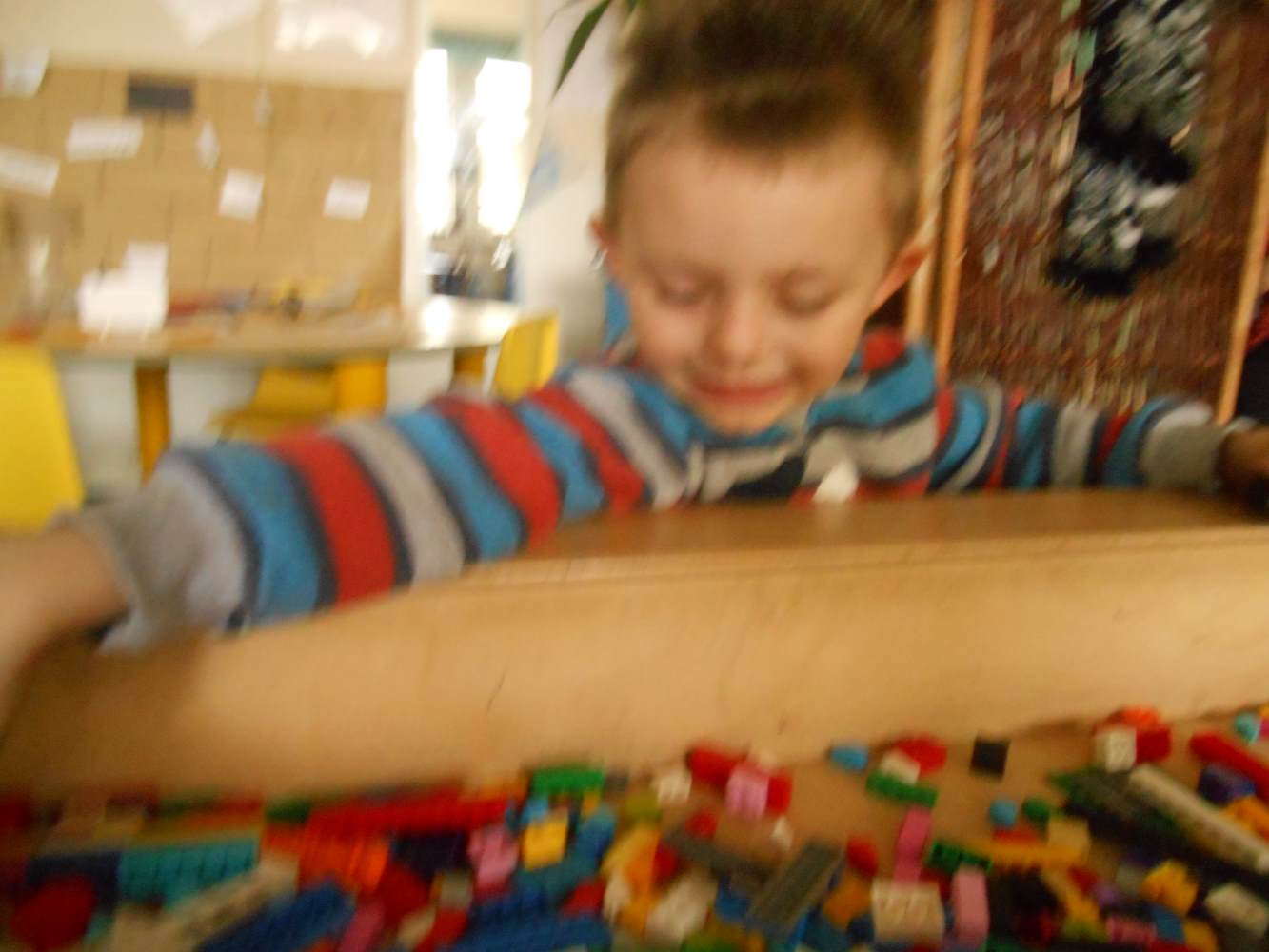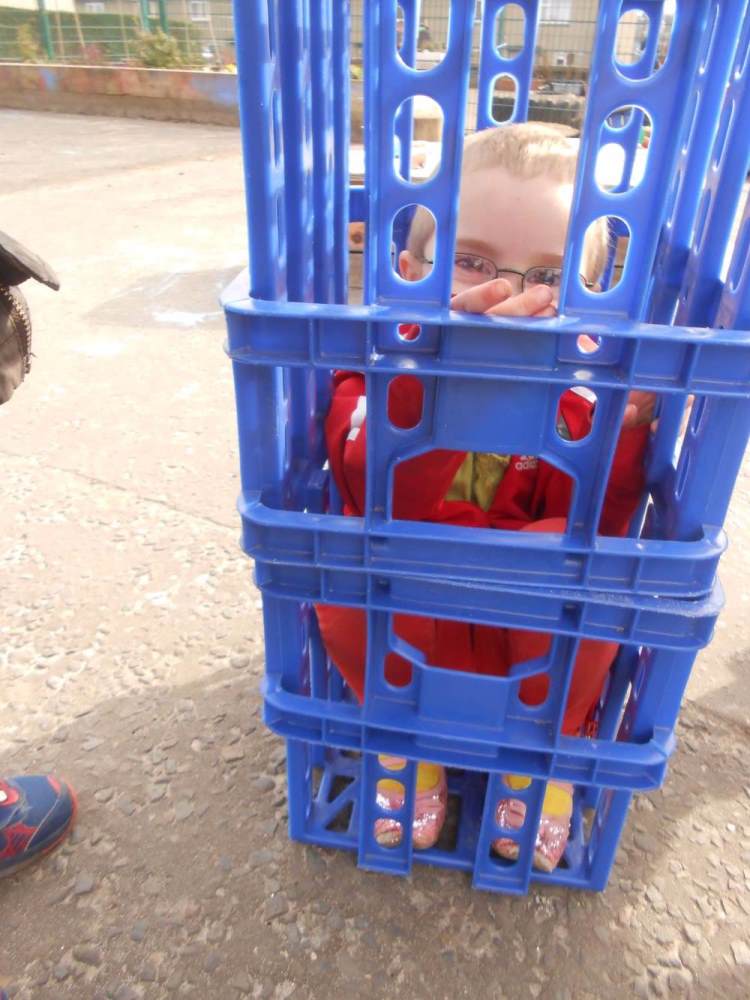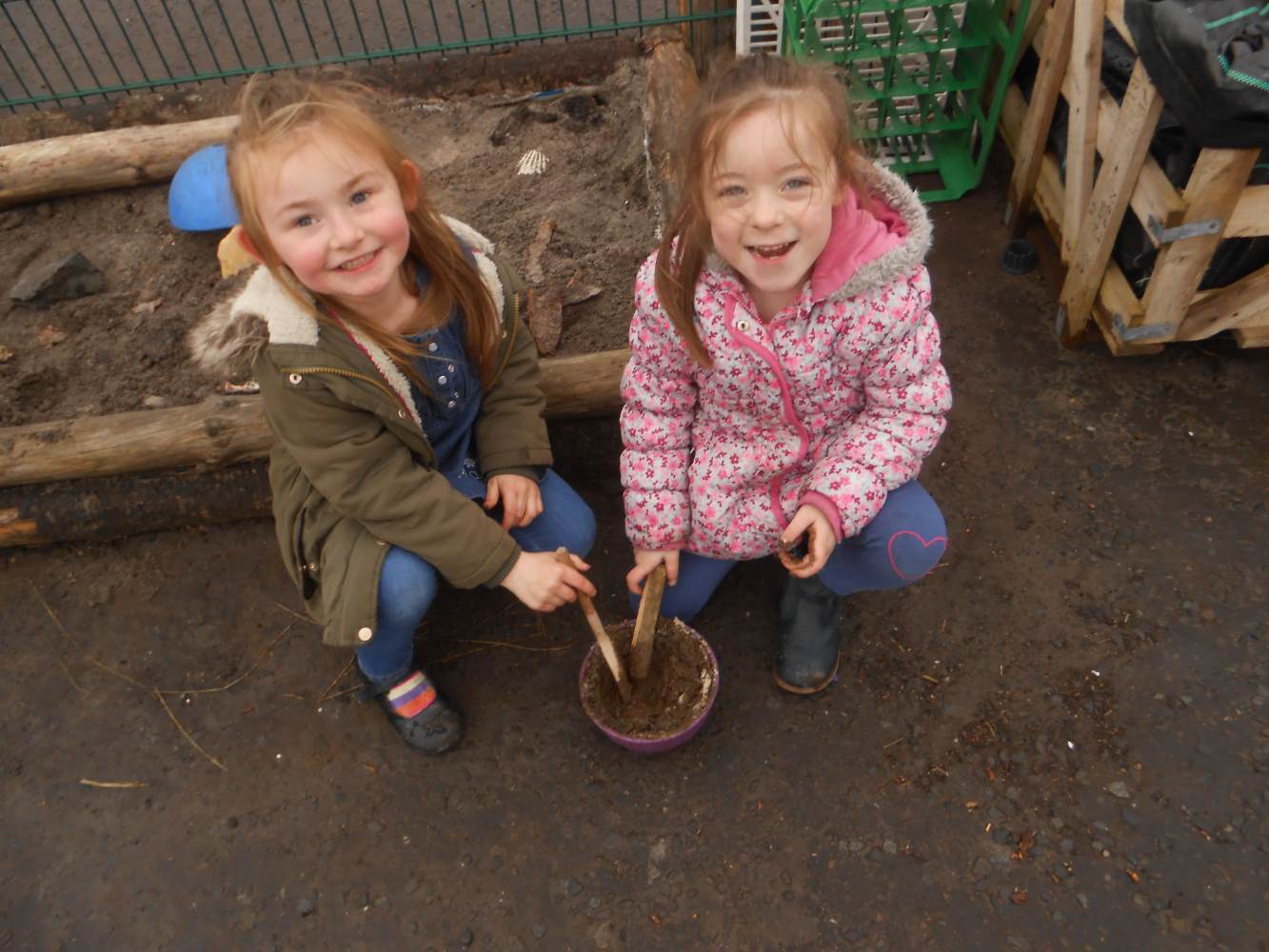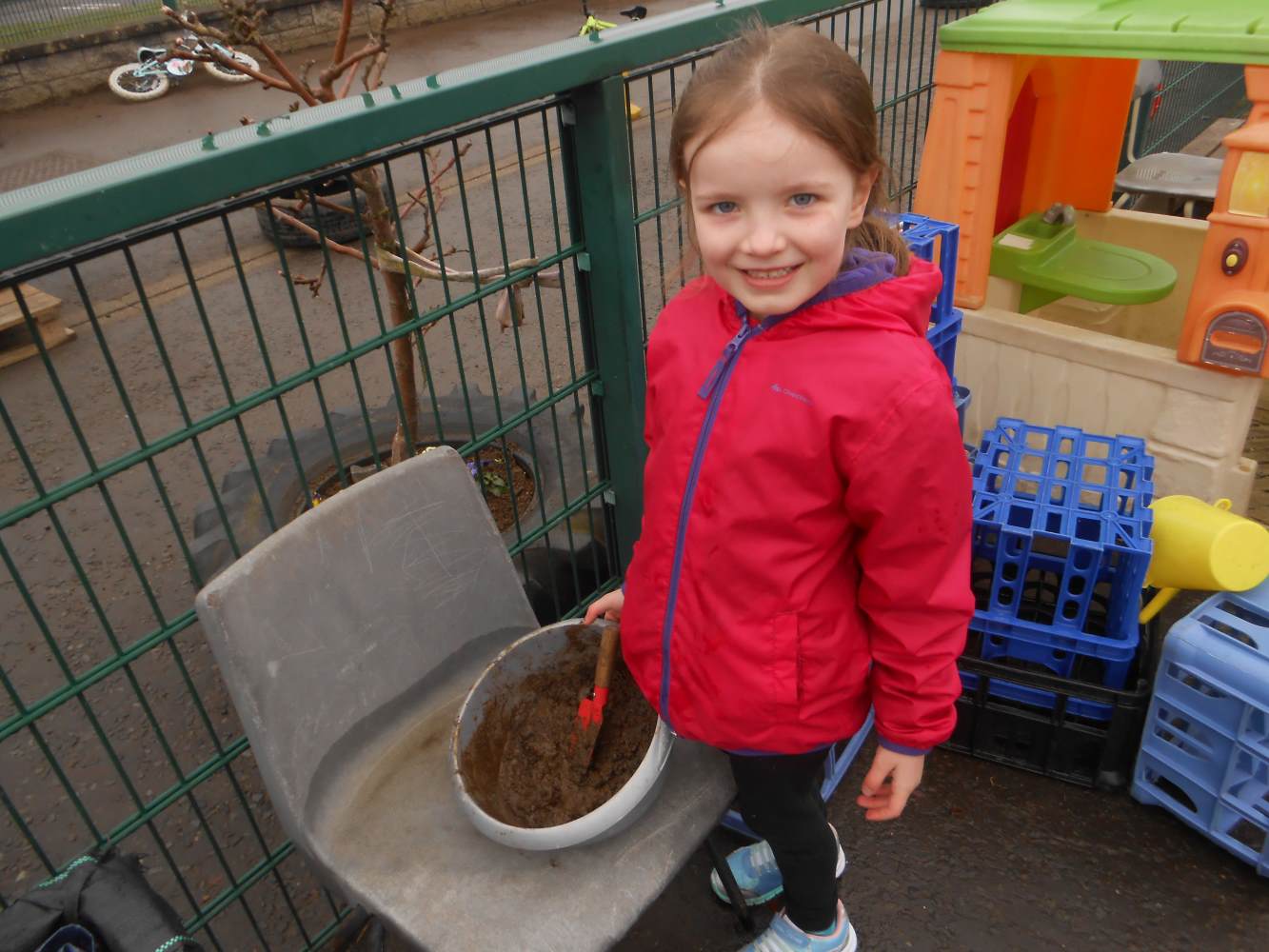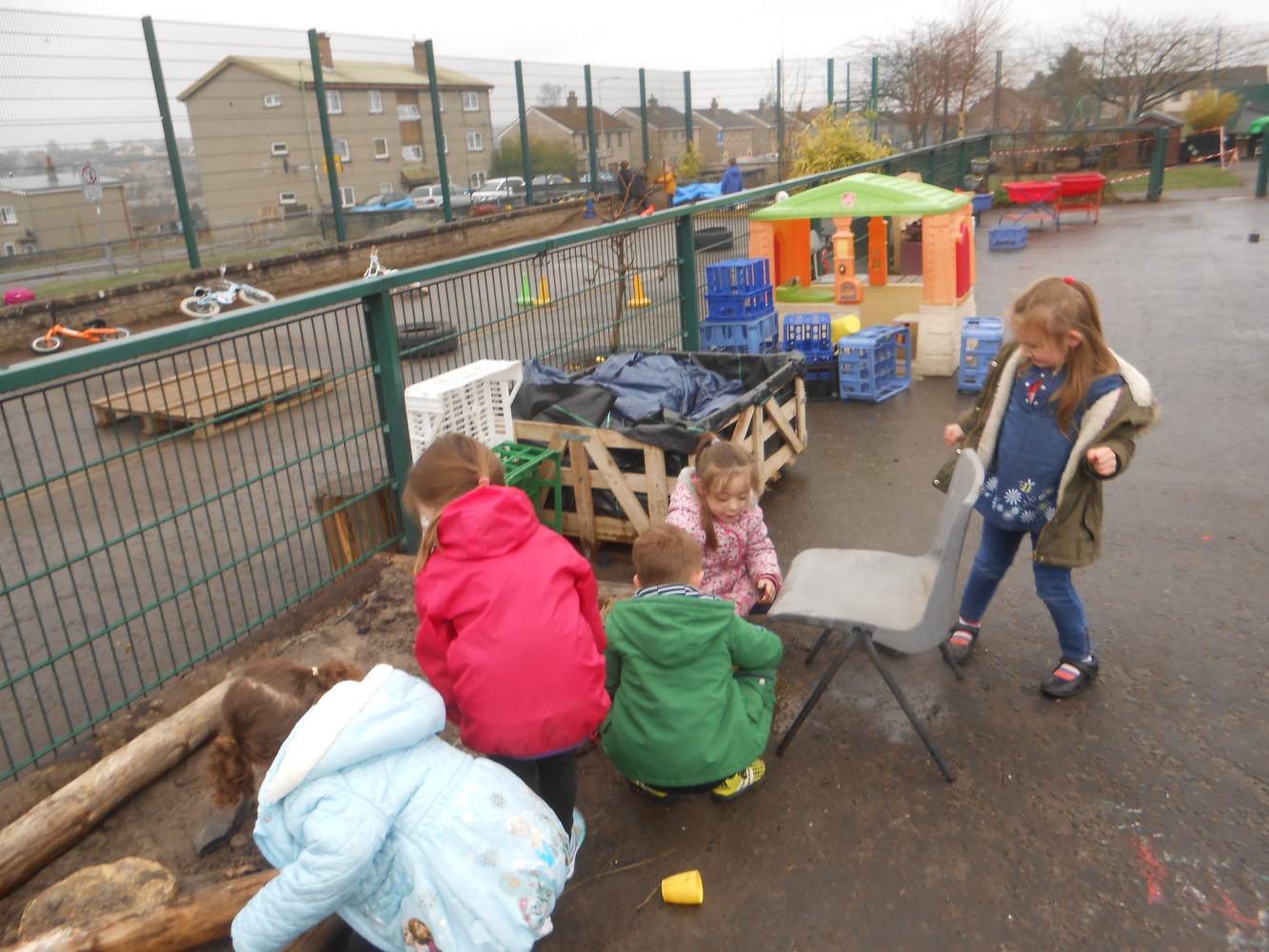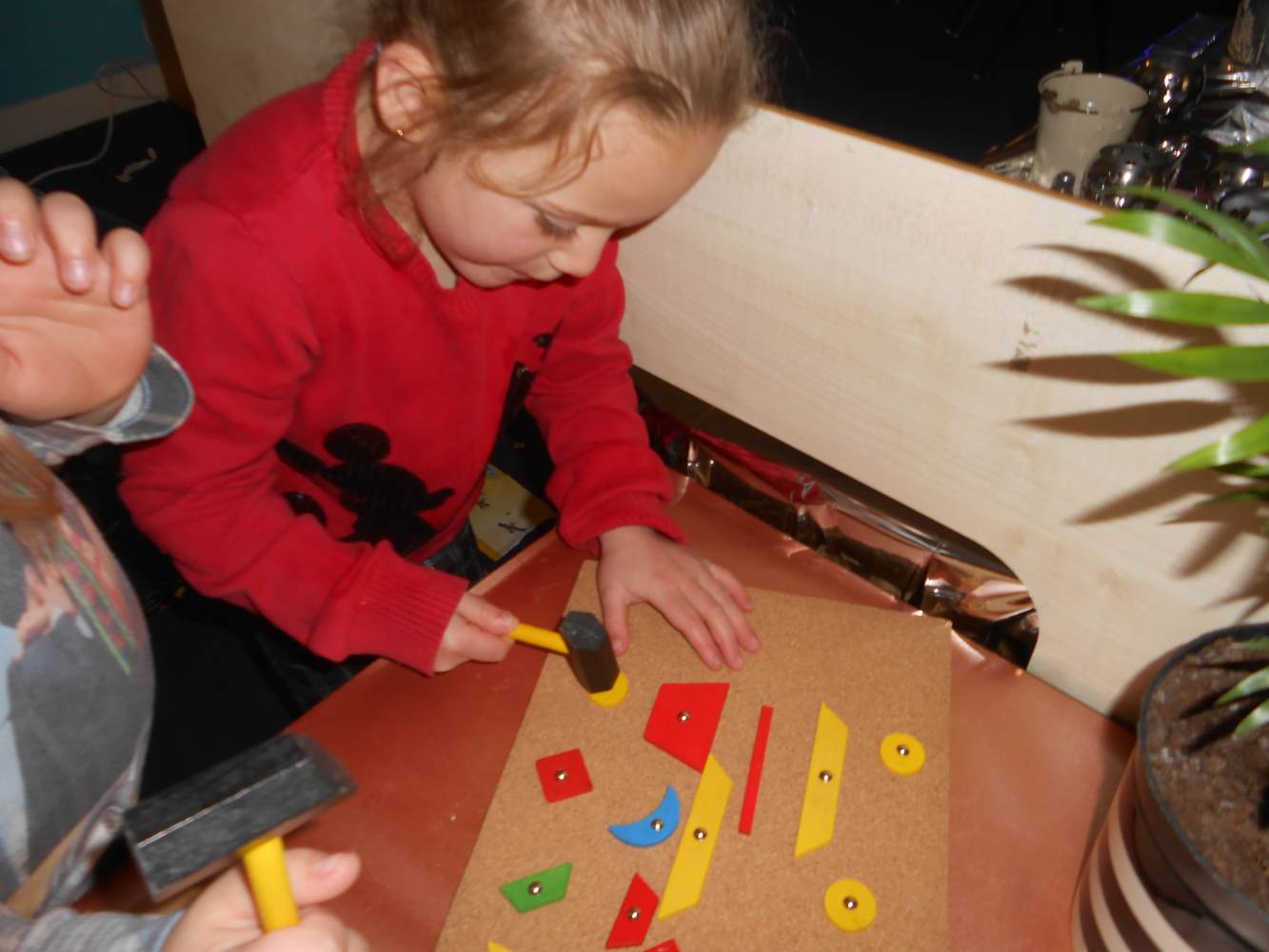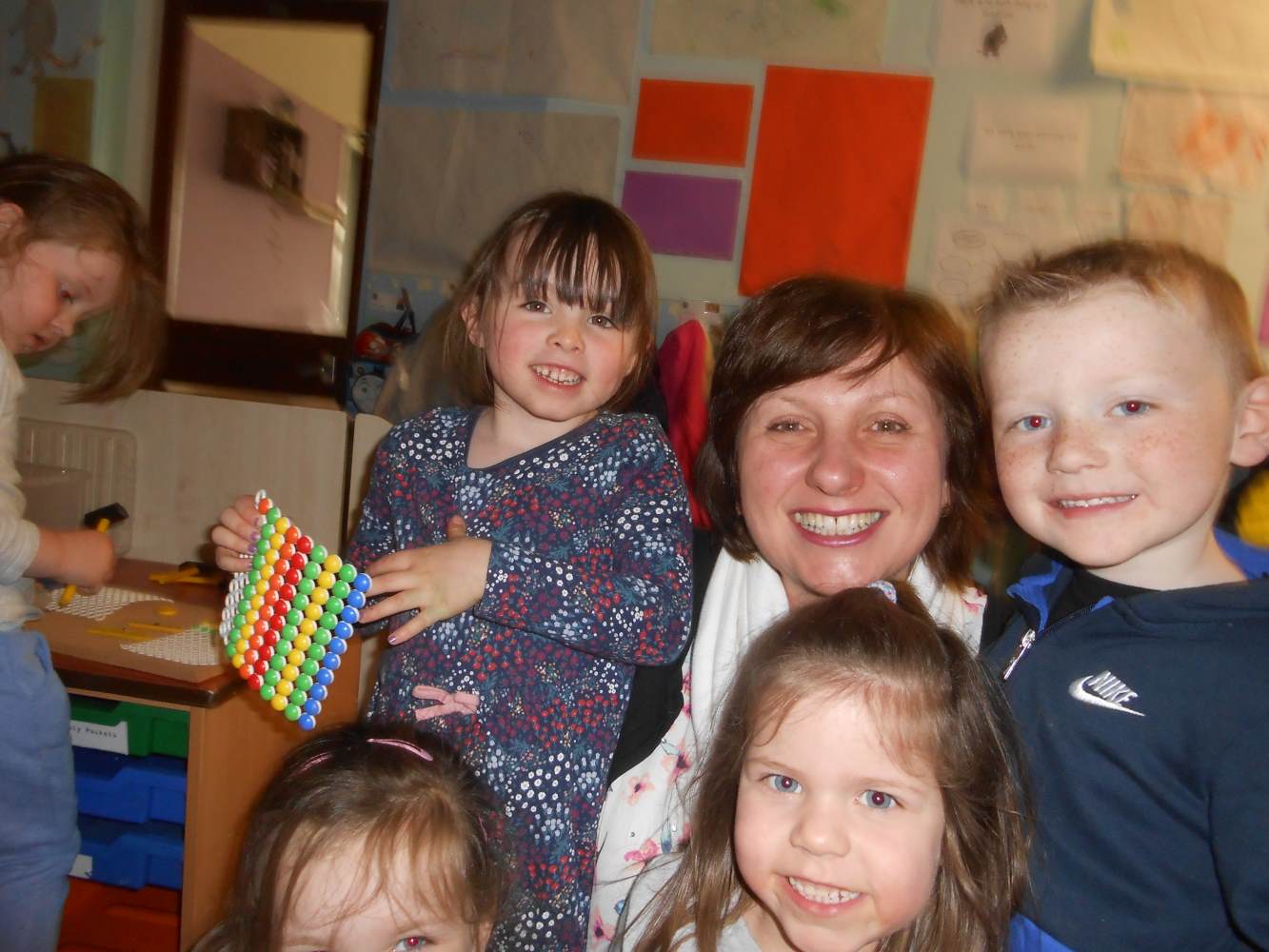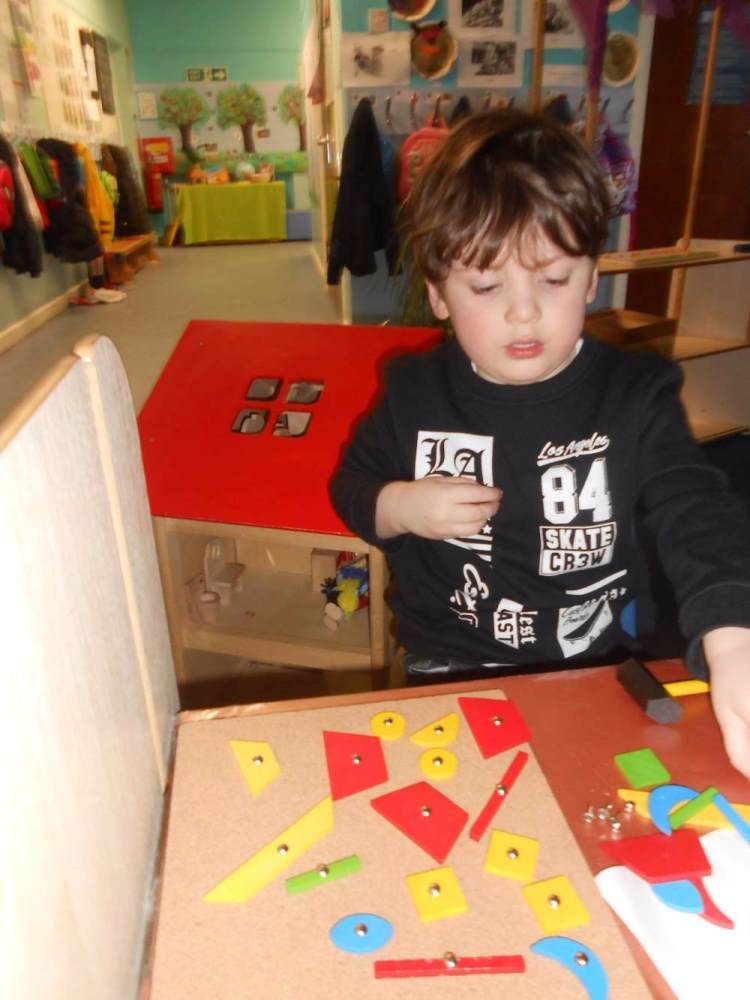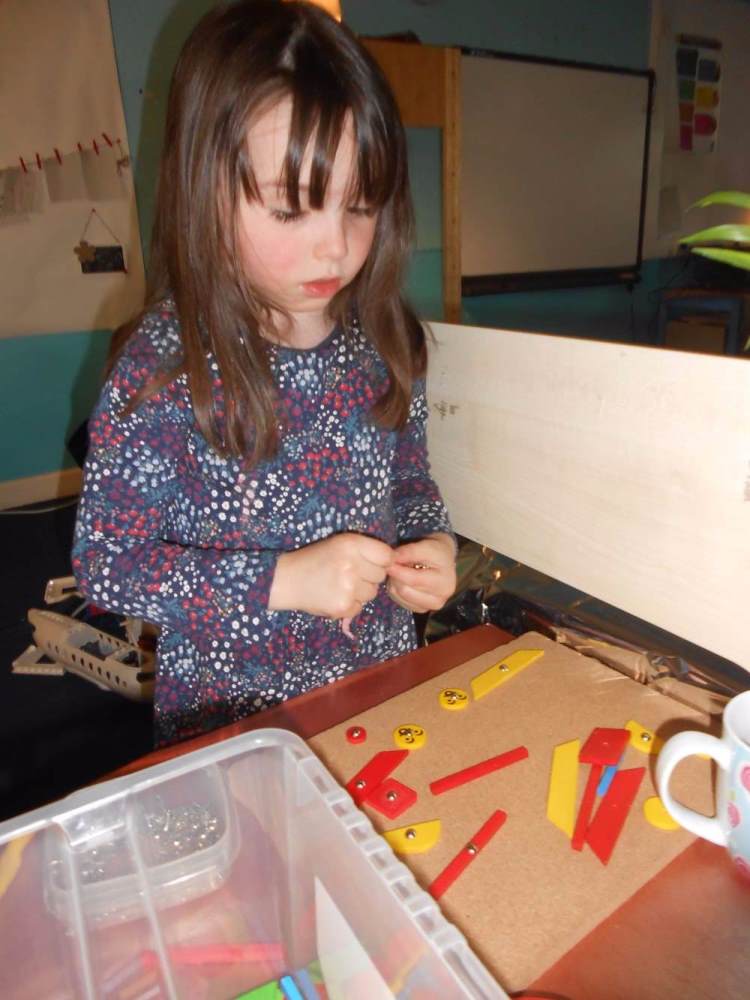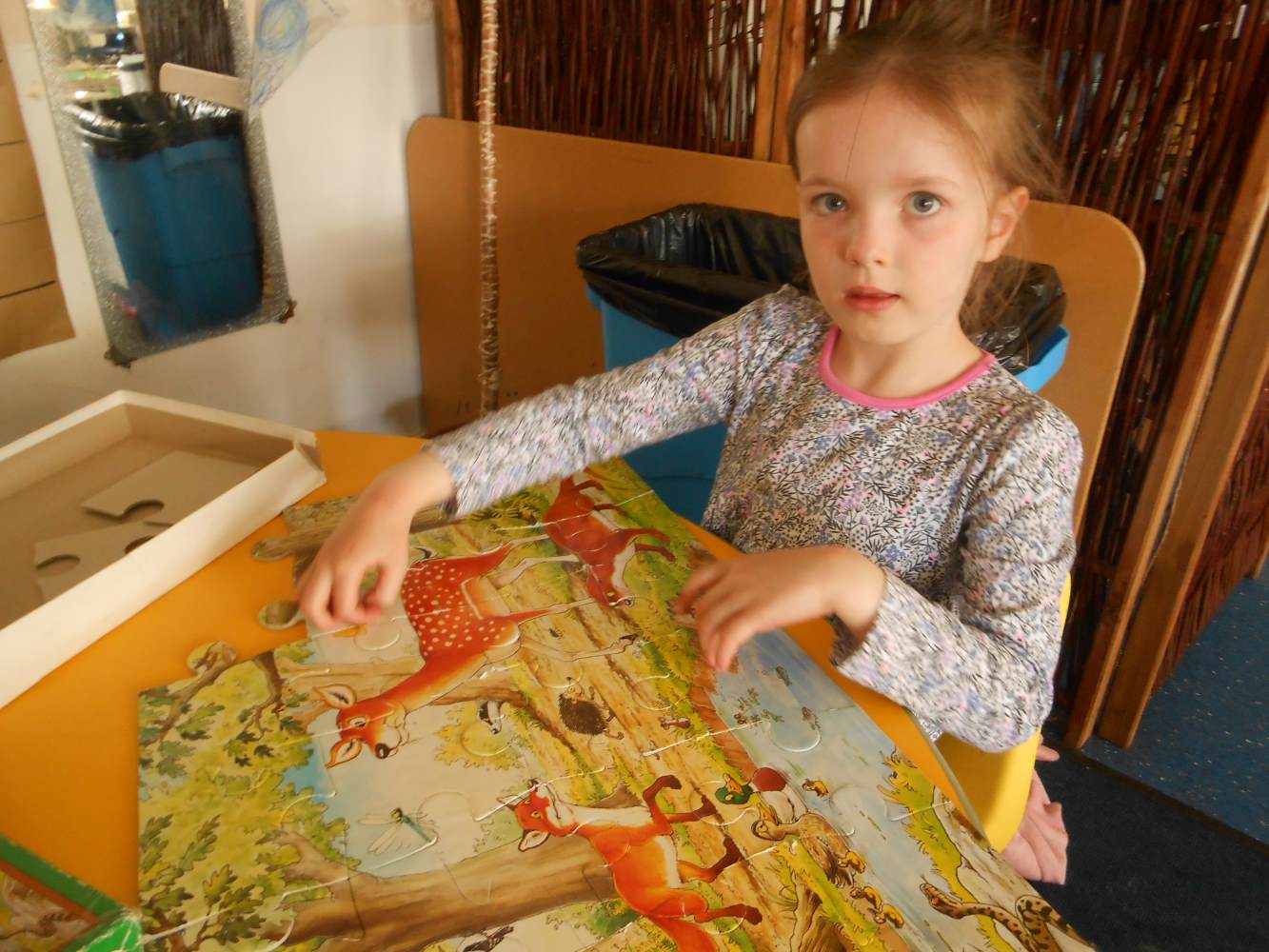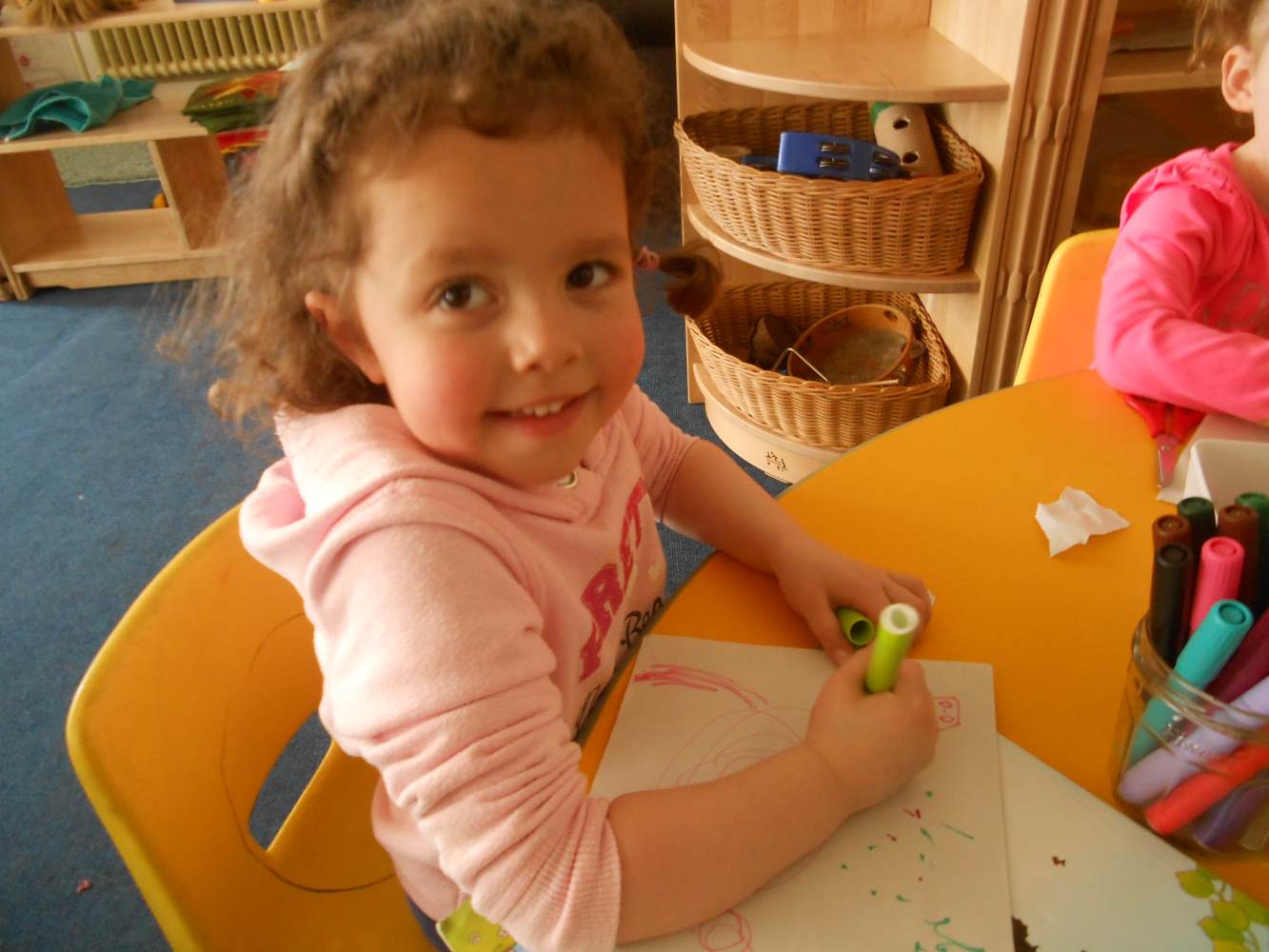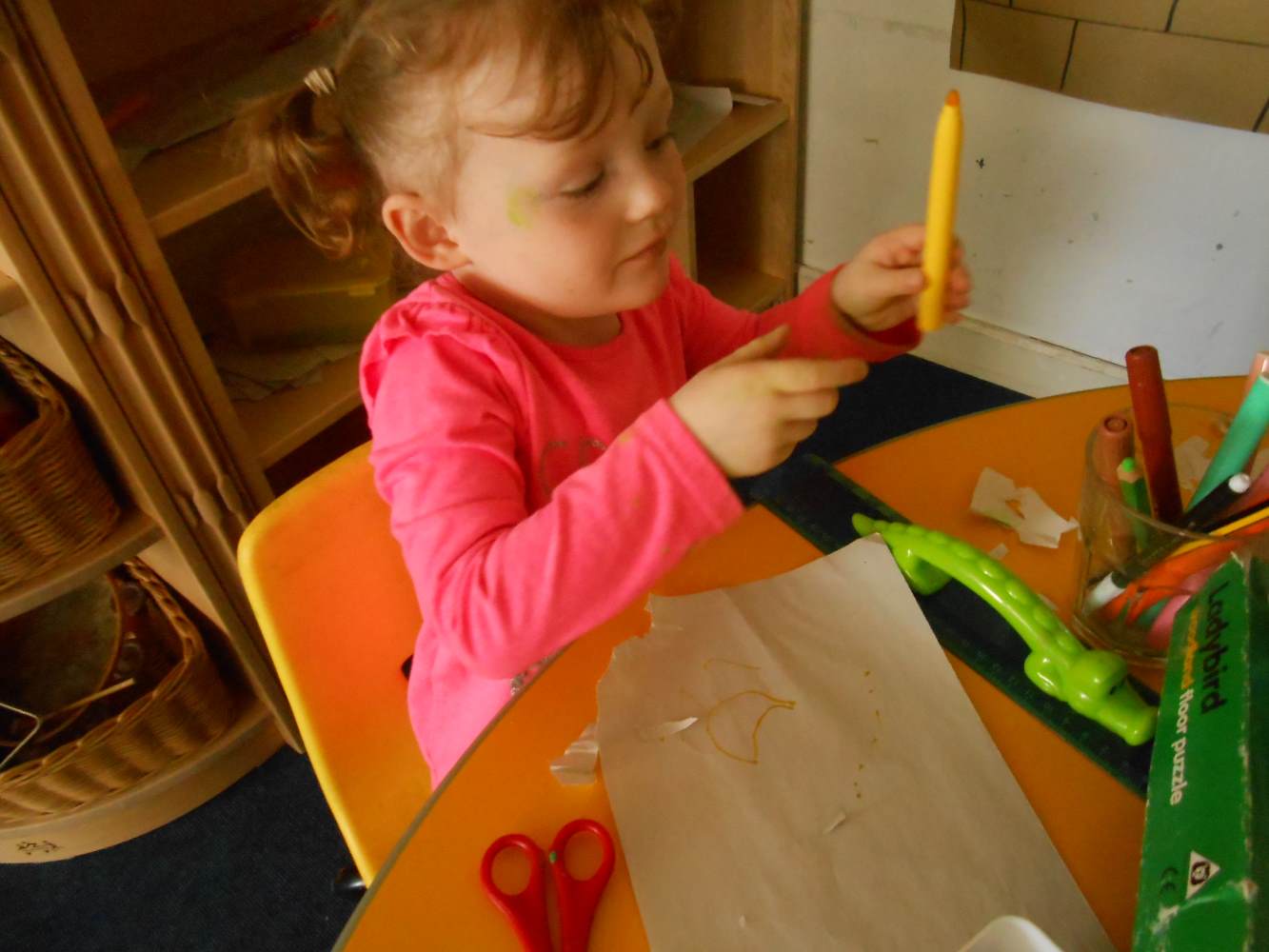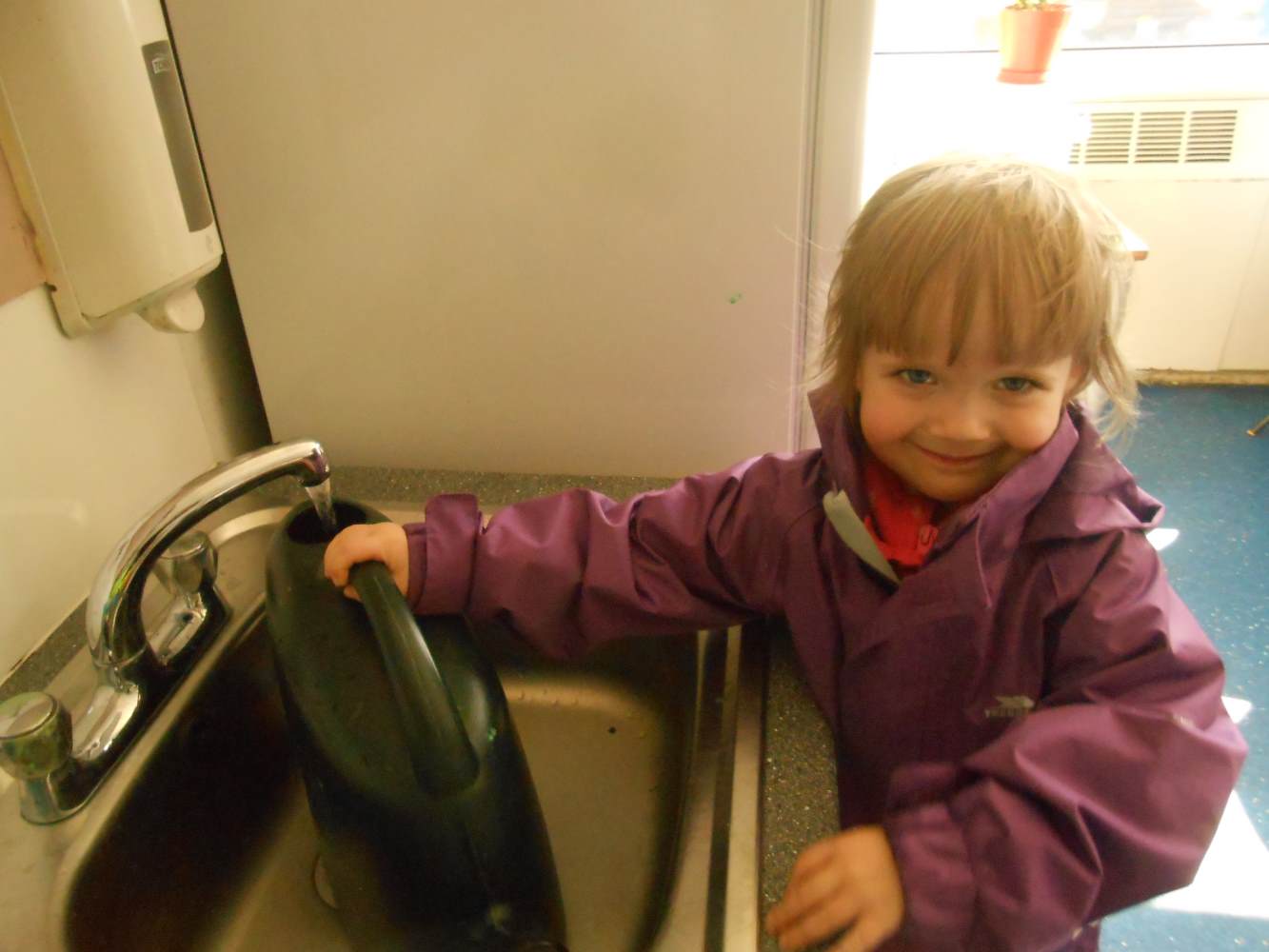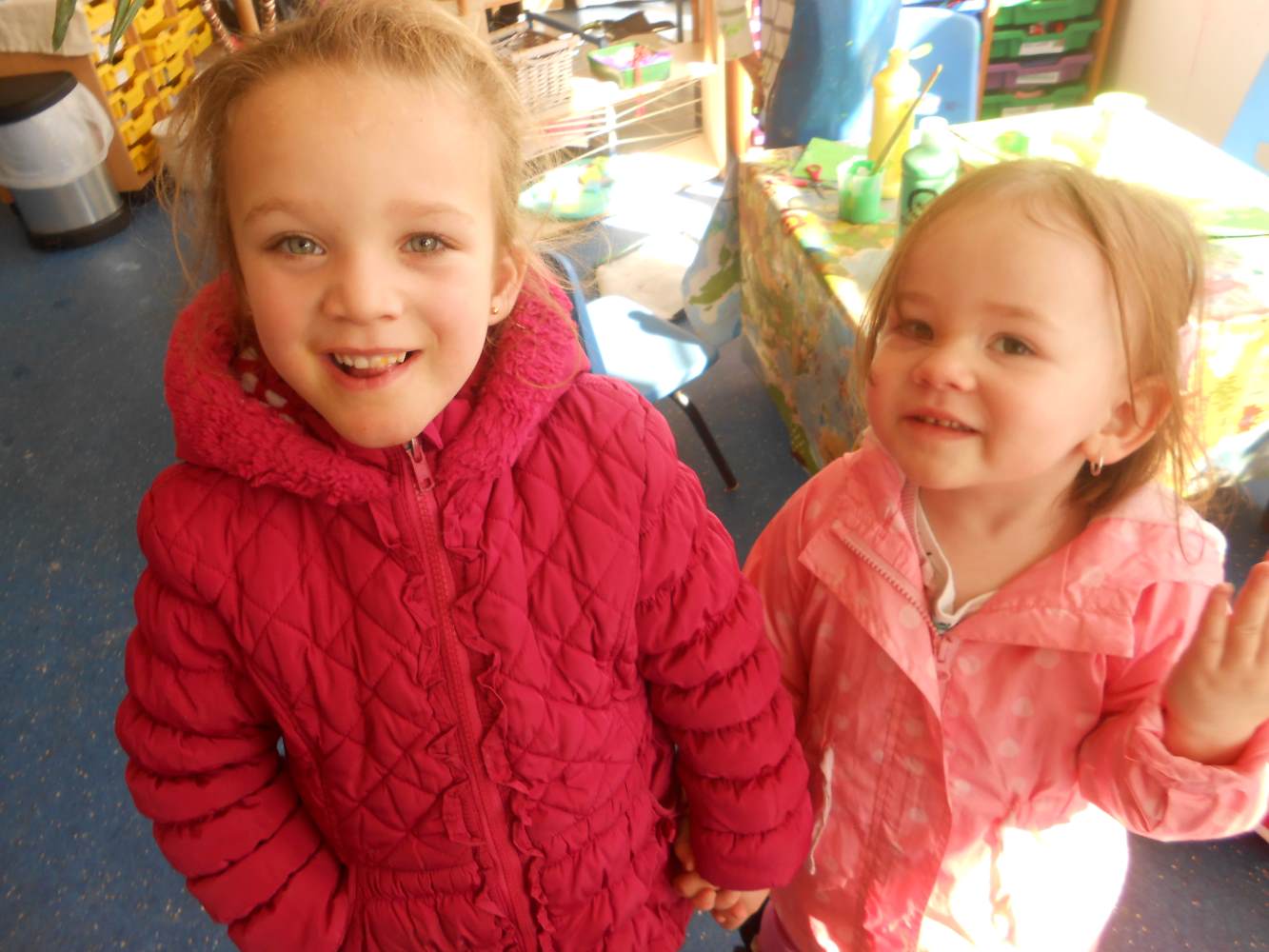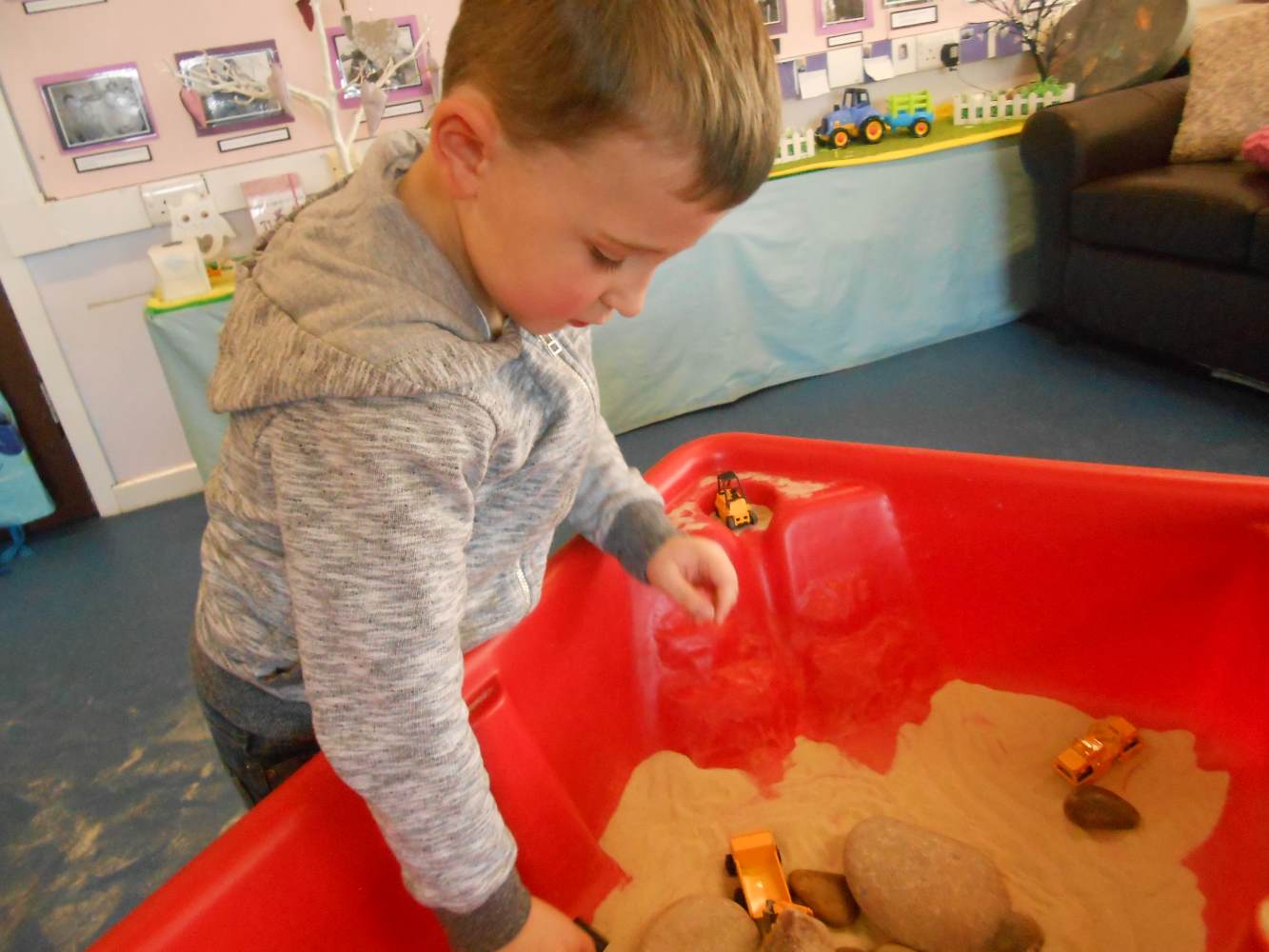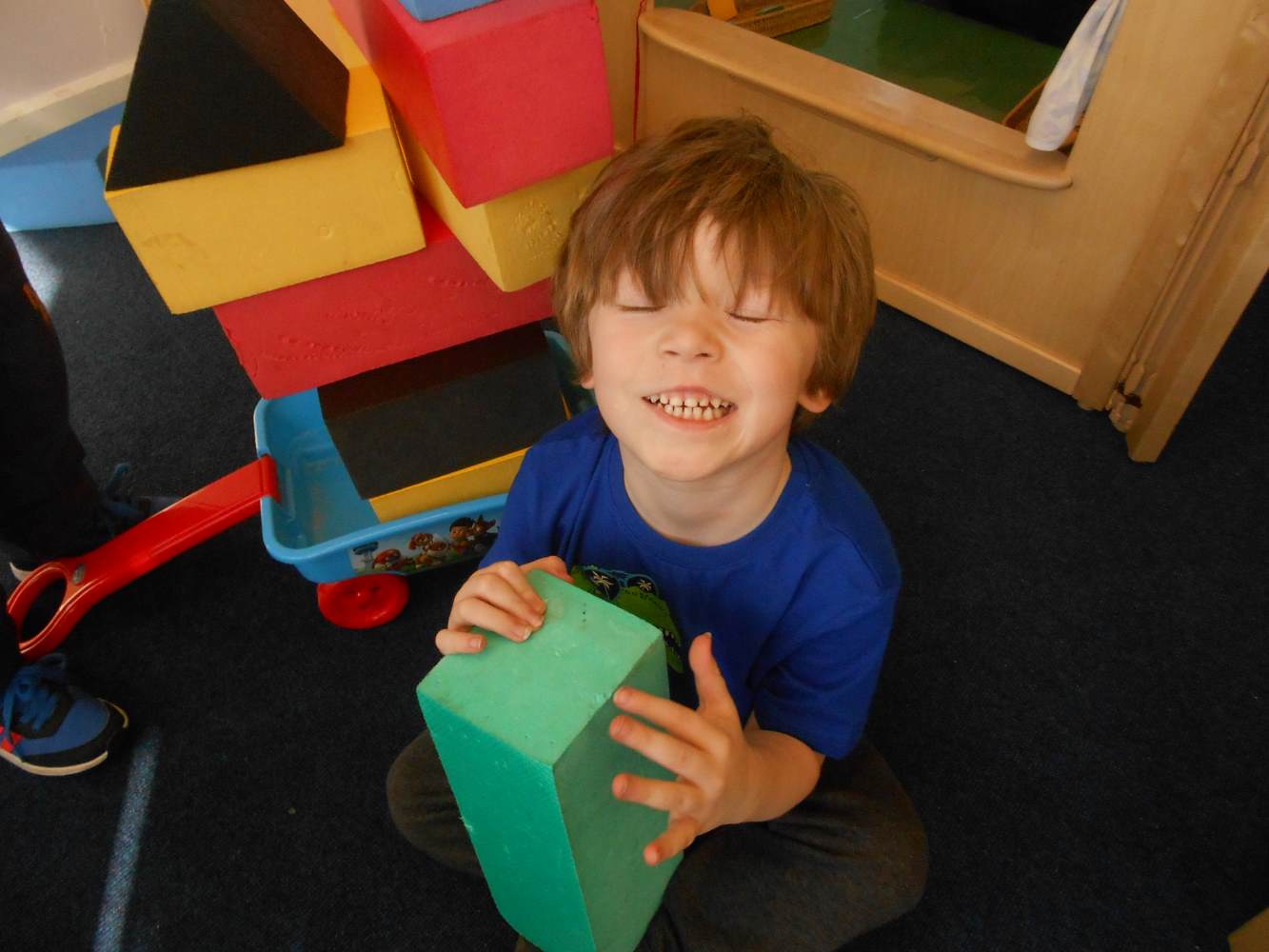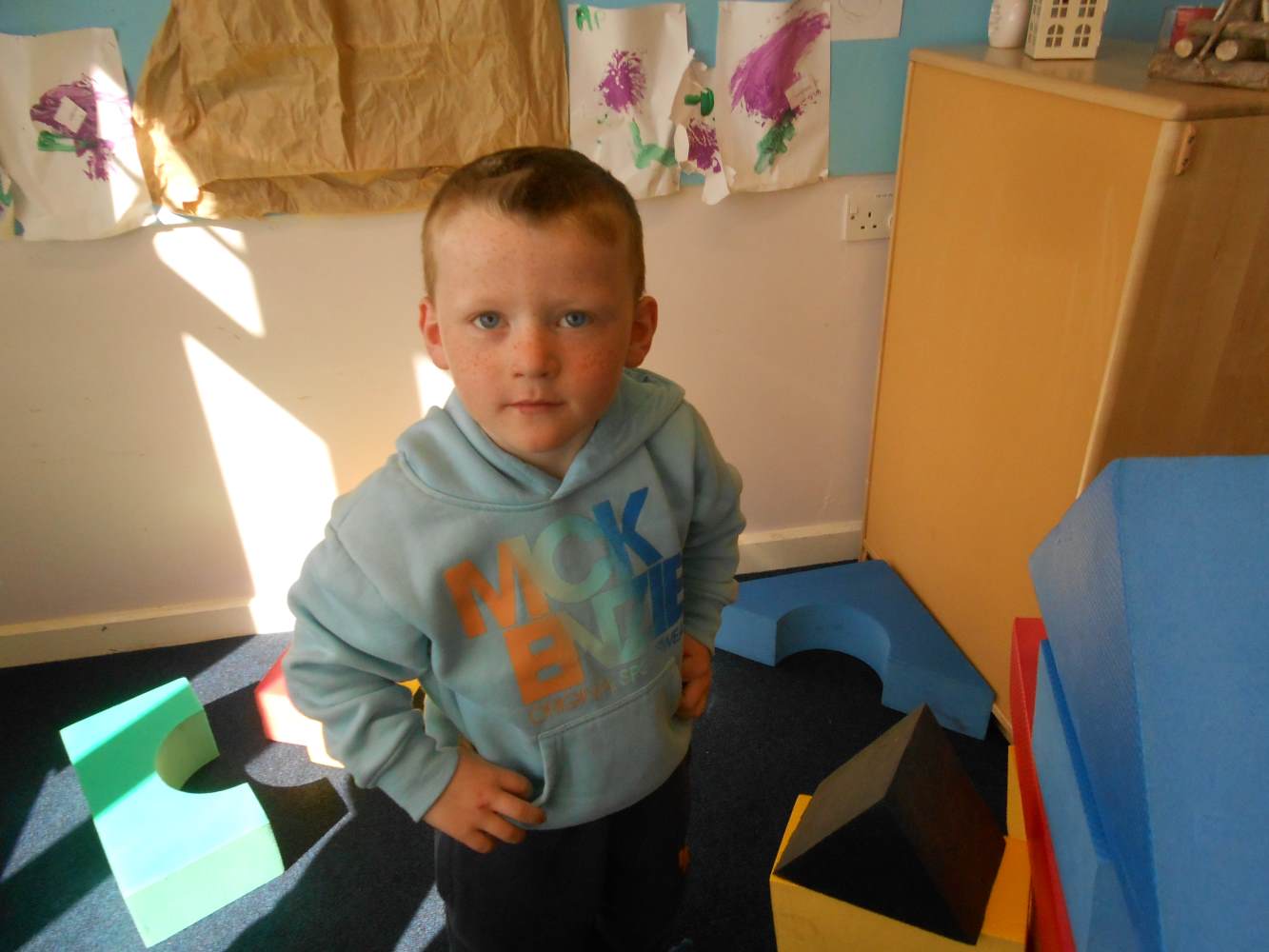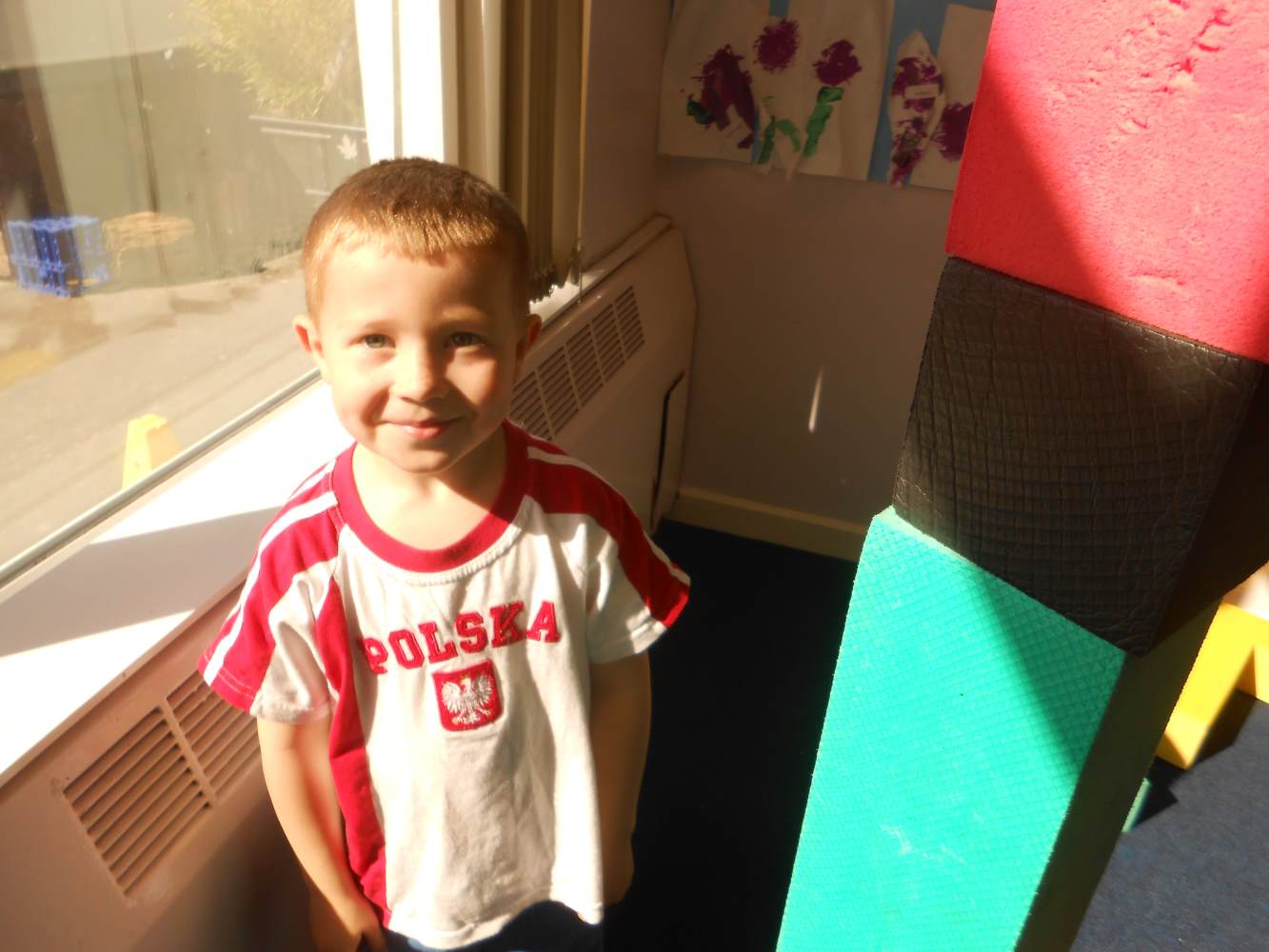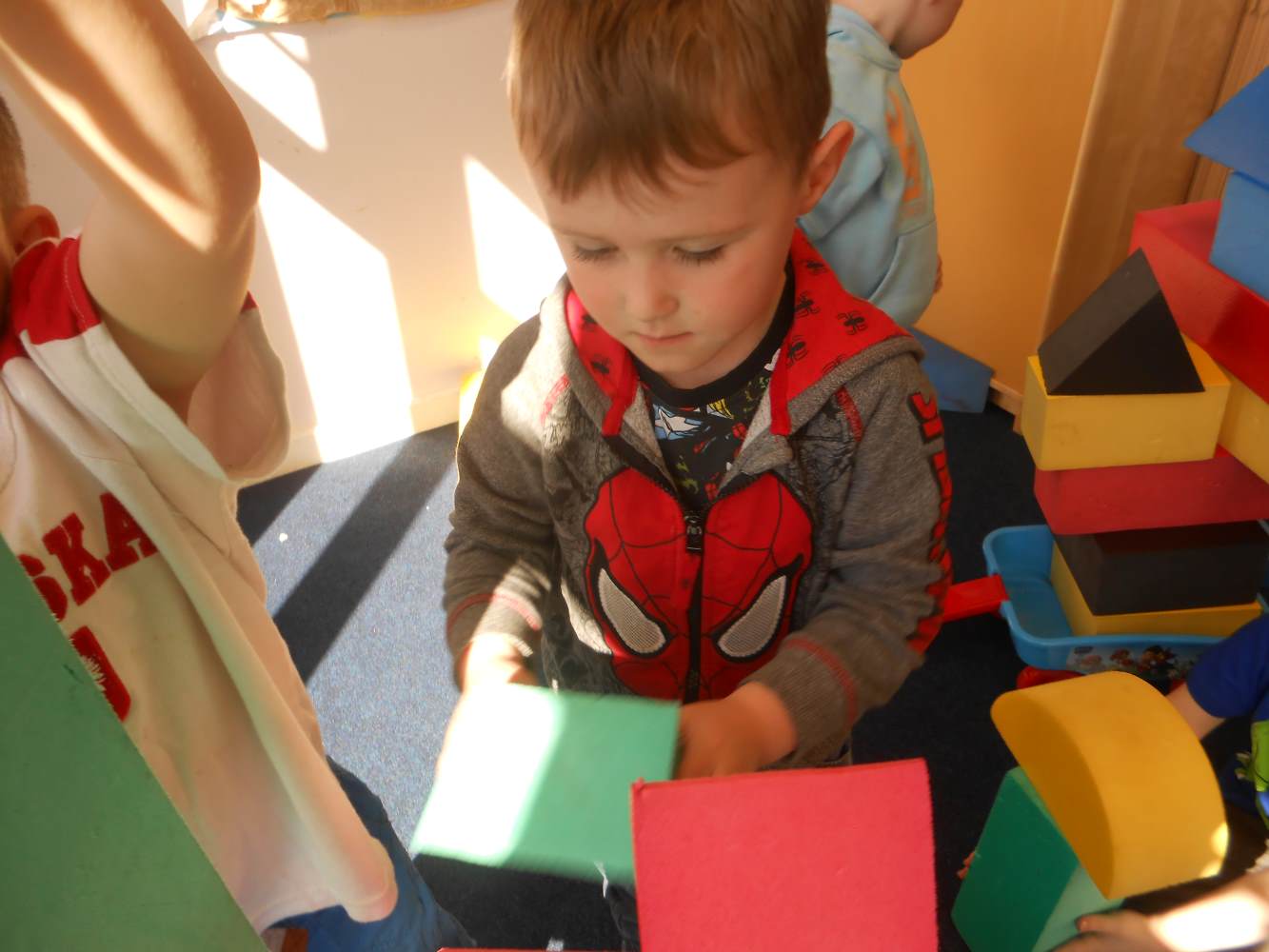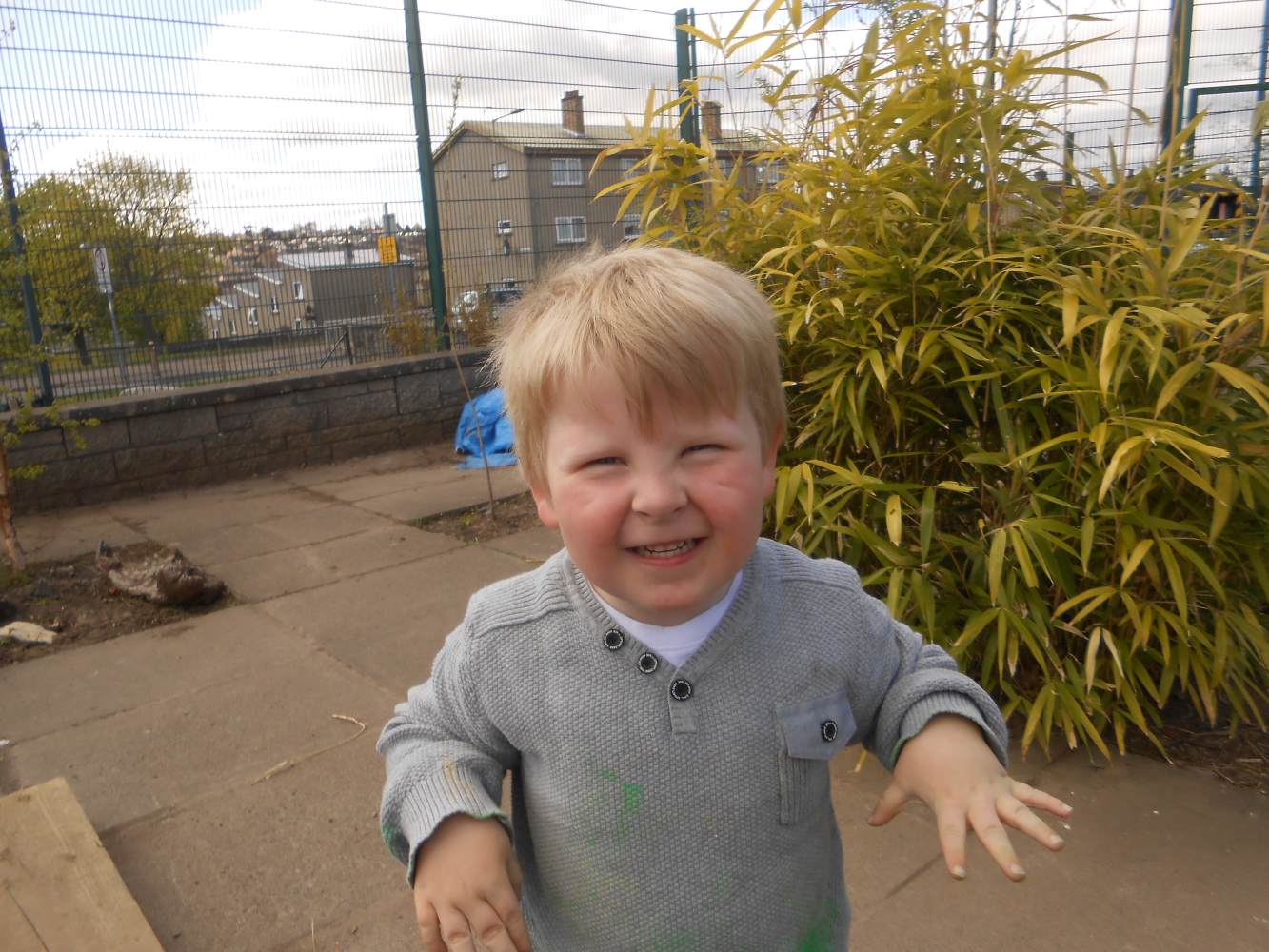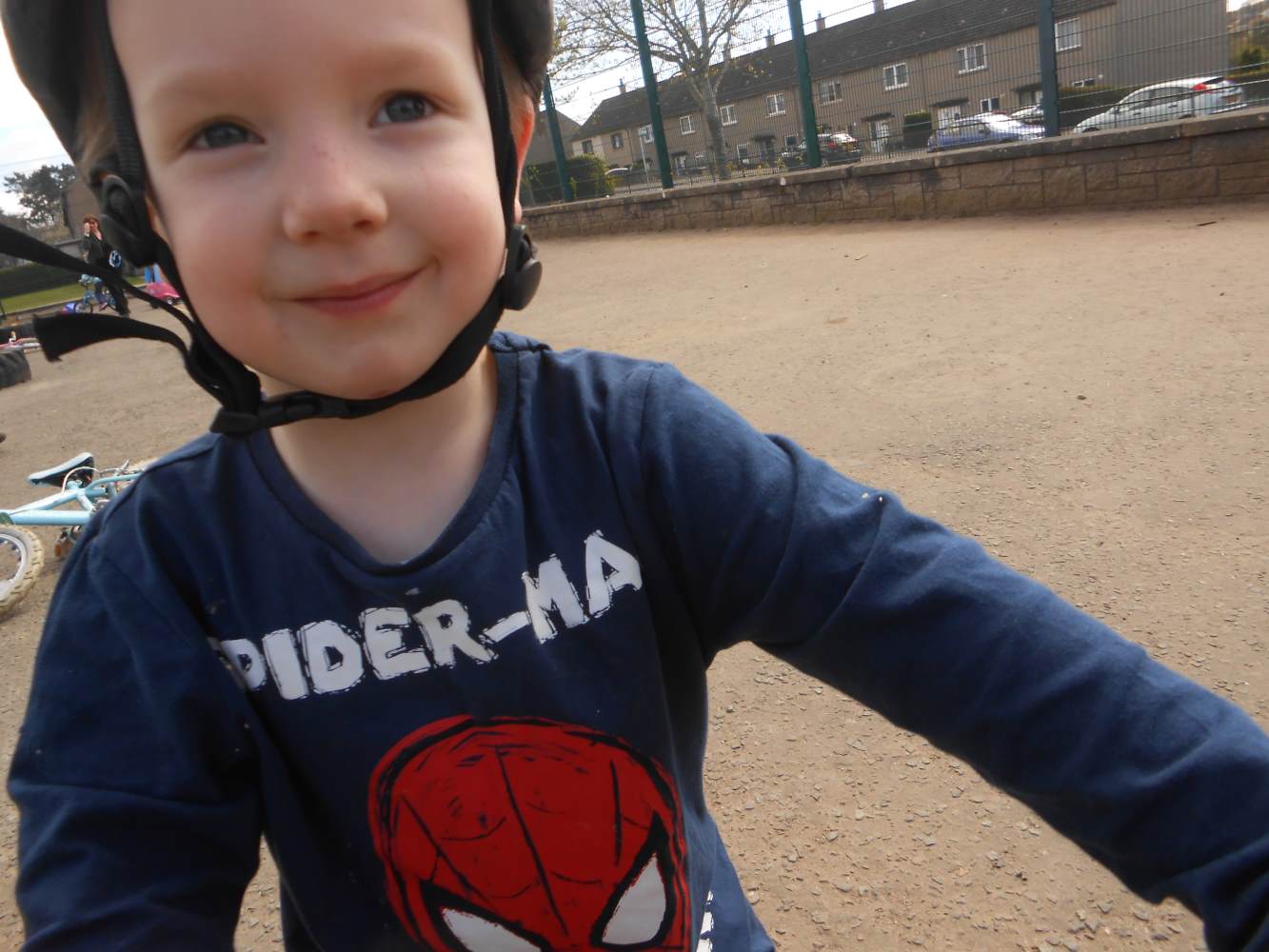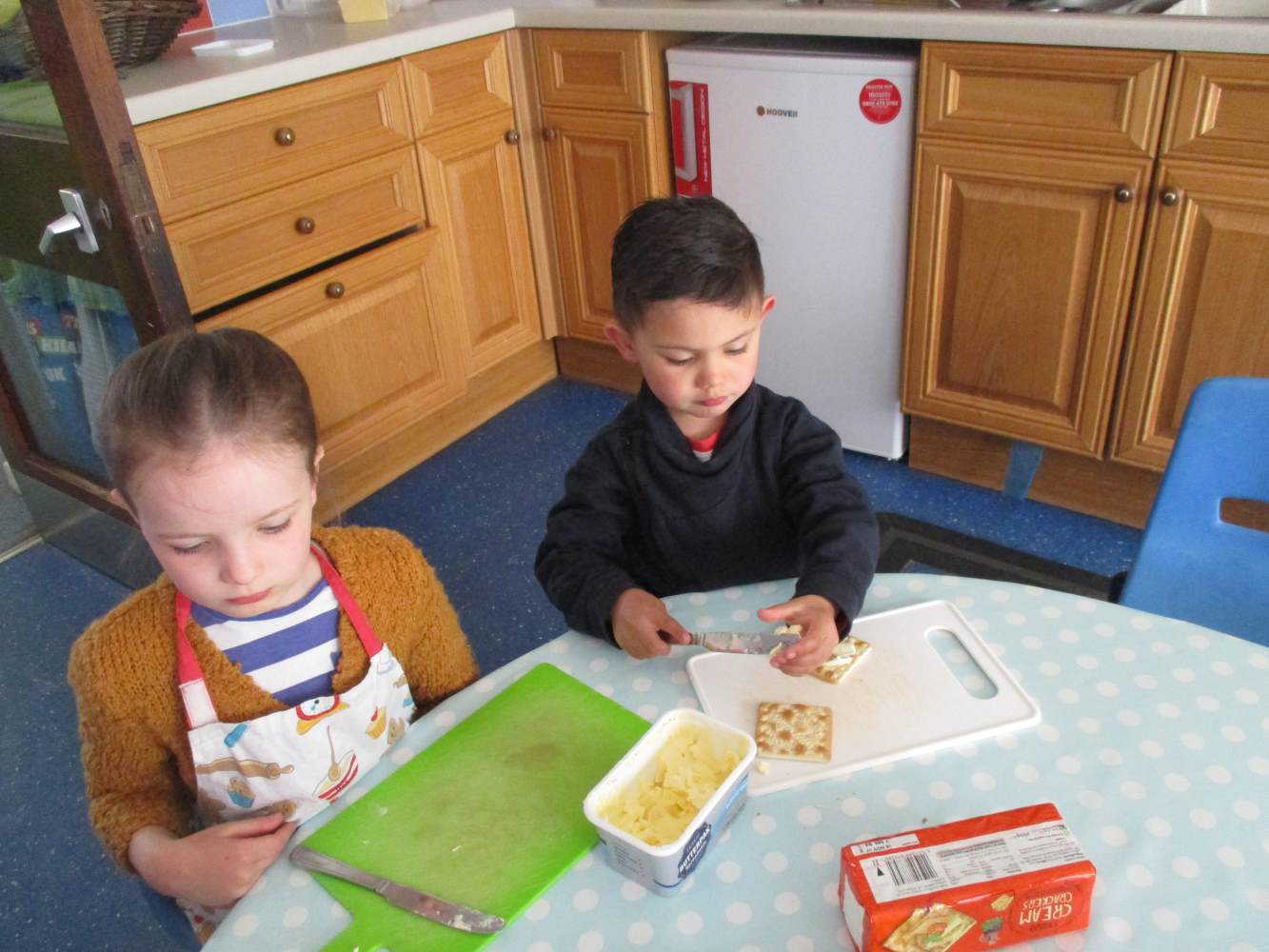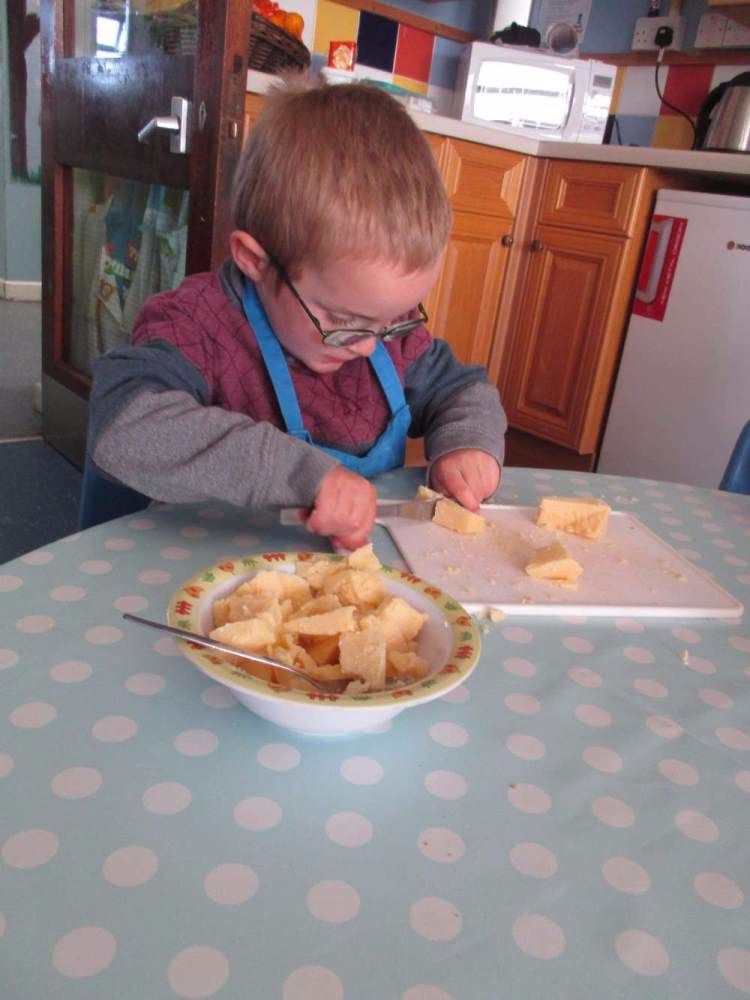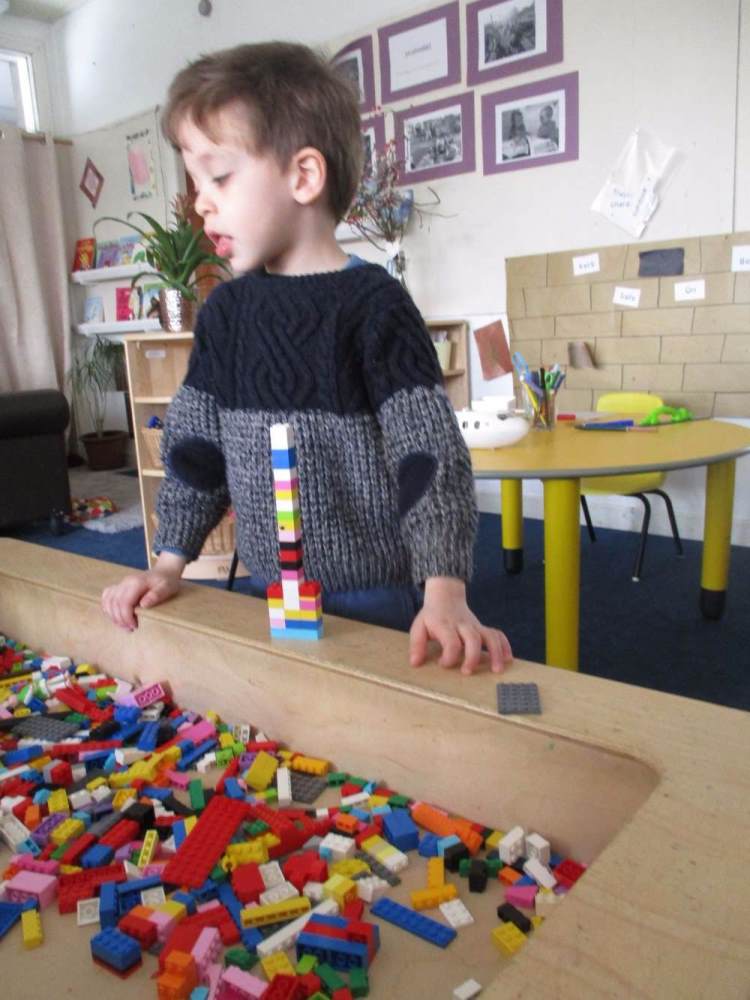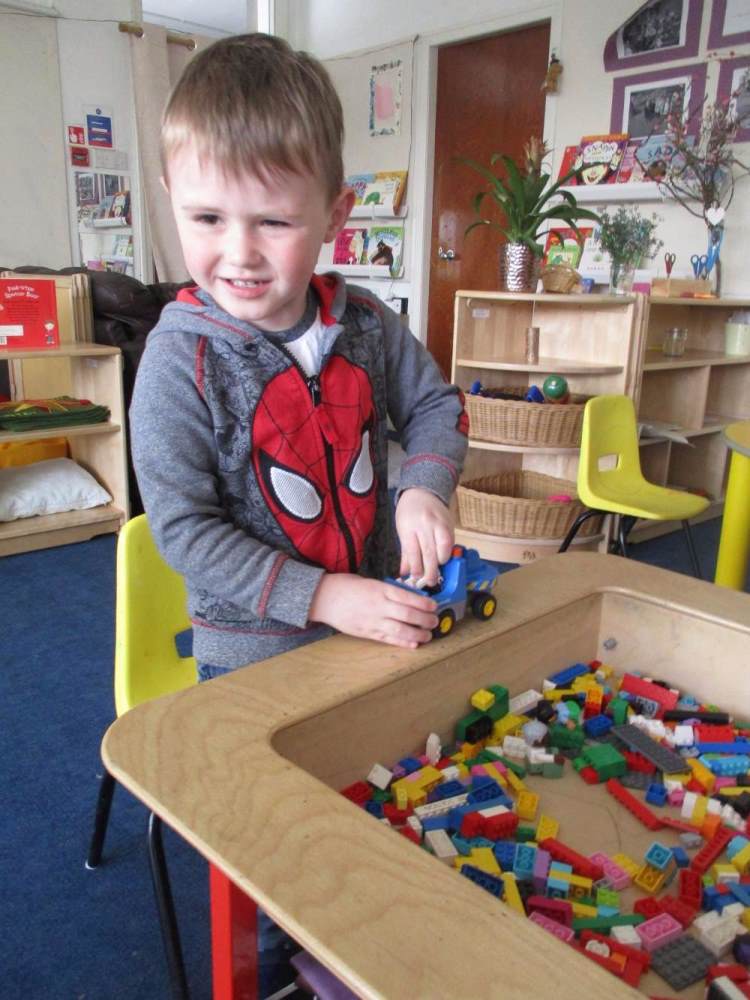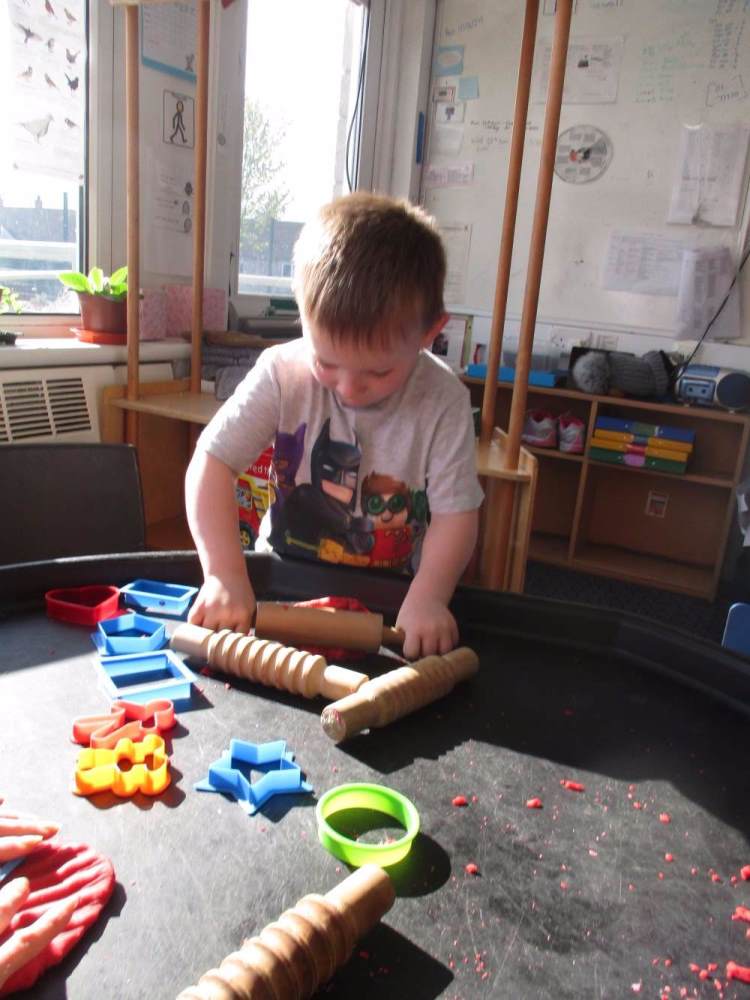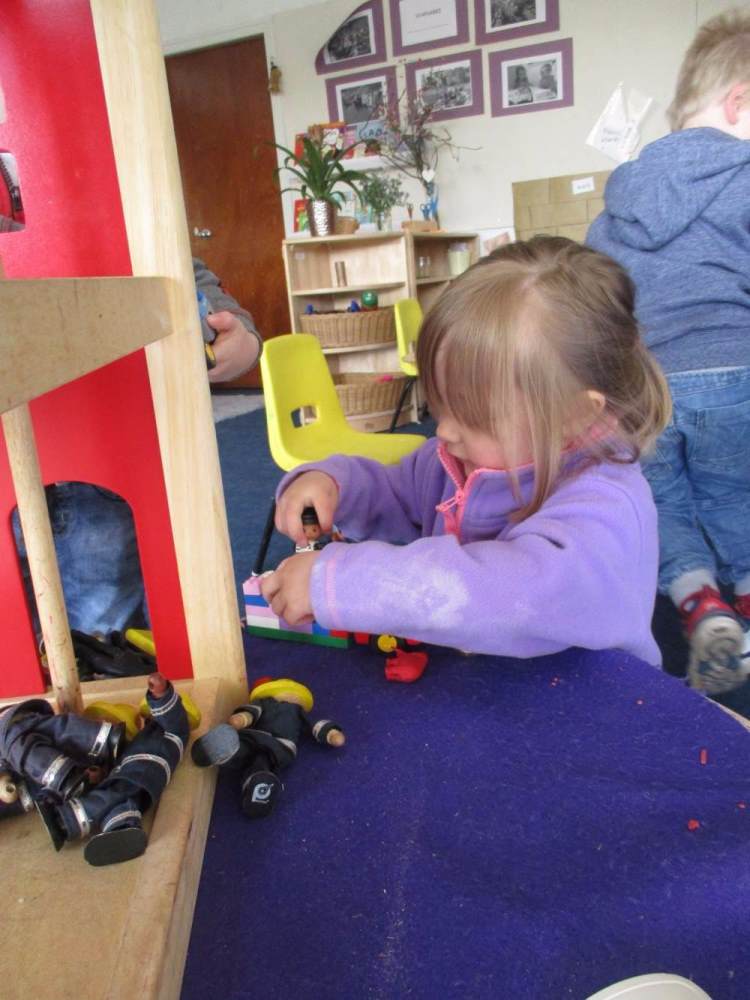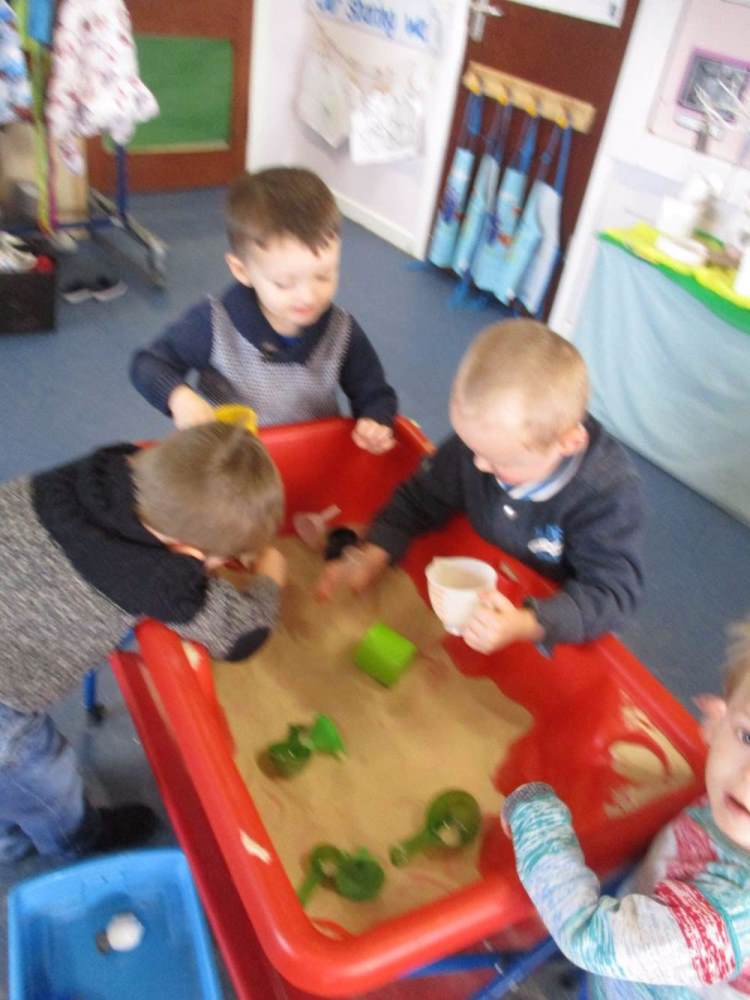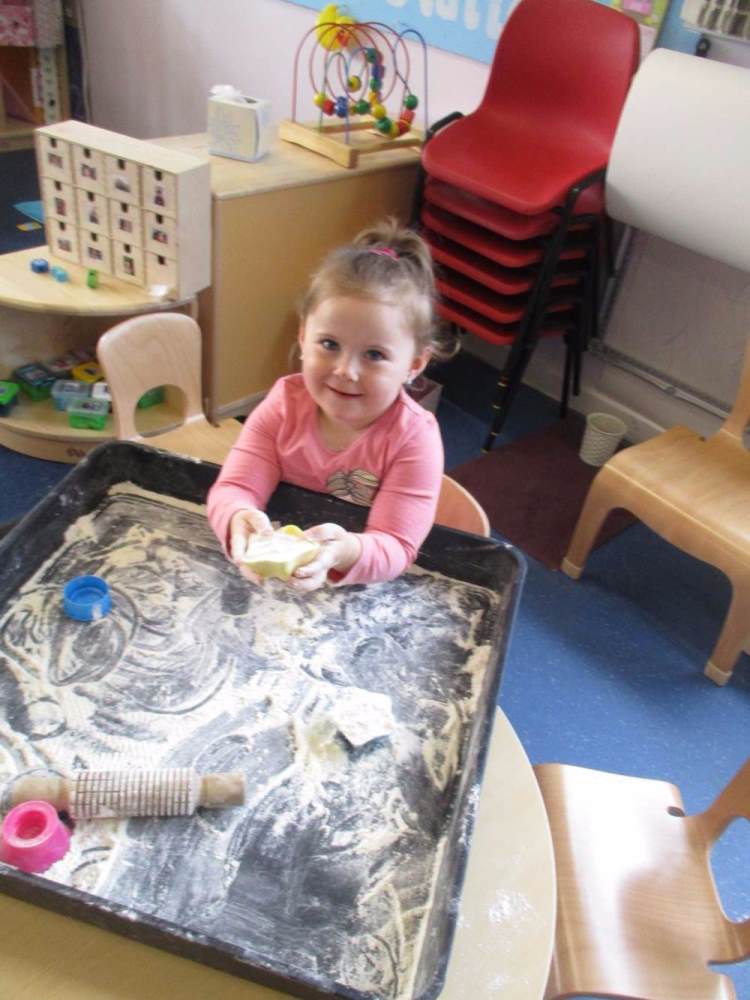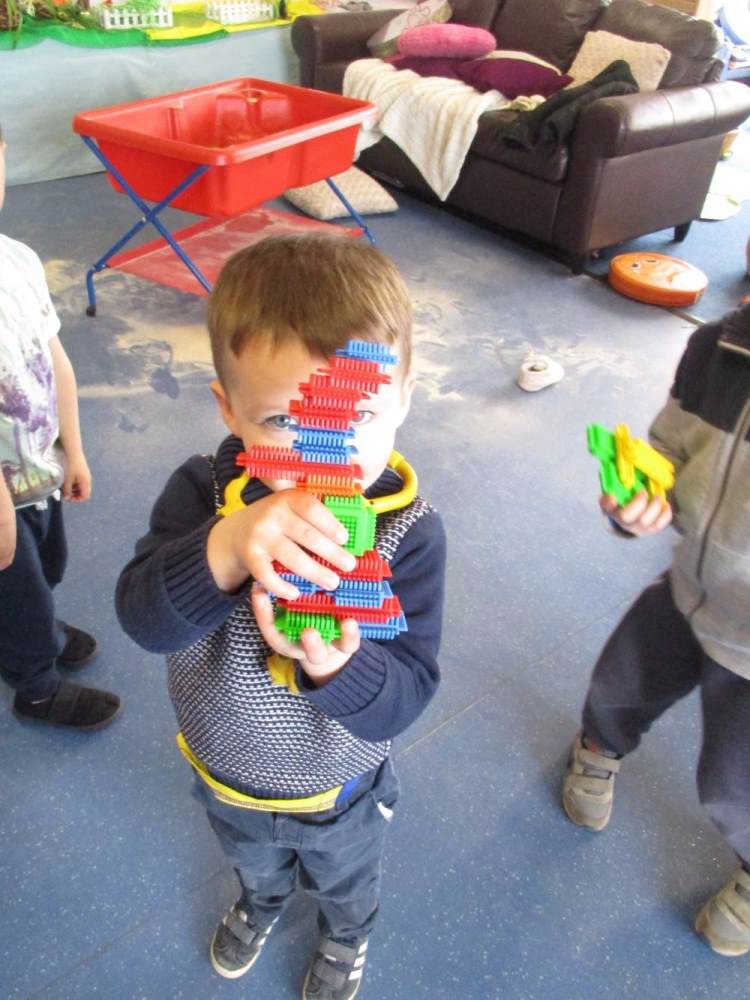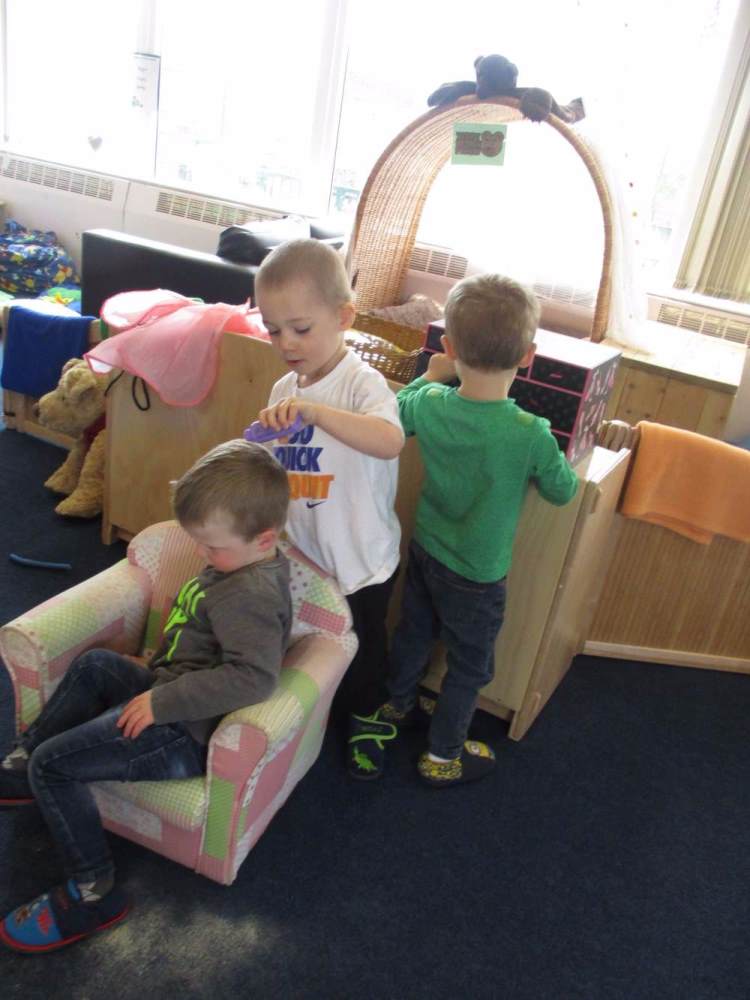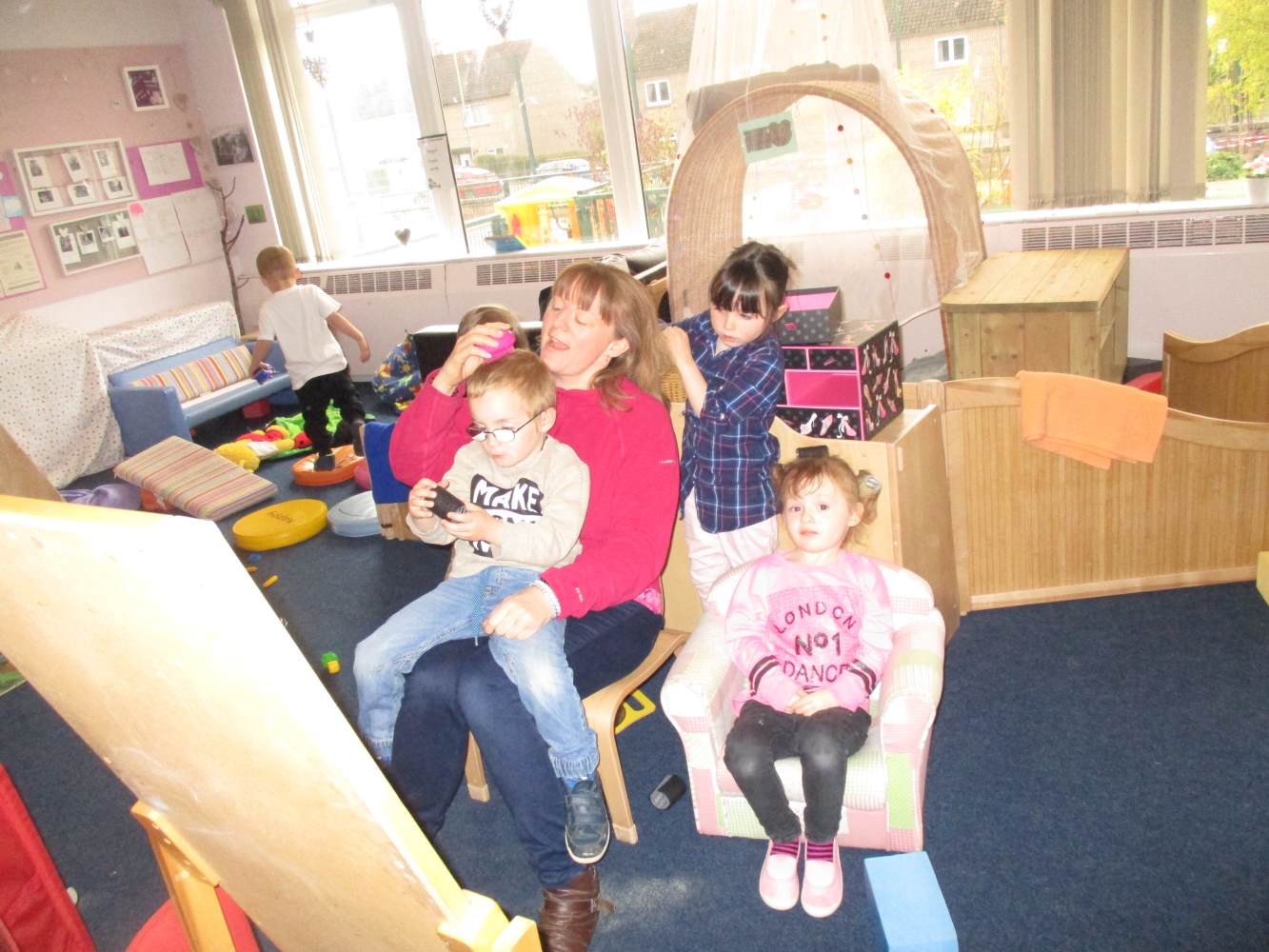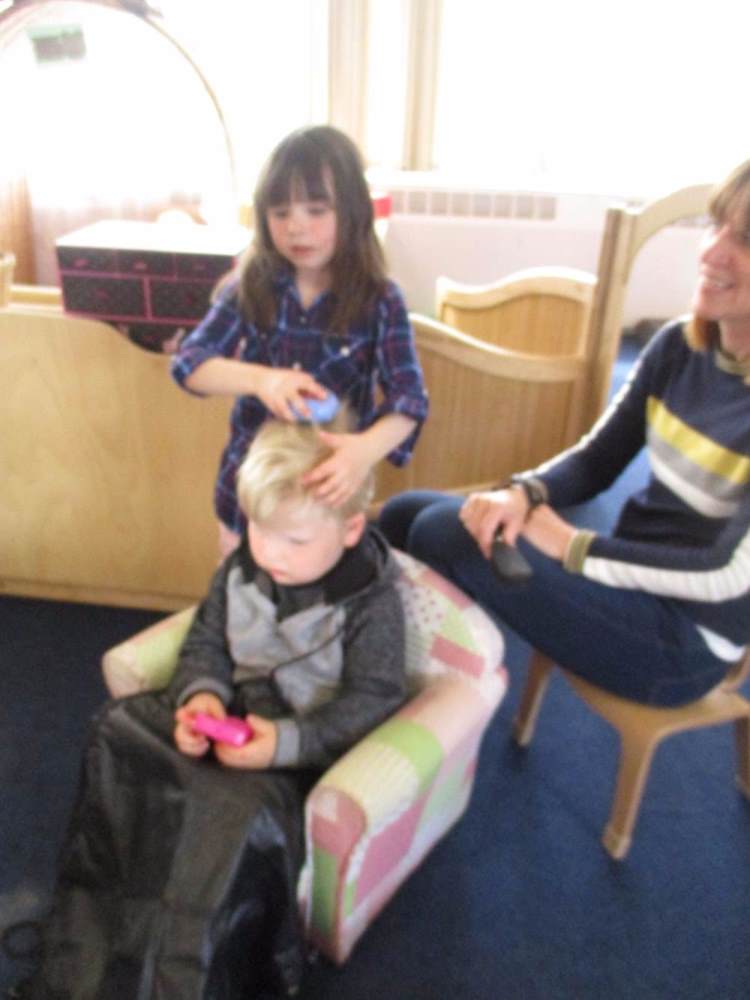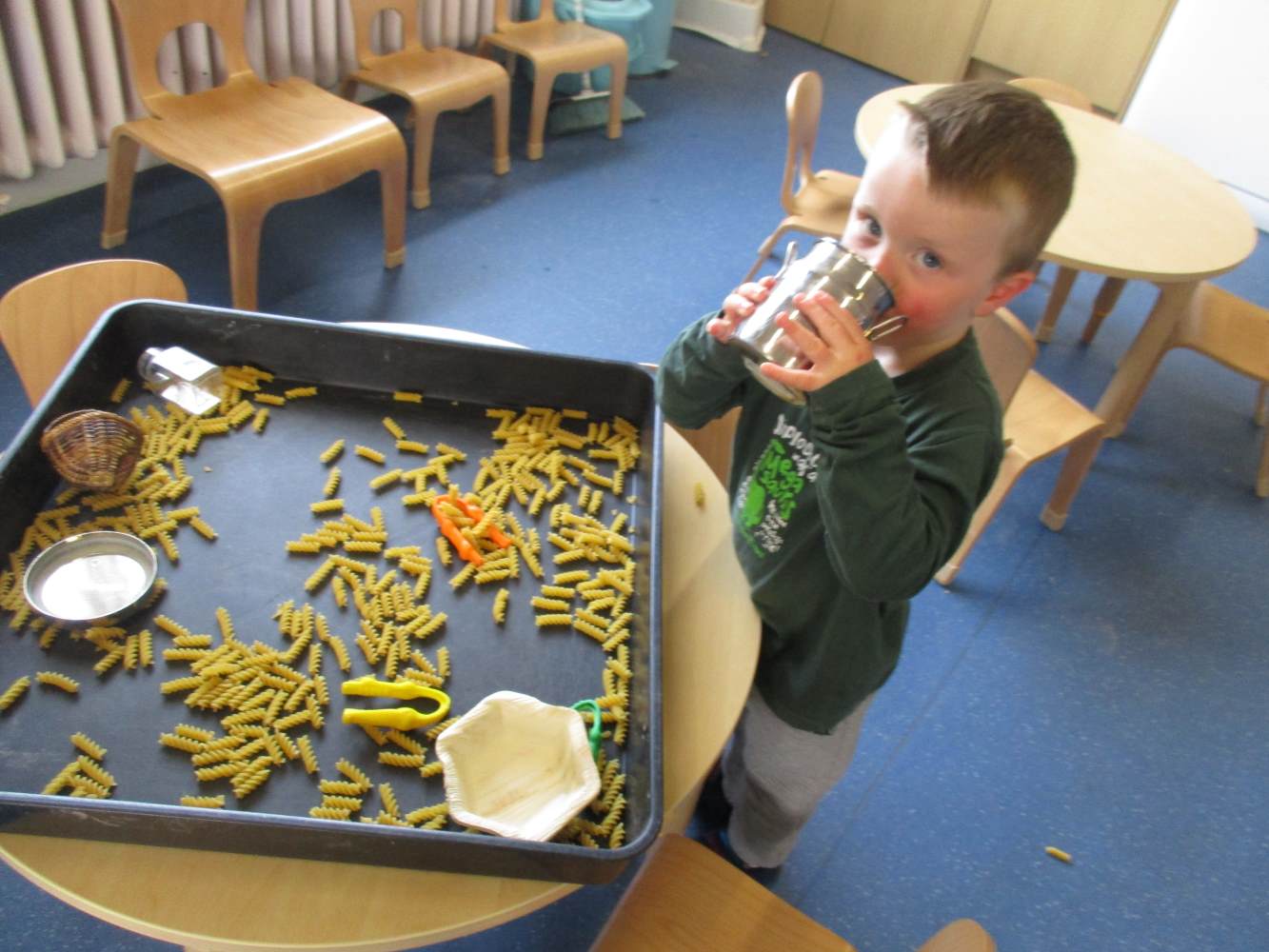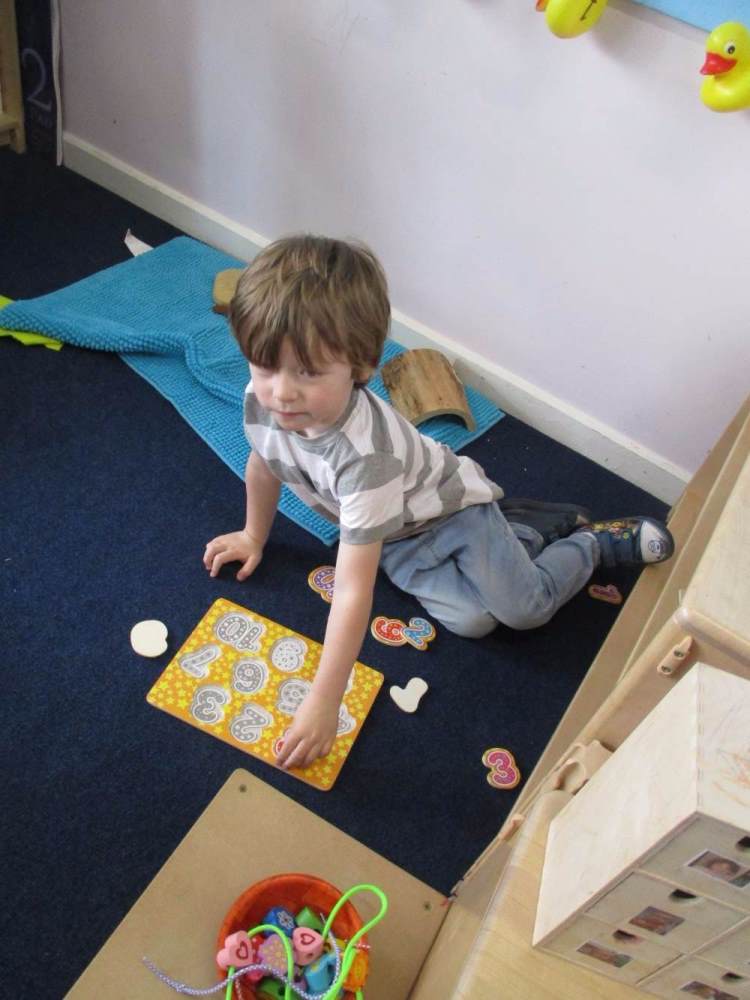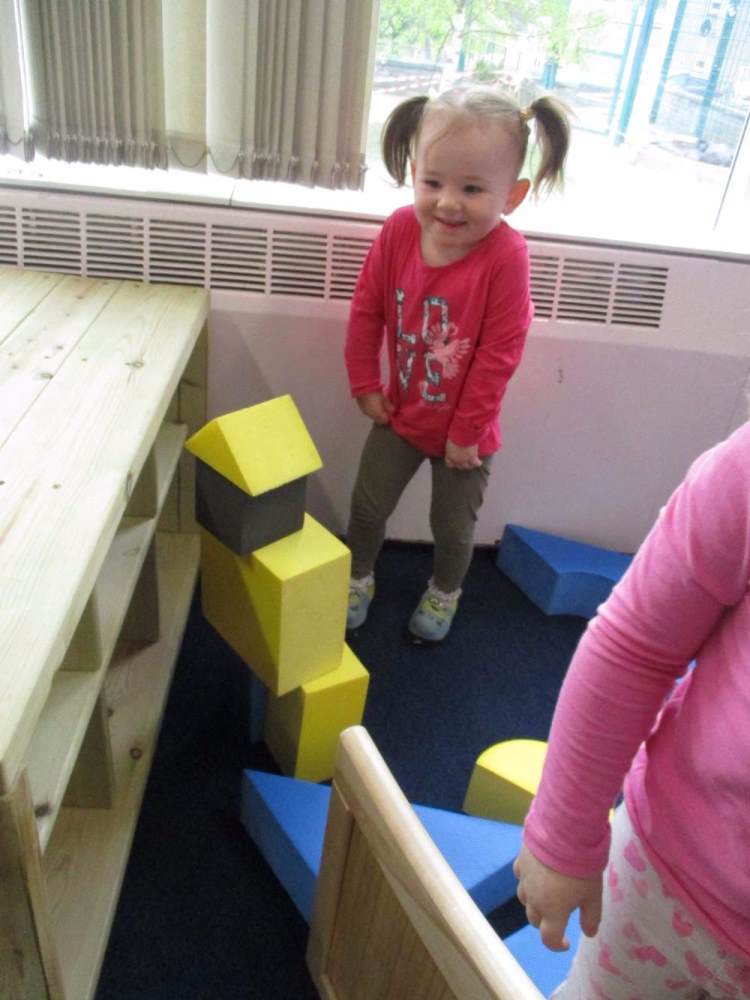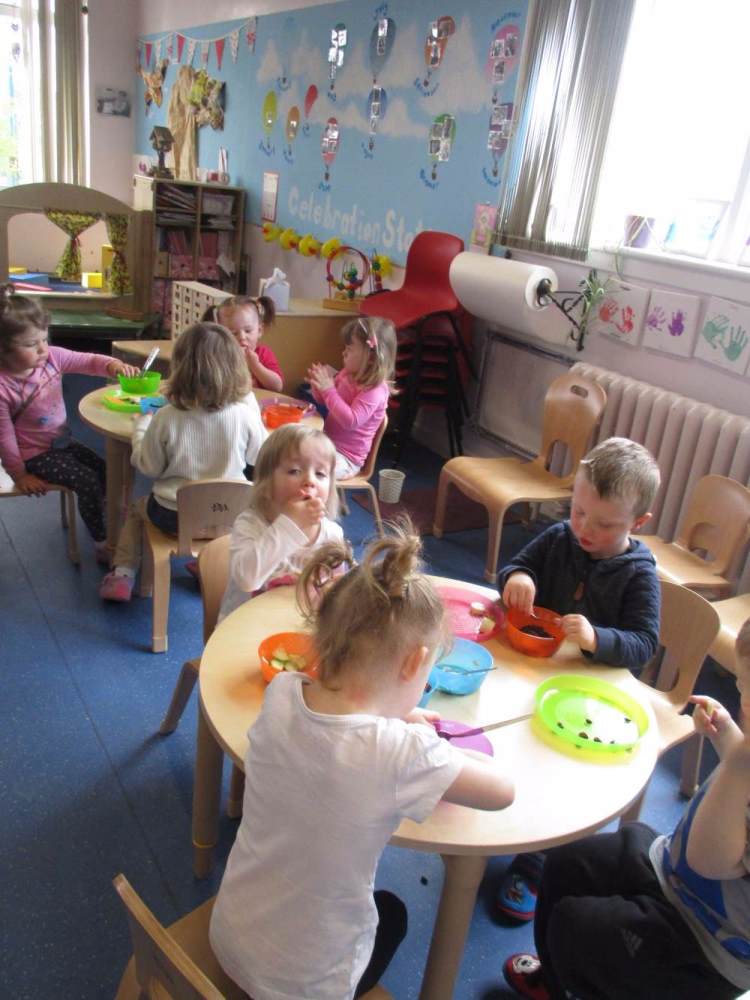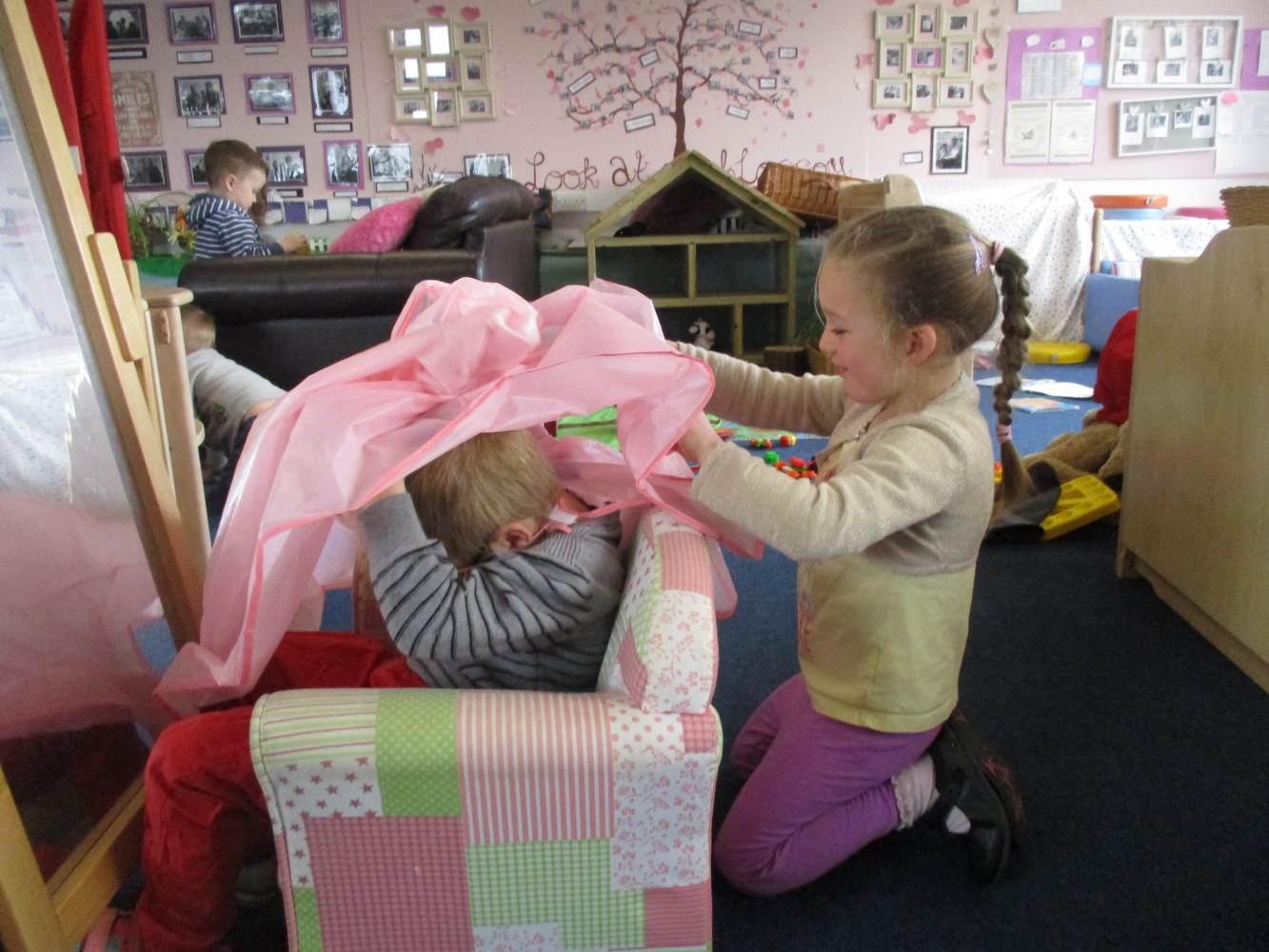 Our grand opening - thank you to all who attended and your kind words of encouragement.

Phase 2 Garden Opening - an important invitation.
All nursery children and their parents are invited to help us celebrate the work we have been doing in the garden and to see how we have spent our Tescos bags for life money. Come along at 2pm on Tuesday 28th March. All are invited even if your child does not normally come to nursery on a Tuesday afternoon.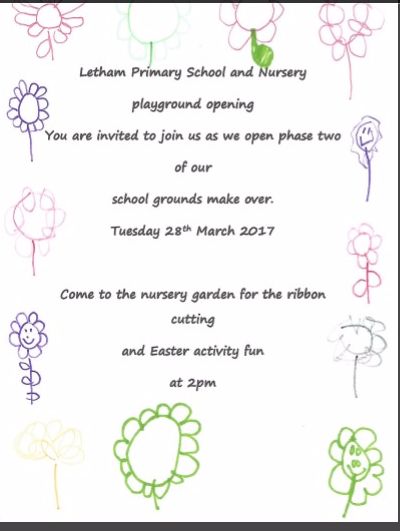 Congratulations
Well done to Maisie for gaining her orange and white belt at karate.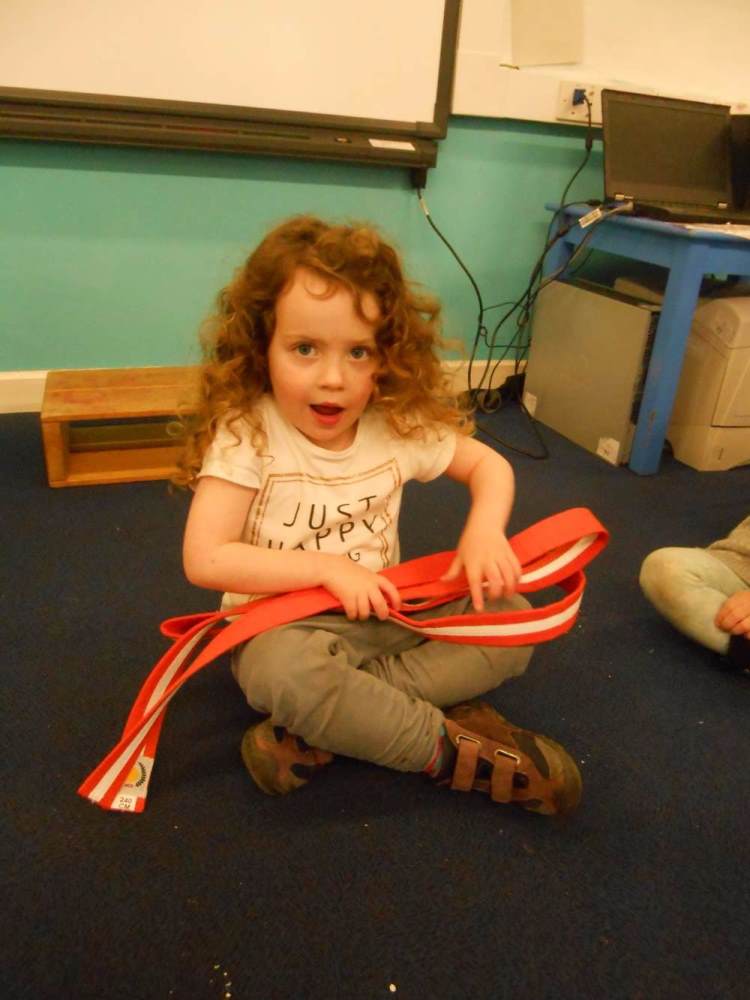 More deliveries equals more hard work.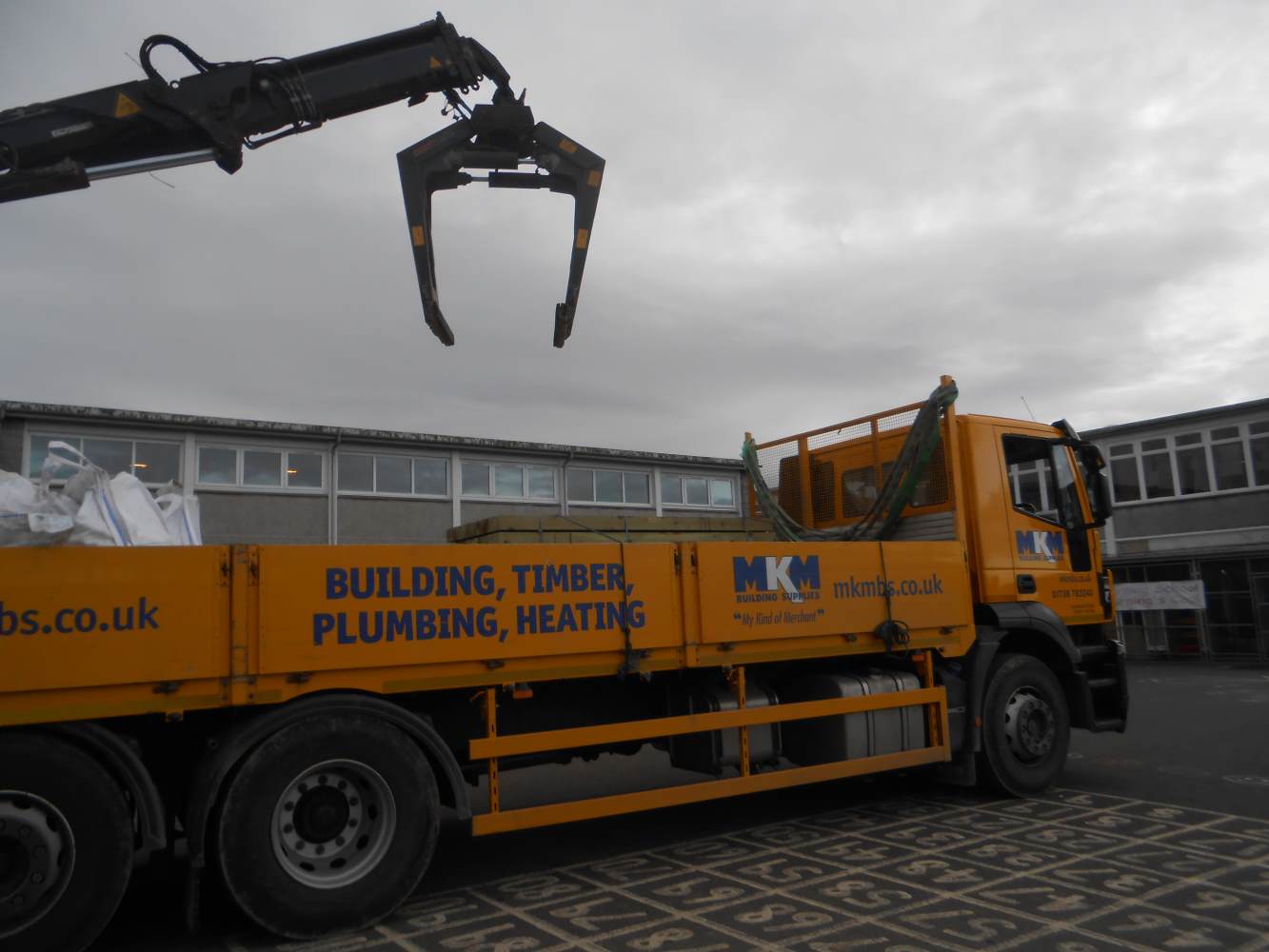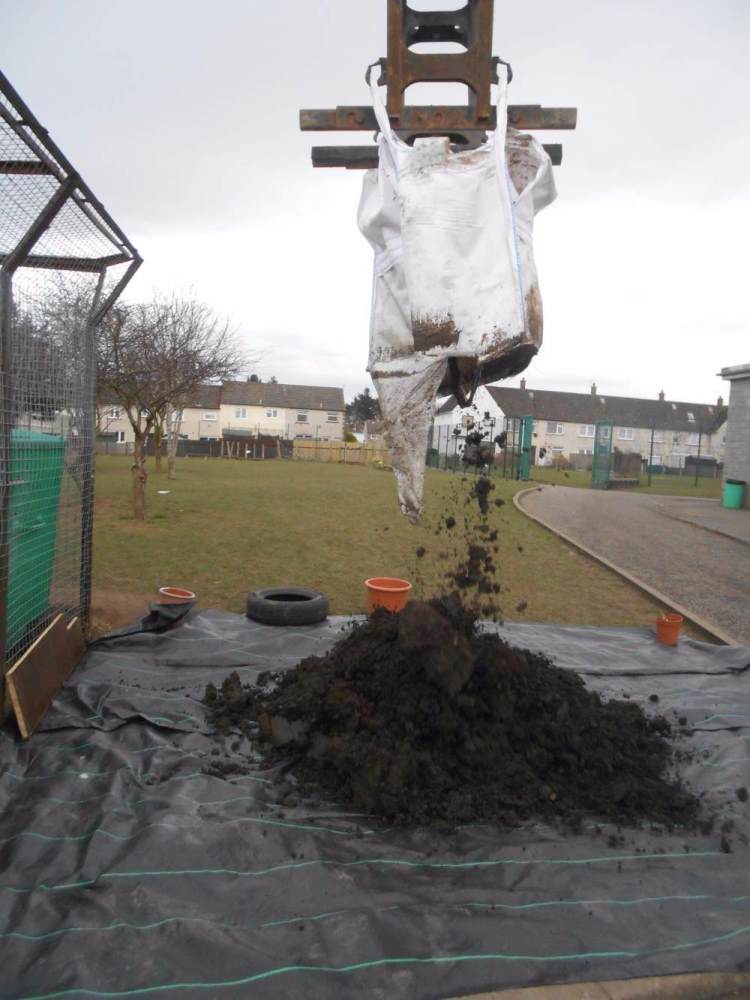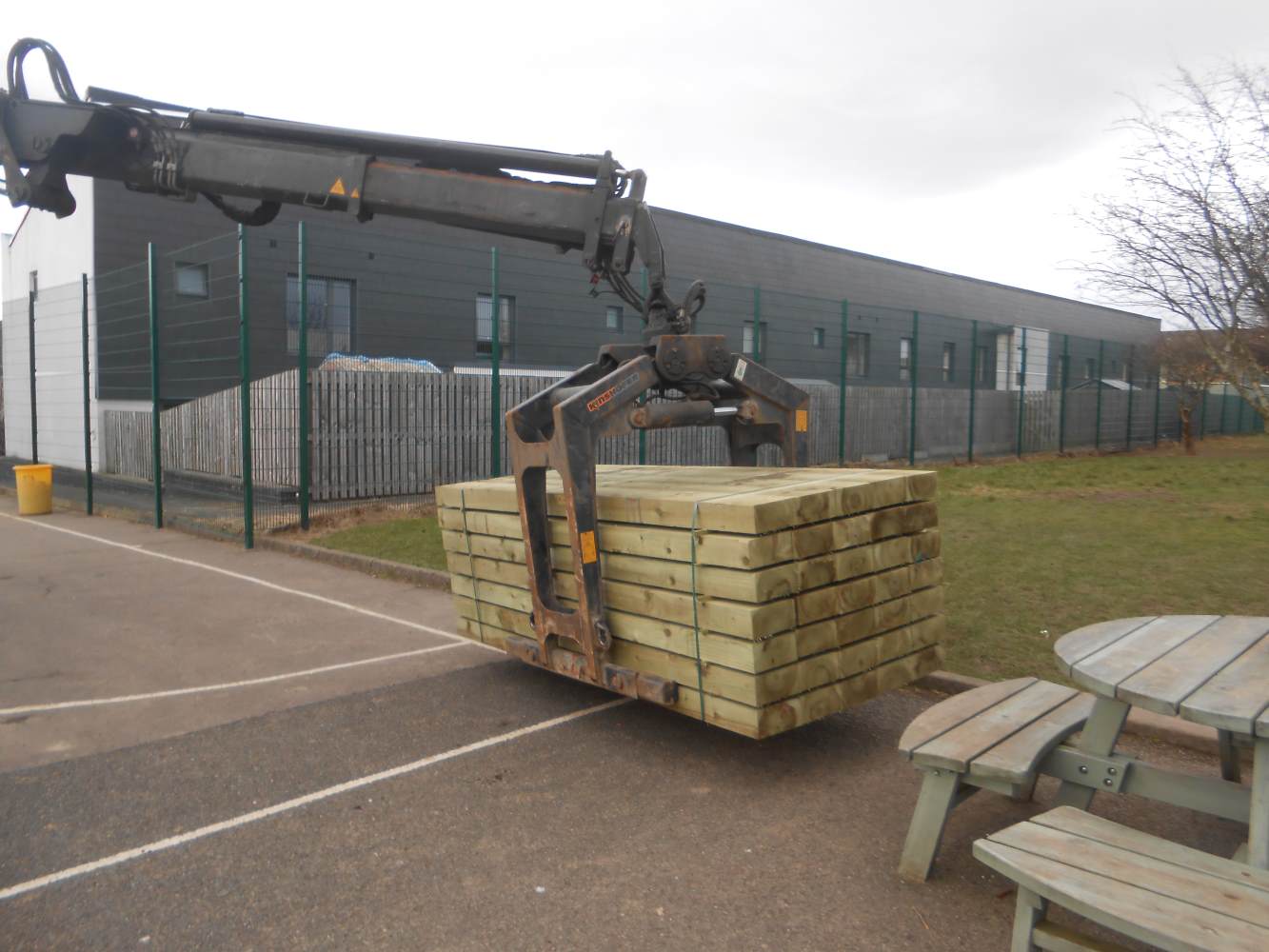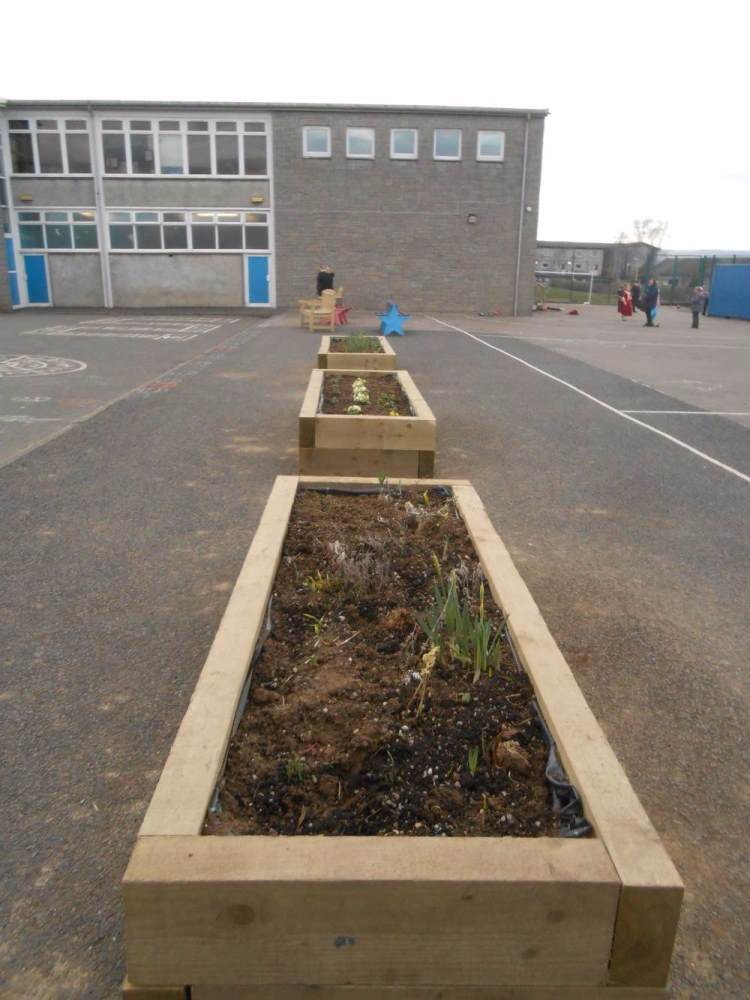 Nursery was excited by the arrival of more sand. The children had their wheelbarrows out again to move the sand from the school playground into the sandpit. Others helped by giving all of the toys a wash.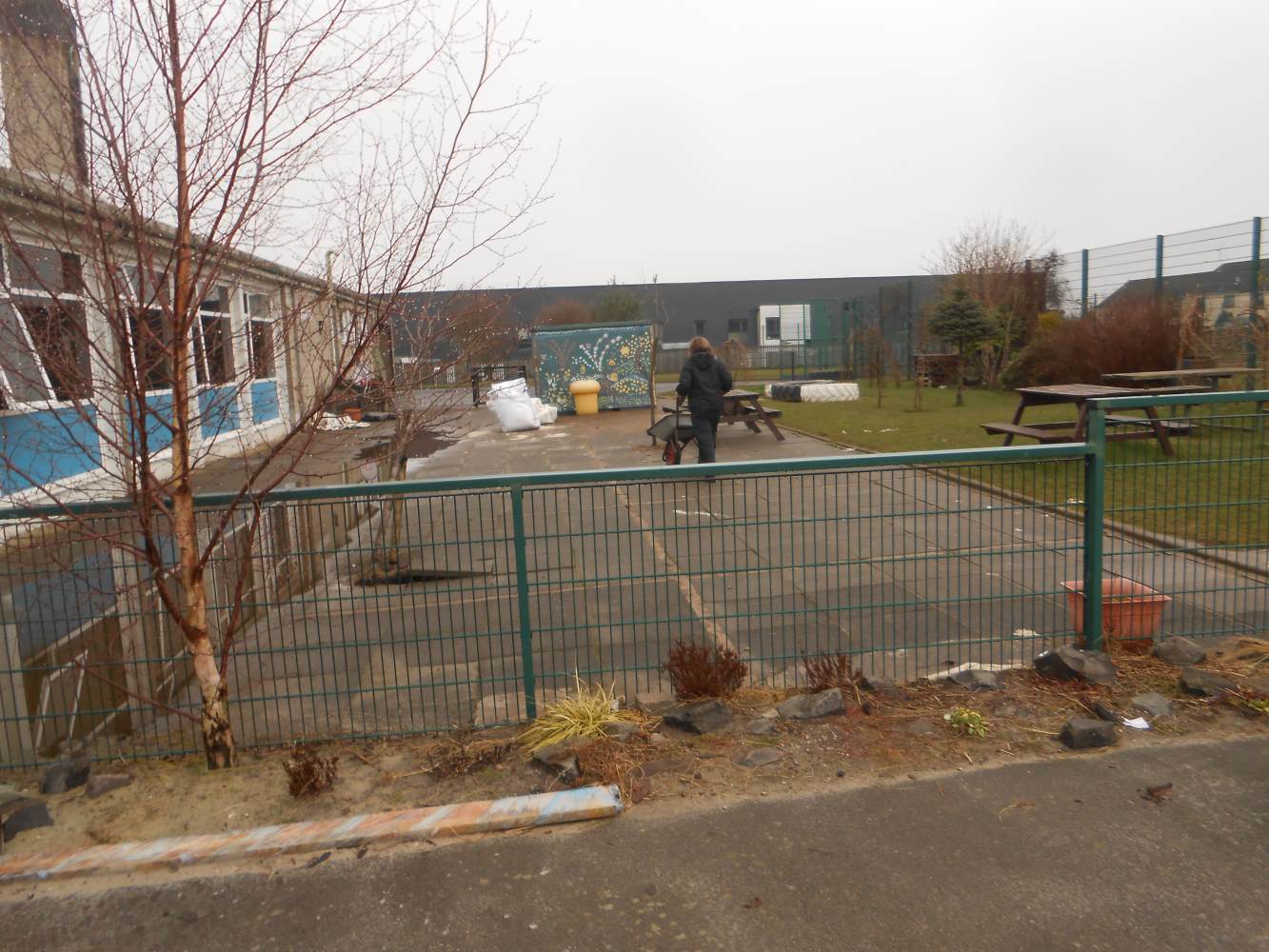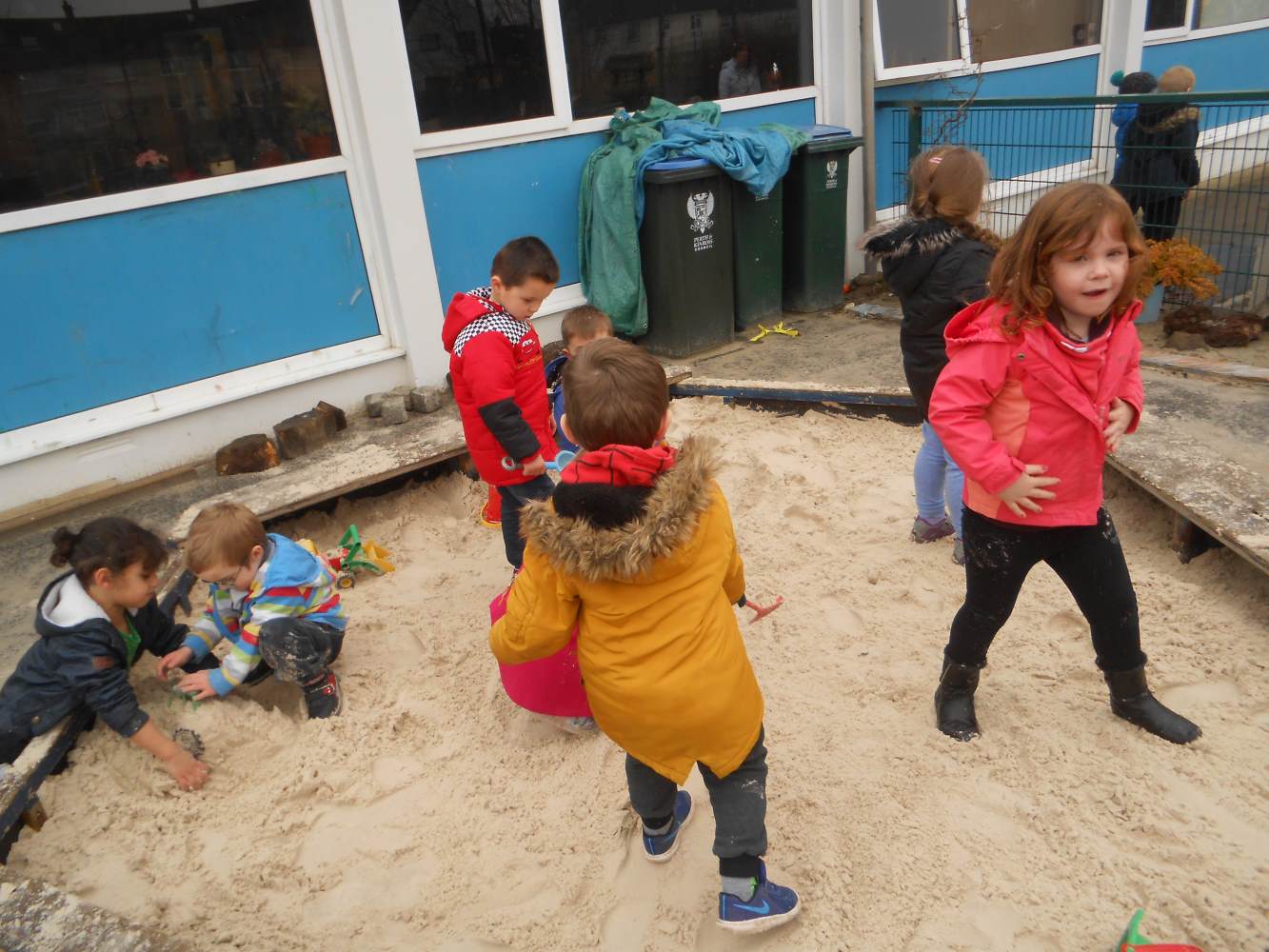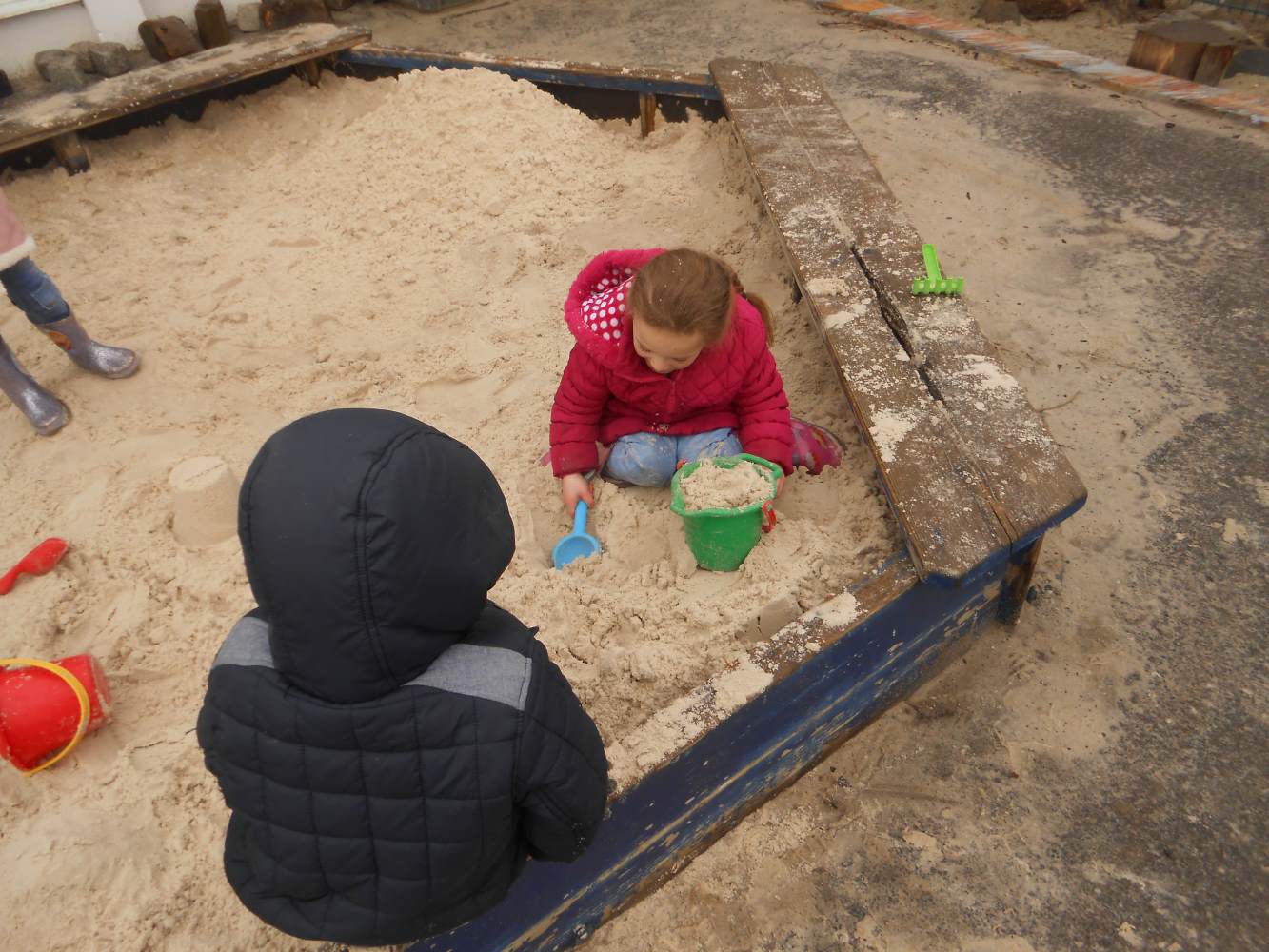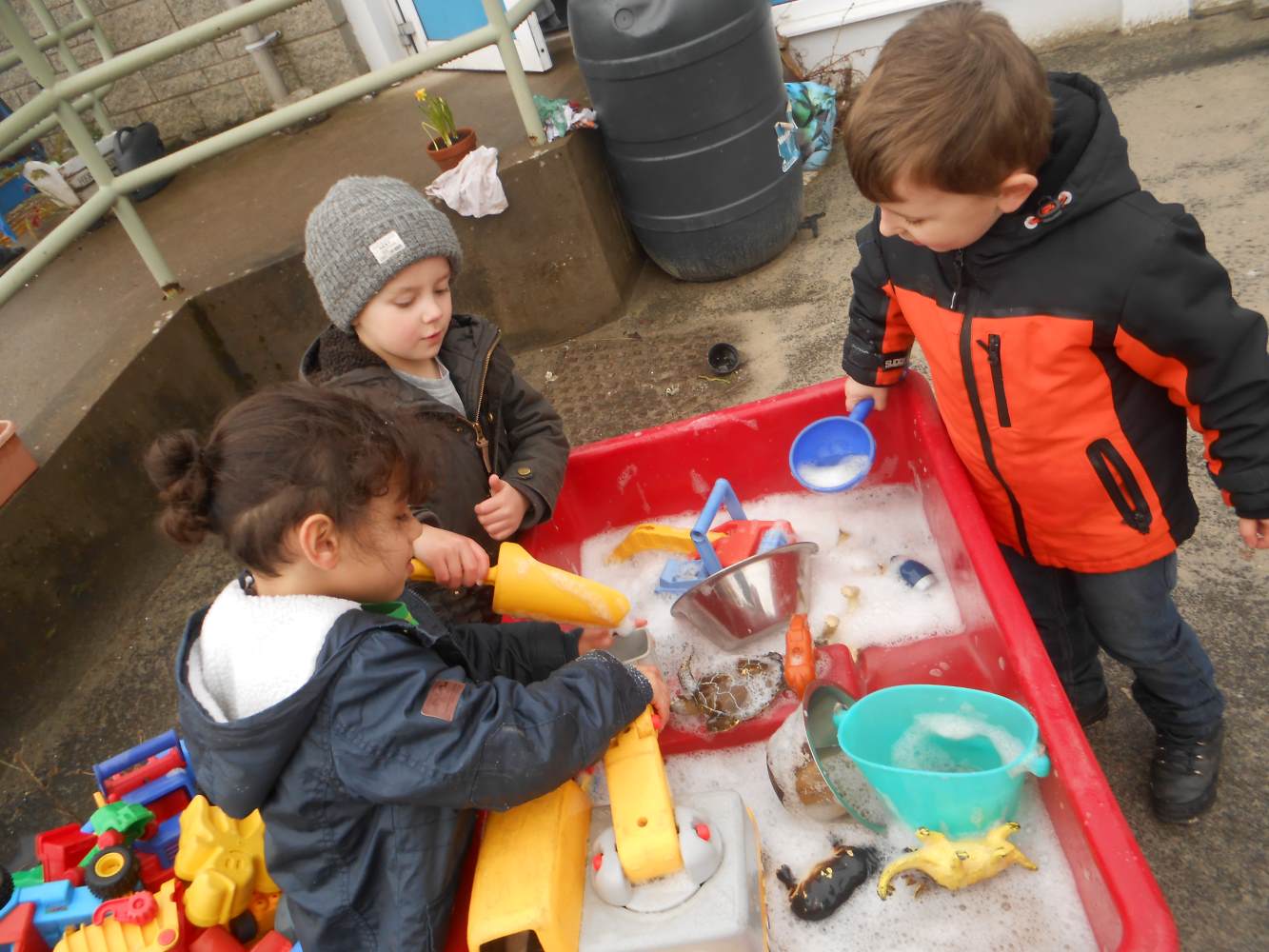 A lady who lives in the flats across from the school commented on all the improvements we had been making and how good the garden was beginning to look. She asked if we had had contractors in and was very impressed when she heard that nursery staff and children had done all the work.
World Book Day.
Thank you to all of you who came and shared the joy books and reading together can bring. Remember books can be borrowed at anytime from the nursery.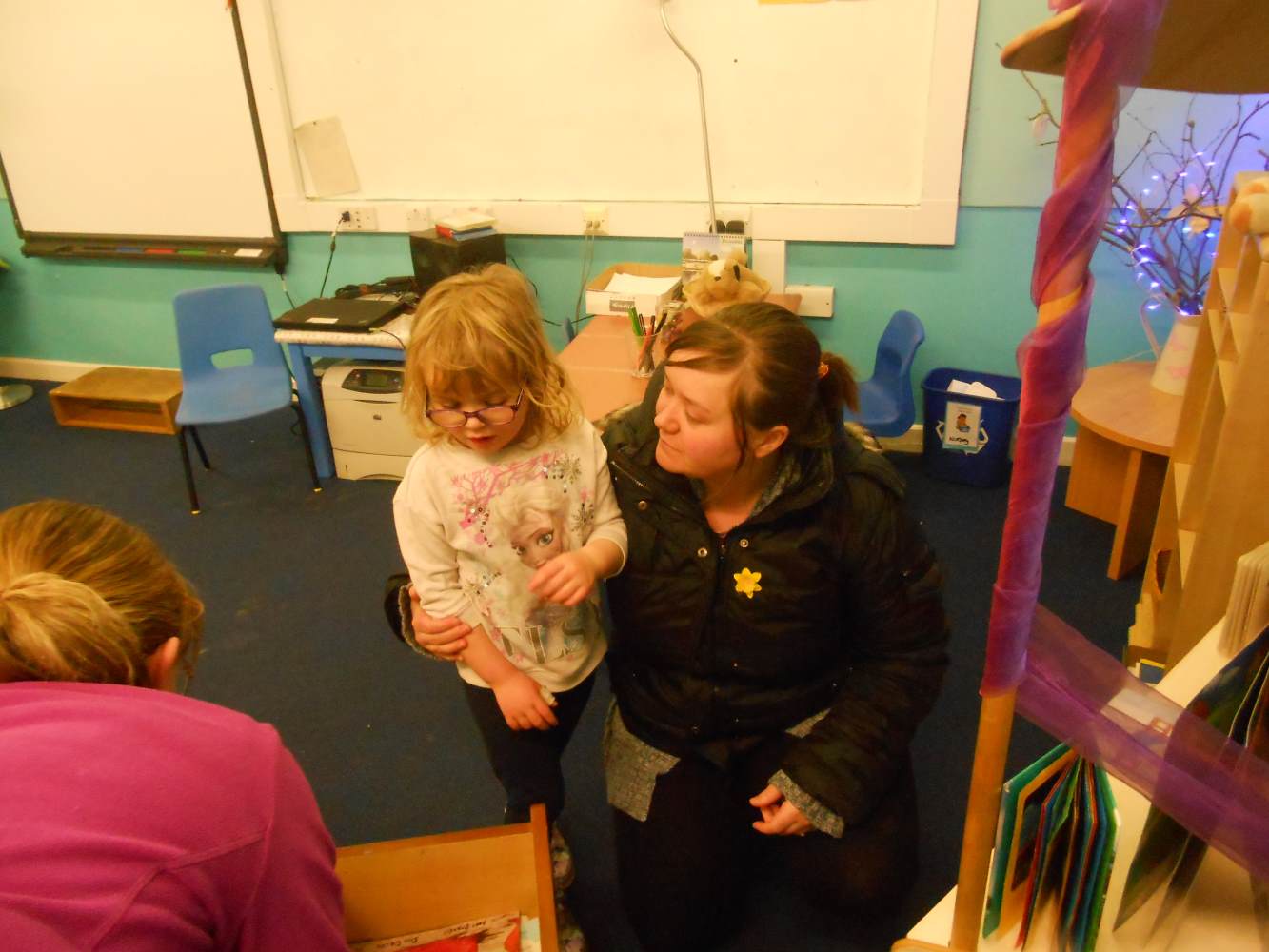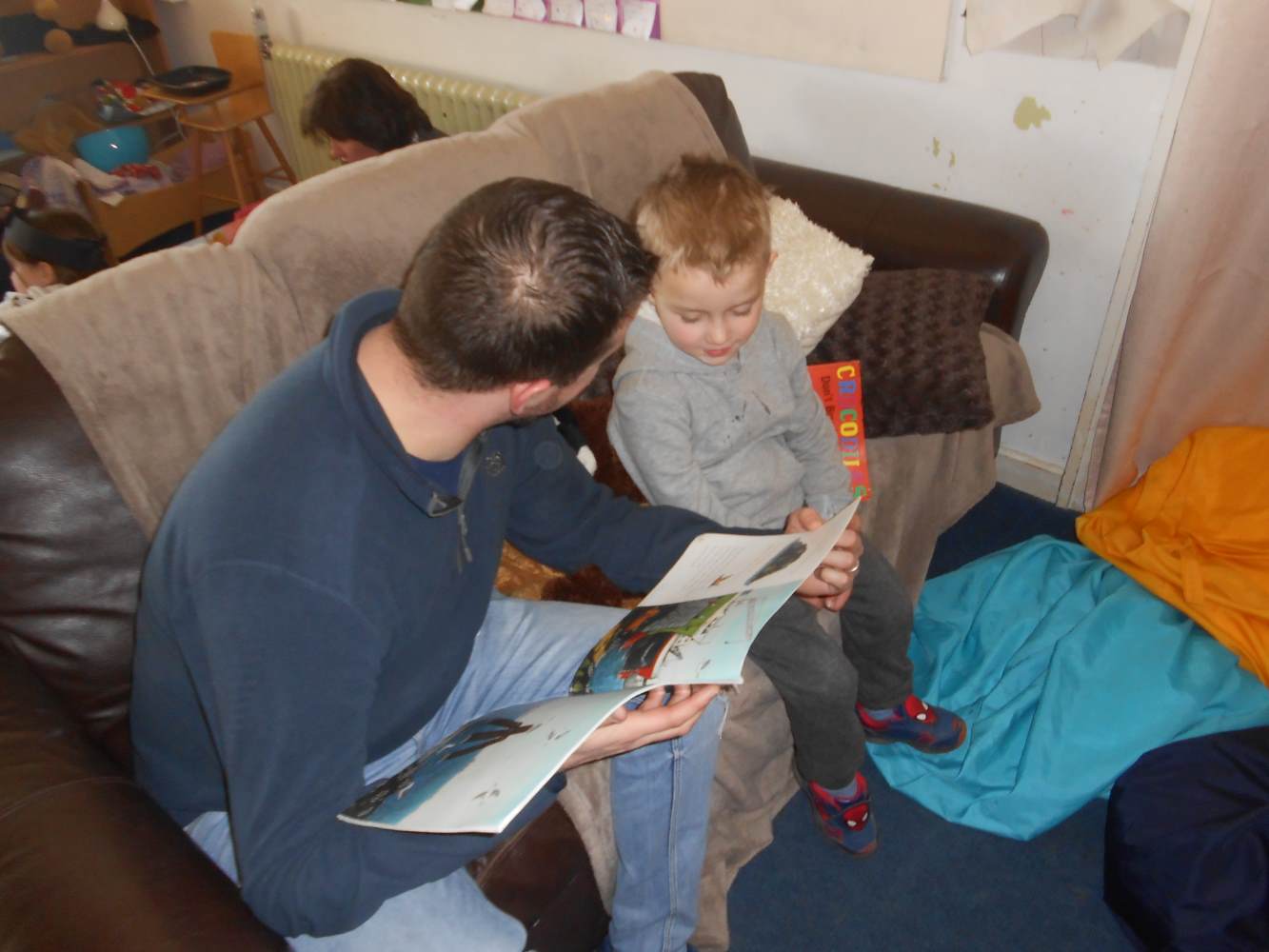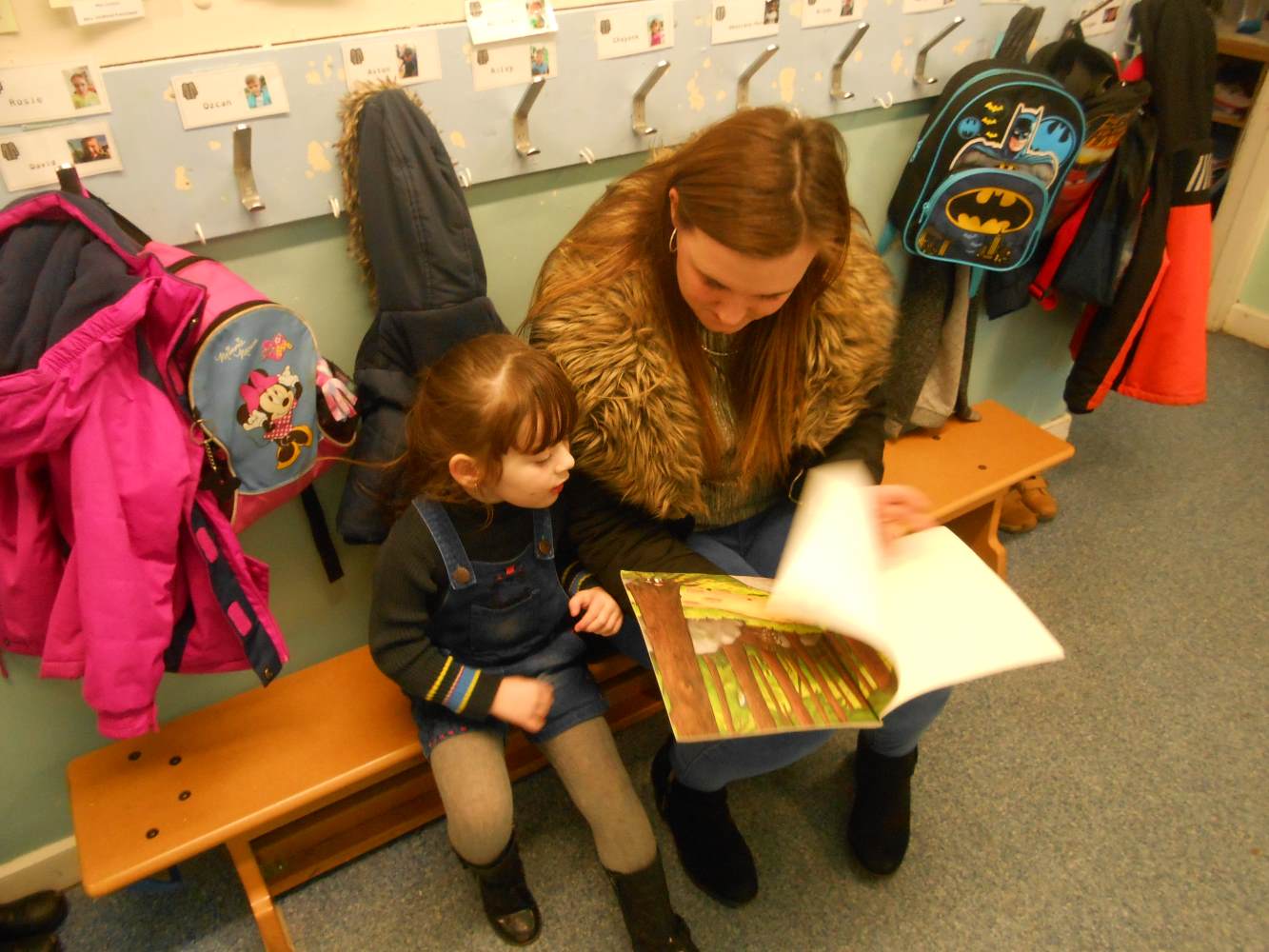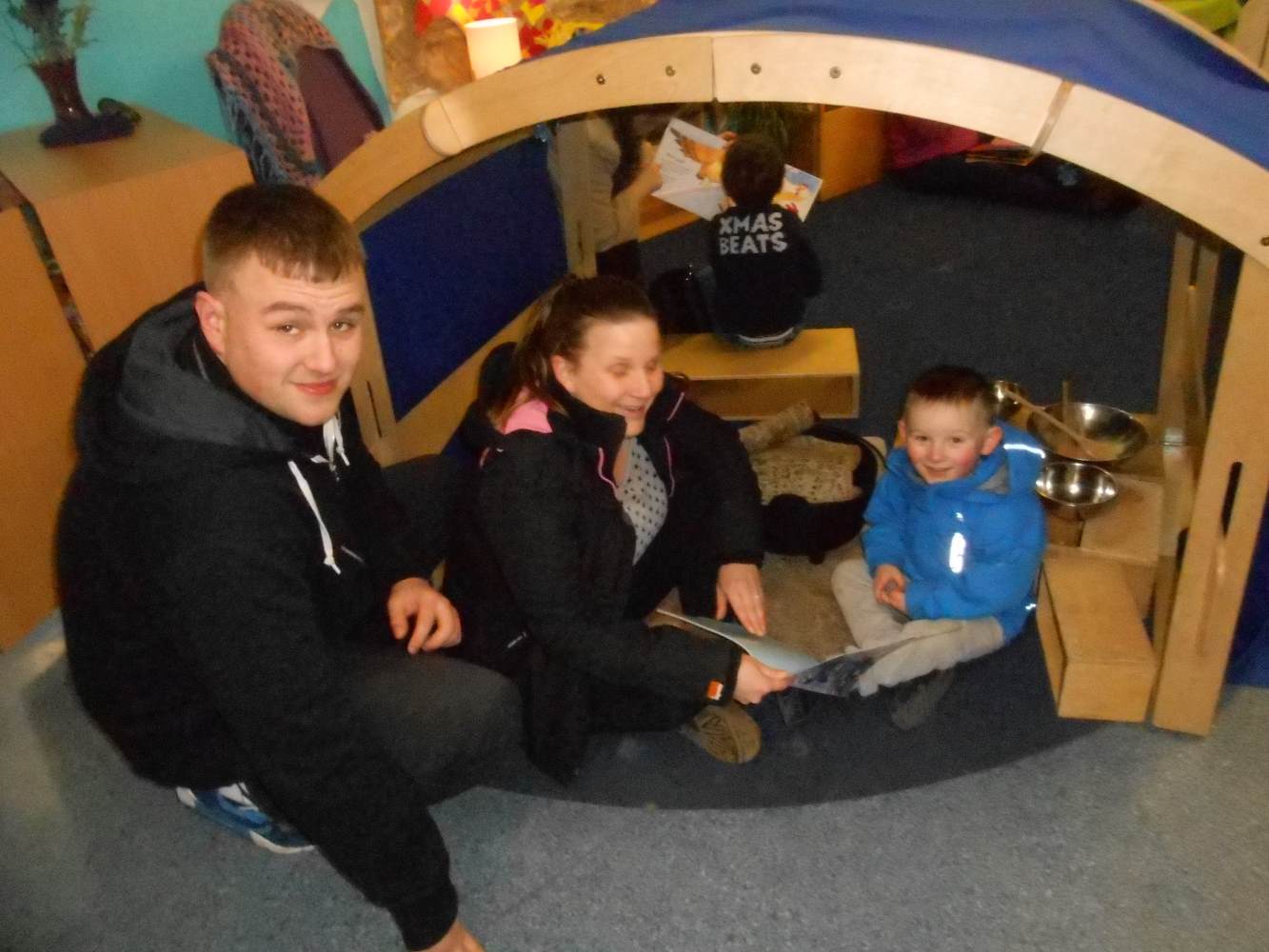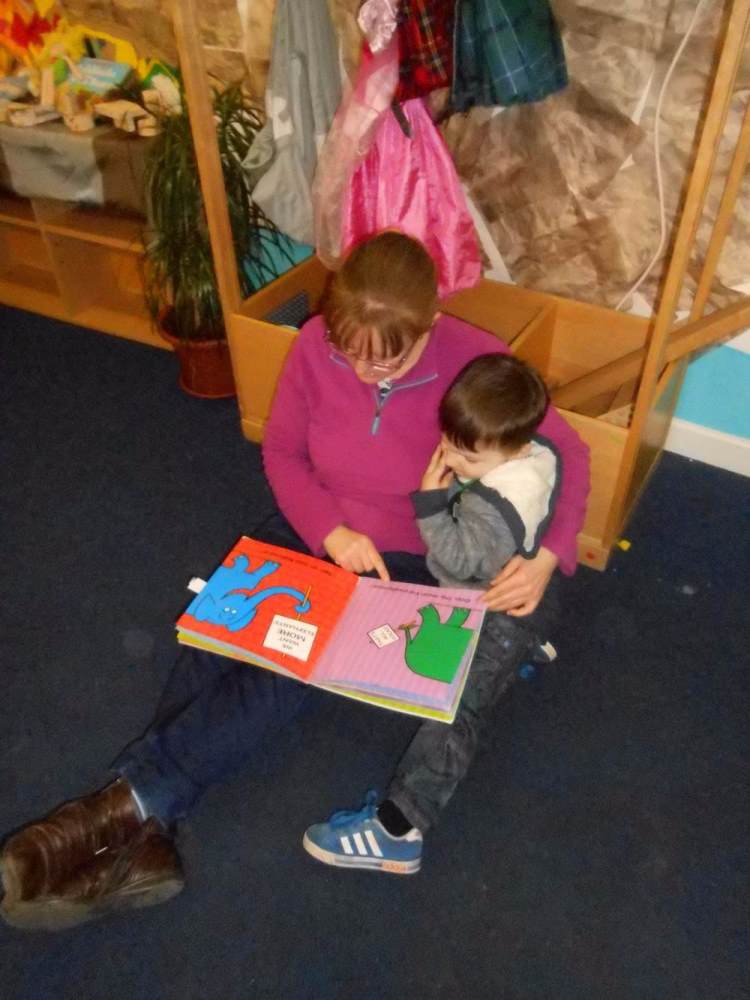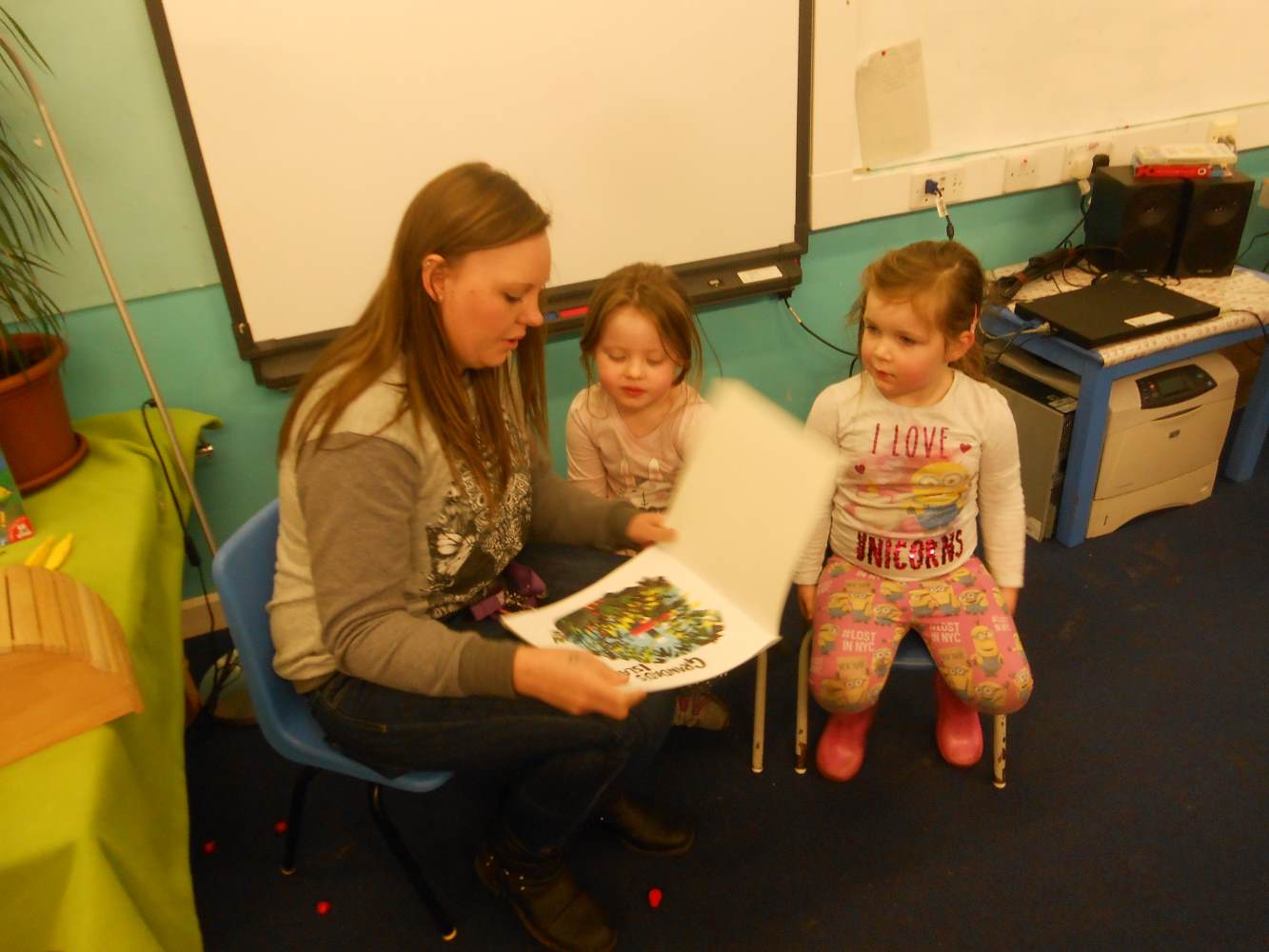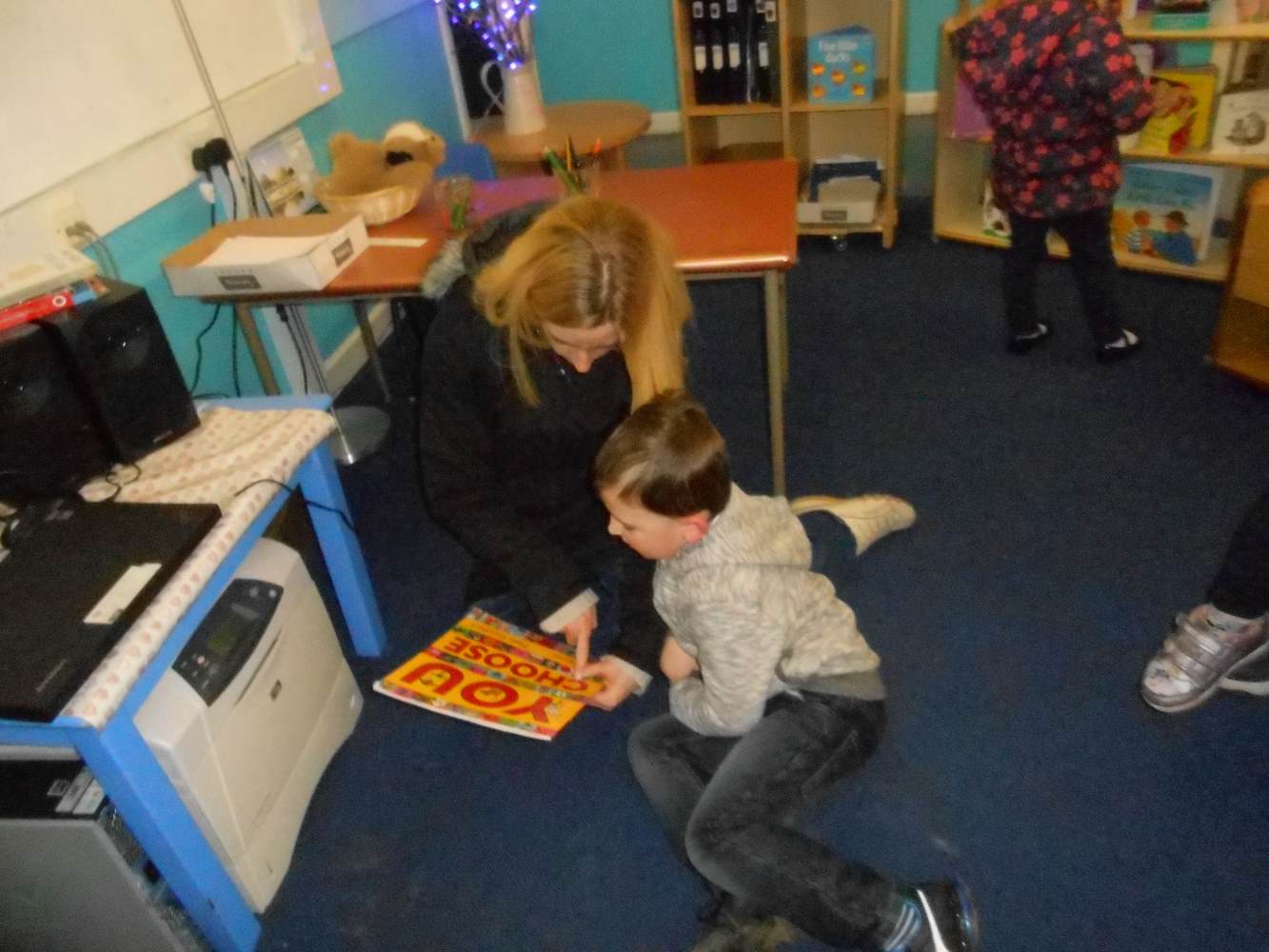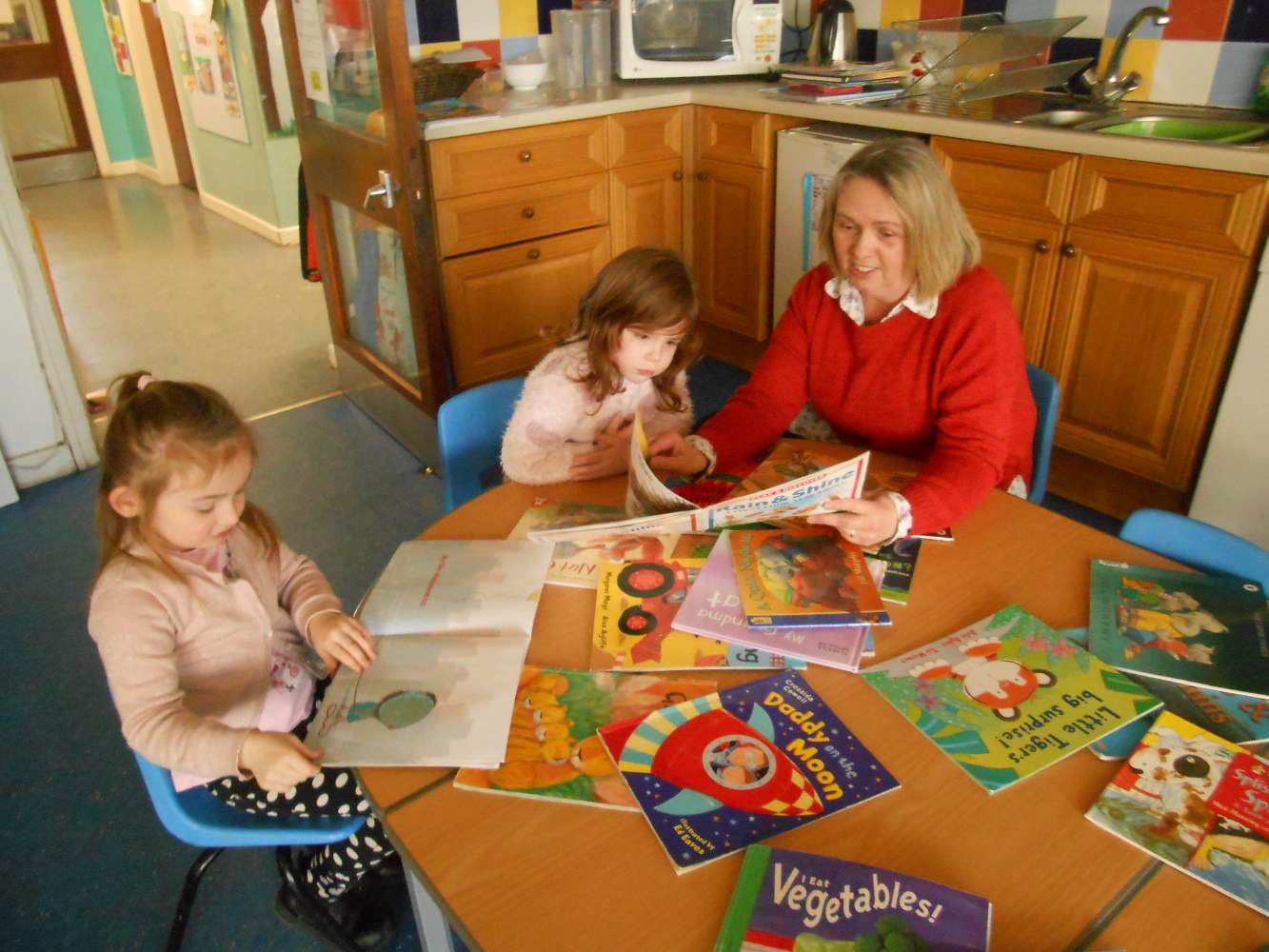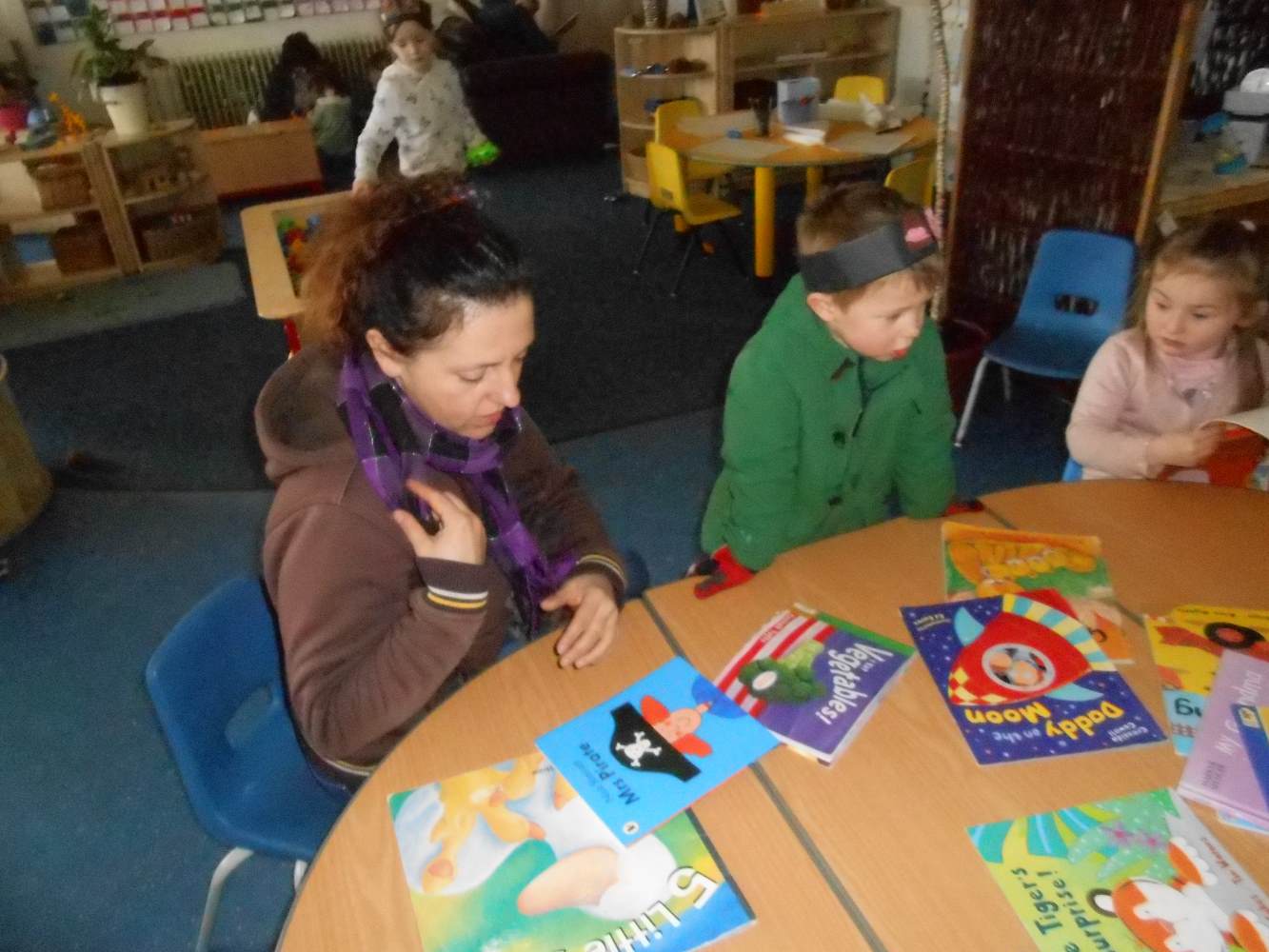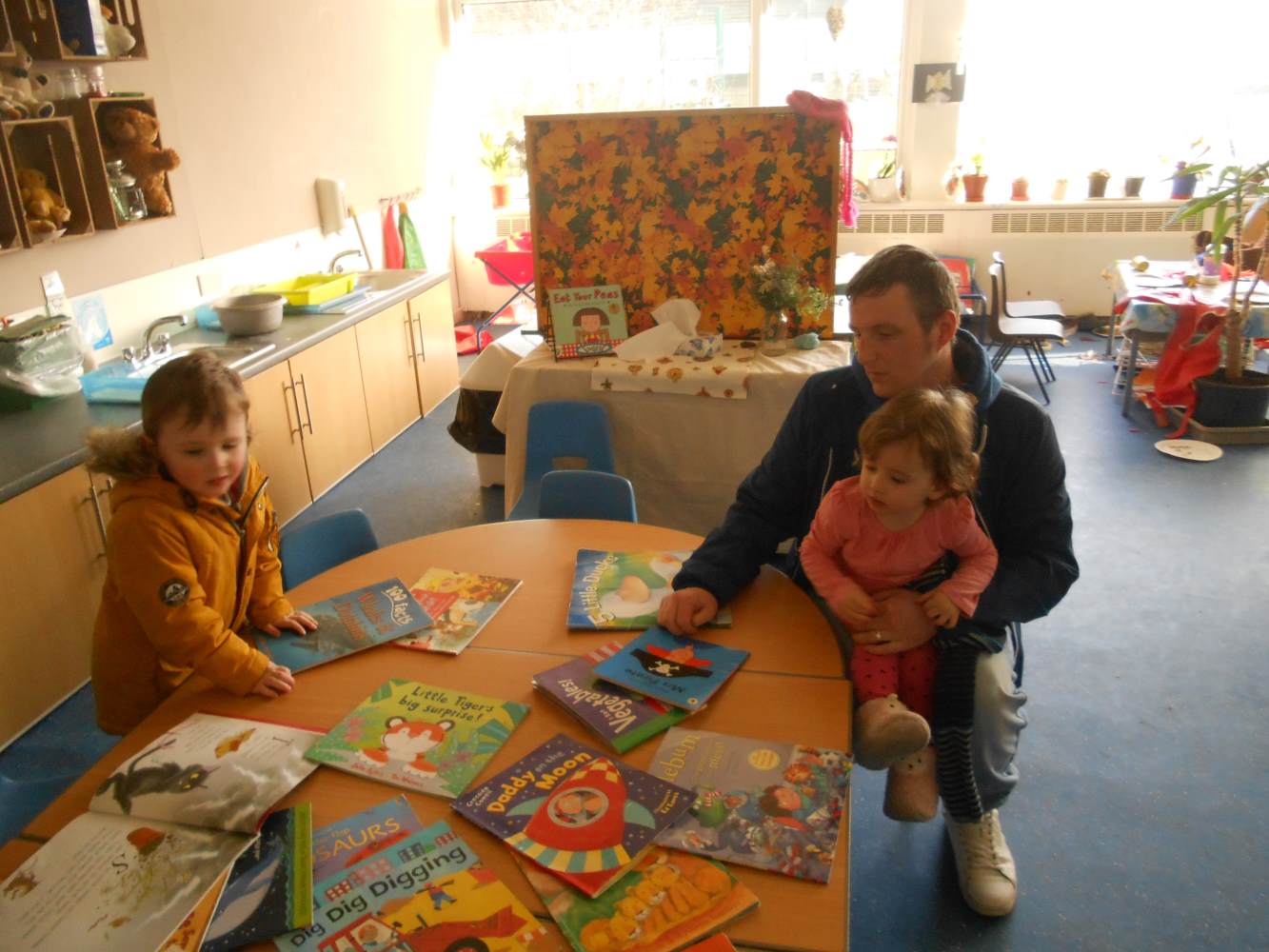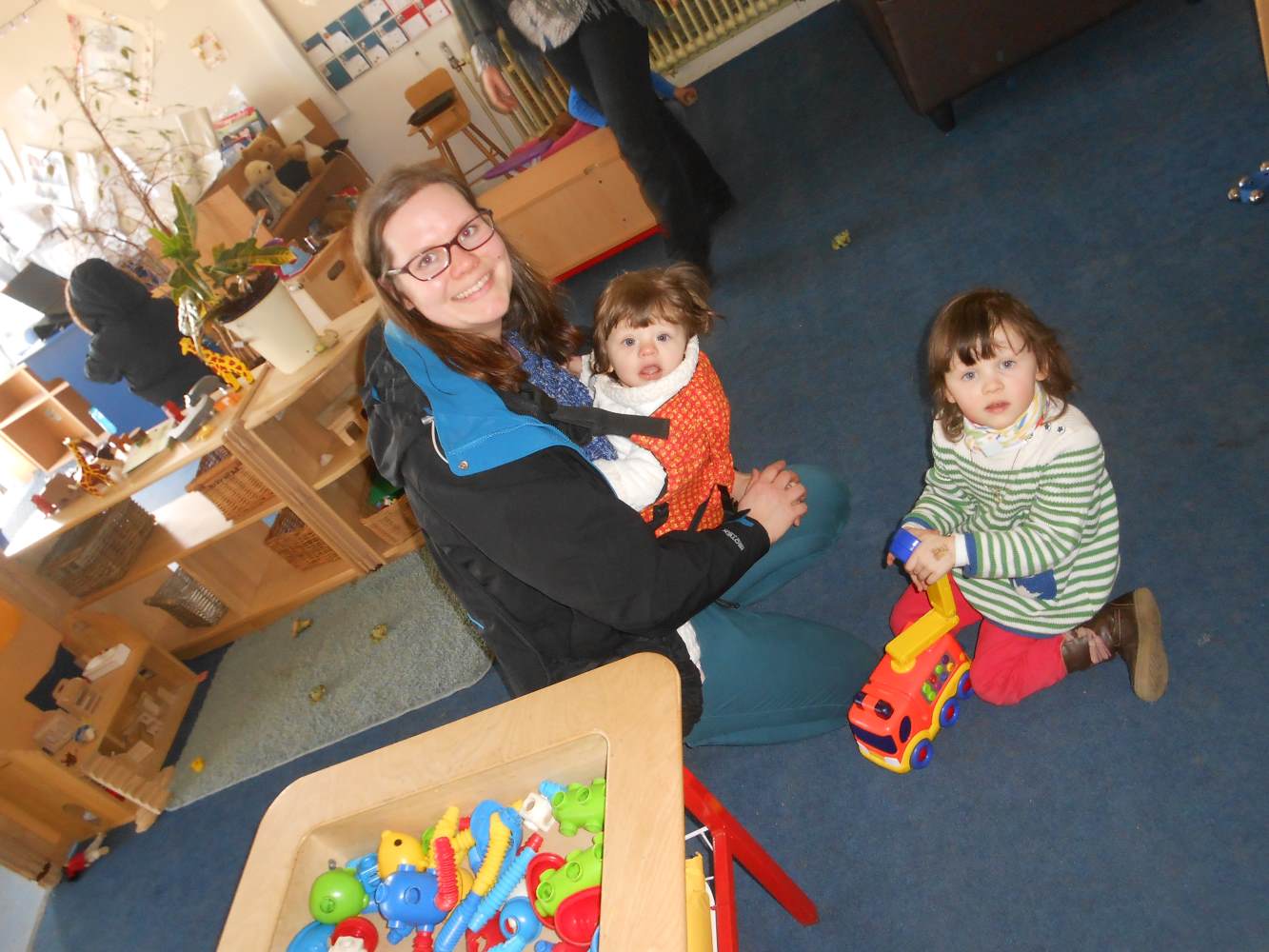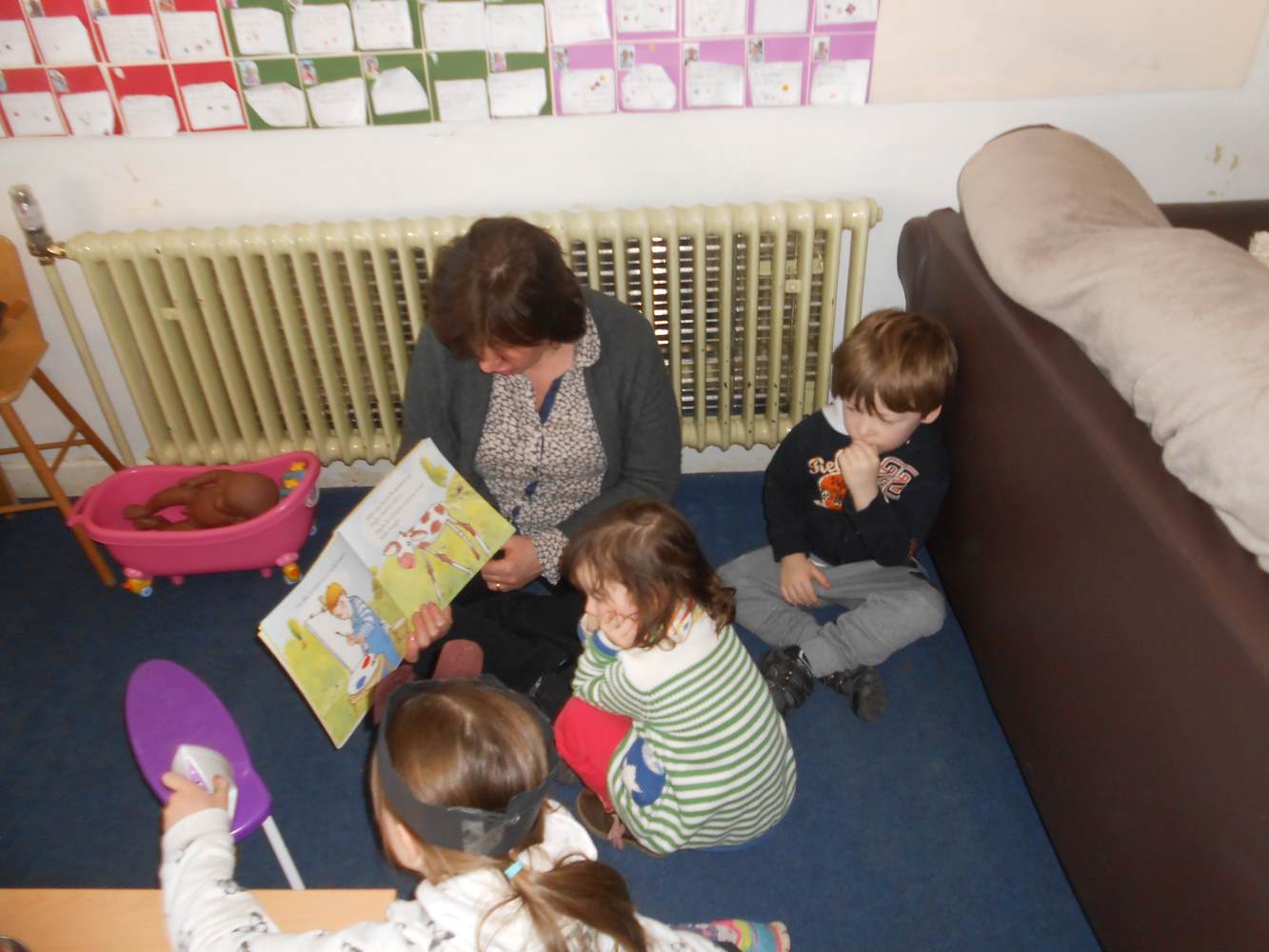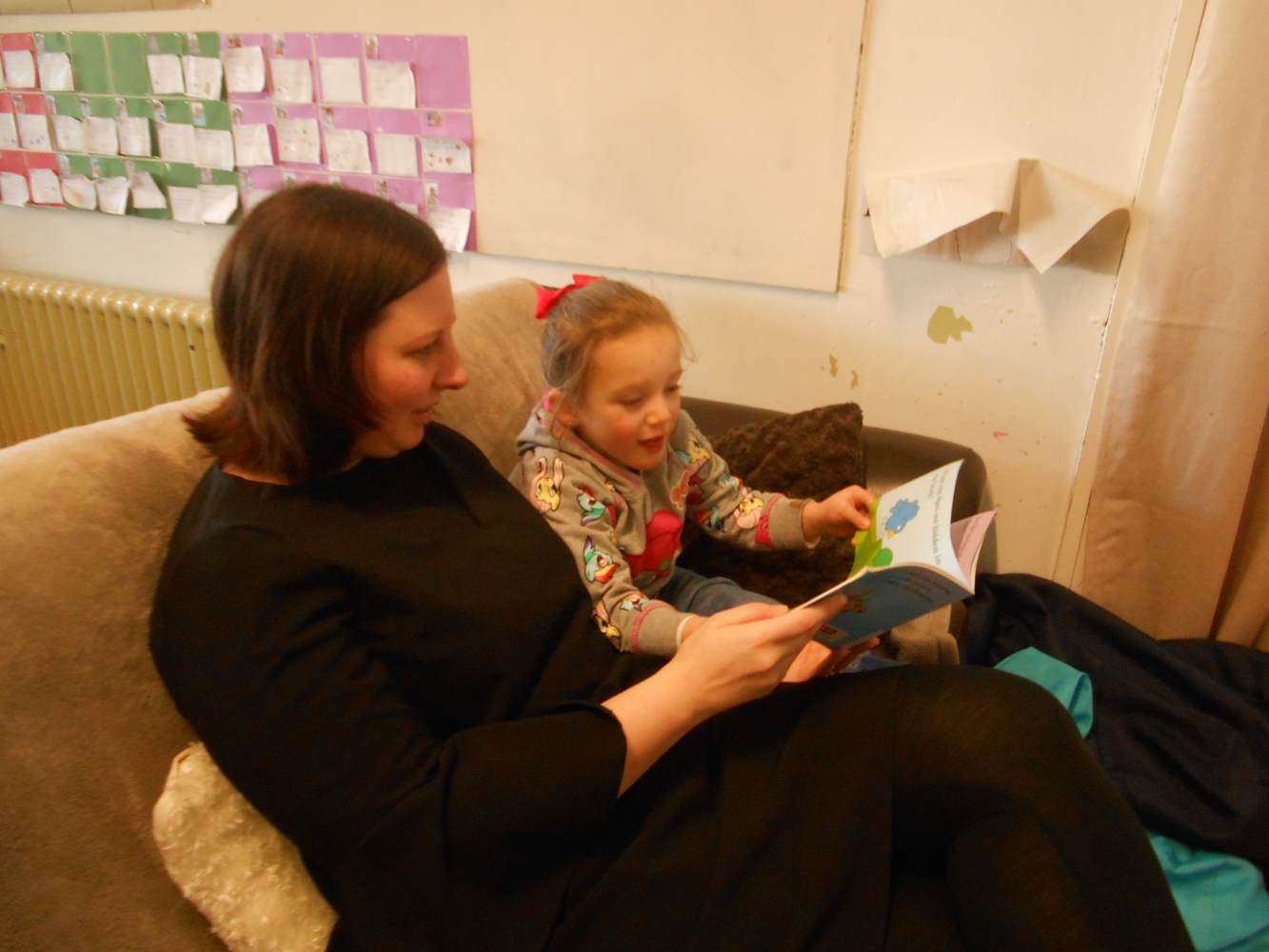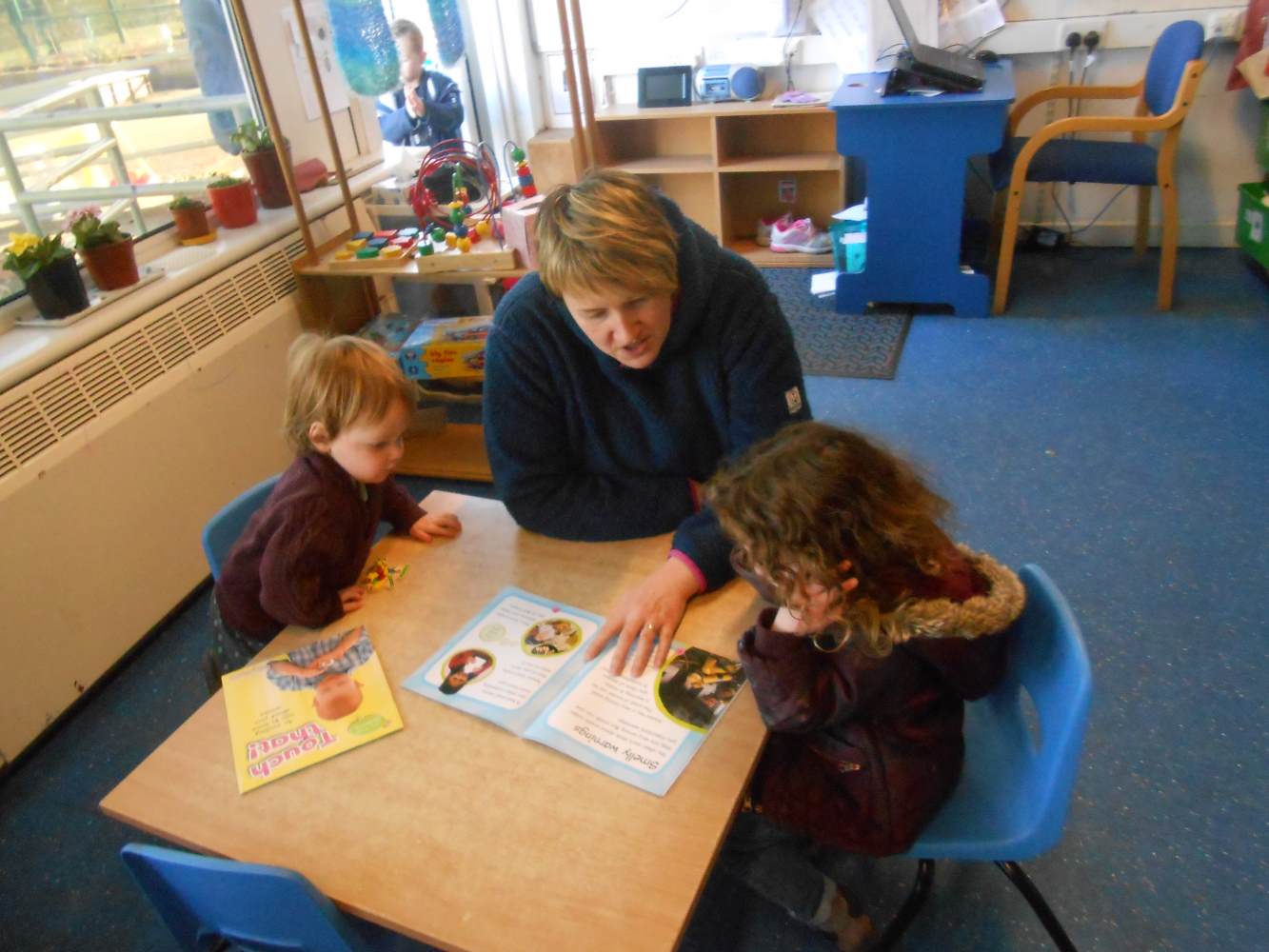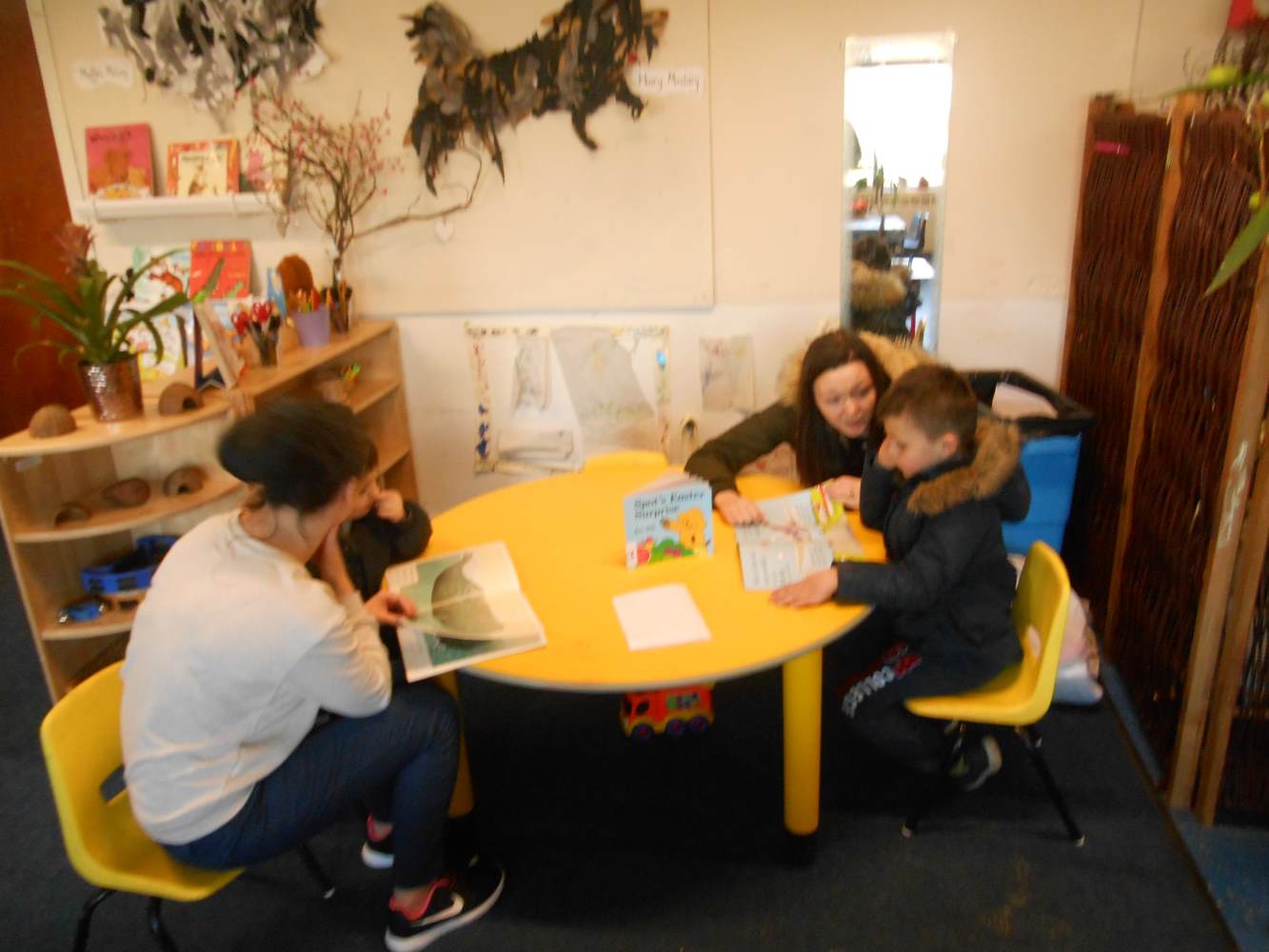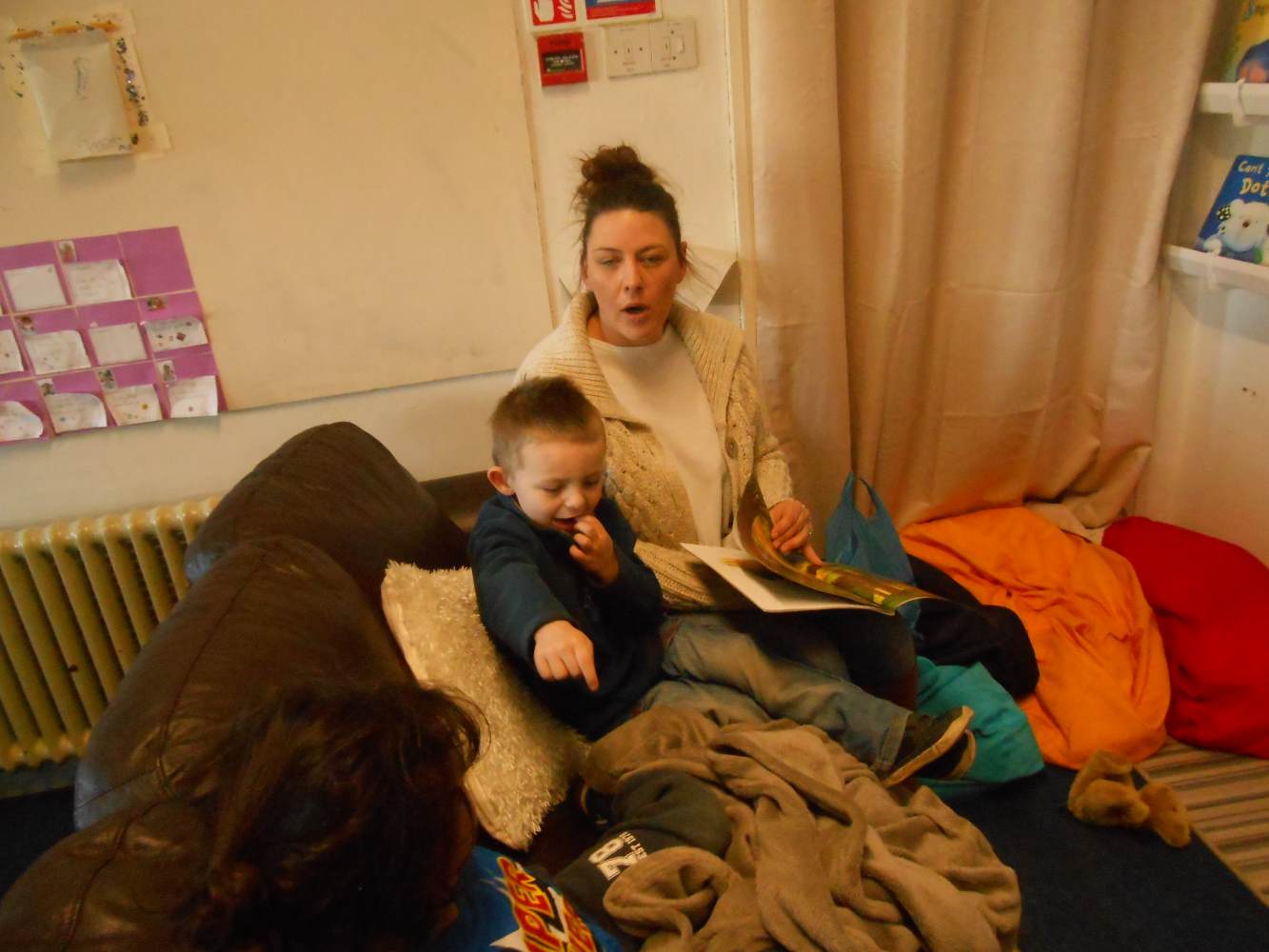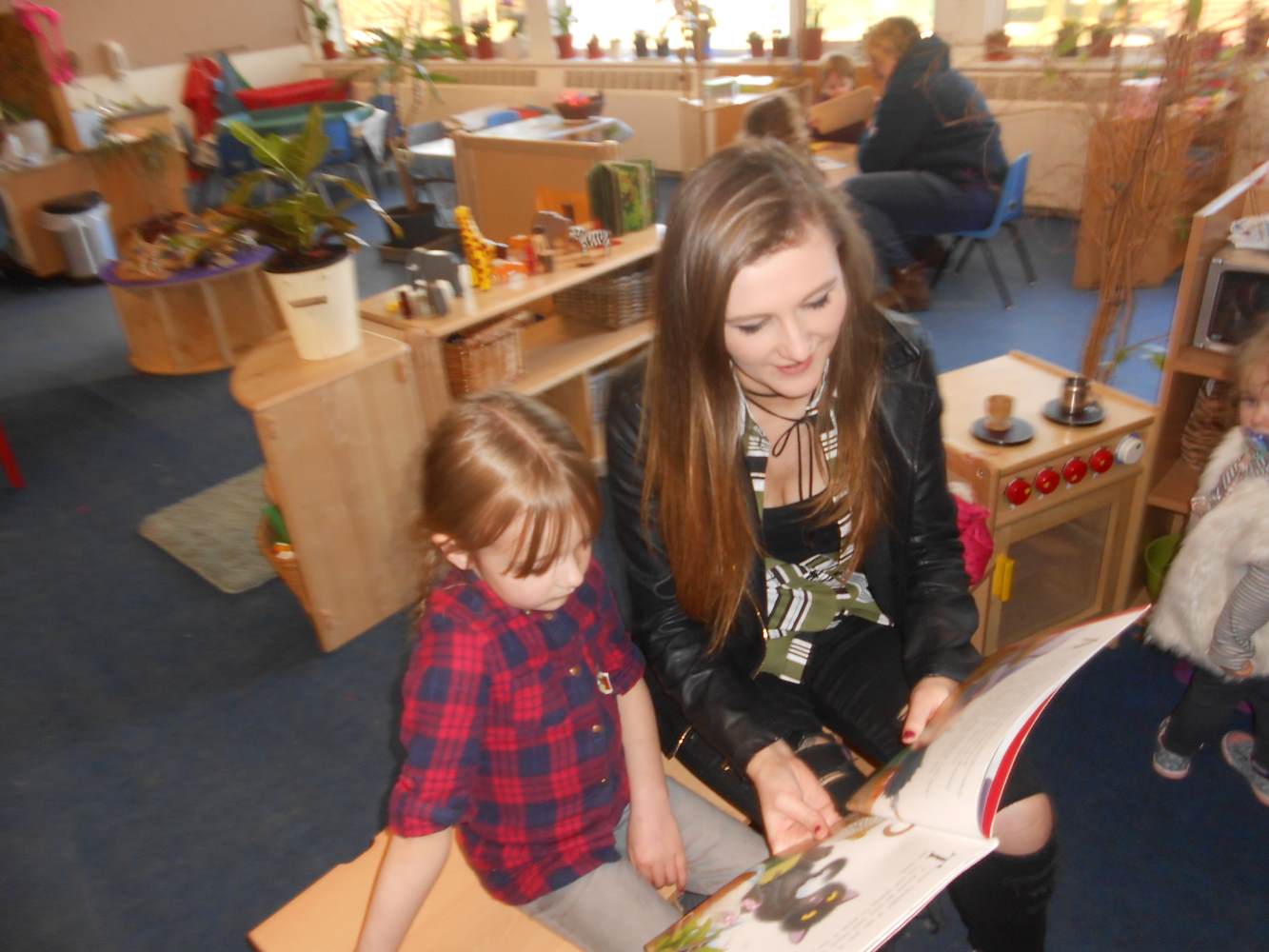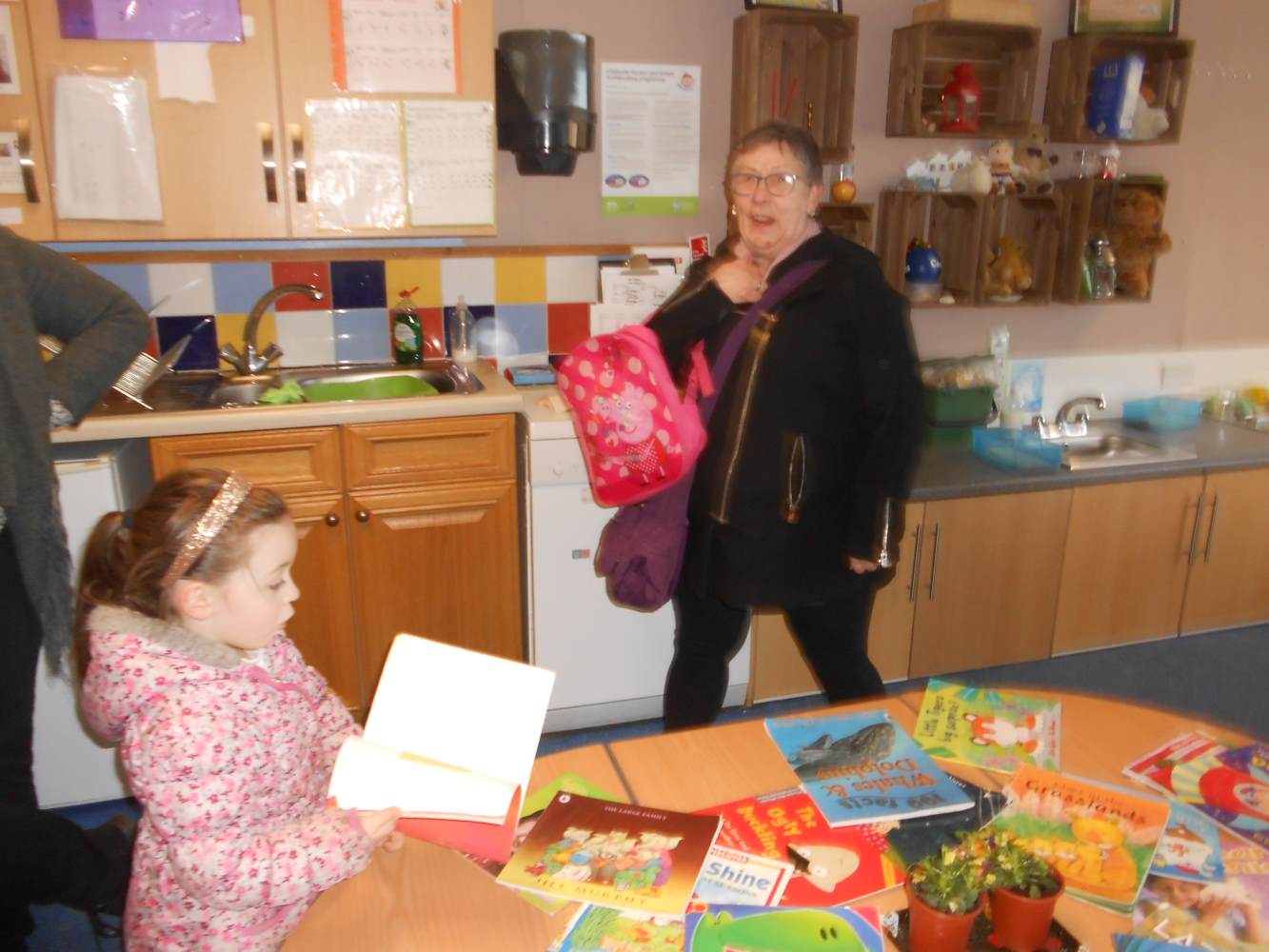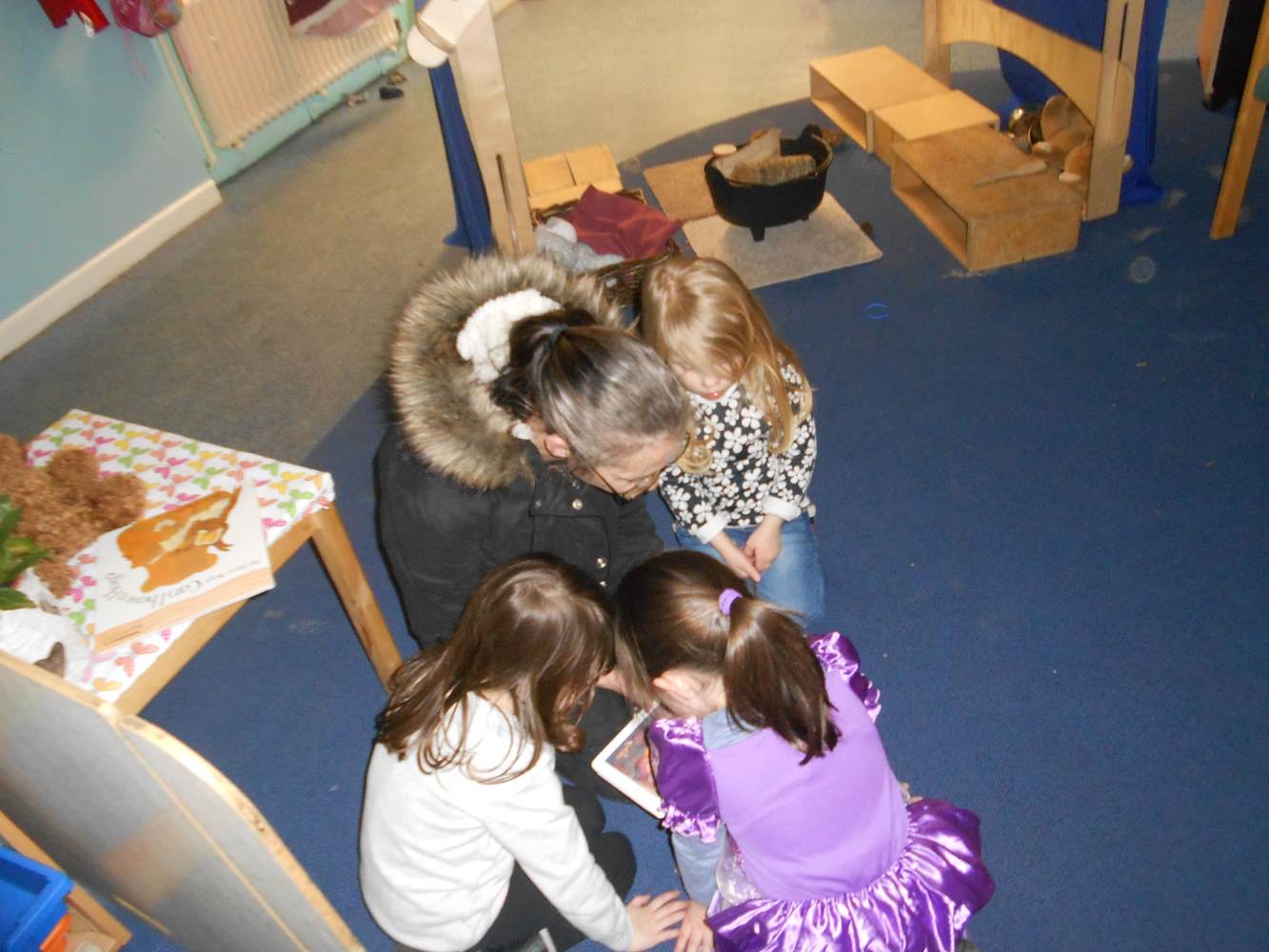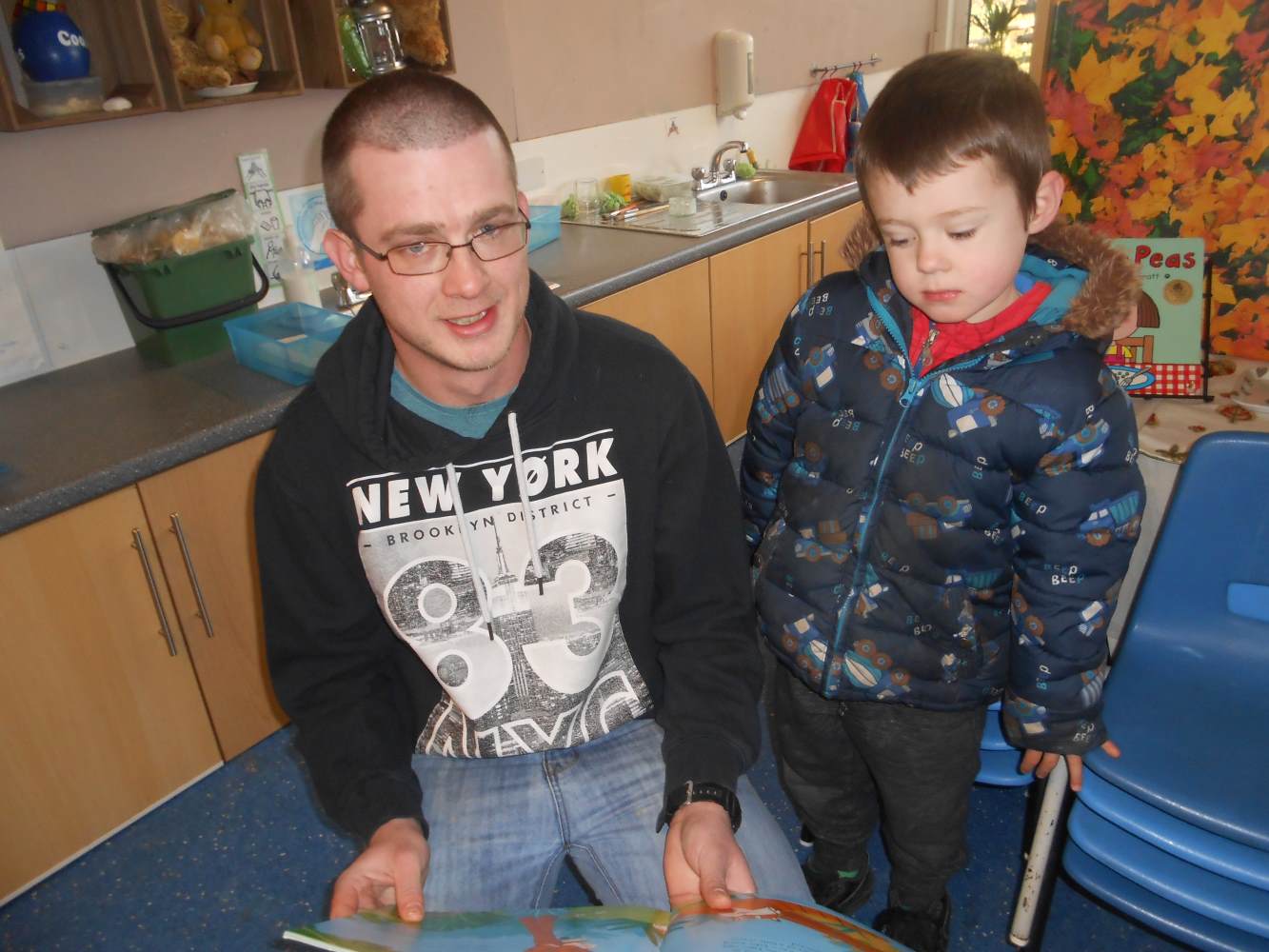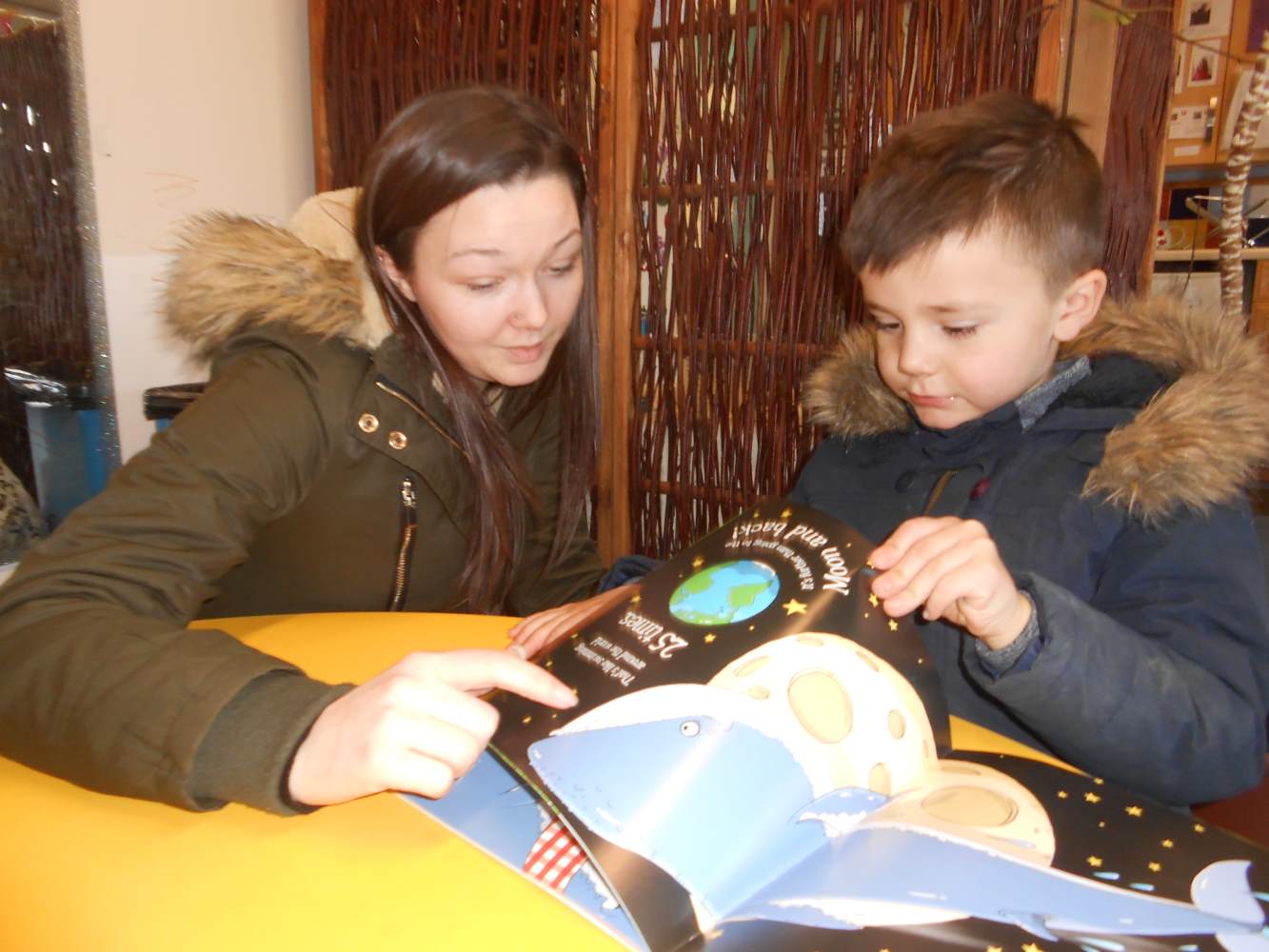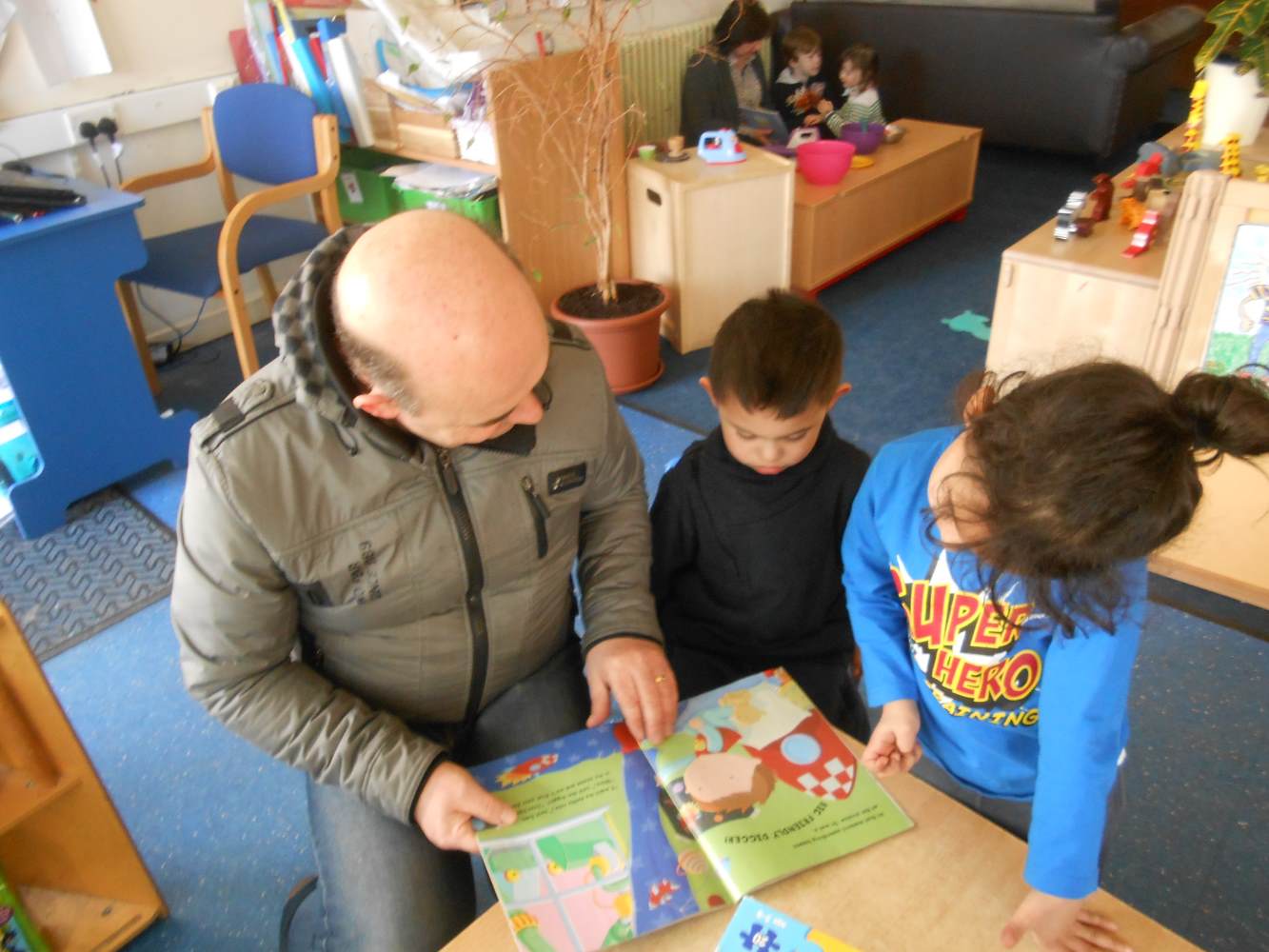 World Book Day
Thursday March 2nd
Come and help us celebrate the joy of books by reading a story to your child and share our learning from that day.
Morning children parents/carers come back at 11.40 am
All day children and afternoon children parents/carers come back 2.50pm
The Nursery lending library will also be open.
Garden work continues.
Some of our indoor plants needed new pots and some of our new plants needed pots.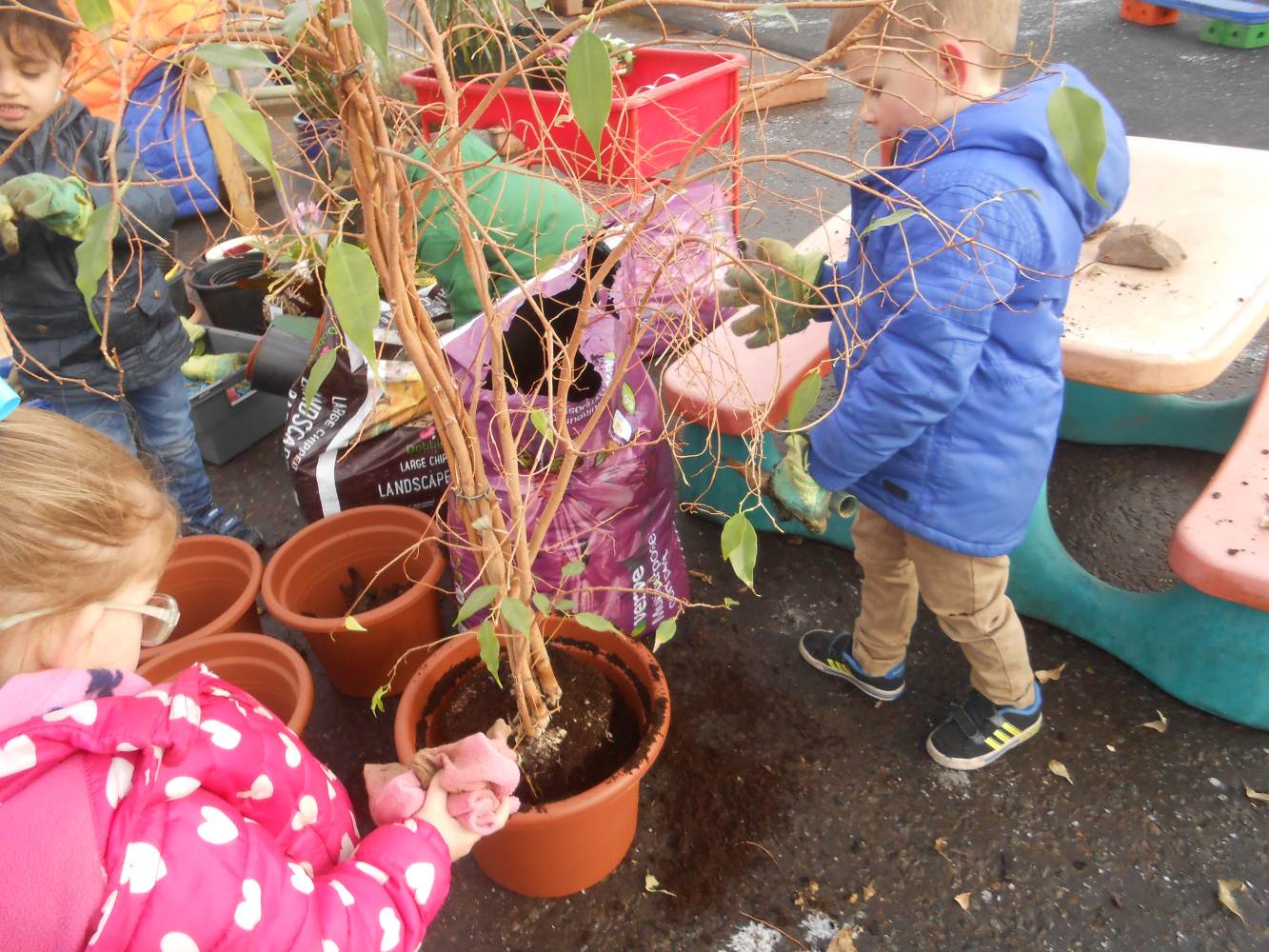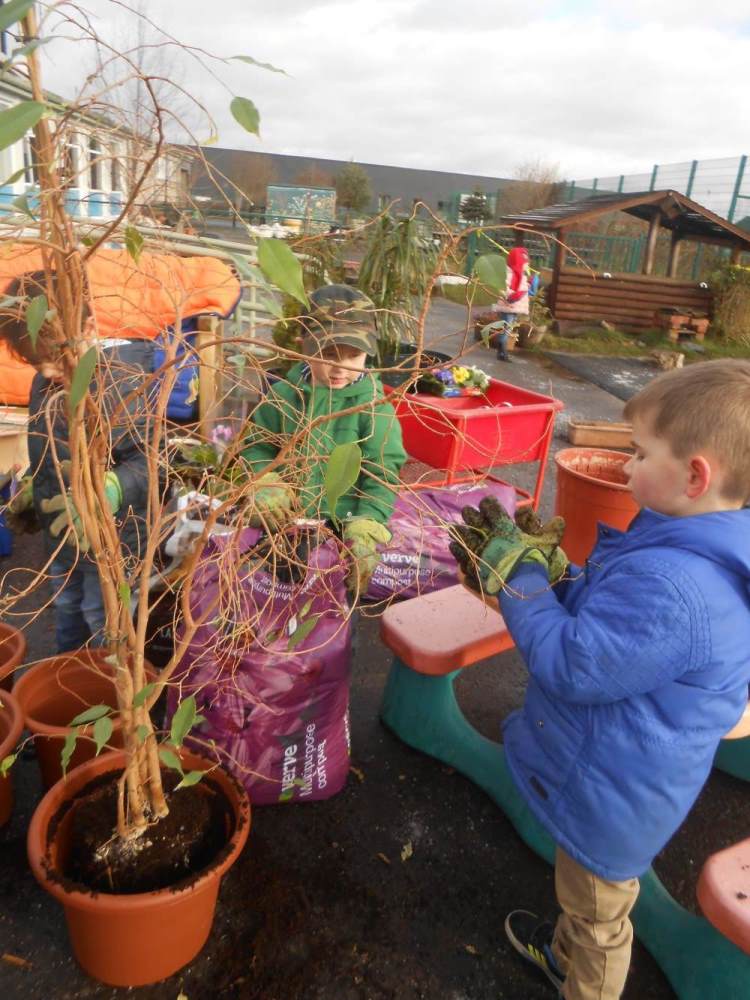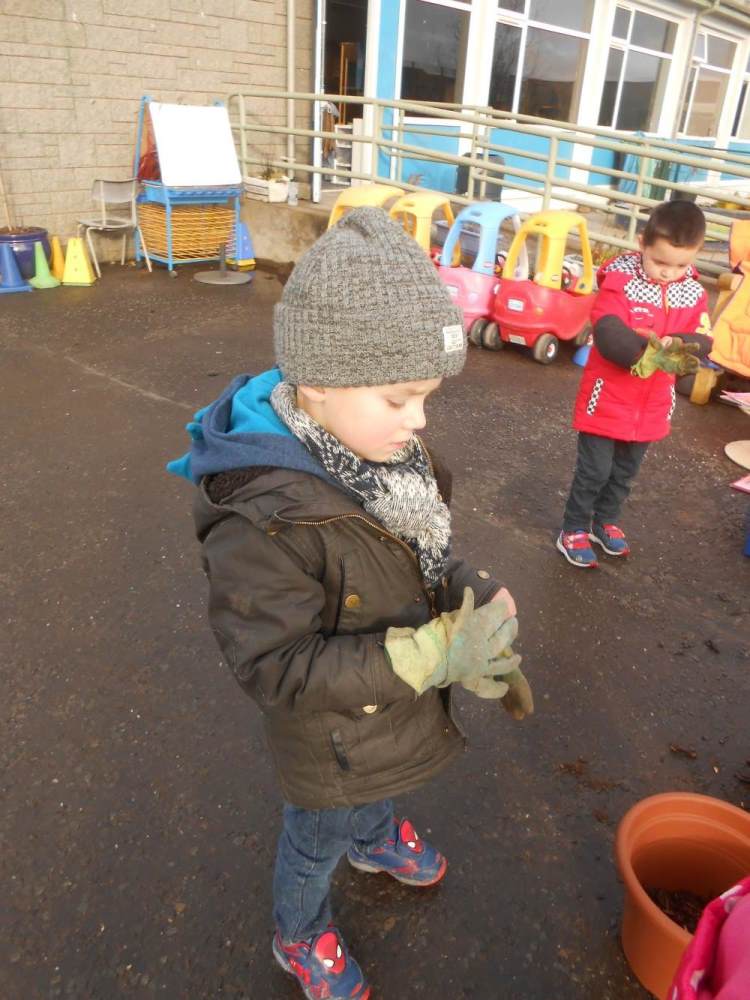 Feeding the grass. Derek loved all the help he was receiving.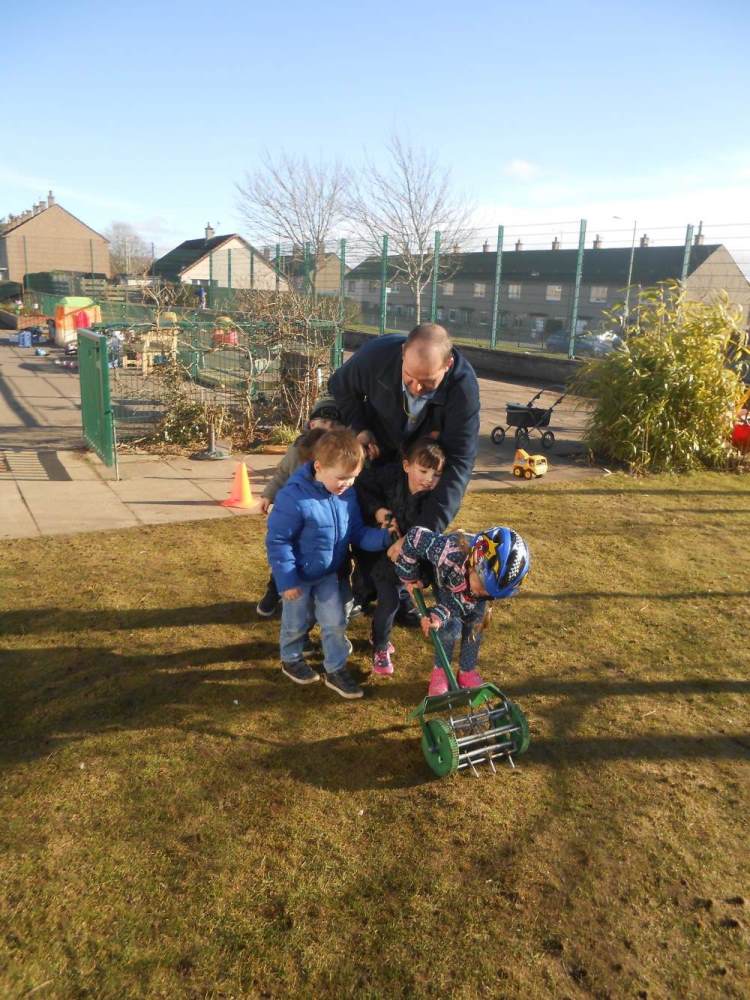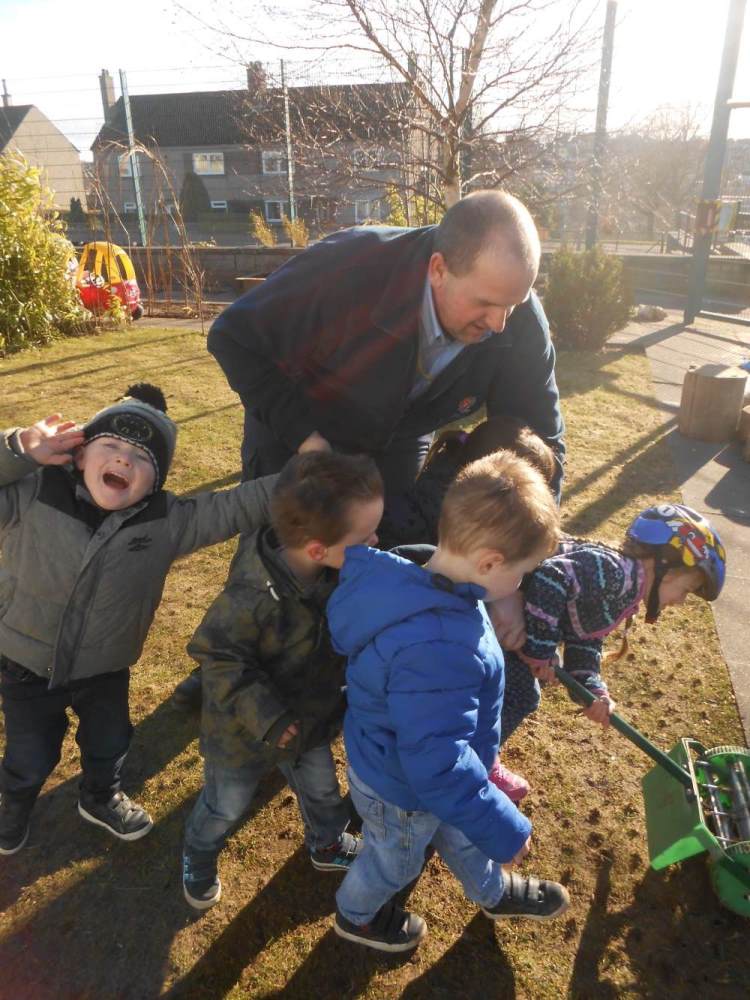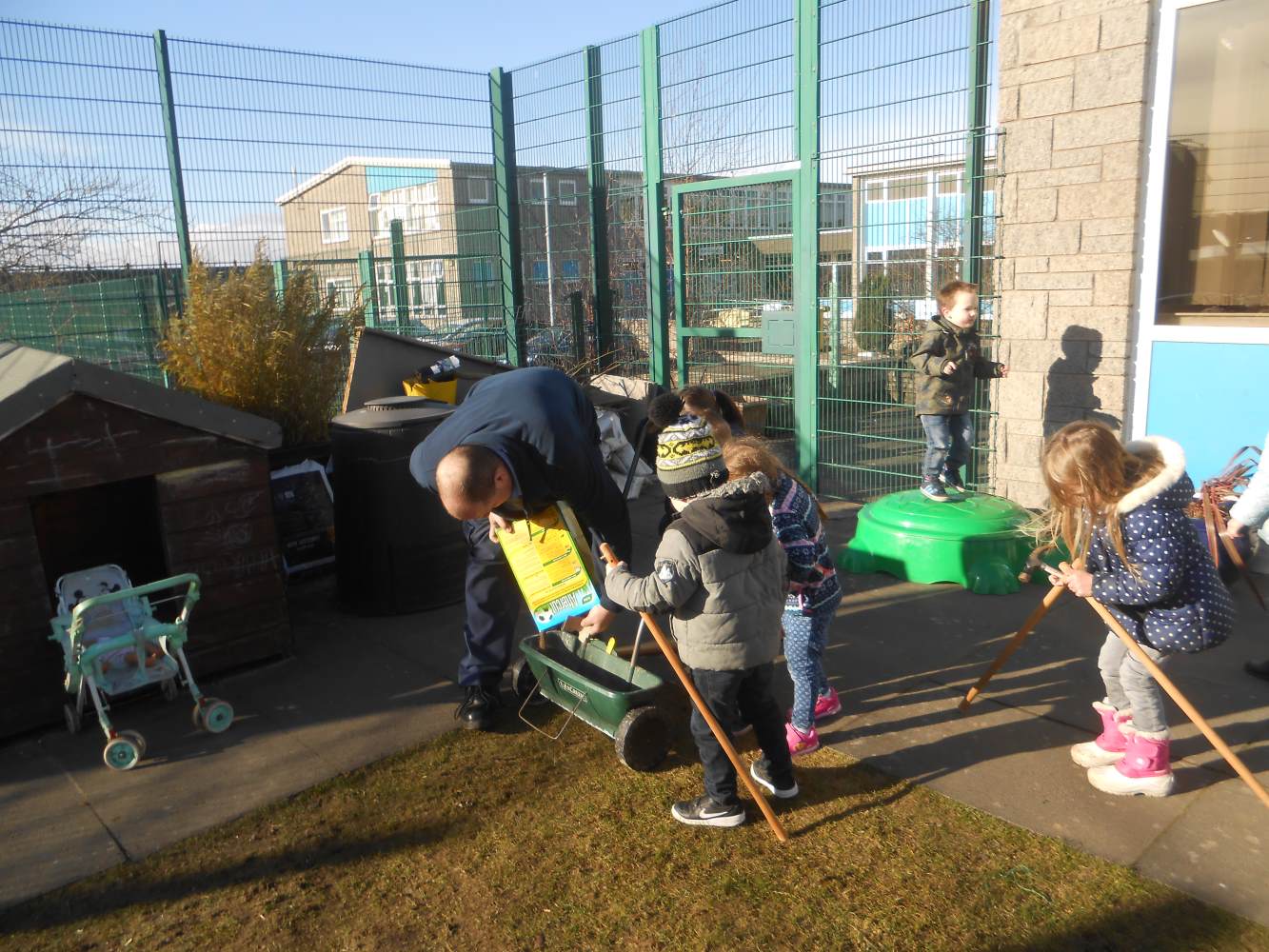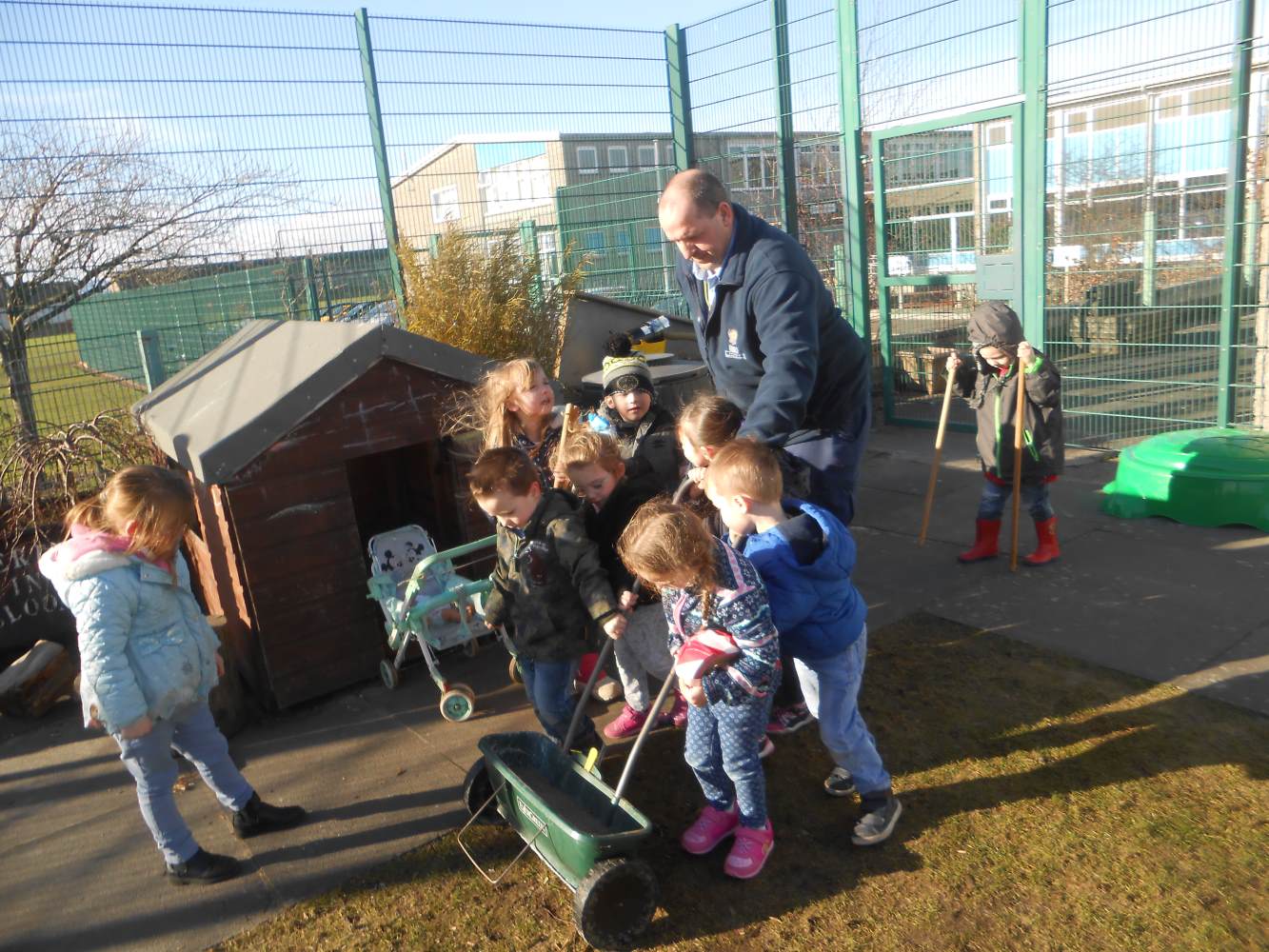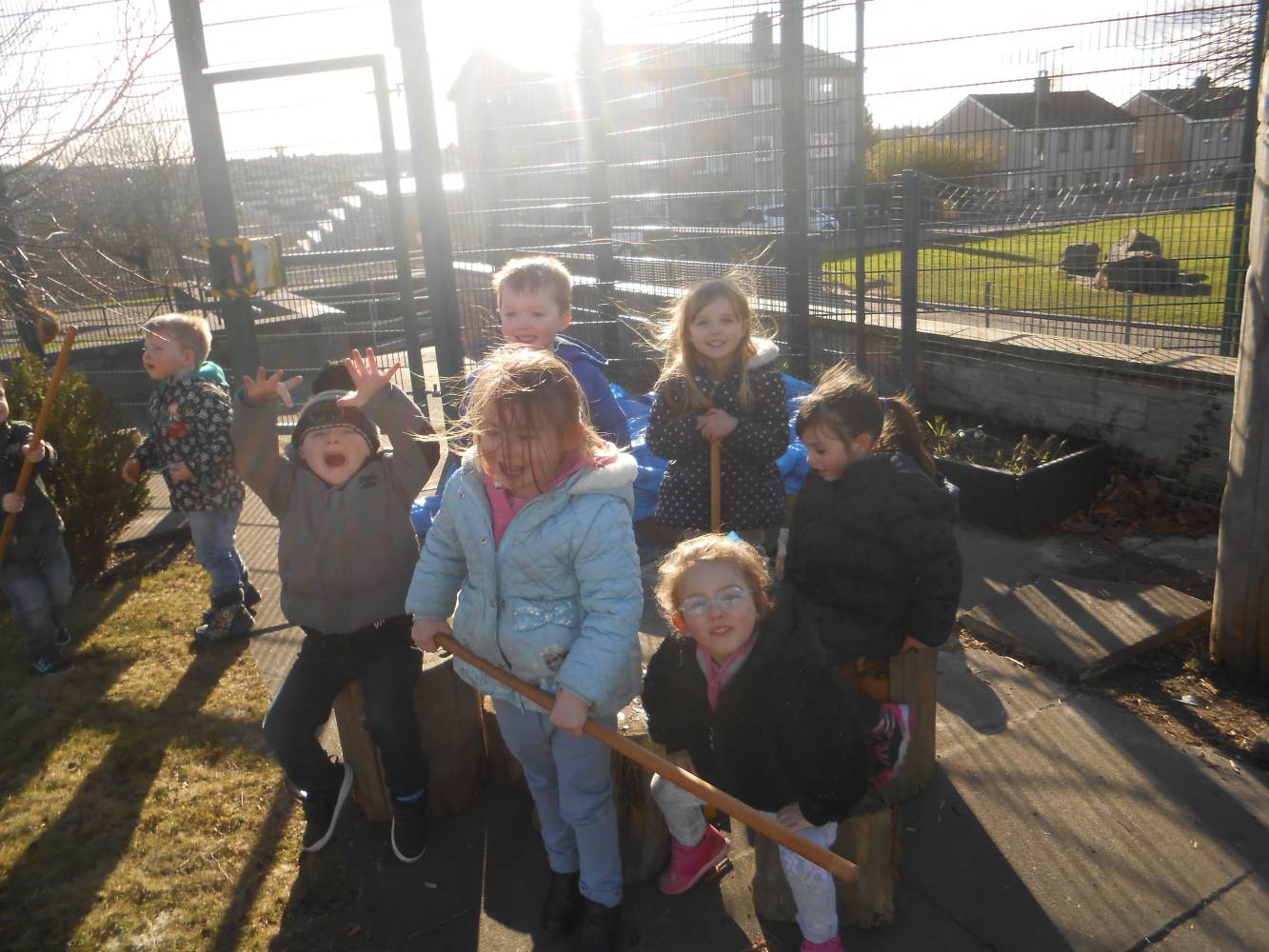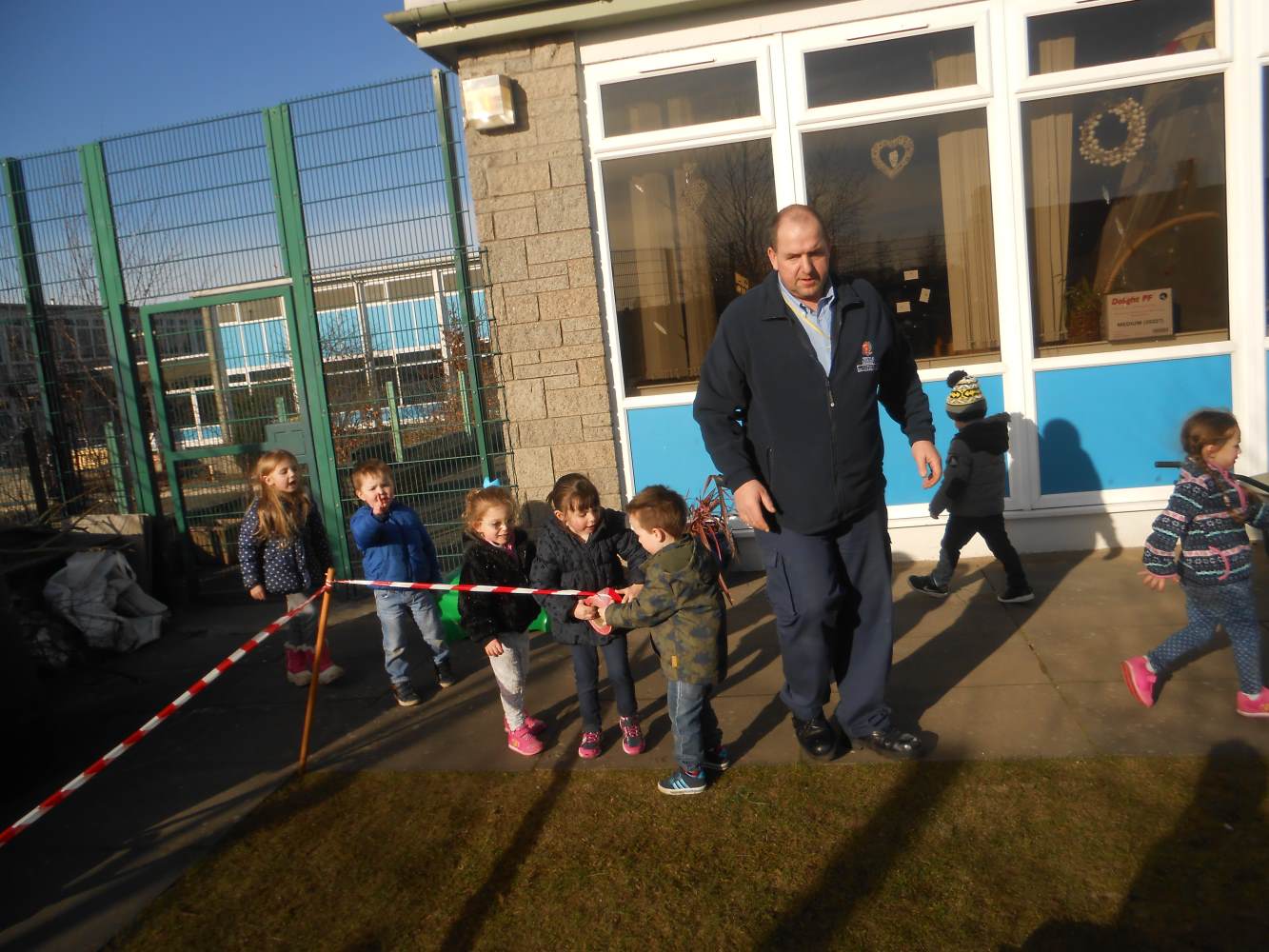 Sorting out the pots we already had.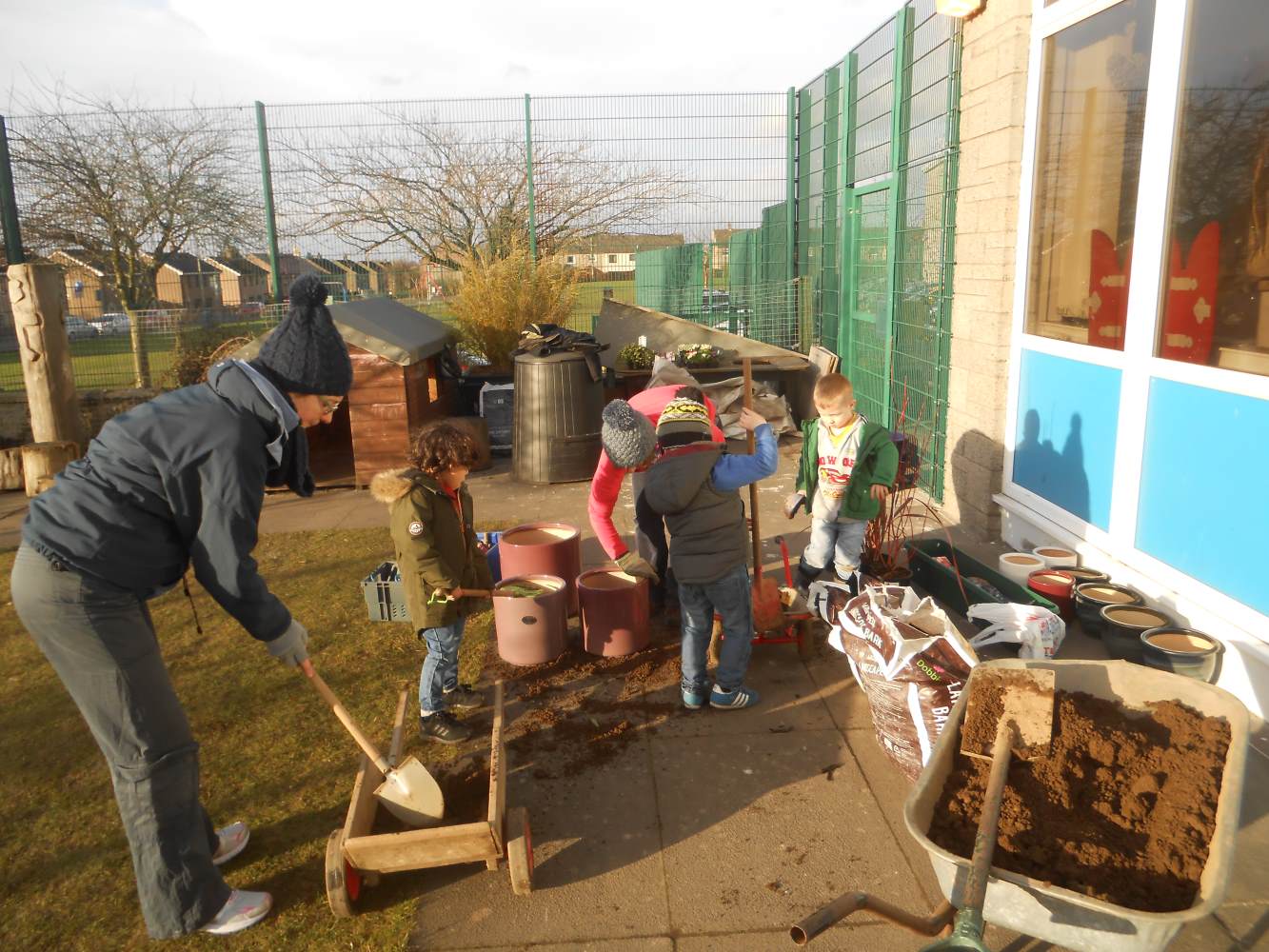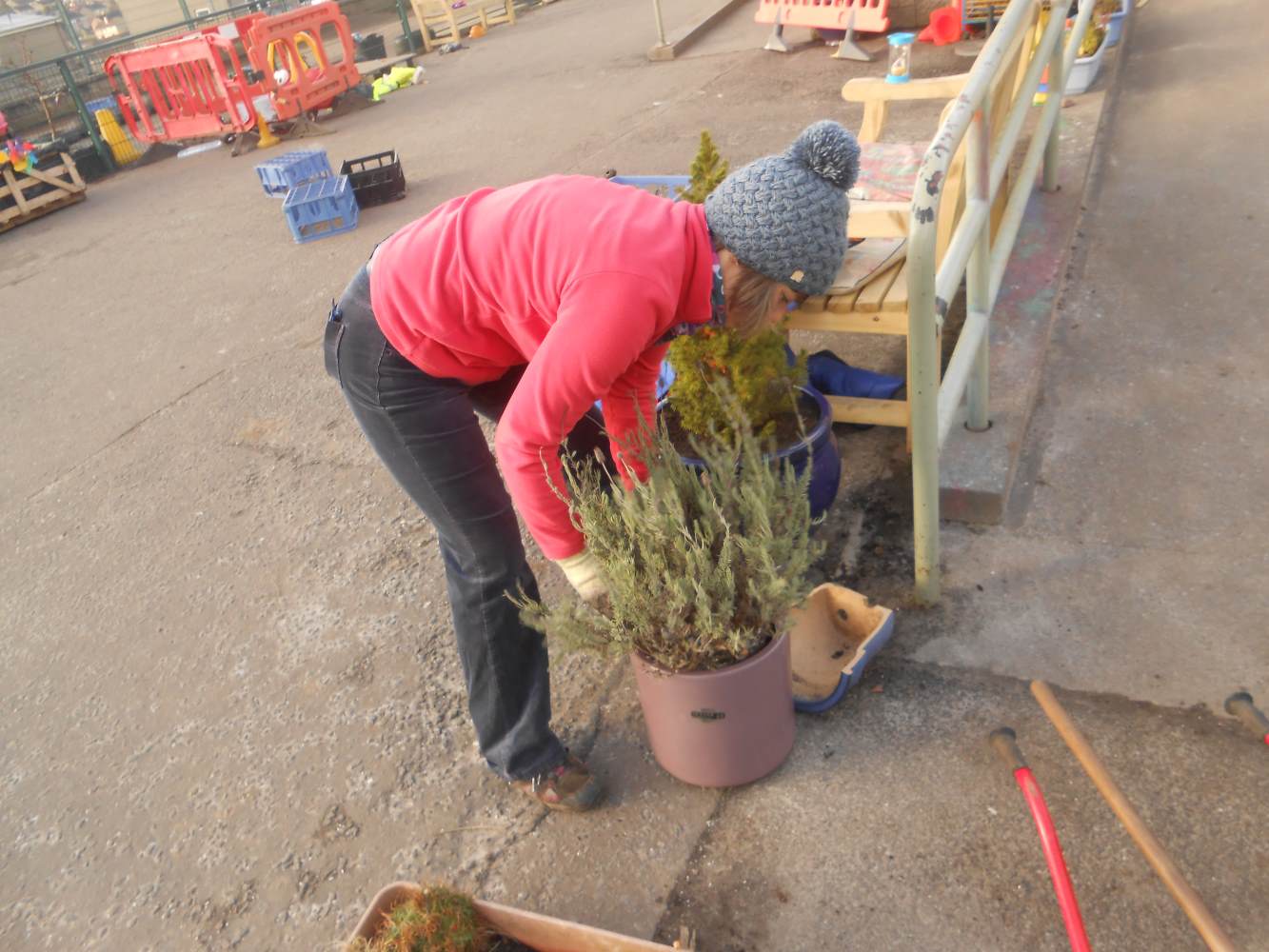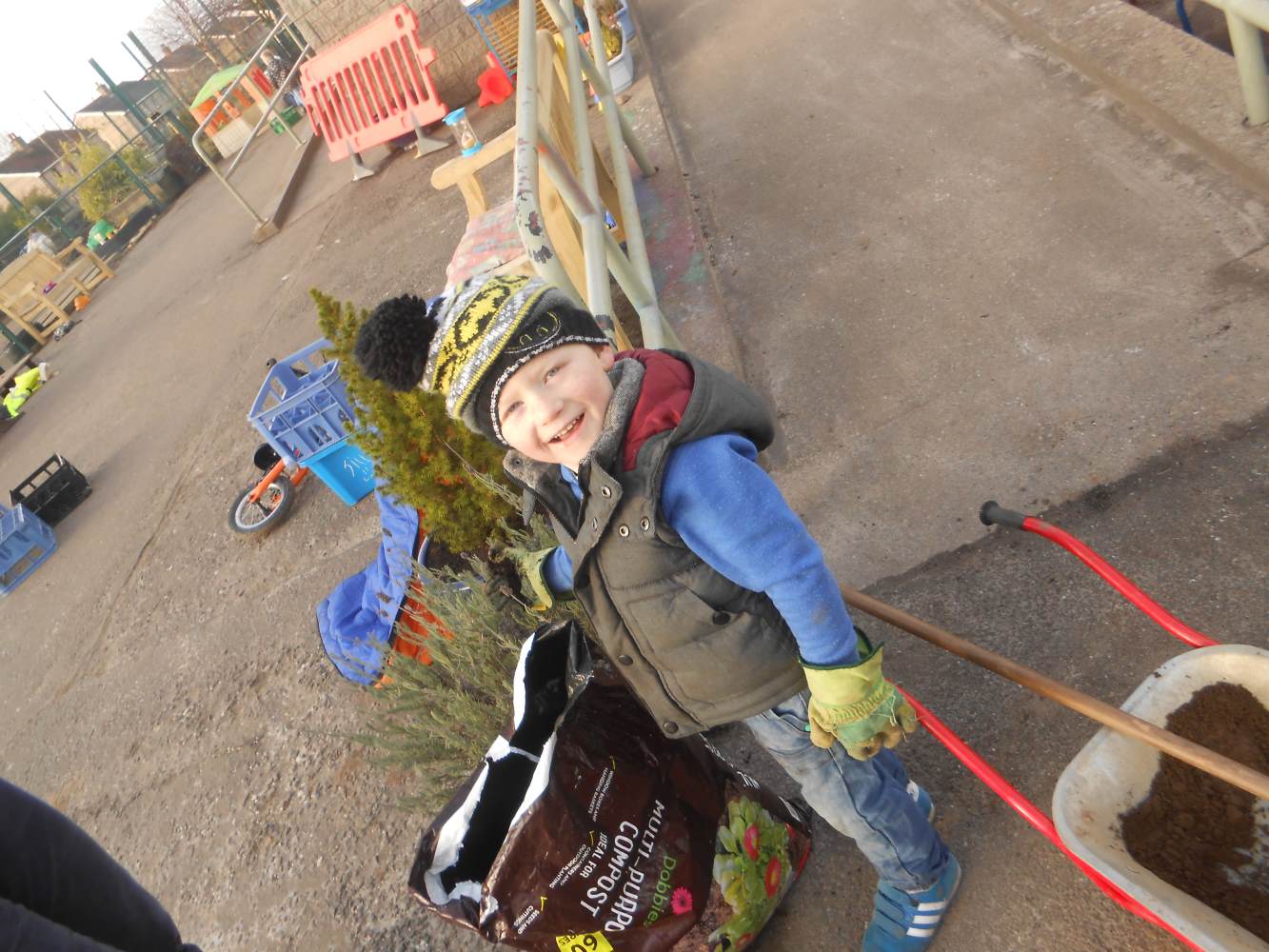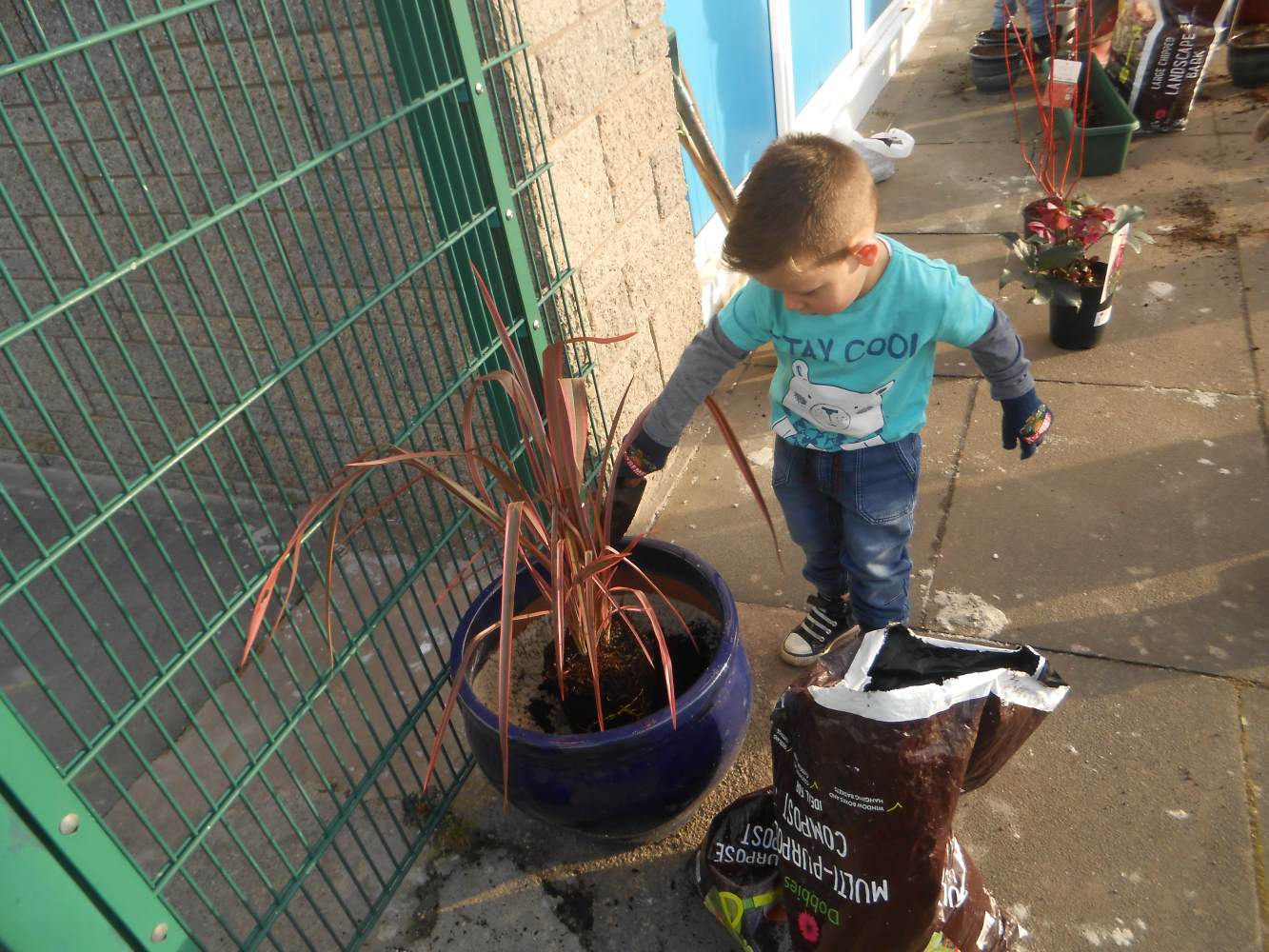 There was much relief when we finally filled the whole length of the wall with soil and finally planted some plants.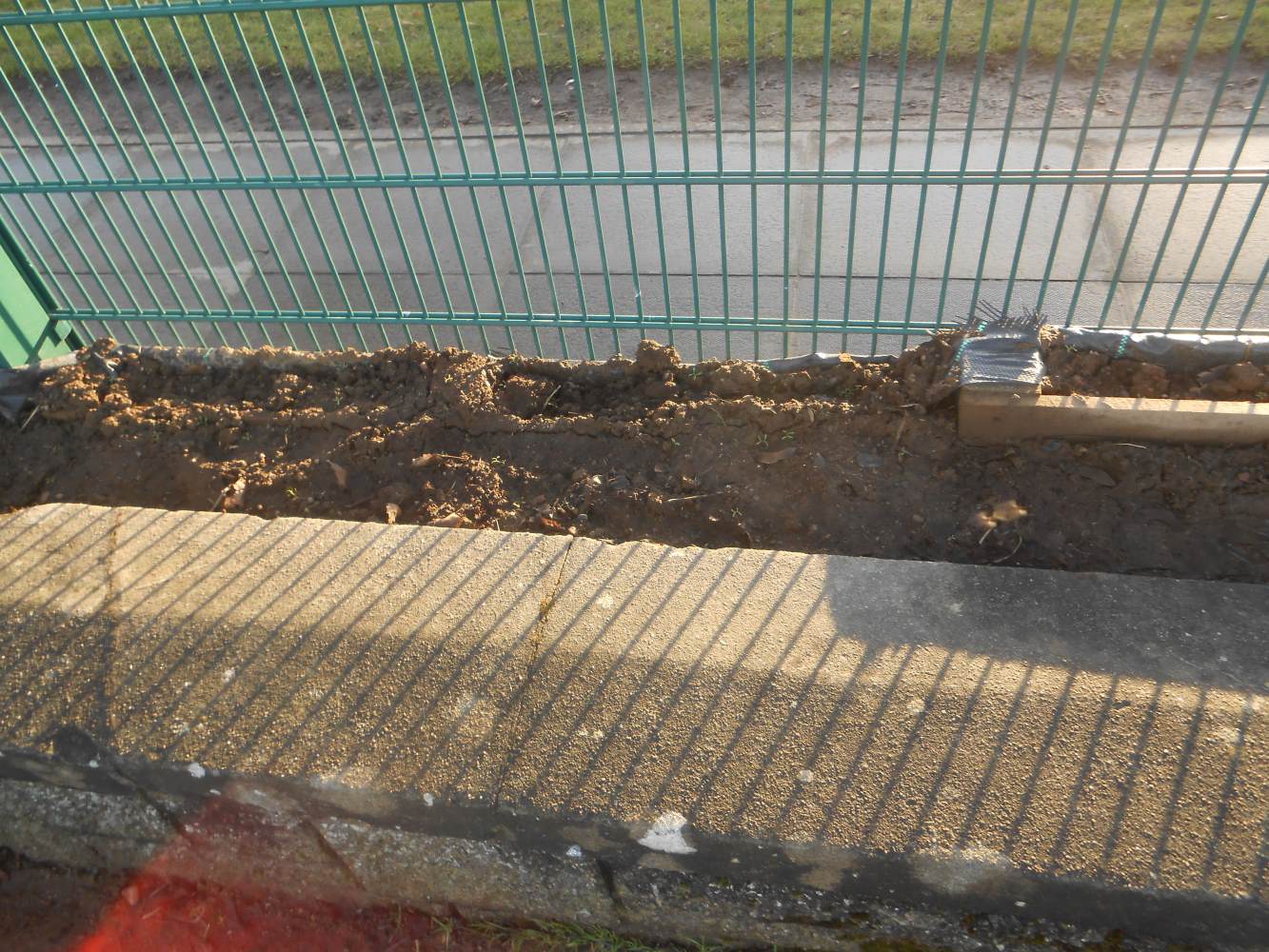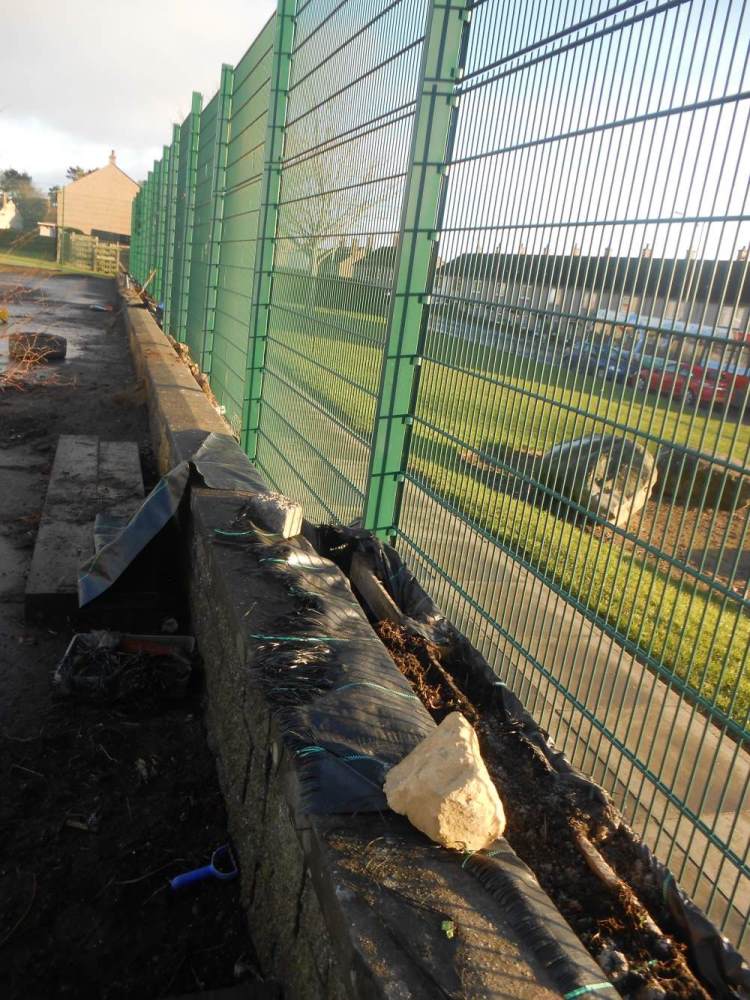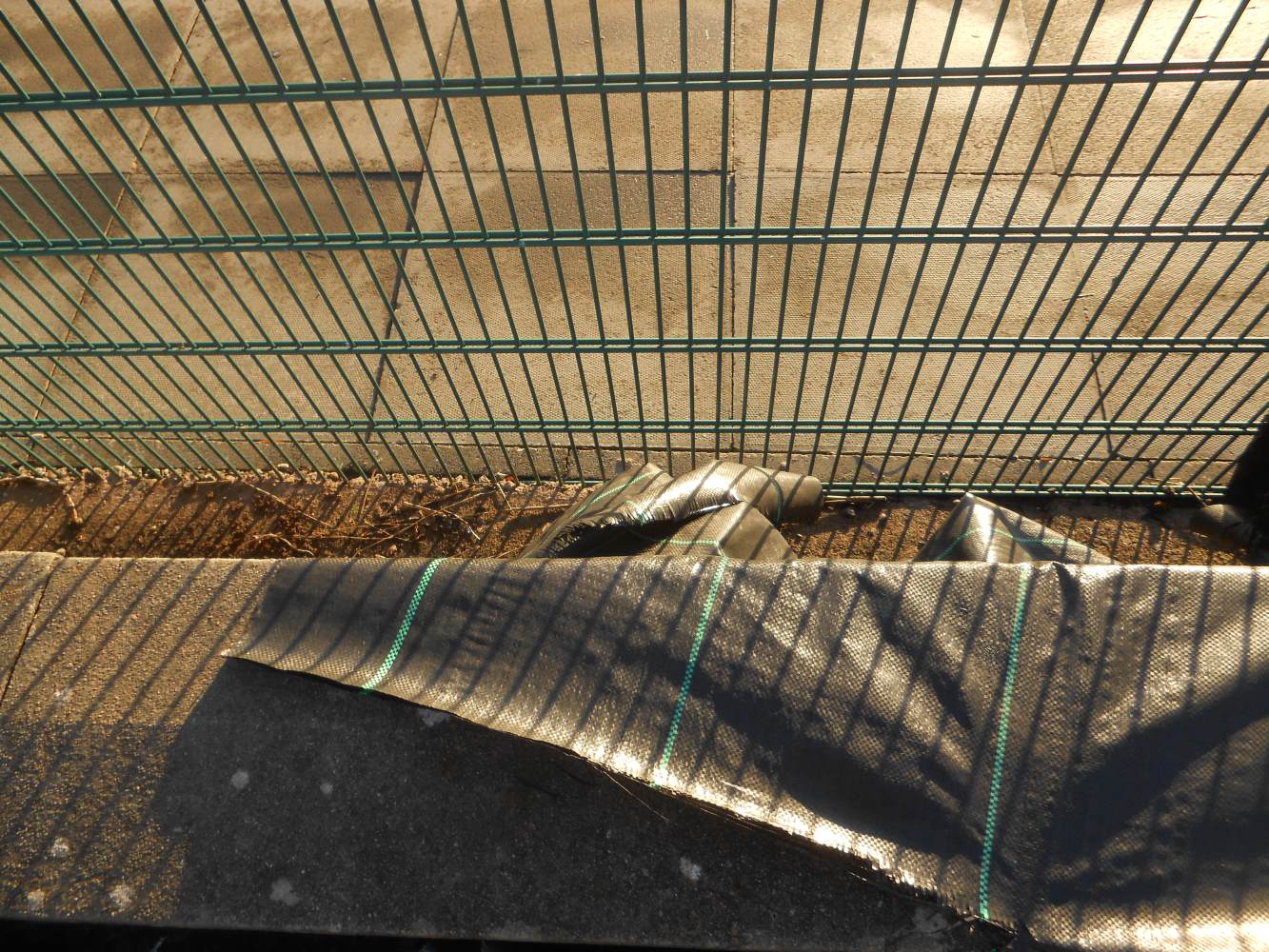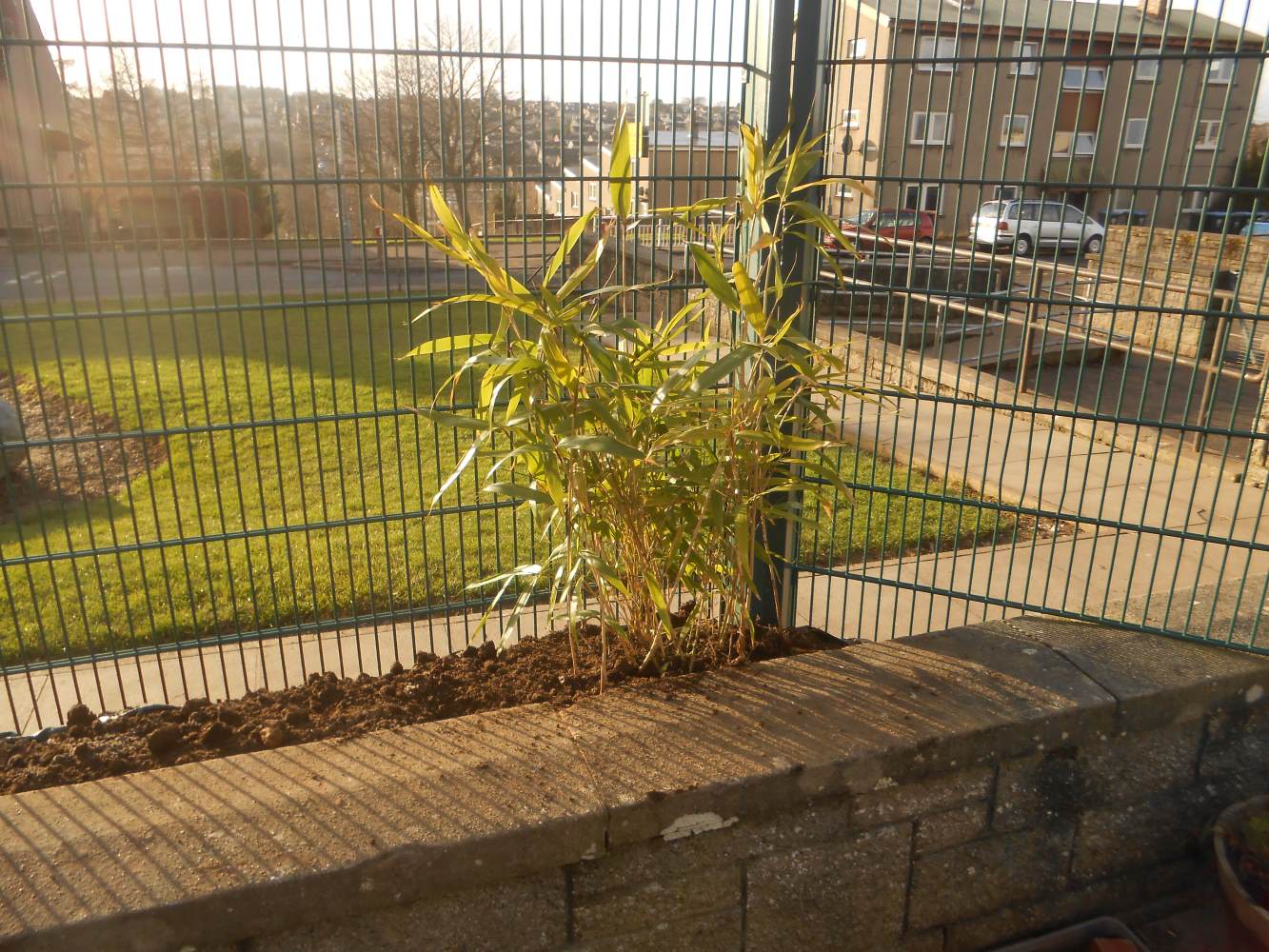 This was a huge task to undertake and a big thank you goes to every single child and Nursery staff member who pushed a wheelbarrow and shovelled some soil. We are so proud of the fact we did it all ourselves and are now looking forward to our plants growing.
We have been on a number hunt.
We found numbers in all sorts of places around the school. Here are just a few examples.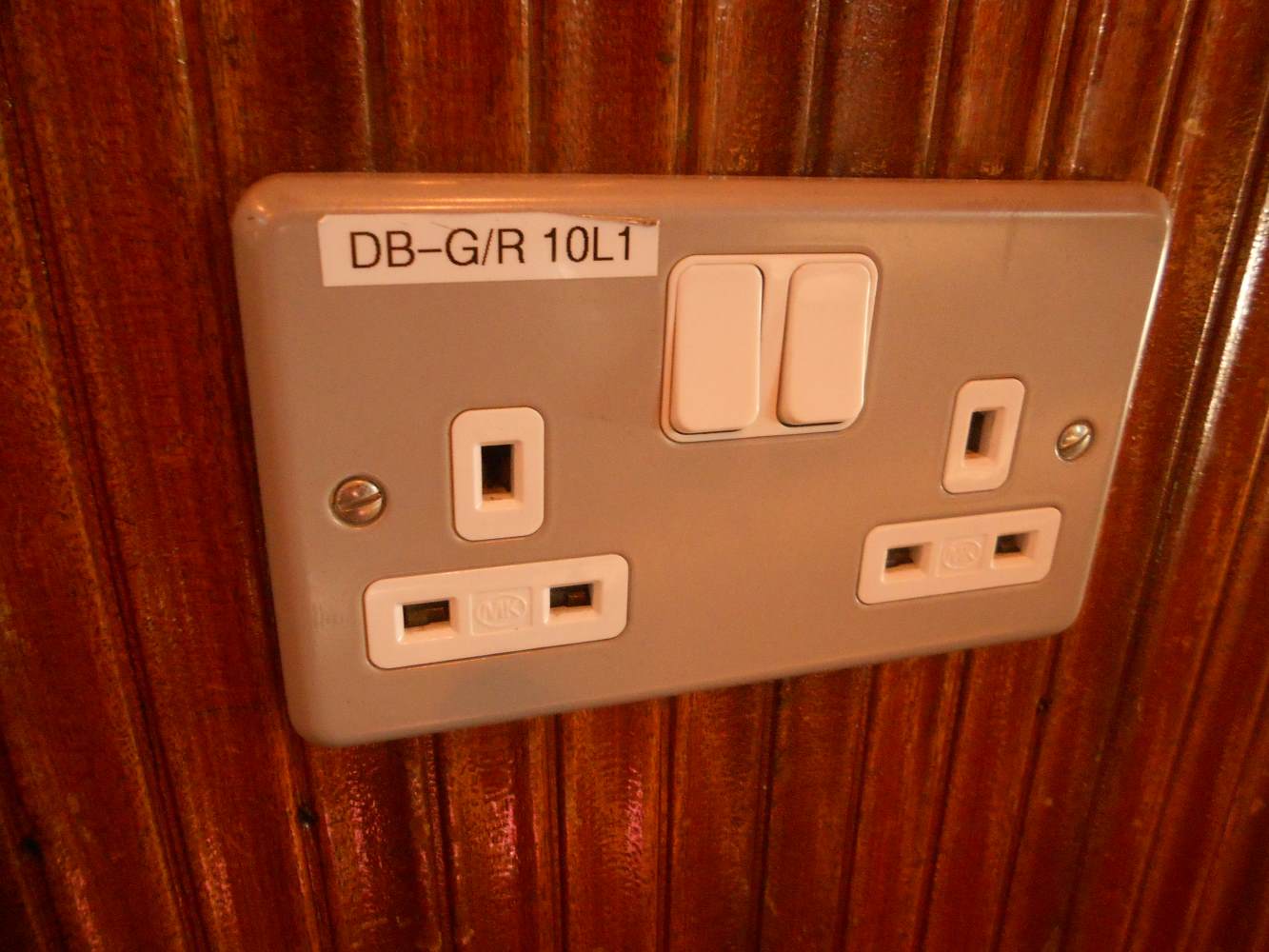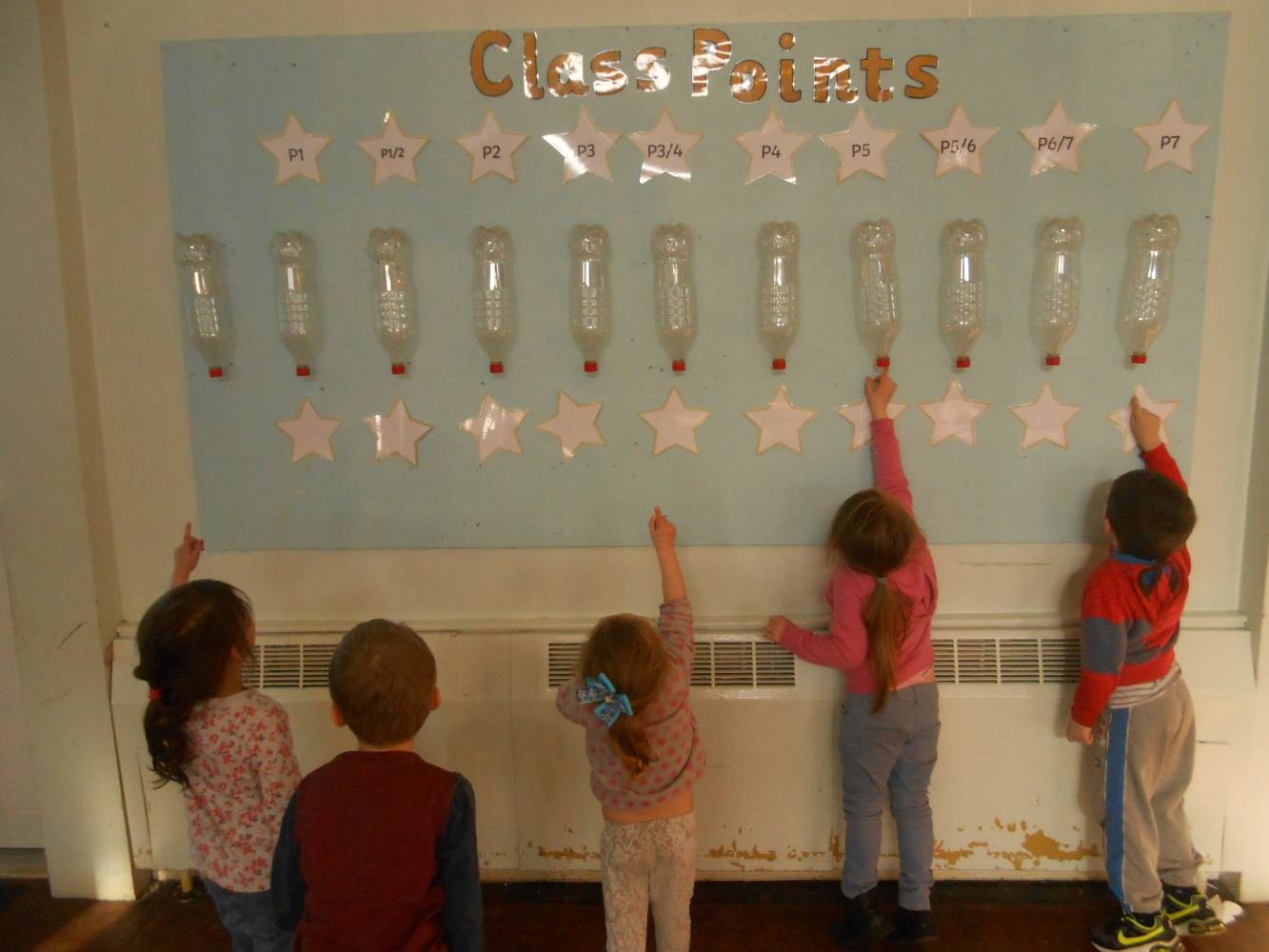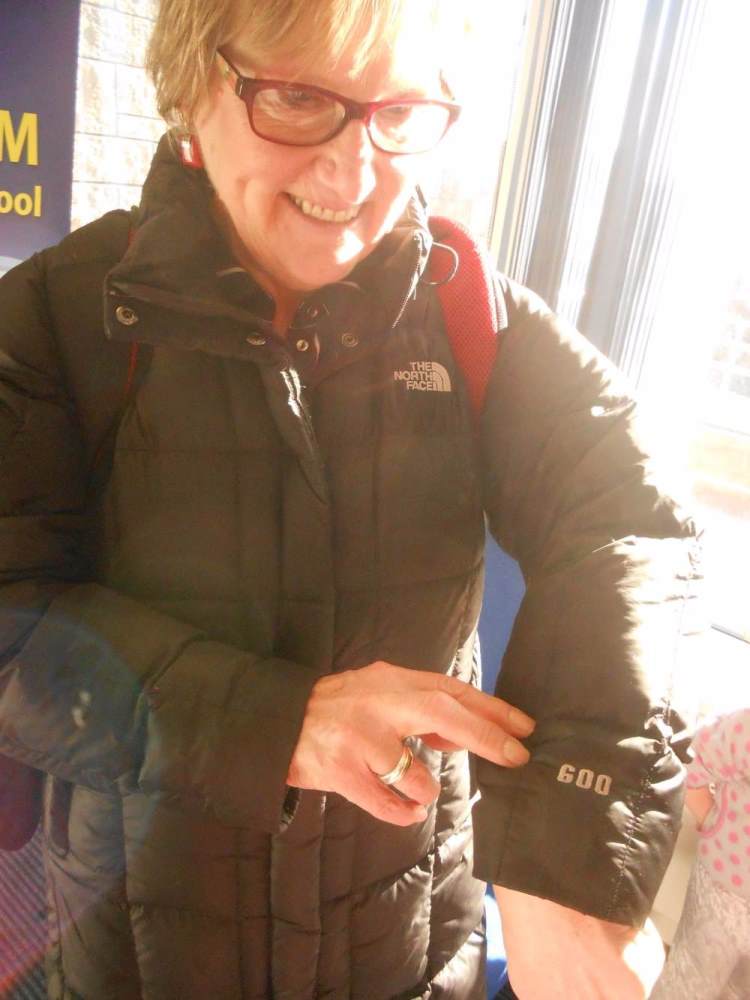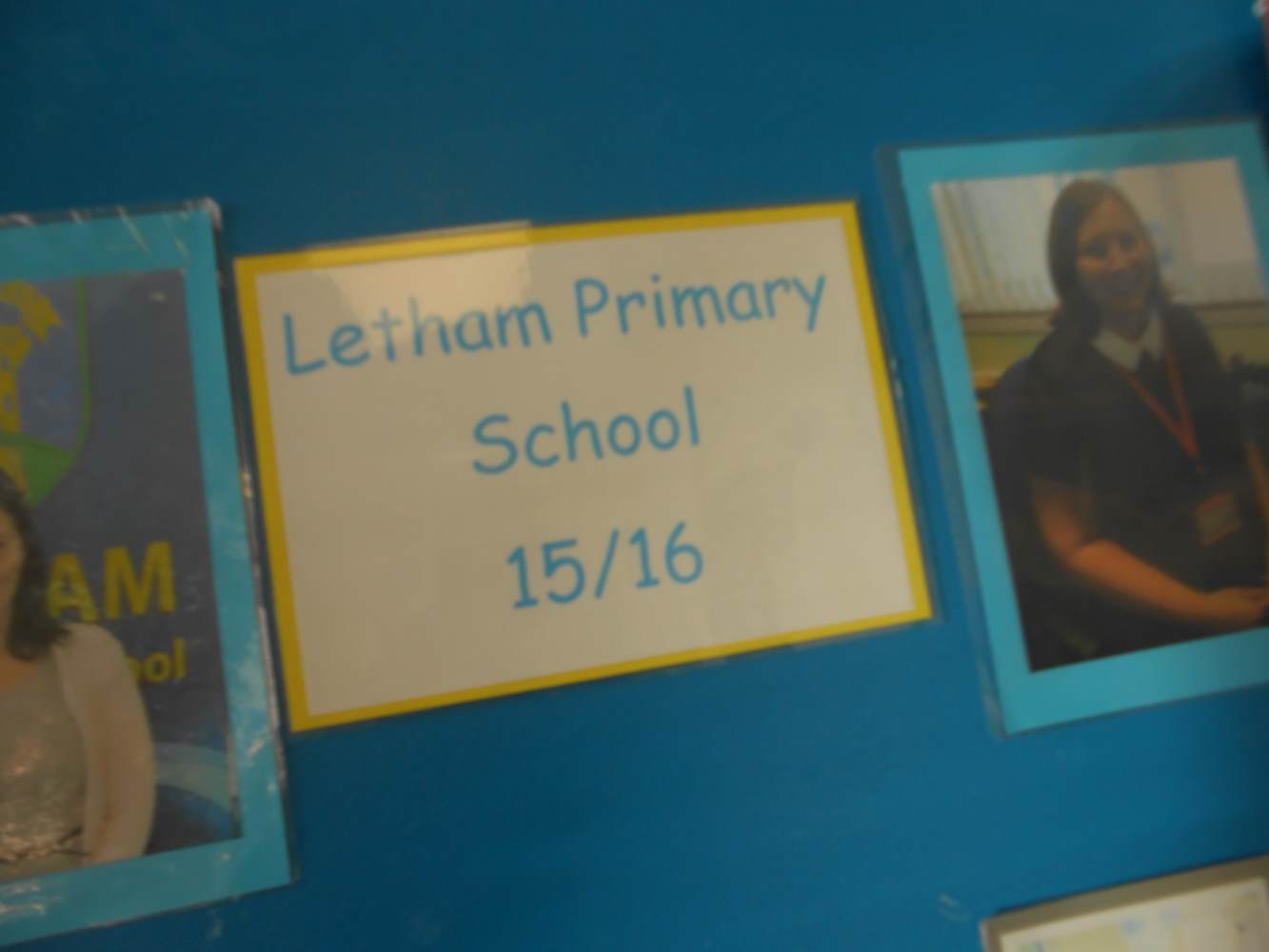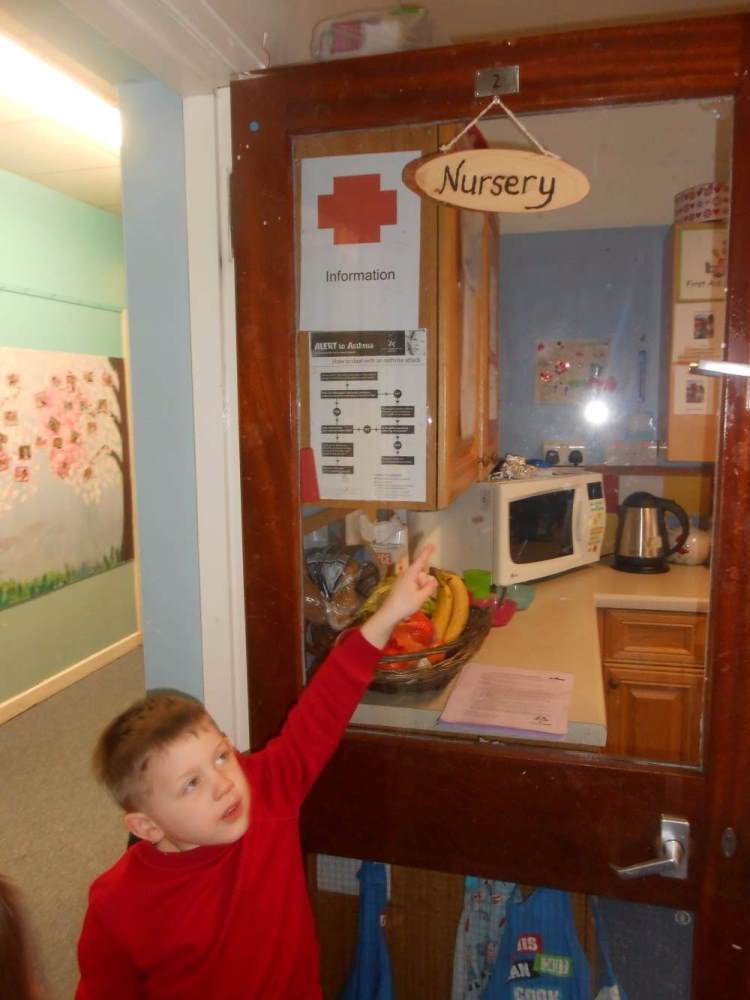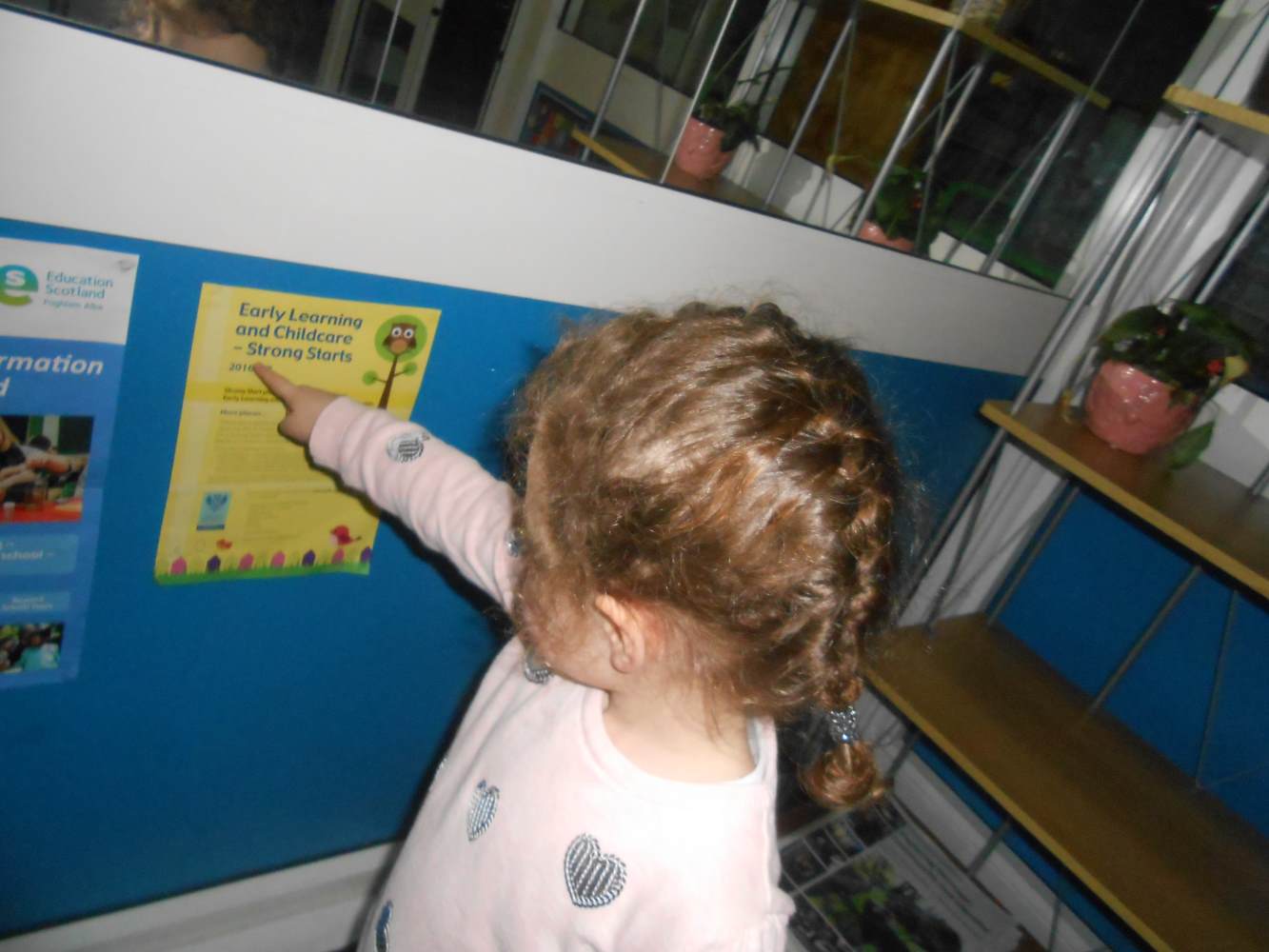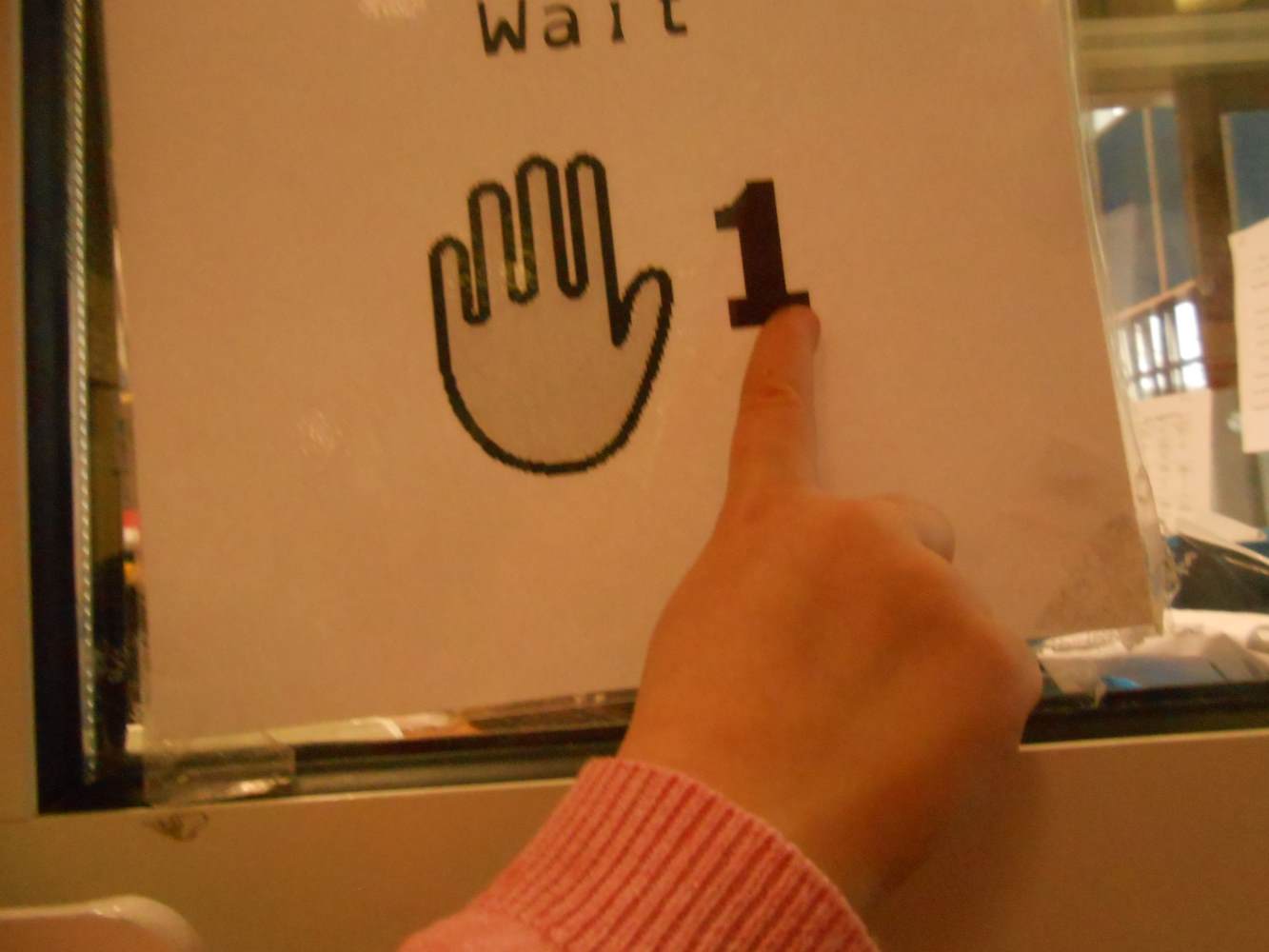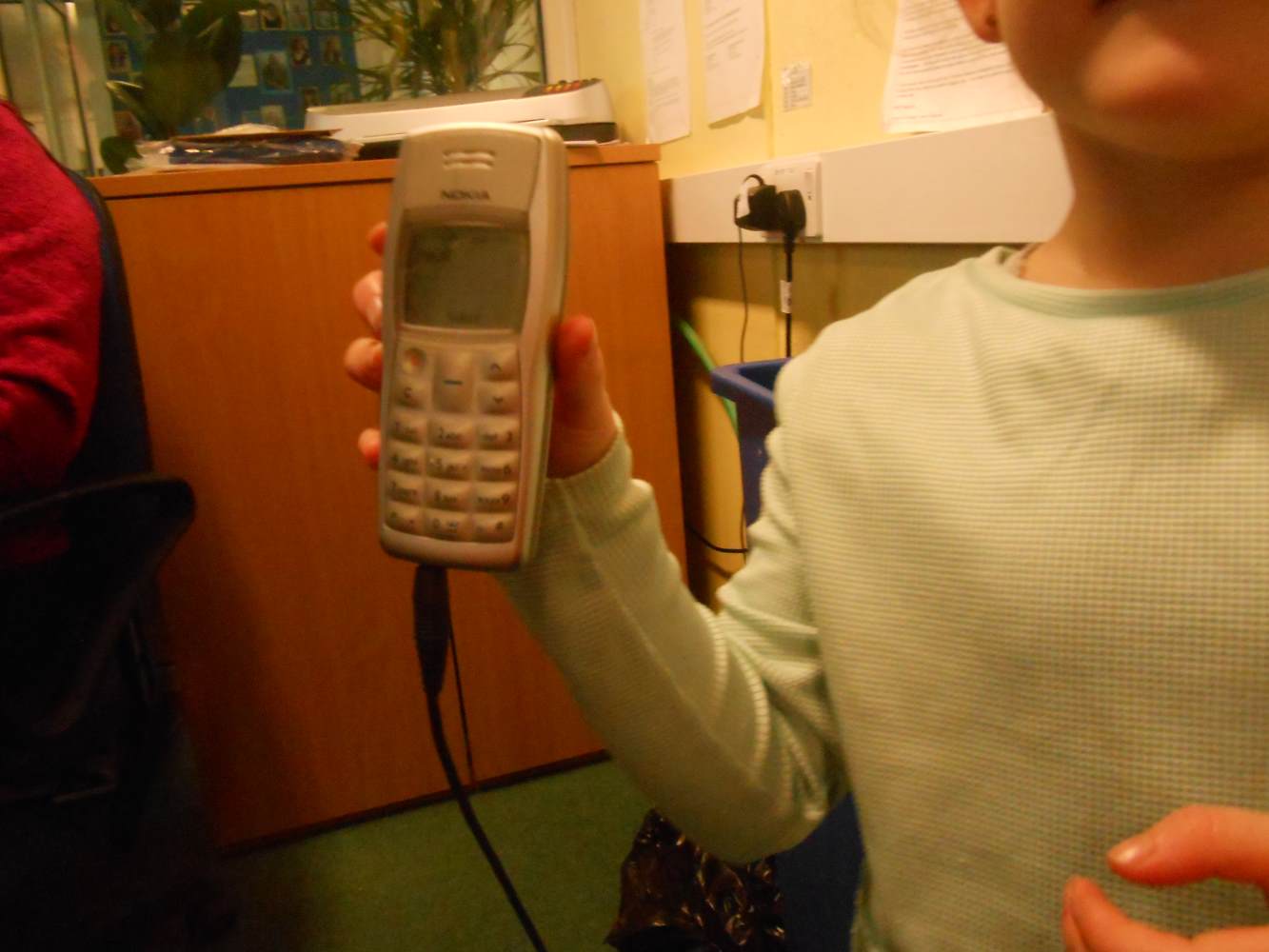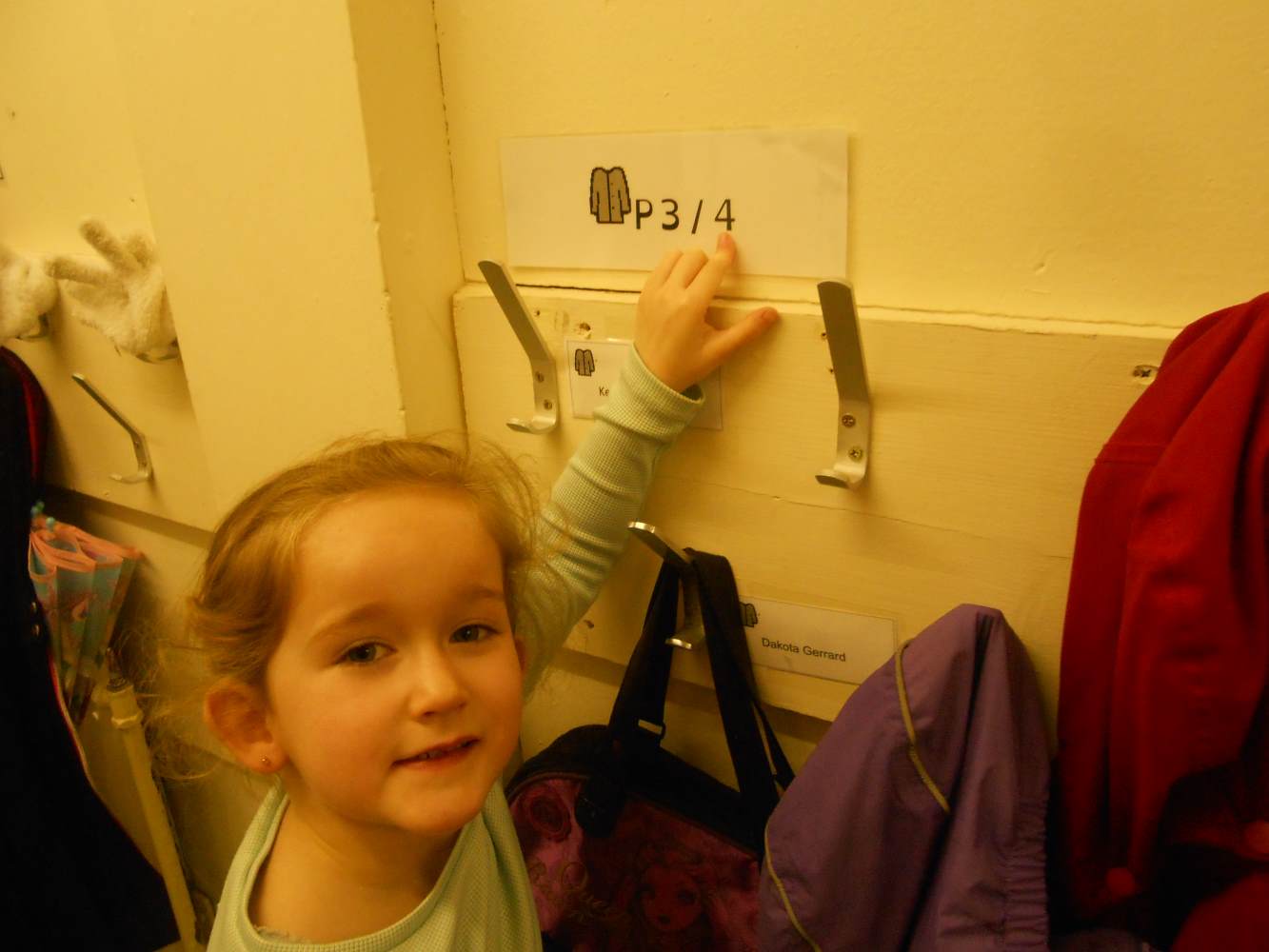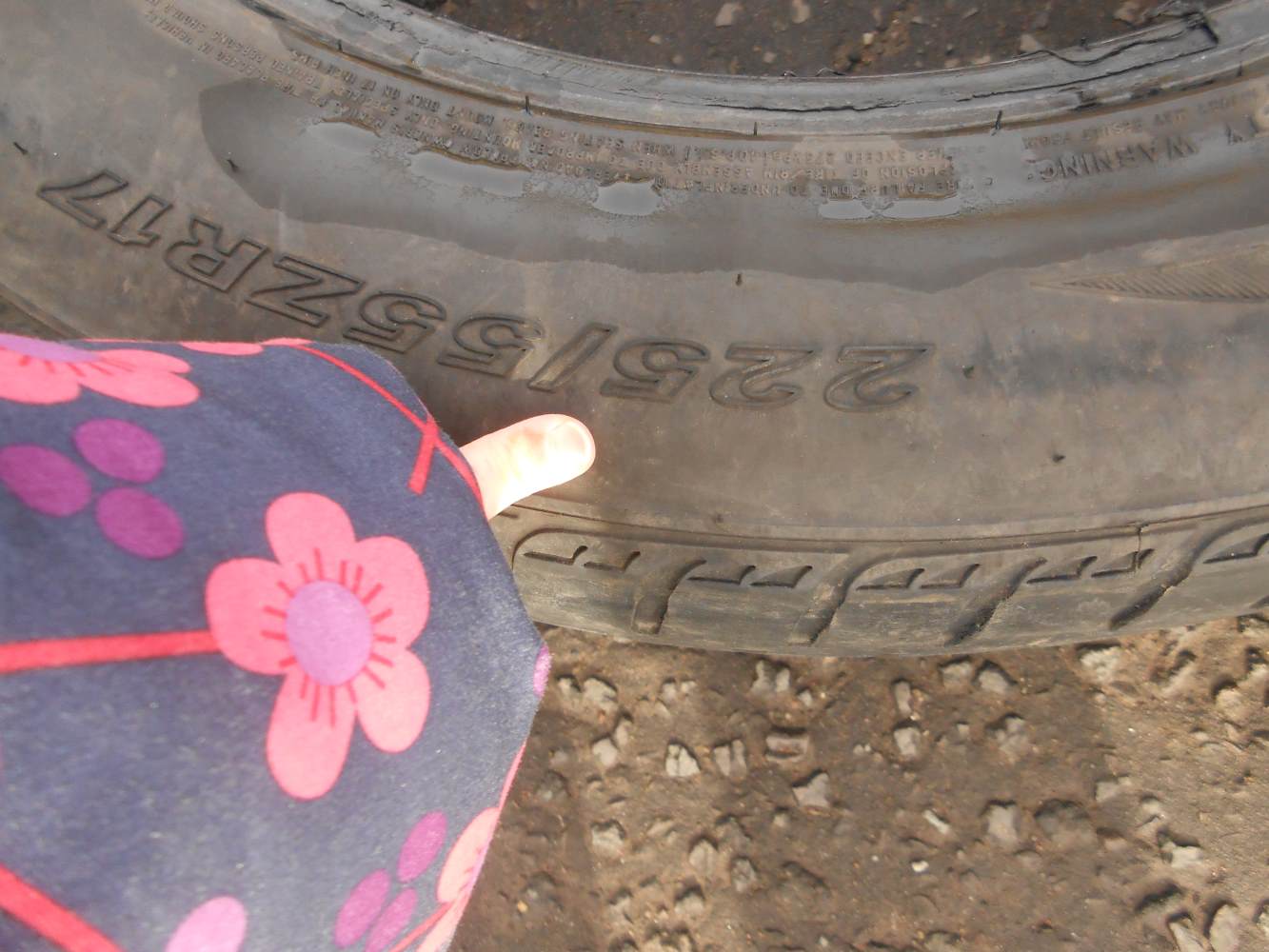 How many numbers can you spot today?
Achievements happen everyday.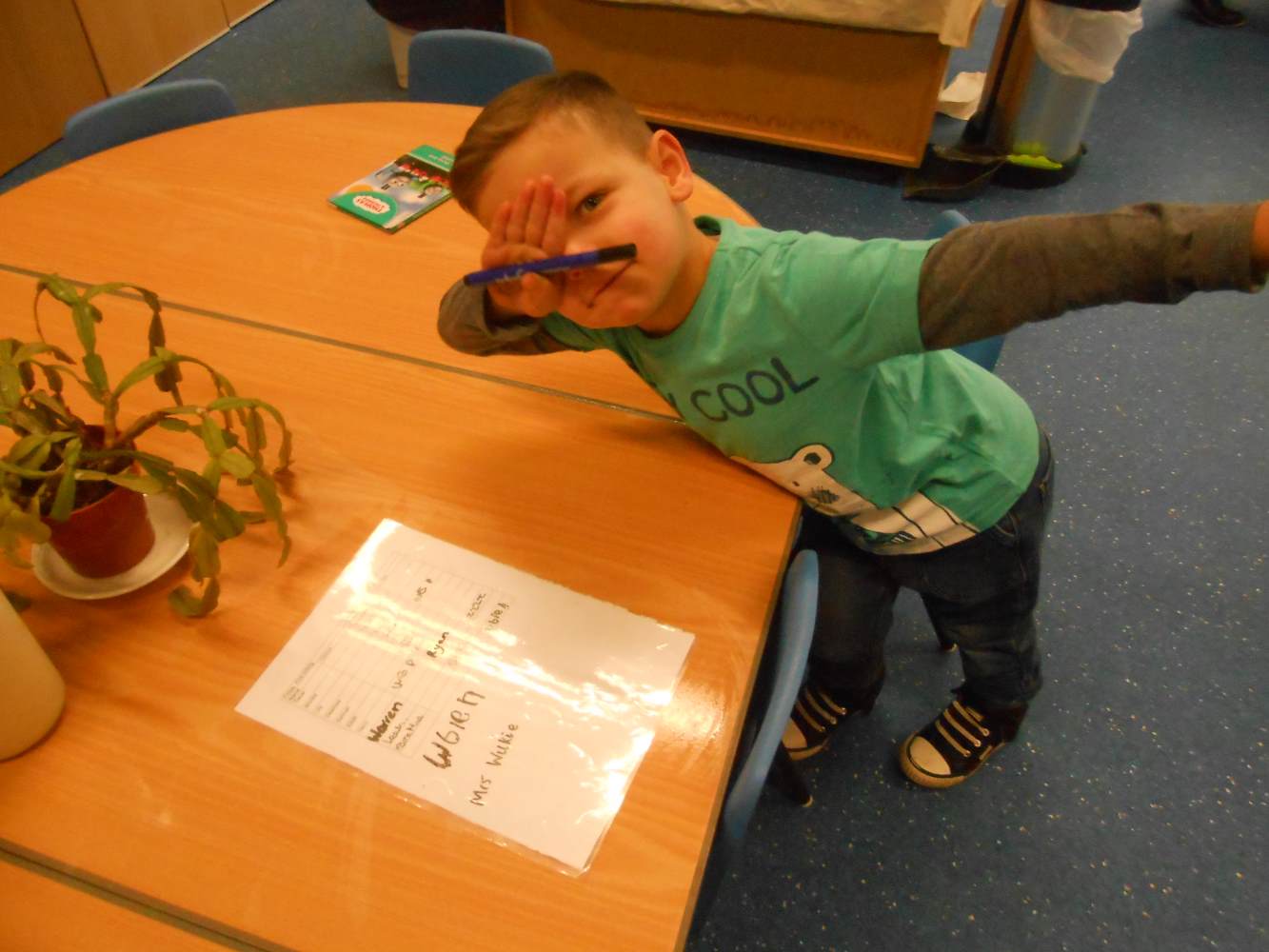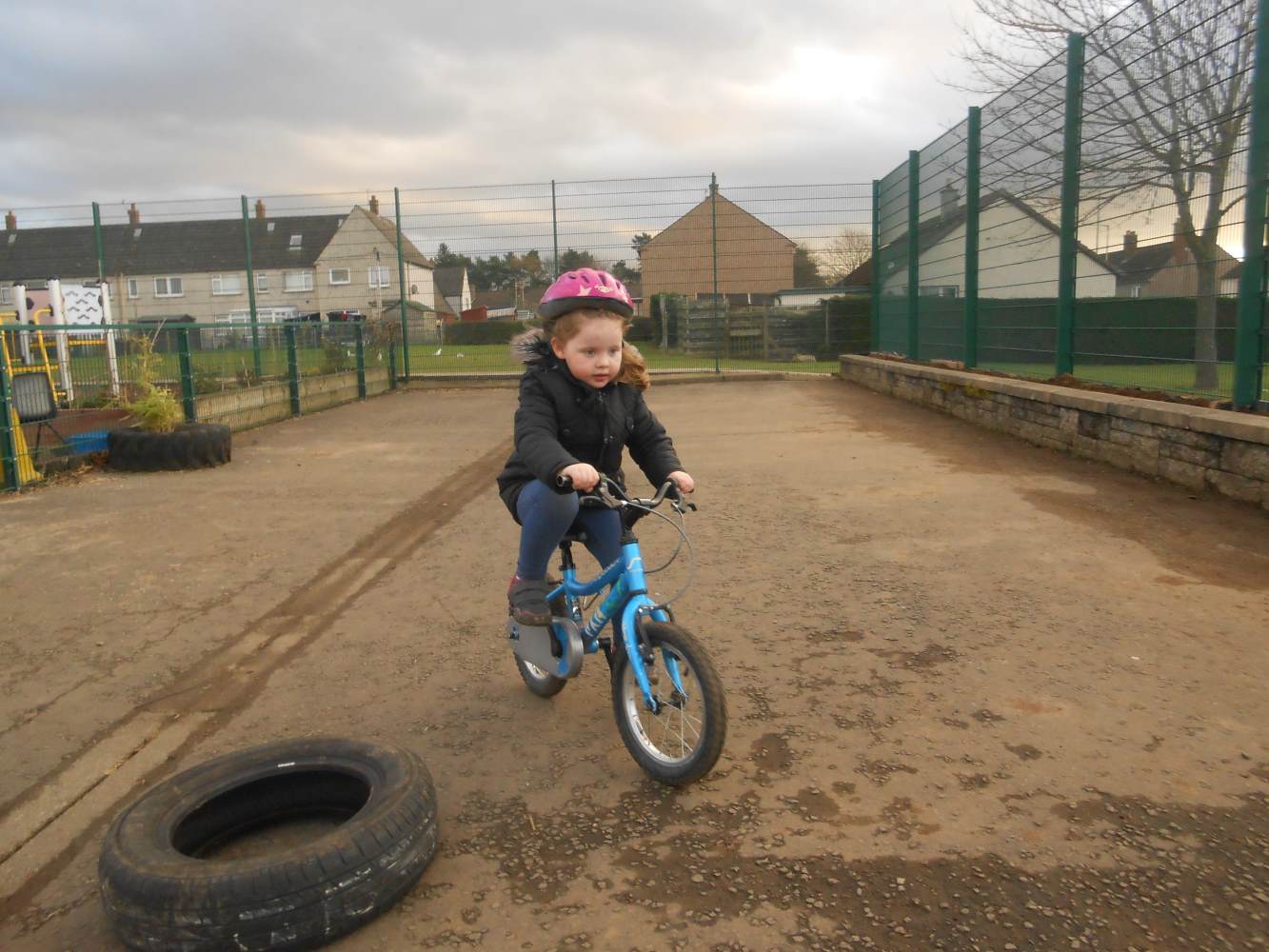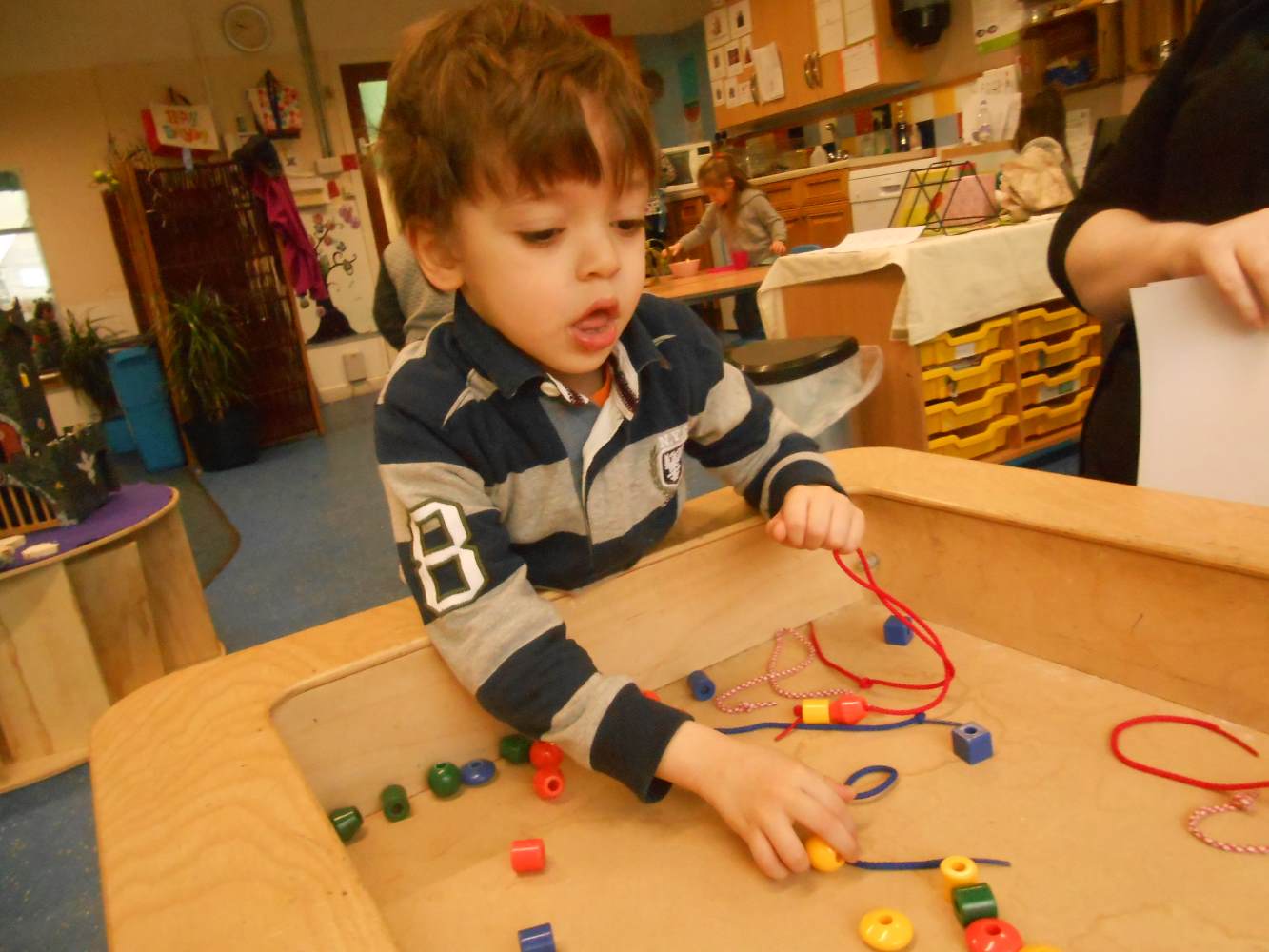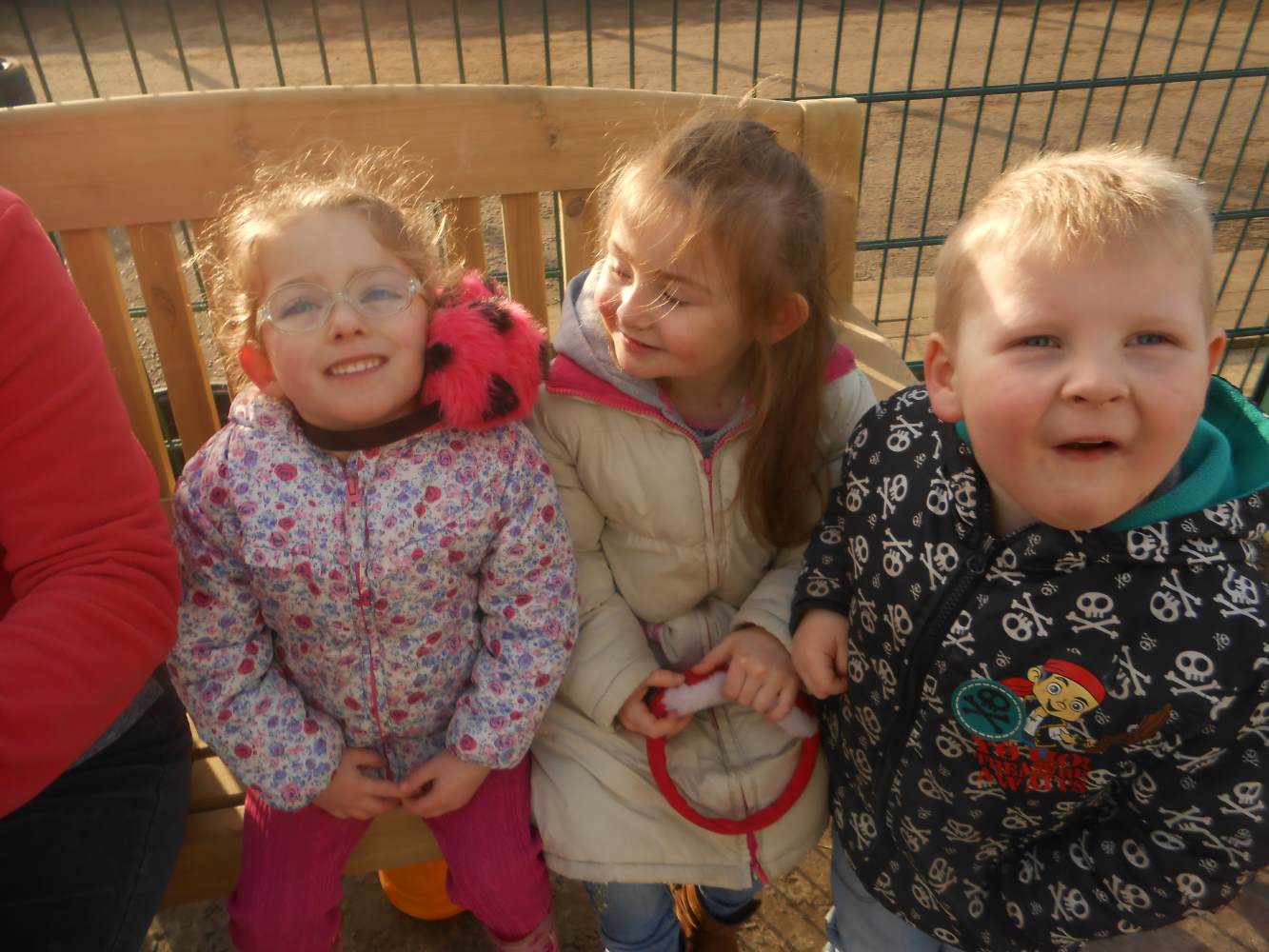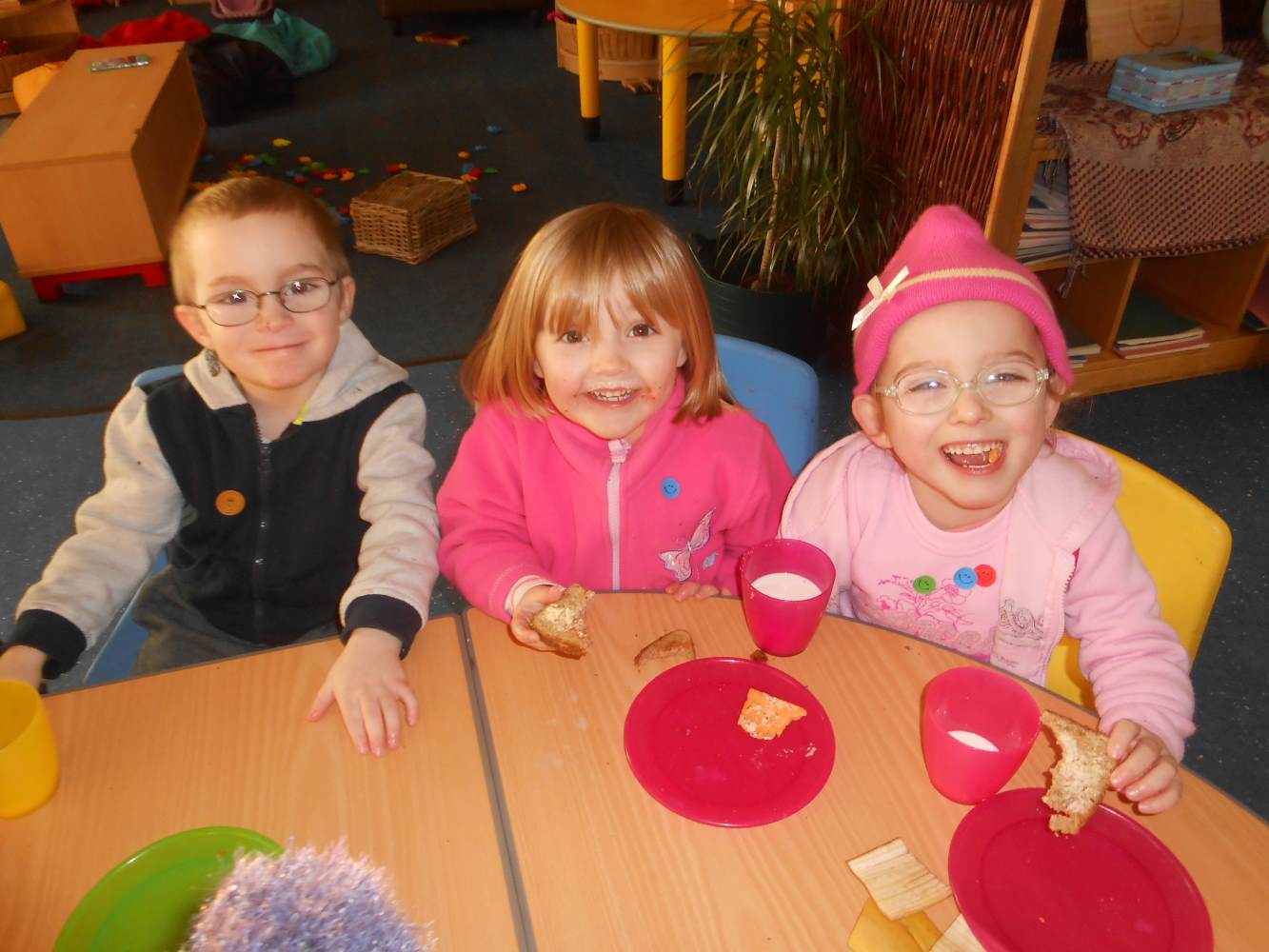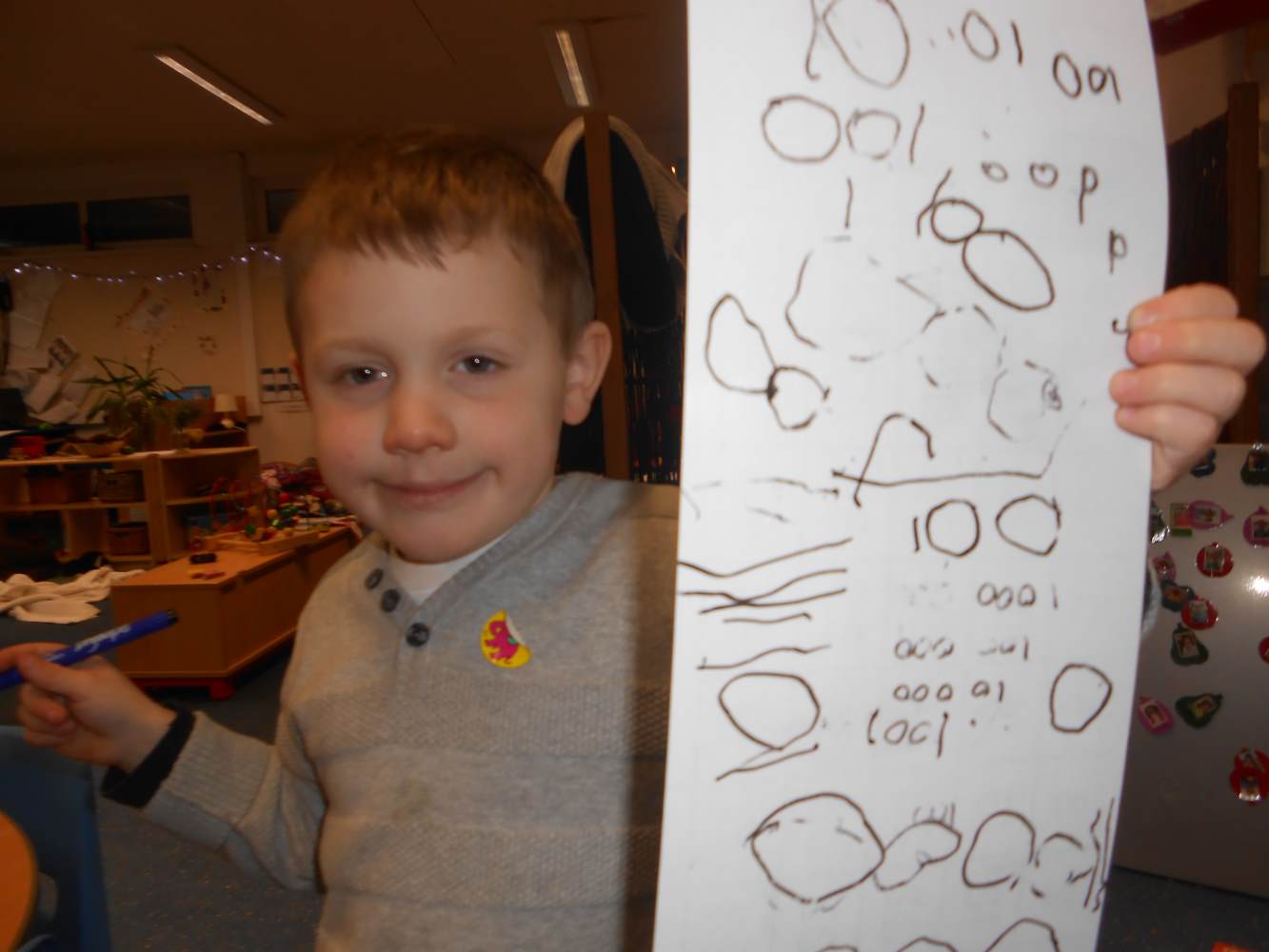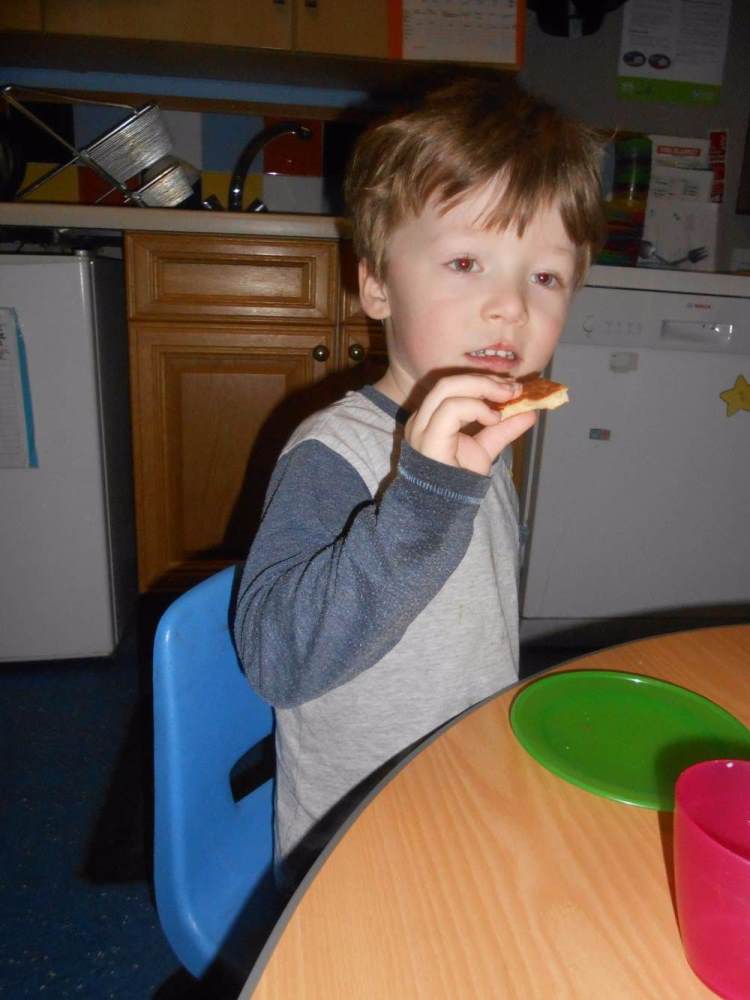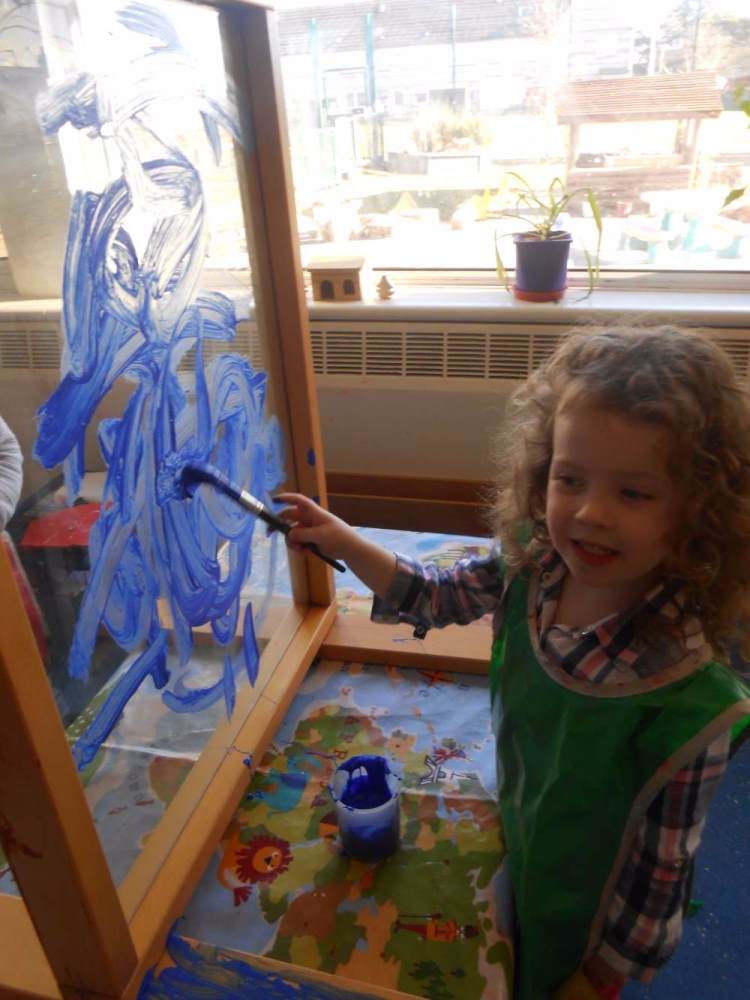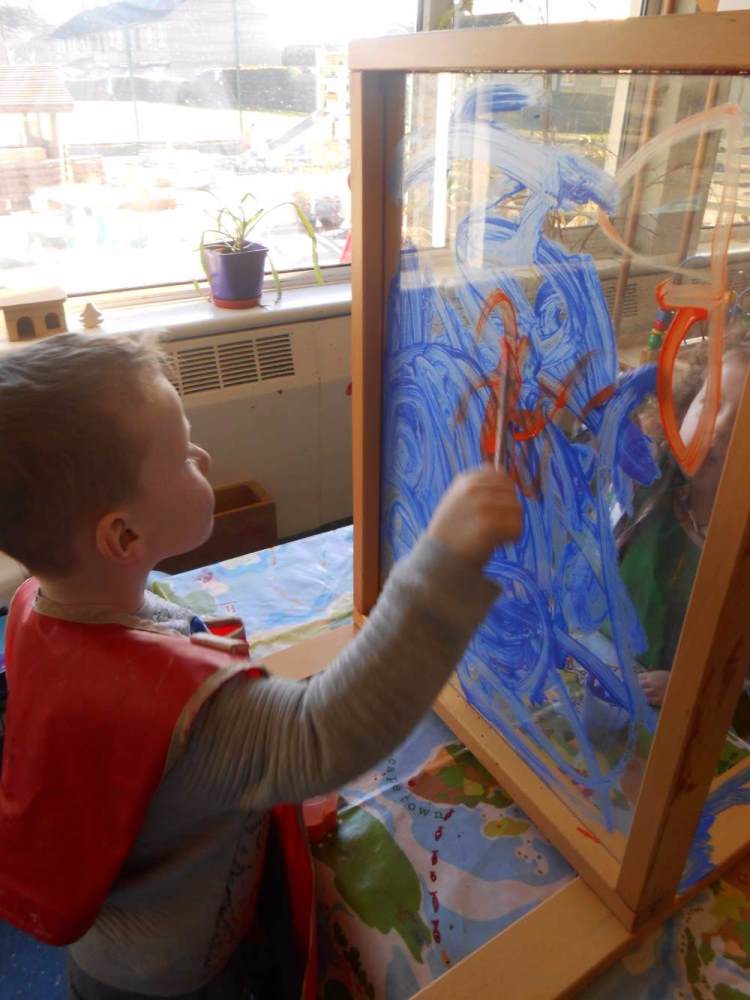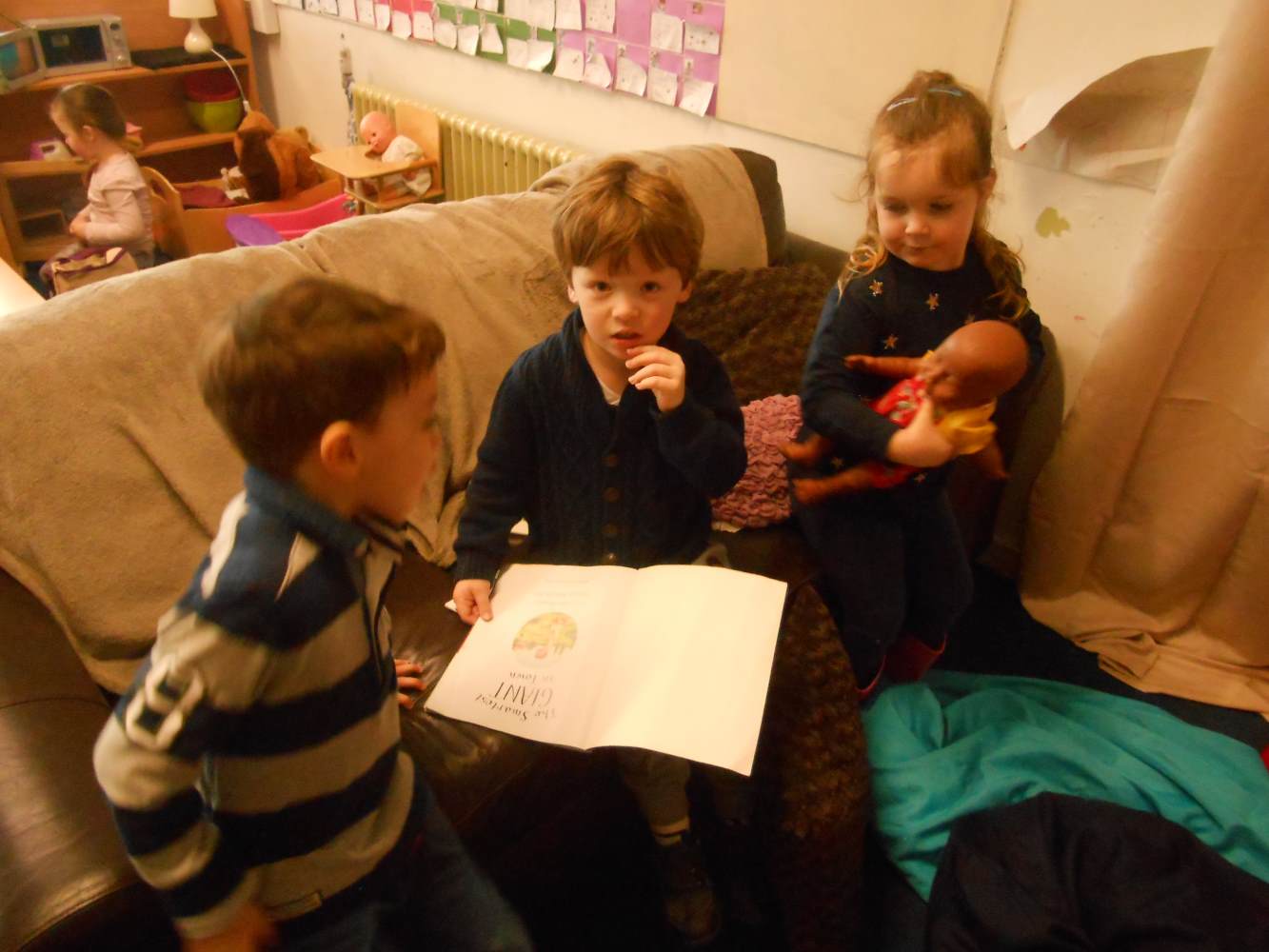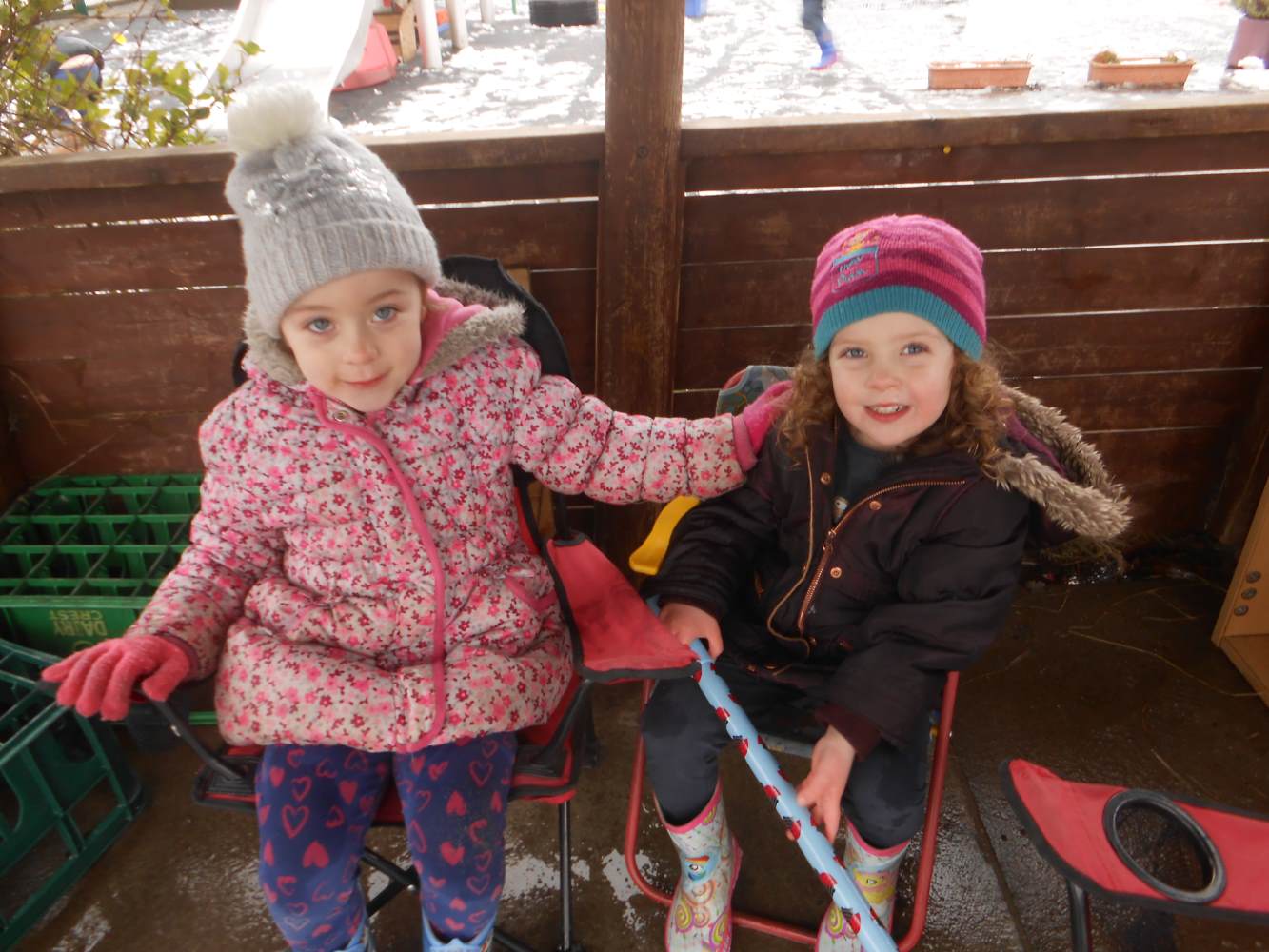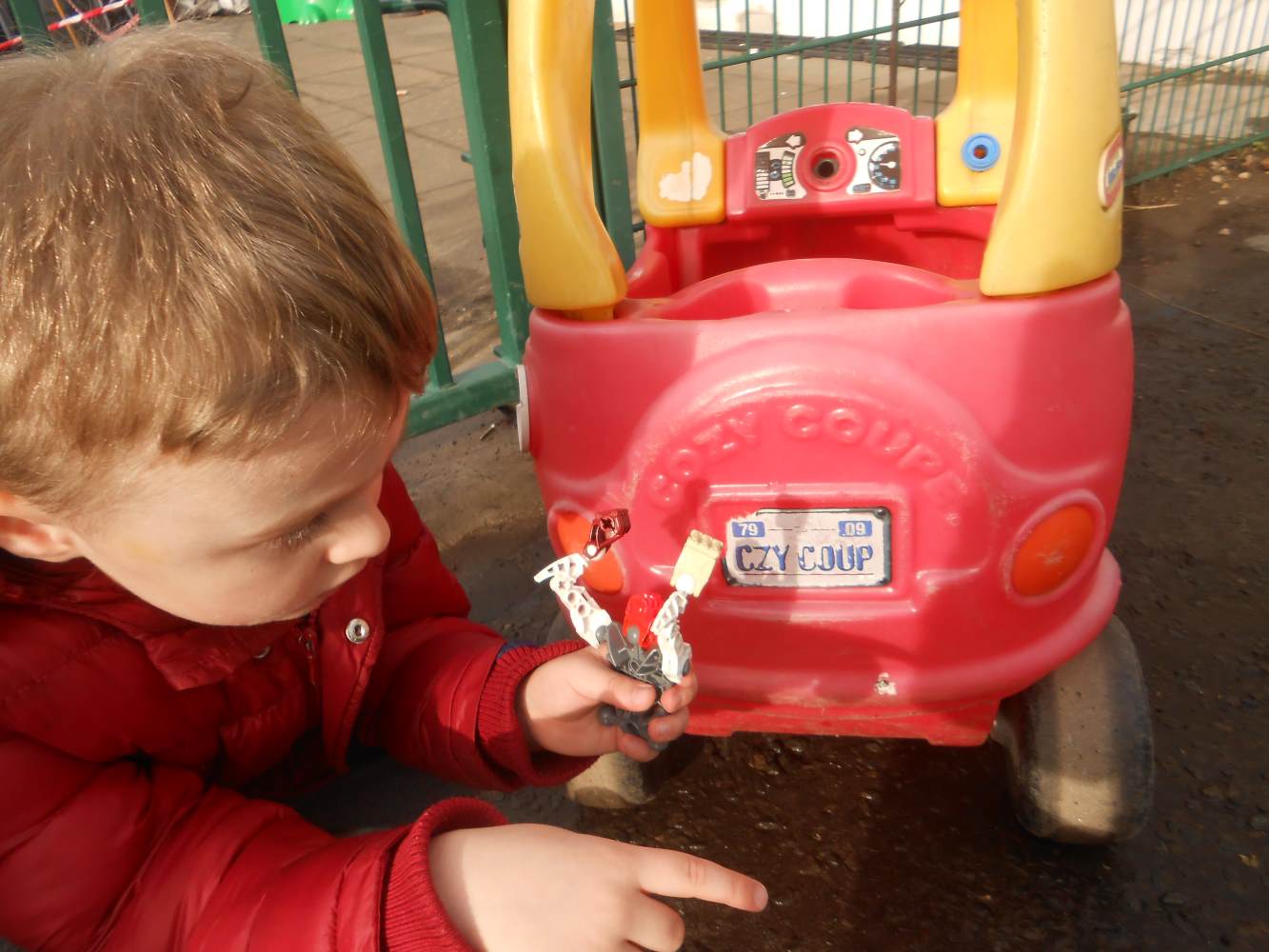 Let it snow, let it snow, let it snow.
It didn't last for long and it was freezing outside but while it was there we made the most of it.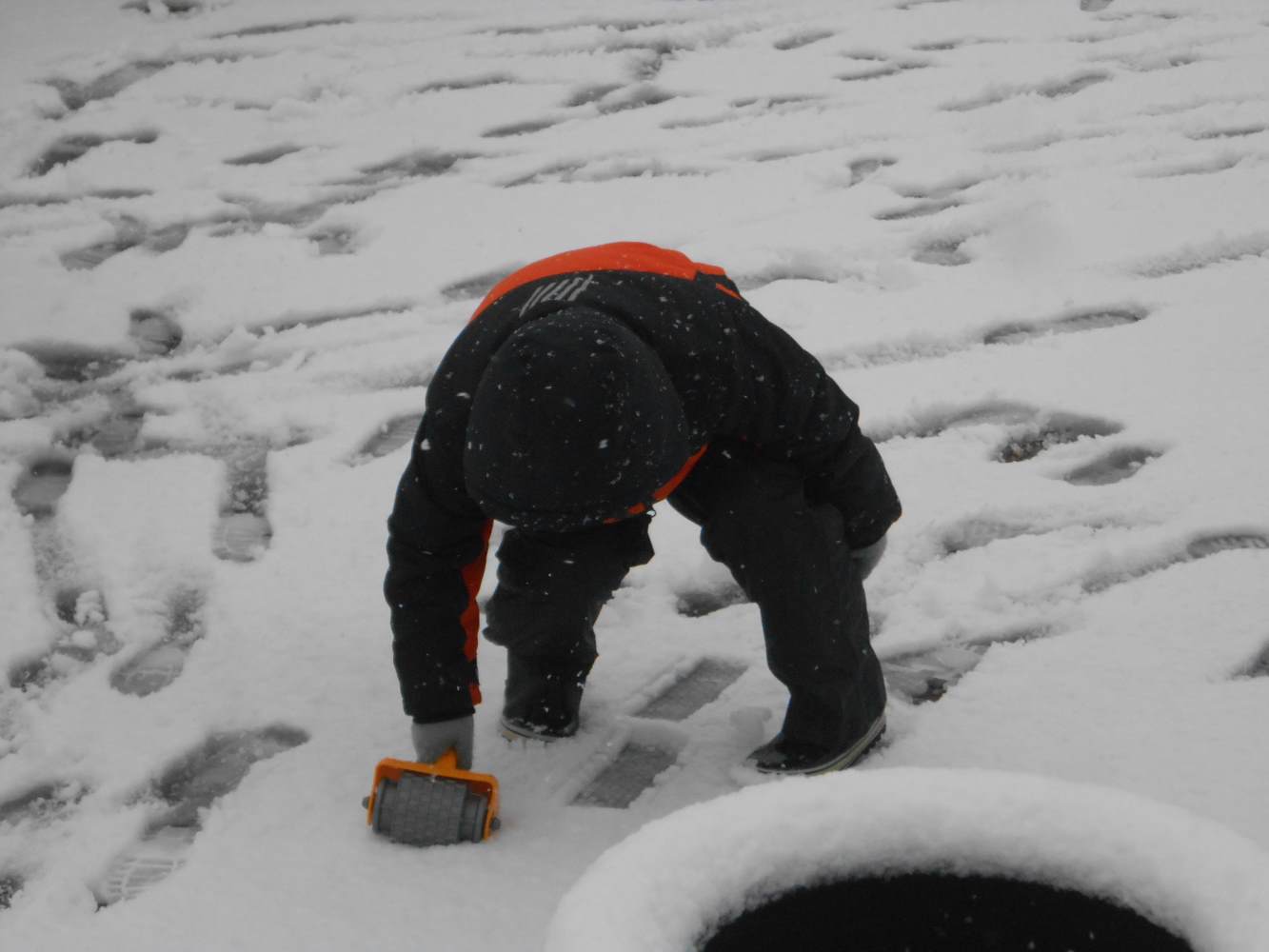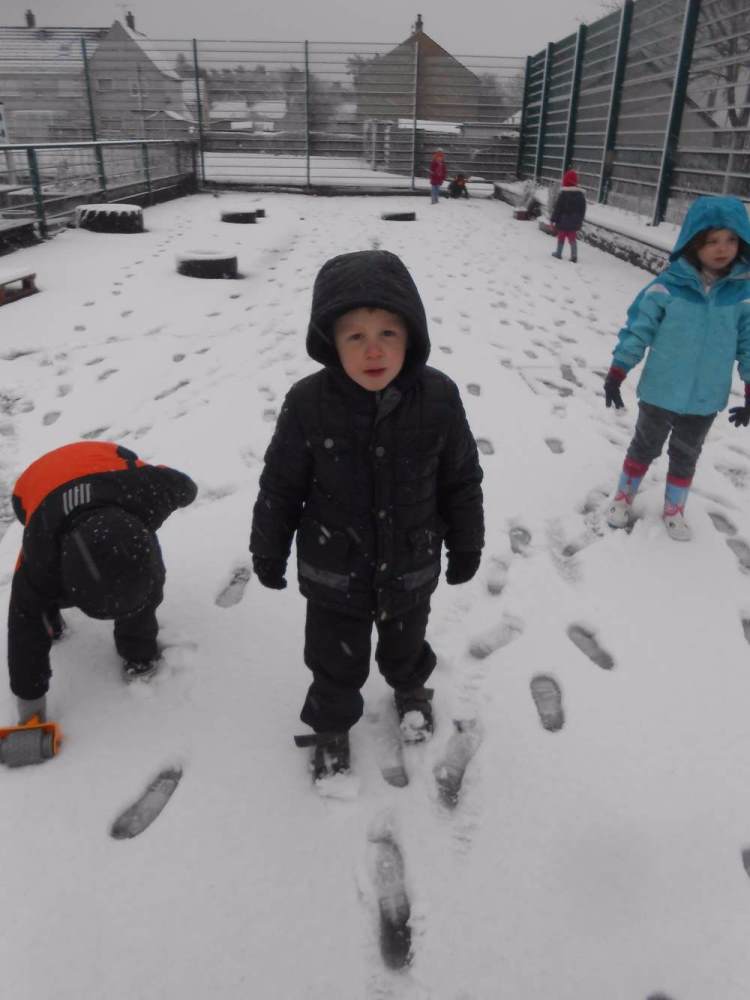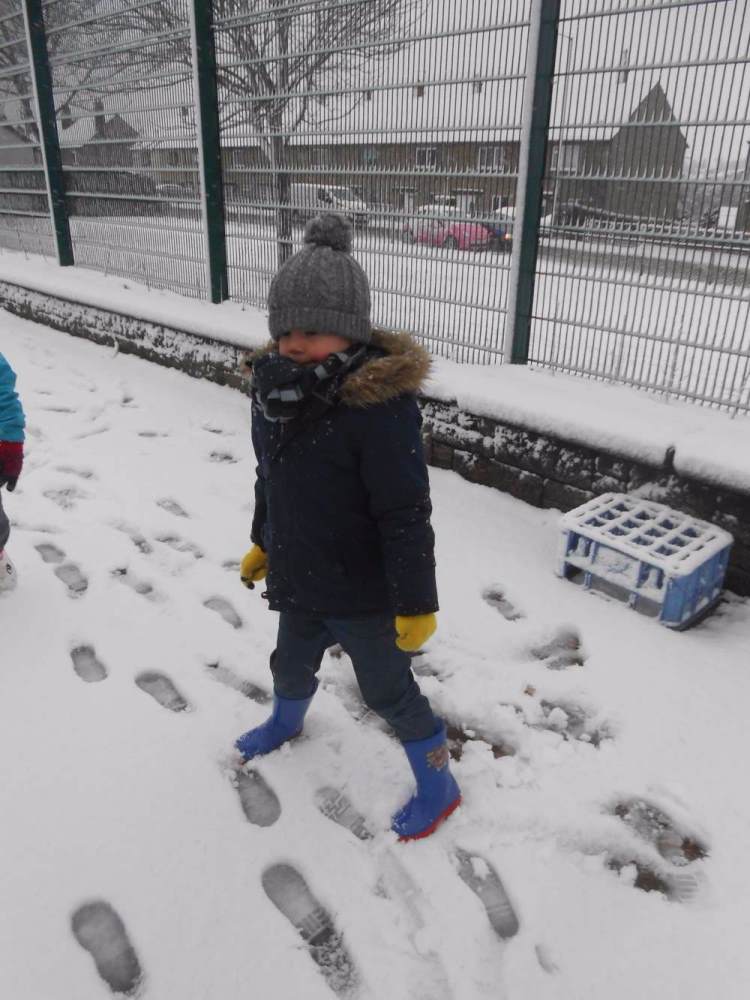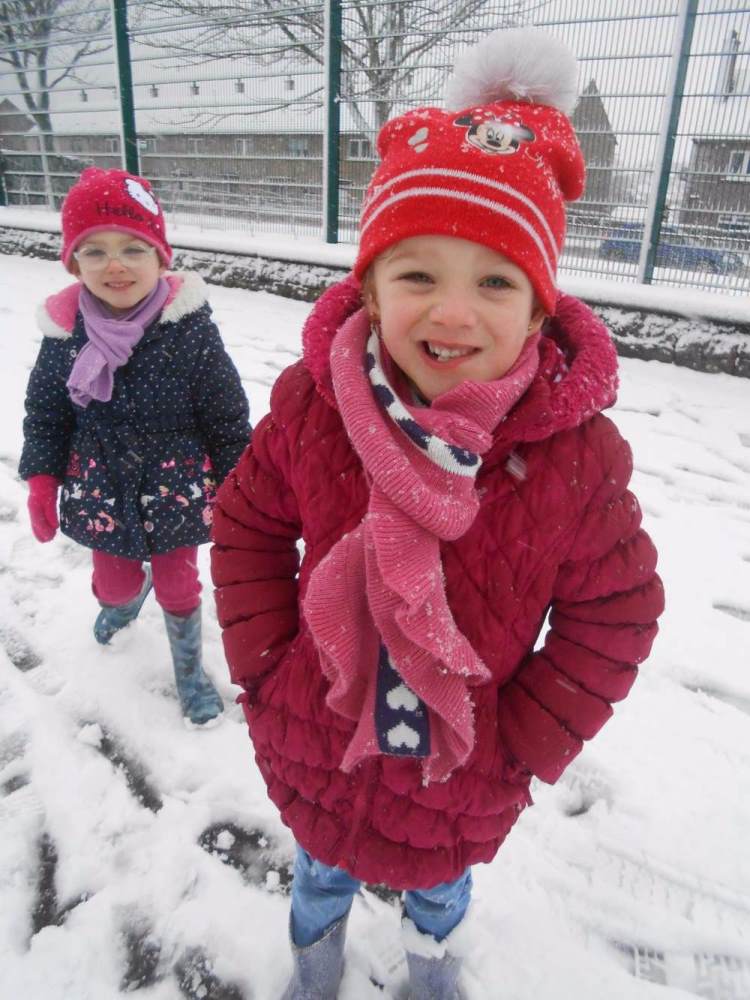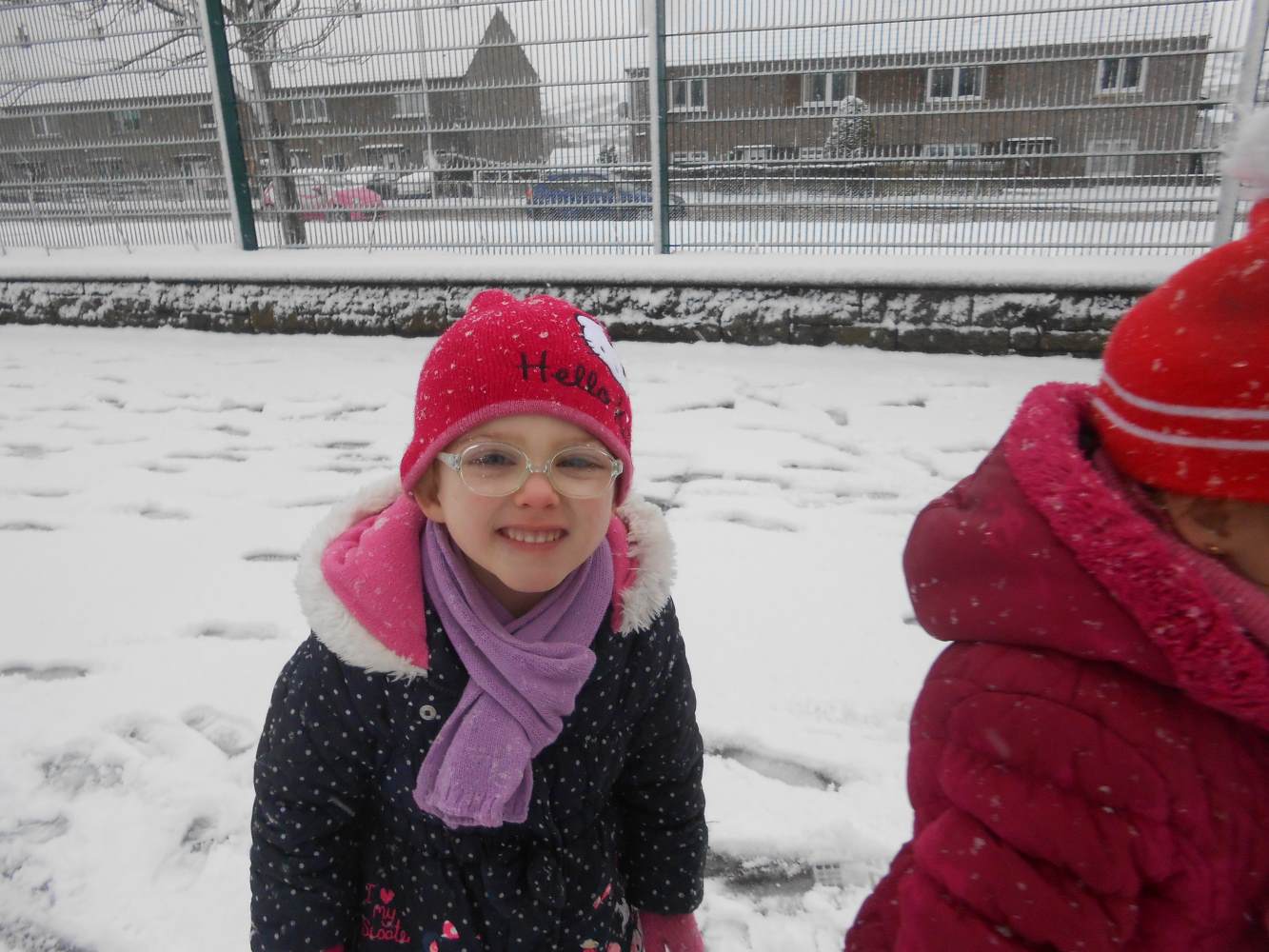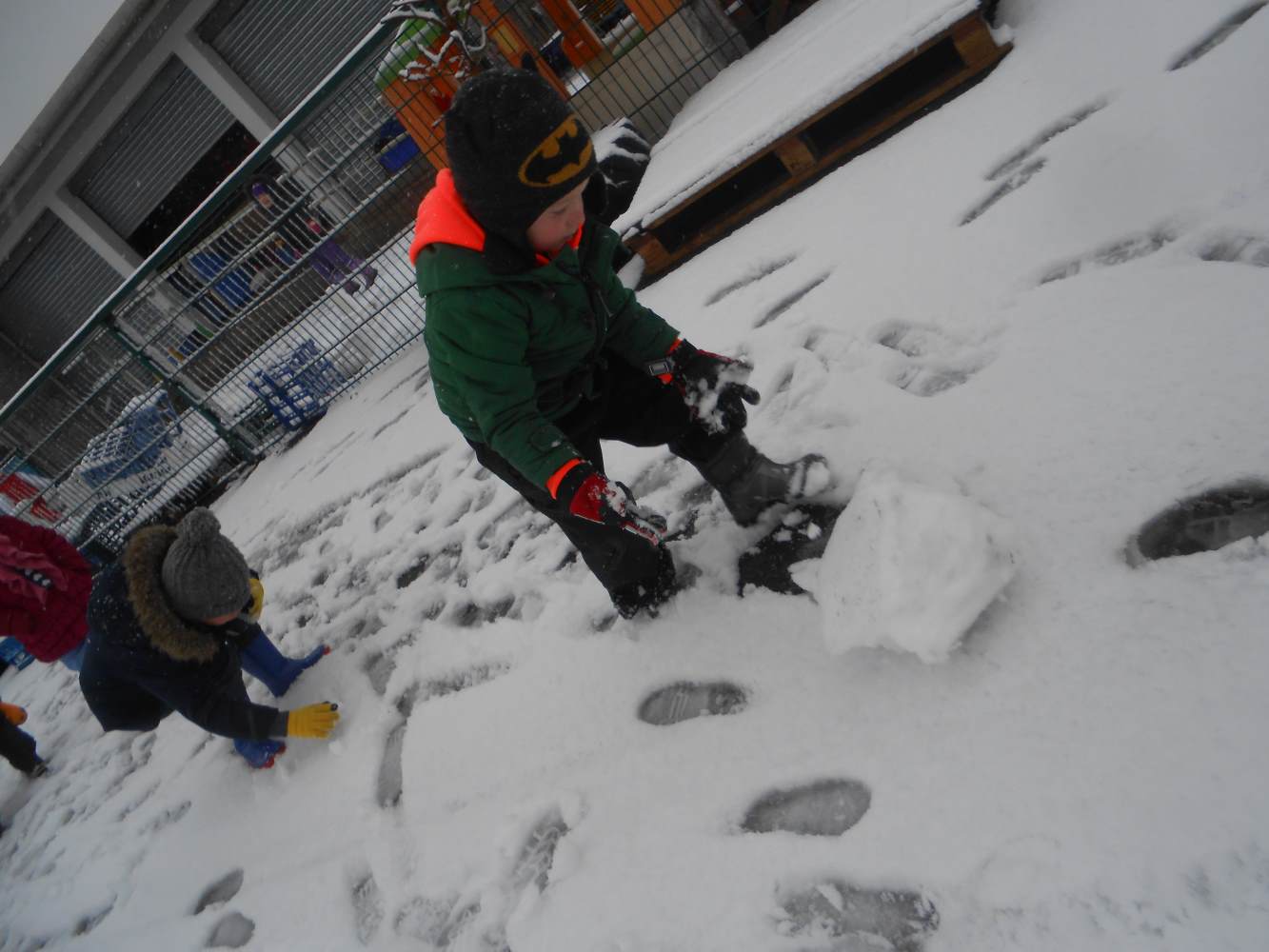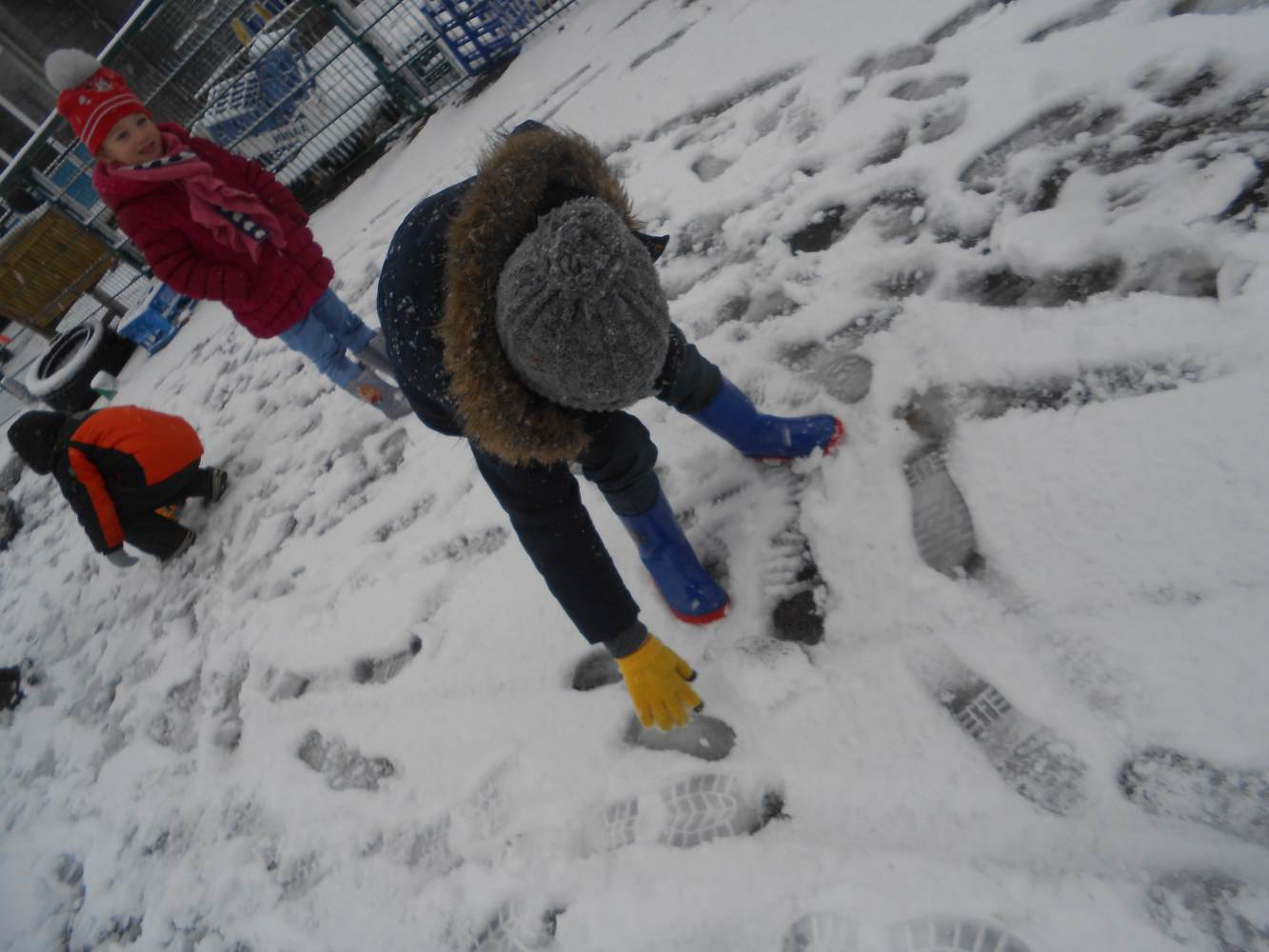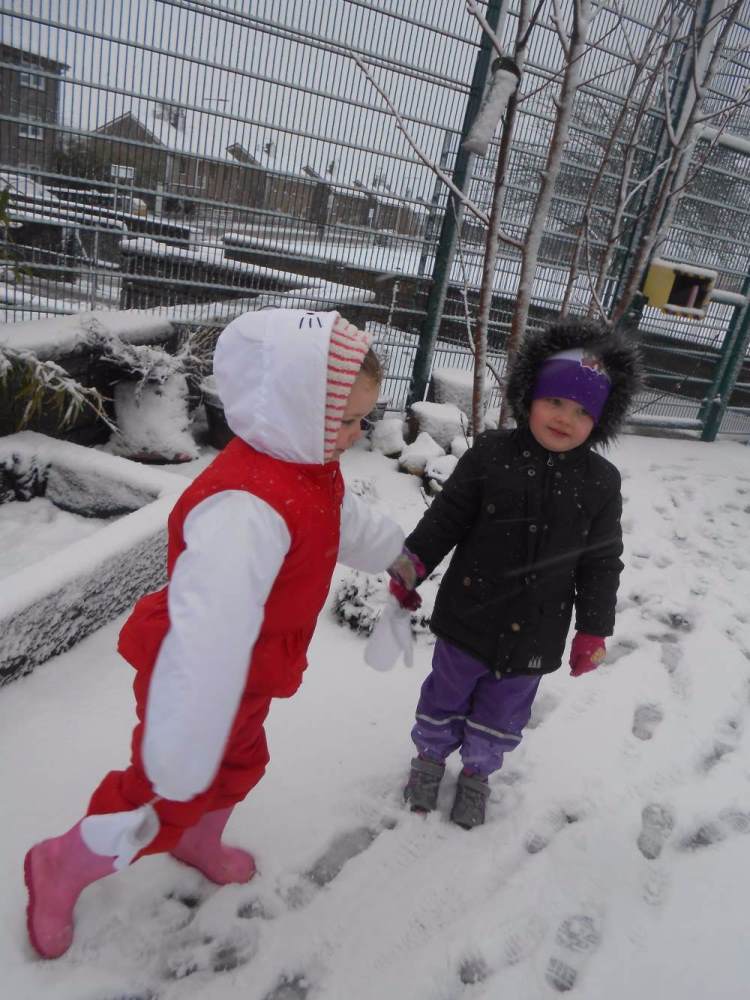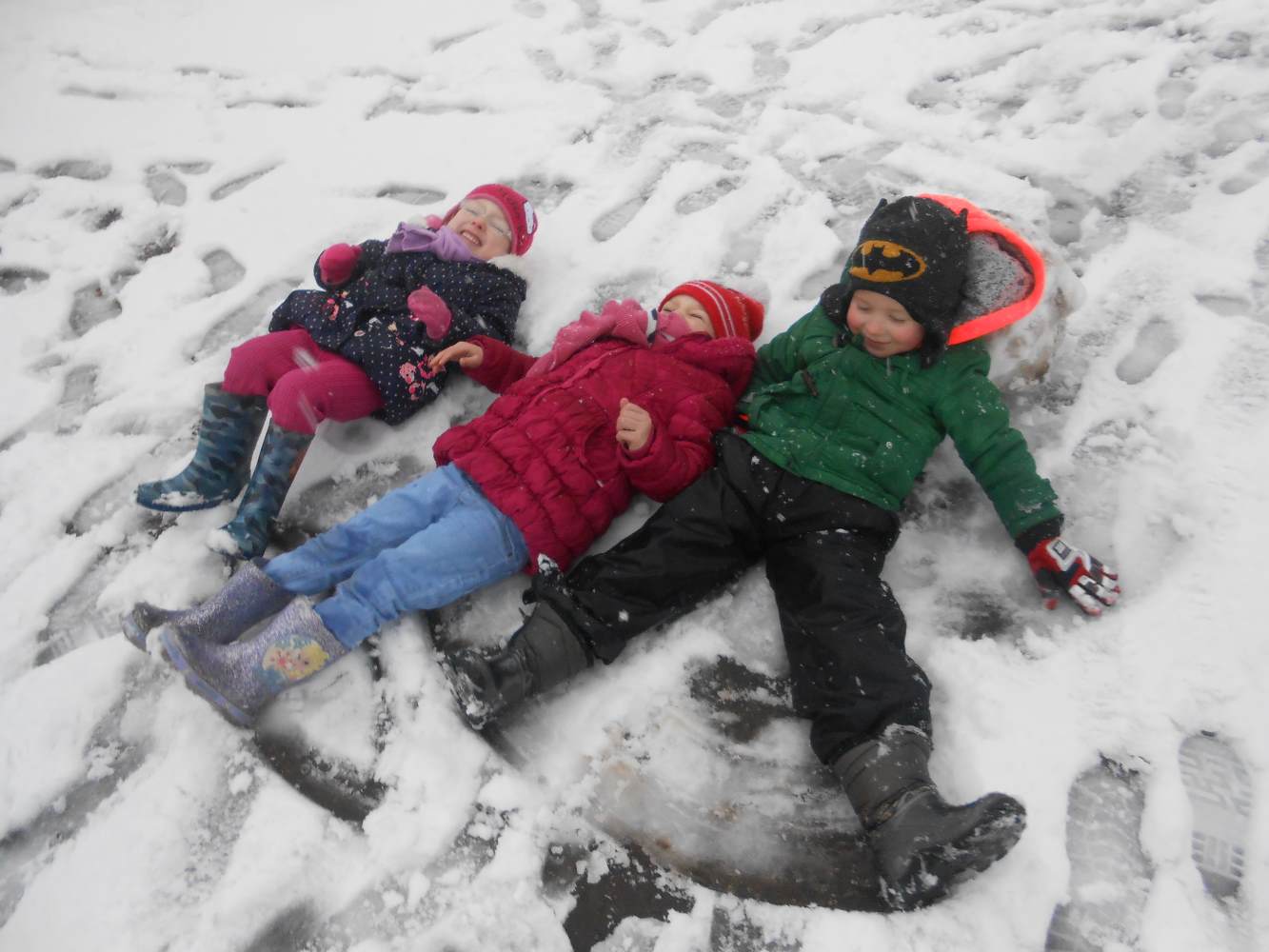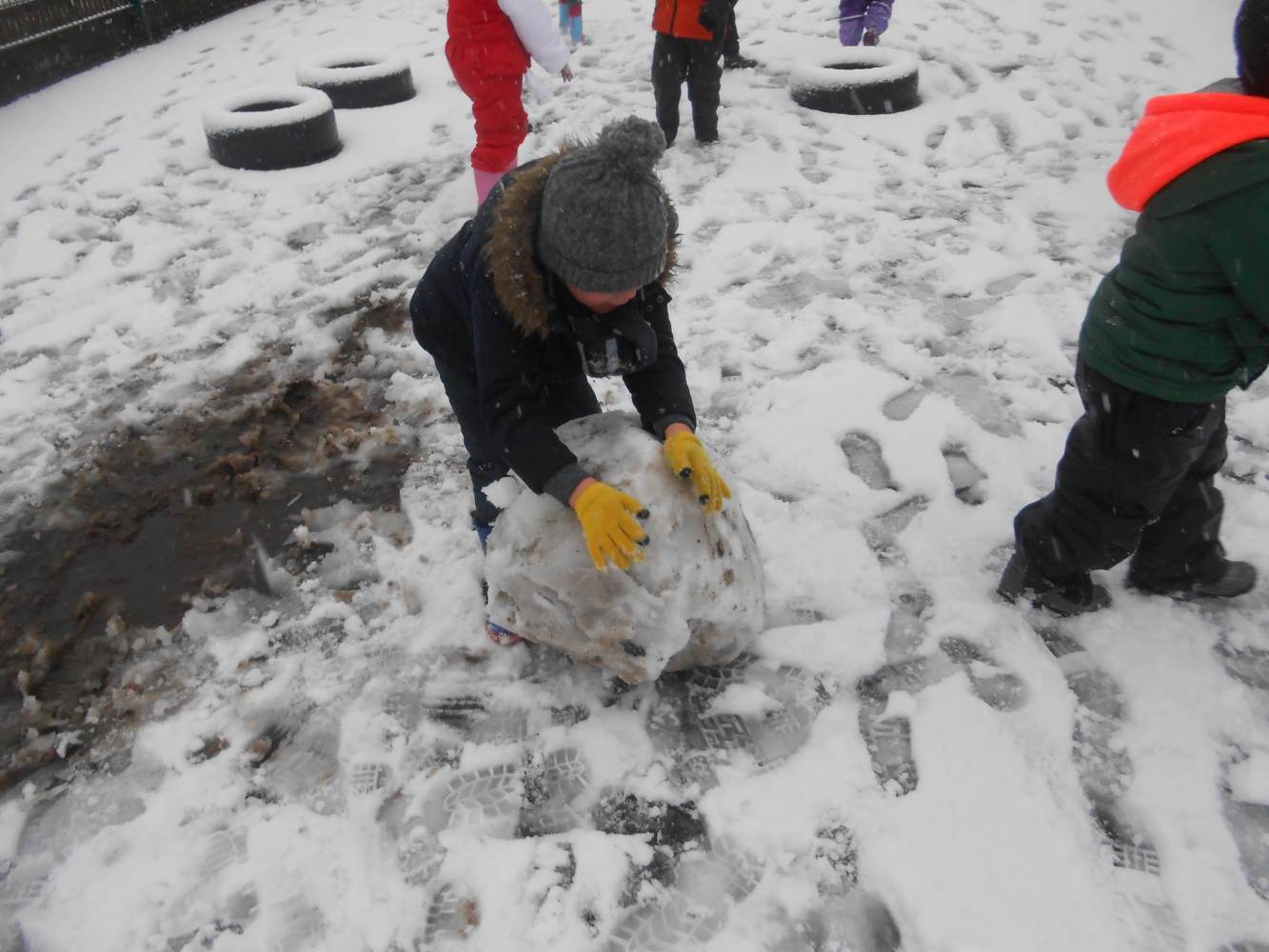 Building - indoors or outdoors we just love to build.
Building is something that happens everyday in Nursery and we learn important skills when we do it. We are getting really good at working together and sharing items and our ideas.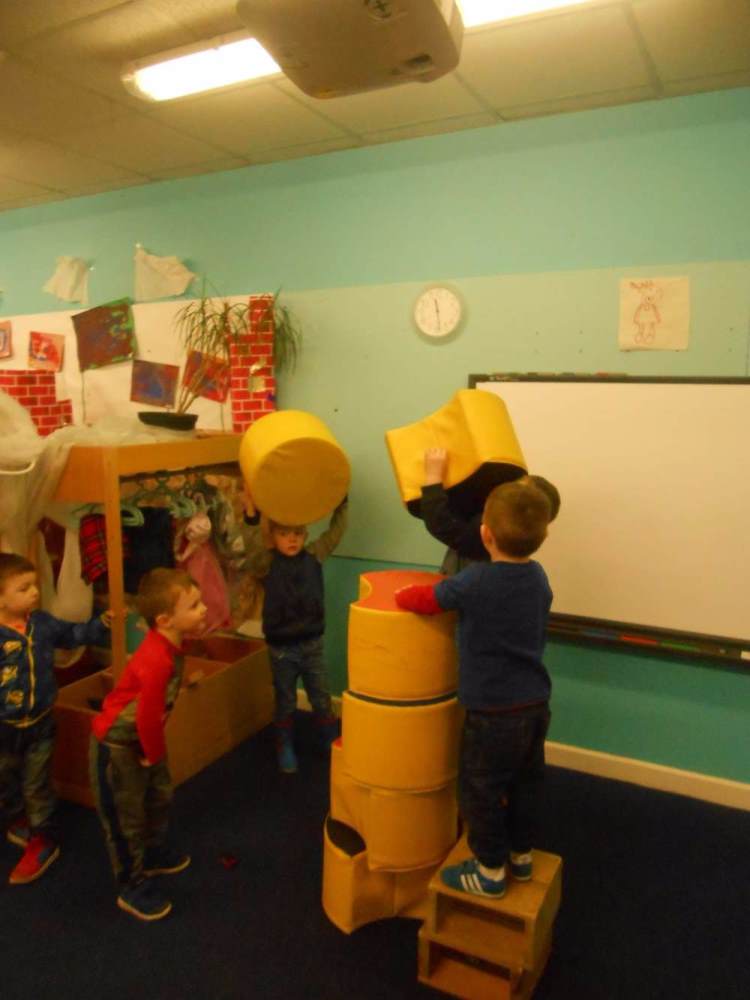 Tall towers.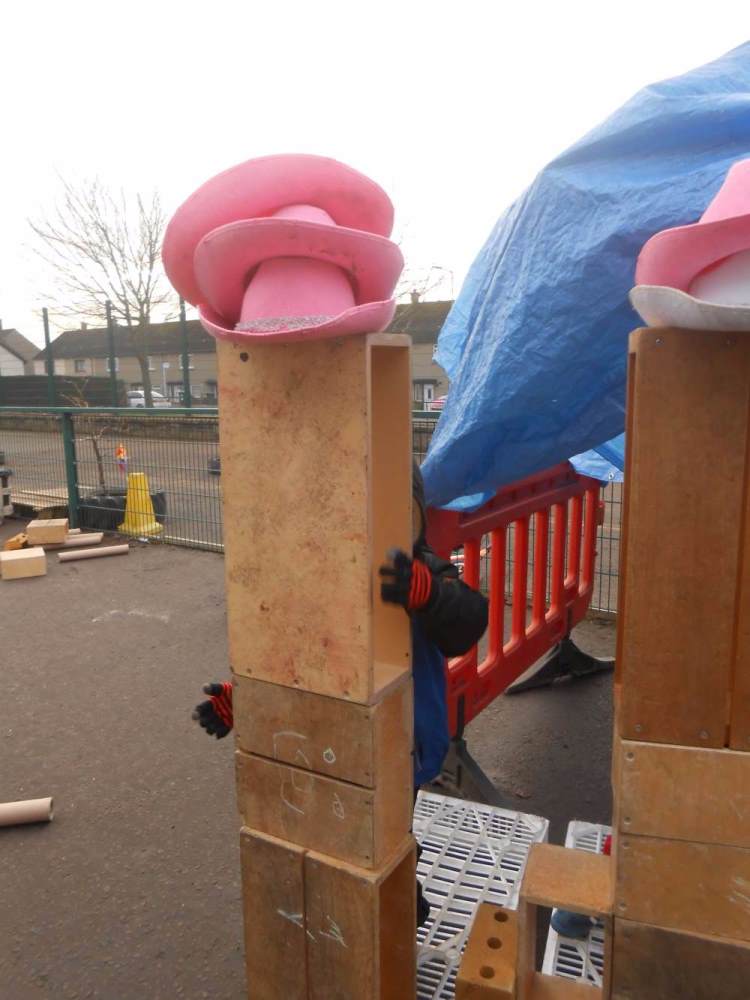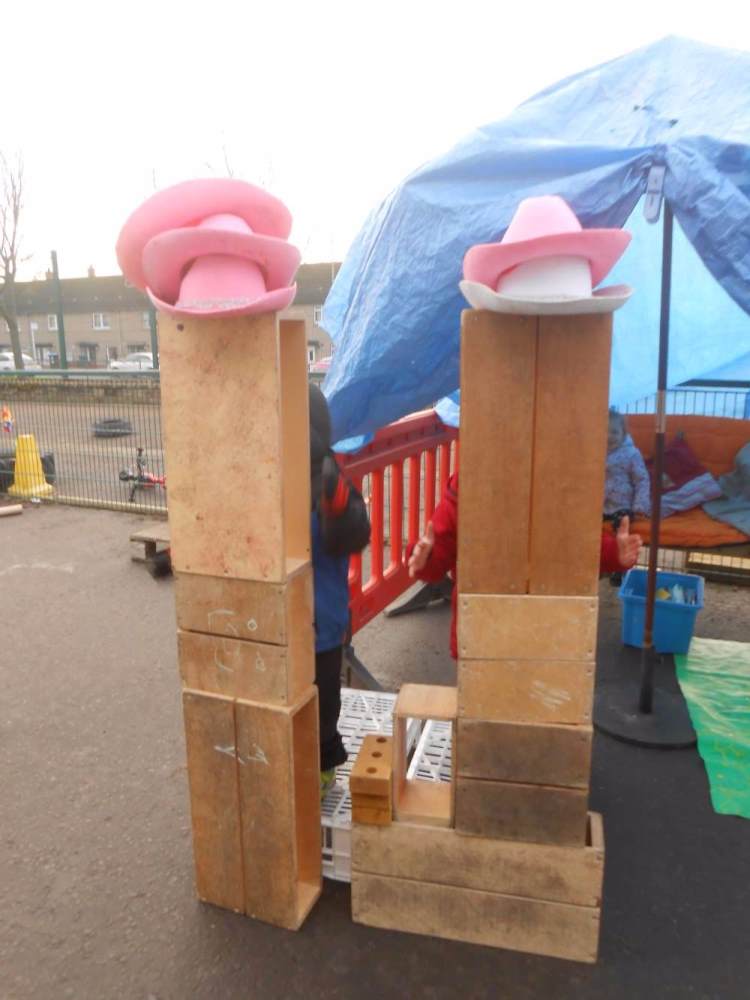 Giant robots!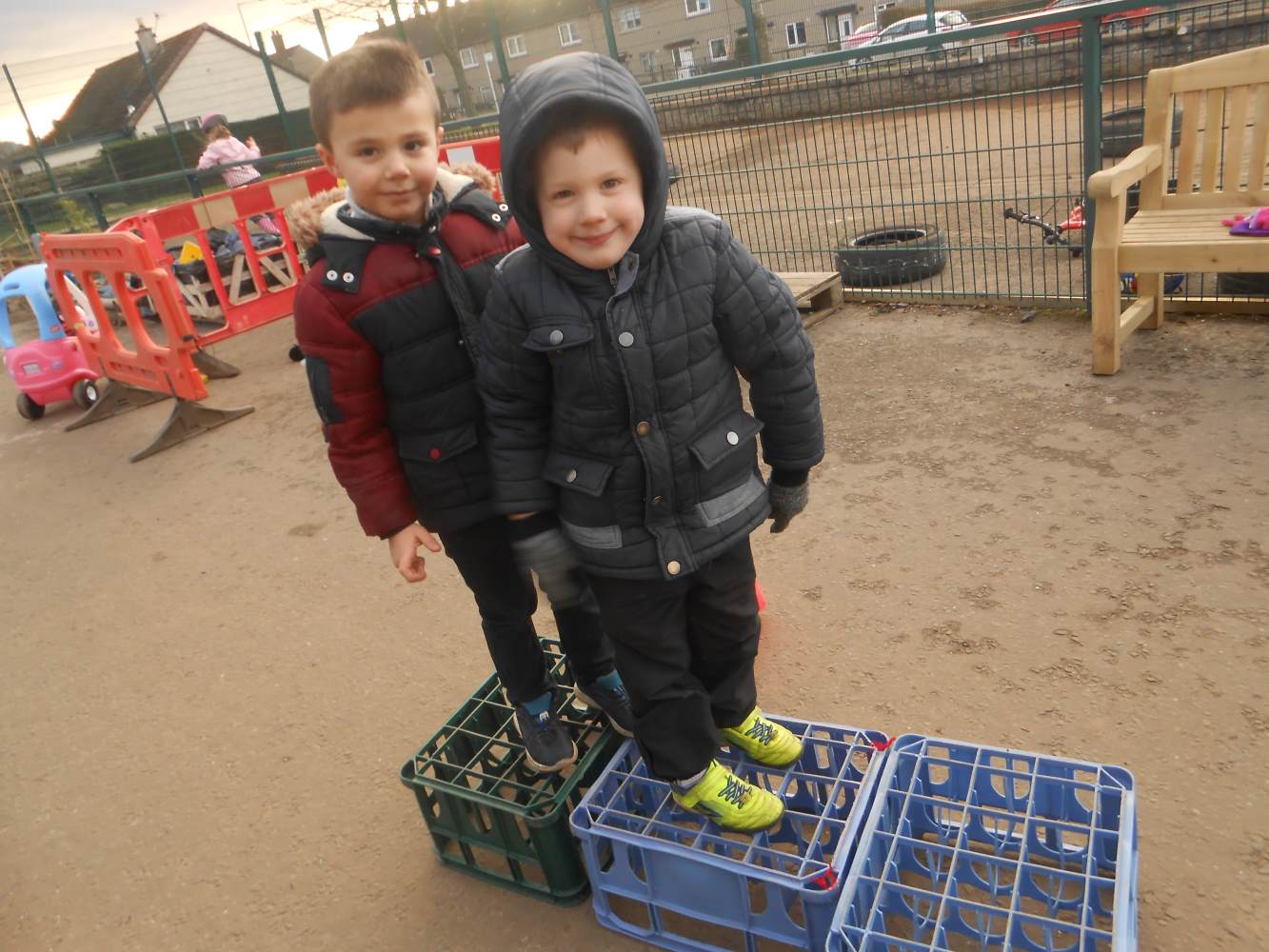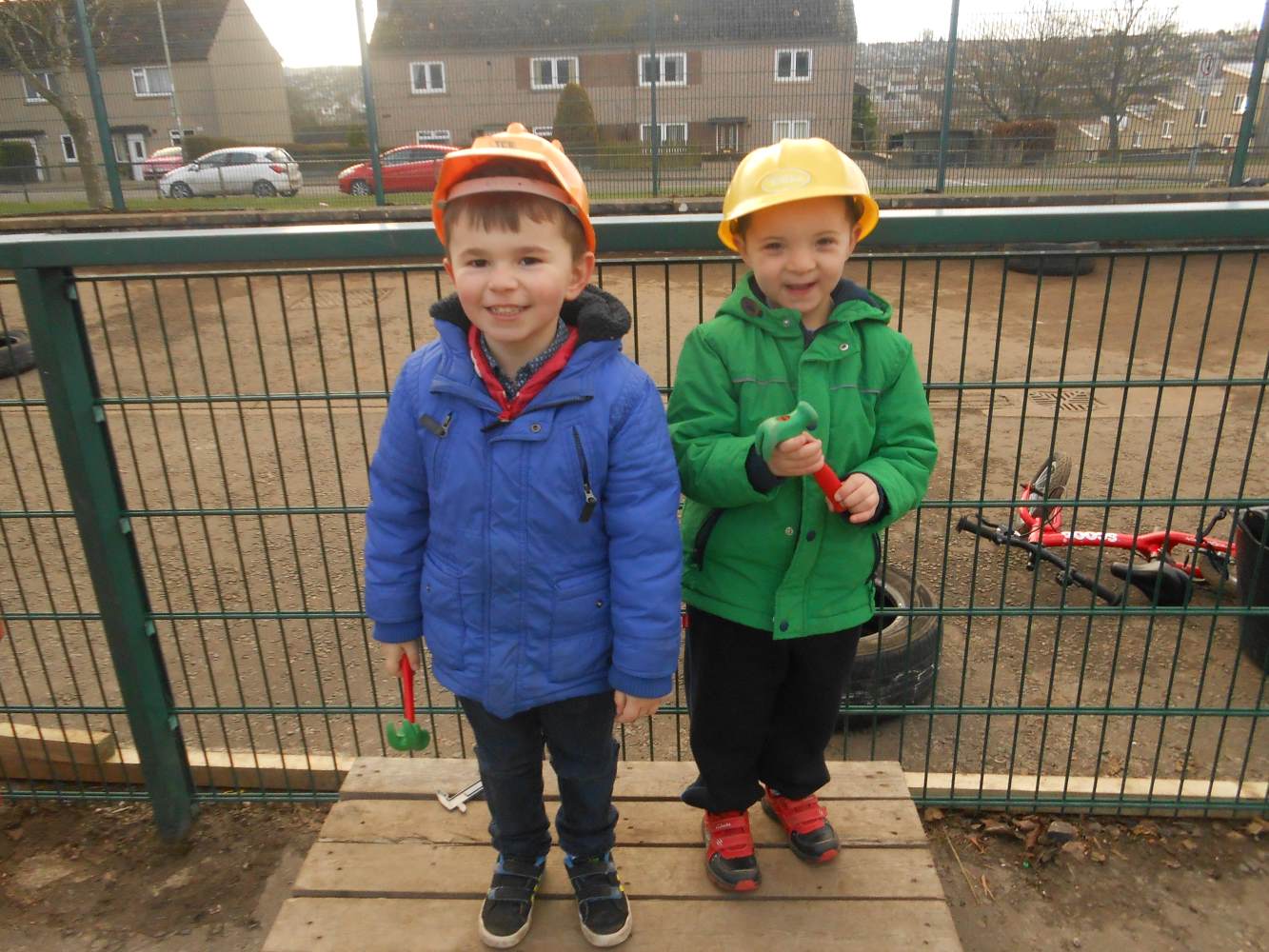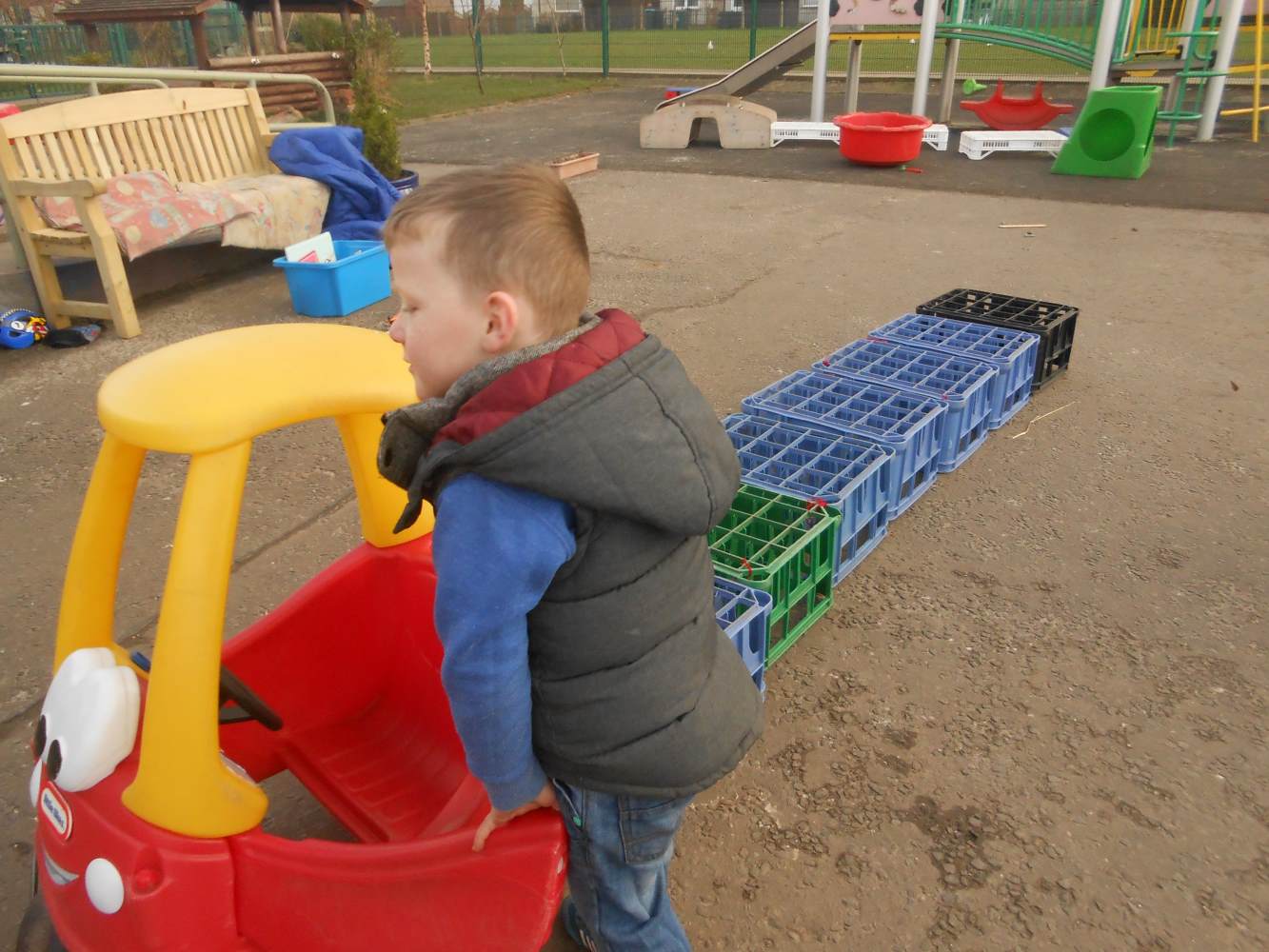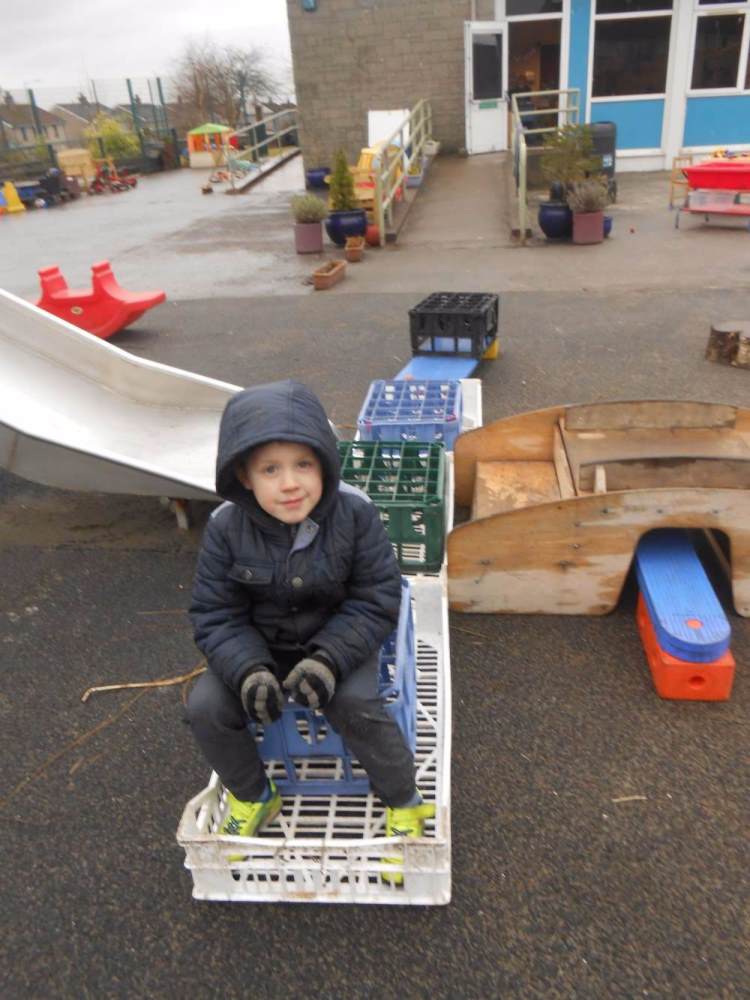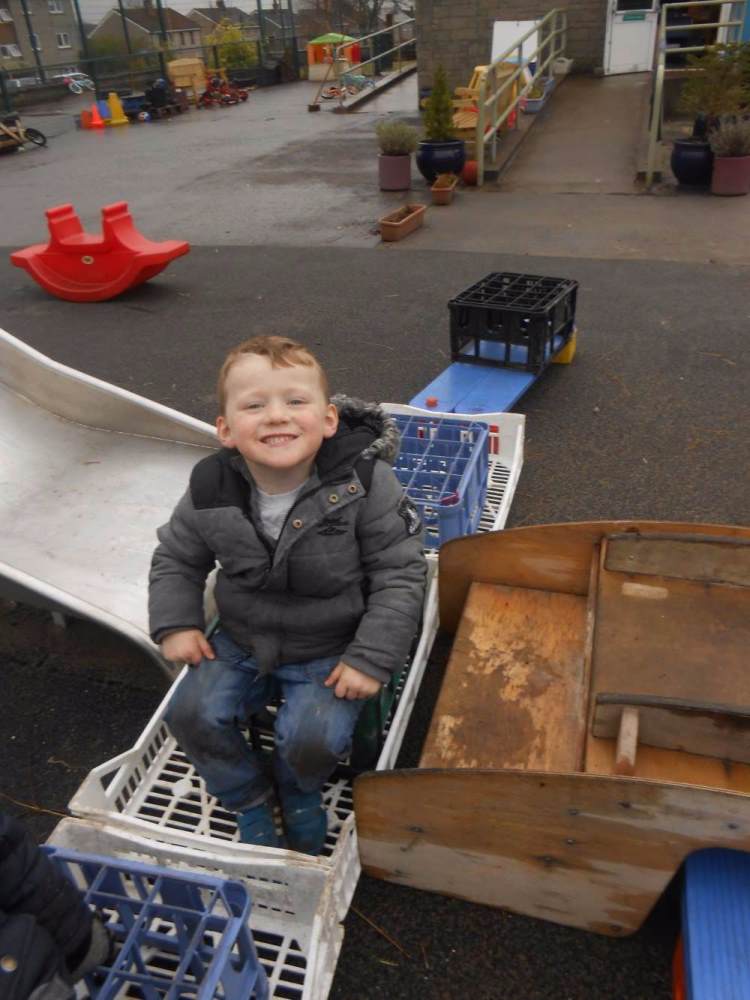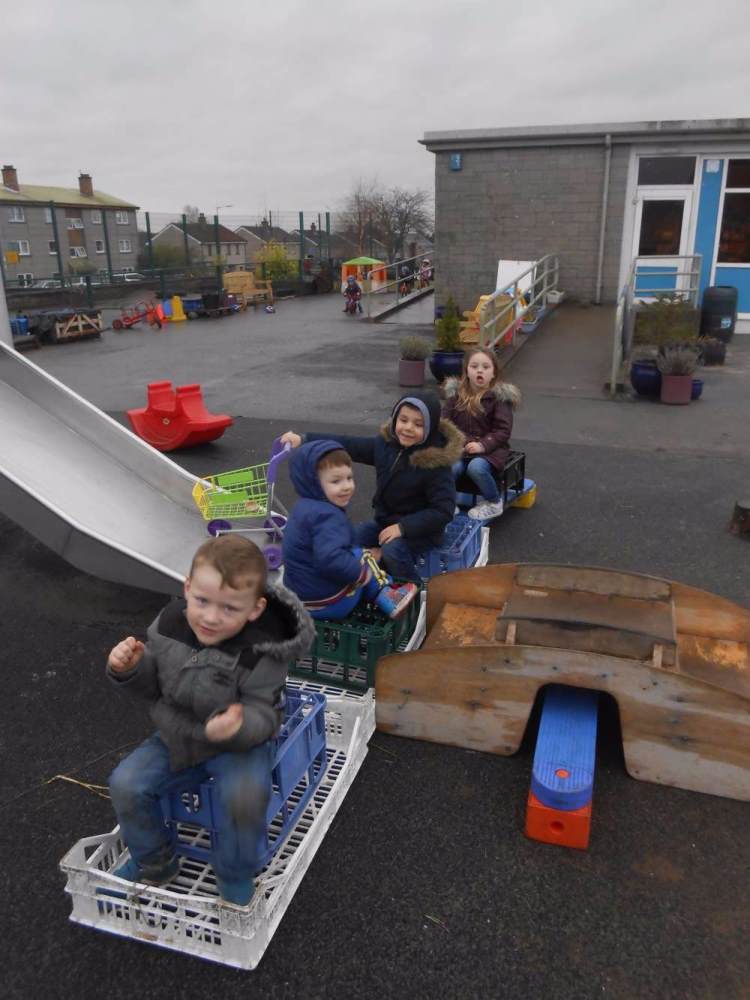 Our crates allow us to use our imagination everyday.
Castle completion.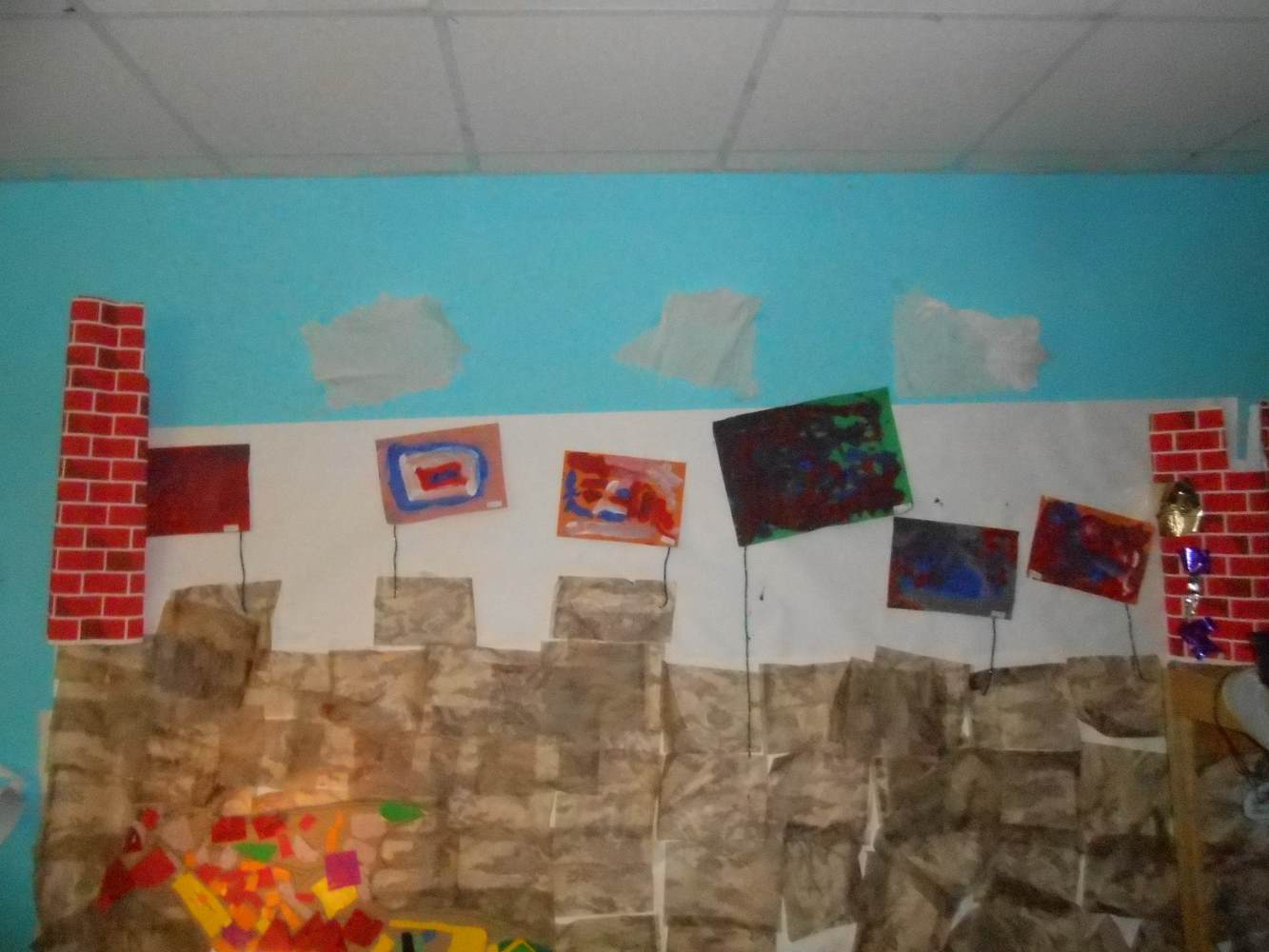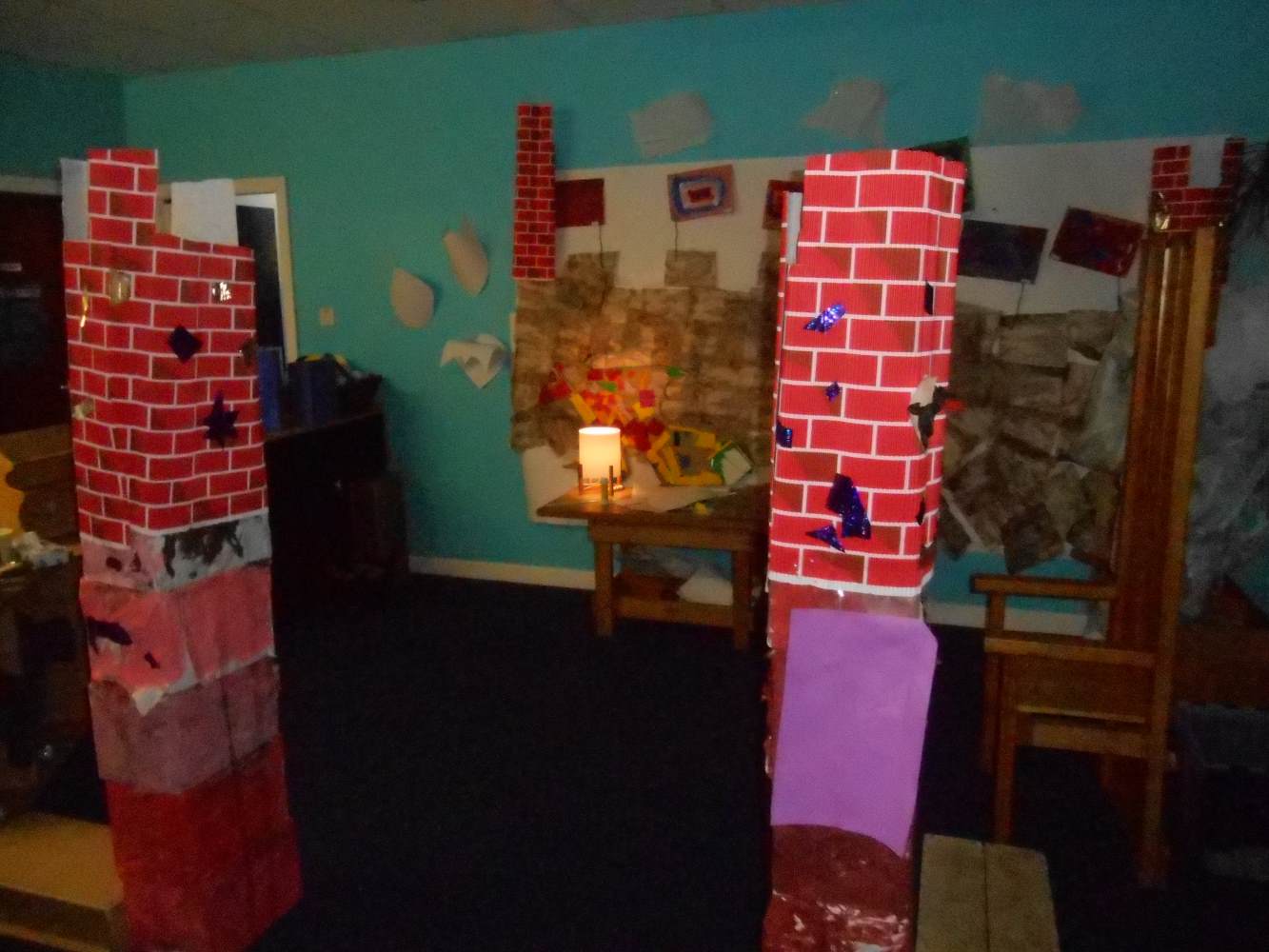 We realised that there was something missing from our castle and that it was a door. We then had to find out what kind of door a castle needed and then after that had to figure out how to build our own drawbridge. This caused great excitement especially because the drawbridge worked when we pulled the chains.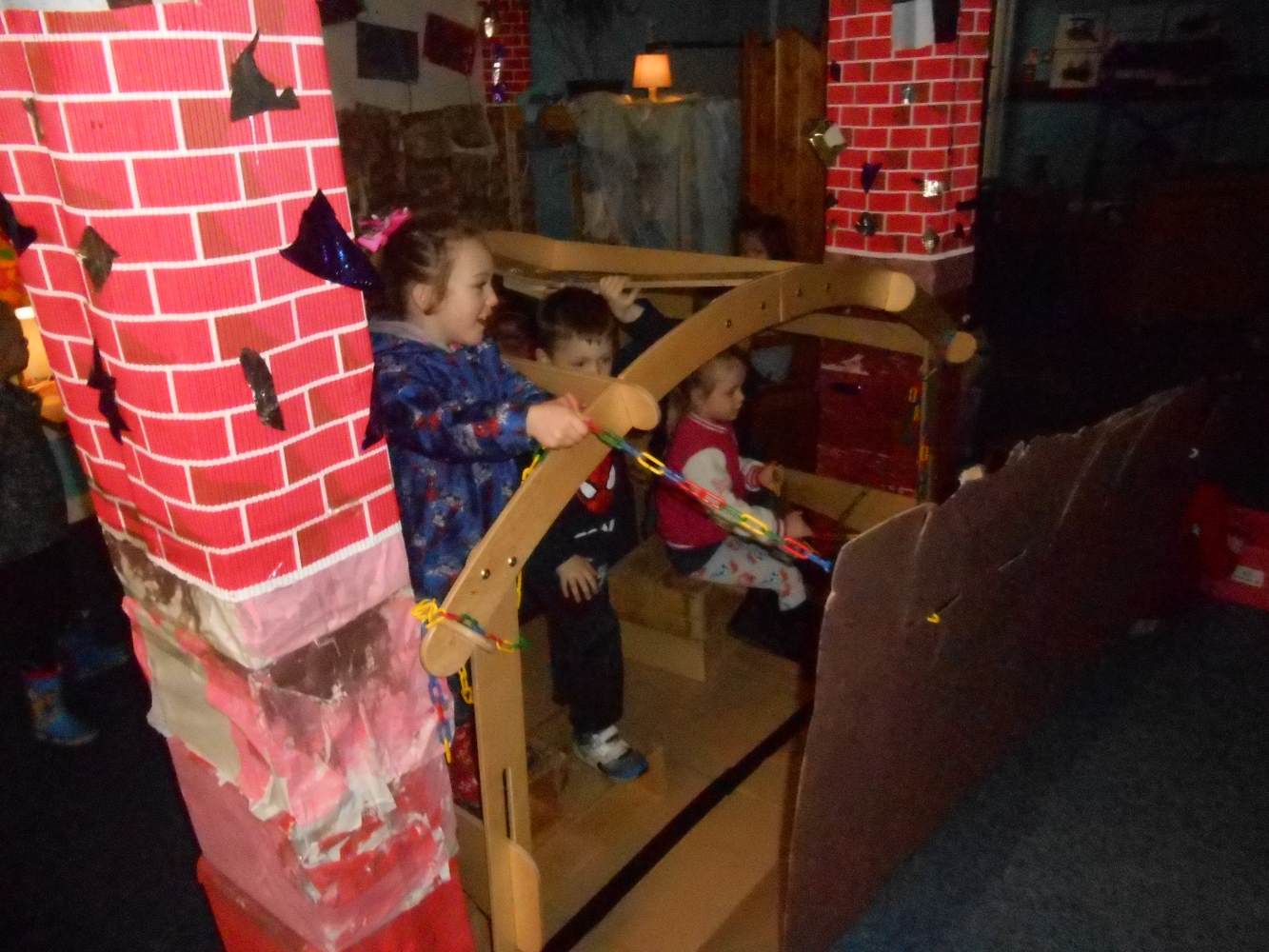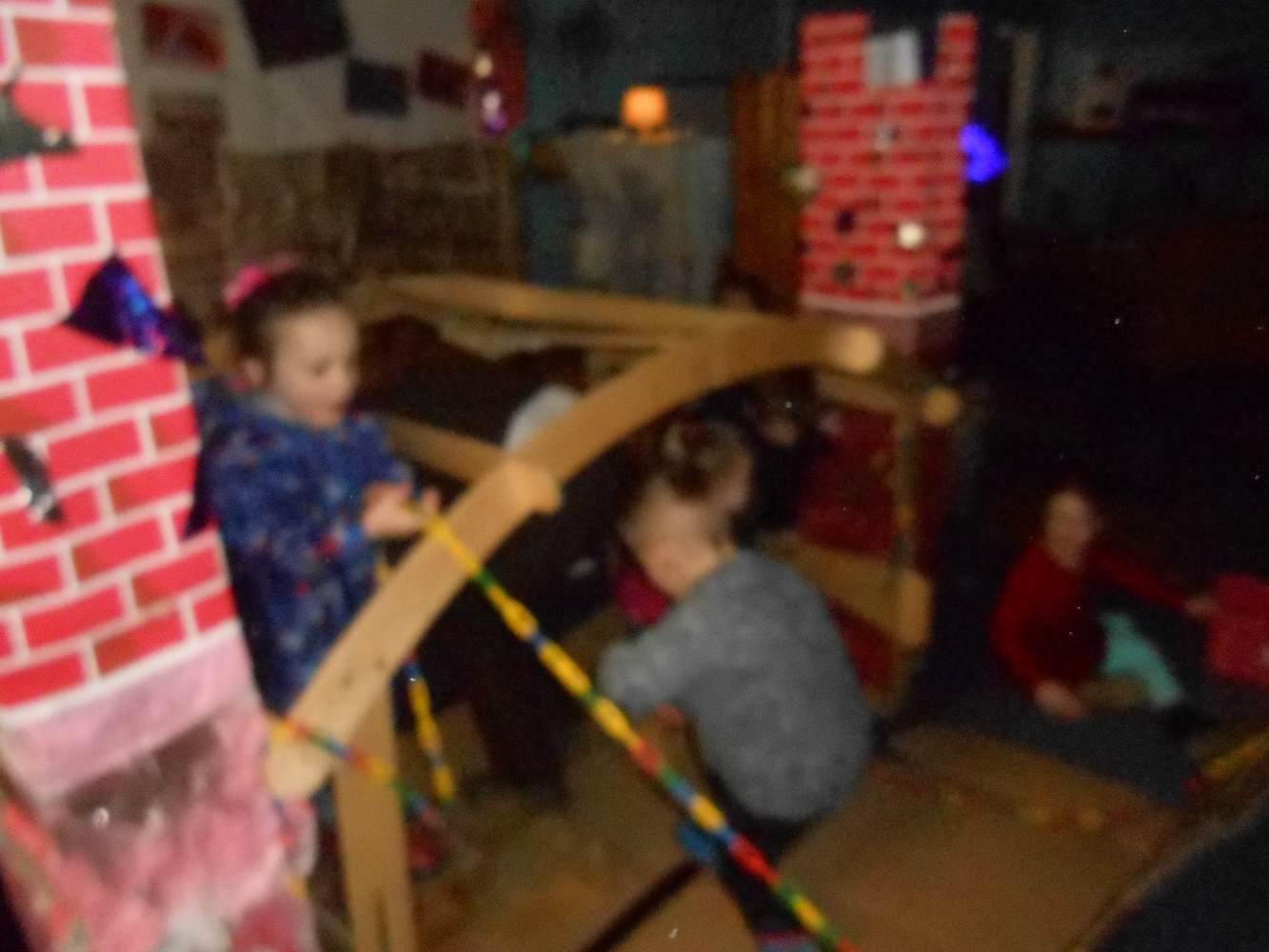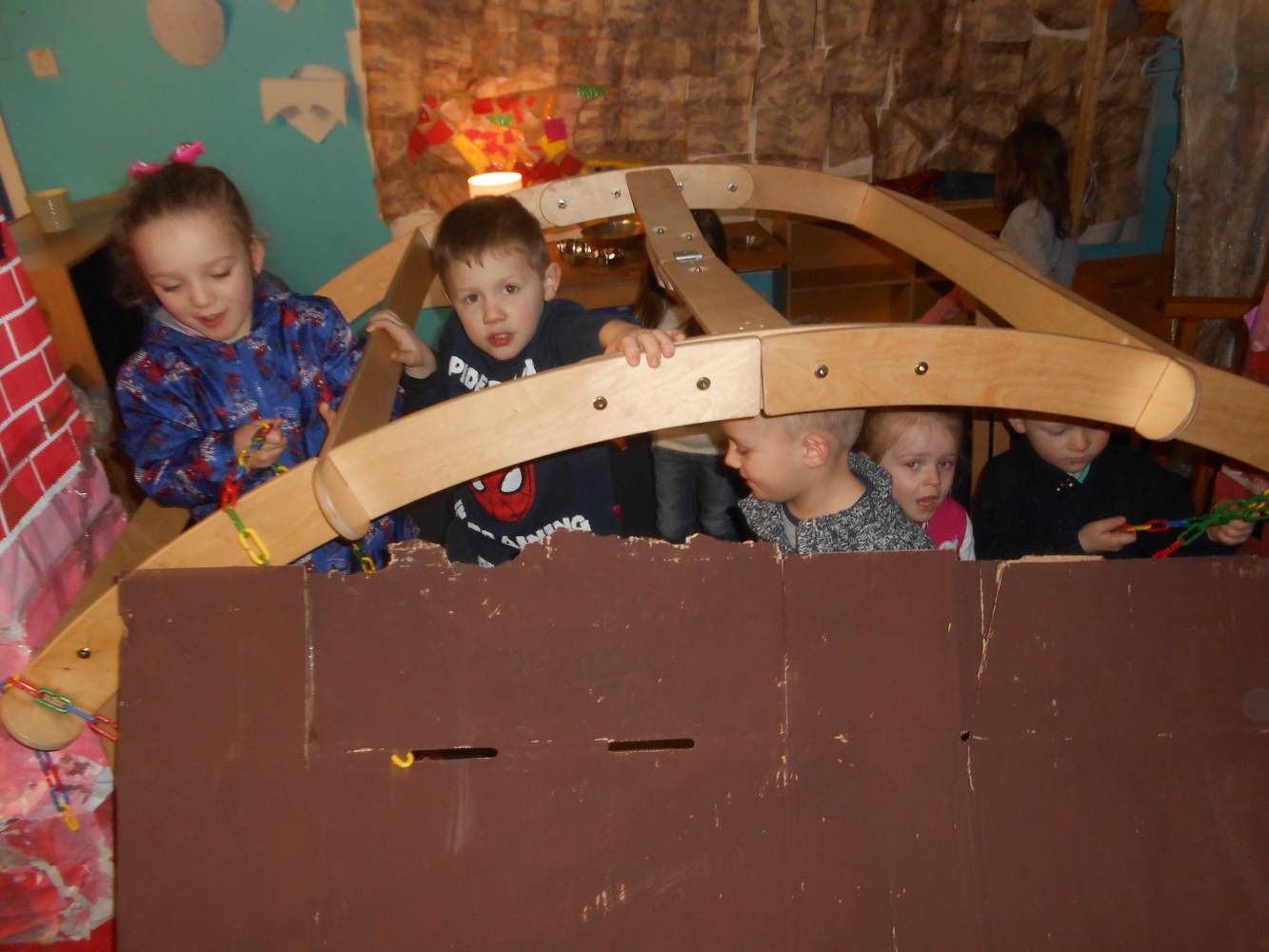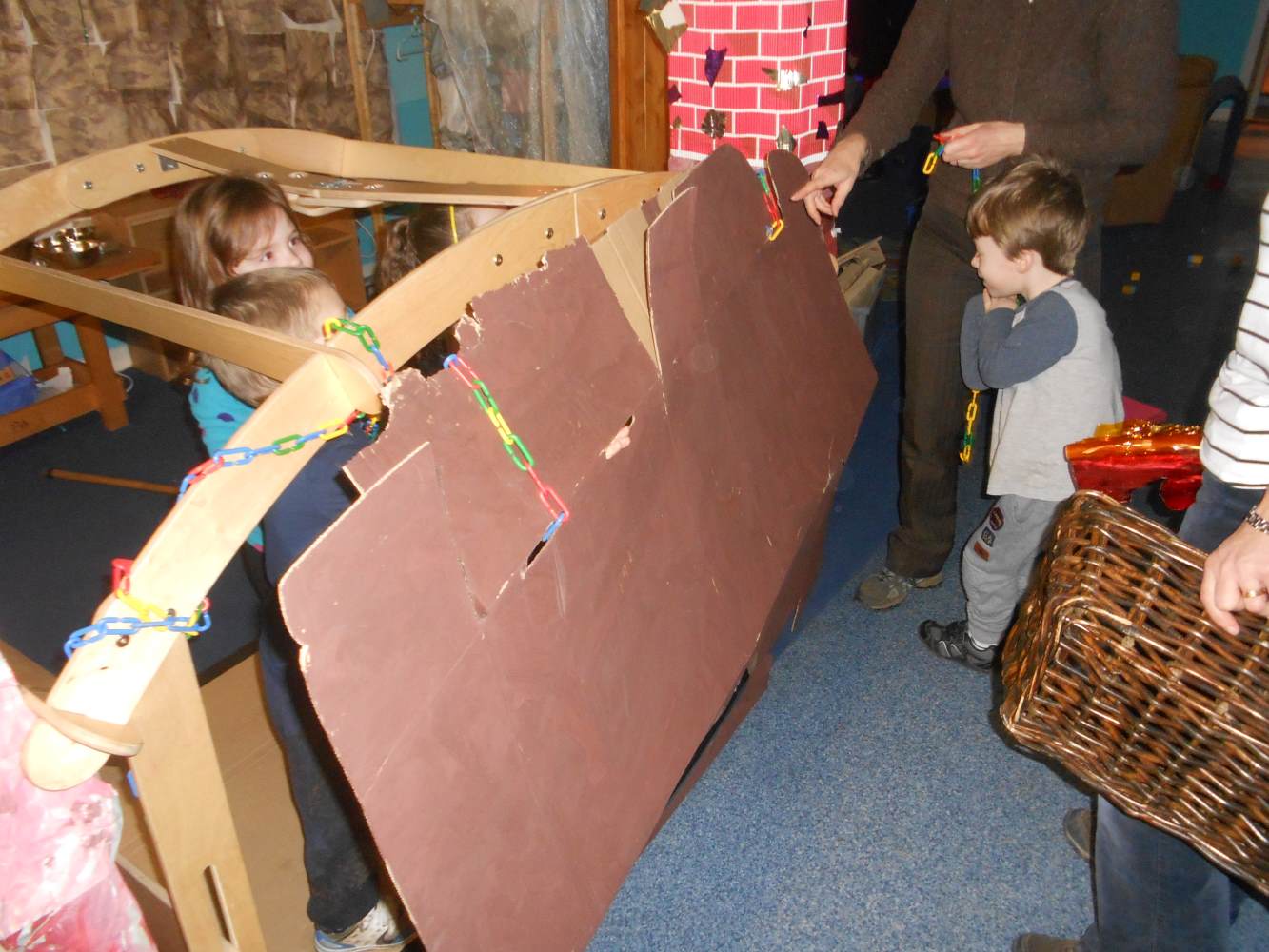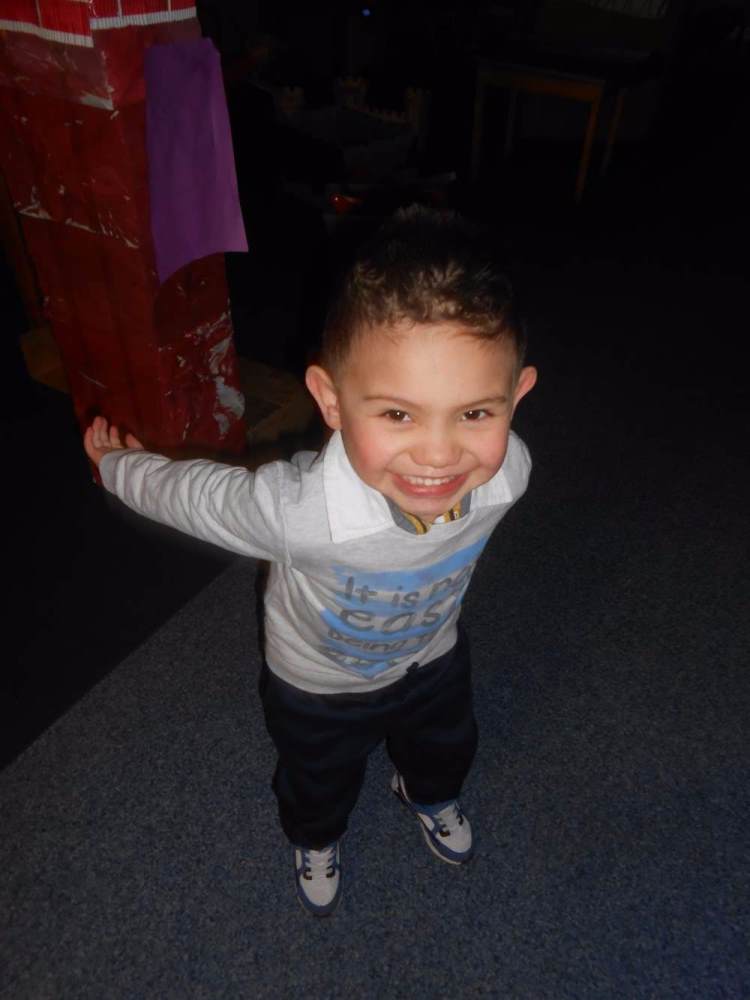 Exploring - January and February 2017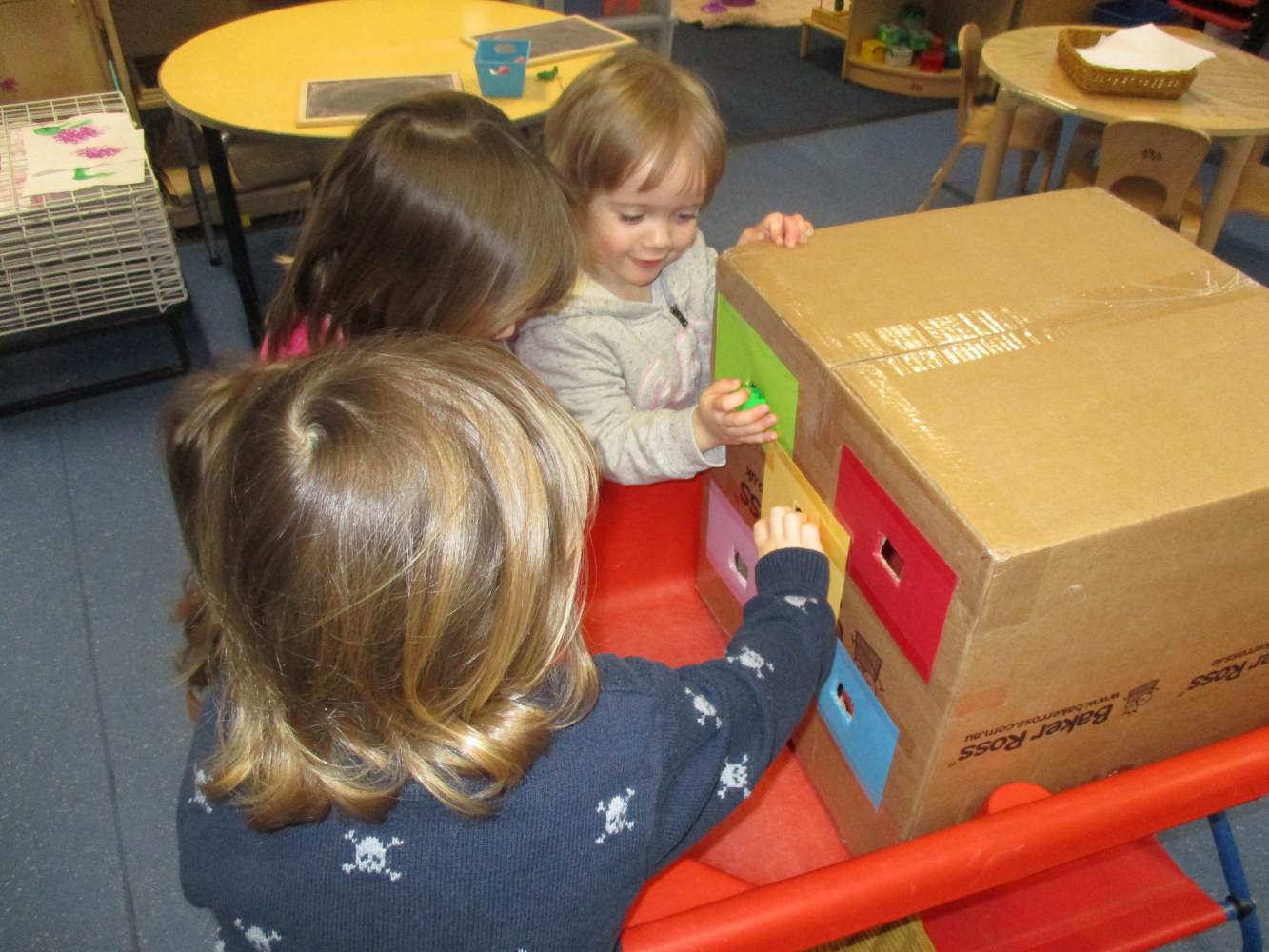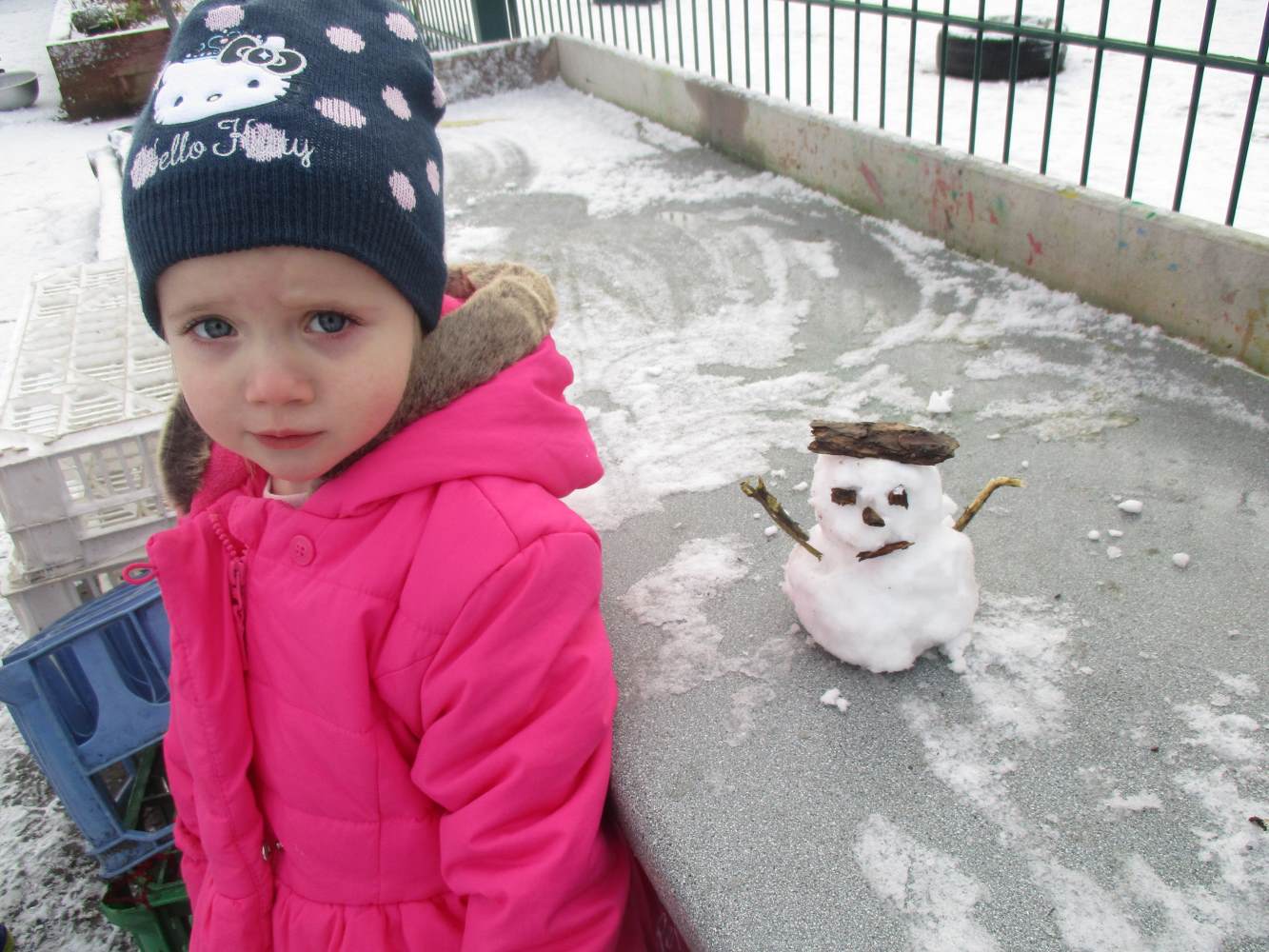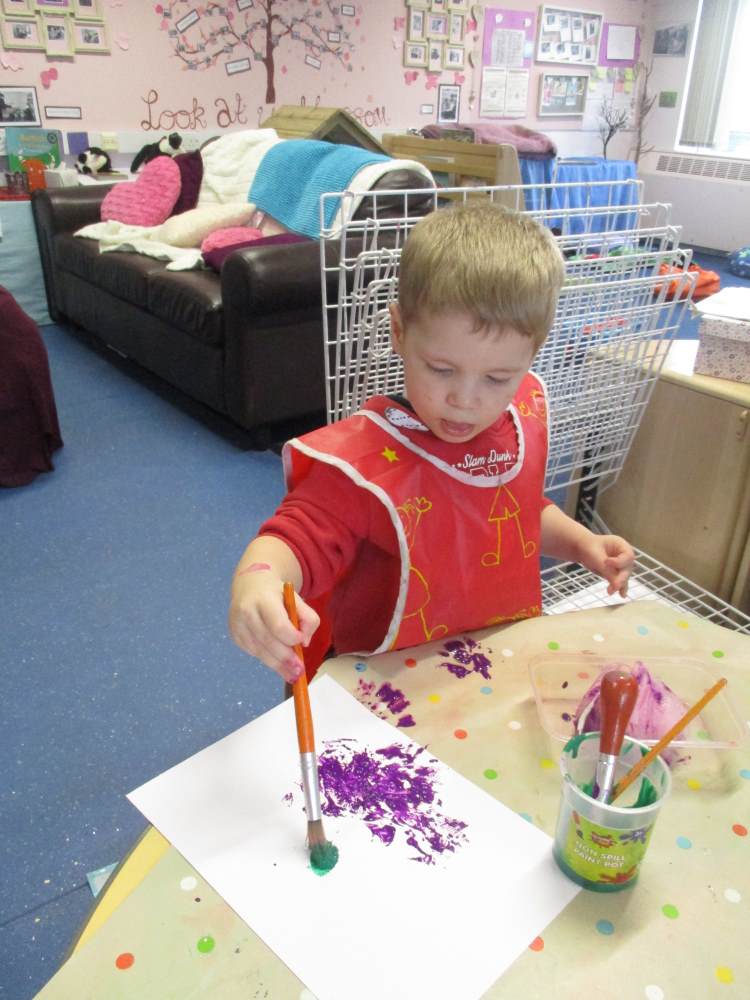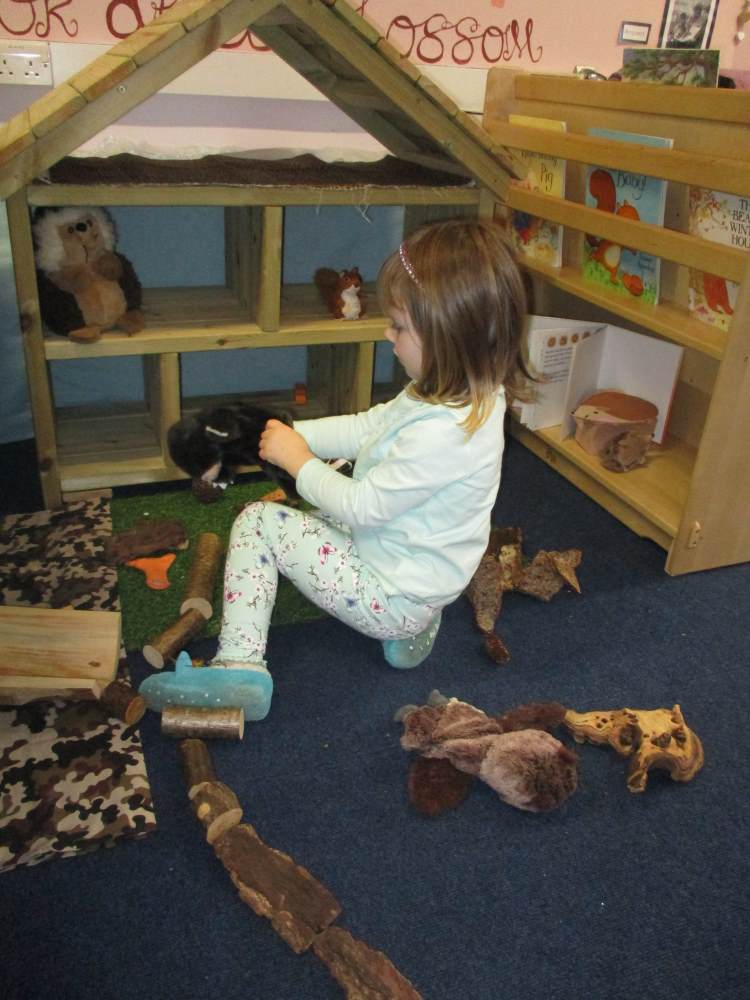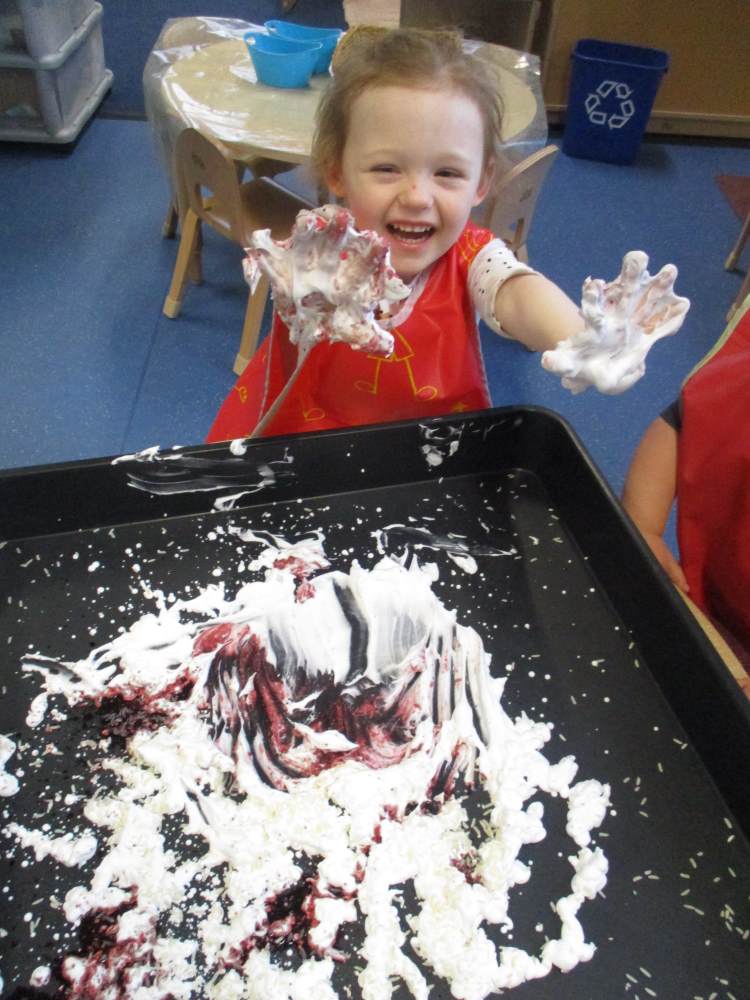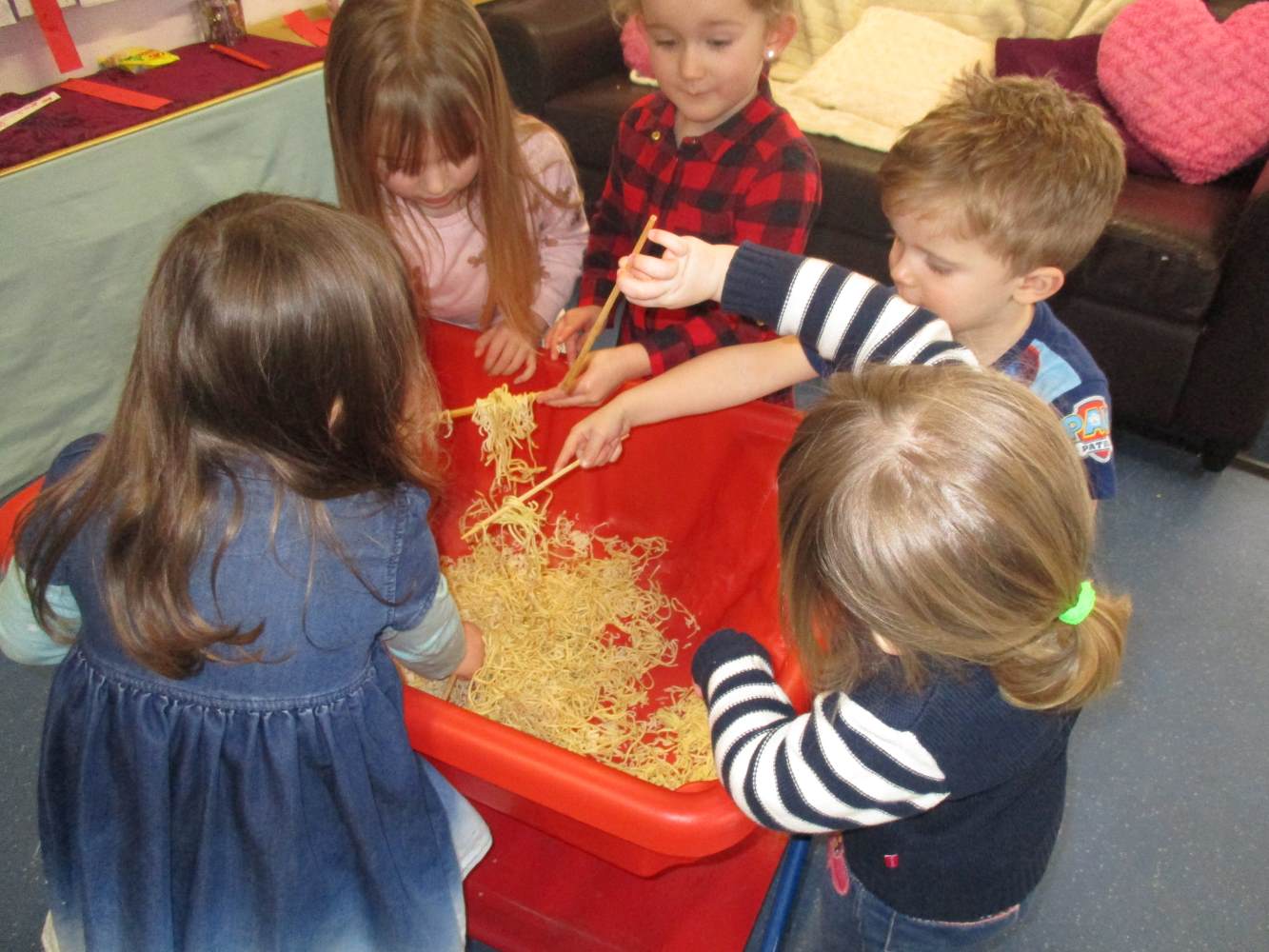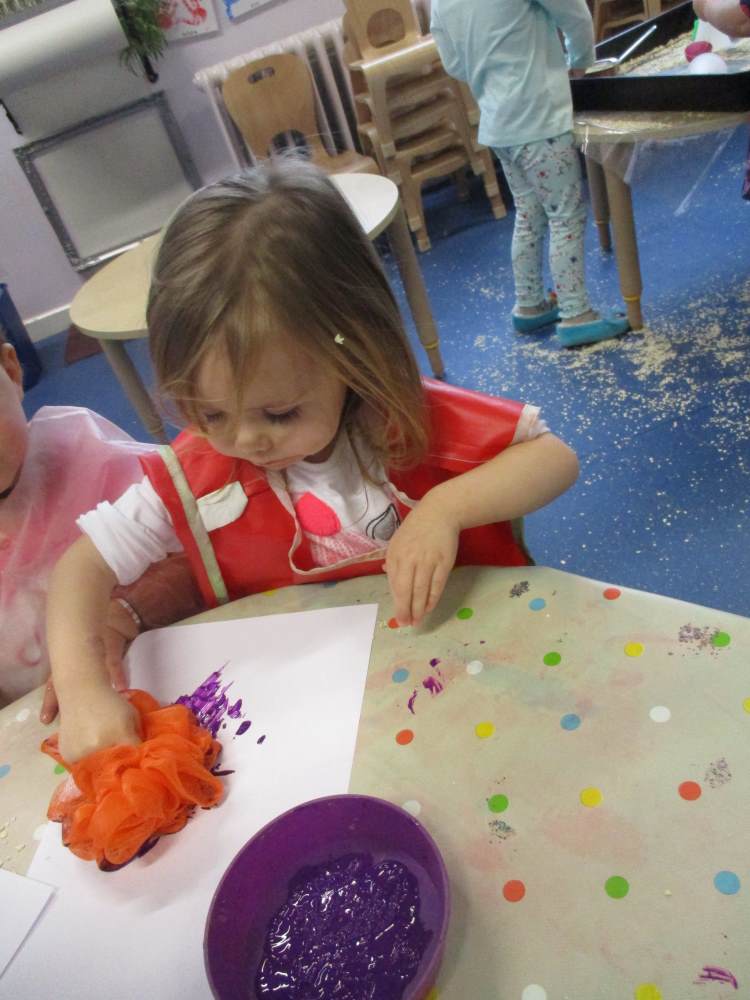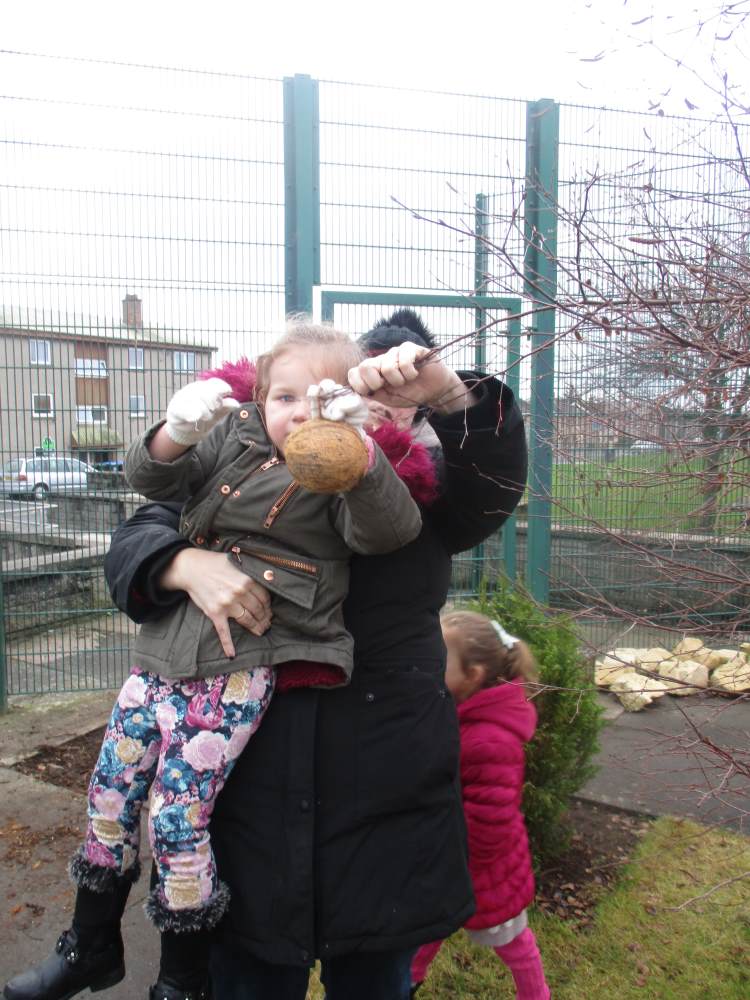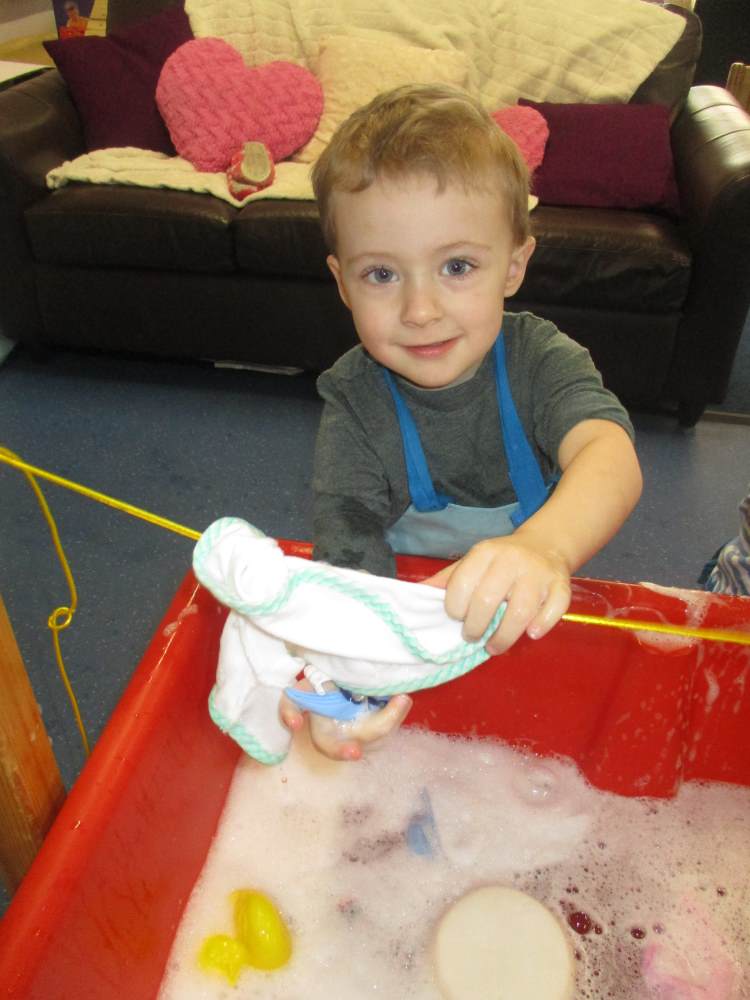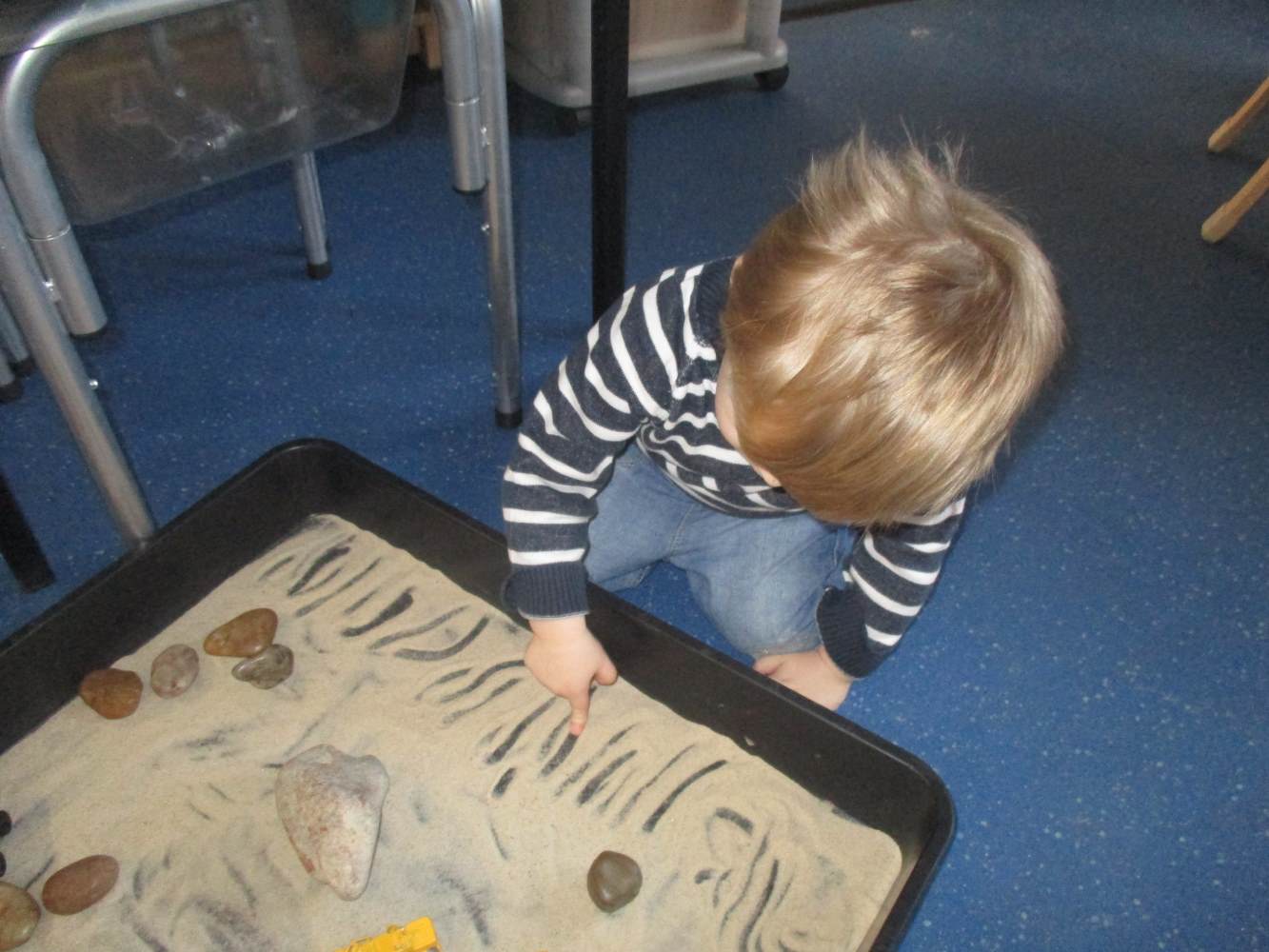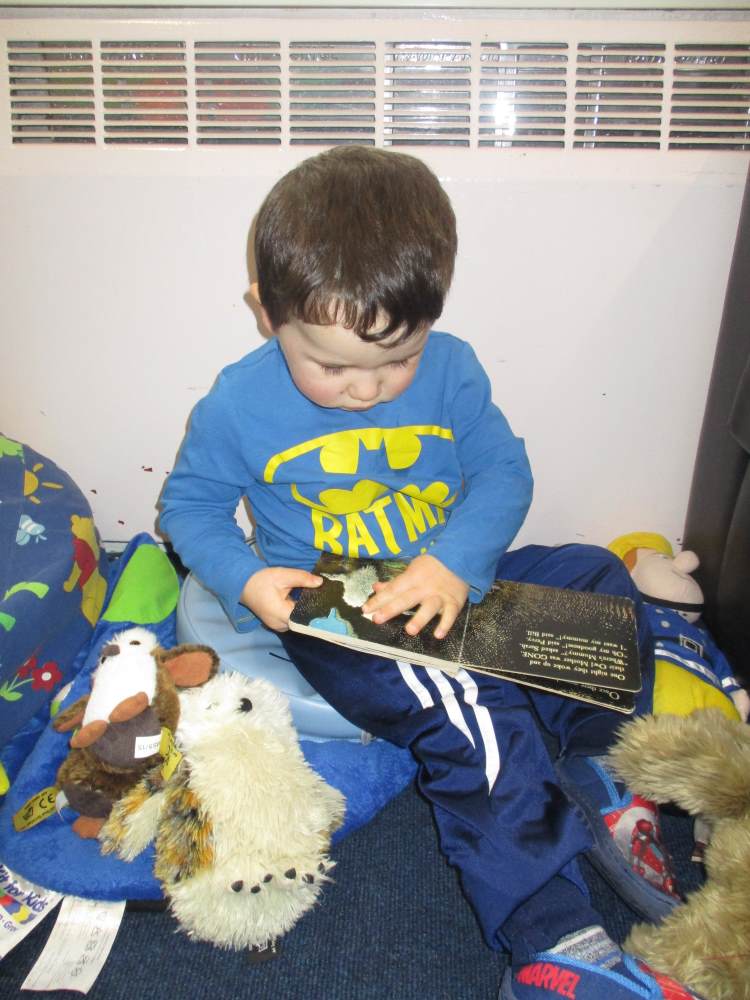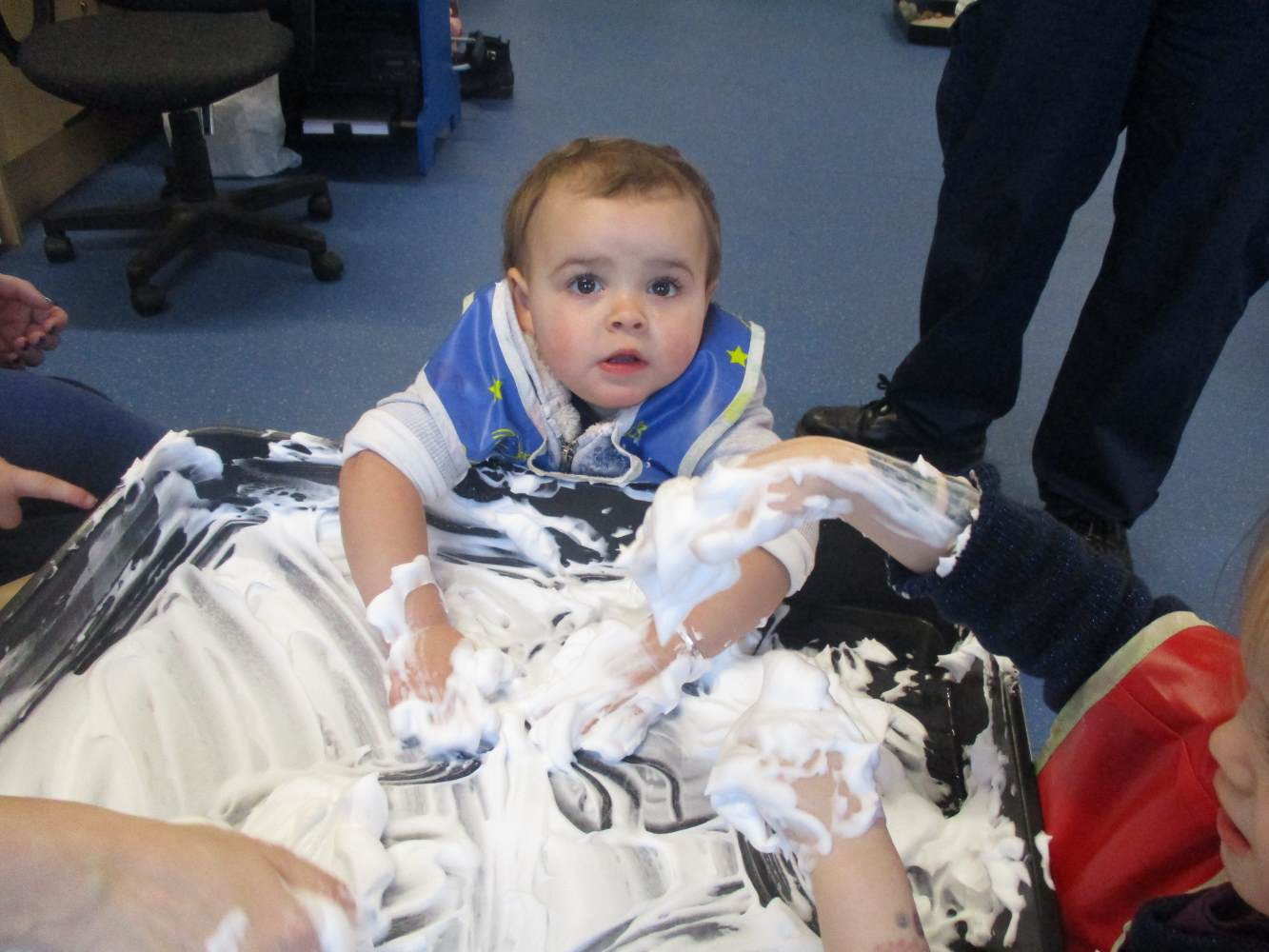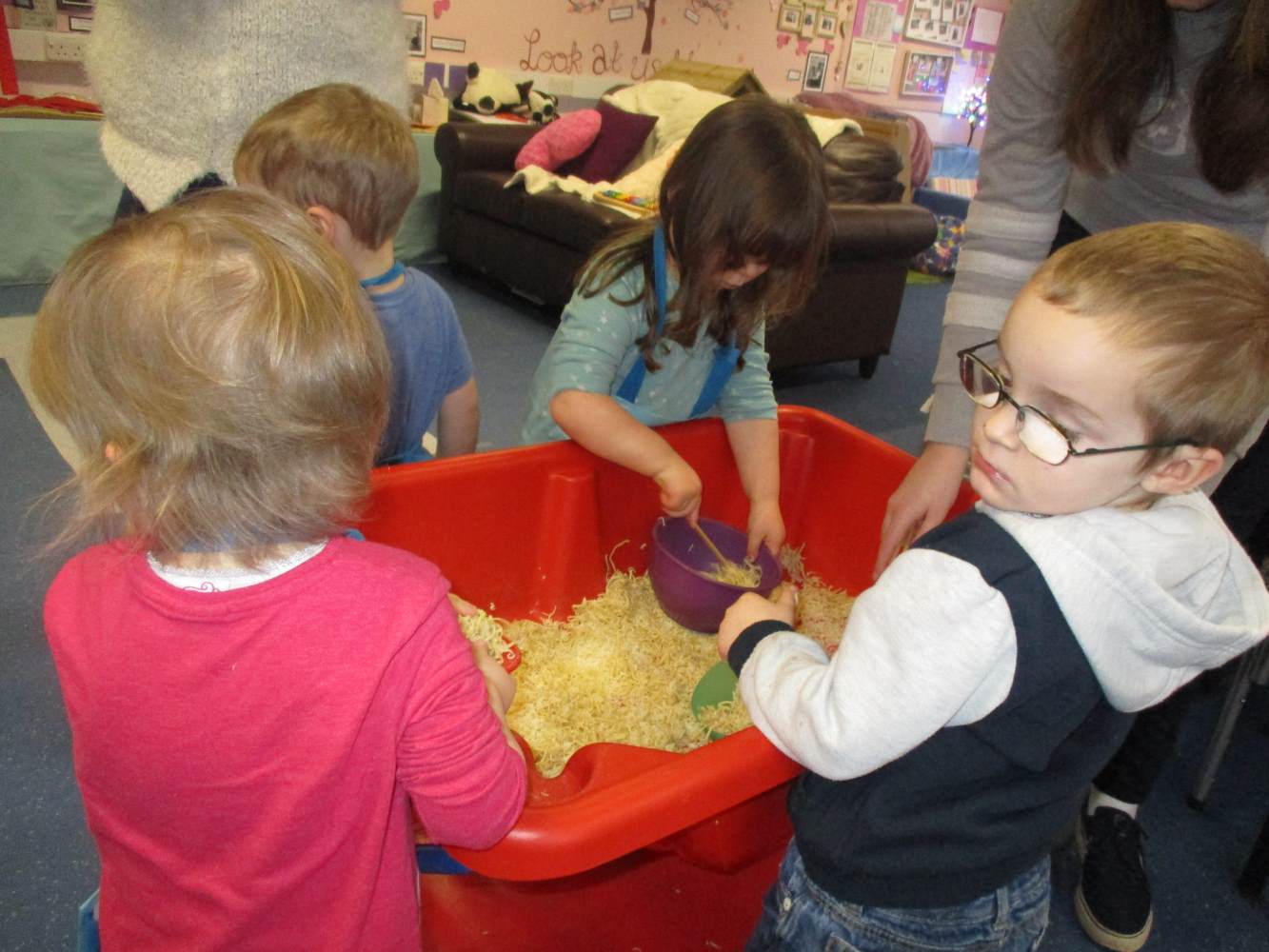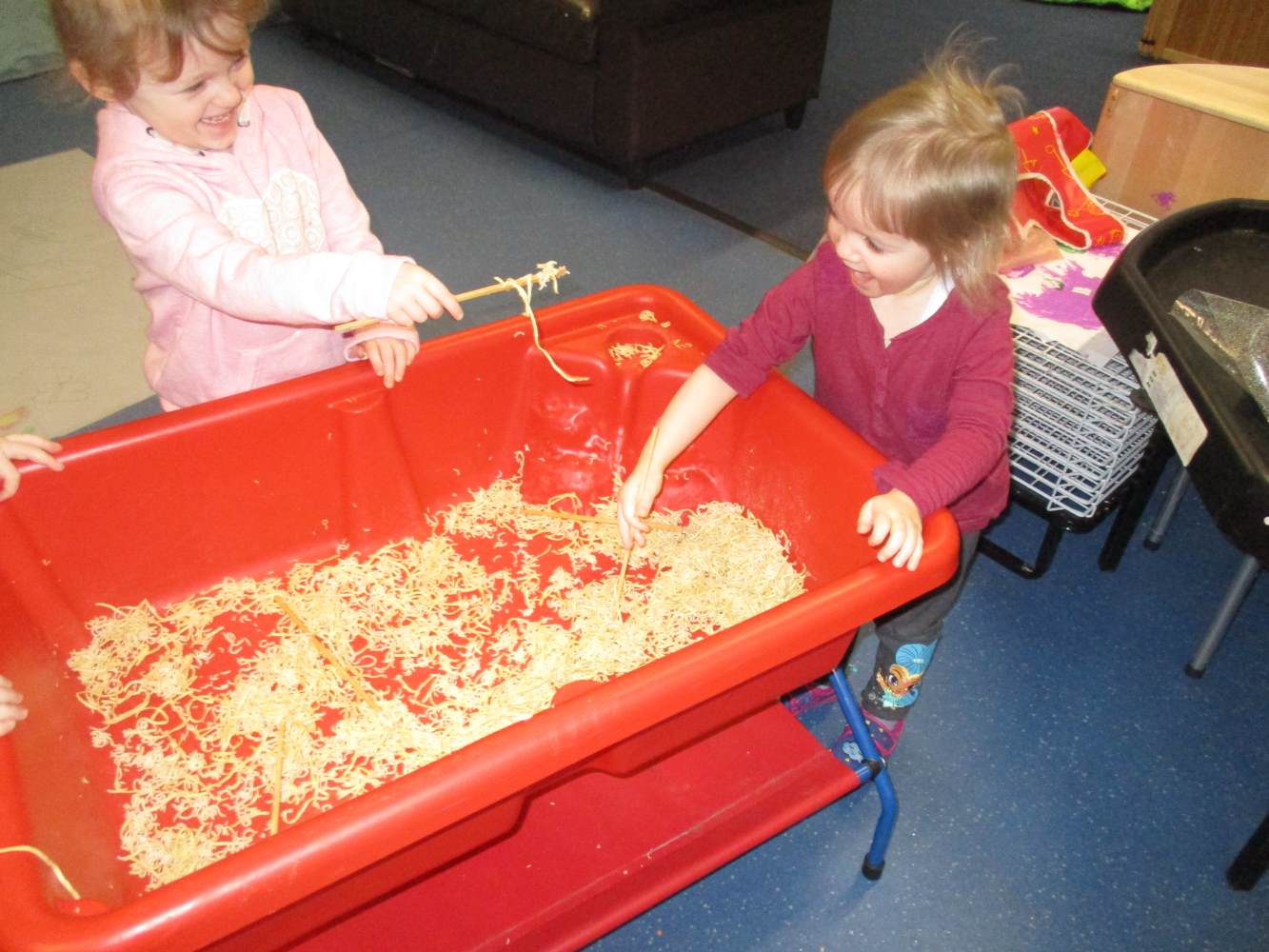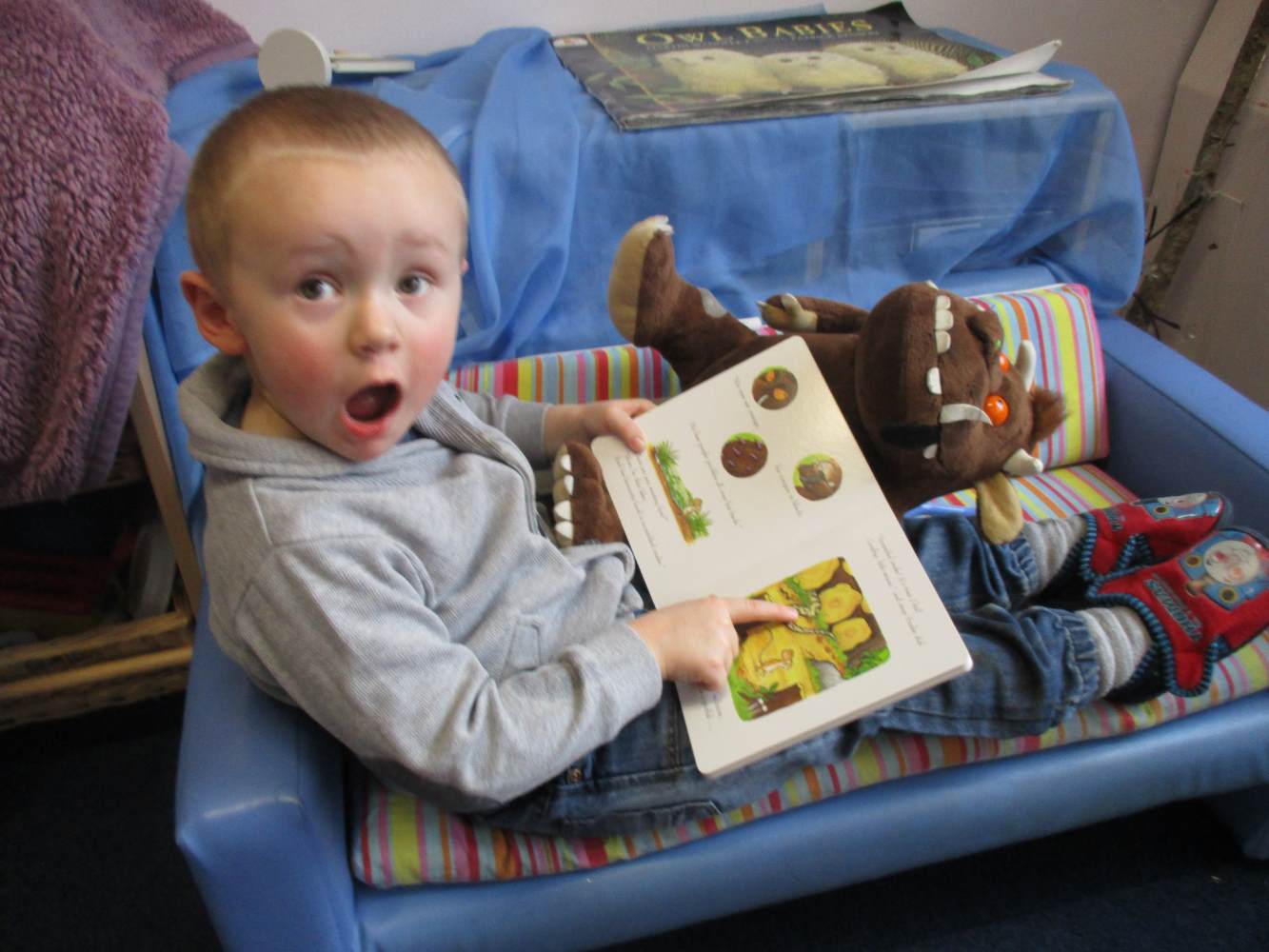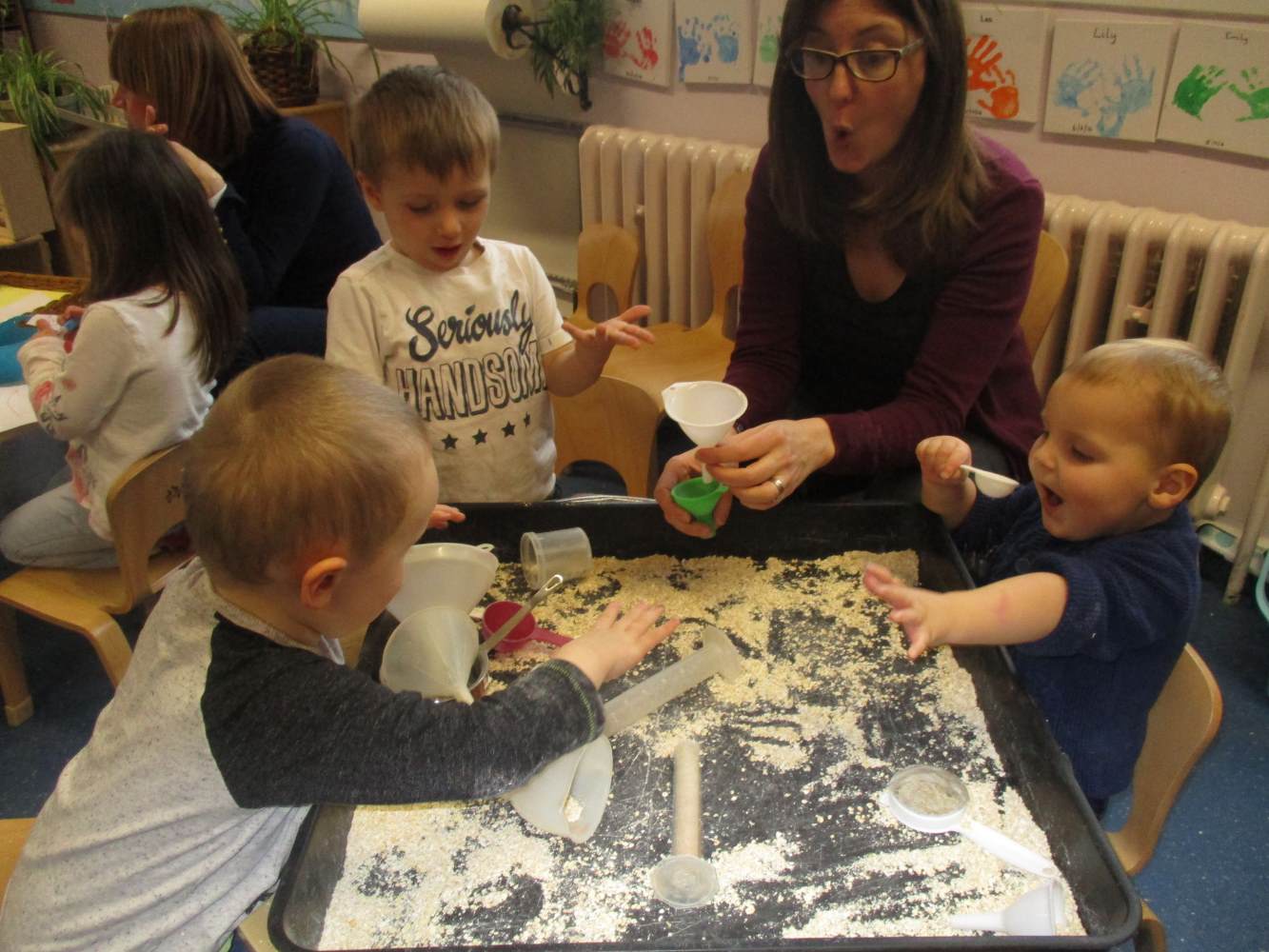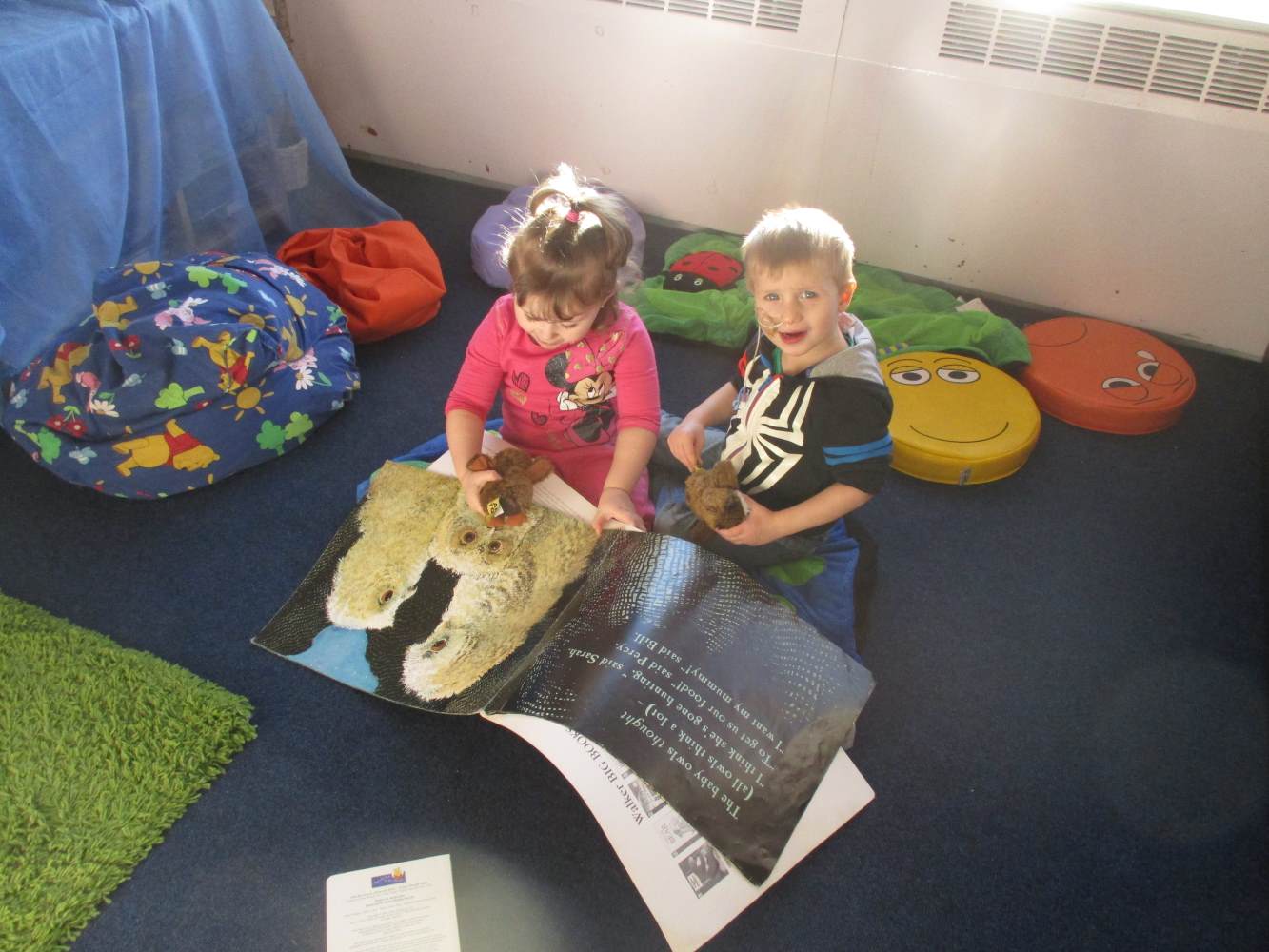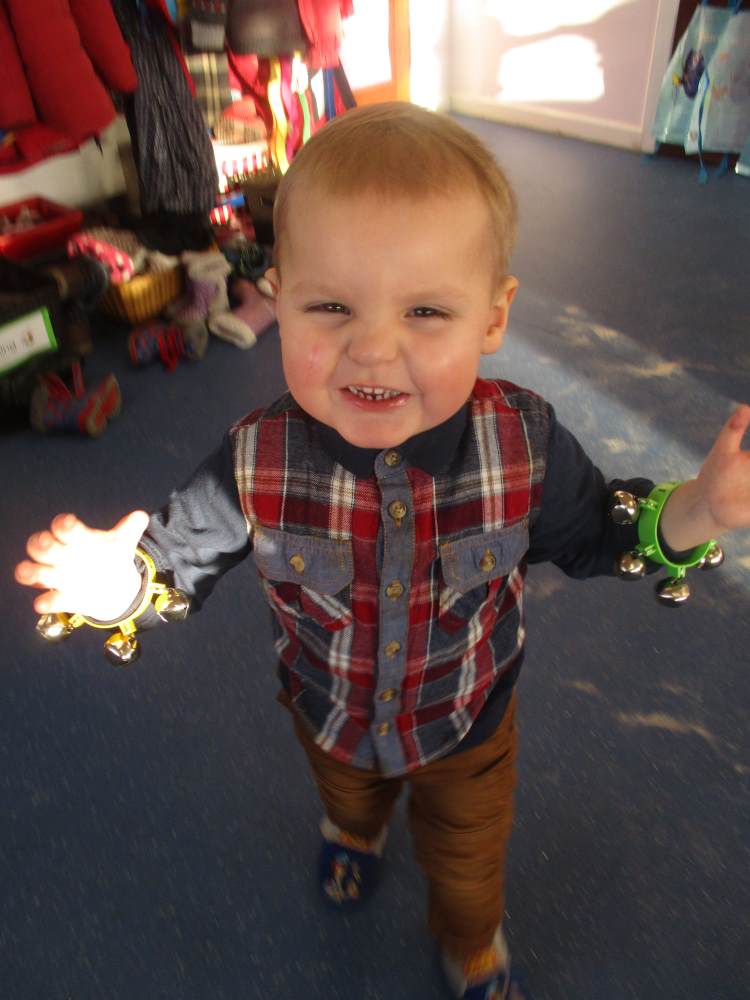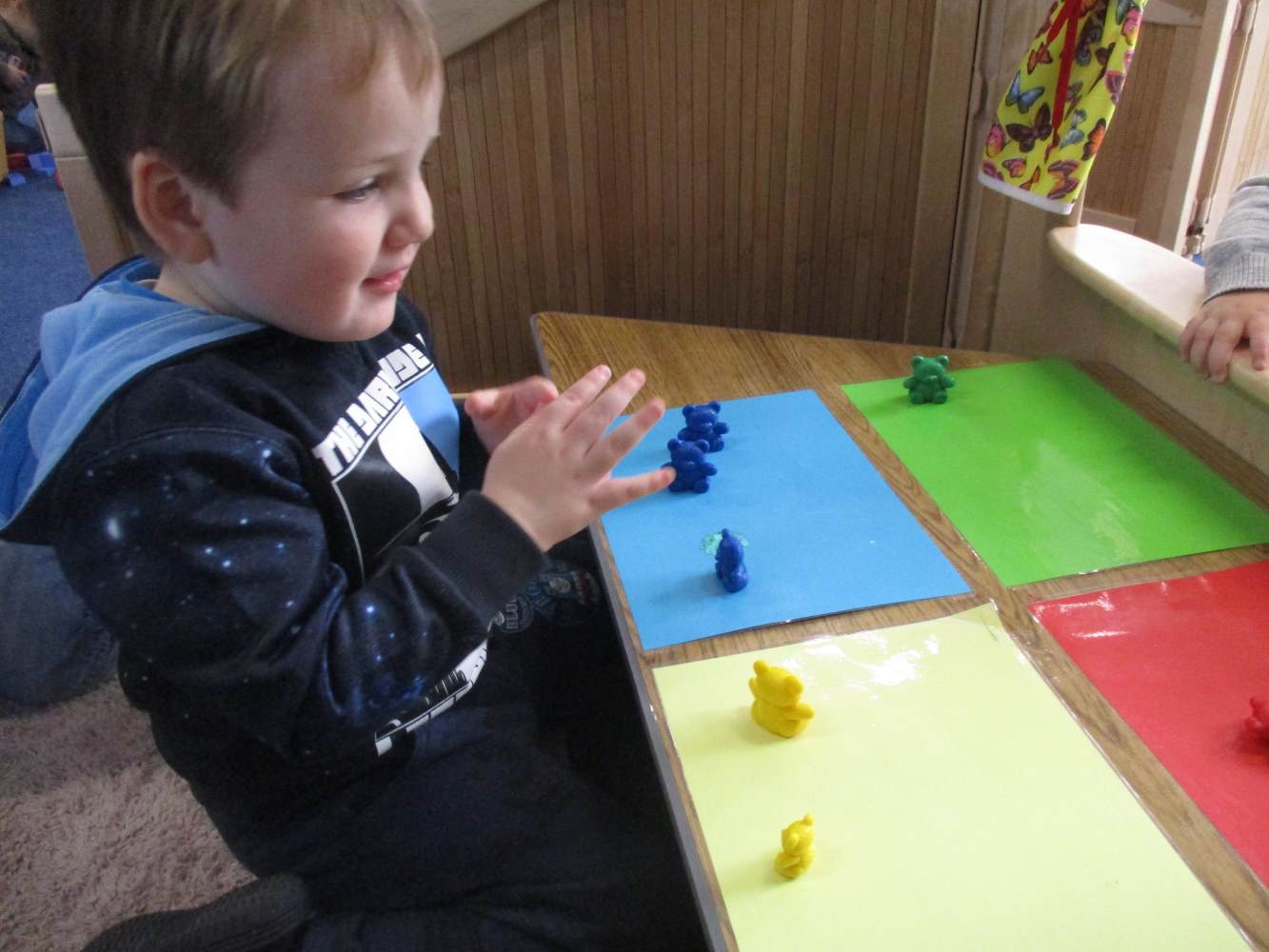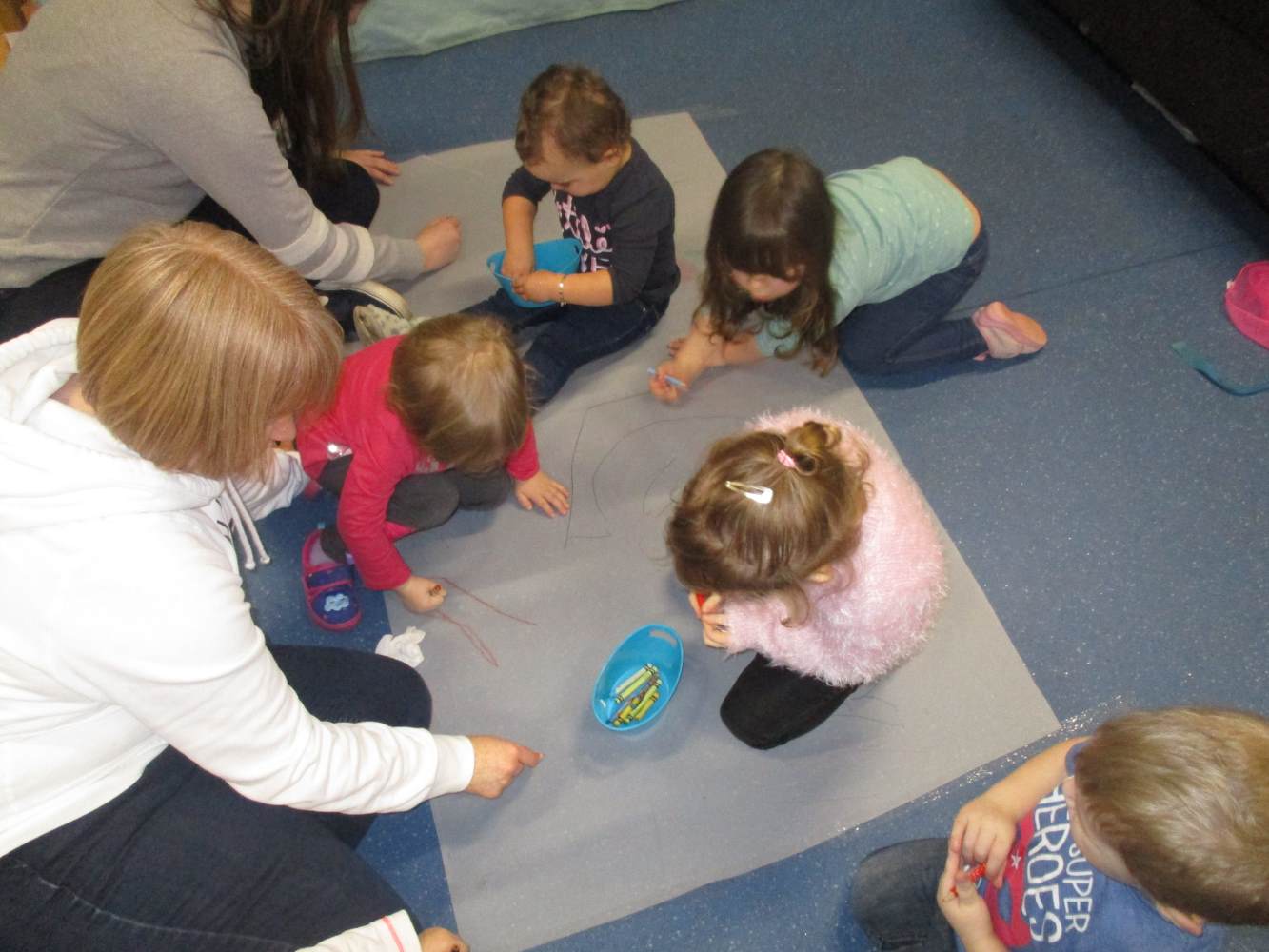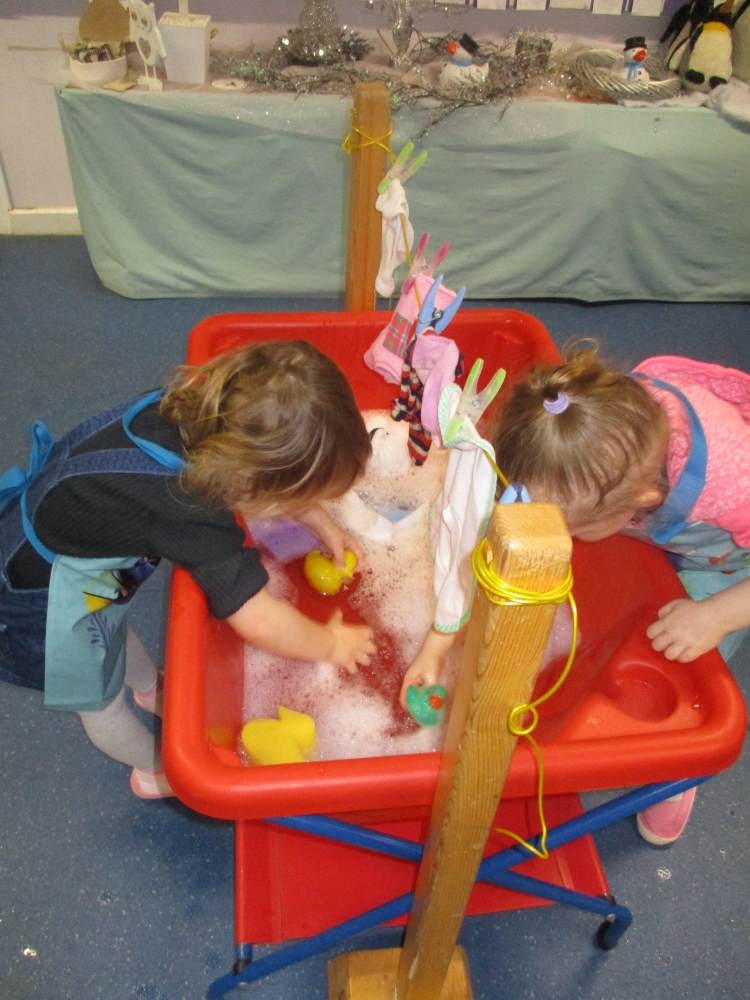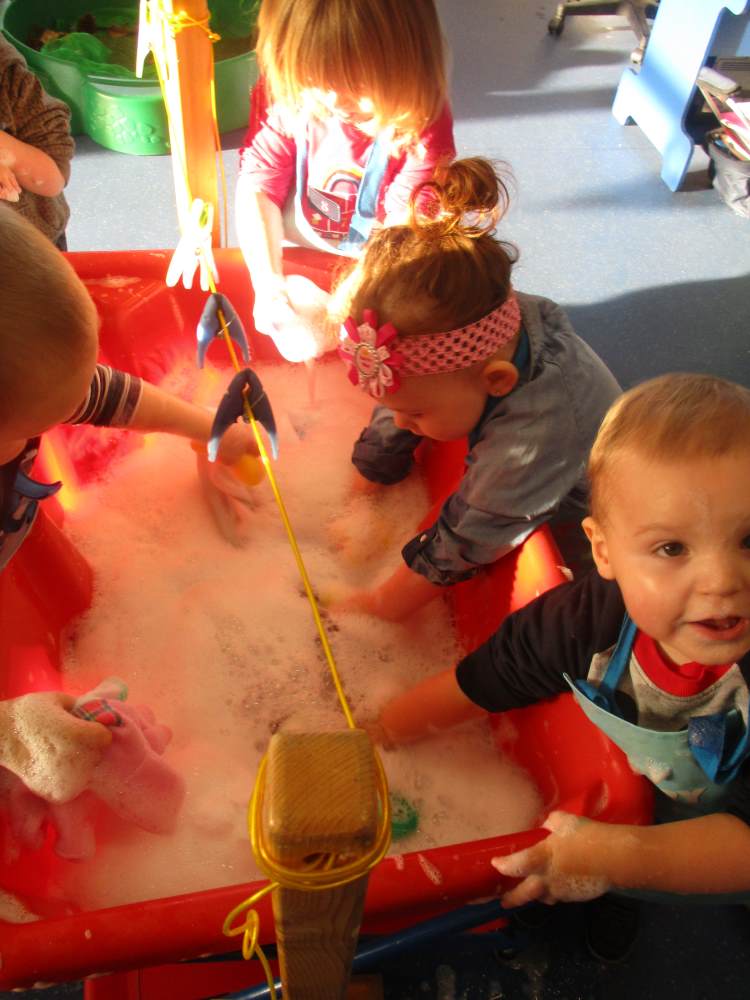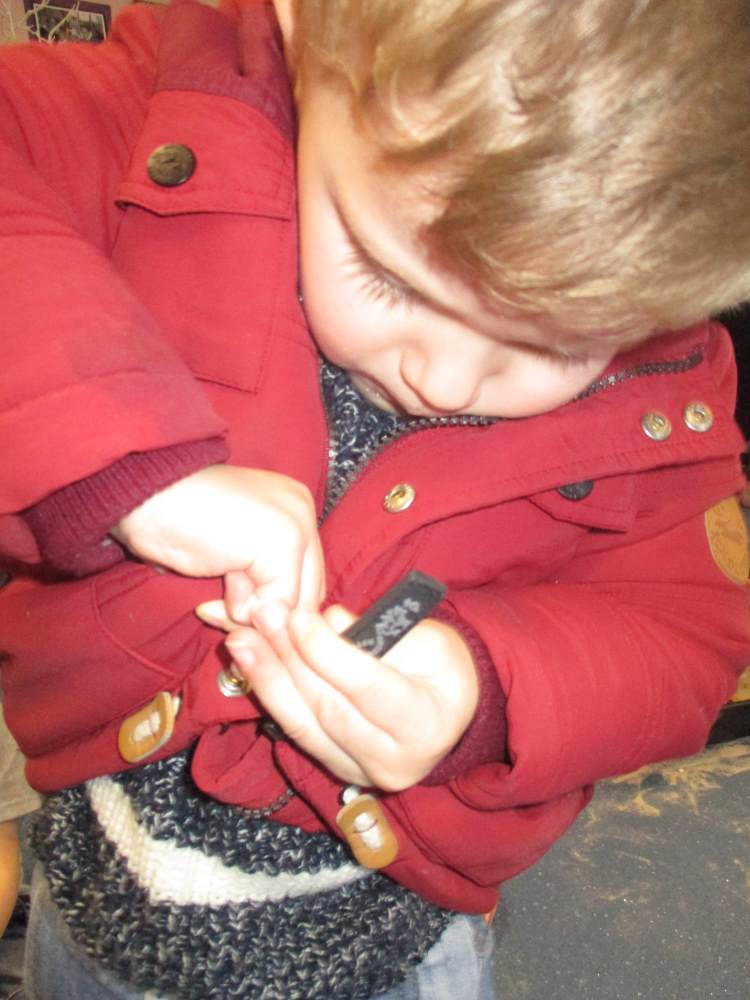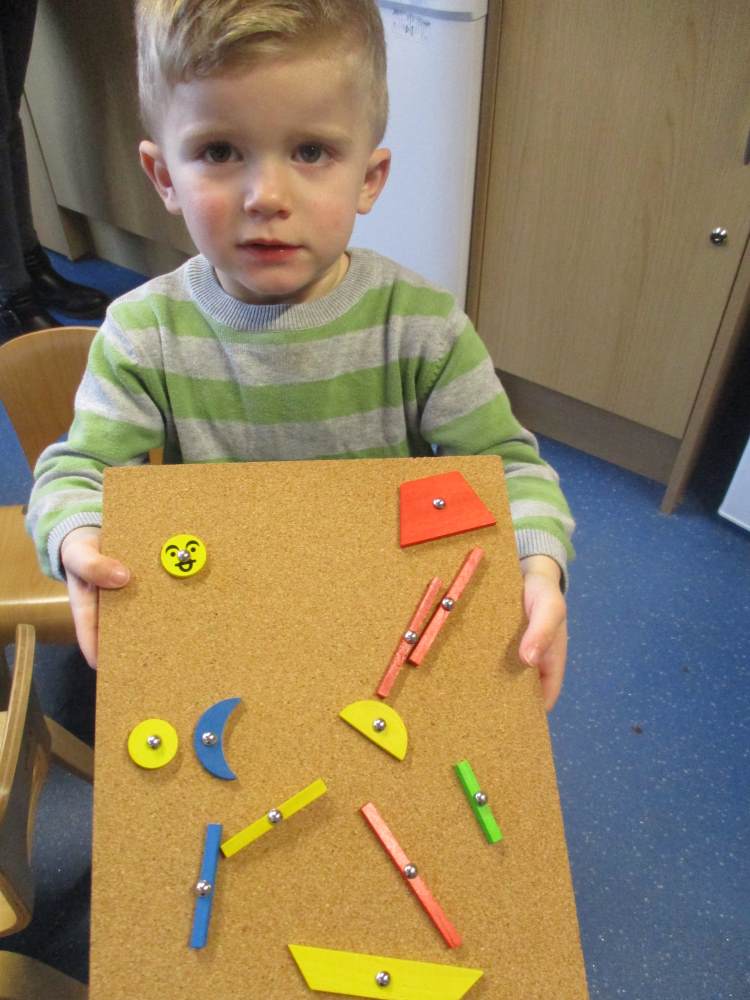 Rhyme Time for 3-5's
Come along and join with your child in rhyme time, a fun way to learn together.
Thursday 26th January 2.40pm
Thursday 2nd February 2.40pm
Thursday 9th February 2.40pm
Ask Mrs Mcilvride for more details.
Our garden – HELP NEEDED.
Work continues as we develop our garden. Our deadline for finishing phase 2 is 28th March and we are feeling the pressure. If you can help us by giving us a few hours of your time either weekly or as a one off please speak to Mrs McDougall or Mrs Maclaughlan. You don't have to be a talented gardener you just have to be willing to get your hands dirty.
The first 2 weeks of term - we have been busier than ever!
Snow indoors and outdoors has been helping us develop our writing skills and we wish to make a public apology to Jane our long suffering cleaner for the indoor snow because it gets everywhere because its such great fun sprinkling it over our heads and throwing it in the air, sorry Jane.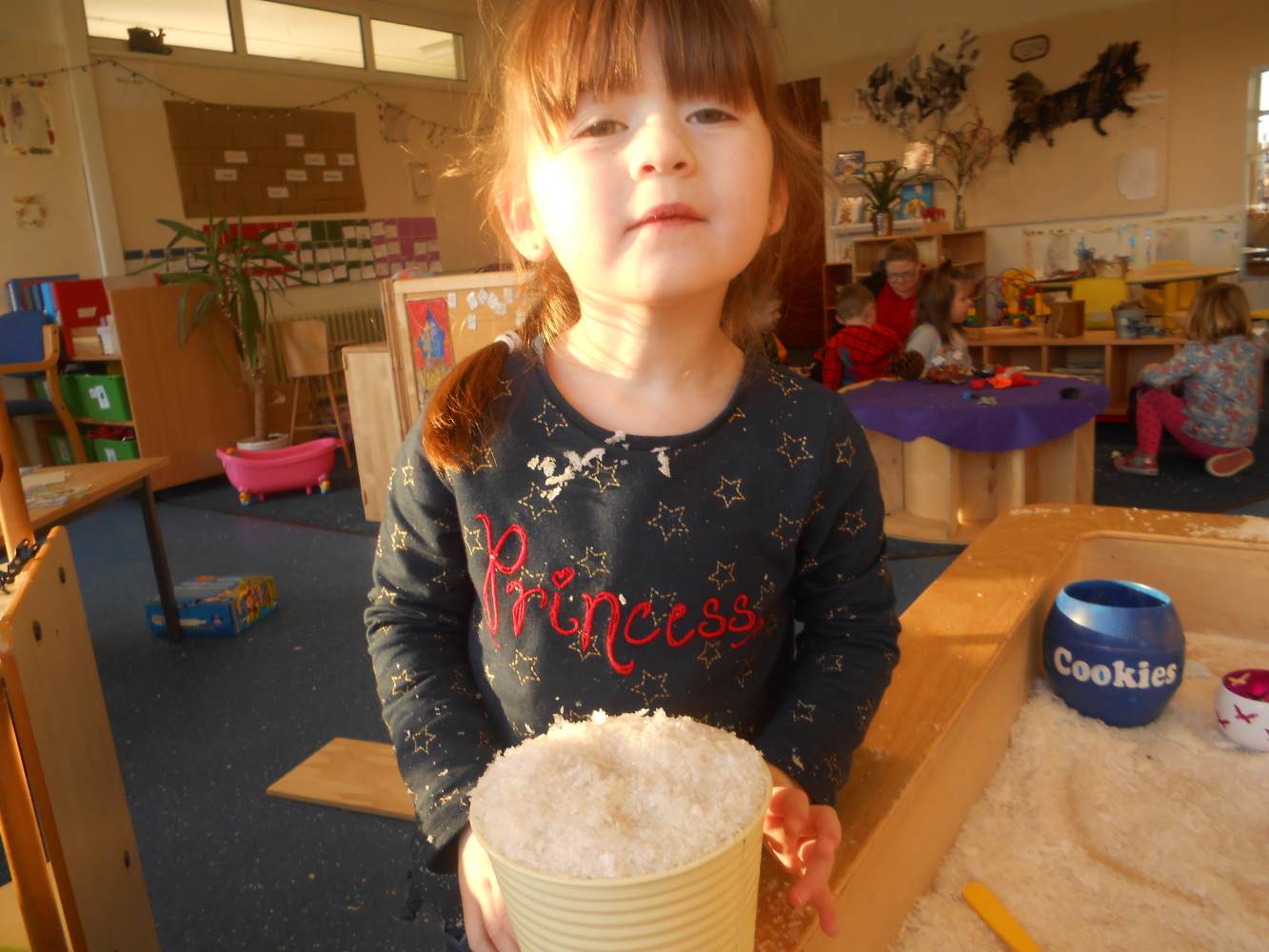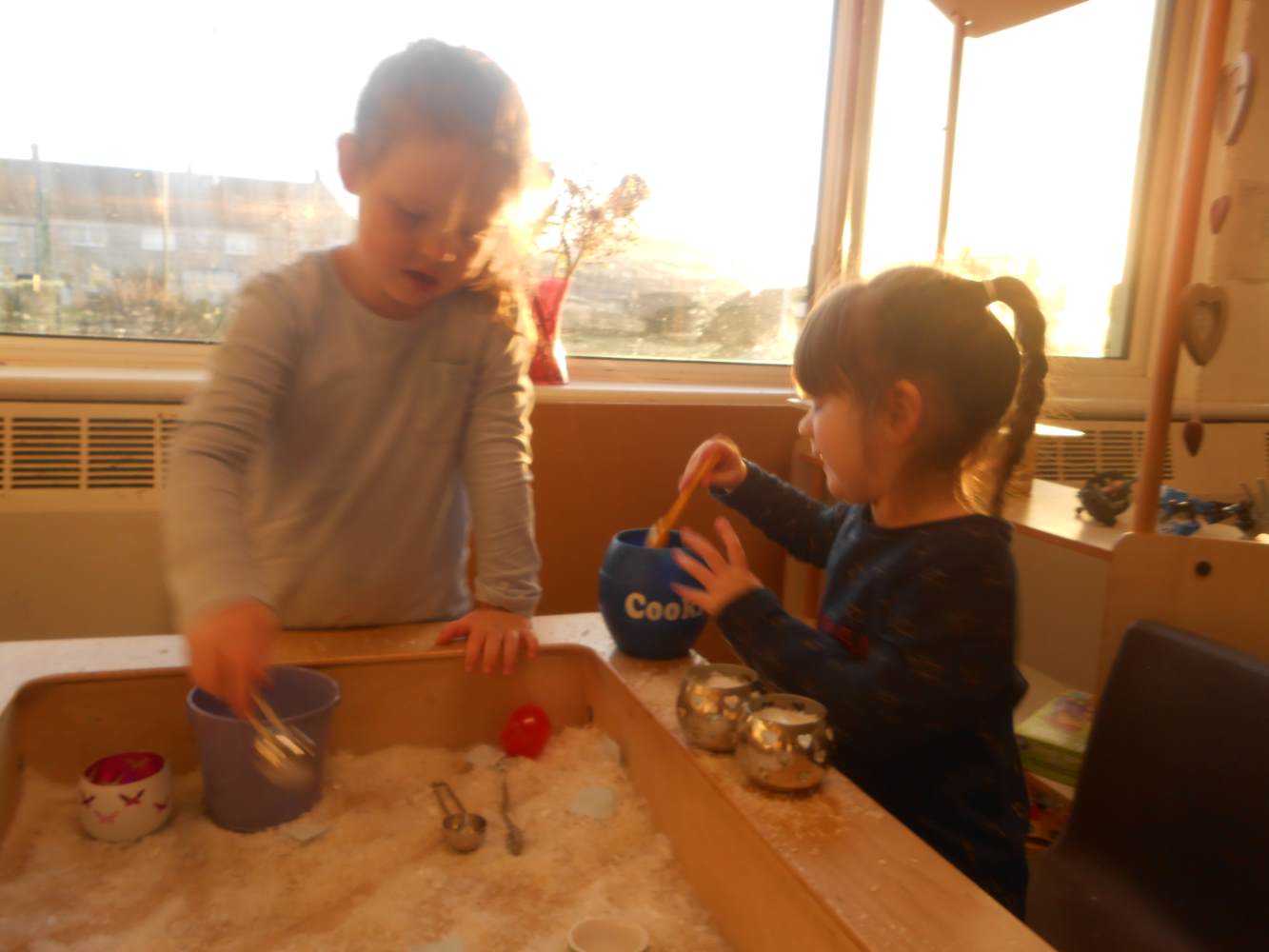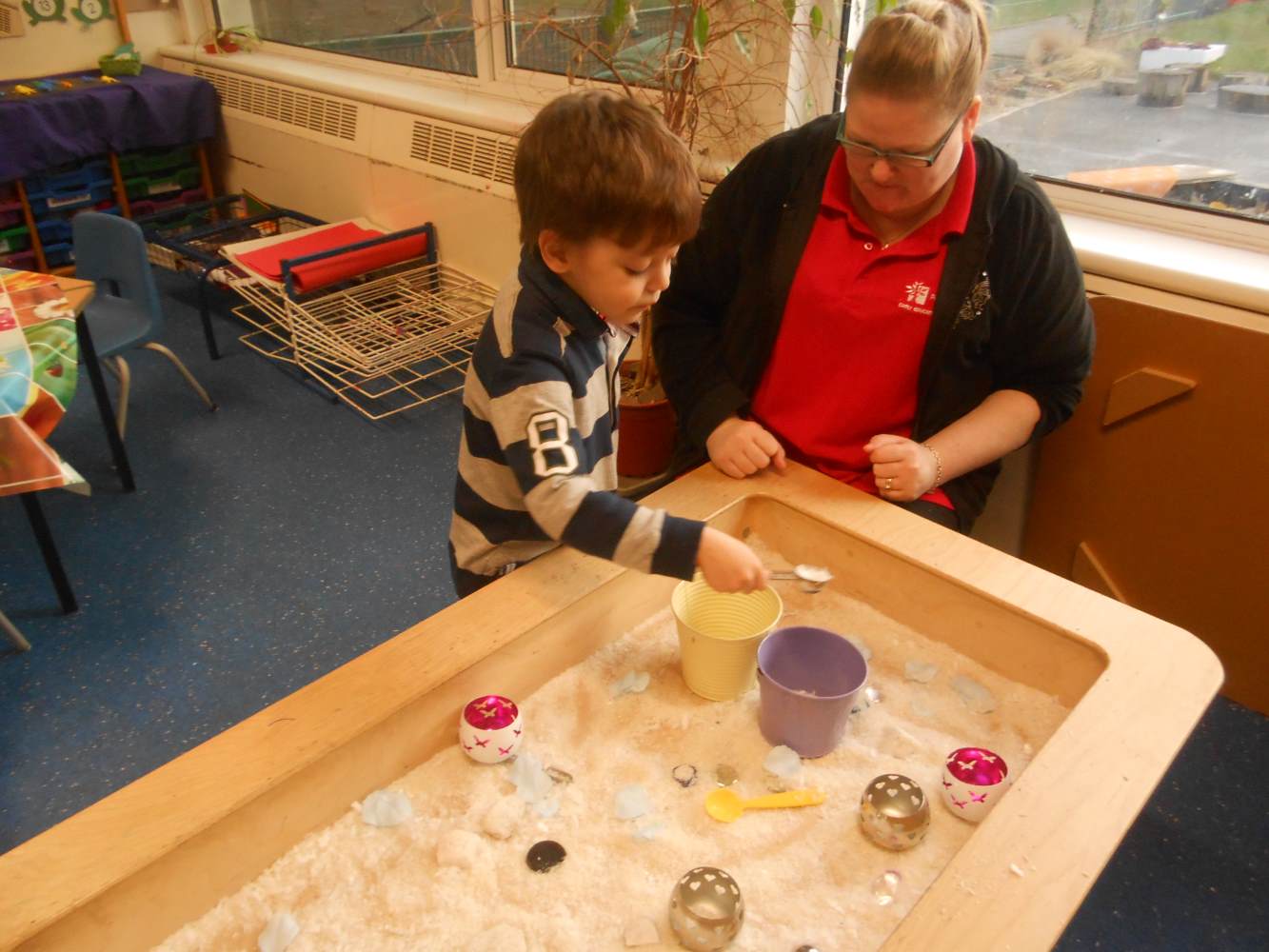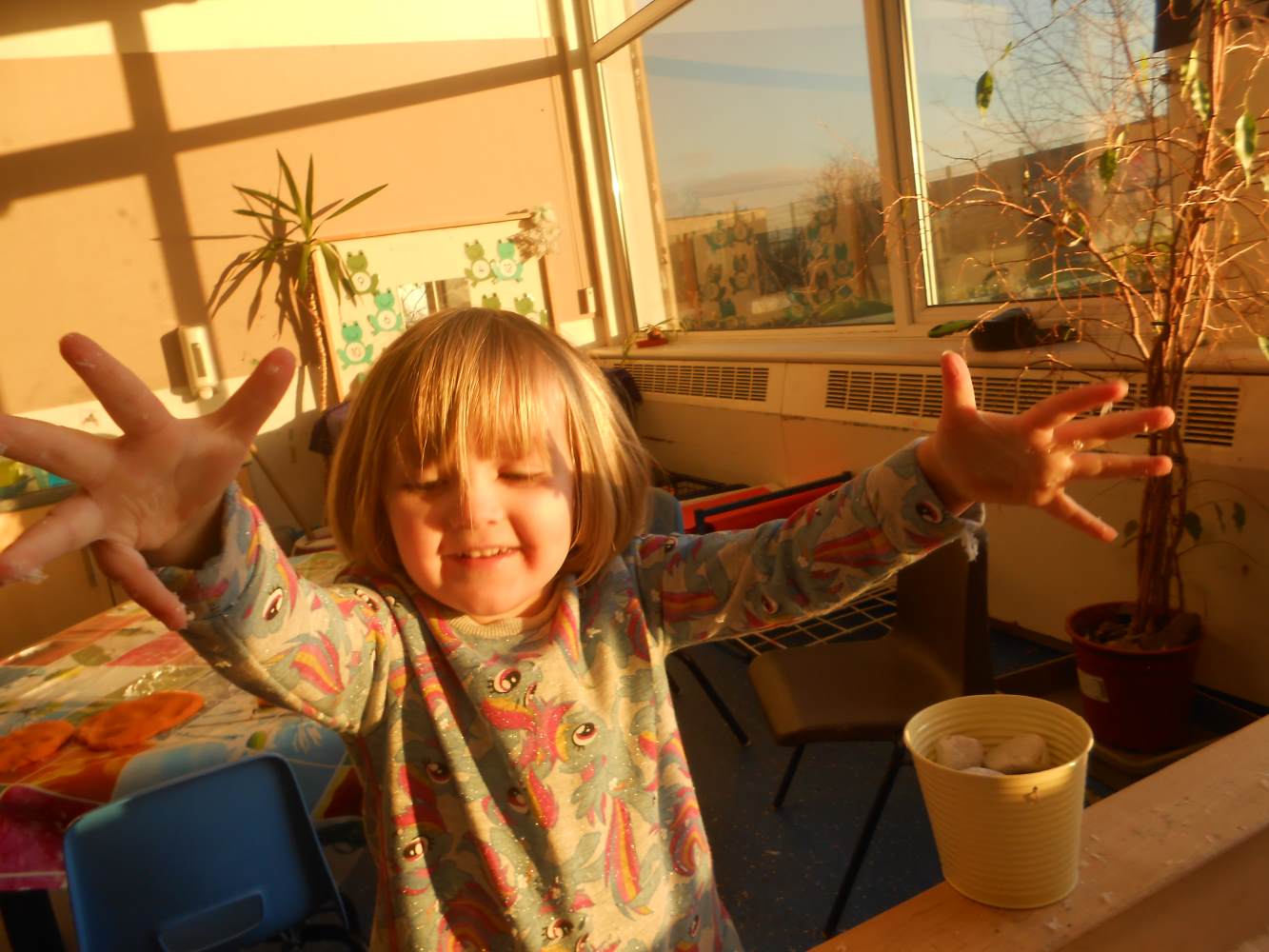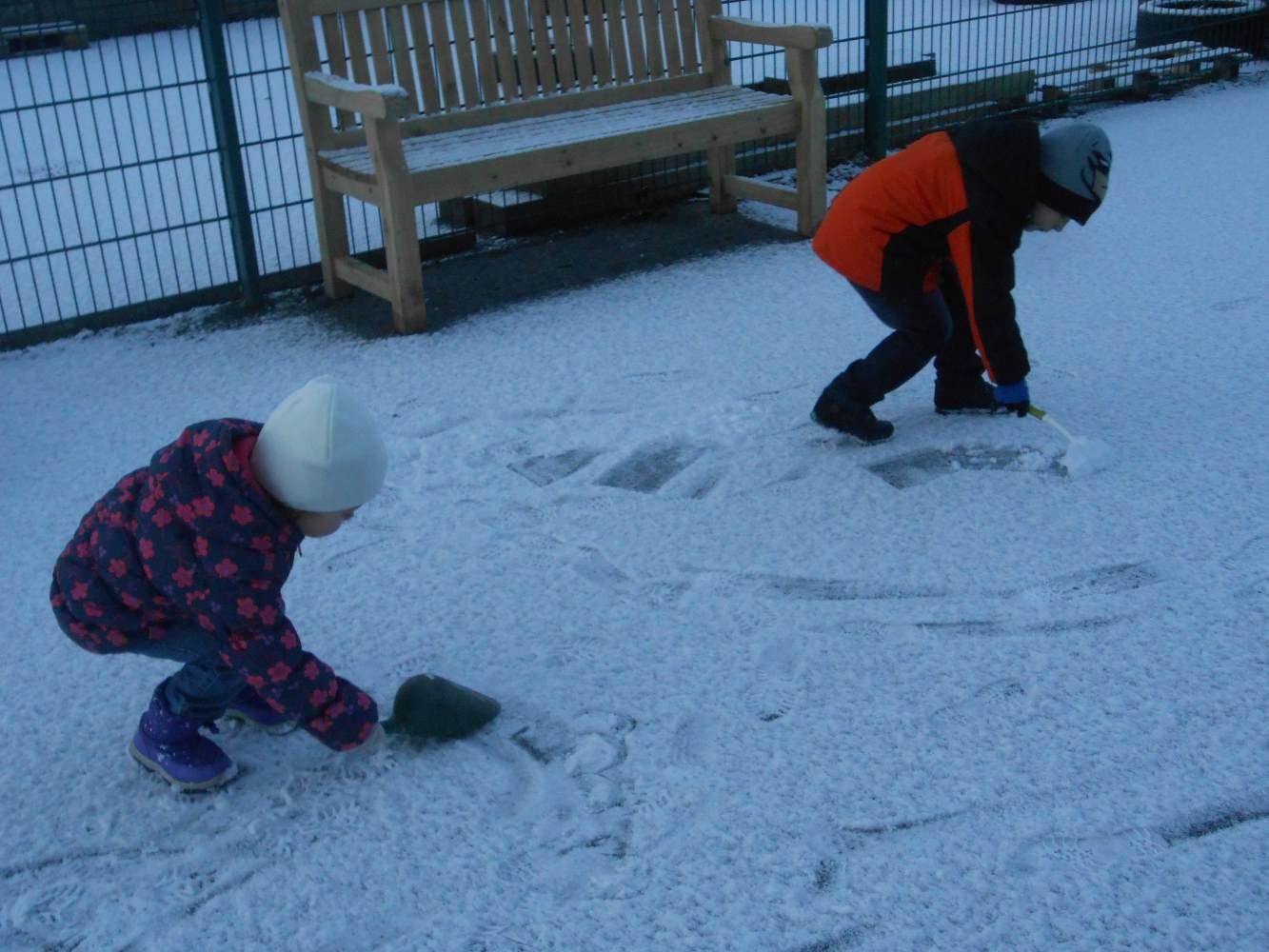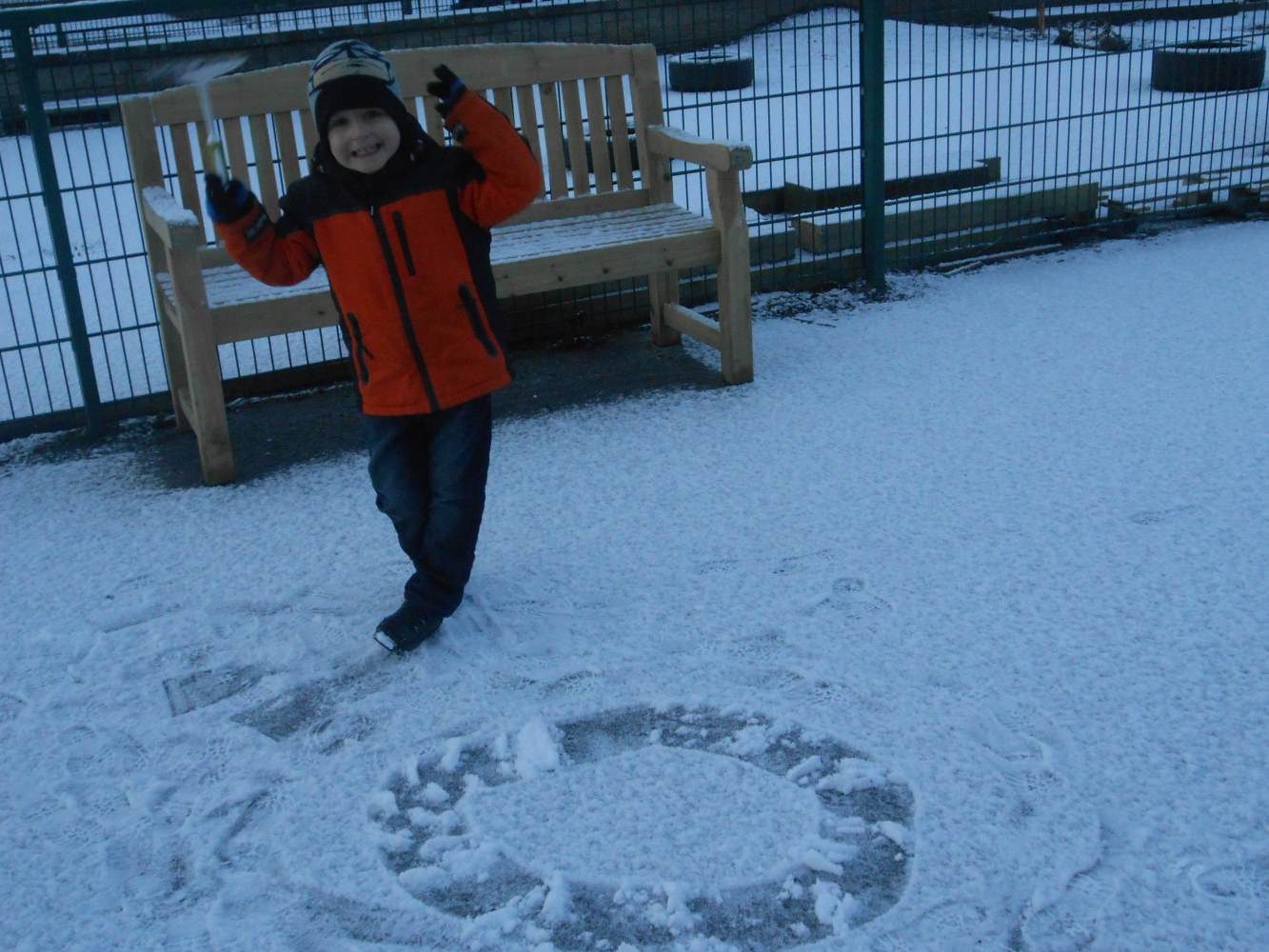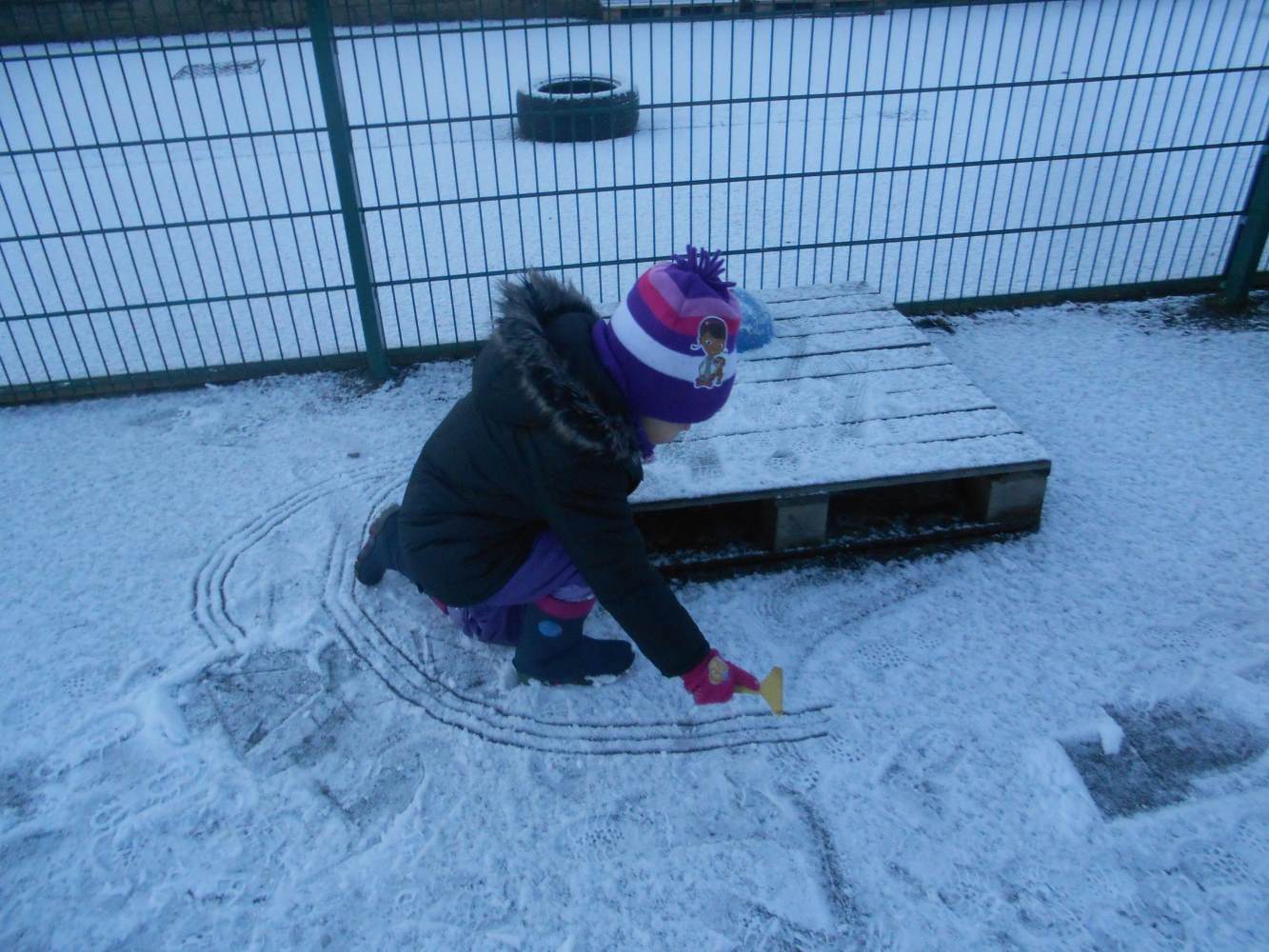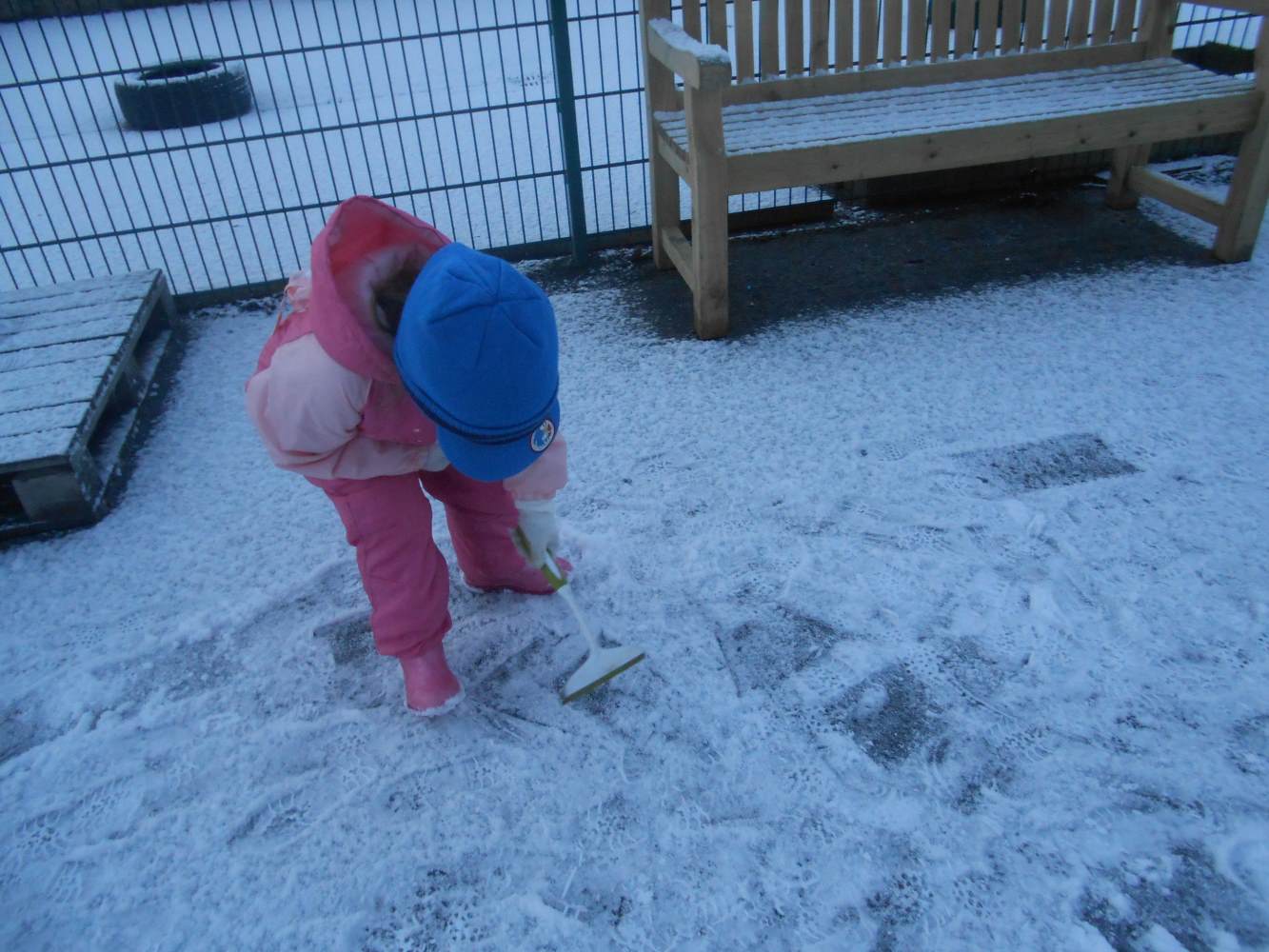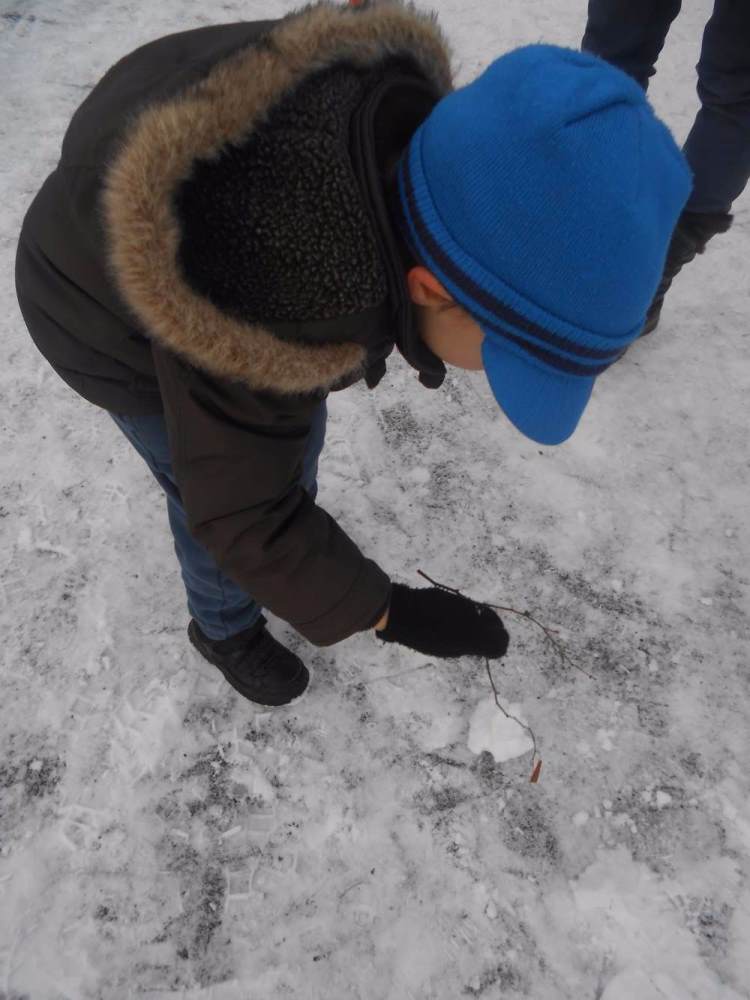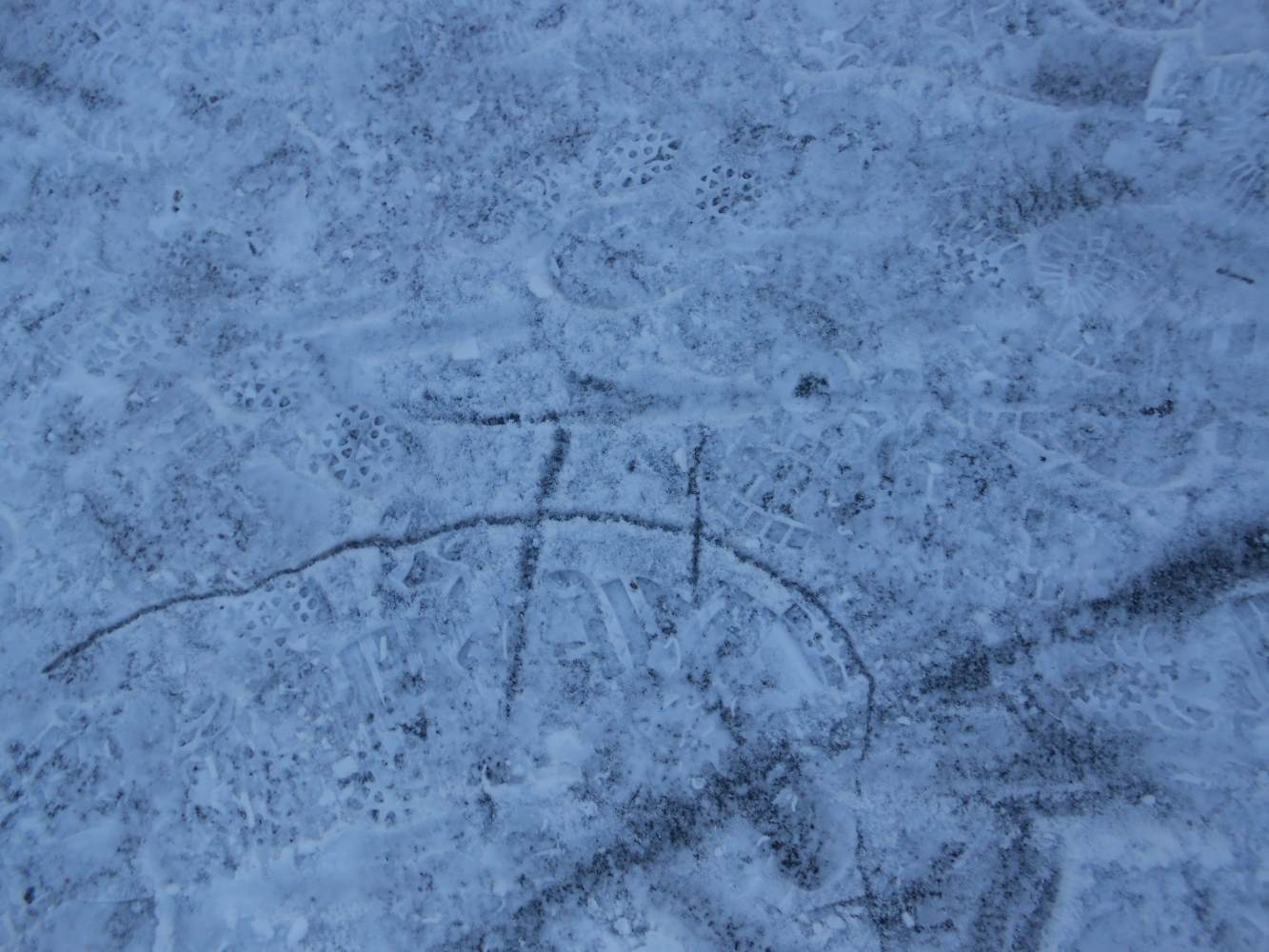 There wasn't very much outdoor snow but we managed to make snowmen, very small ones.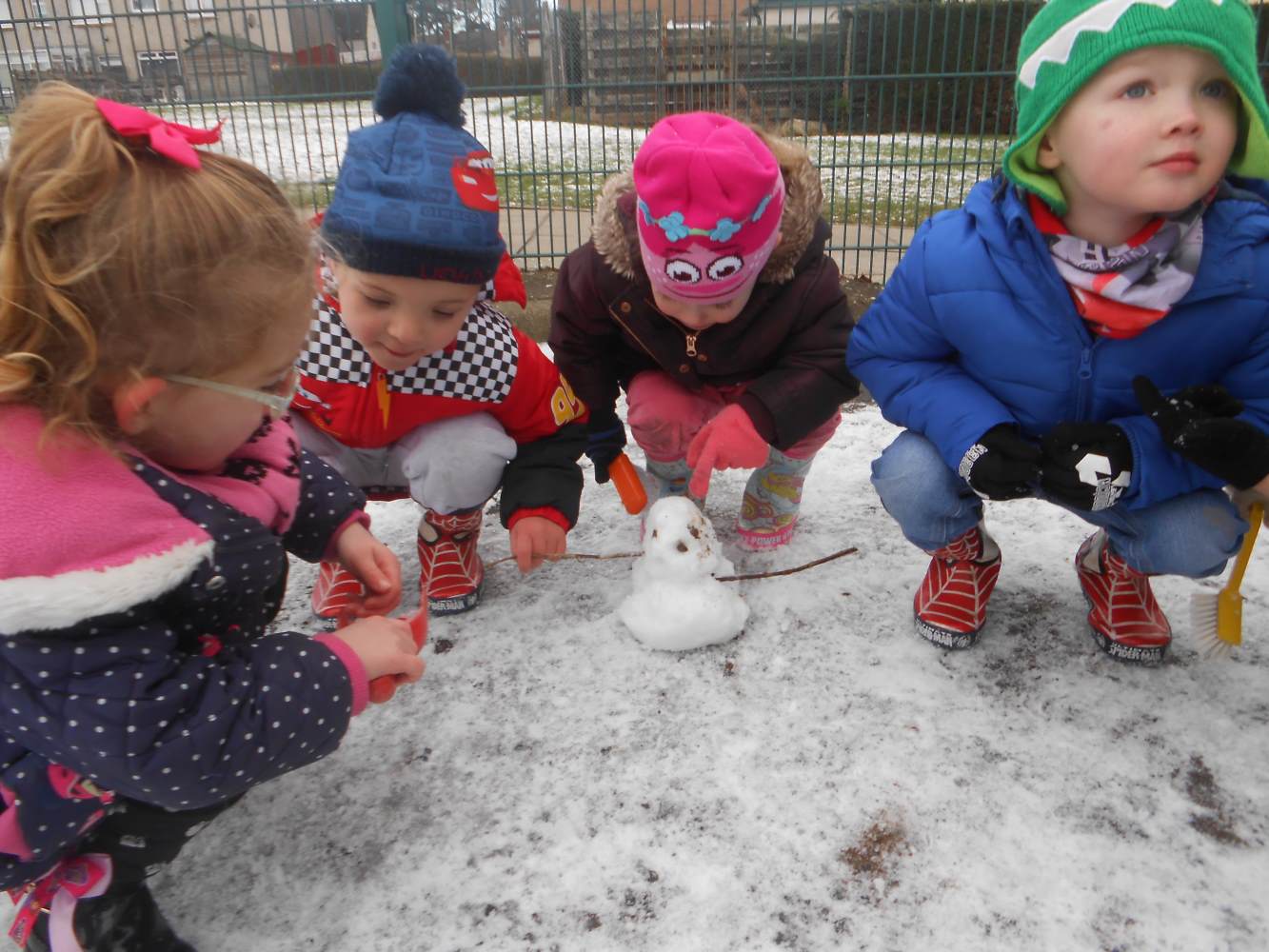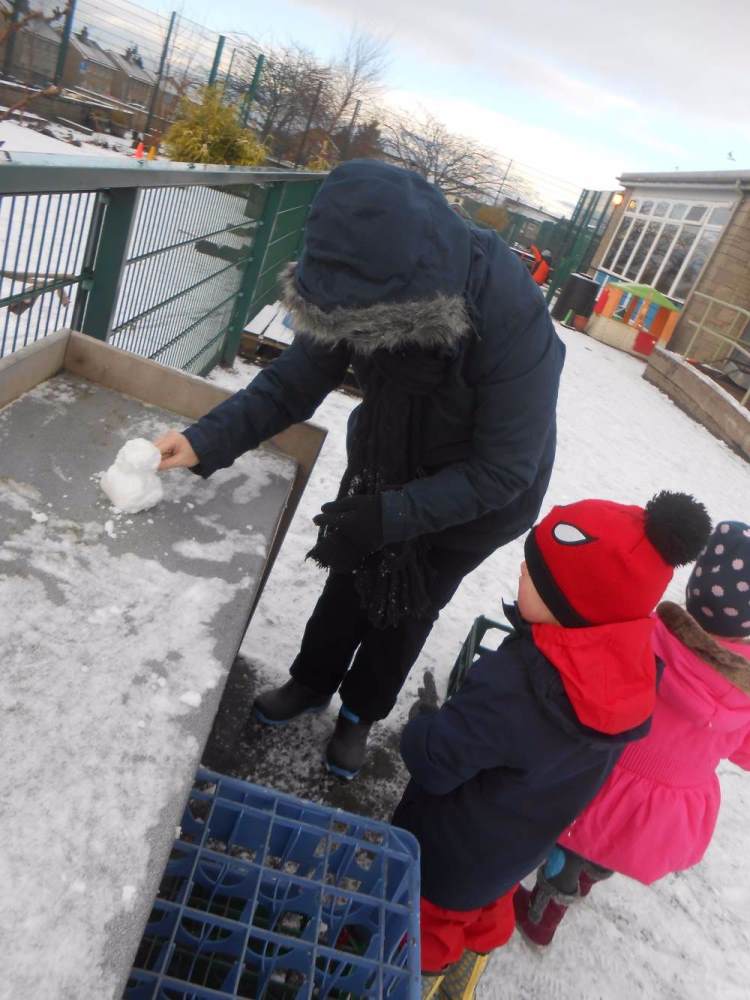 The slide was great fun in the snow.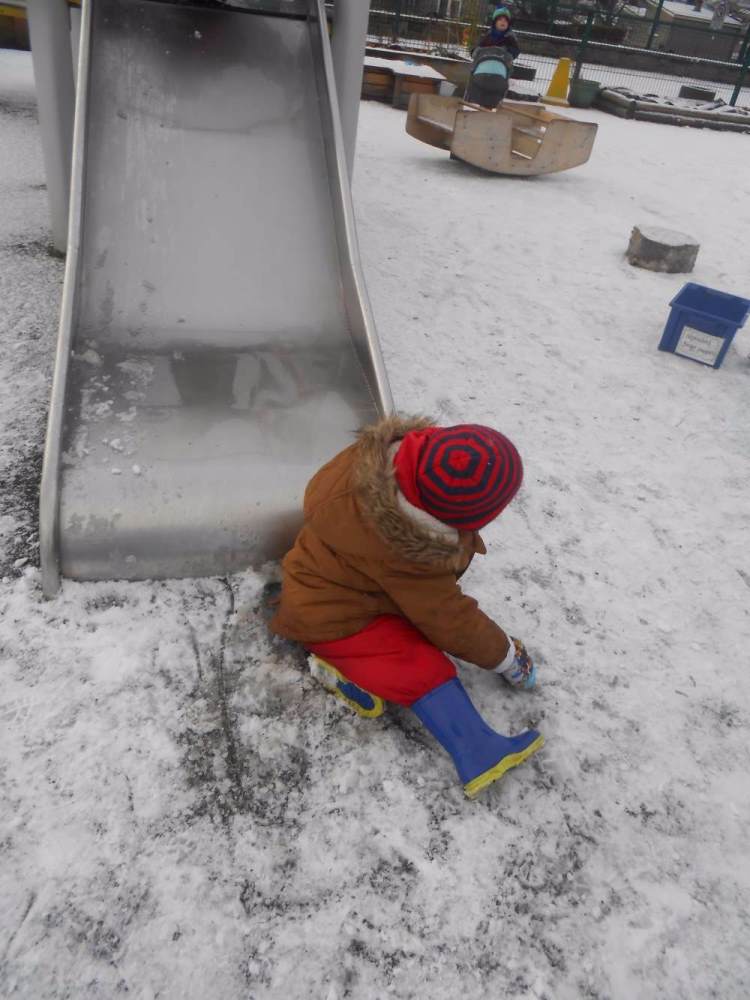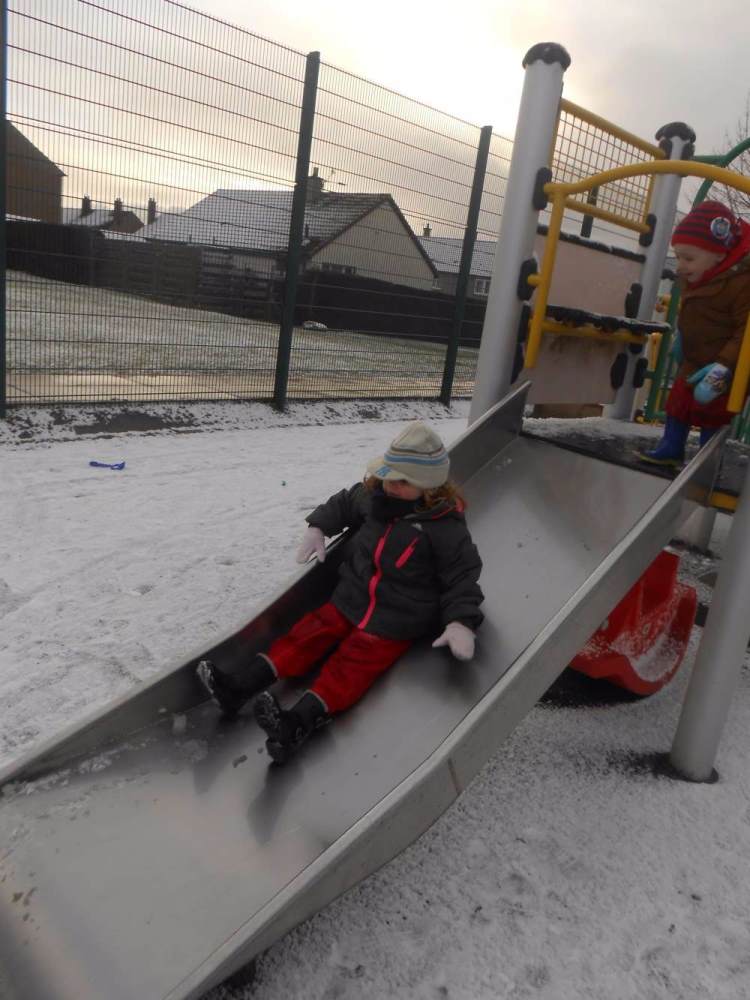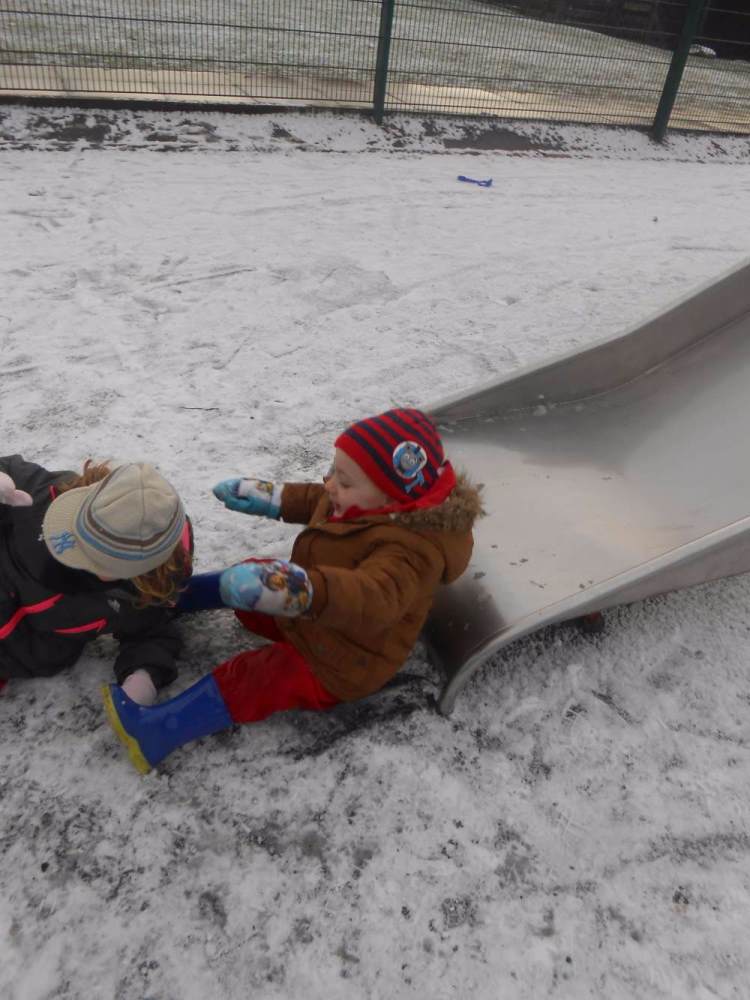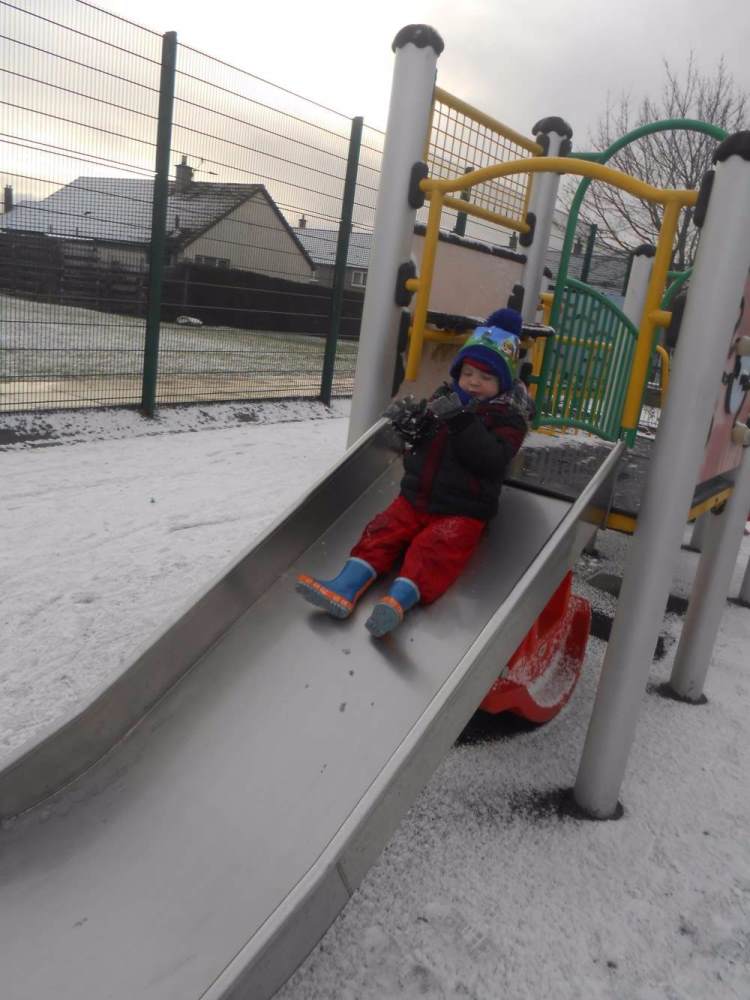 It really was very cold and we were glad of our warm clothes. We carried out an experiment. We put some water out in different items at the end of the day and by the next day it had turned into ice shapes.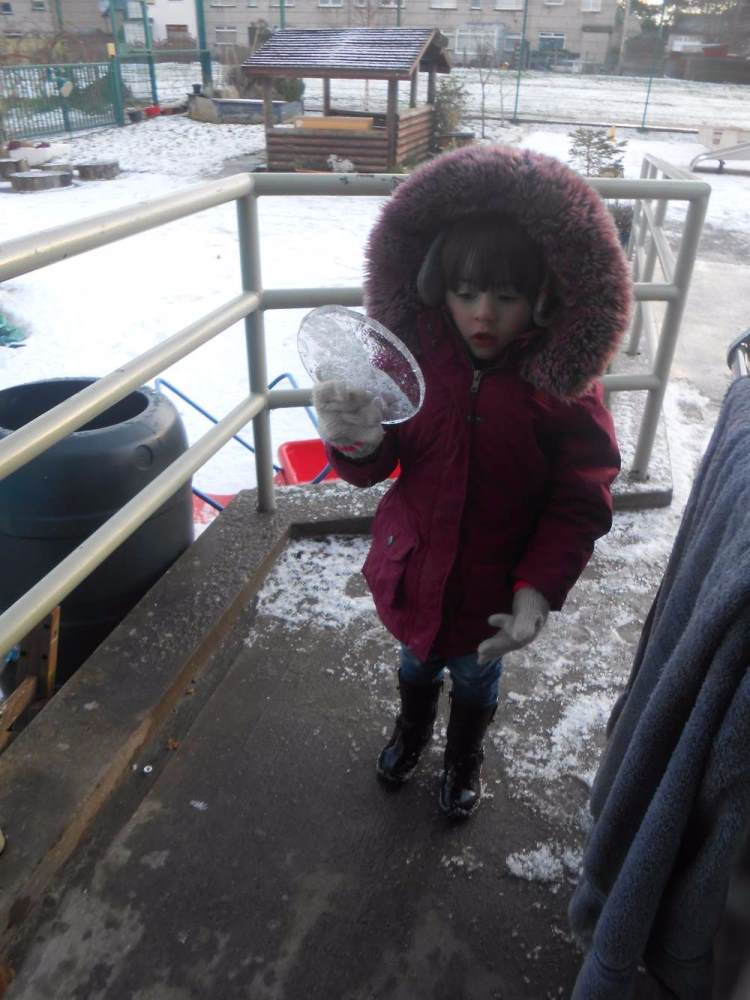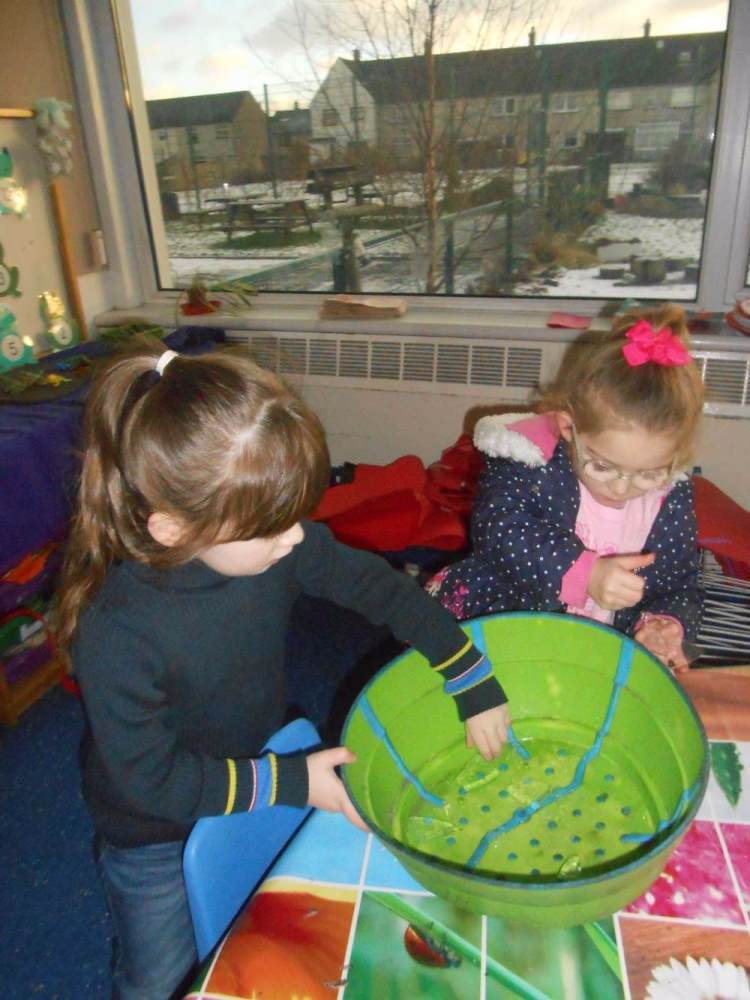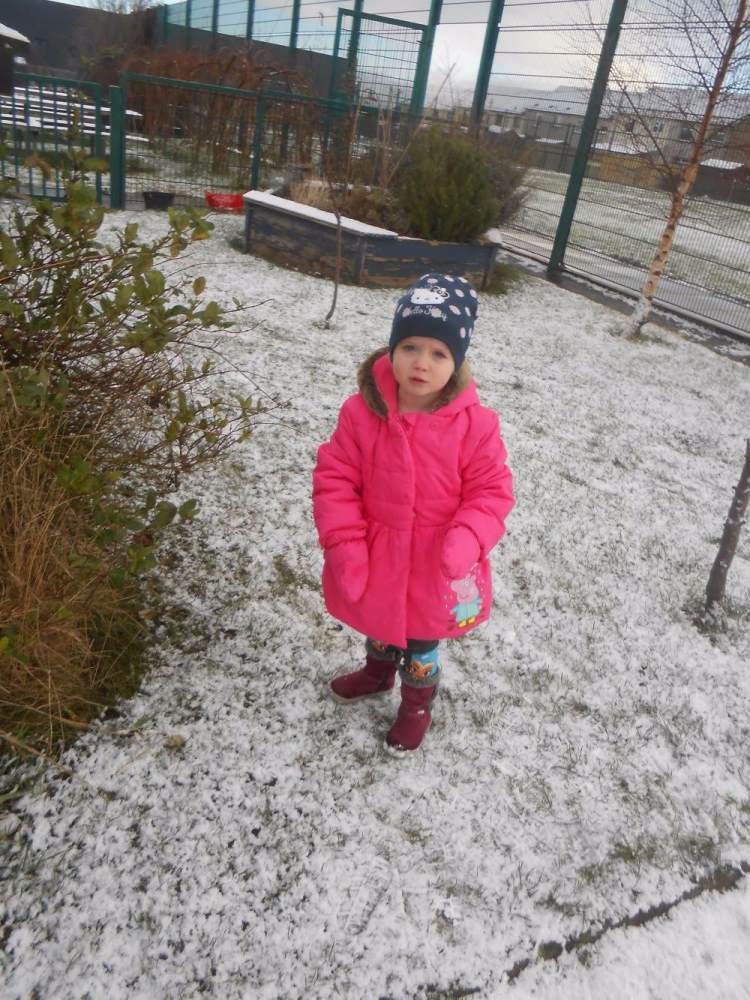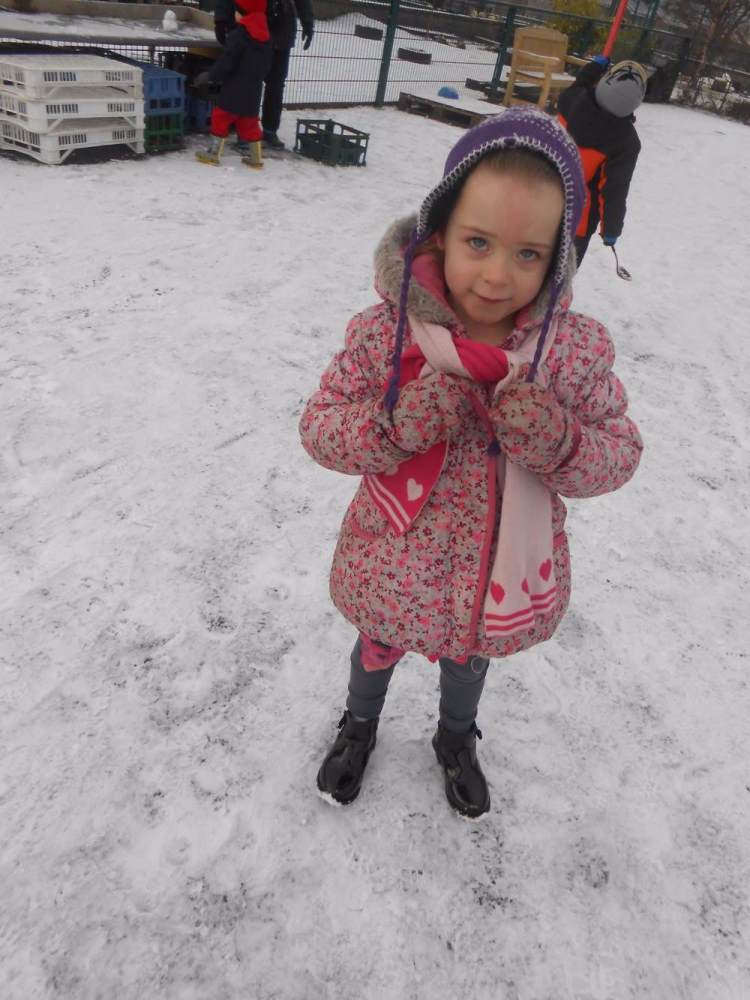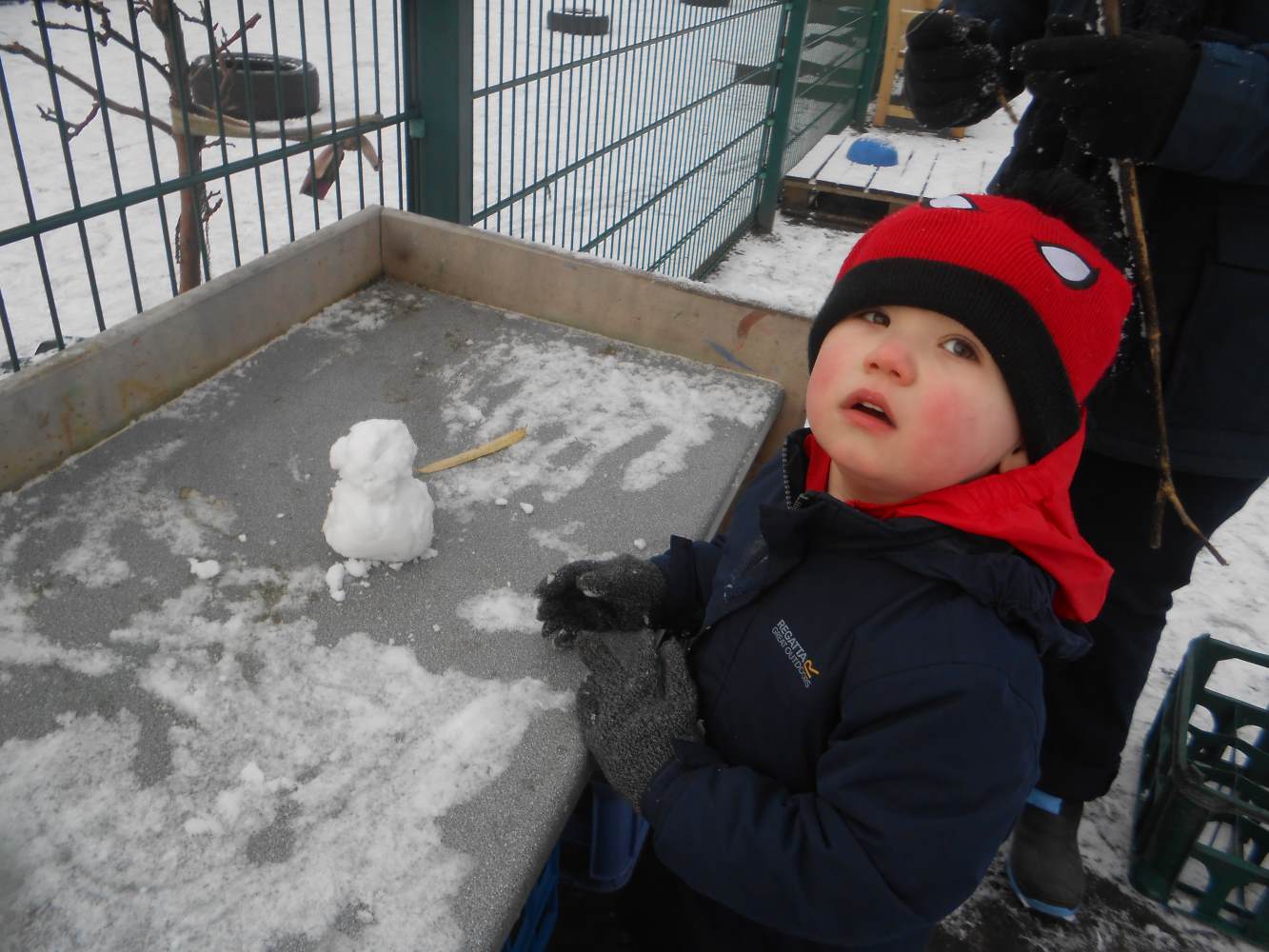 We are learning about castles.
First we created a back drop for the wall and learned about battlements.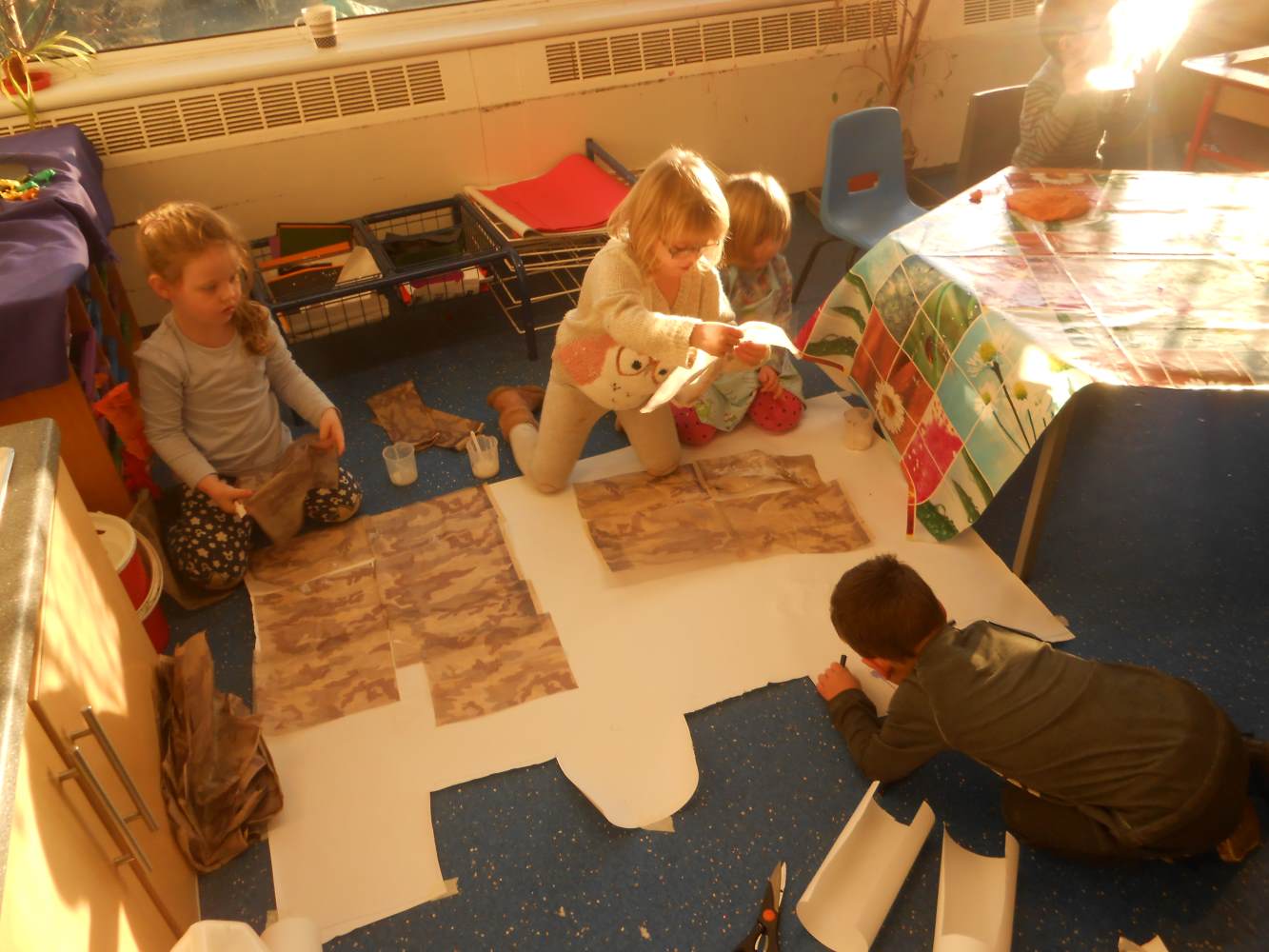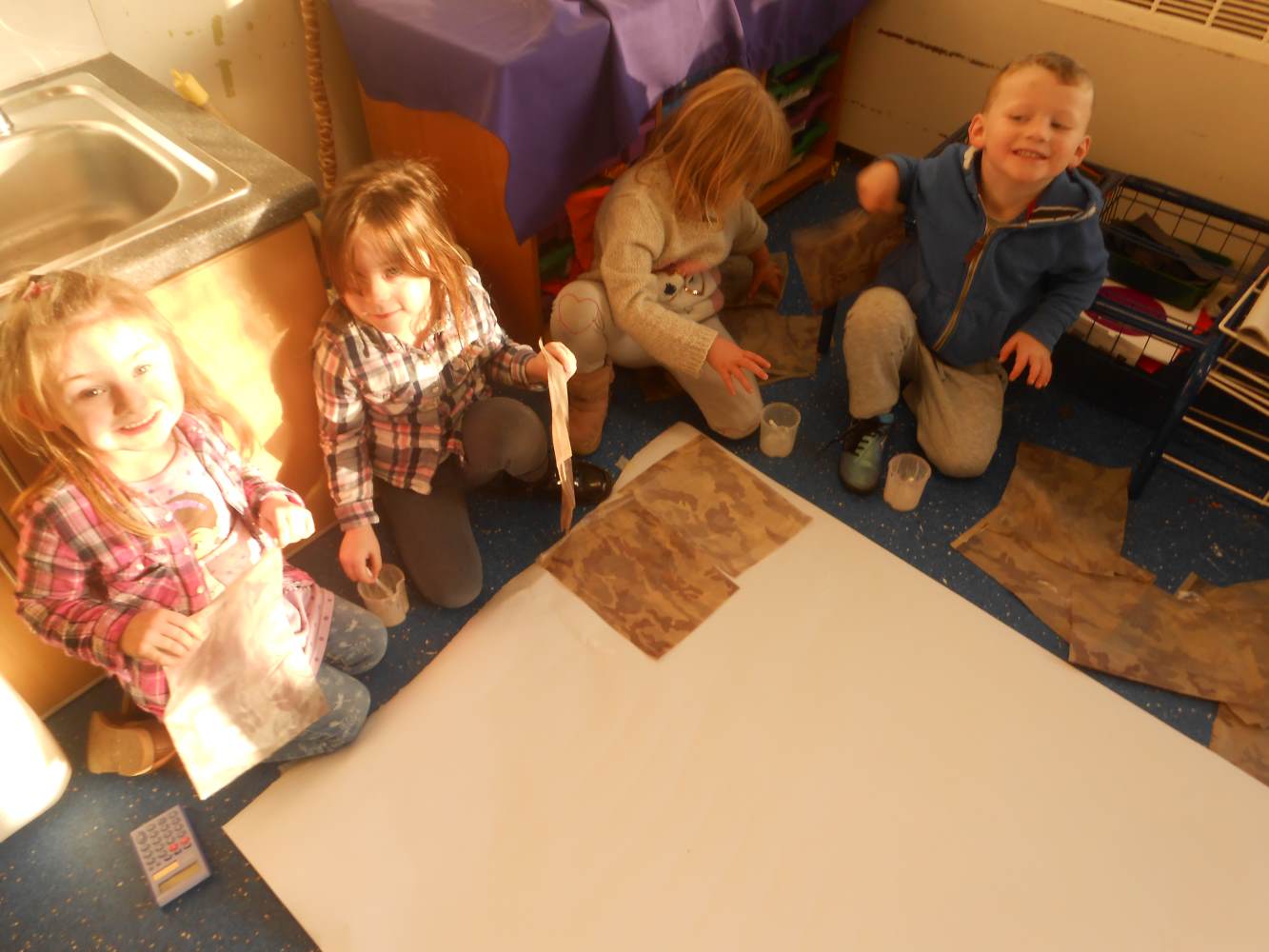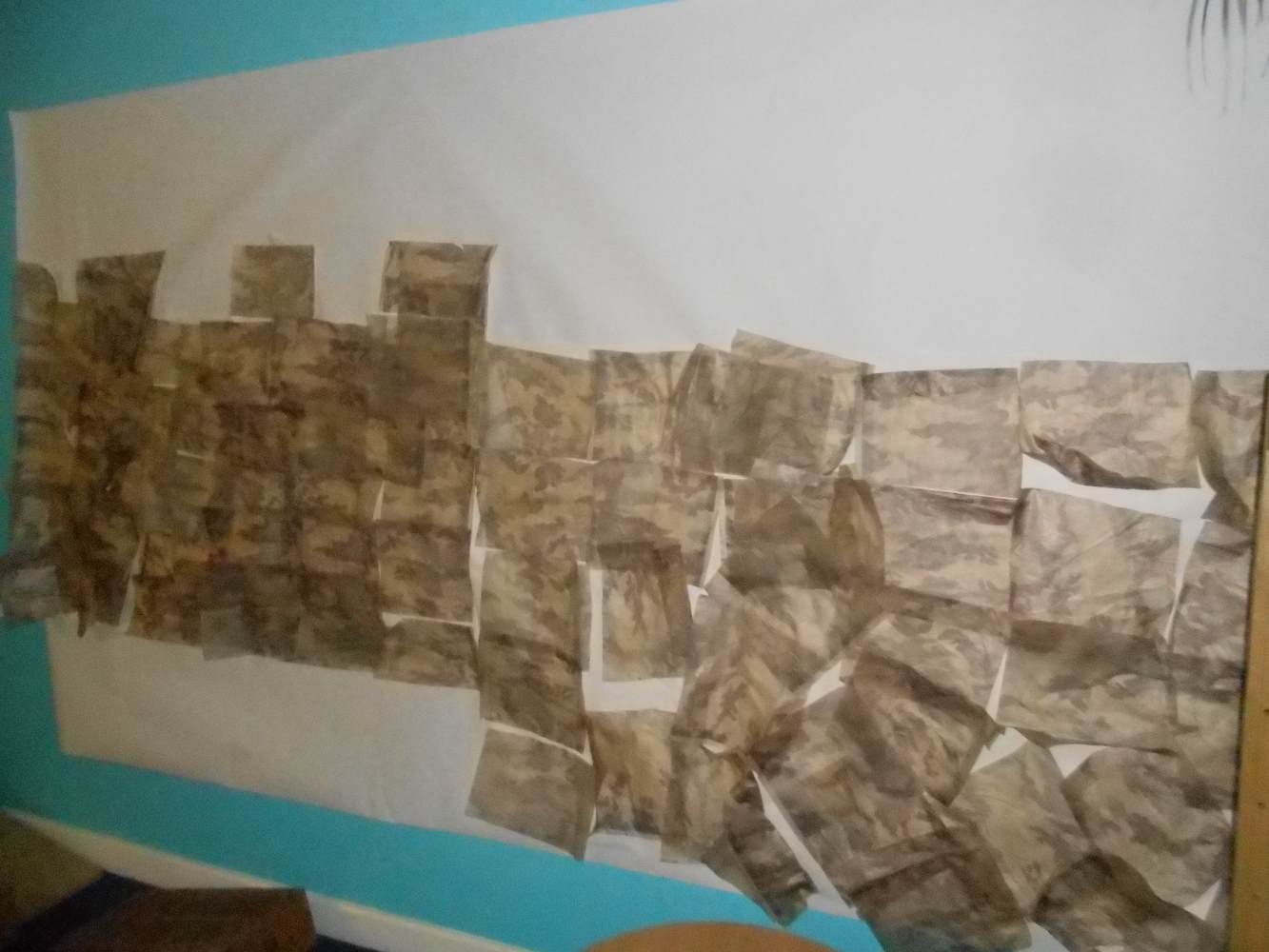 Then we needed bricks to build towers. We worked with a partner to cover the boxes, that was a very tricky job. Then we decided paint would be best. Amazingly we managed this without to much mess. We were all very proud of our team work and the finished result when we joined our bricks together.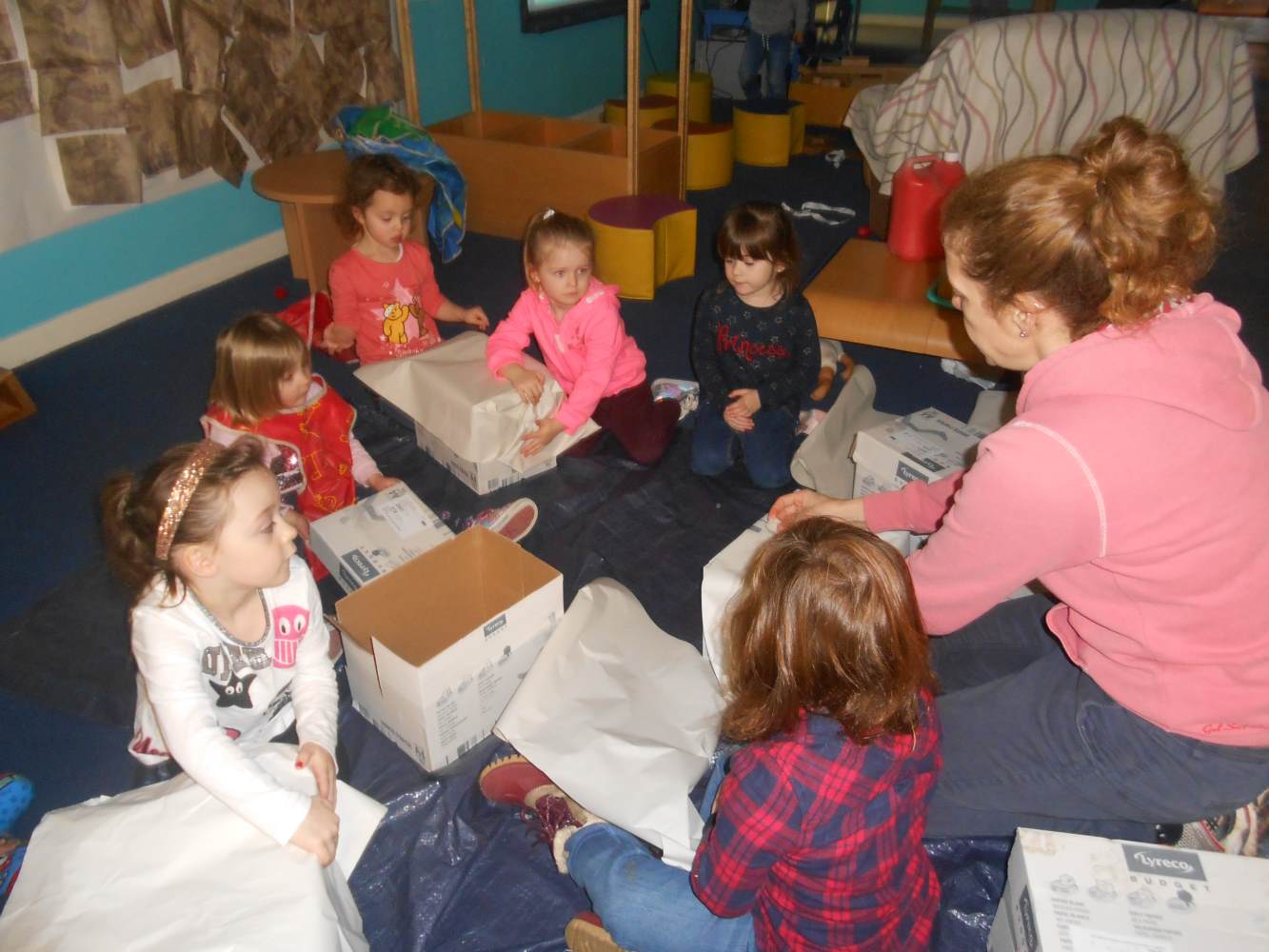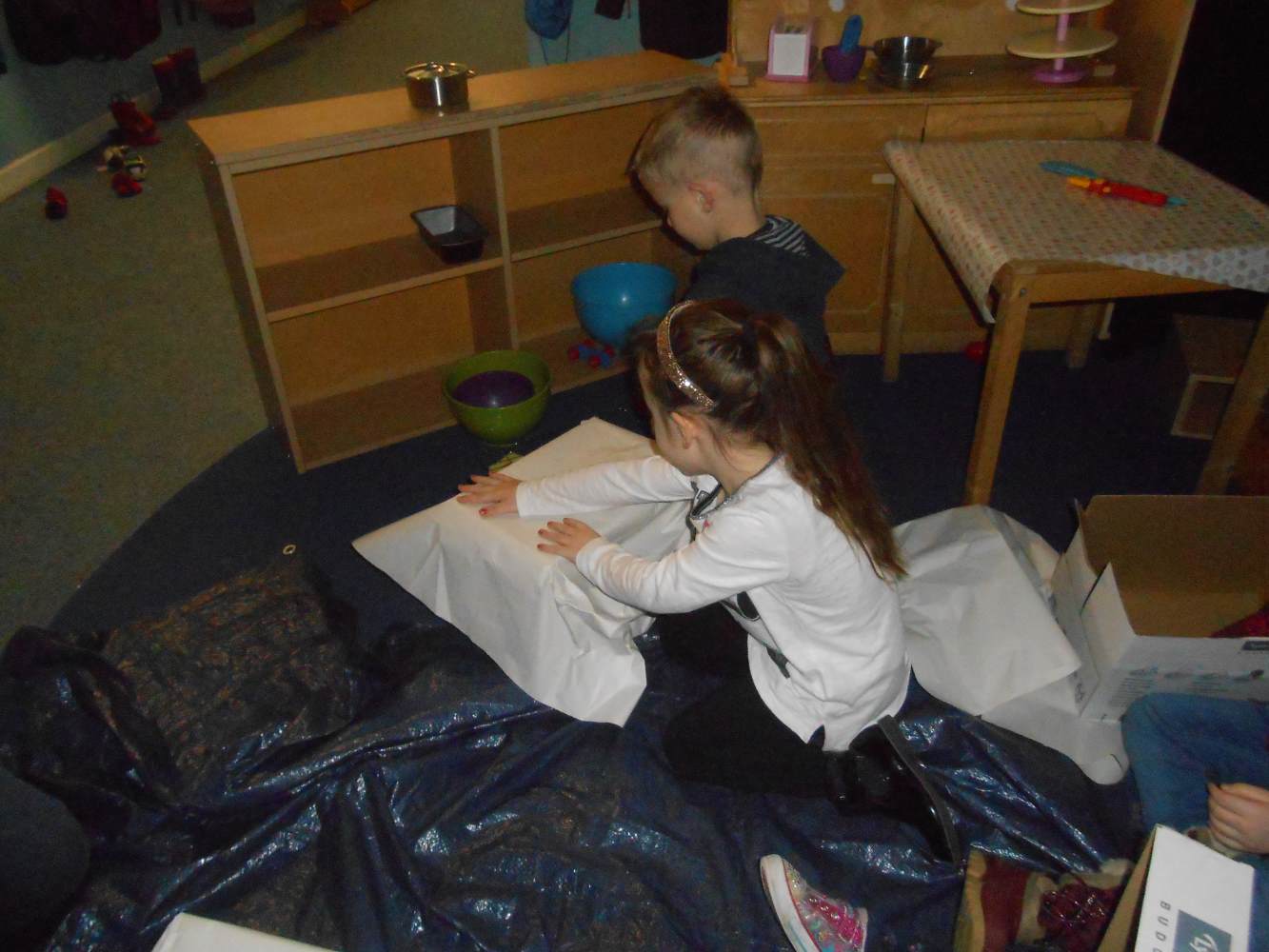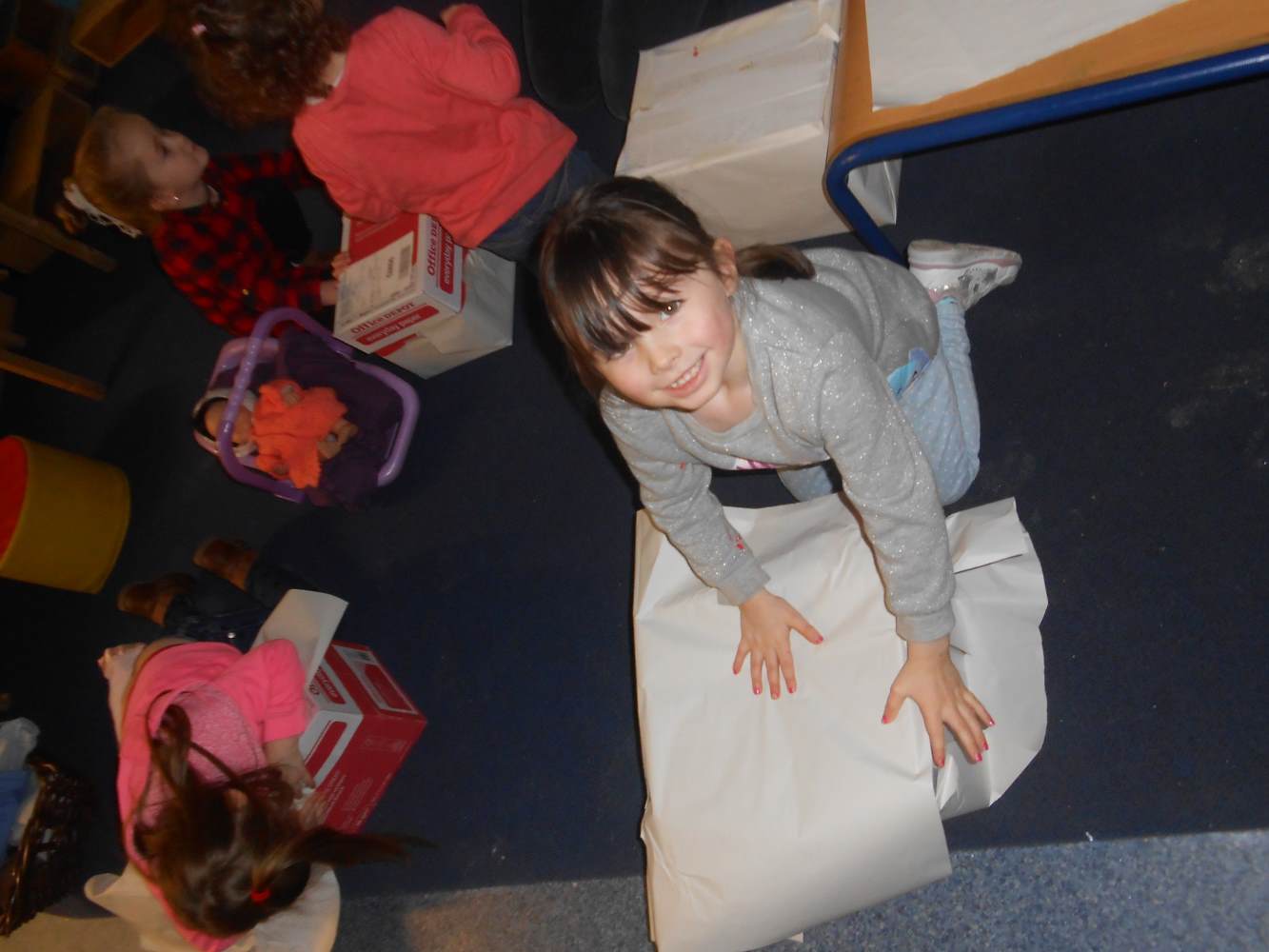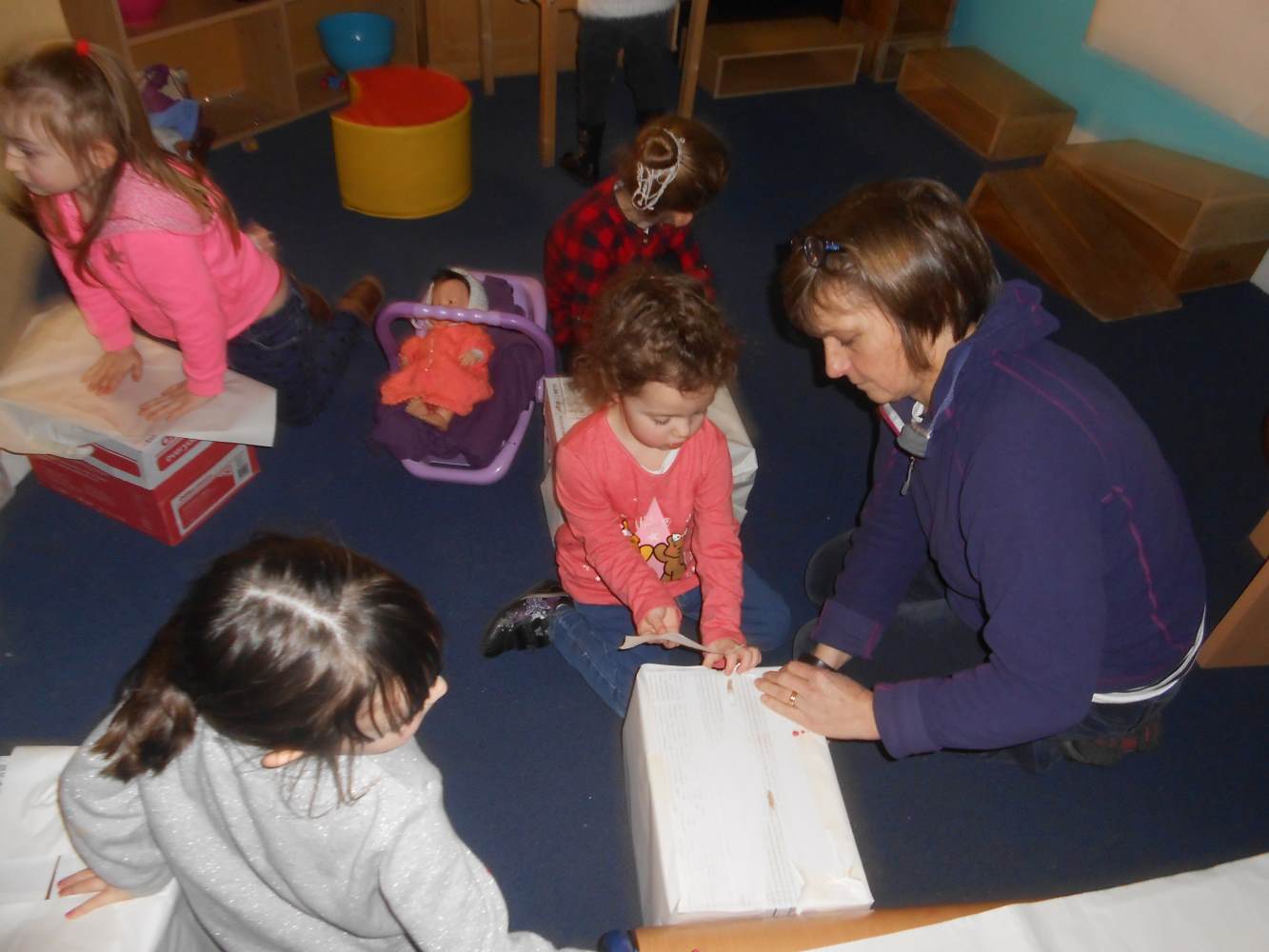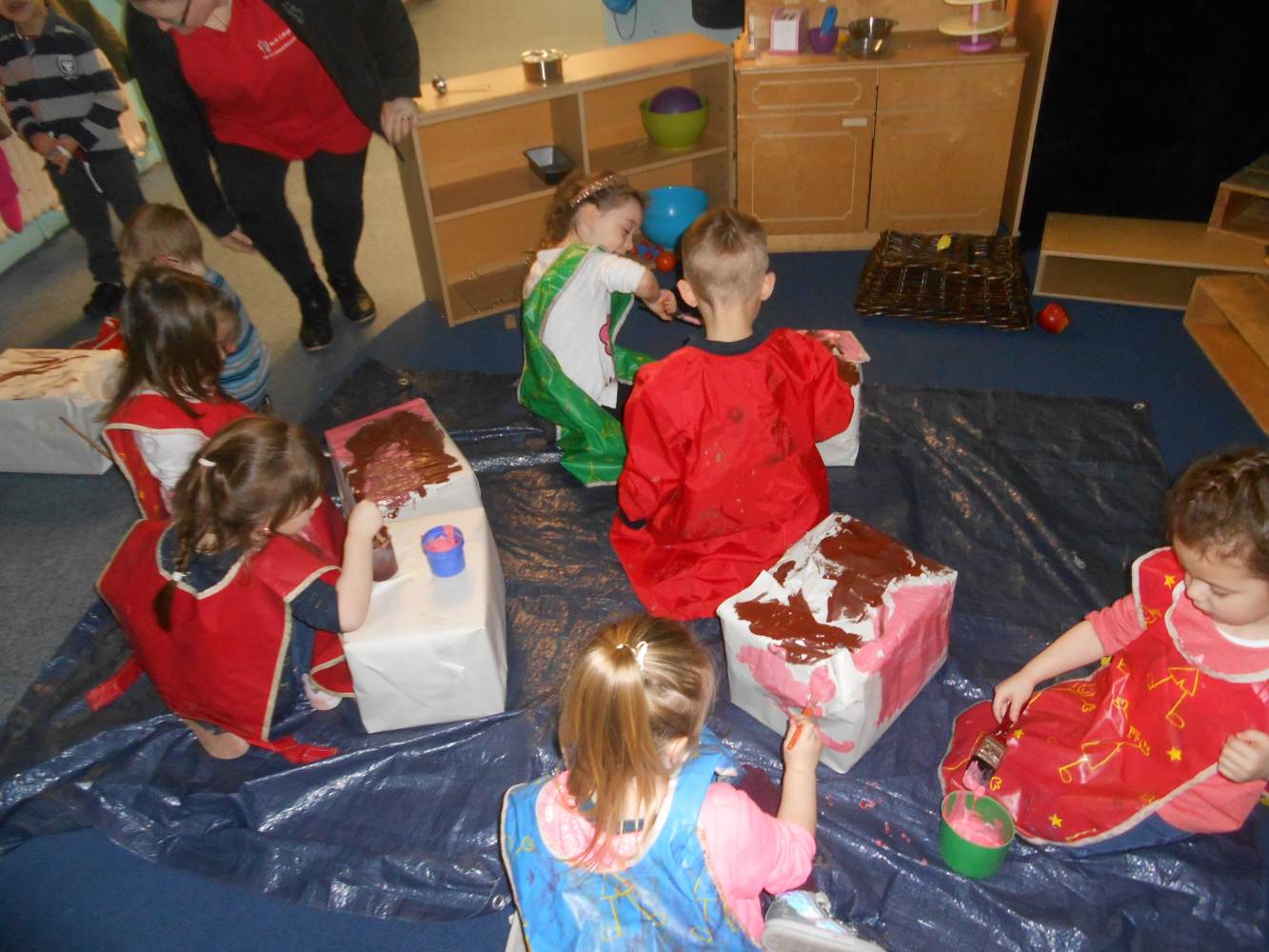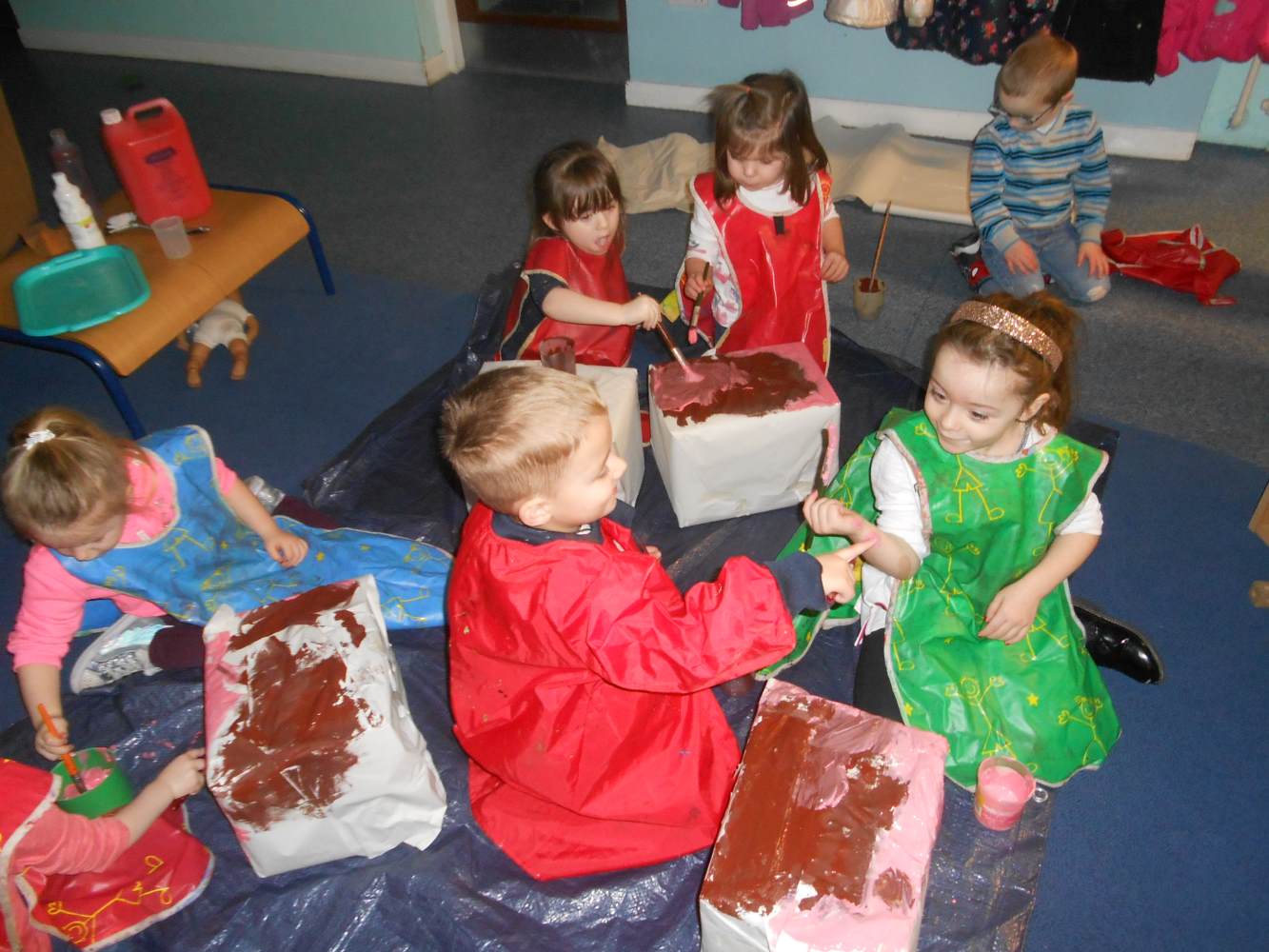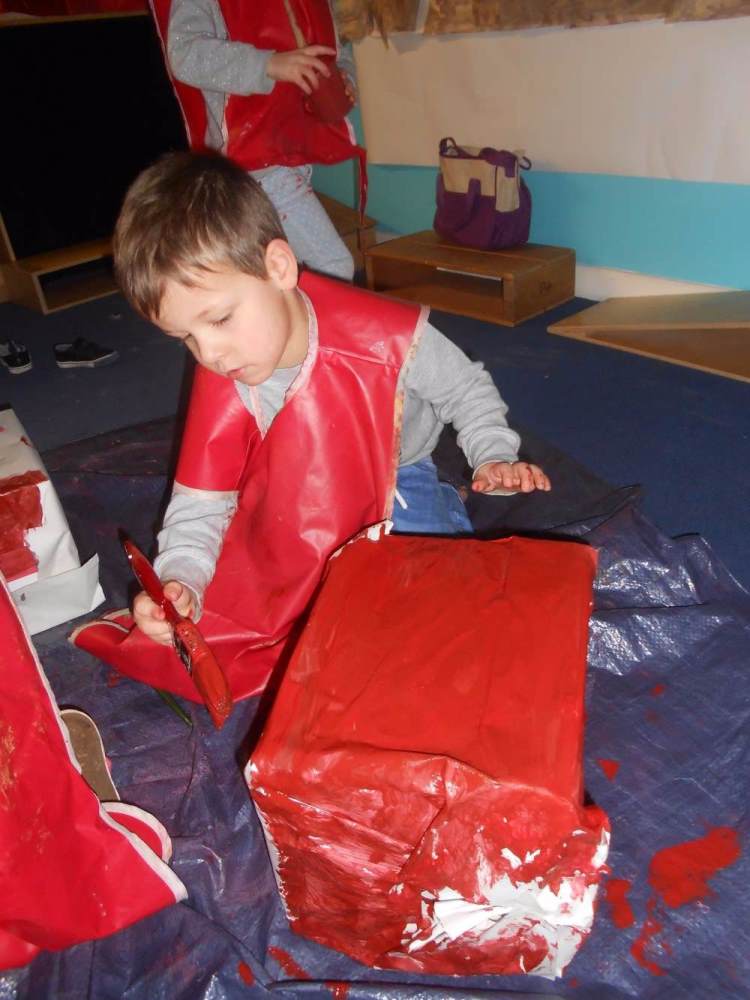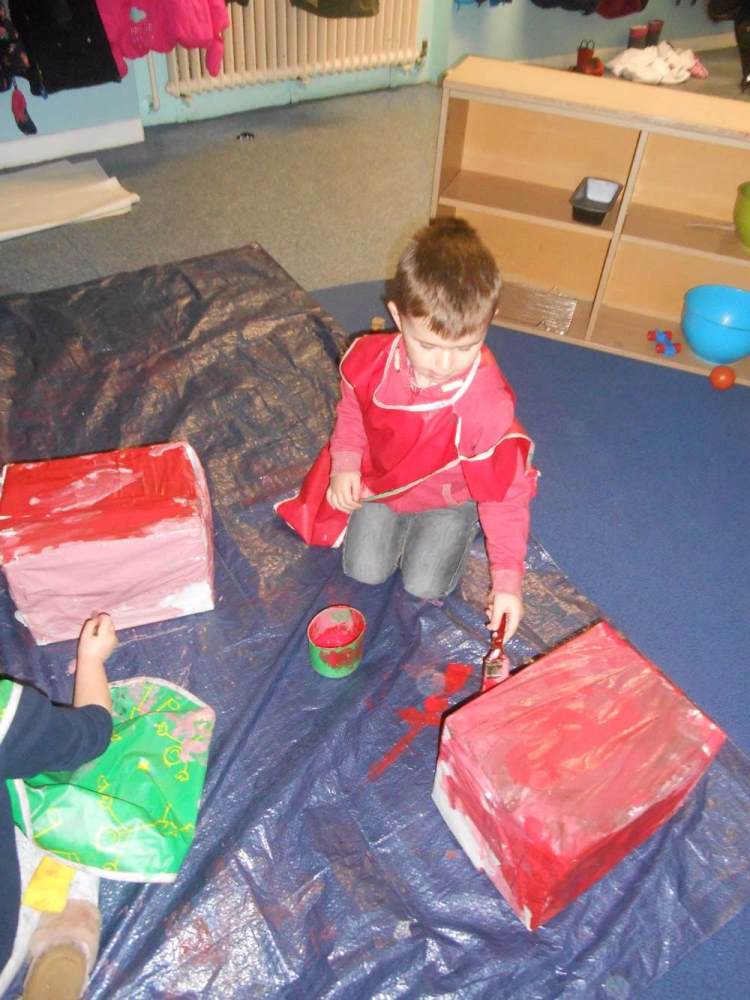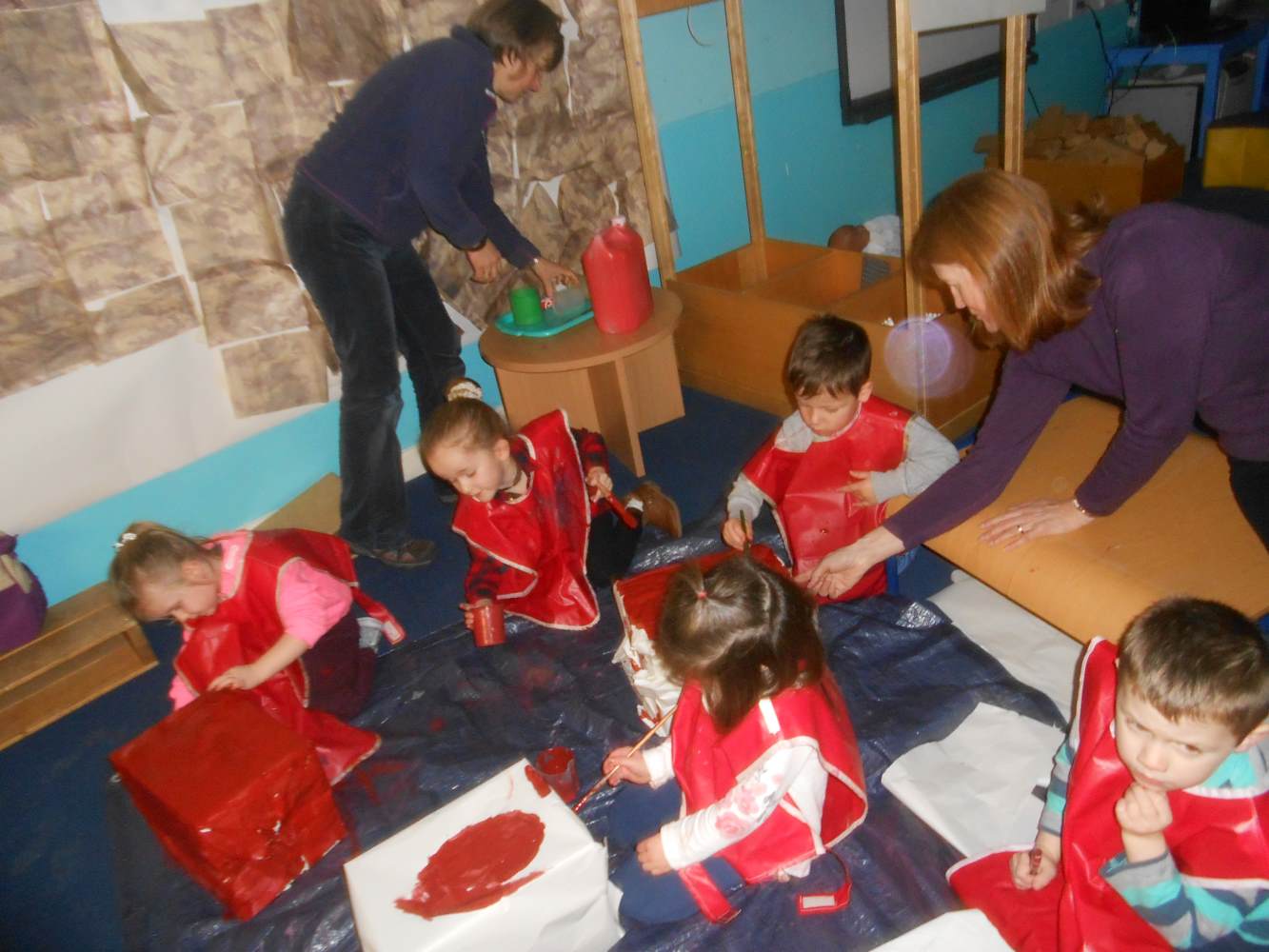 We learned about flags and why castles have them. We did some research on the computer to get our information. Then we made our own flags.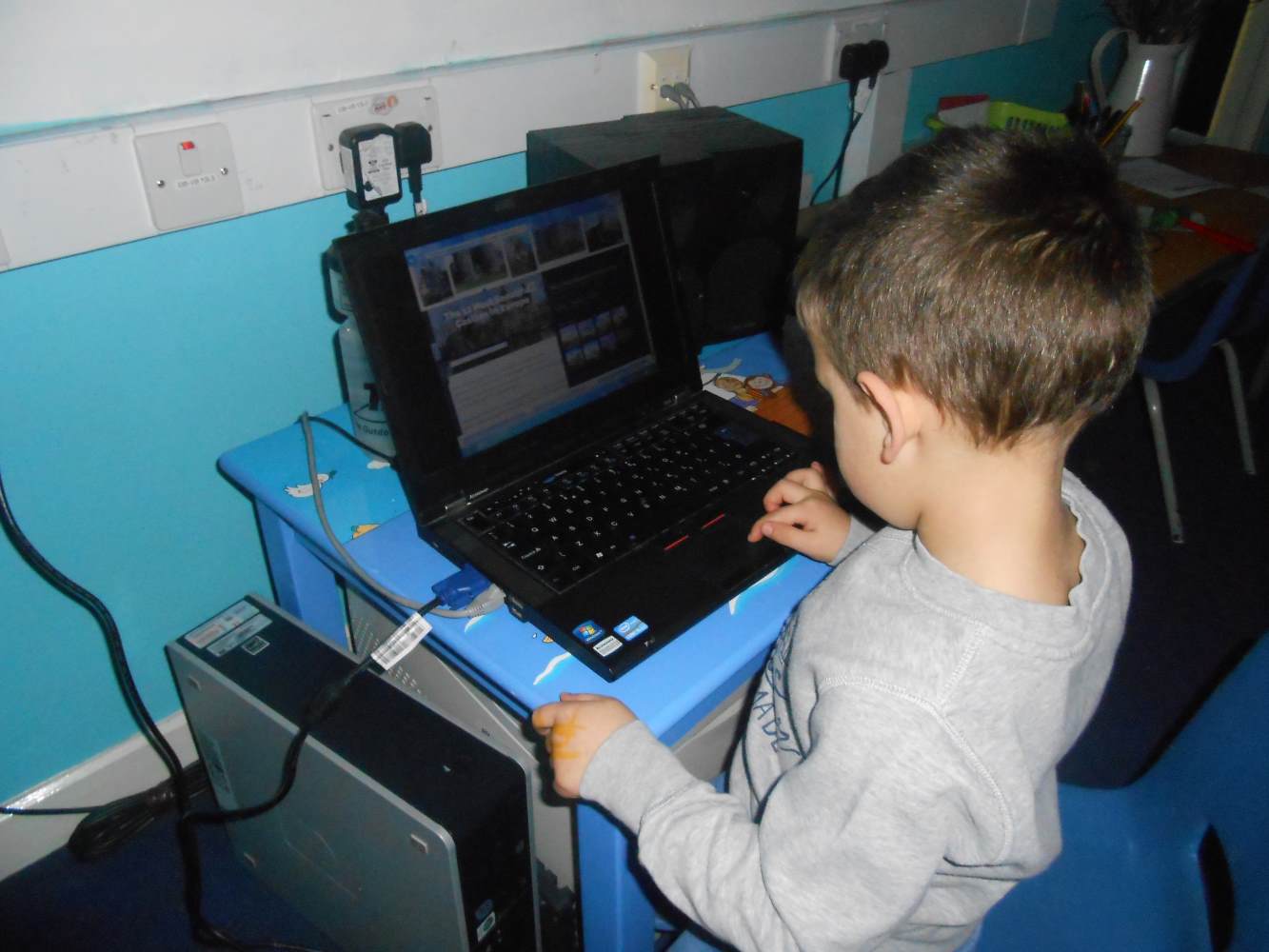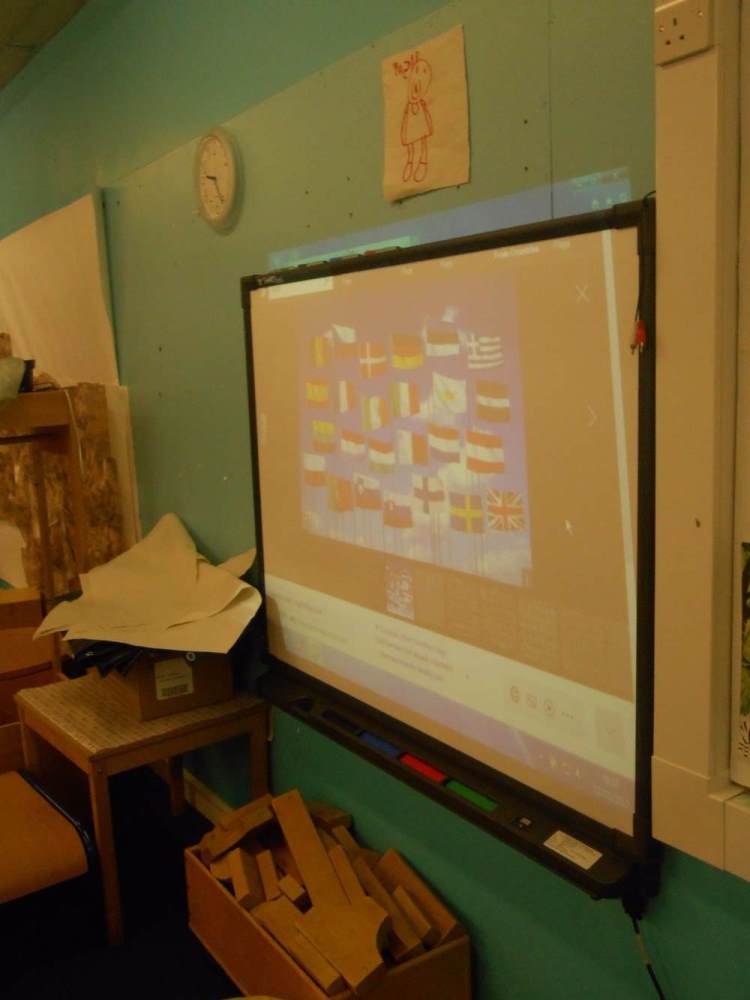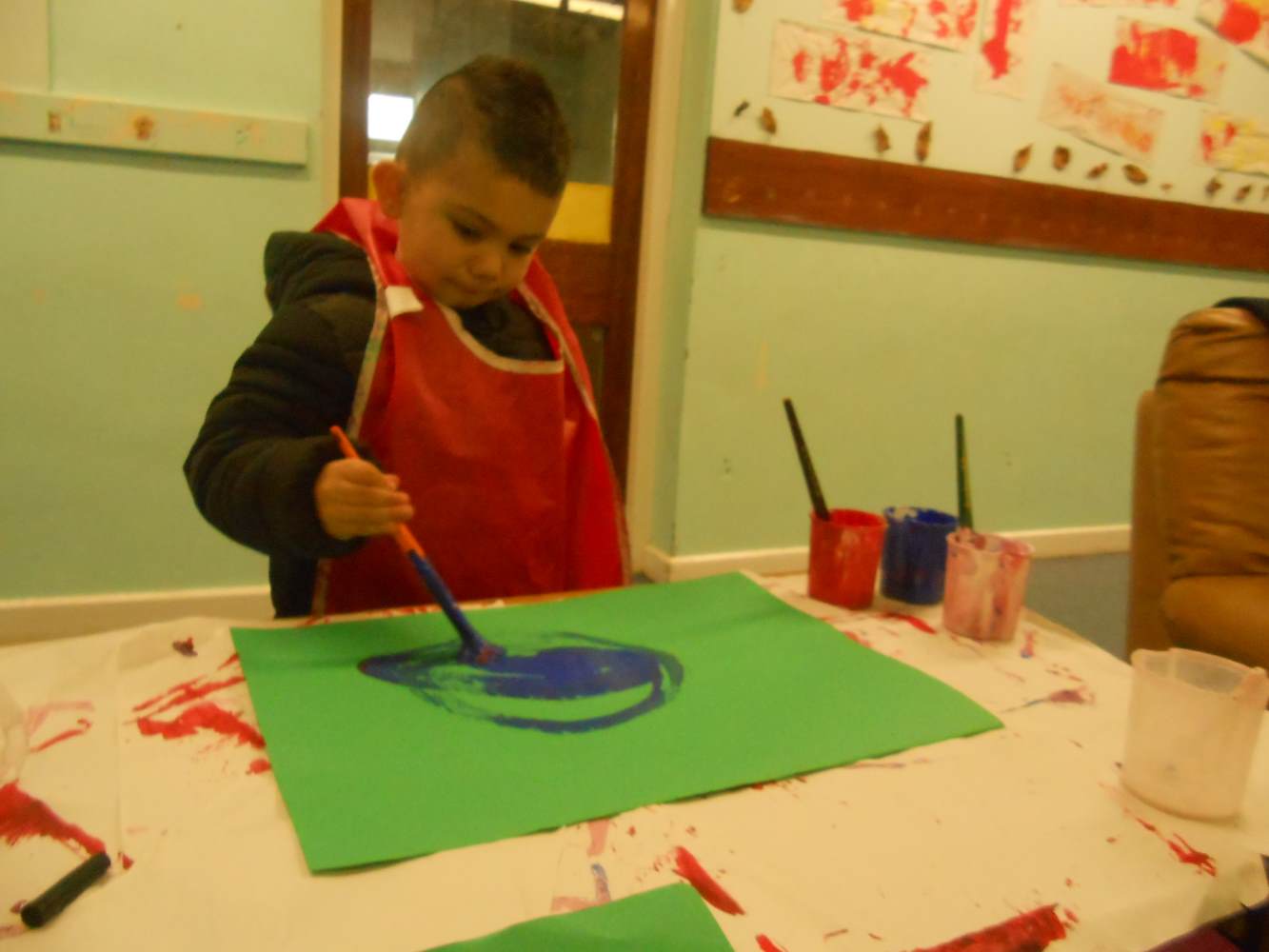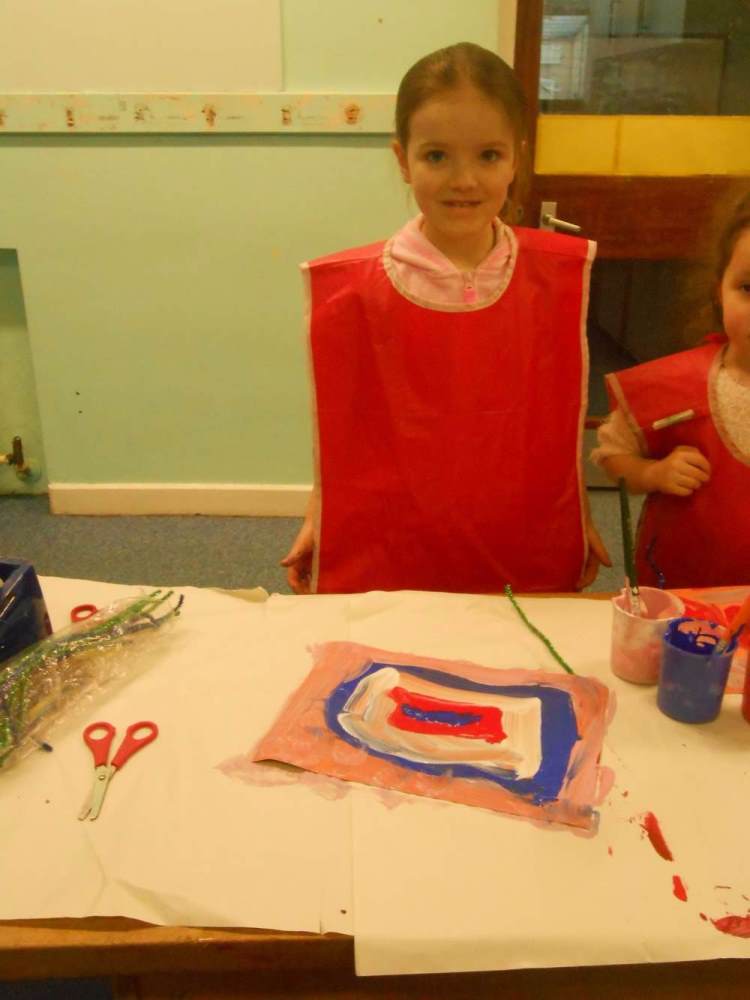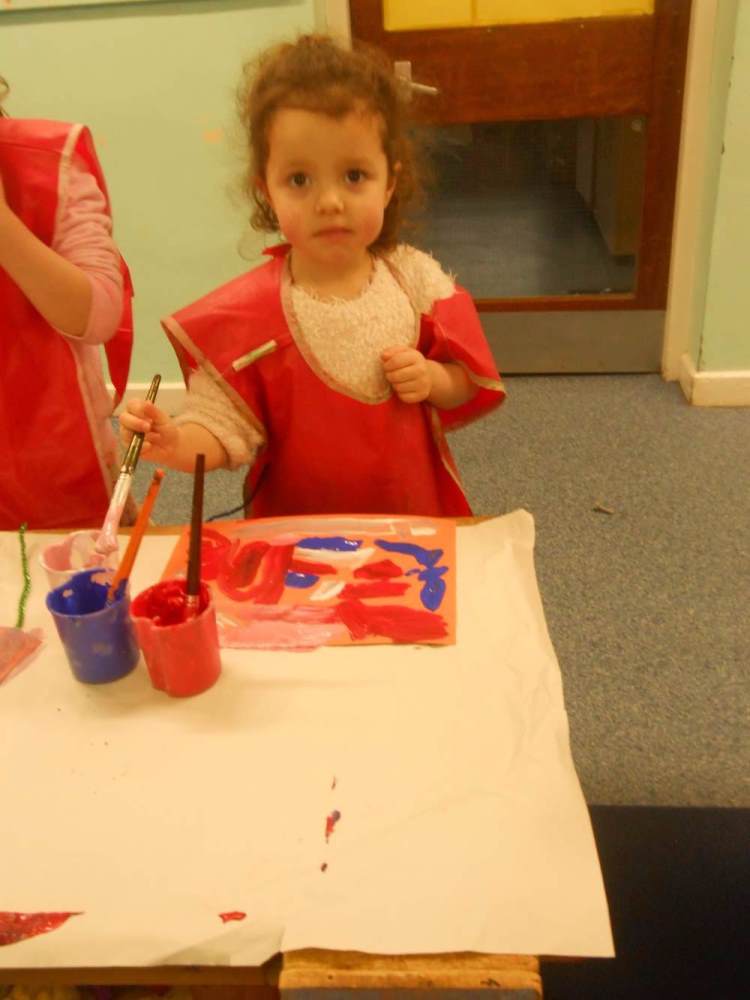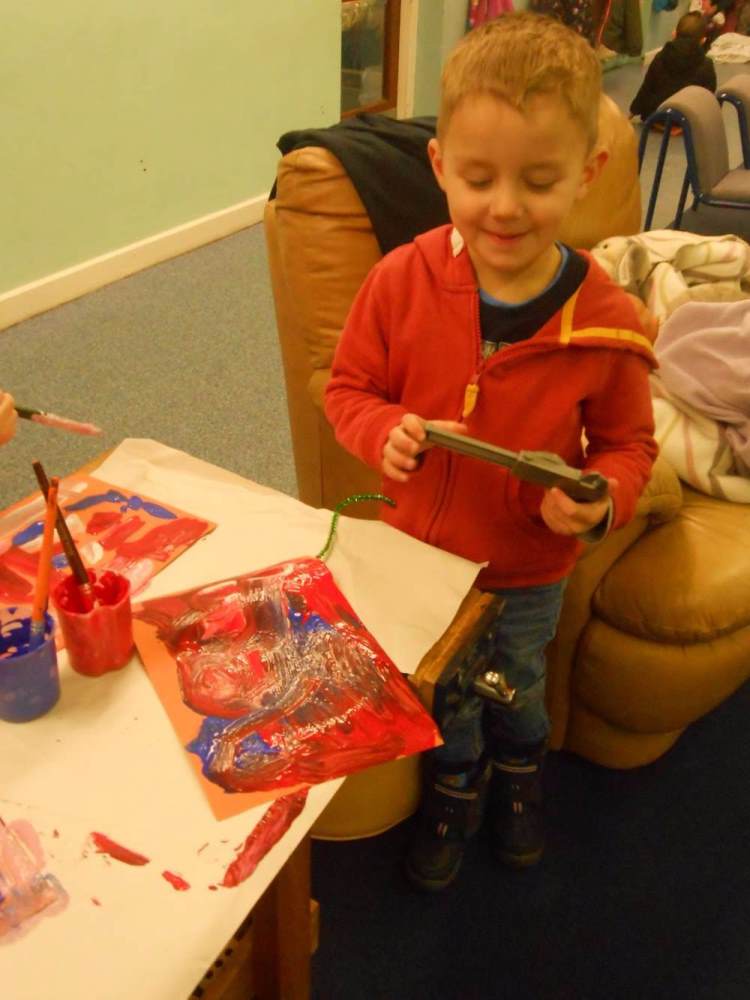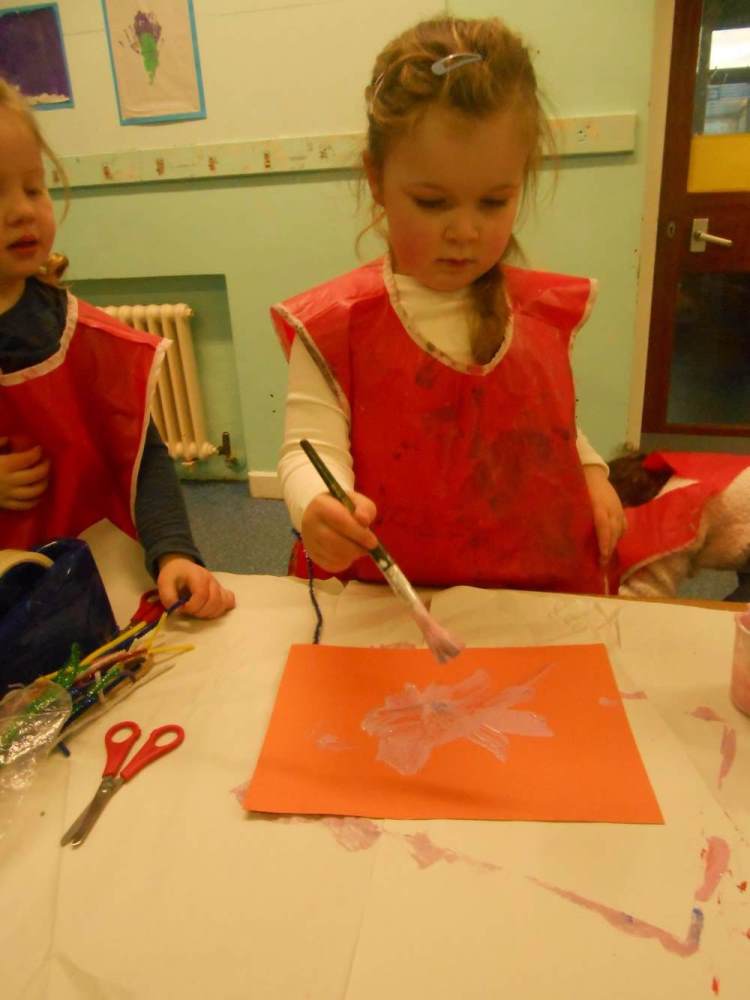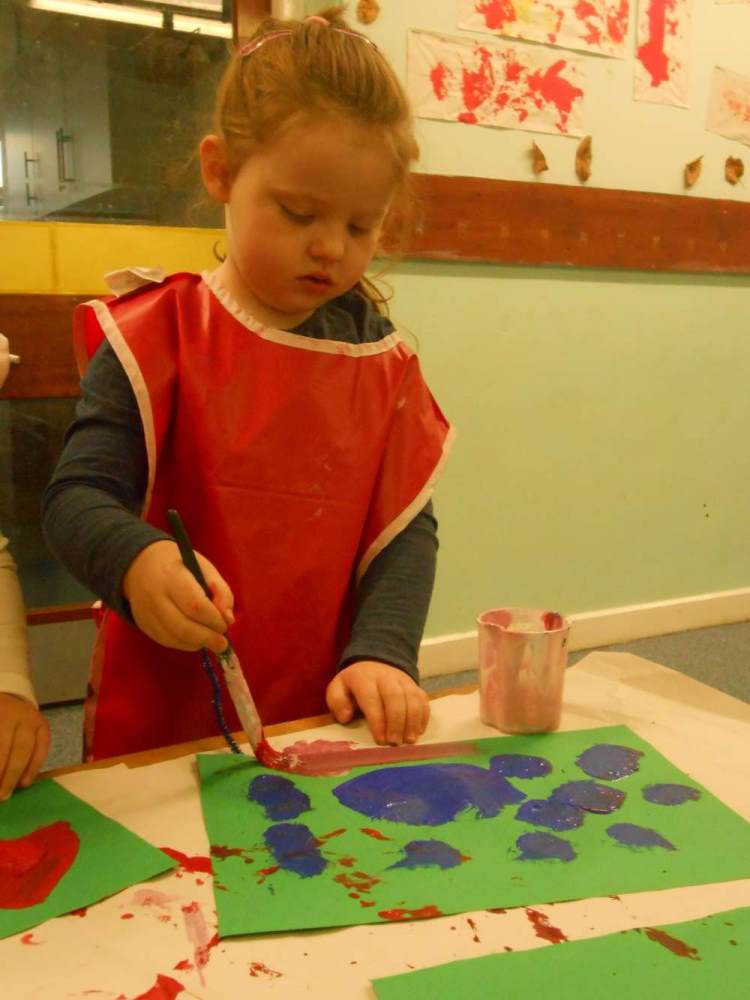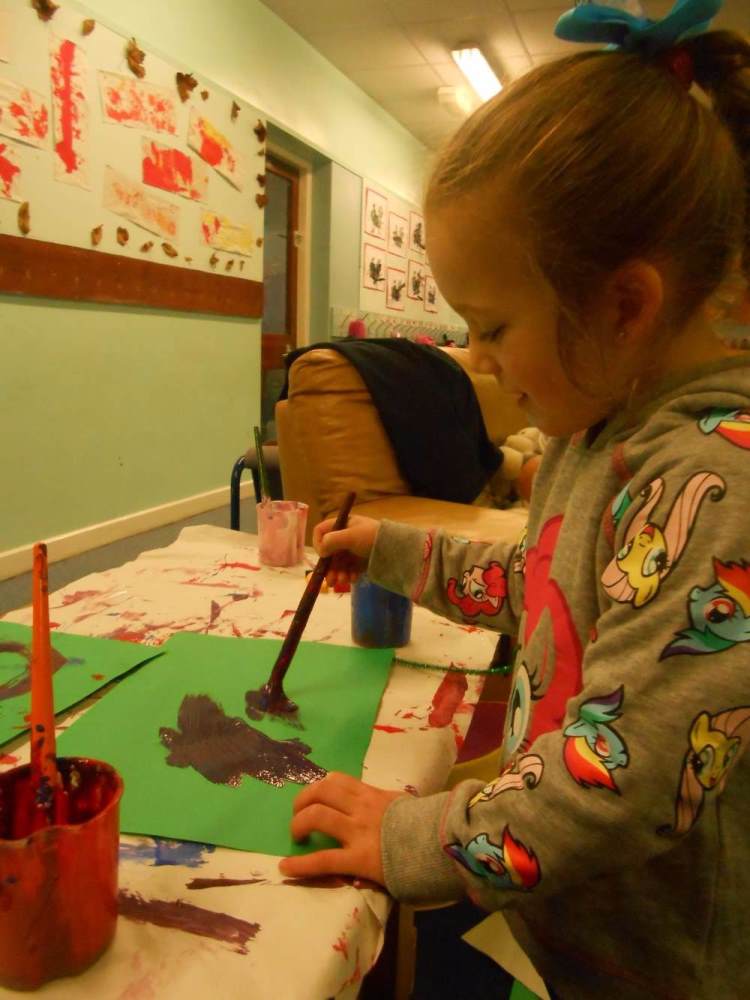 We made a fire because a long time ago there were no cookers.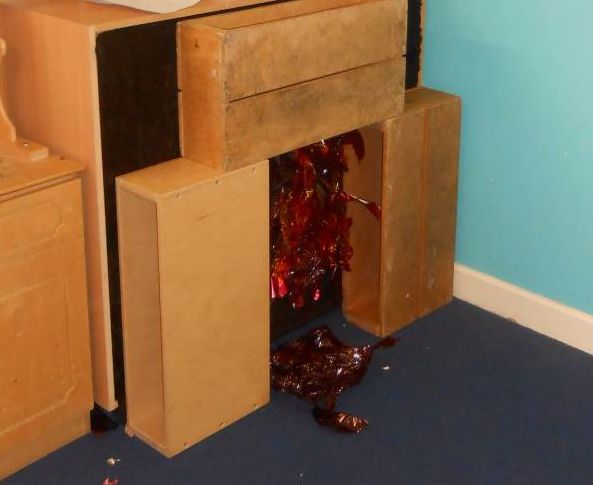 We know that a long time ago there were knights in castles.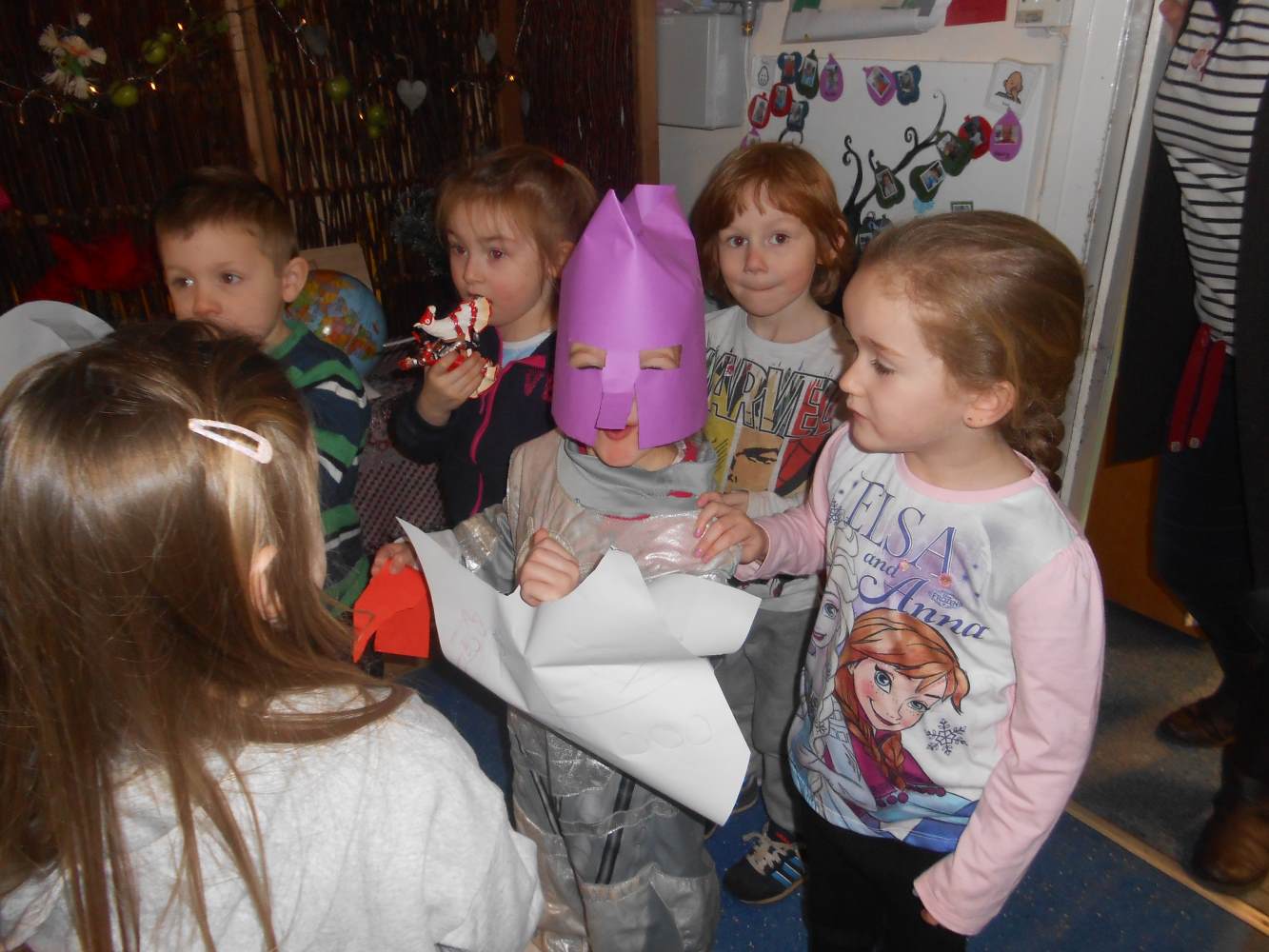 We also made shields but were so busy making the shields that we didn't take any pictures.
Over the next few weeks we shall continue to learn about castles and create our castle and all that it needs.
Here is a selection of photos from some of our other learning and moments that have made us smile.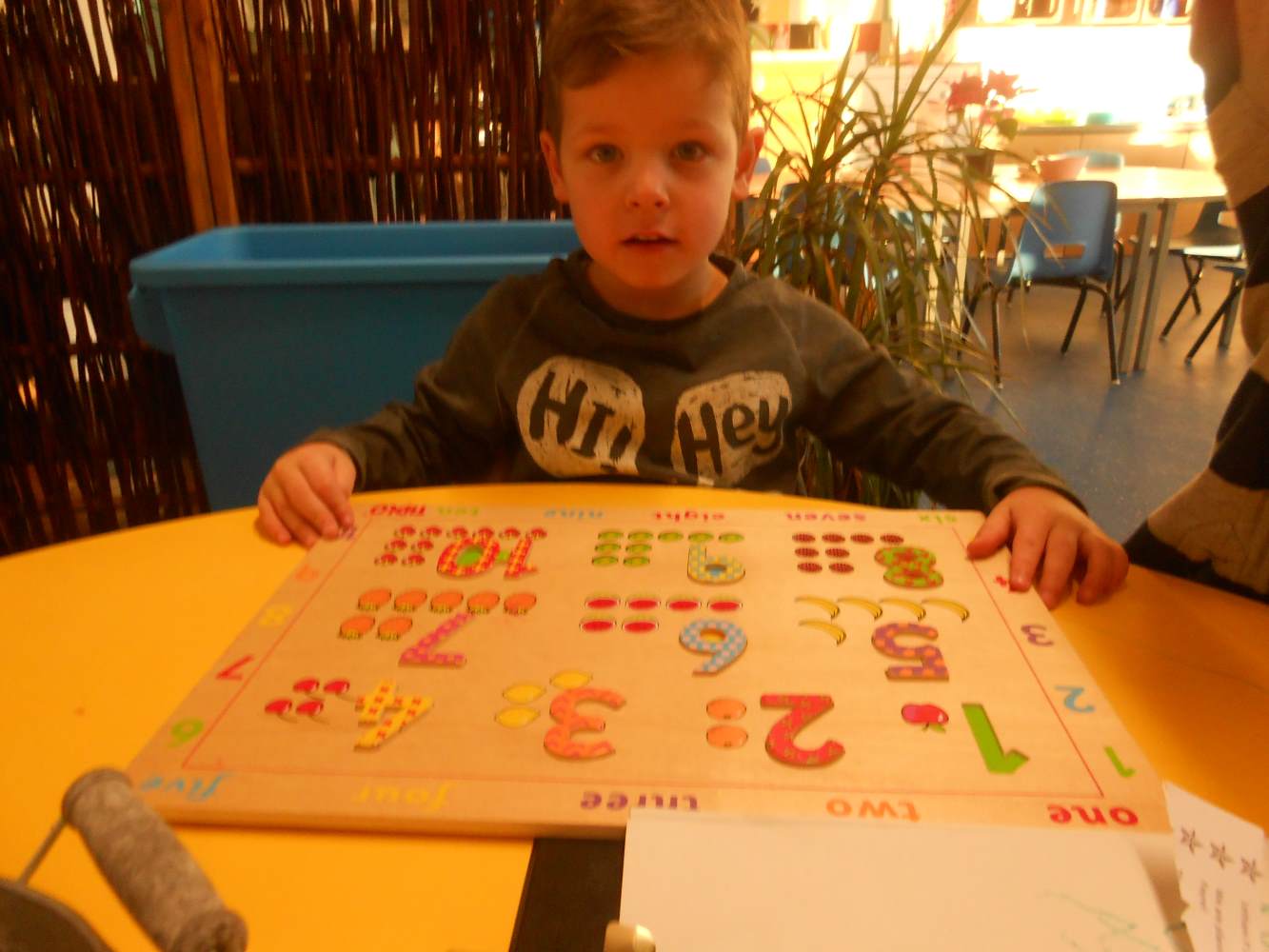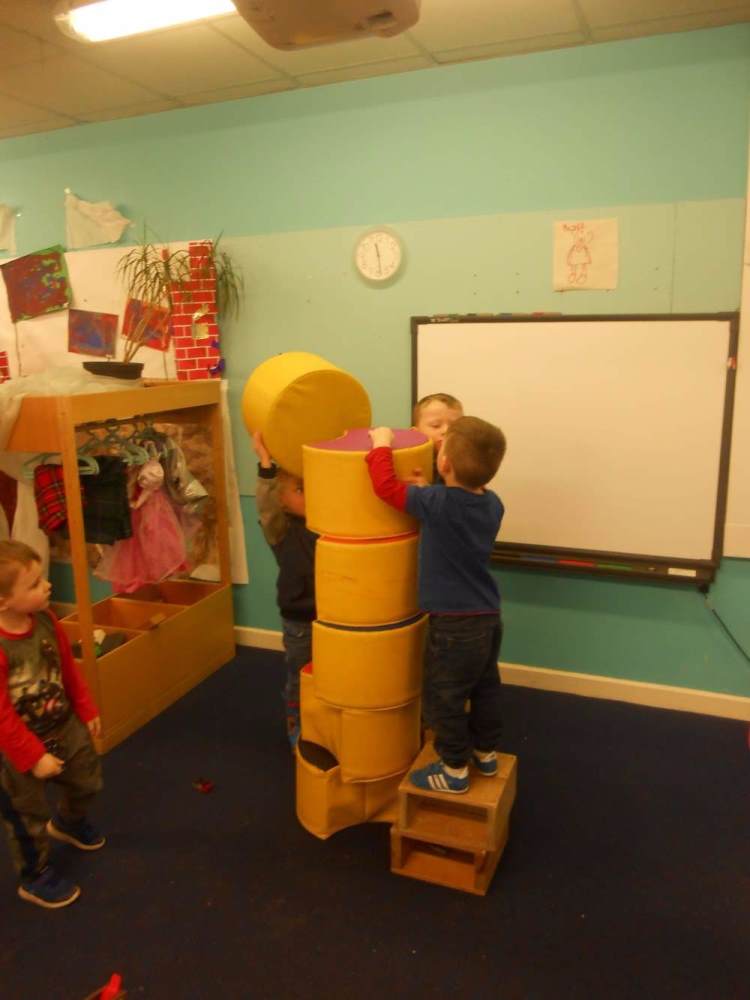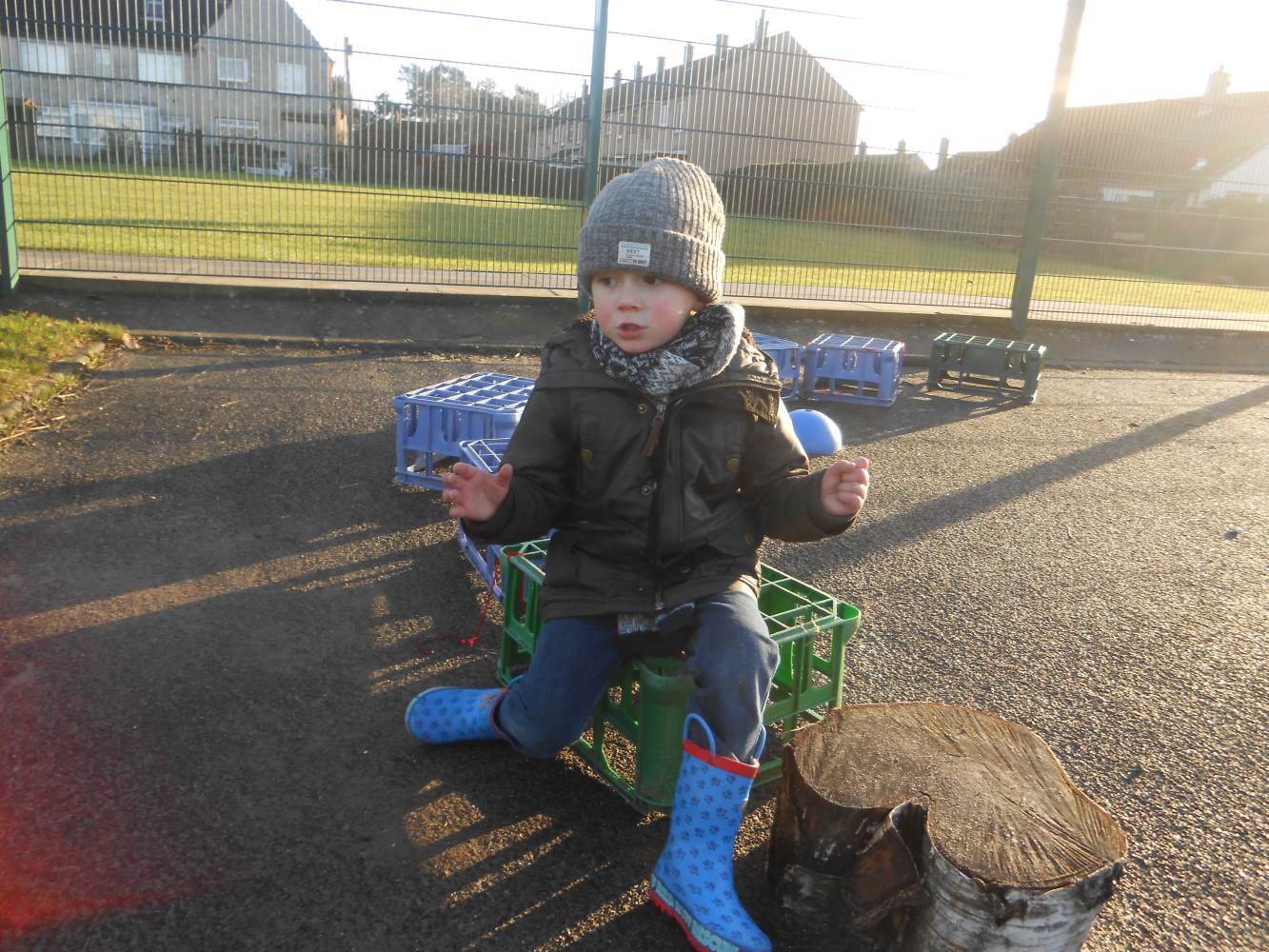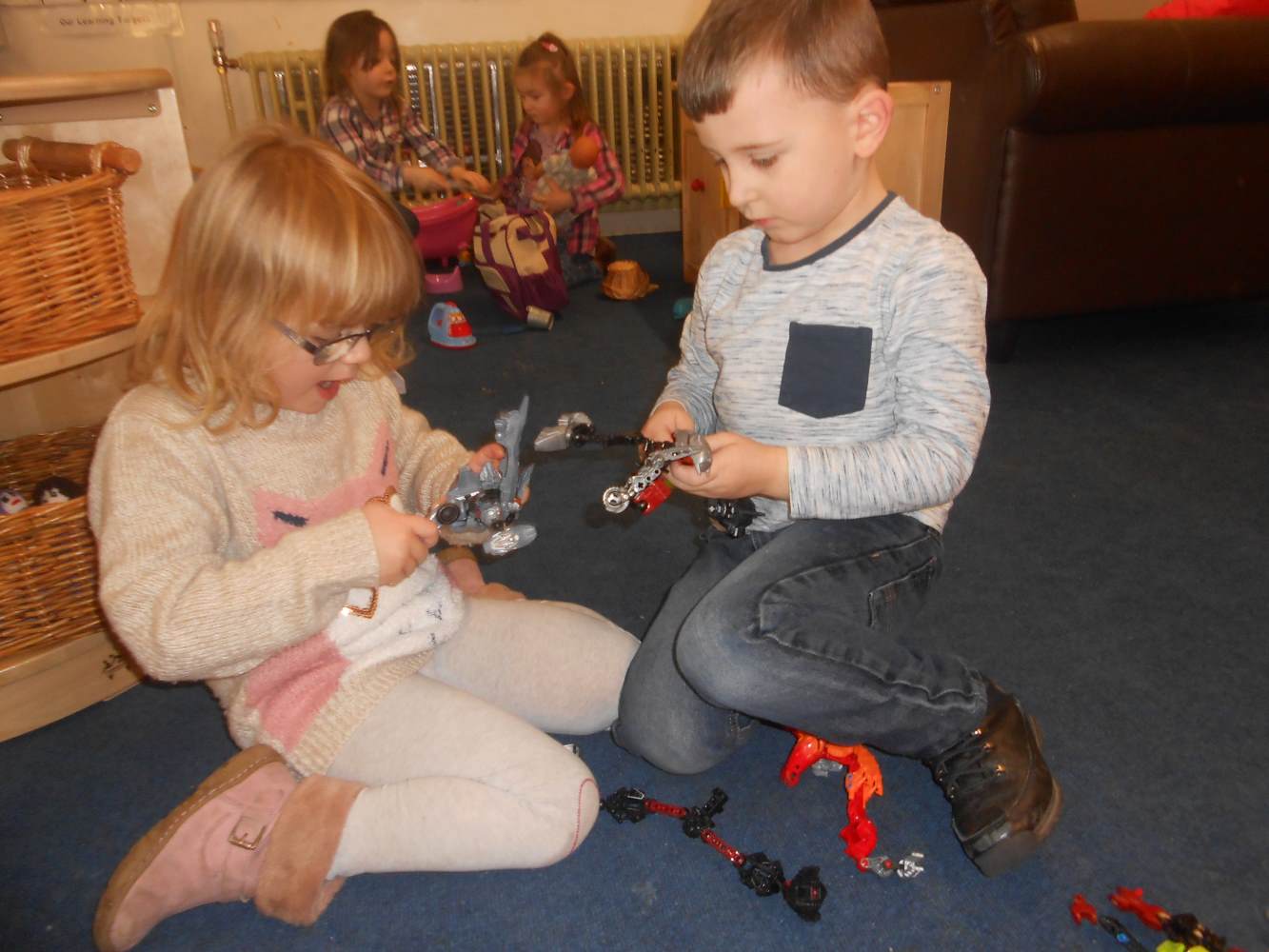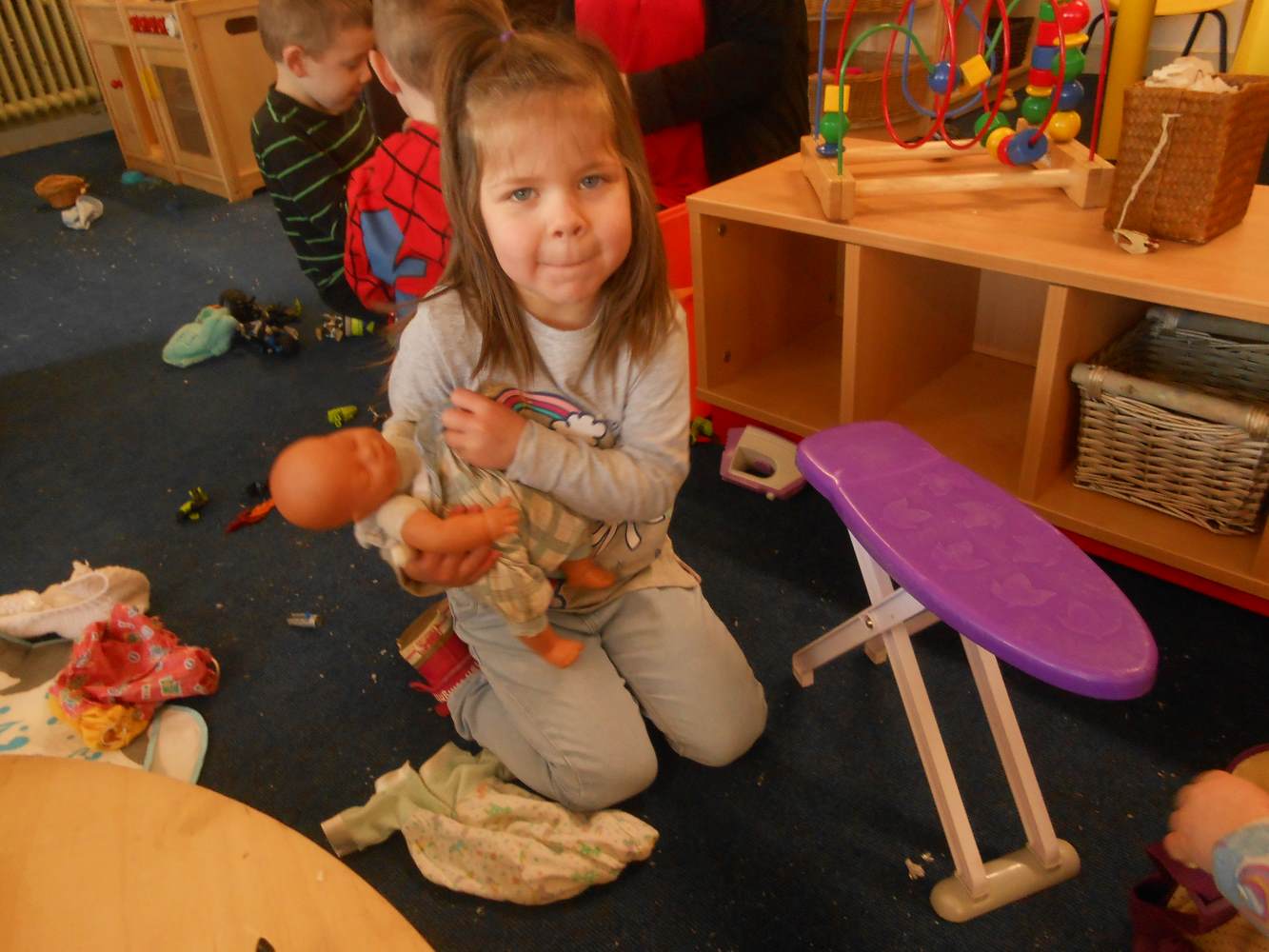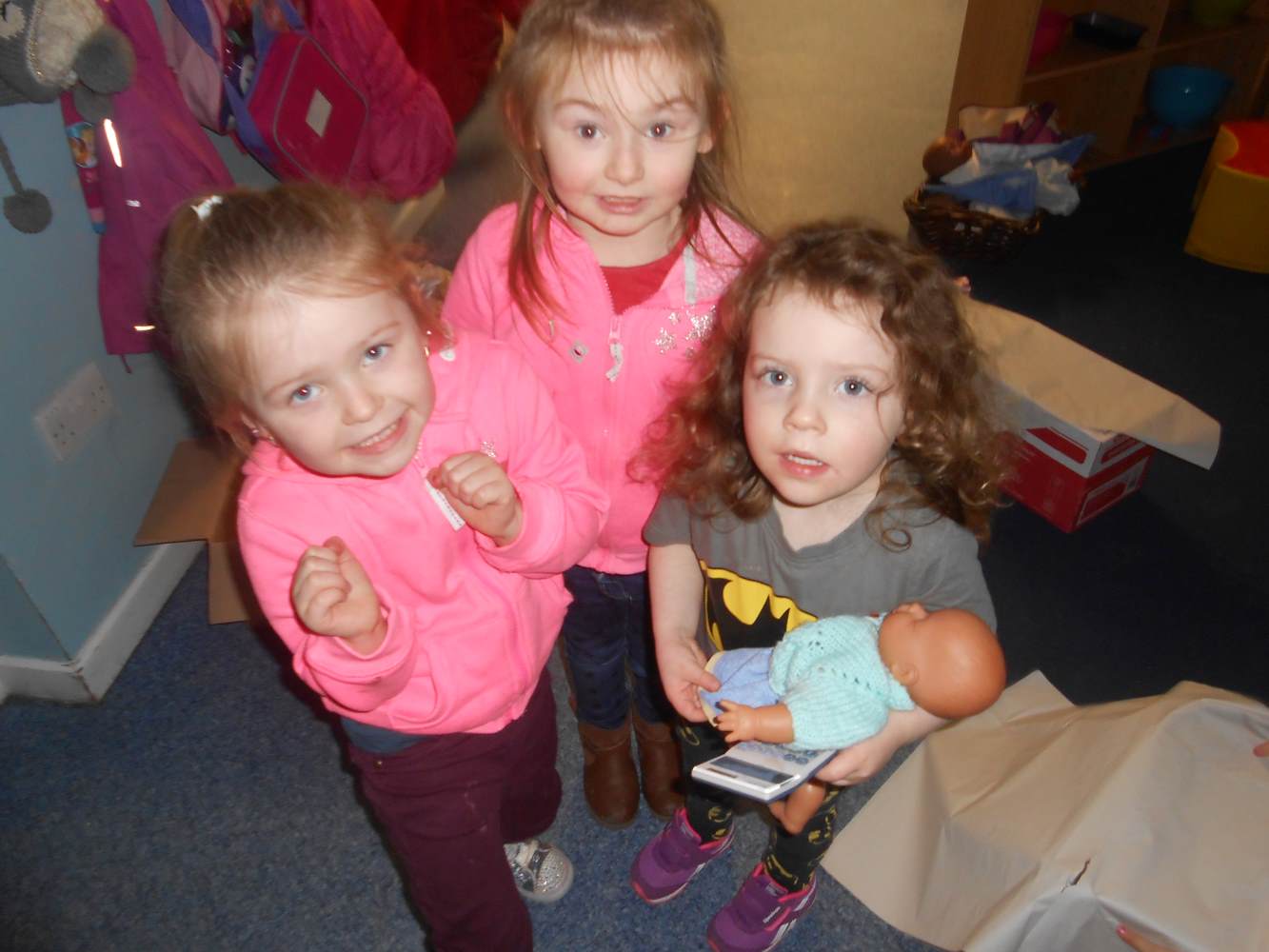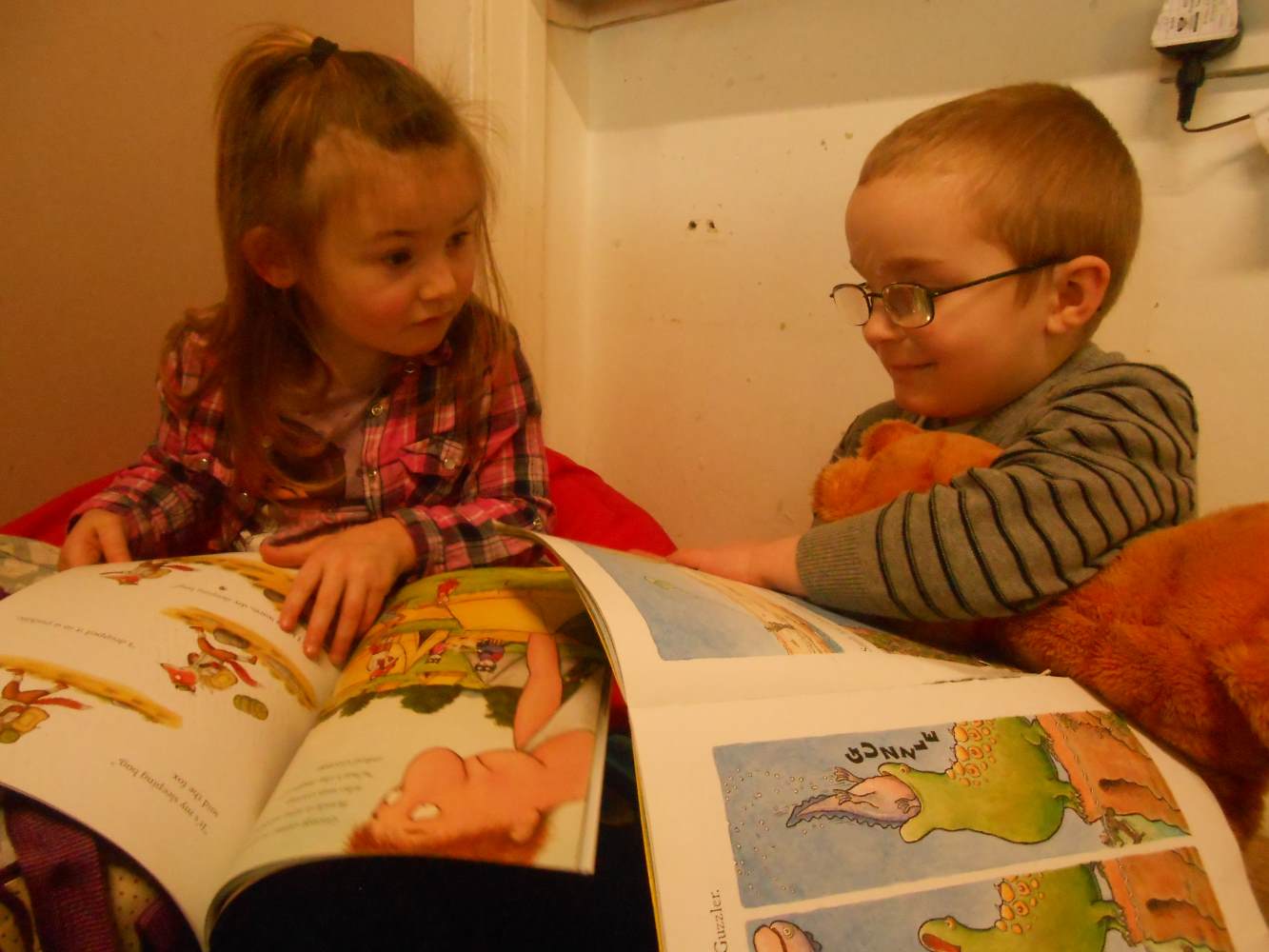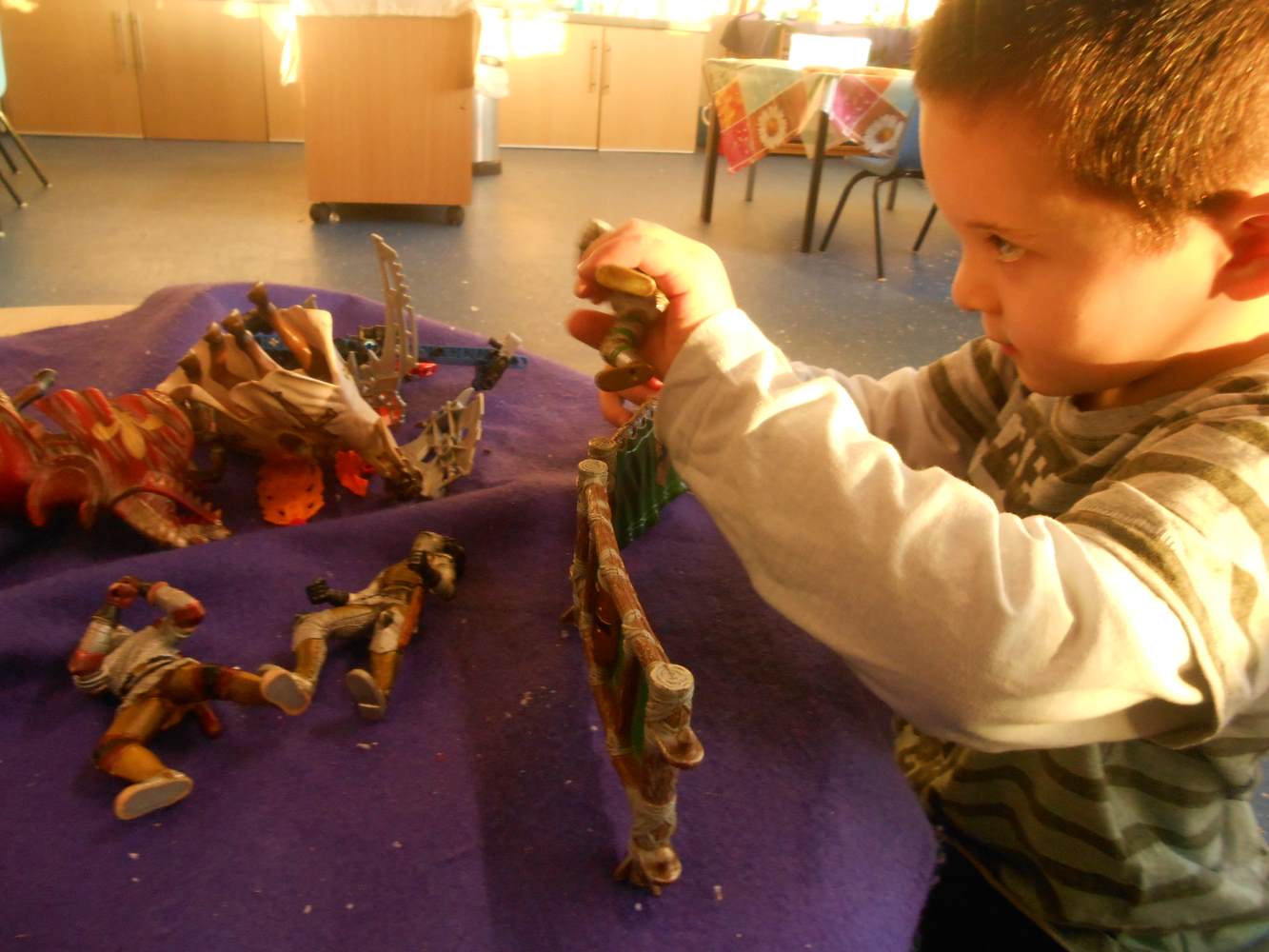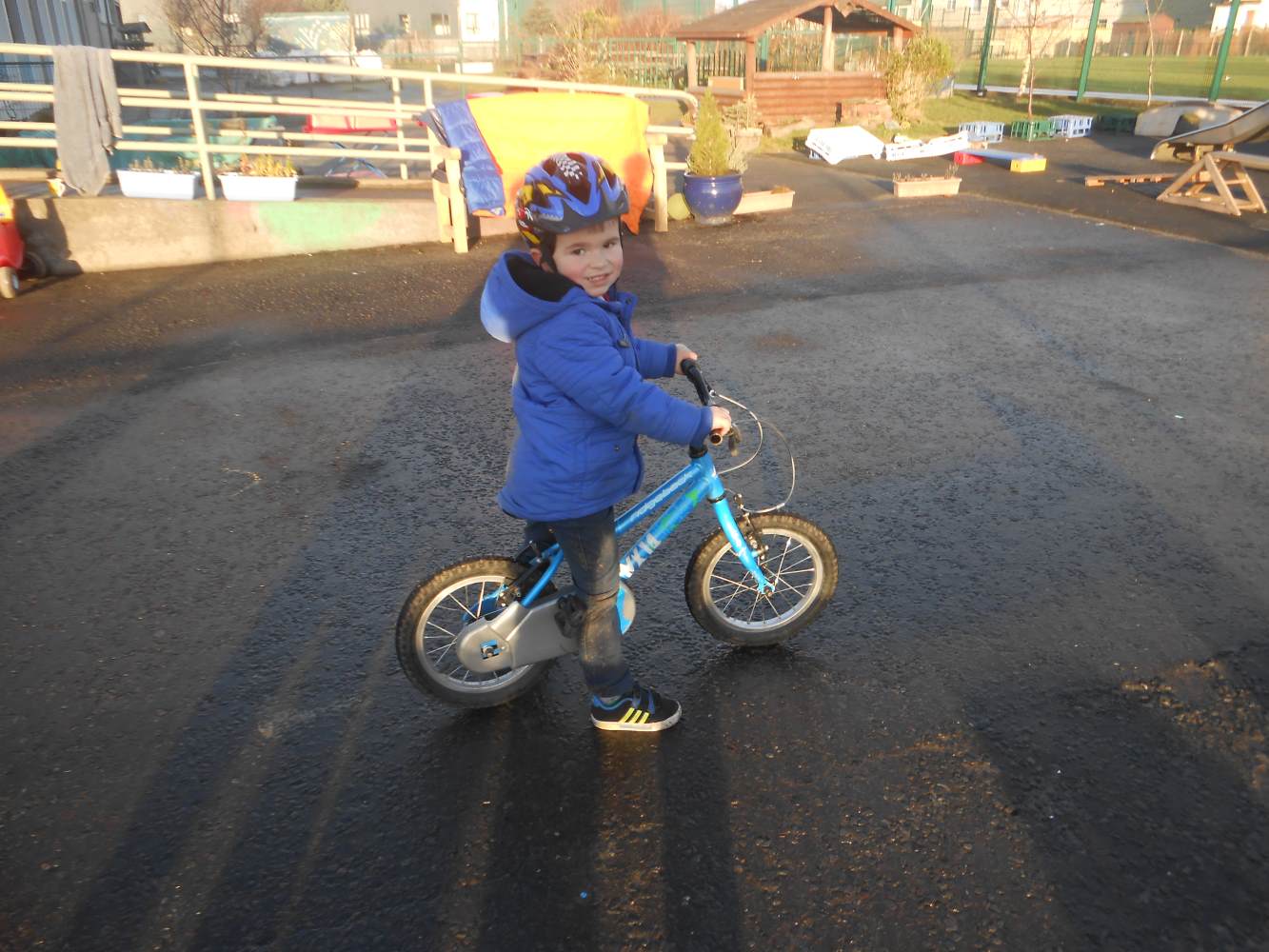 Evaluations of term 2 and planning for term 3.
Evaluations from last term can be found in the corridor next to our planning wall. This term we are introducing into Nursery "Jobs Time" for all 3-5 year olds. Twice daily children will take part in a focused learning activity with a member of the nursery team. Children will continue to have group time at the end of sessions with their keyworker but it is hope that jobs time will allow us more focused time for specific teaching. If your child talks to you about jobs time can you please share with us what they say.
Important Information registration for August 2017.
School registration for August 17 week beginning 16th January.
Nursery registration for August 17 week beginning 23rd January, you must apply for a place even if you have one now.
More information can be found on the posters displayed in Nursery.
Please go to the school office to register where Mrs McCarron or Mrs Fearn will be pleased to help.
January 2017 – Happy New Year
All the Nursery staff wish you and your families a happy and healthy new year and we are looking forward to continuing to work with you to make sure your child gets the best possible start.
Christmas Sing a-long.
Thank you to everyone who came along and made this such a success. It was the first time we had tried to get all the Nursery together at once and with over 70 children all attending at different times we were really pleased with the number of children and family members who were able to attend. Thank you also for your positive feedback to this event. All of the children had really enjoyed learning the songs and from the front looking out it was clear that they were enjoying singing them with their families too.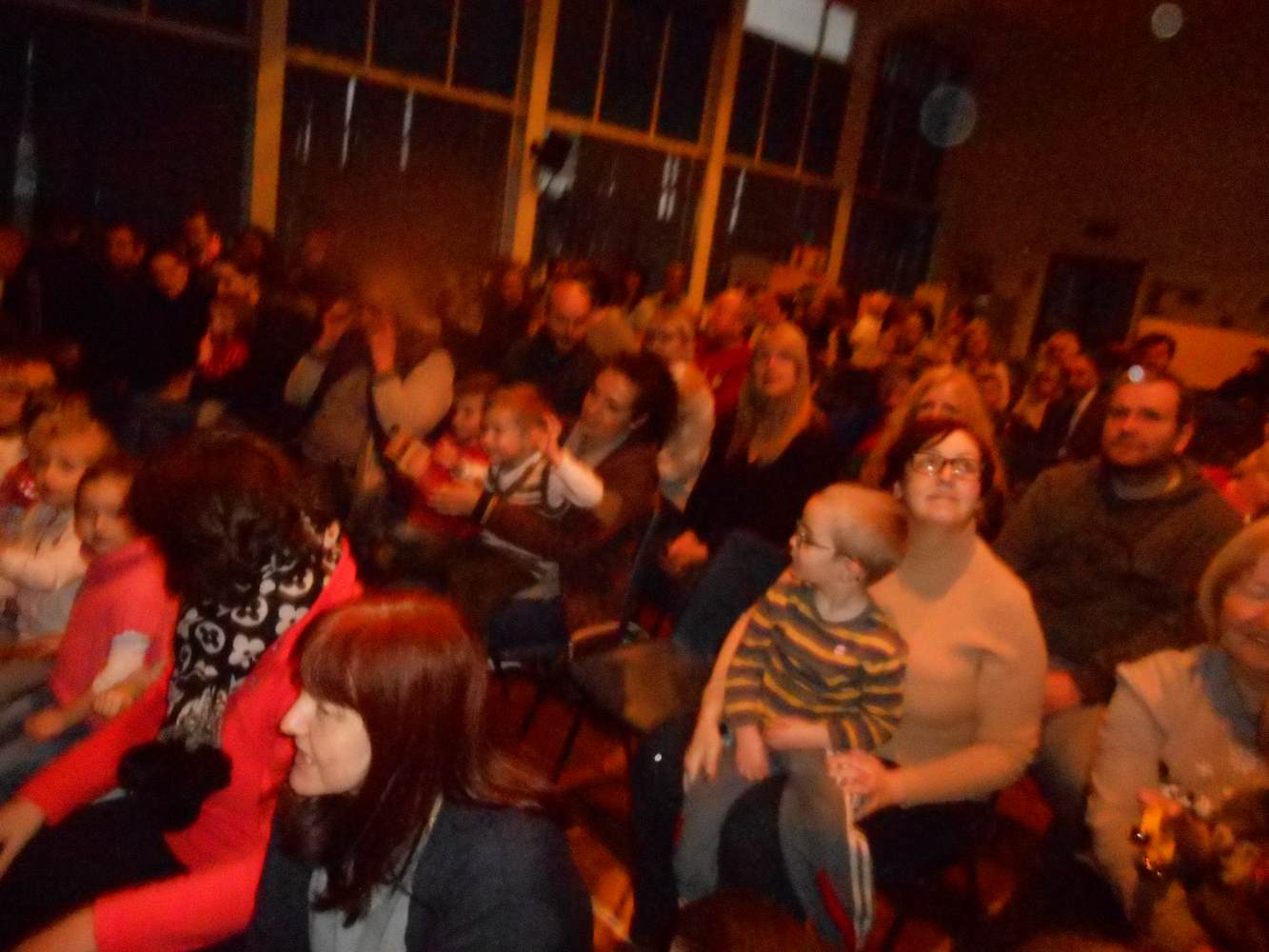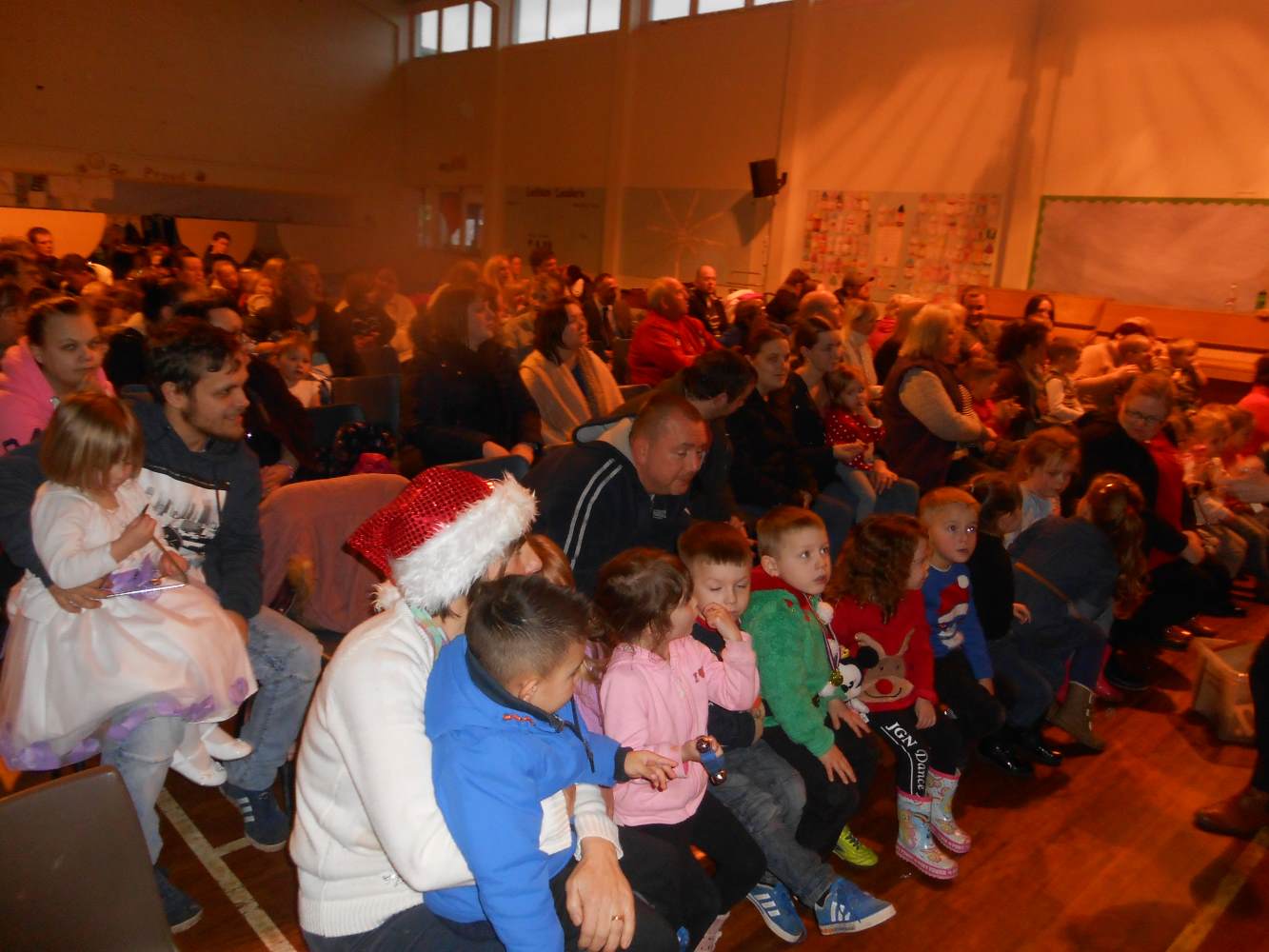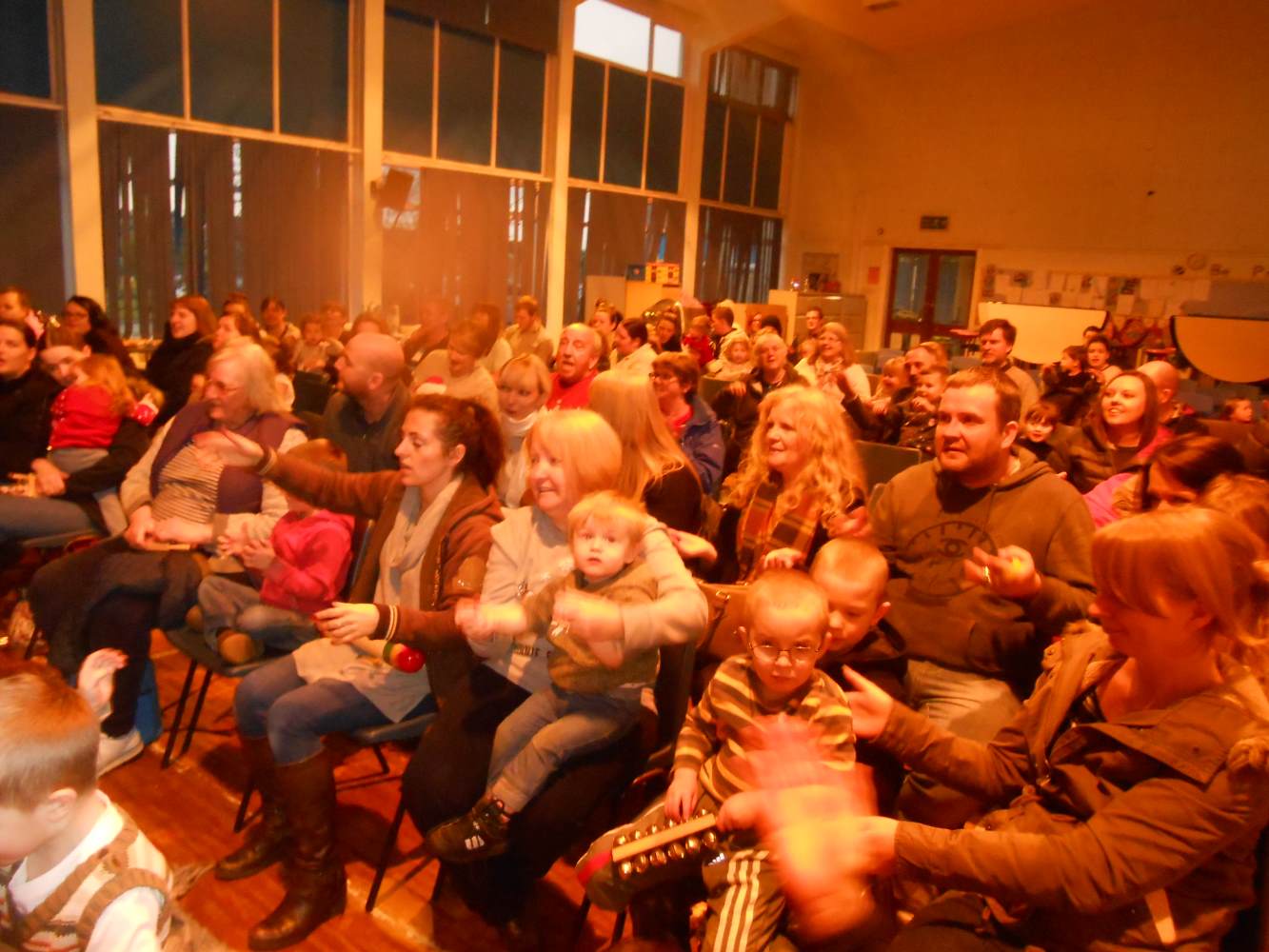 We finished our sing a-long with a visit from a special guest and then some refreshments.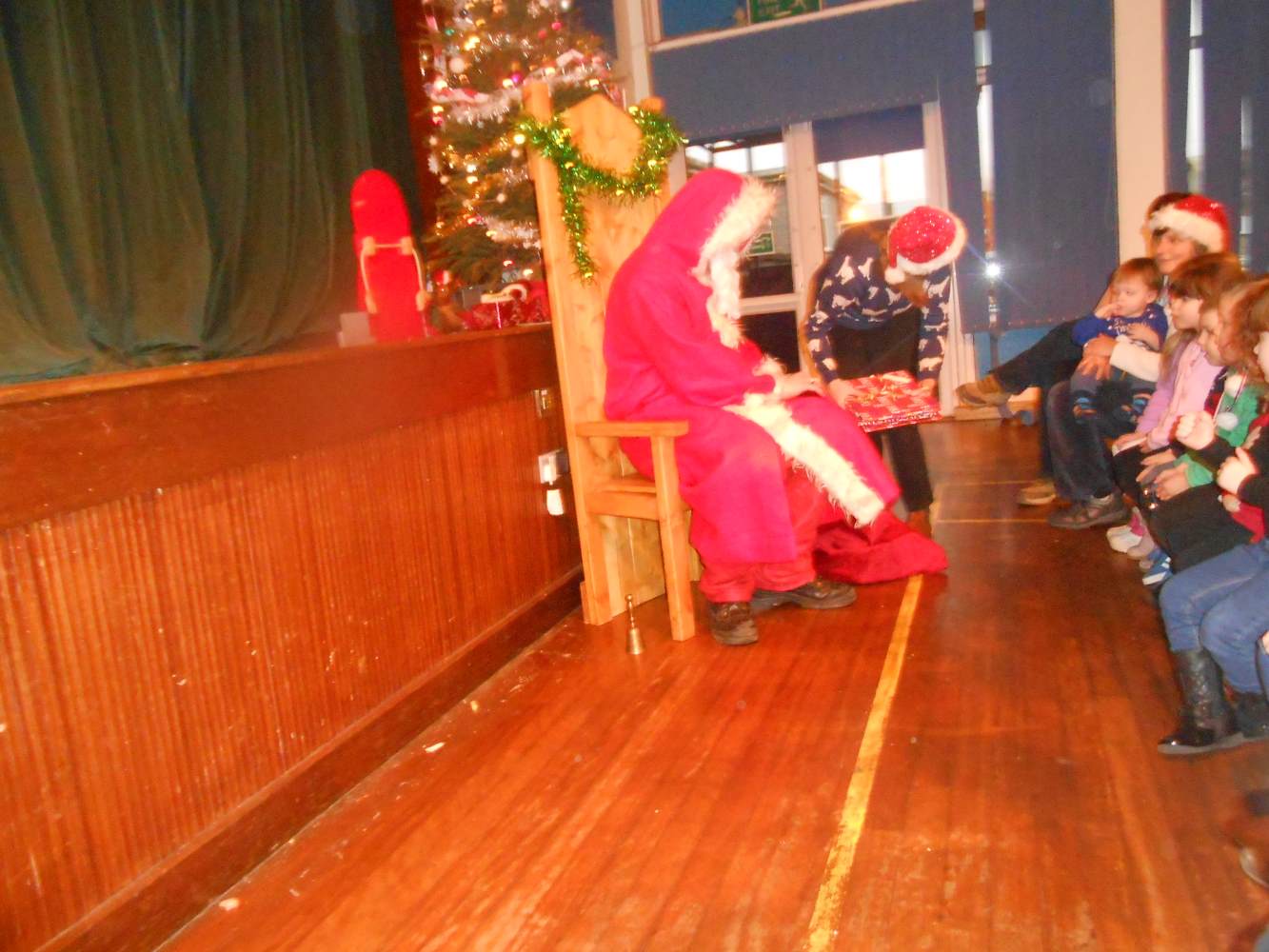 It was a very busy last week of term with Christmas activities, an alternative Christmas snack menu and party games at all Nursery sessions. All of the staff wish to thank you for your ongoing support and encouragement.
"Use your words."
This is the phrase most said by all the Nursery staff. One of our key aims is to give children the words and skills to express their thoughts and feelings. Creating opportunities for the development of language is key.
Lots of chat occurred around the table when playing with our sparkly Christmas play-doh.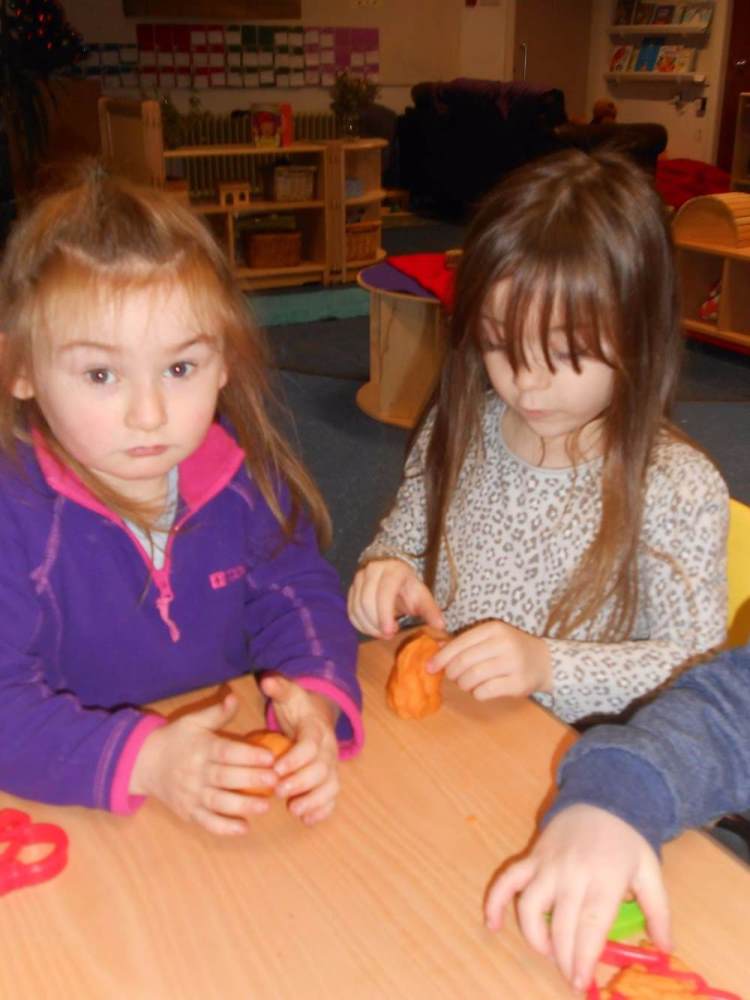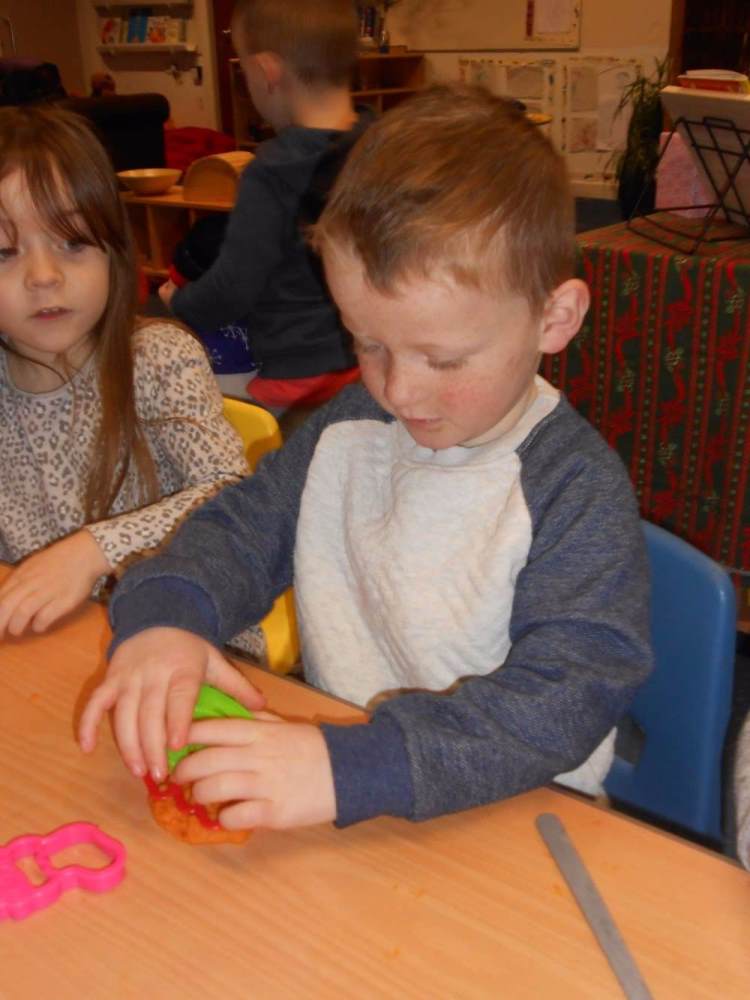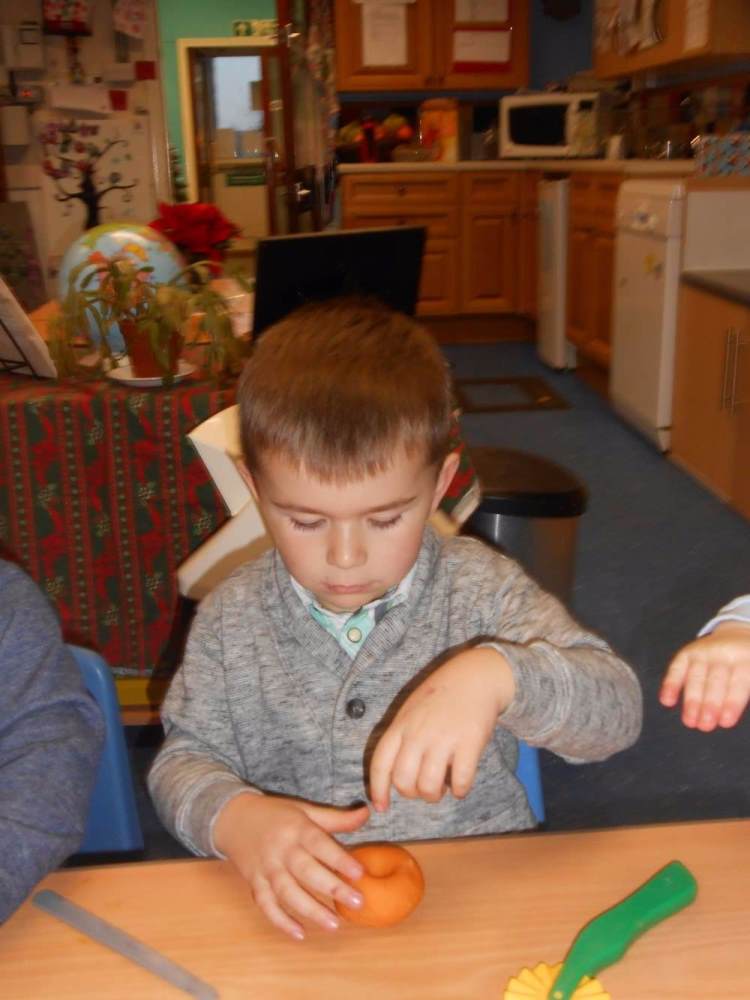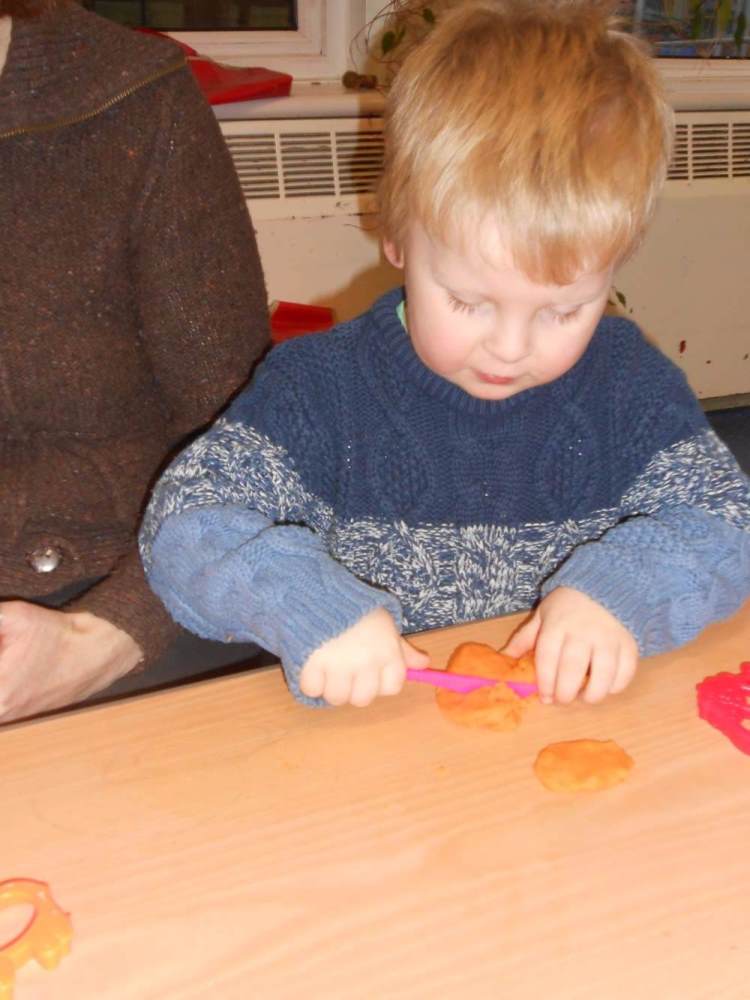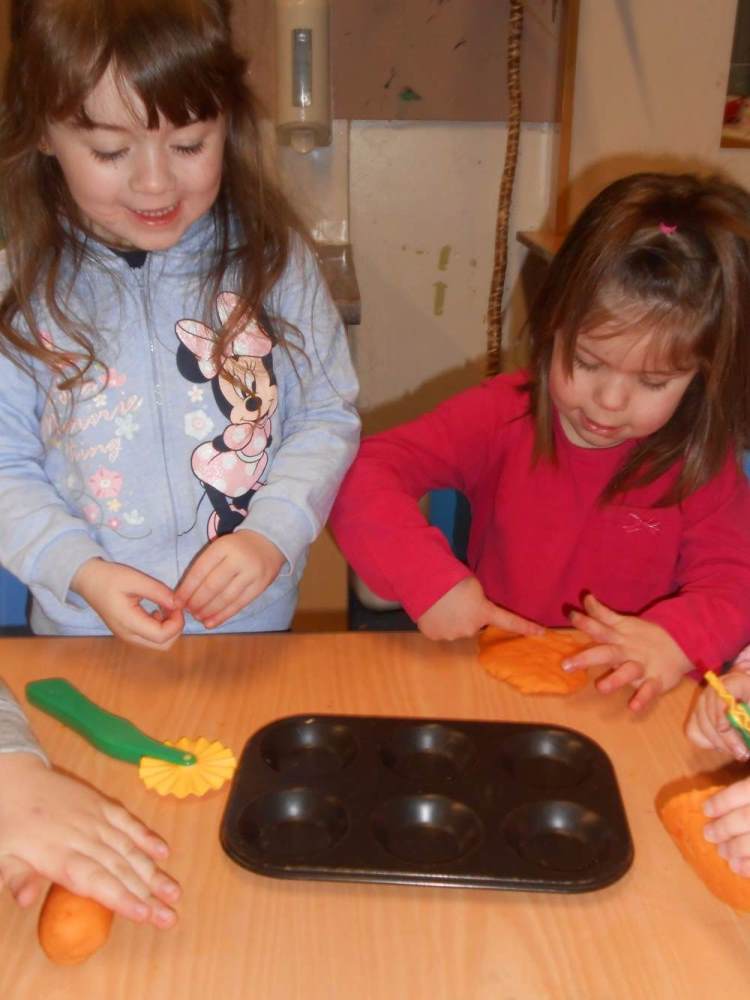 Creating a puppet show. With Mrs McColl as director everyone had their say.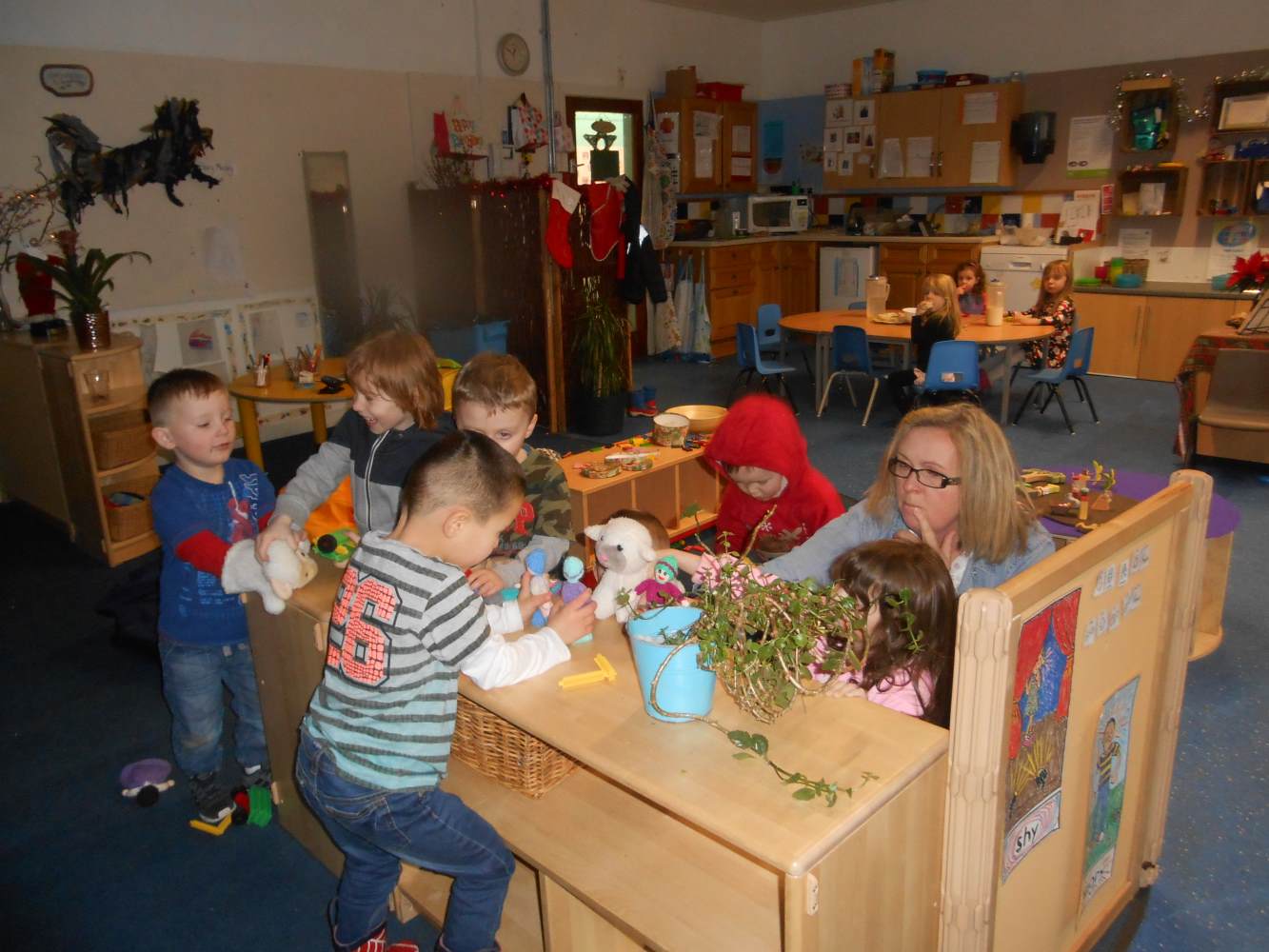 Christmas baking meant we were working together and sharing the workload which can be very frustrating - all did a great job of using their words.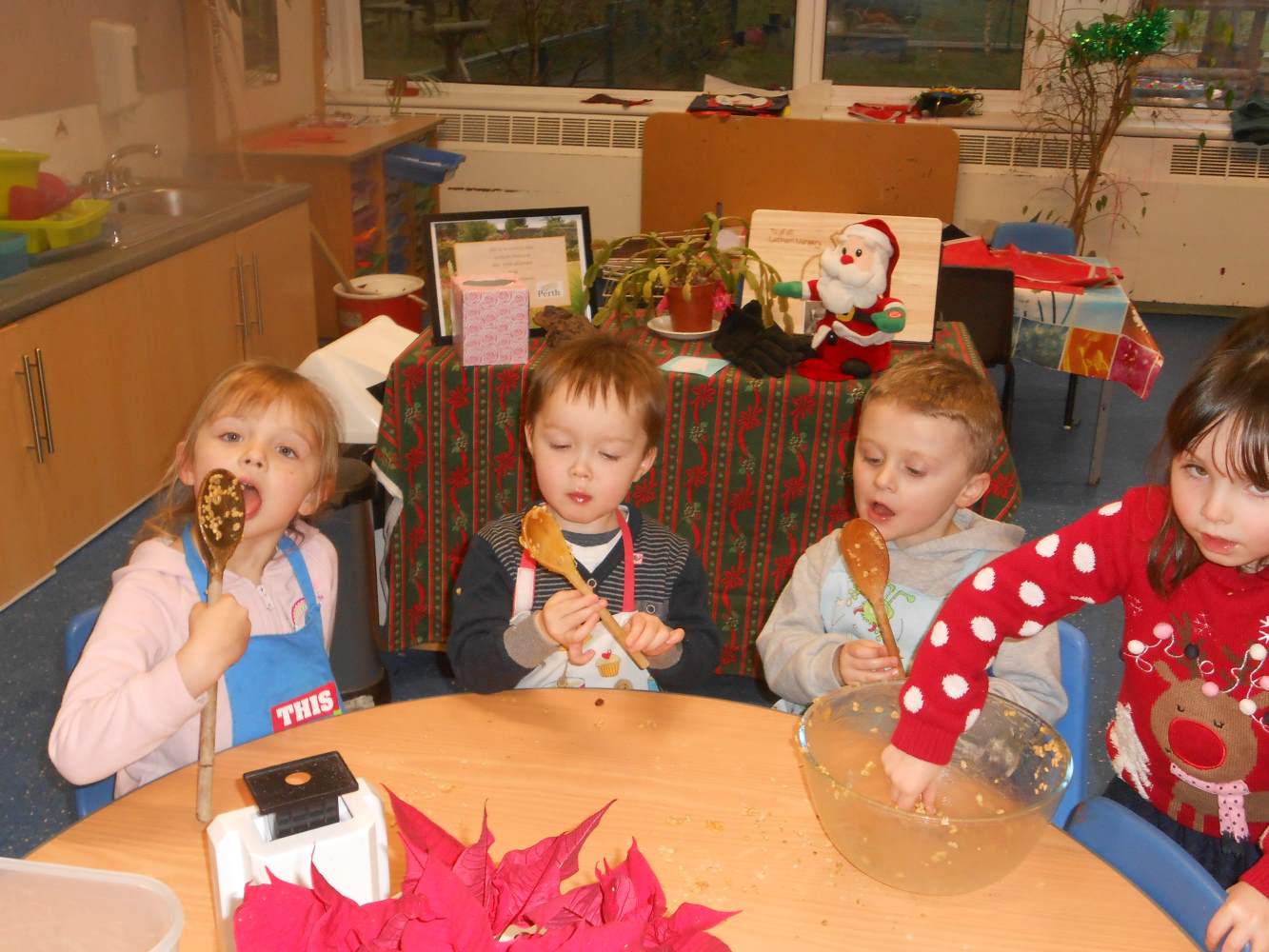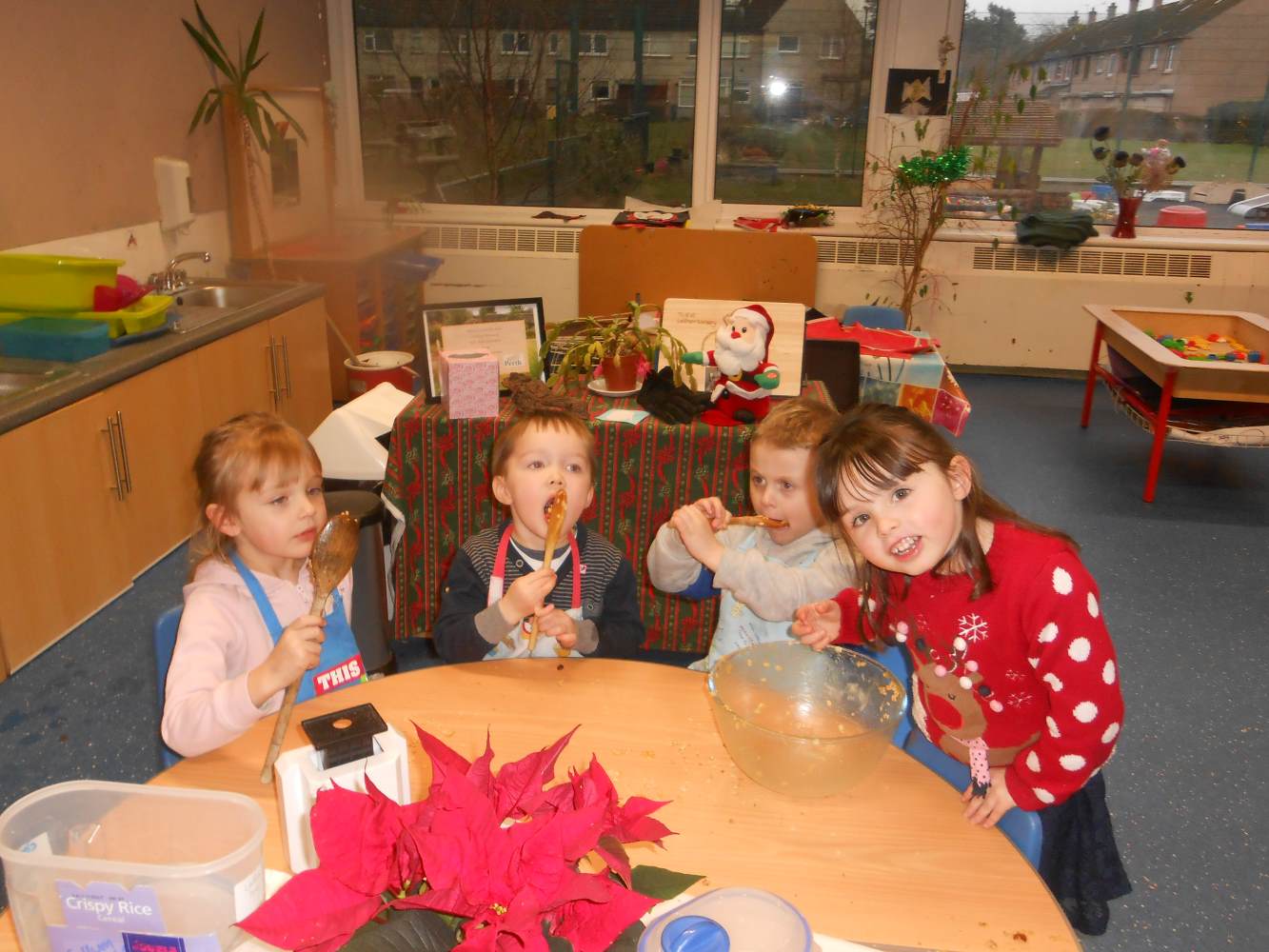 Callum made a great model and told us all about it and Emma wrote an amazing story.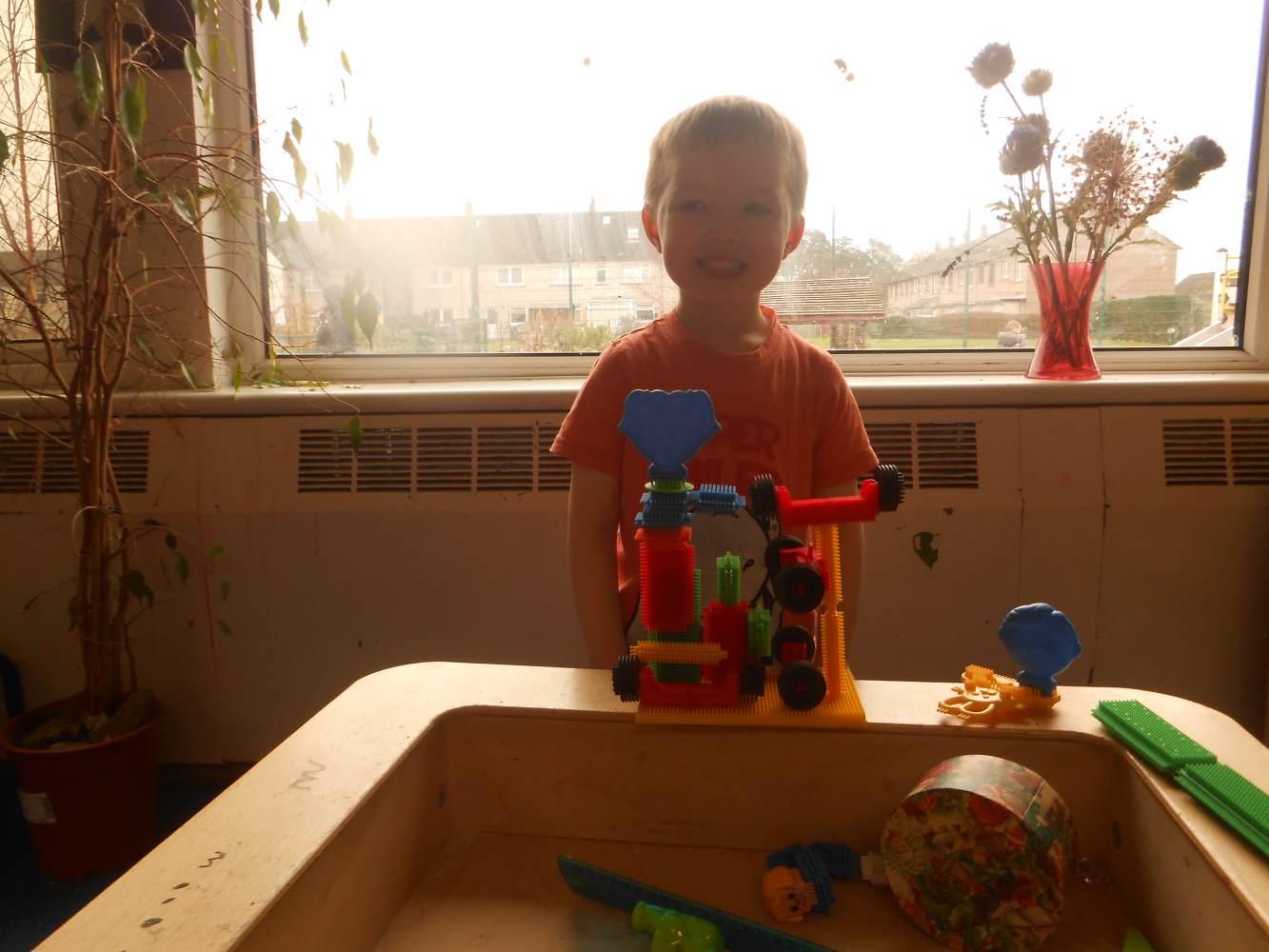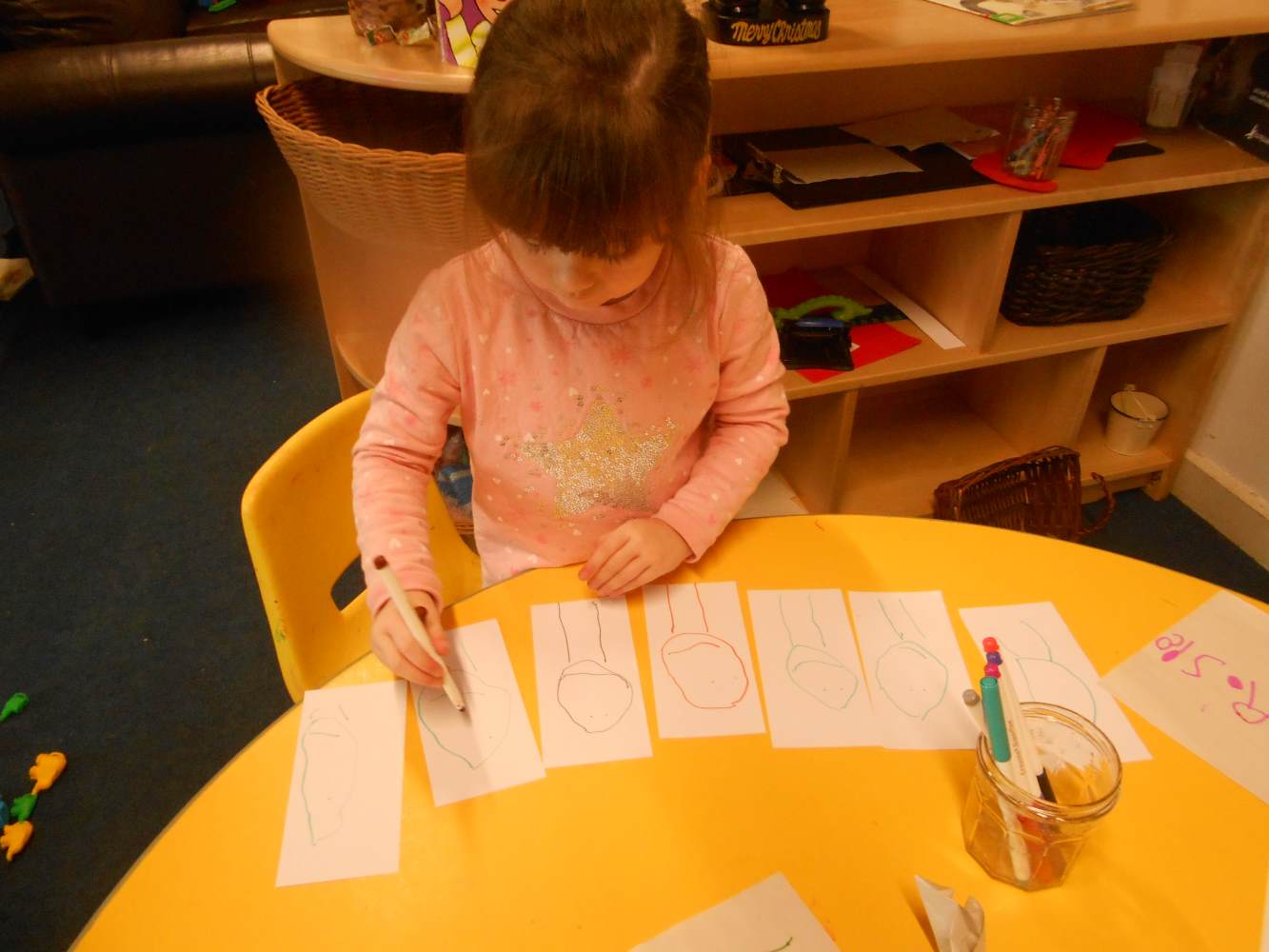 Christmas fun with family and friends.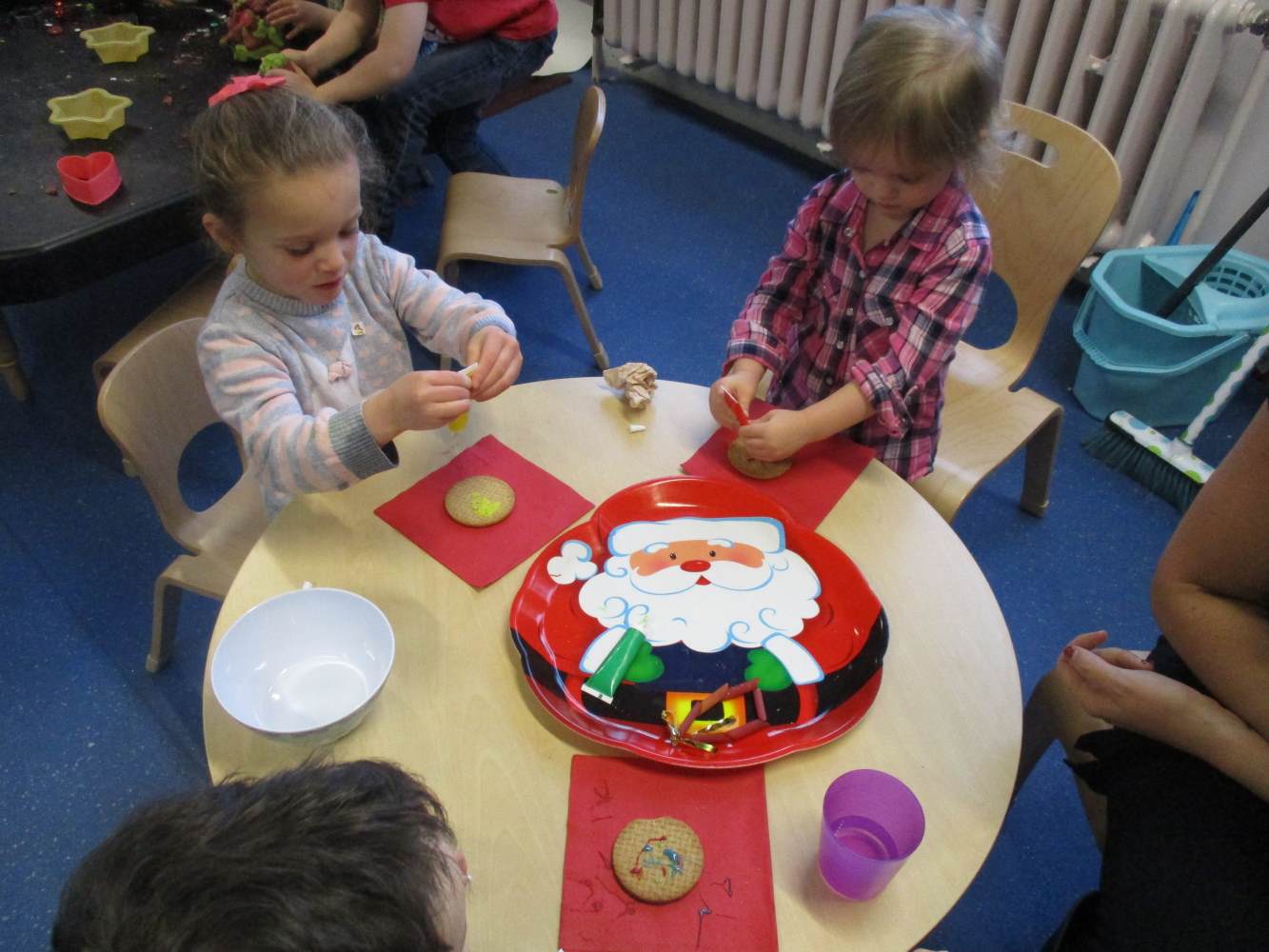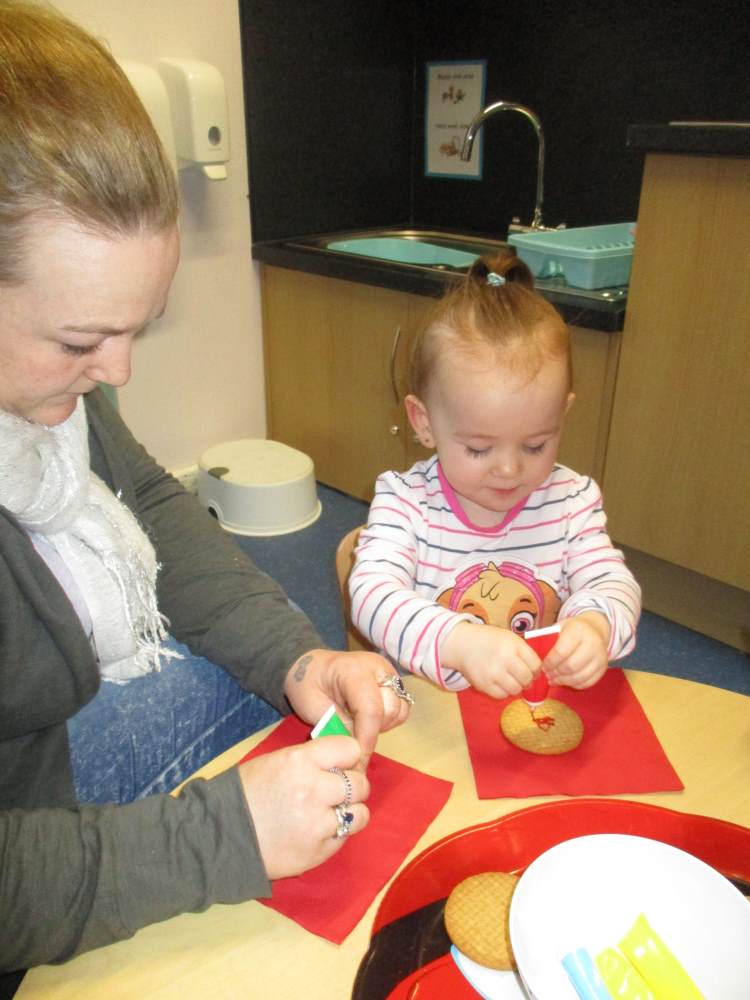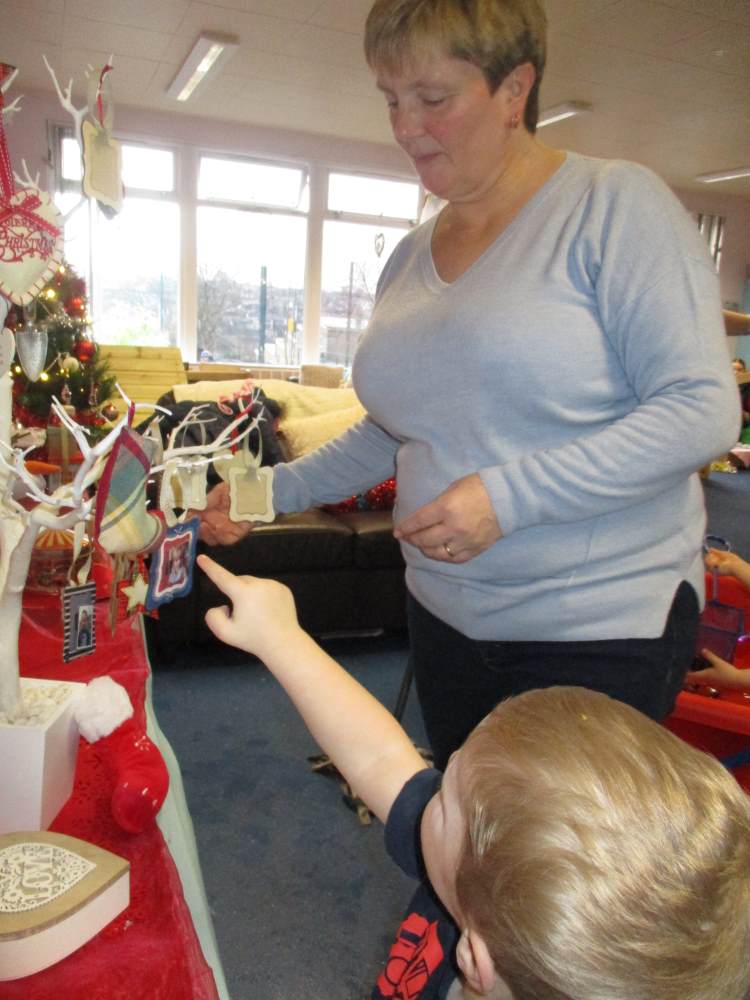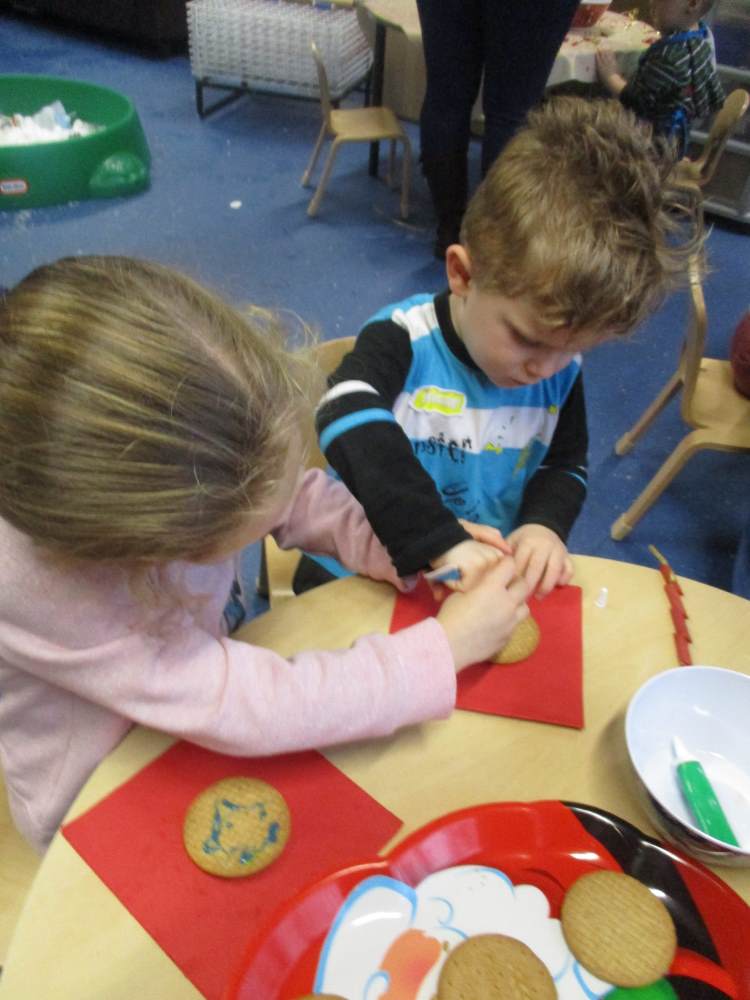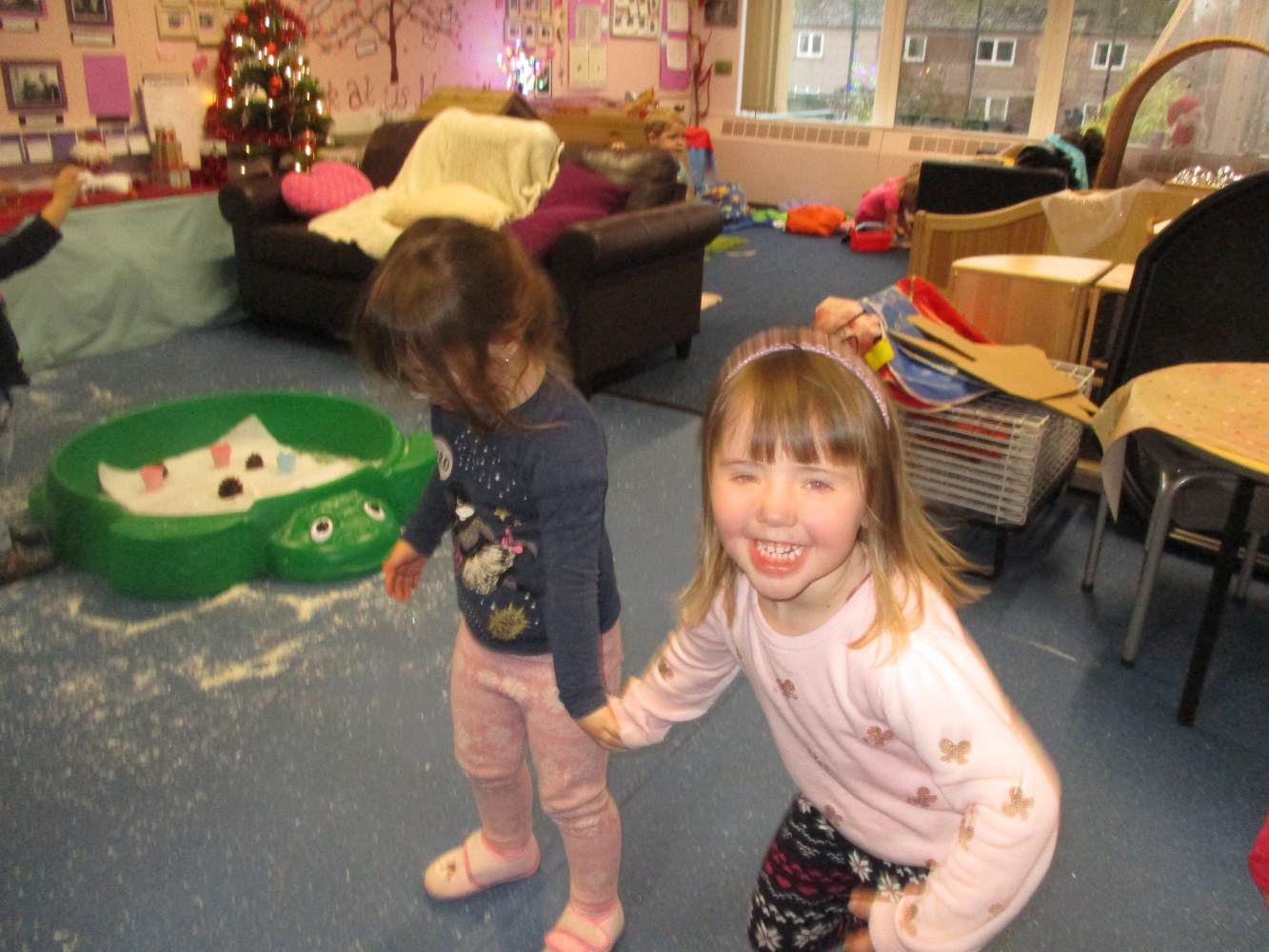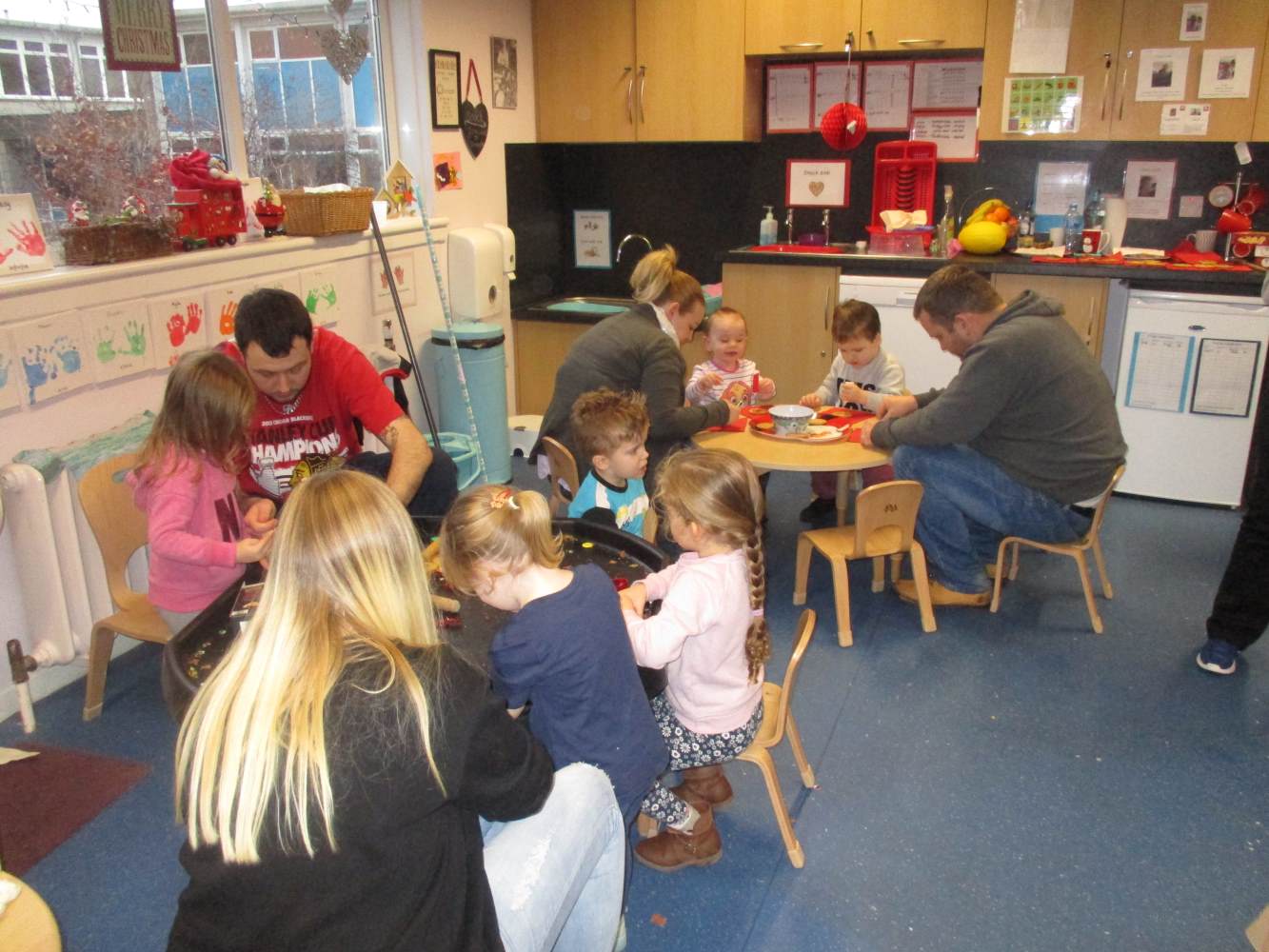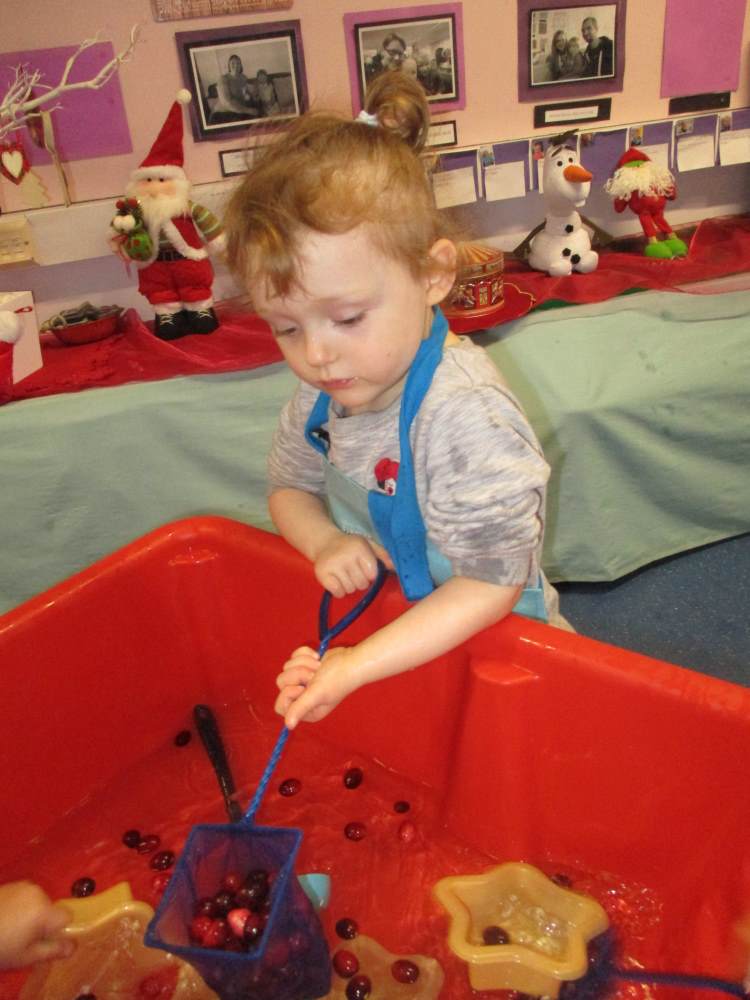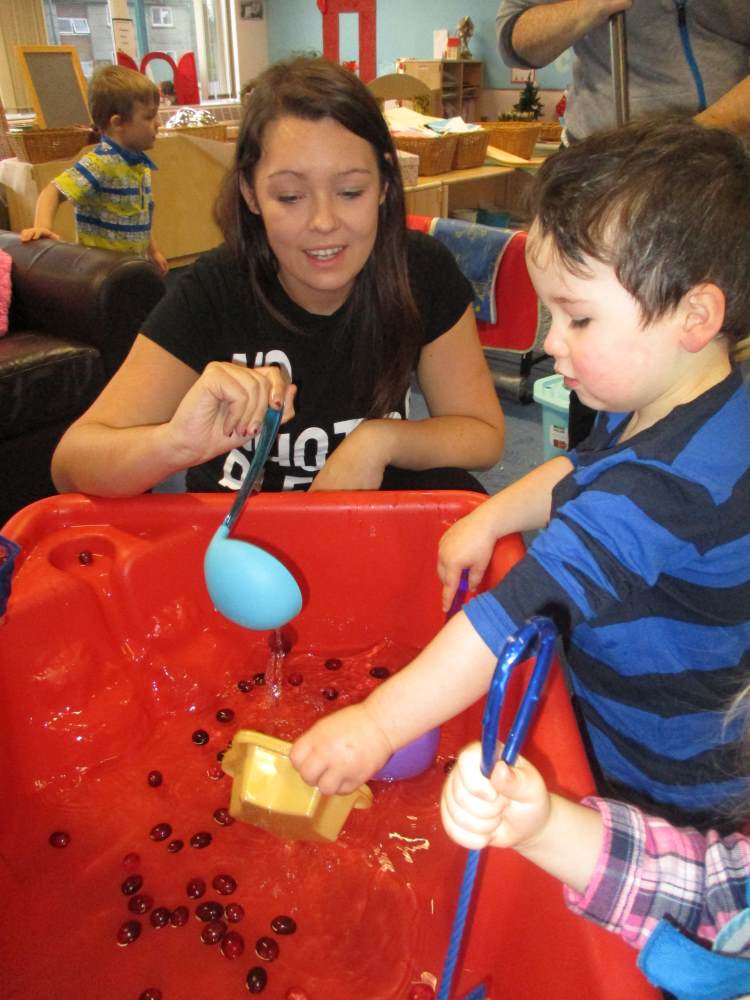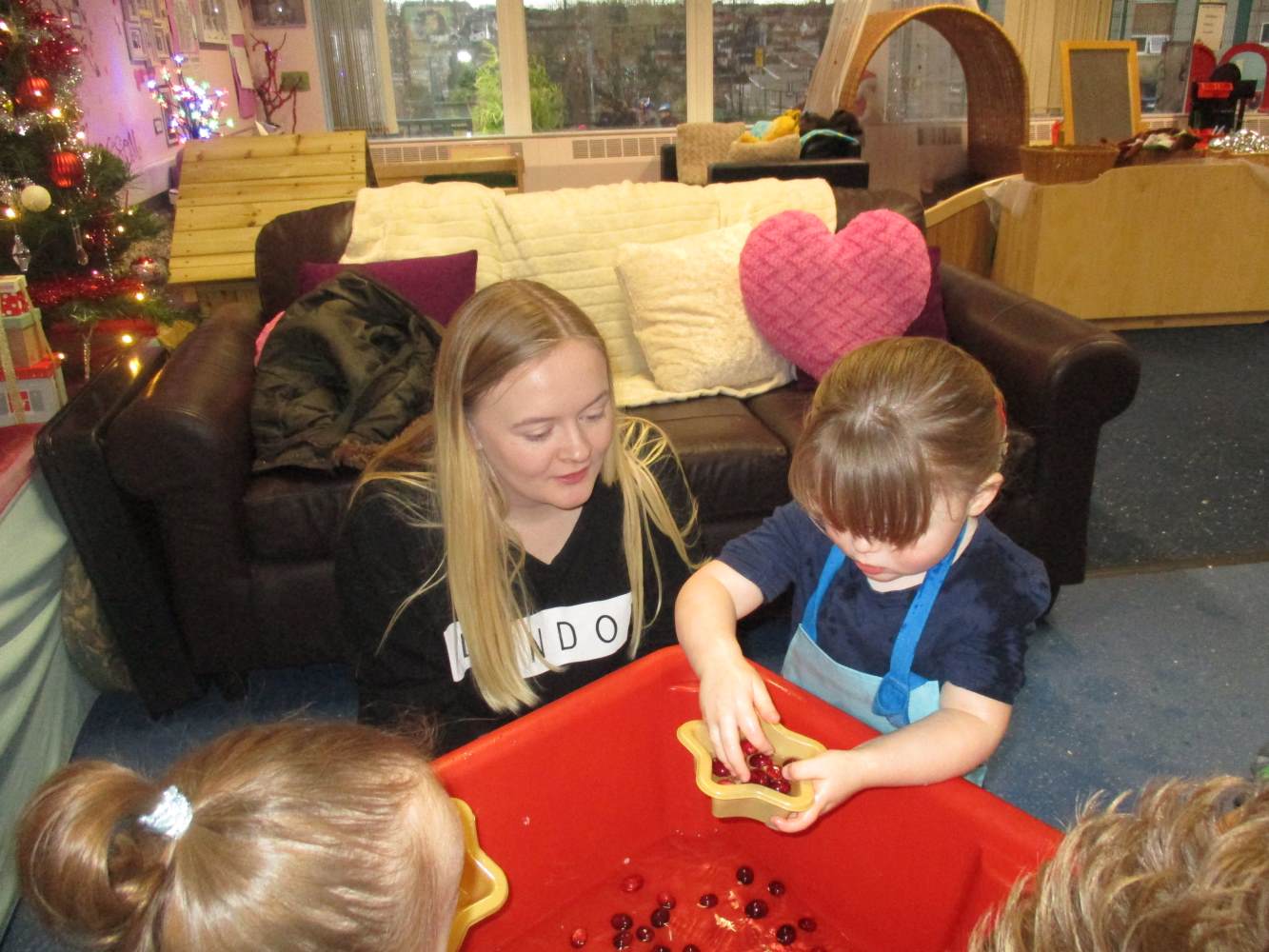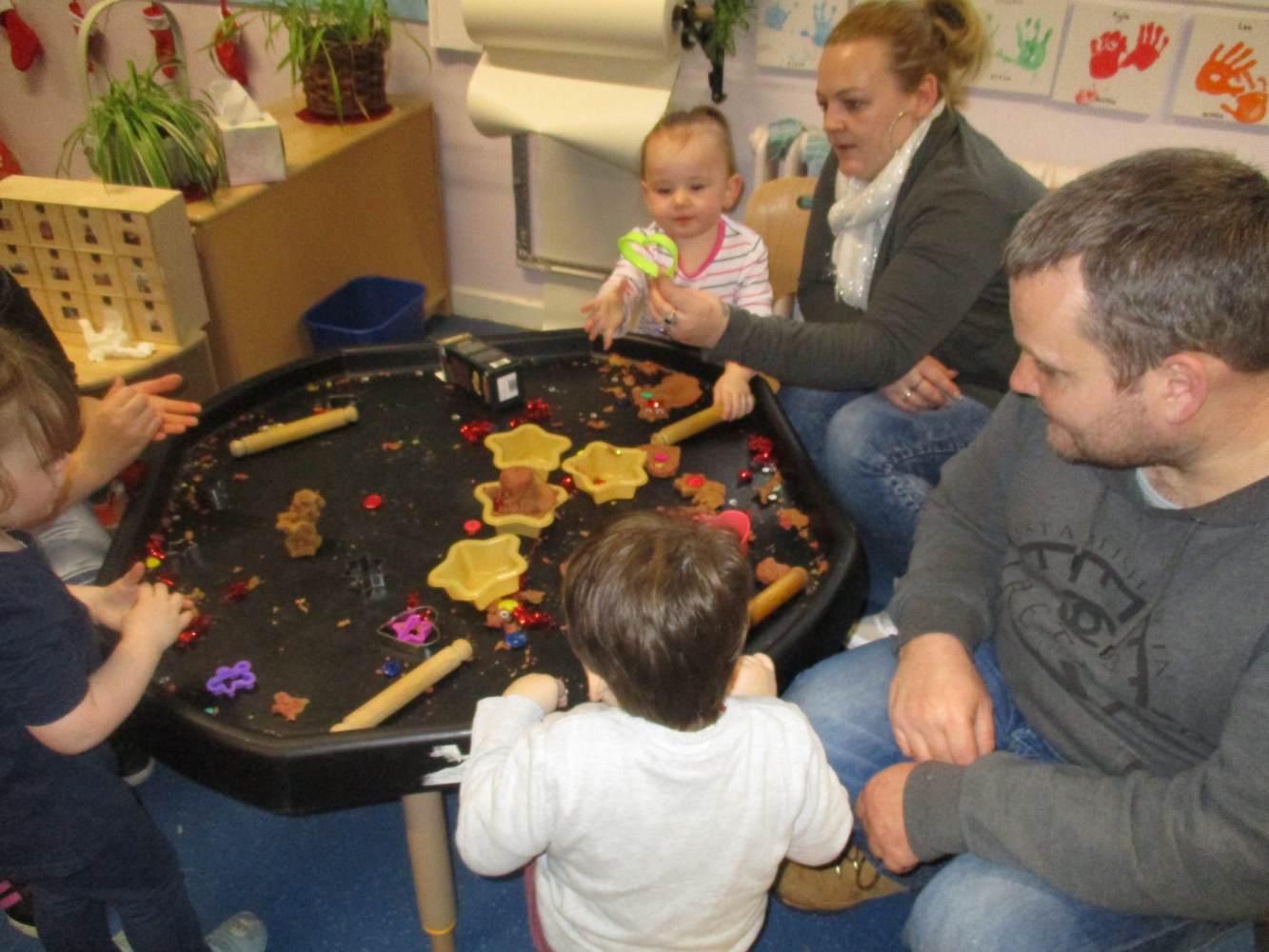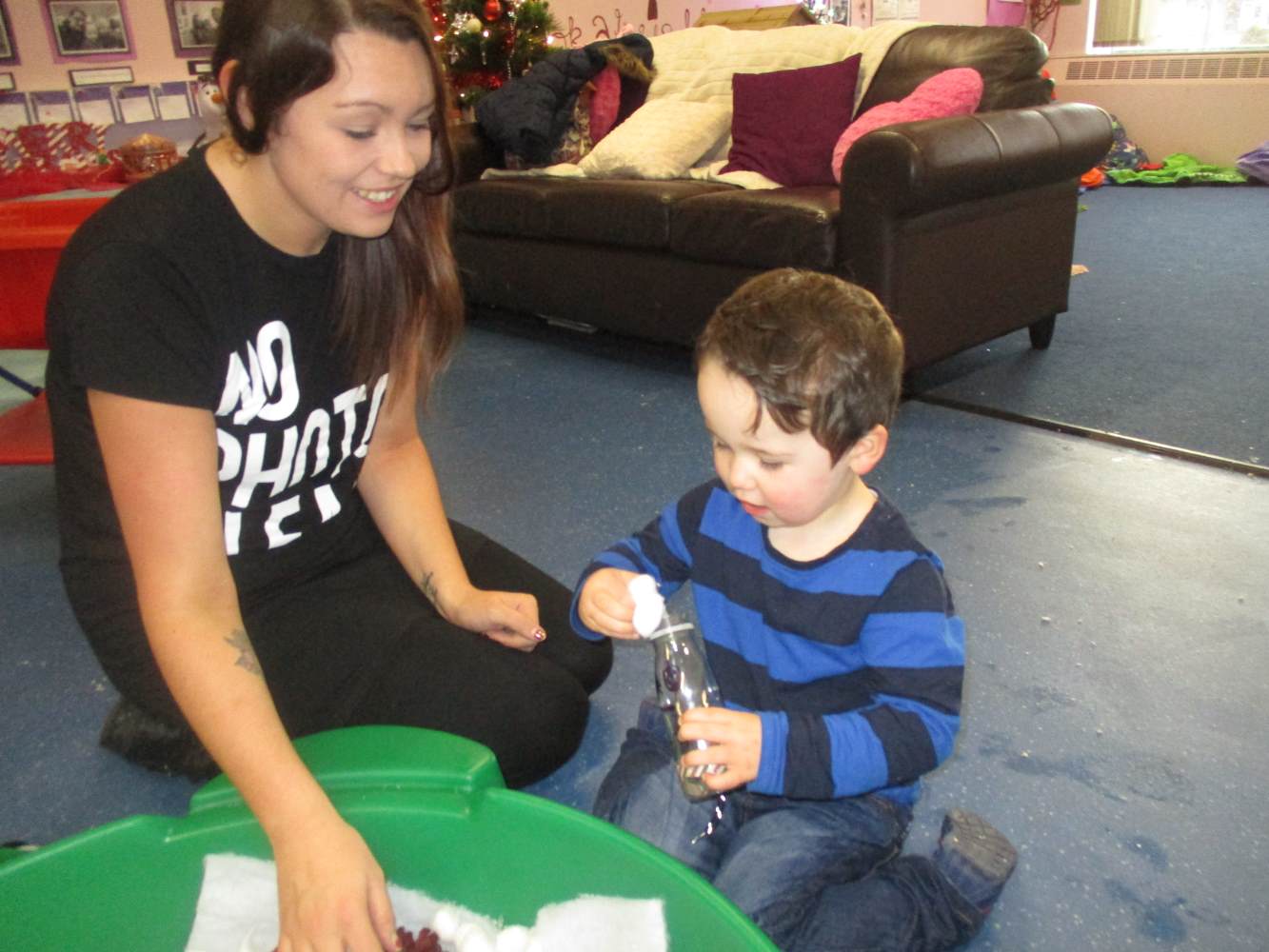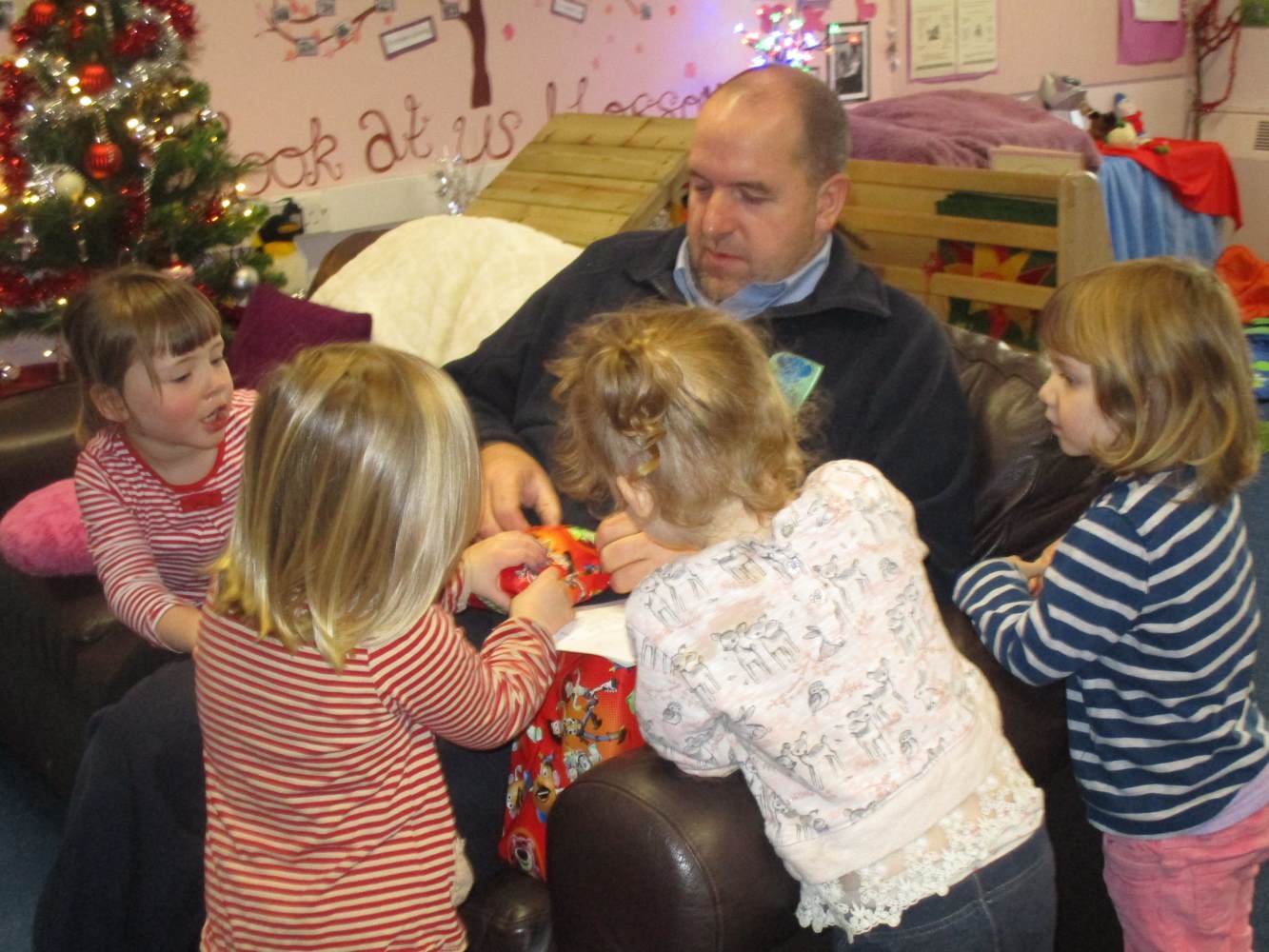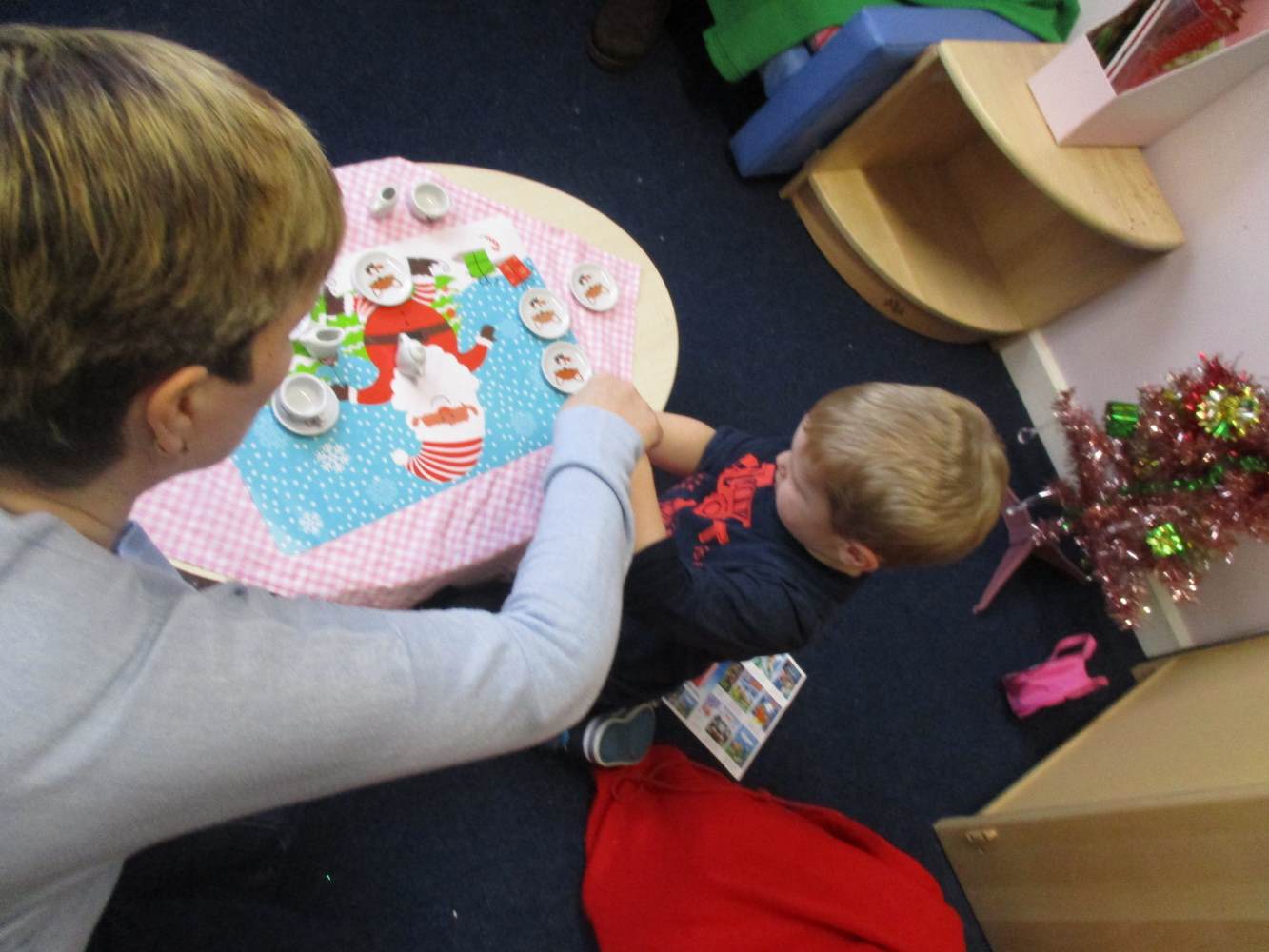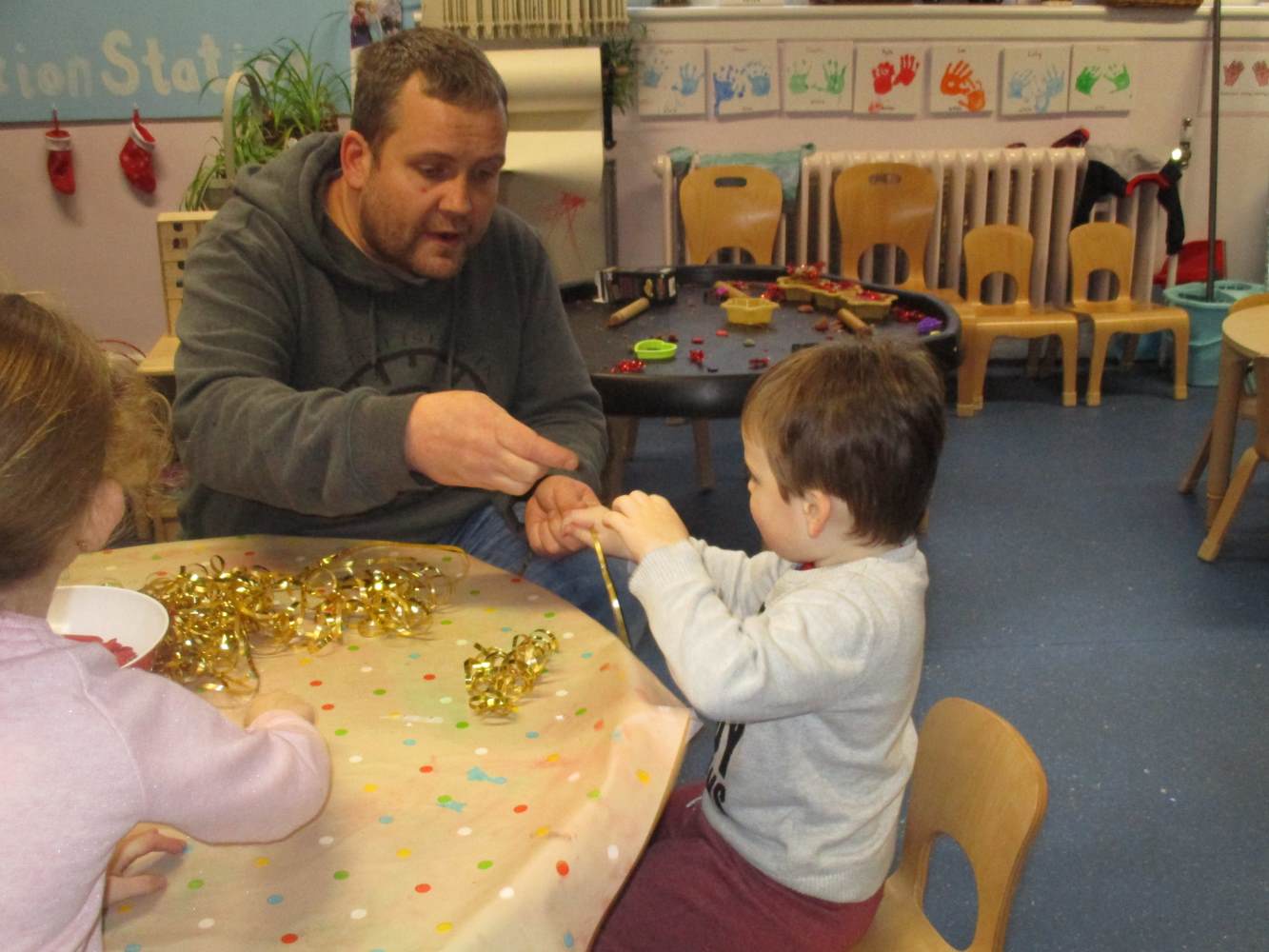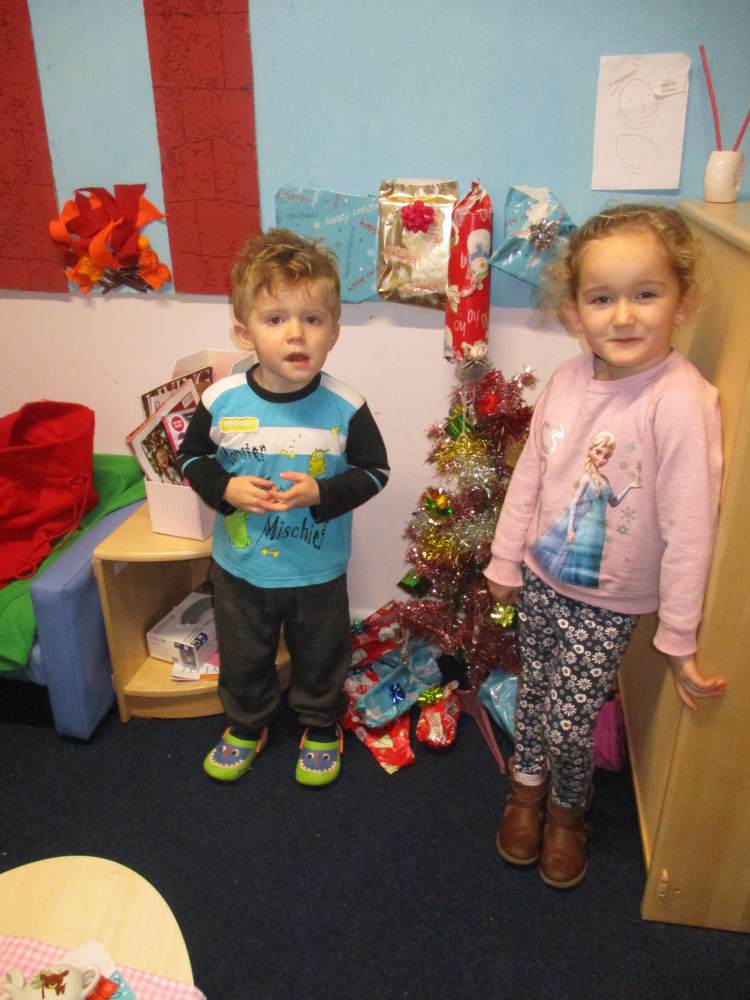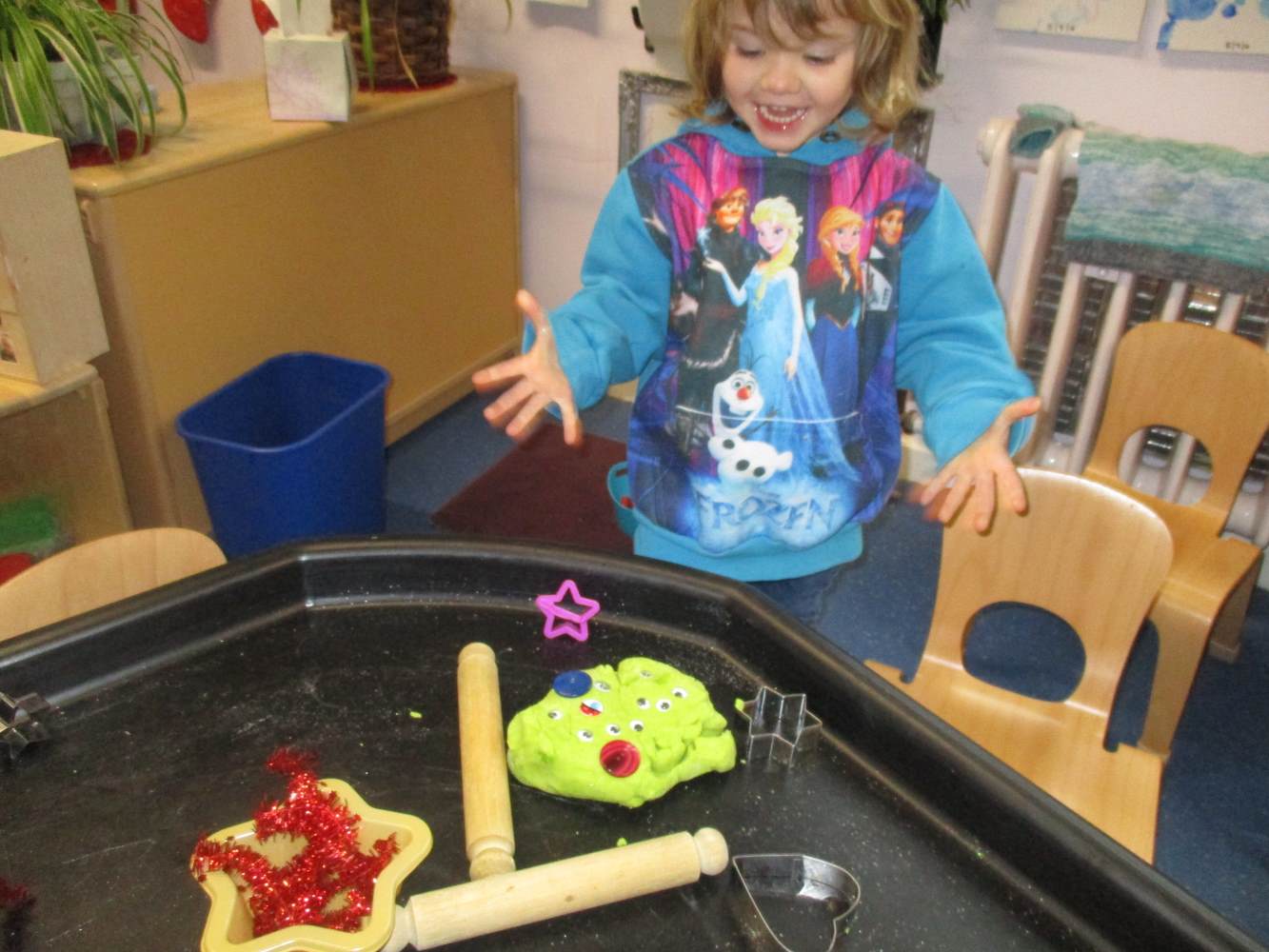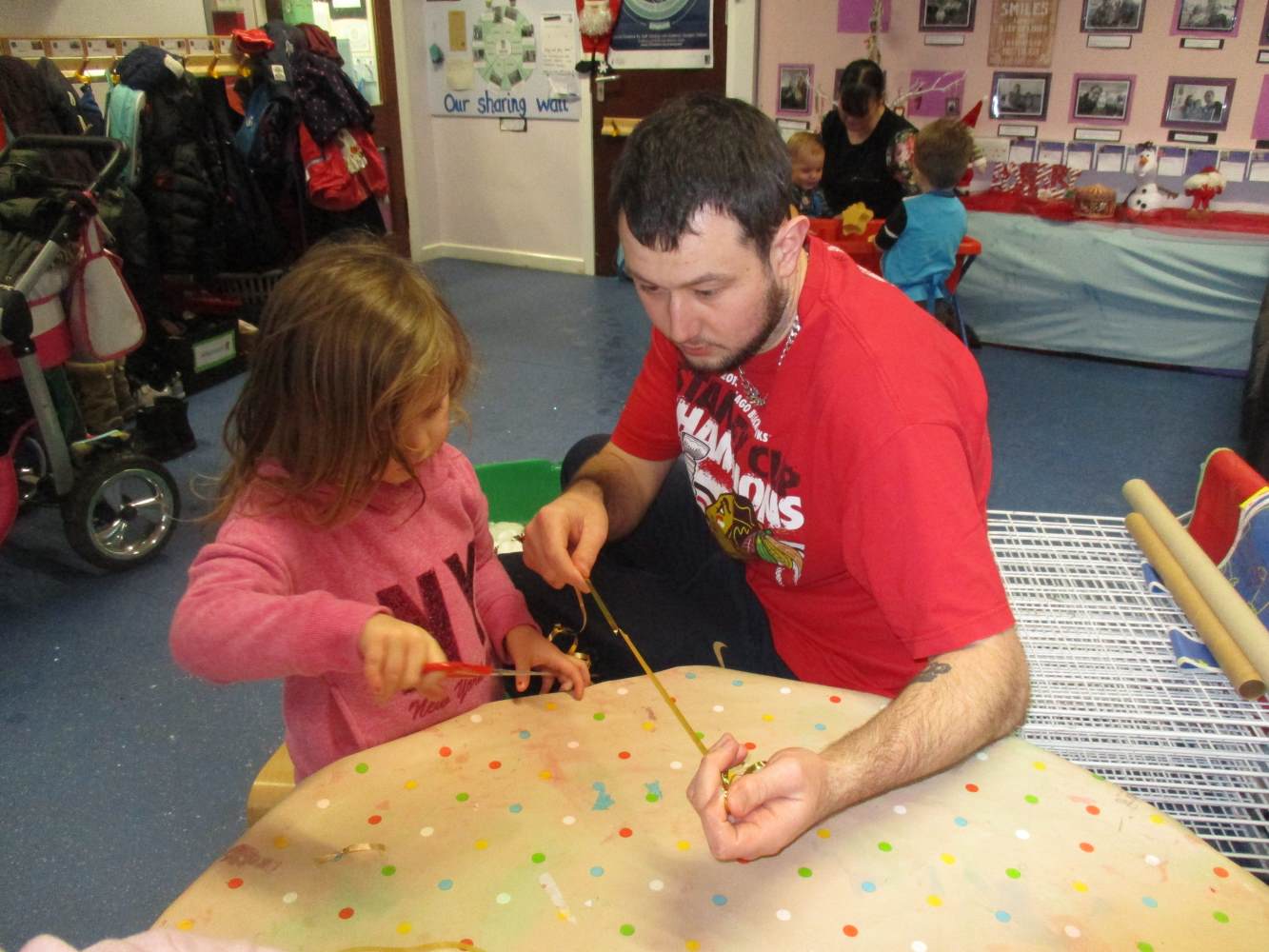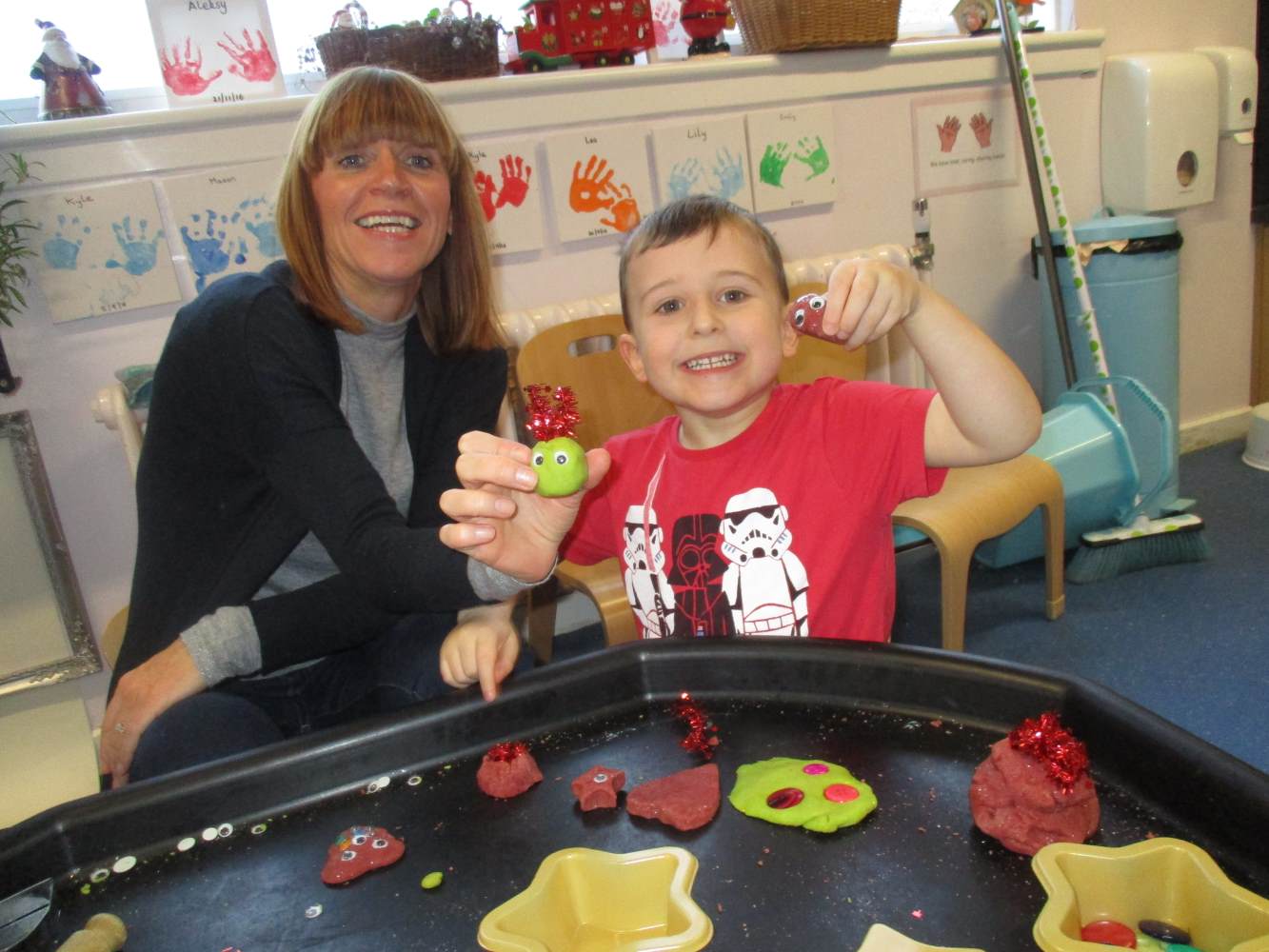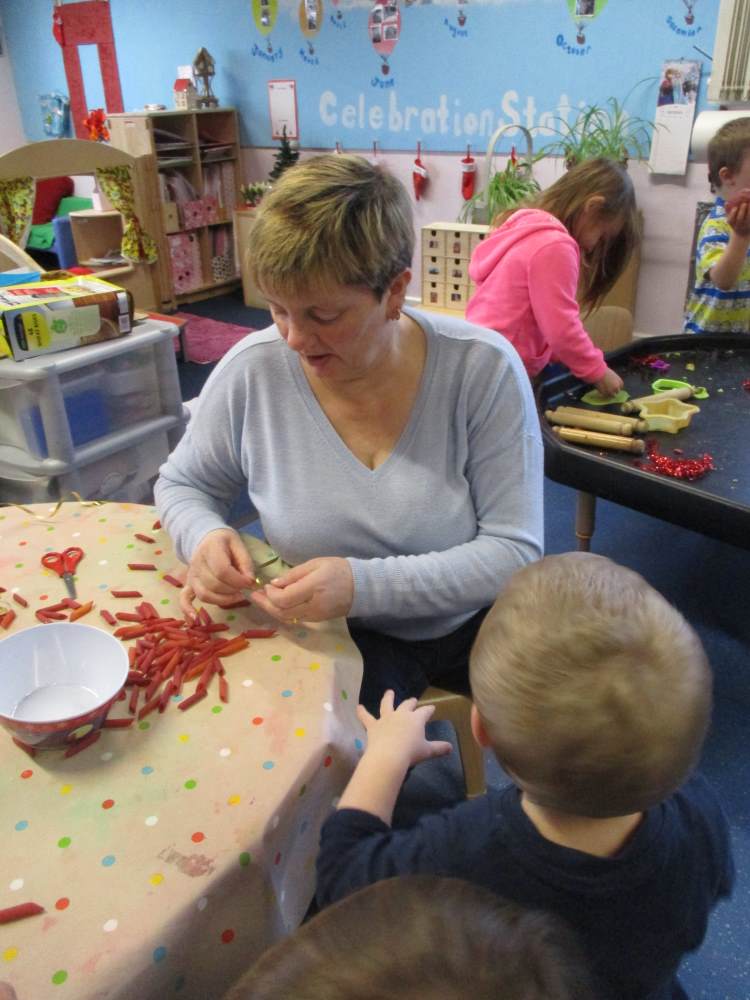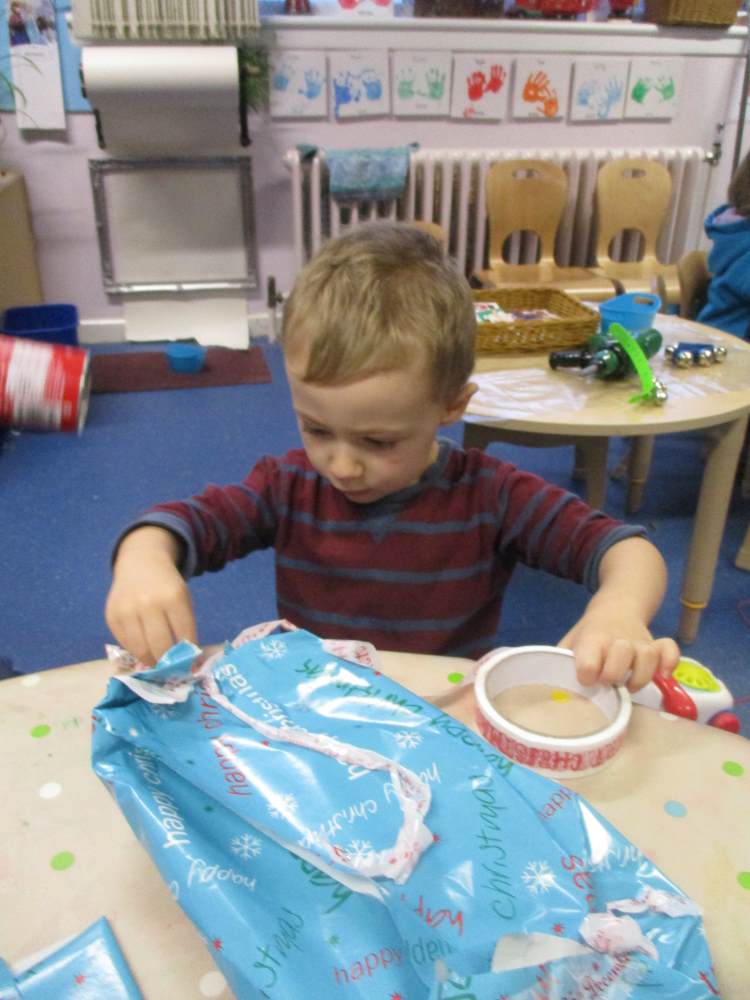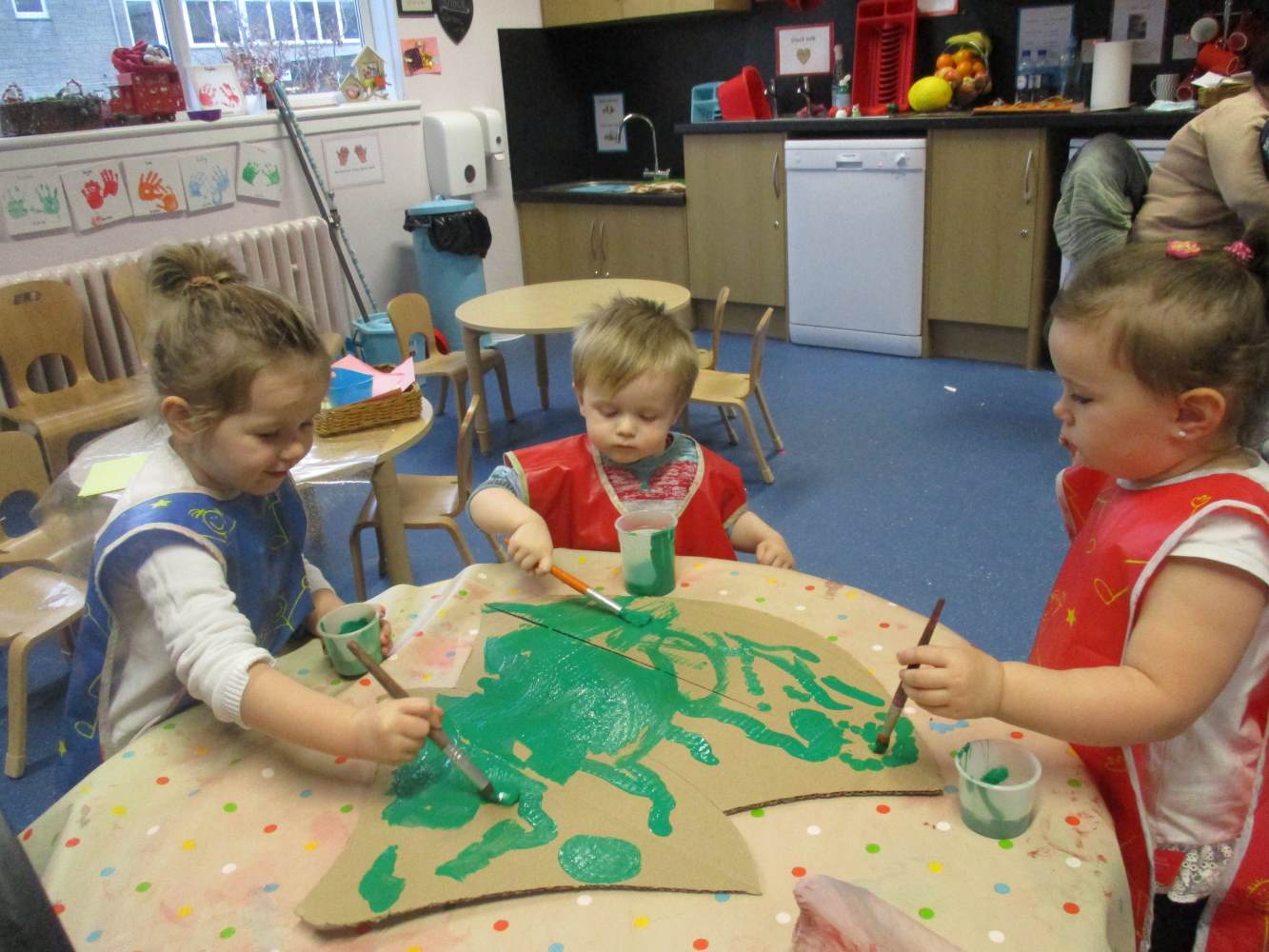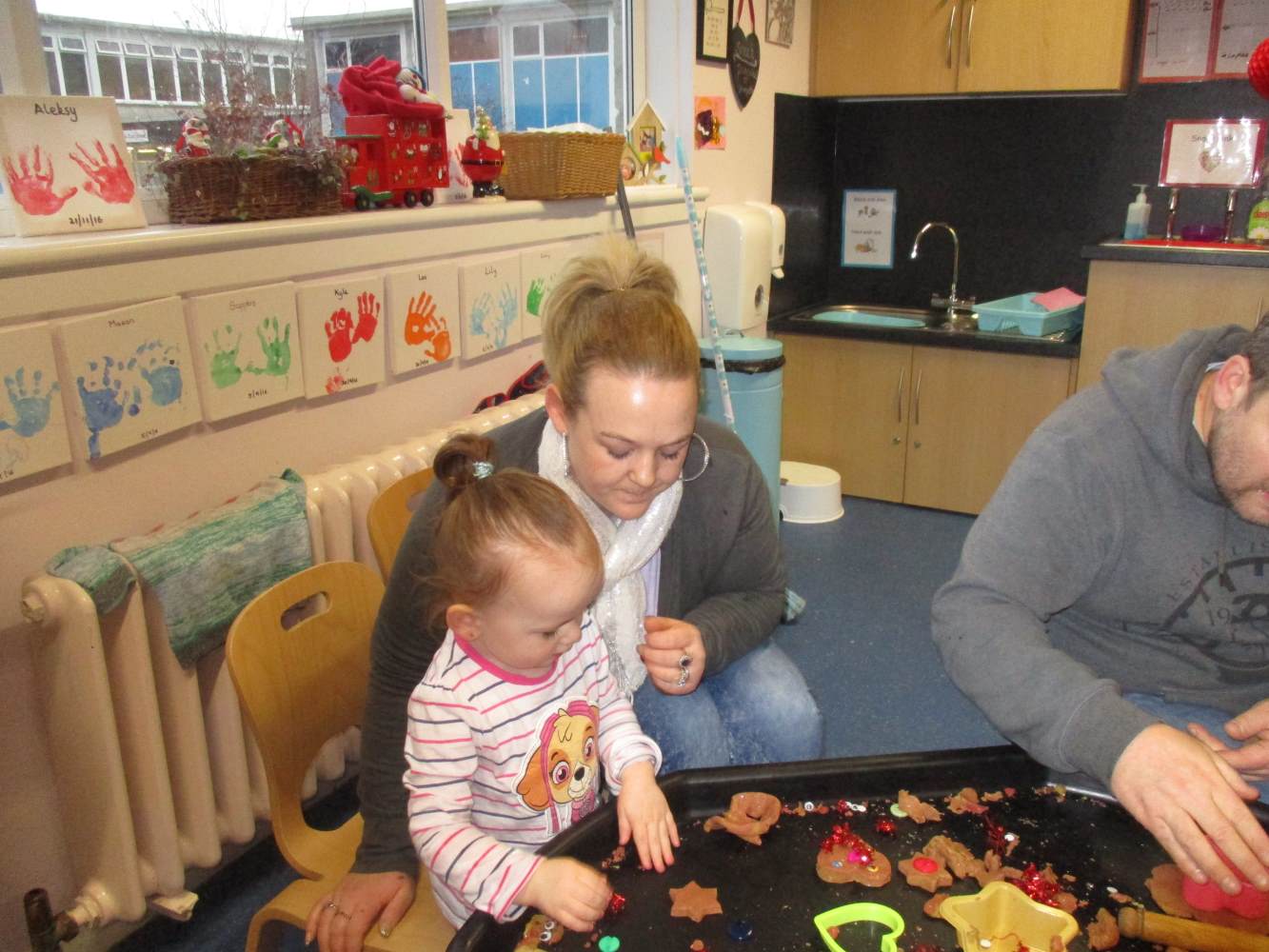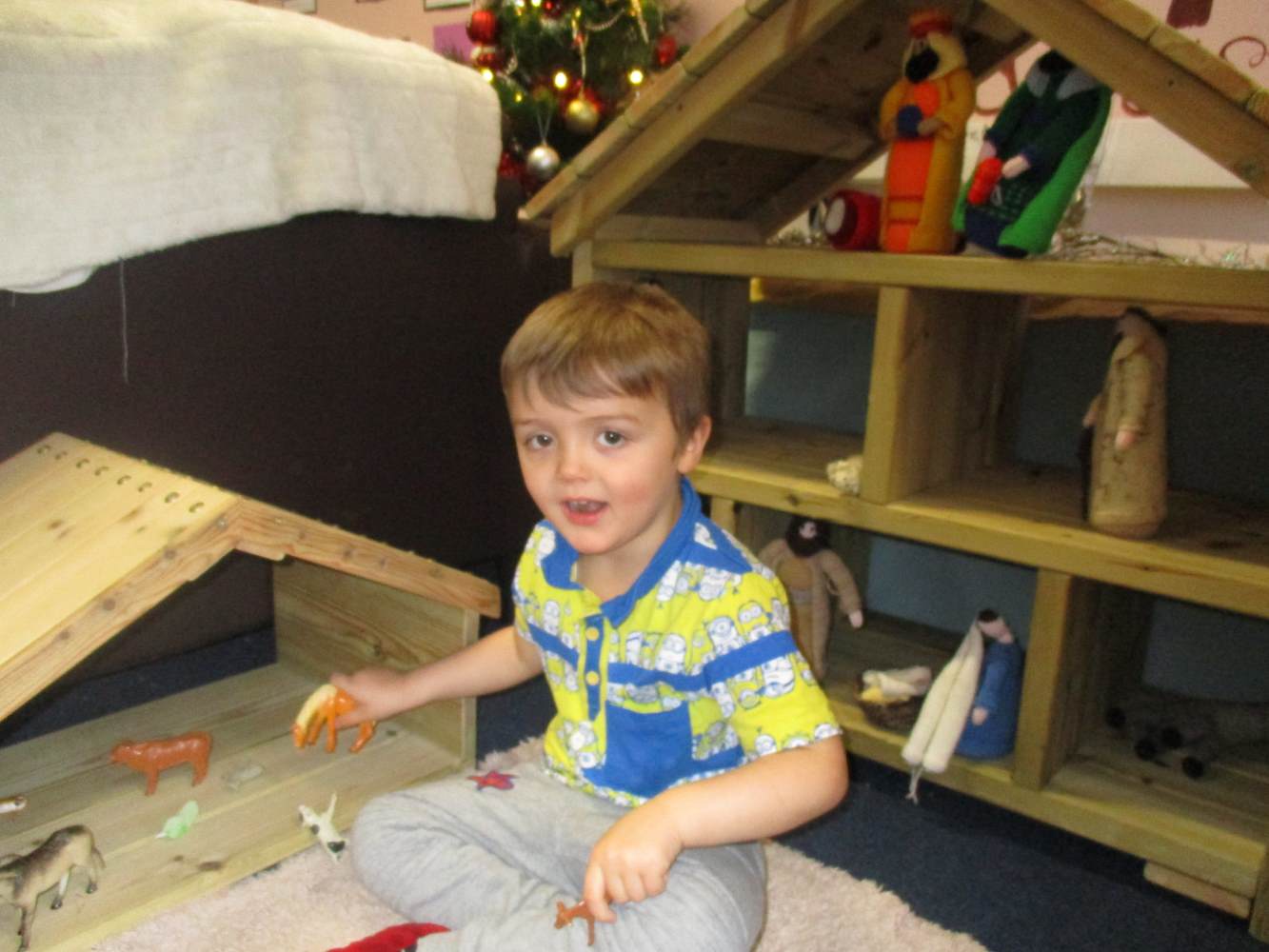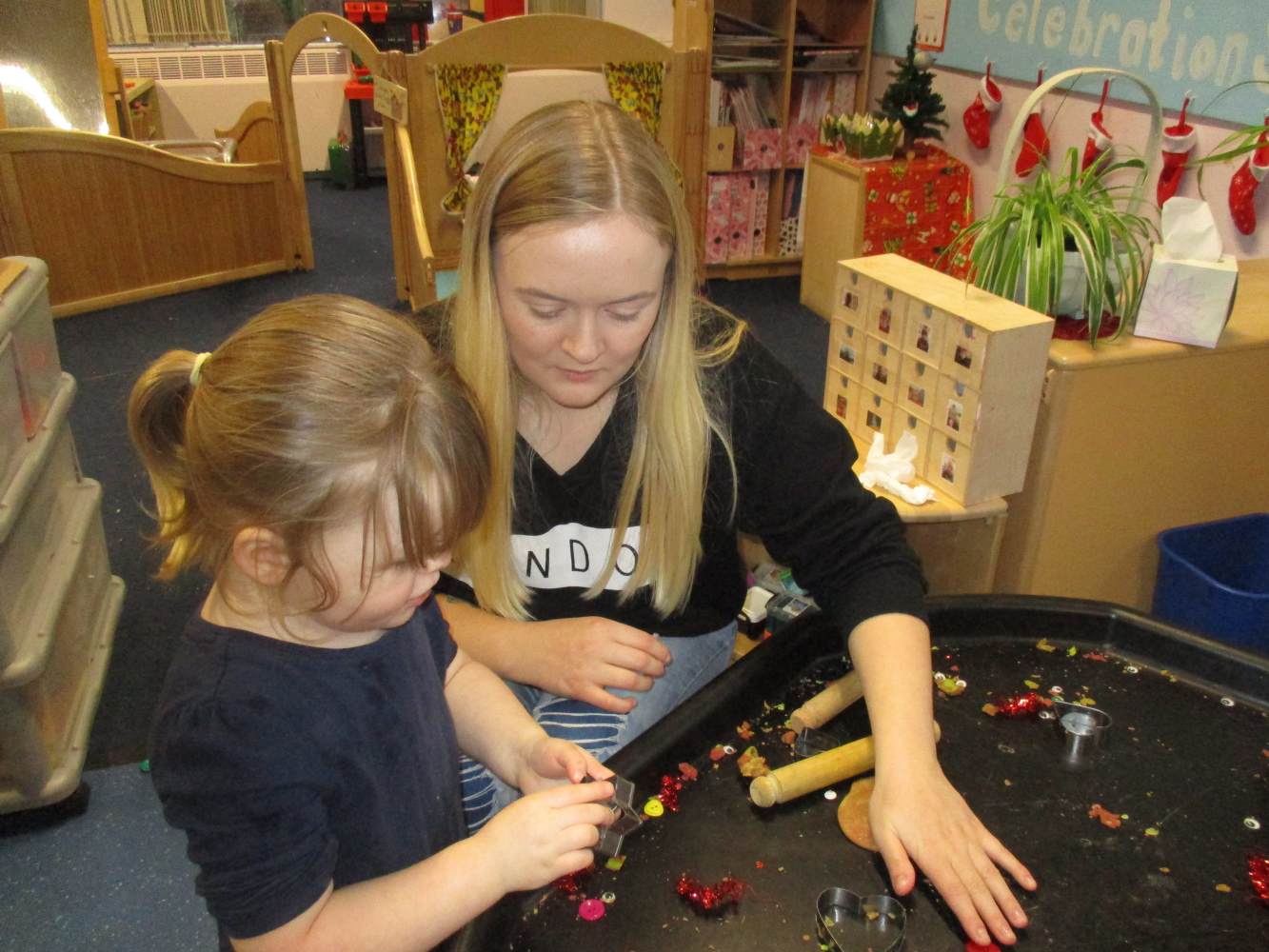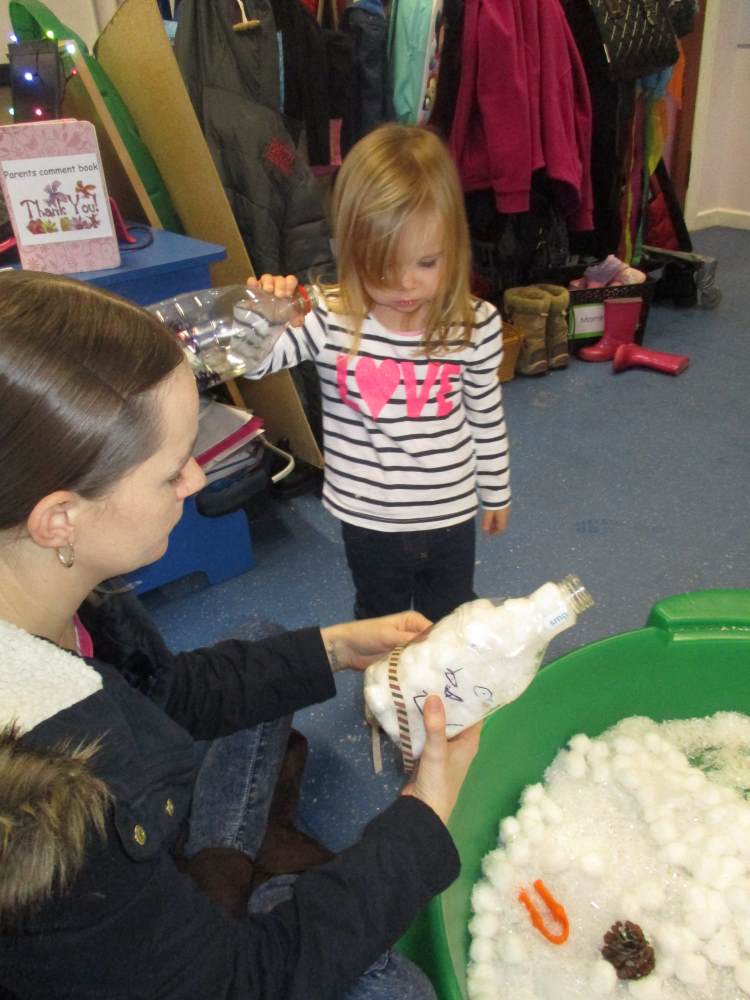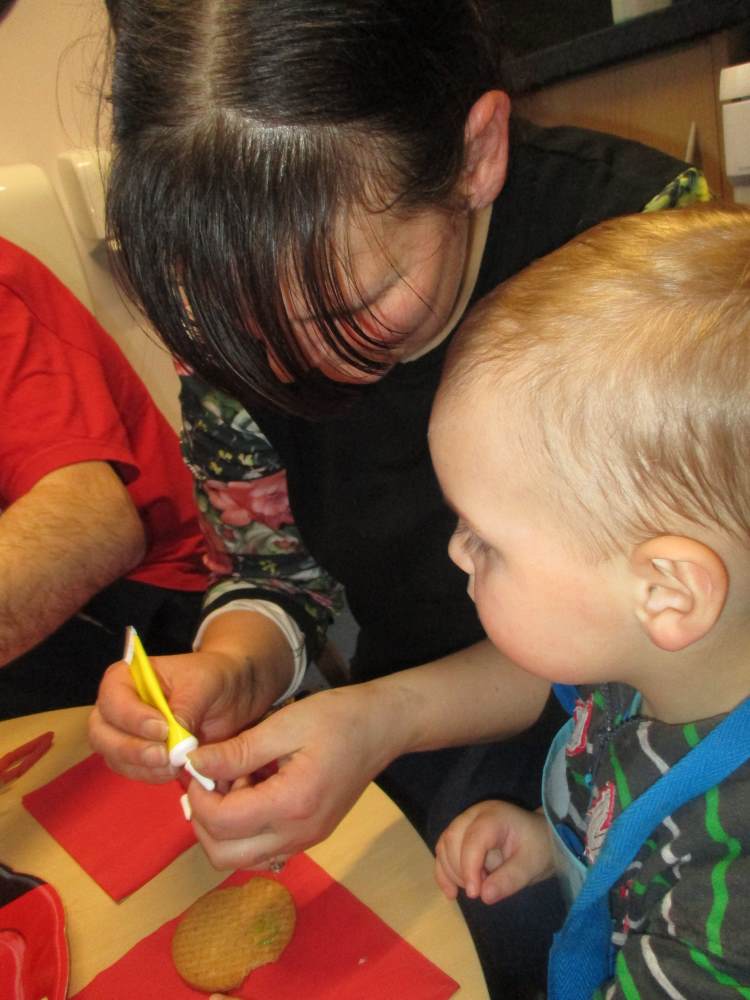 One dark wet windy December morning...
It was a very dark and wet and windy morning in the Nursery Garden. The children and Mrs Maclaughlan put their creative, team building and problem solving skills to the test and set about building a shelter. It went very well until the roof went on and then the wind took the whole thing apart but thankfully no children blew away!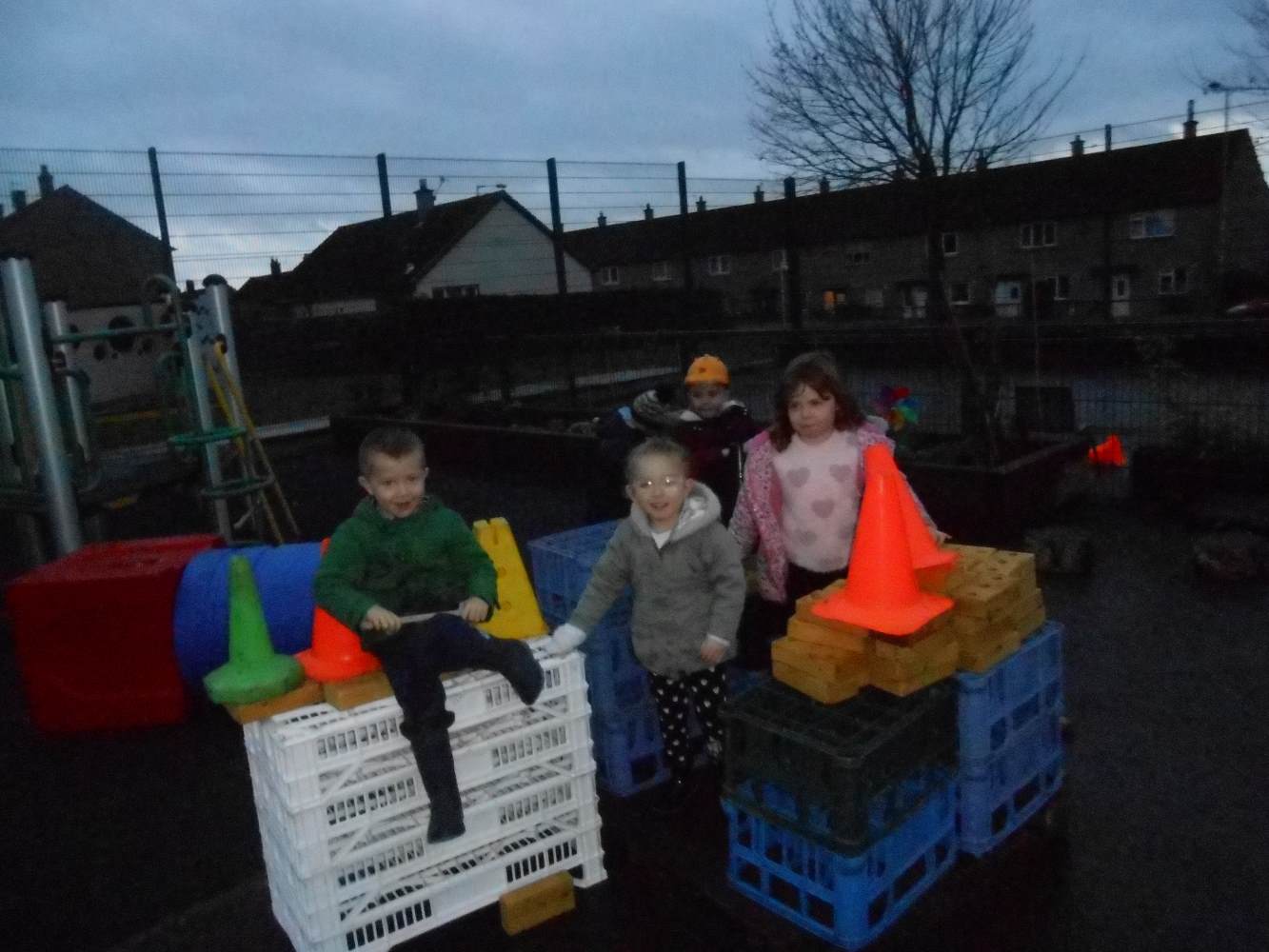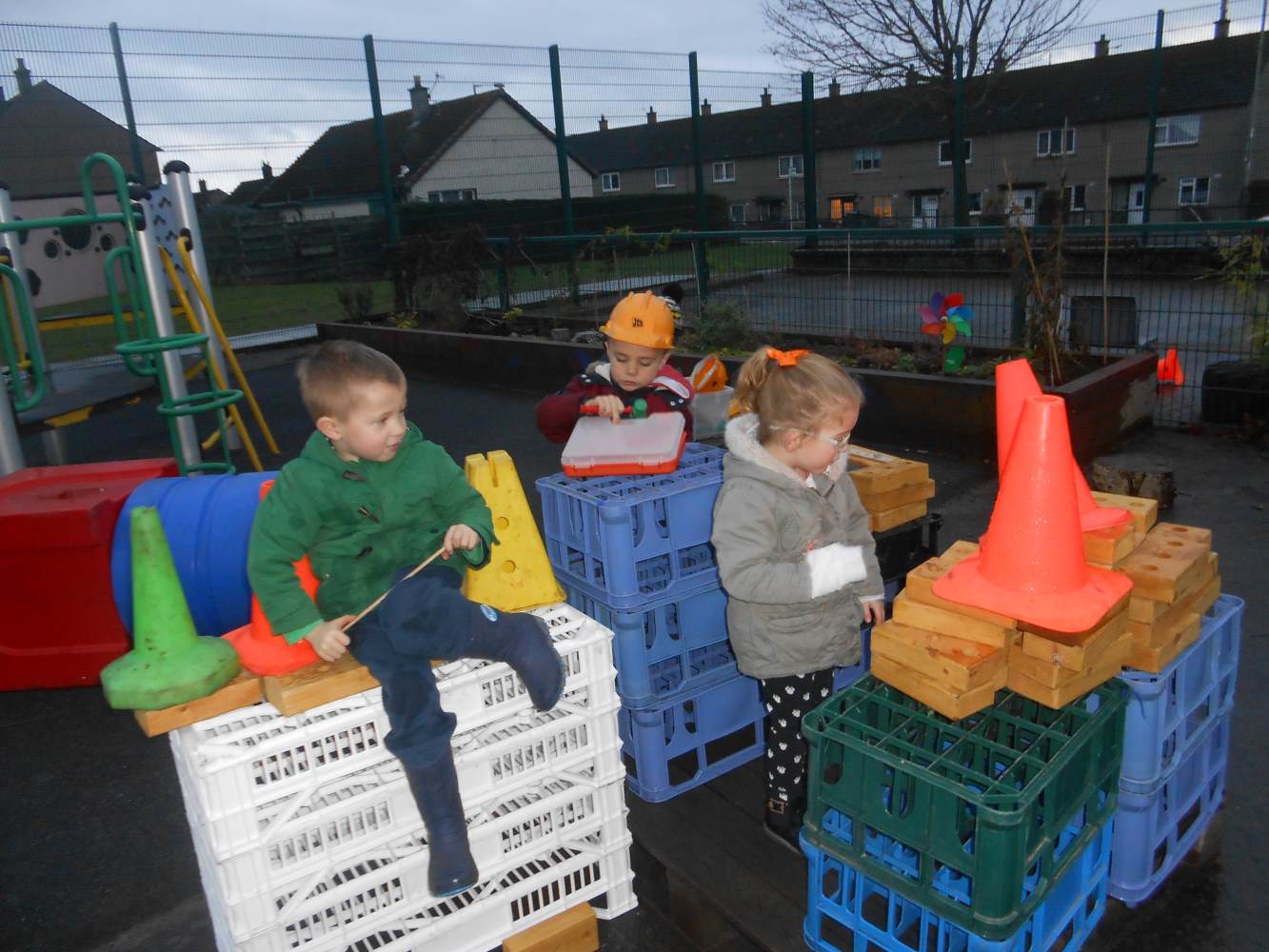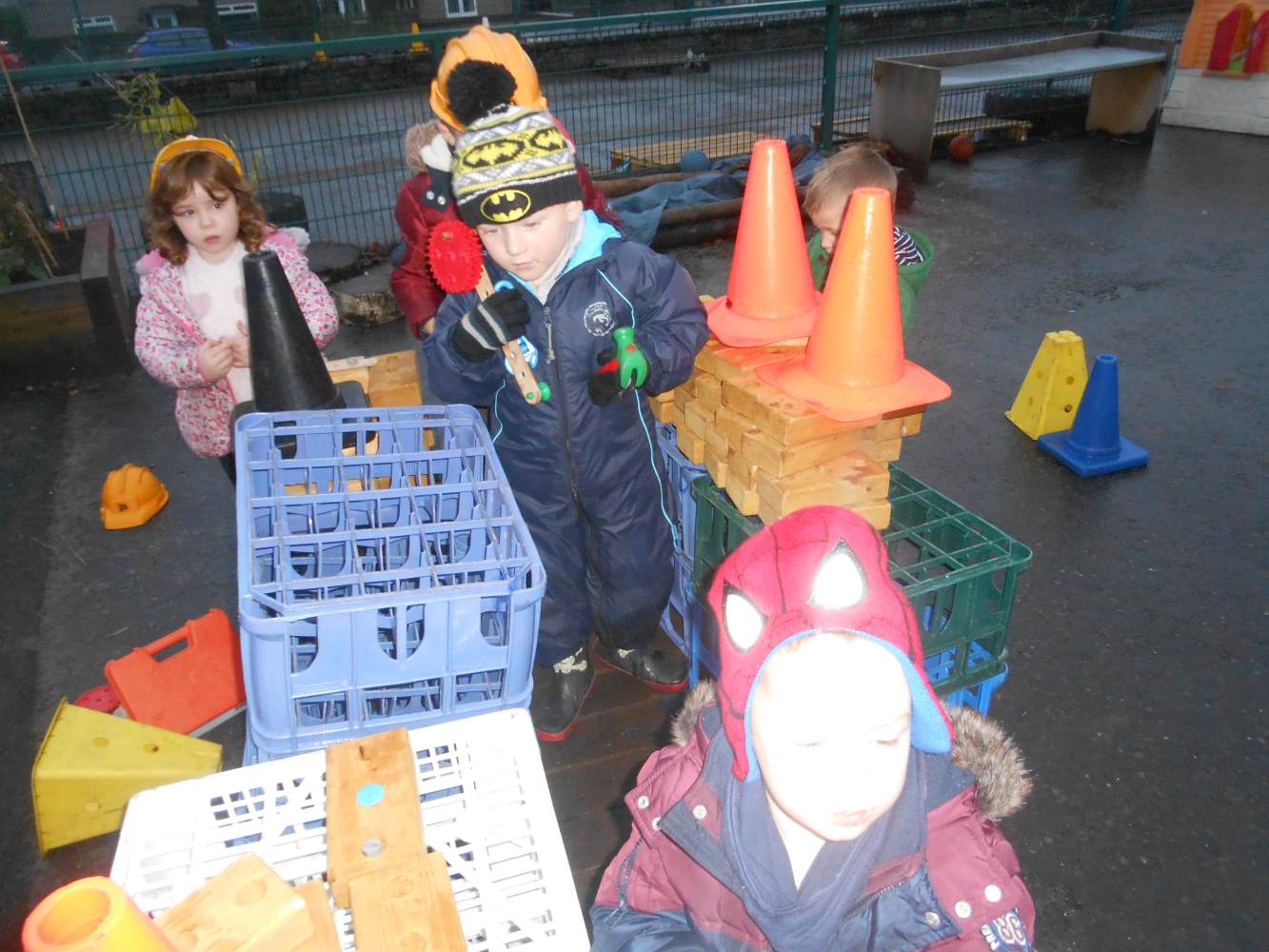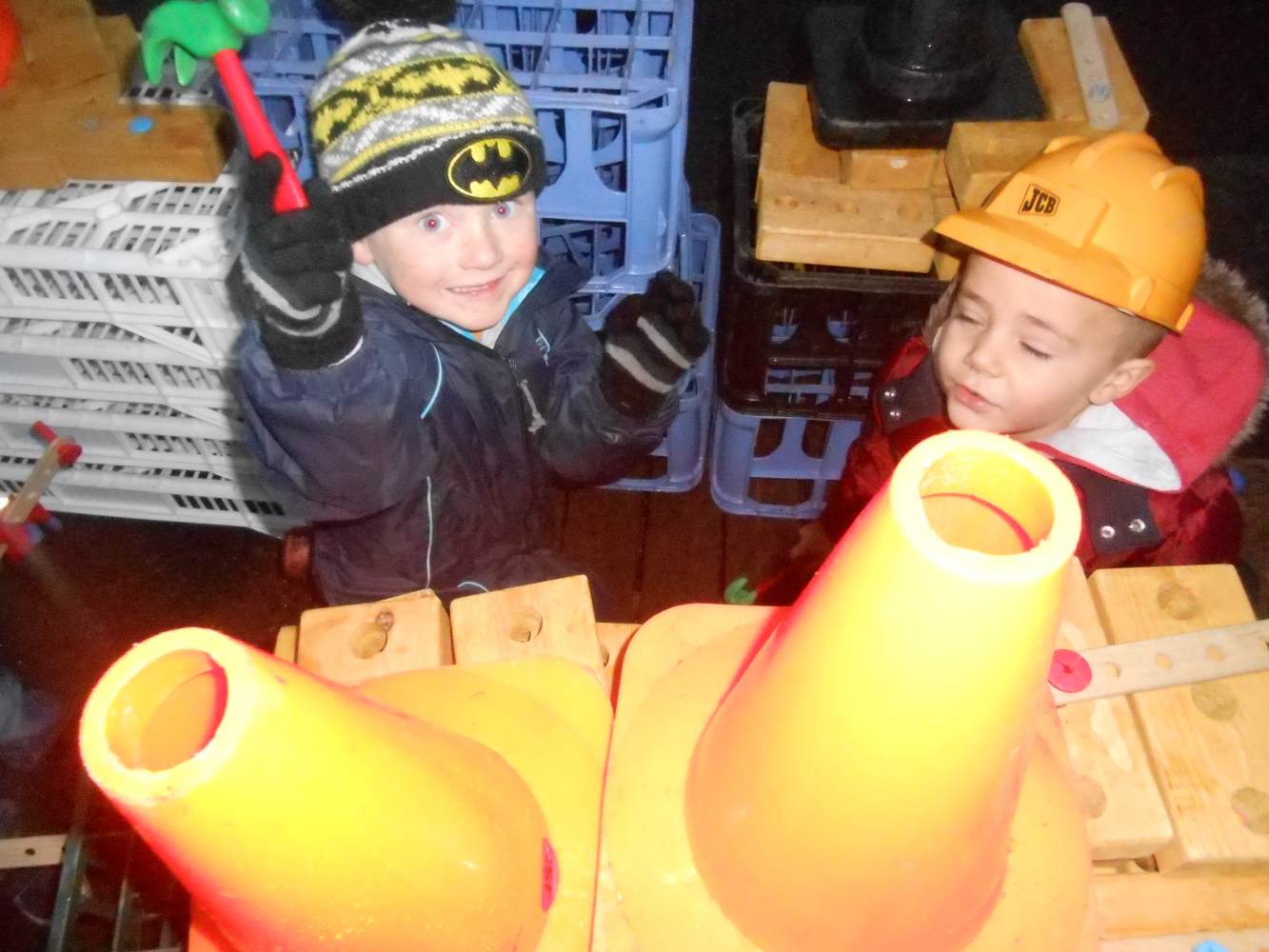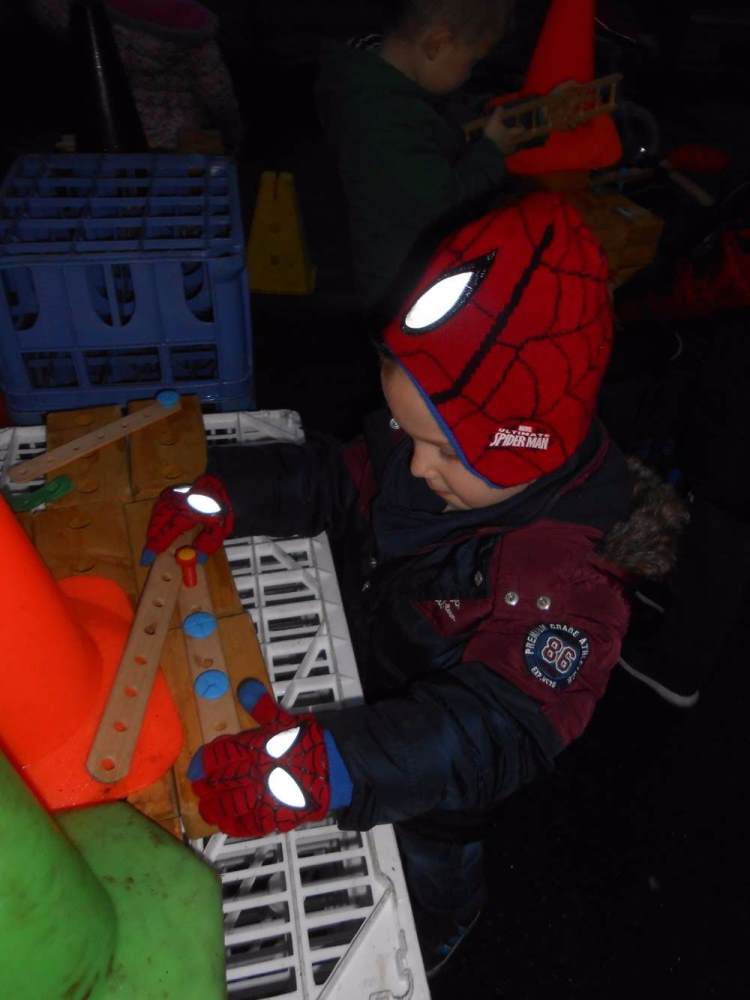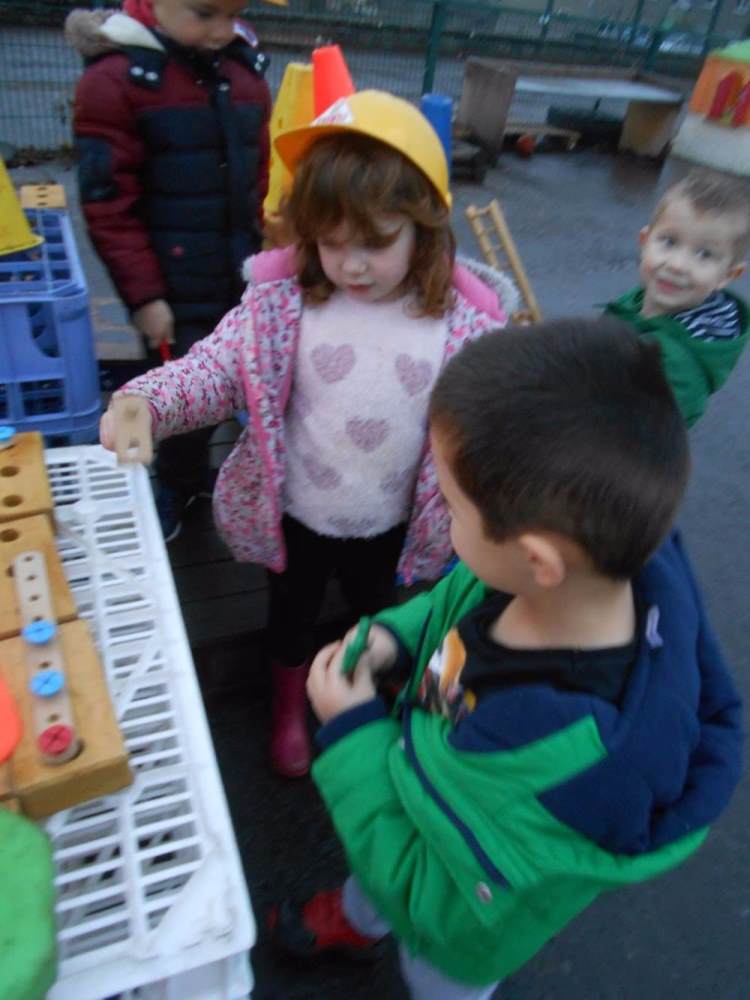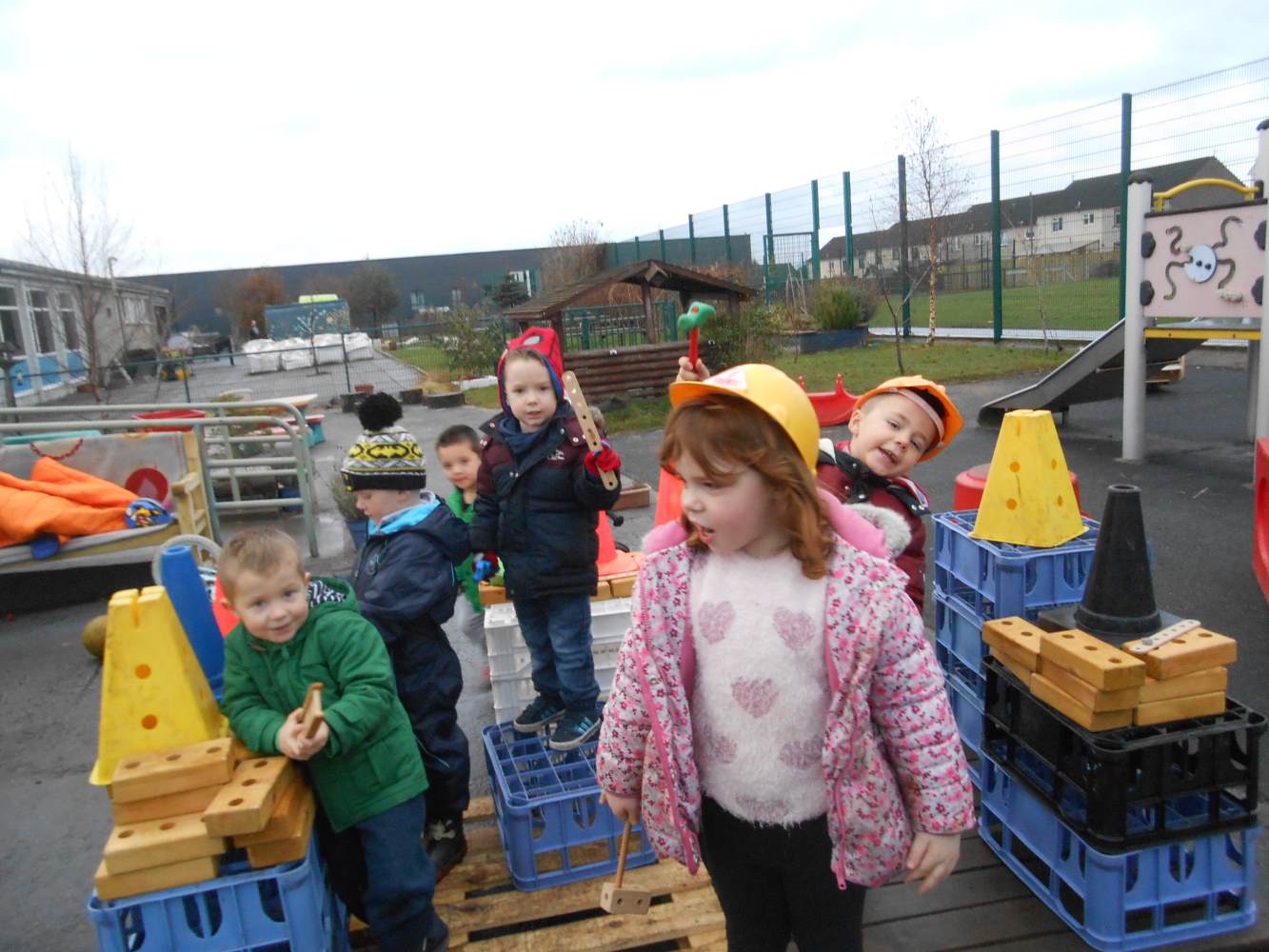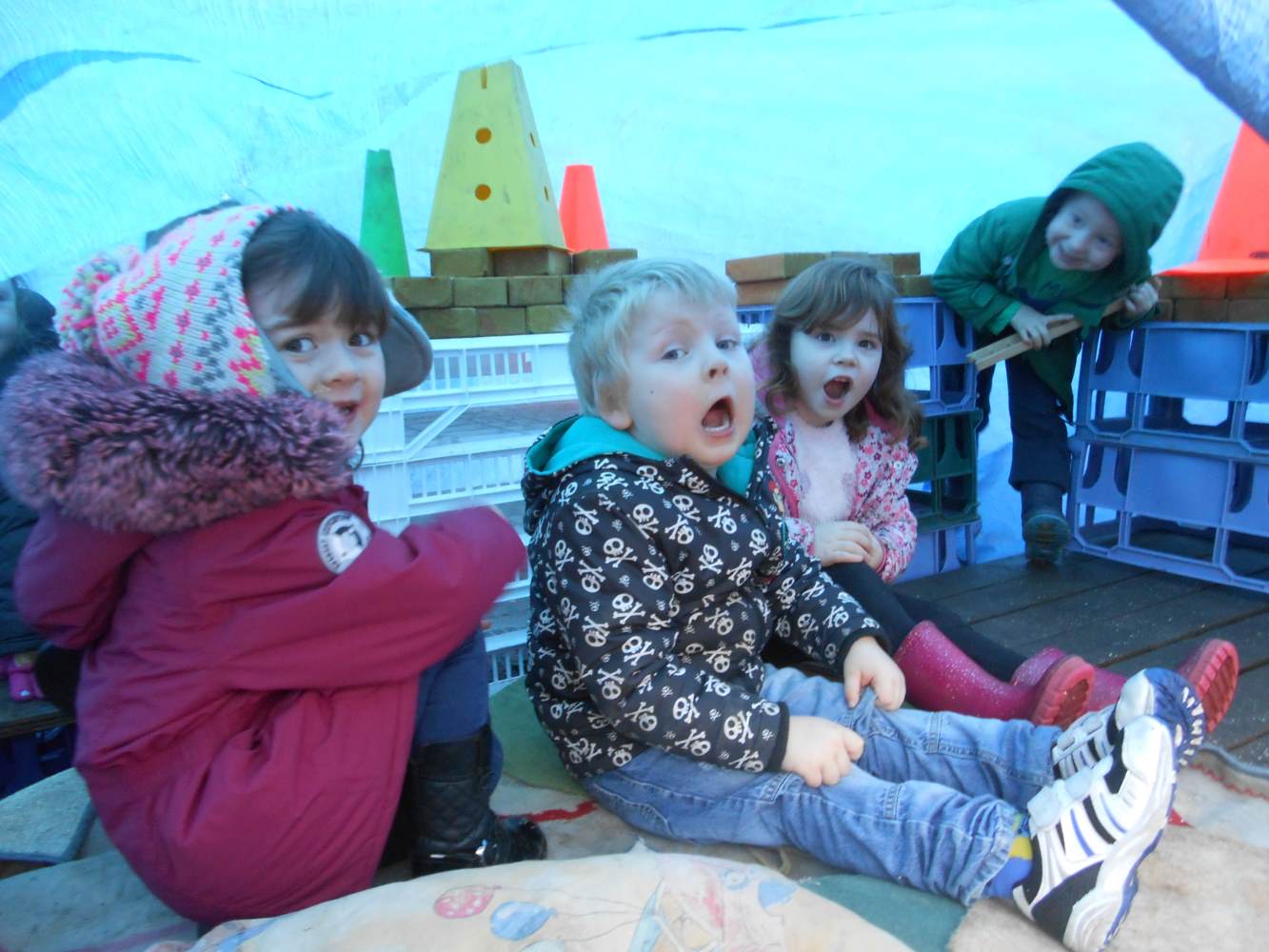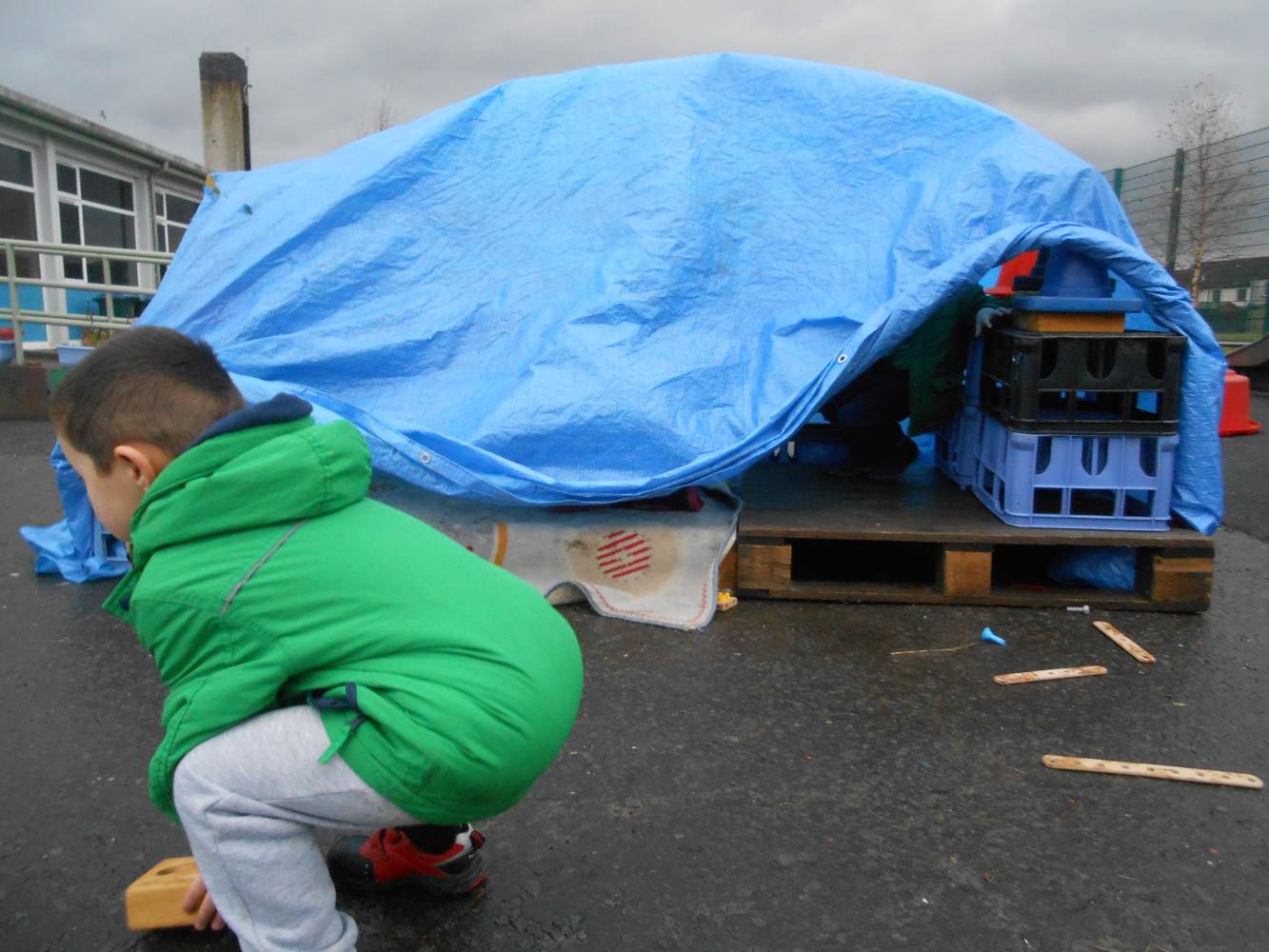 Christmas dress up.
During the month many children enjoyed playing in Santa's workshop and dressing up as Christmas characters.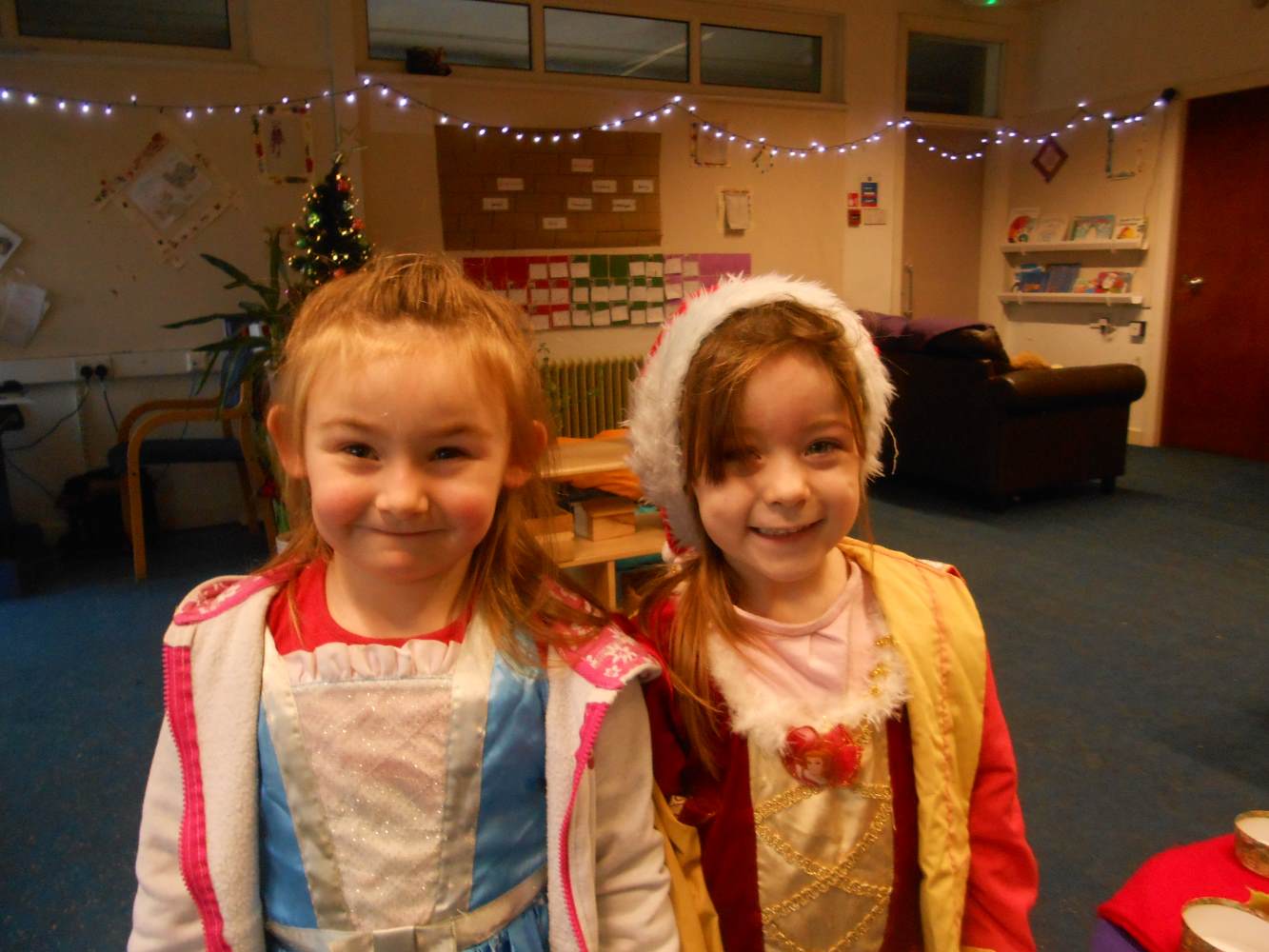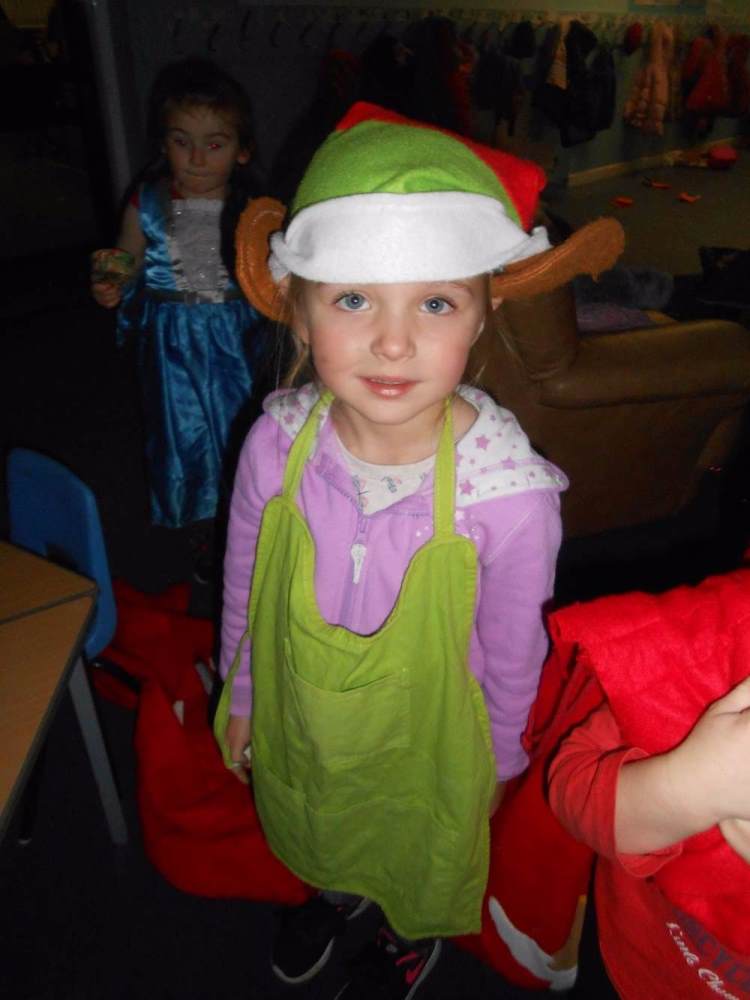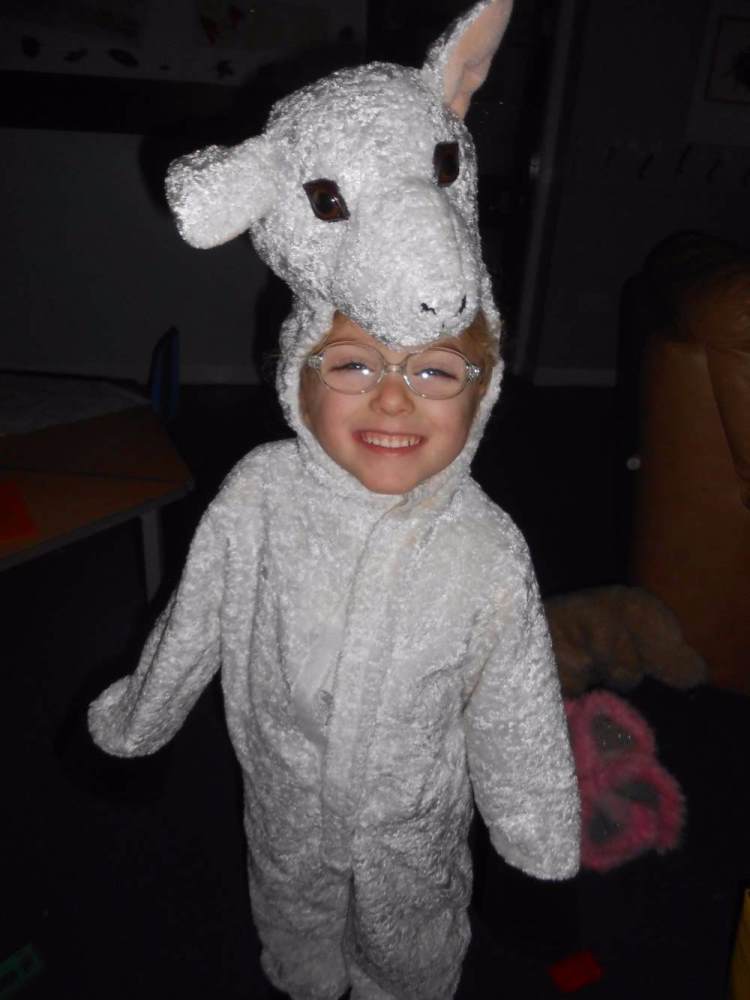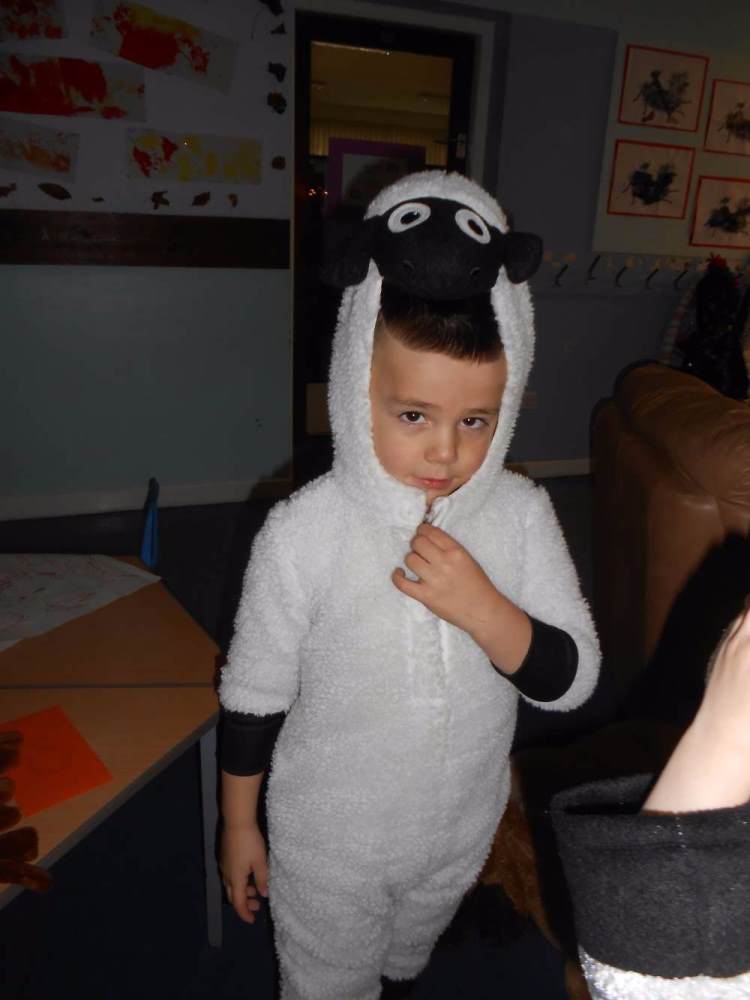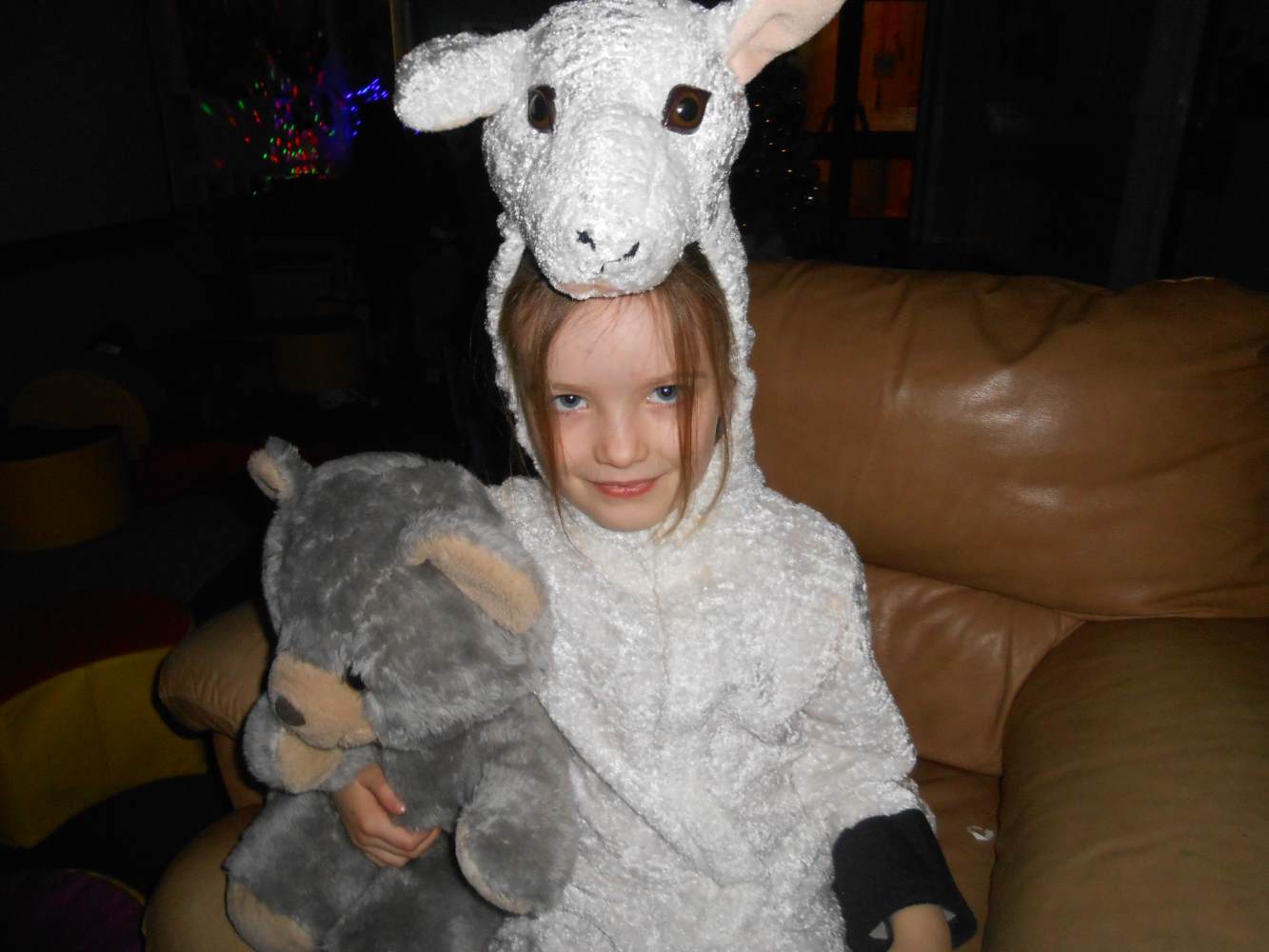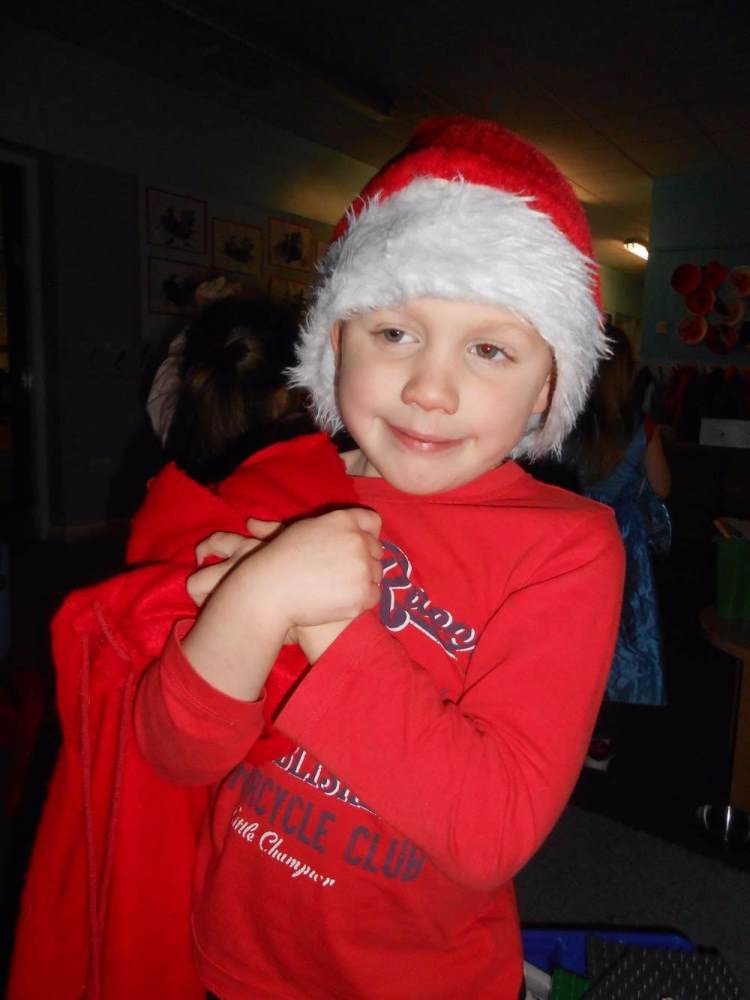 Perseverance pays off.
Well done to Emily who mastered the balance bike and to Leah who is now an expert on the pedal bike.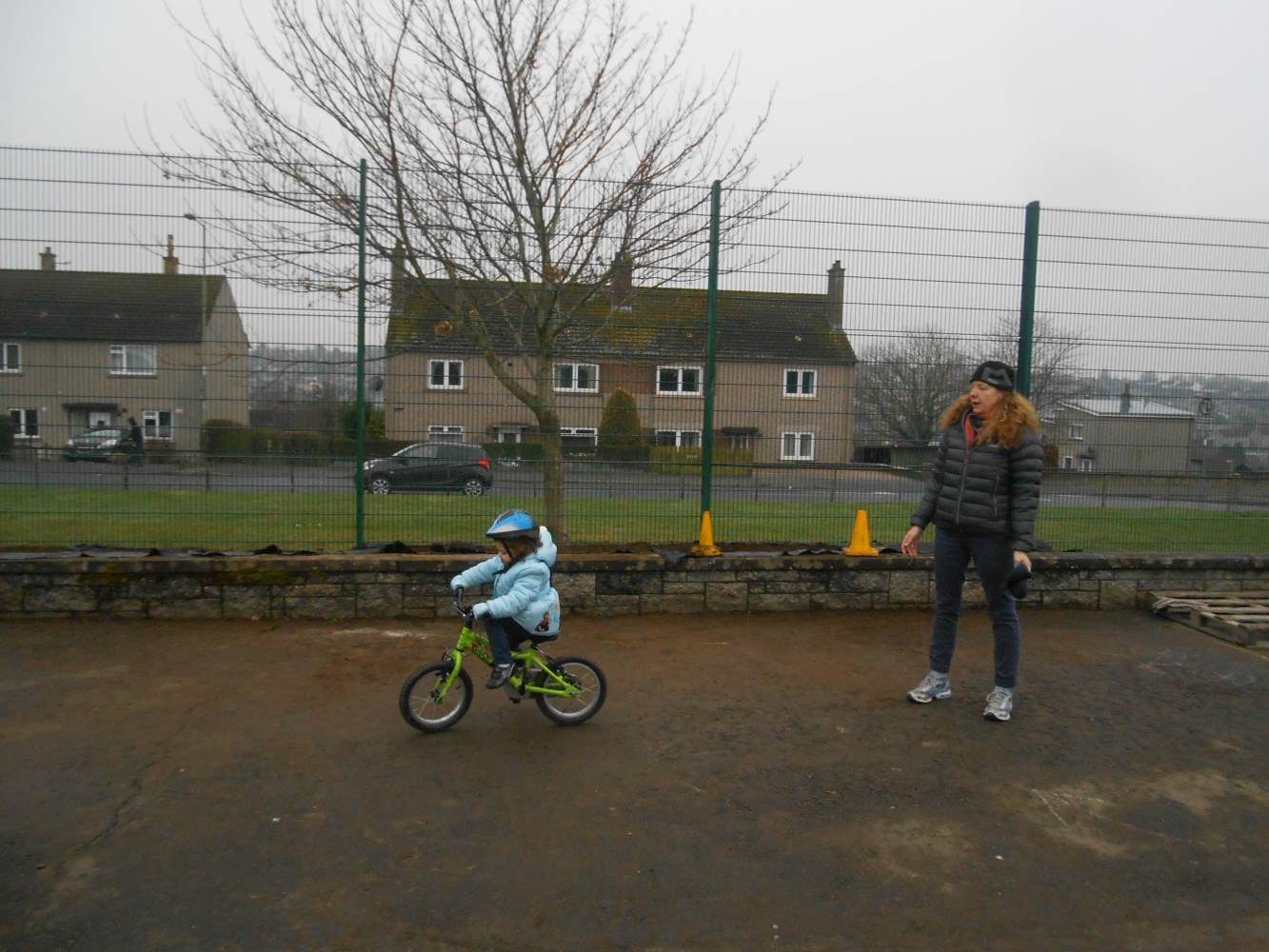 1st of December so time for a picnic!
Warren asked Mrs Mcilvride if we could have our Dundee cake outside and have a picnic. The cake was delicious and the picnic was fun.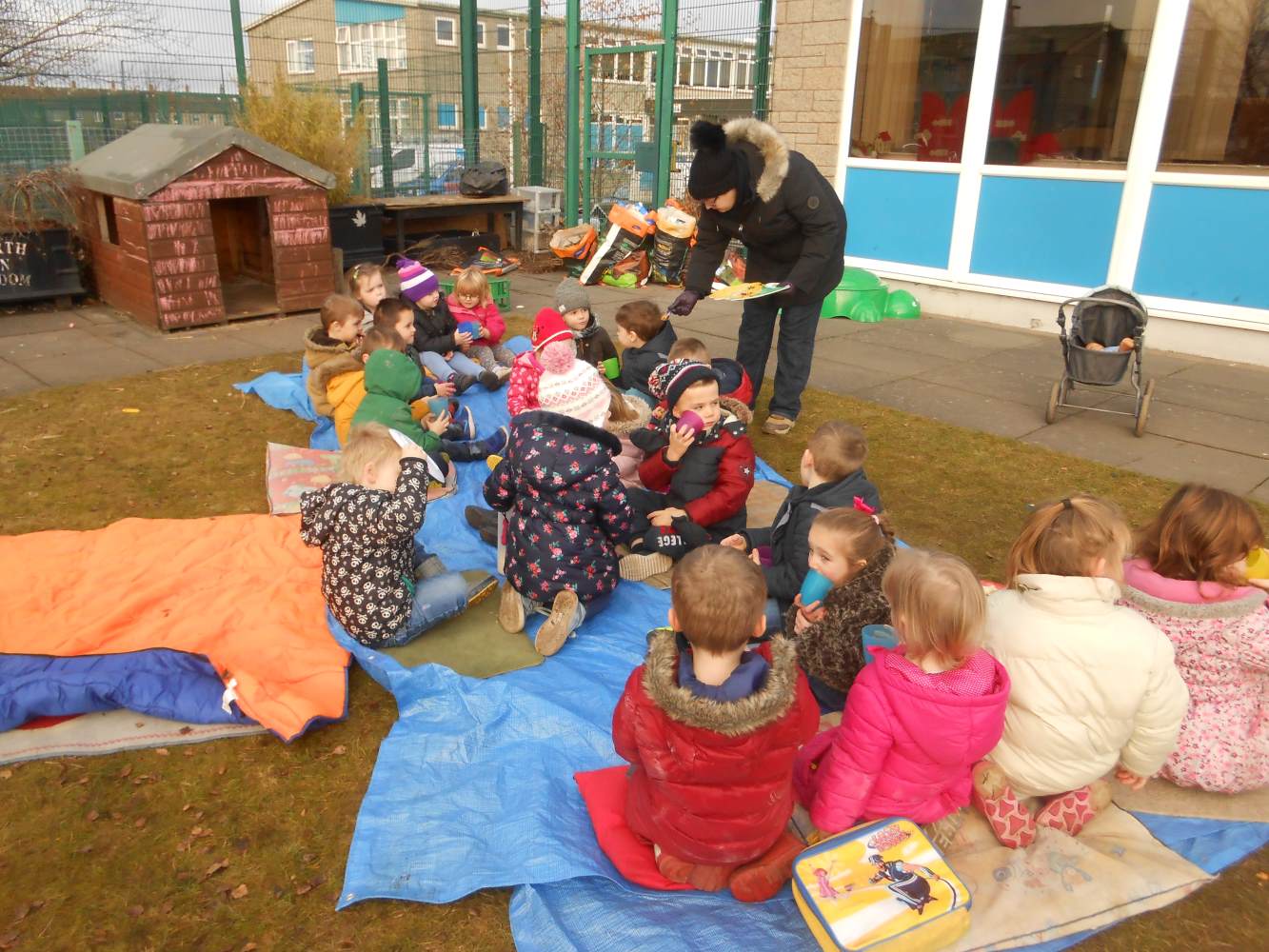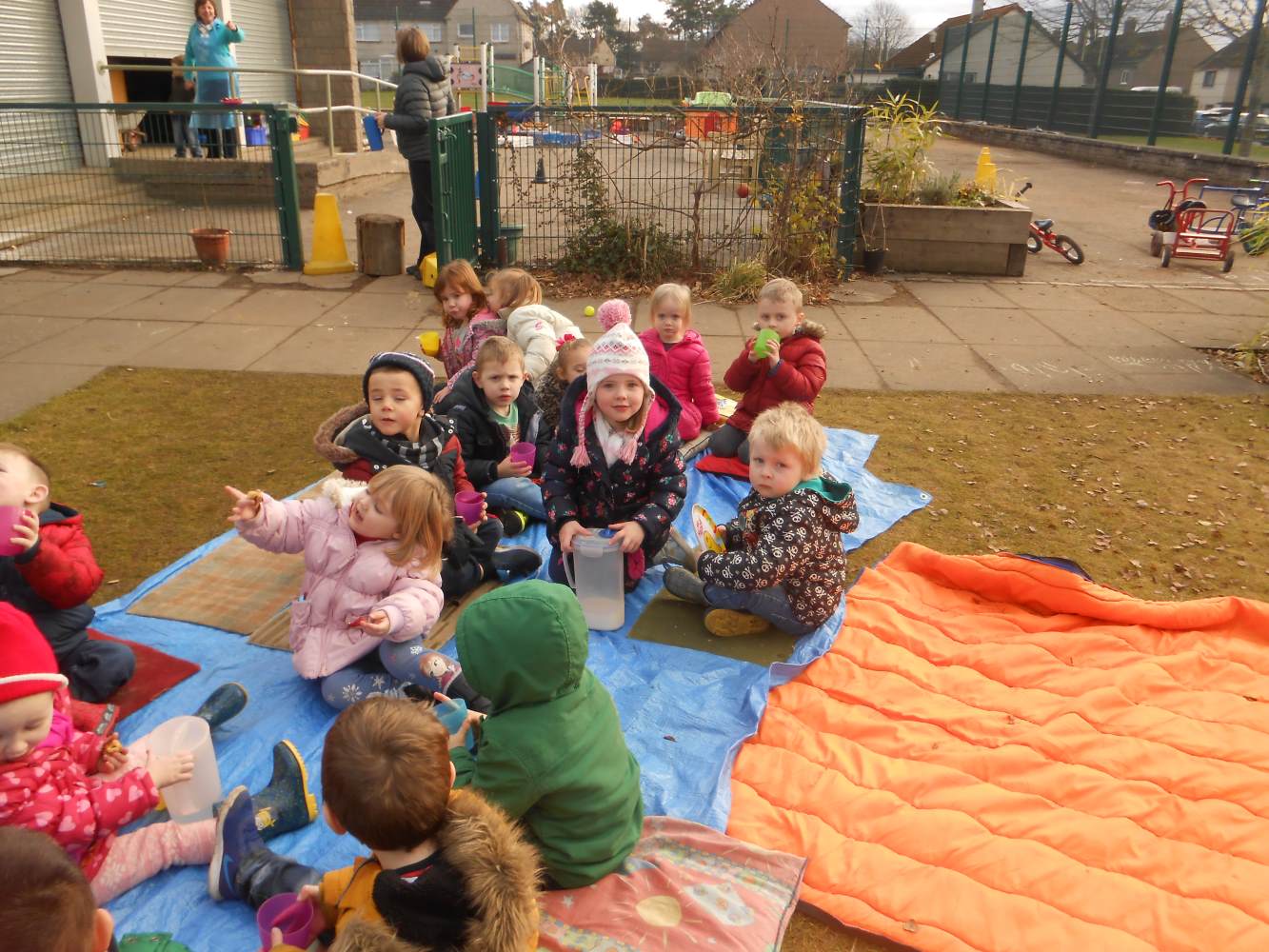 St Andrews day baking Dundee cake.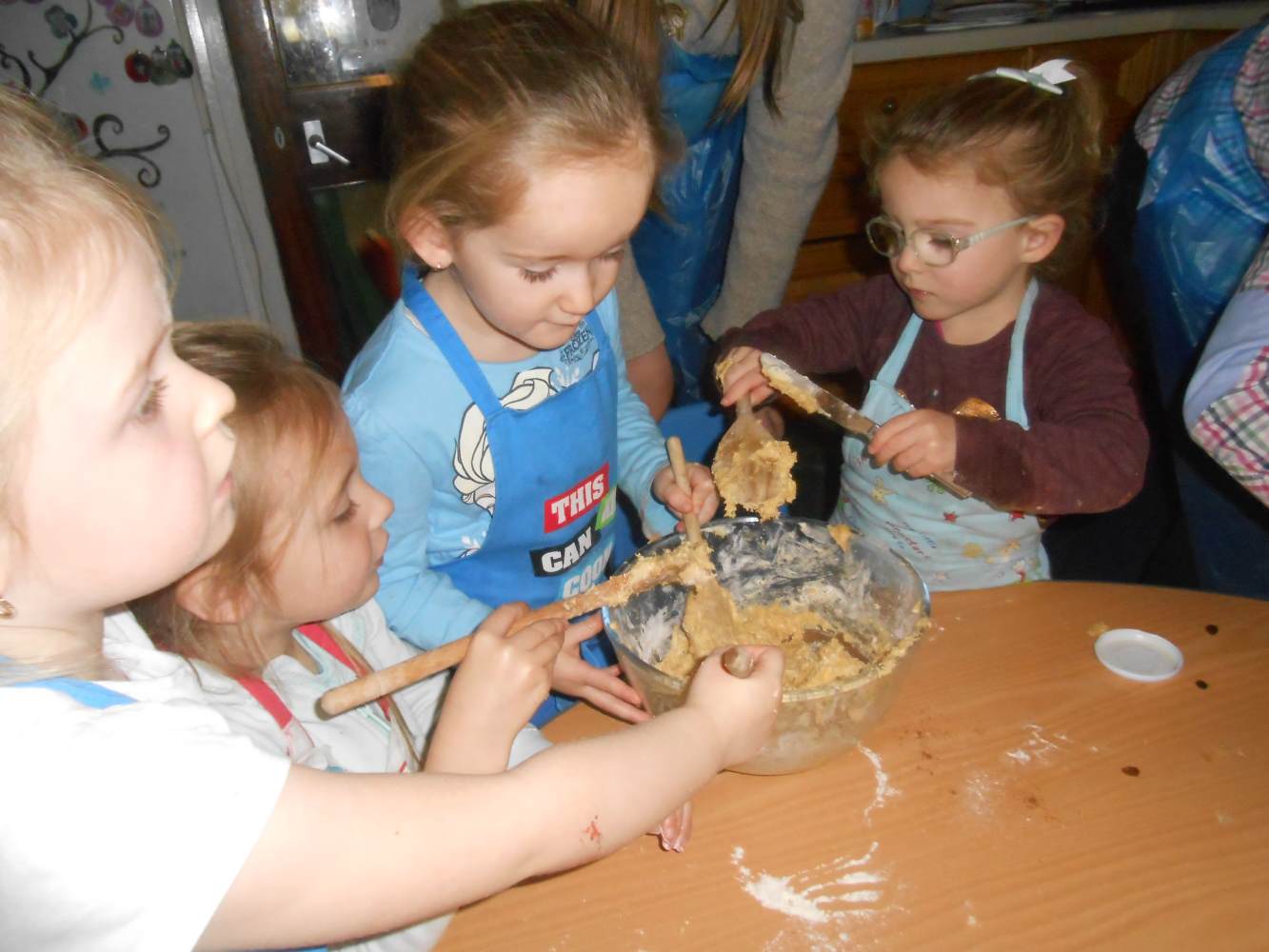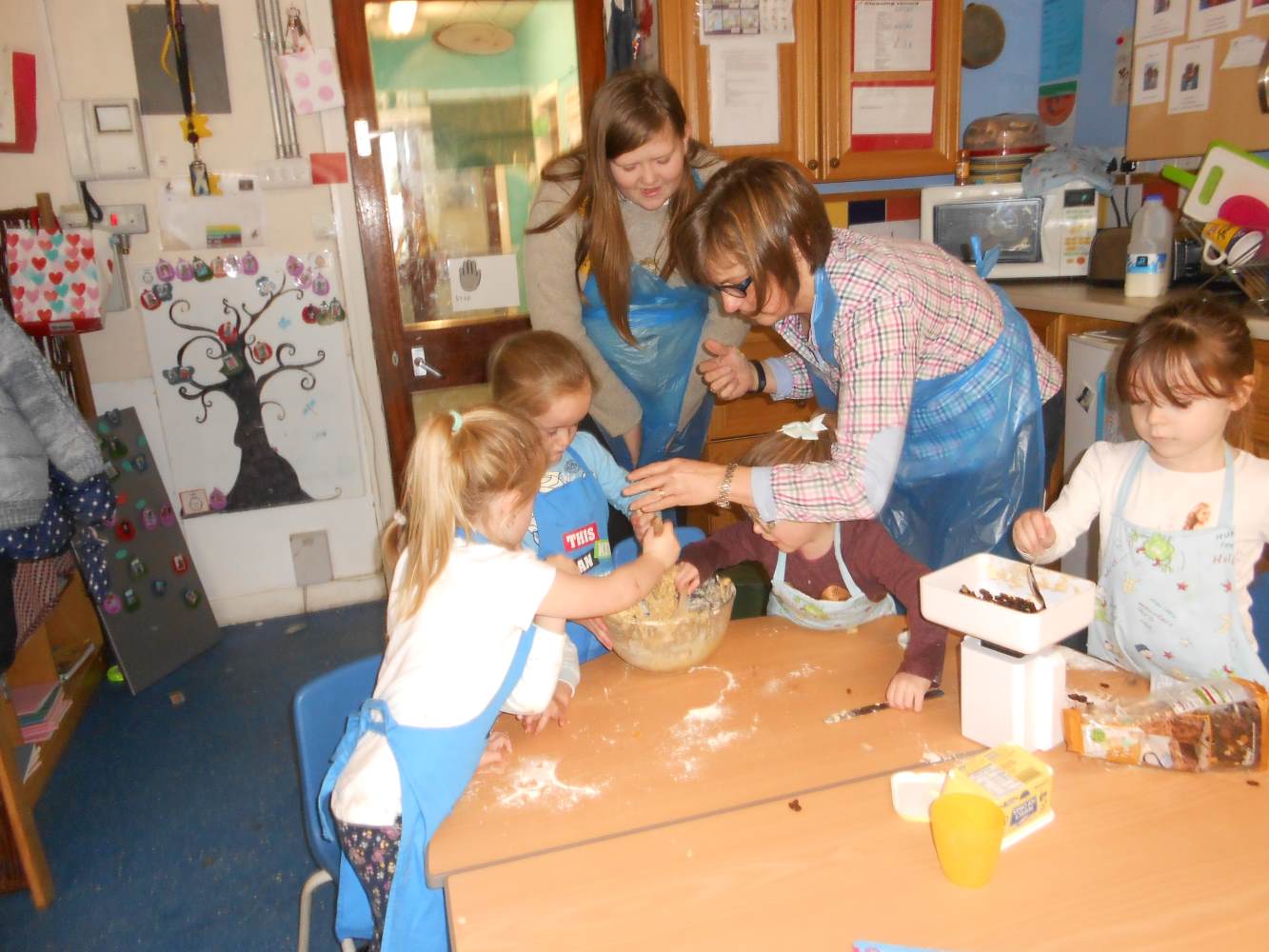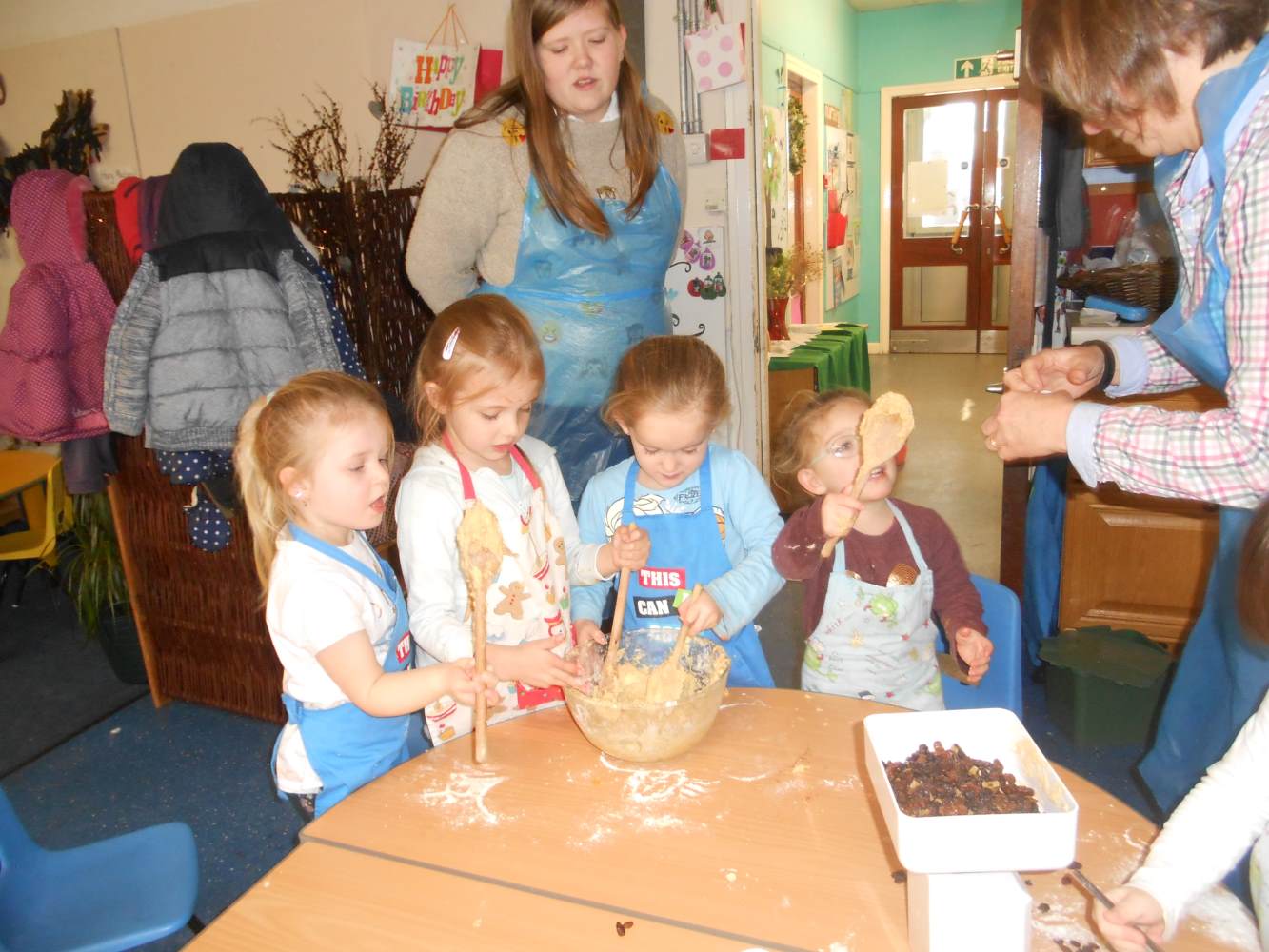 Another great idea!
Emma said, whilst standing on a palet, "Mrs Mac come on the pavement to stay safe from the bikes, we need more pavement." We began building a pavement which then turned into an obstacle course/balance trail.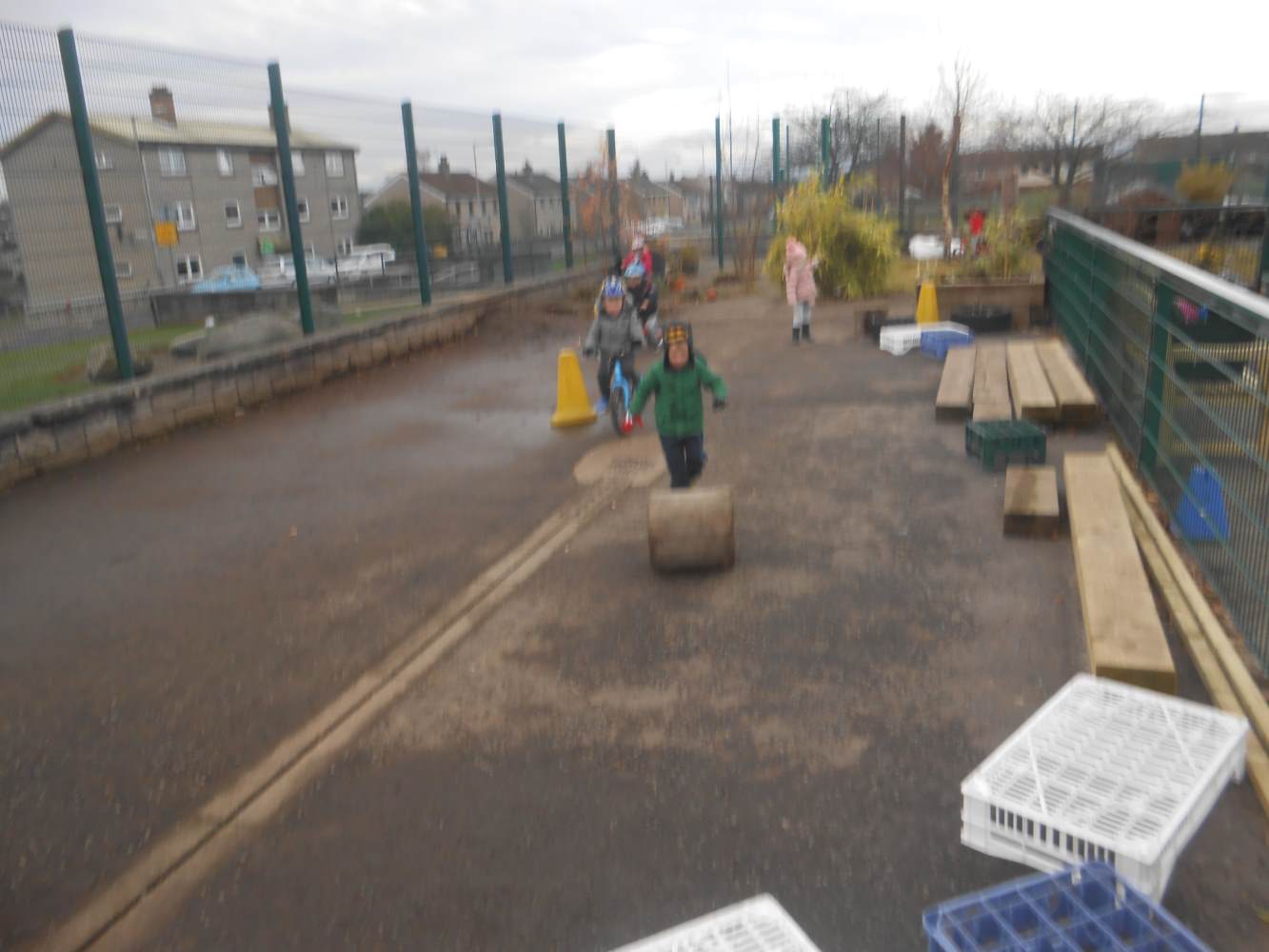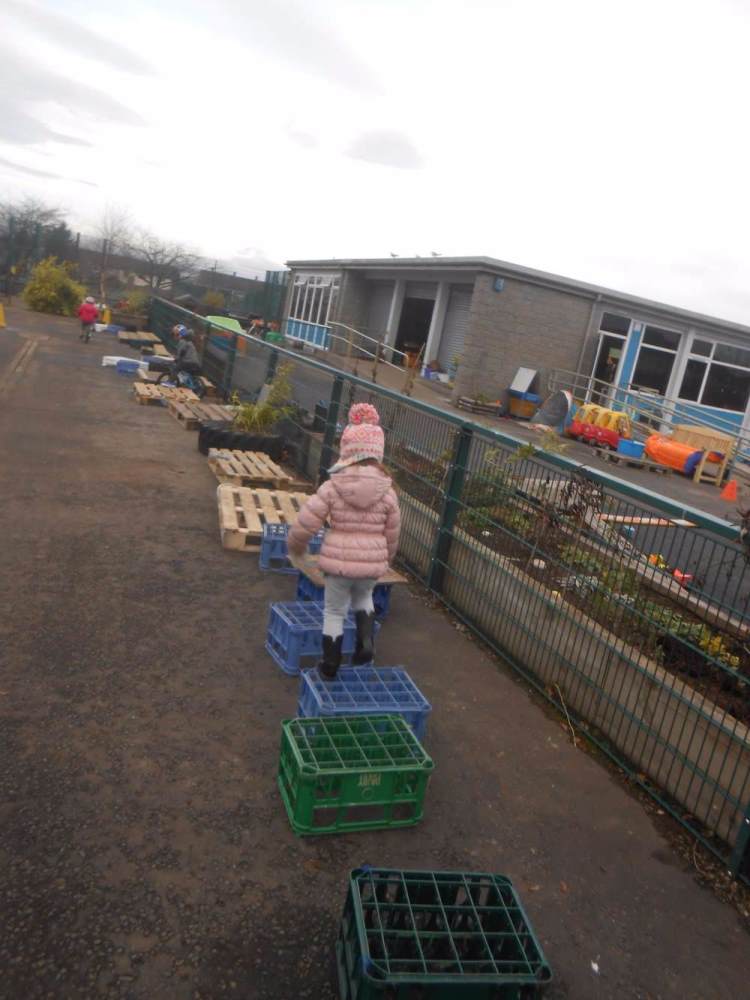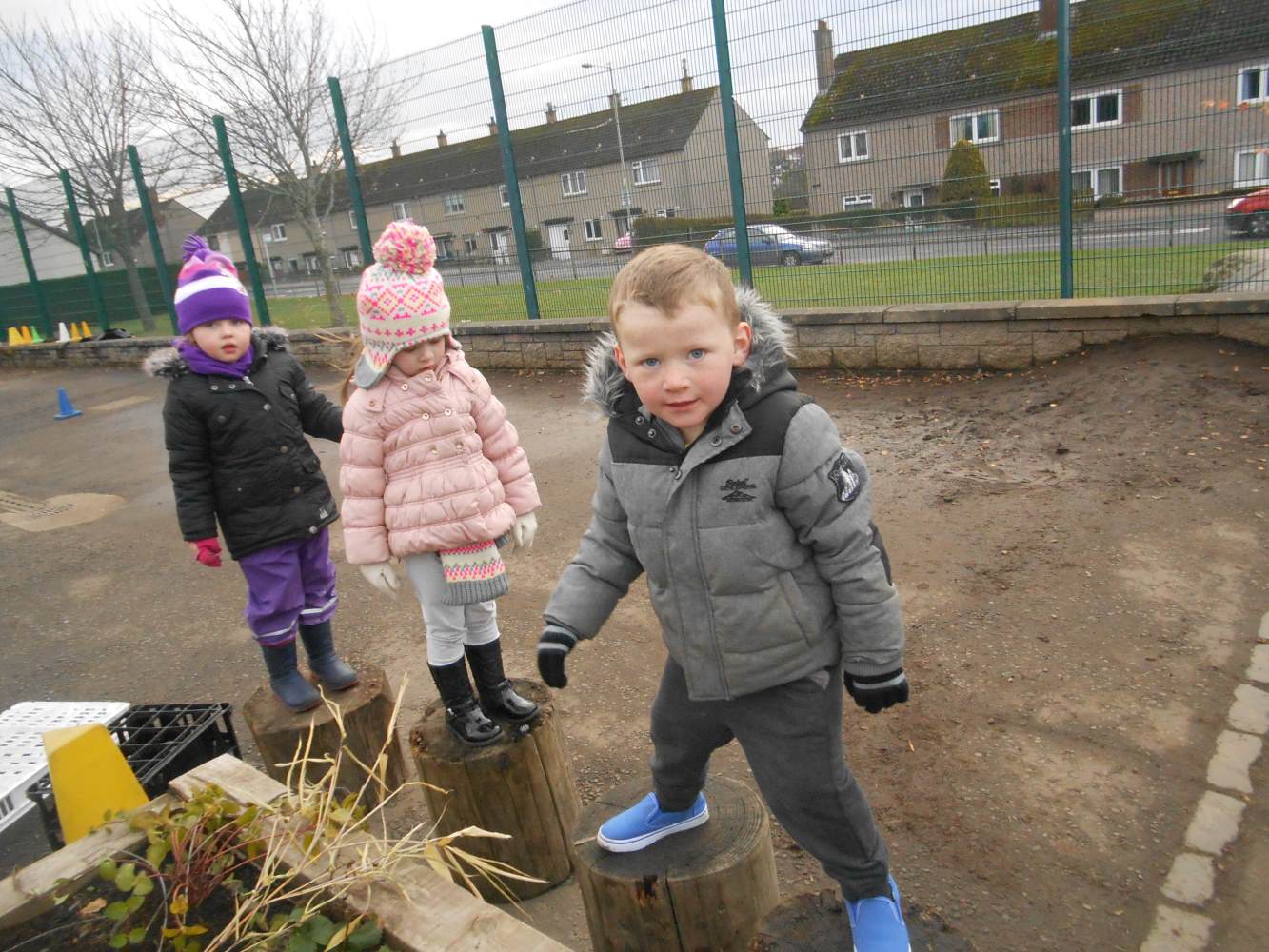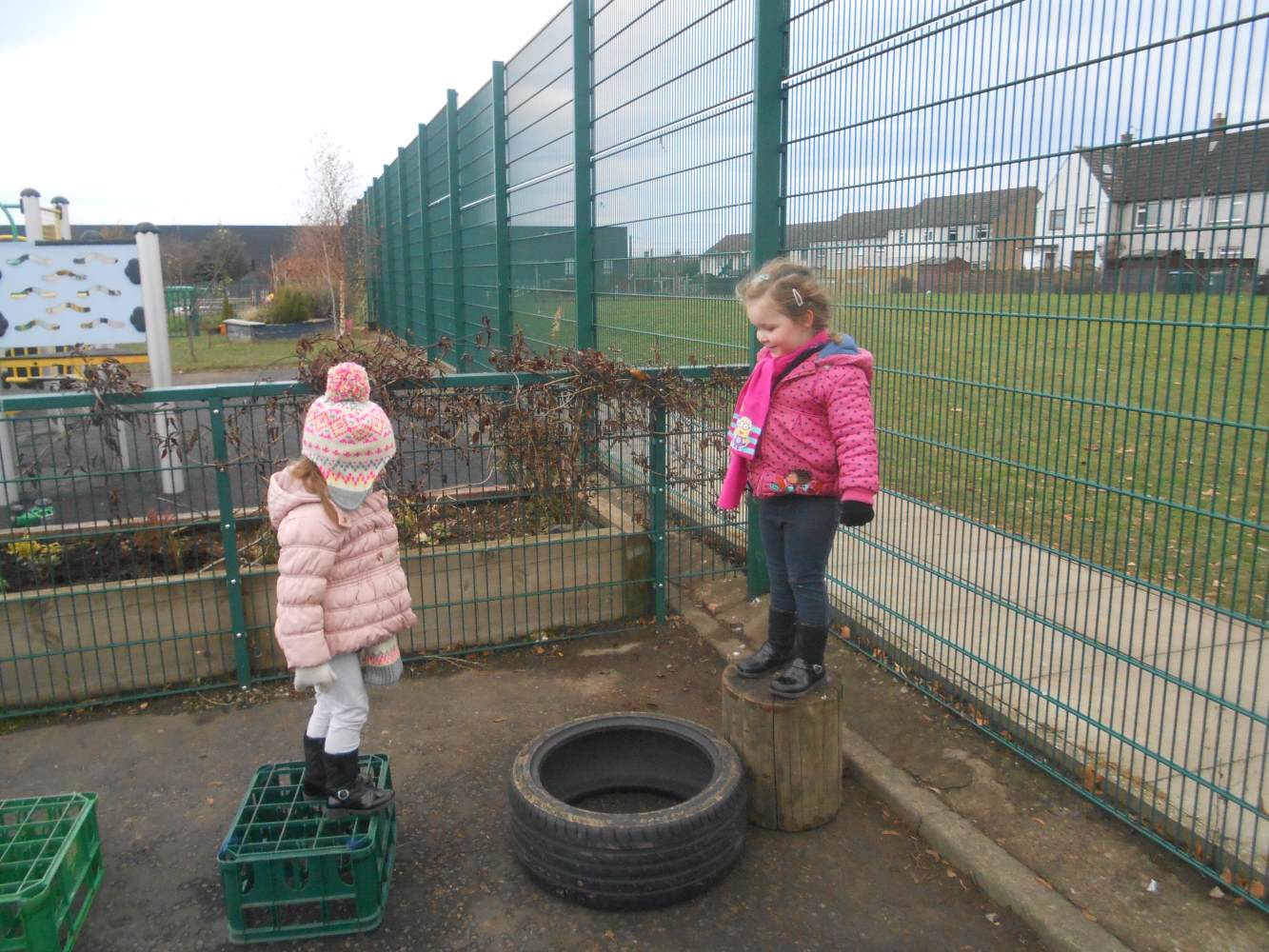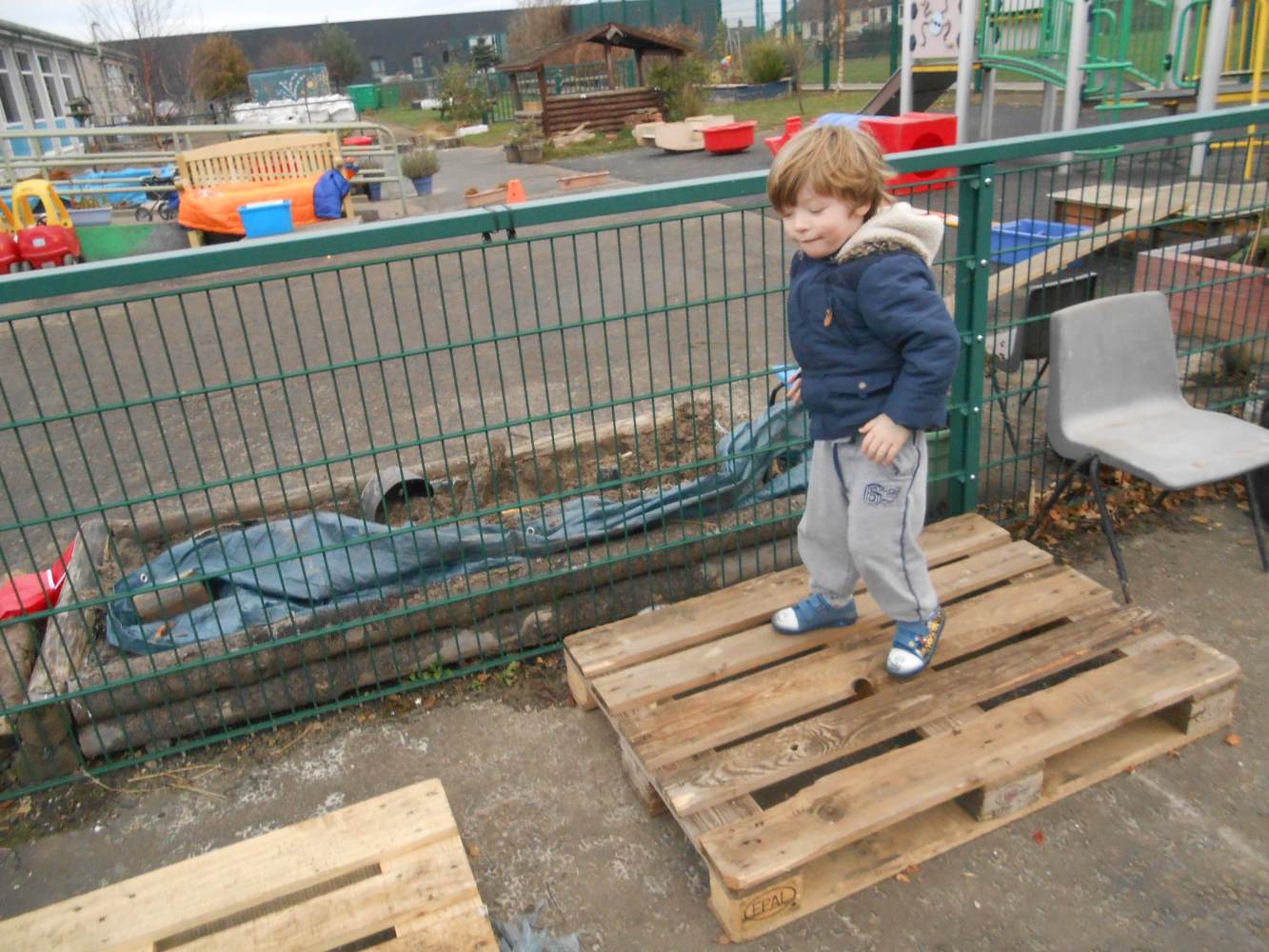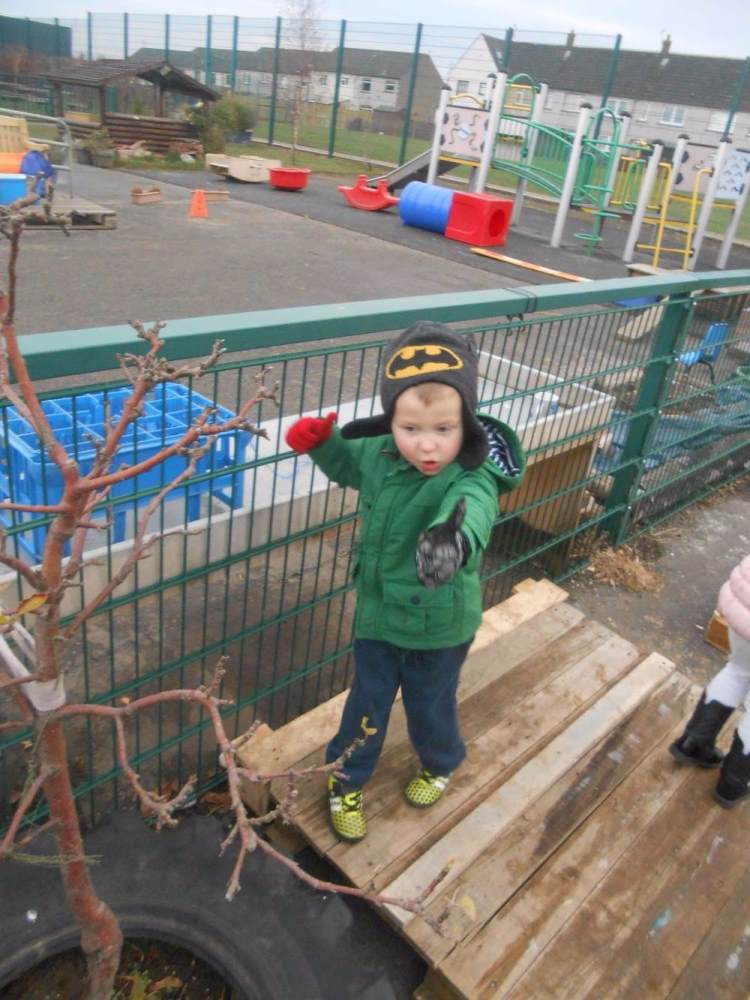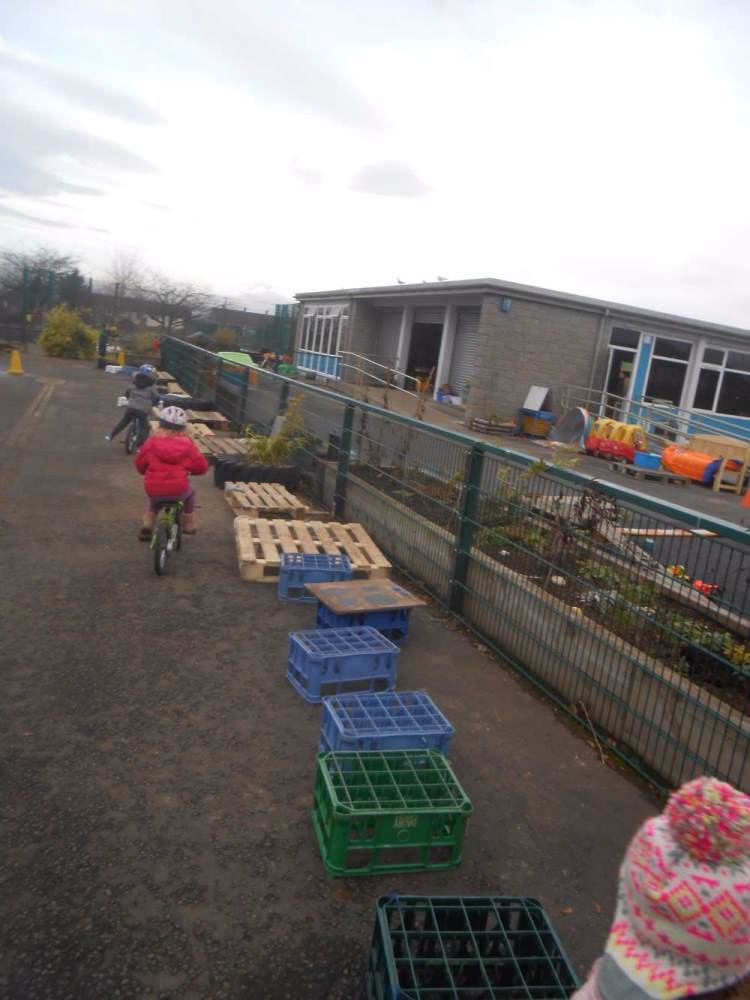 November gave us another successful cyclist.
Well done Ellie!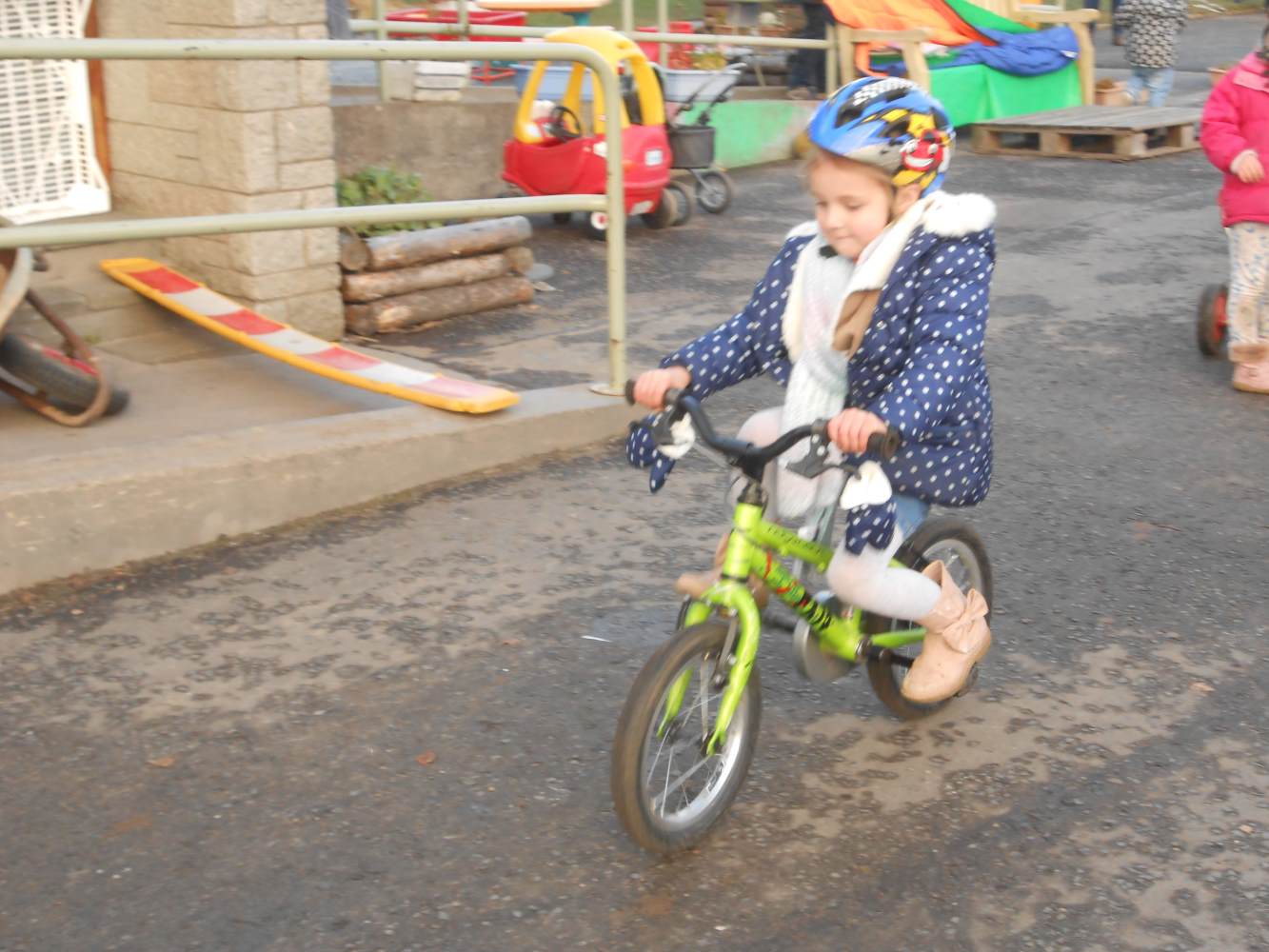 Special thank you to Rosie and family for helping us with ideas for our book corner.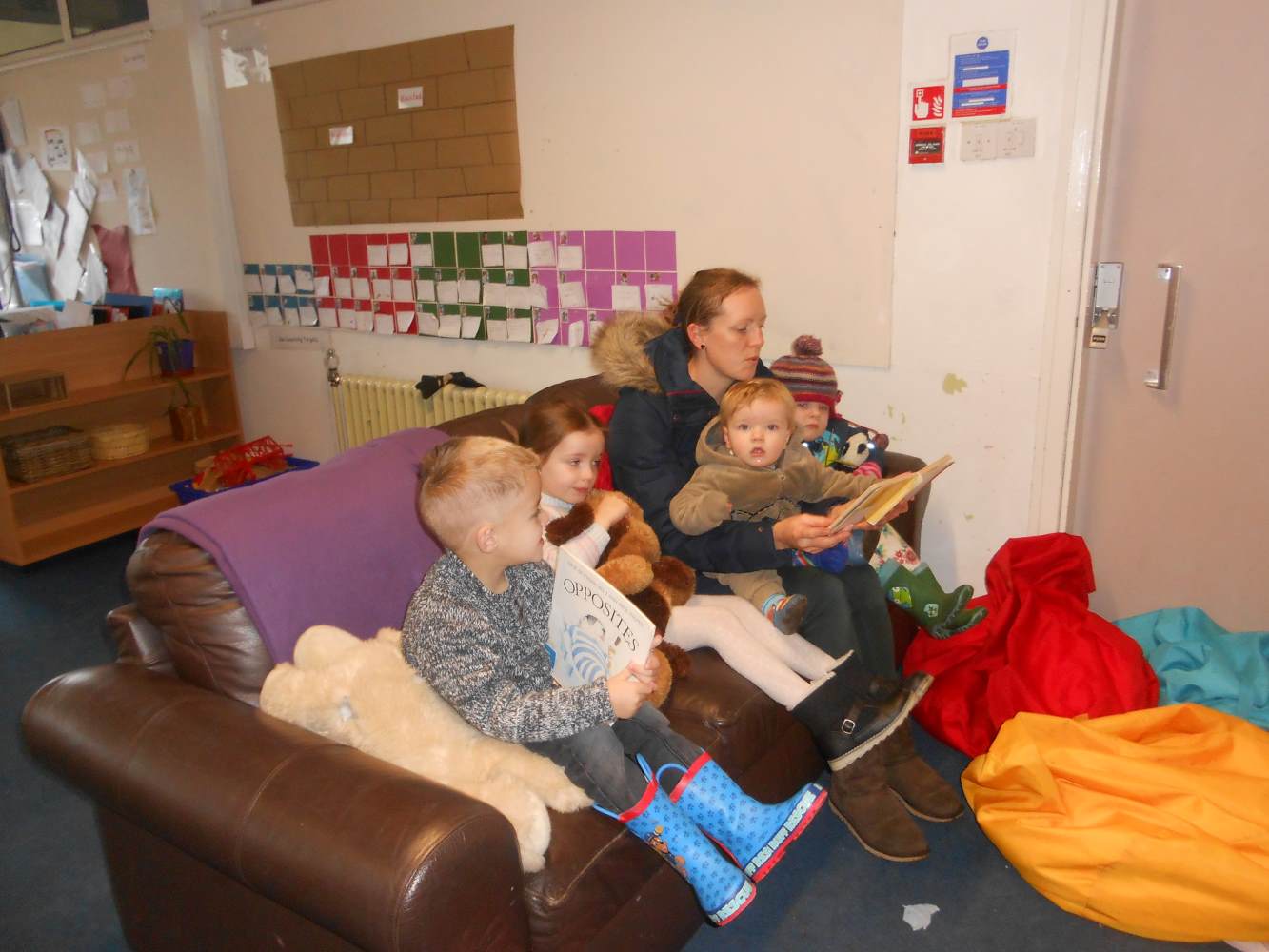 We do a lot of chatting and a lot of concentrating everyday.
A selection of November moments.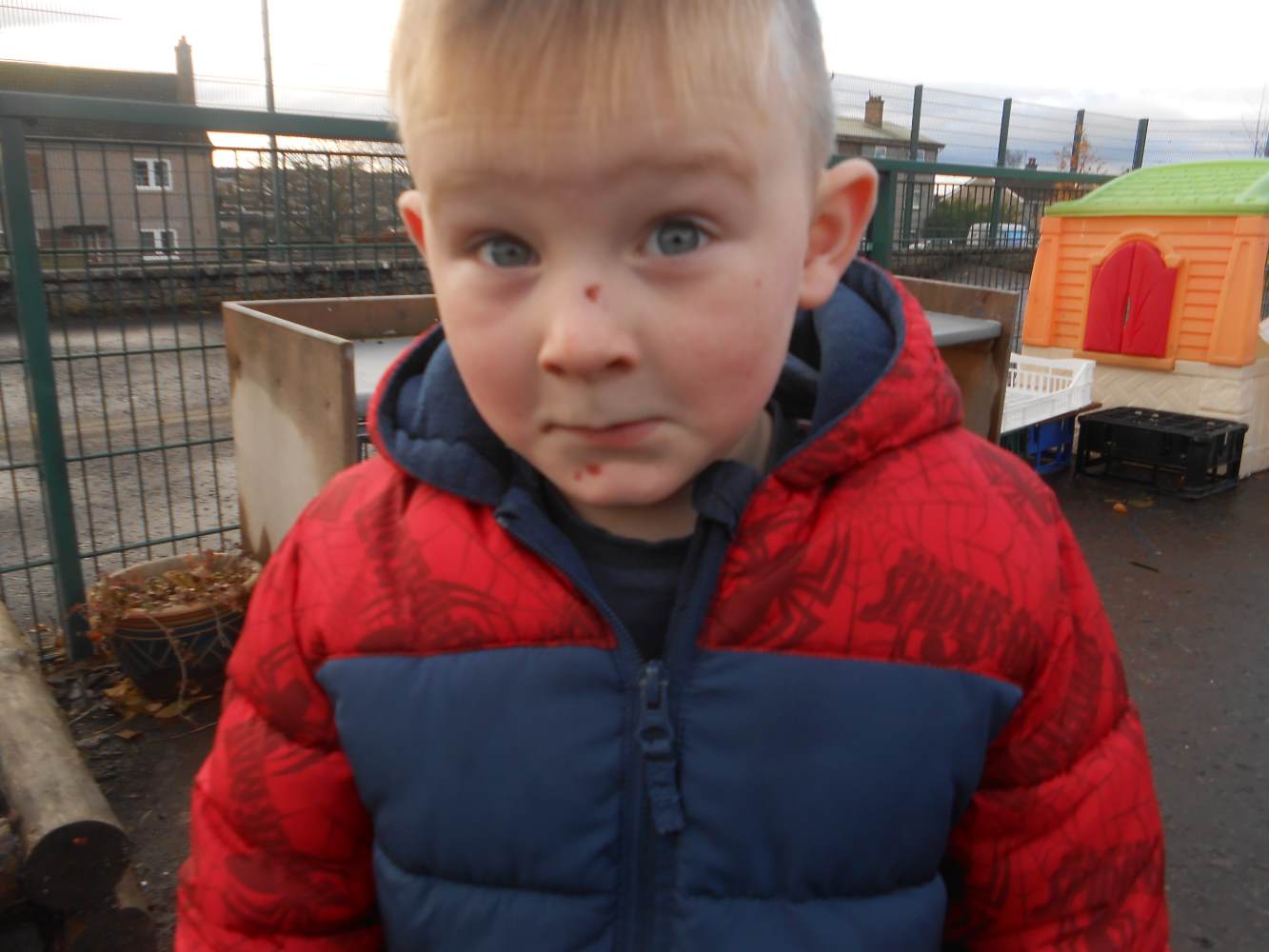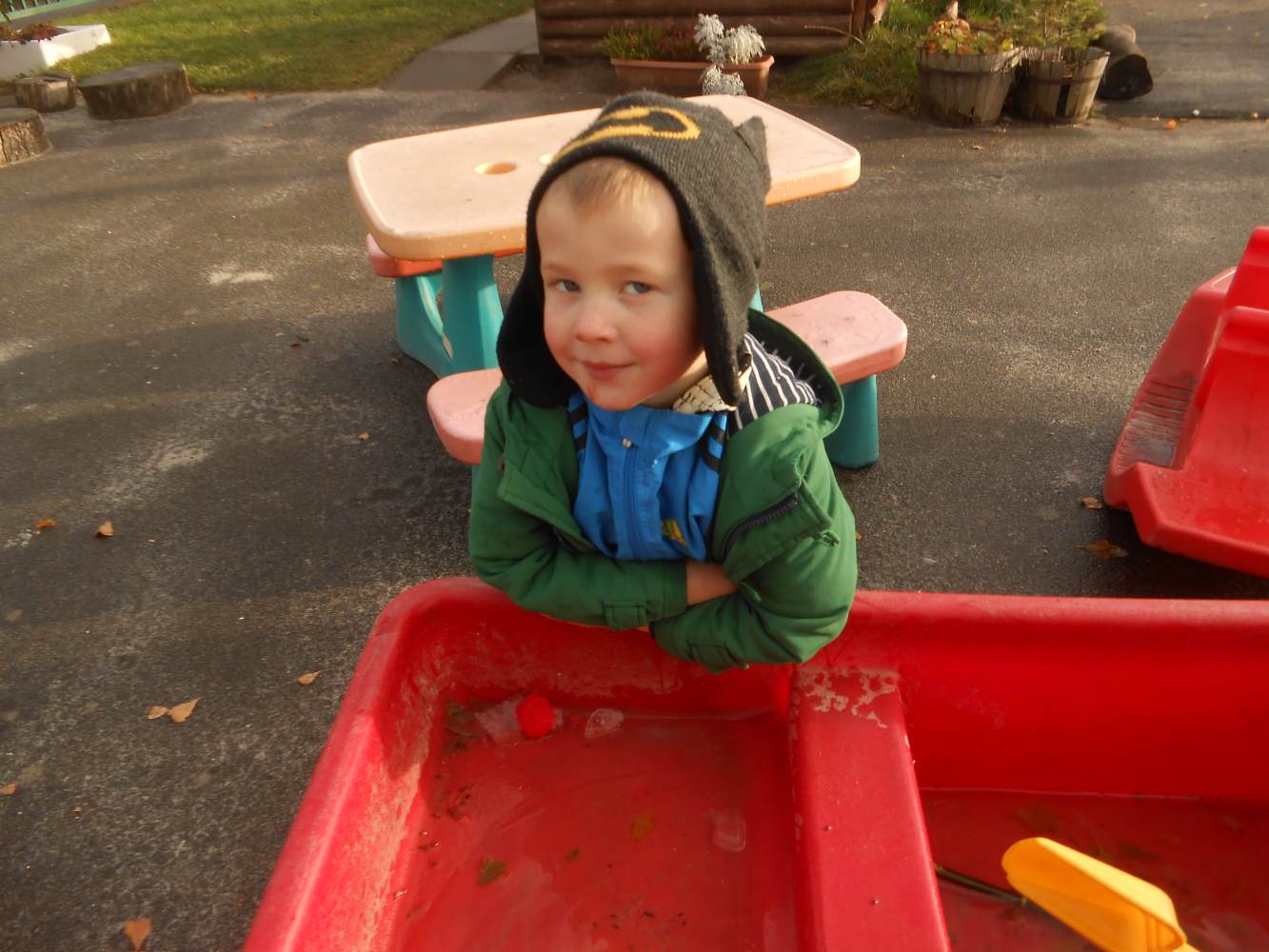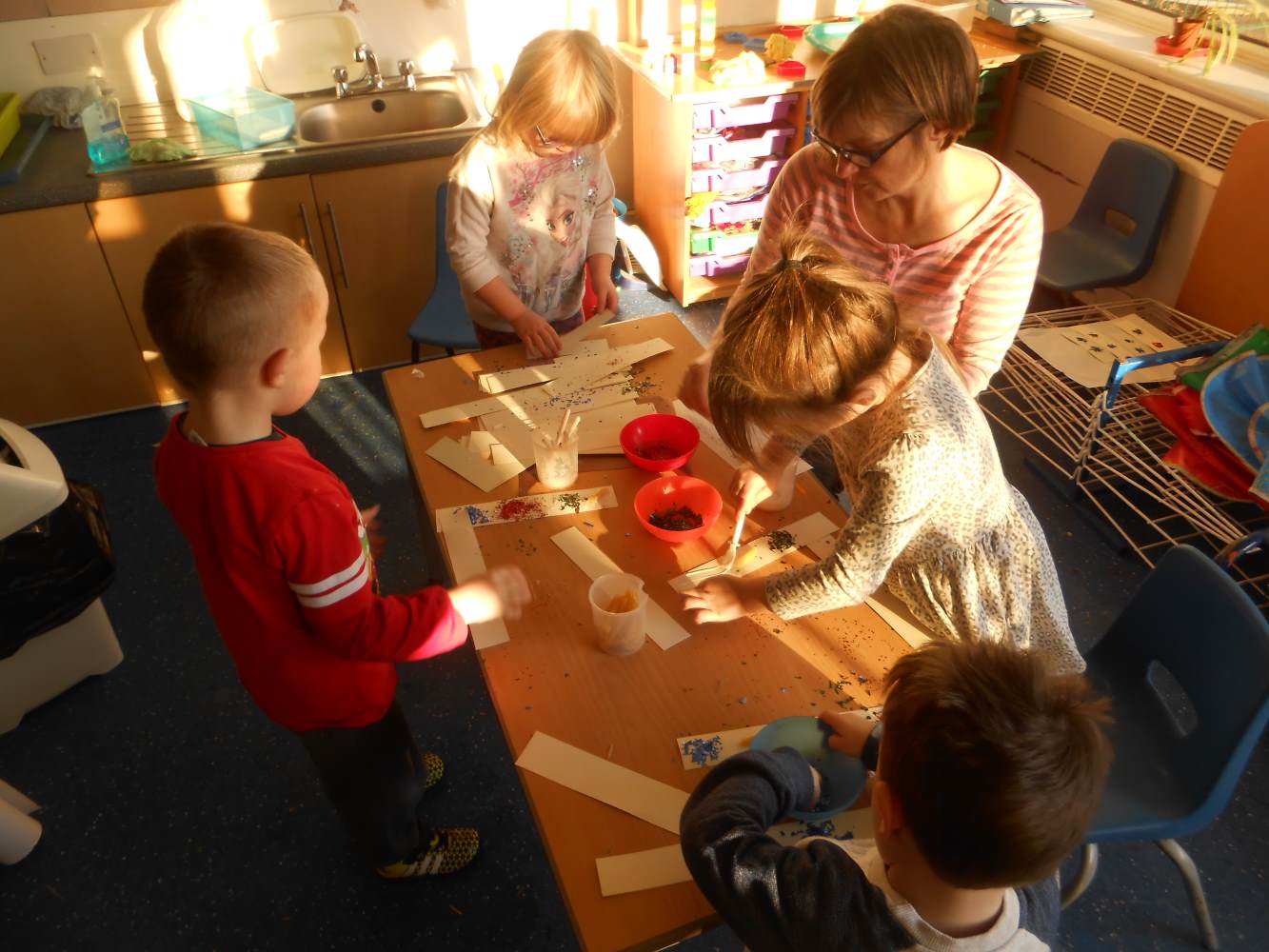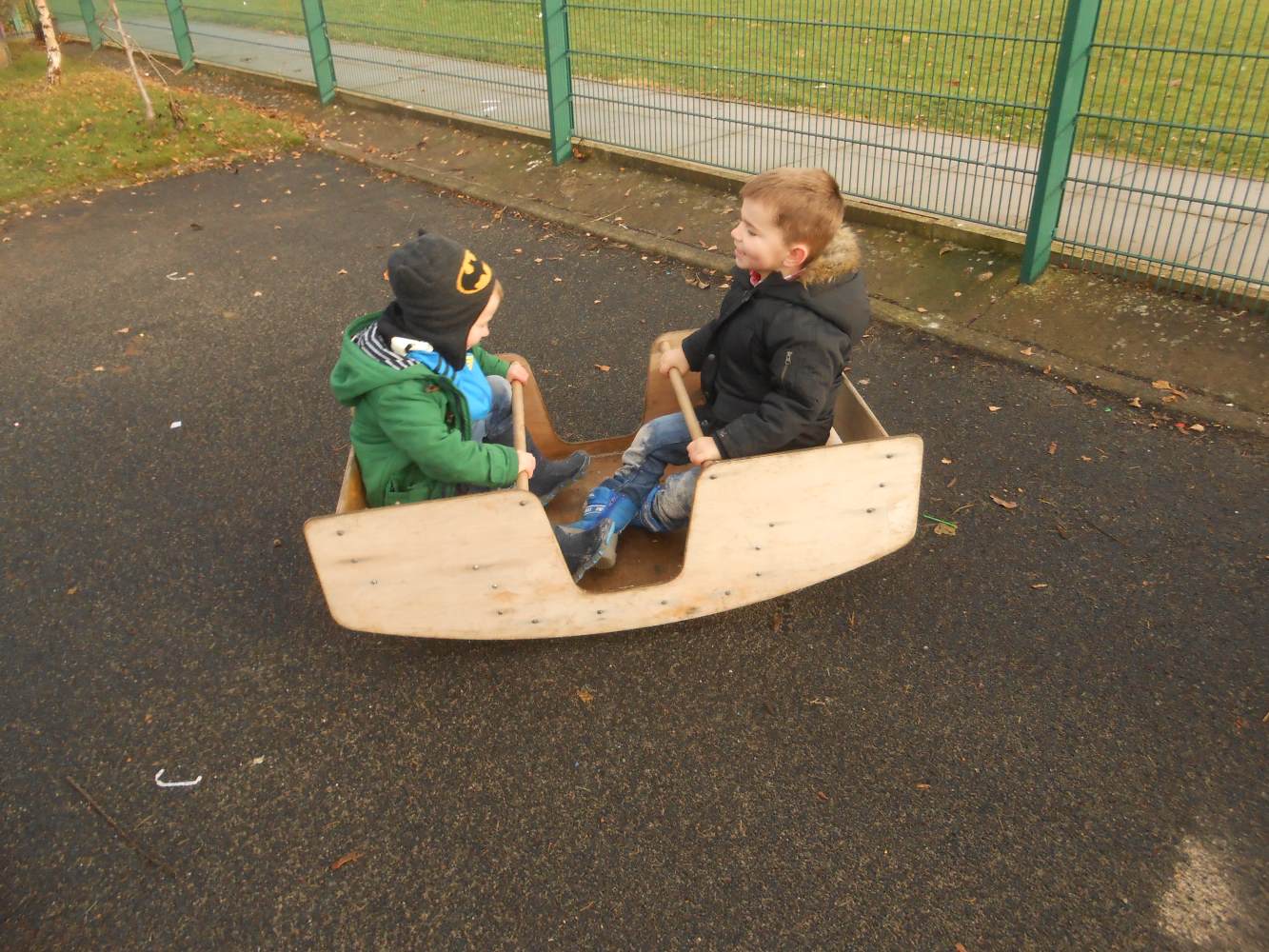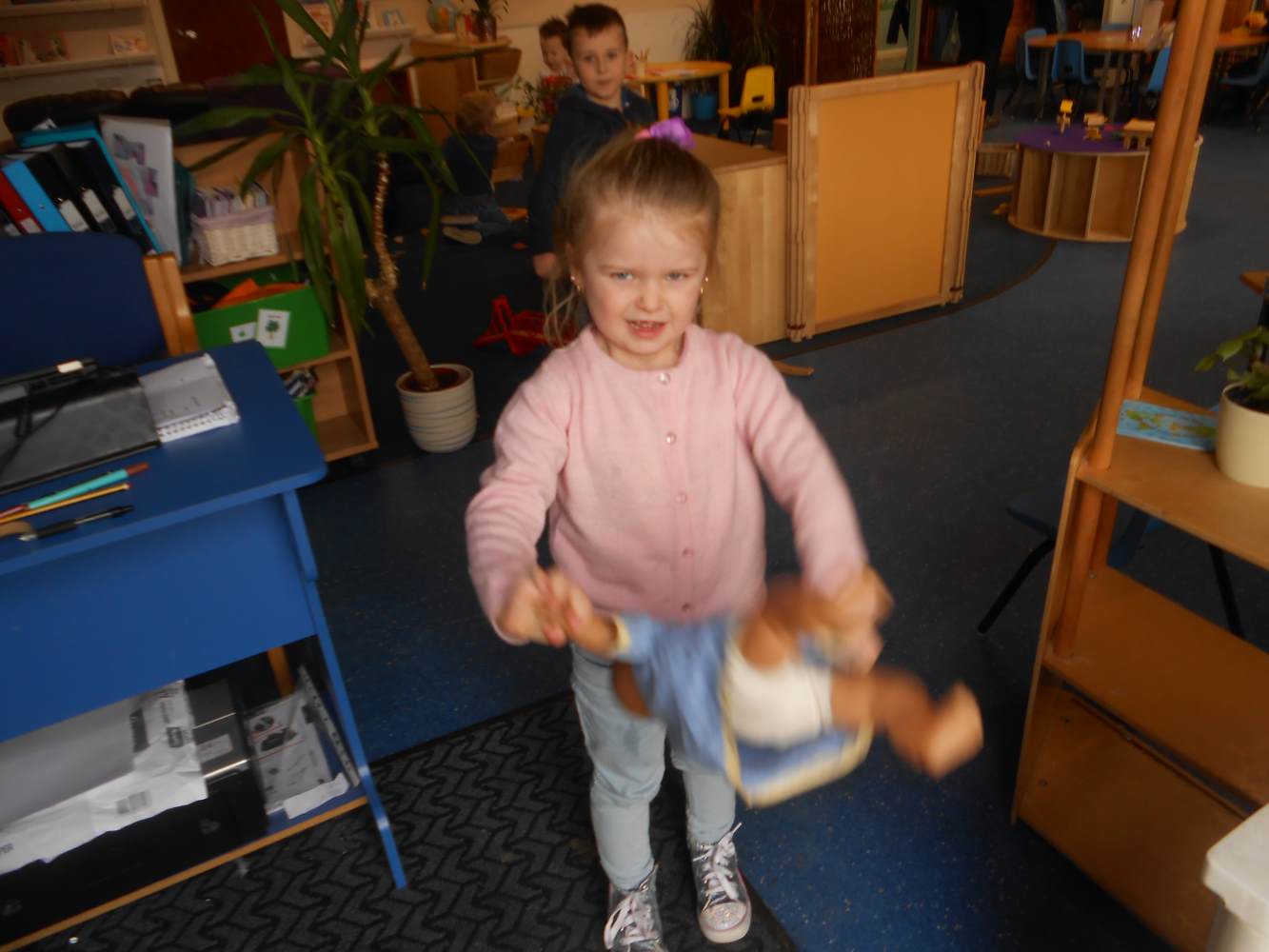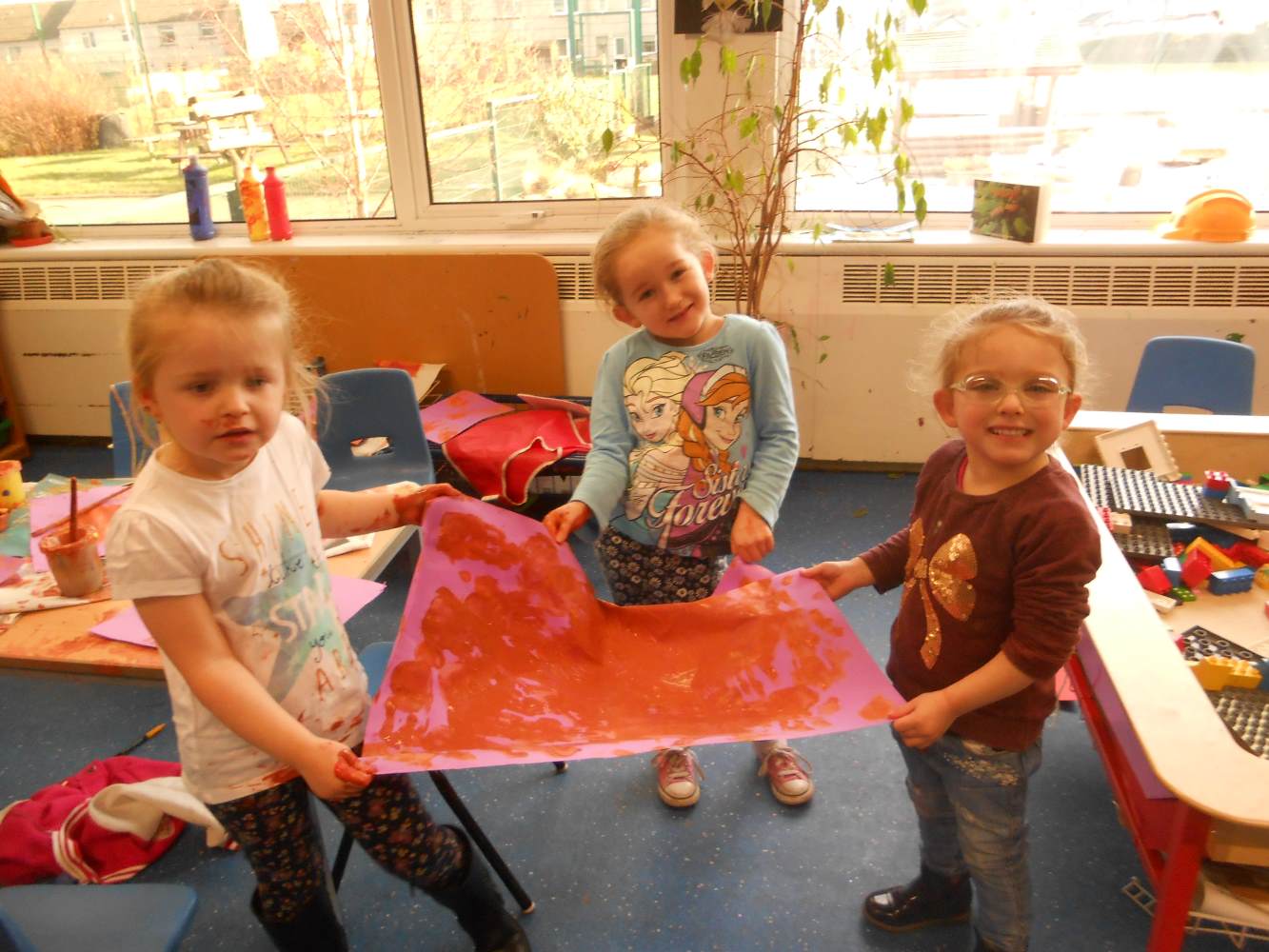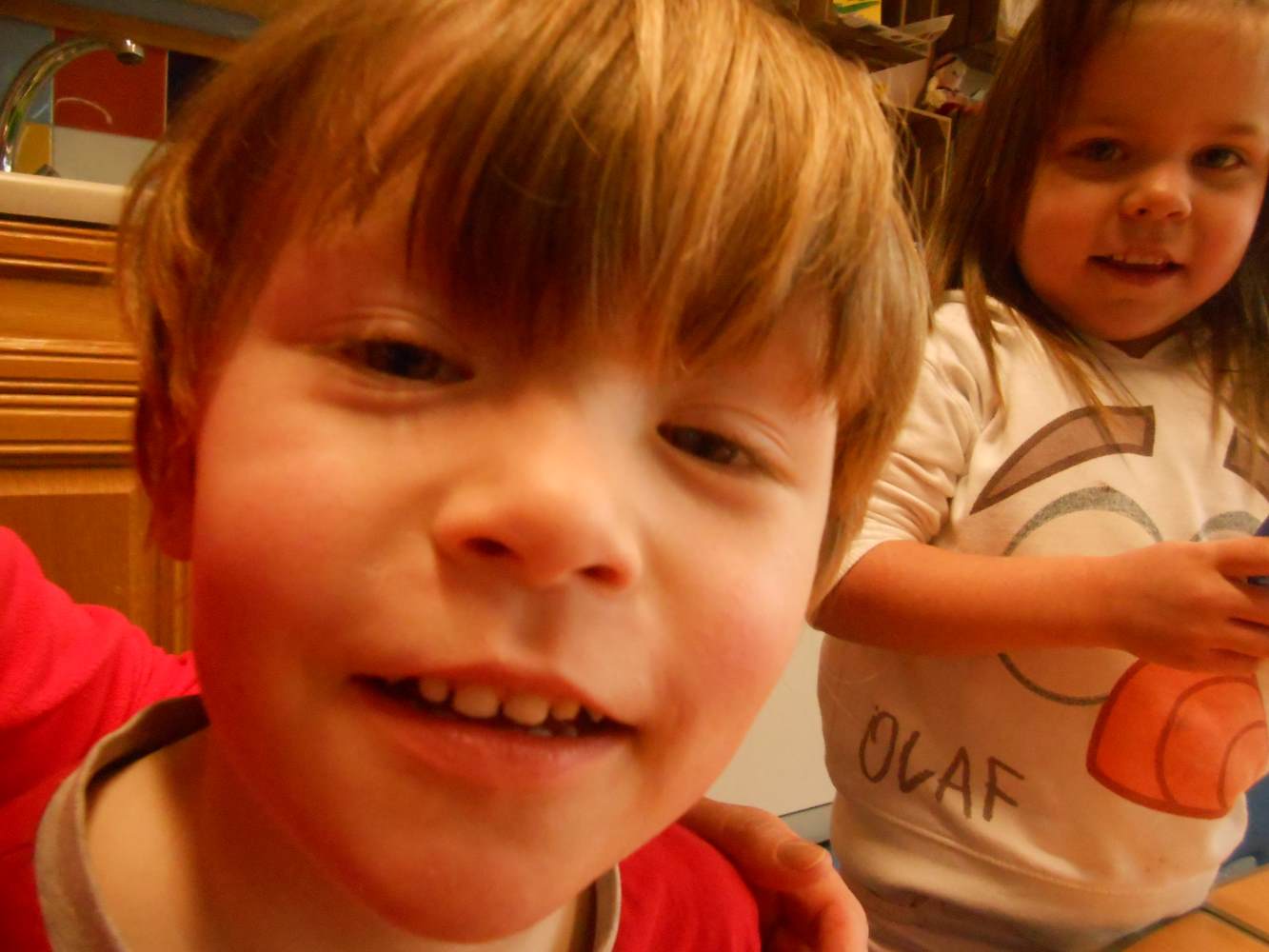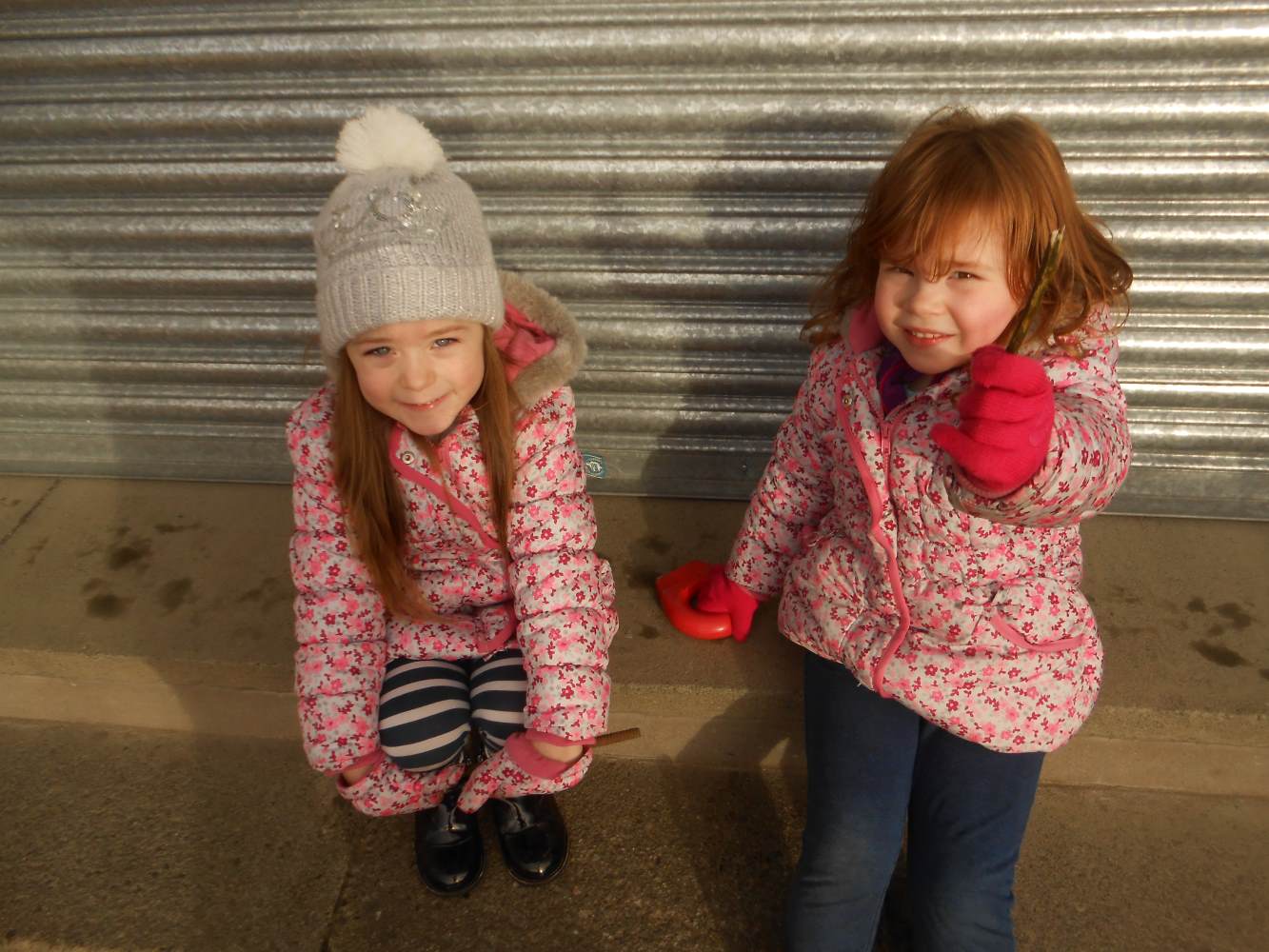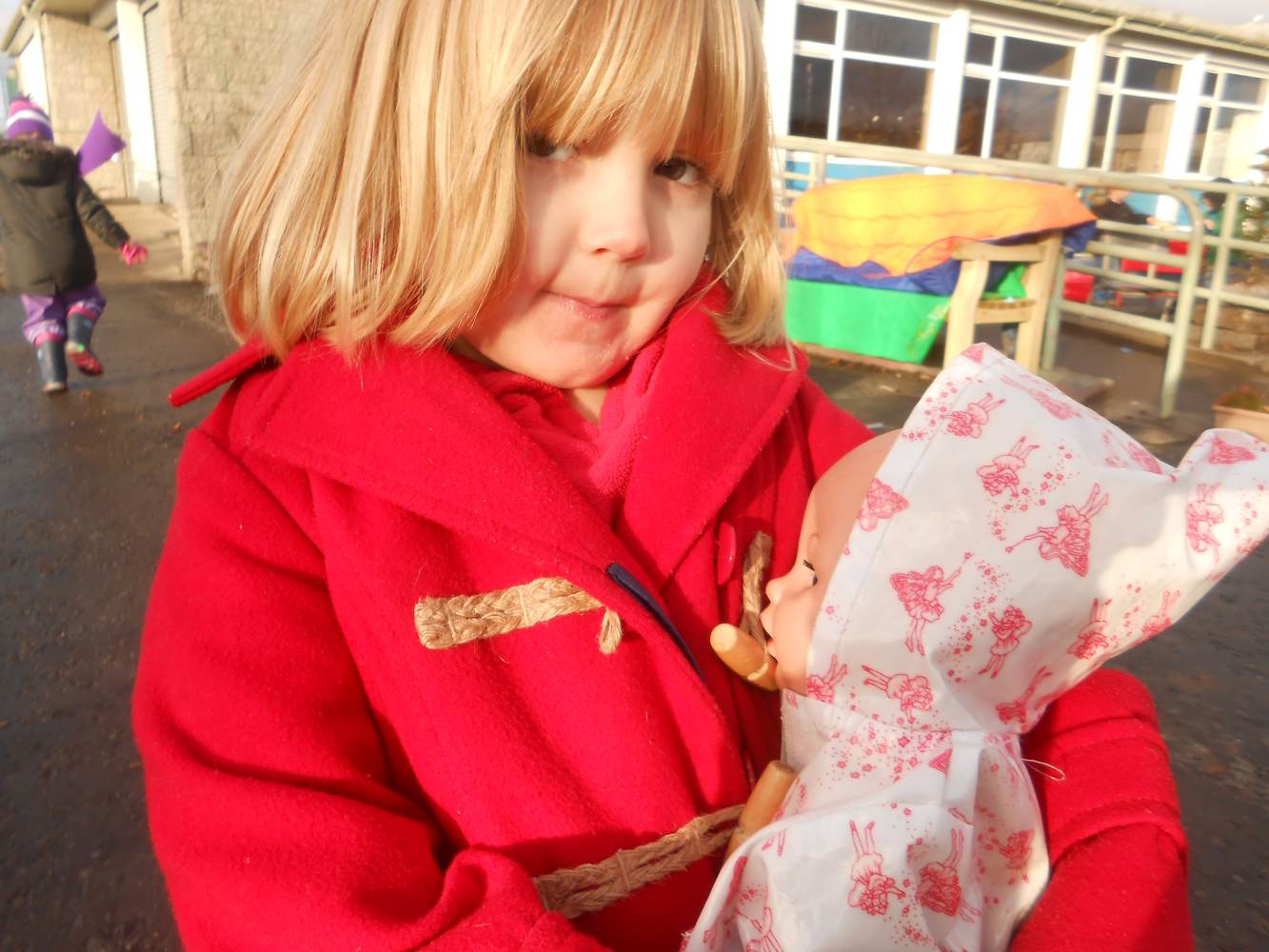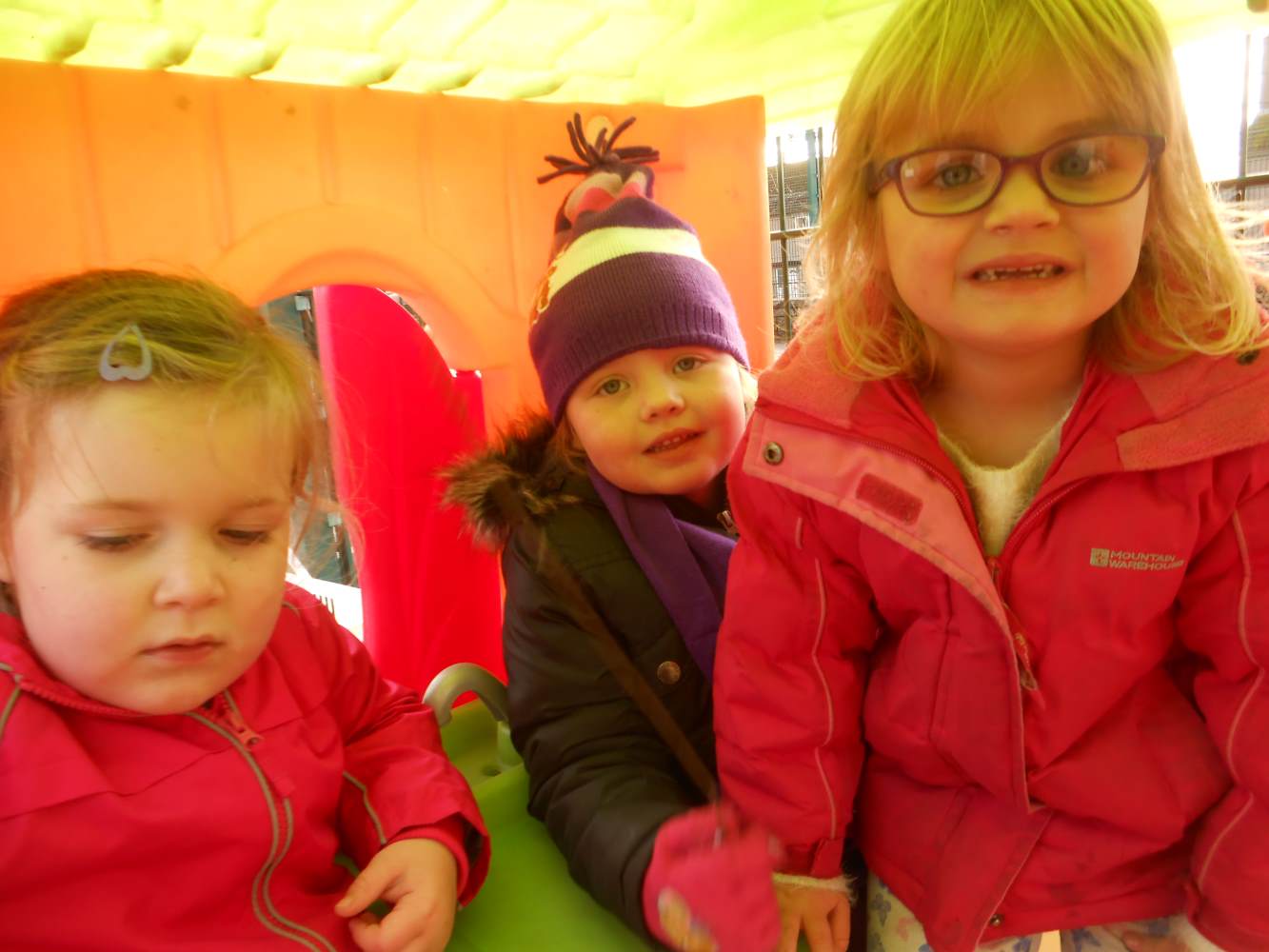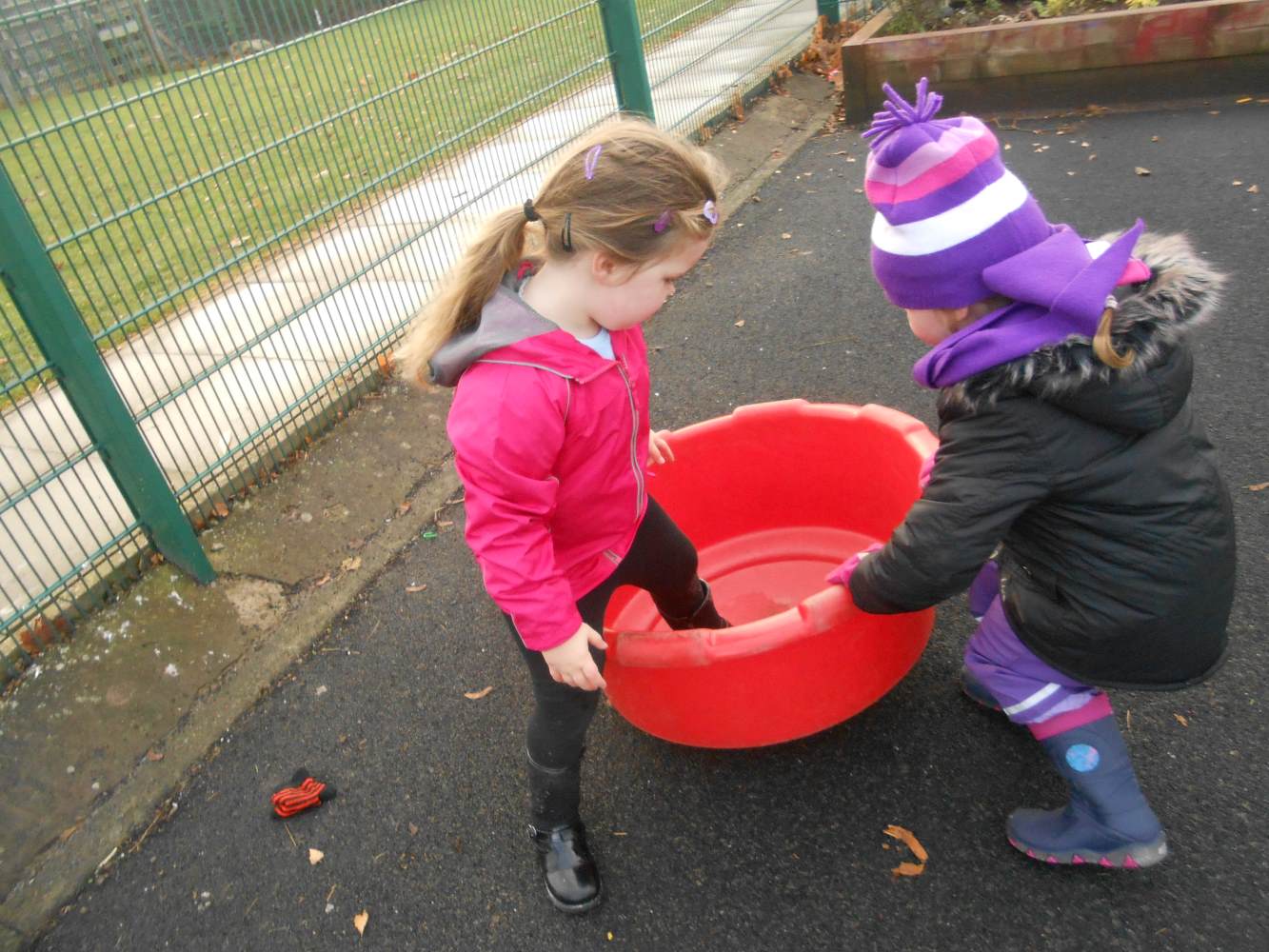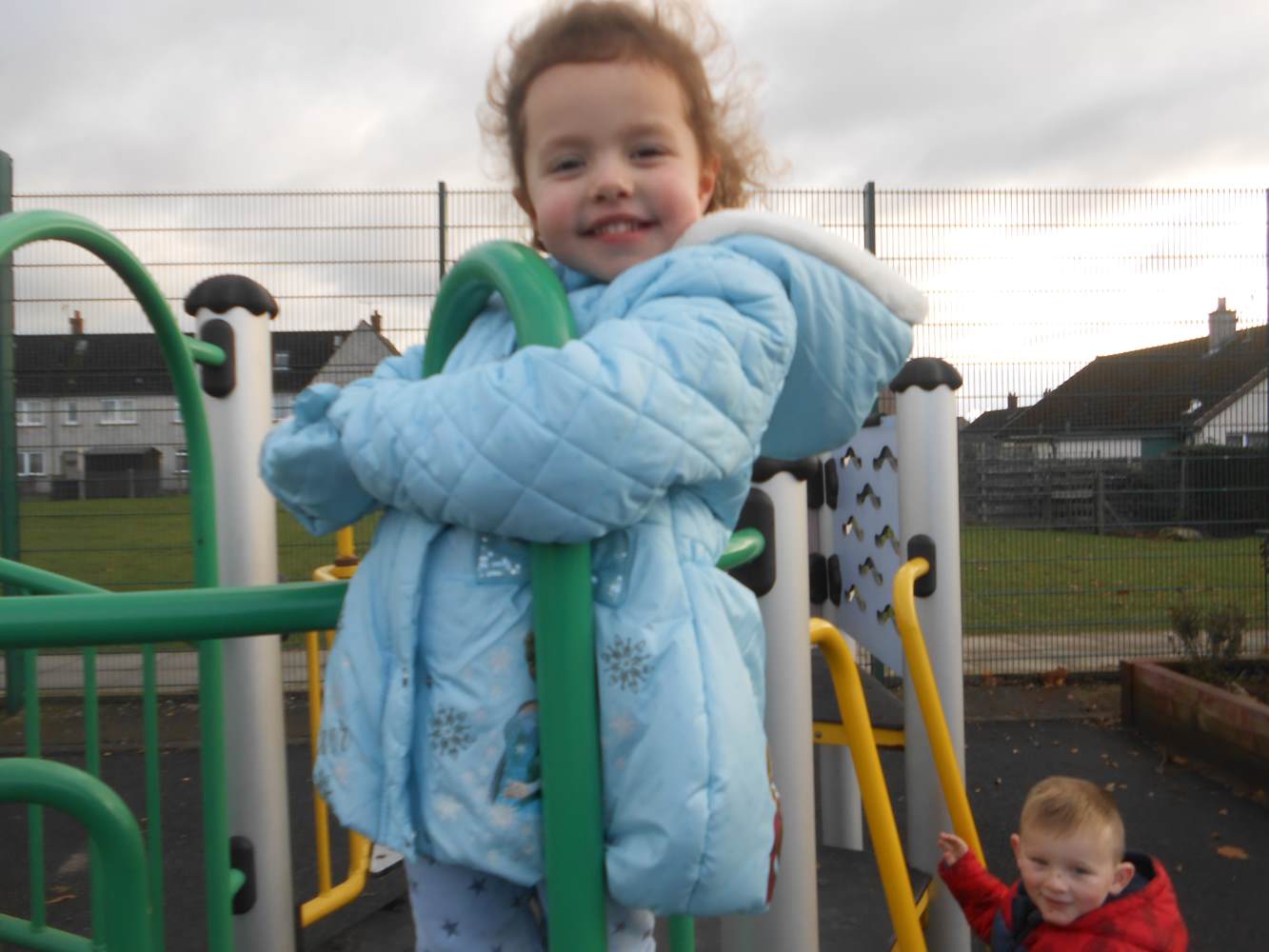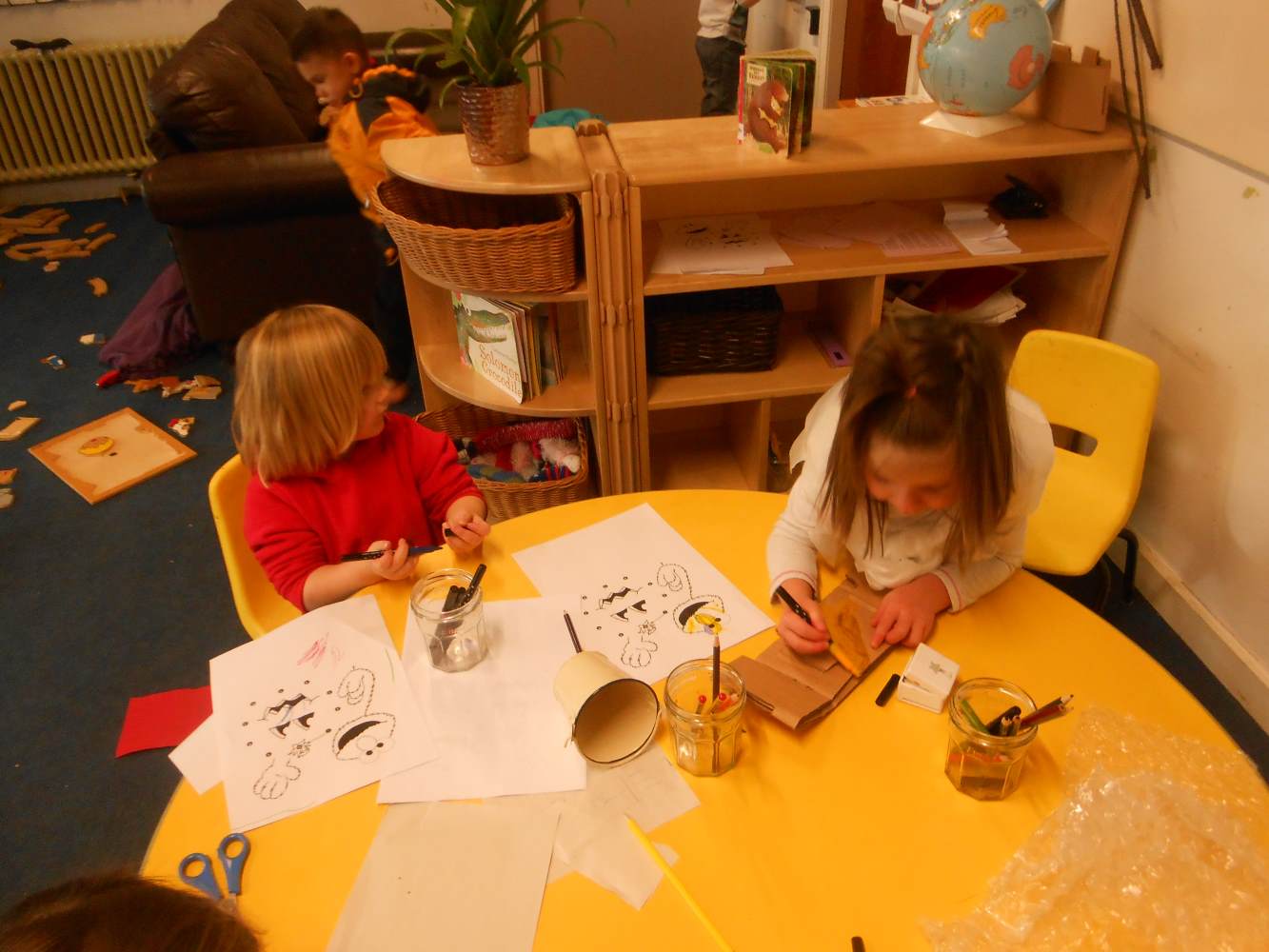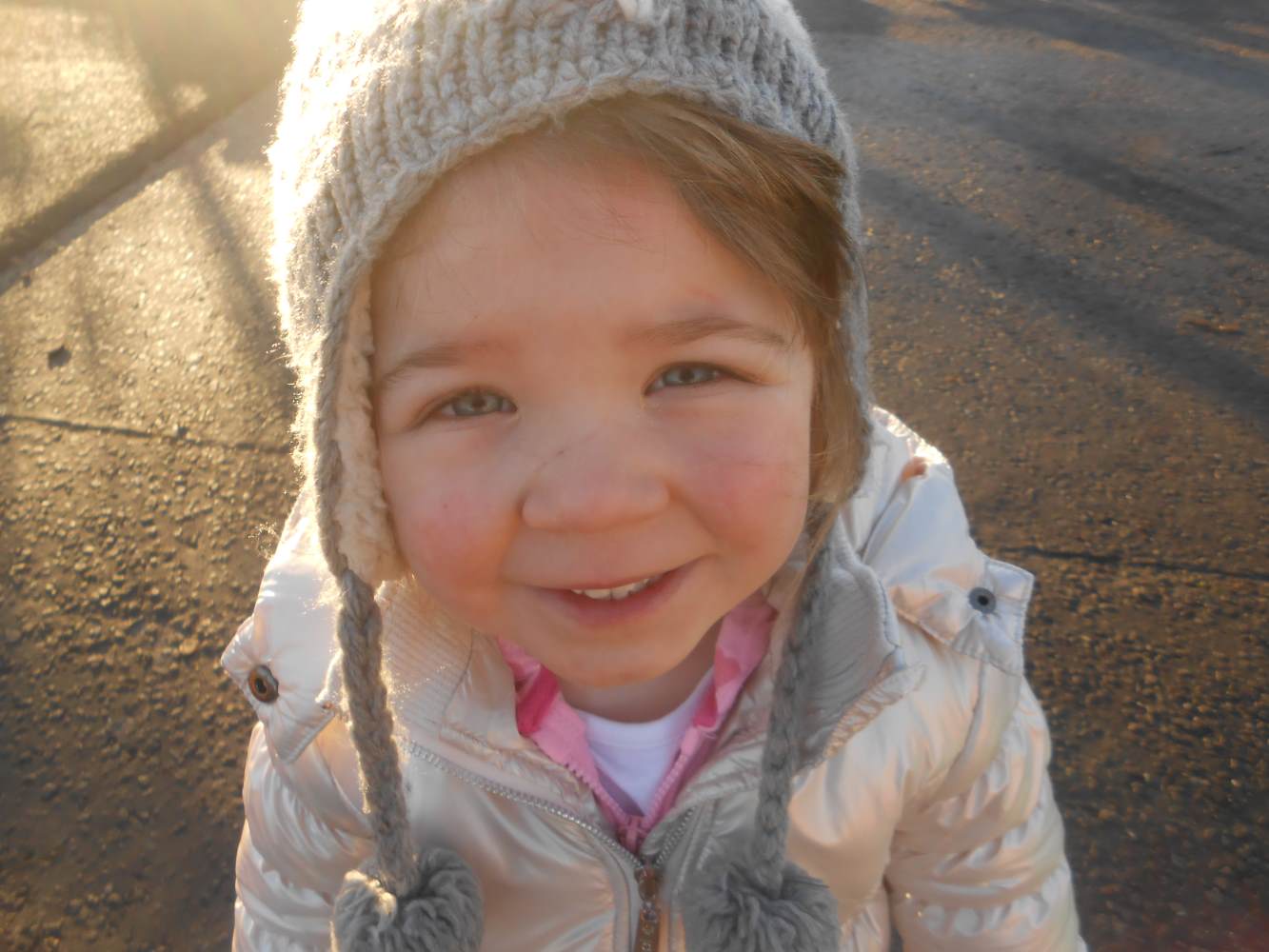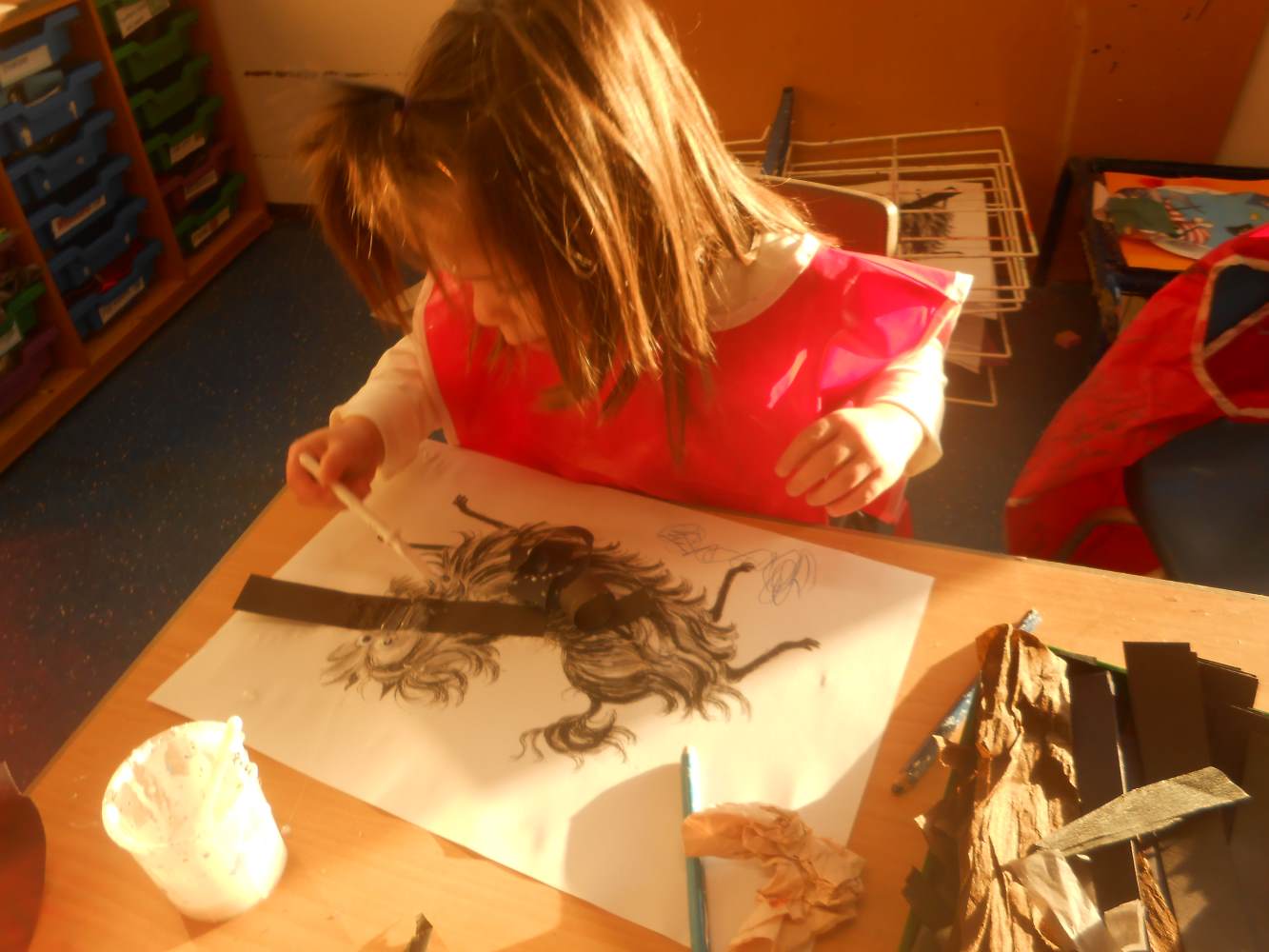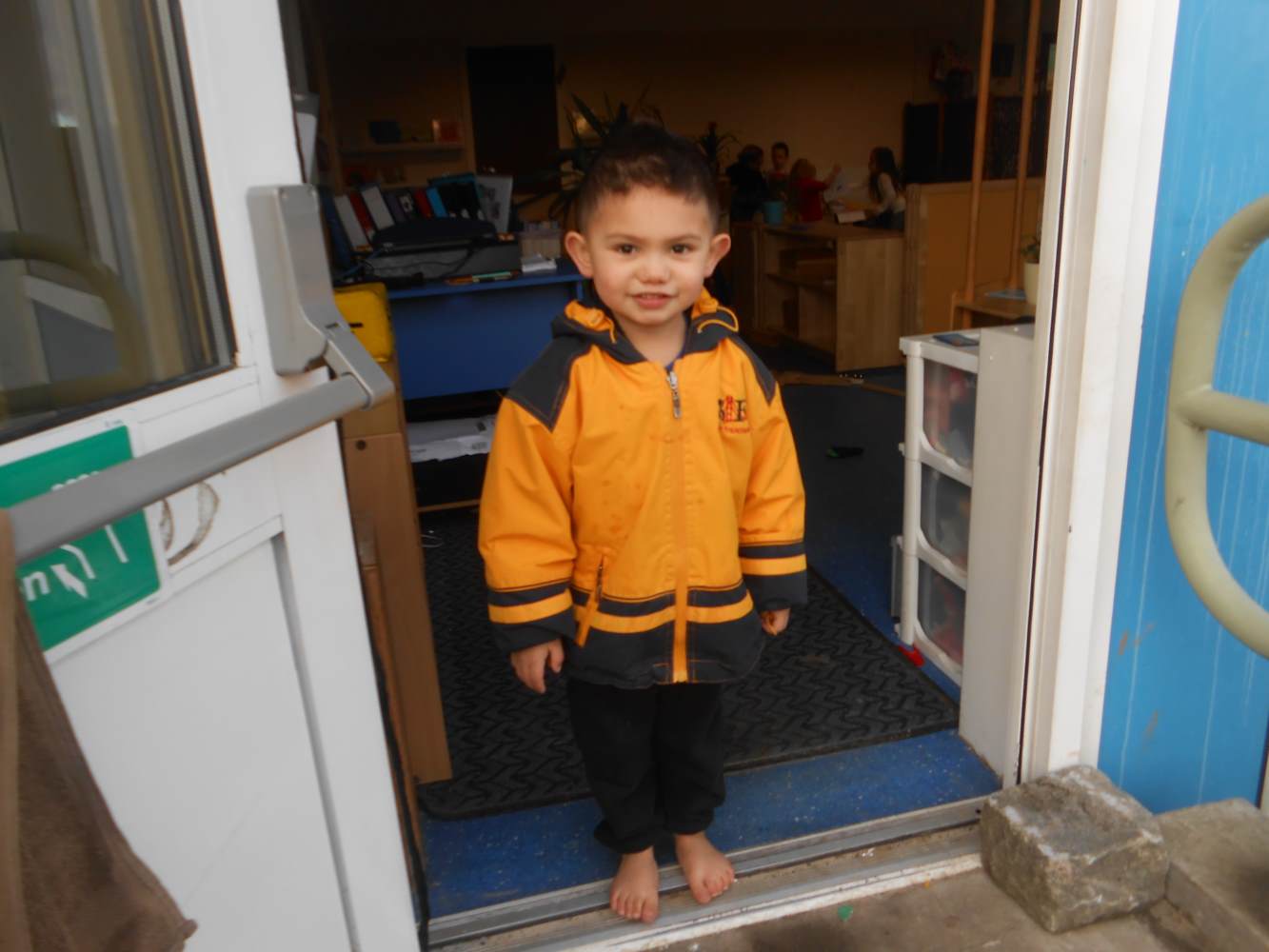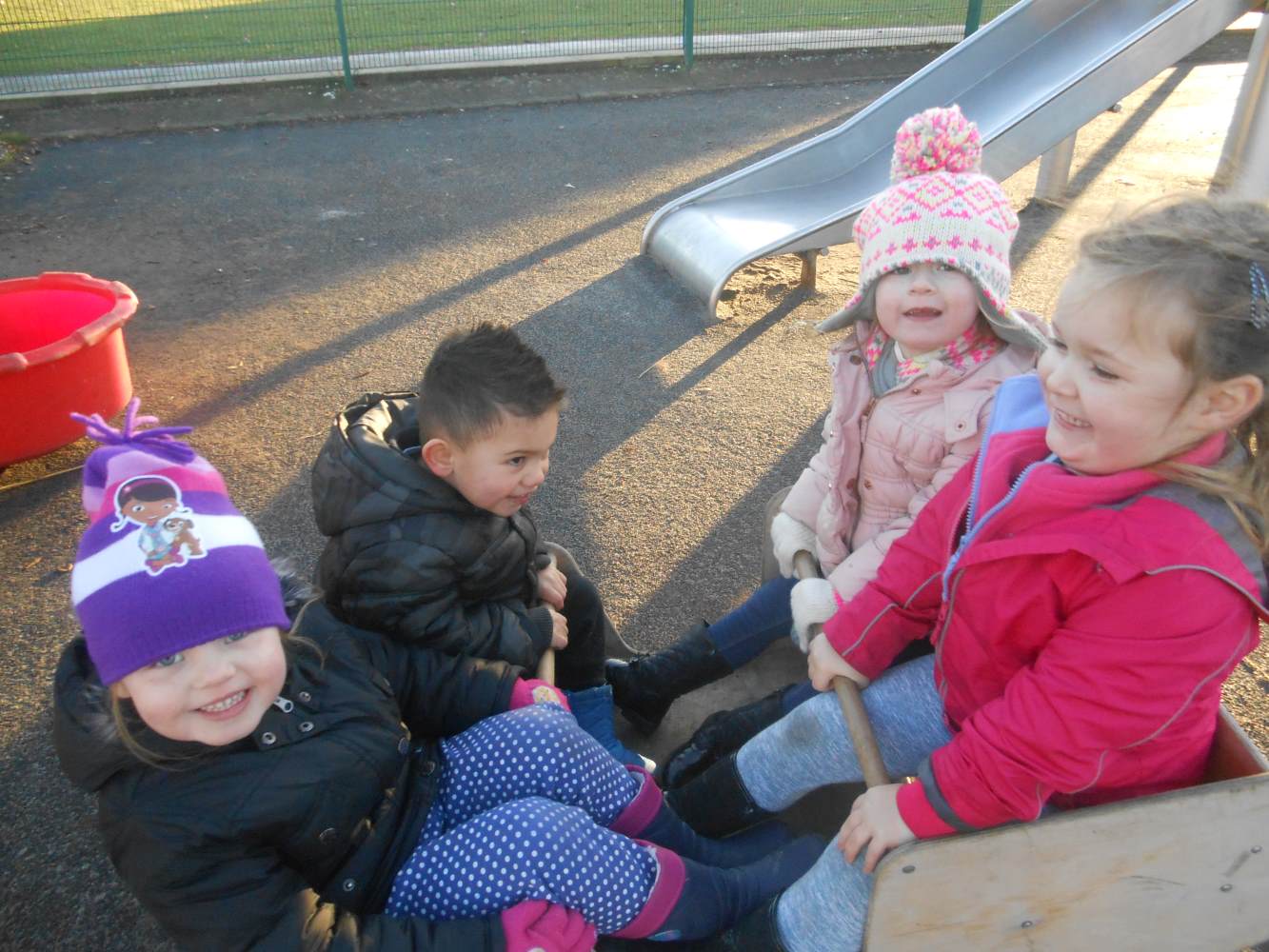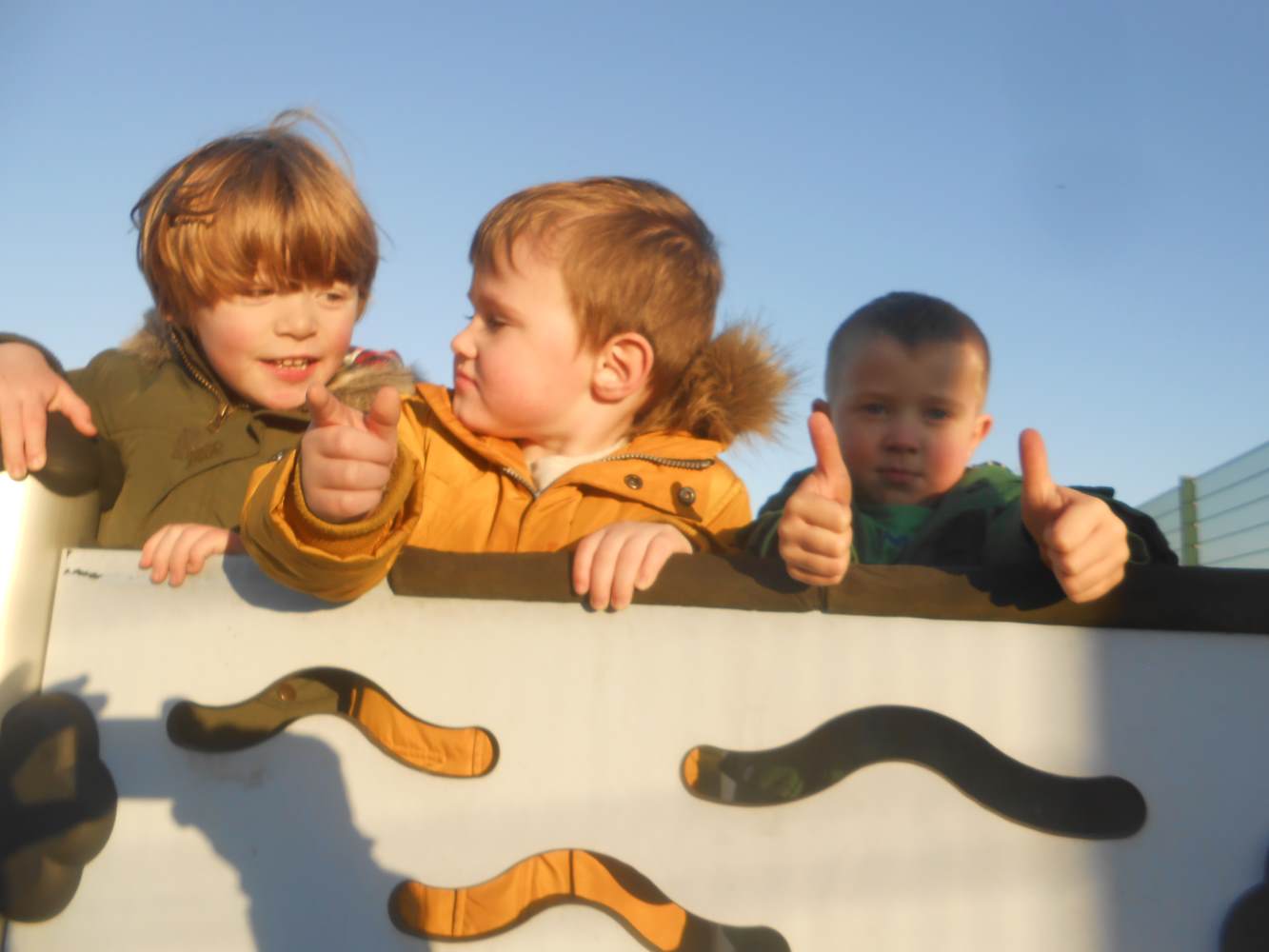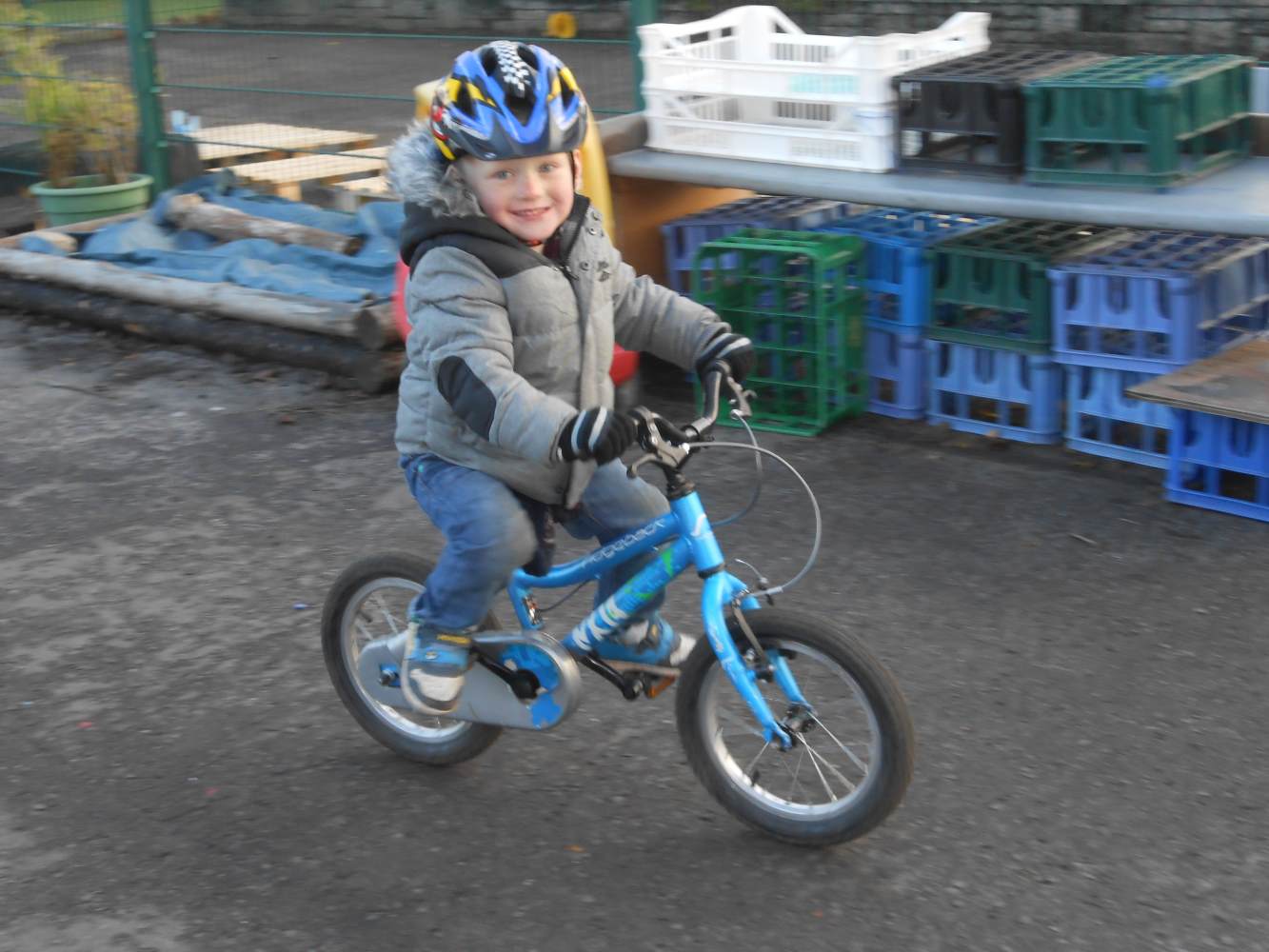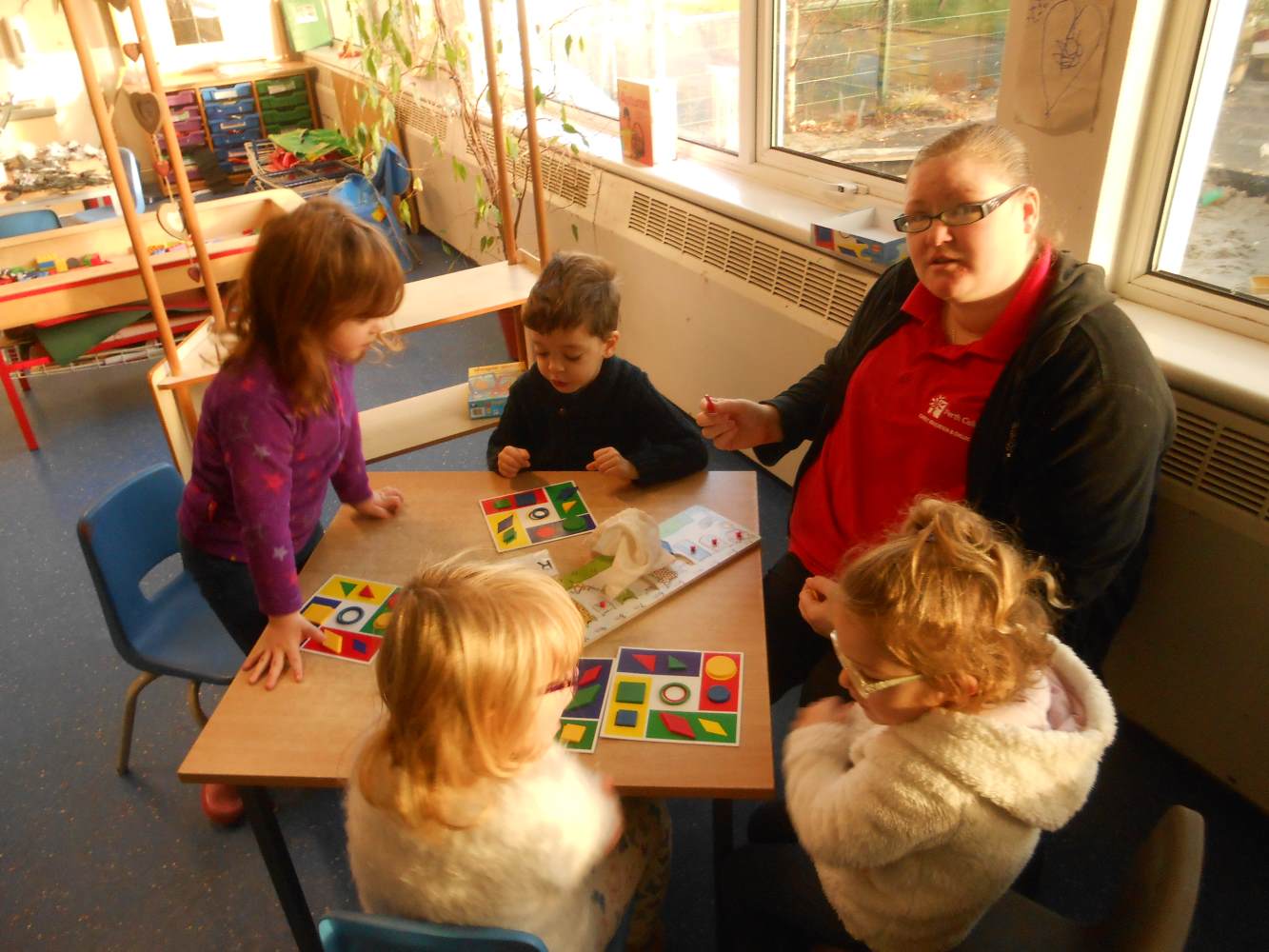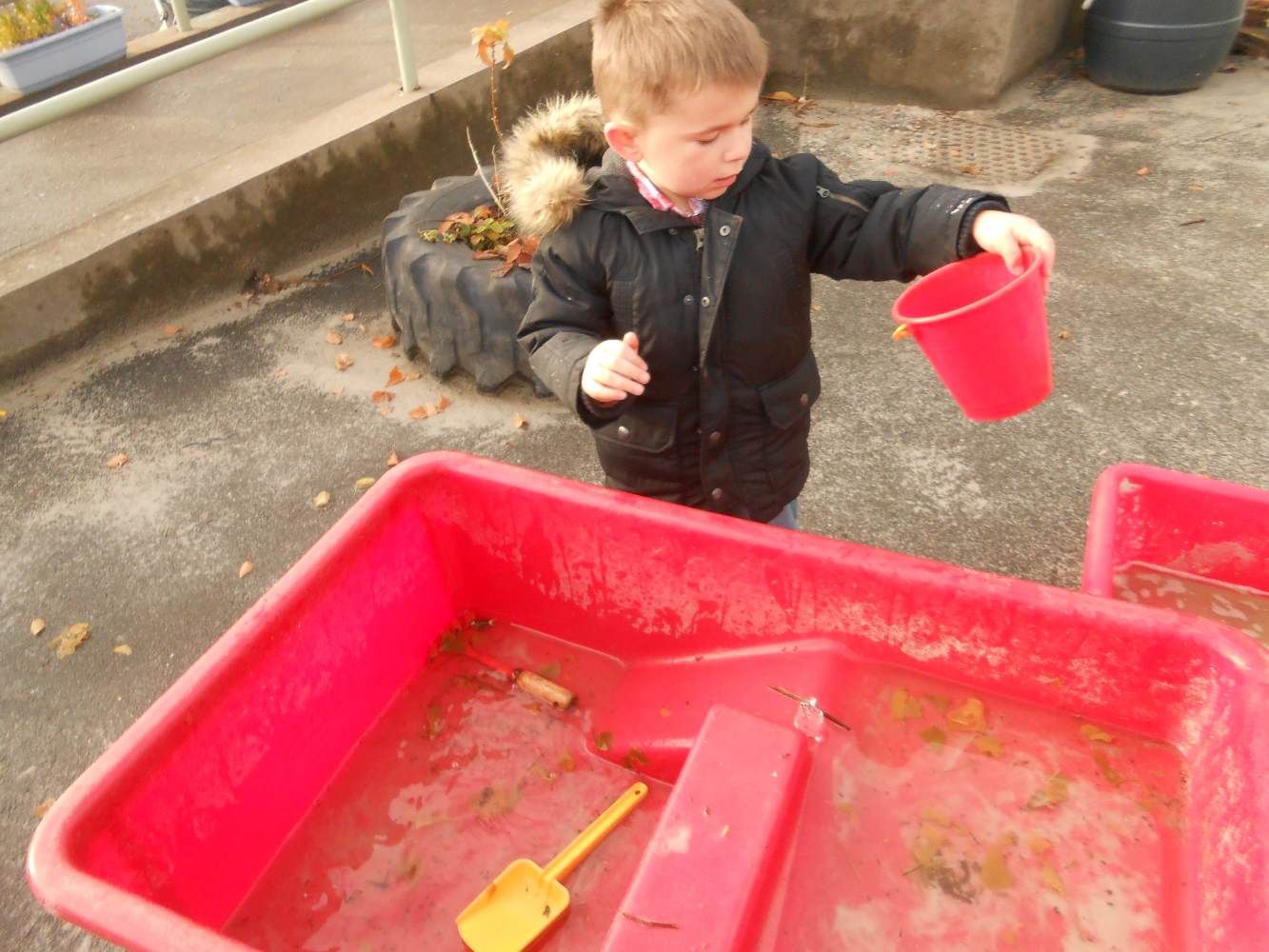 Building beds for our new plants and building our muscles!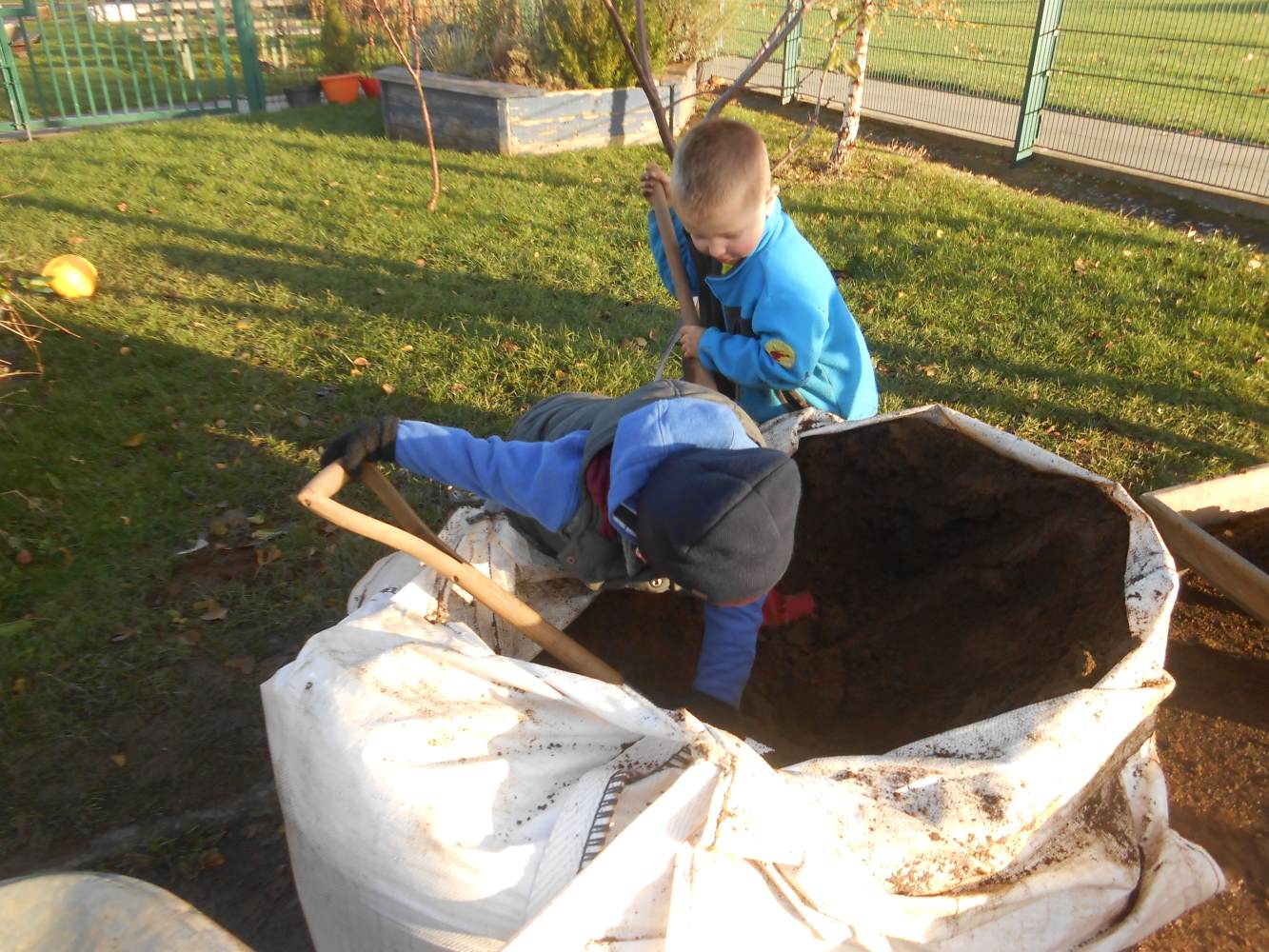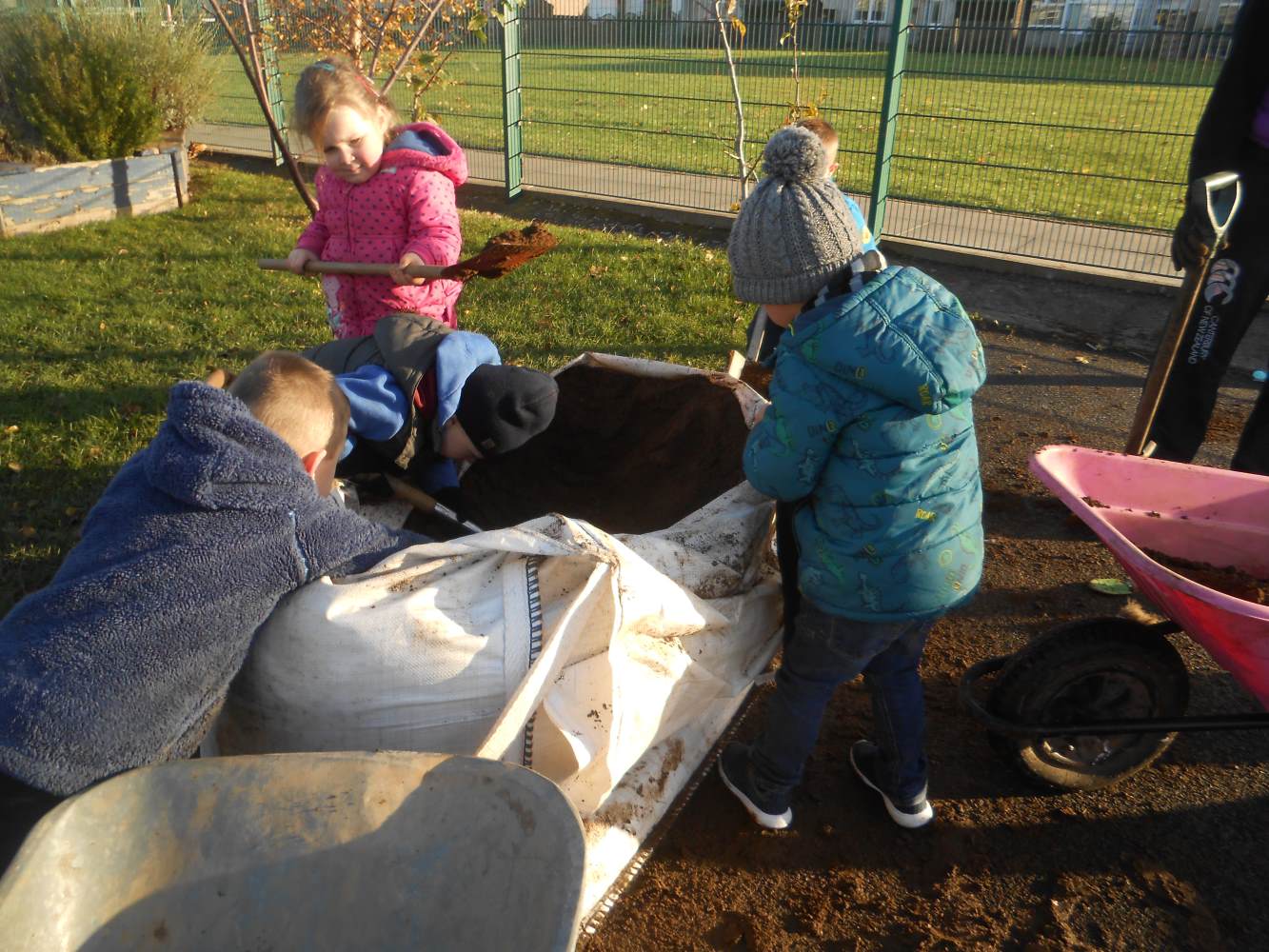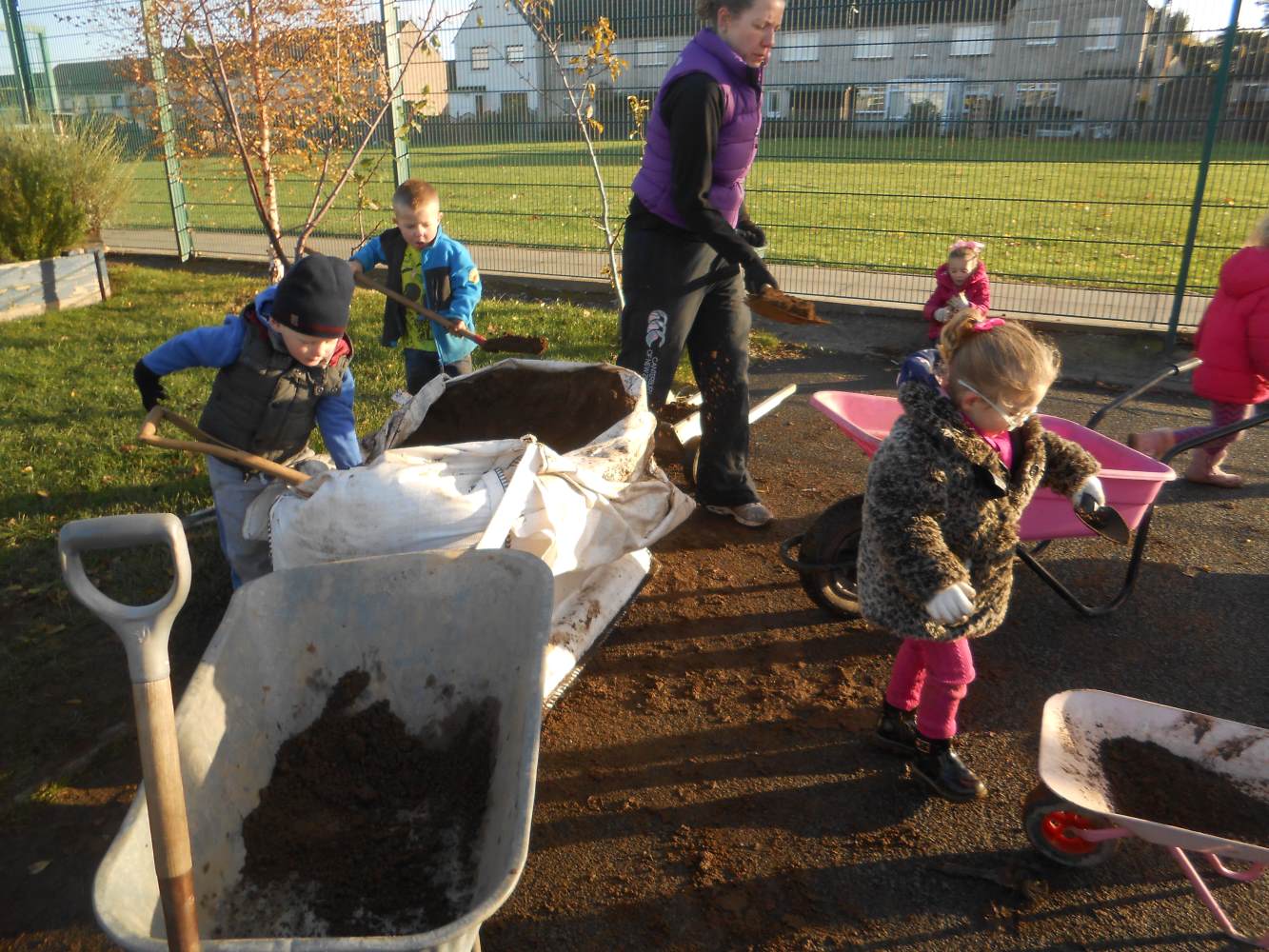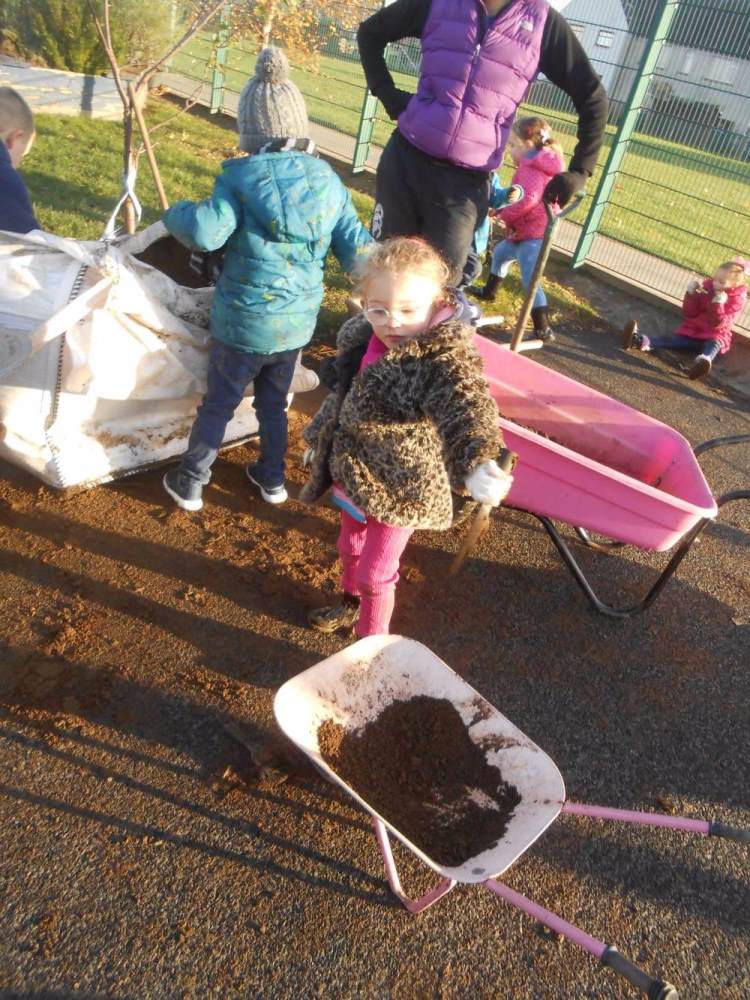 We moved a huge amount of earth that day. Great team work and a special mention to Ben who kept at it all morning.
A big thank you to Perth College who came and built our new Nursery and Playground benches.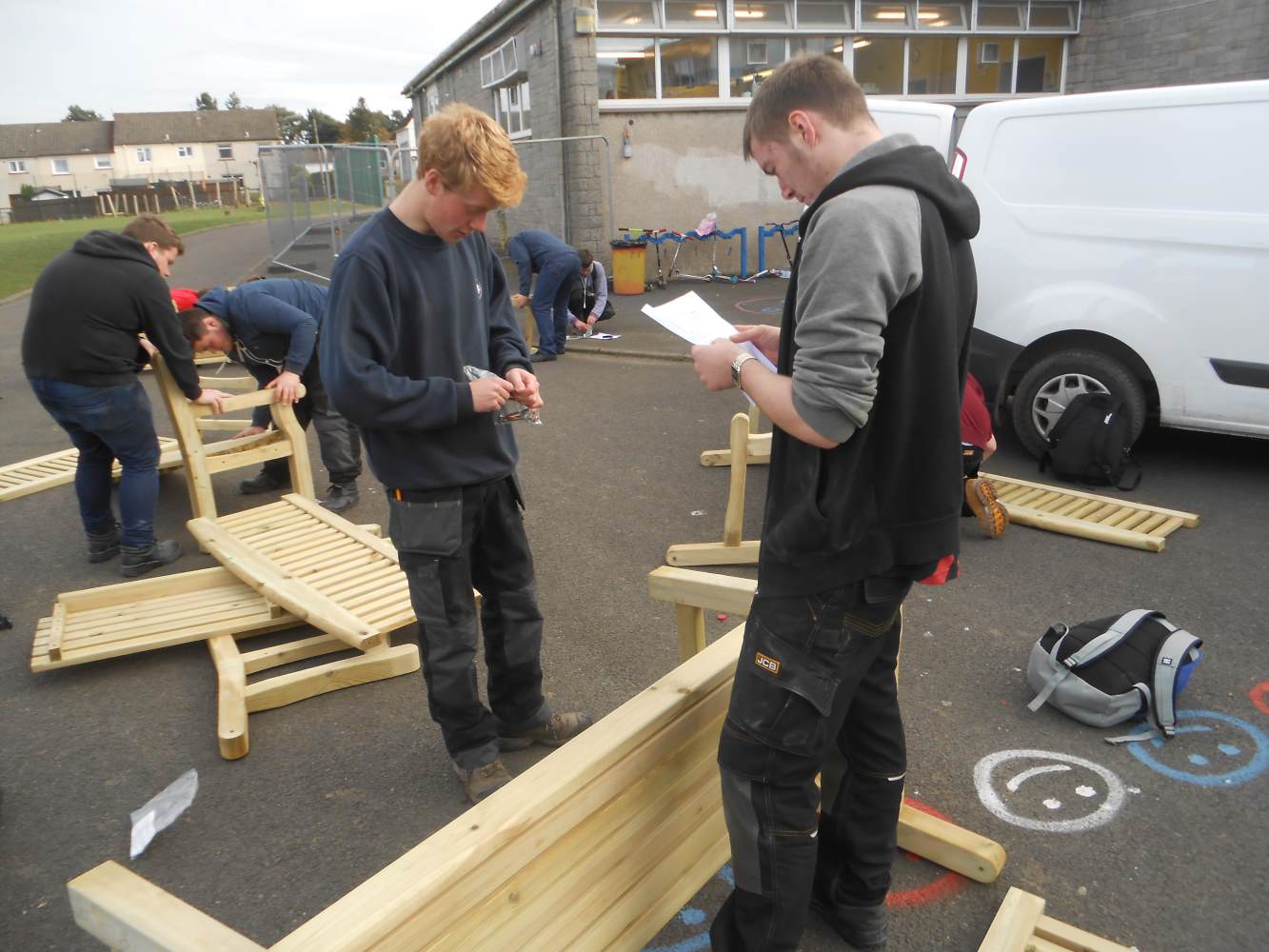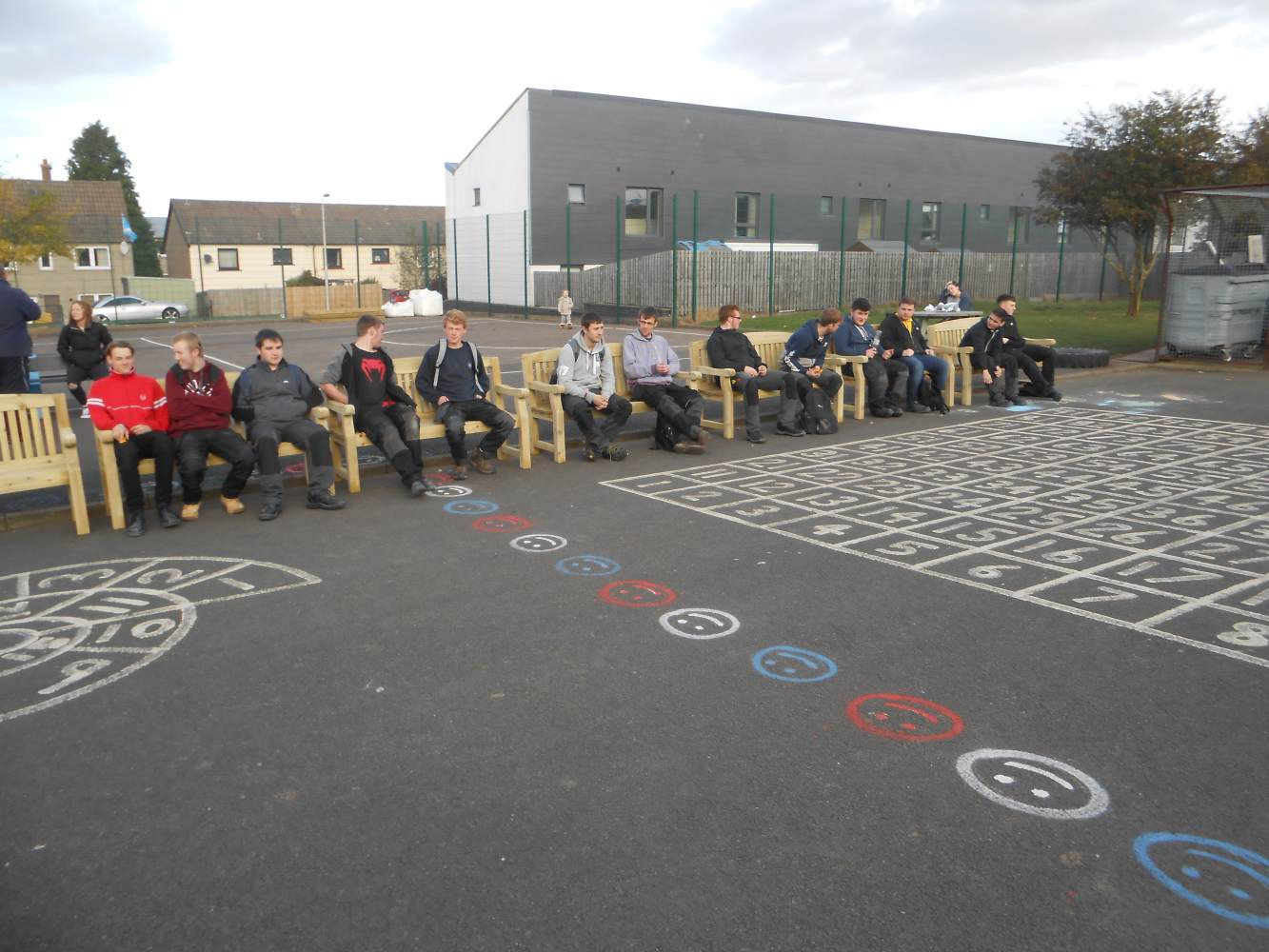 Nursery comes to a standstill.
A delivery of more materials for our garden project brings Nursery to a standstill.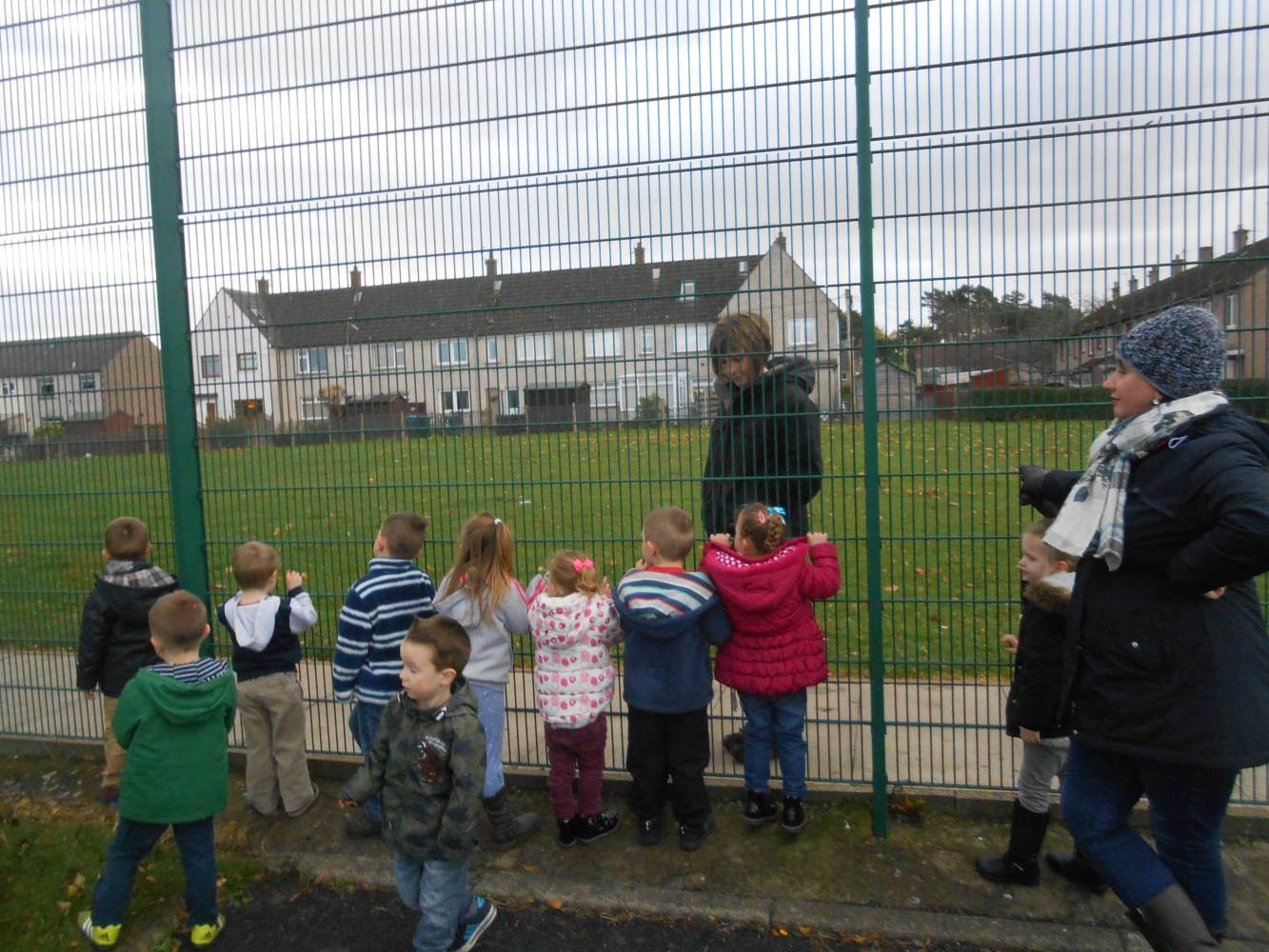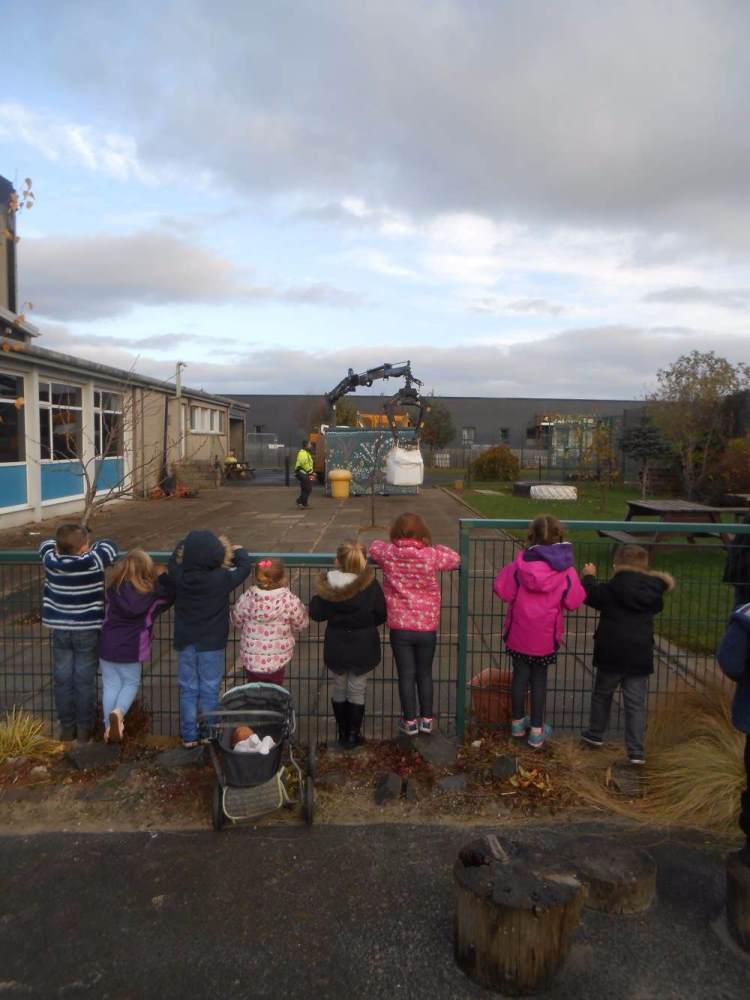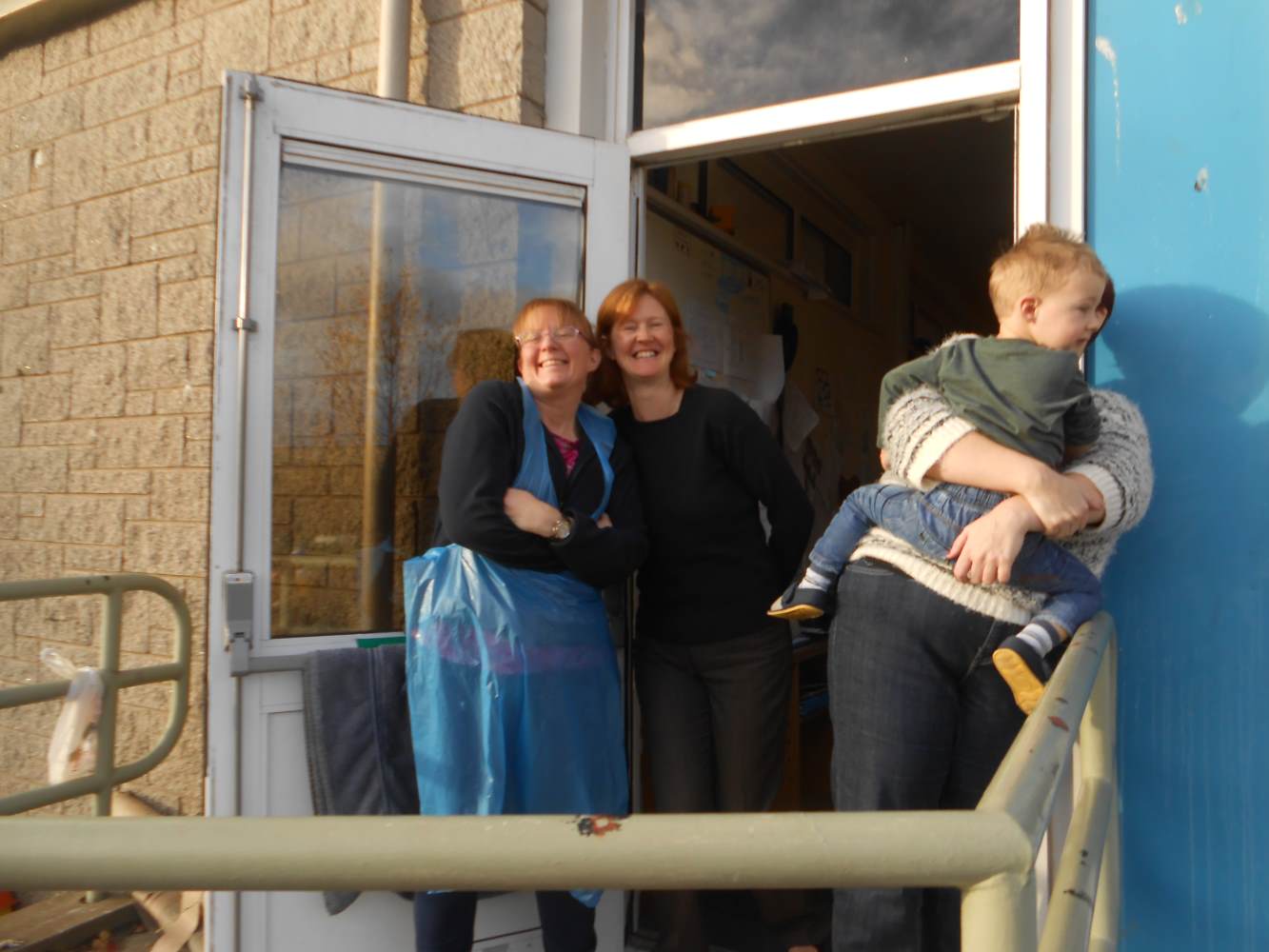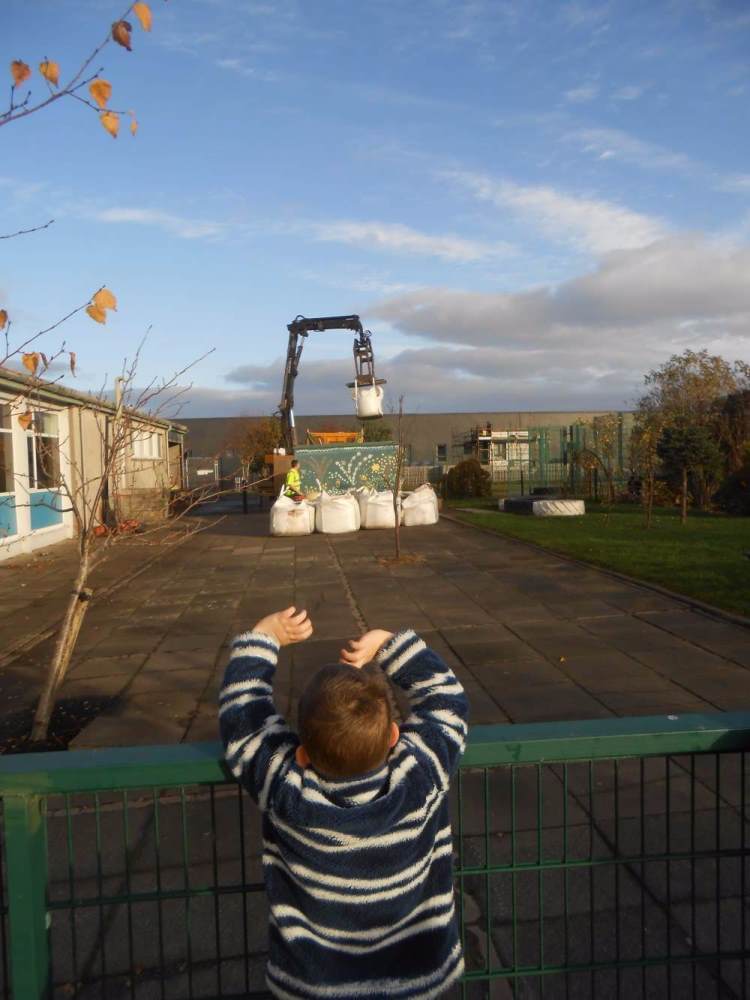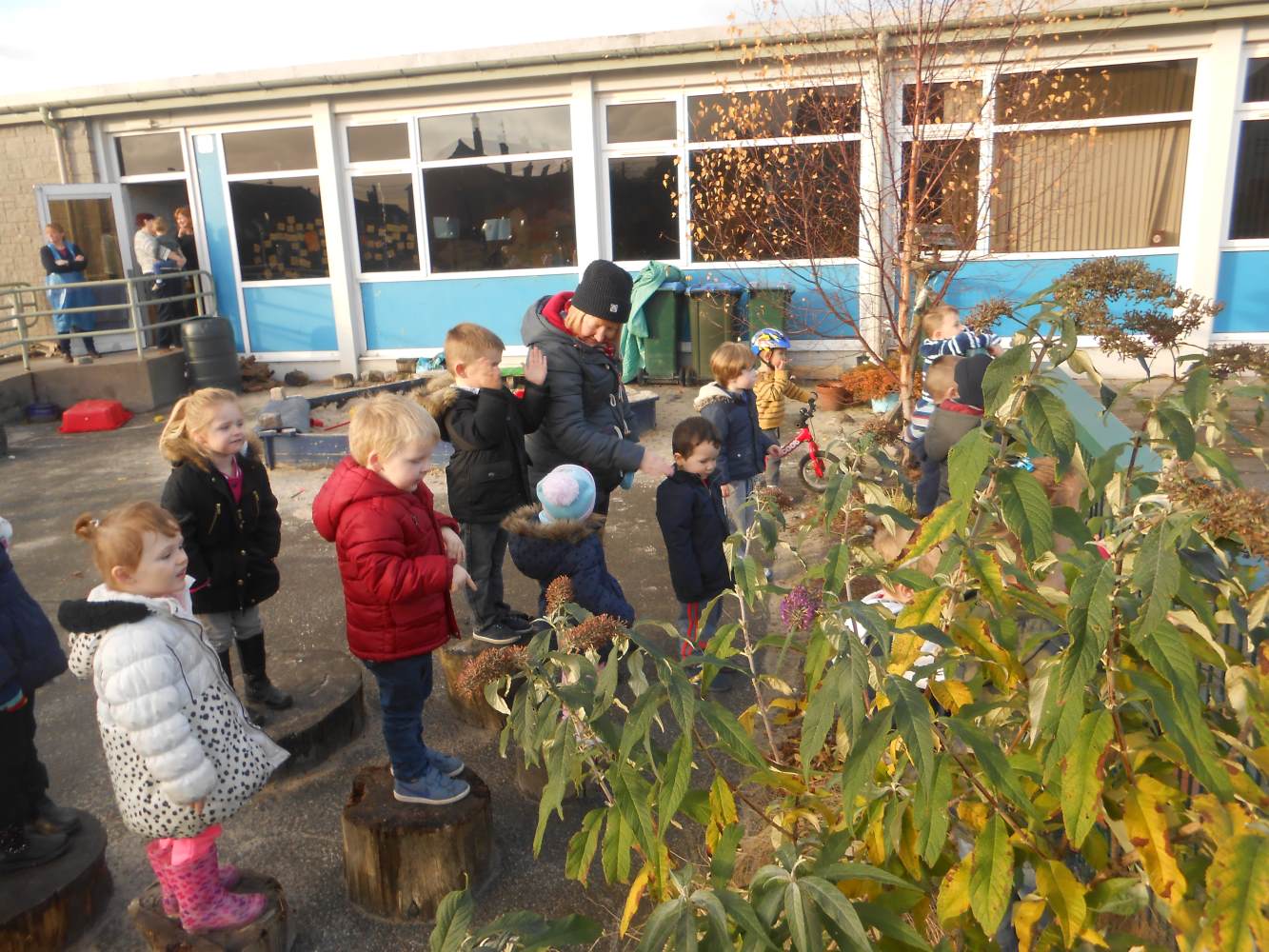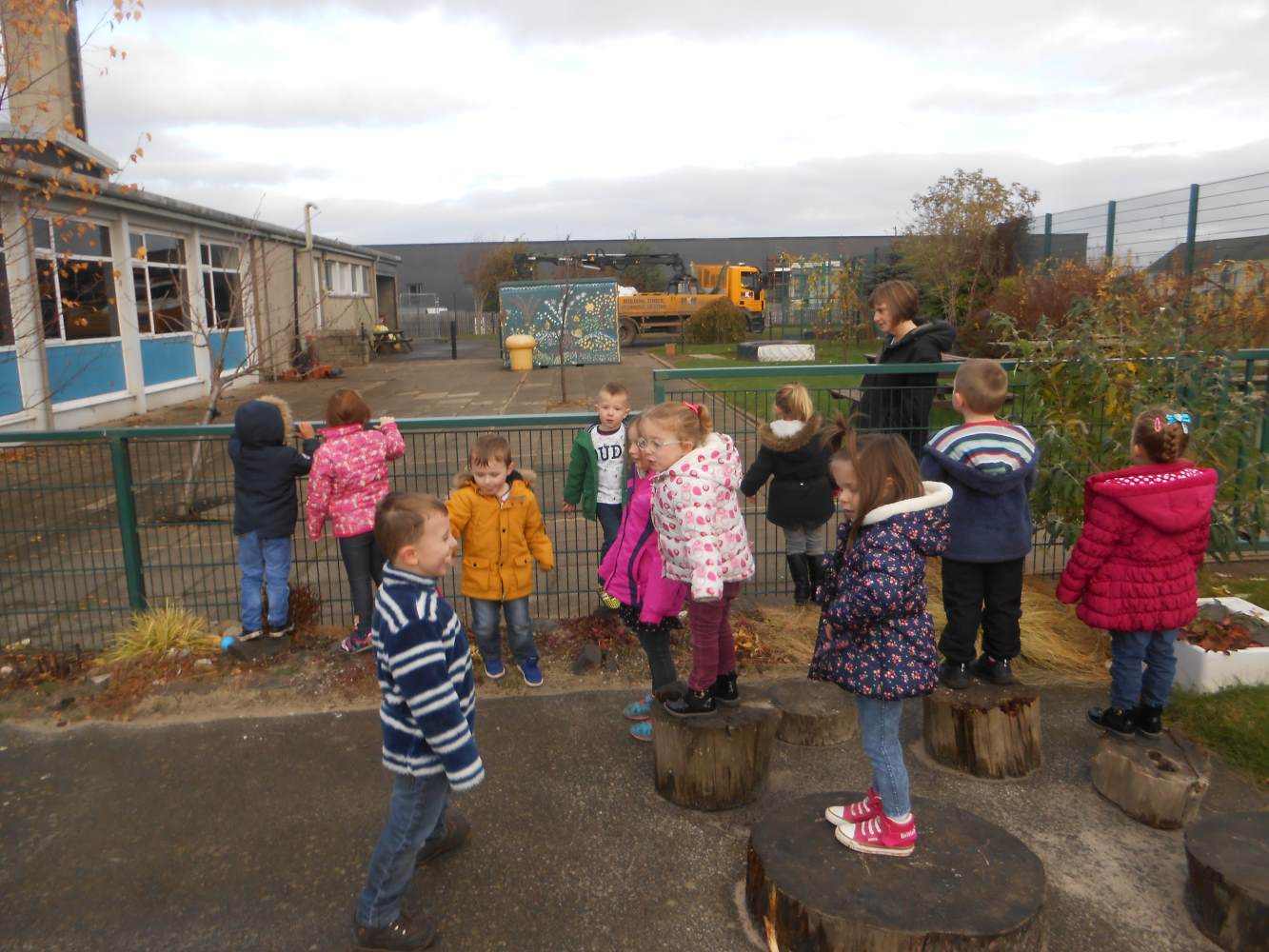 Inspired by circumstances and one another, spontaneous play with lots of learning.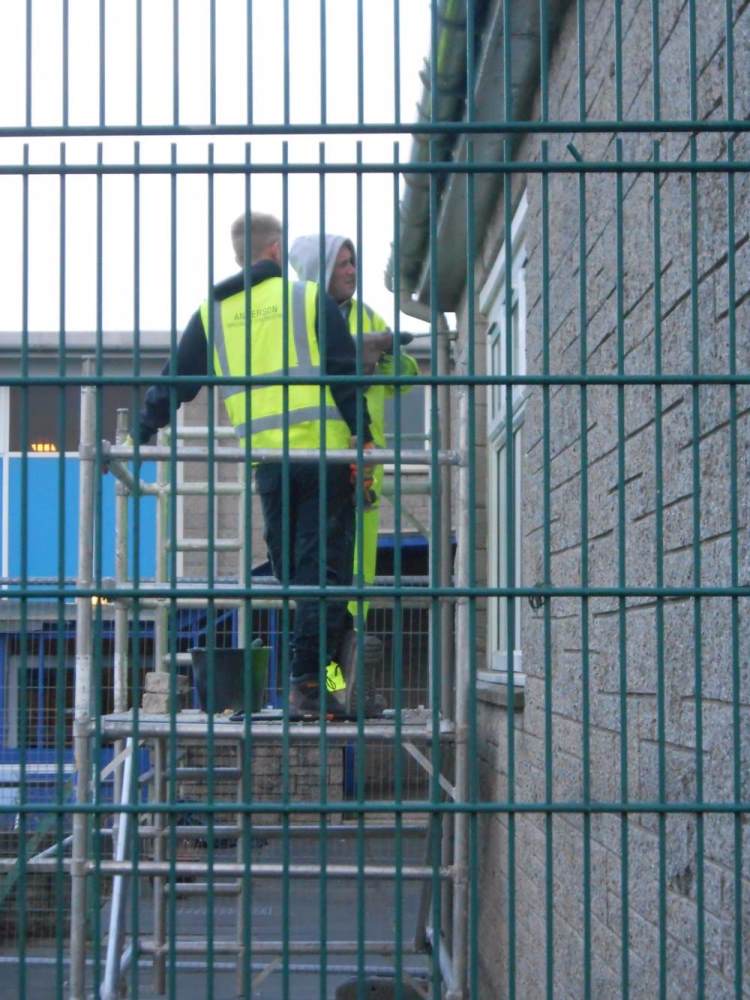 Workmen on the other side of the fence - the drilling was very loud but inspired a whole load of building and fixing.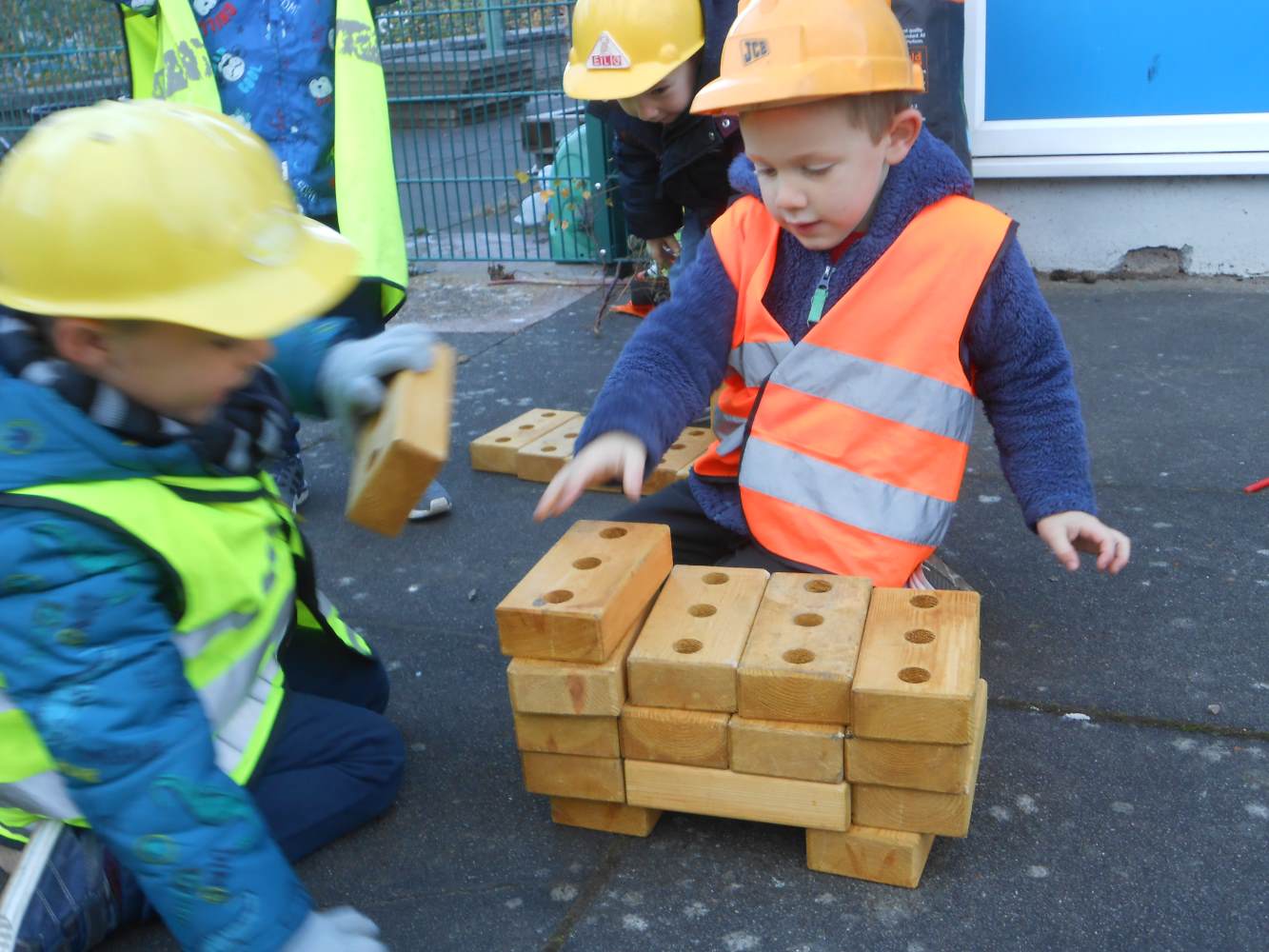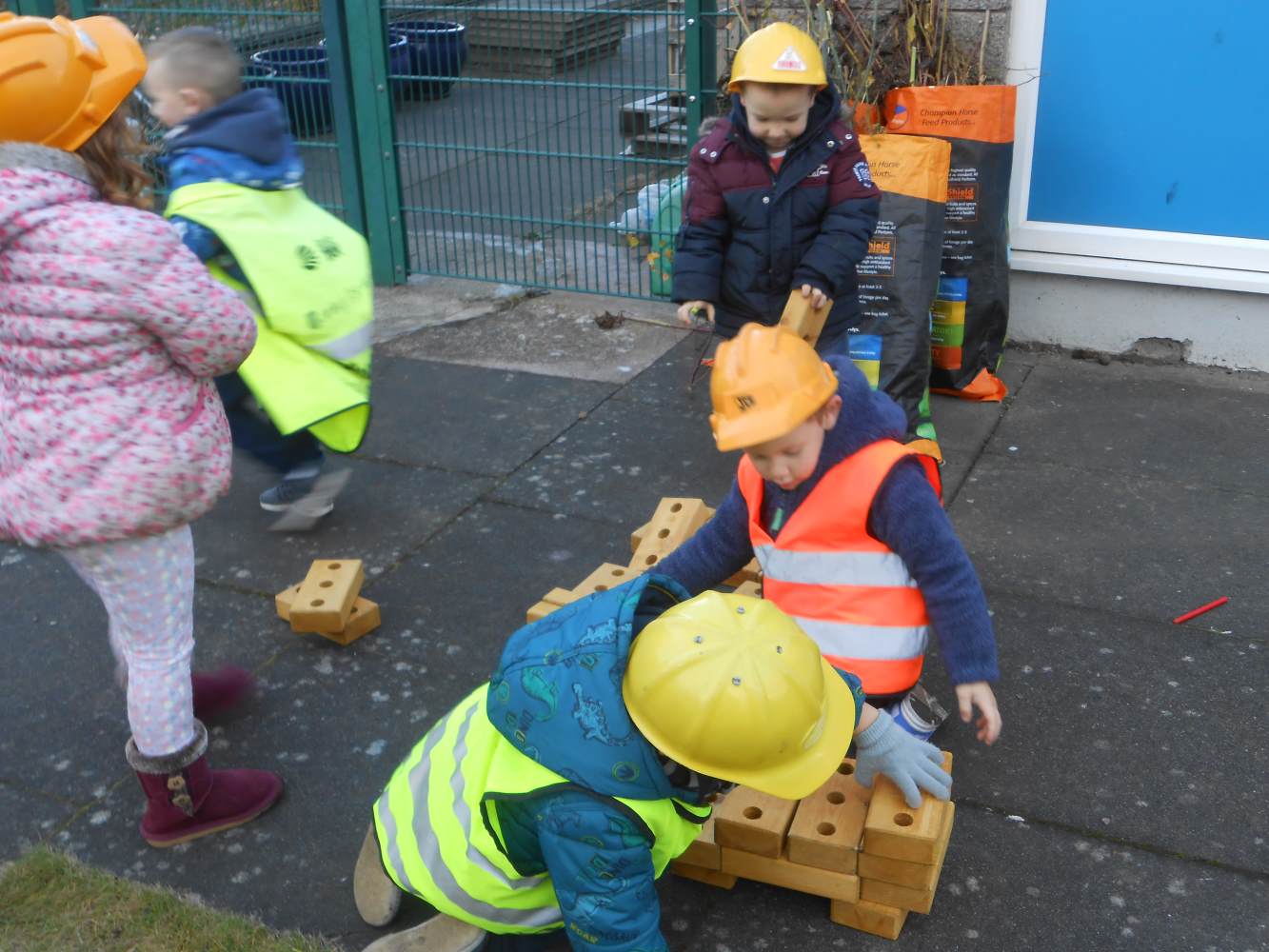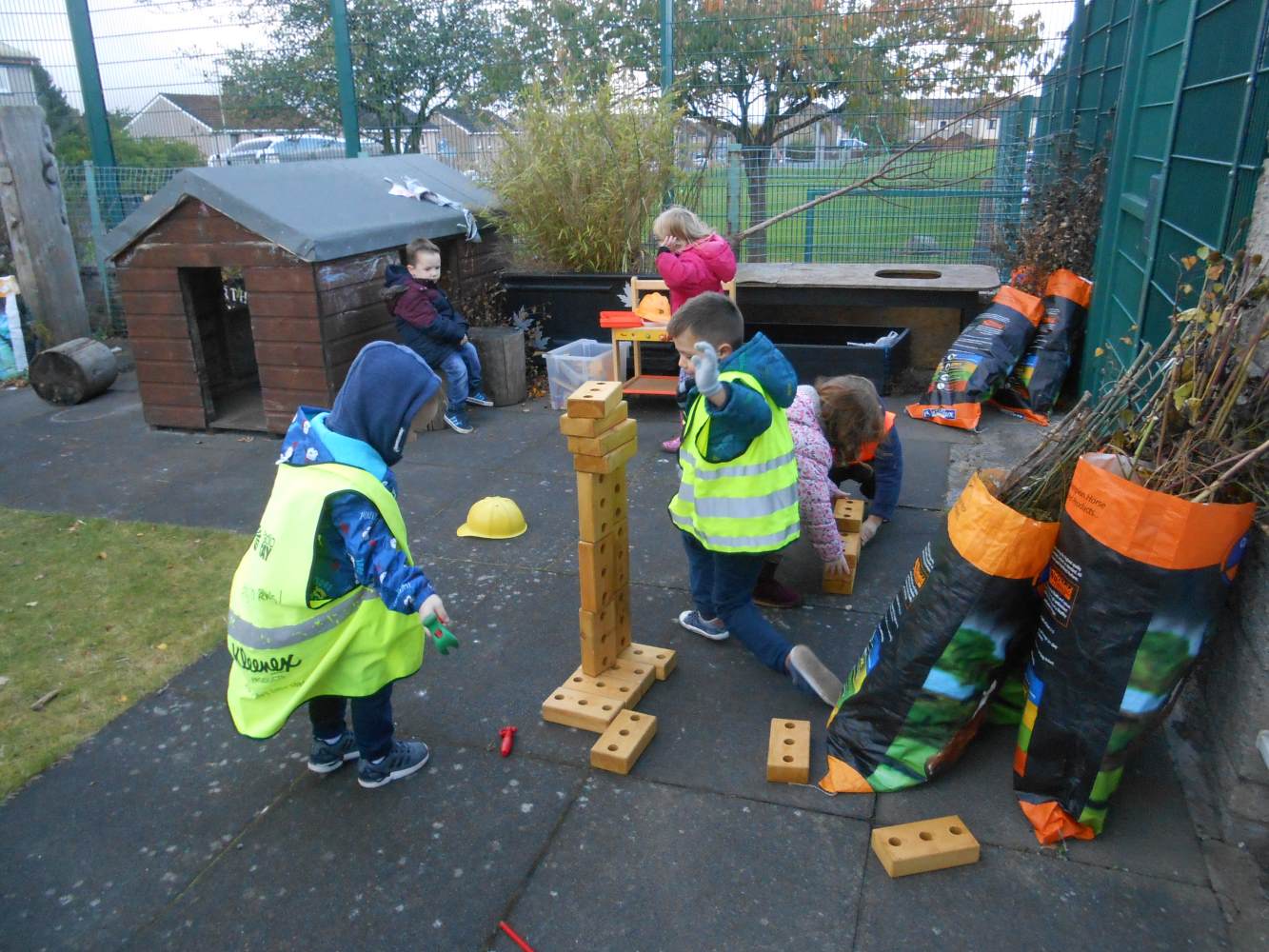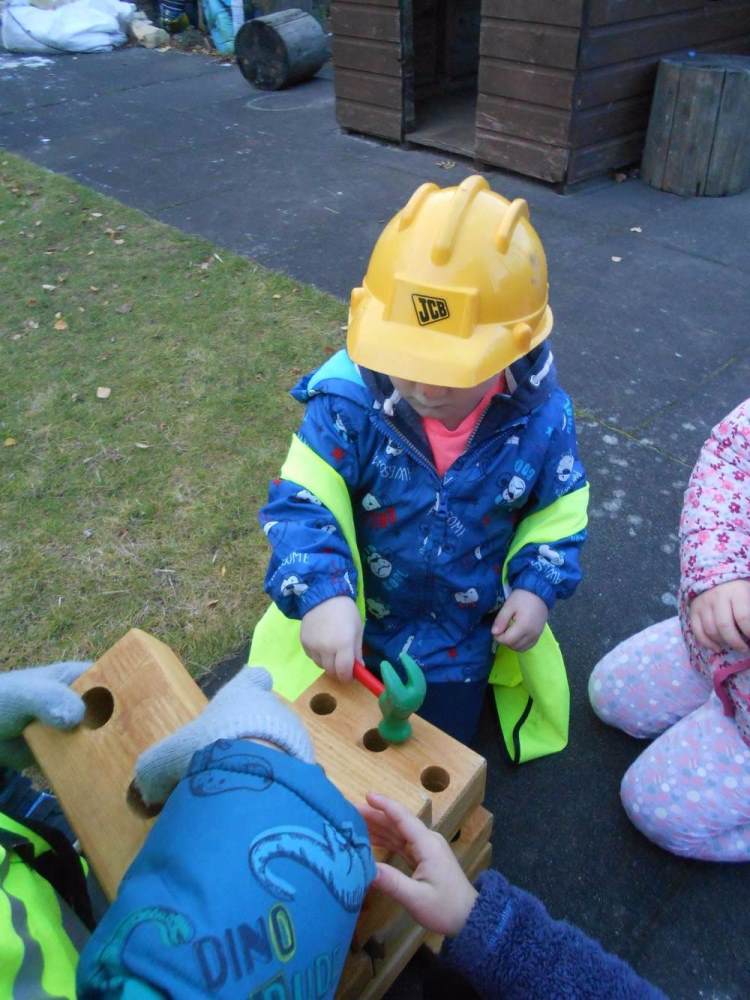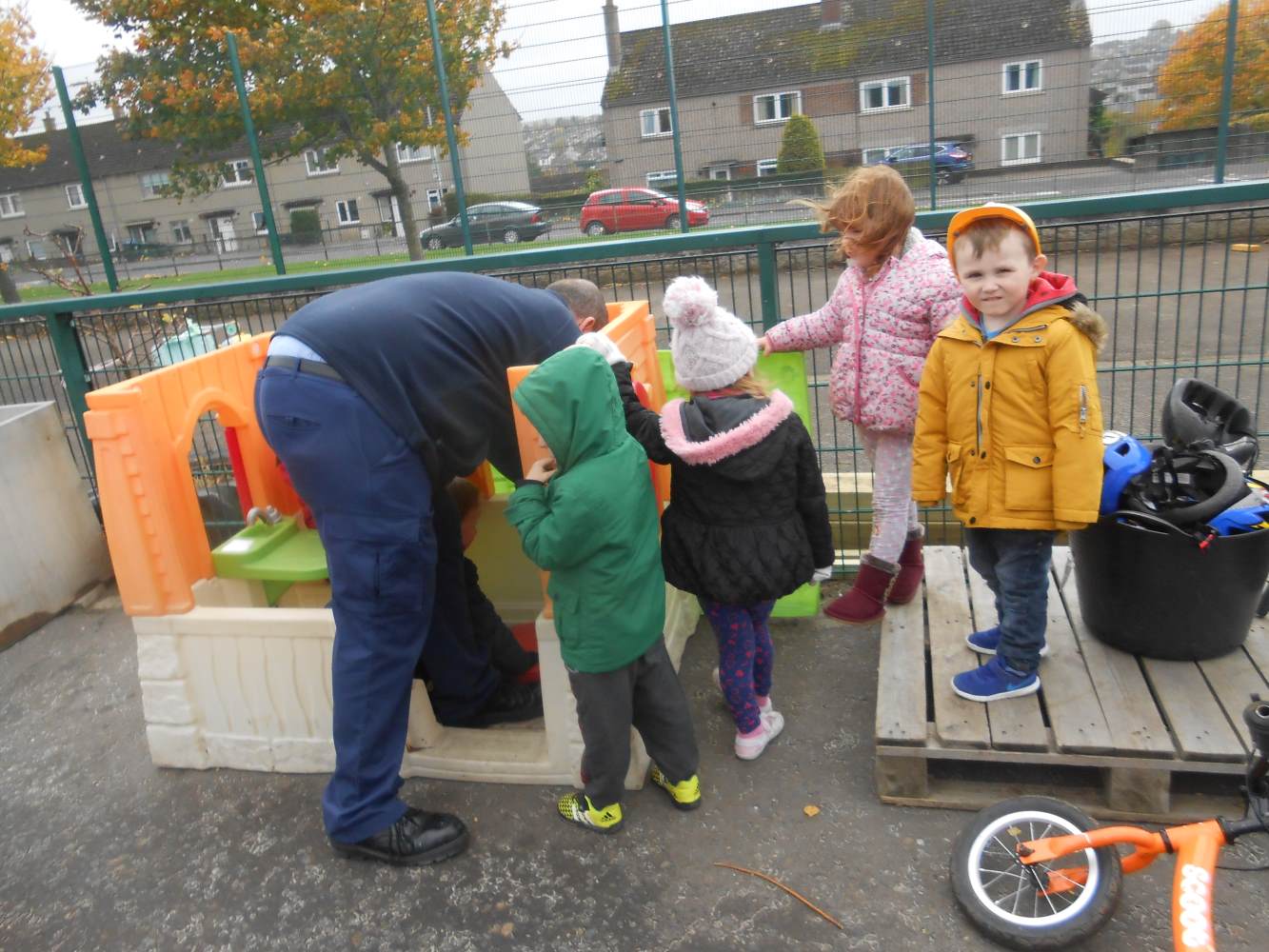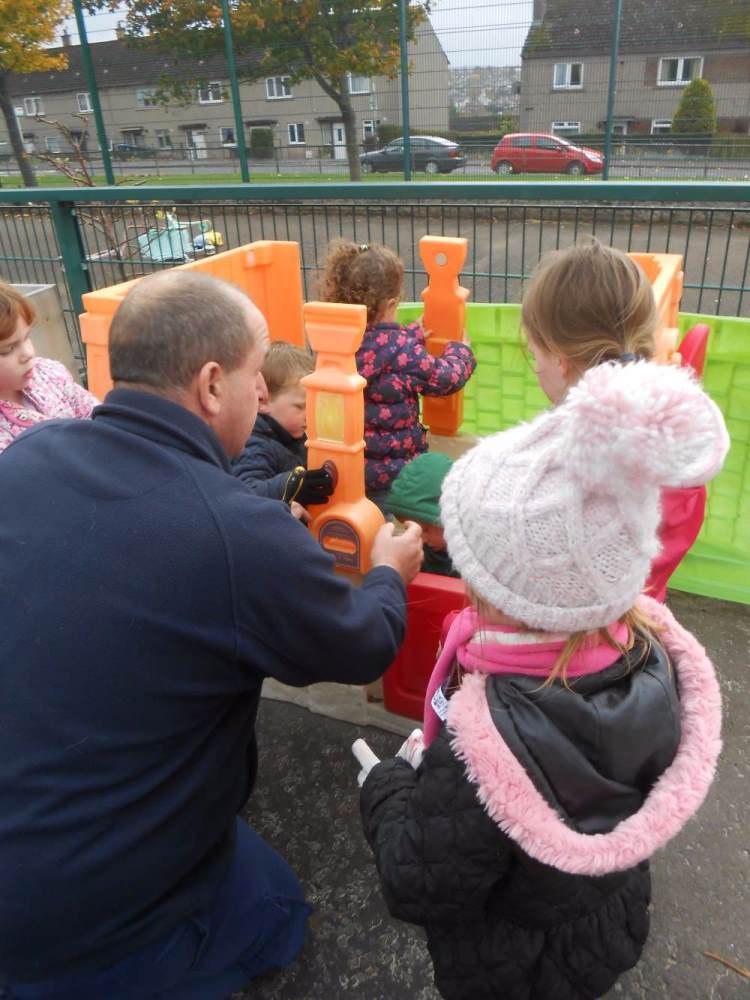 Cardboard tubes become fire hoses. Mrs Maclaughlan had to run fast to stay dry!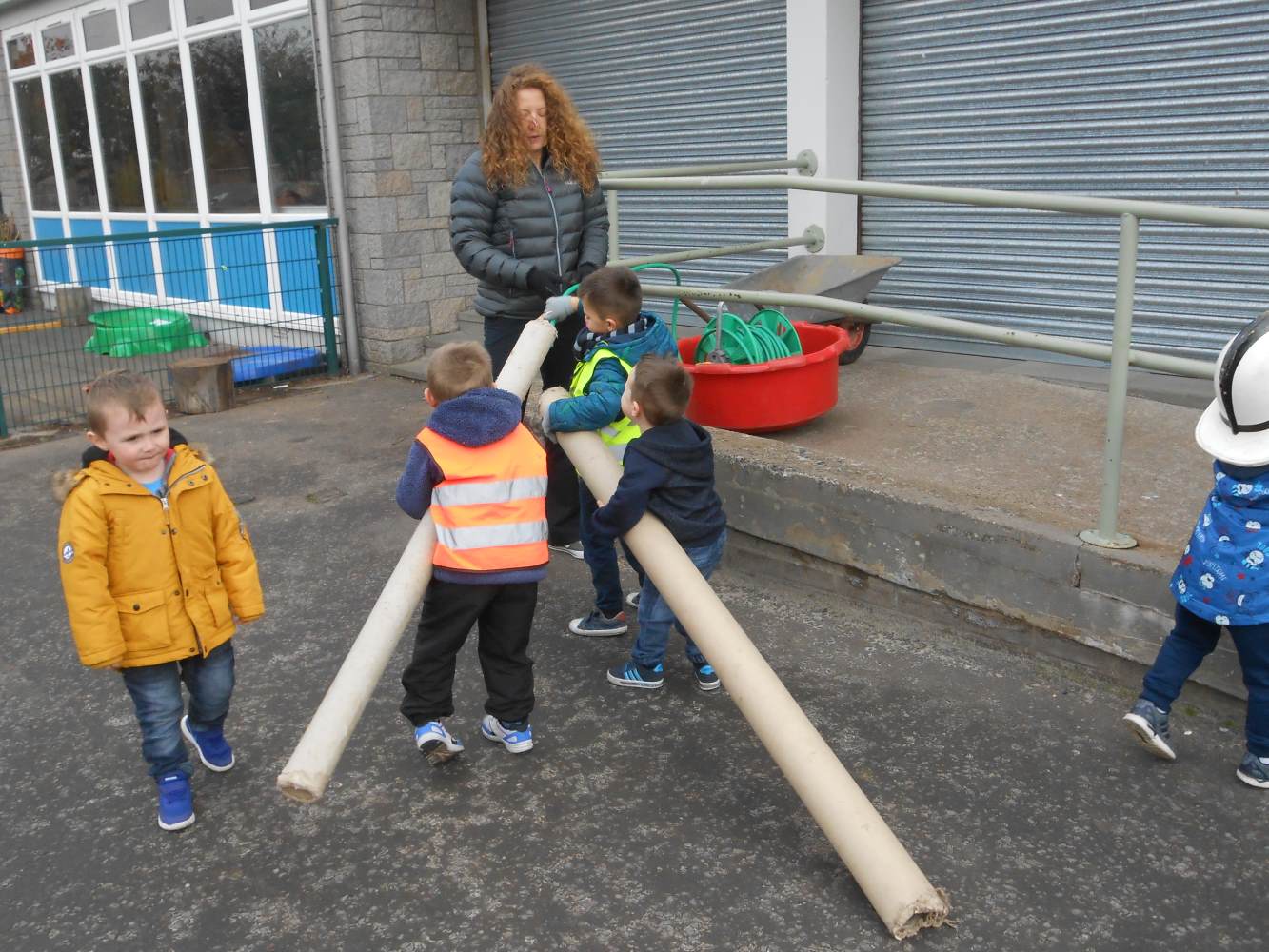 Horse riding.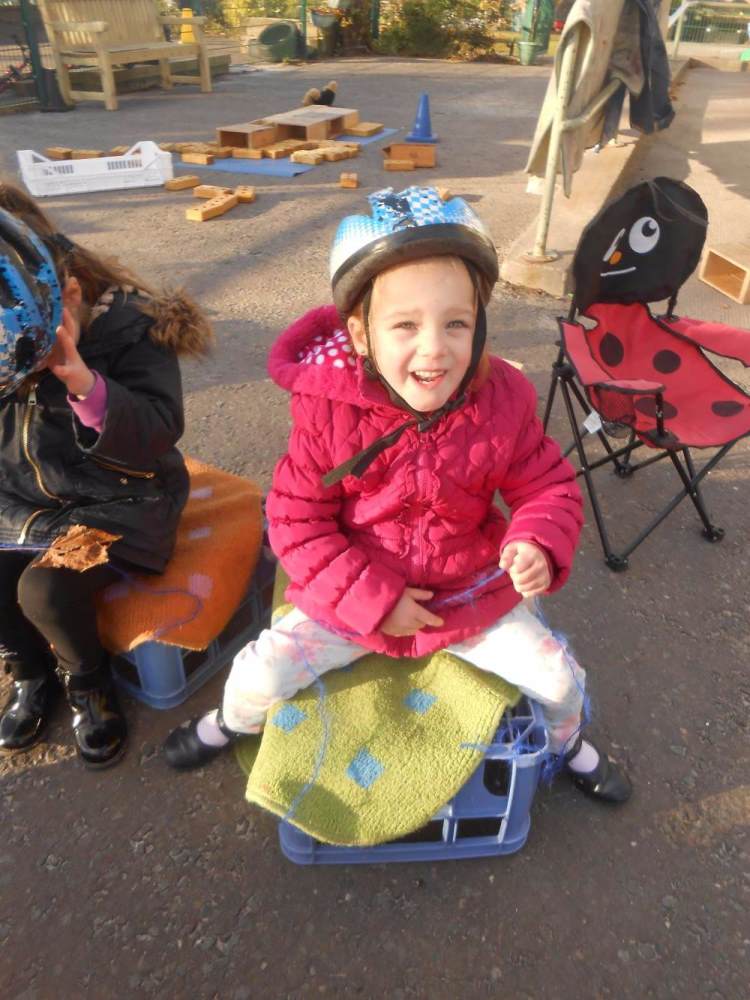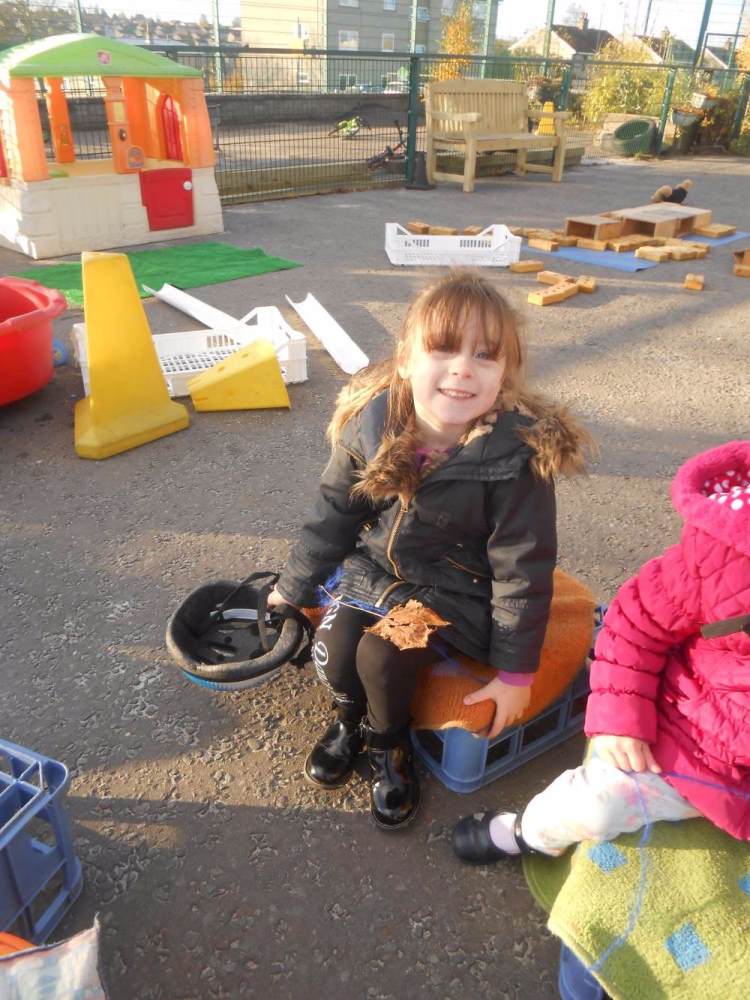 The seesaw - sometimes a boat, sometimes a space rocket, sometimes a seesaw but always fun.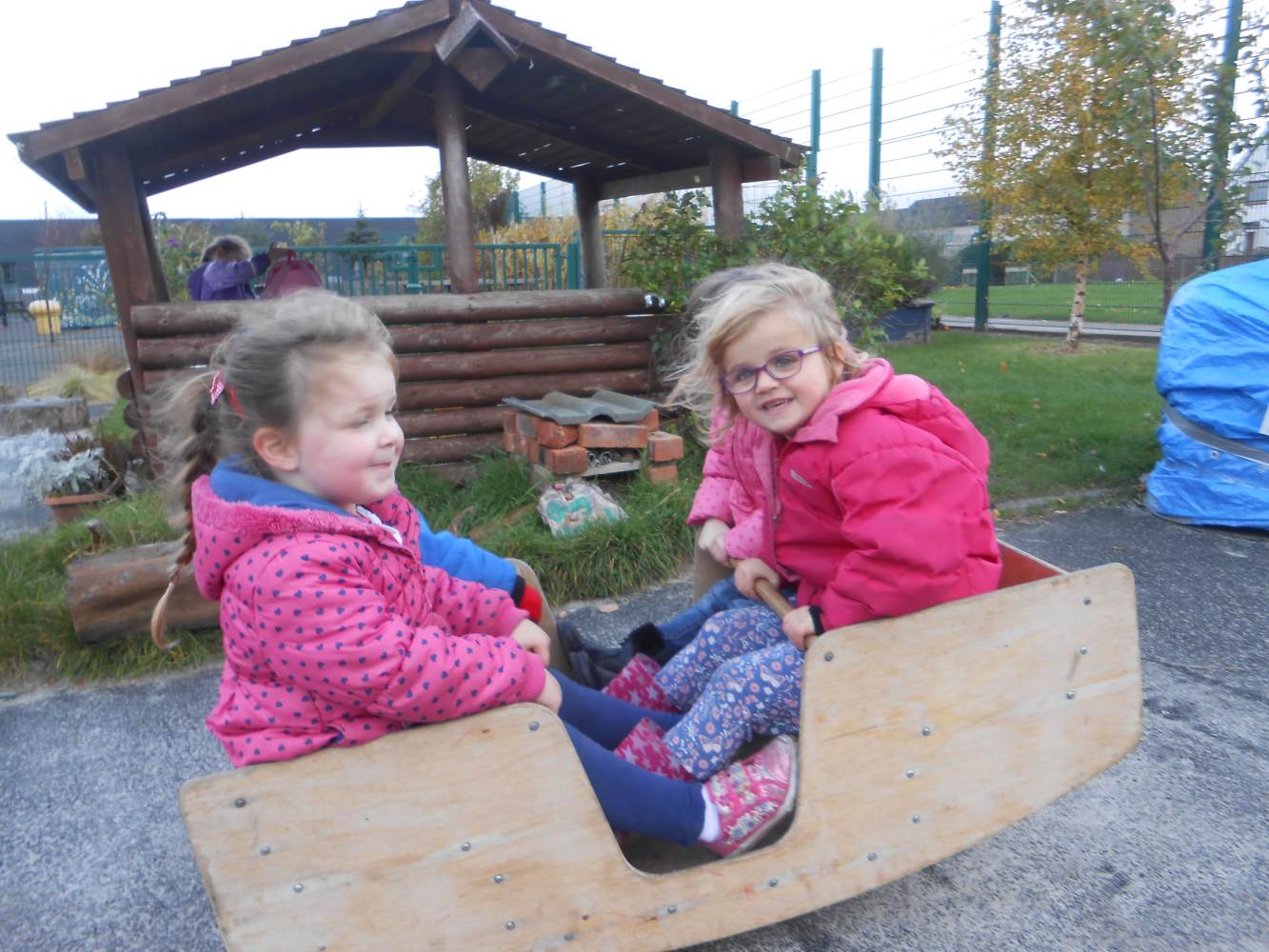 HELP - Snakes in the playground!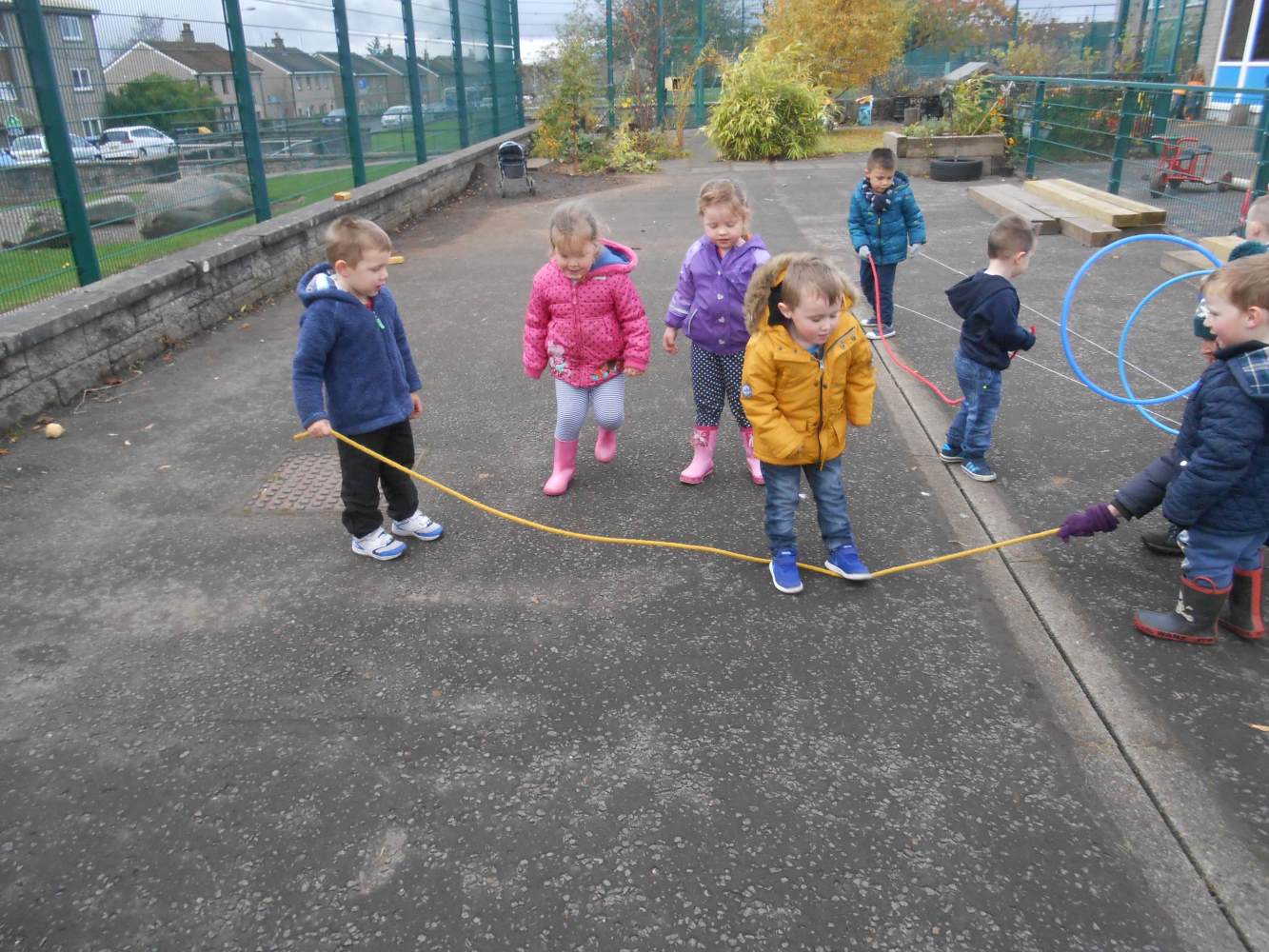 Our bikes getting serviced.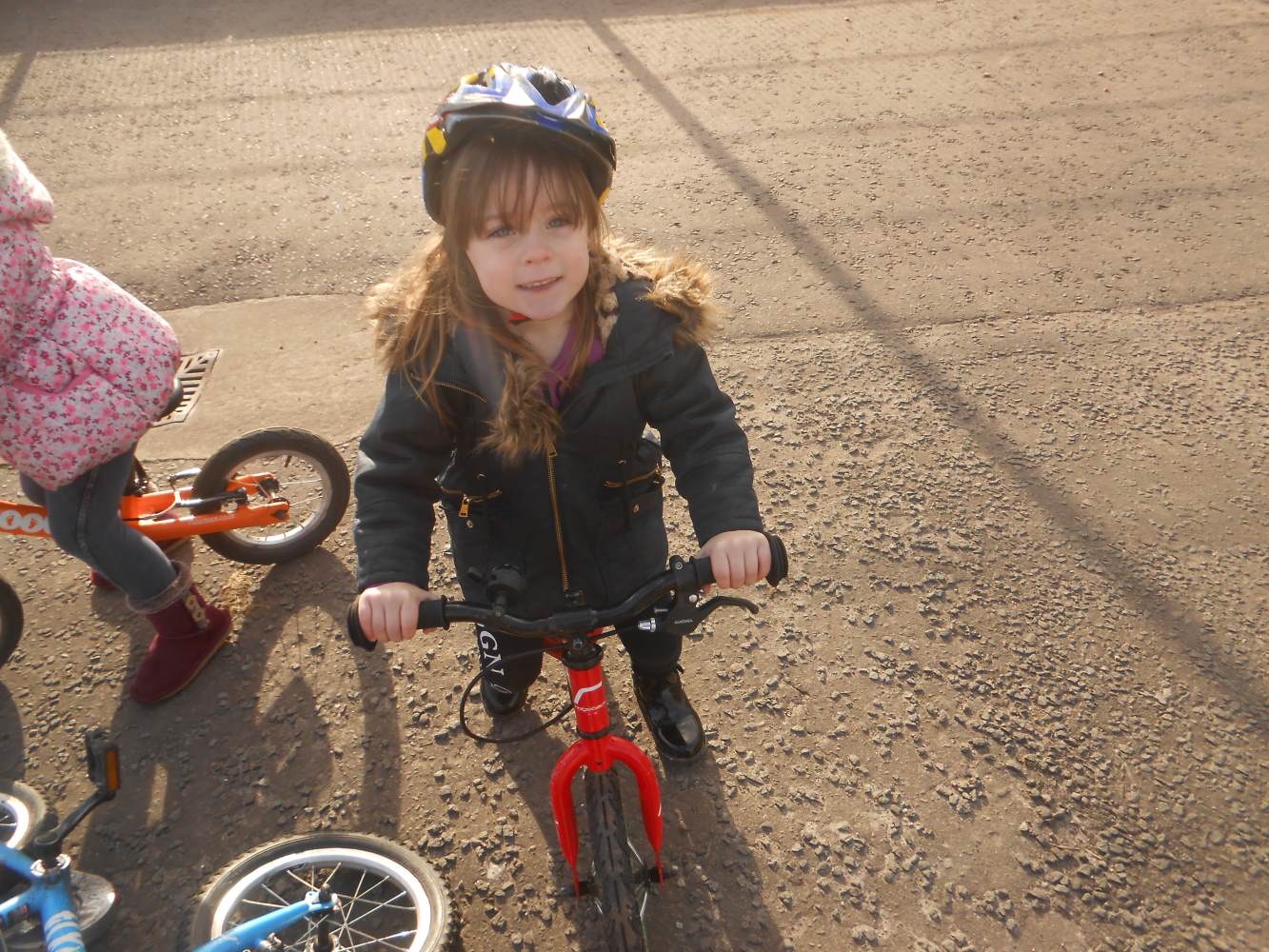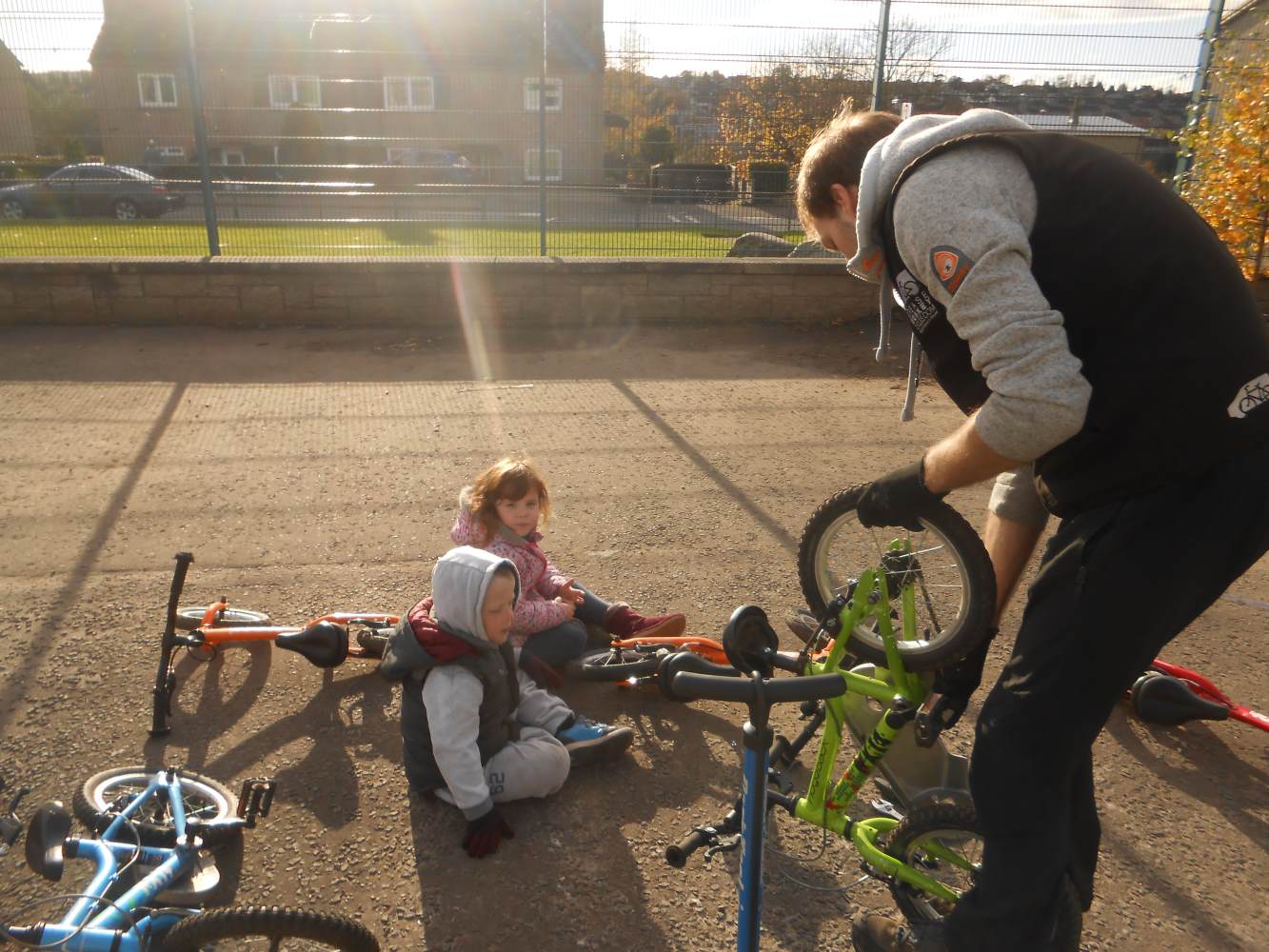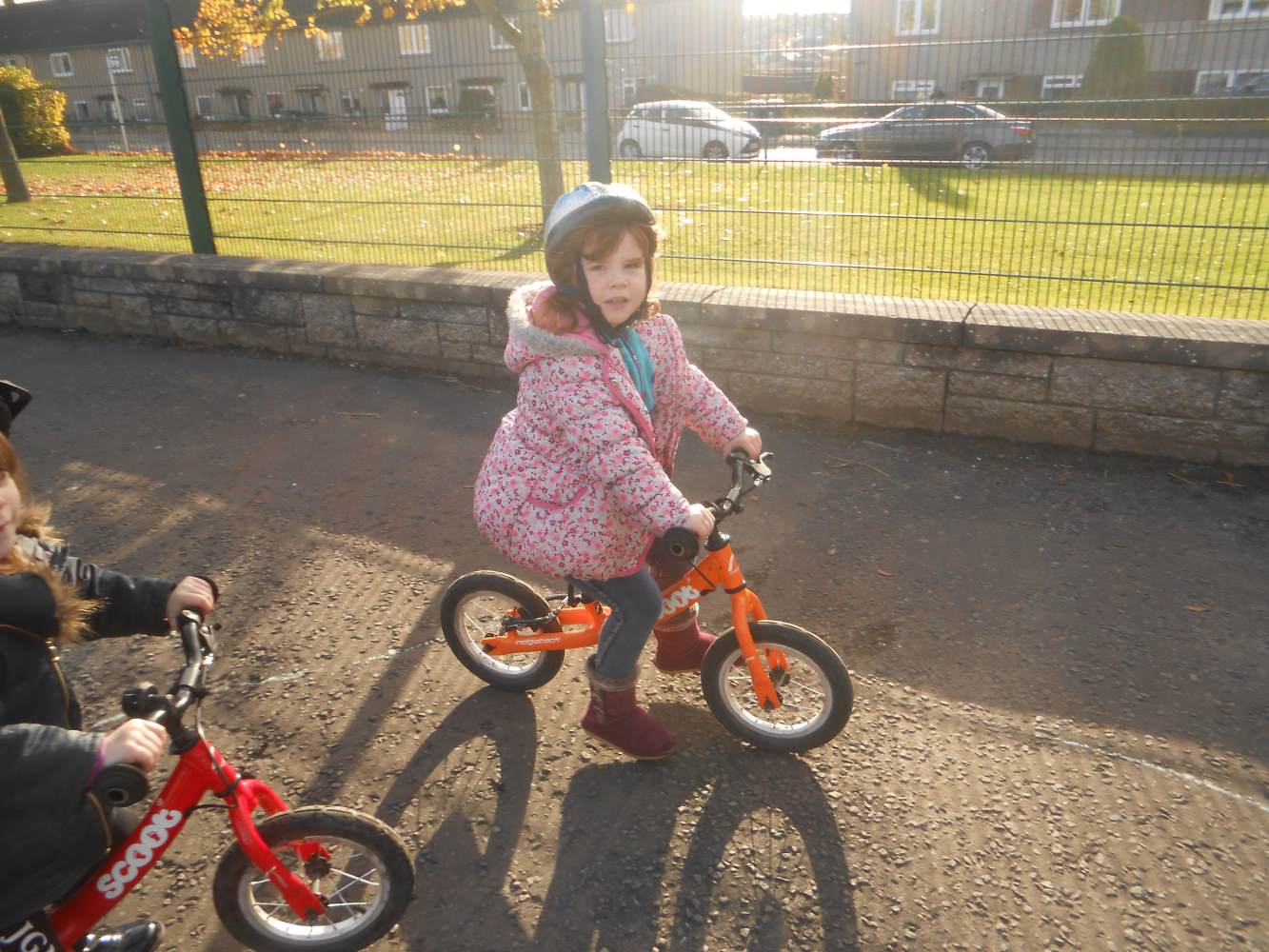 Thank you.
An investigation begins.
What happens to the puddles?
We drew chalk marks around the puddles.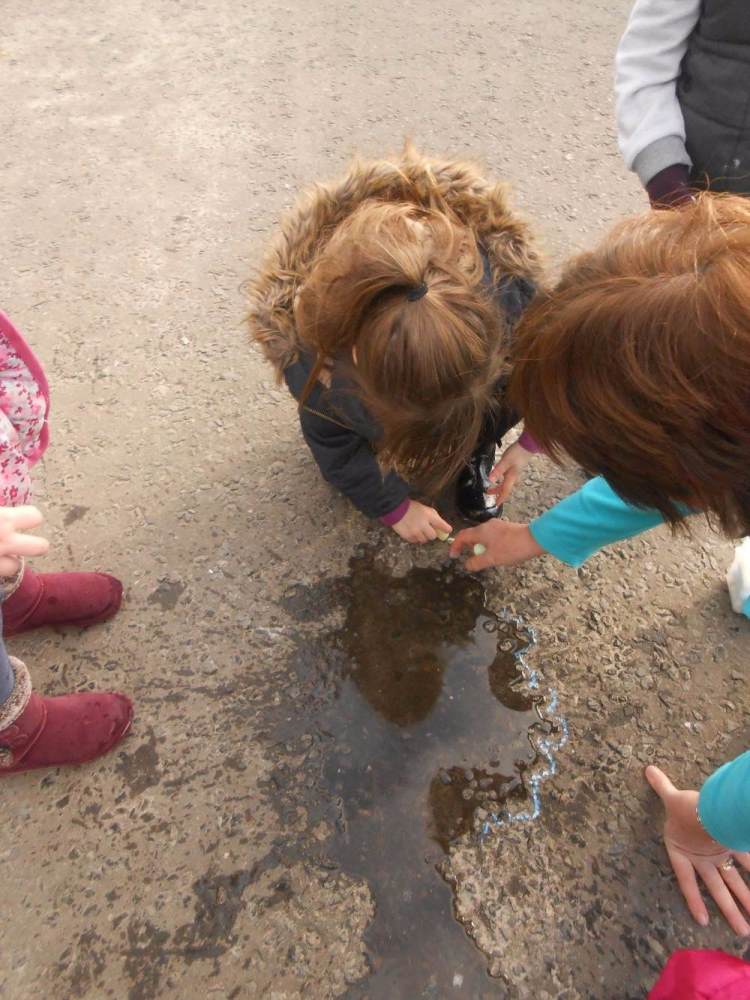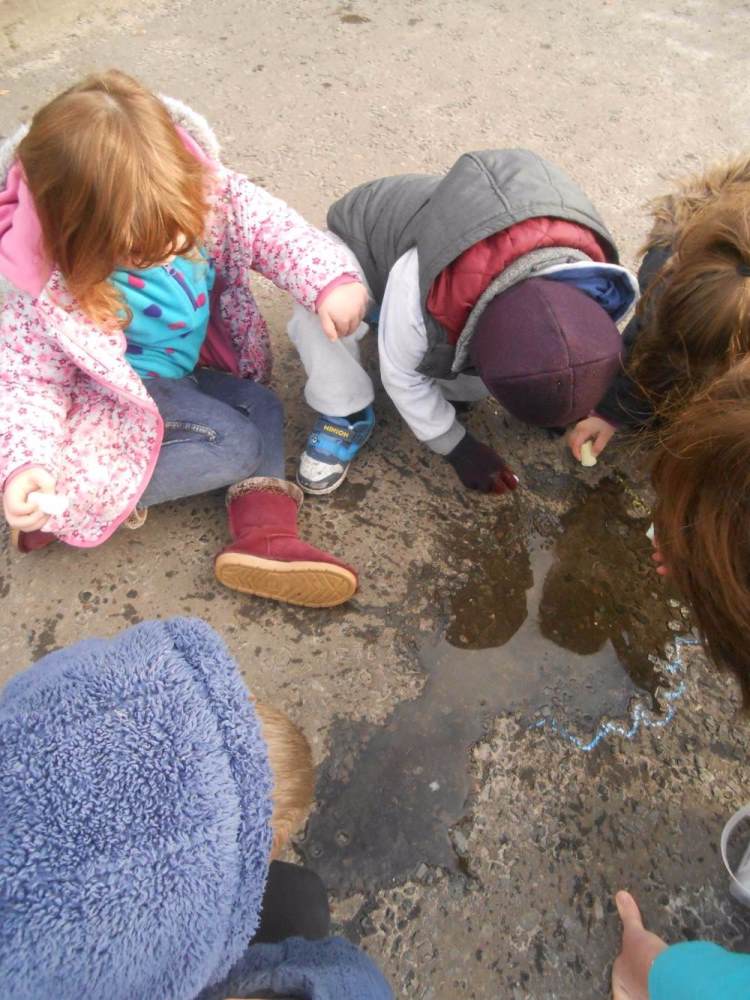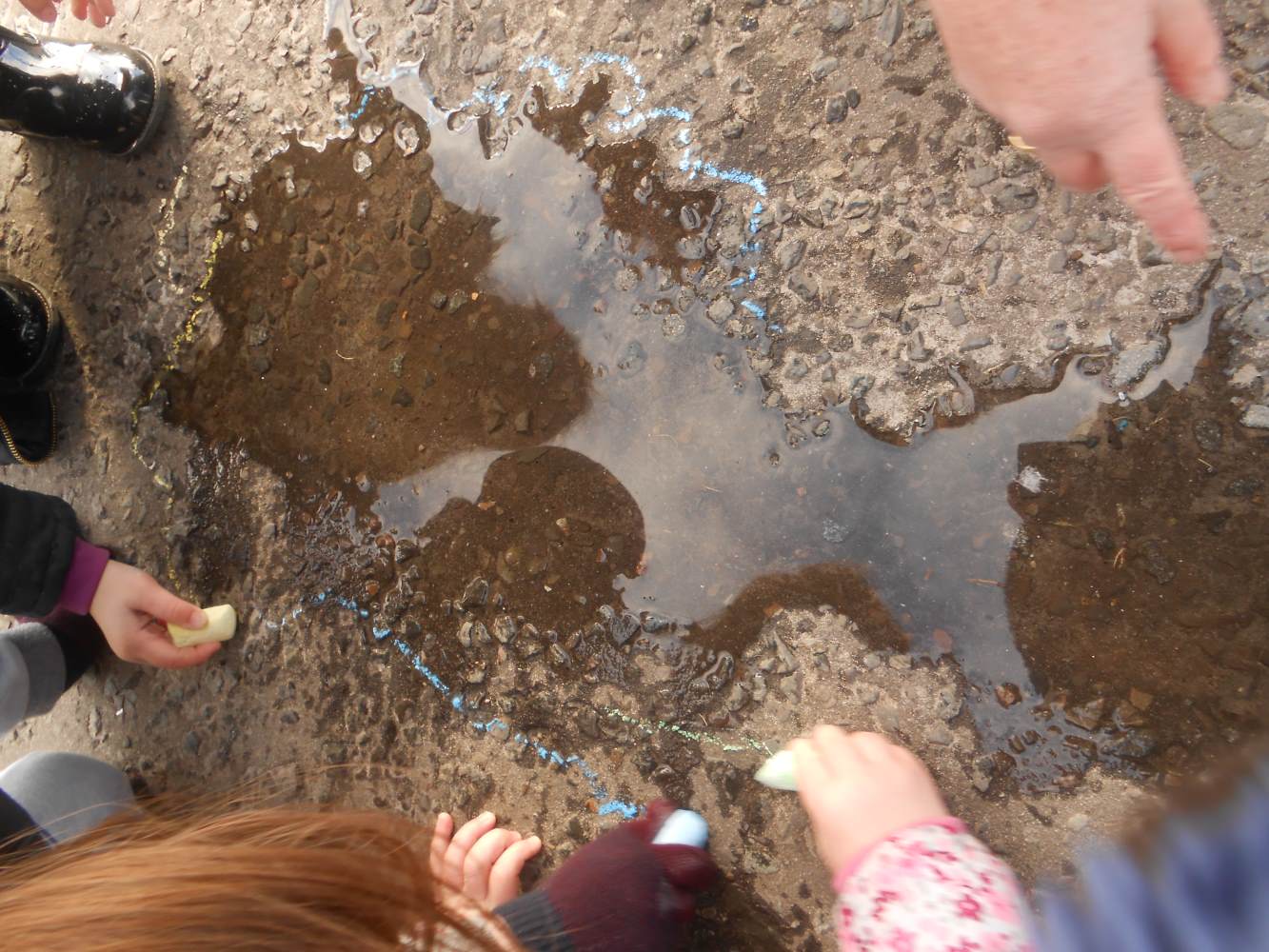 When we went back the water had gone. It was suggest the sun had dried it all up and it had gone back into the sky.
What will sink and what will float?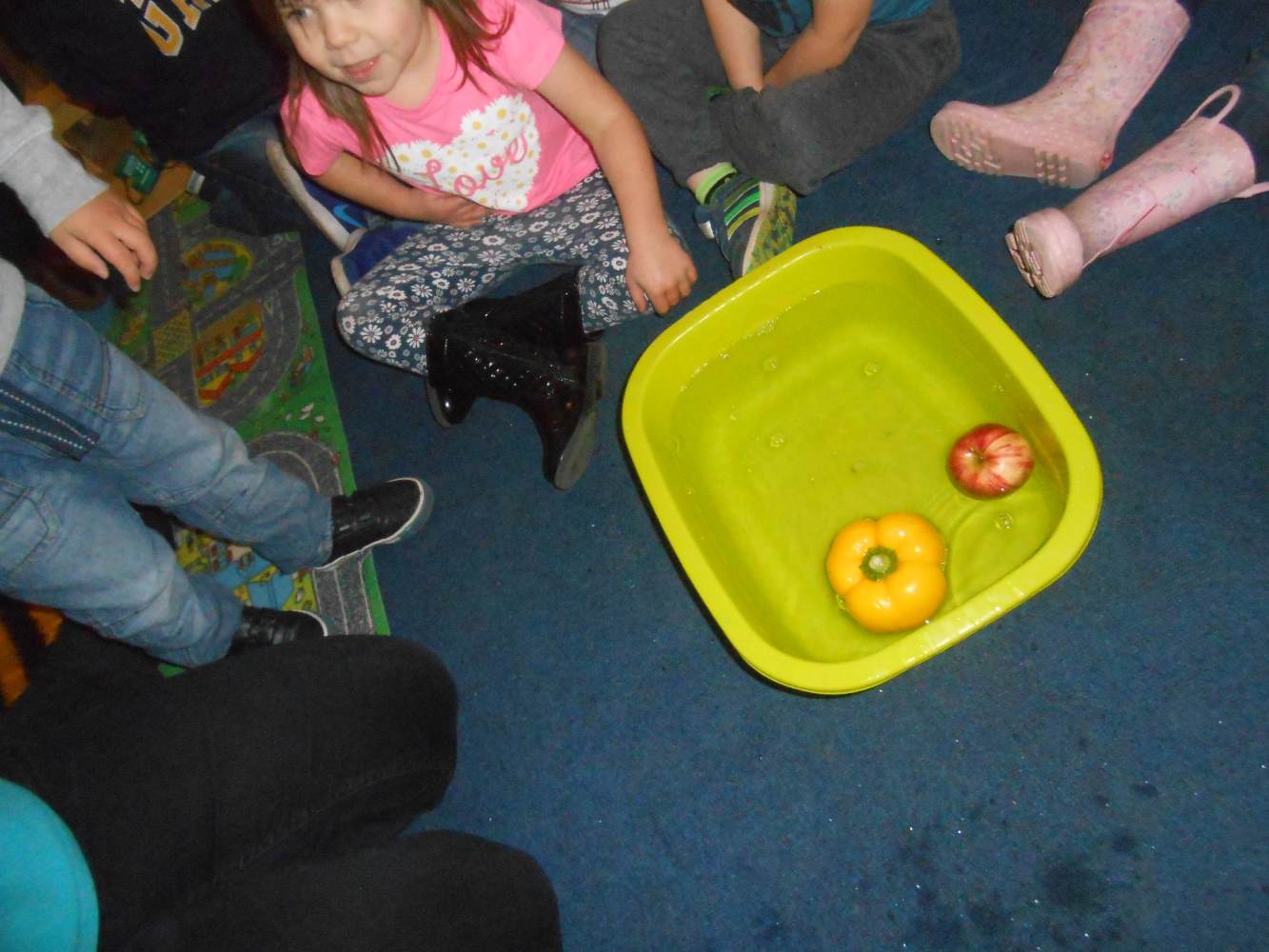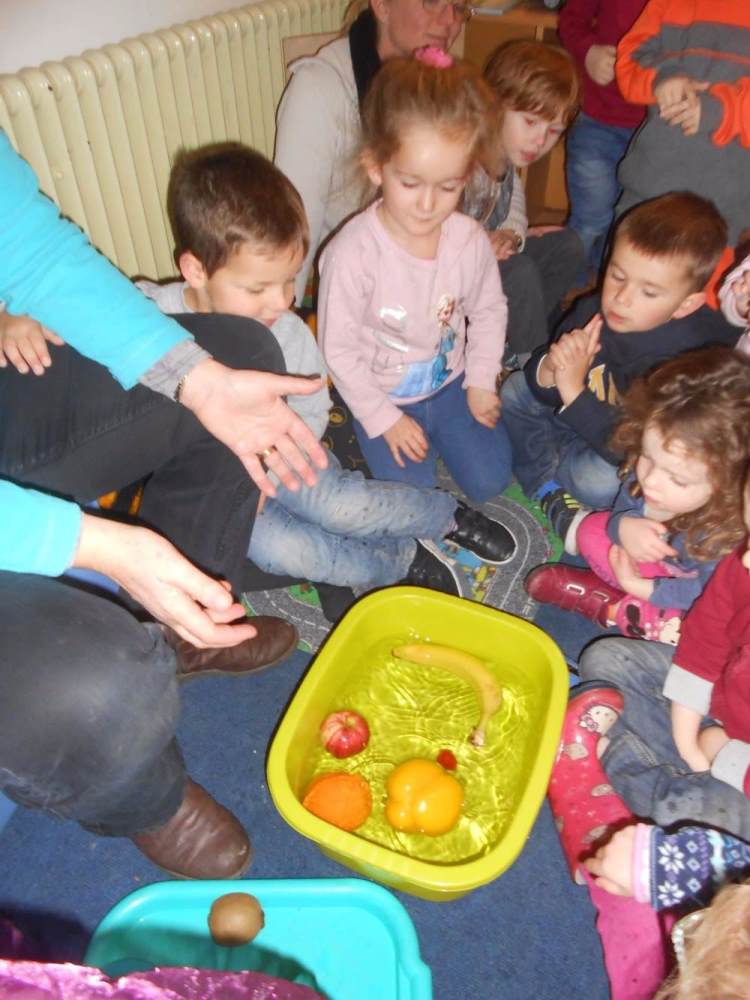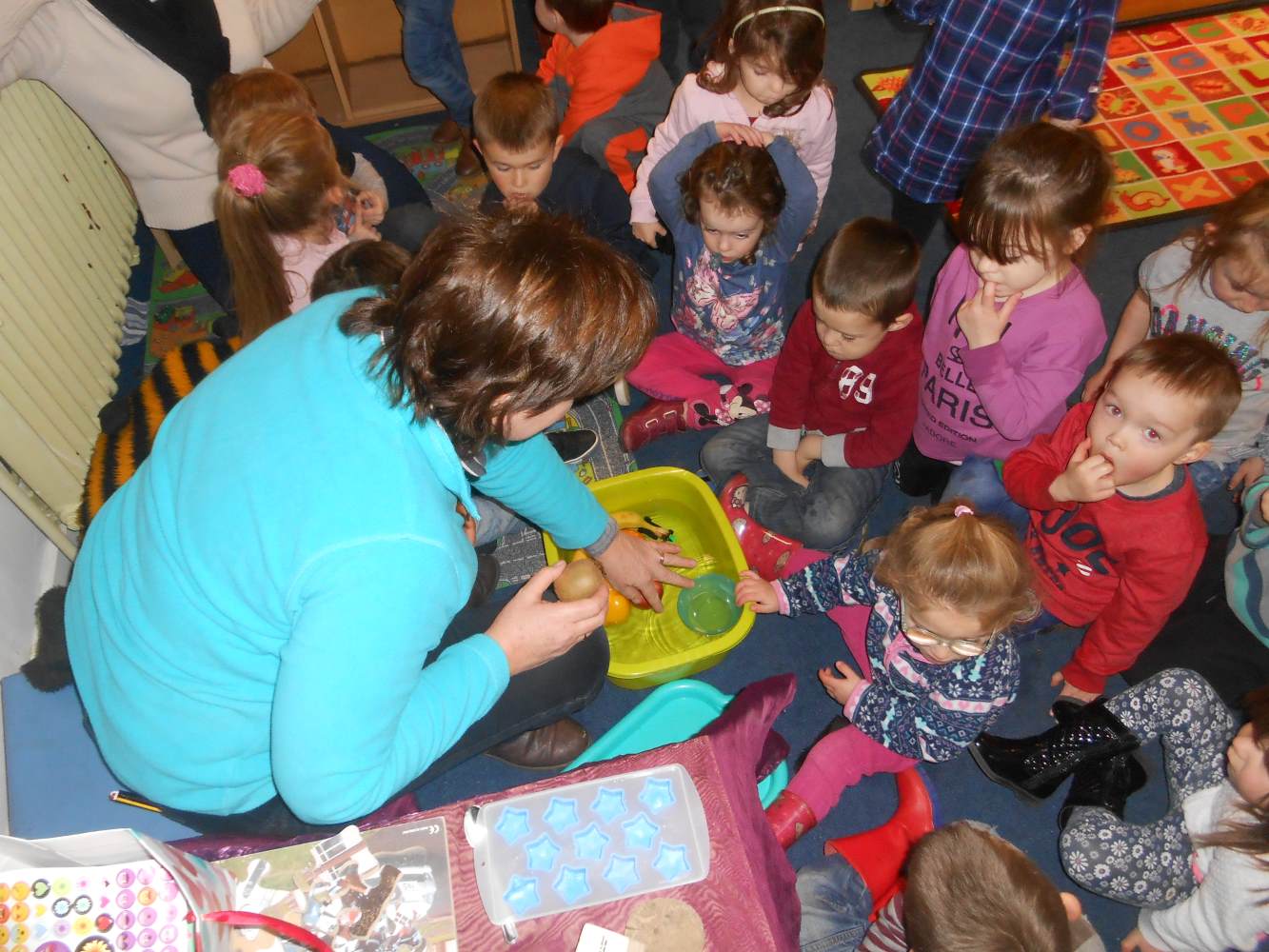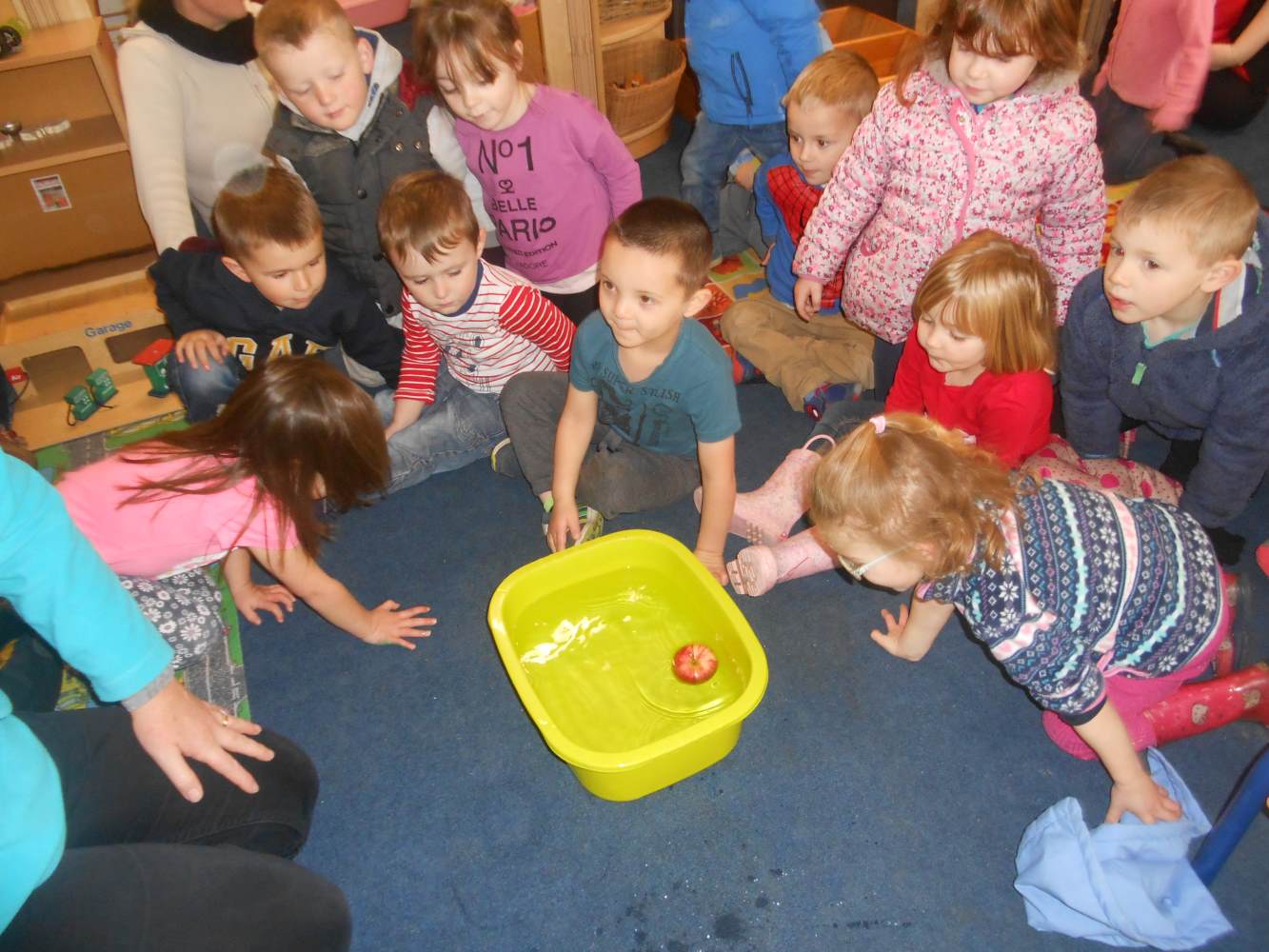 Exploring ice.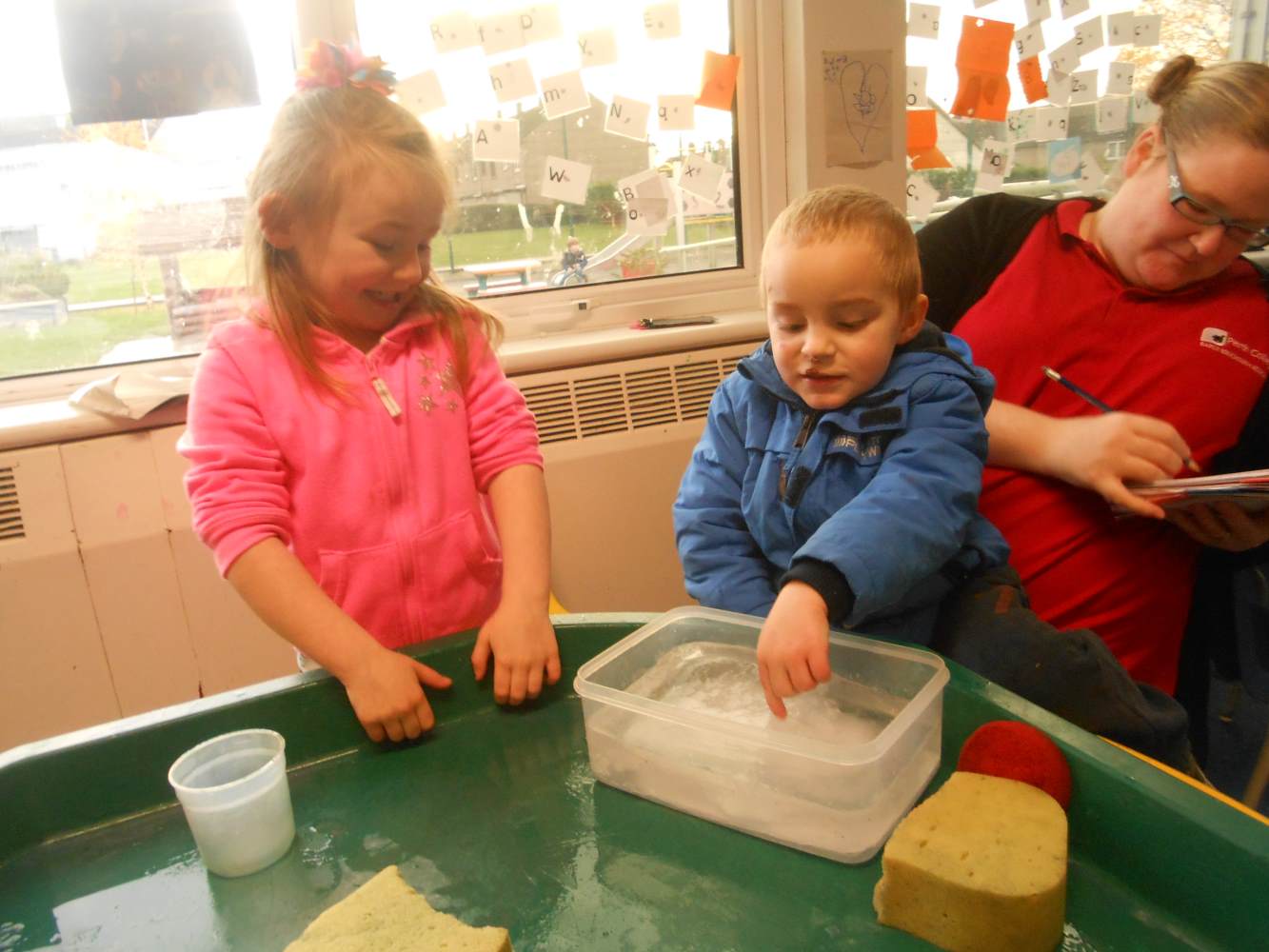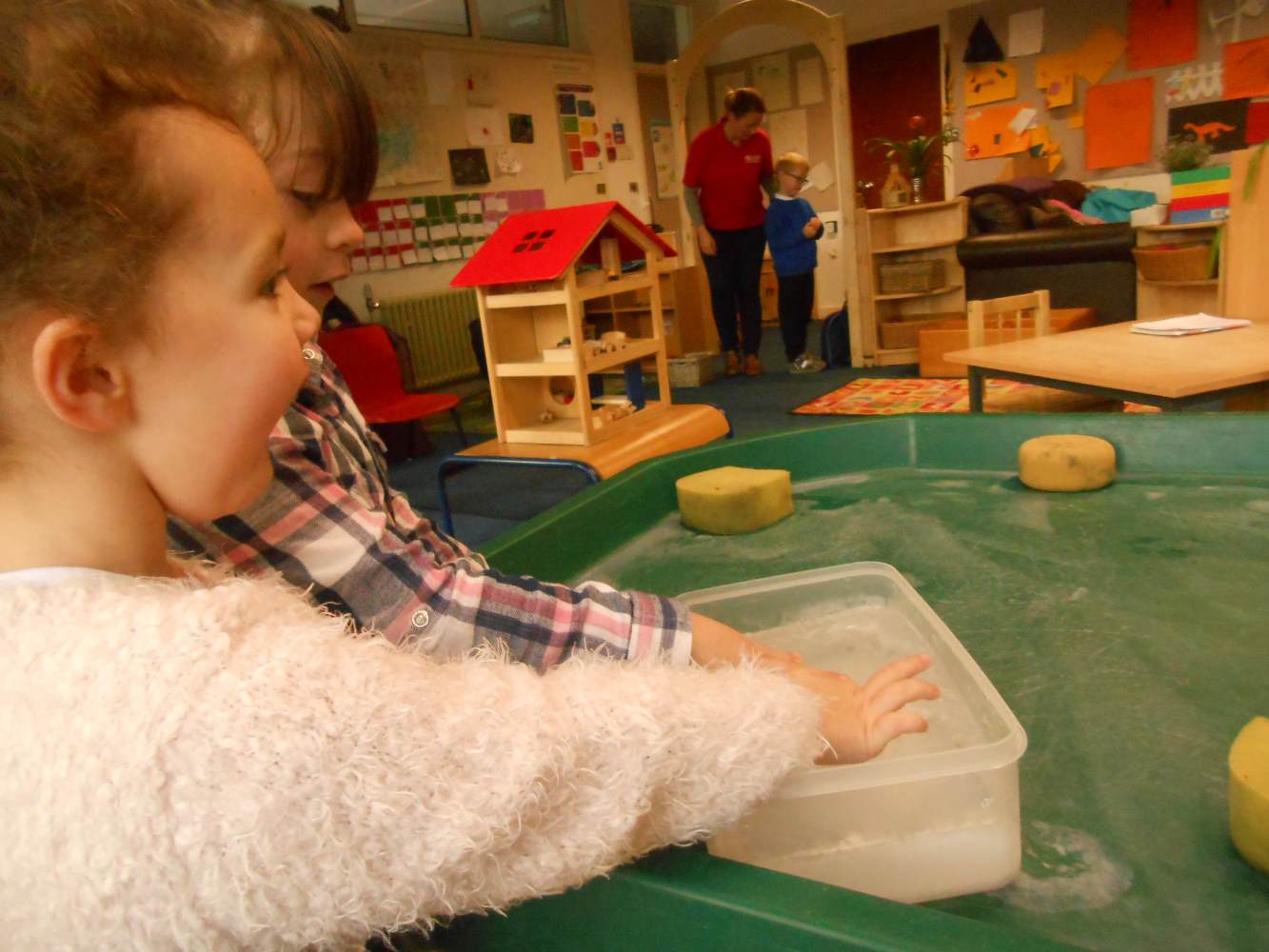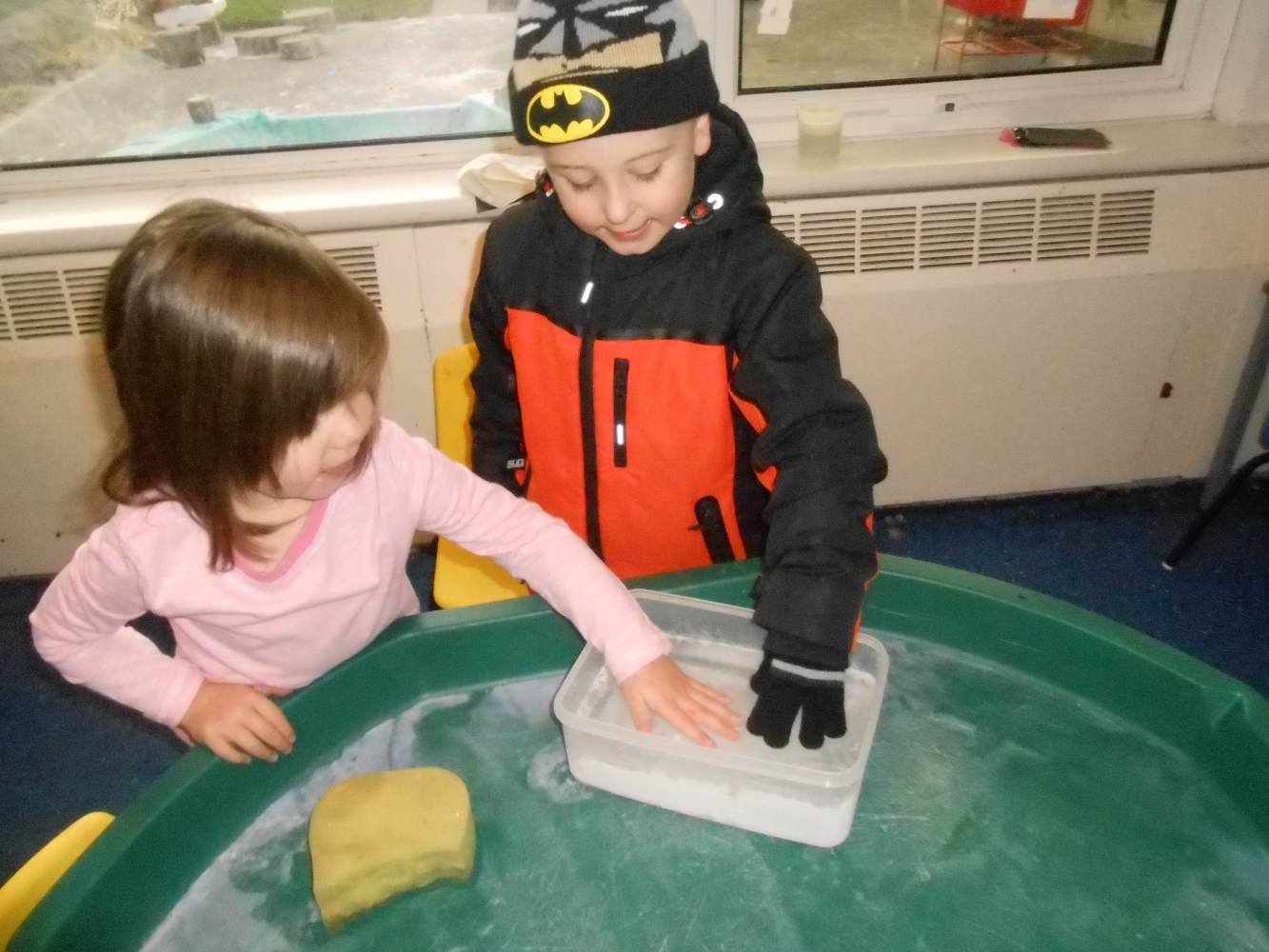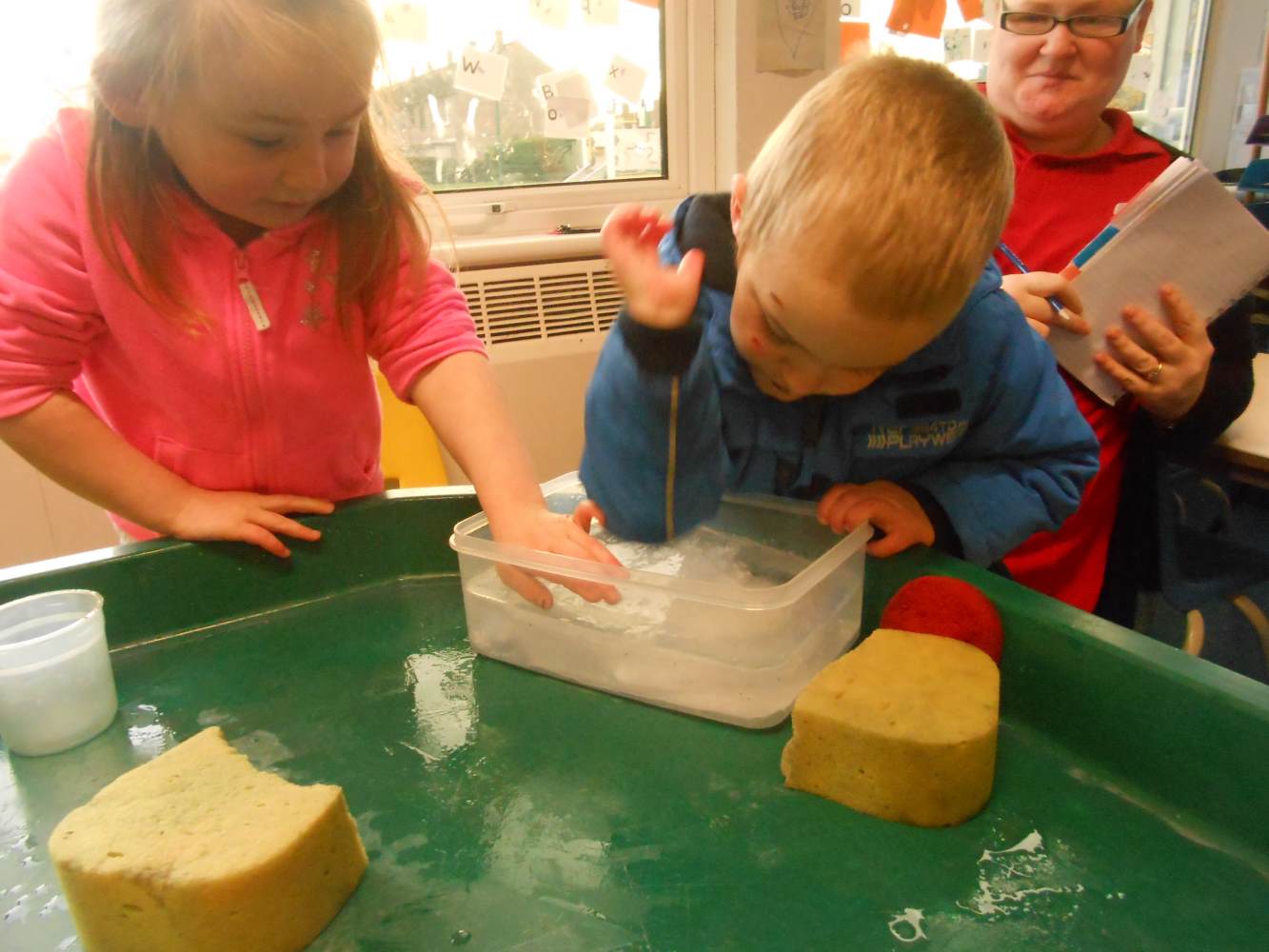 Remember remember the 5th of November bonfire, hot chocolate and toasted marshmallows.
Mrs Mclivride and Mrs McColl provided some pre bonfire entertainment.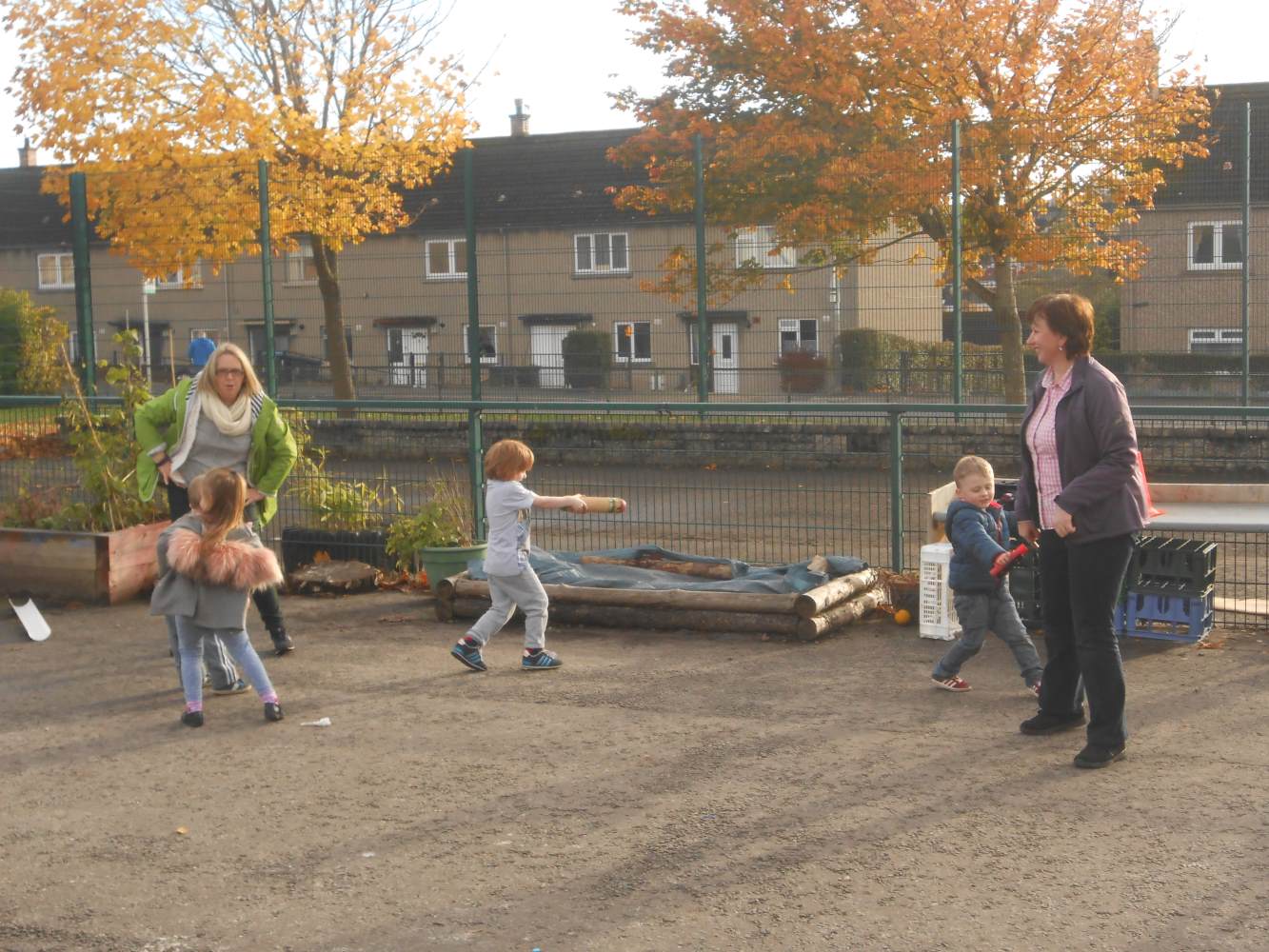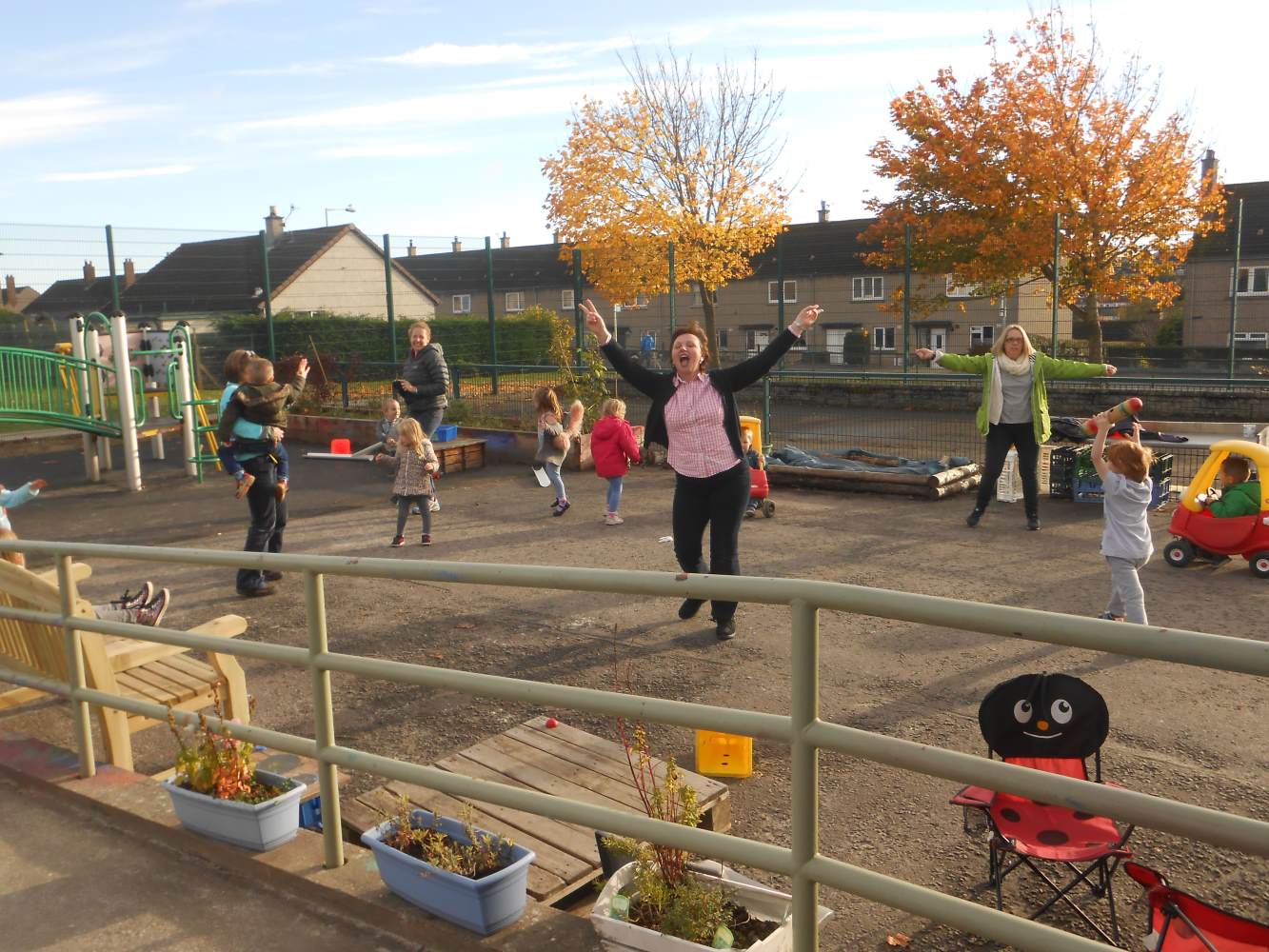 When it was bonfire time we had to all remember to stay outside the chalk line to keep safe.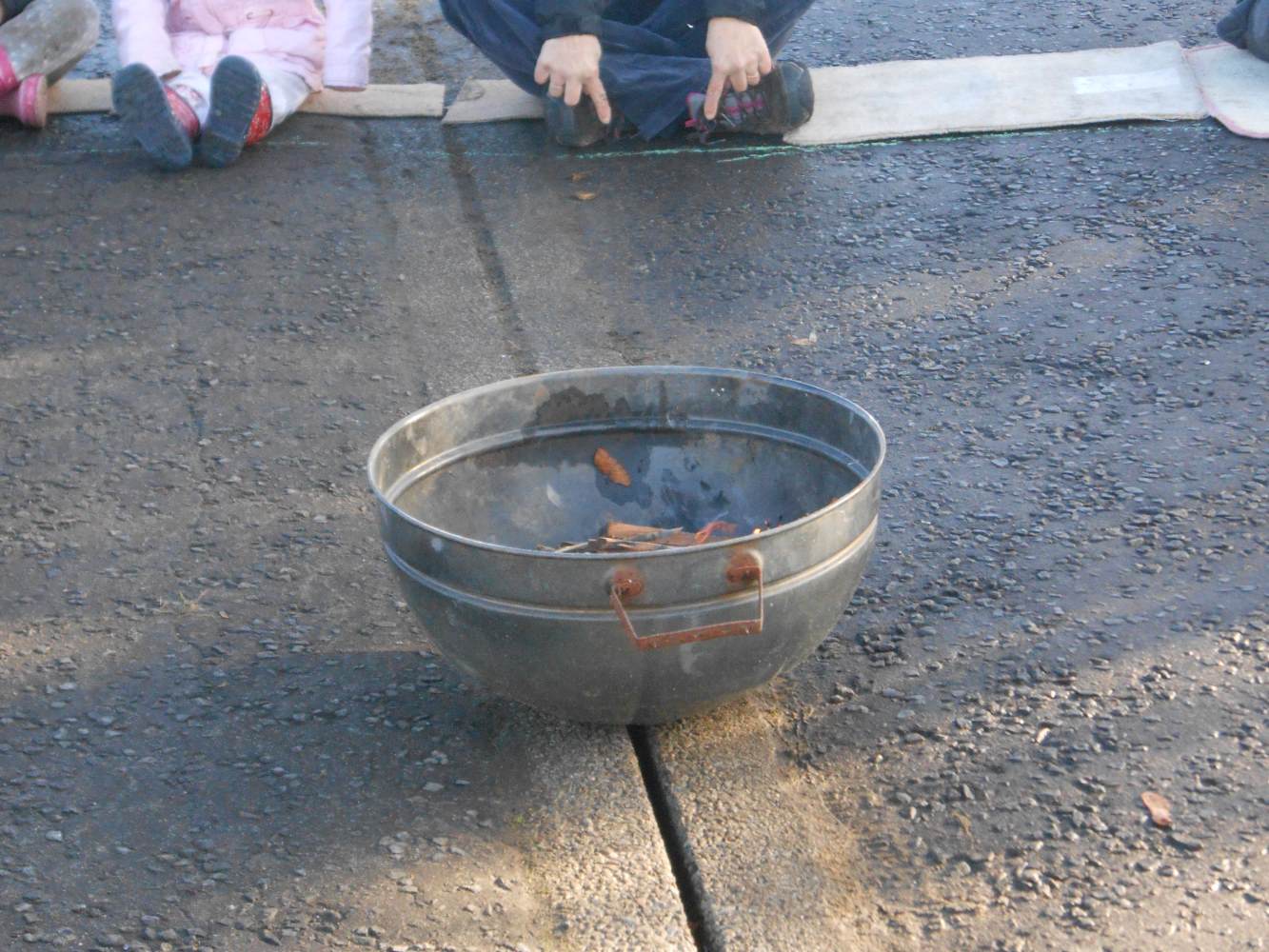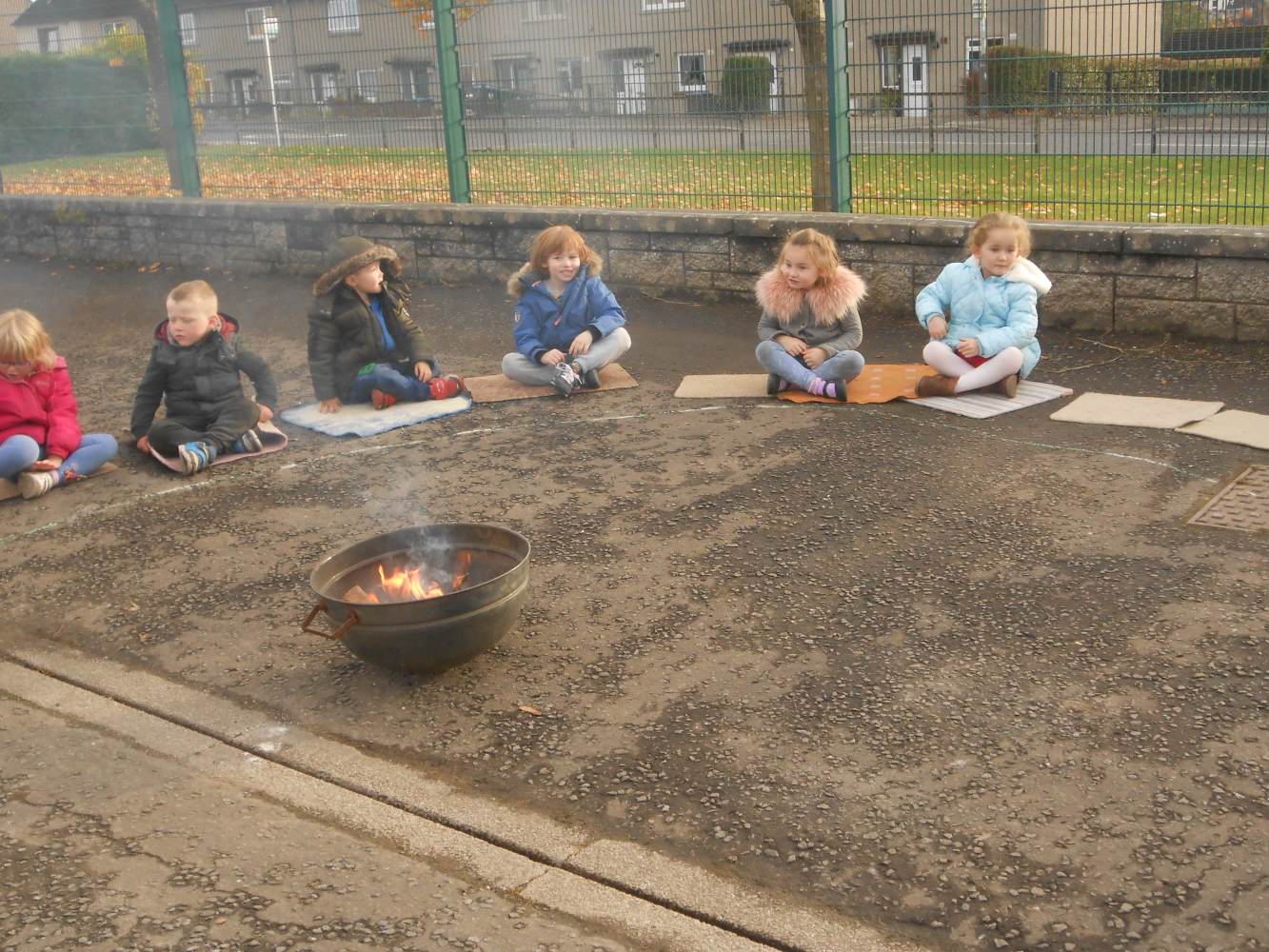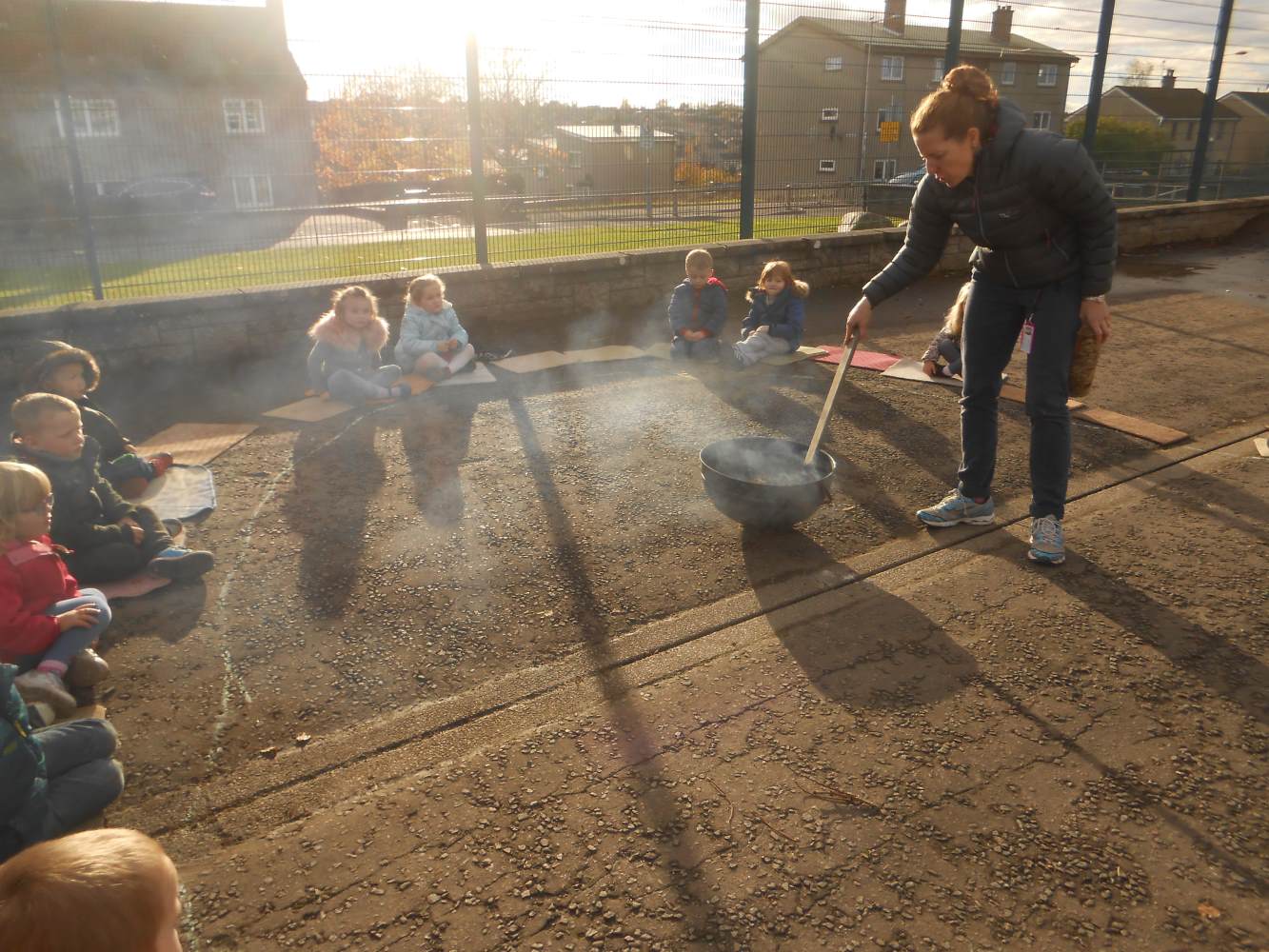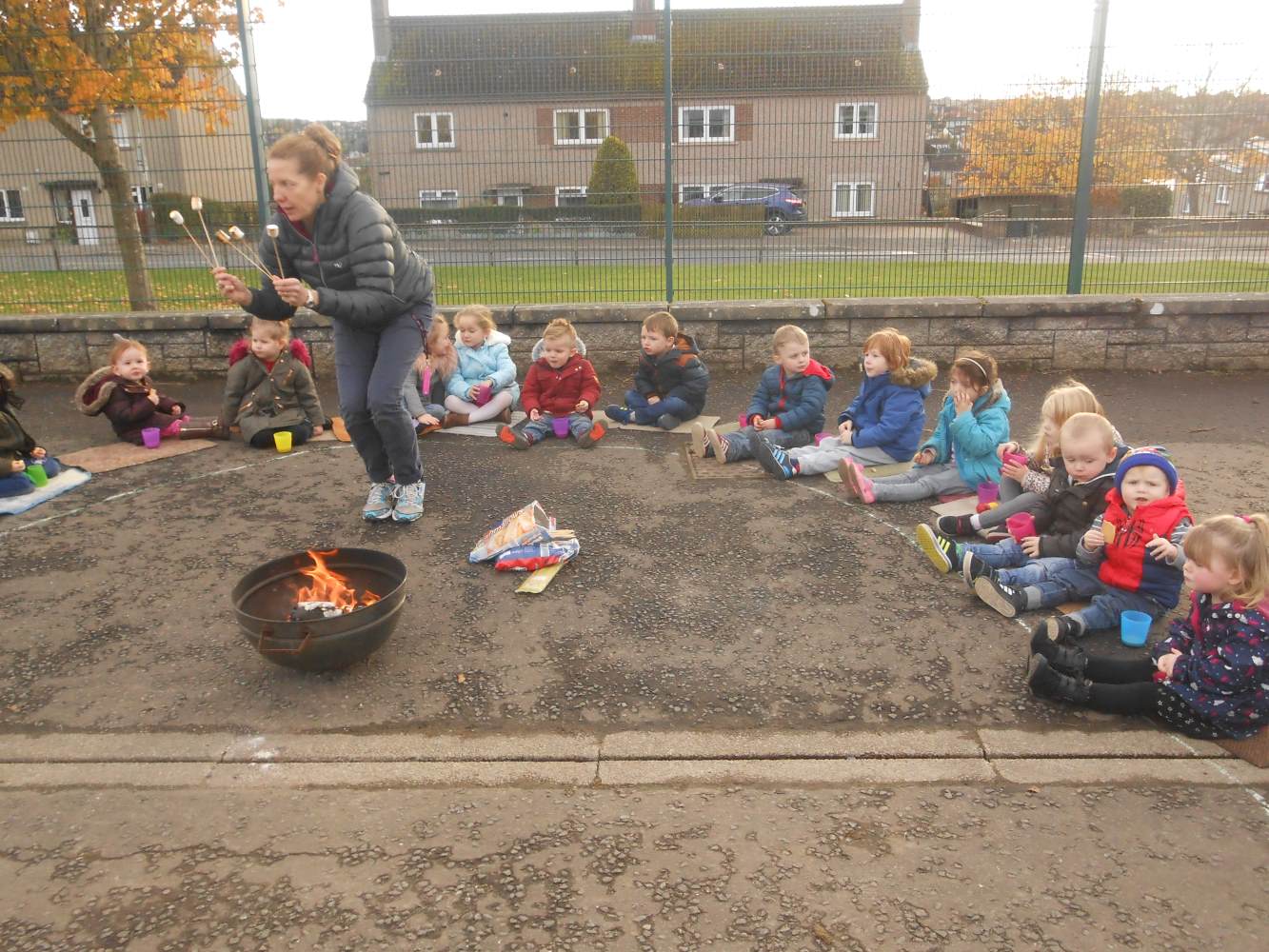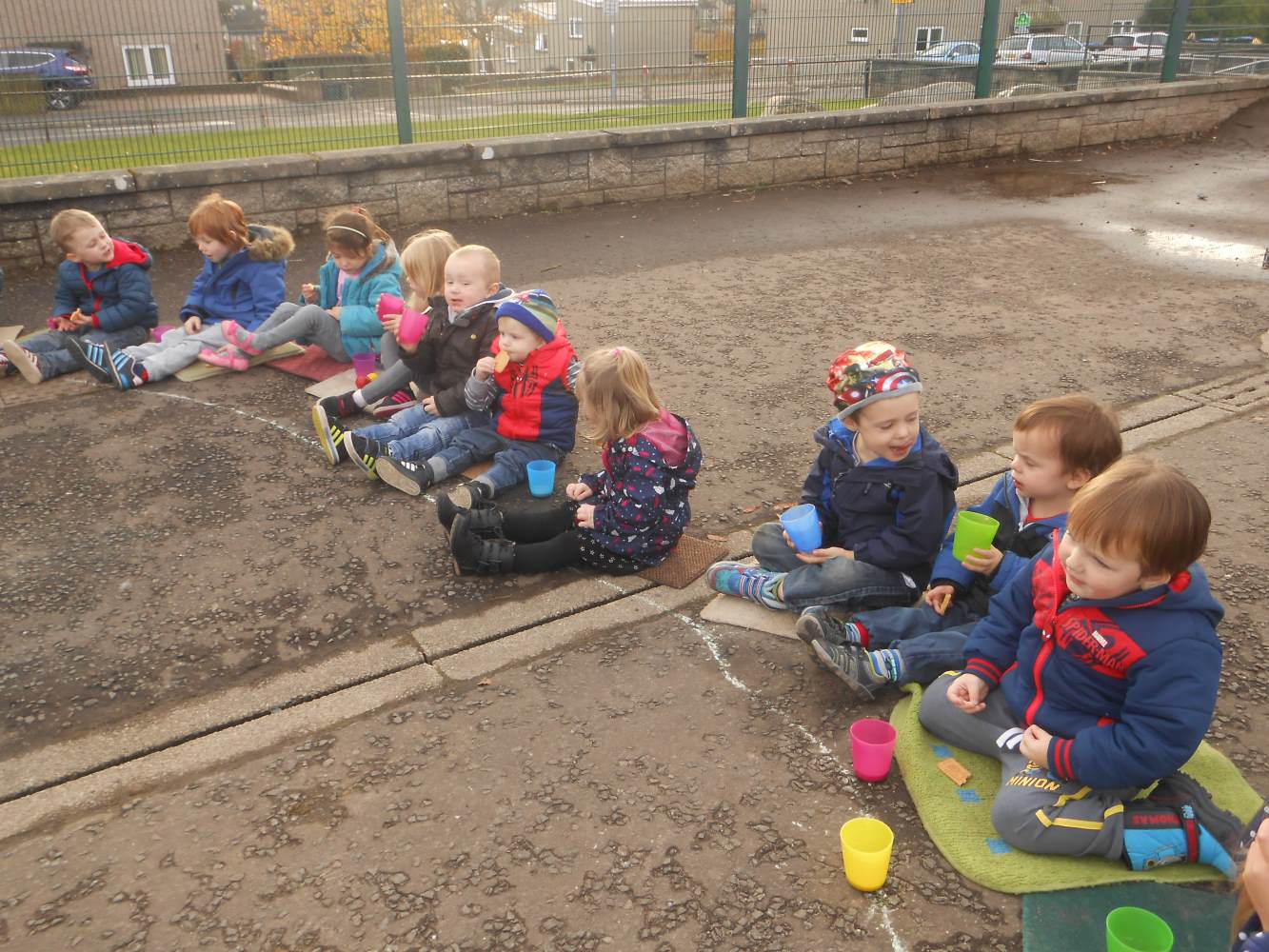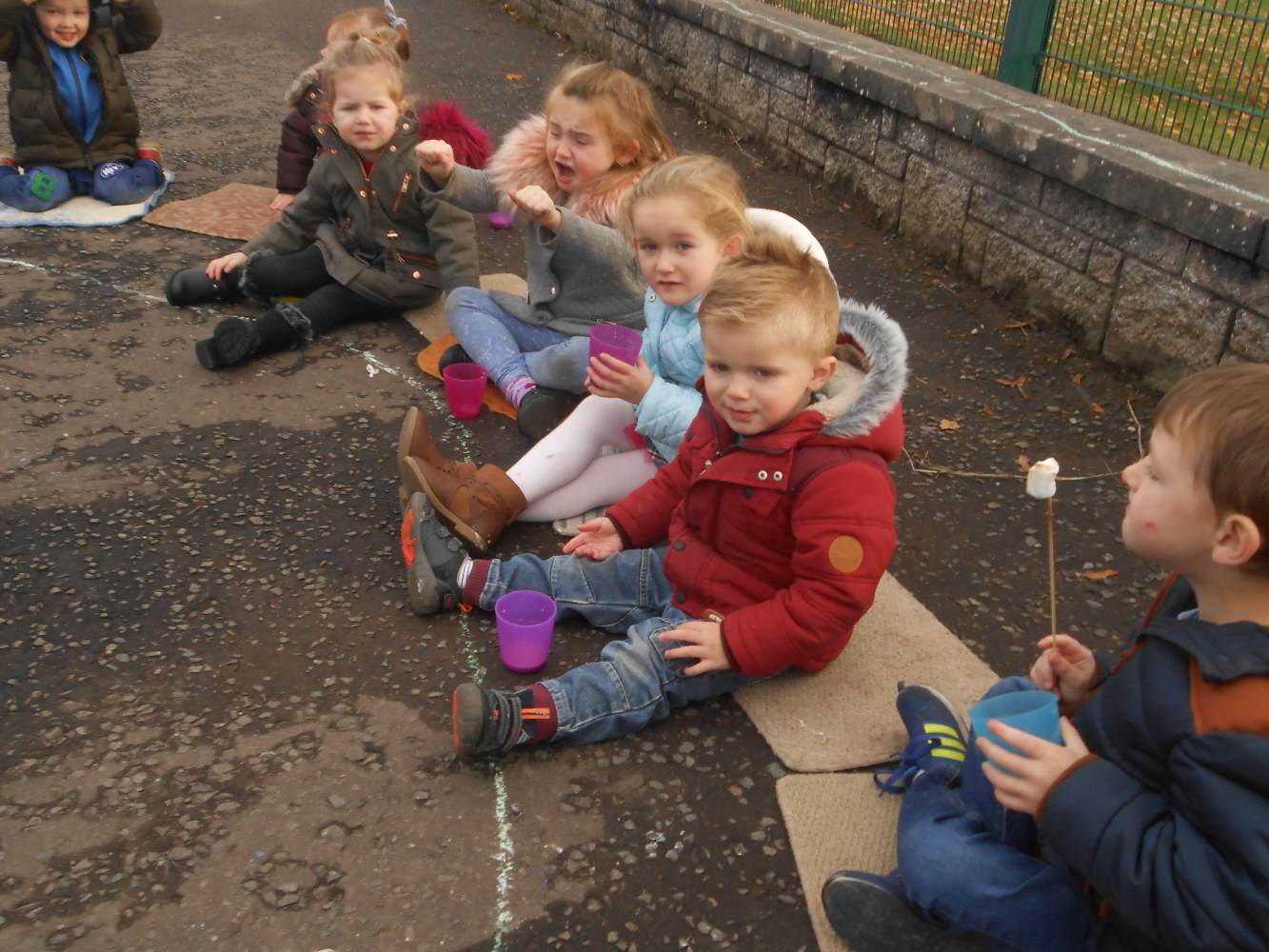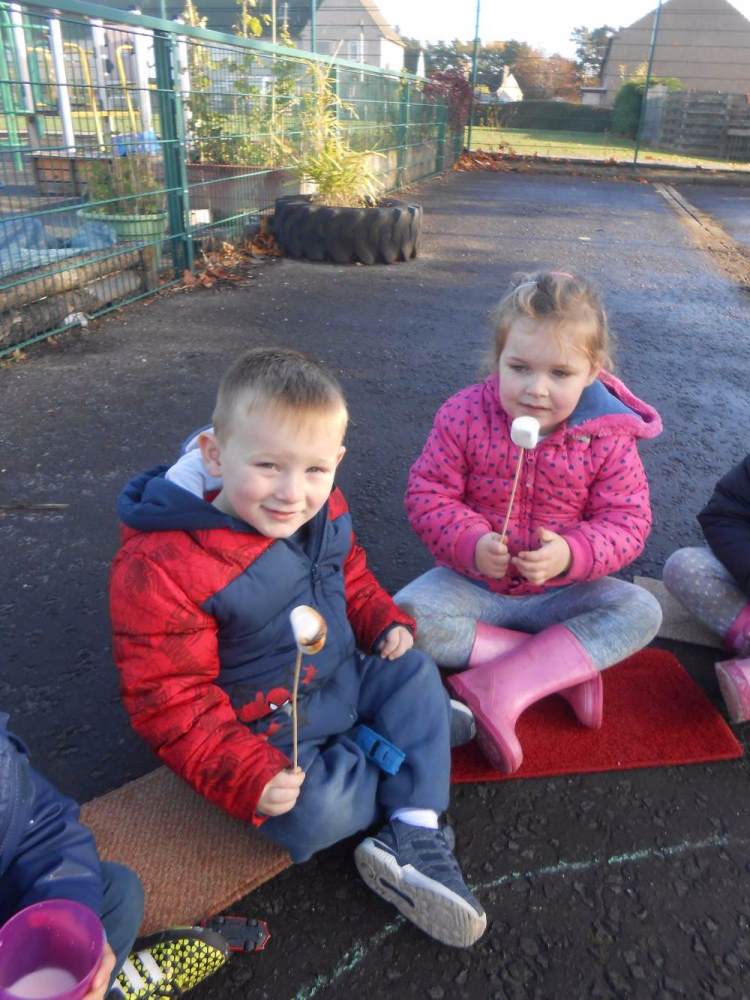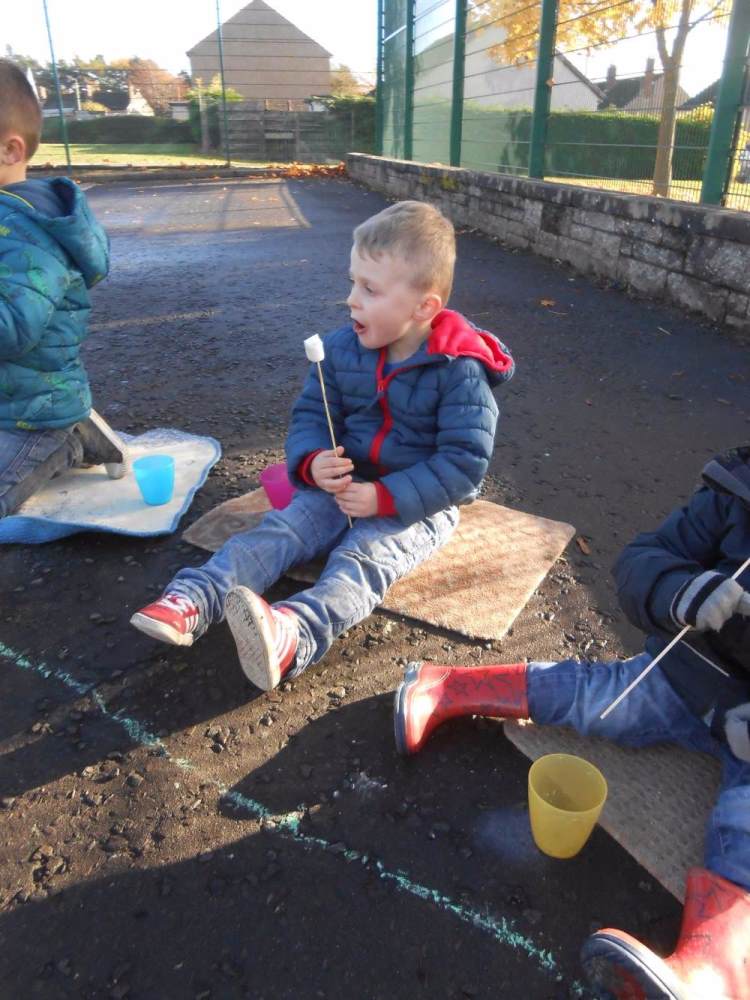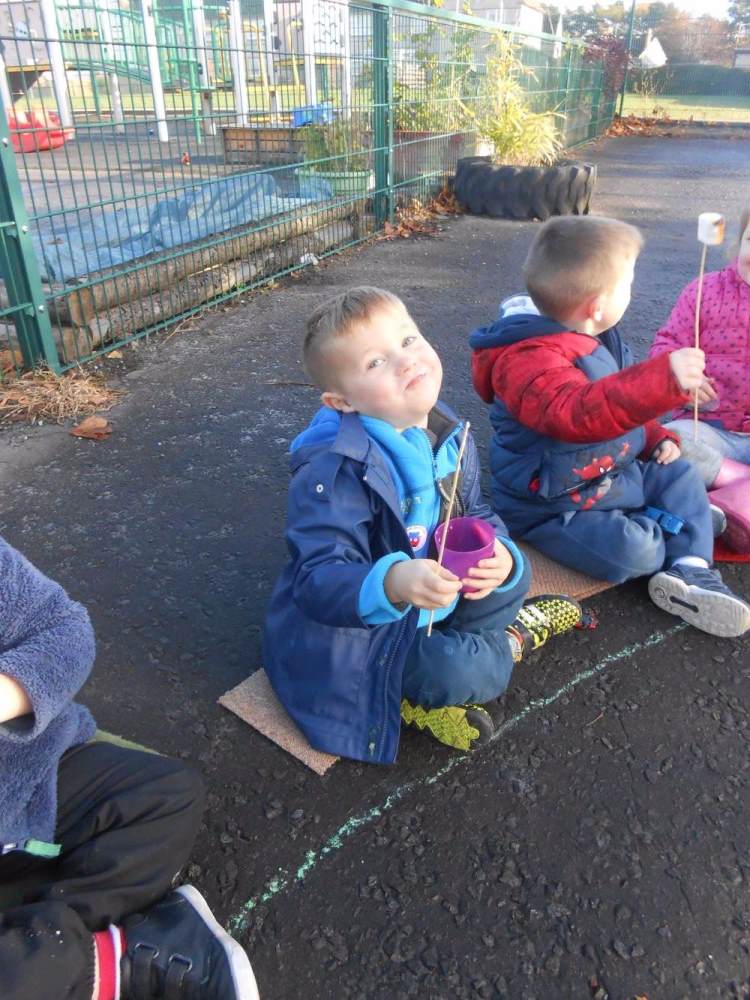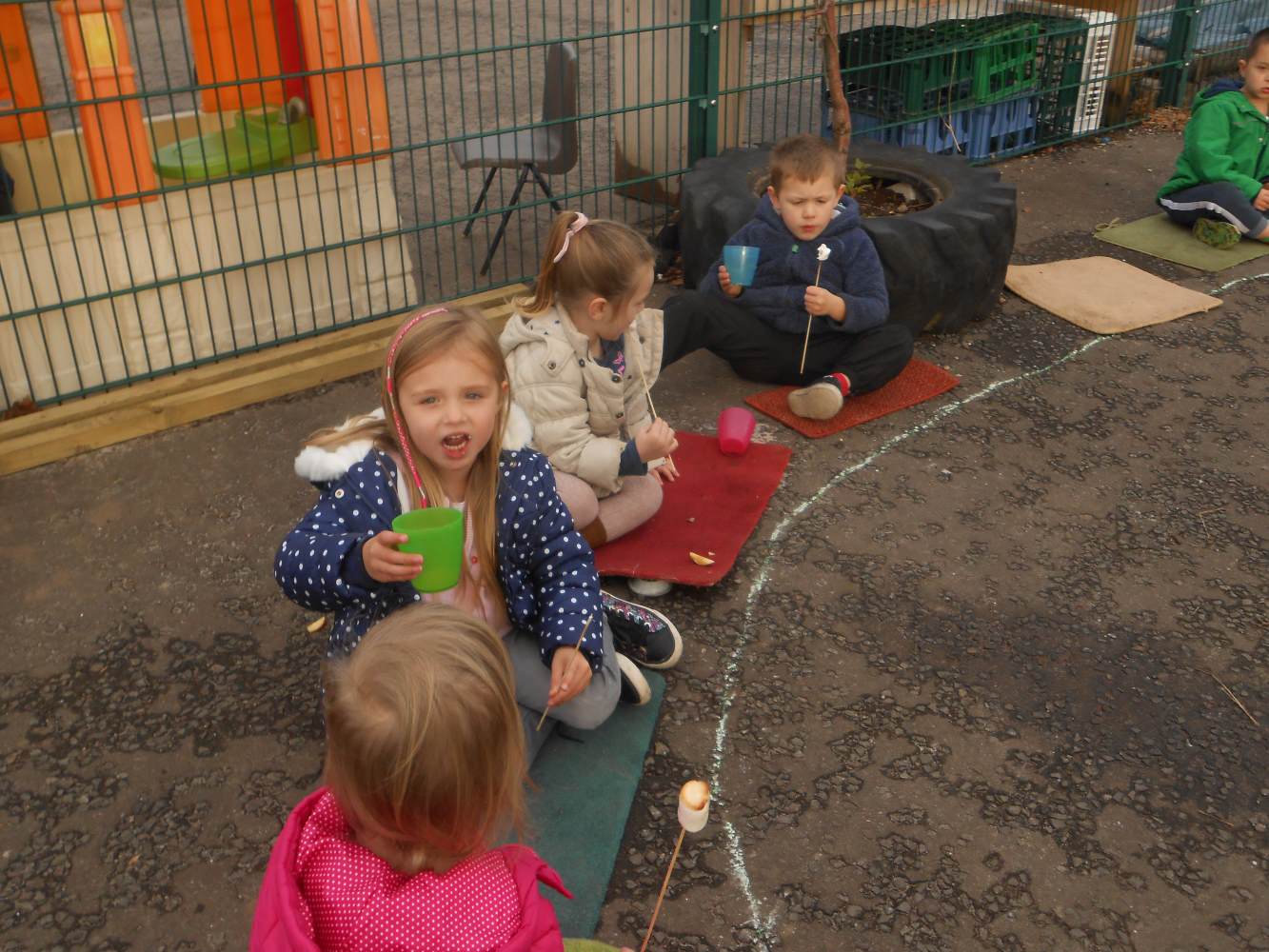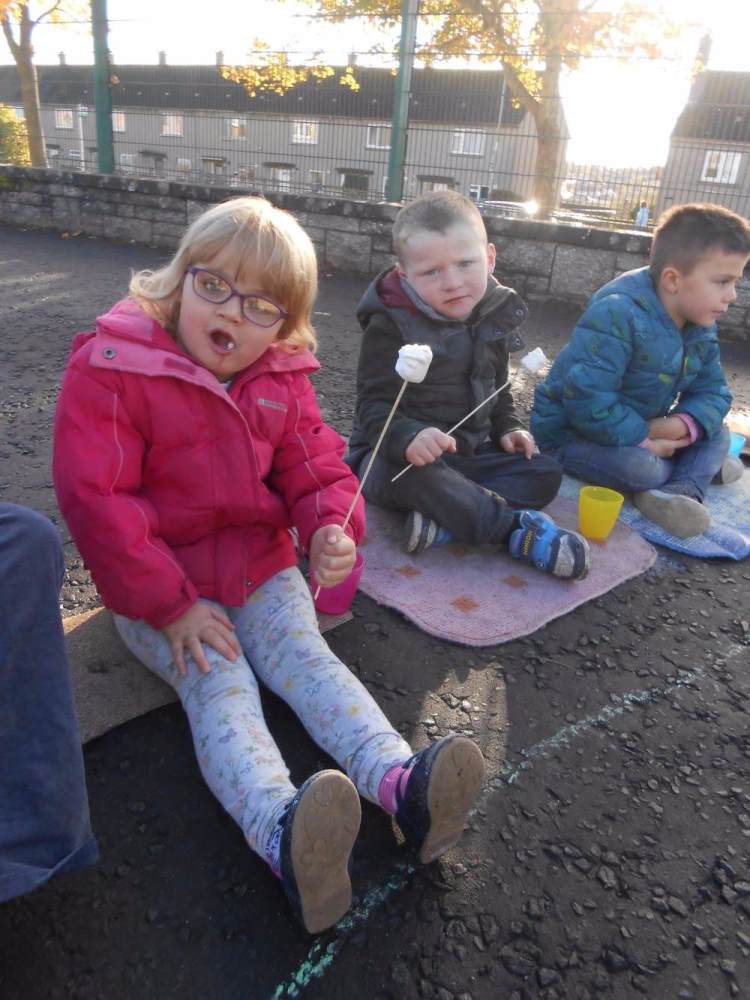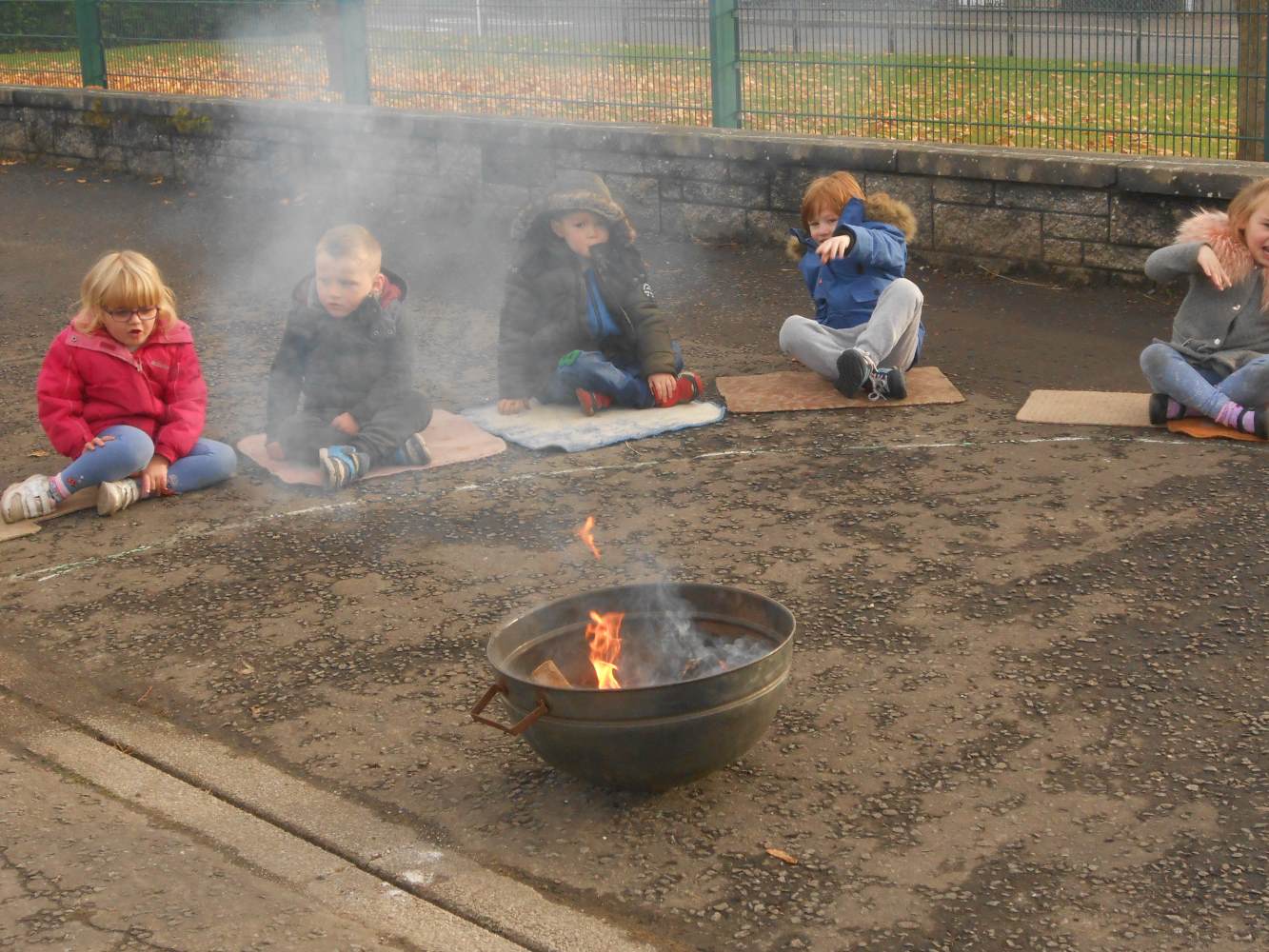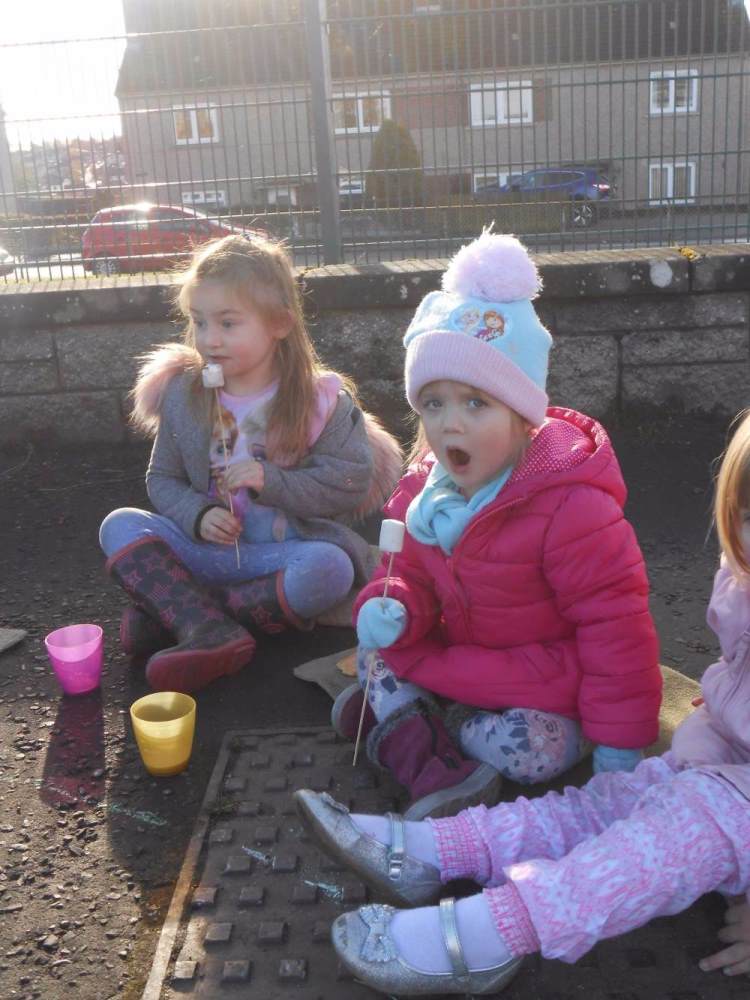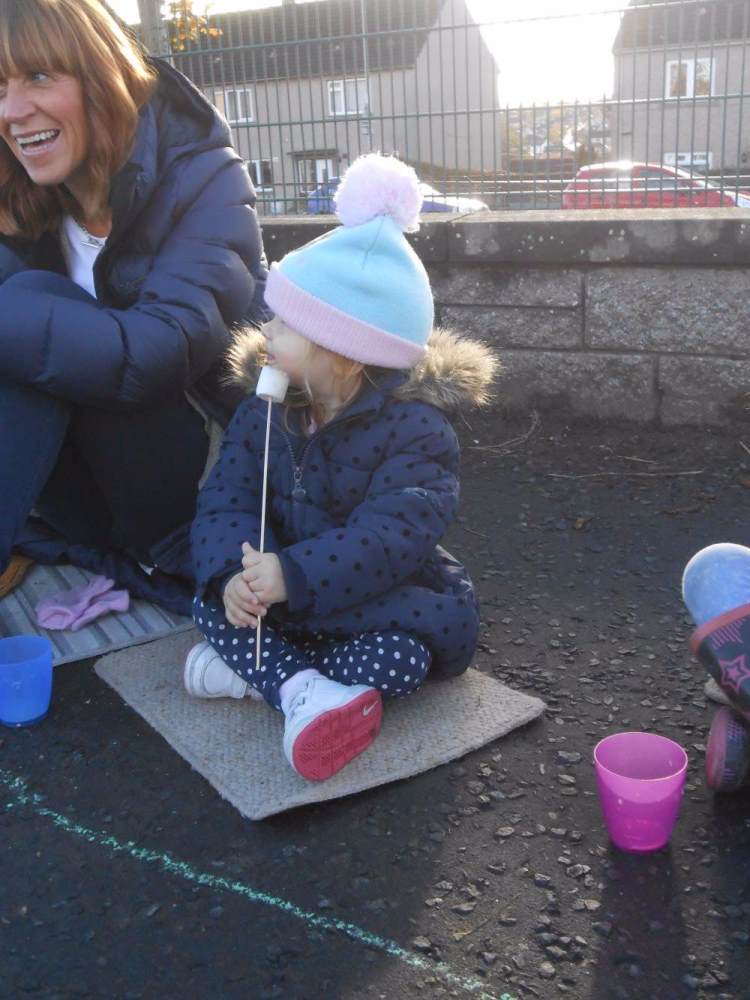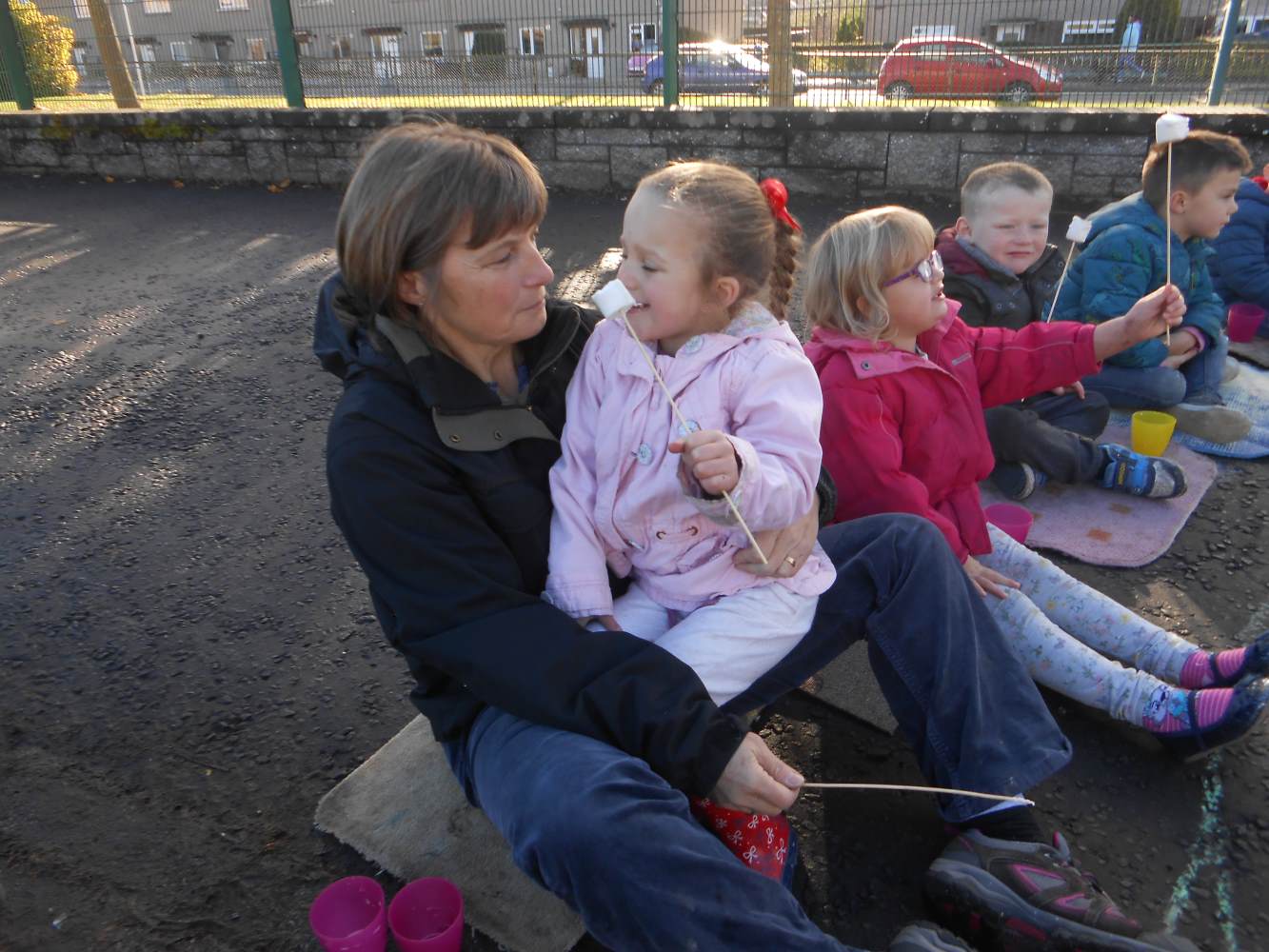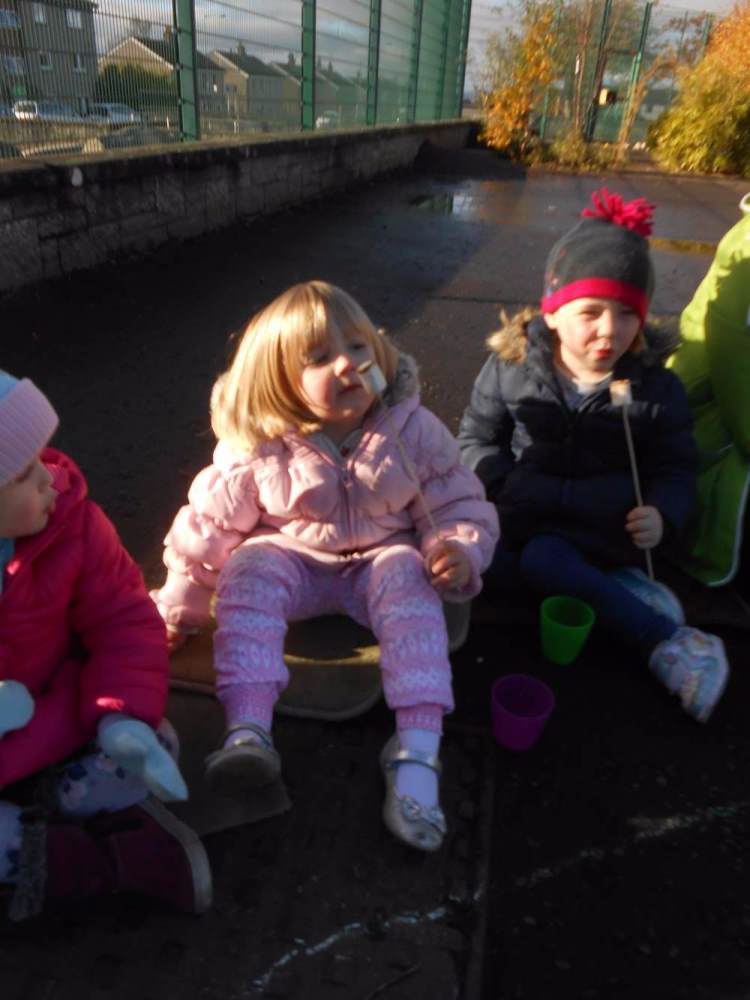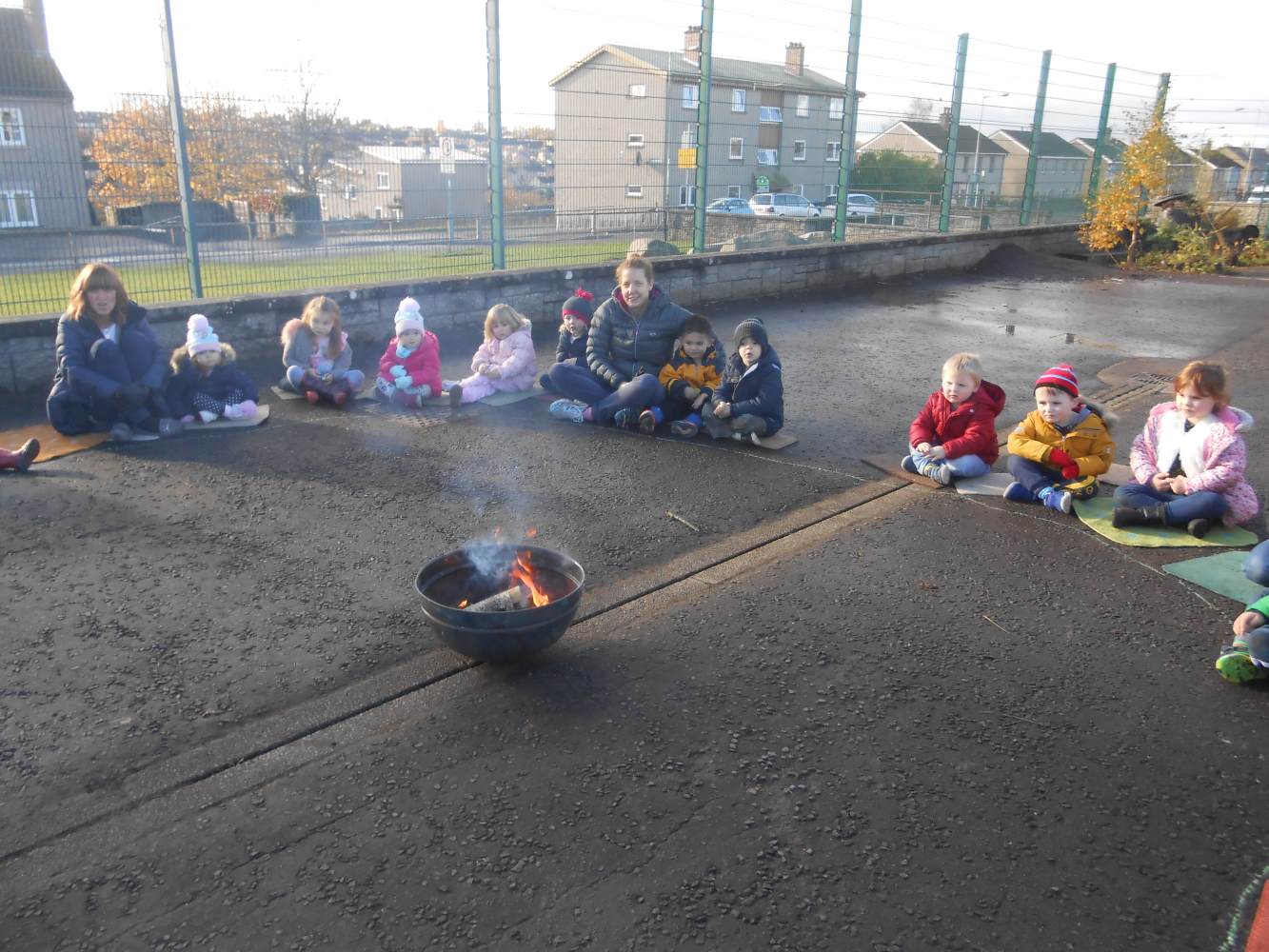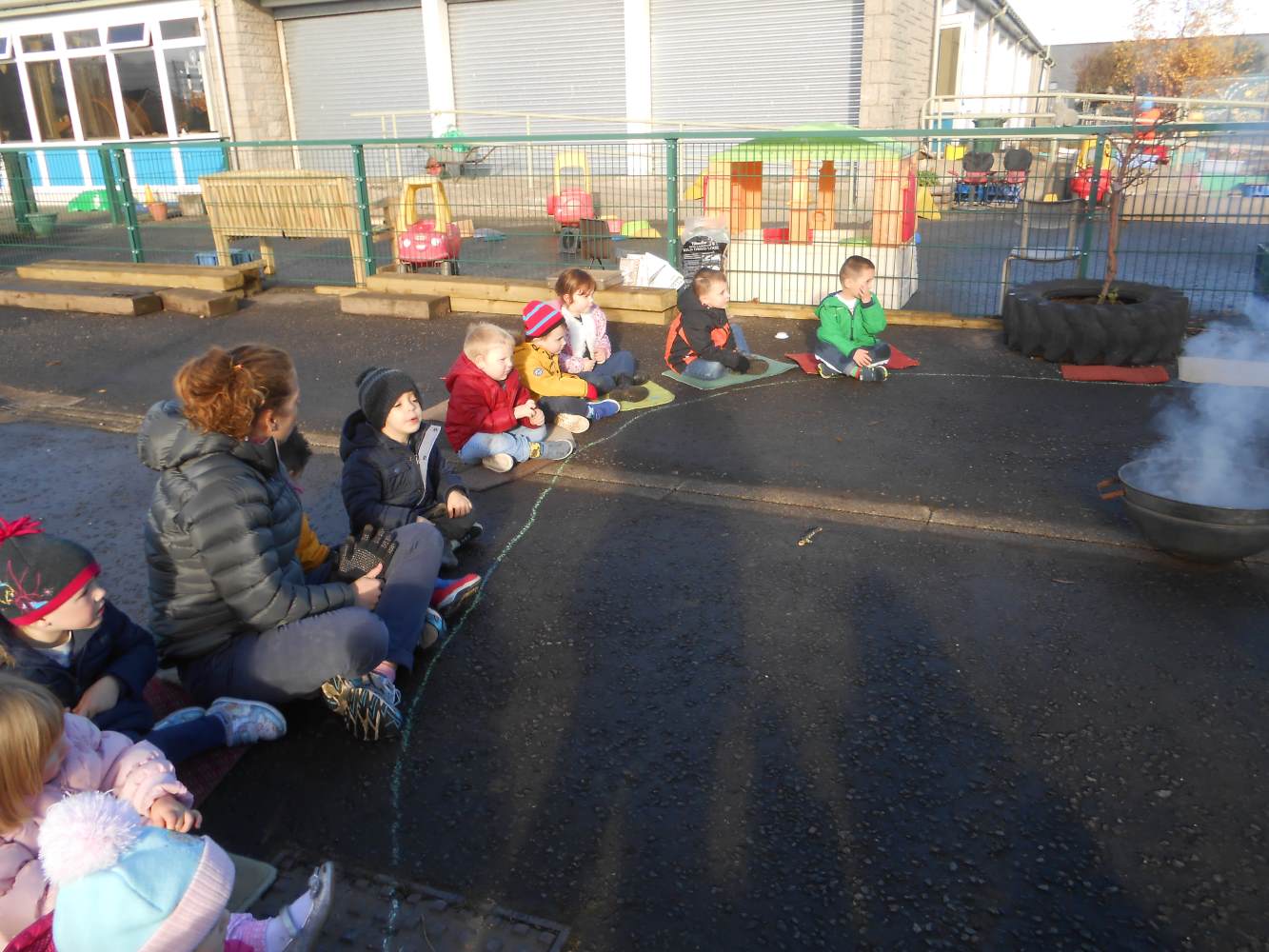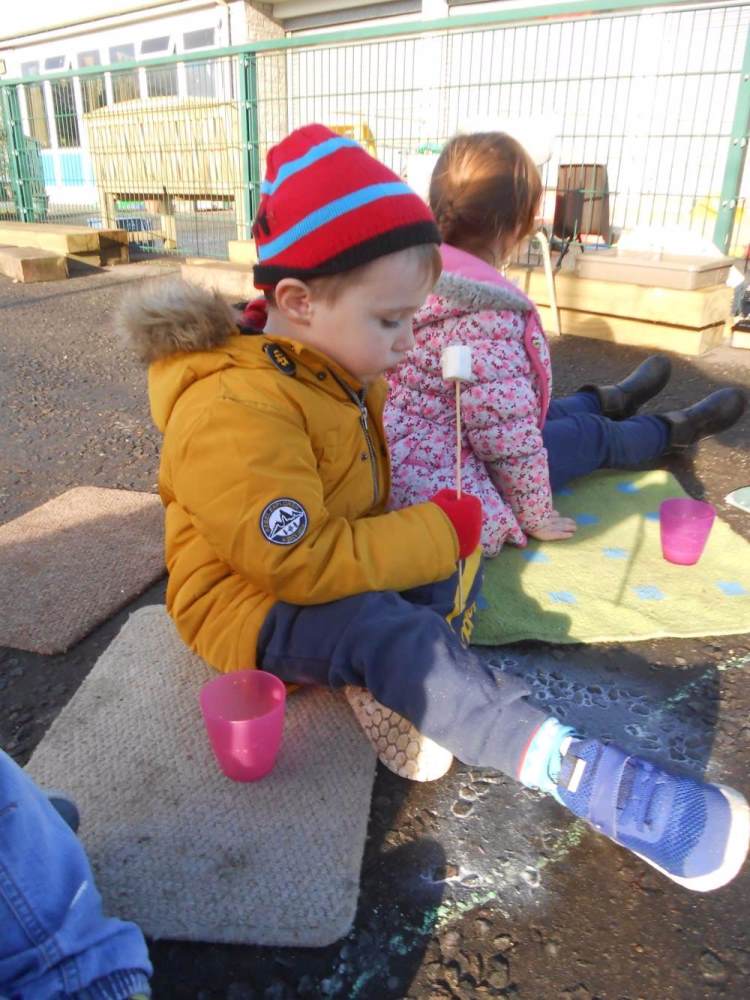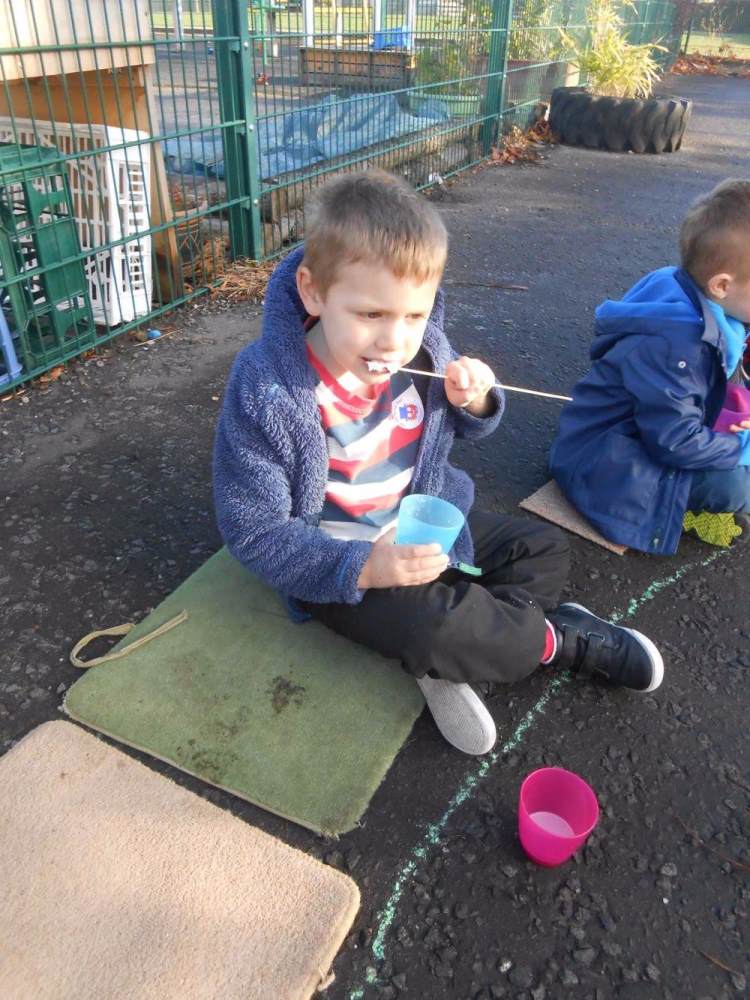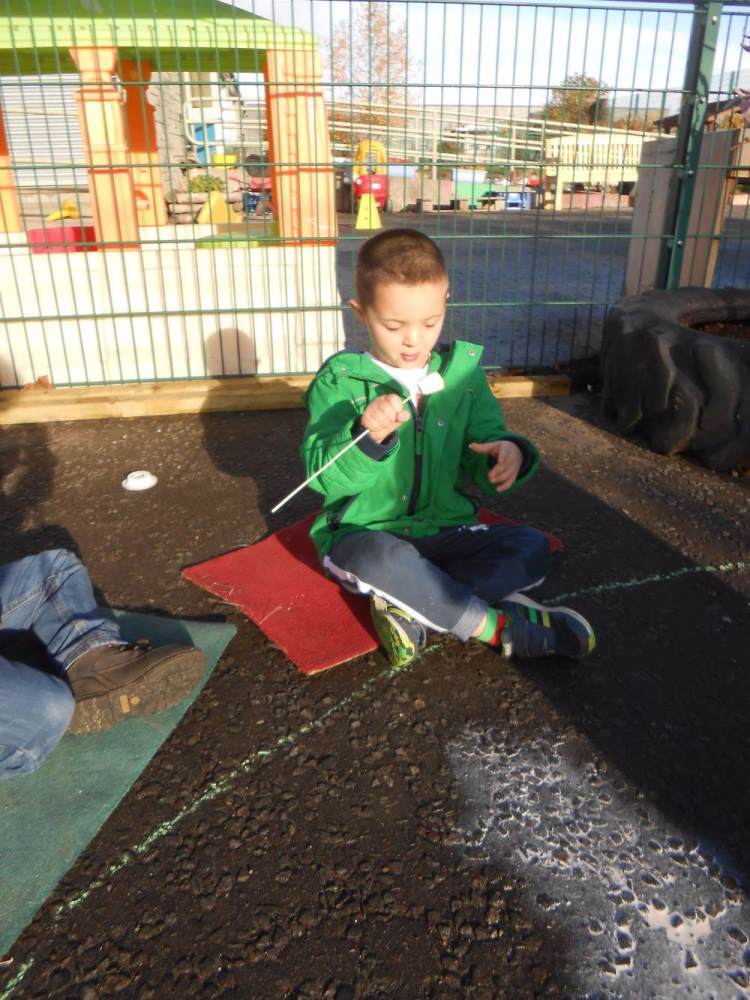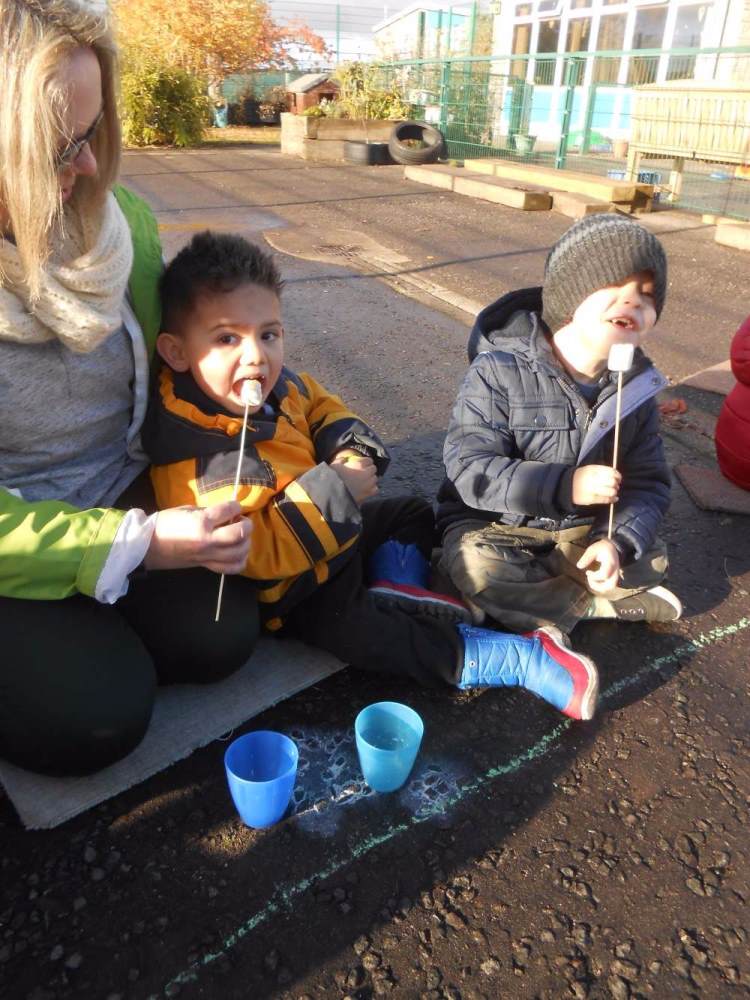 Halloween.
Making, baking, and creating.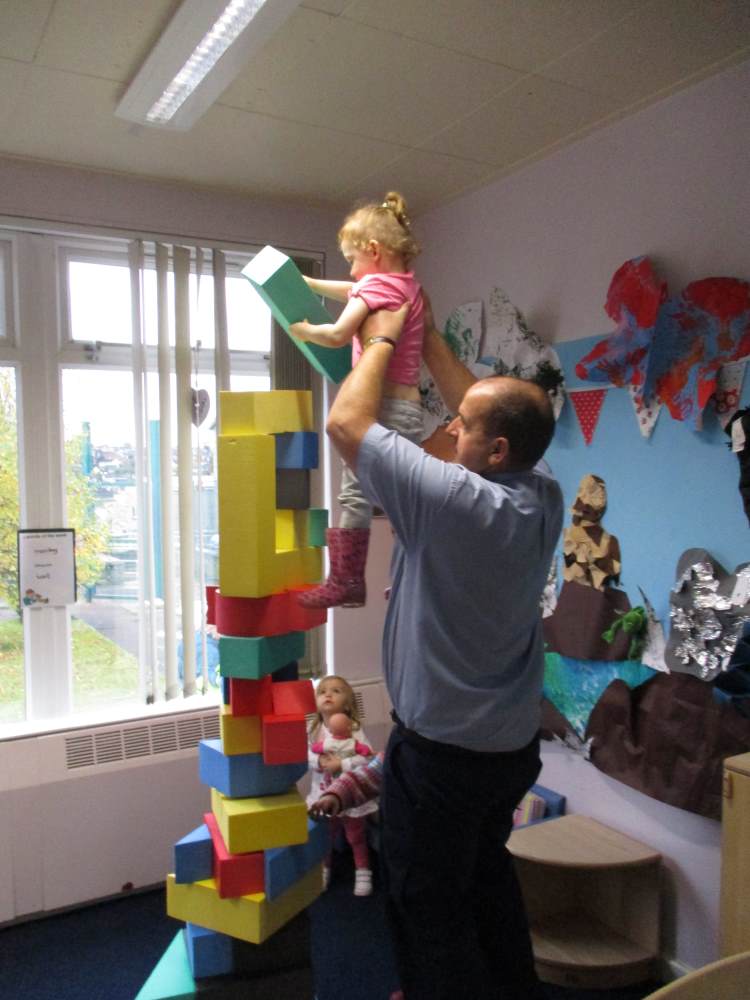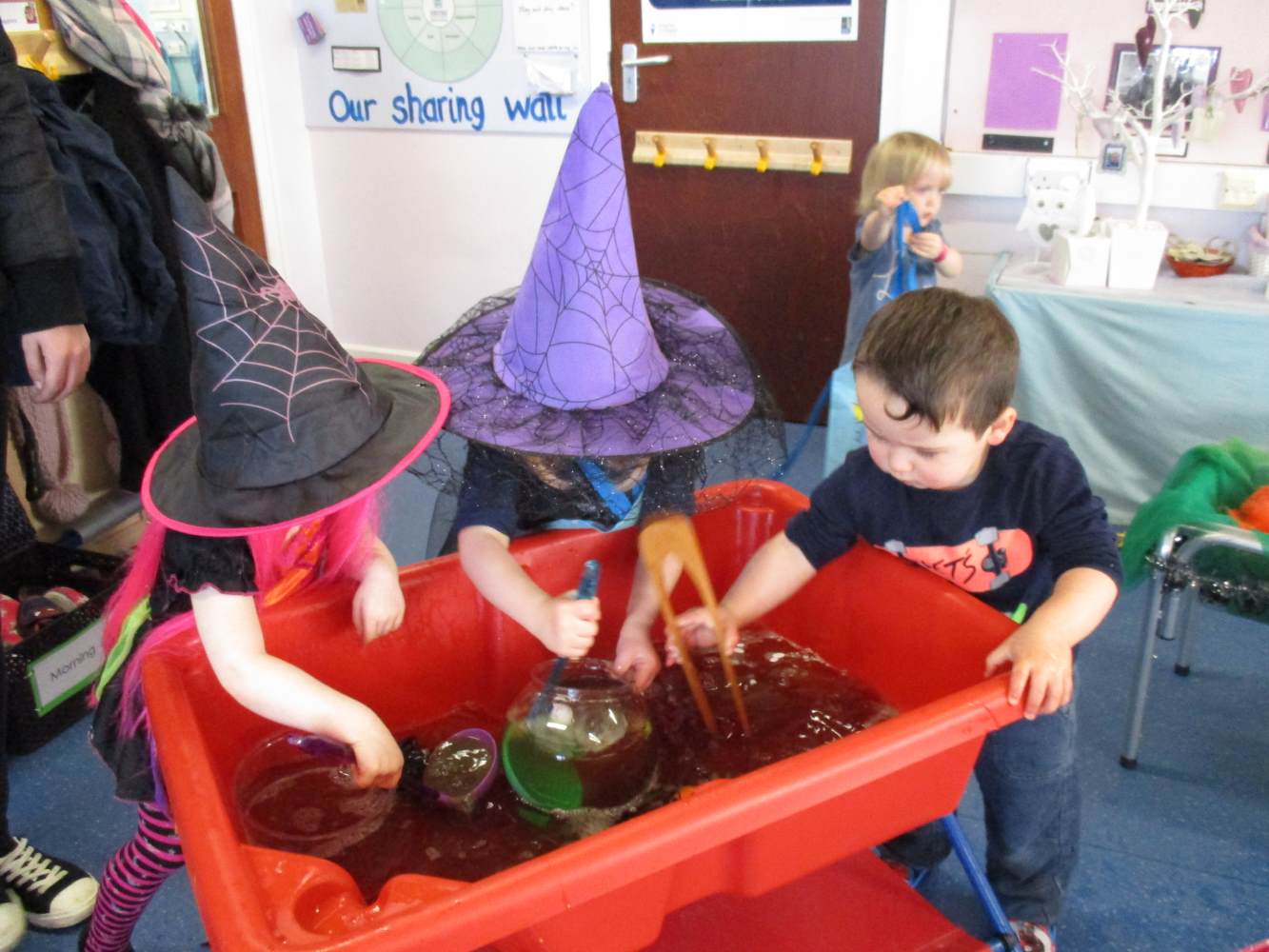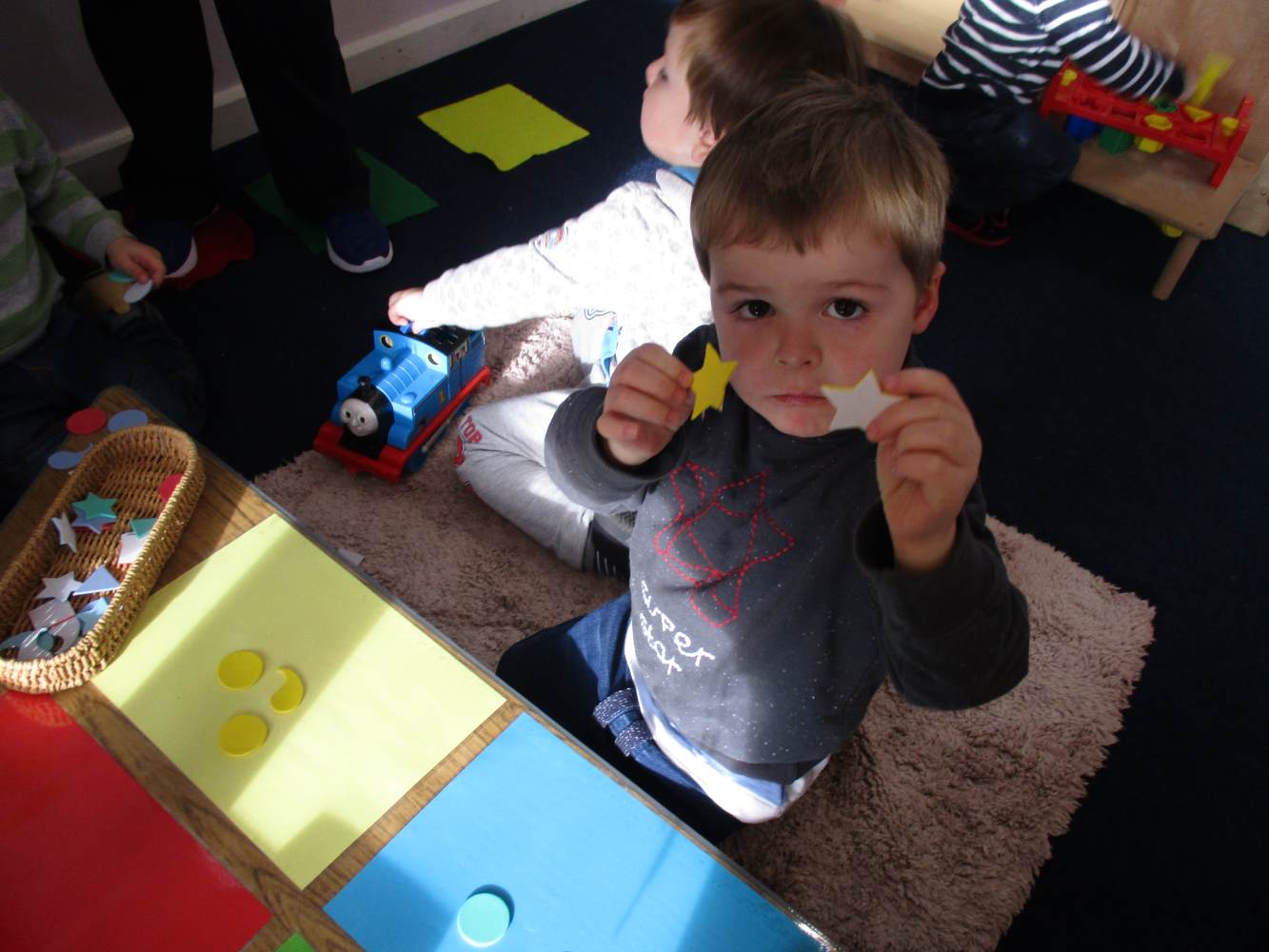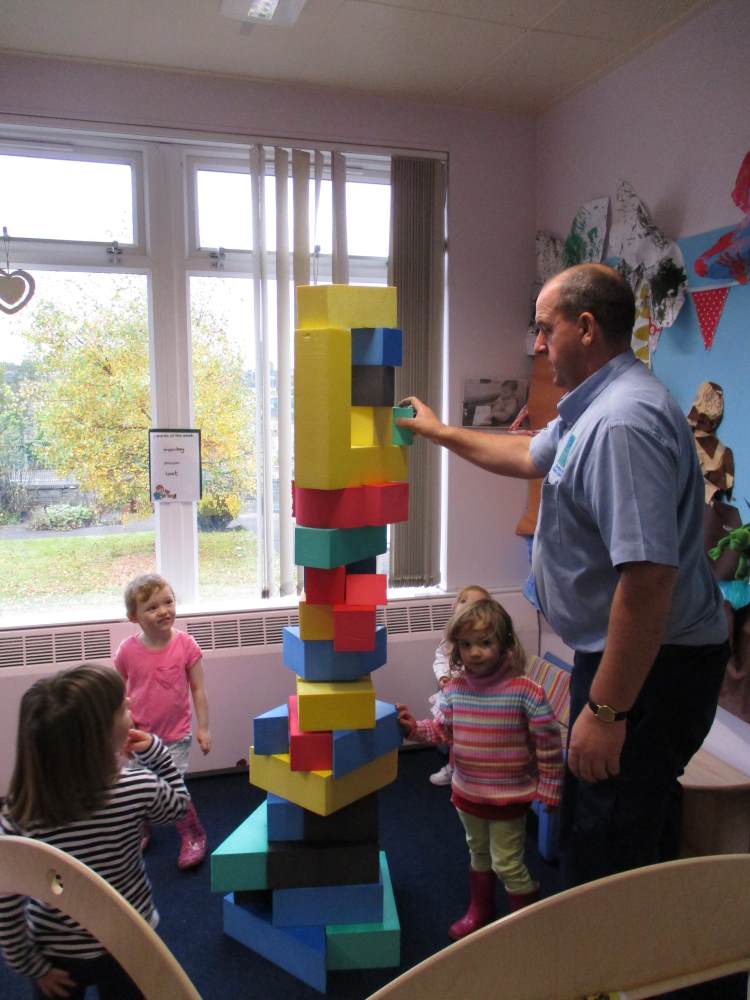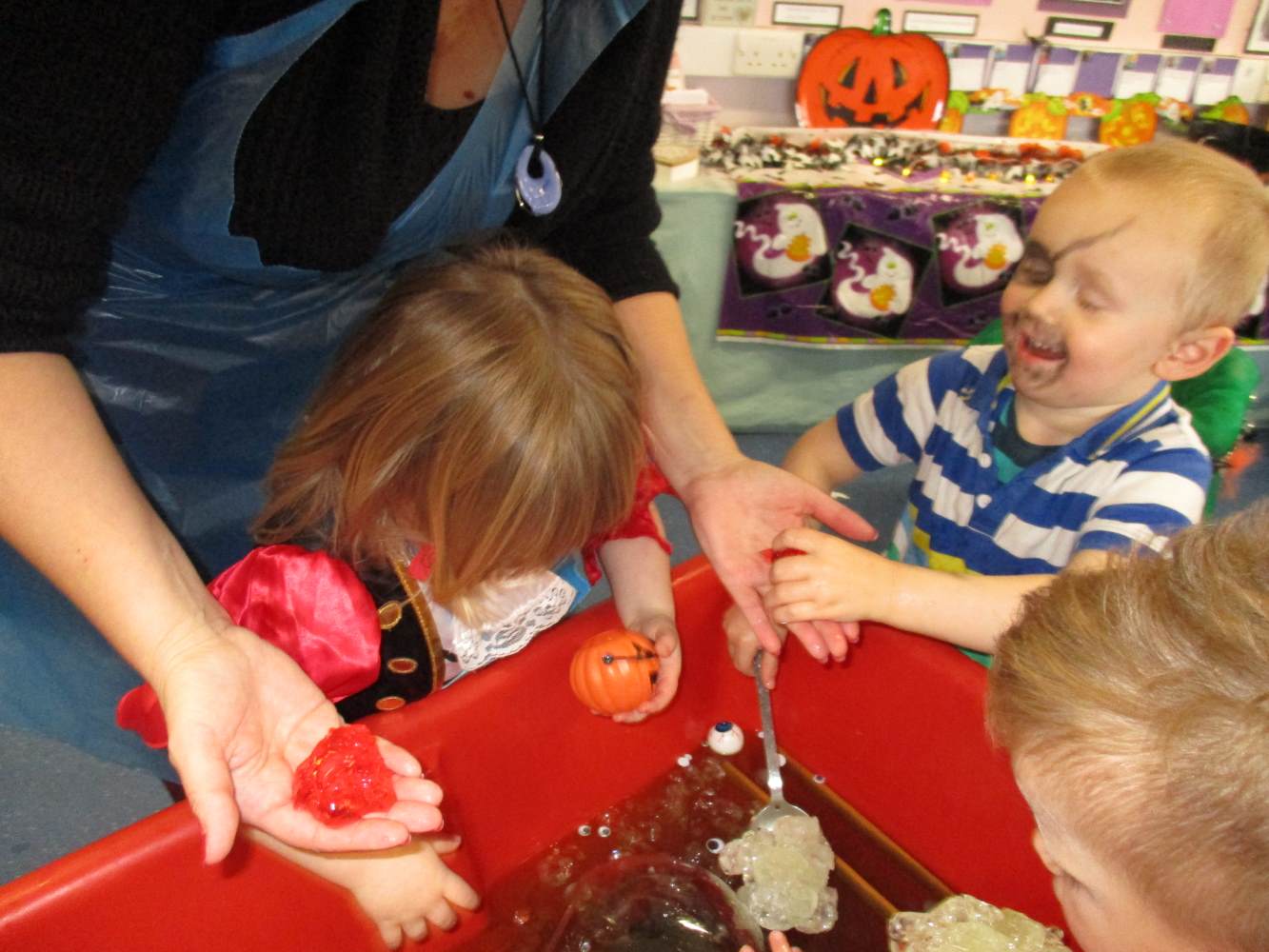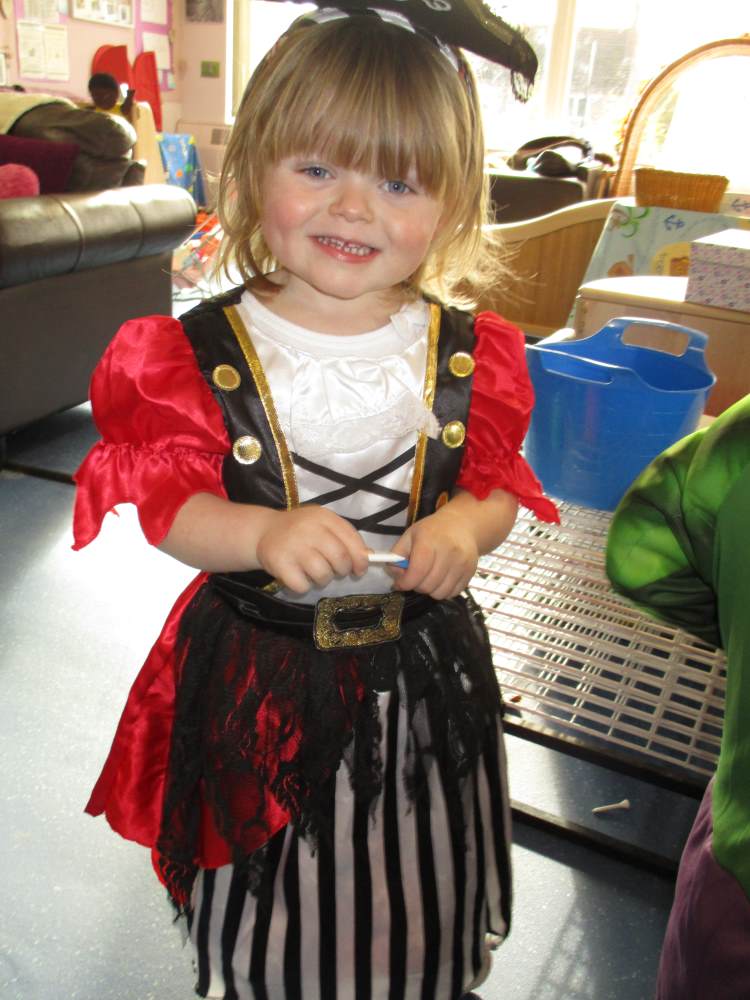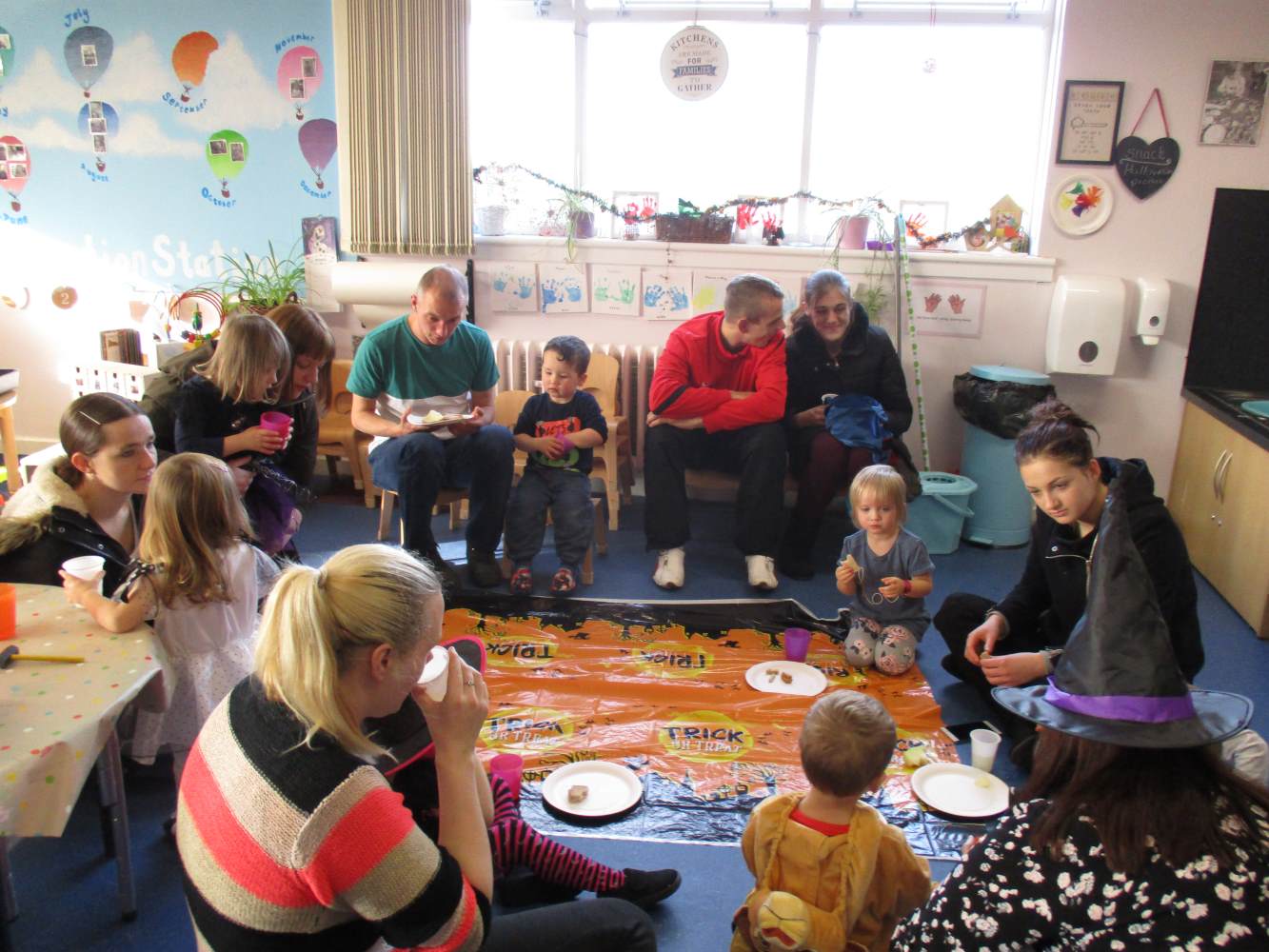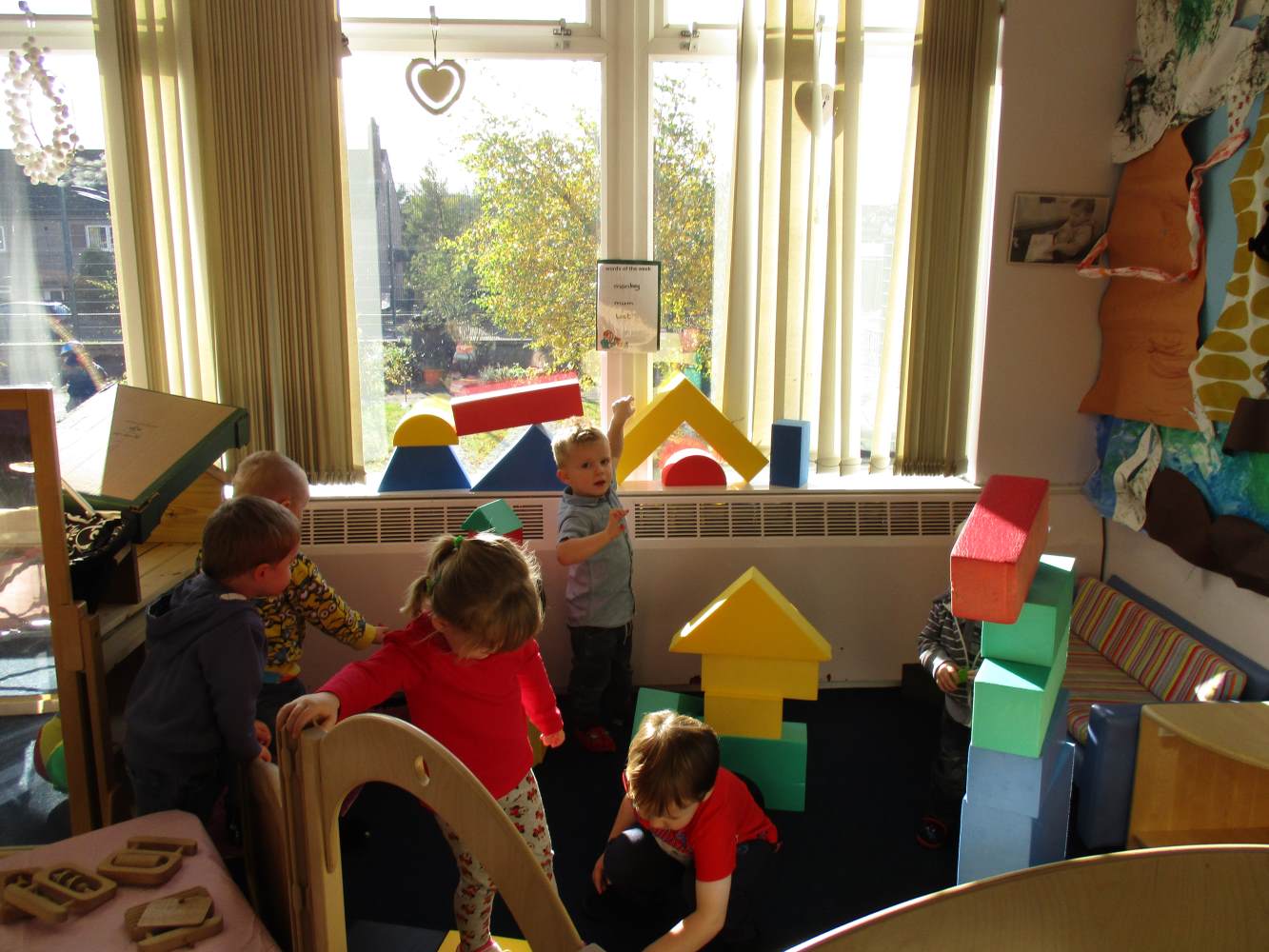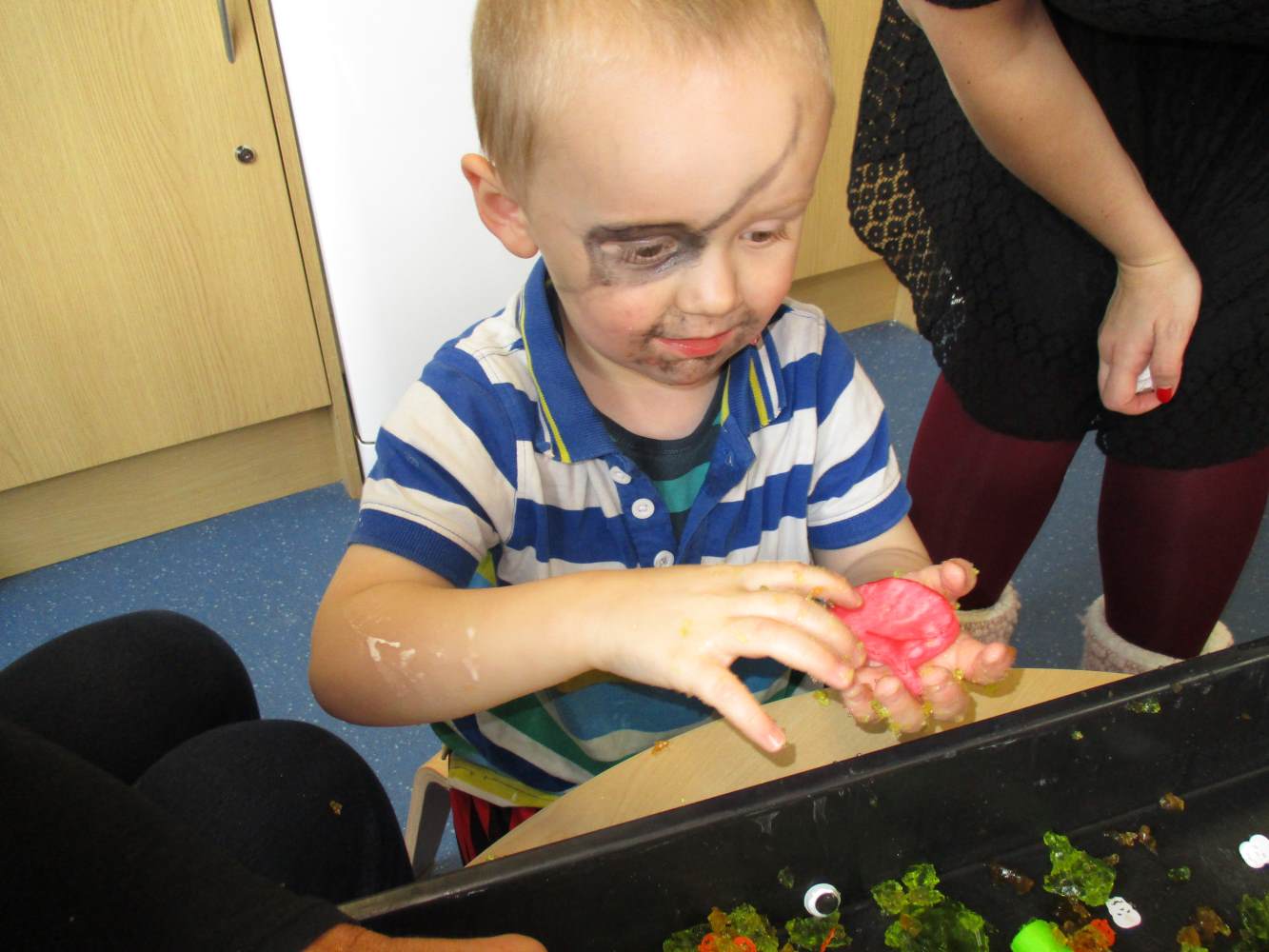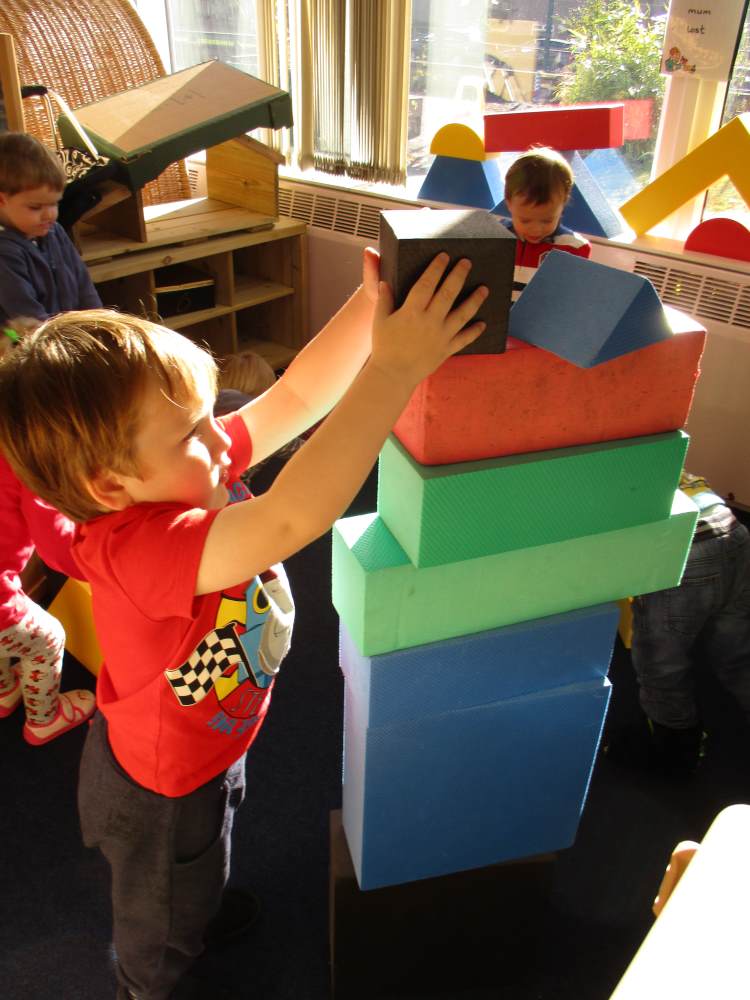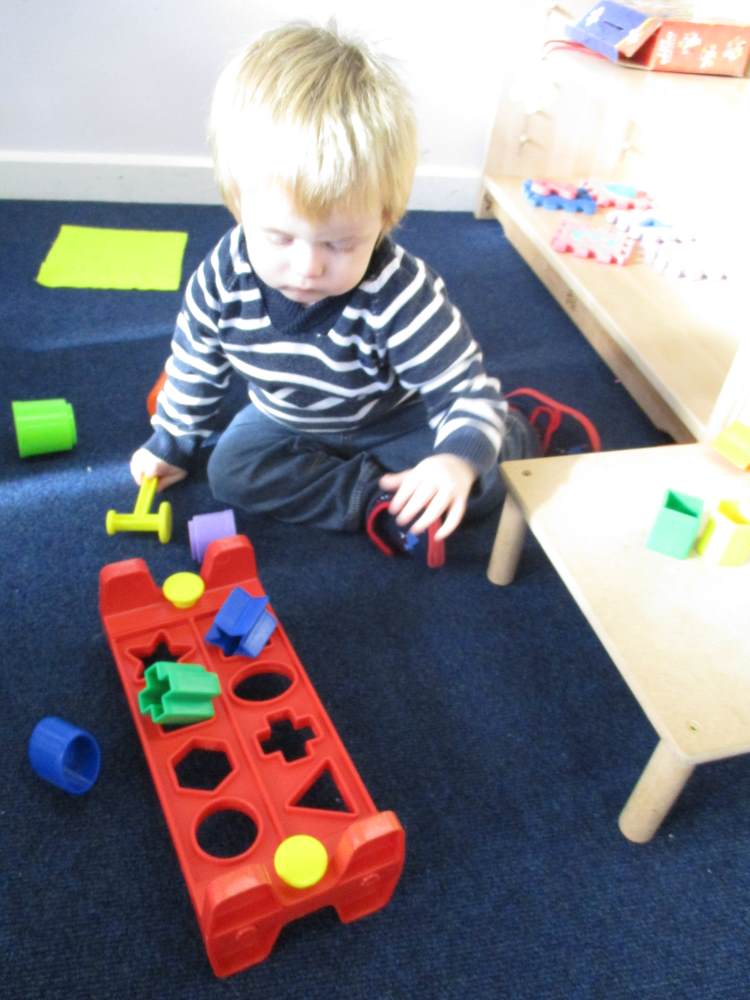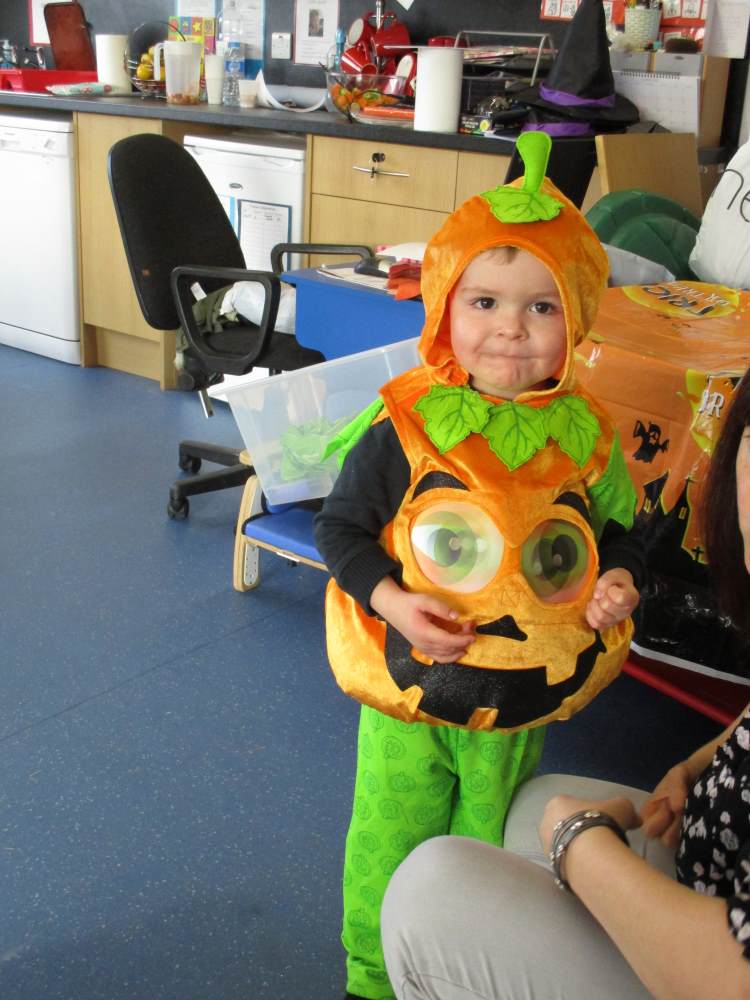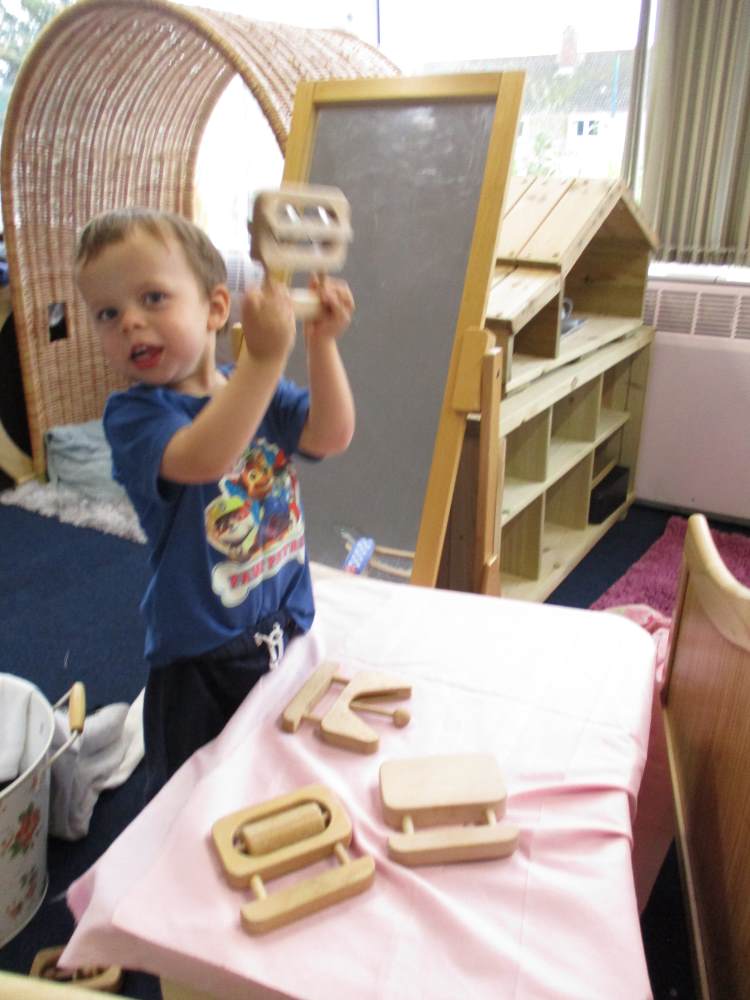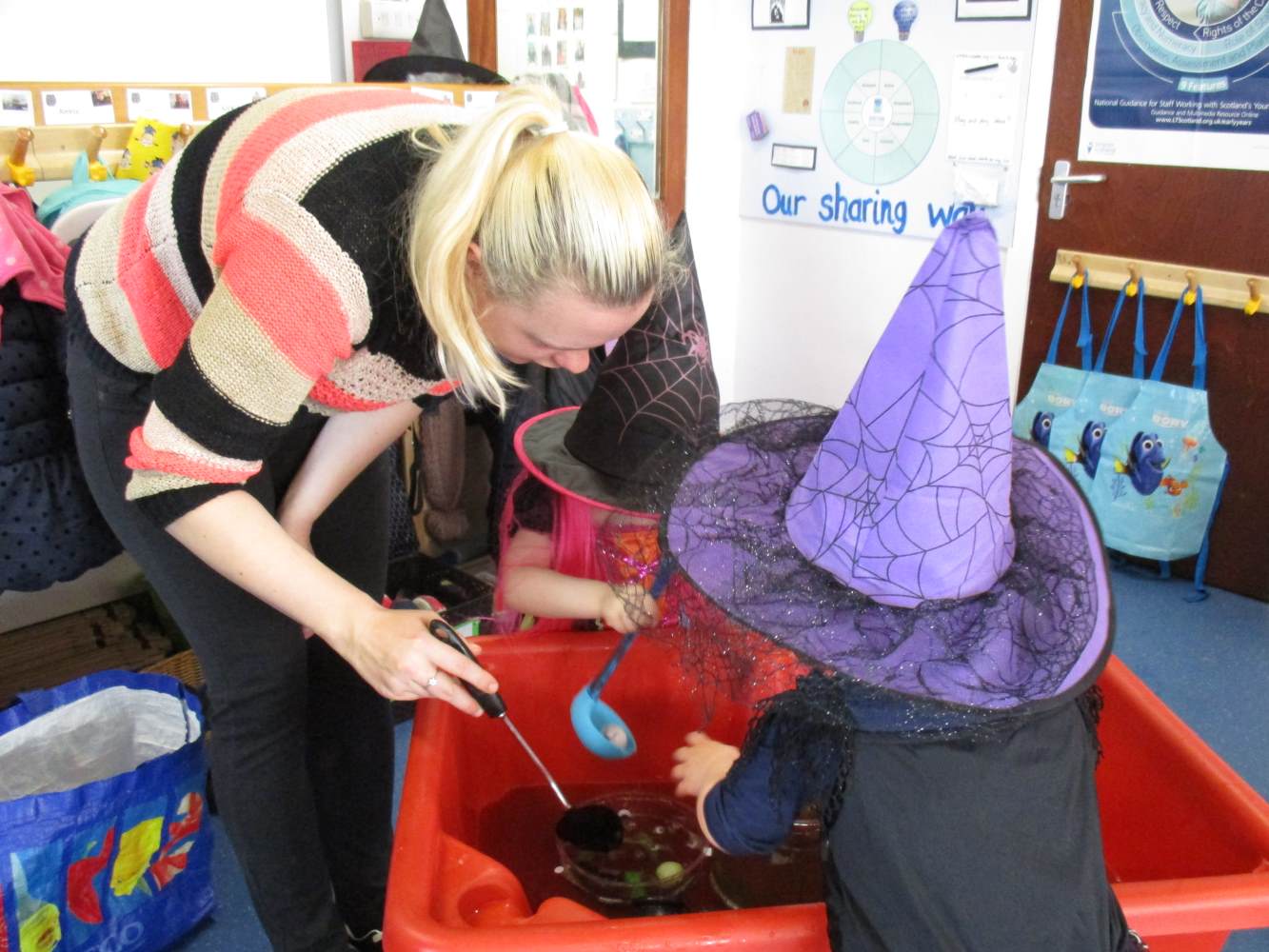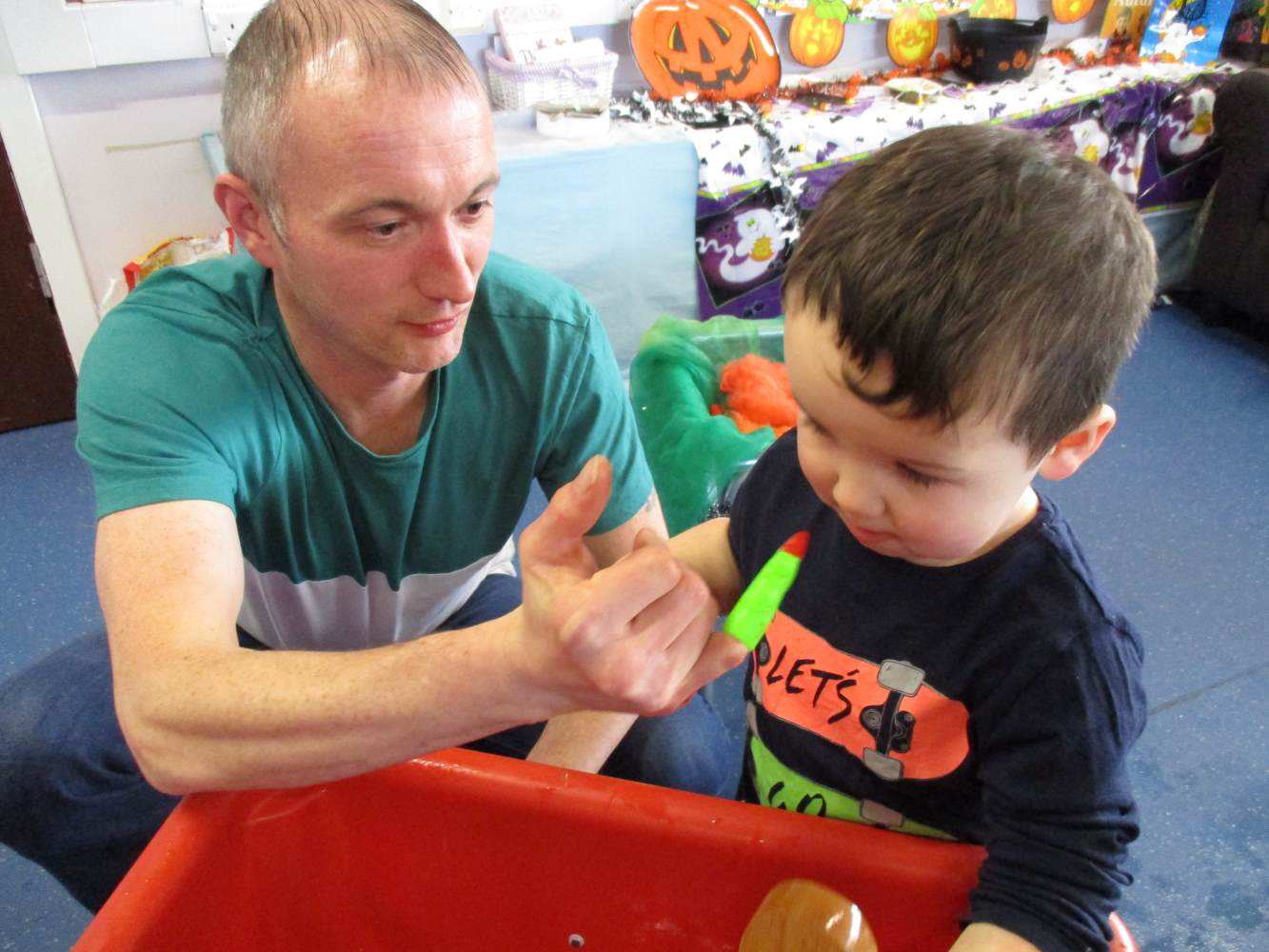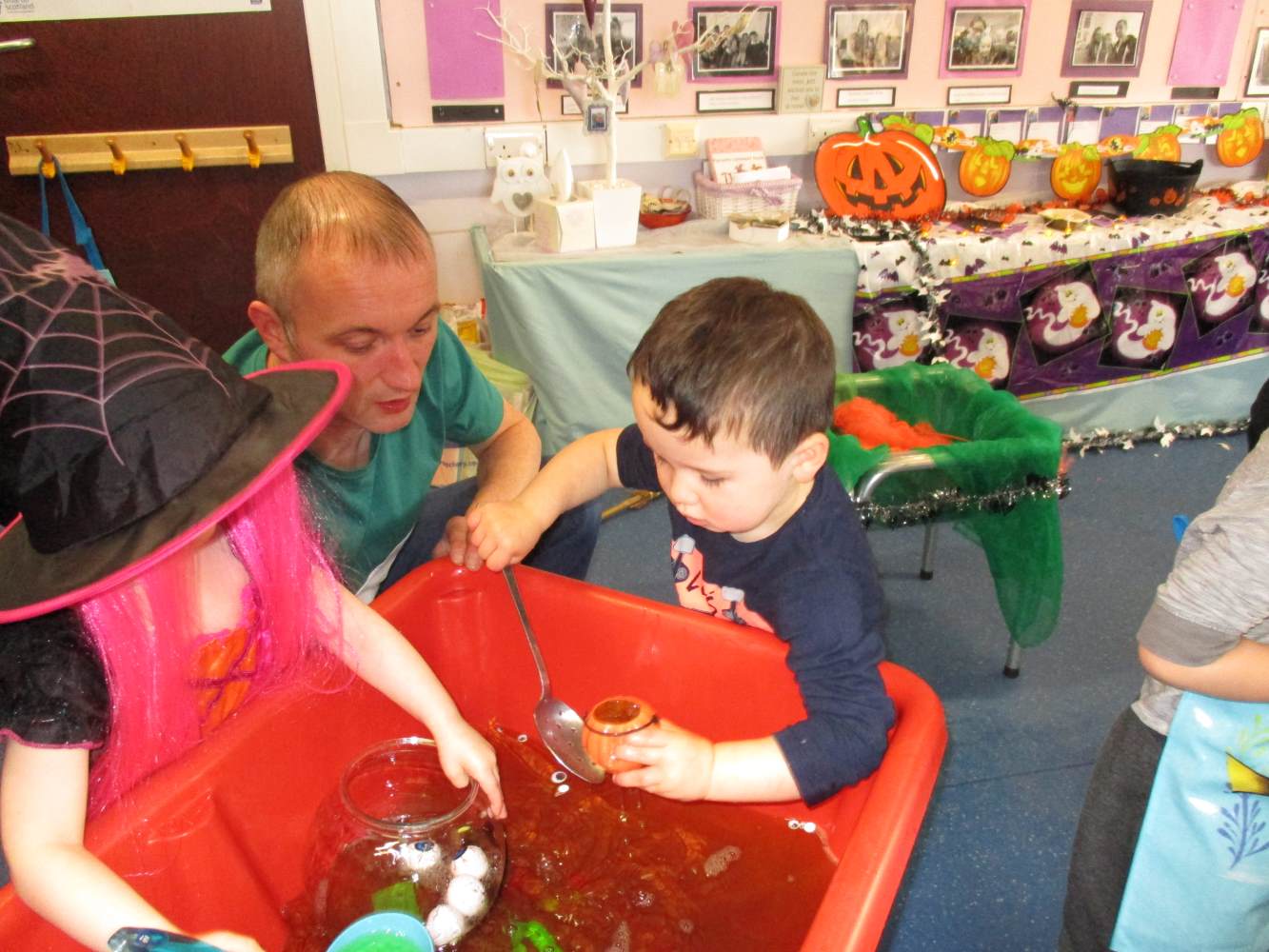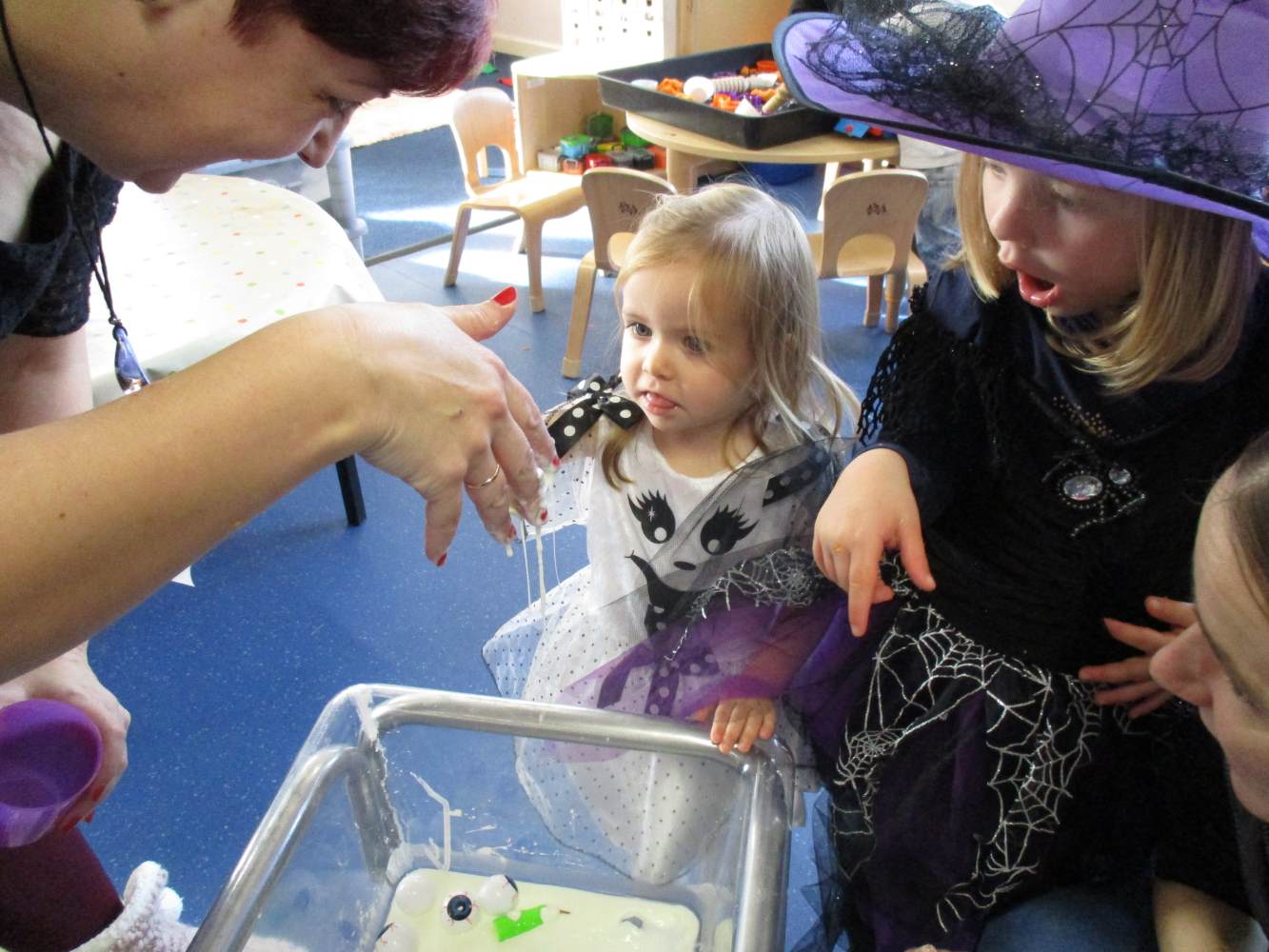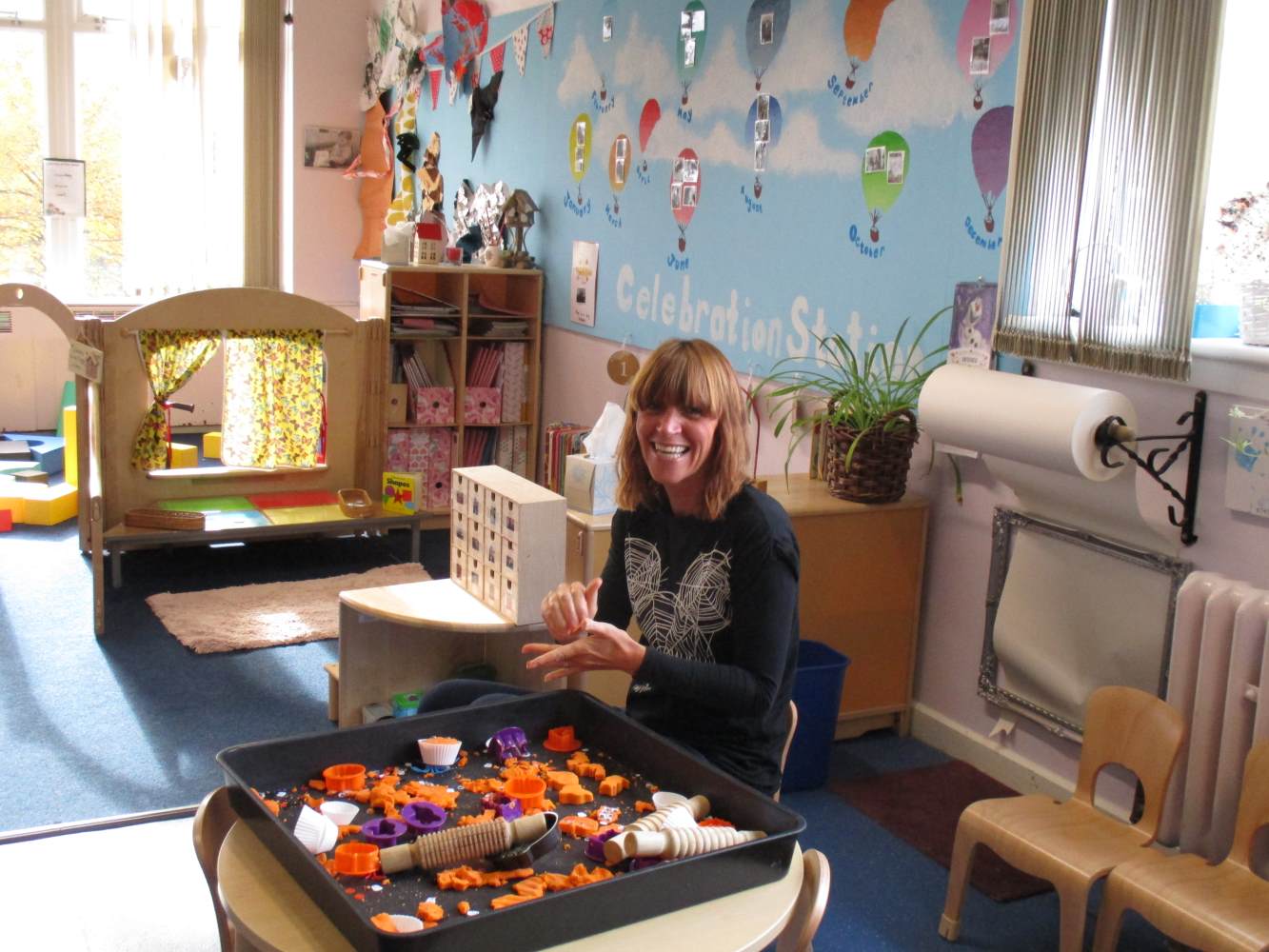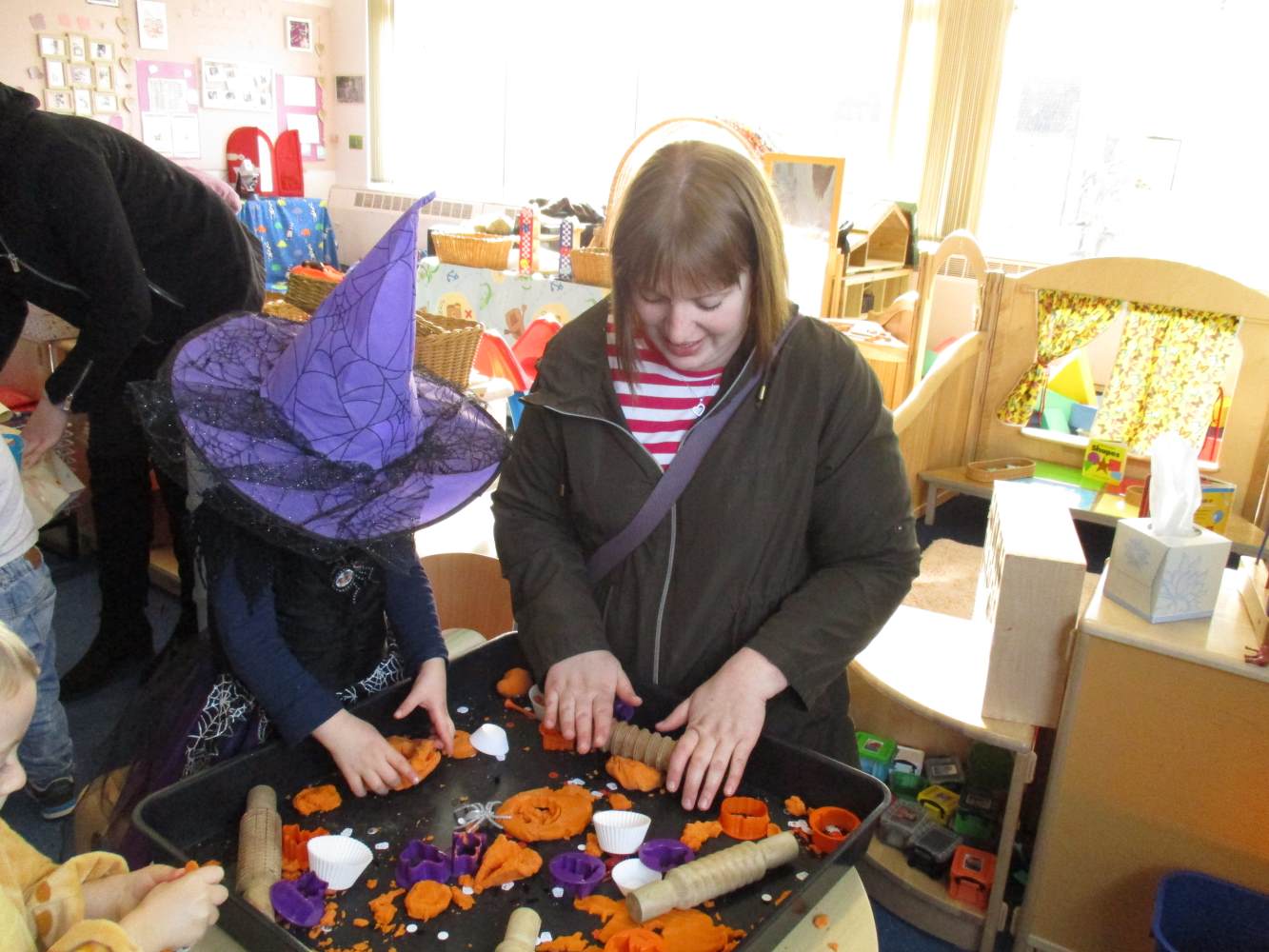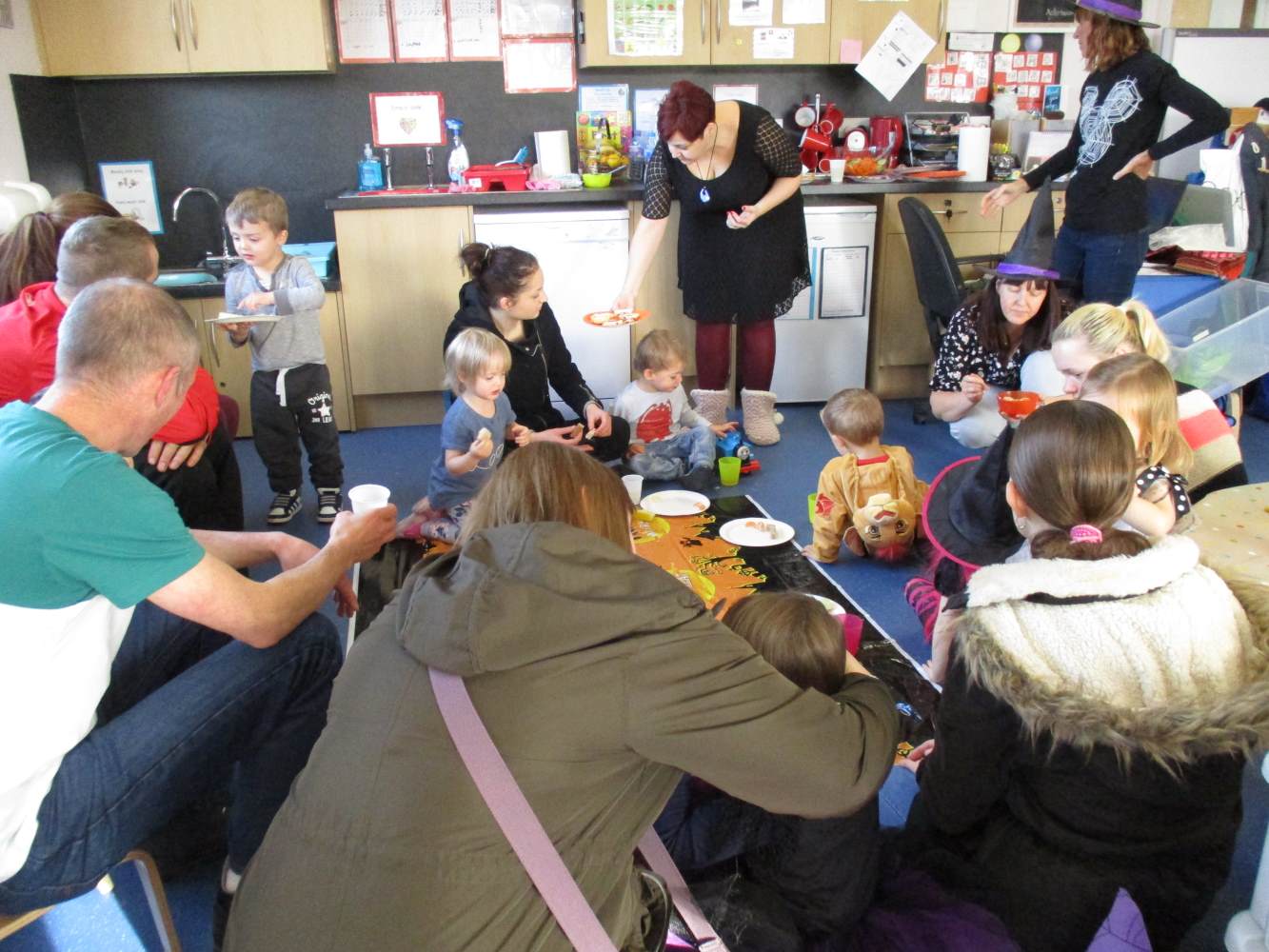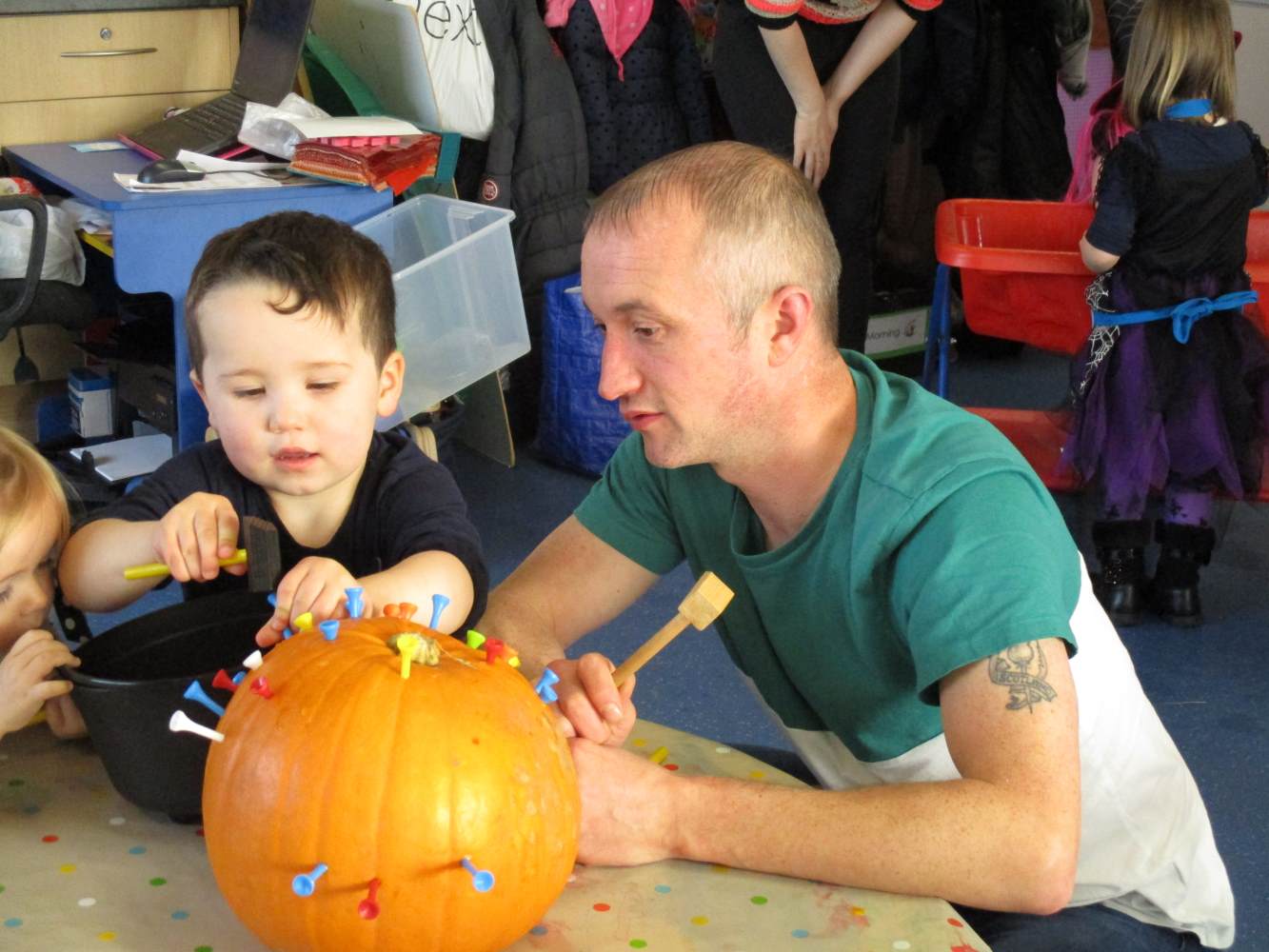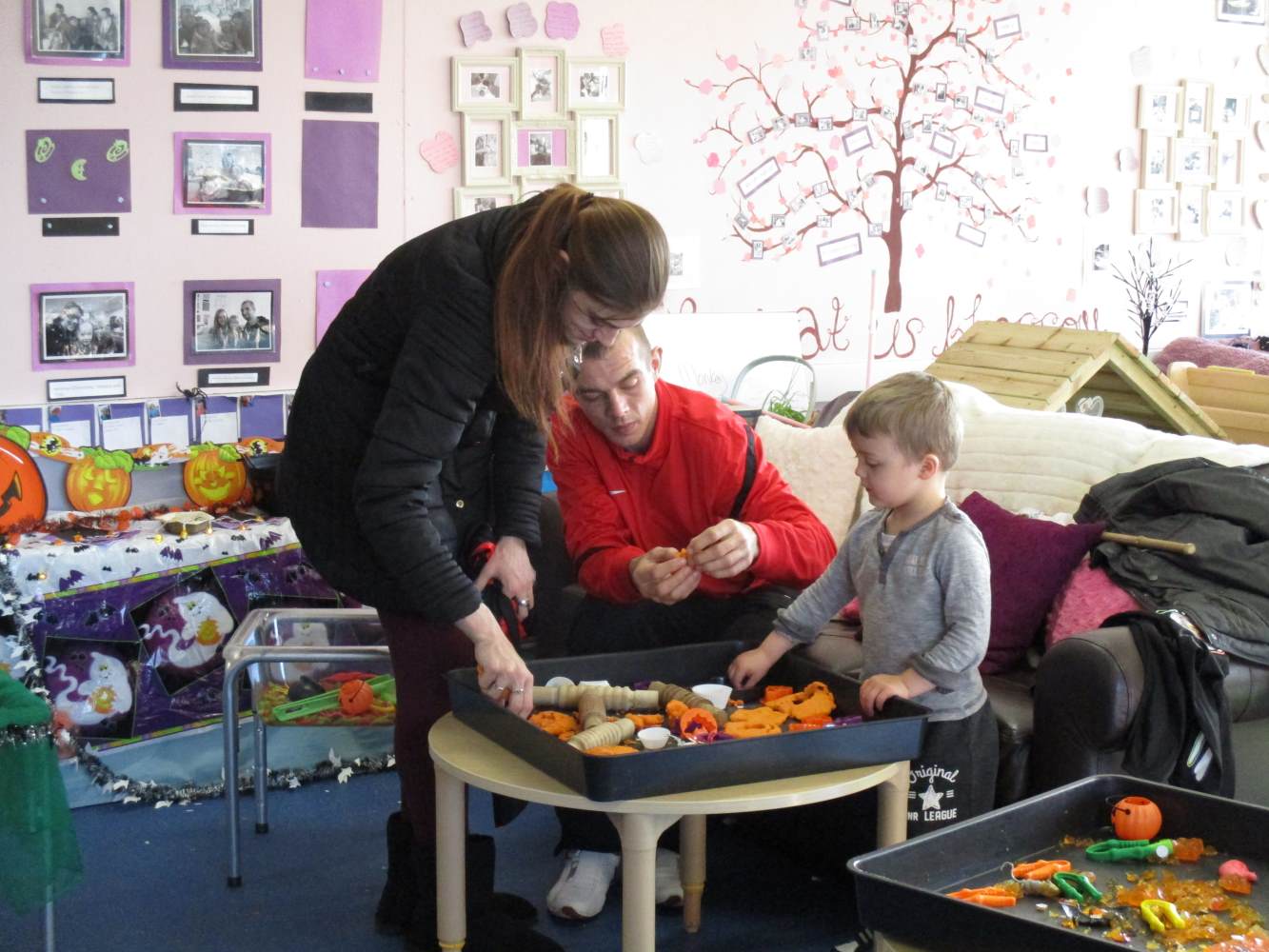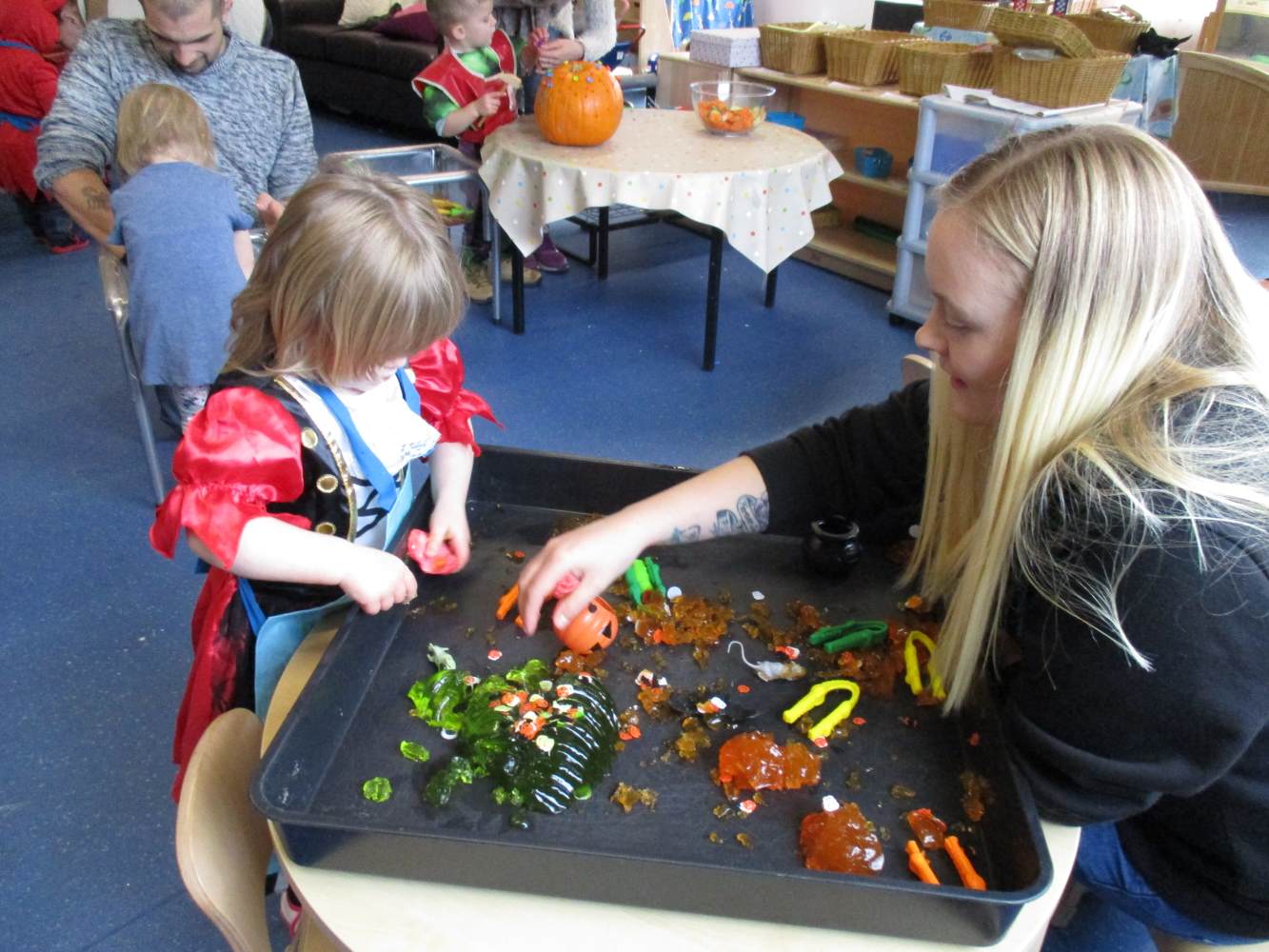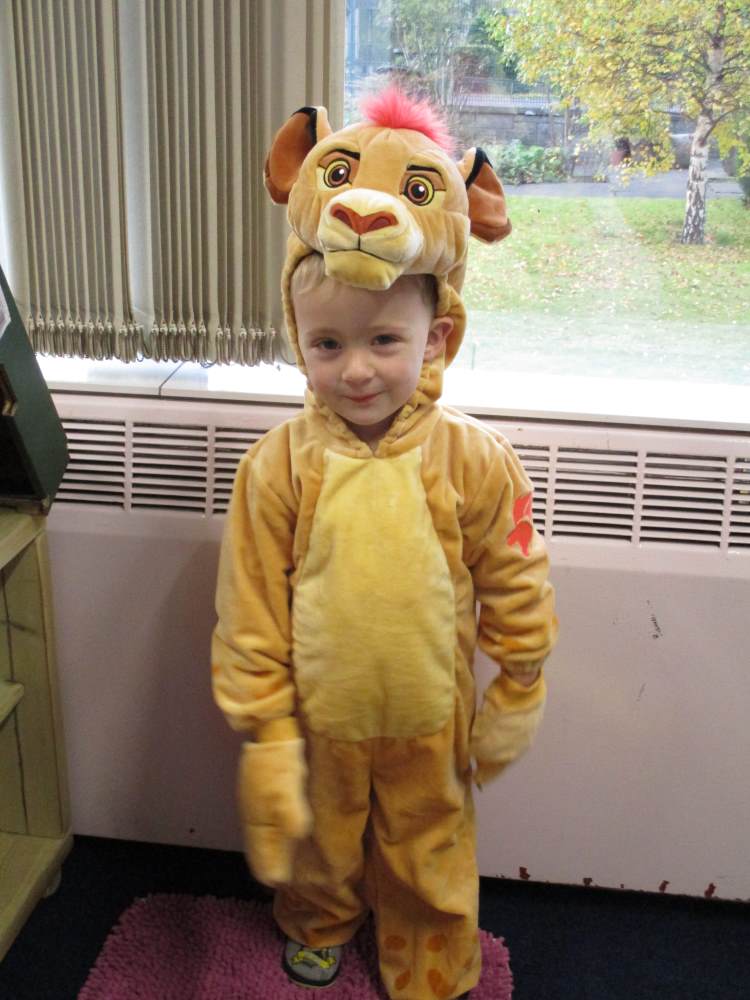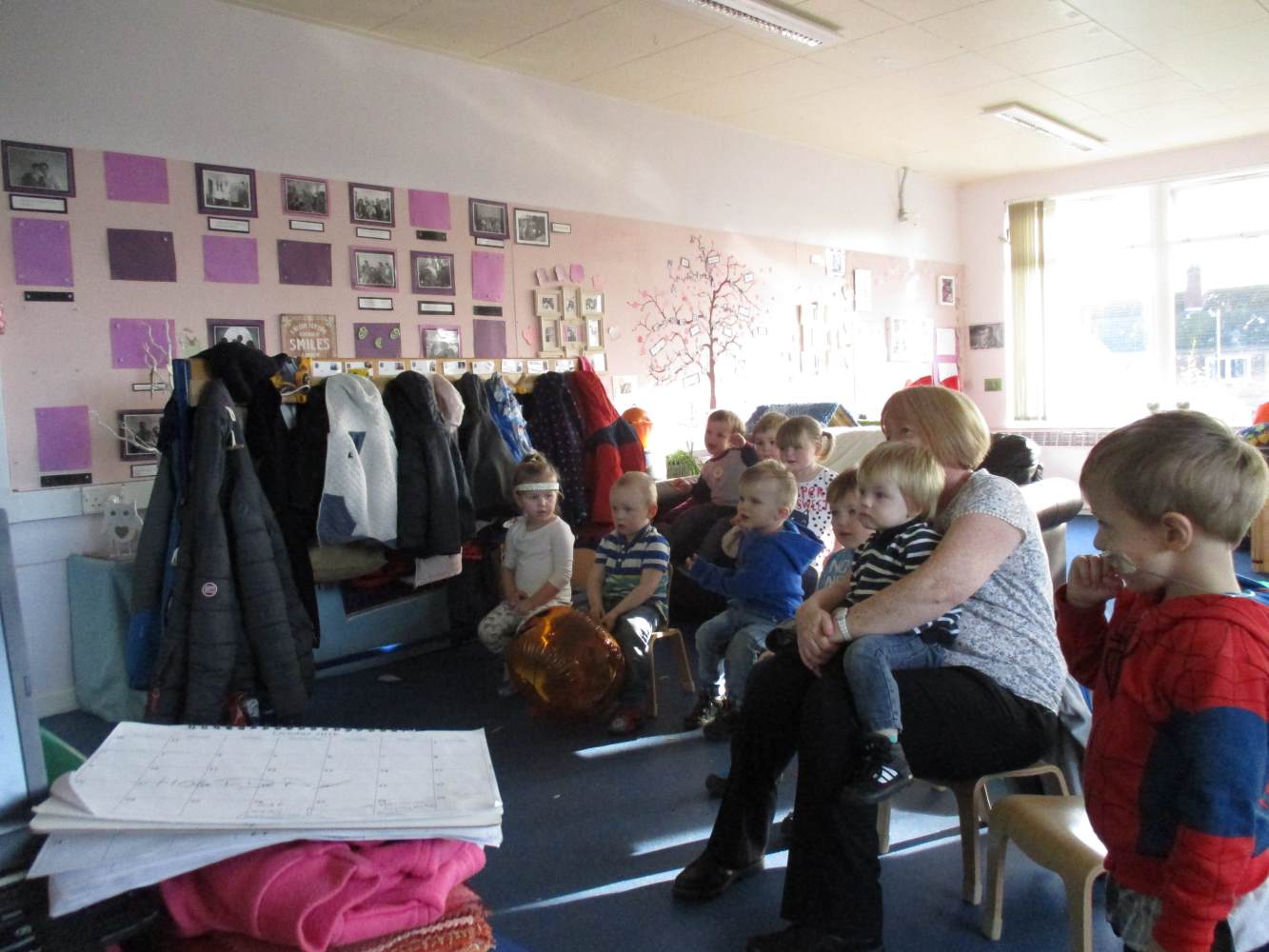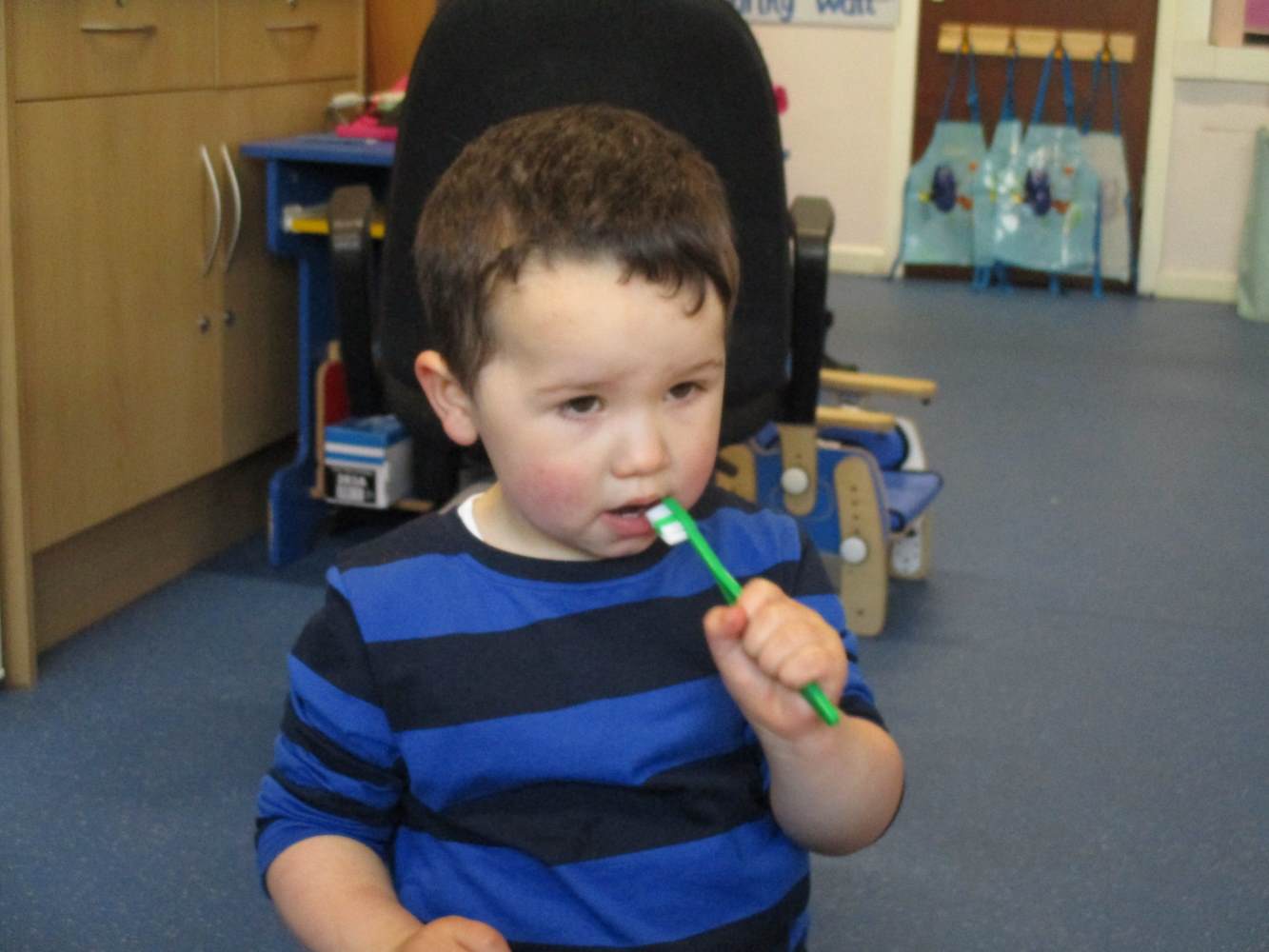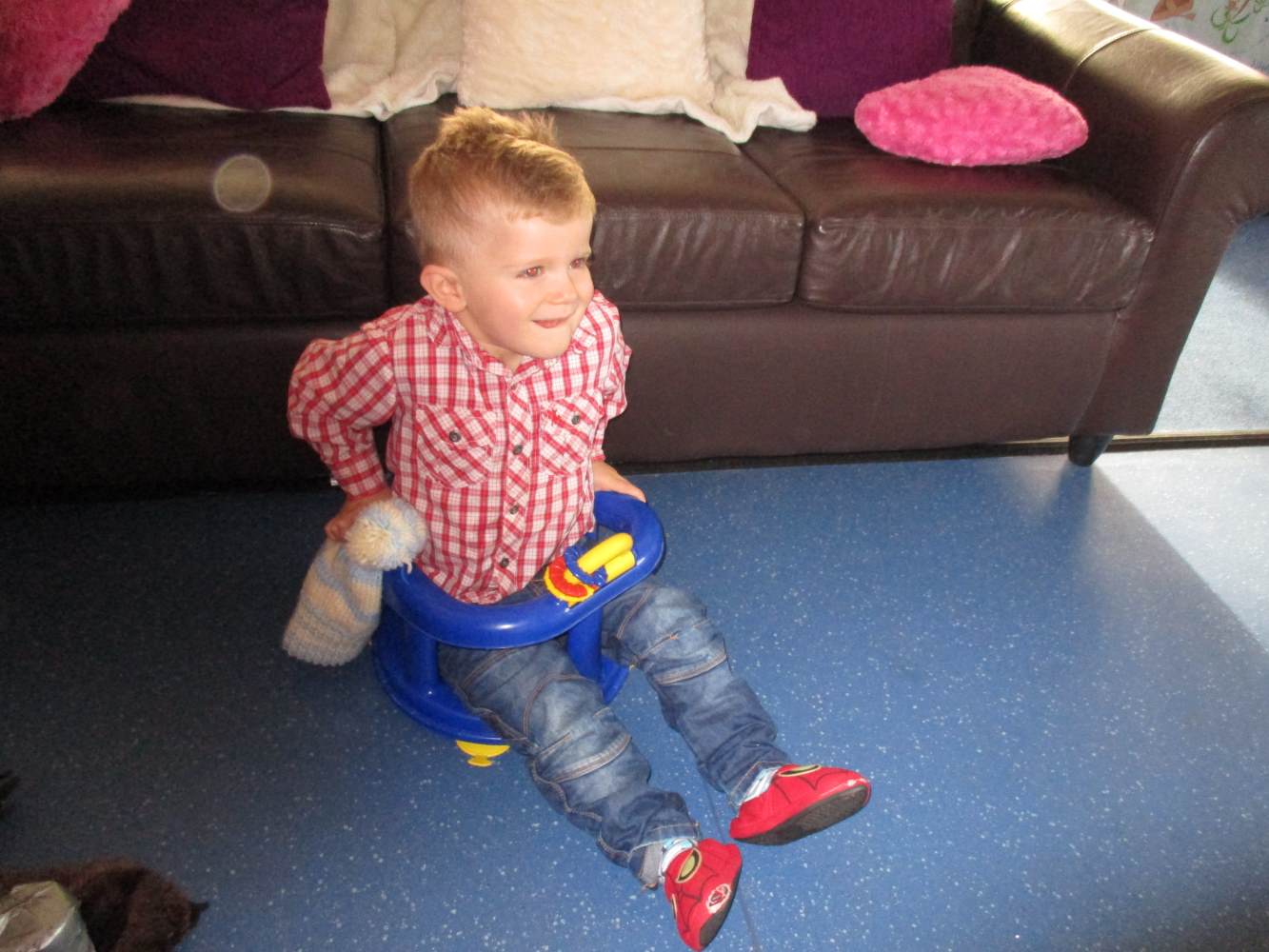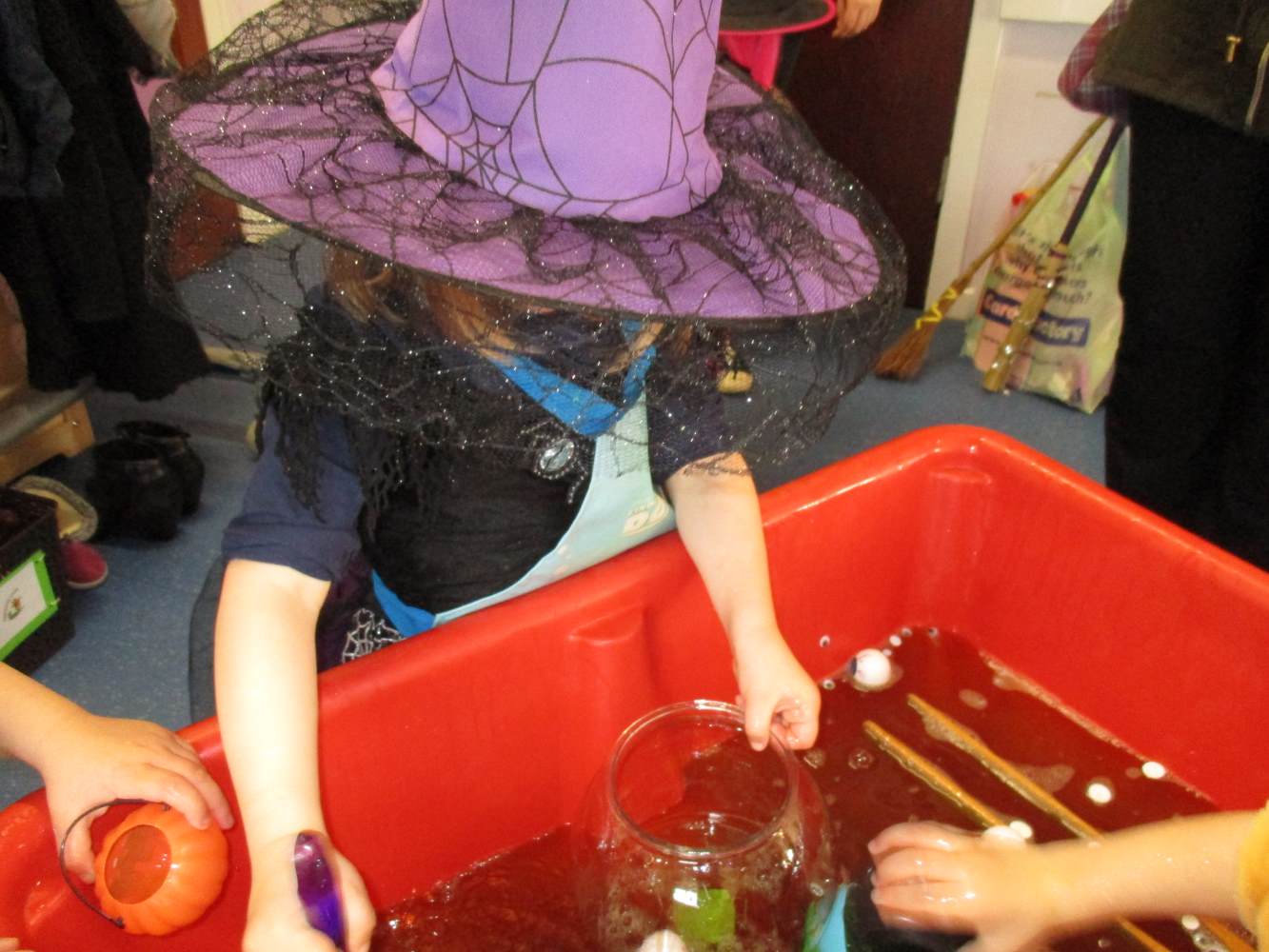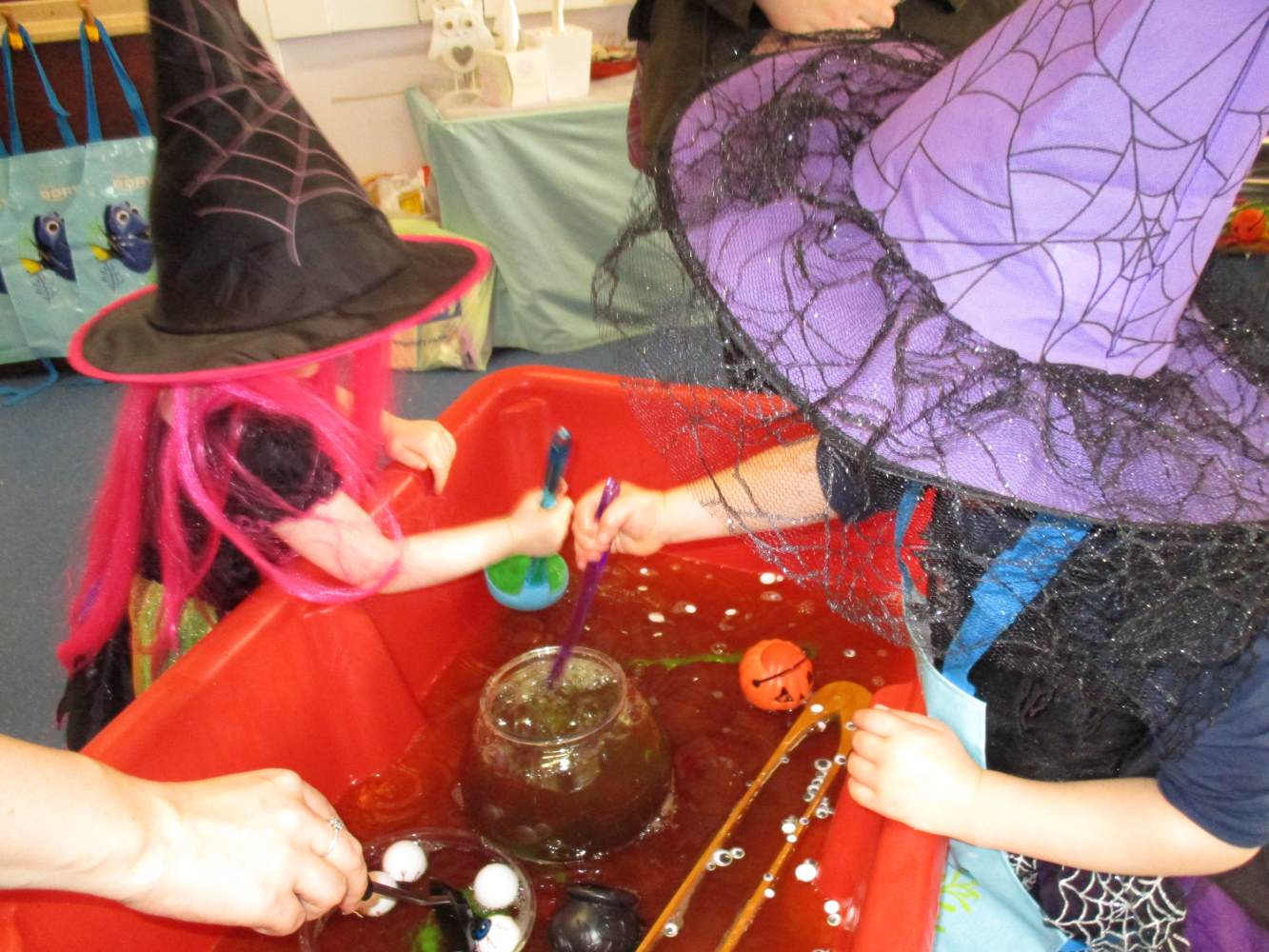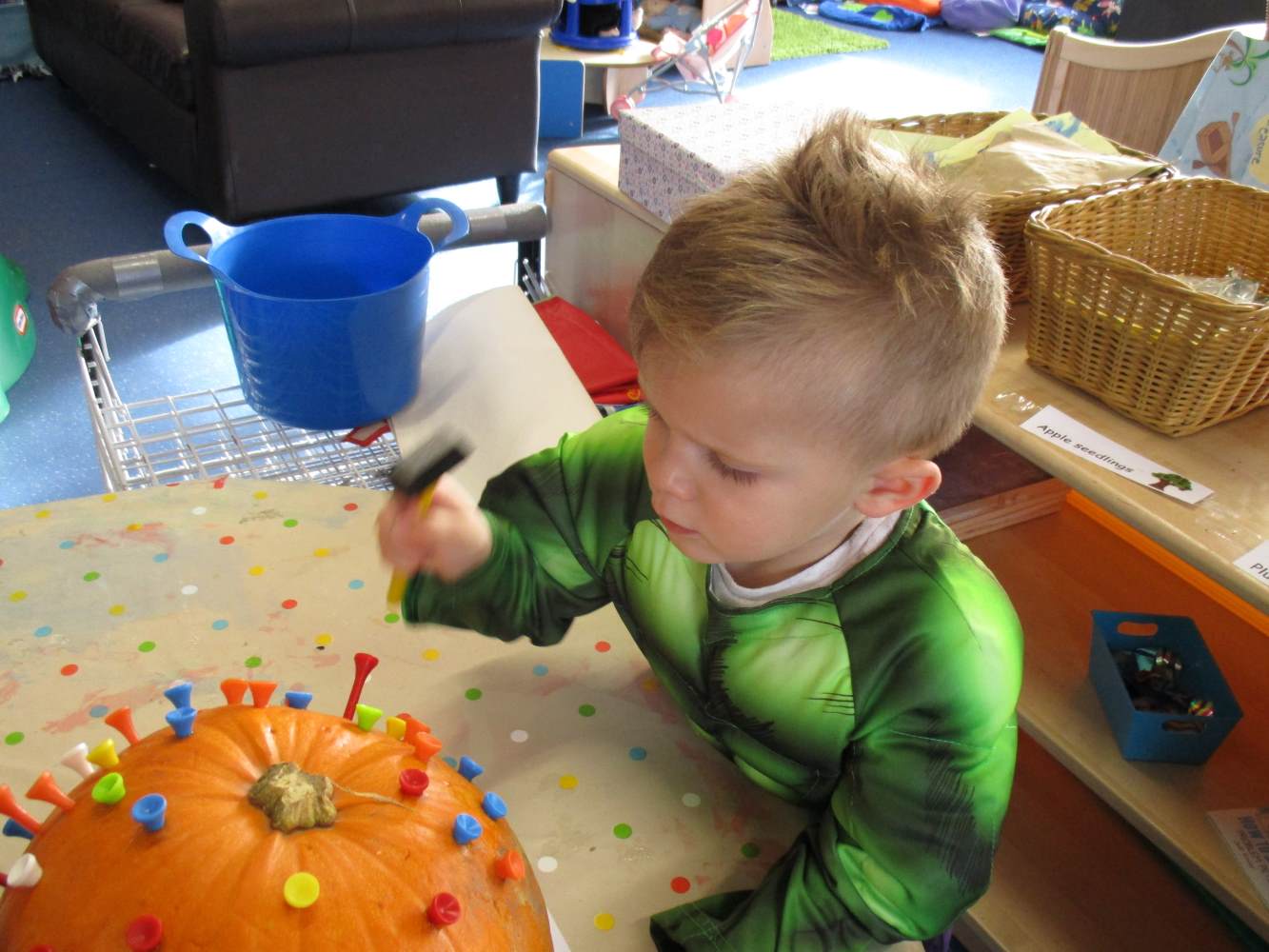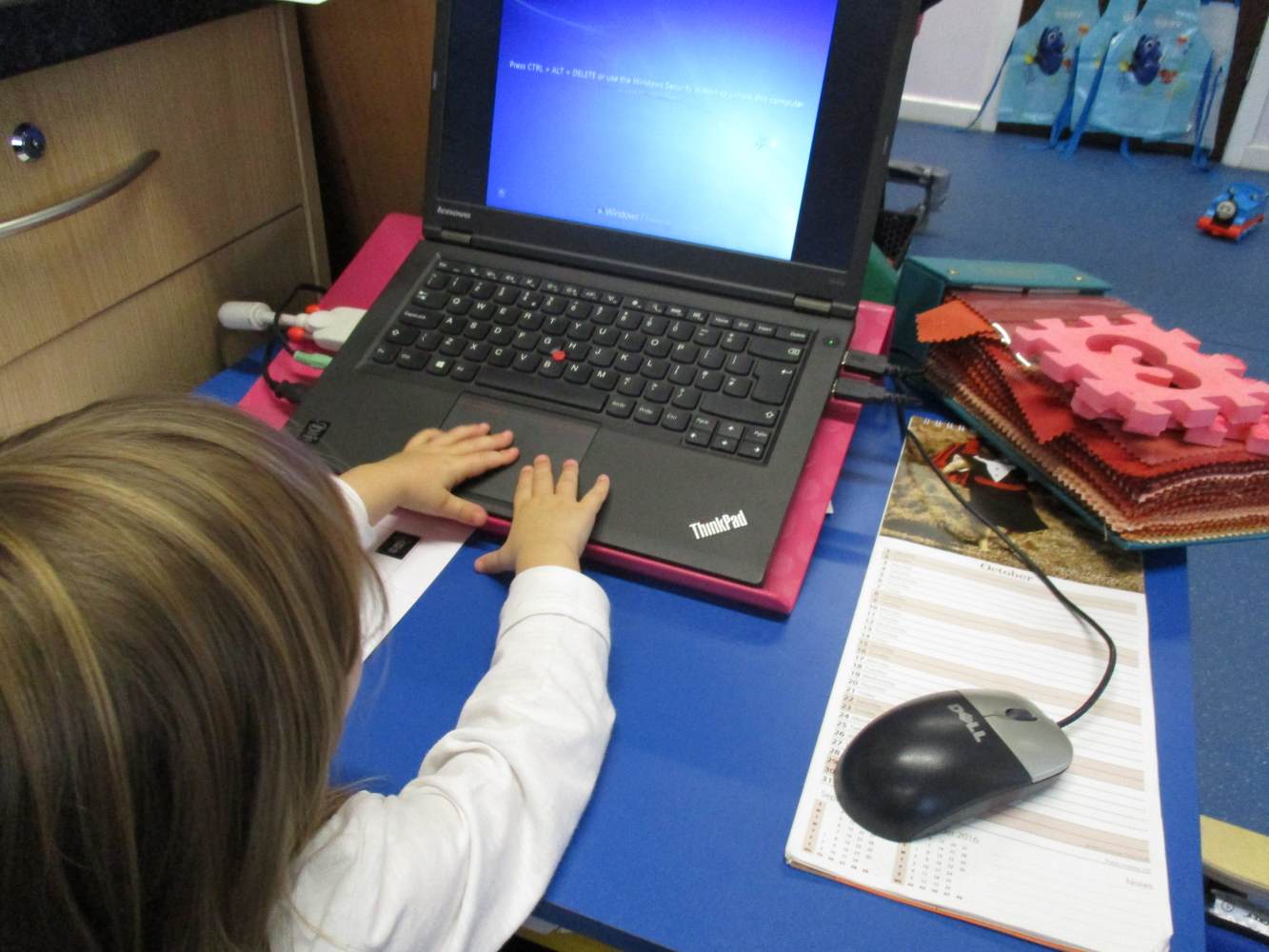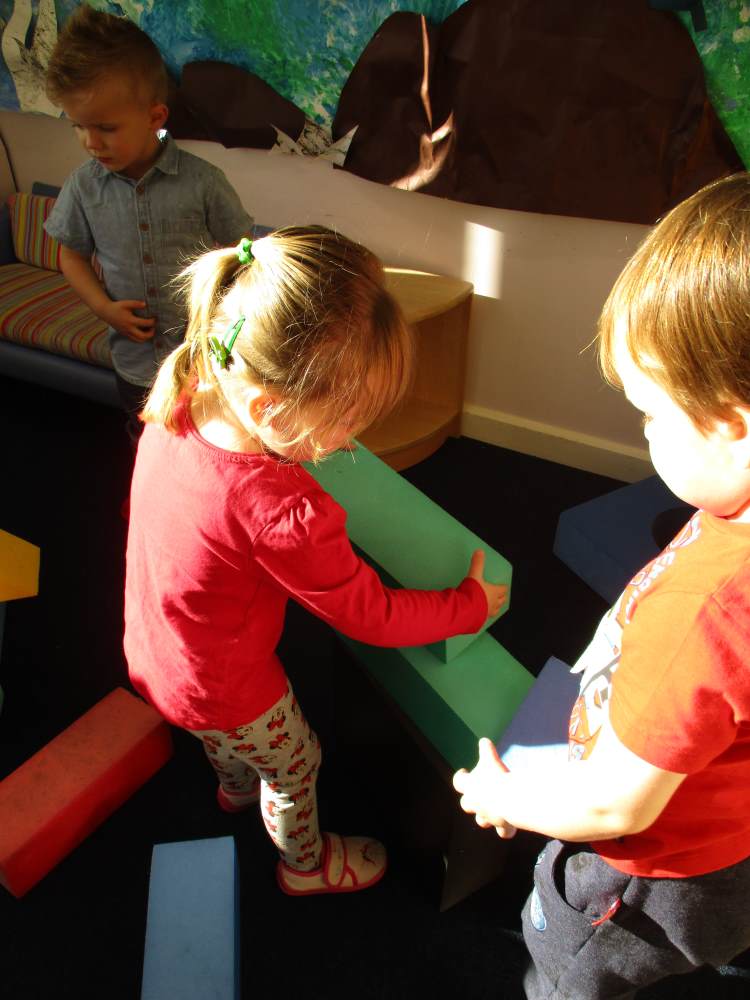 Autumn has arrived.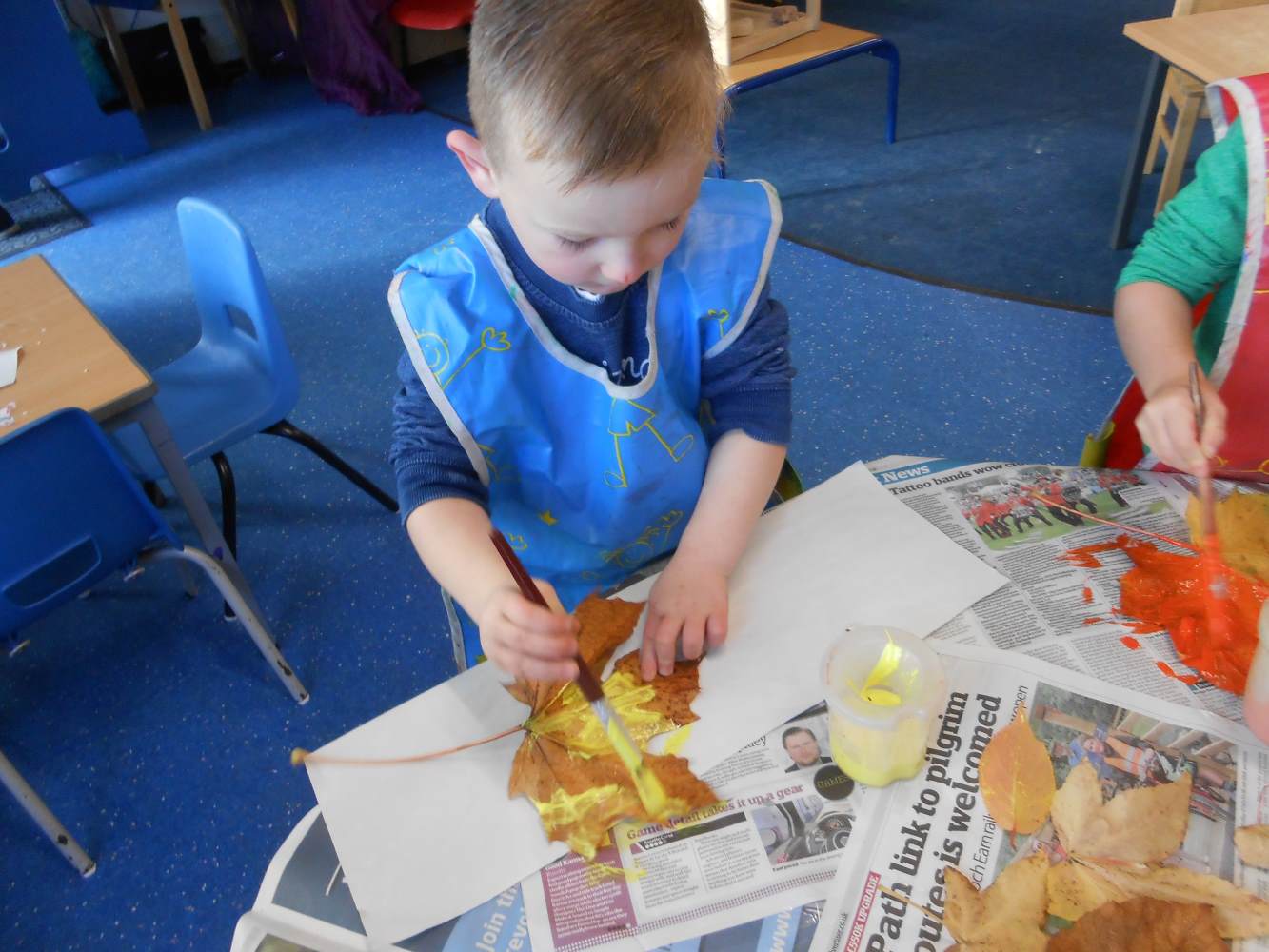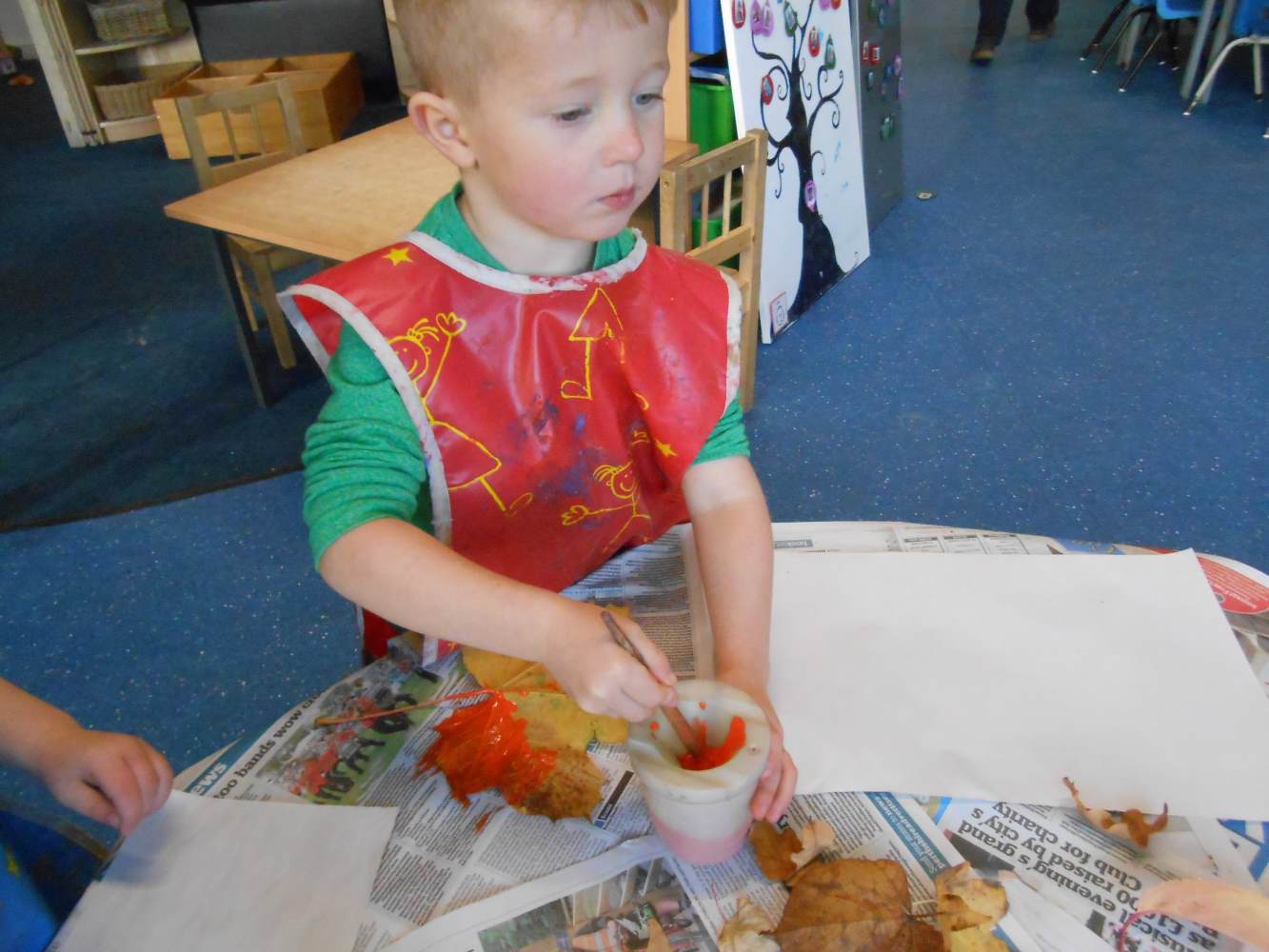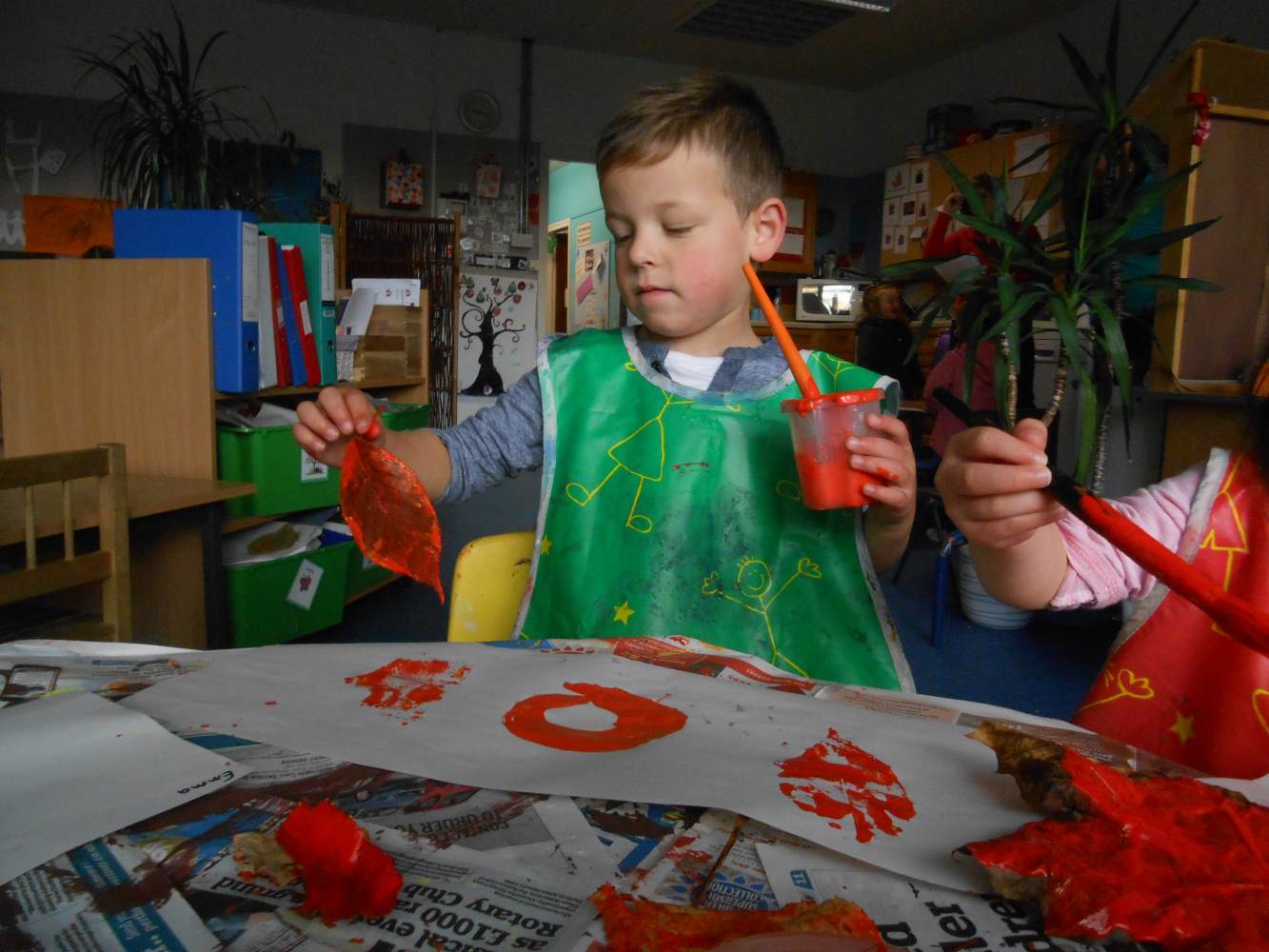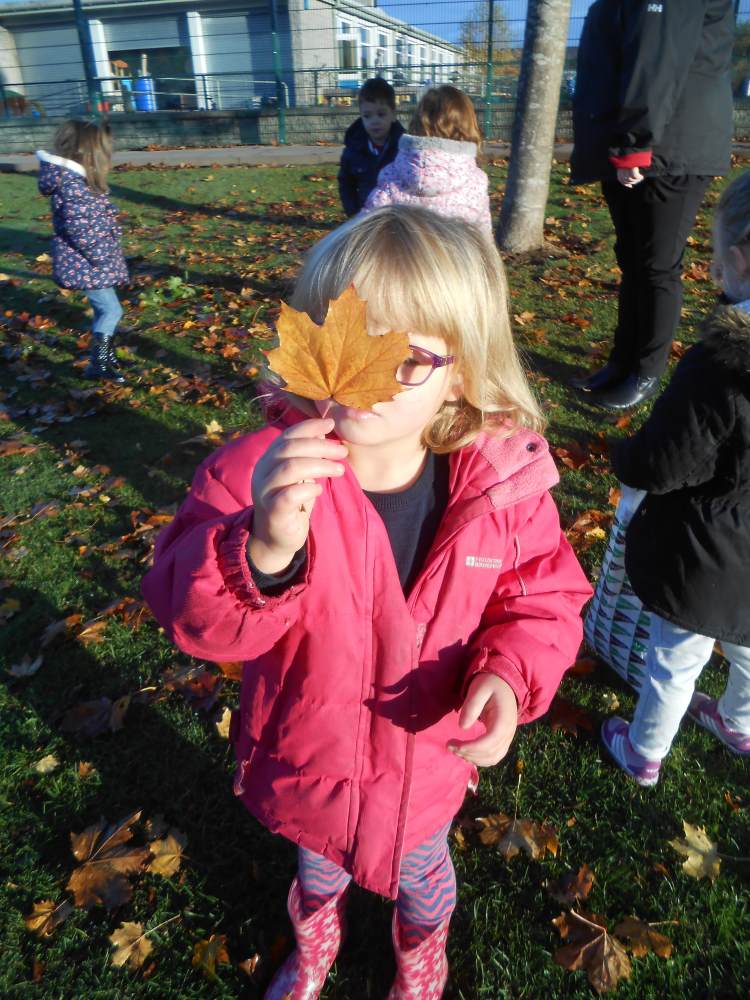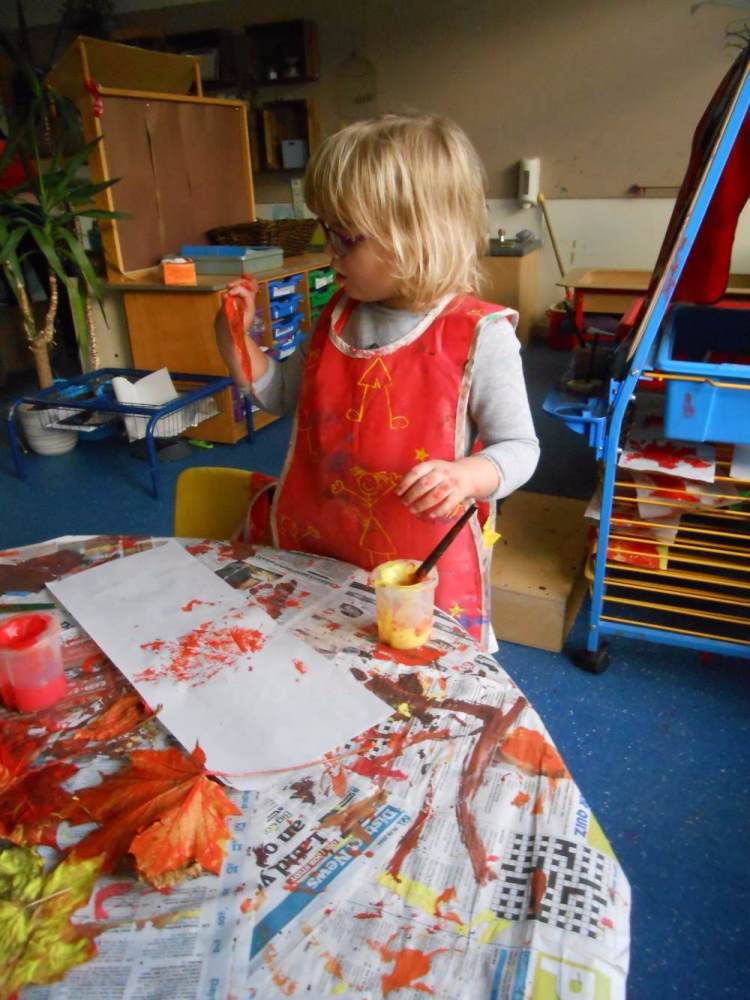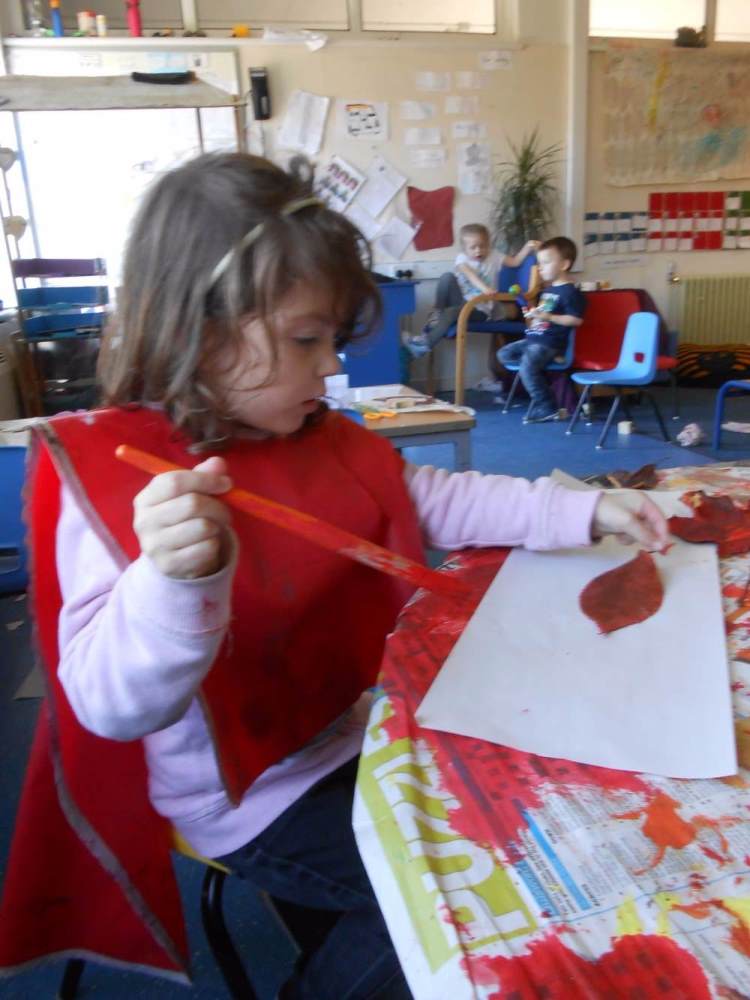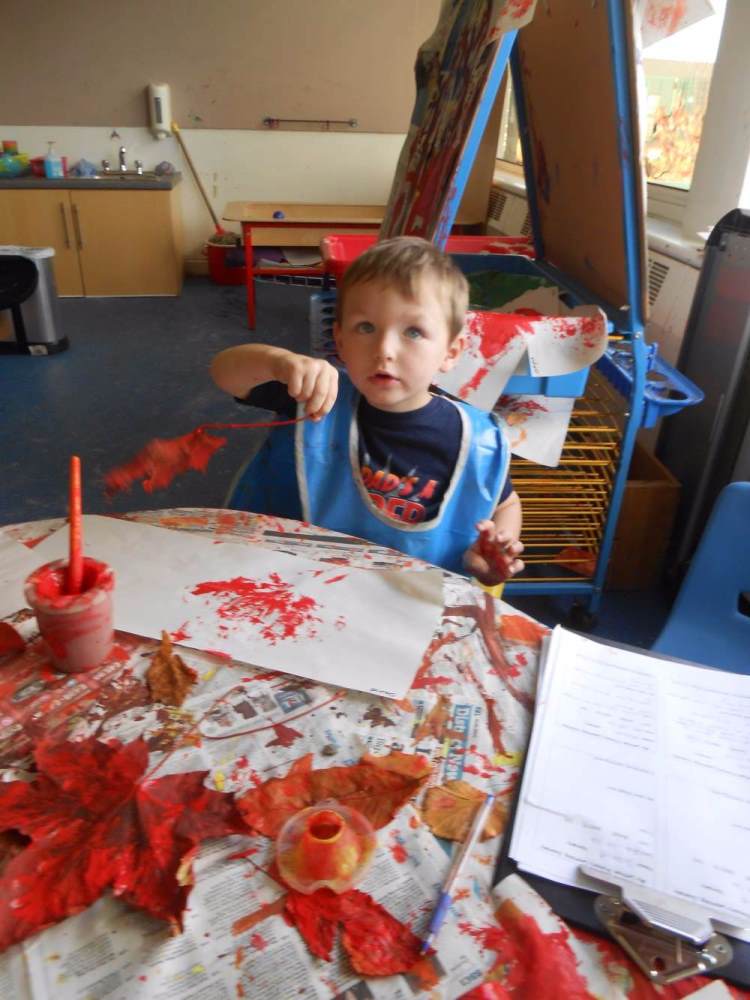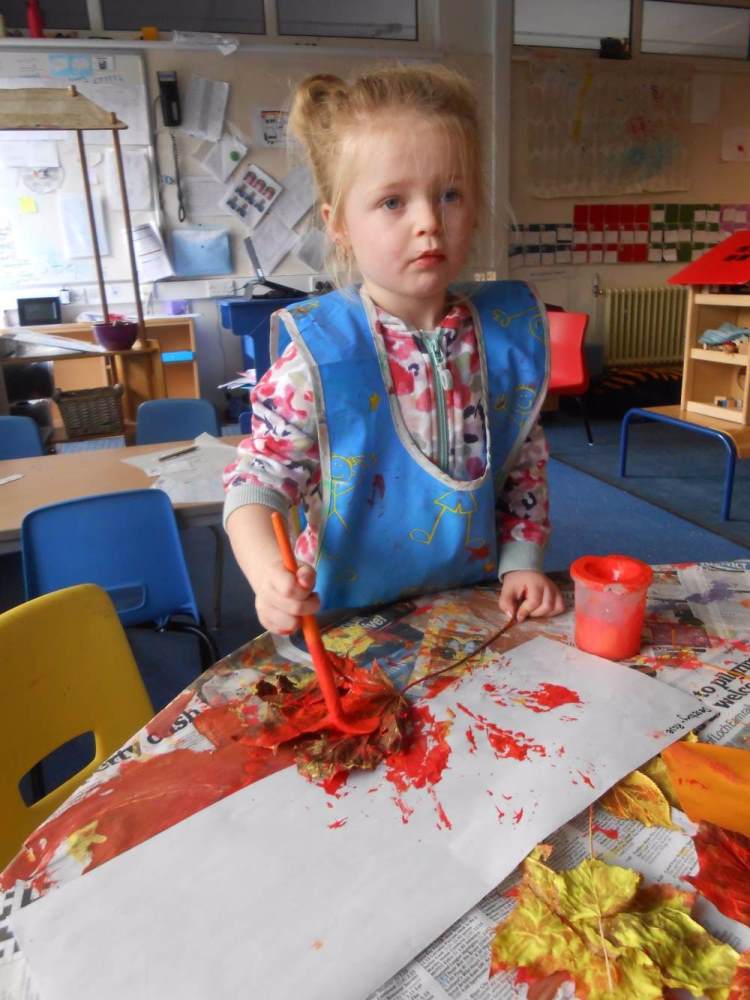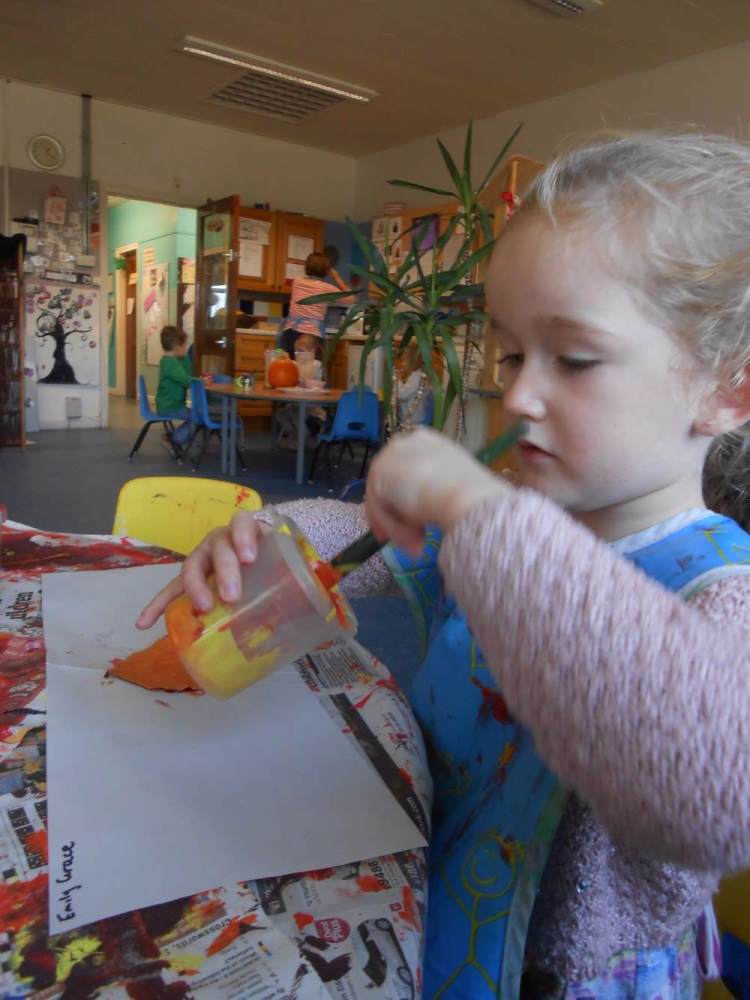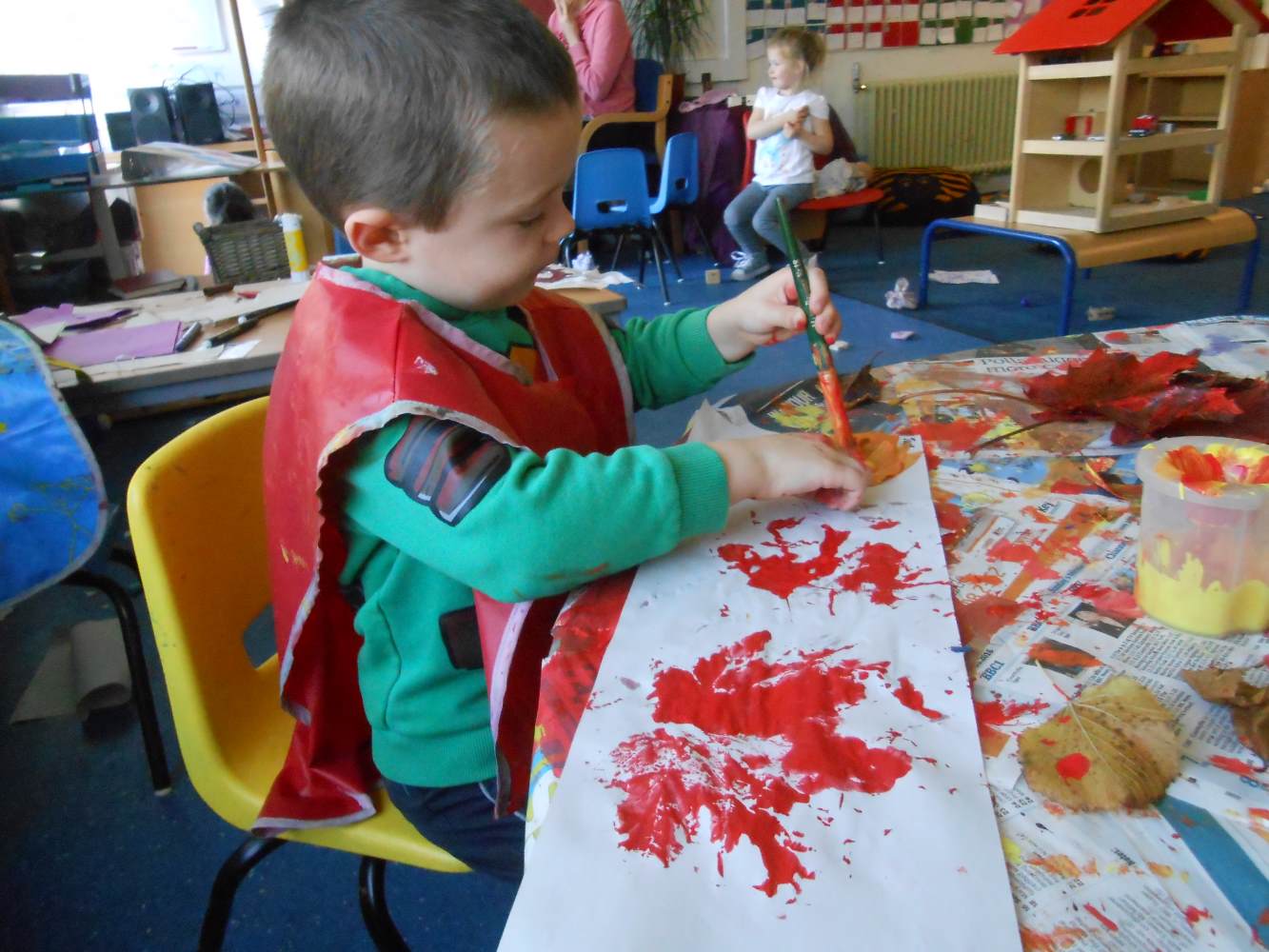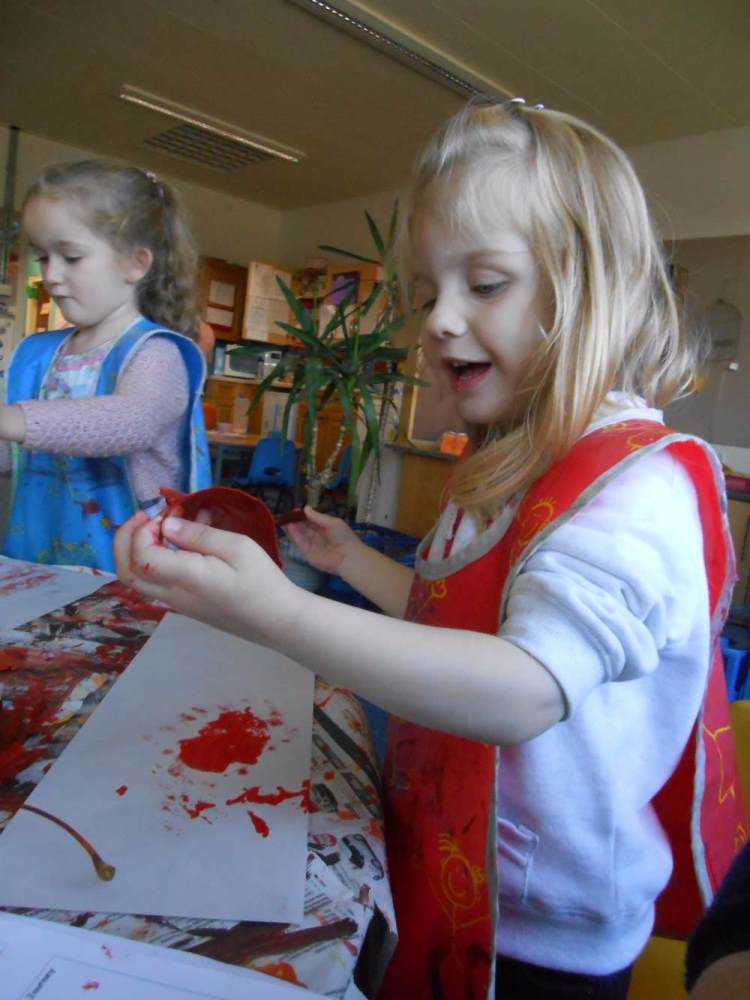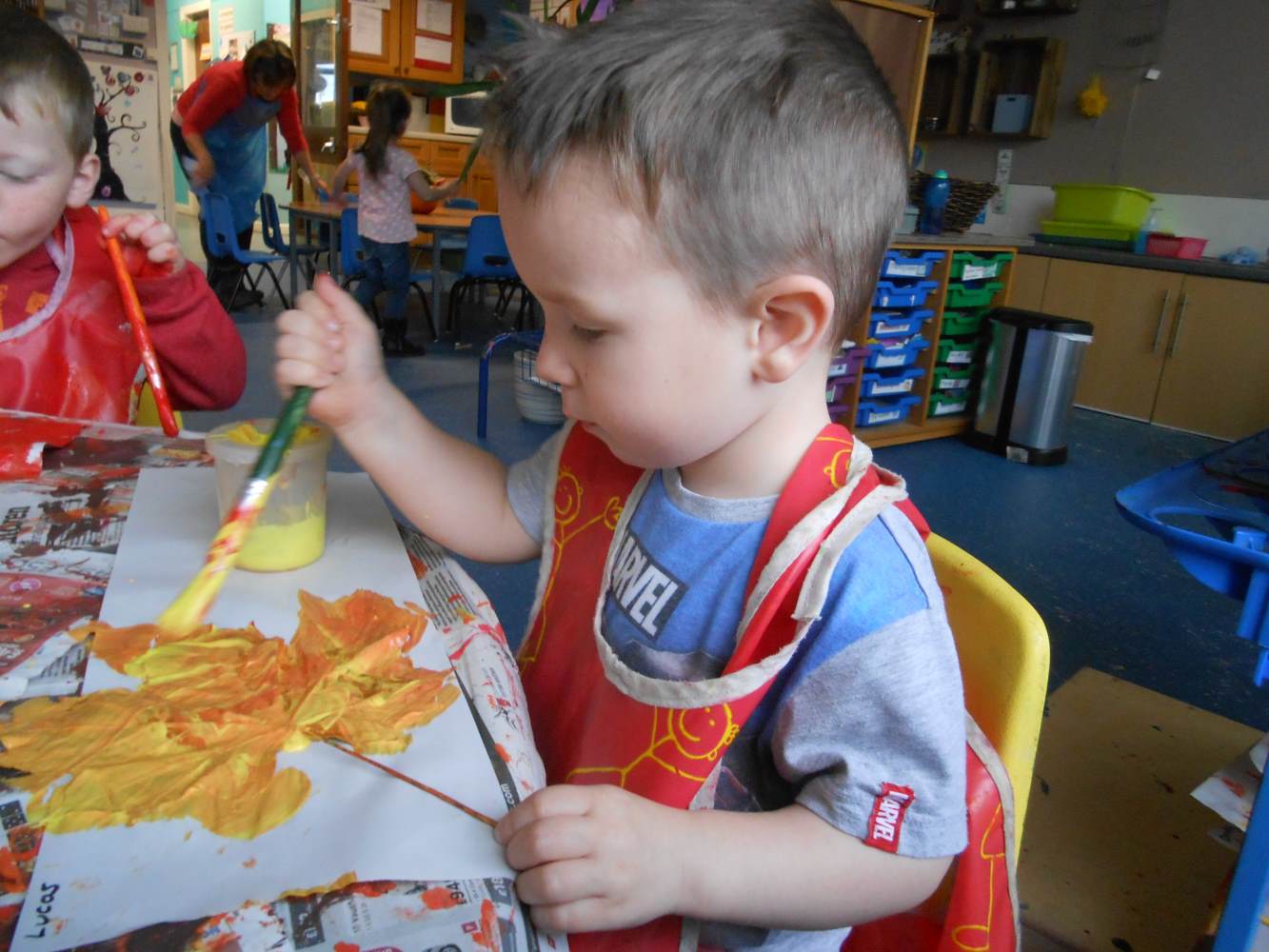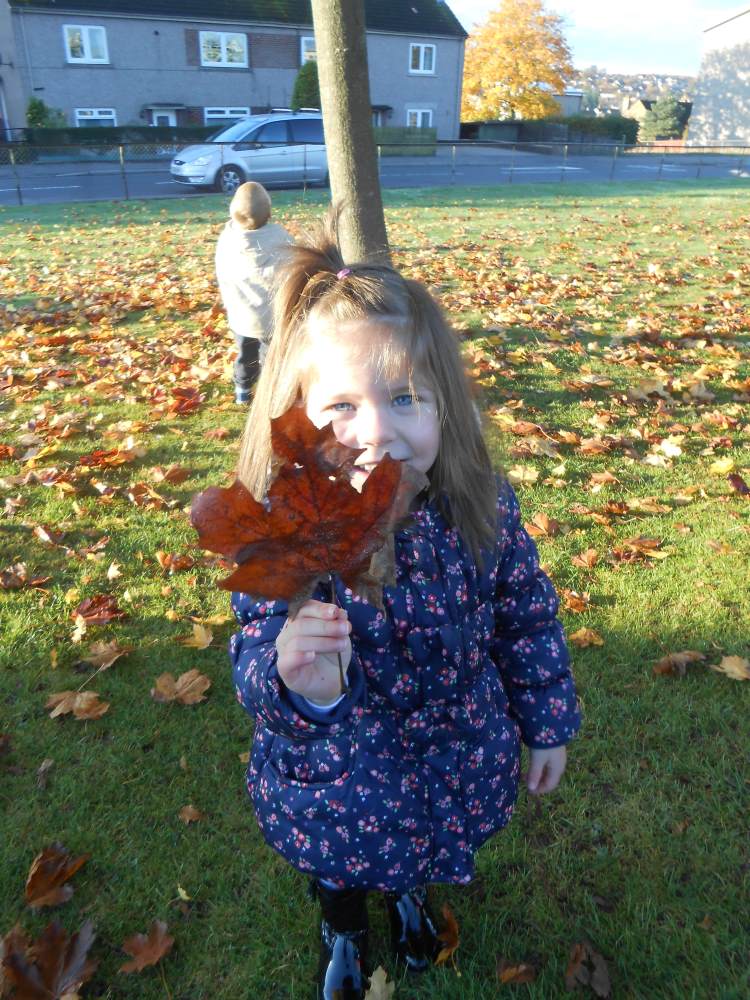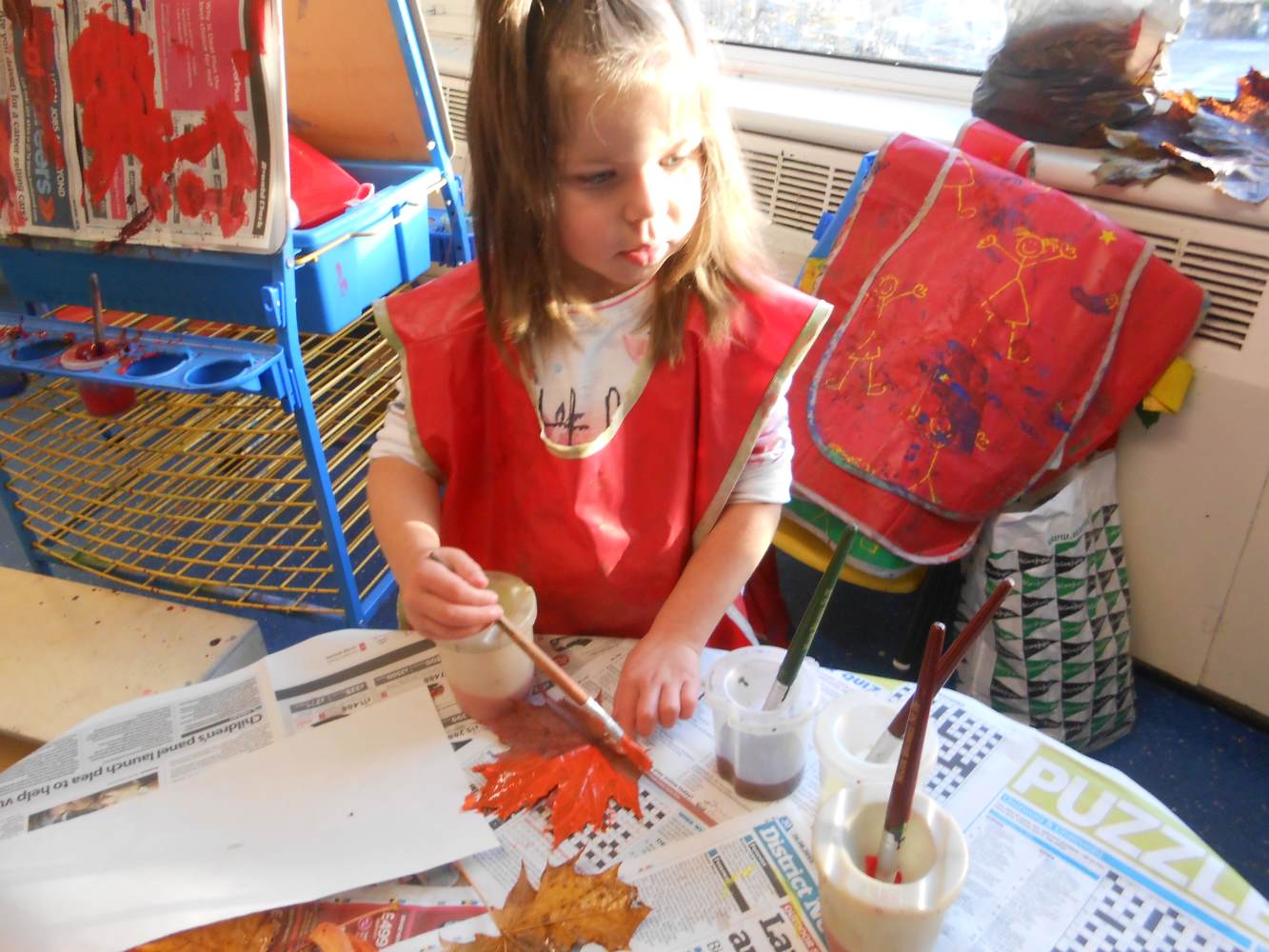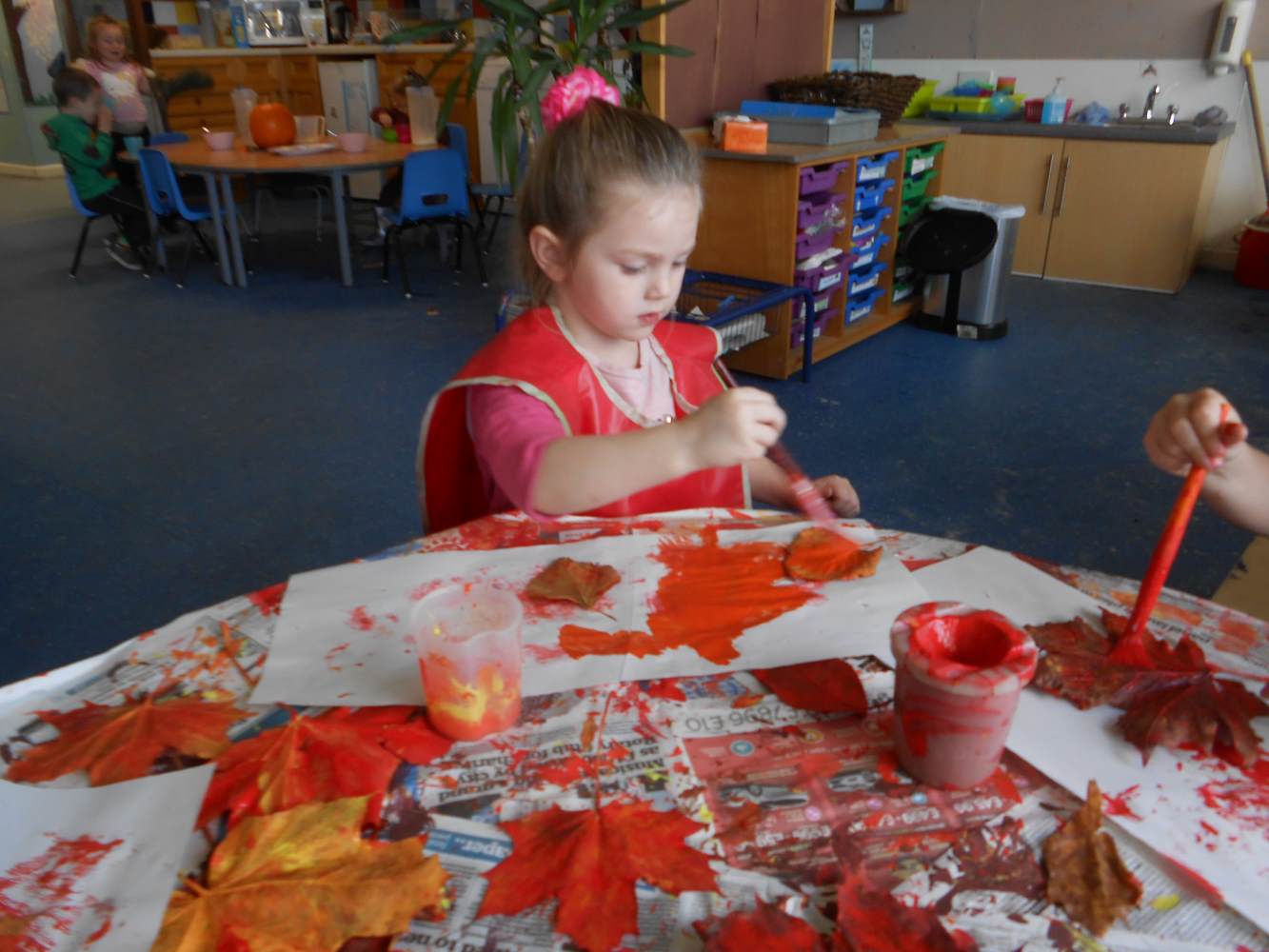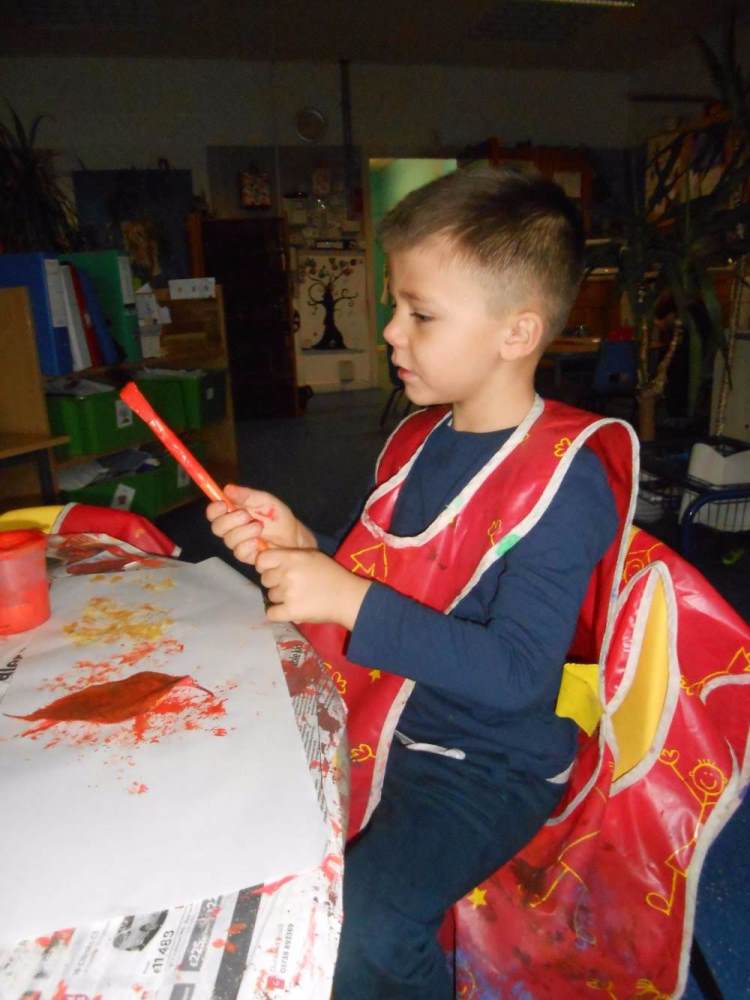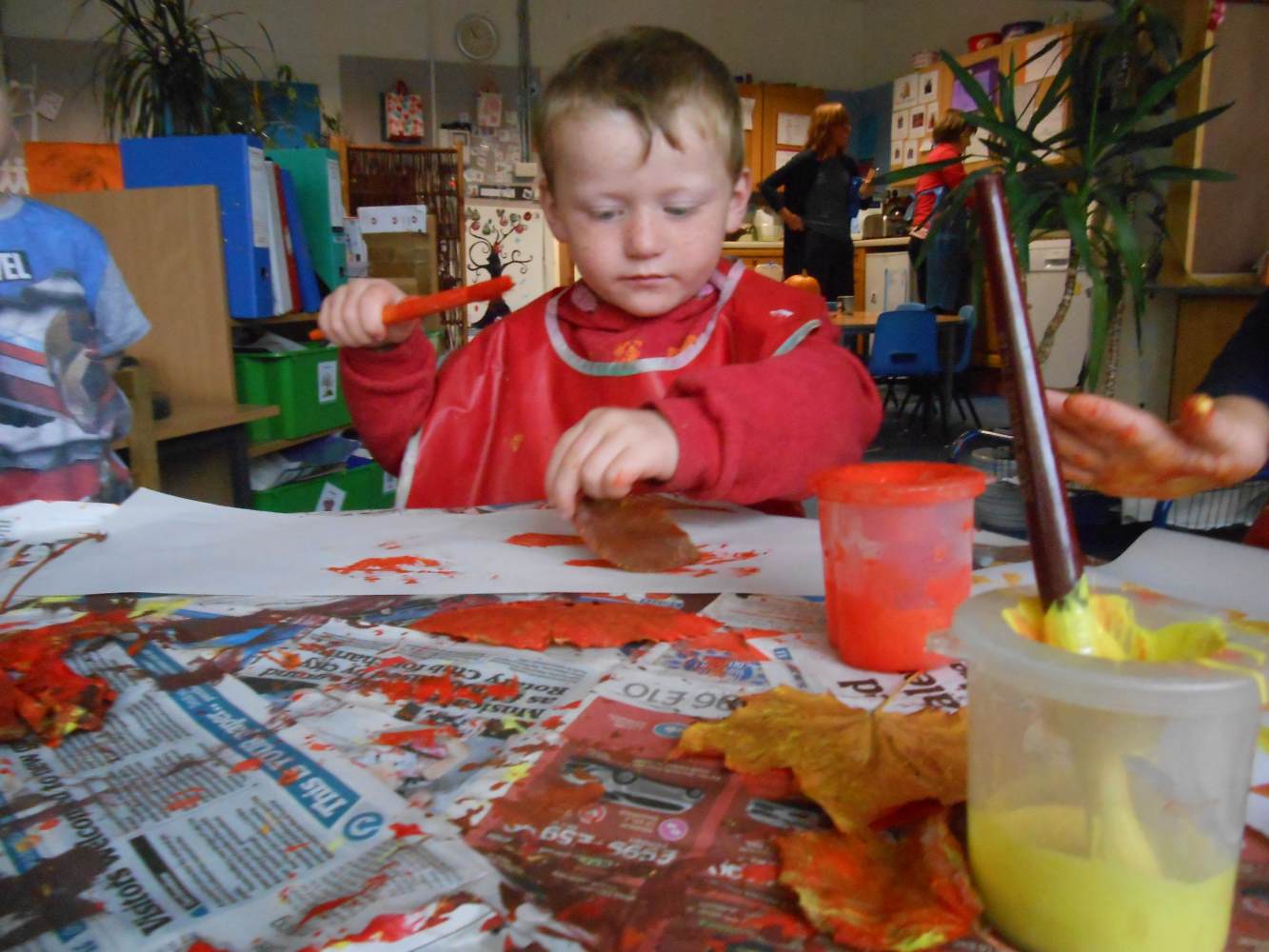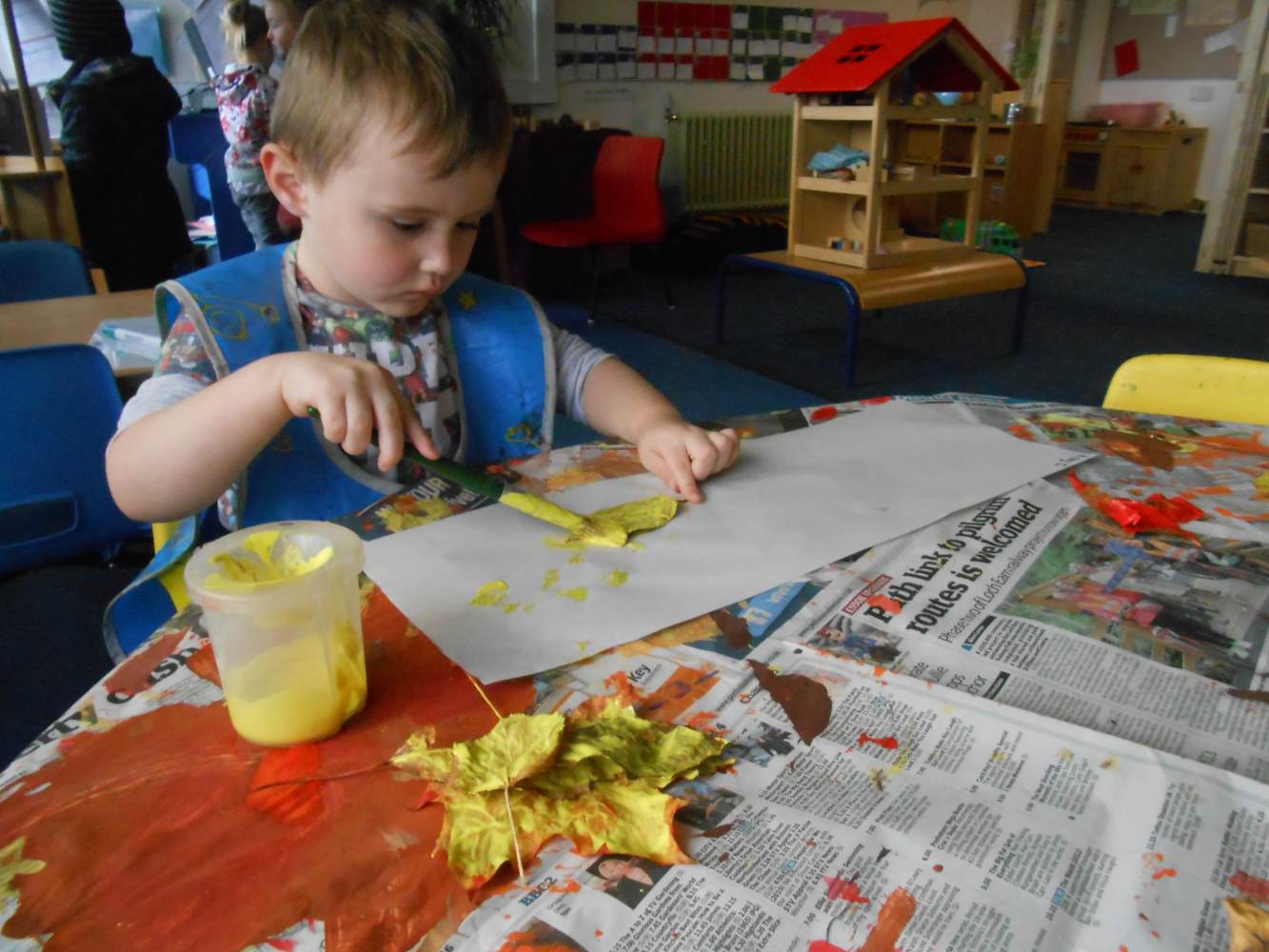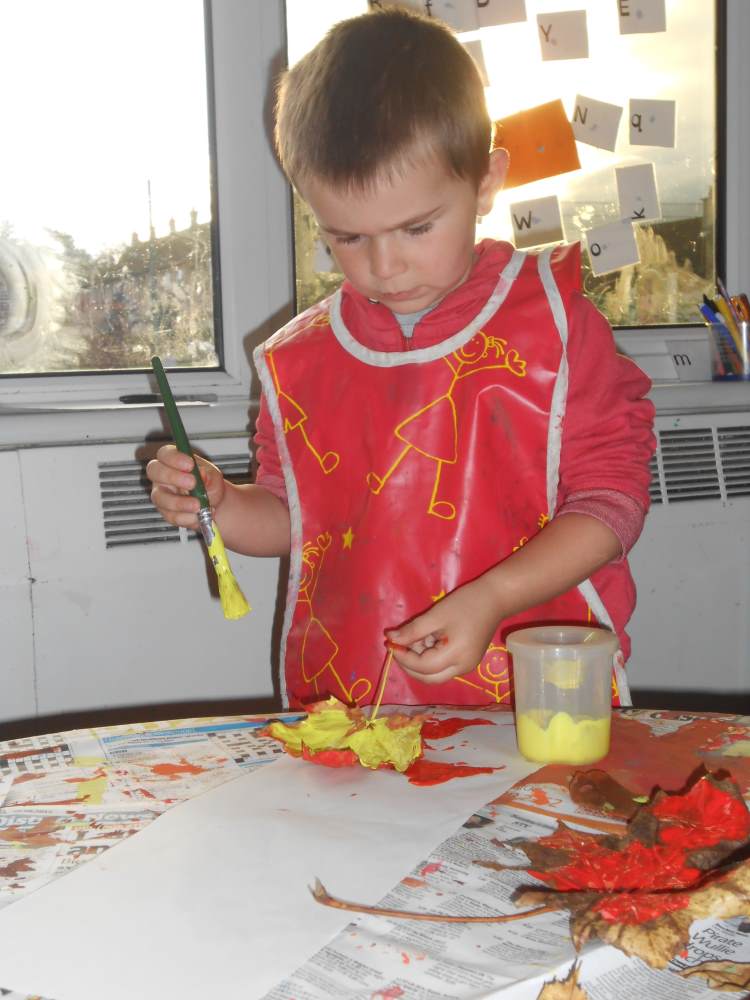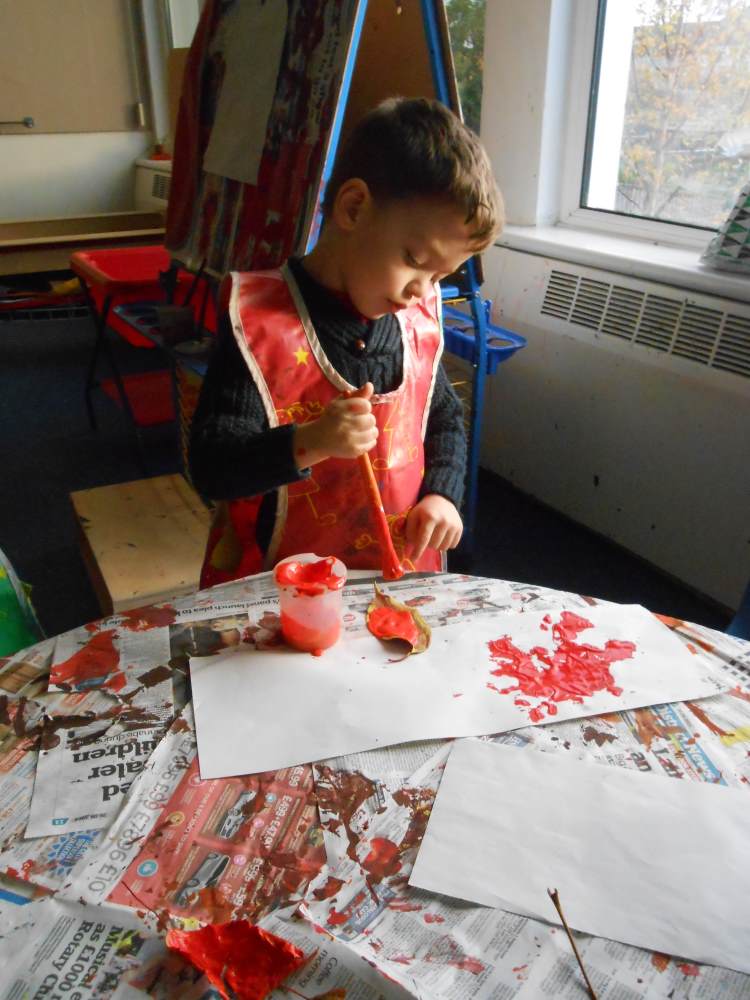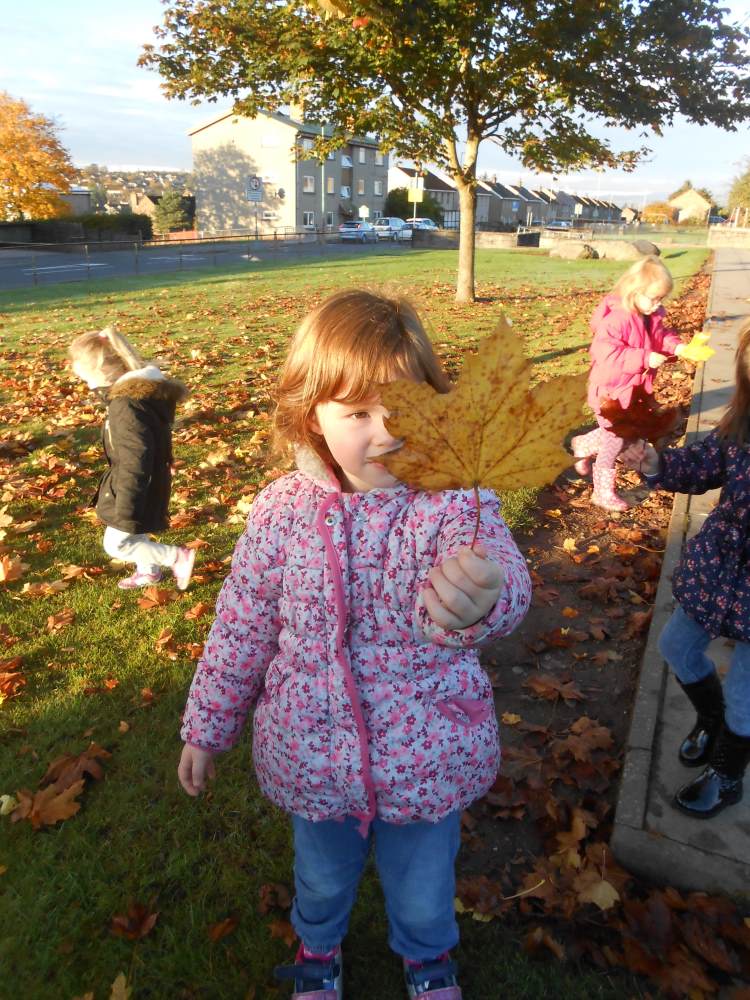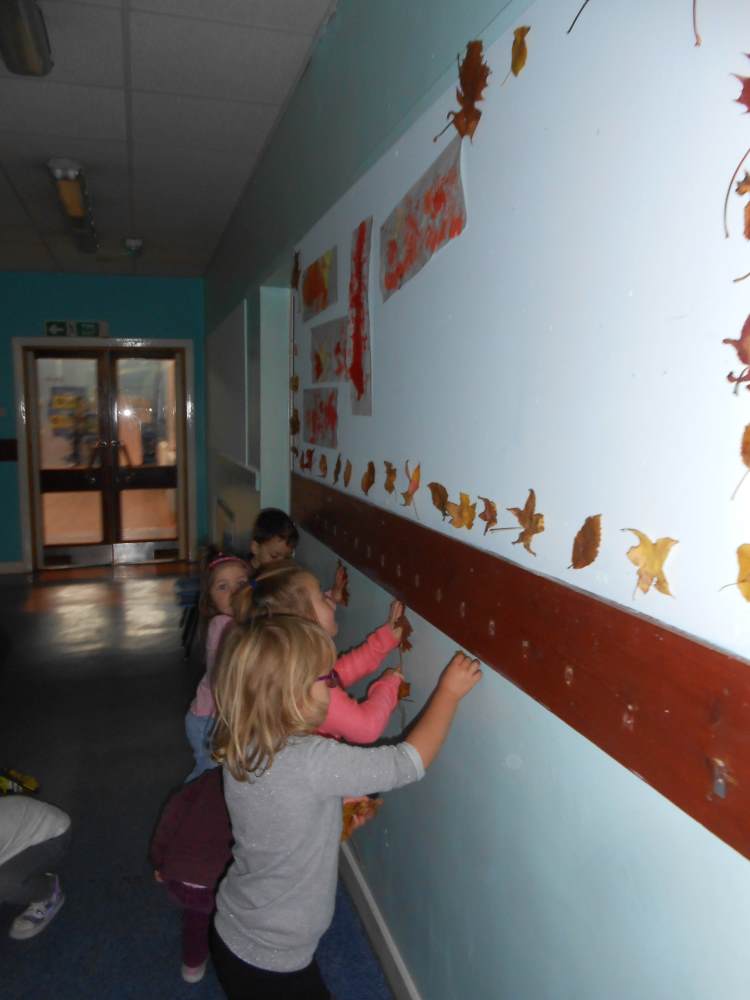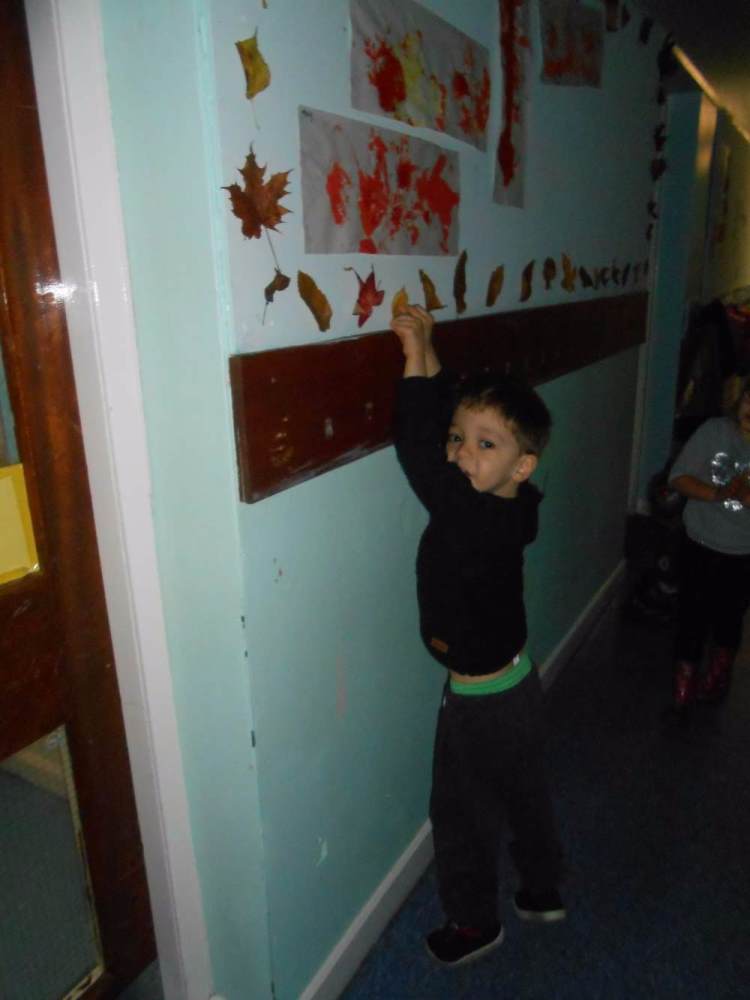 Term 1 Evaluations, Planning and Next Steps for Term 2.
These can be found in the main corridor. Please take time to have a read. Our evaluations include comments from parents/carers, the children, Perth & Kinross Council (following a one day visit) and the Nursery staff.
If you have any questions then please ask any of the staff team.
Welcome back.
It was lovely to have all Nursery children back after the October holidays and our new starts are settling well.
Please remember that the door to the Nursery garden will always be open so make sure your child has a warm waterproof coat and suitable footwear. Wellies with their name on them can be left under their peg. Due to the fact that the door is always open Room 2 can be chilly so layers of clothing are a good idea.
Thank you to all those who attended the Makaton sessions last term. The signs of the week can be found on the blackboard outside Room 2
Please put these important dates in your diary.
Wednesday 9th November 2.30pm – Rhyme time for Nursery children and parents/carers.
Friday 11th November 11.30am - Rhyme time for Nursery children and parents/carers.
Thursday 17th, Friday 18th November – Nursery and school closed to children for staff training days.
Wednesday 30th November – Nursery reports issued.
Tuesday 6th December 11.35am or 2.35pm – Stay and Play for 3-5's and a chance to meet with your child's keyworker and discuss their report.
Thursday 8th December 11.35am or 2.35pm - Stay and Play for 3-5's and a chance to meet with your child's keyworker and discuss their report.
Strong Start 2's will continue to have fortnightly stay and play sessions.
Tuesday 20th December 2.20pm – Nursery Christmas Sing along. All children, parents and carers invited.
Friday 23rd December – Nursery closes at 12 noon for the holidays.
September and October 2016
Phase 2 of the development of our Nursery garden has begun. A big thank you to all who voted for our project through Tesco bags for life scheme.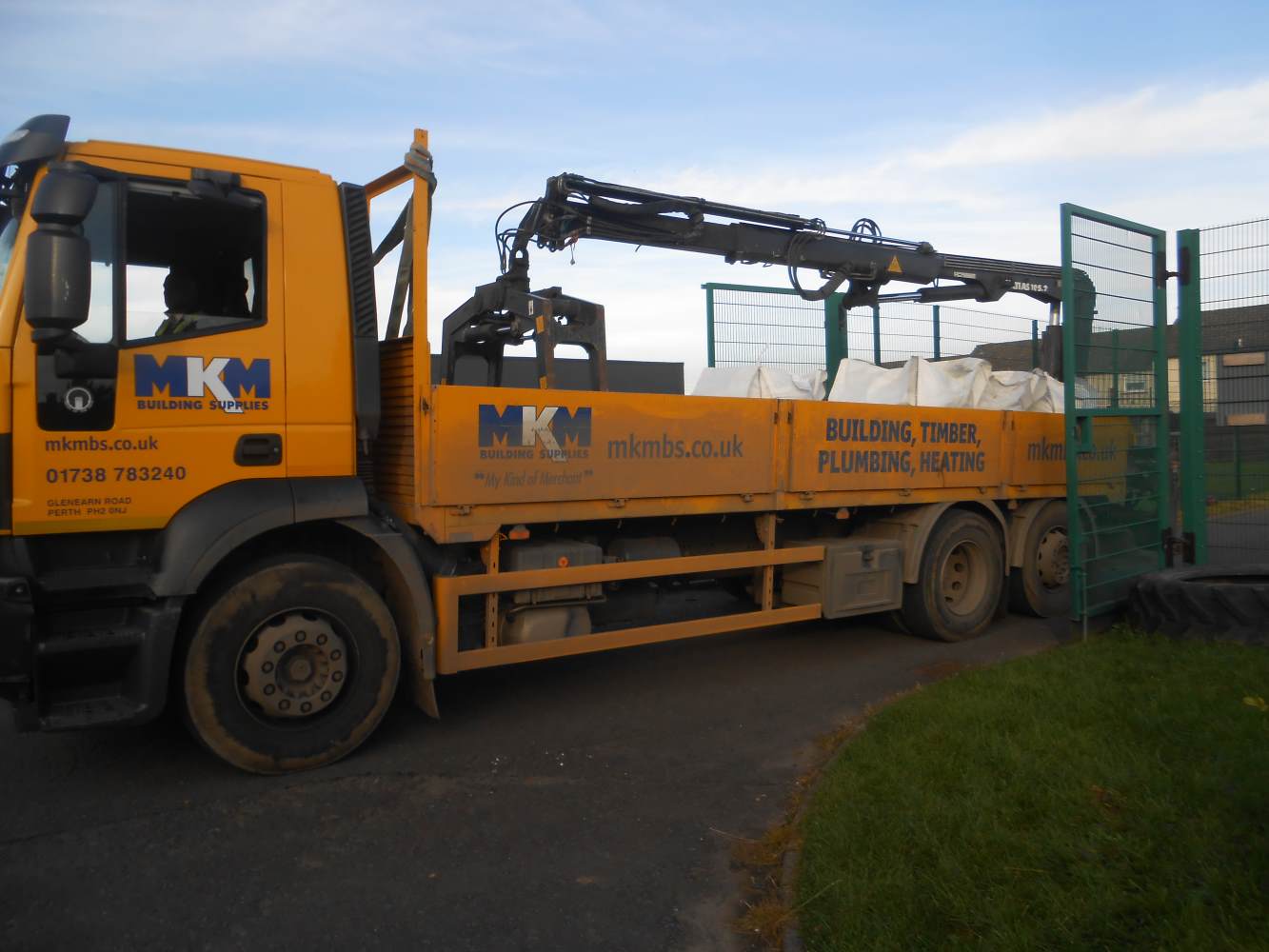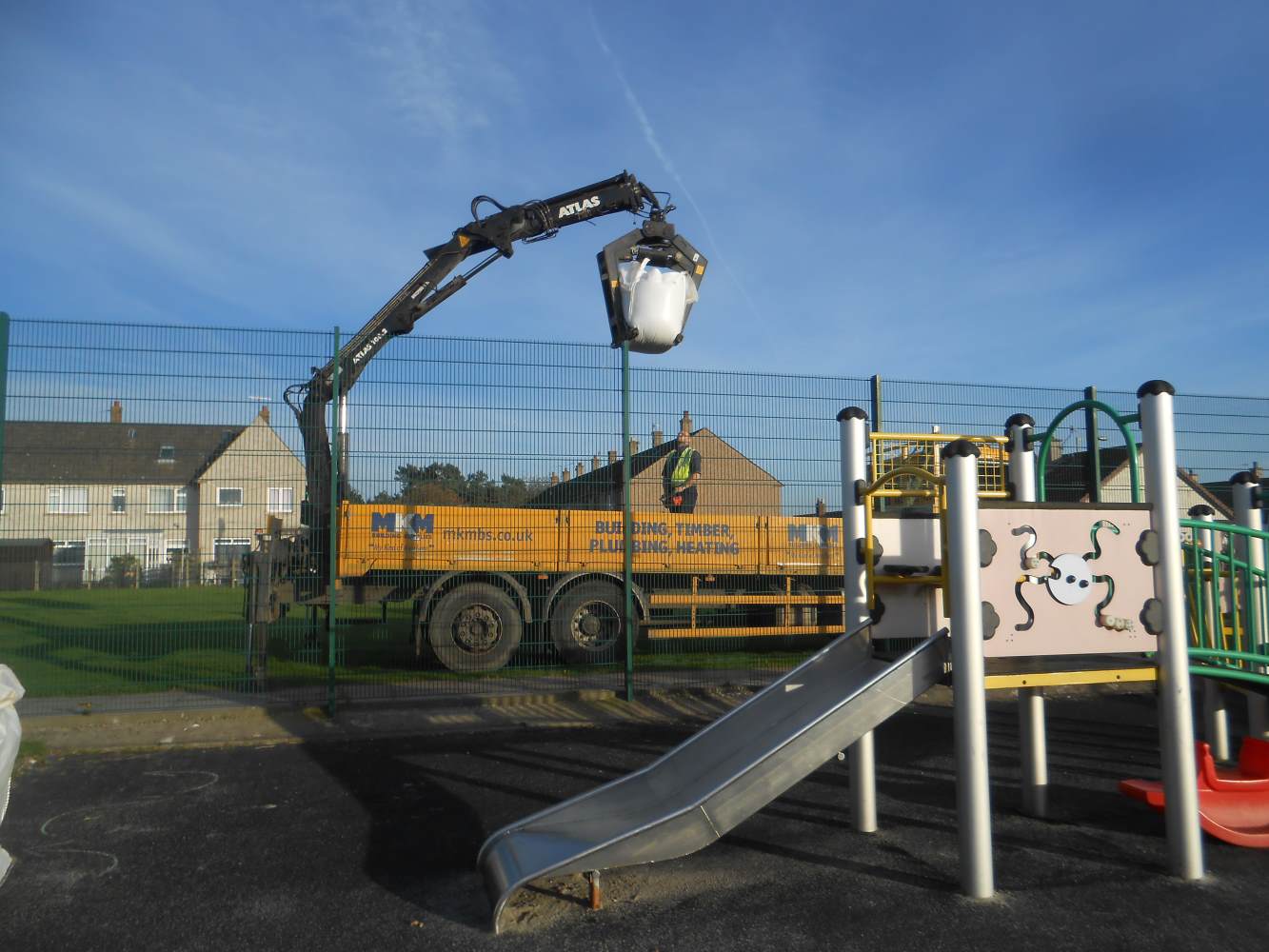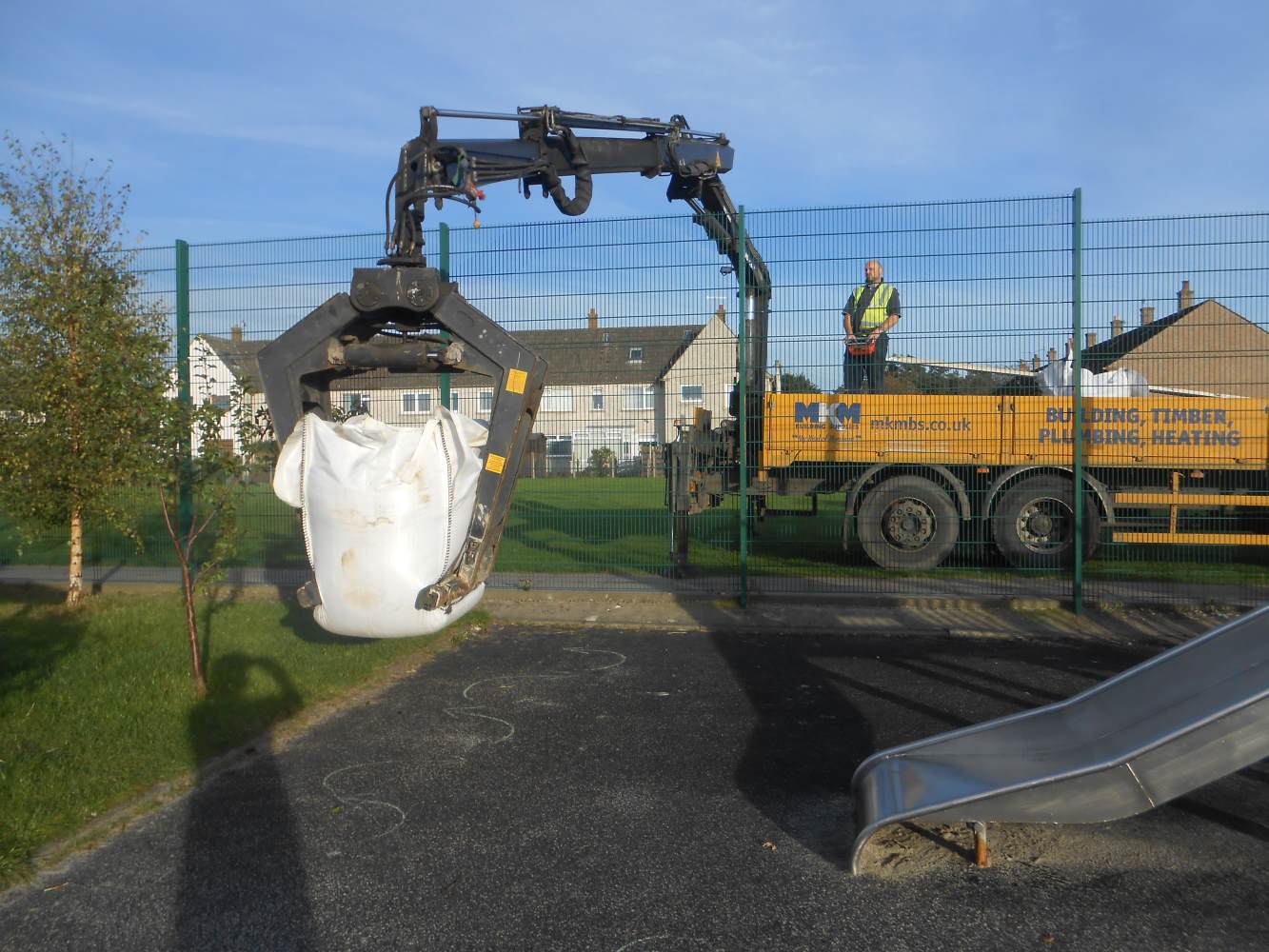 Tuesday the 4th of October was a very busy day in the Garden. There were stones to move and long wooden blocks. A huge bag of sand had been delivered and the sandpit needed to be refilled. Everyone worked very hard and there was plenty of fun and nonsense too.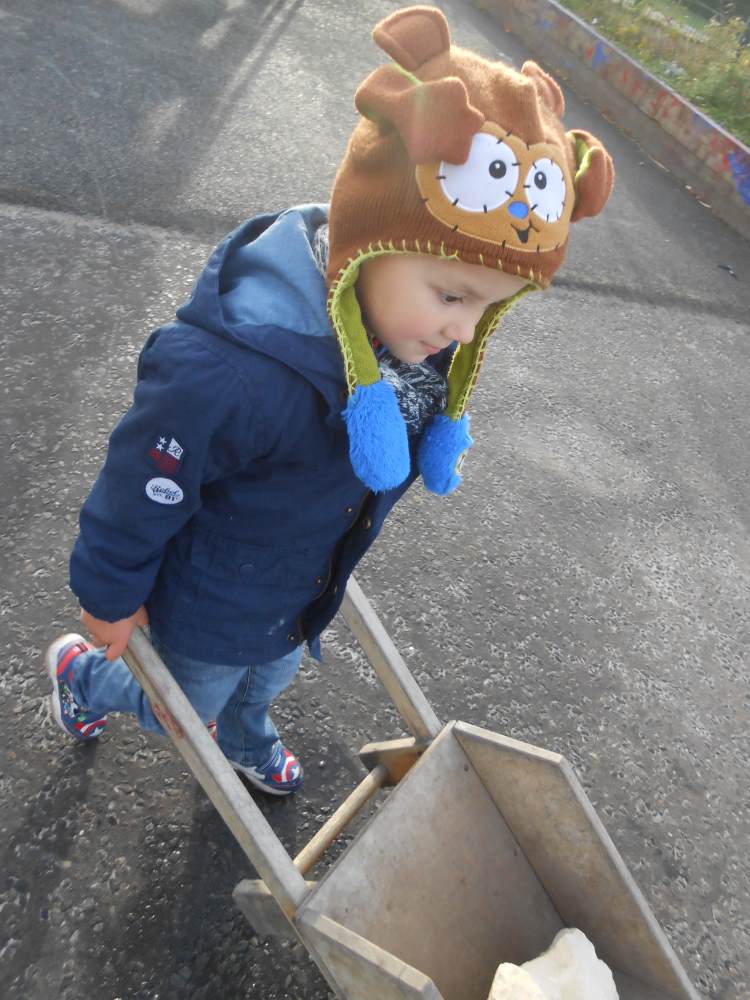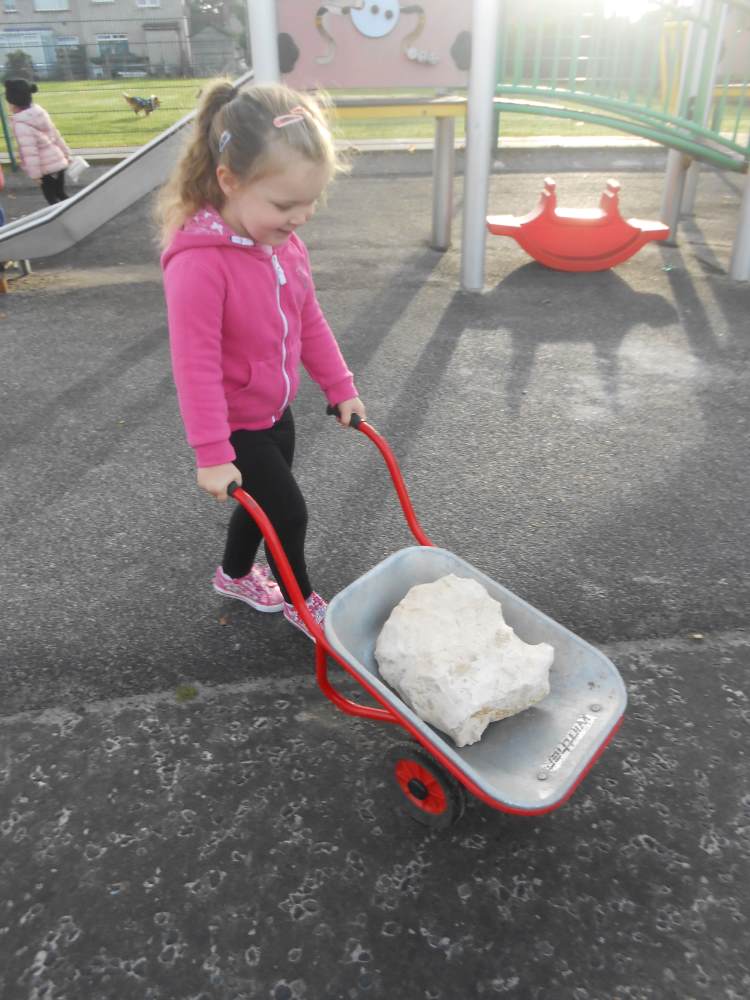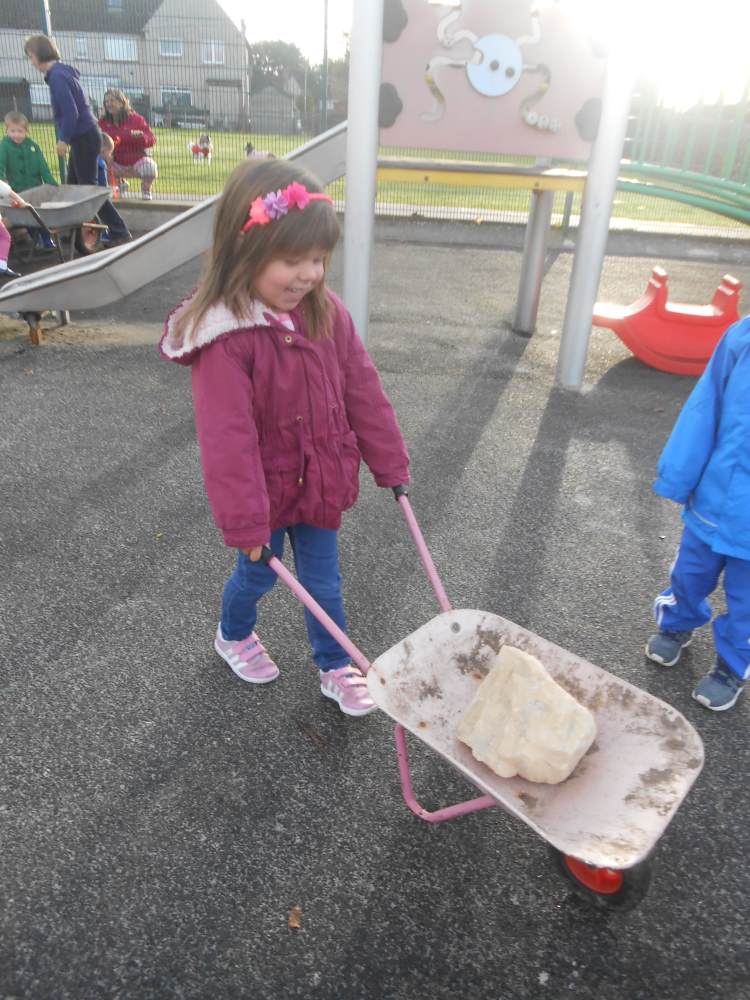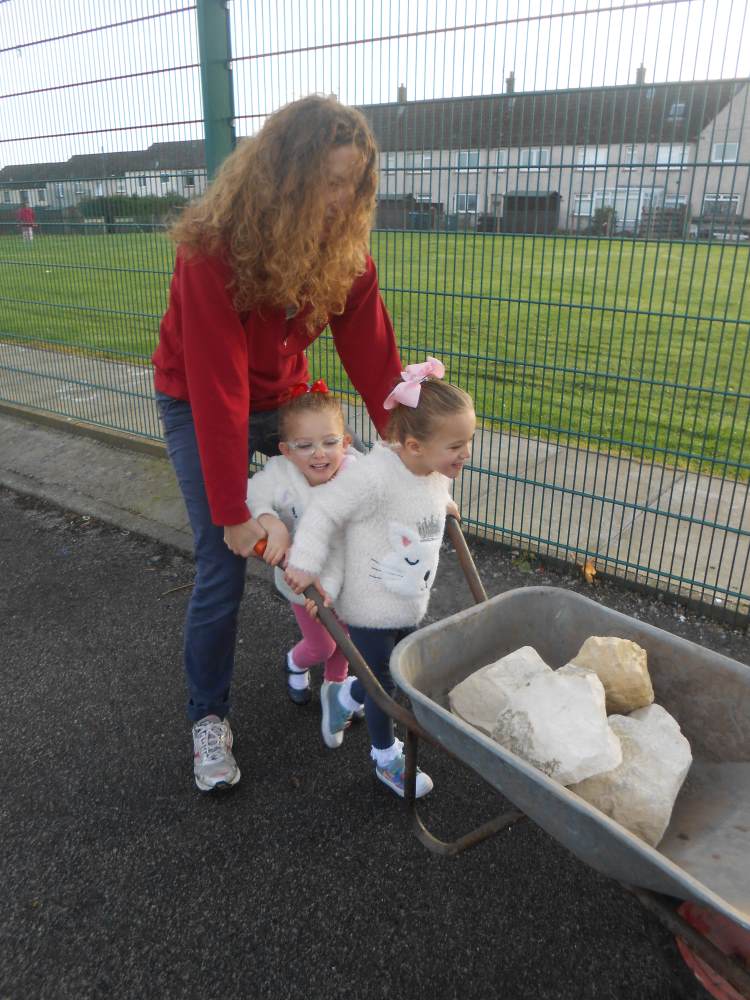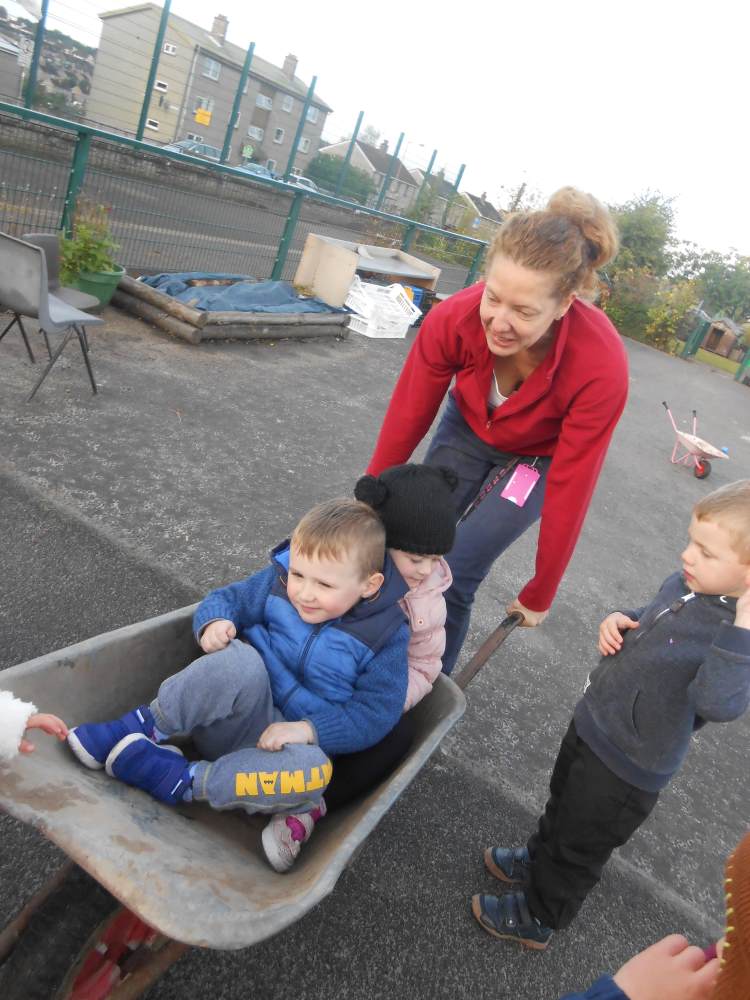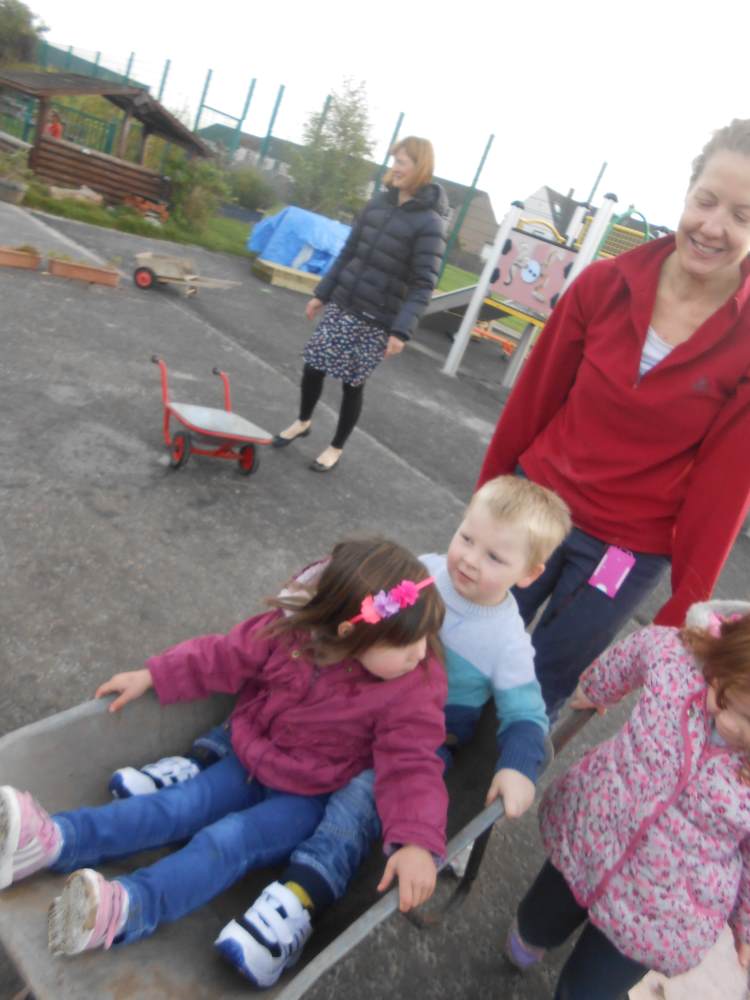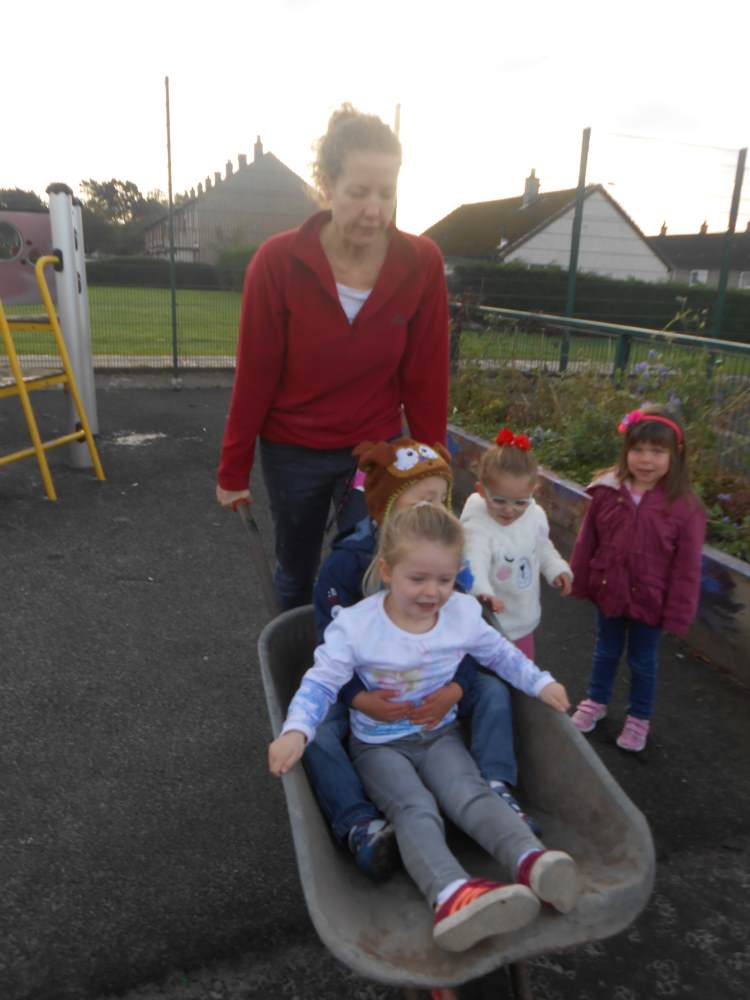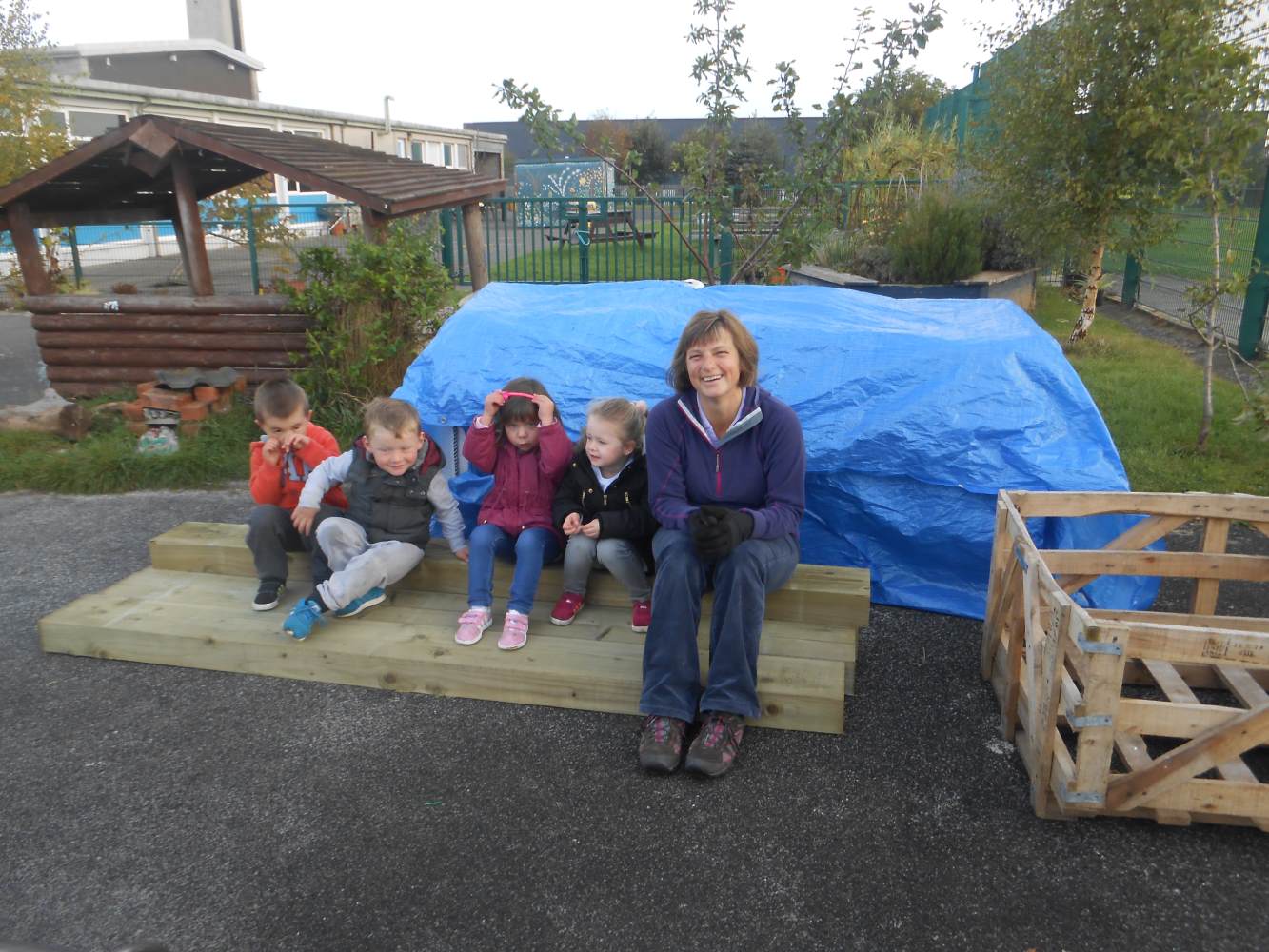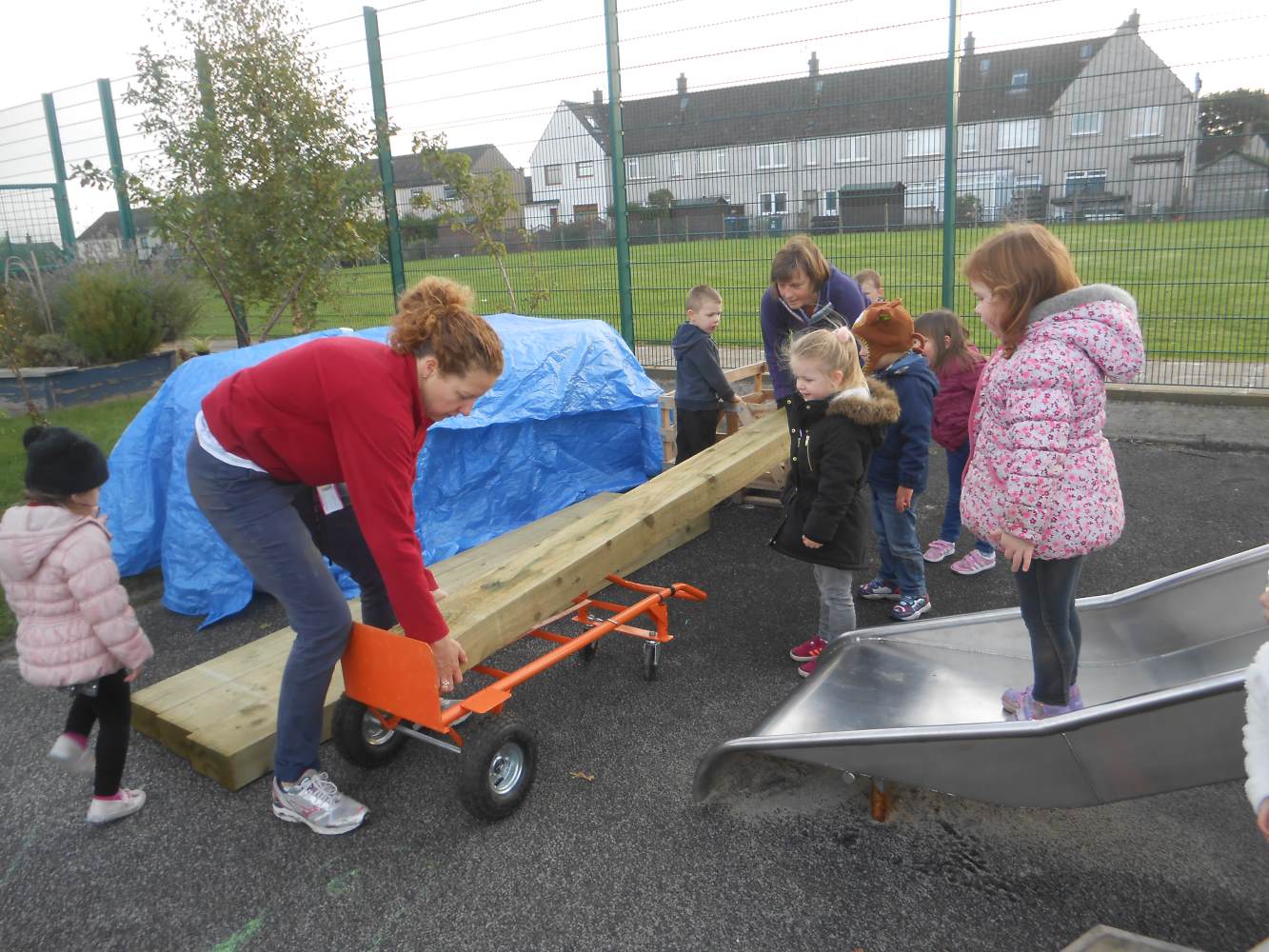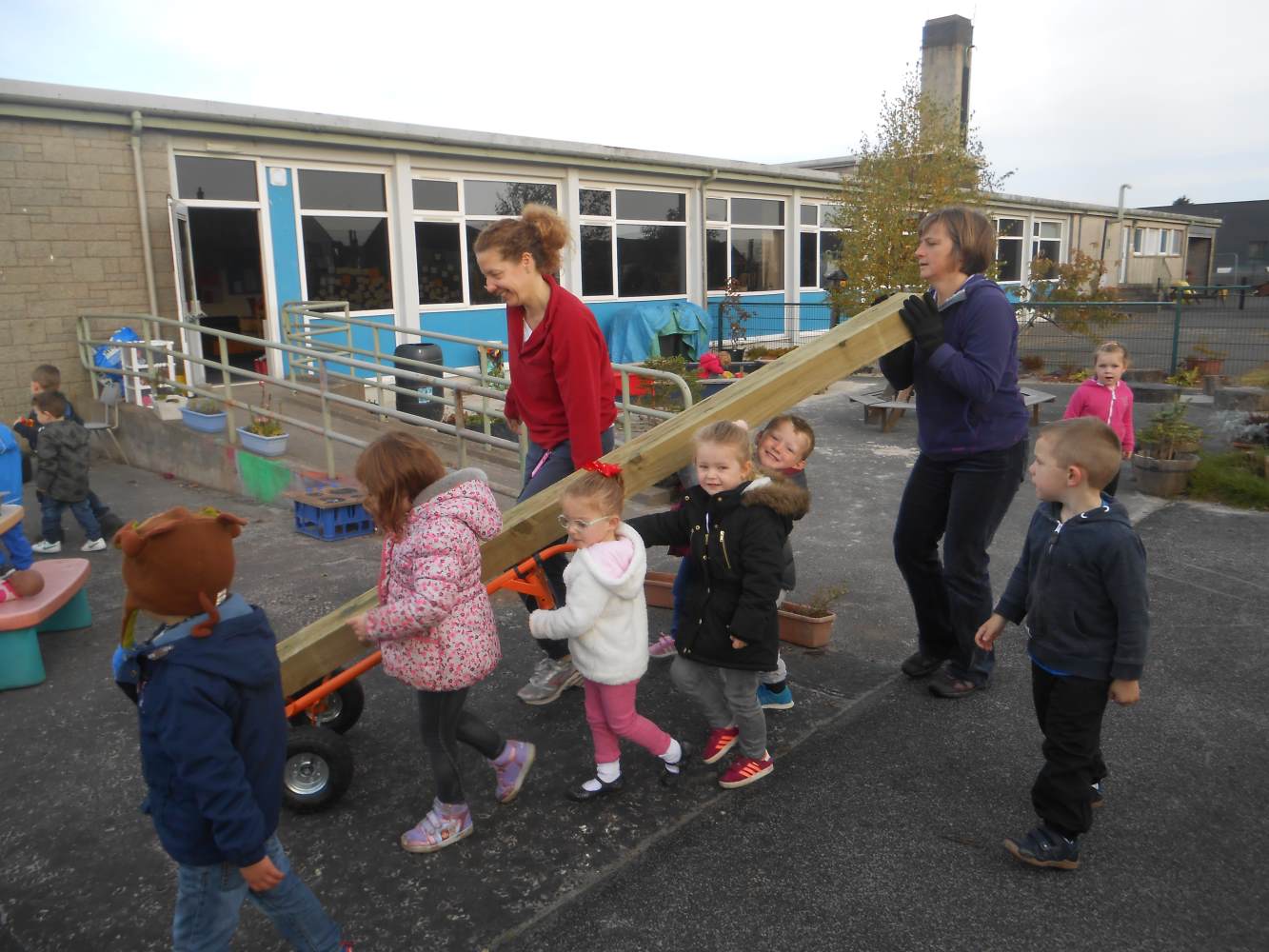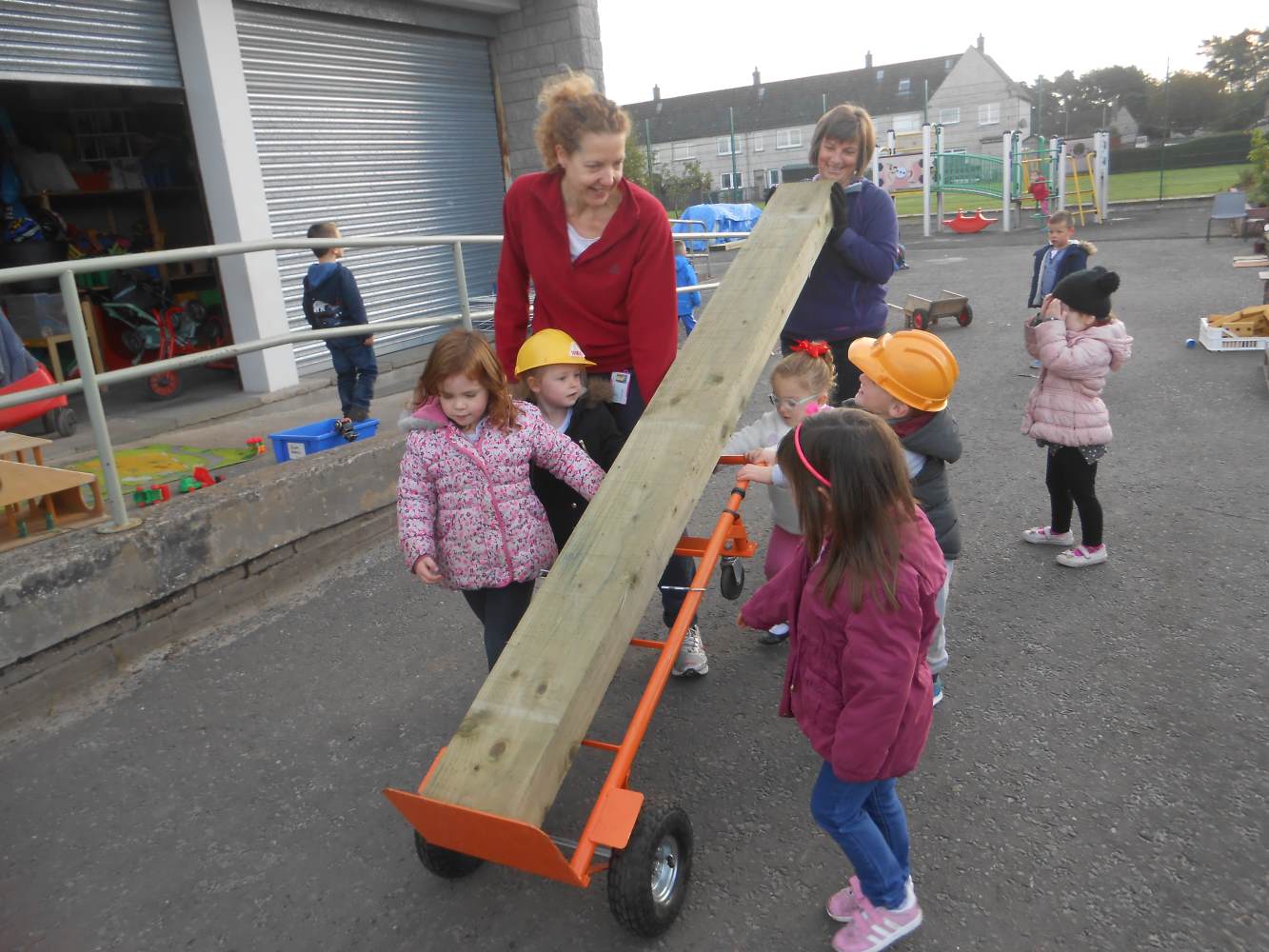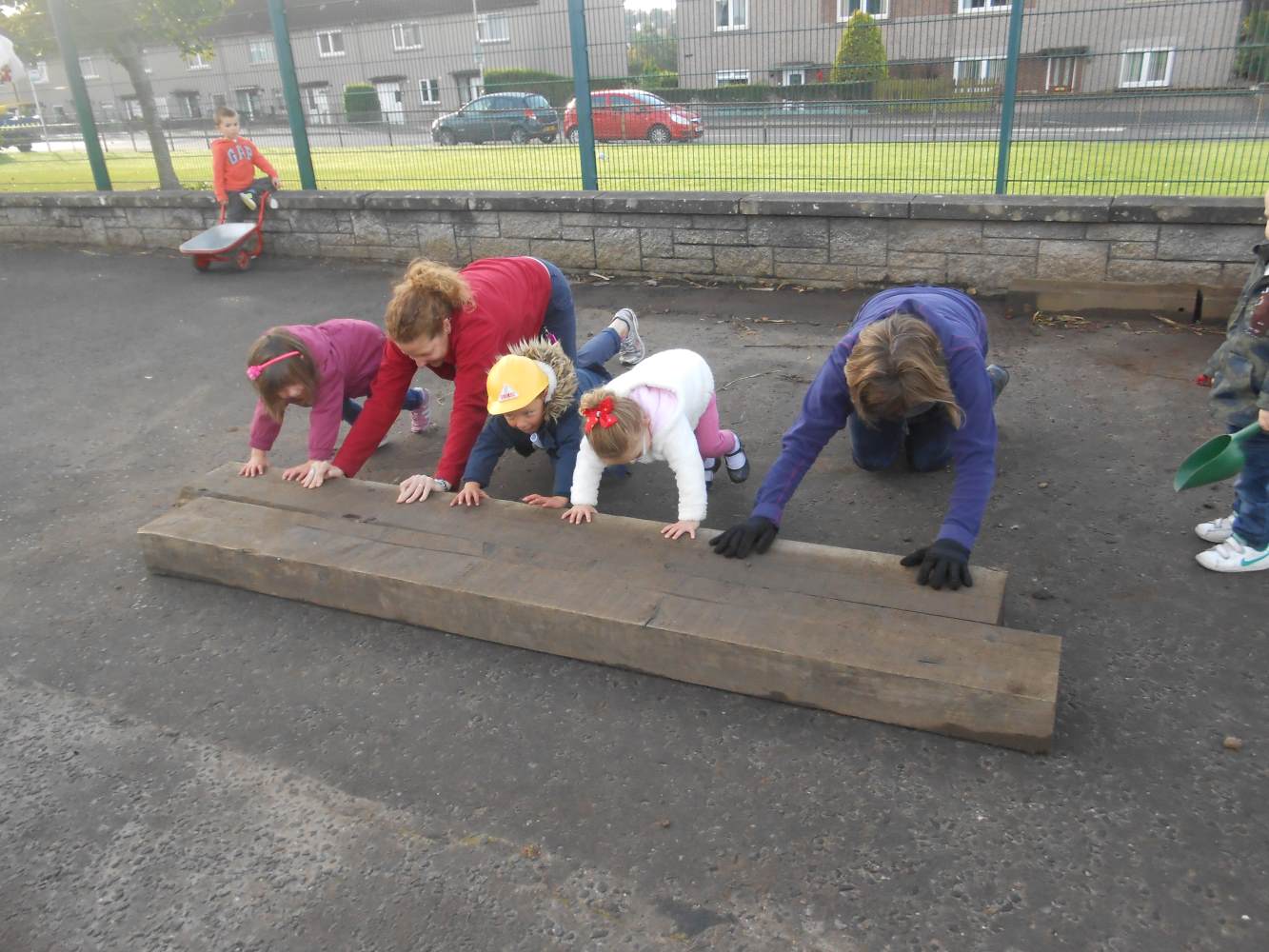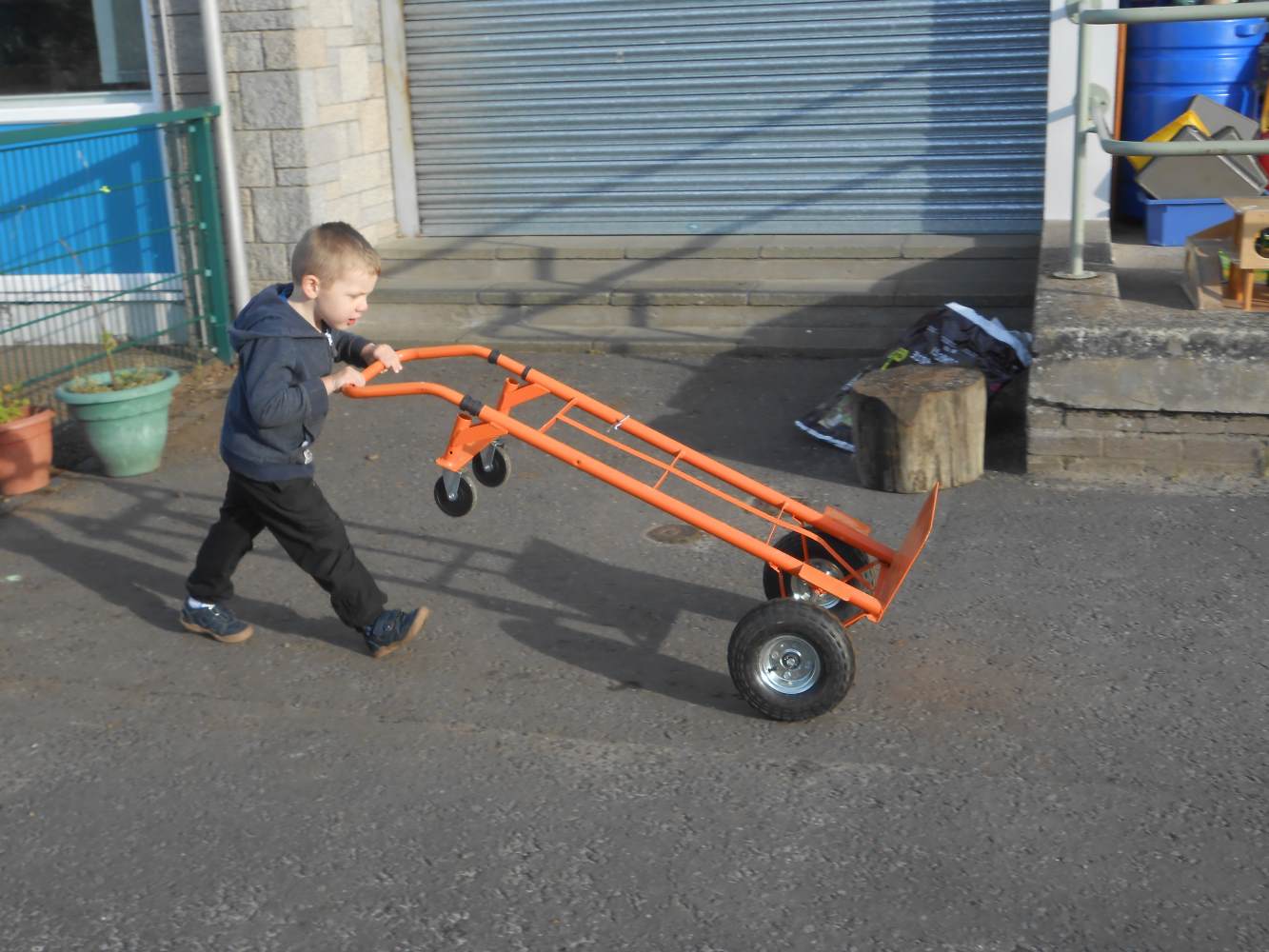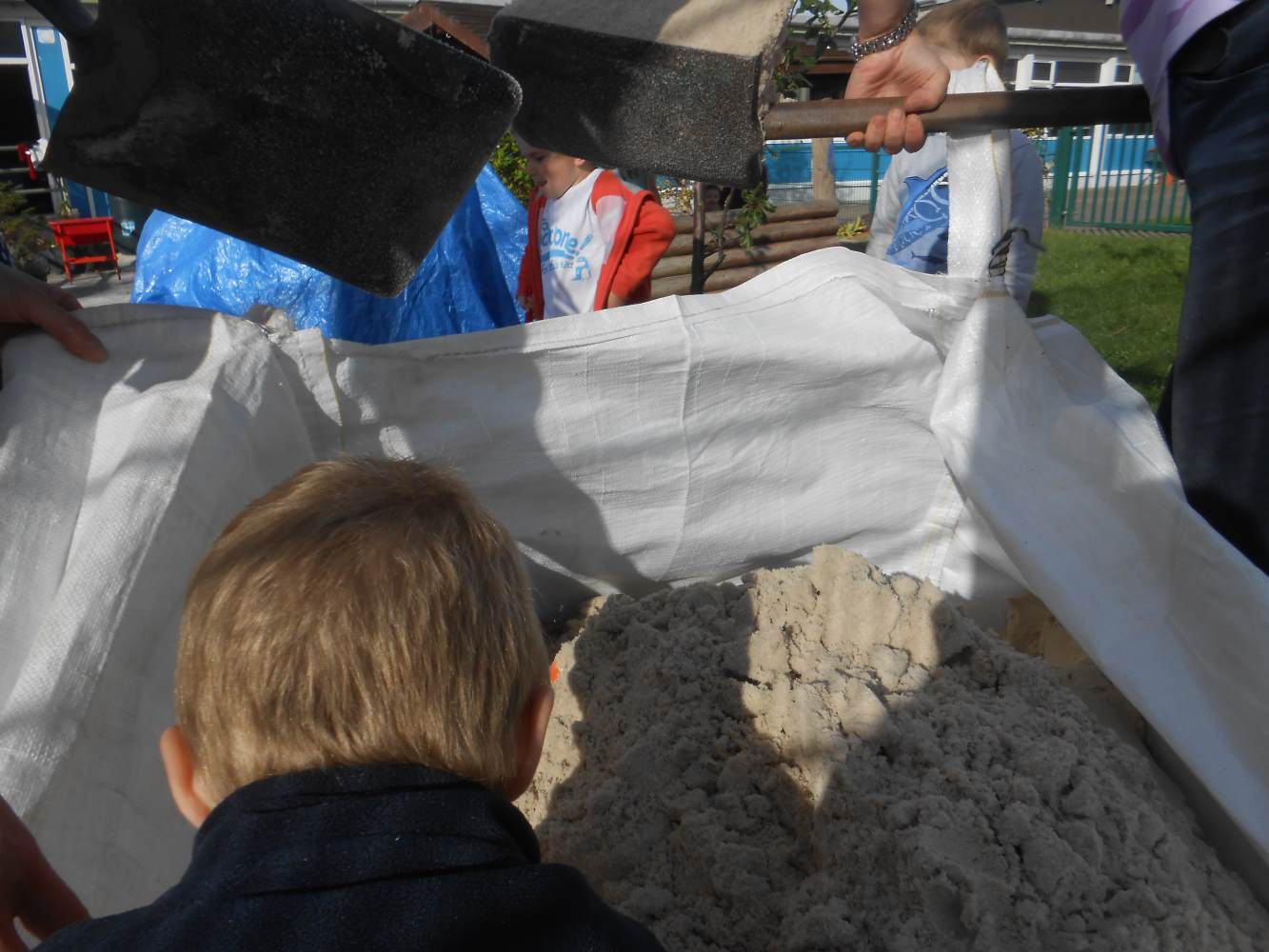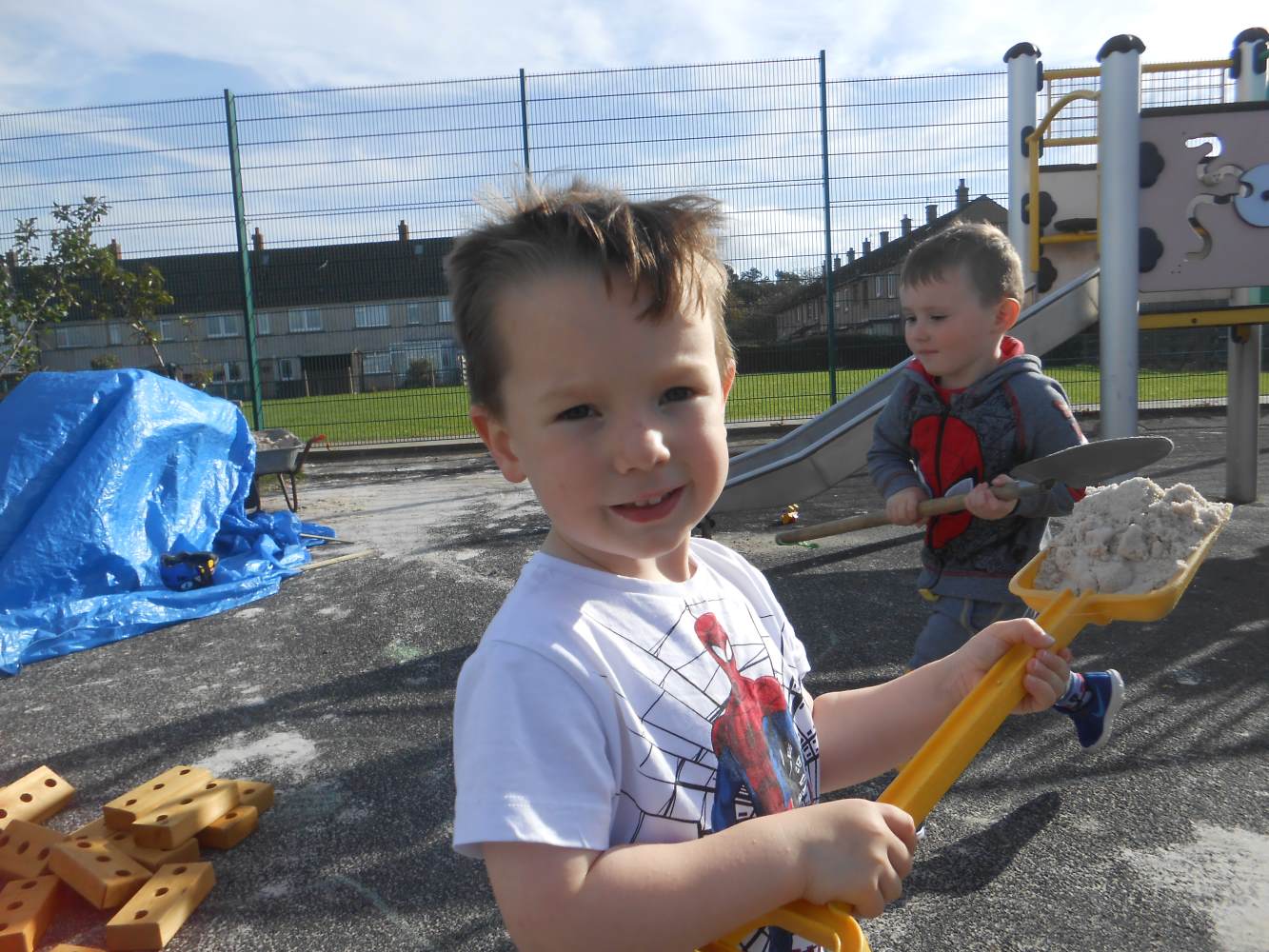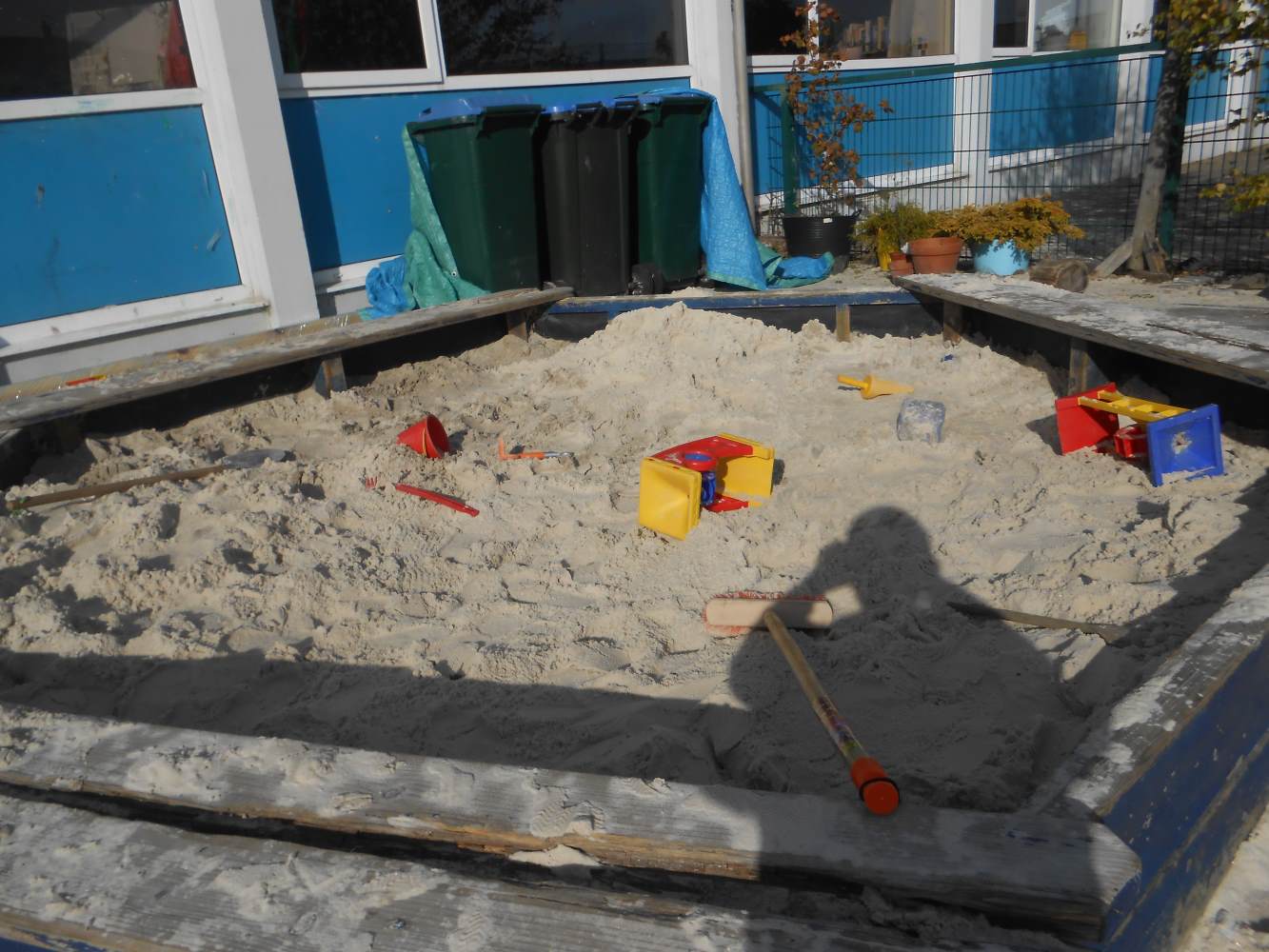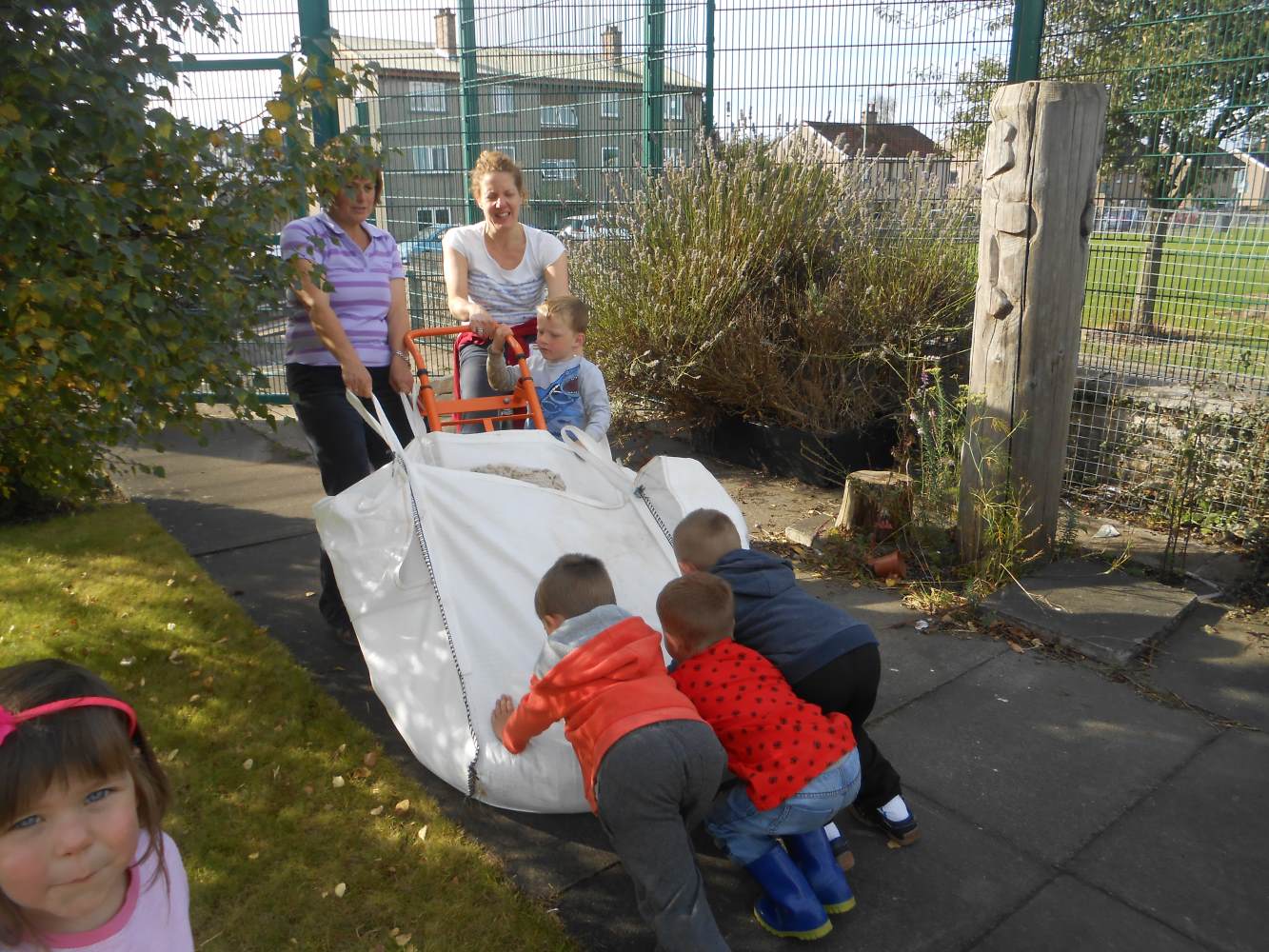 Preparing for our delivery the day before.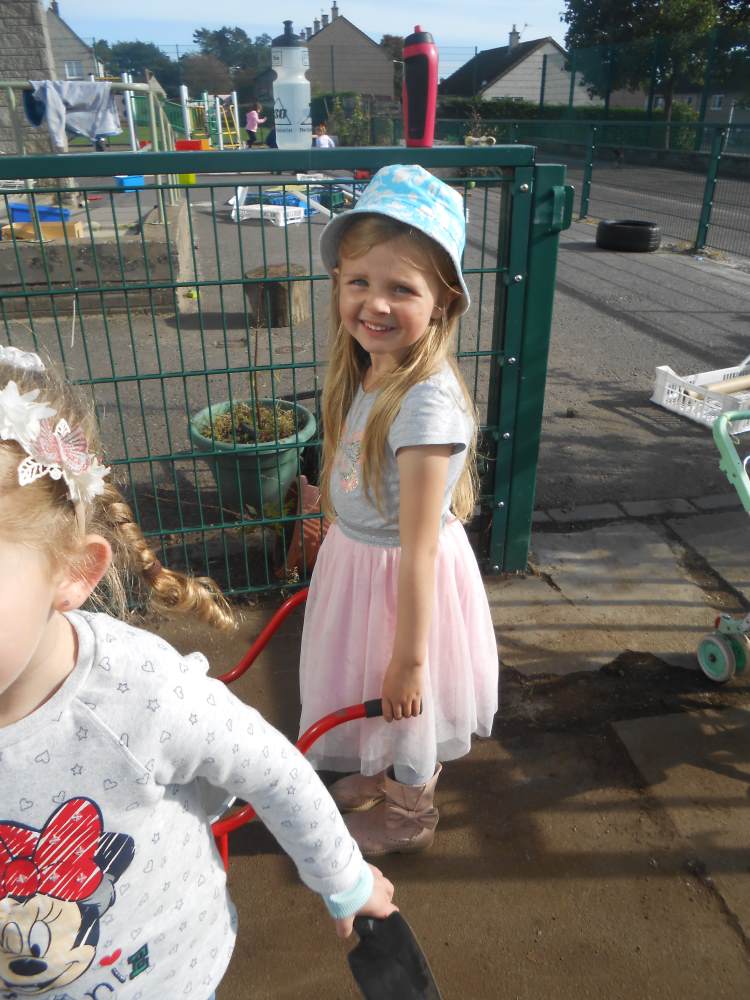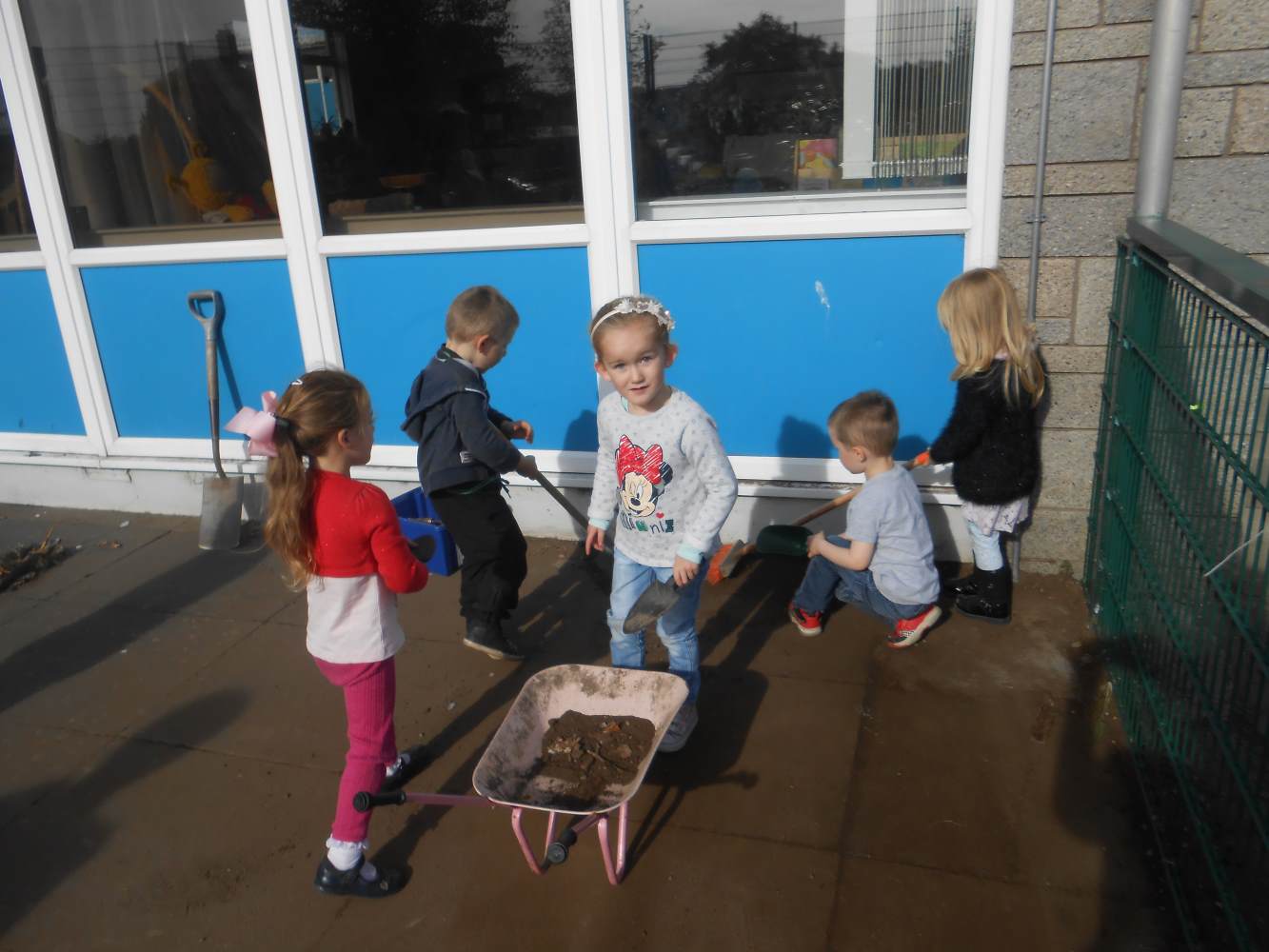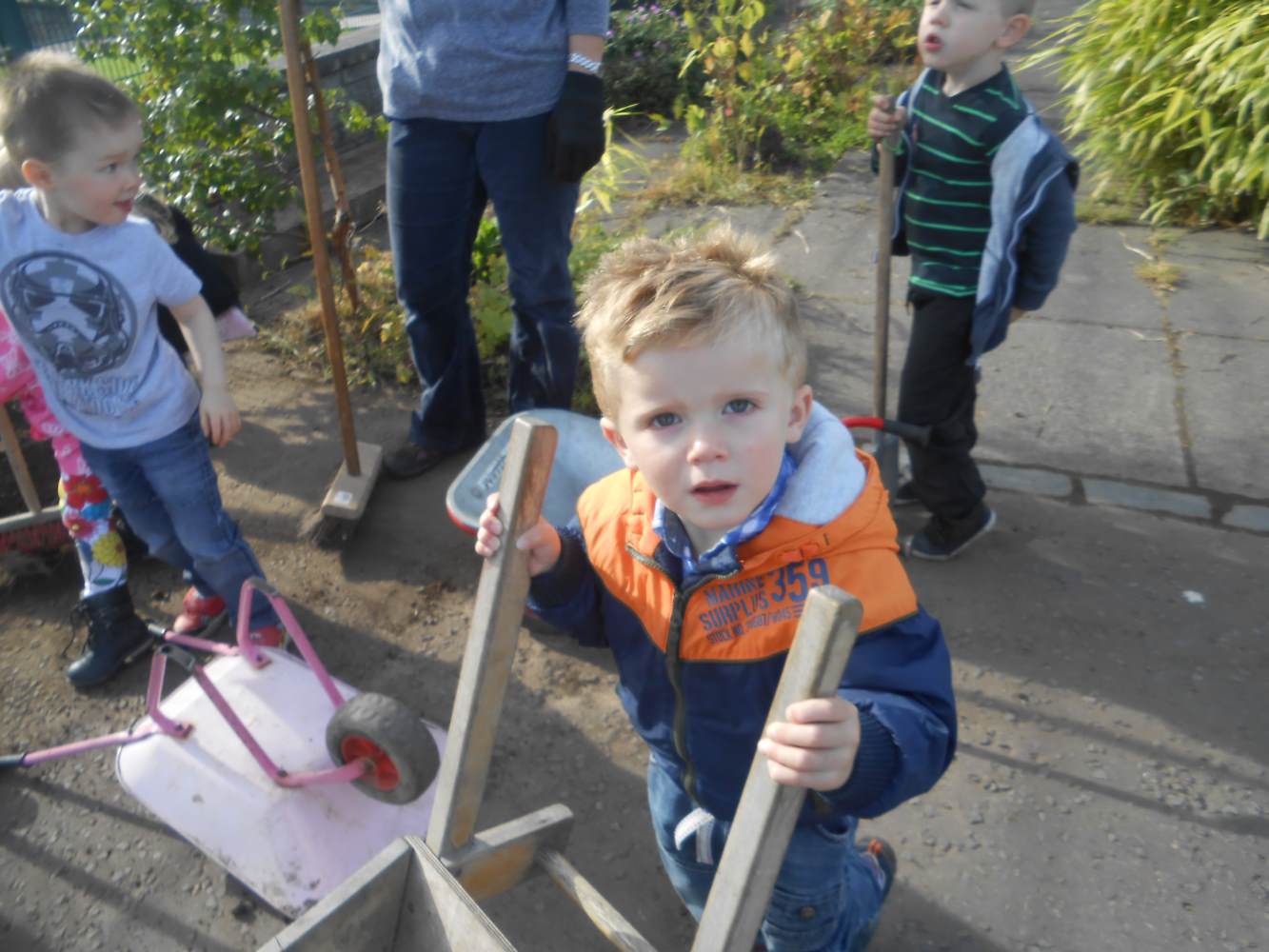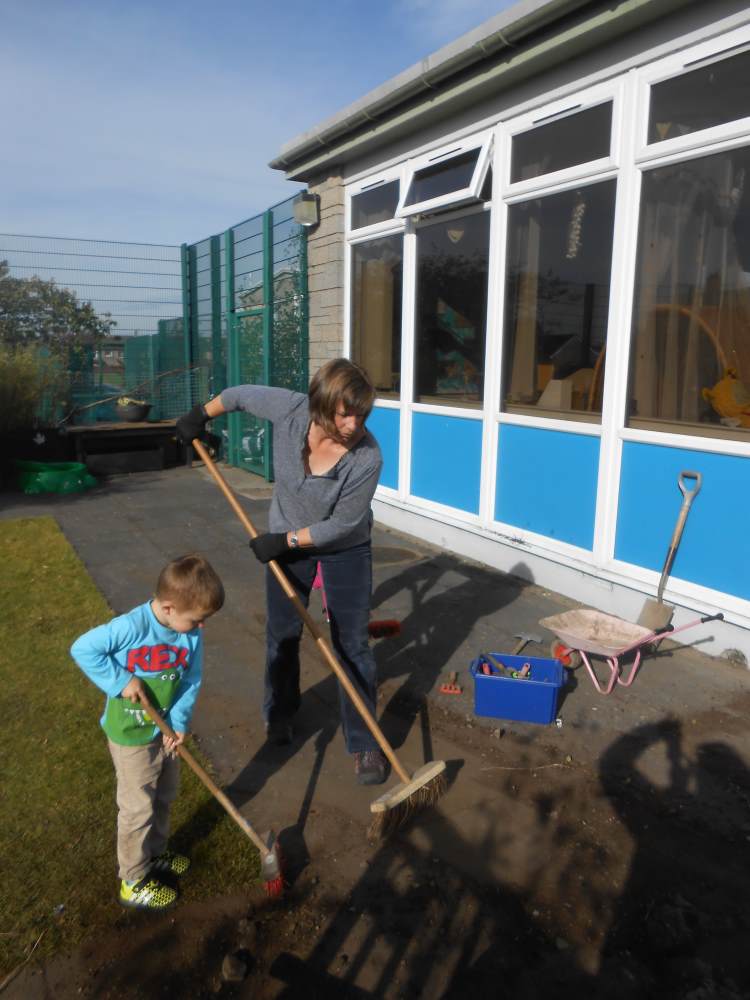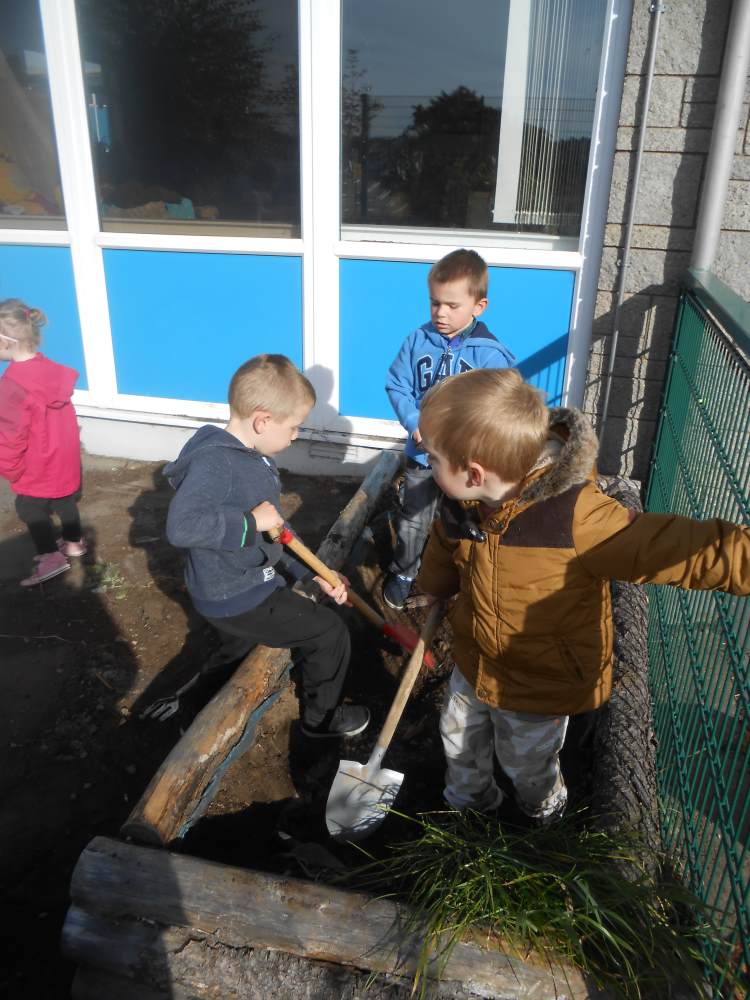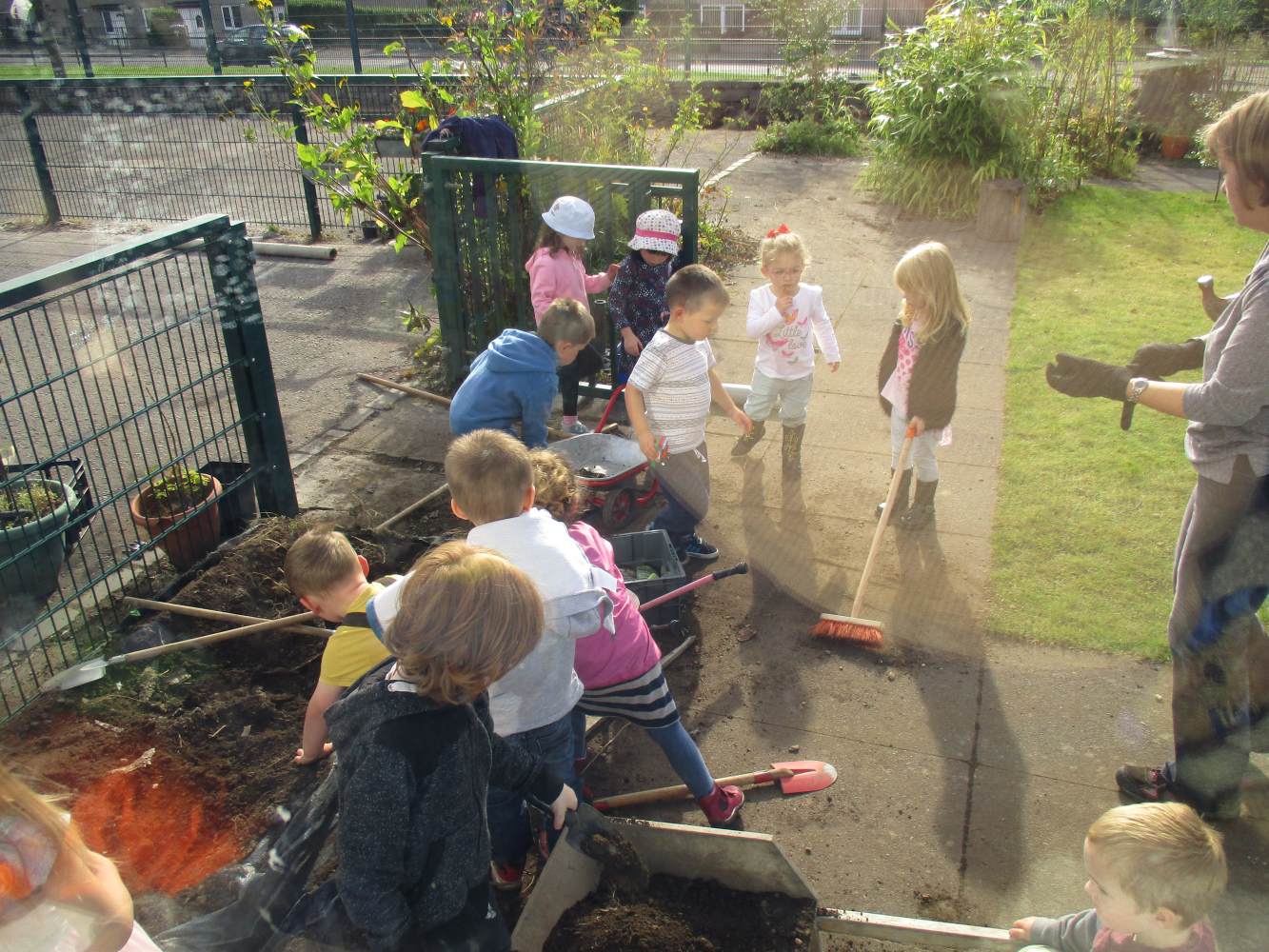 Thursday 29th September was a windy day, we had some bags and string and added imagination...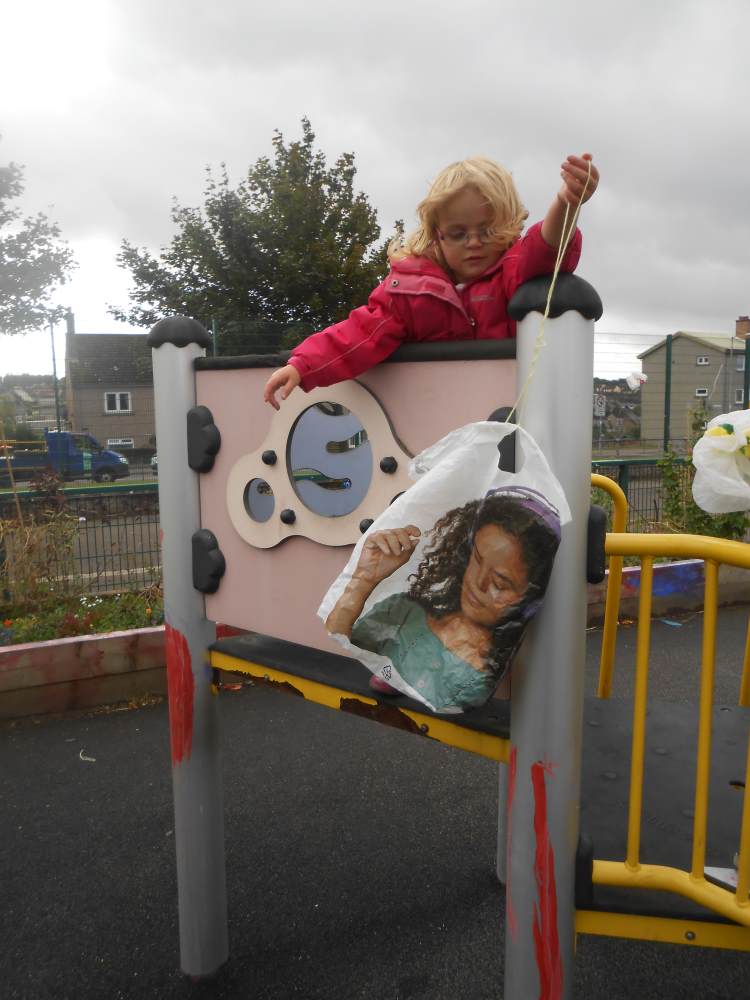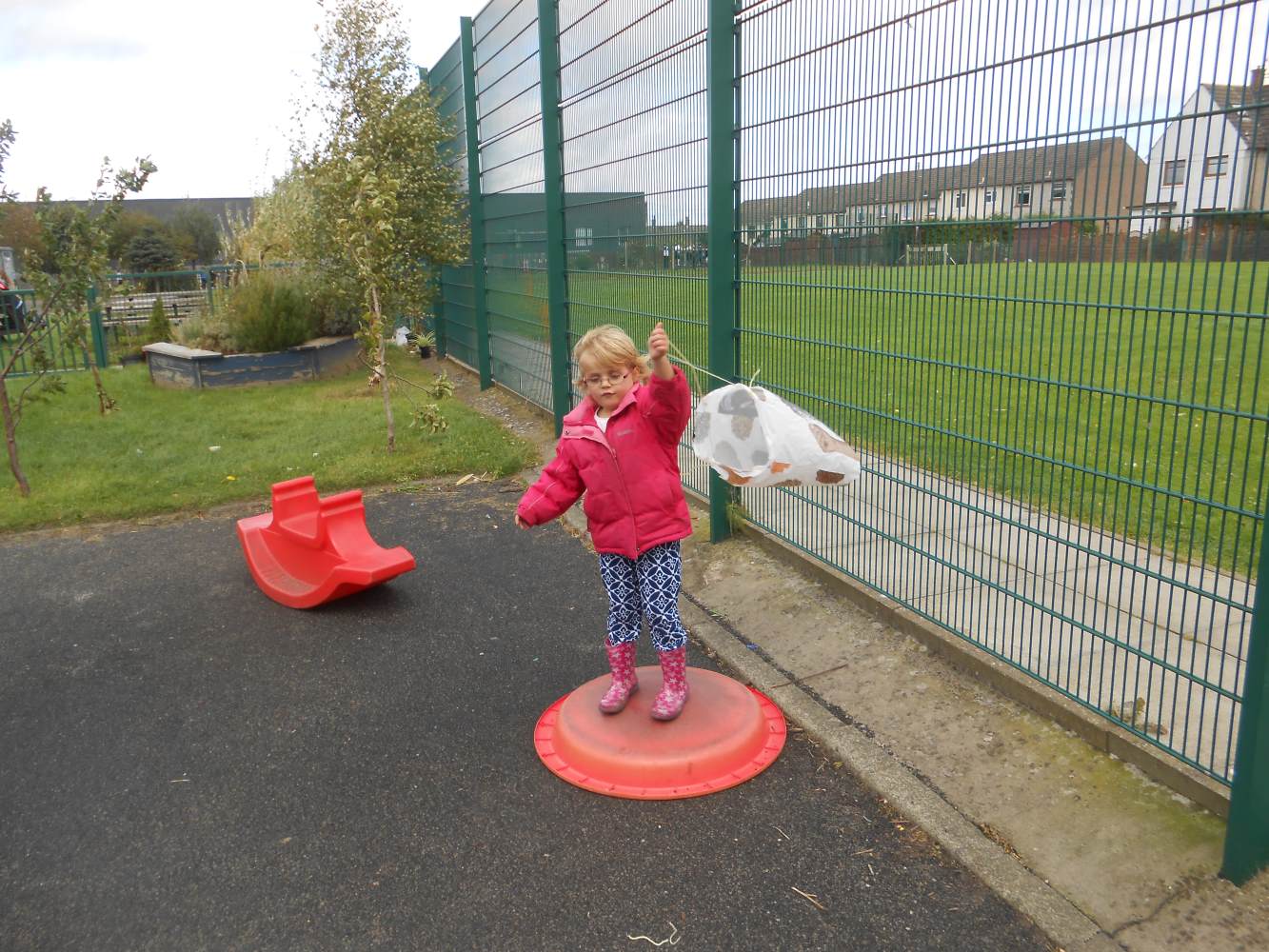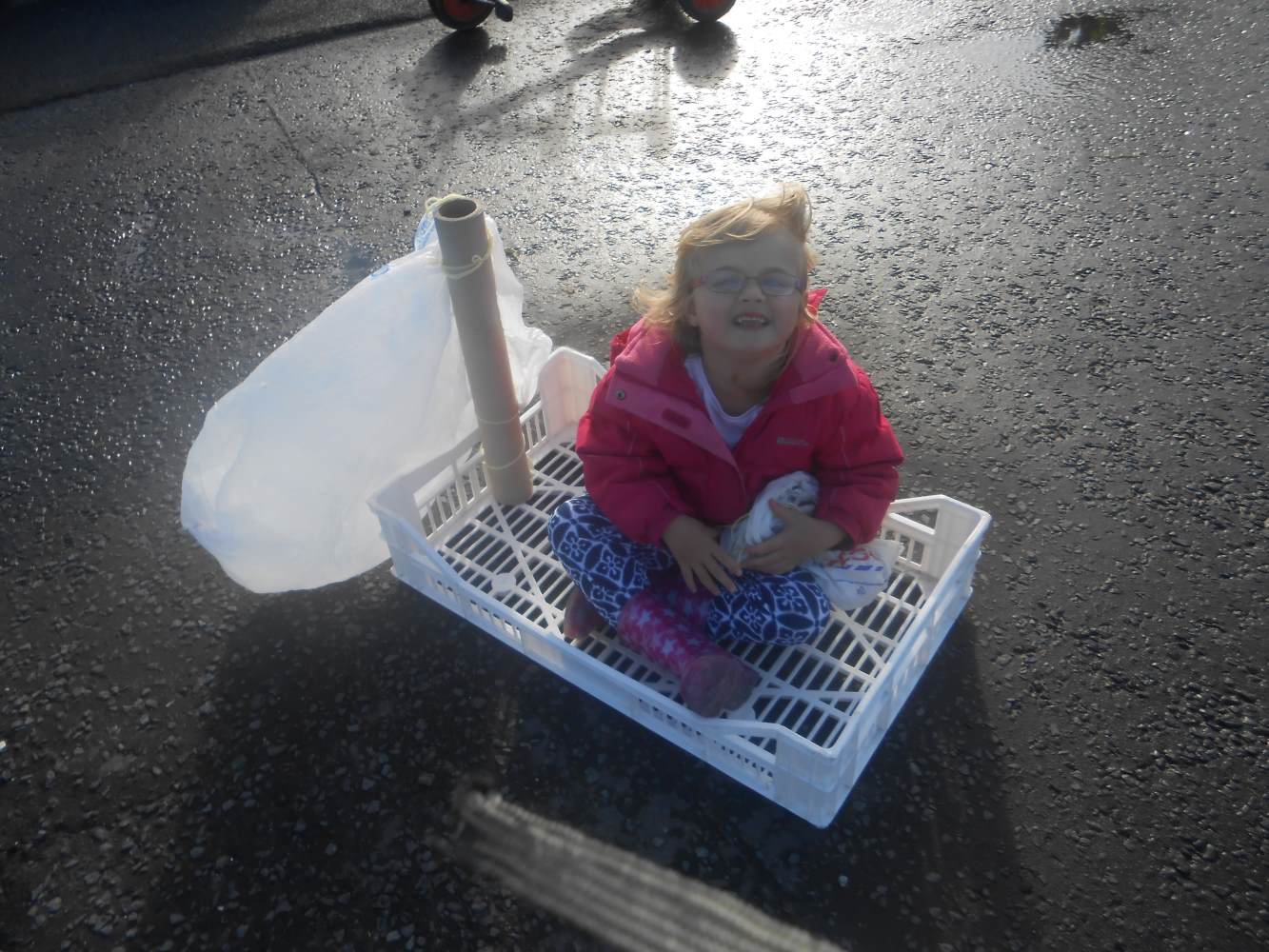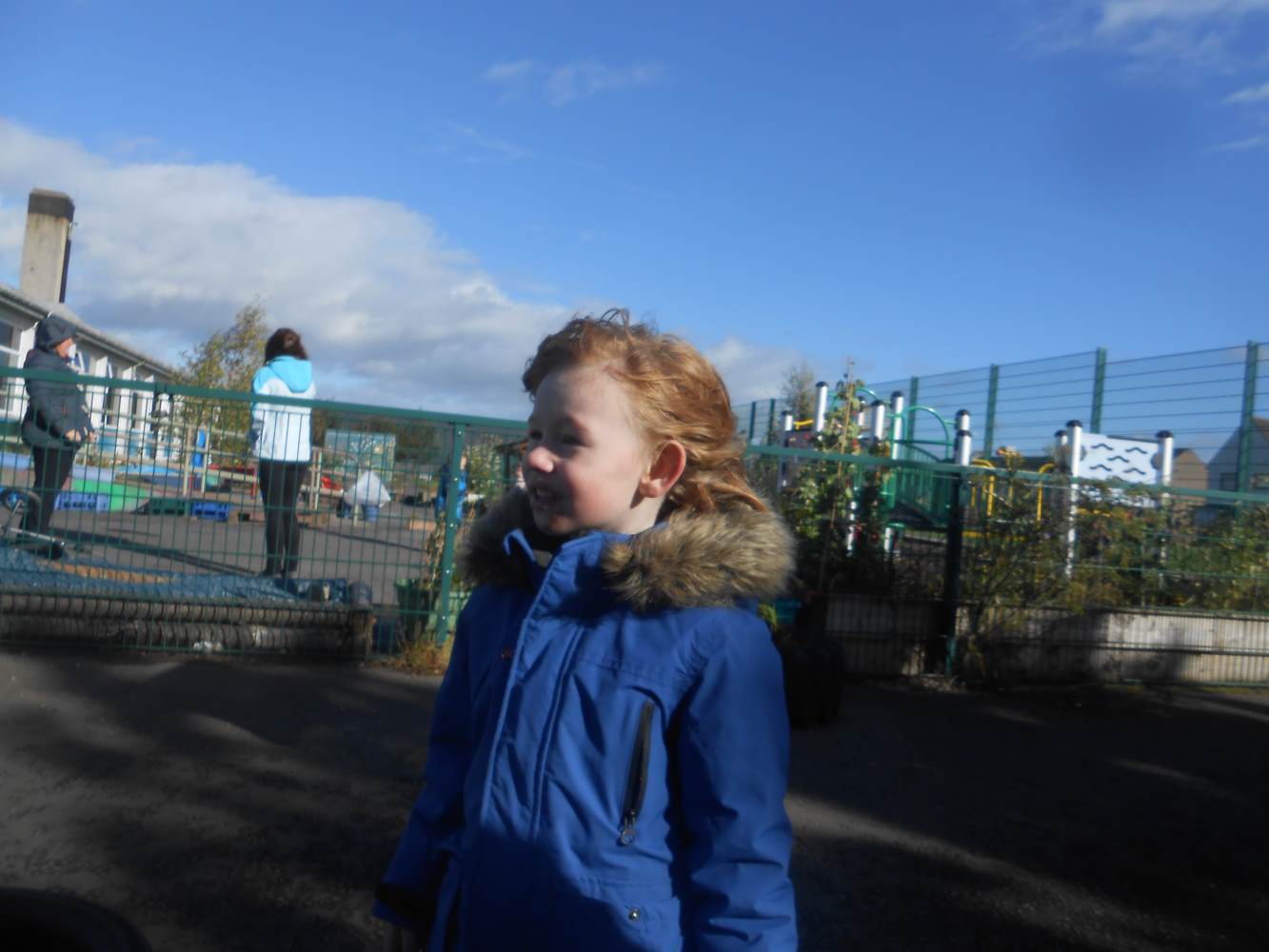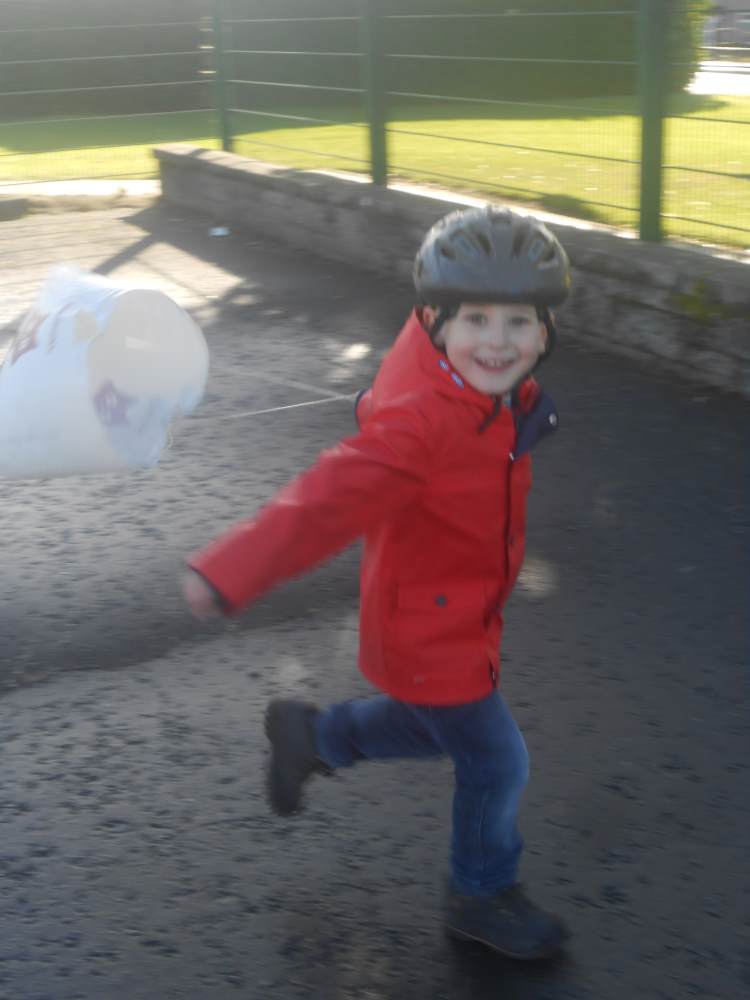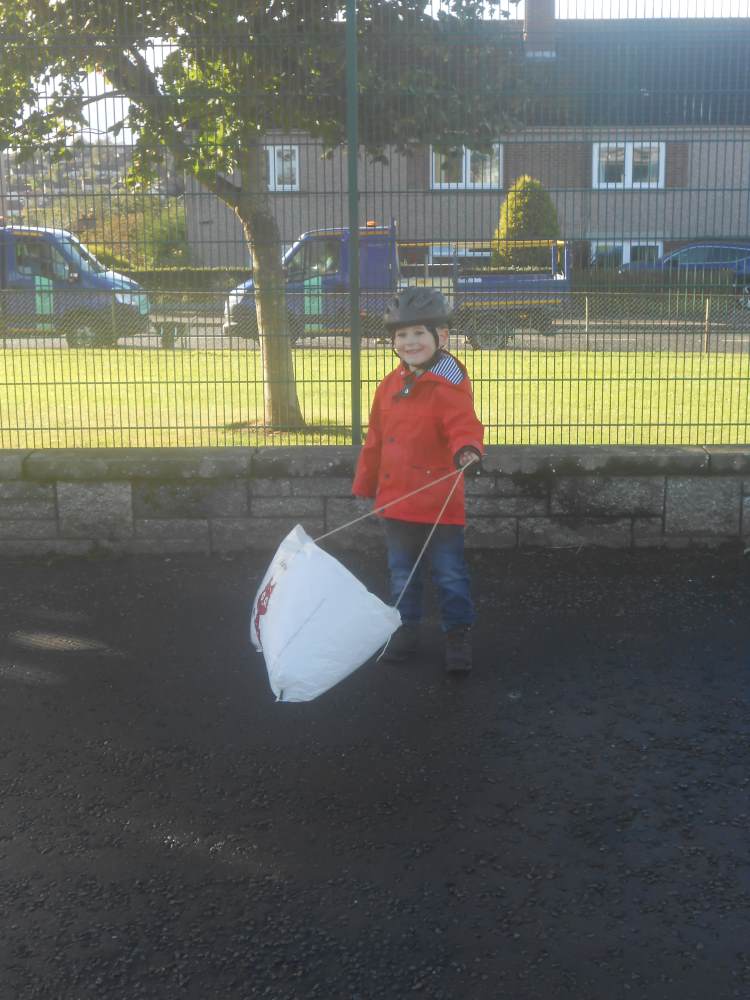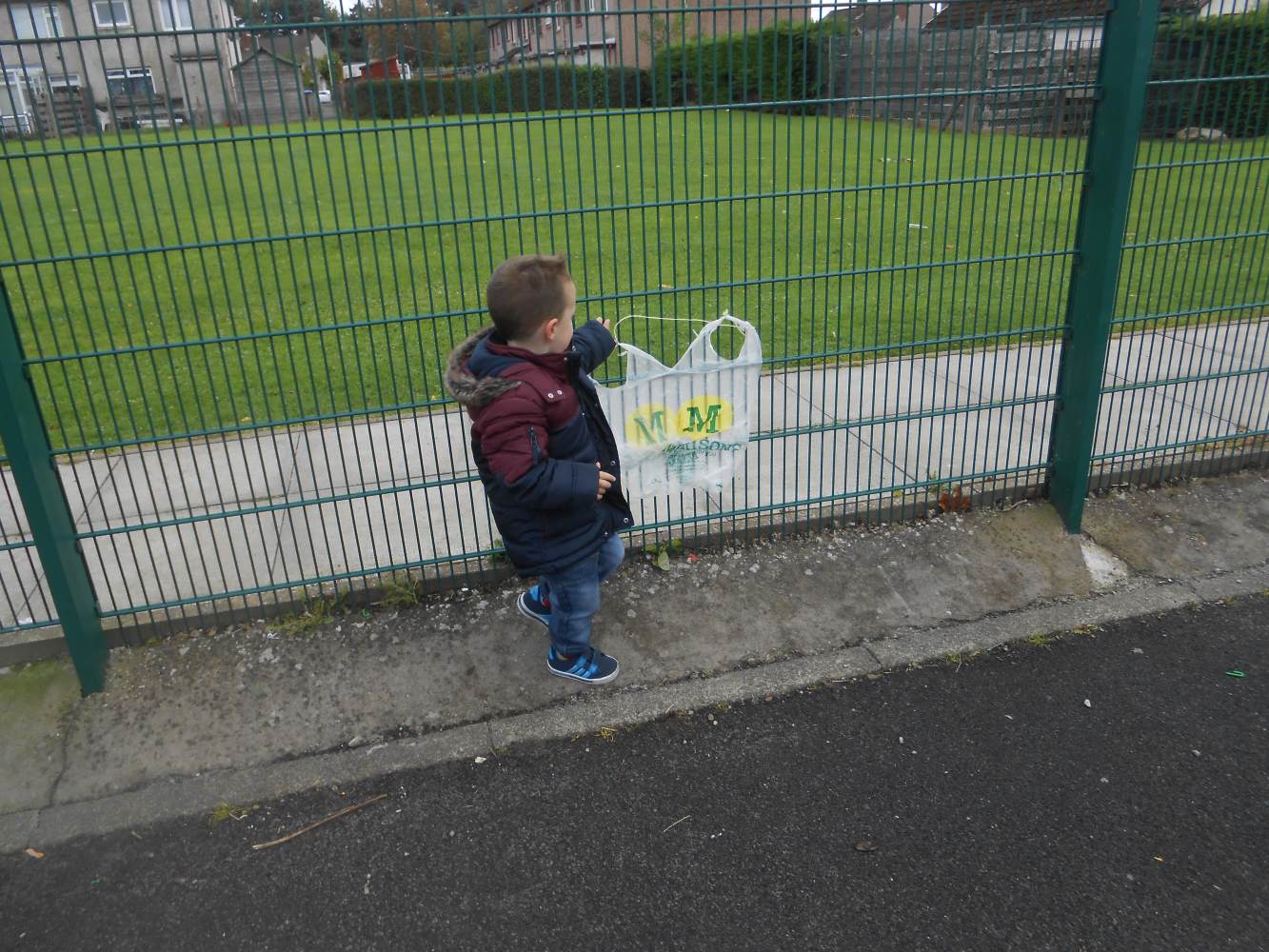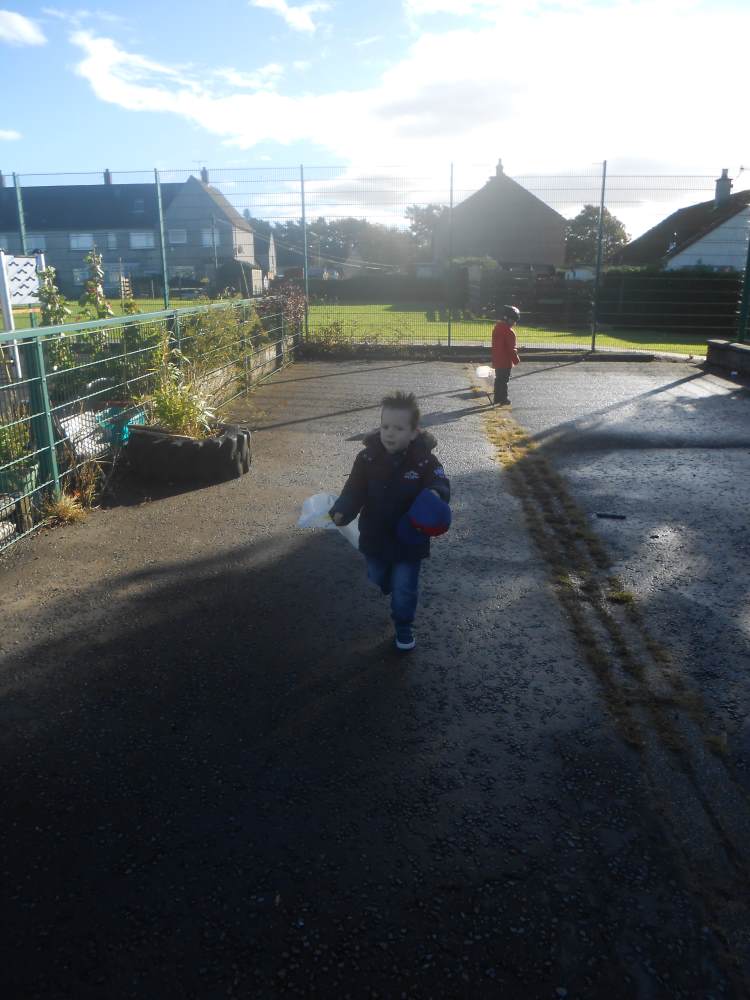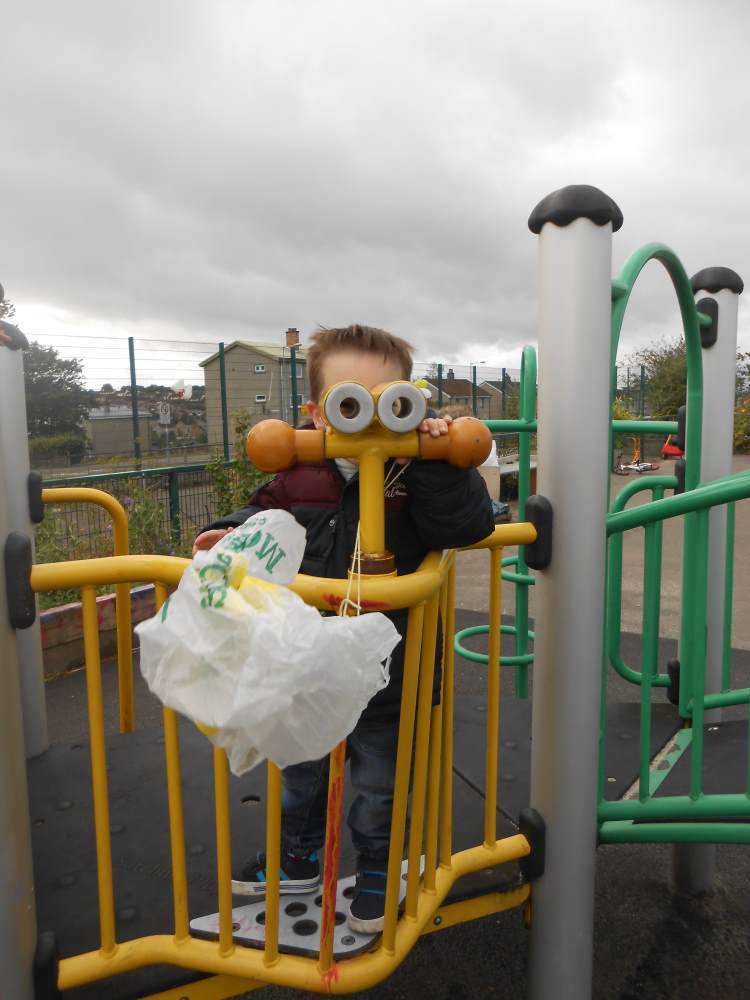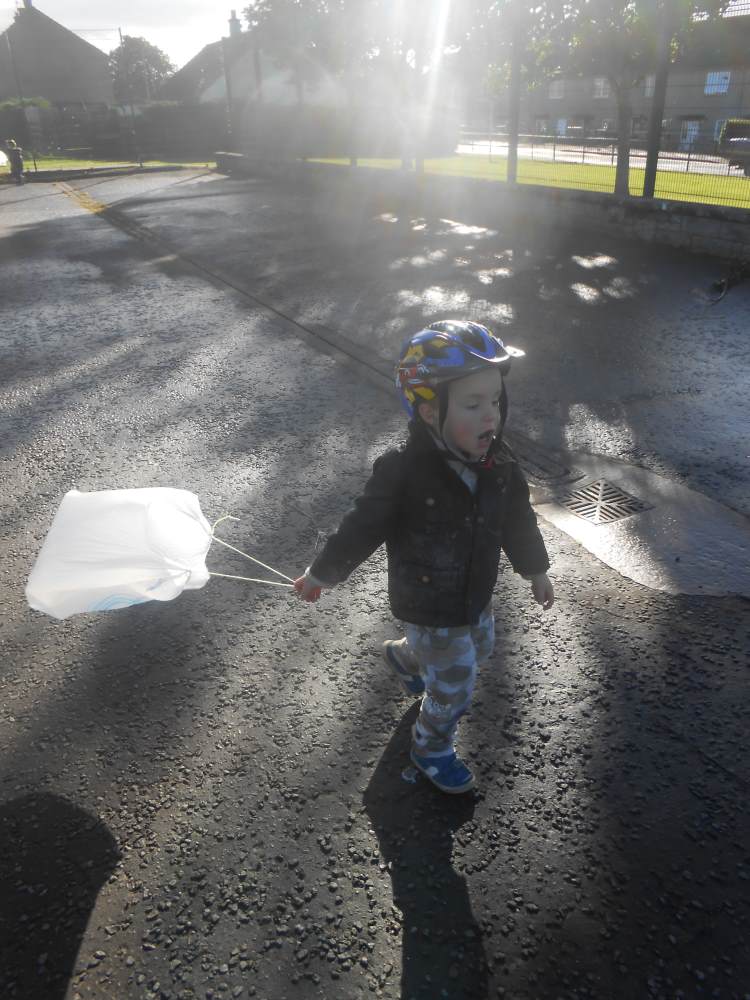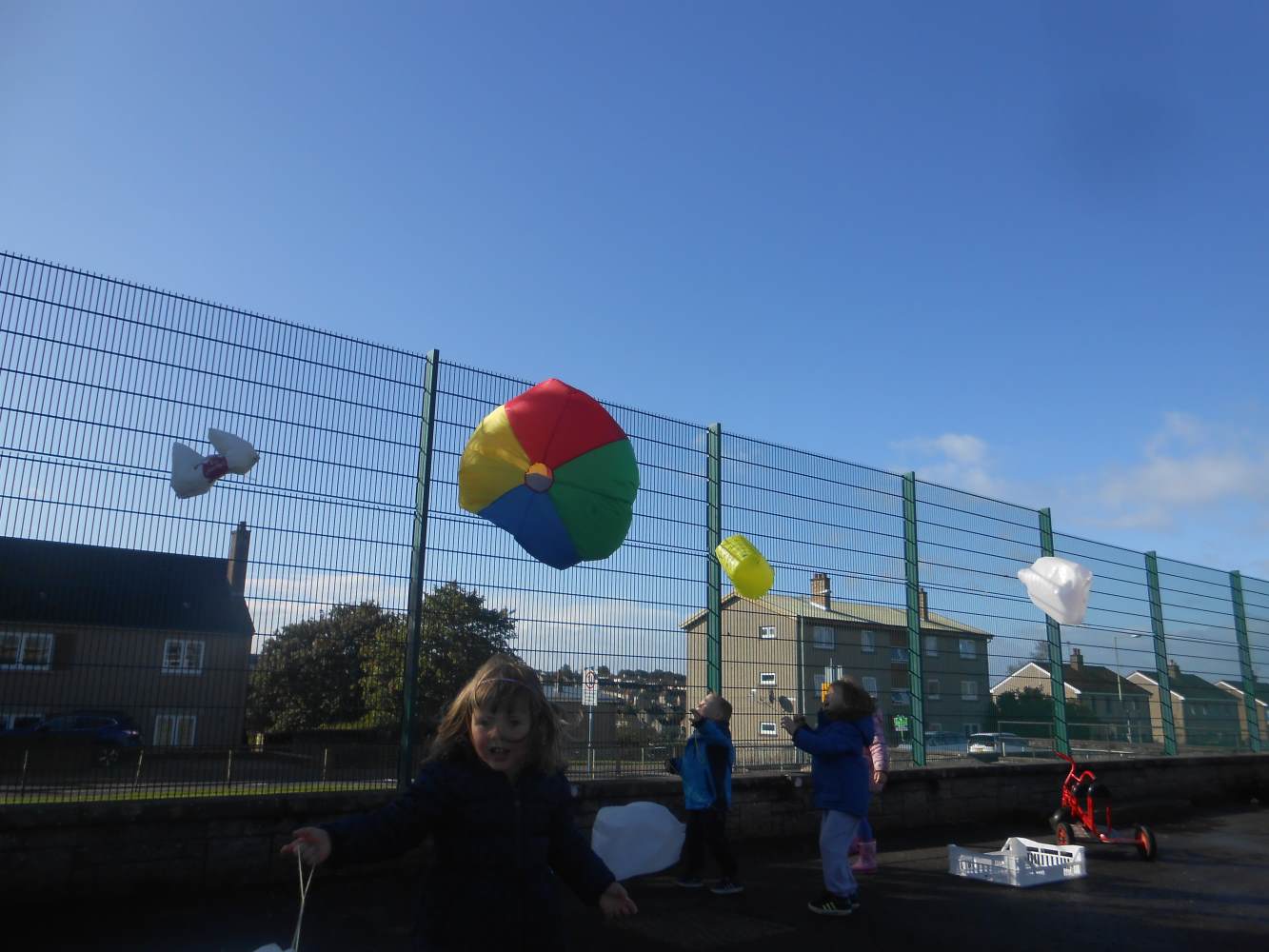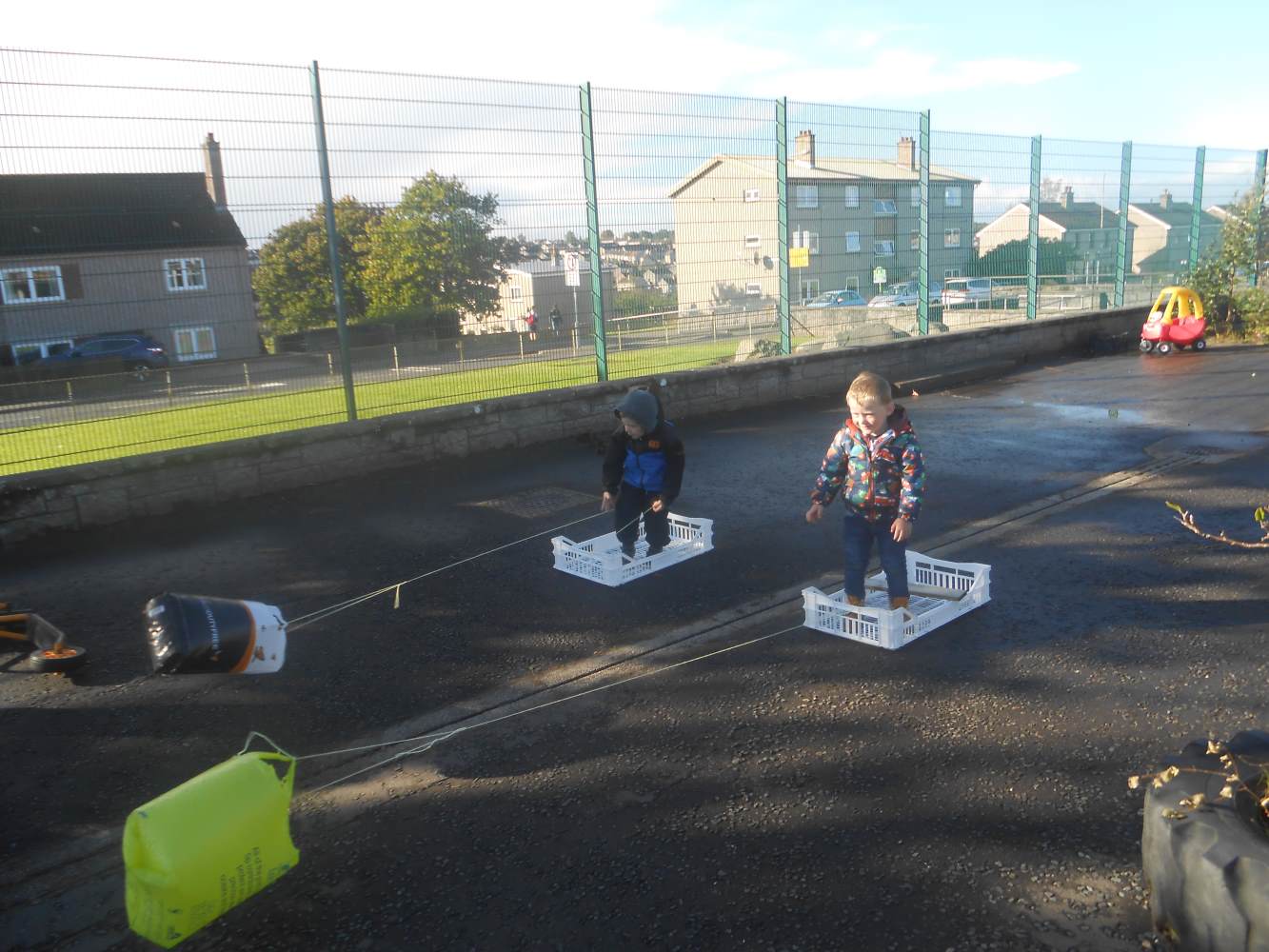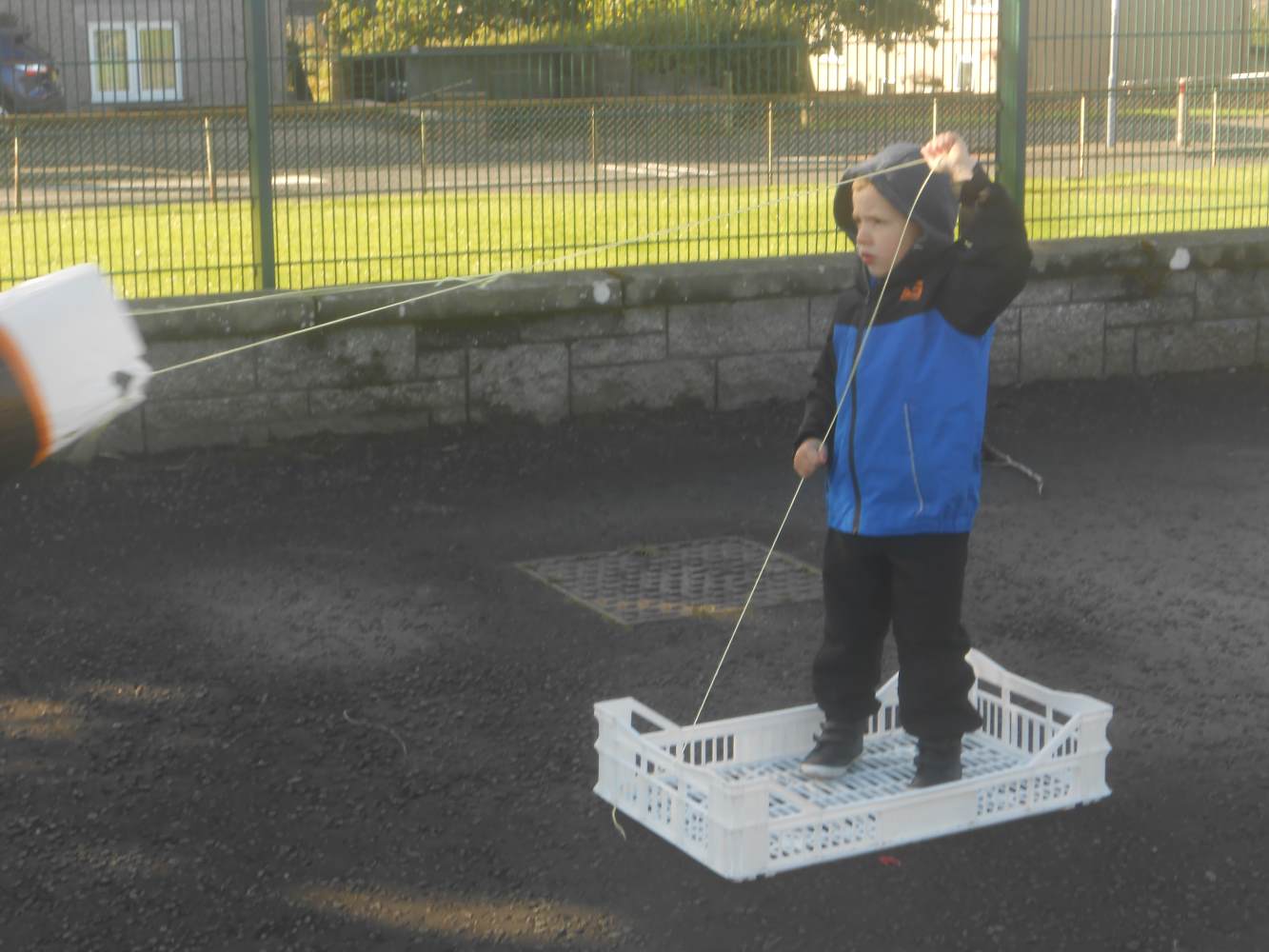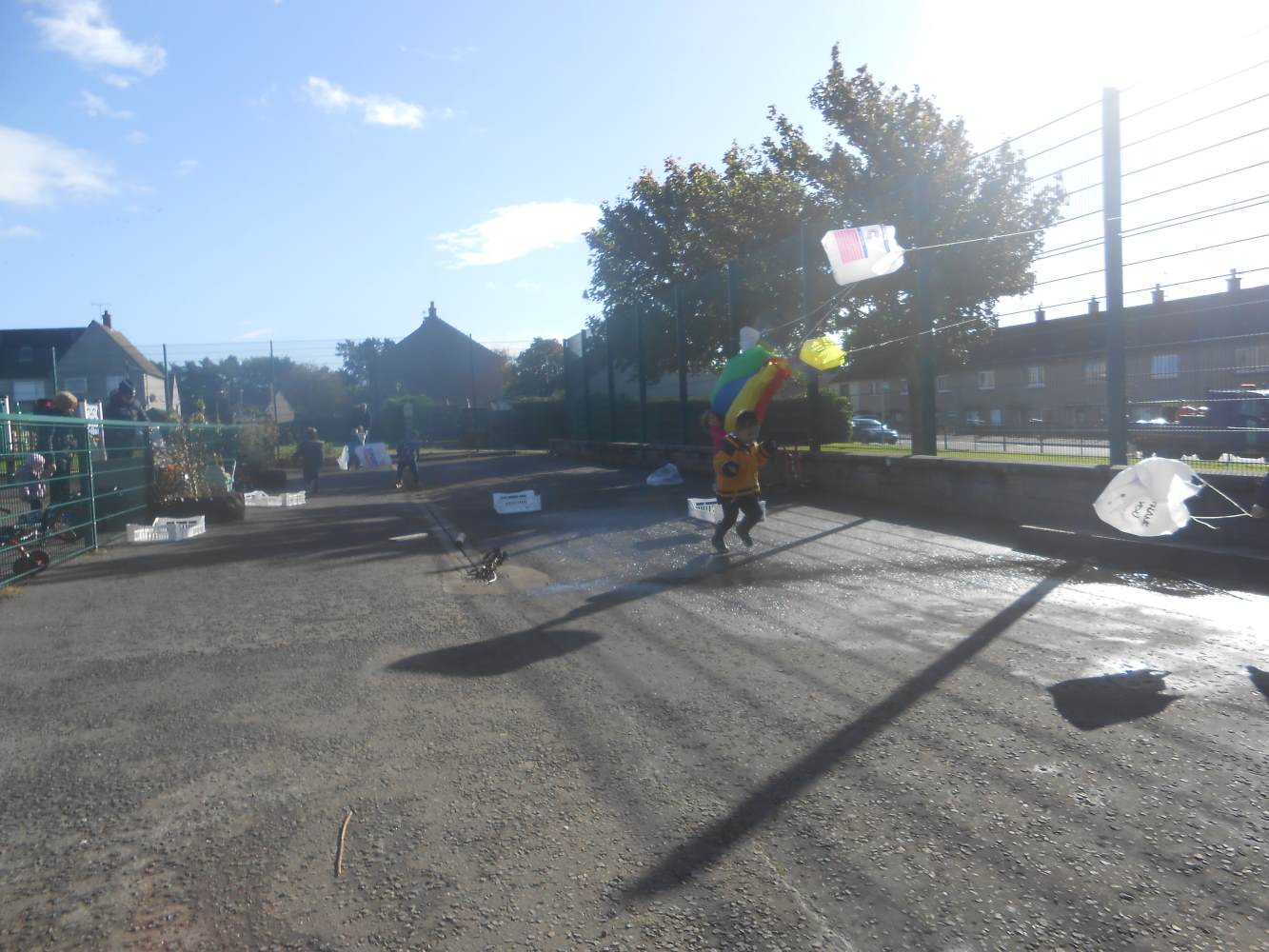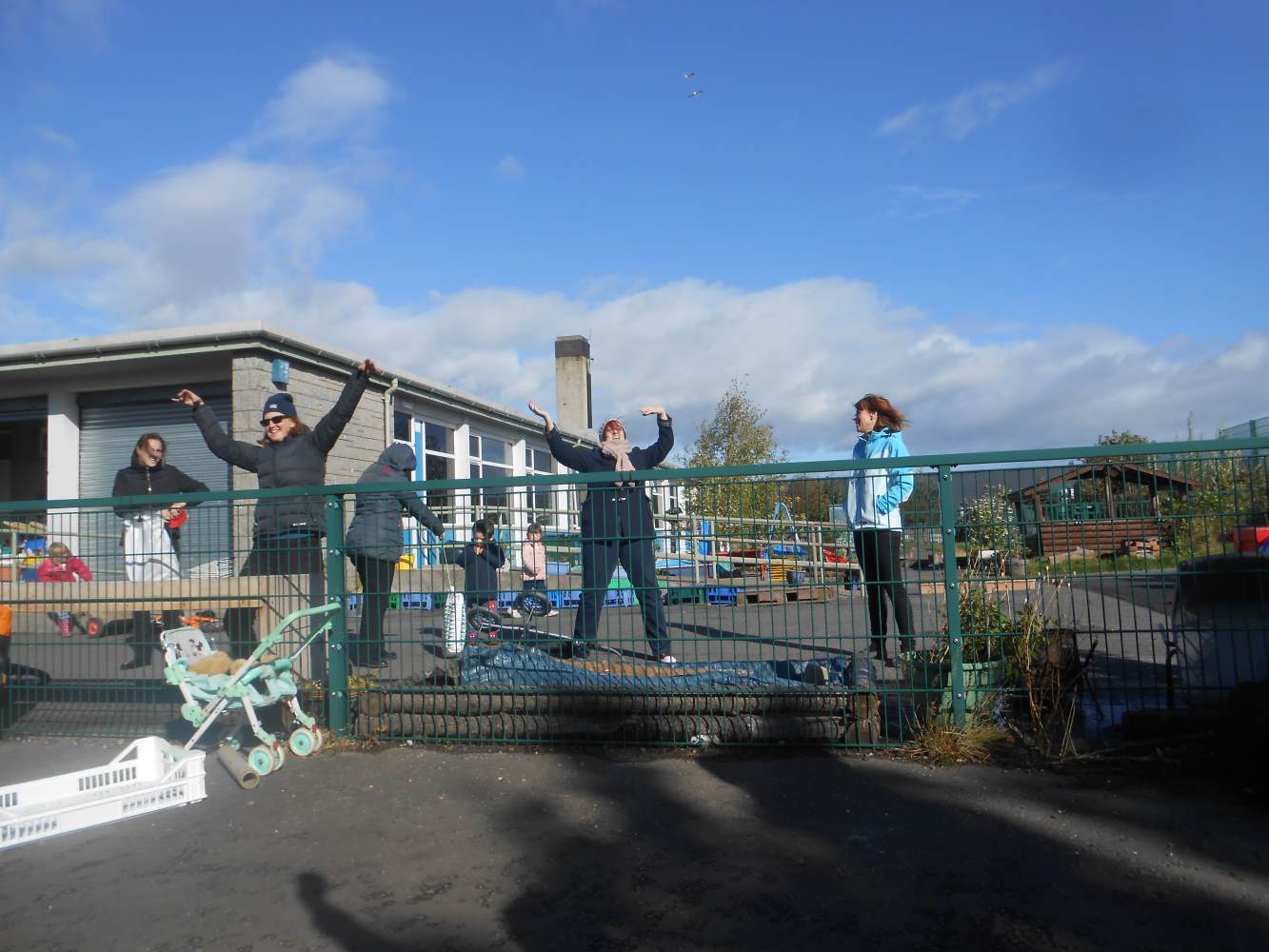 Here is a selection of photographs taken by staff and children of us having fun and learning at Nursery.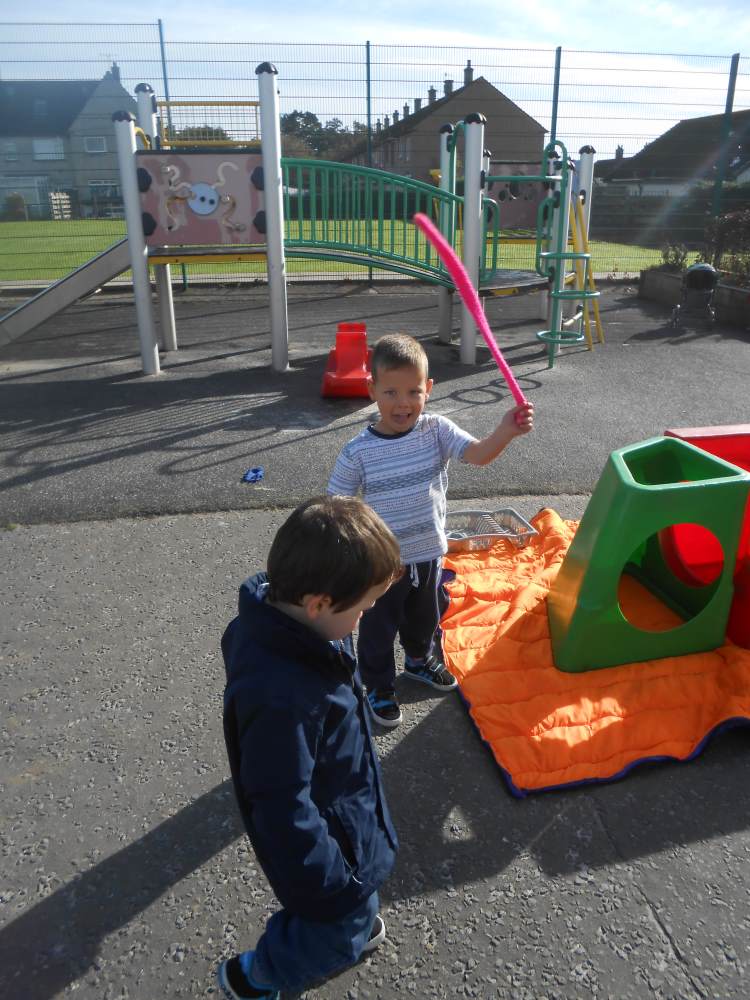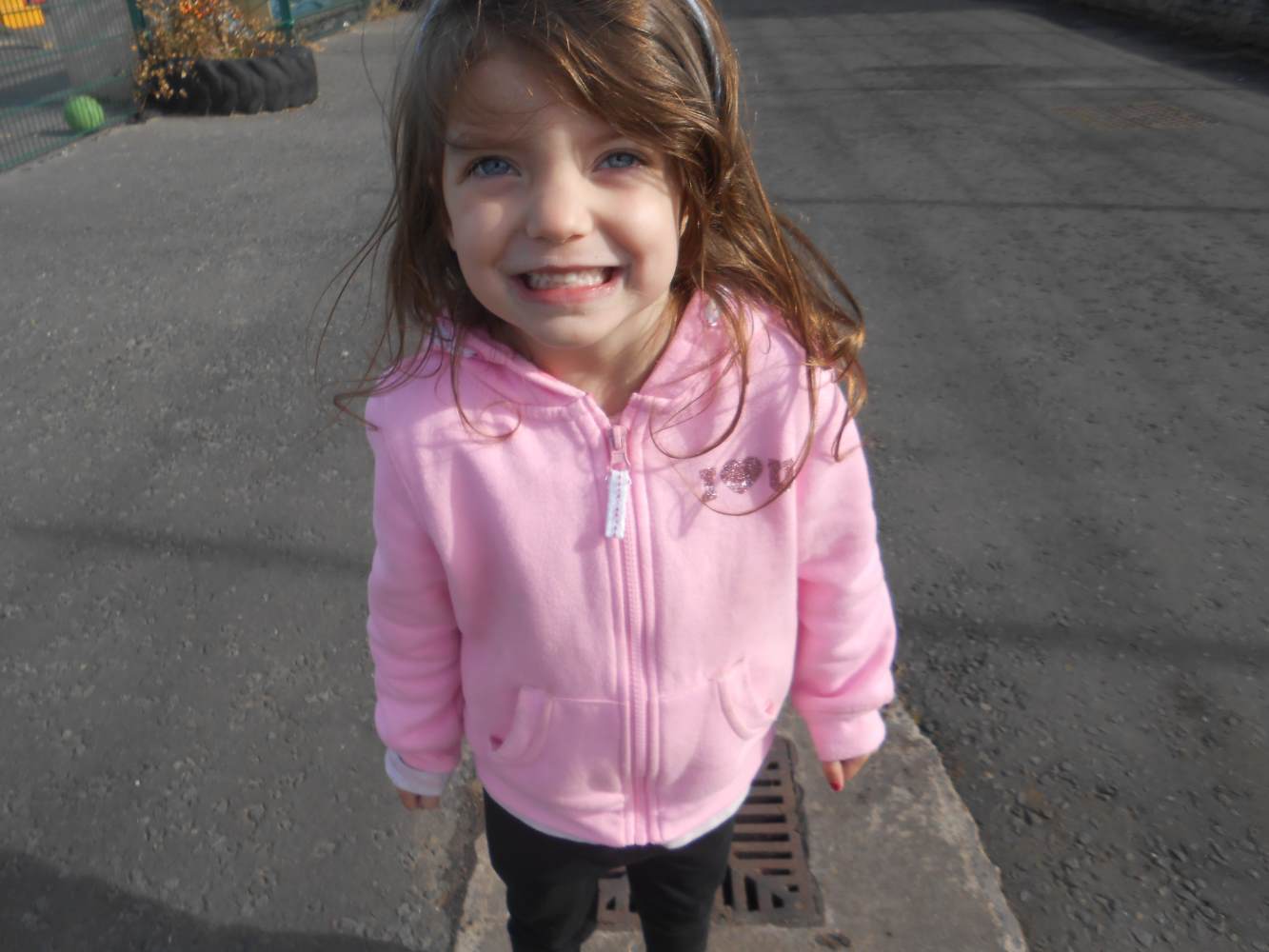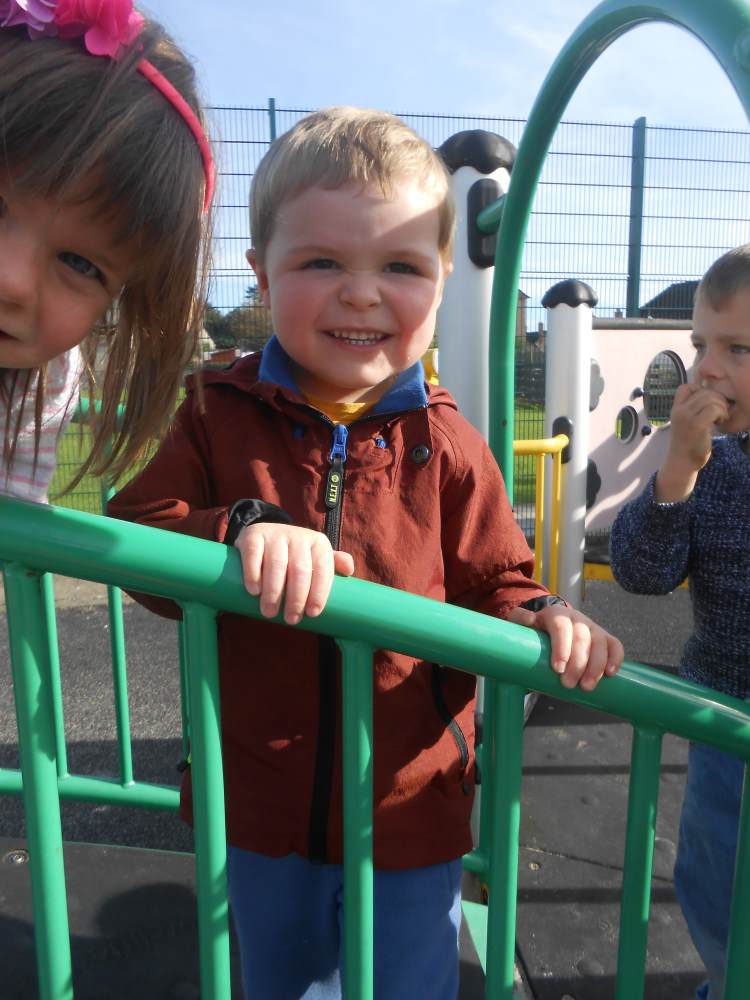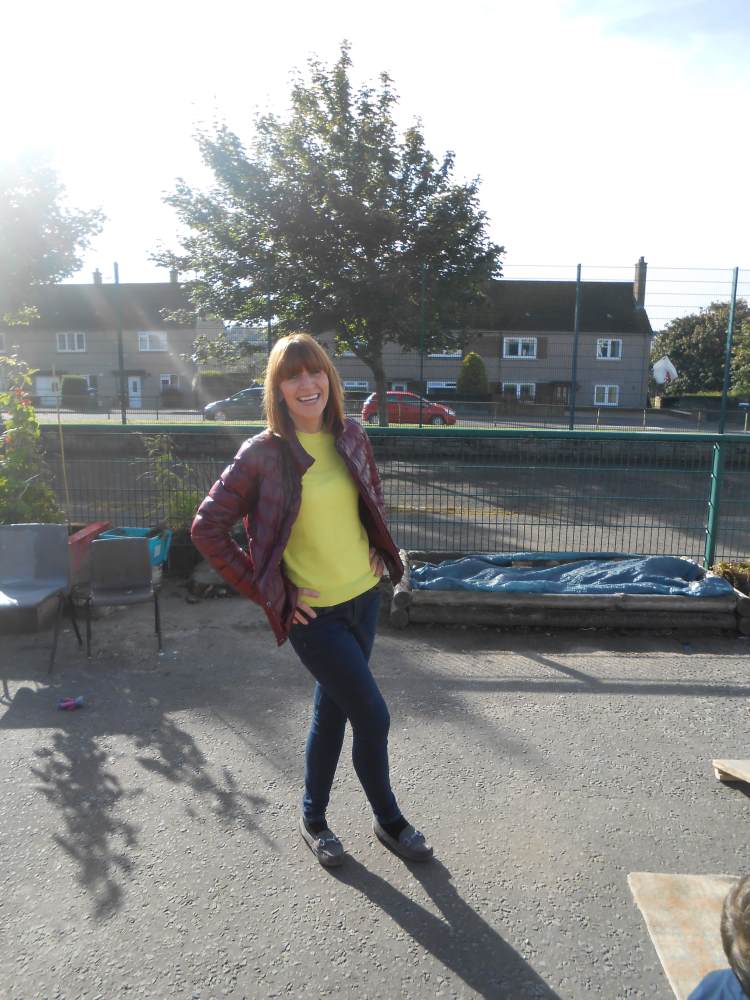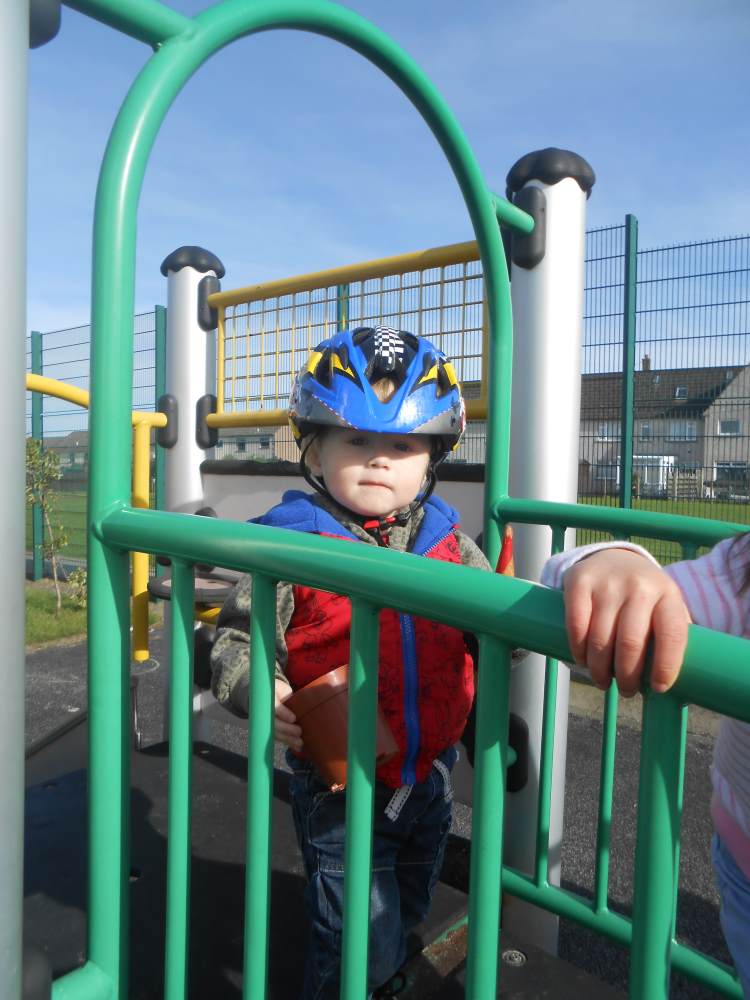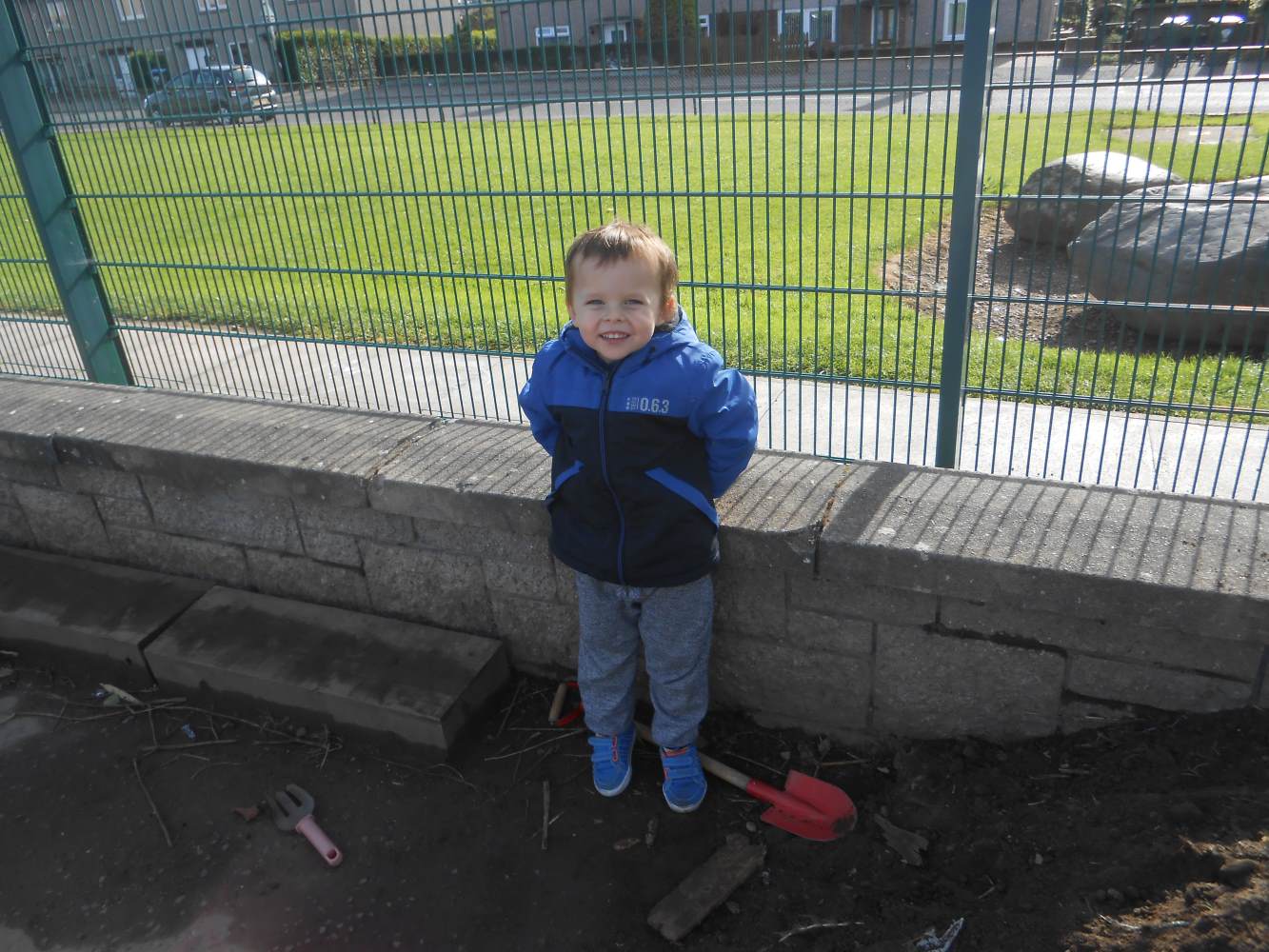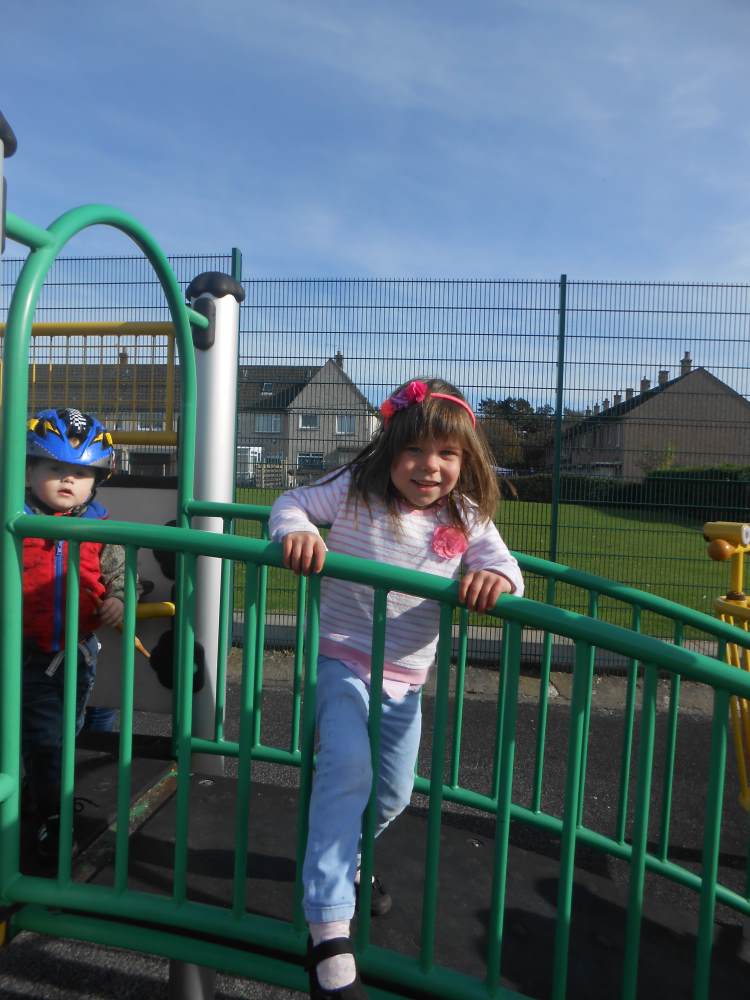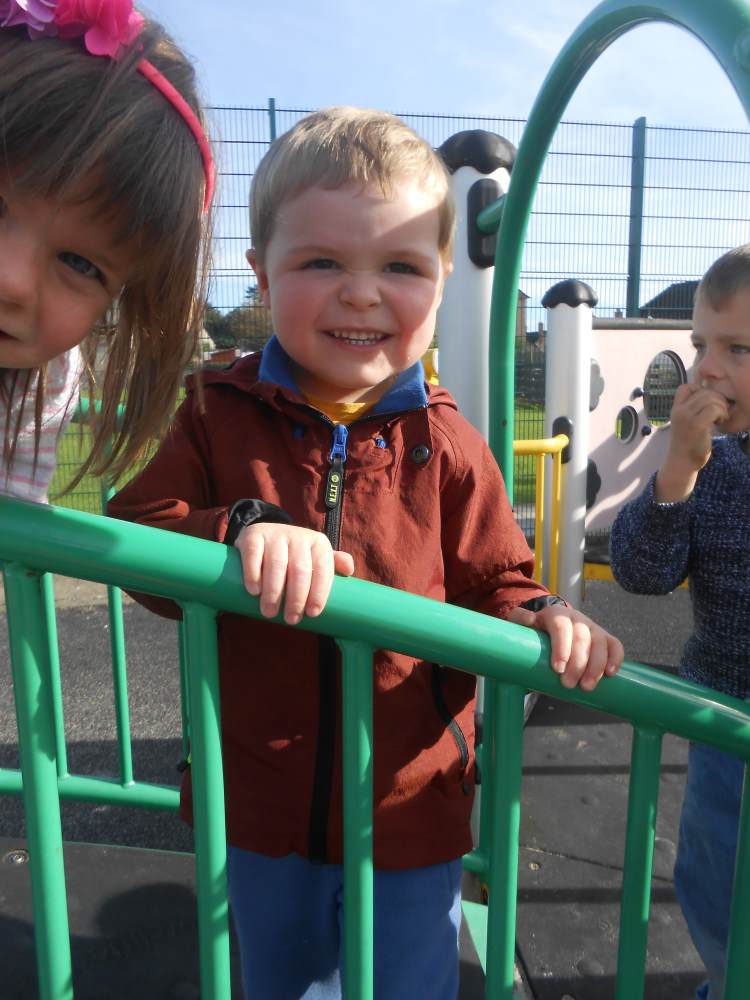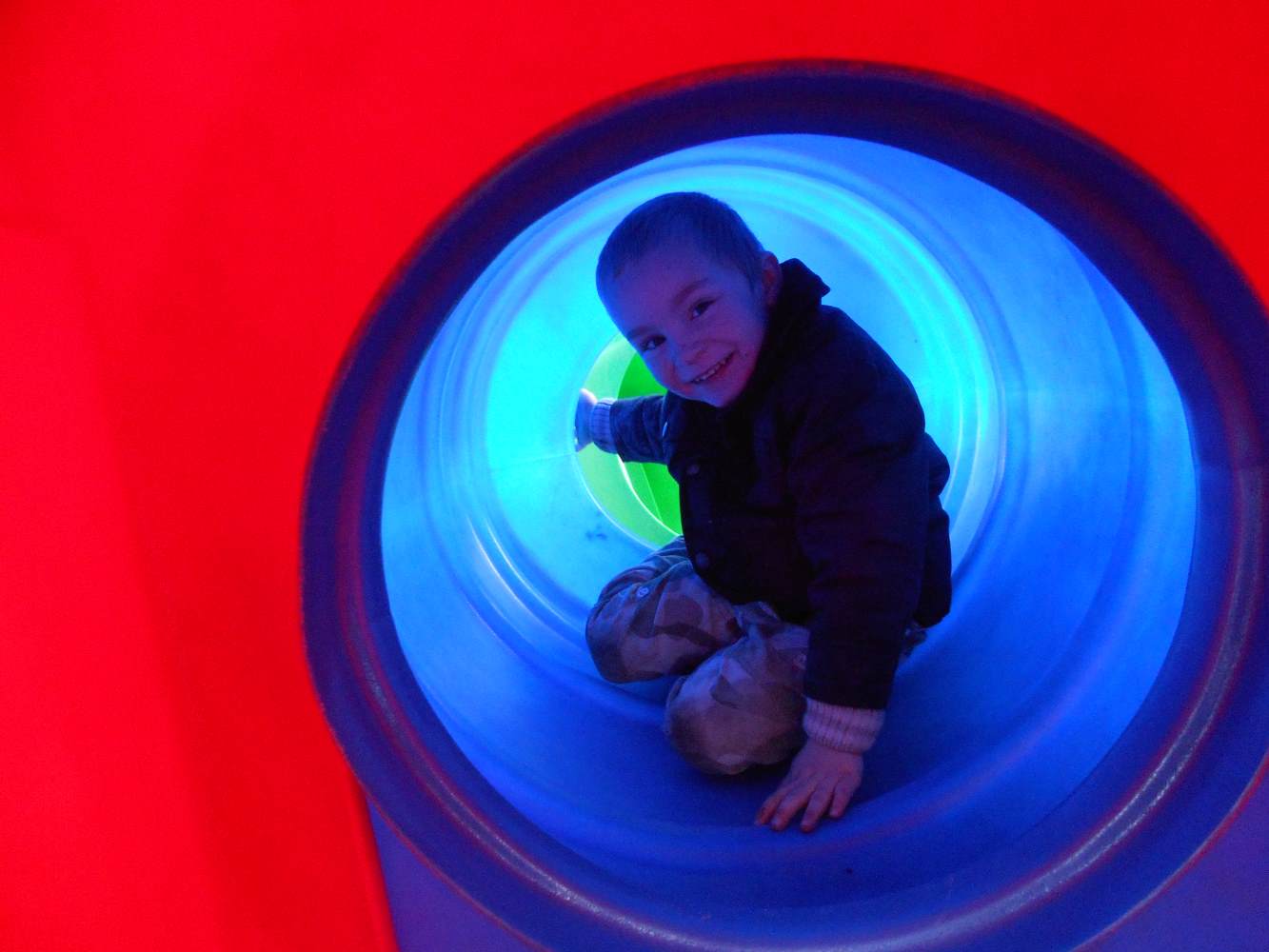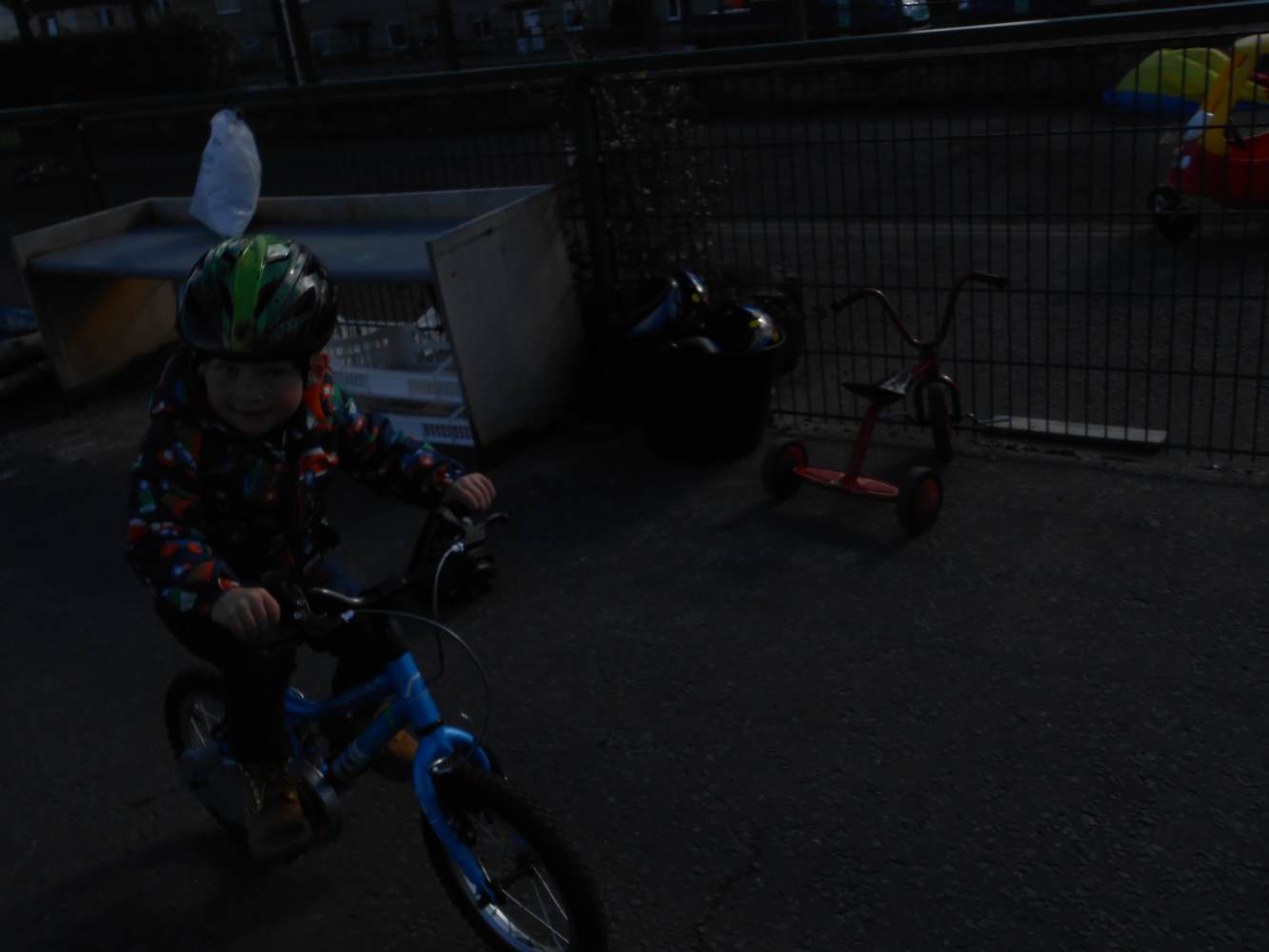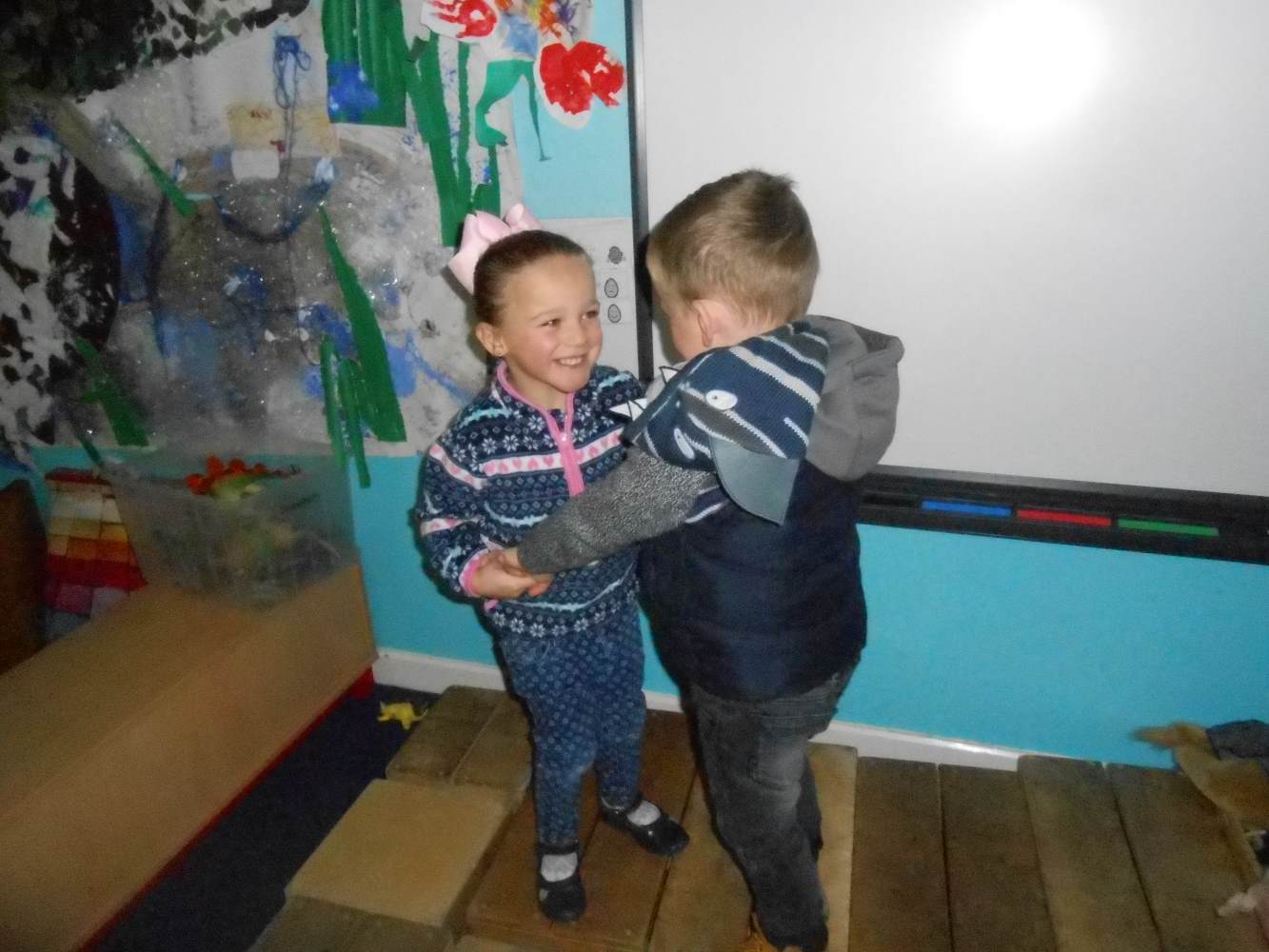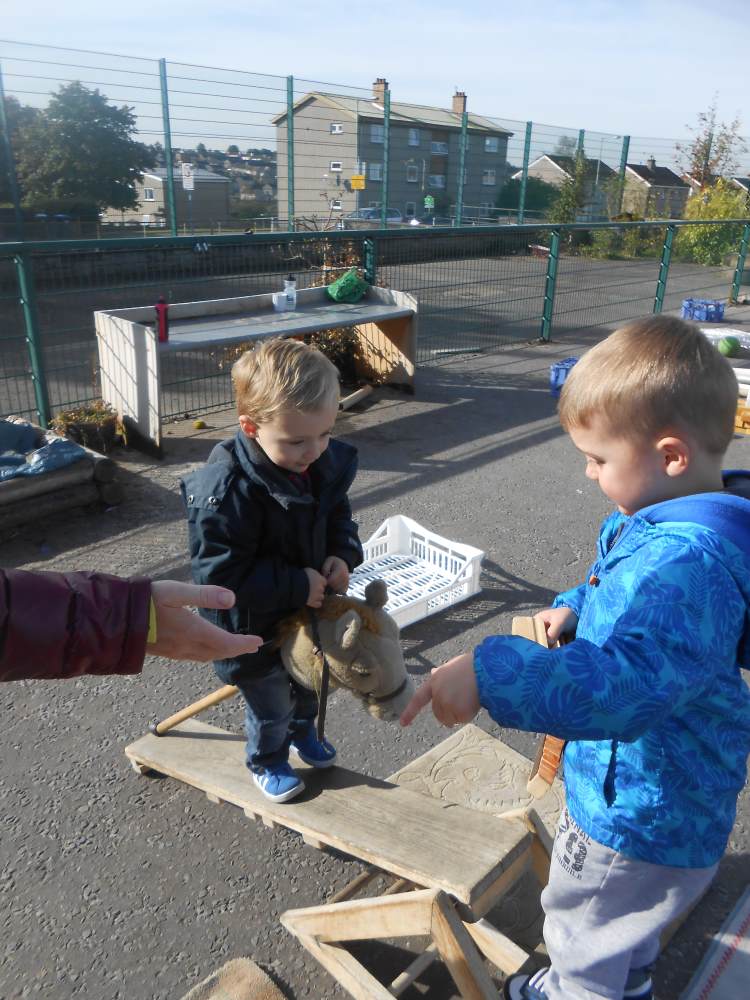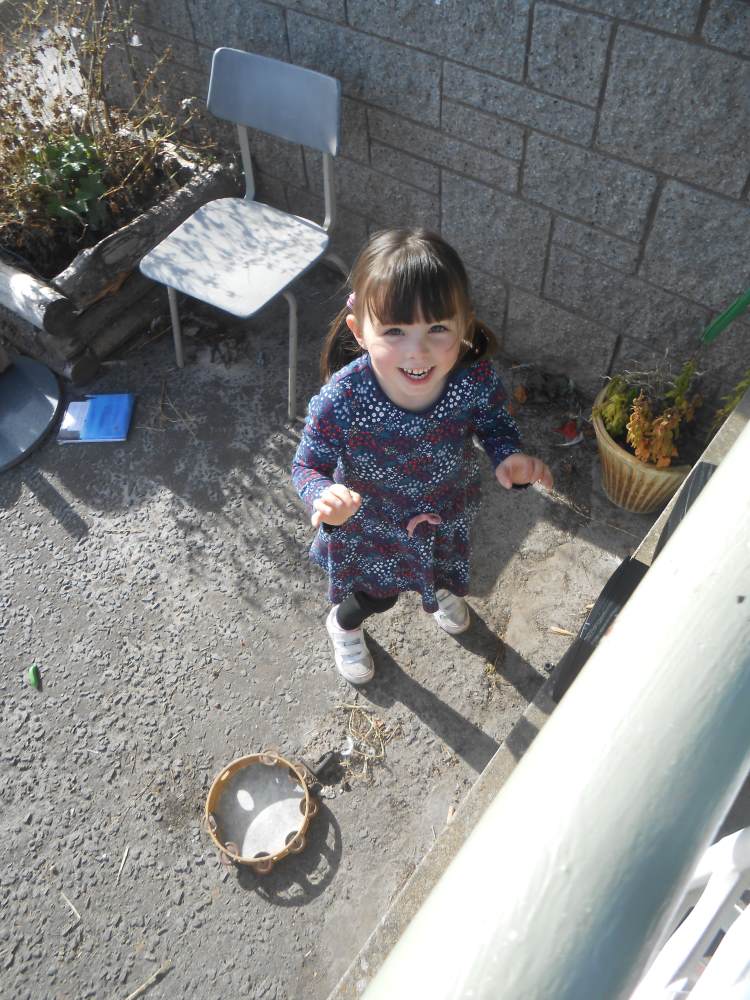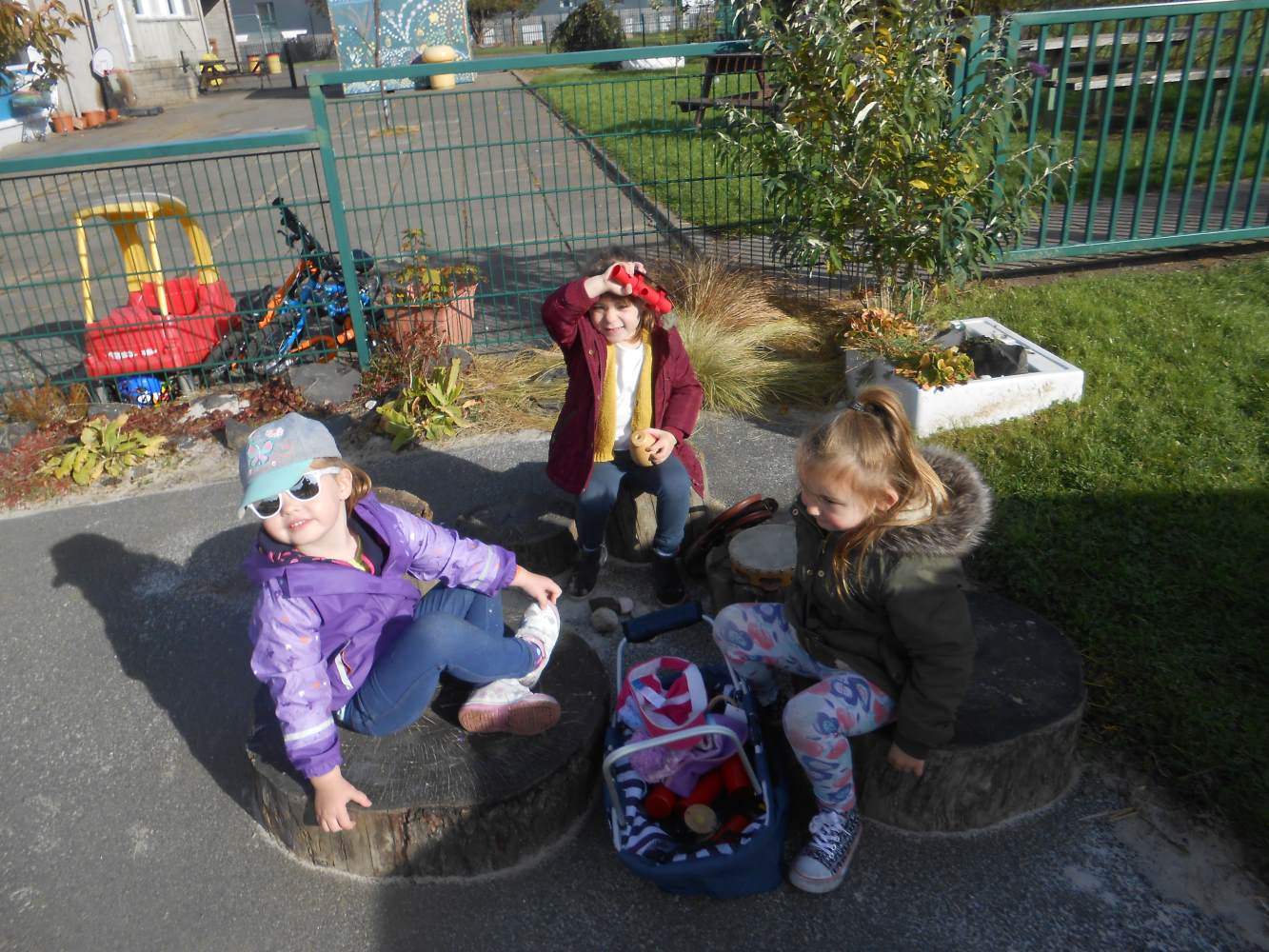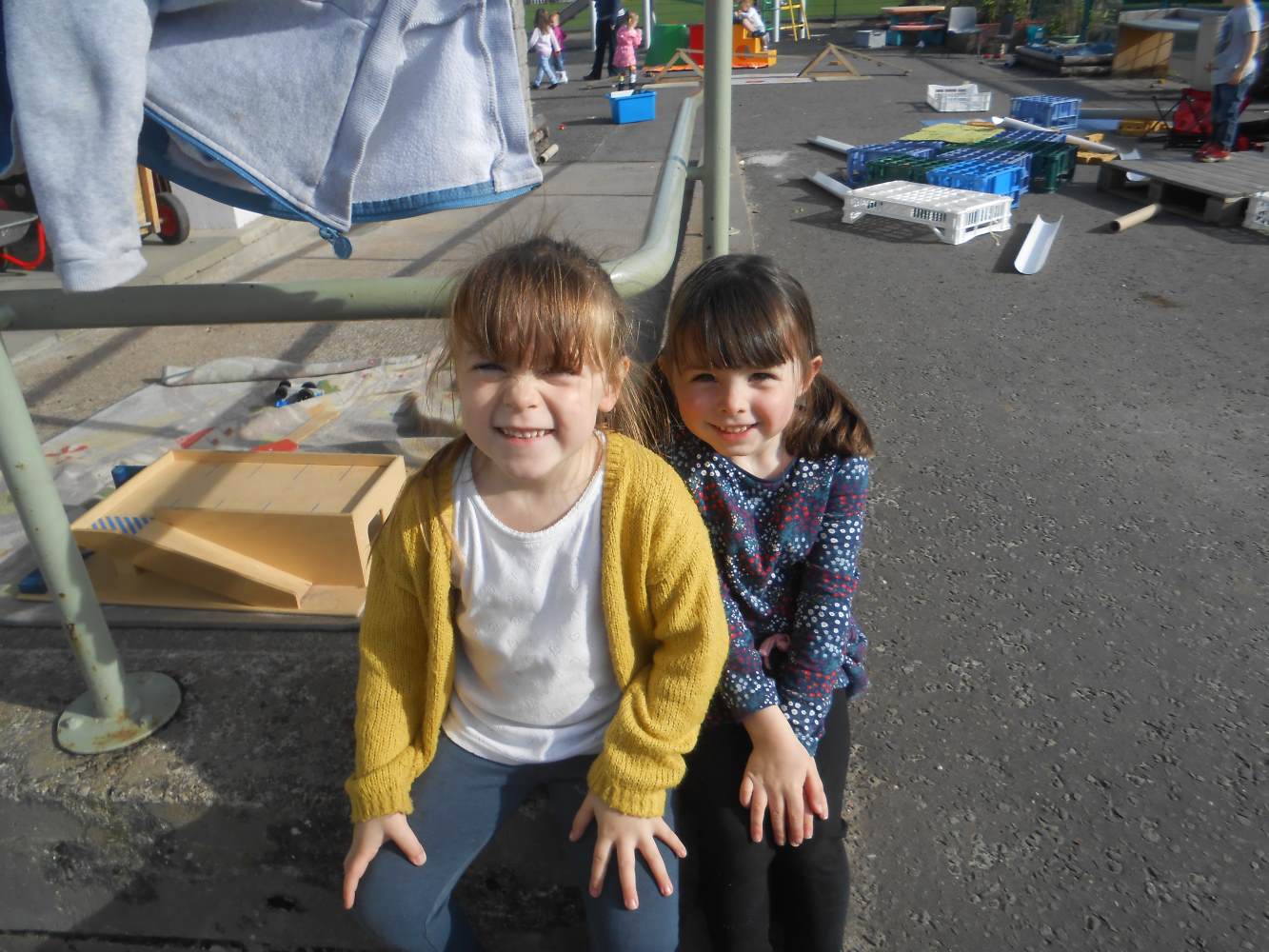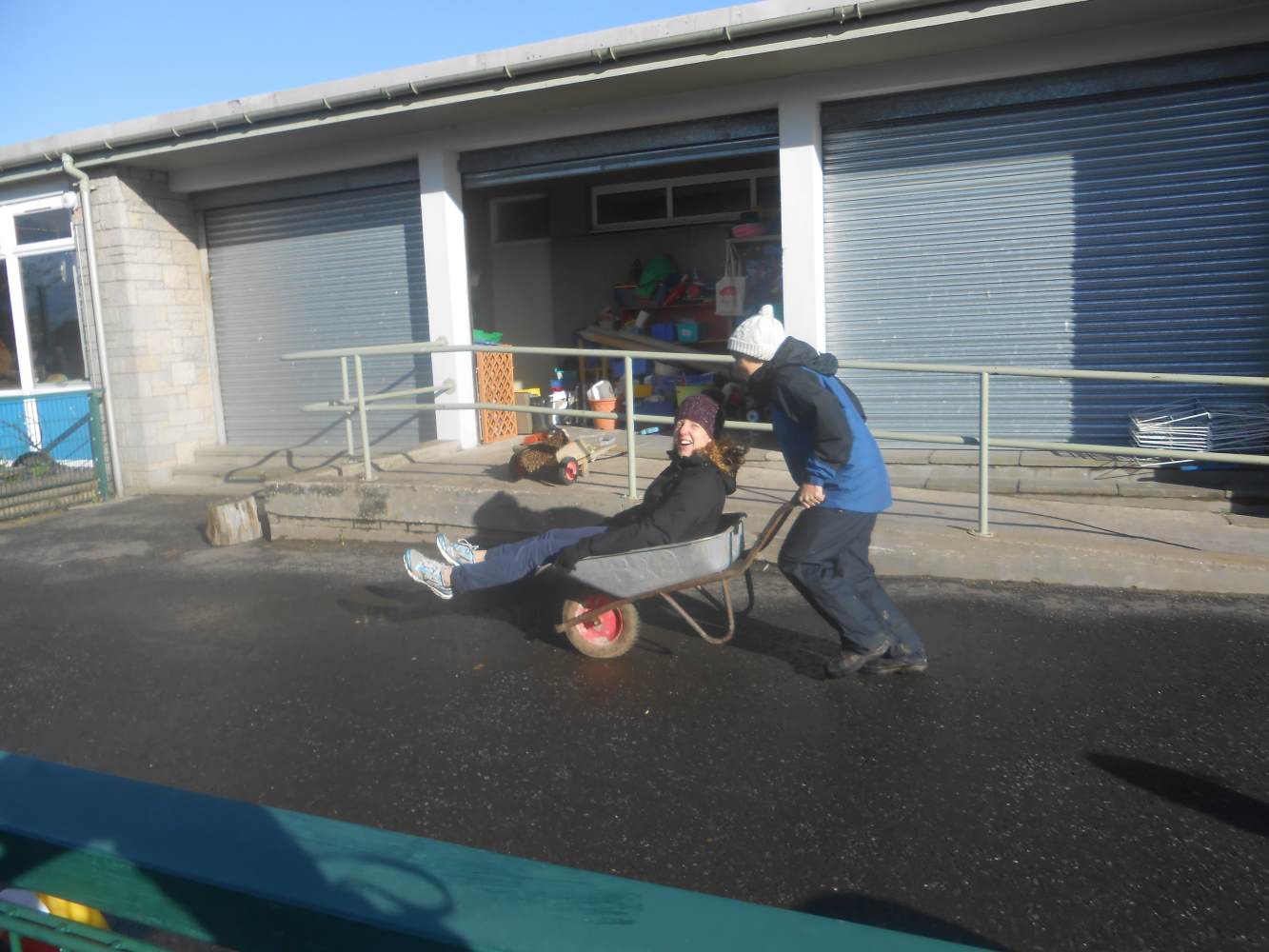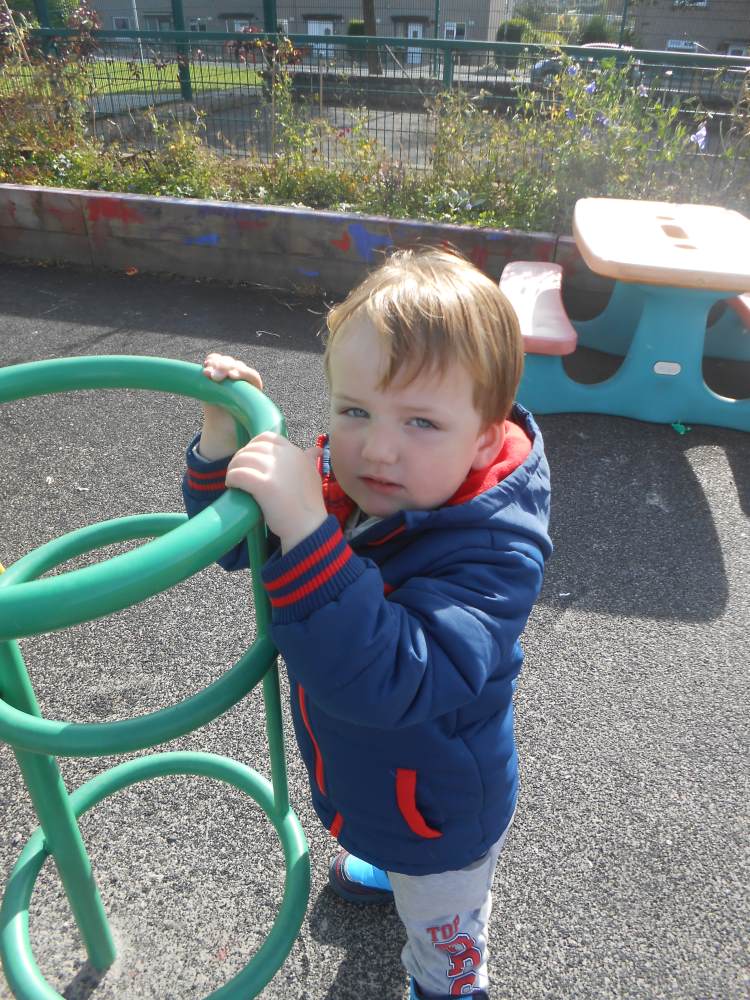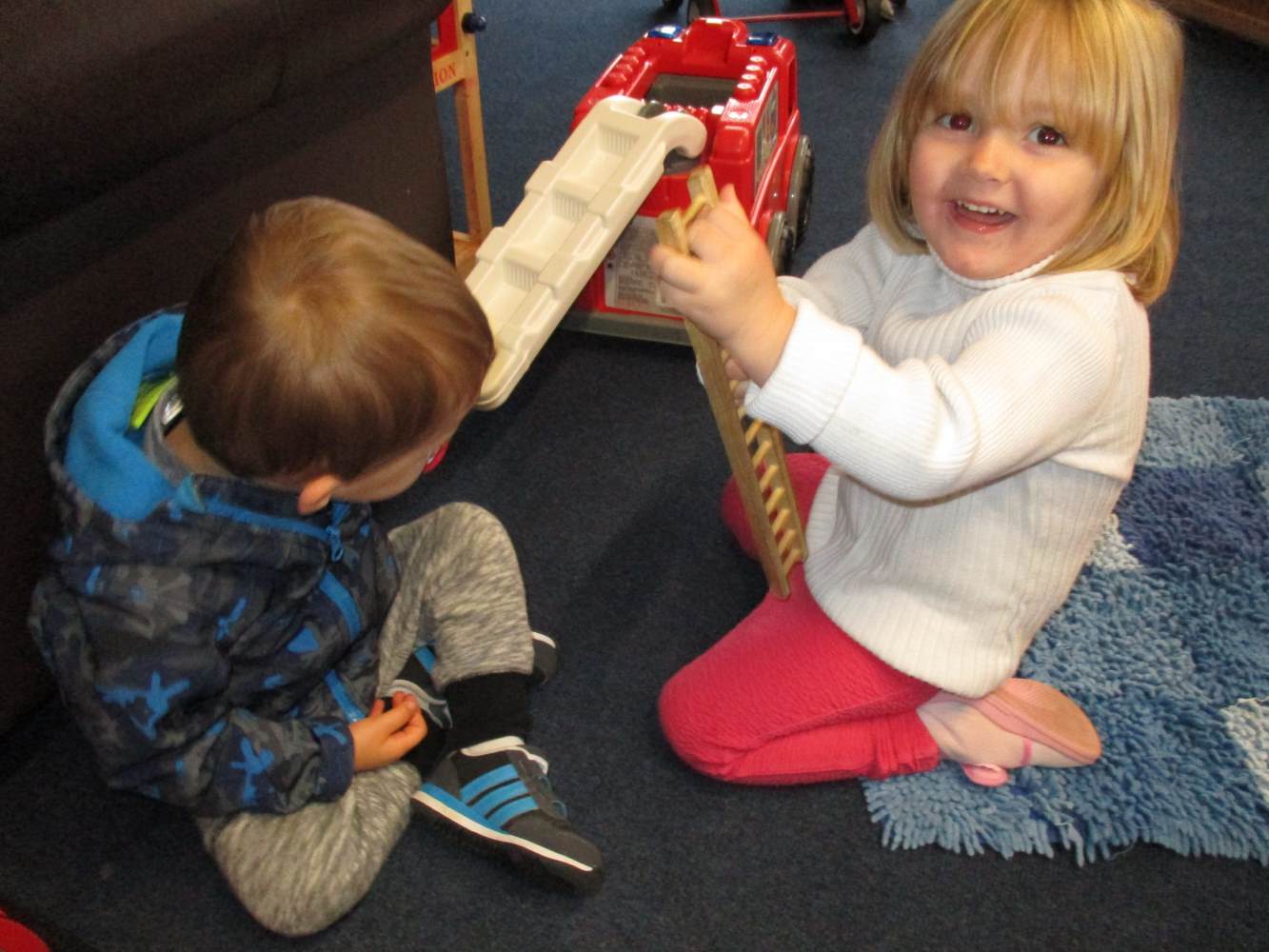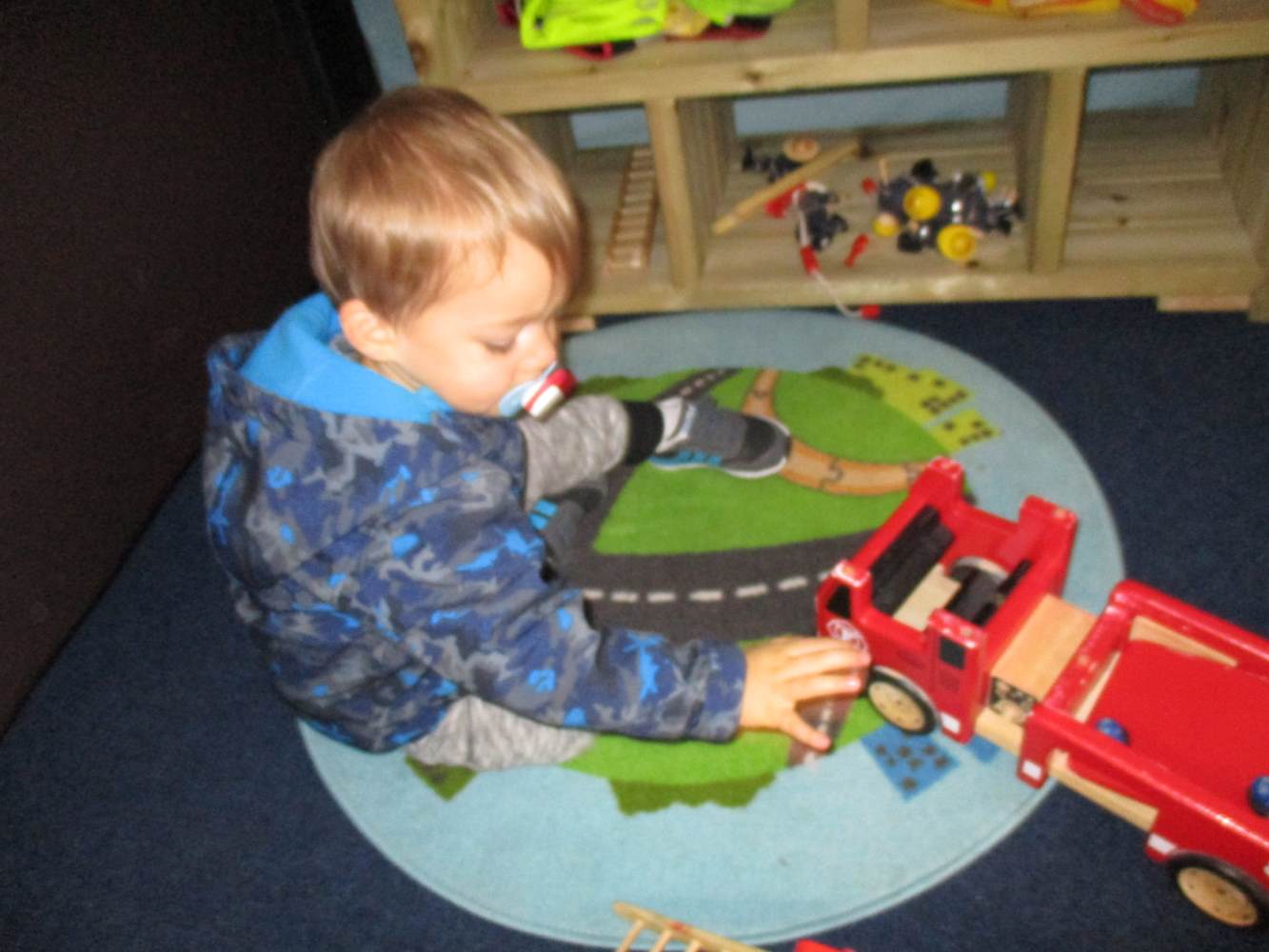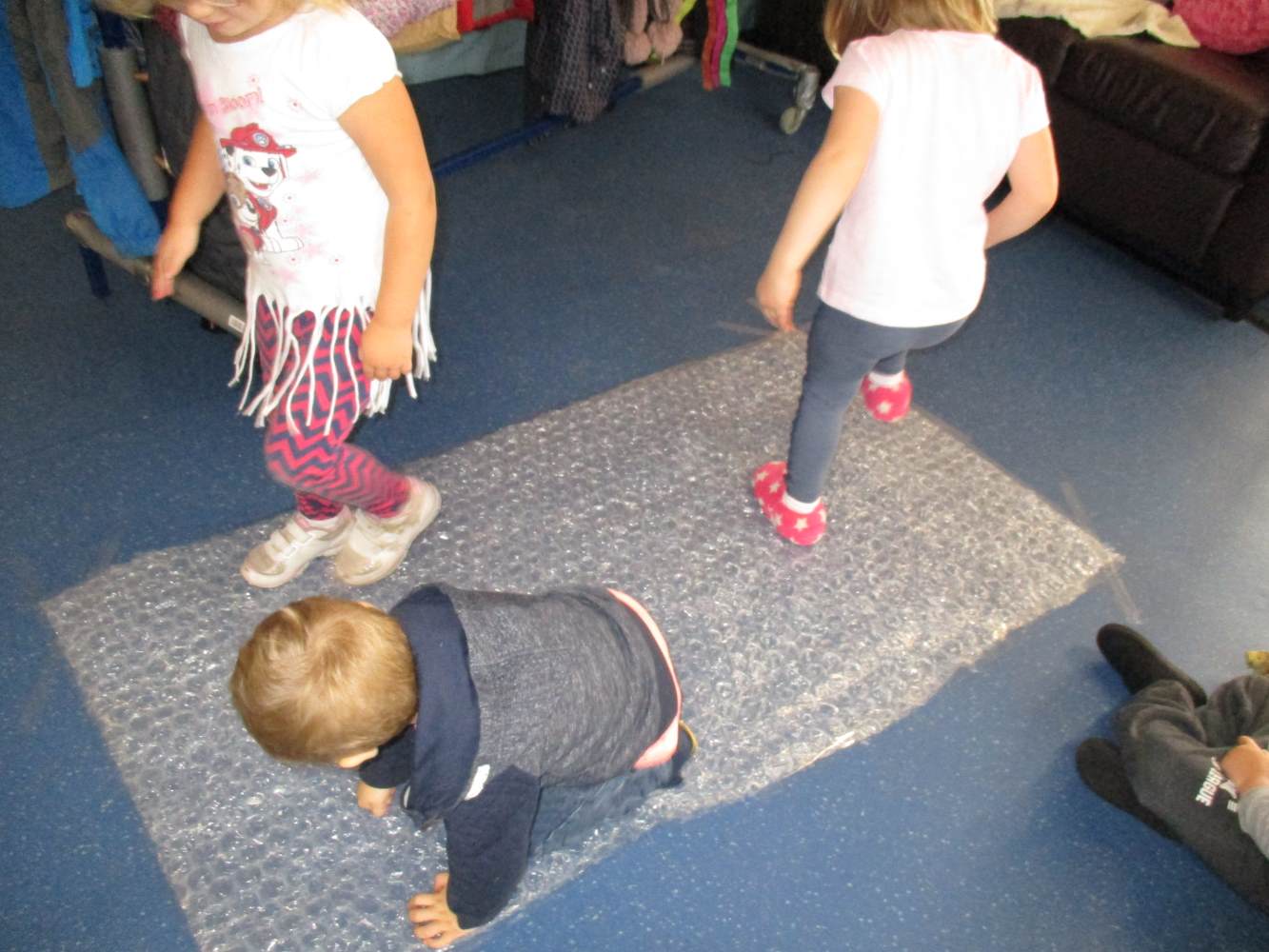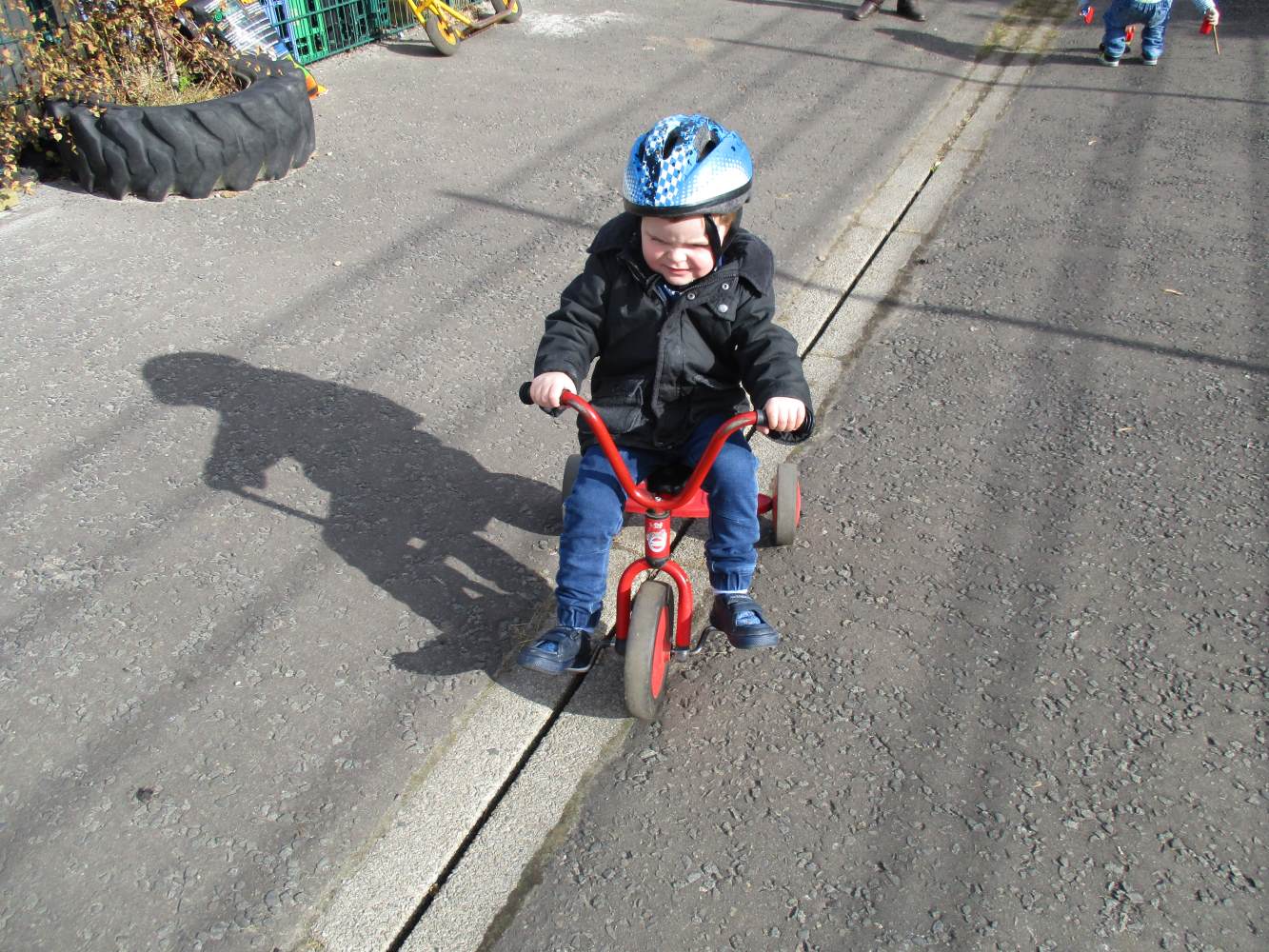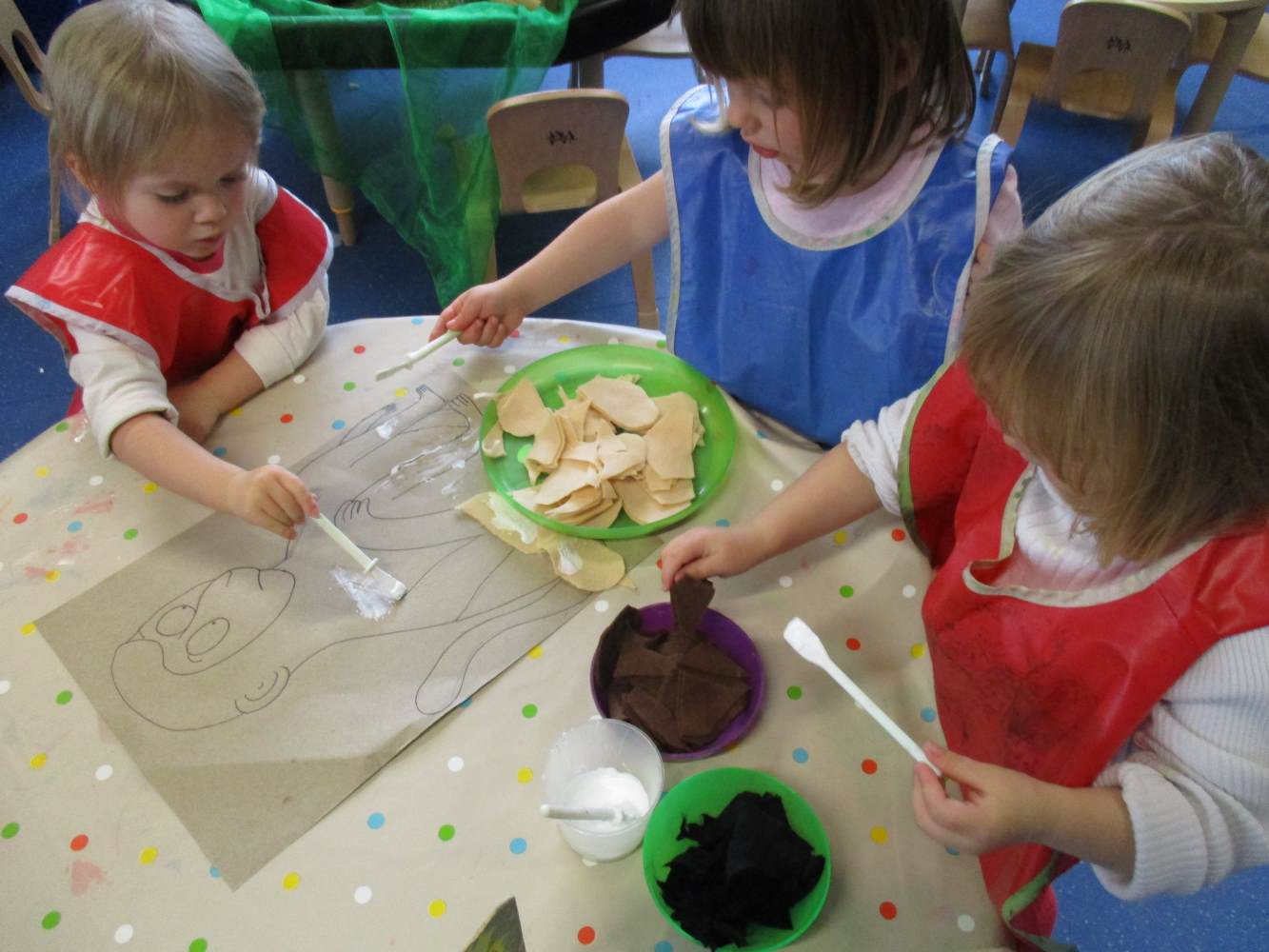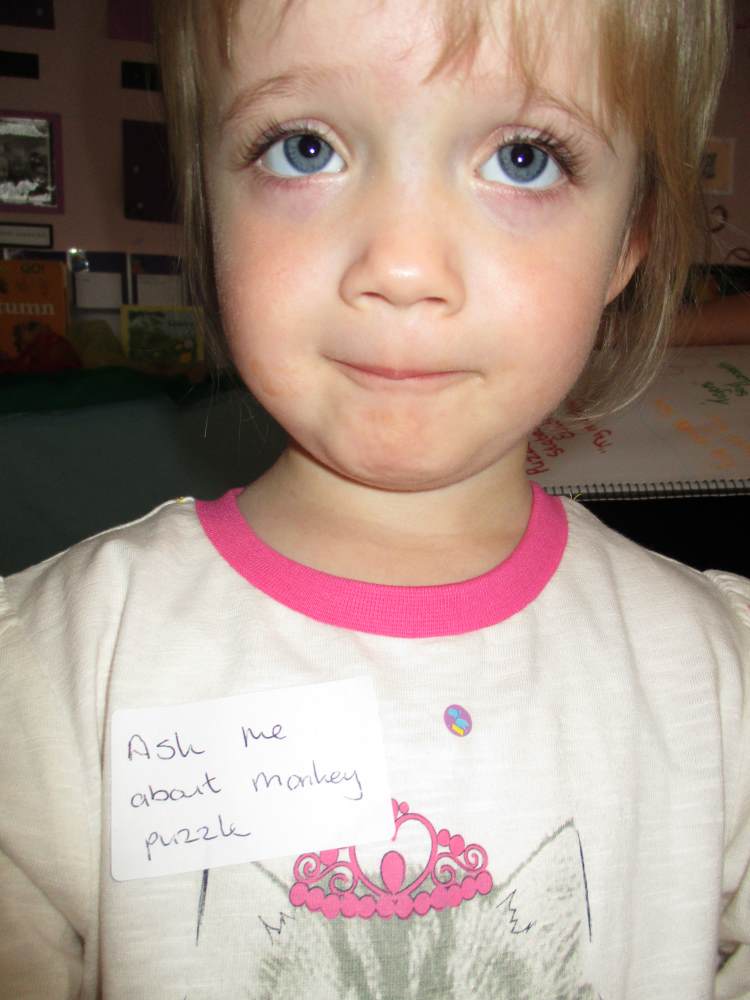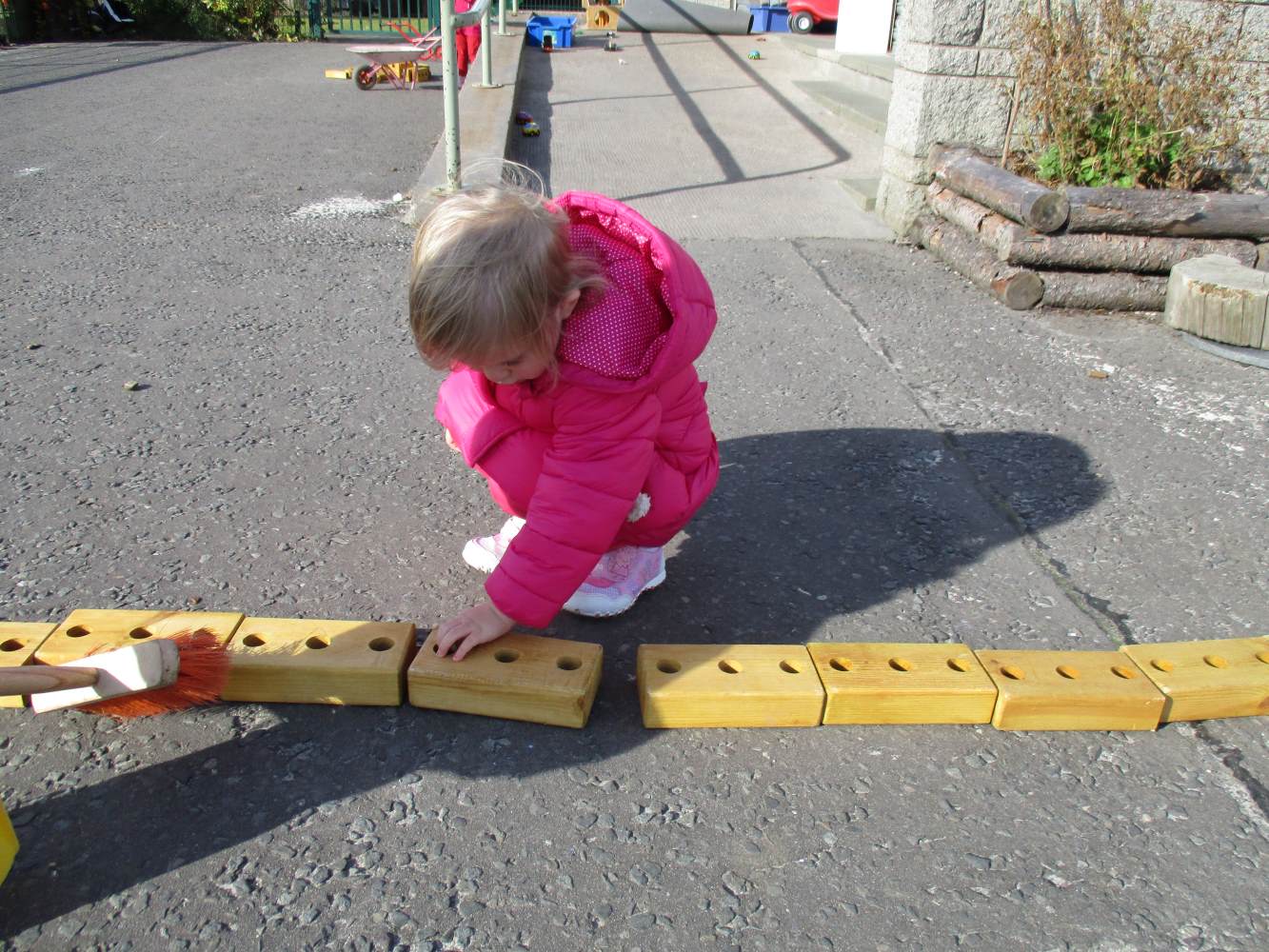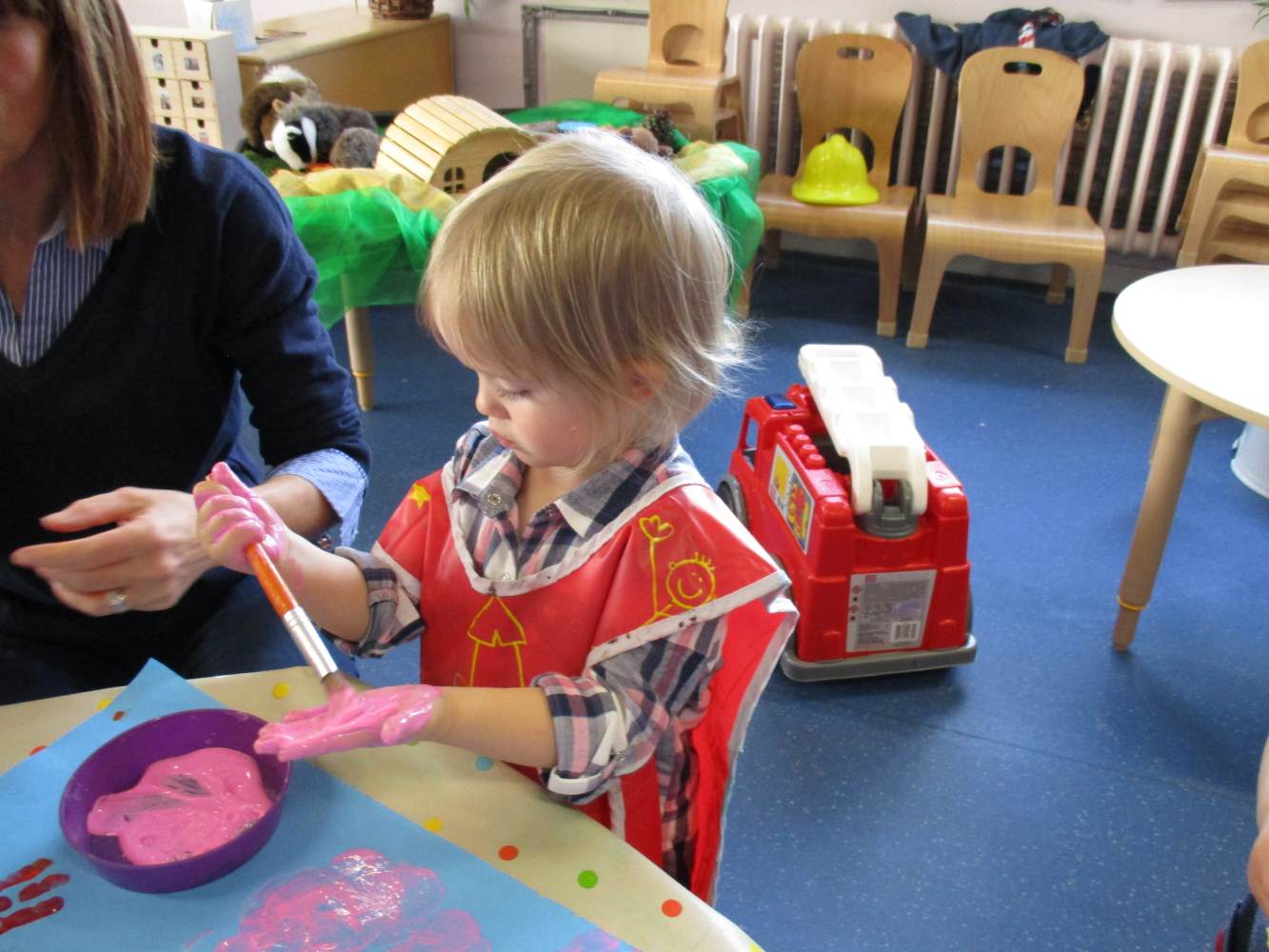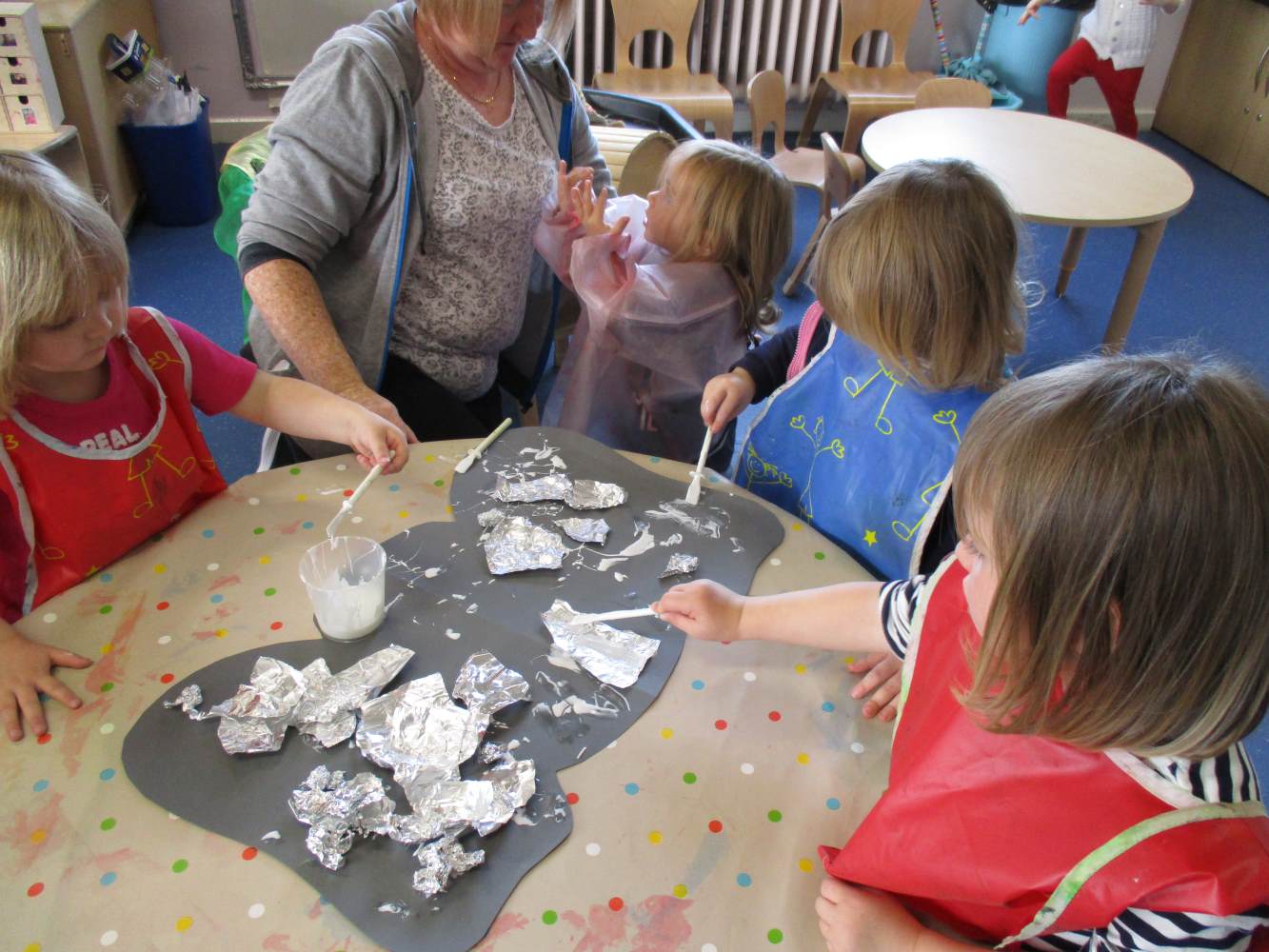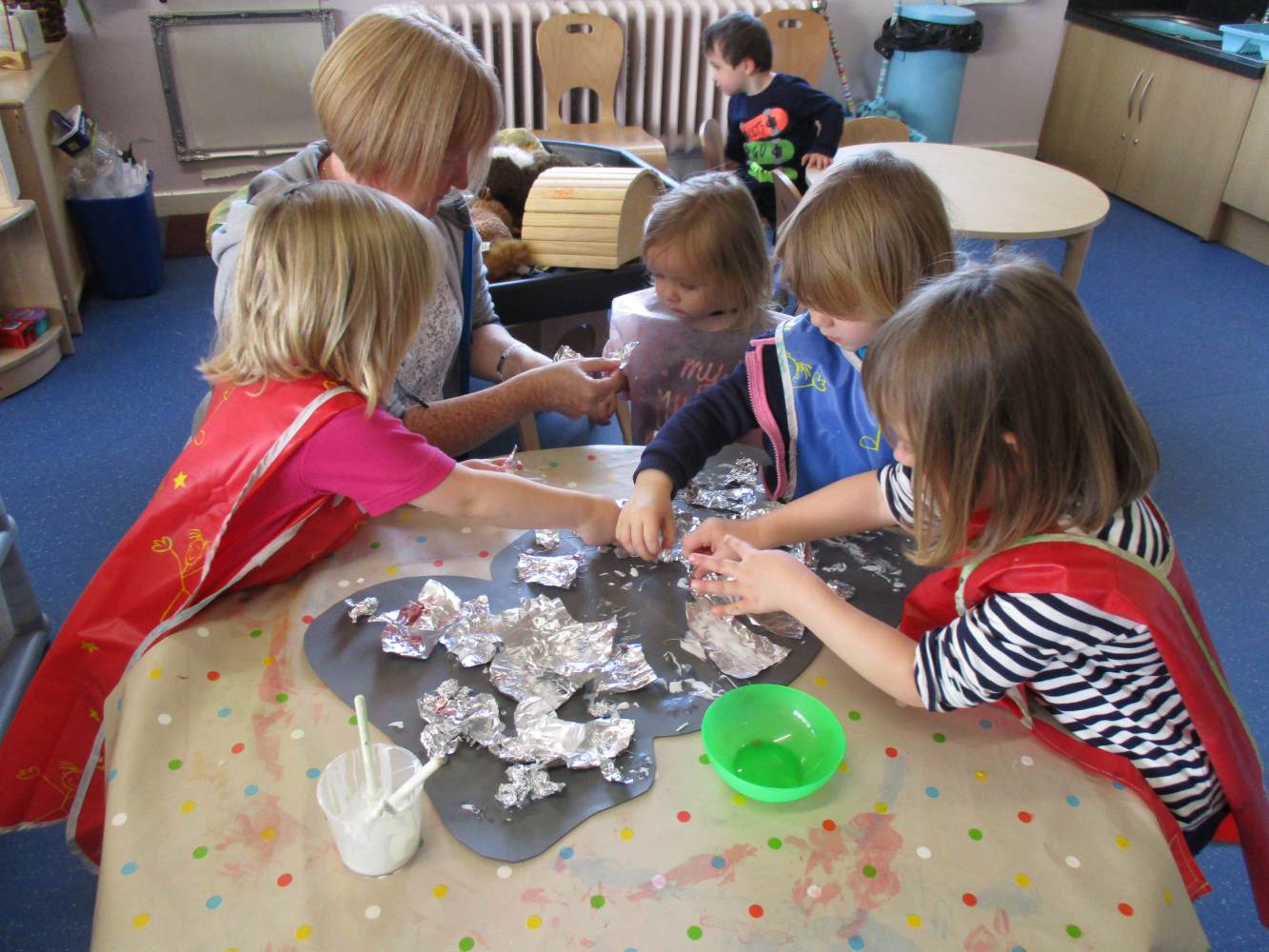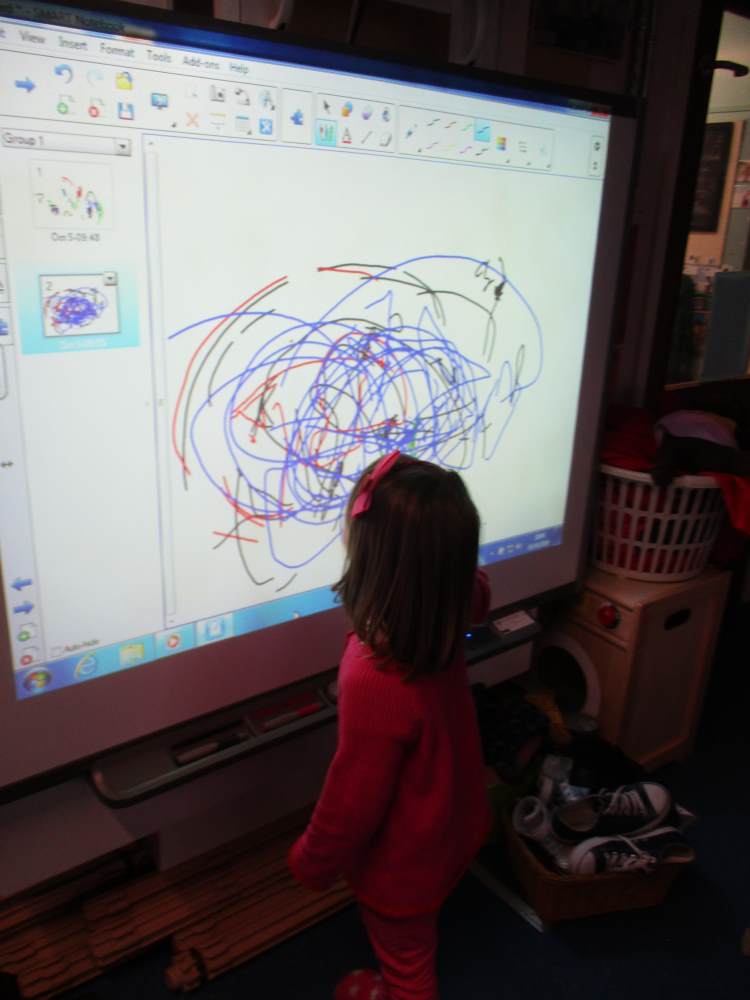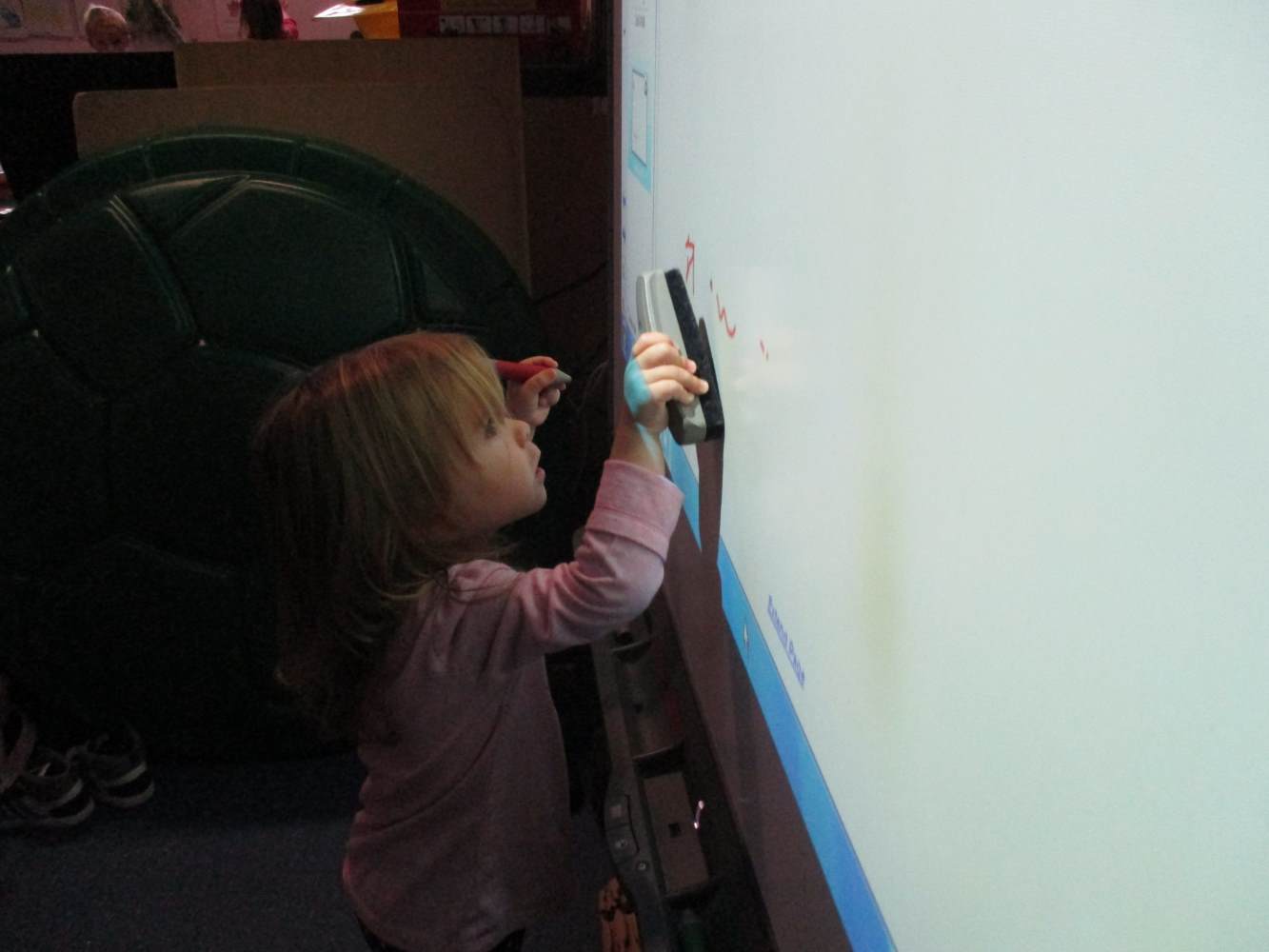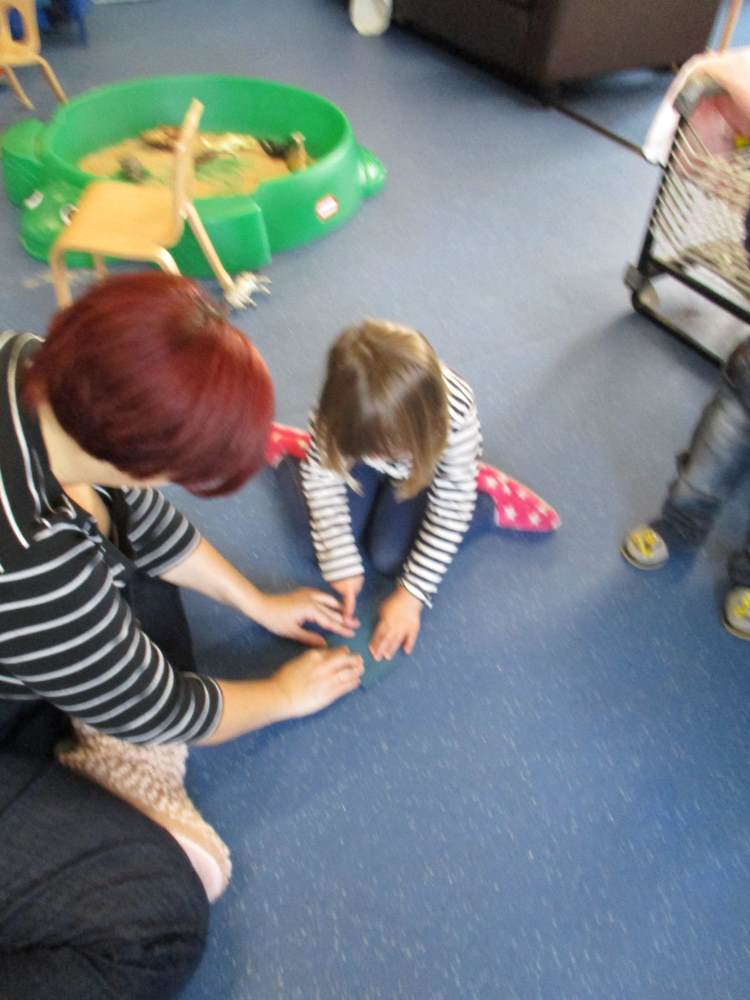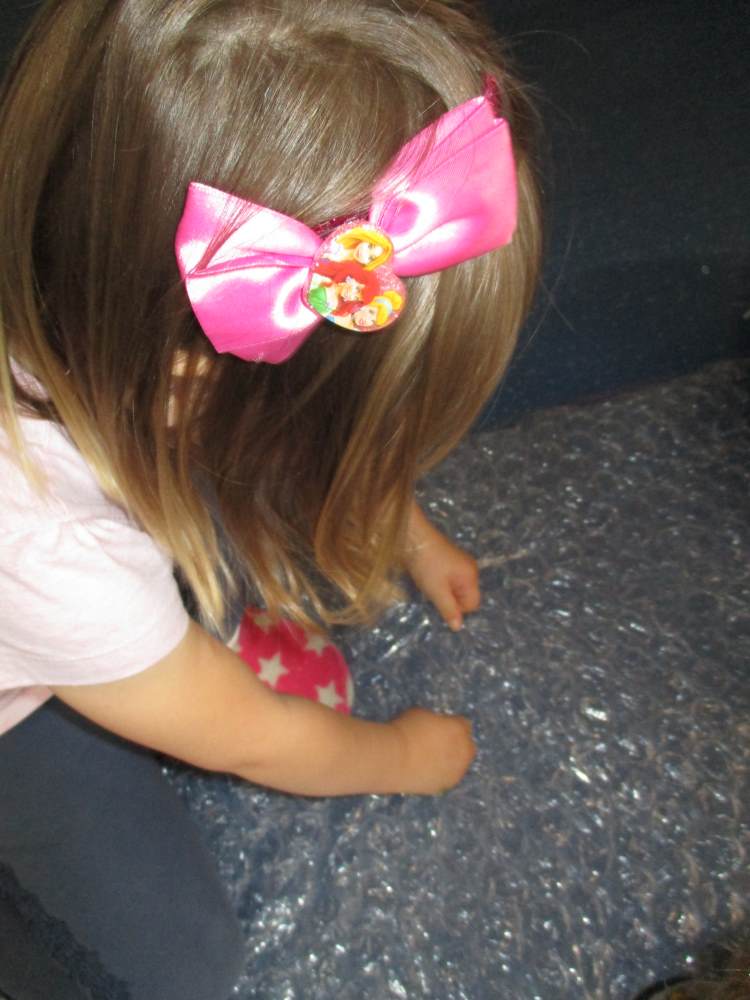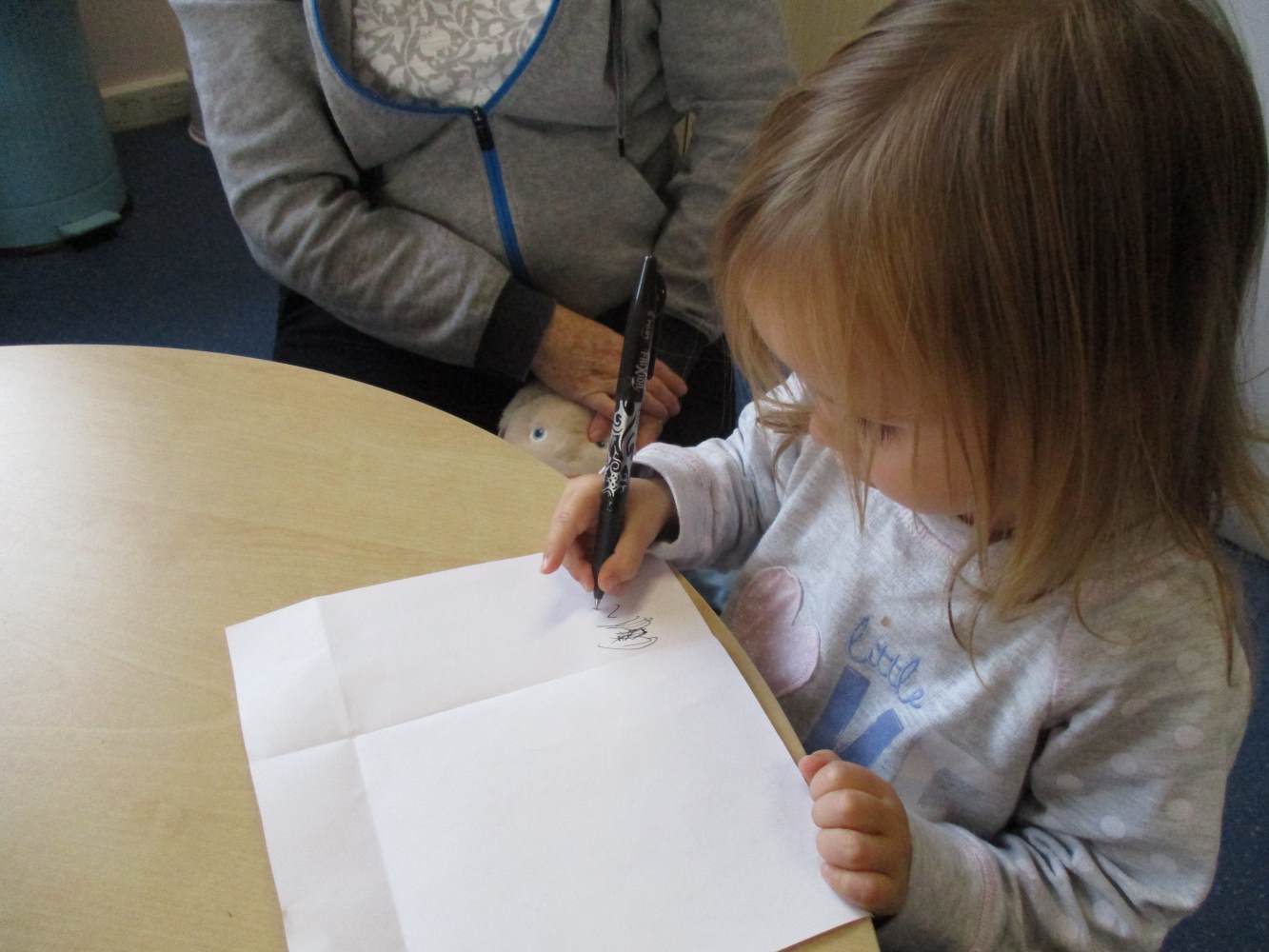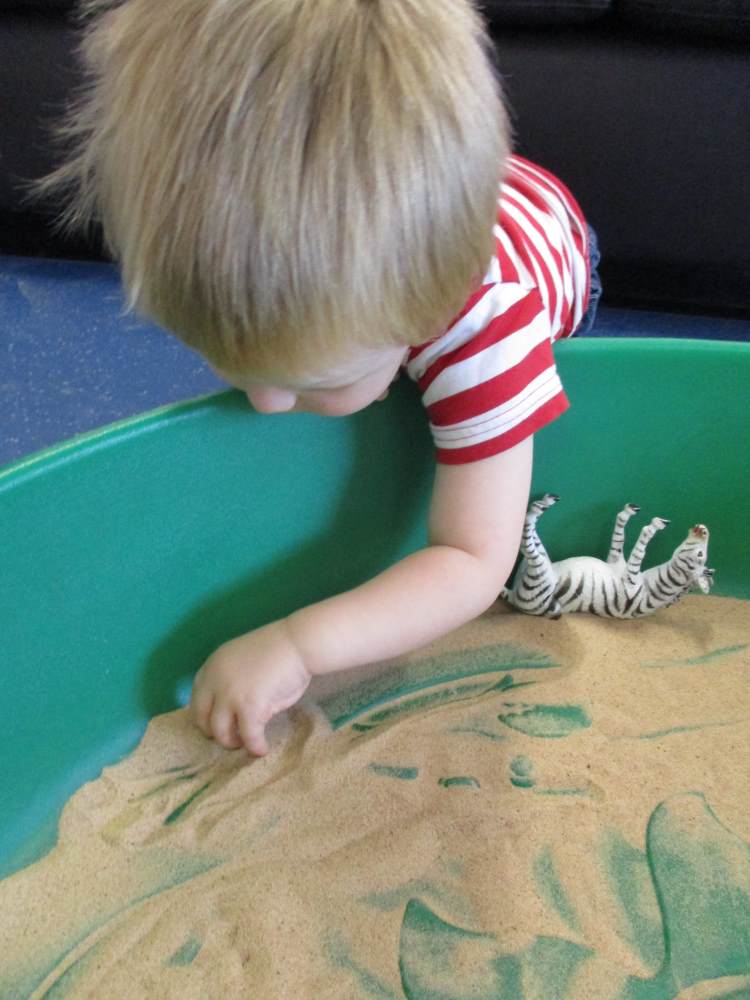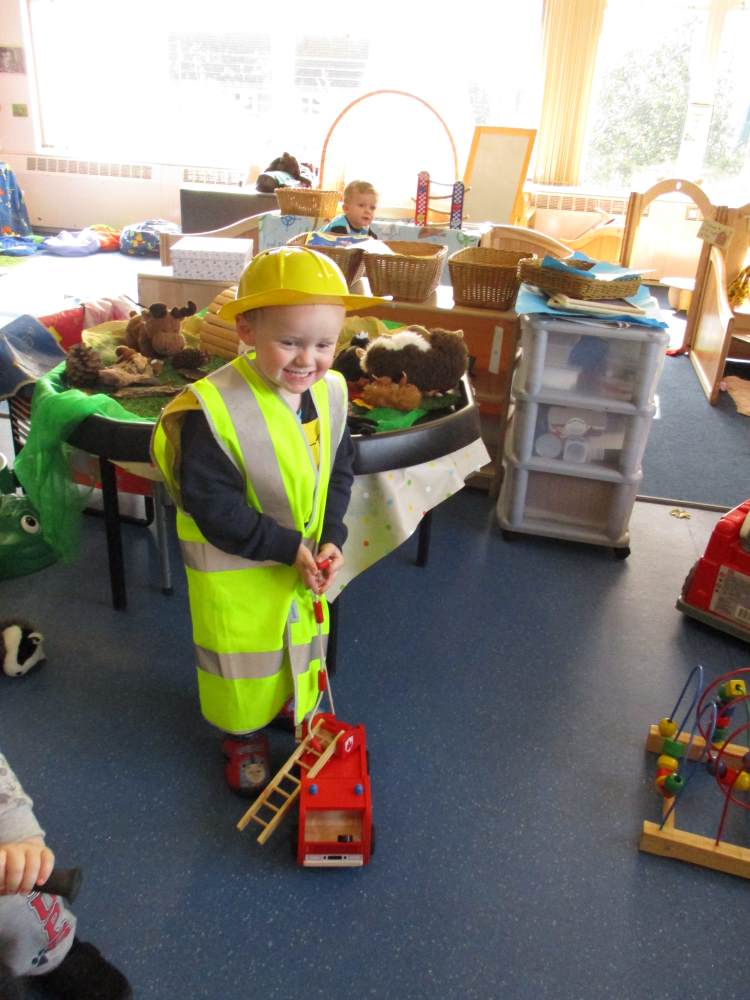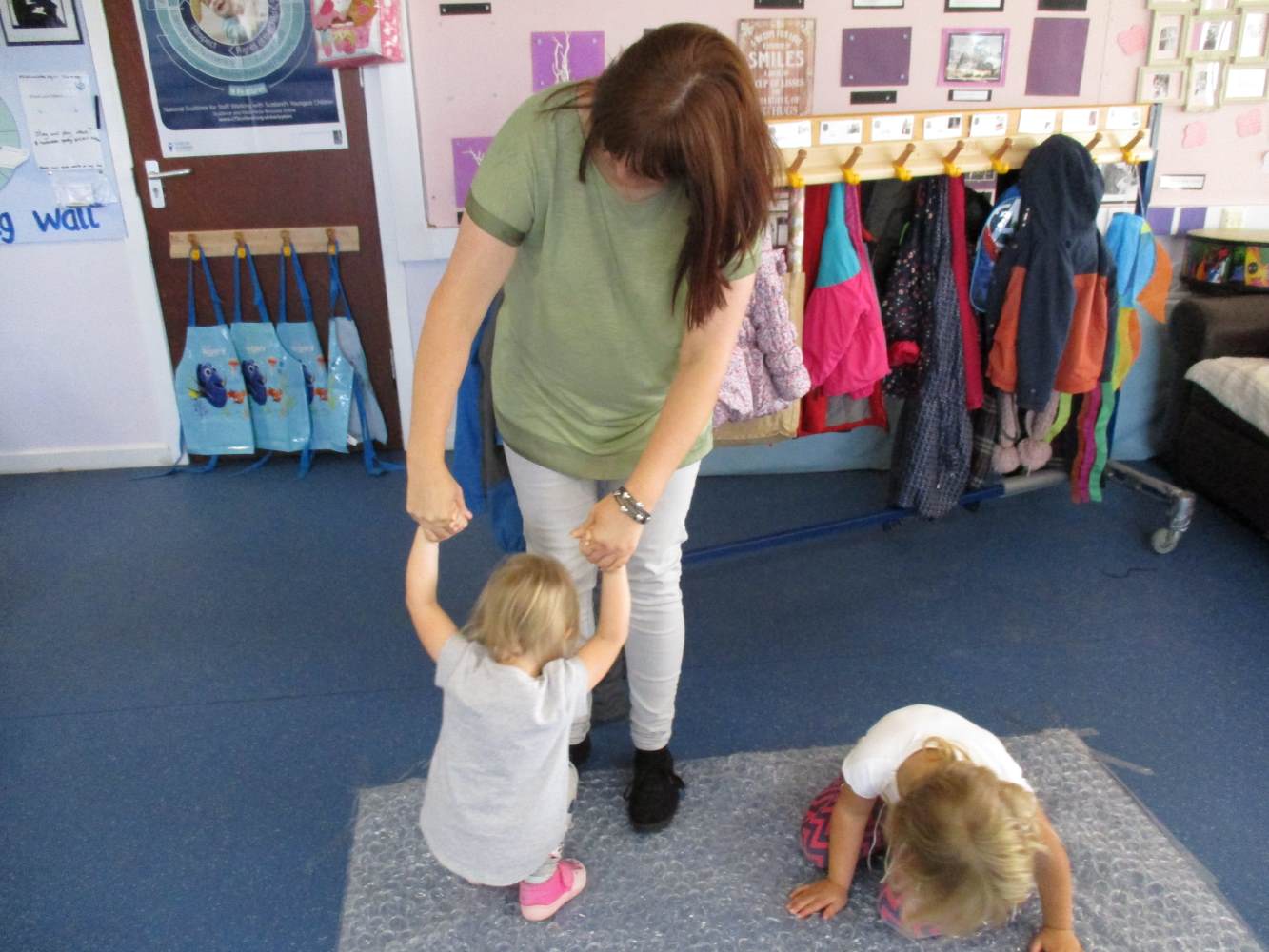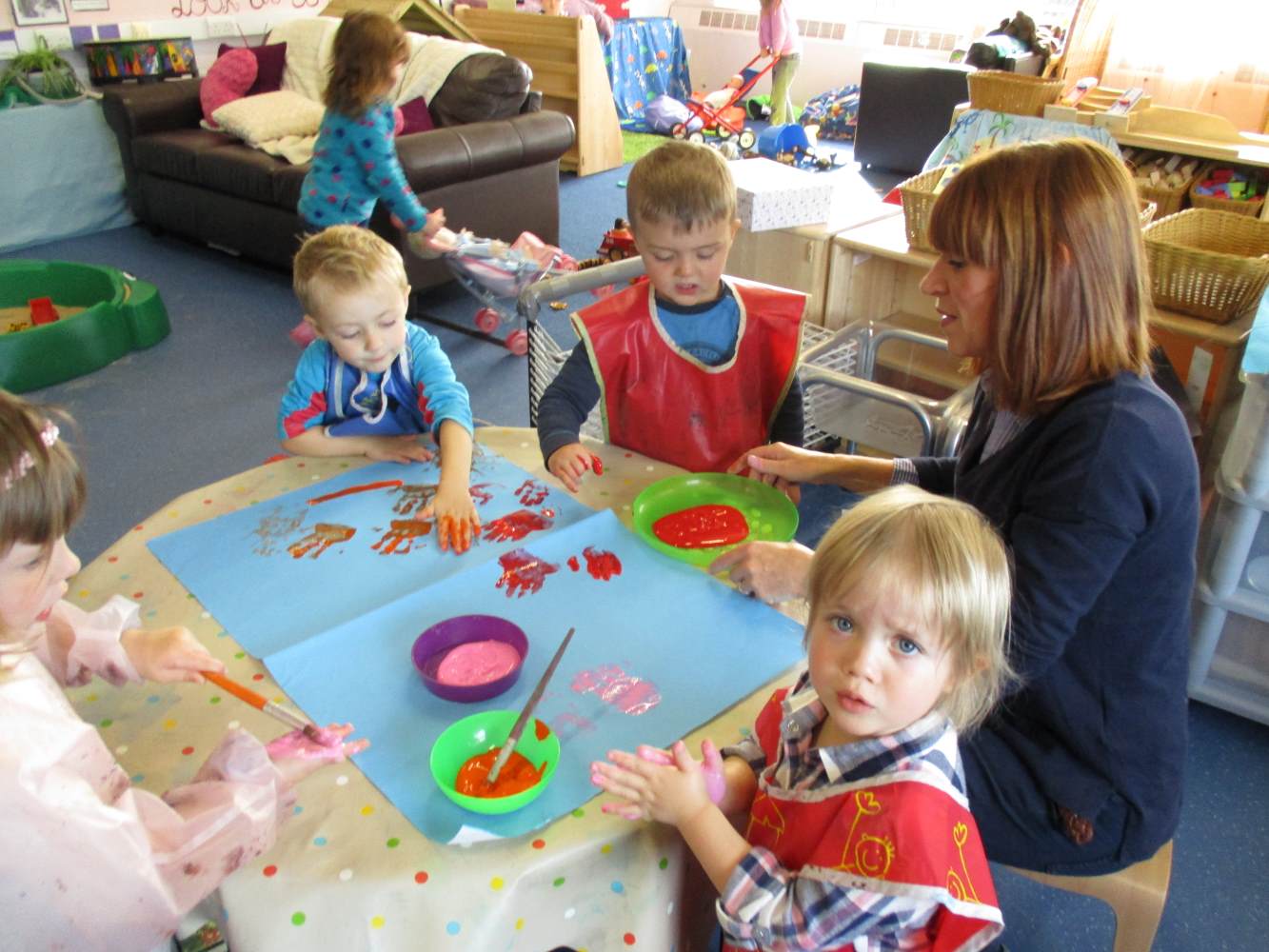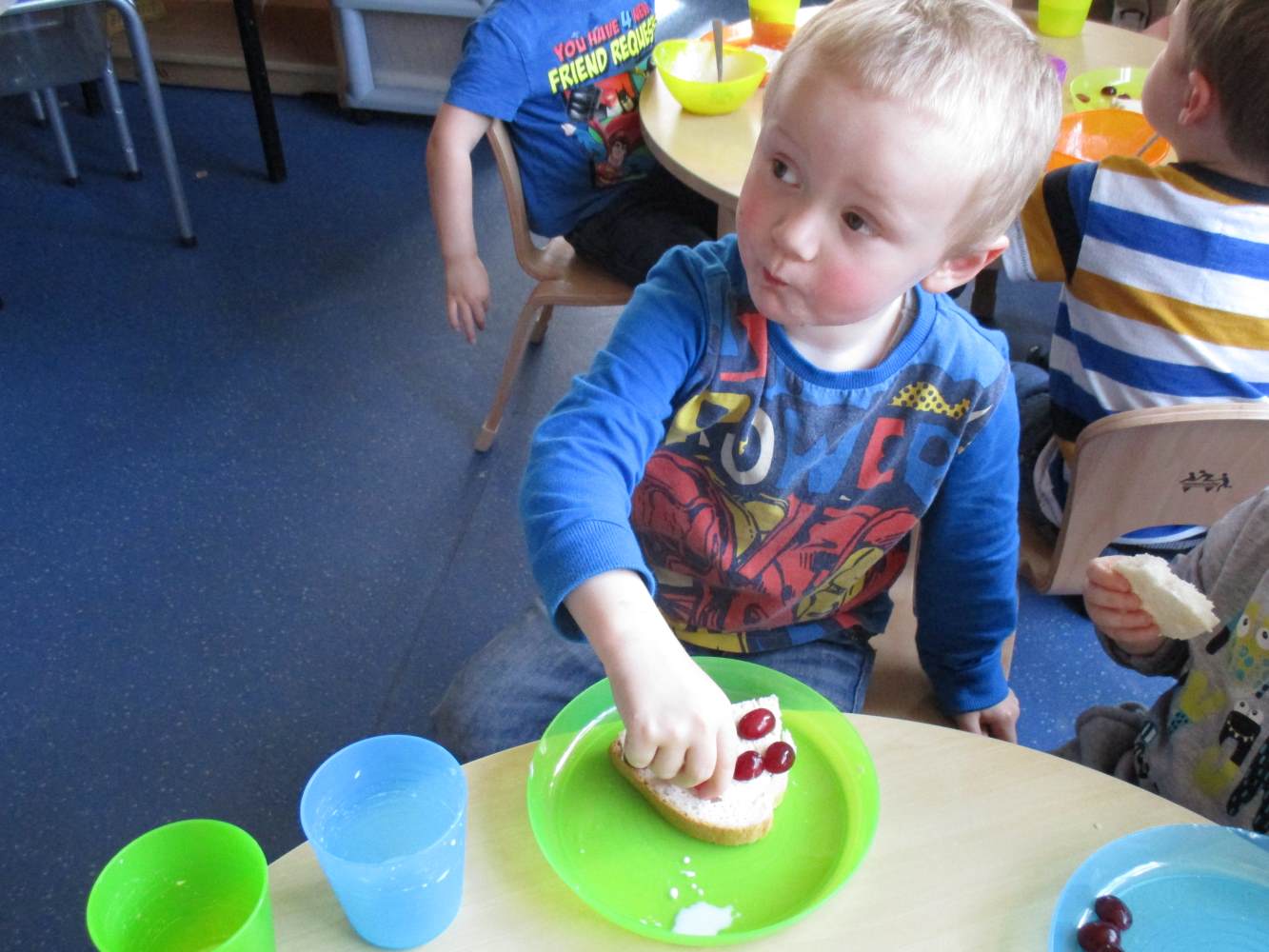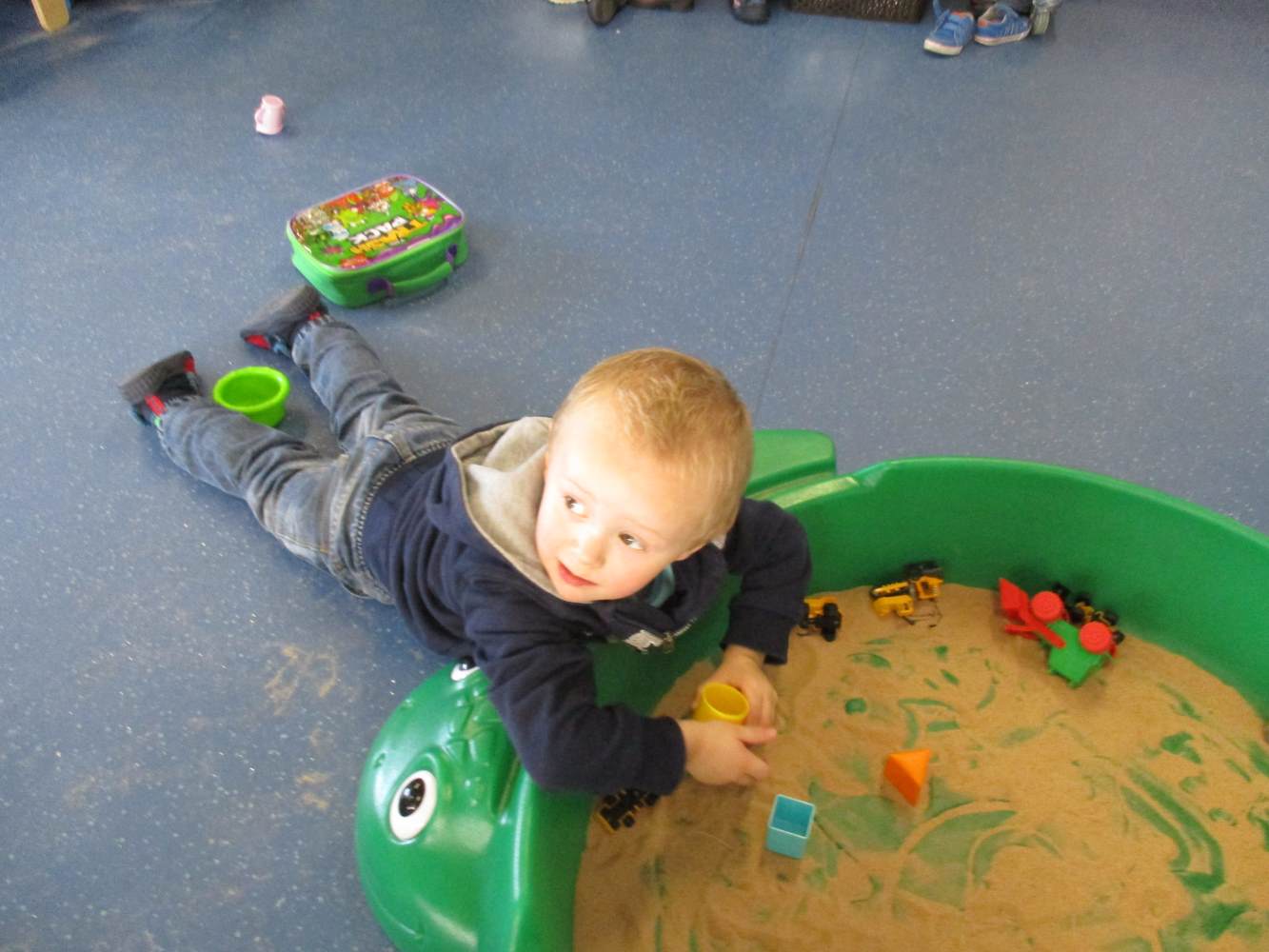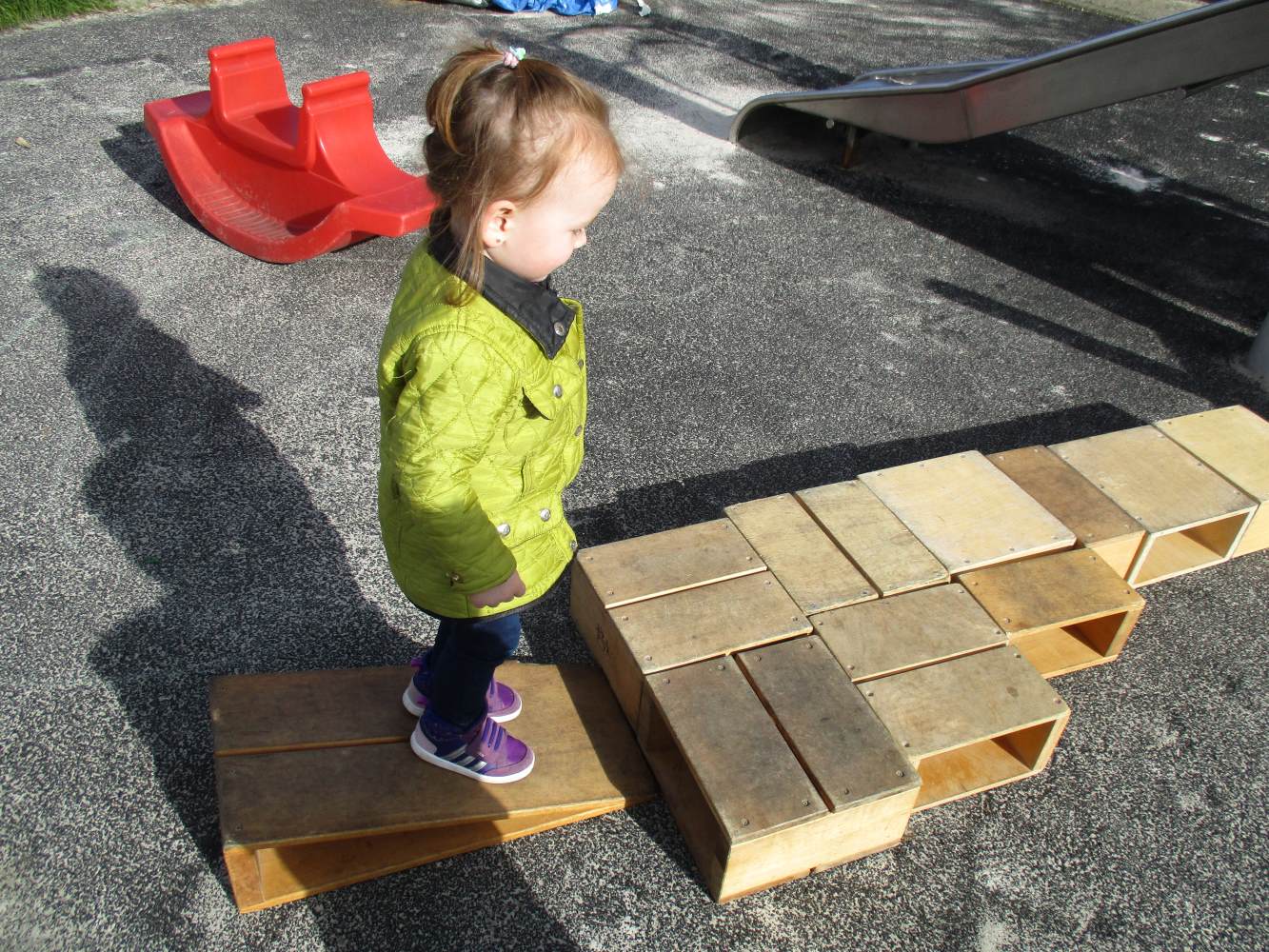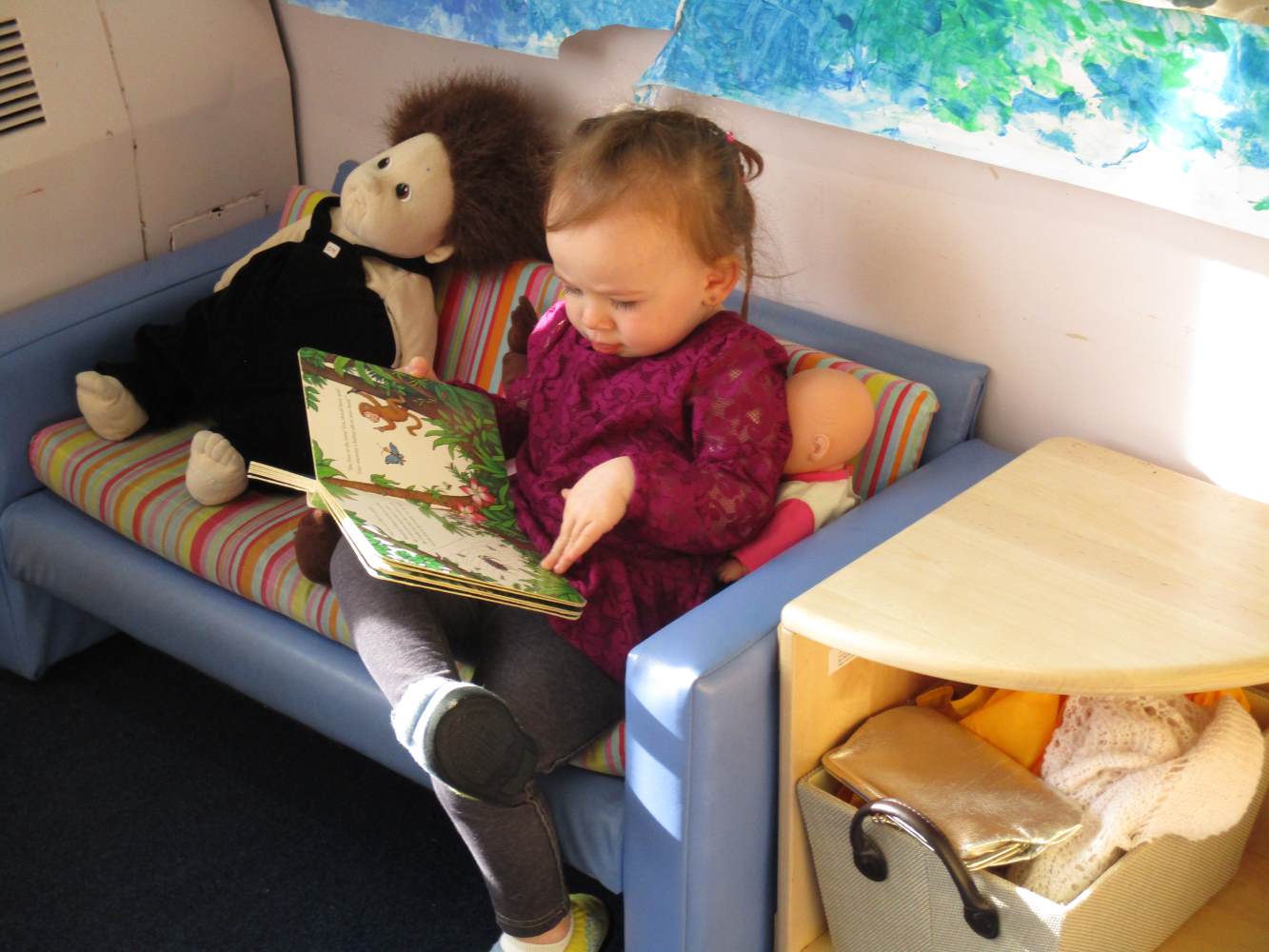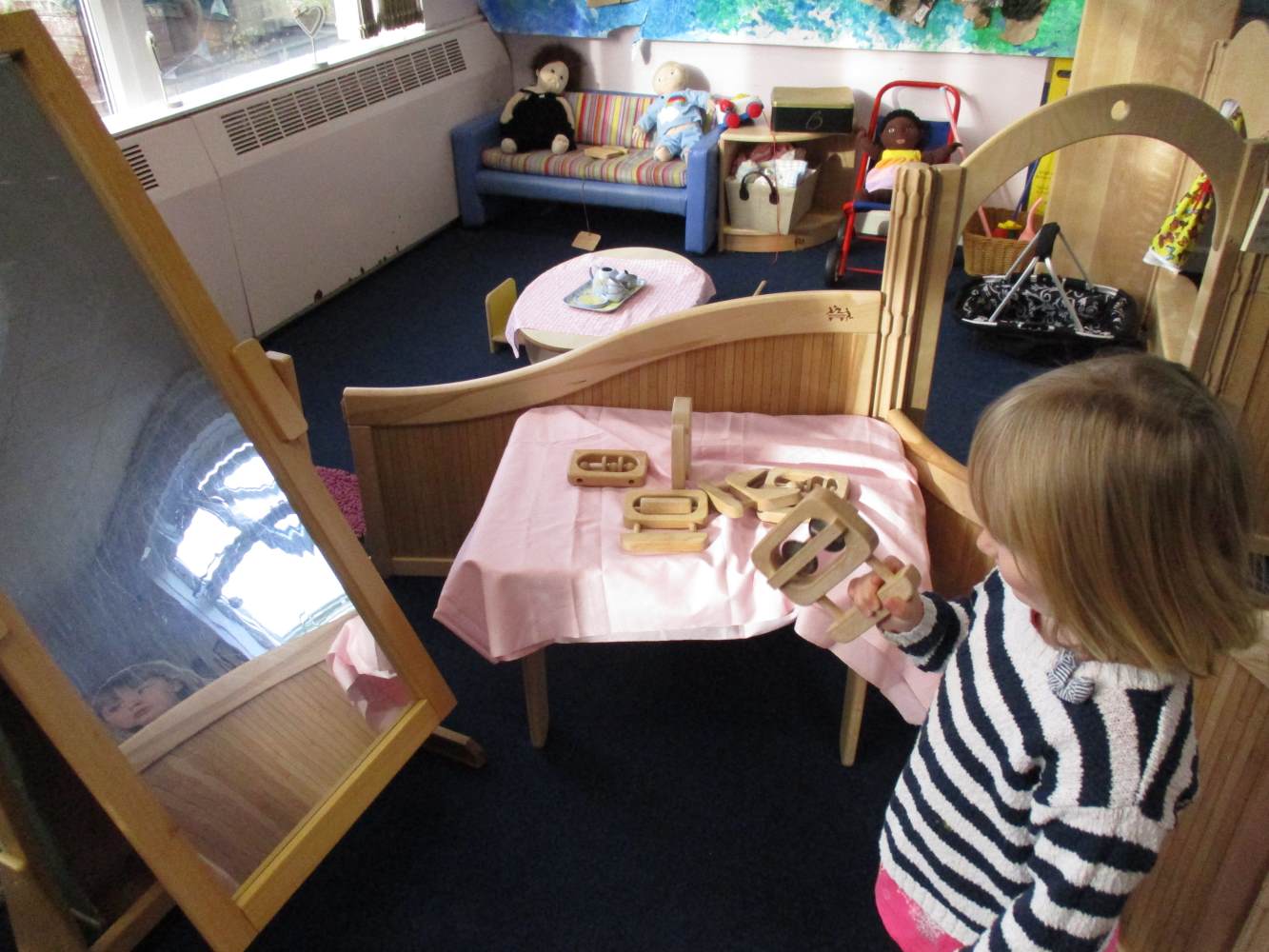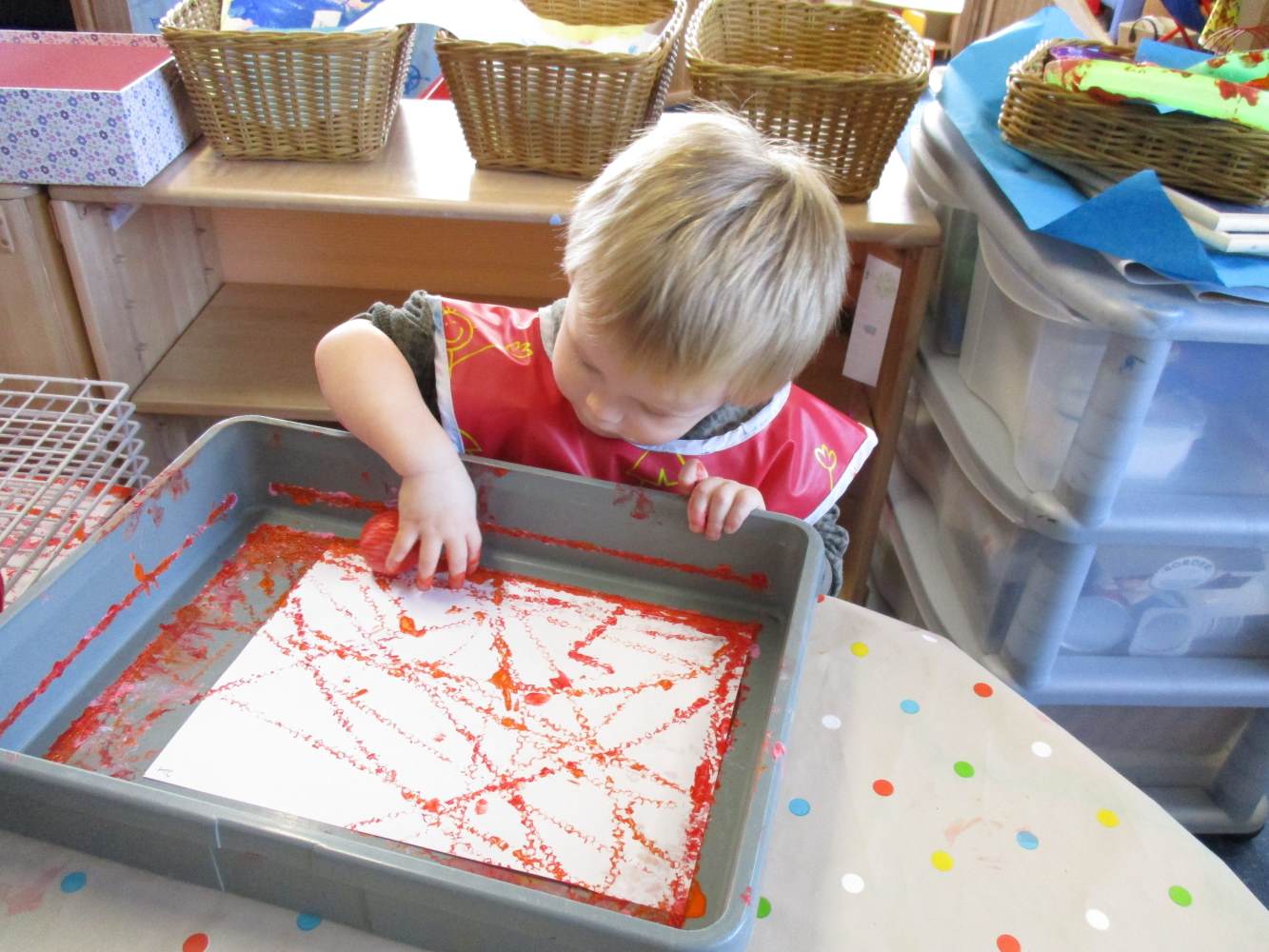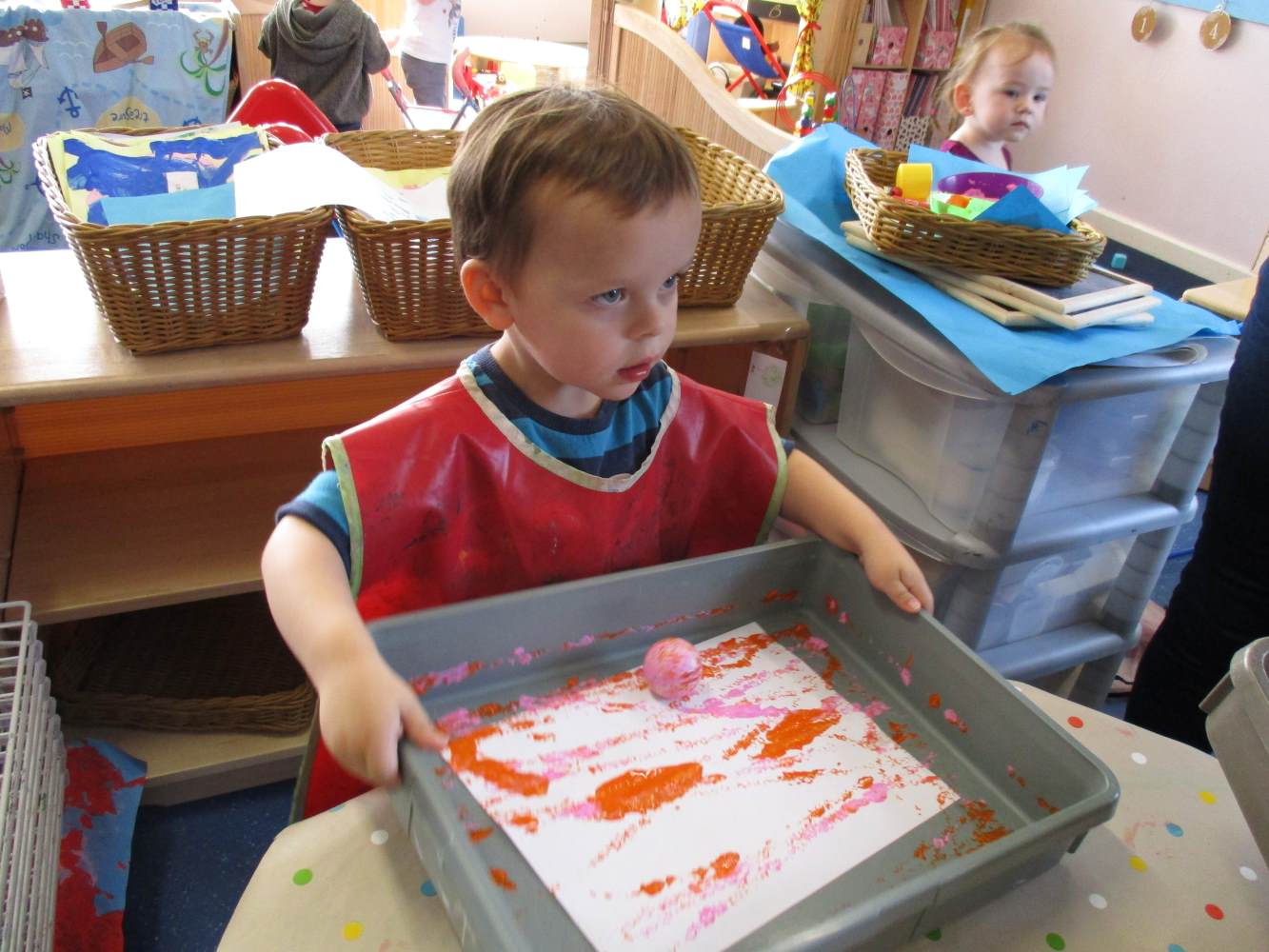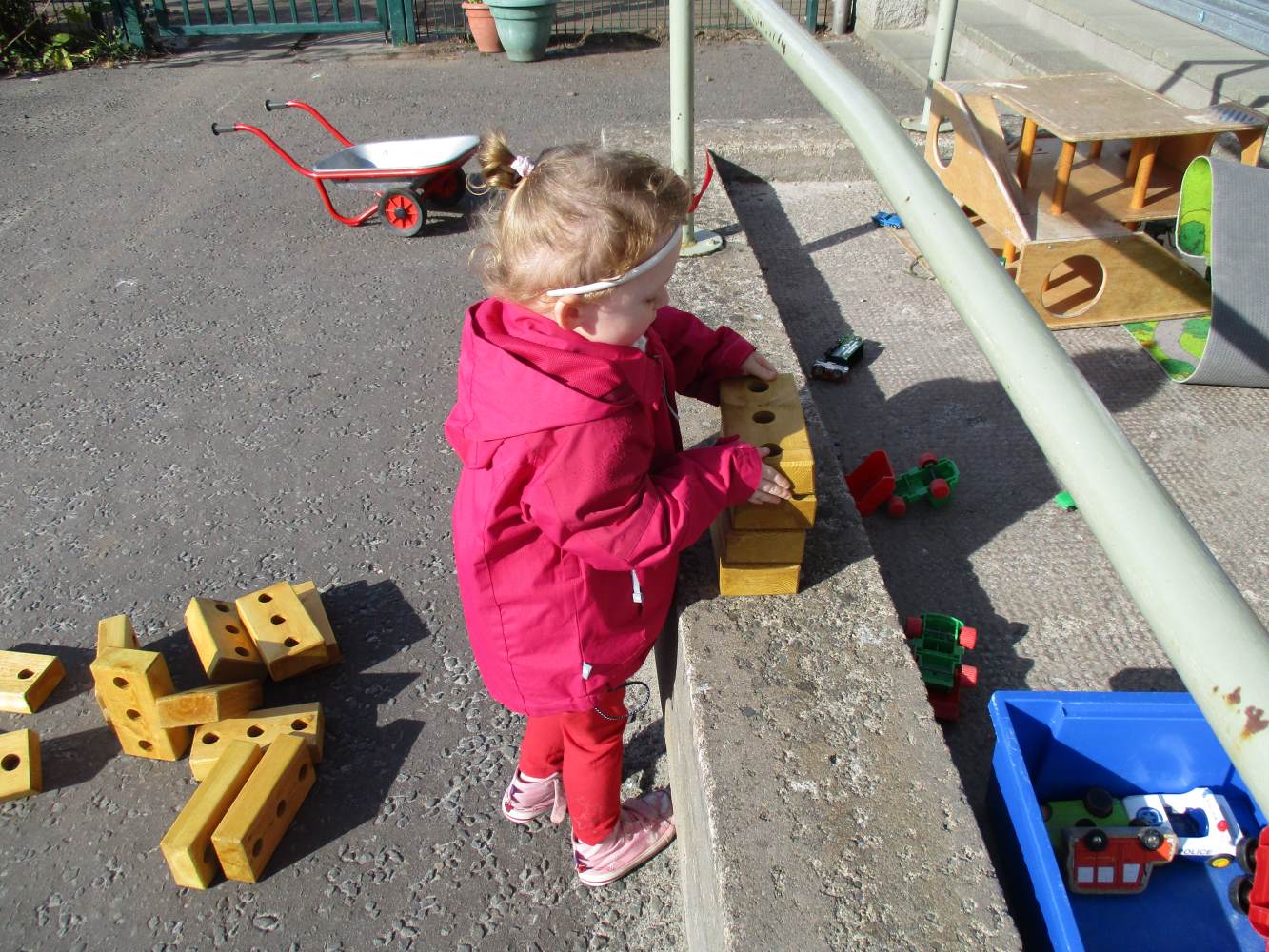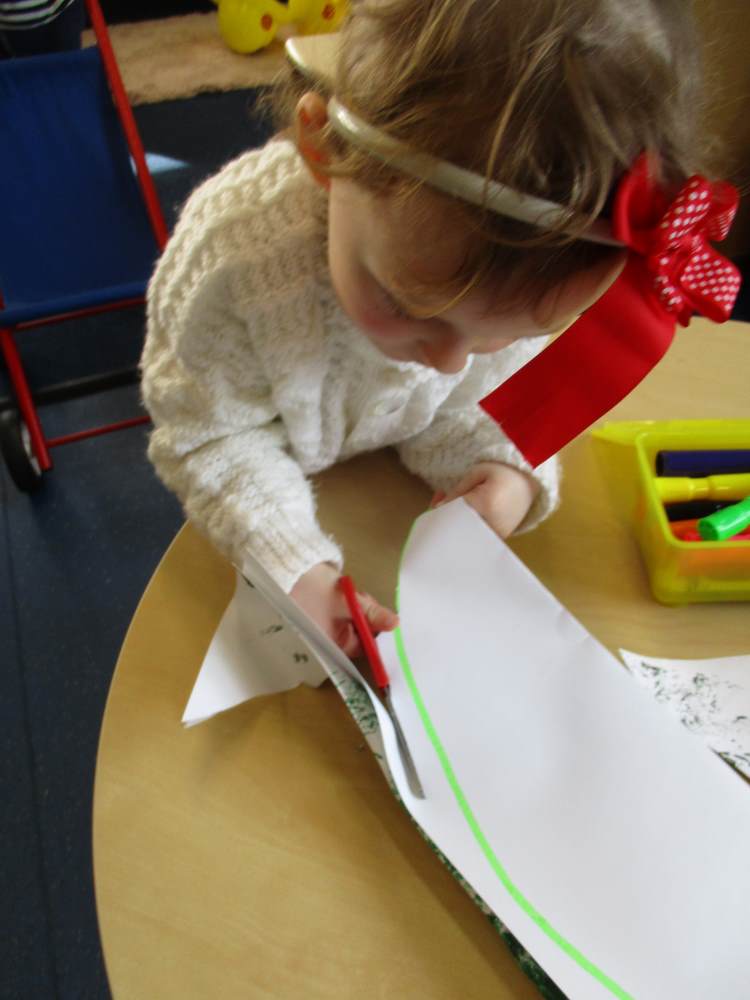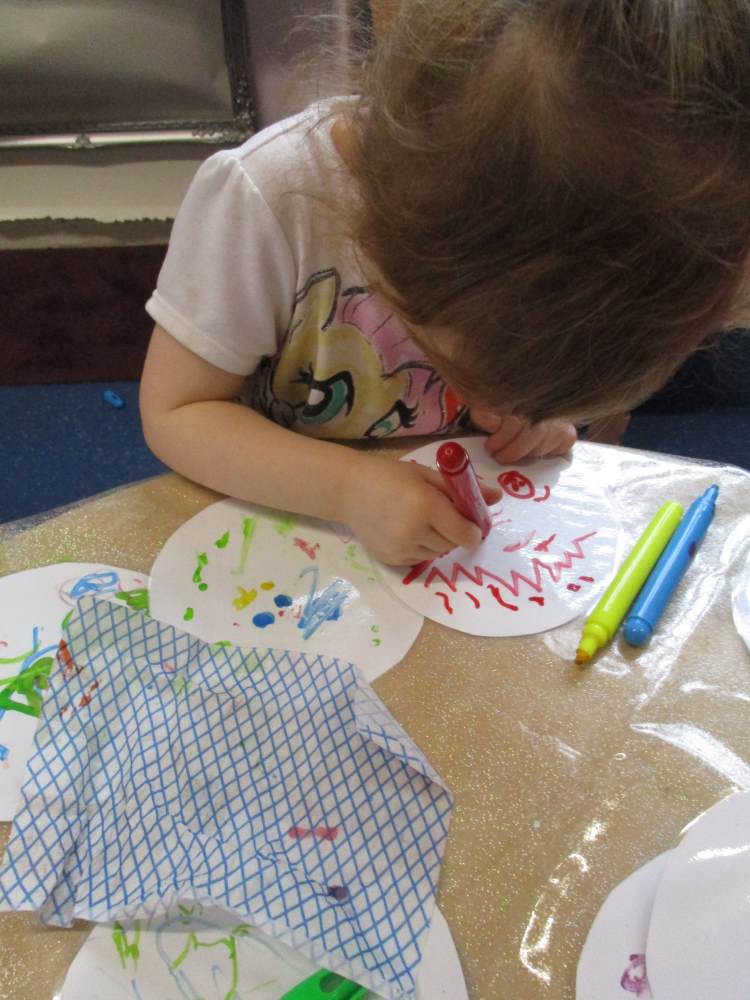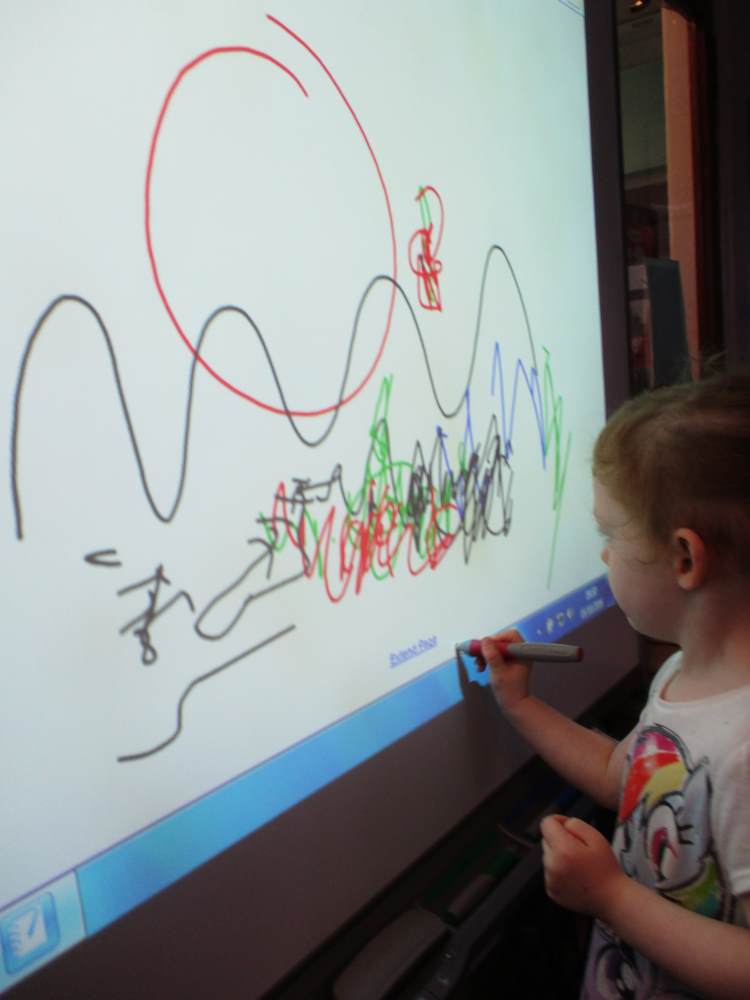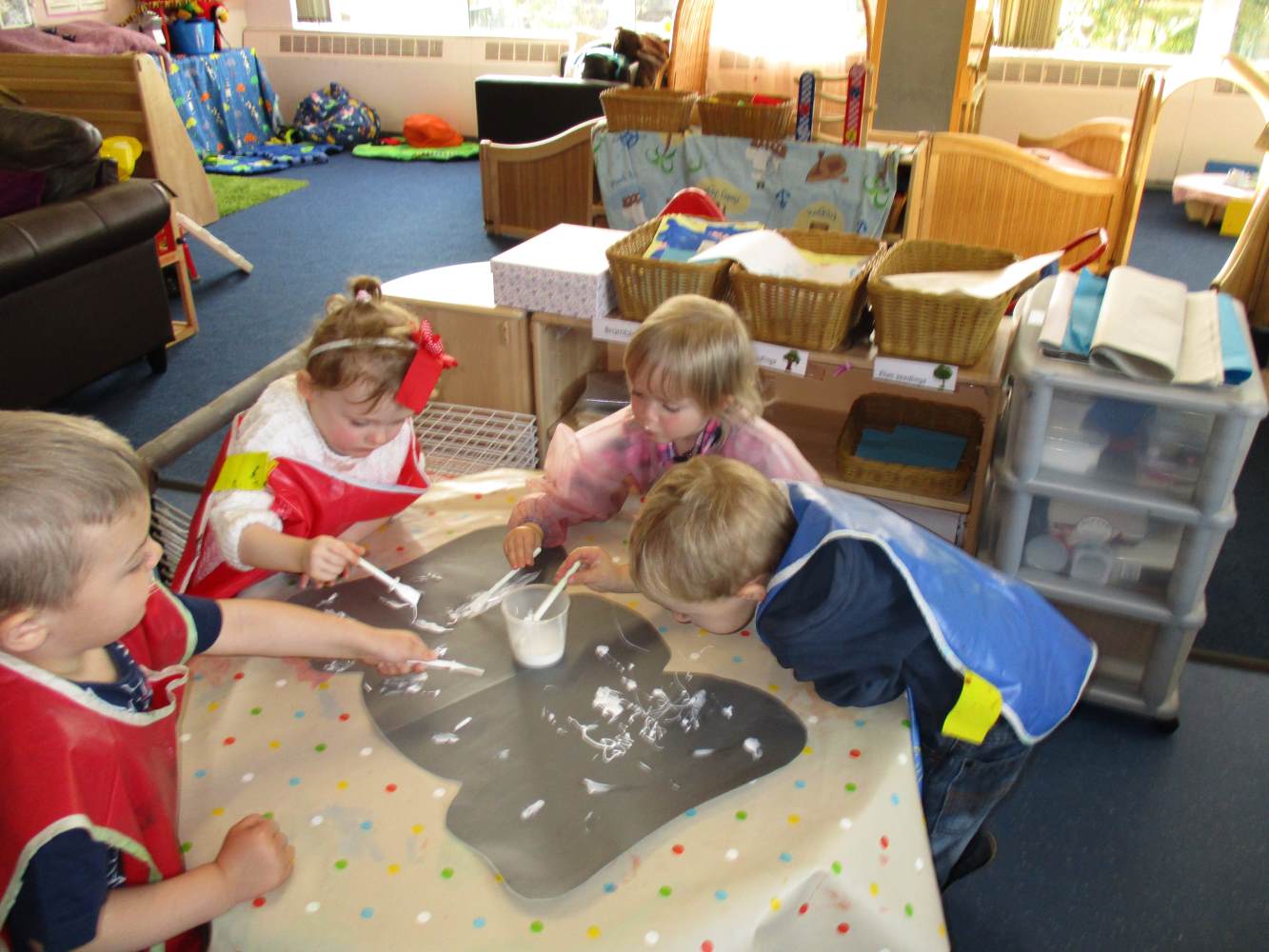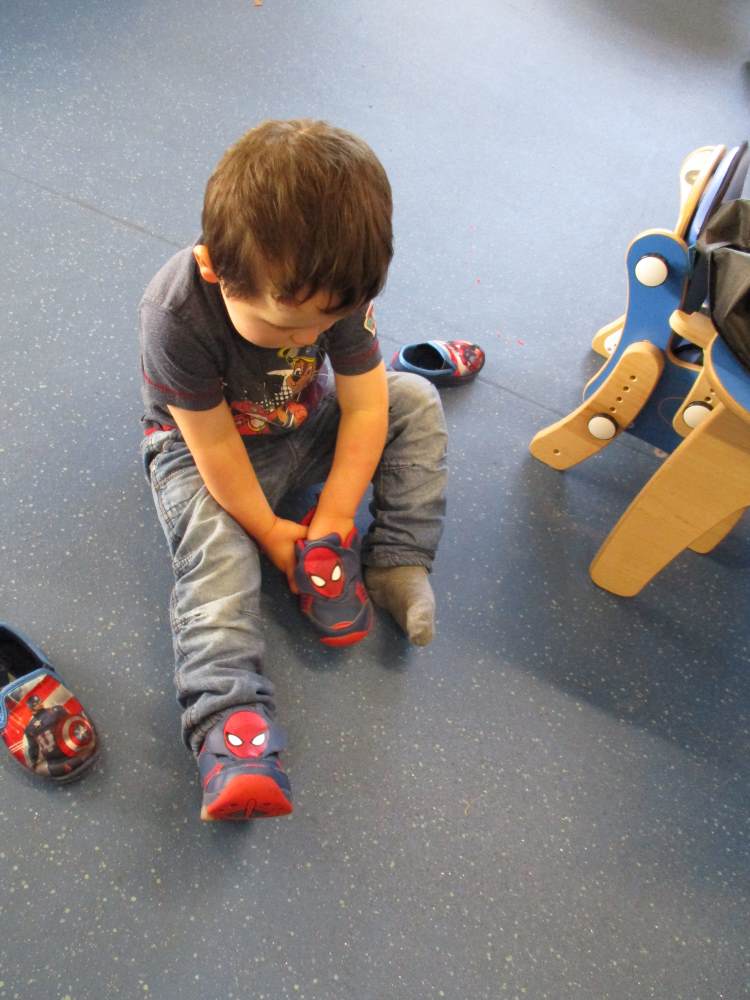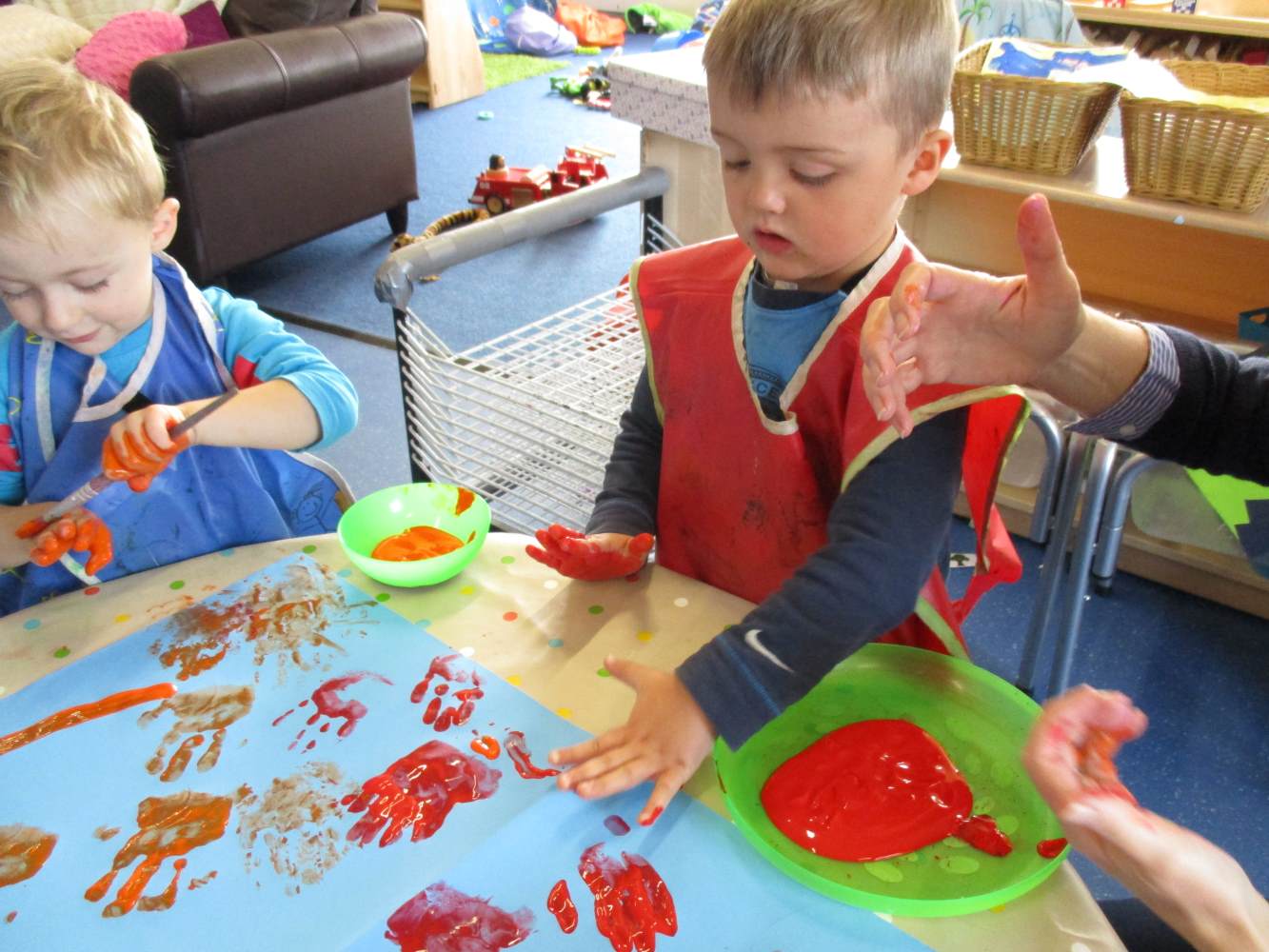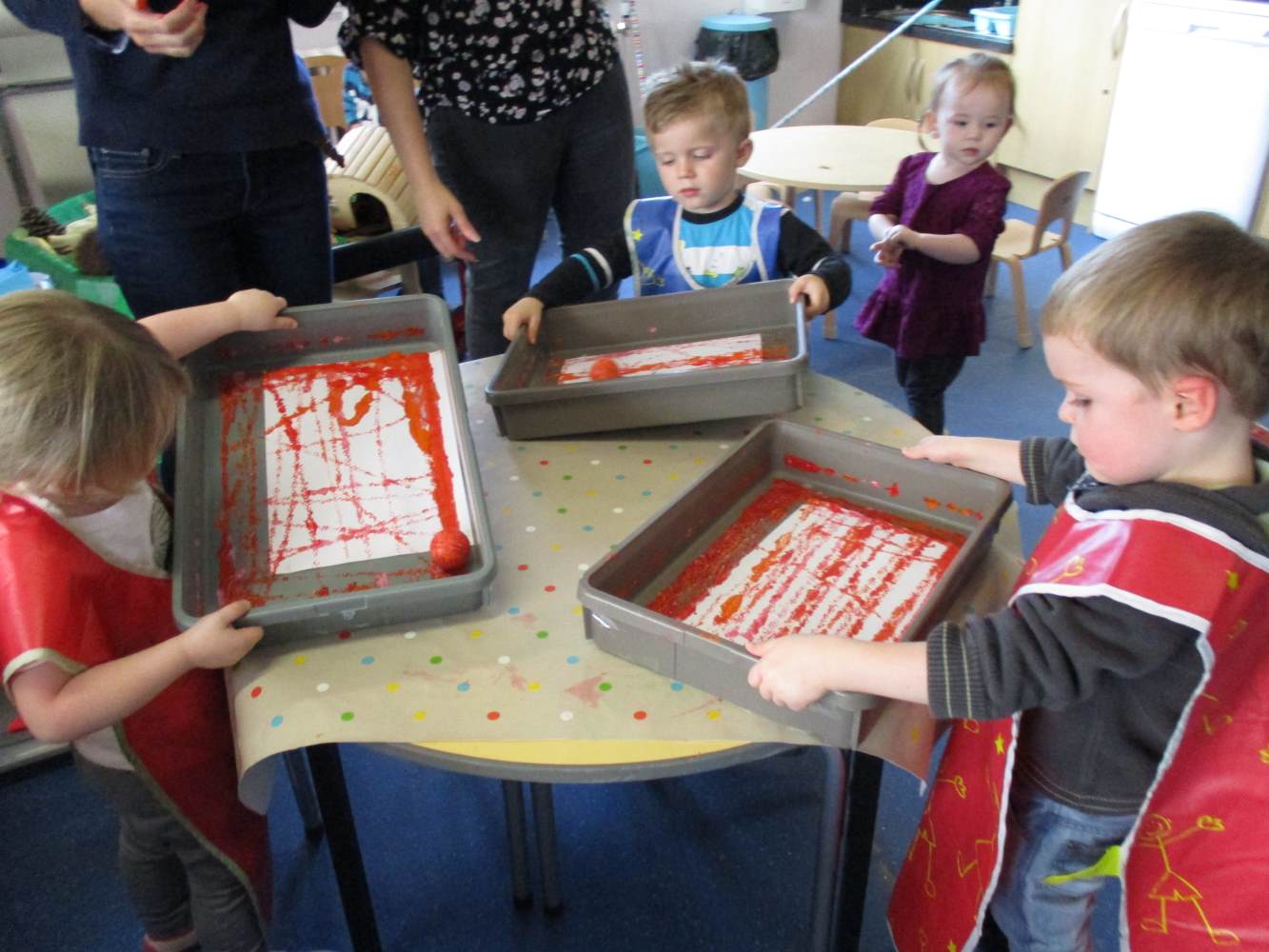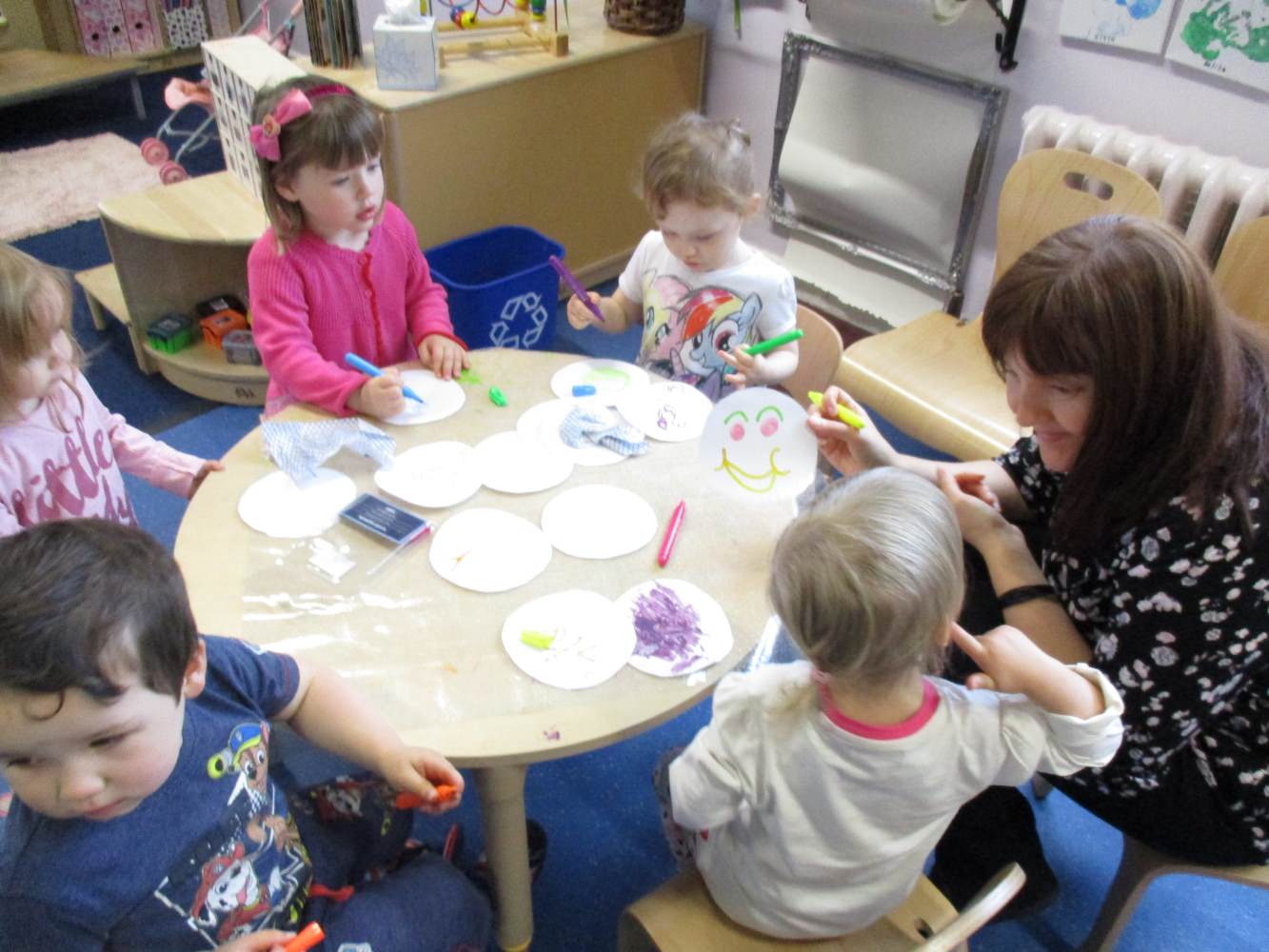 Thank you for all the support and encouragement that you give to the Nursery team we are enjoying getting to know you.
The next stay and play session for the Strong Start 2's is 28th September and then every 2 weeks after.
The 3-5's would really love if you could come and spend some time in Nursery to hear and see some of the things your child has been learning. You will also have the opportunity to discuss your child's progress with their key worker.
Please come at one of the following times.
Tuesday 4th October at either 11.35am or 2.35pm
Thursday 6th October at either 11.35am or 2.35pm
If none of these times are suitable then please let us know.
Makaton for parents and school staff - Friday 7th October 2.15pm in Room 3. A fantastic opportunity to come and learn from Speech and Language specialists.
September 2016
Tattie harvesting, tattie soup making and tattie soup tasting - it was delicious we had it for snack.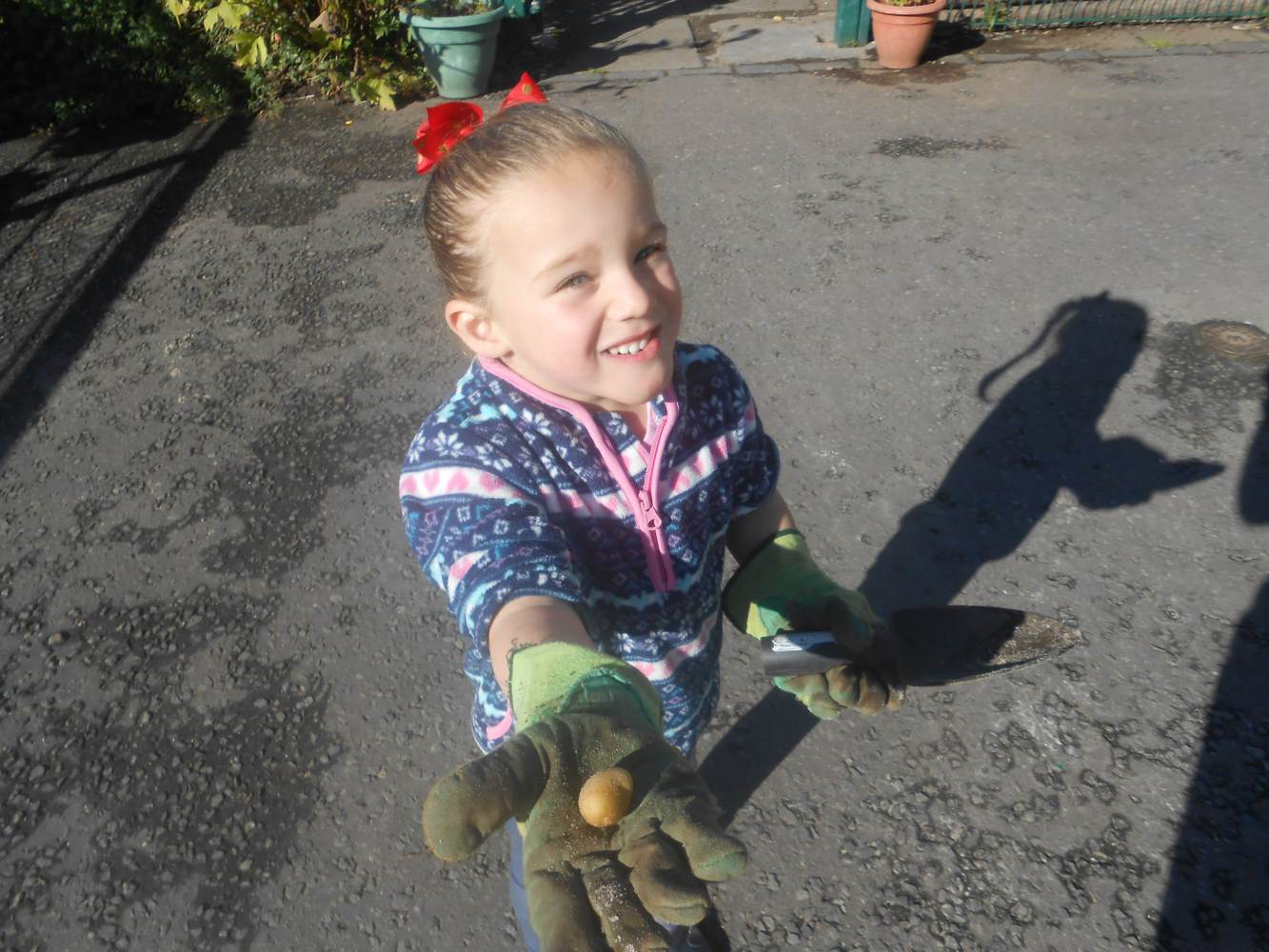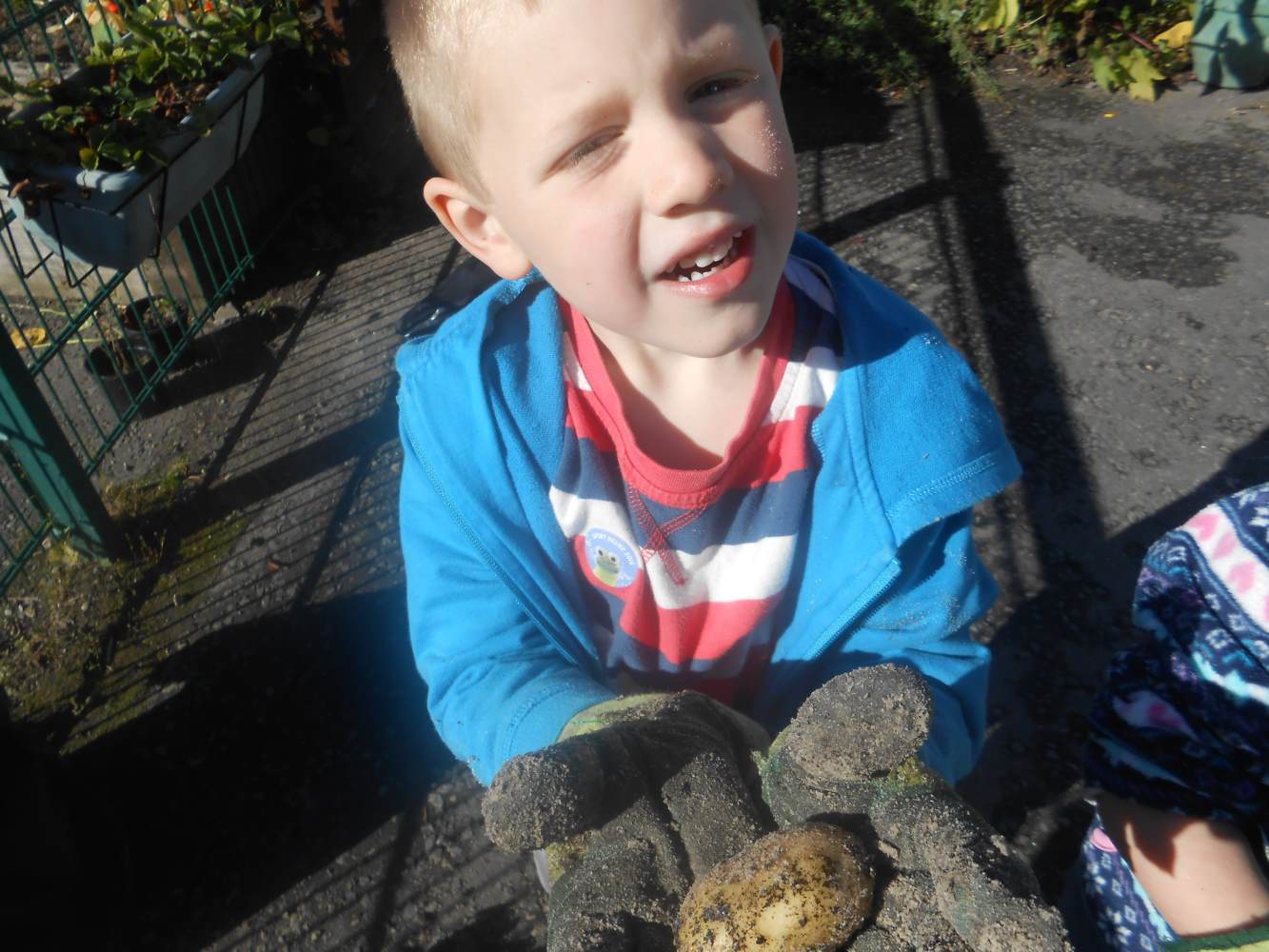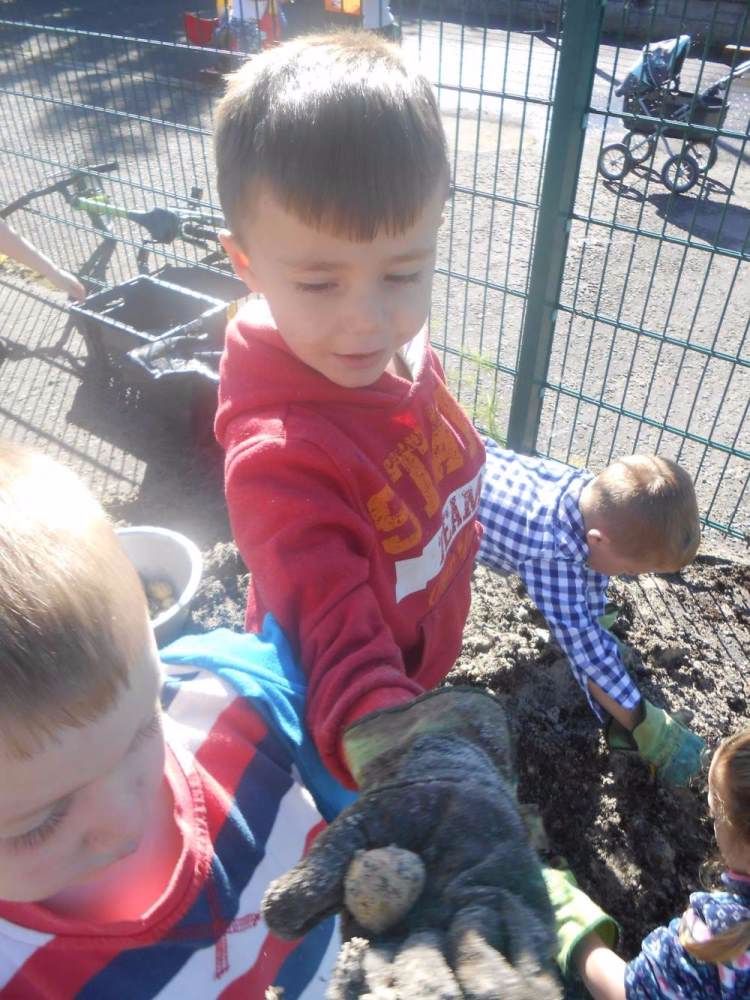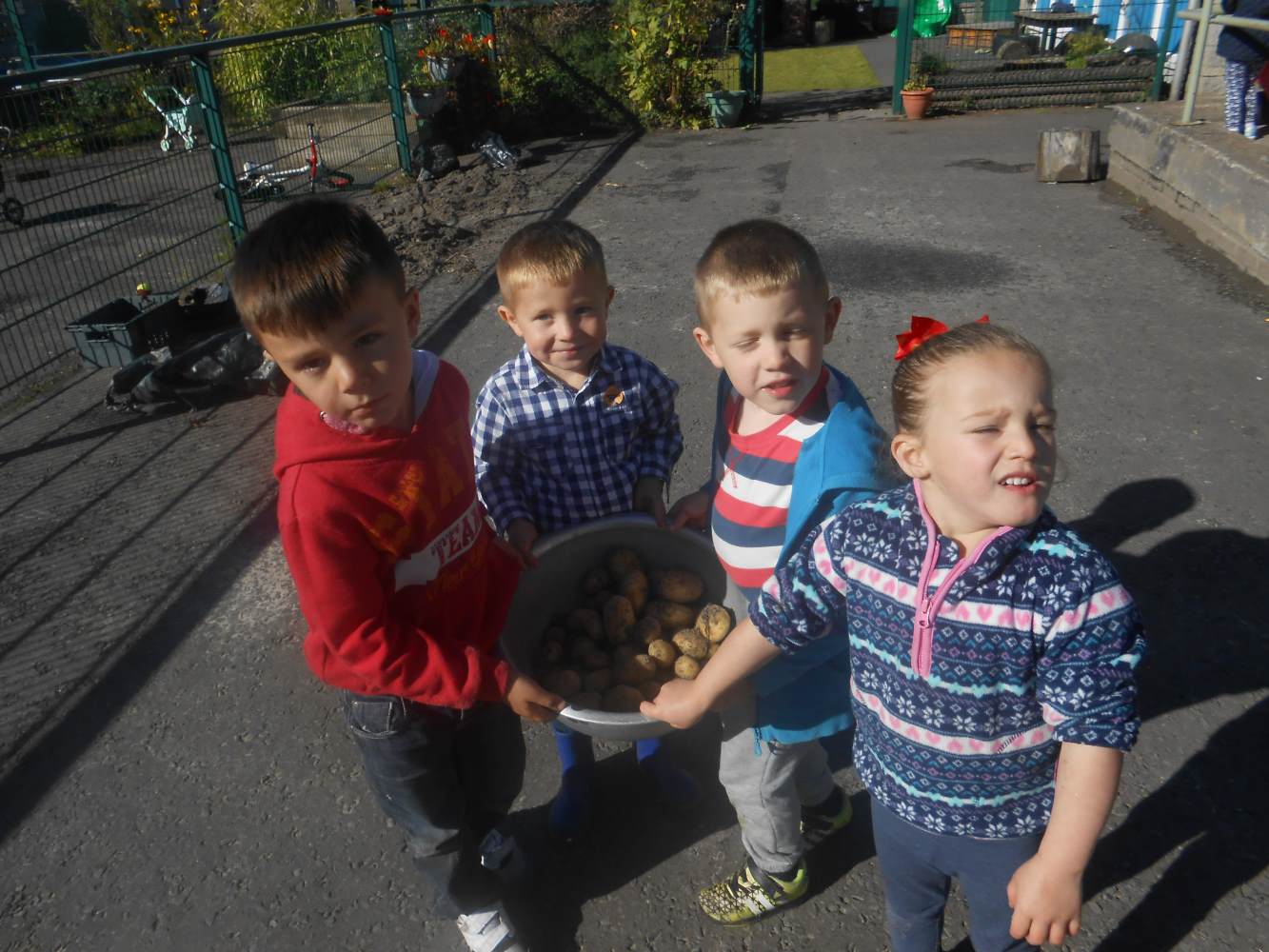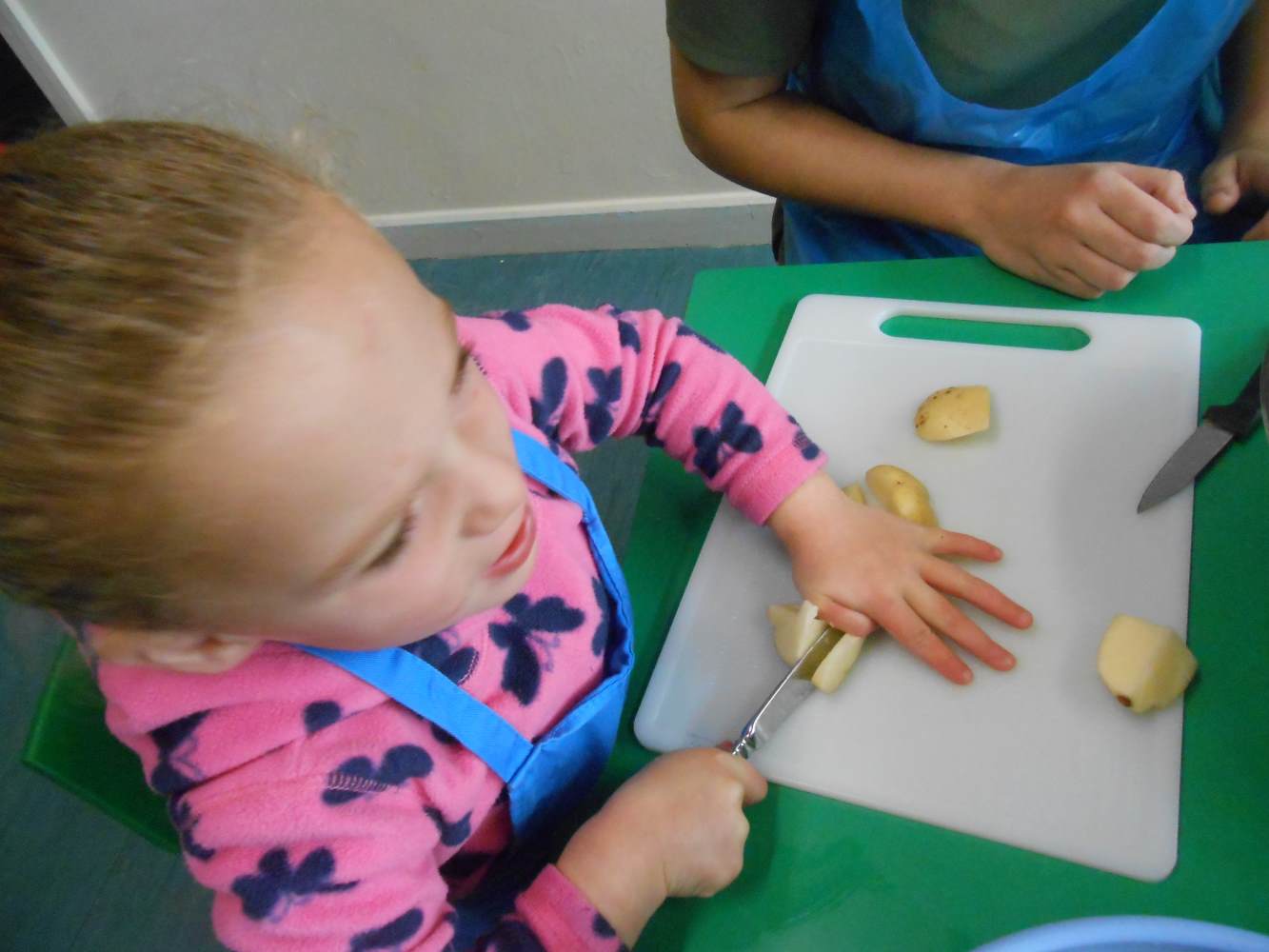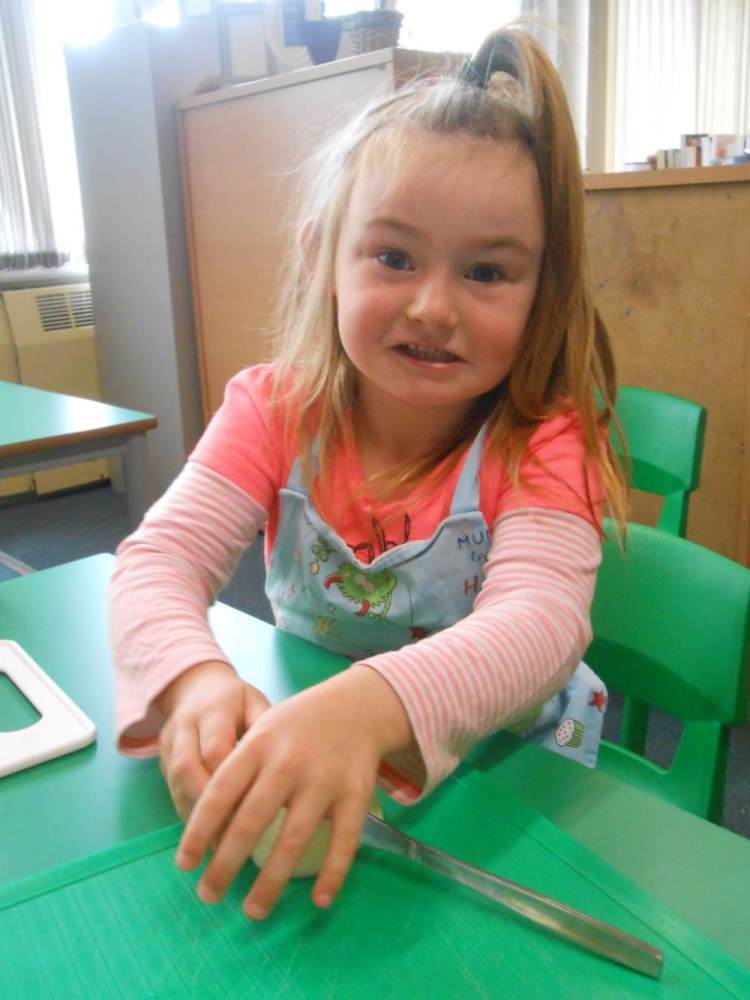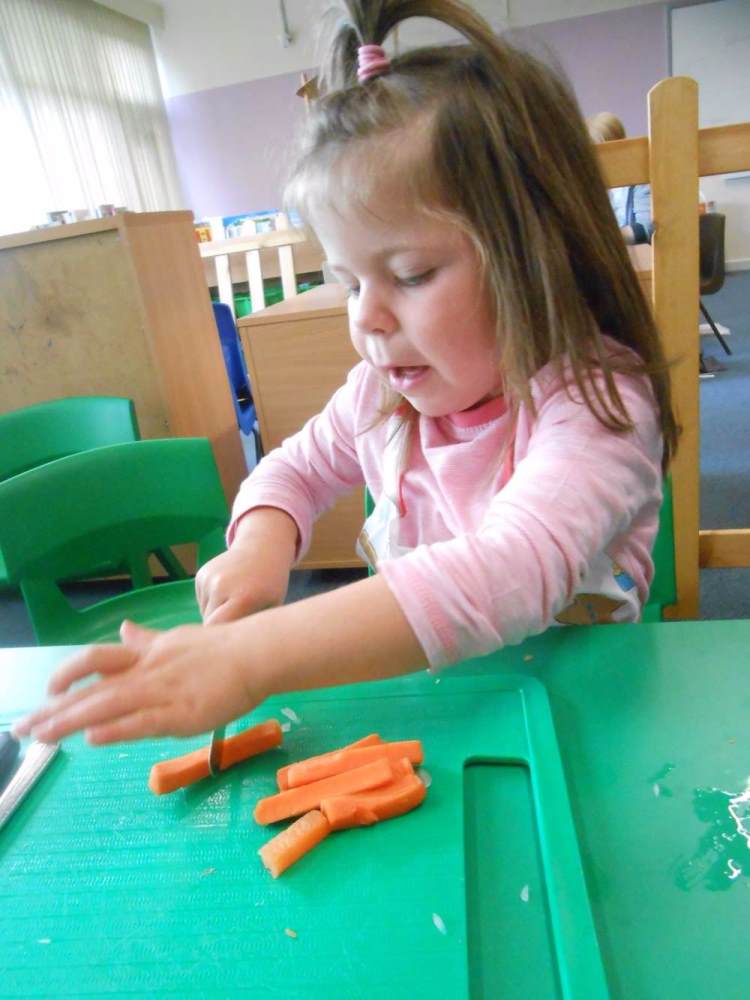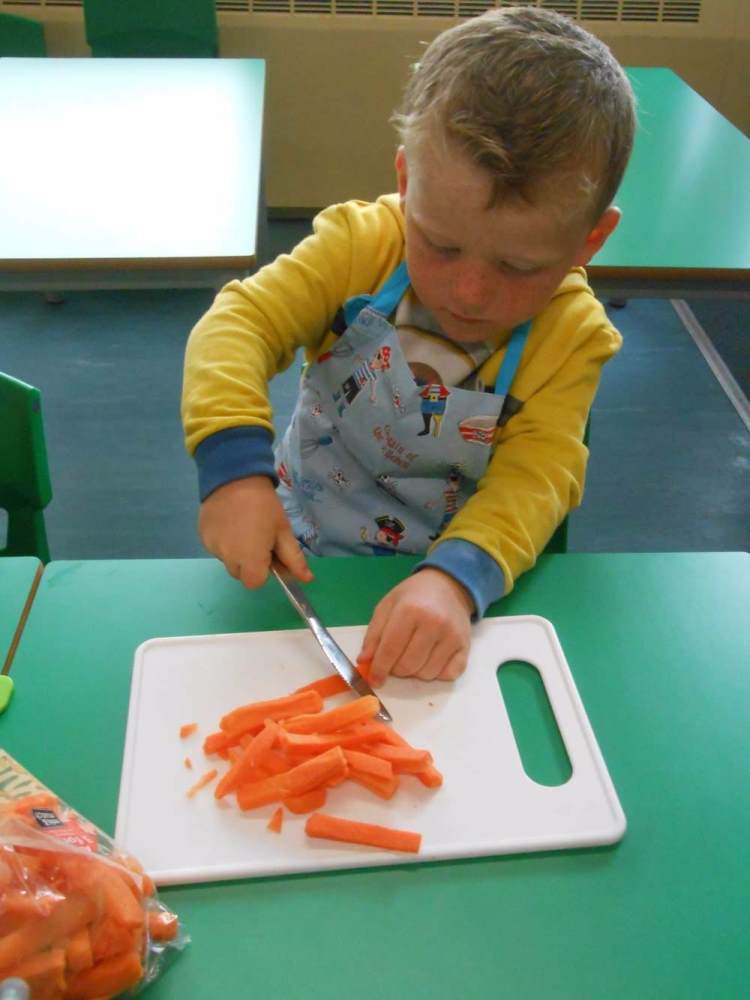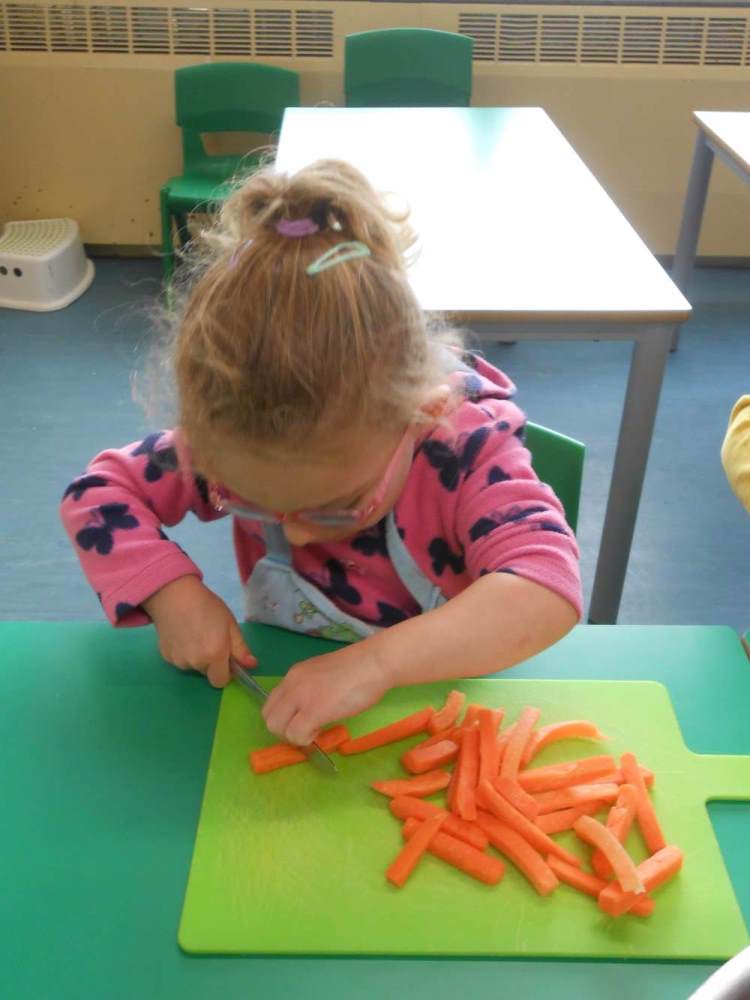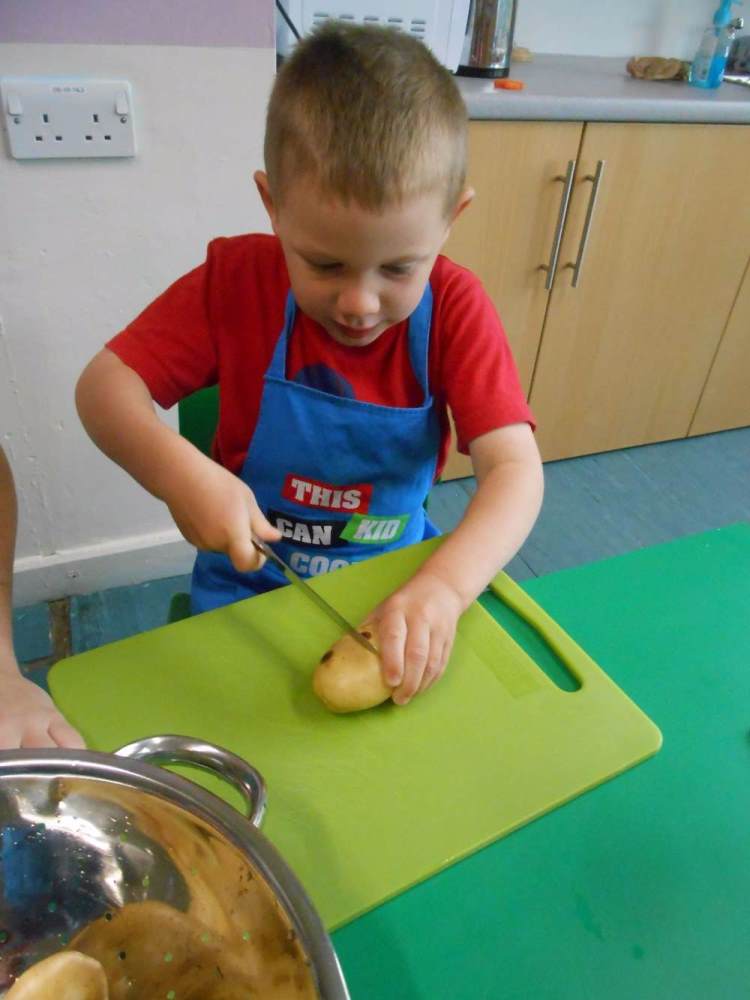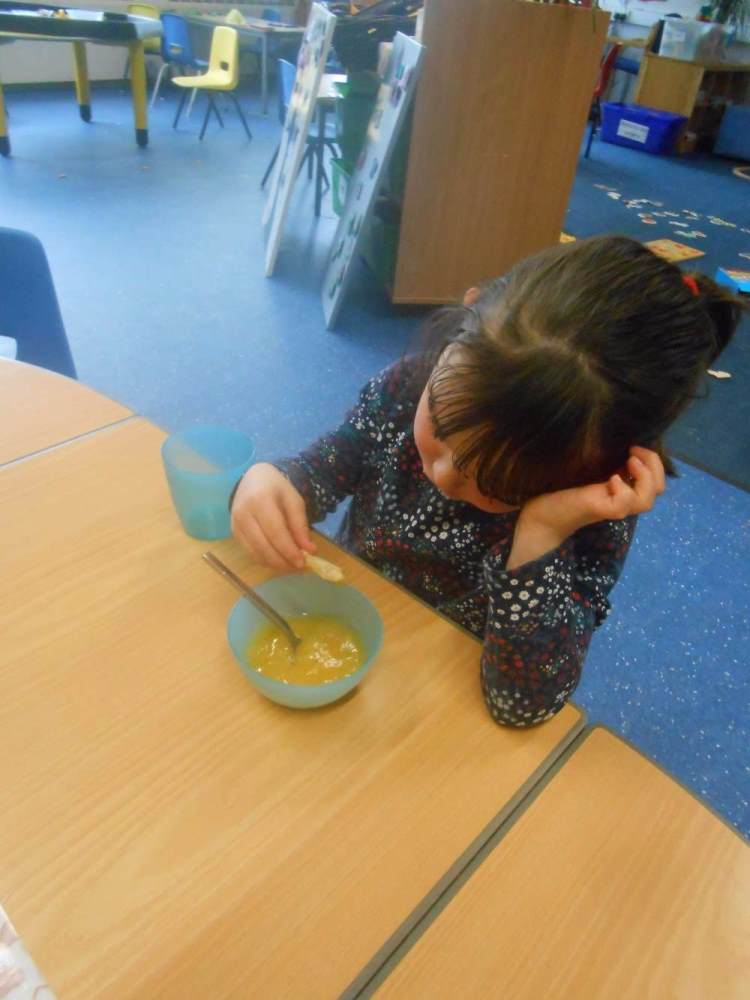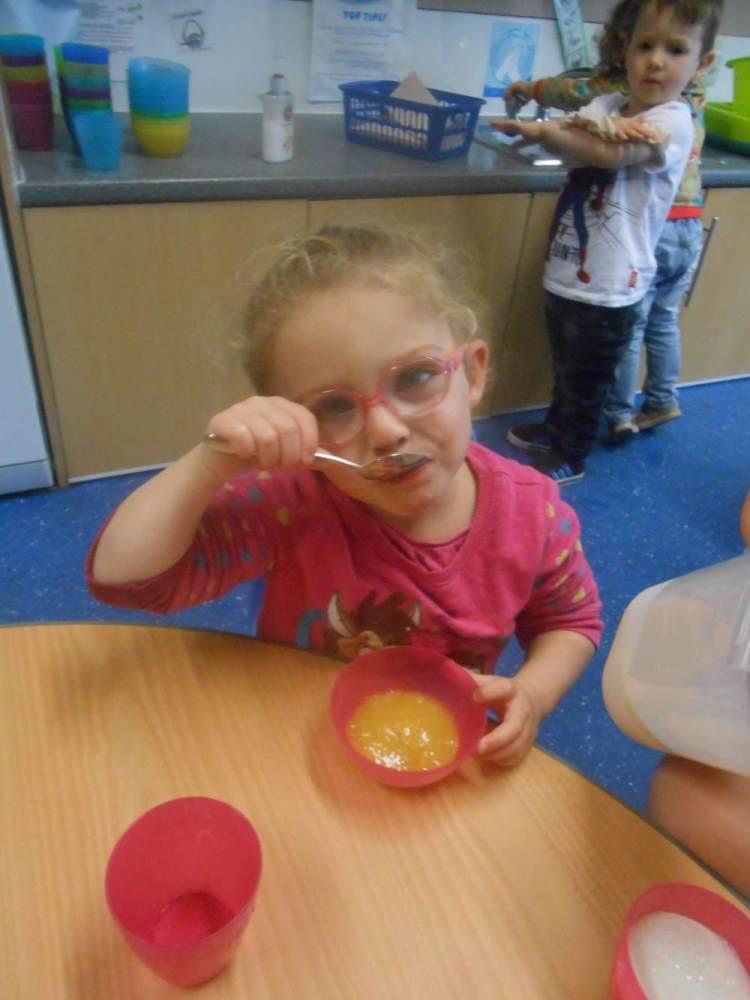 Fun in the gym hall with the soft play - lots of running, jumping, balancing and laughing.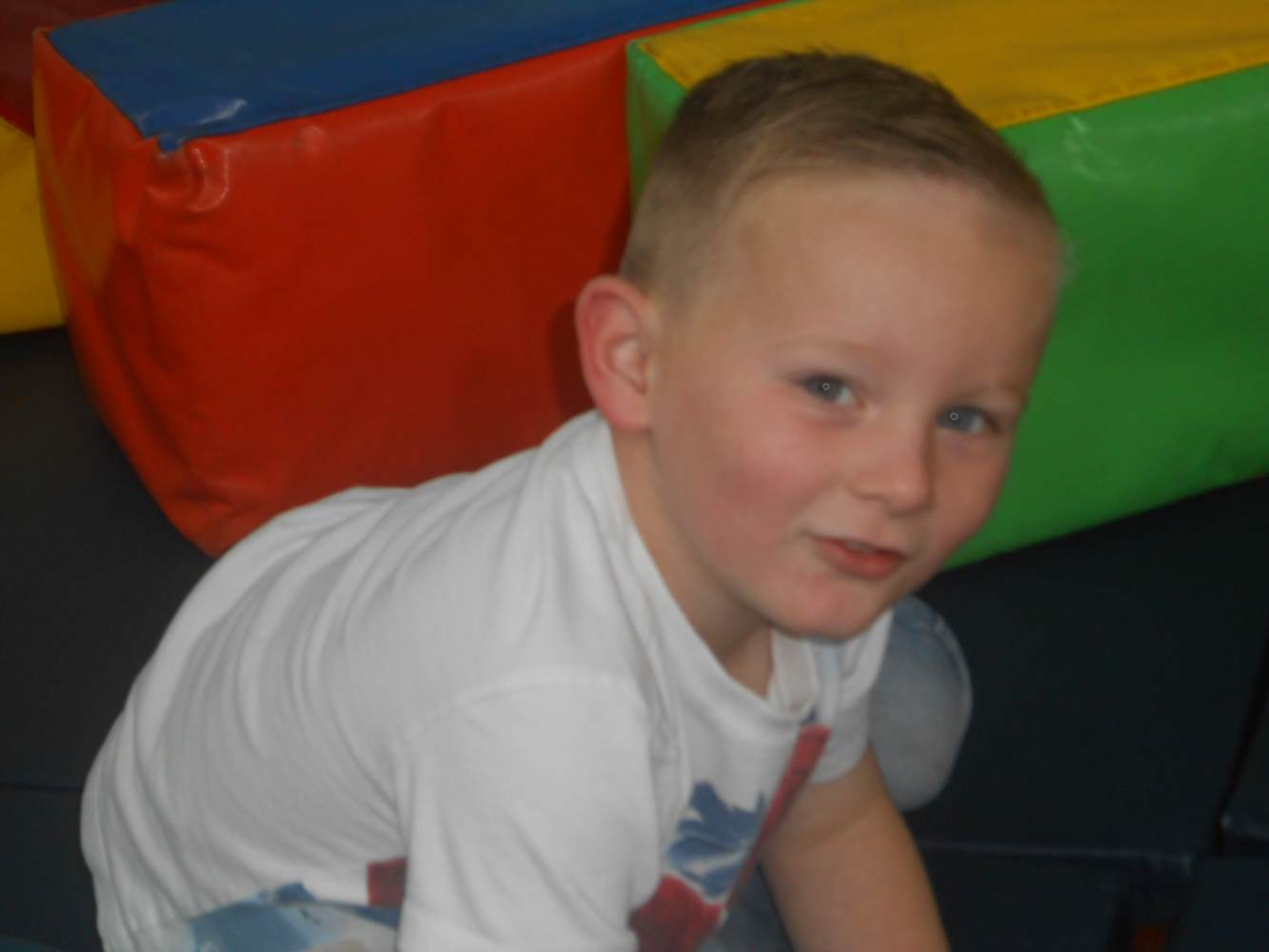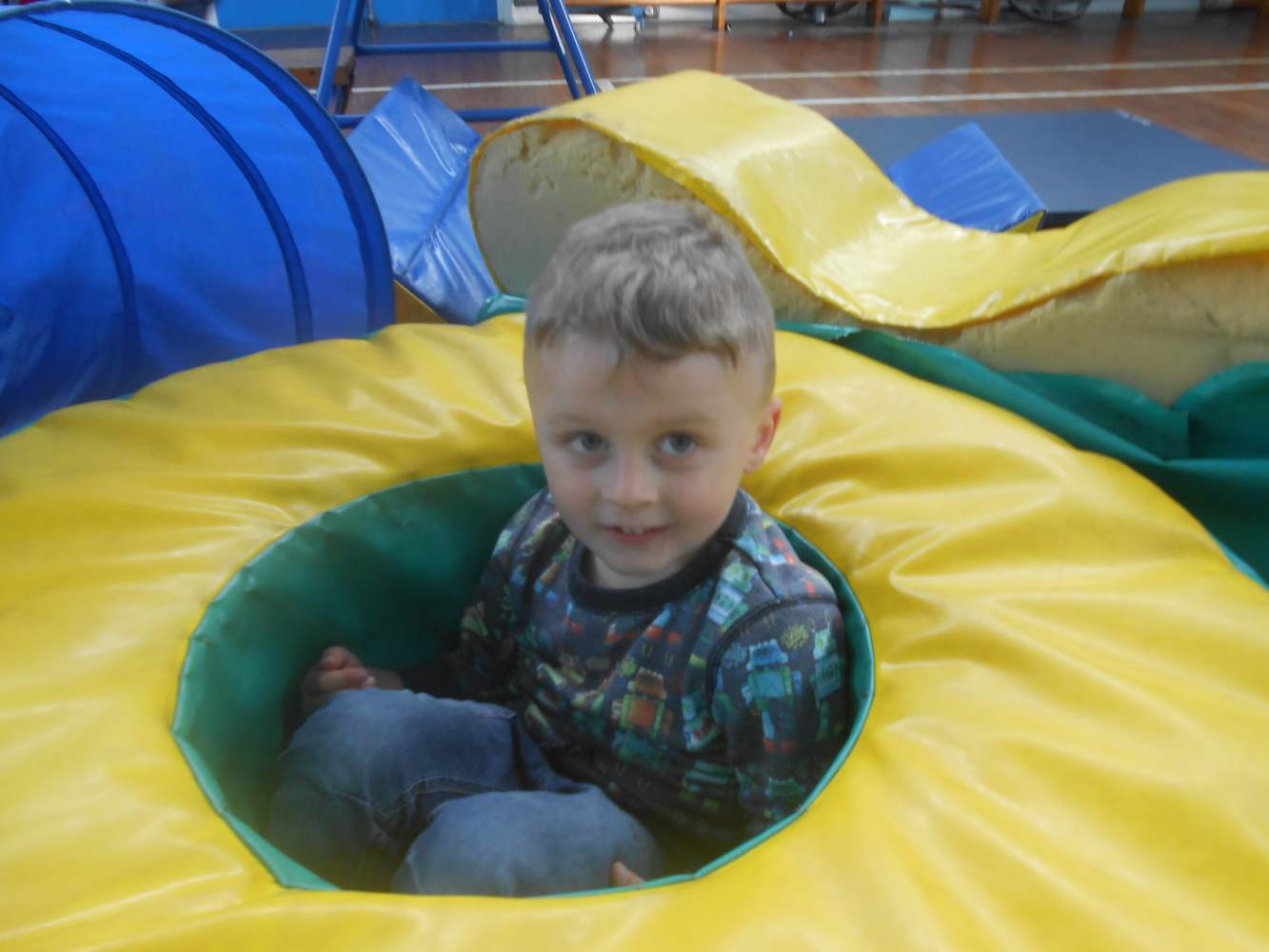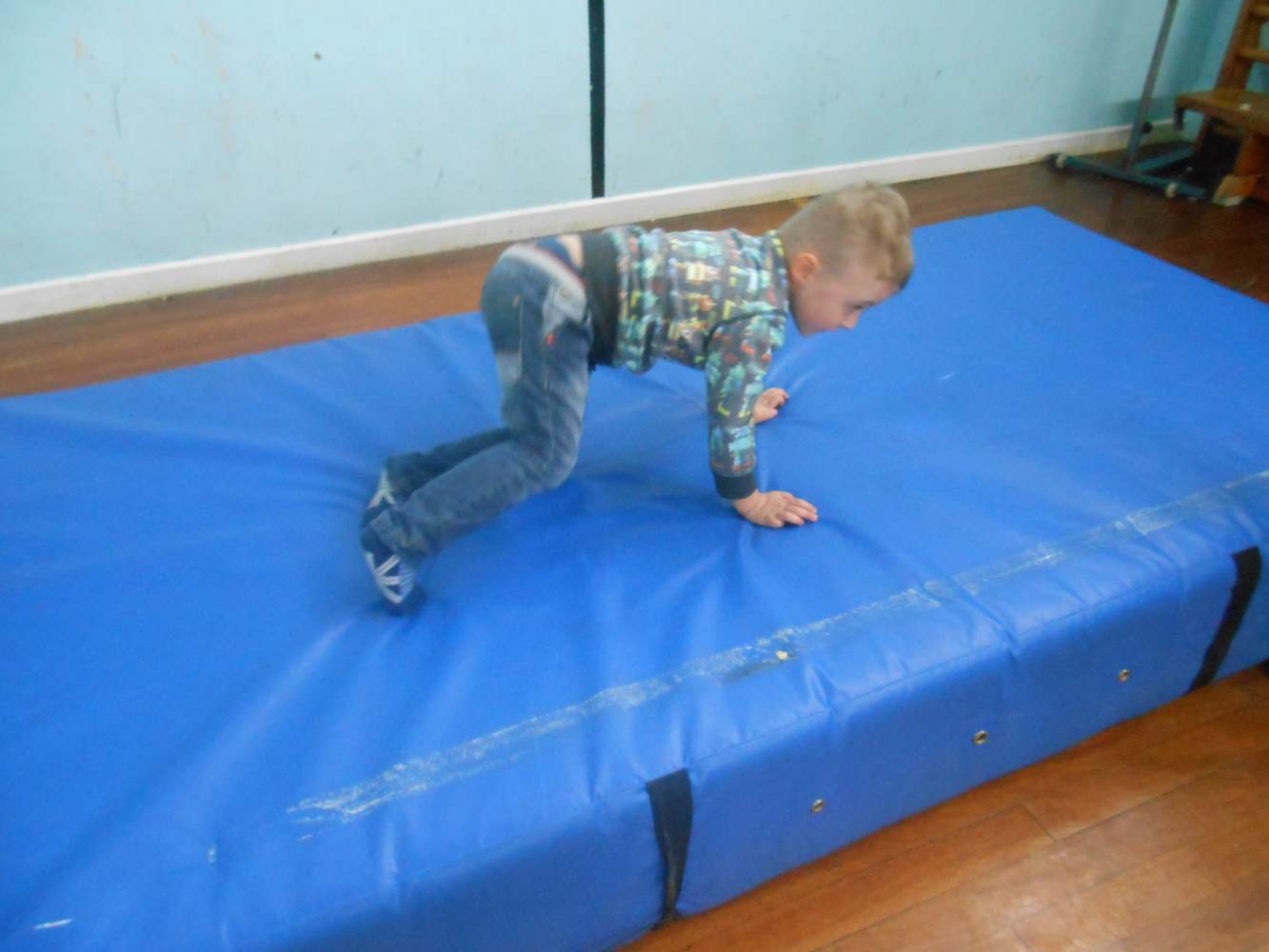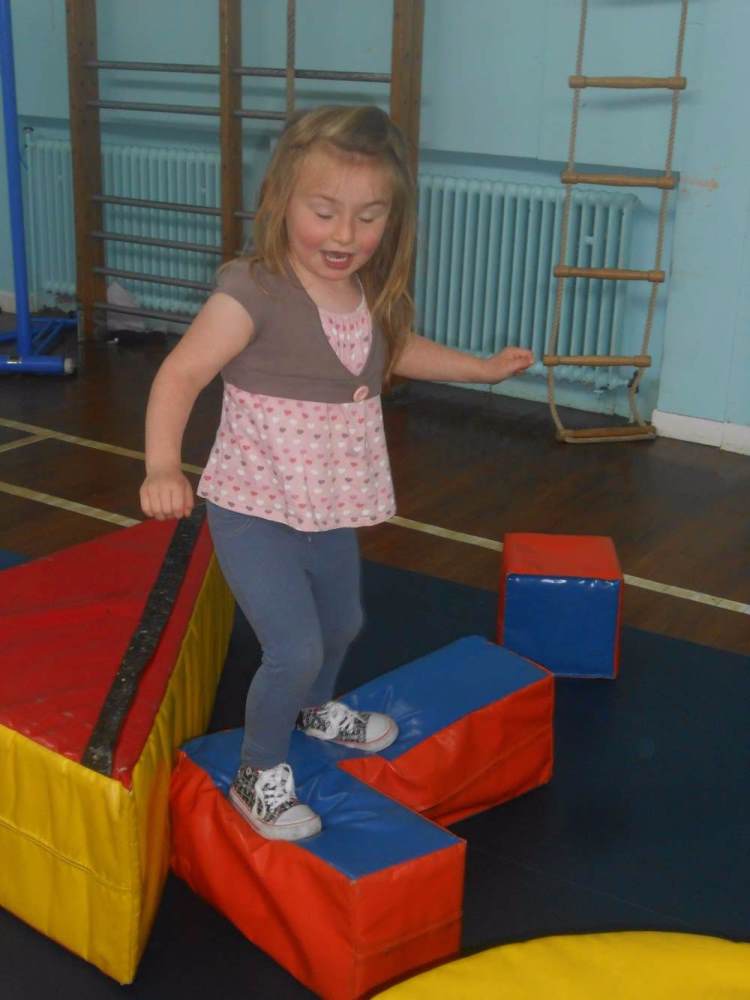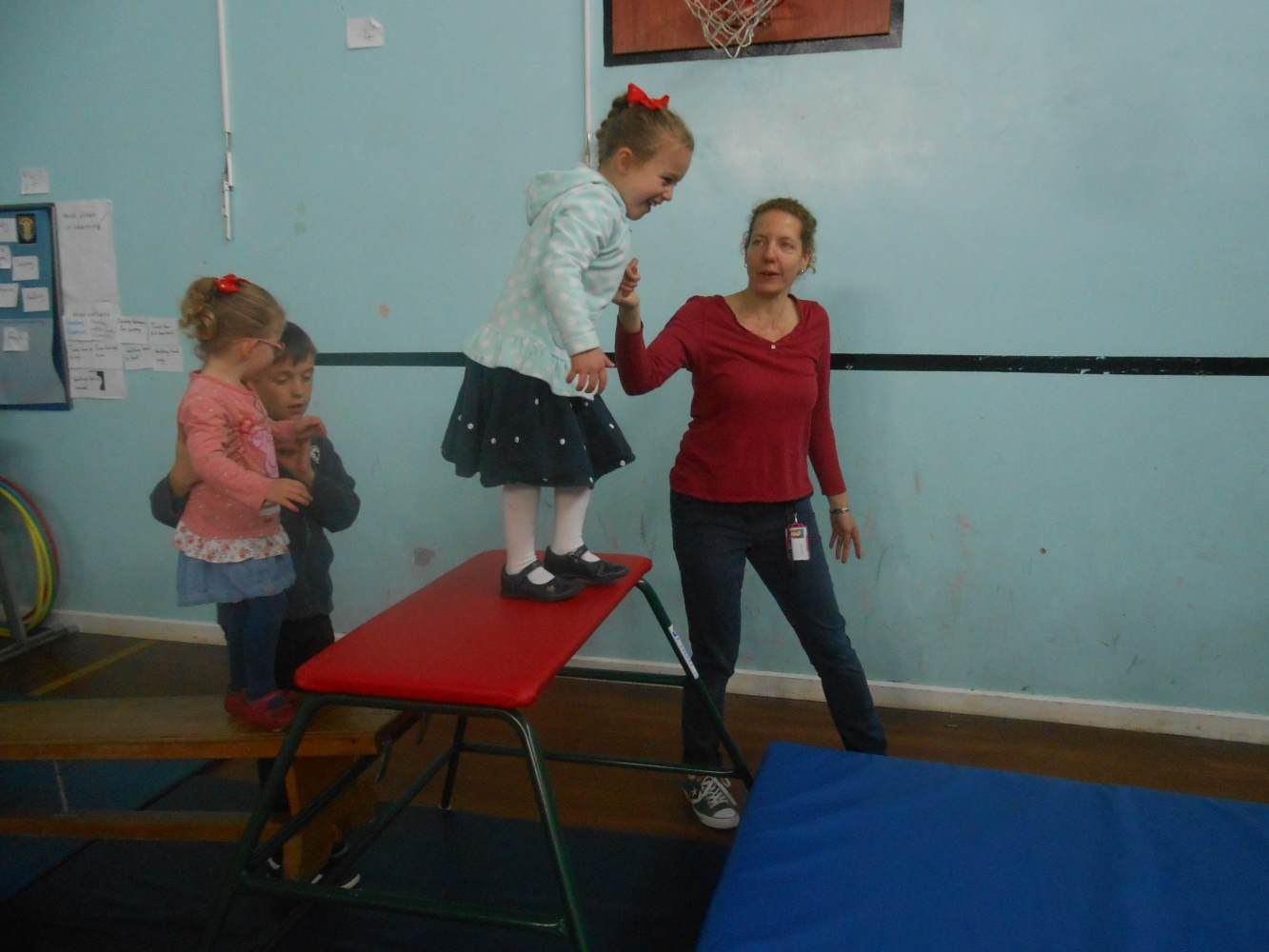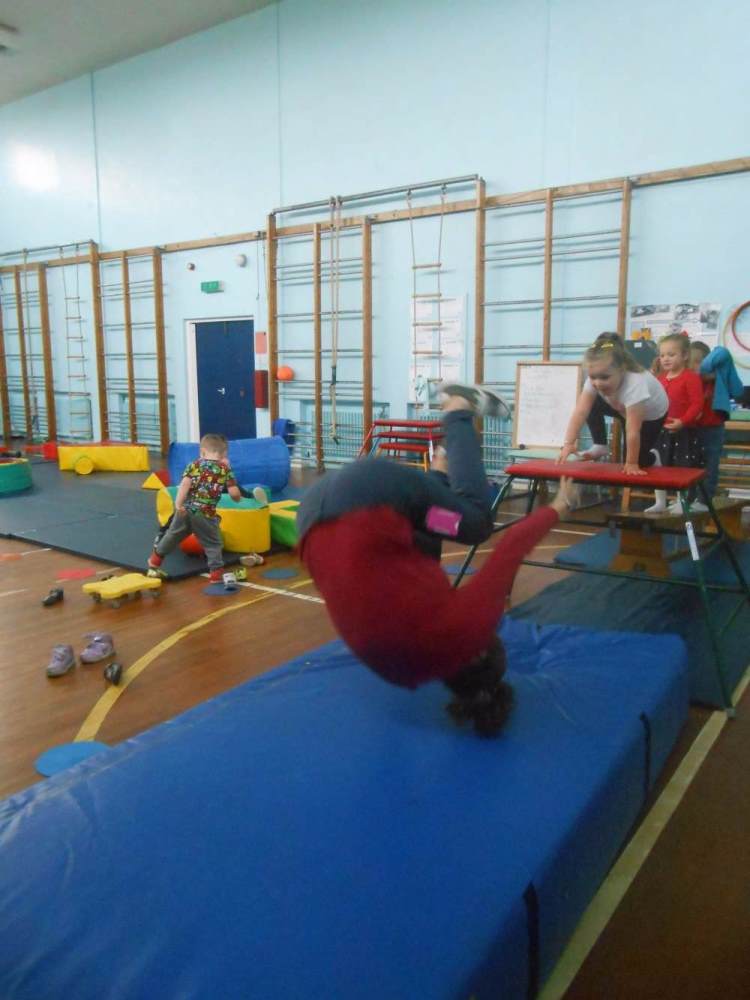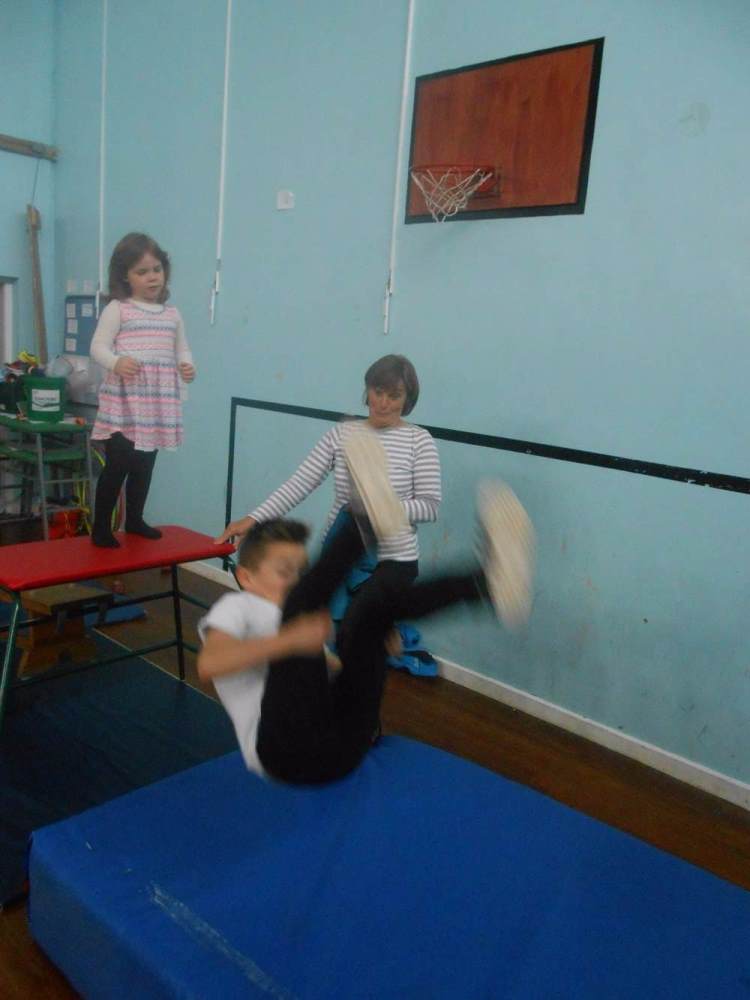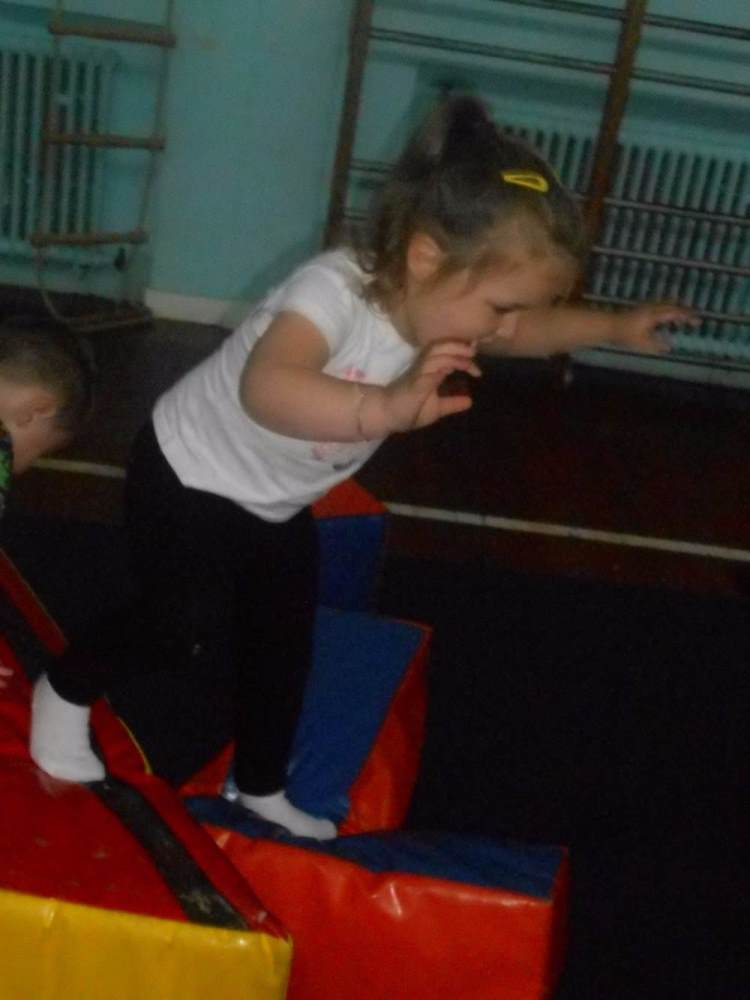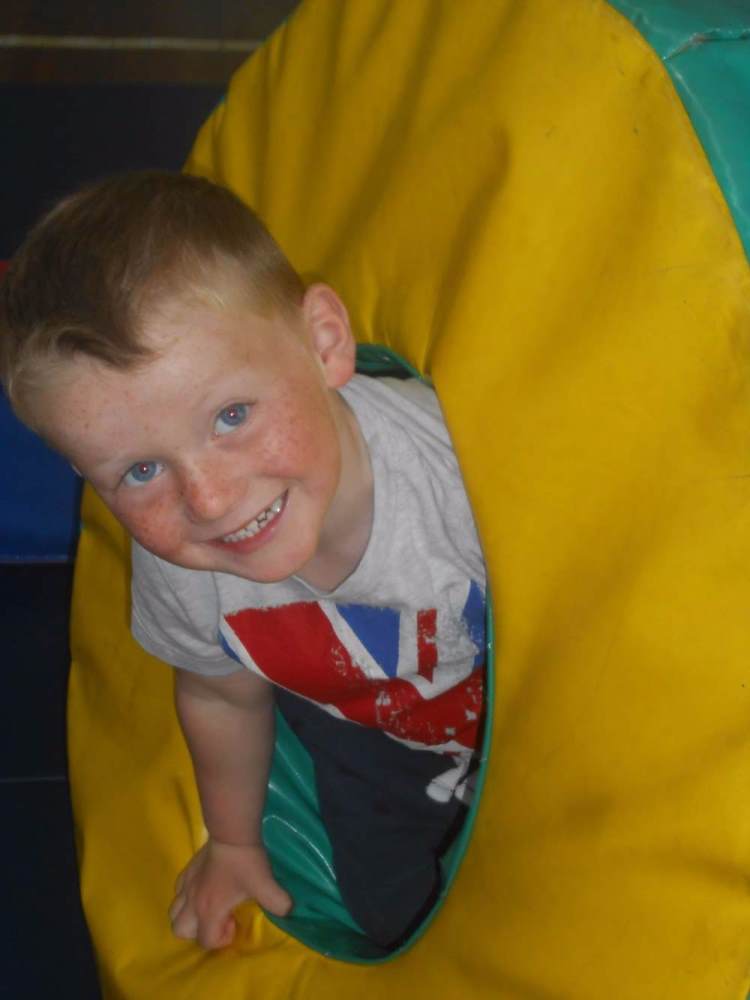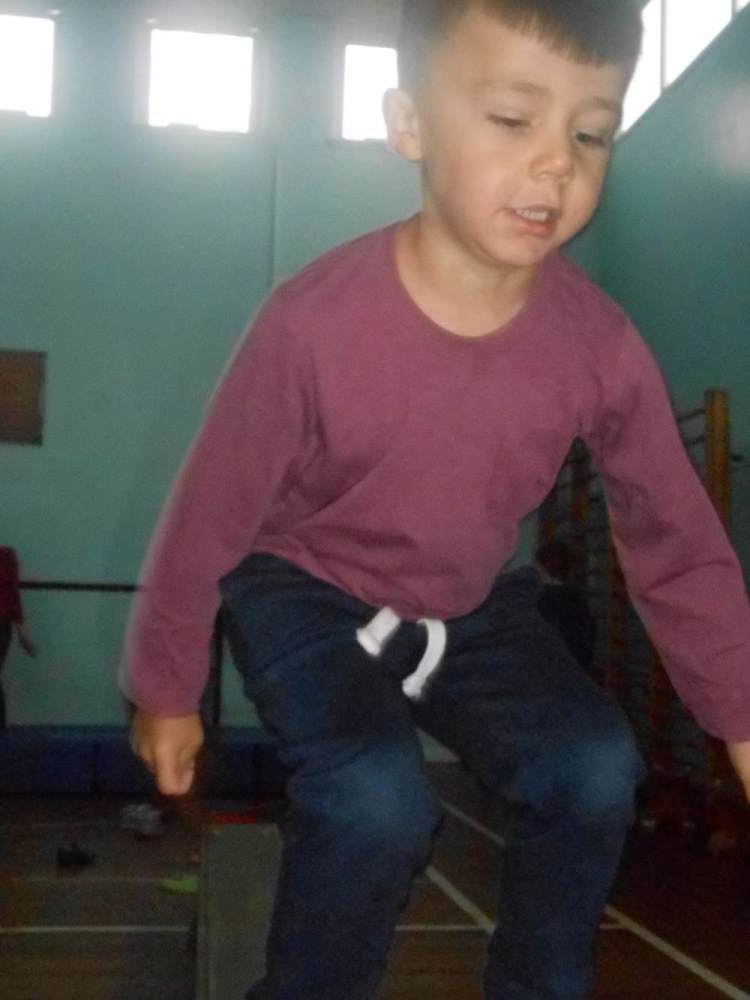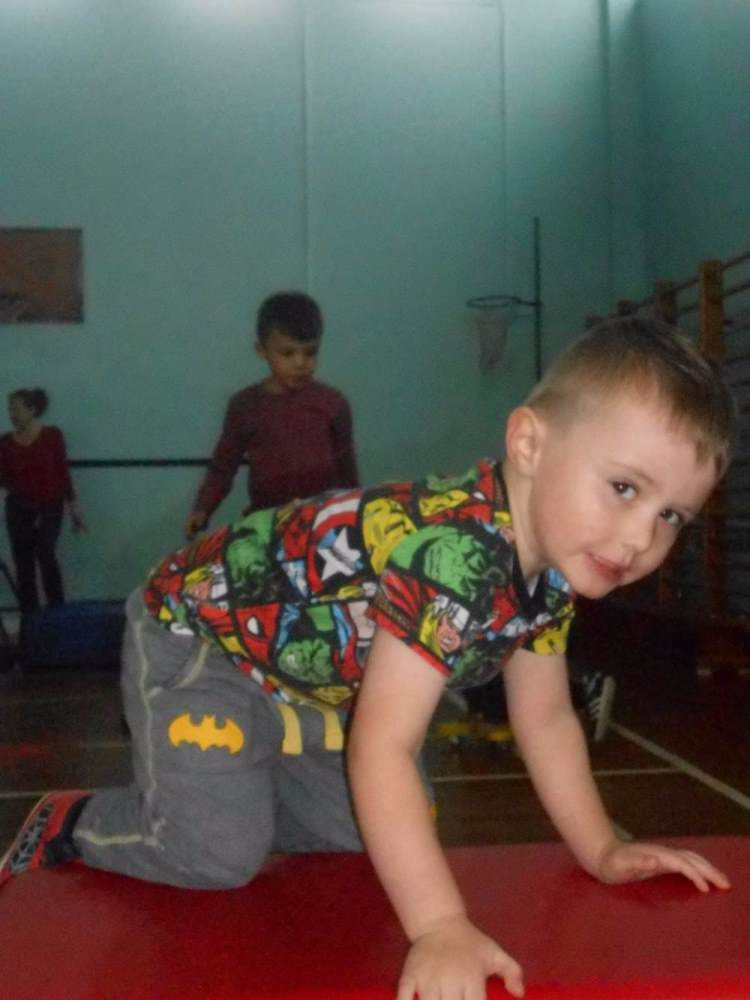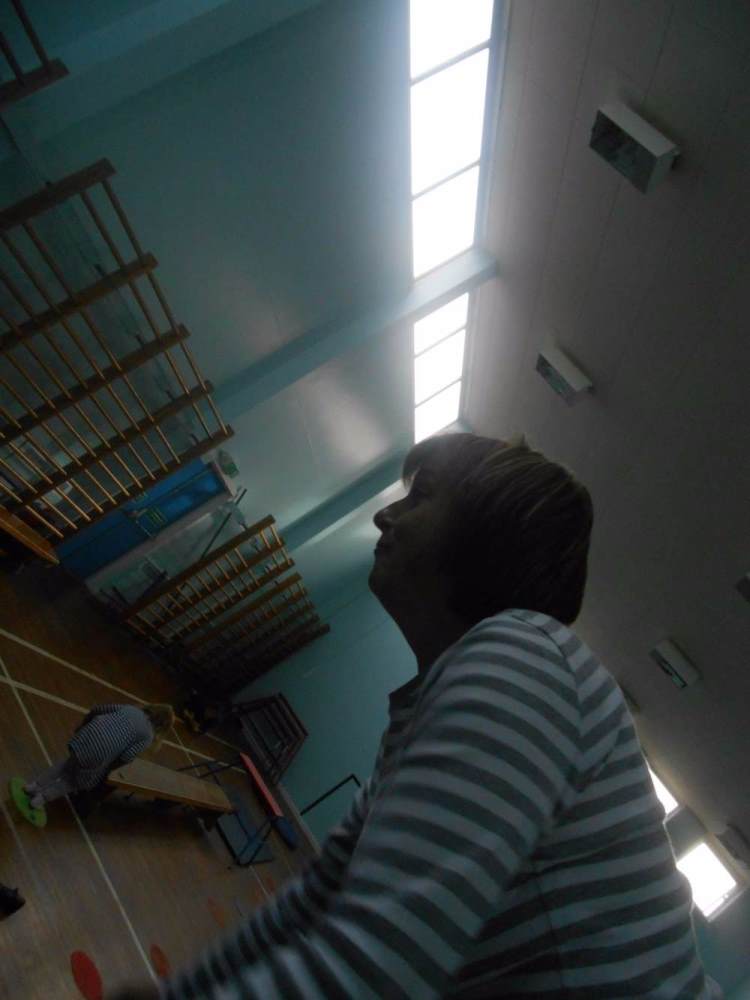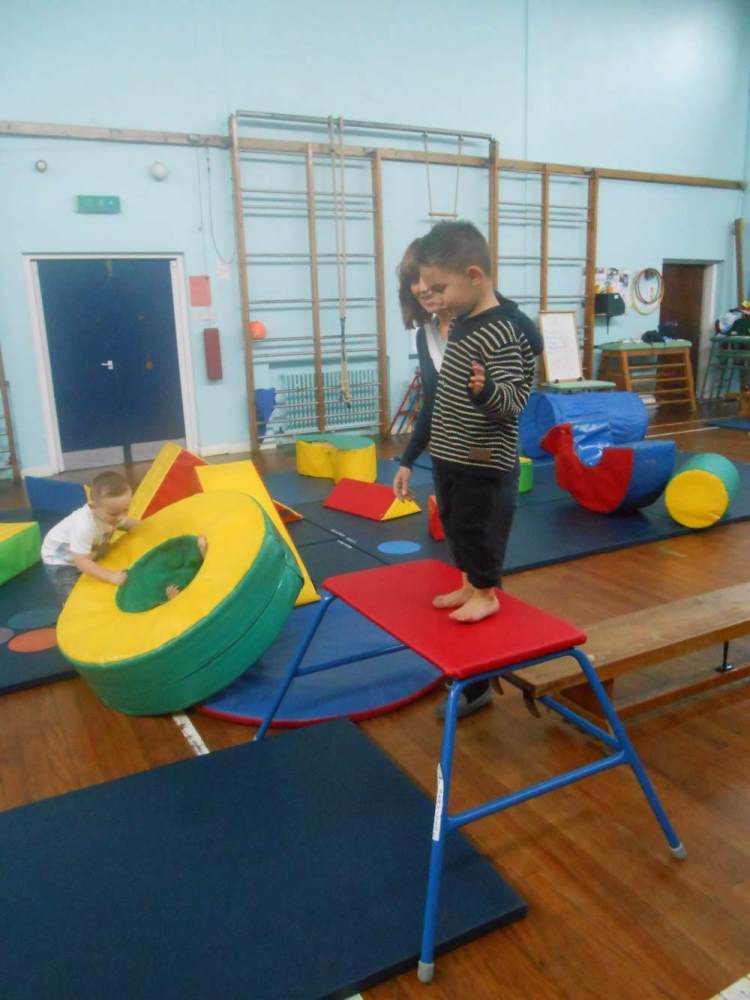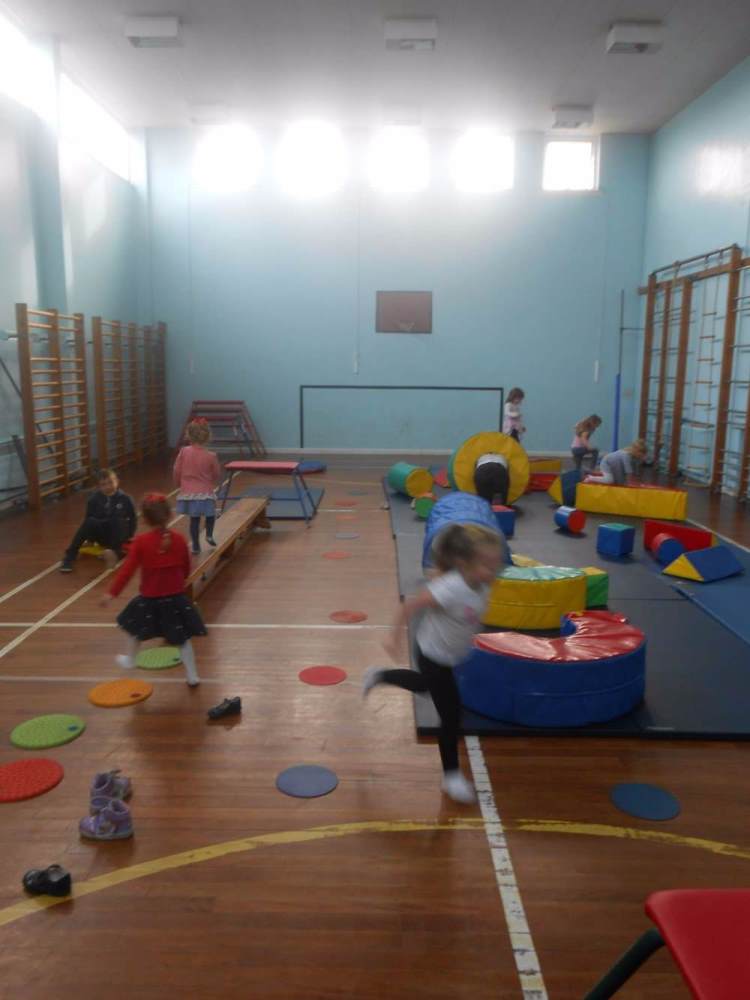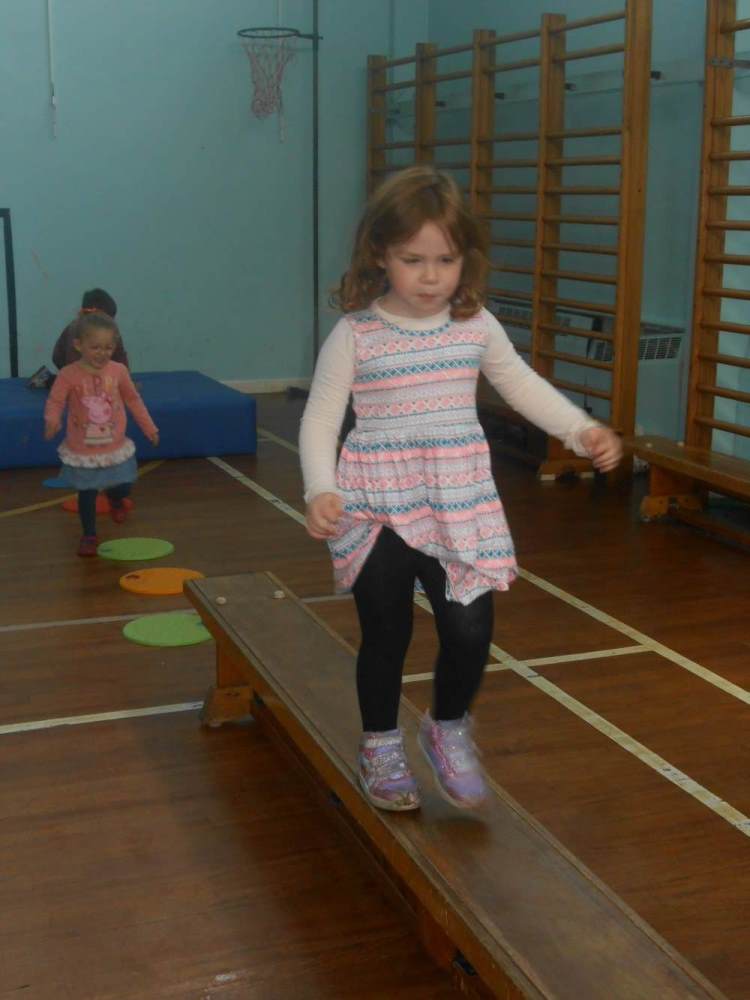 Creating using different objects and items - lots of team work, problem solving and creative thinking.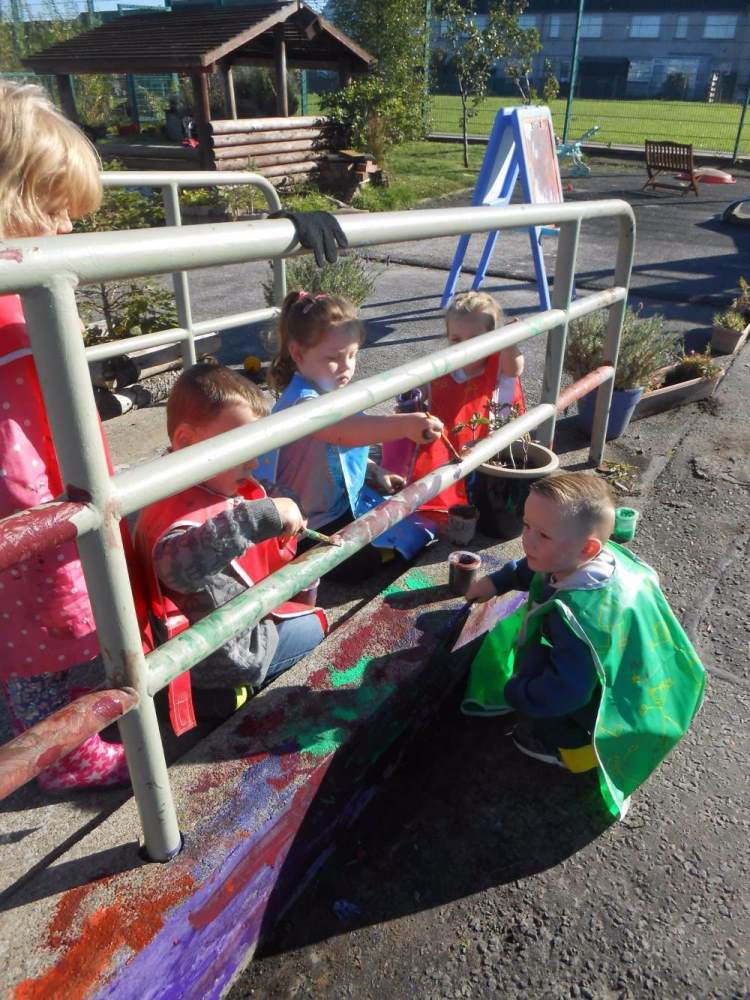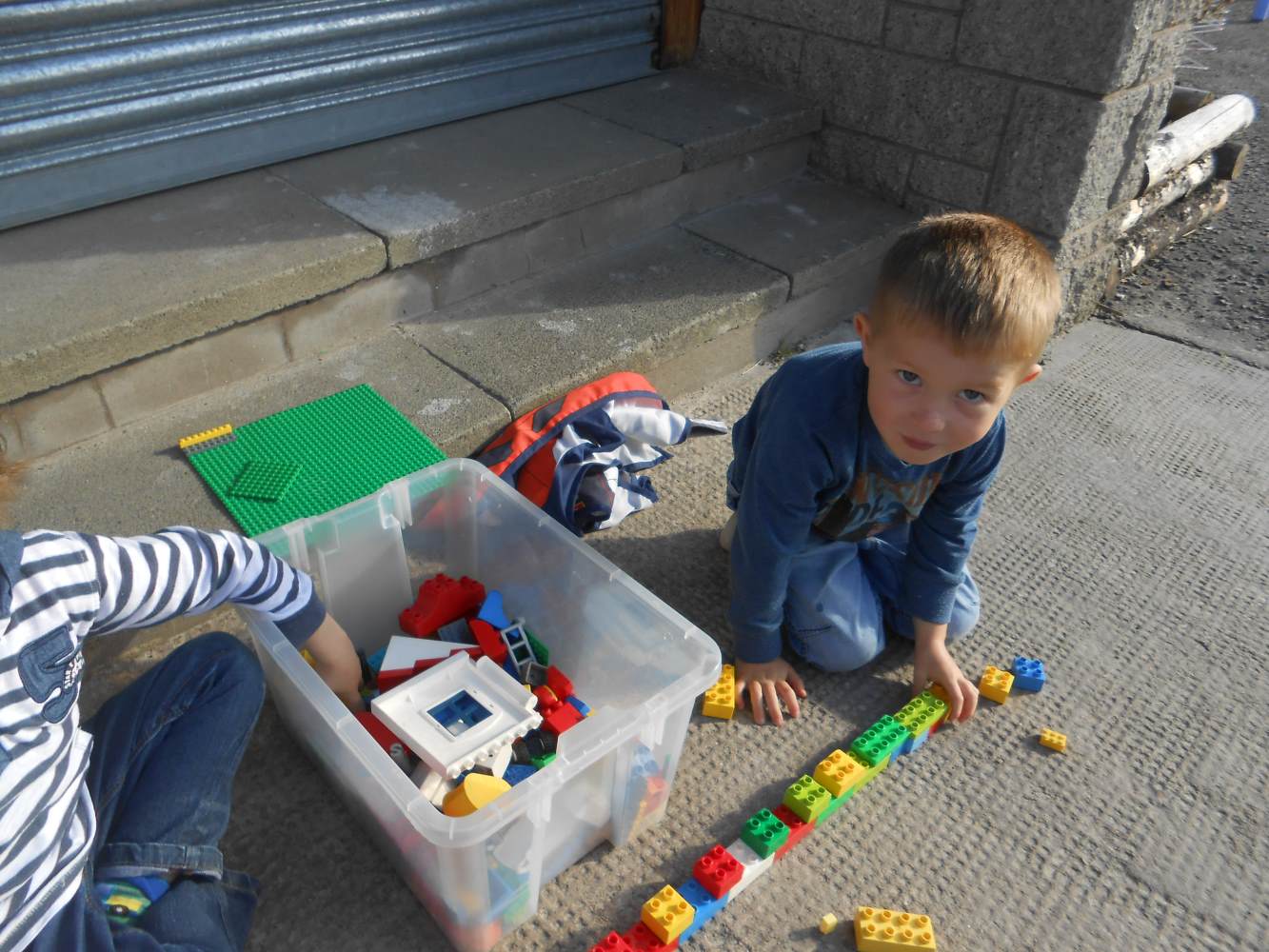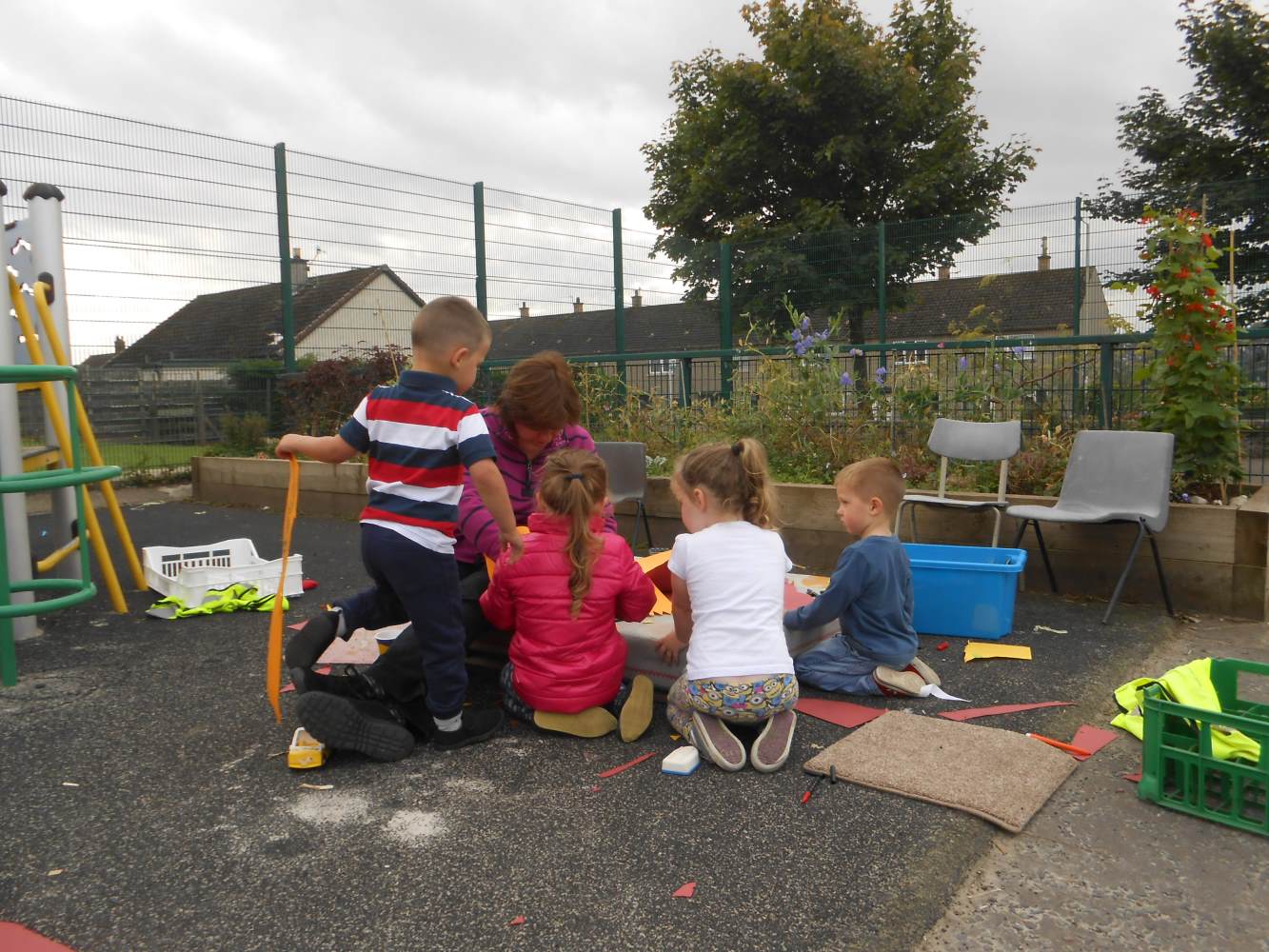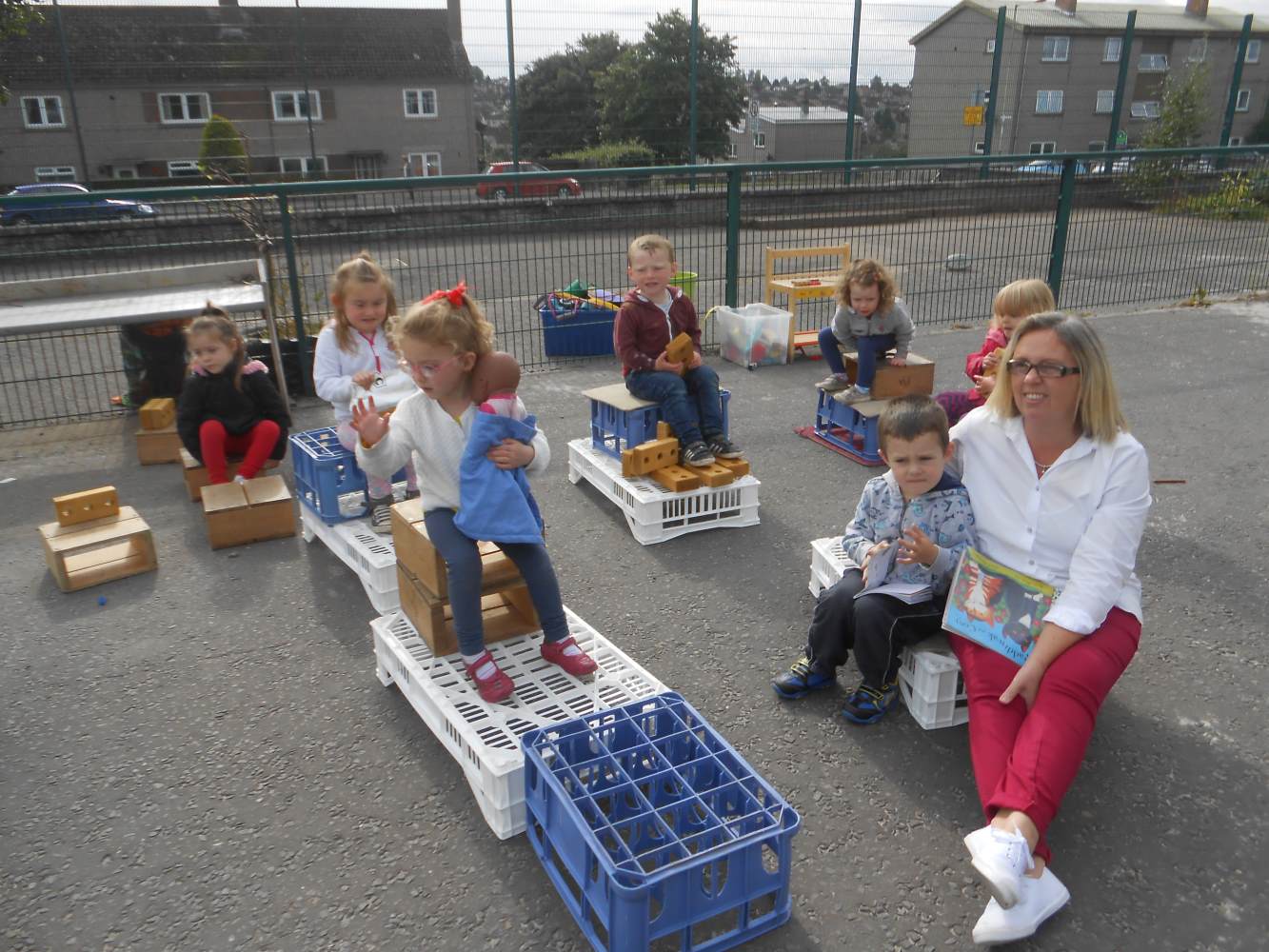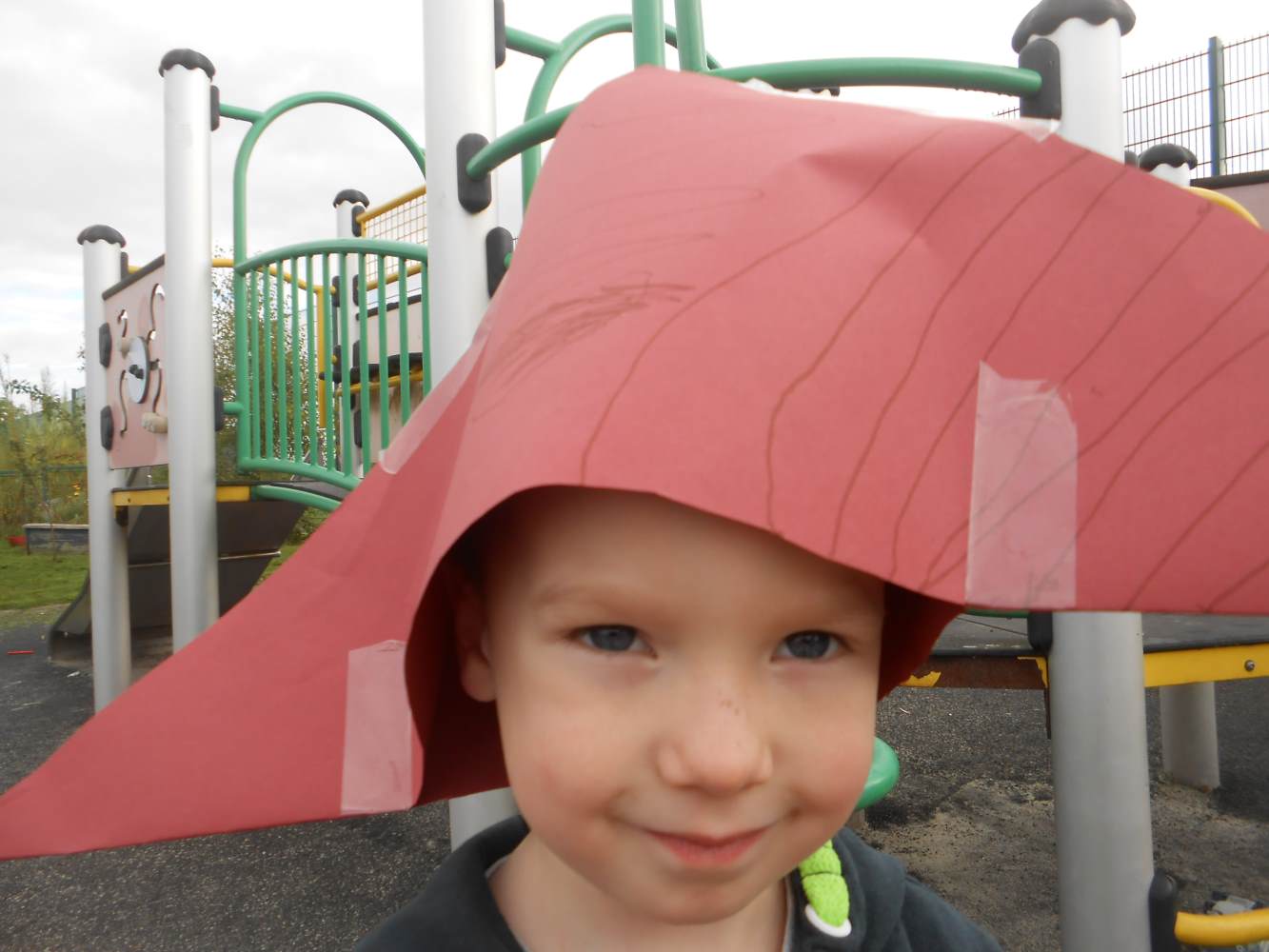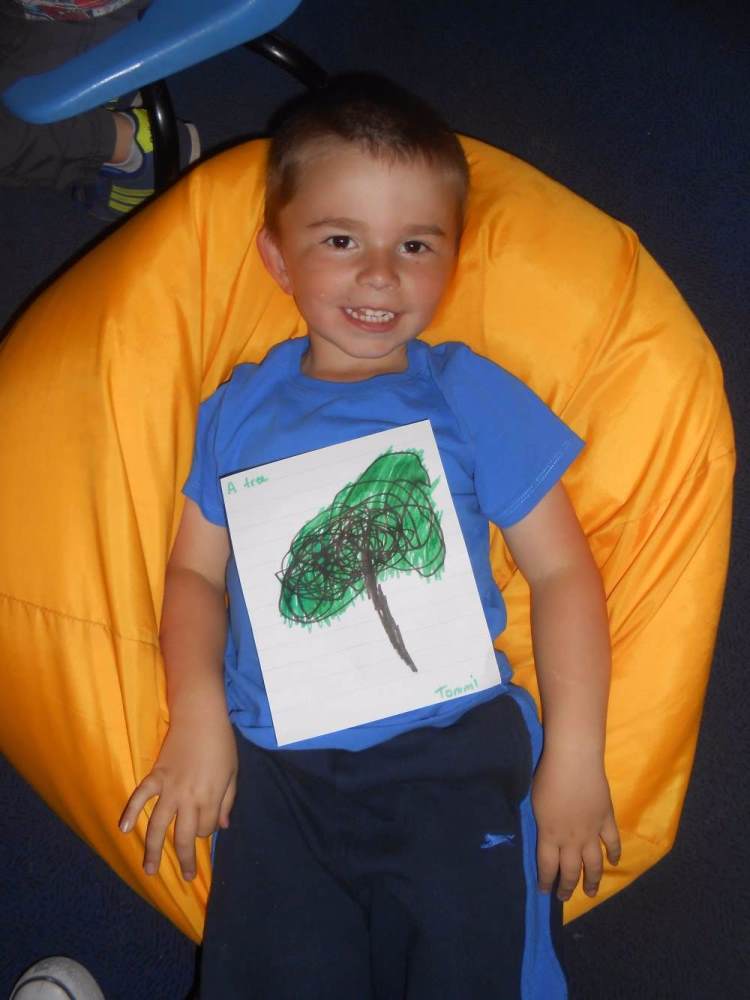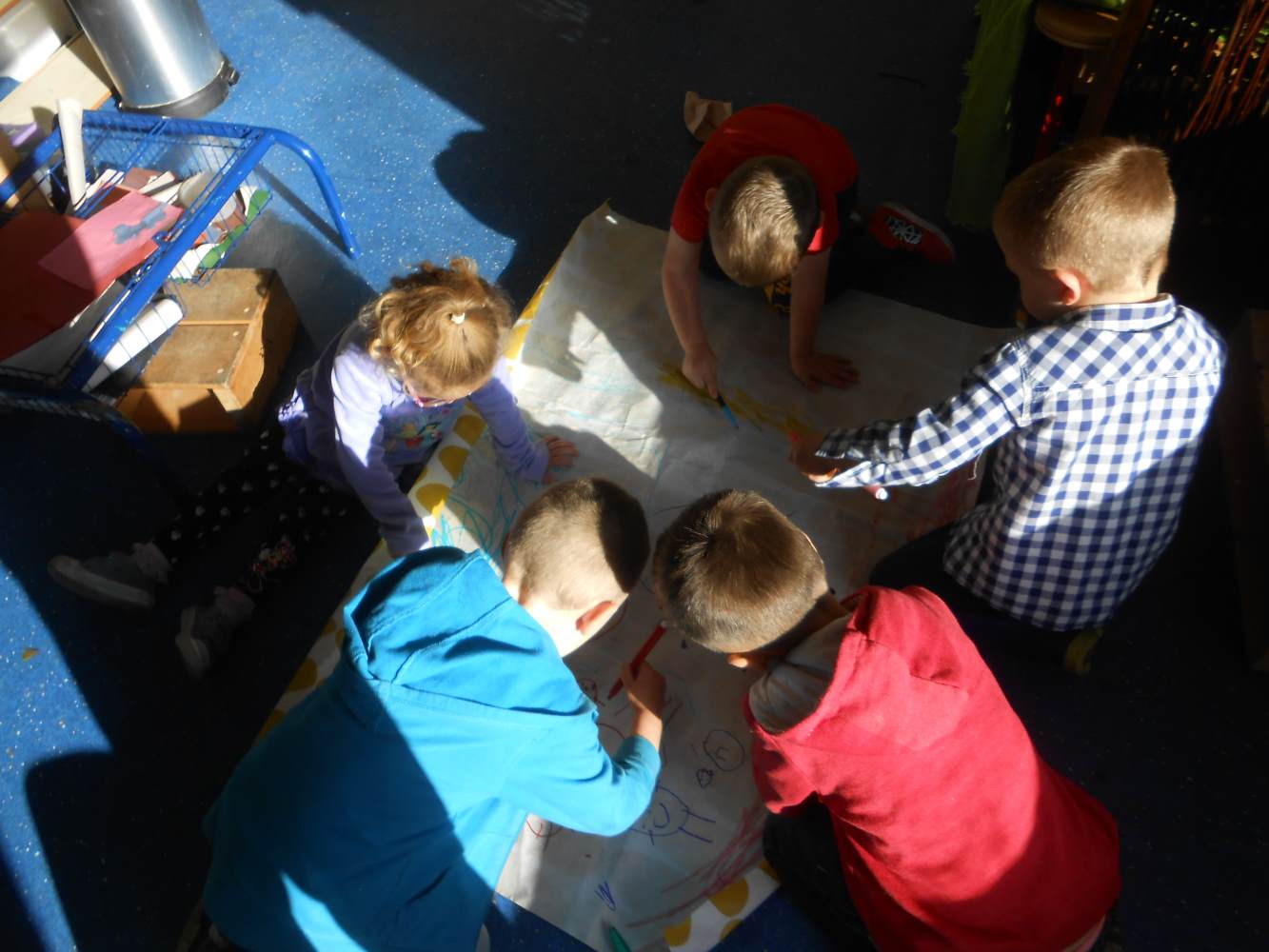 It started with some big blocks, which became a stage and then a whole show with some great dance moves and lots of singing.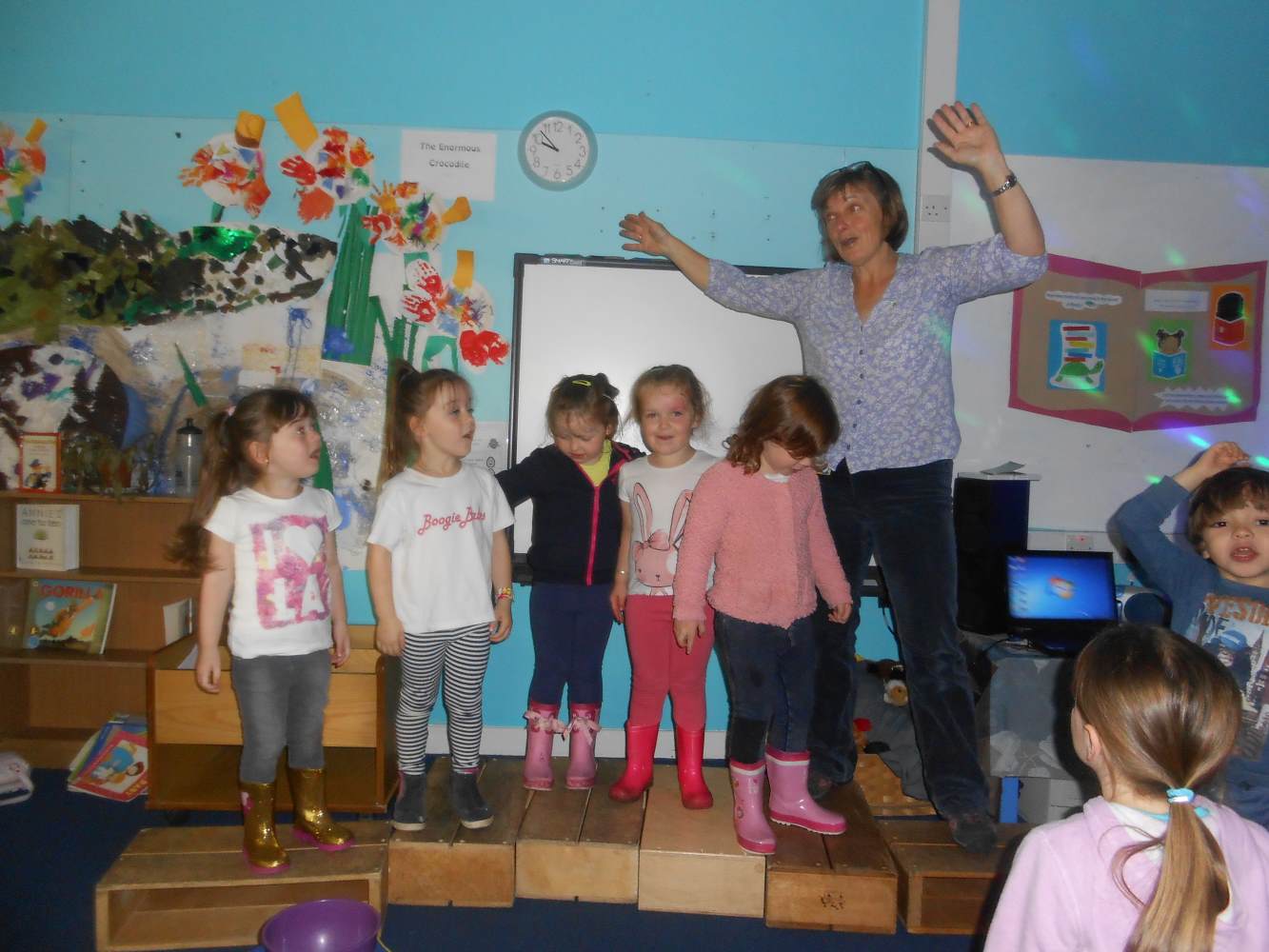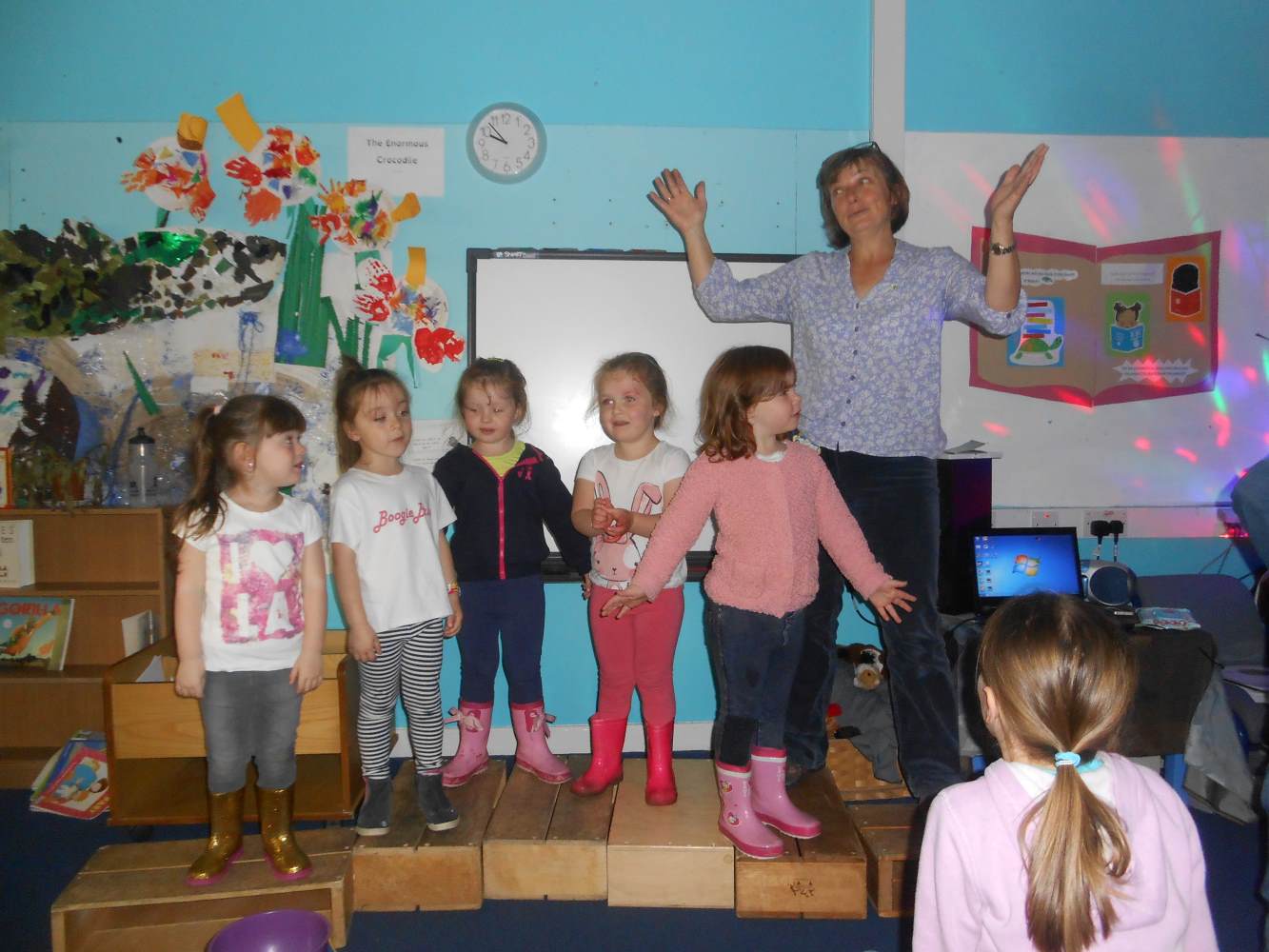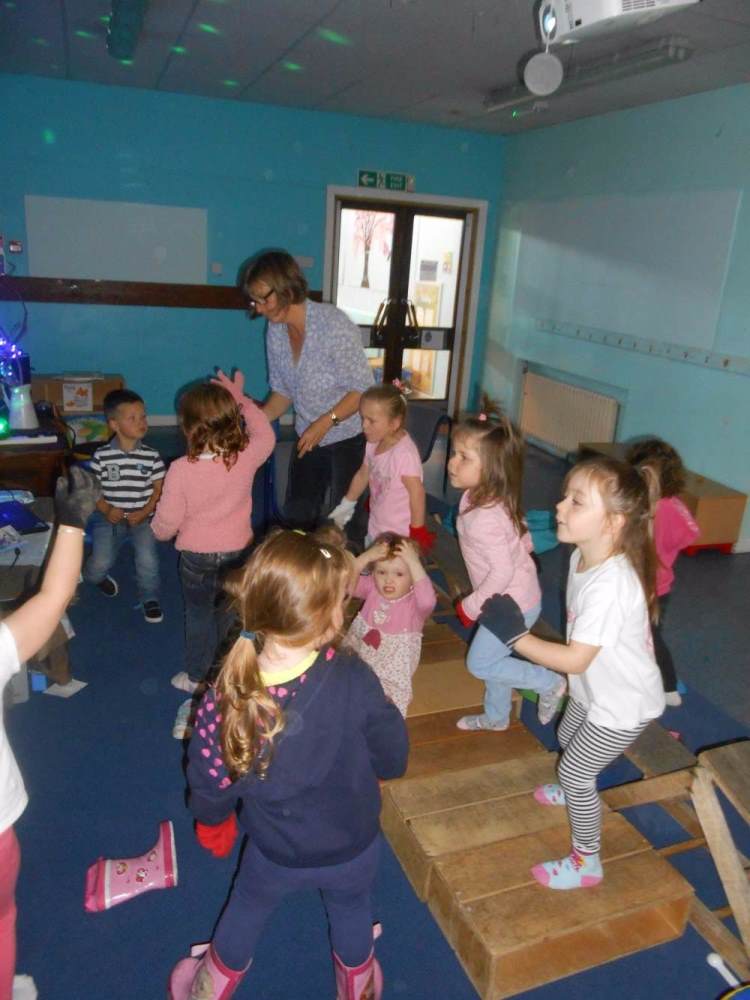 A selection of some of the many other things that happen in Nursery, some of the photographs are taken by nursery staff some by the children.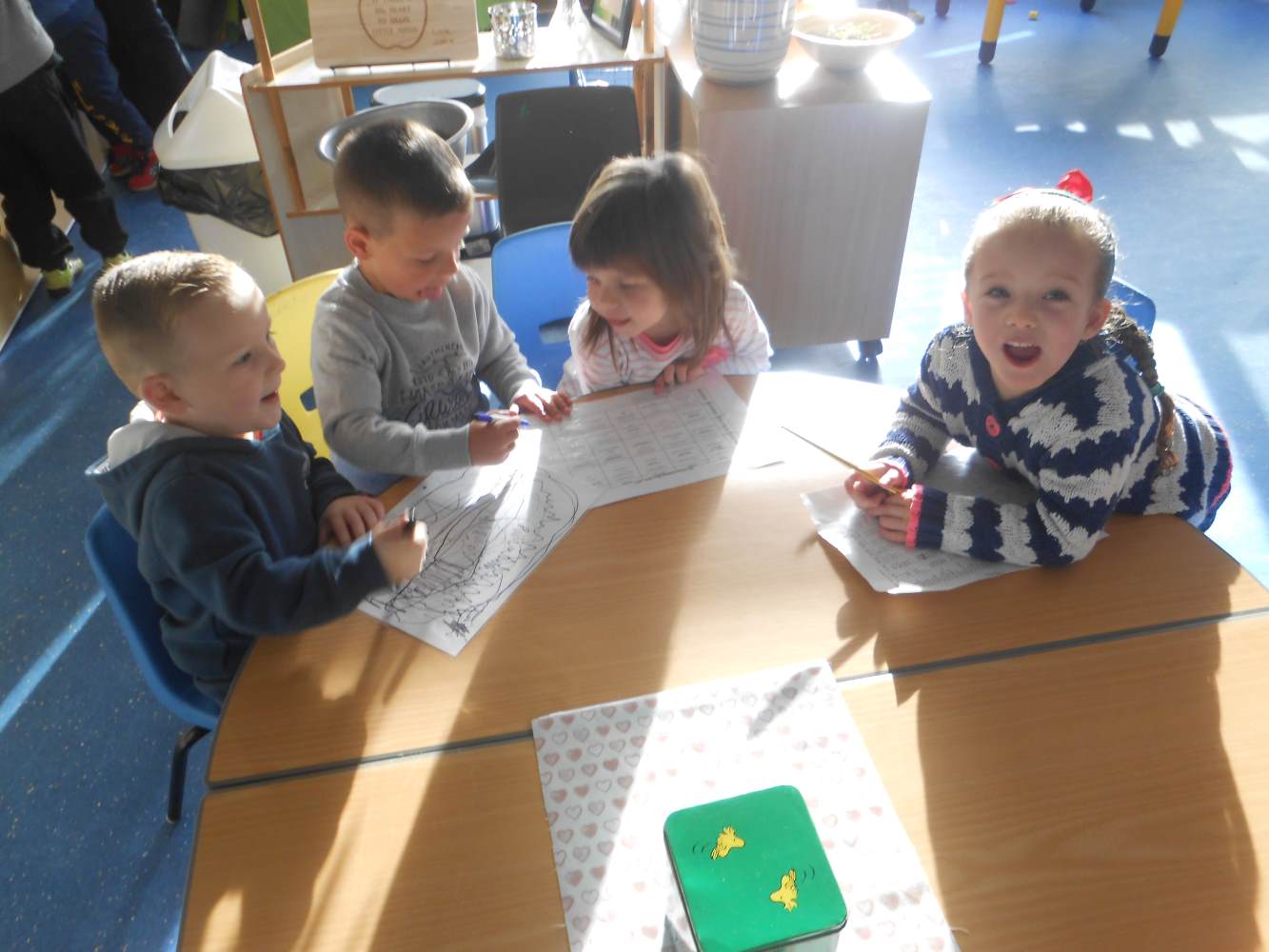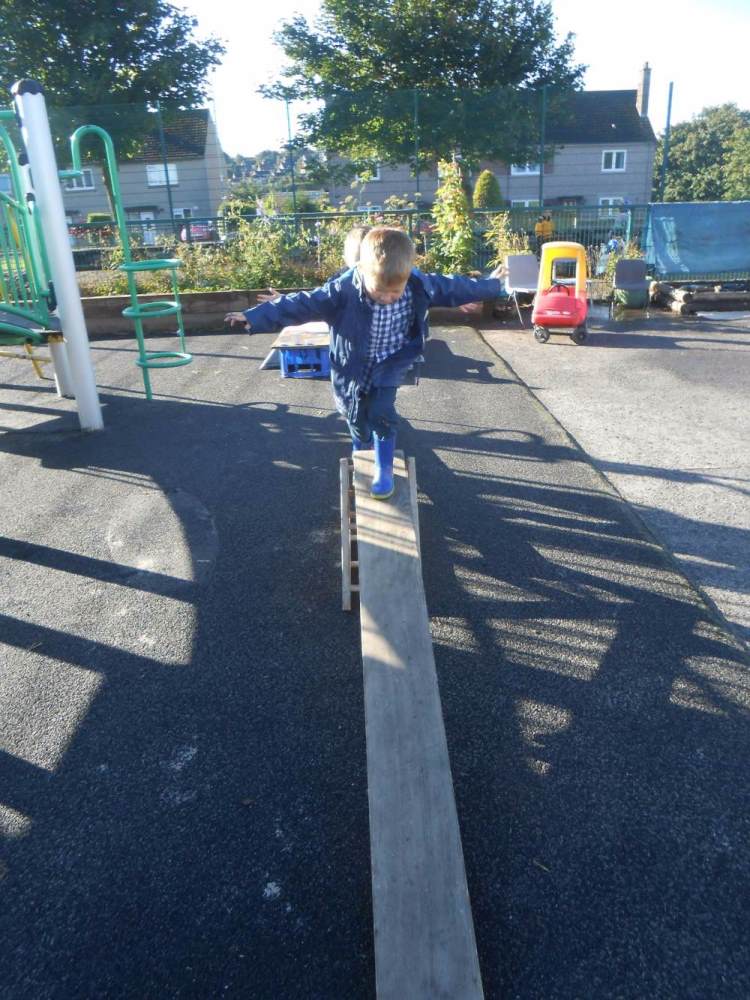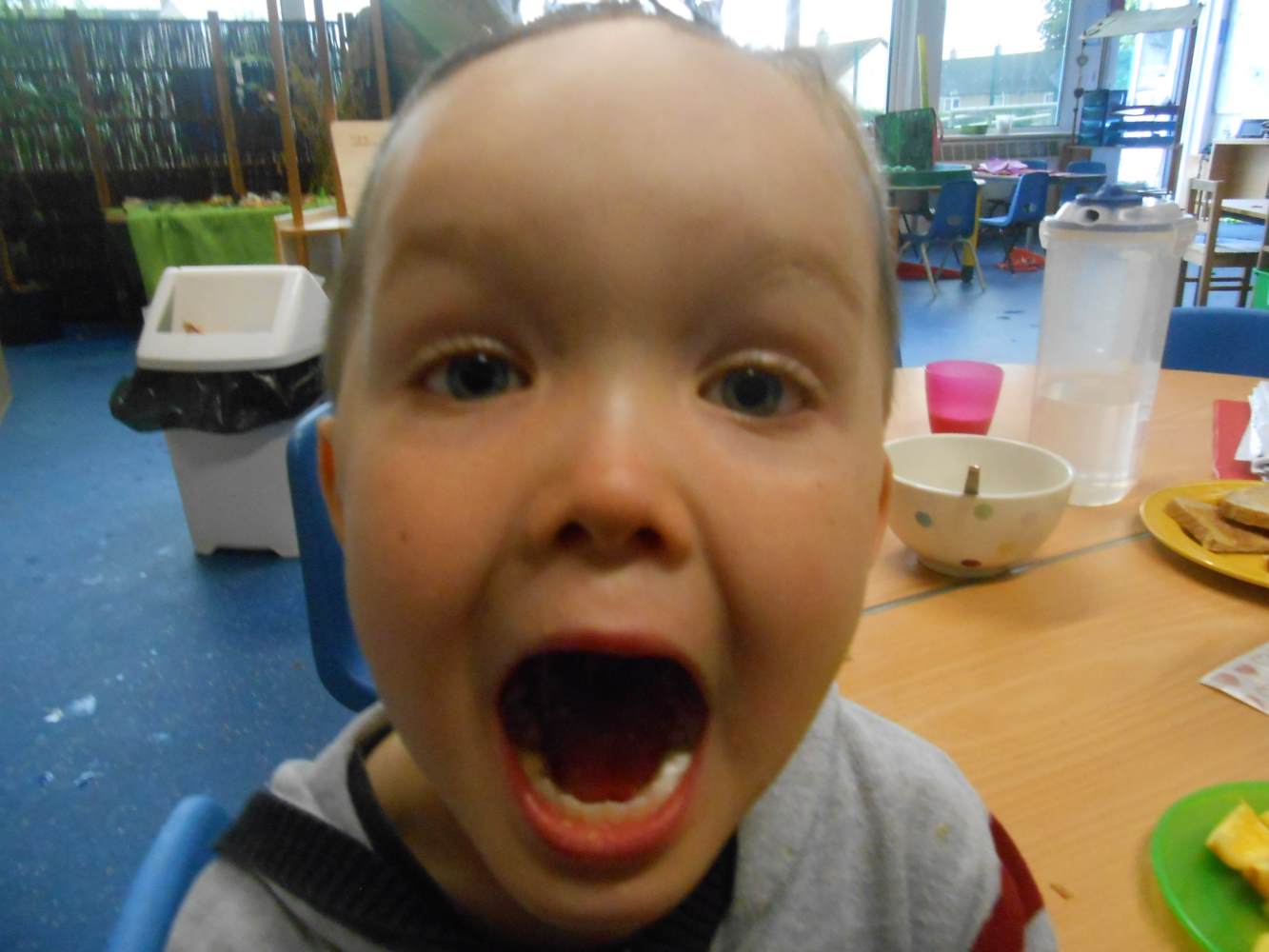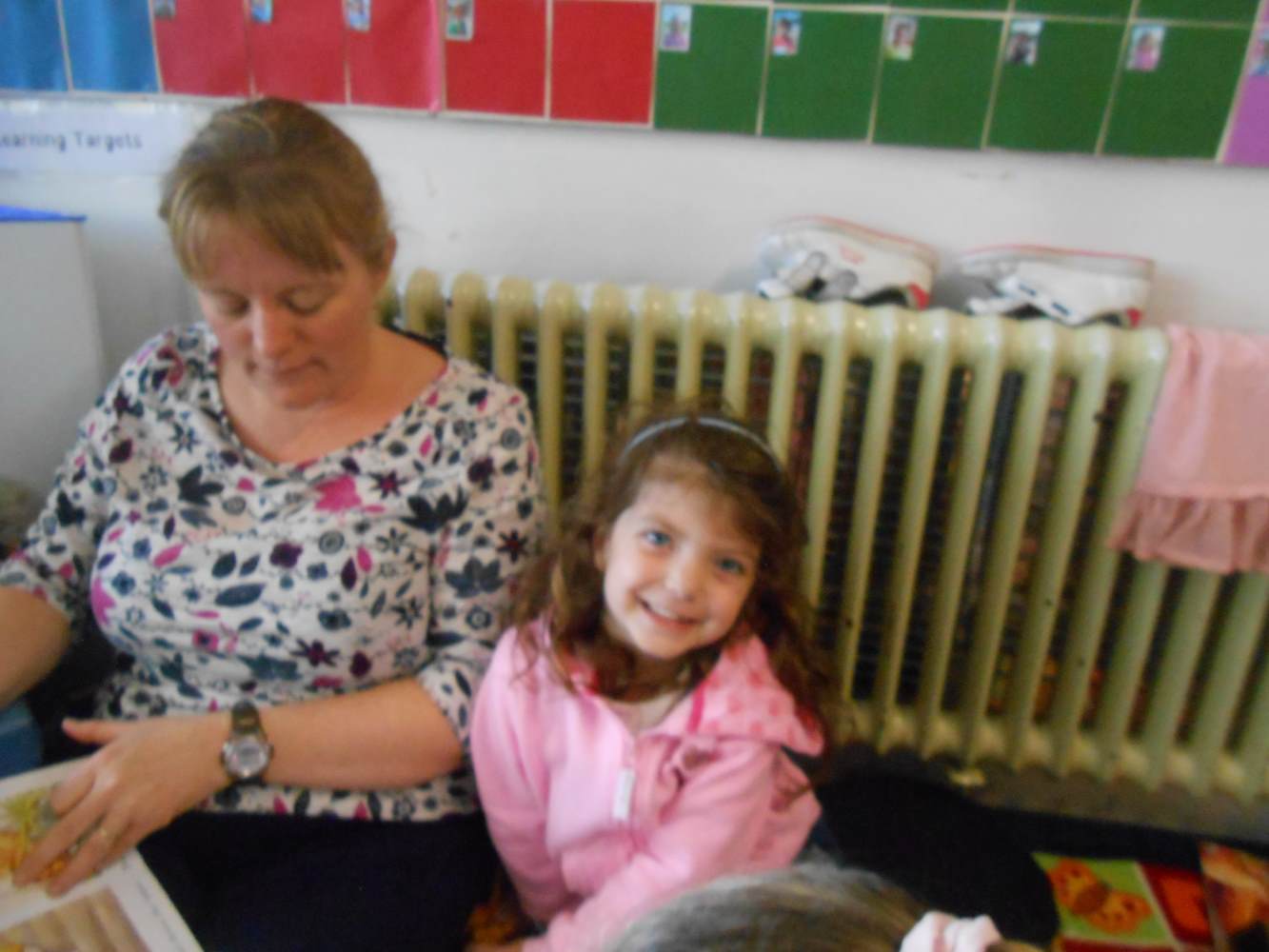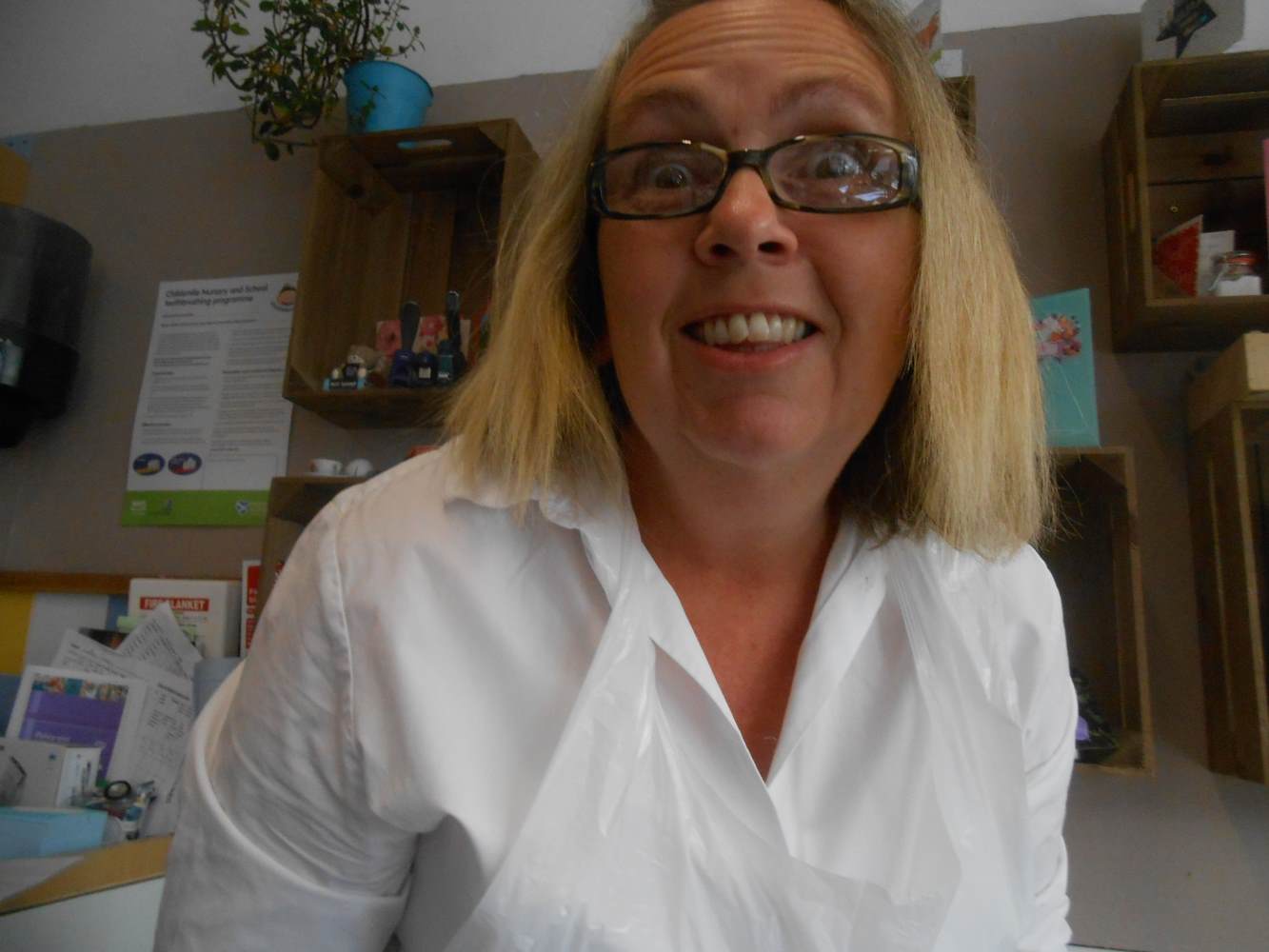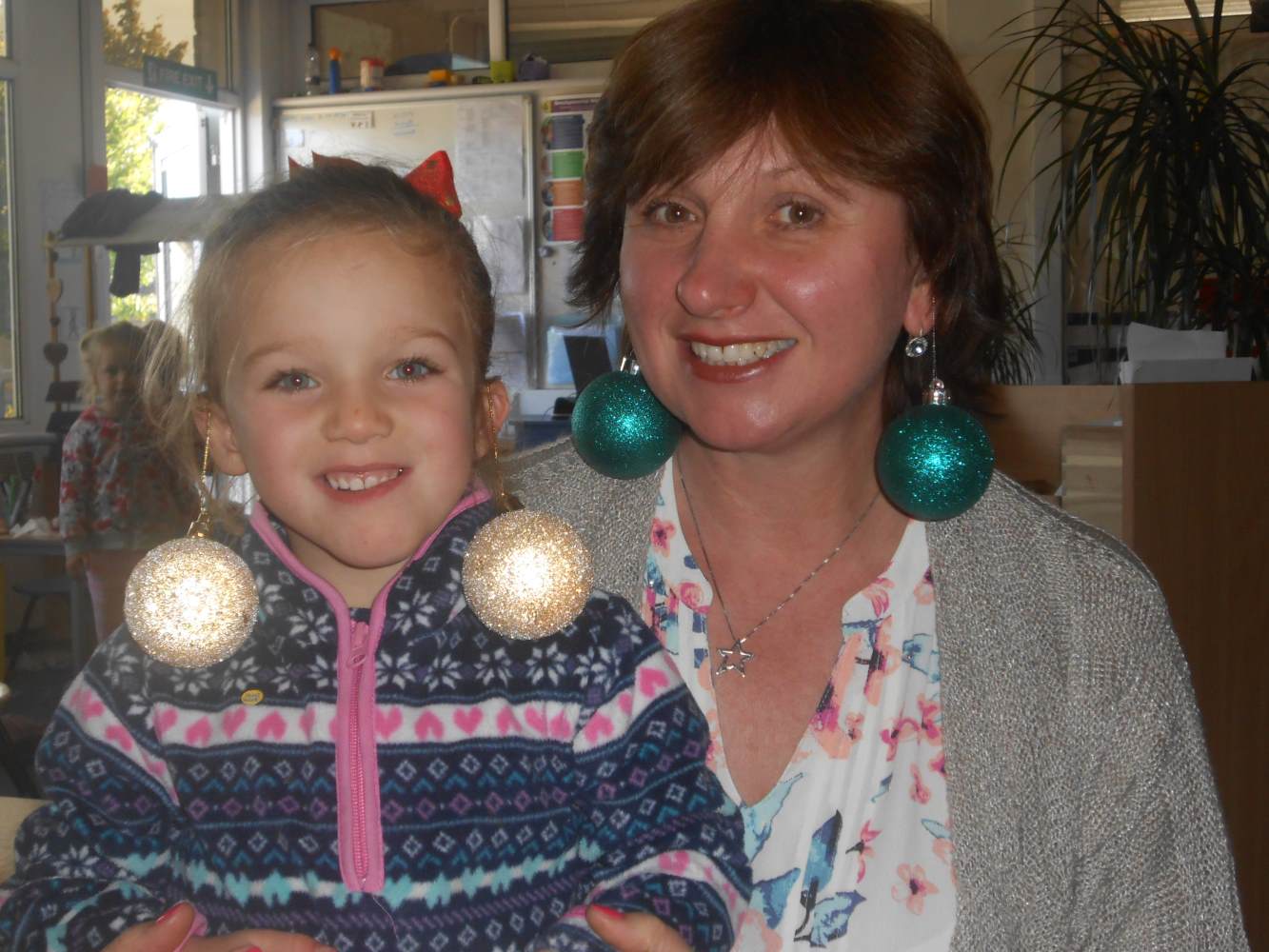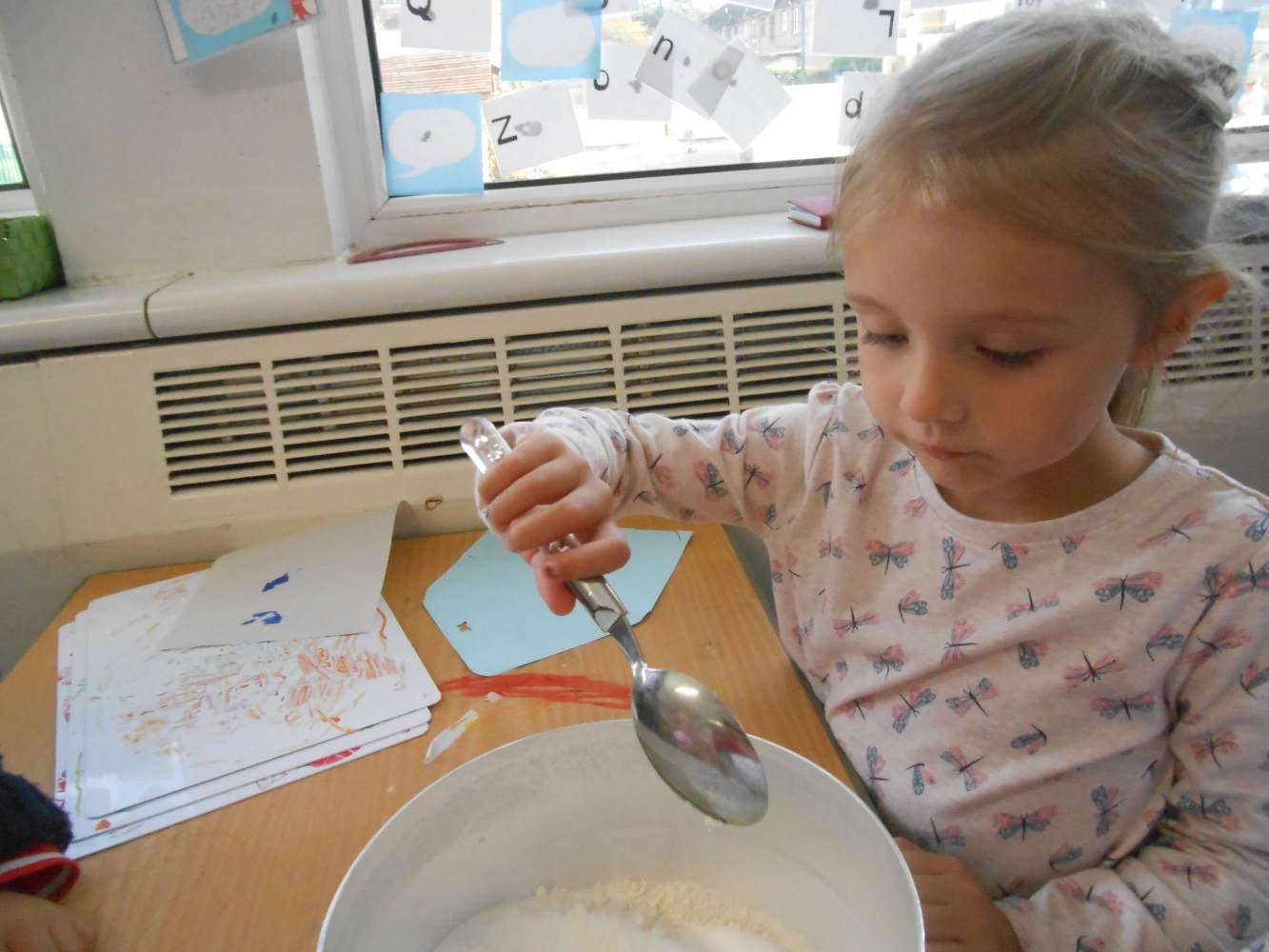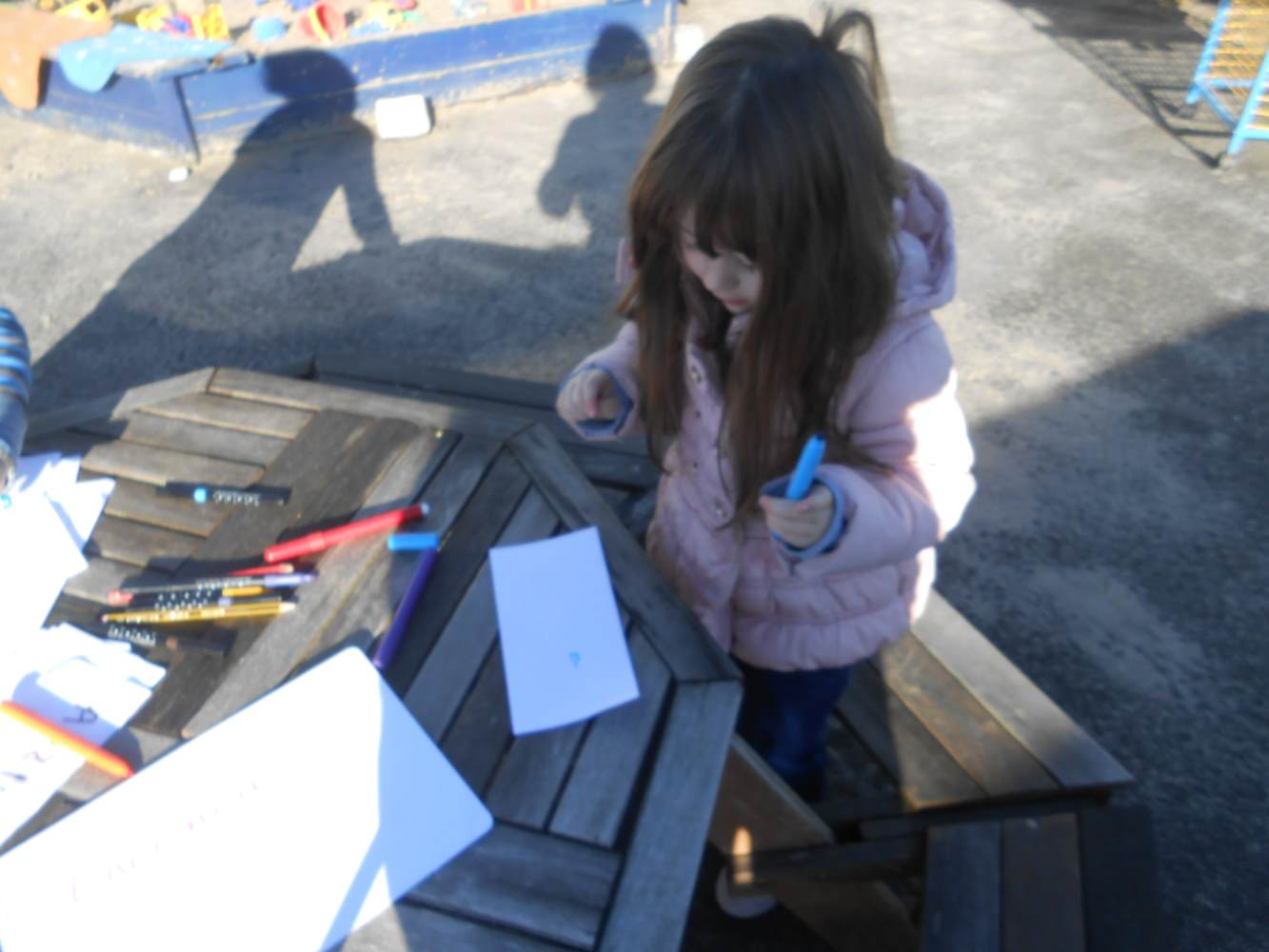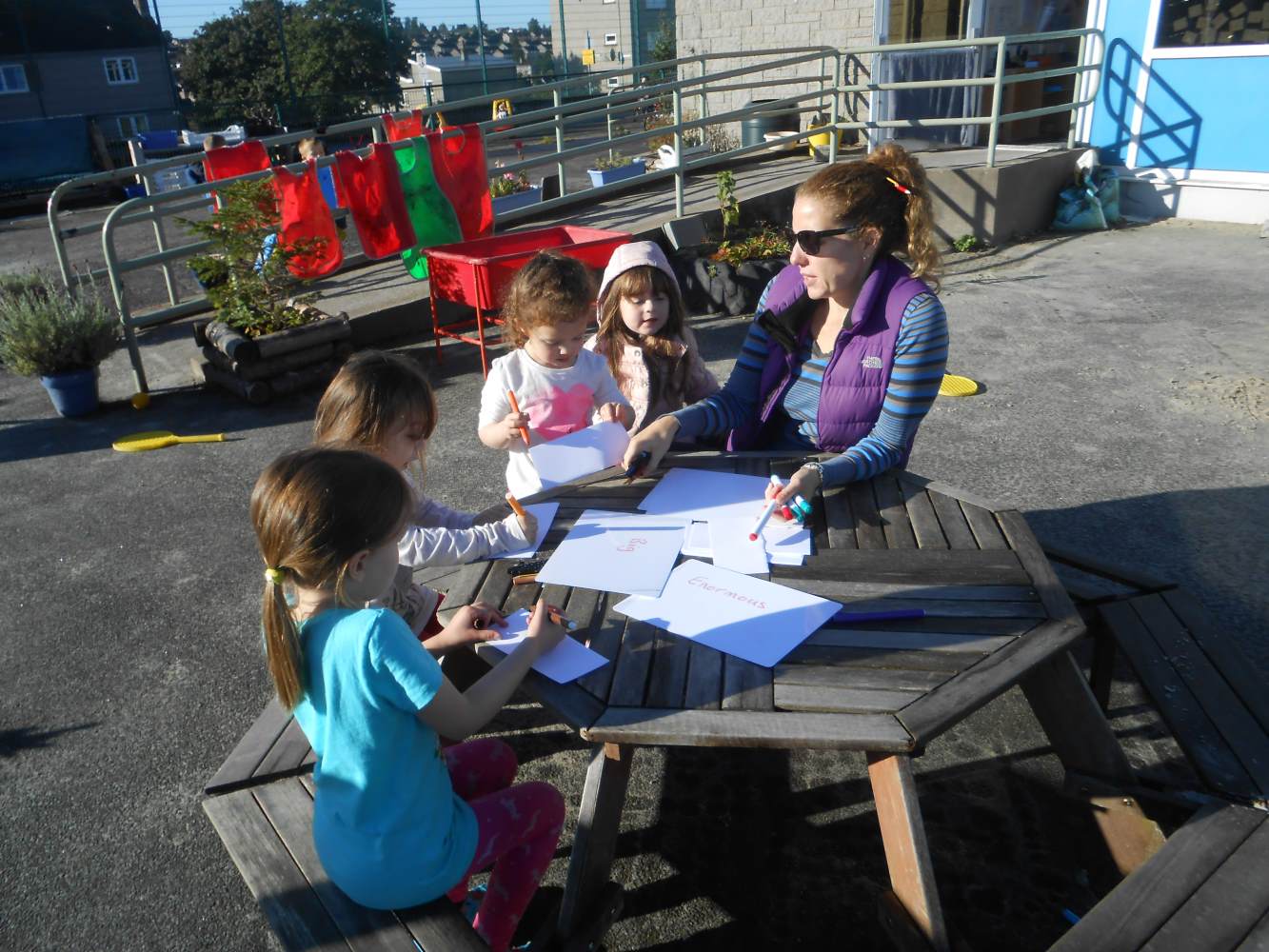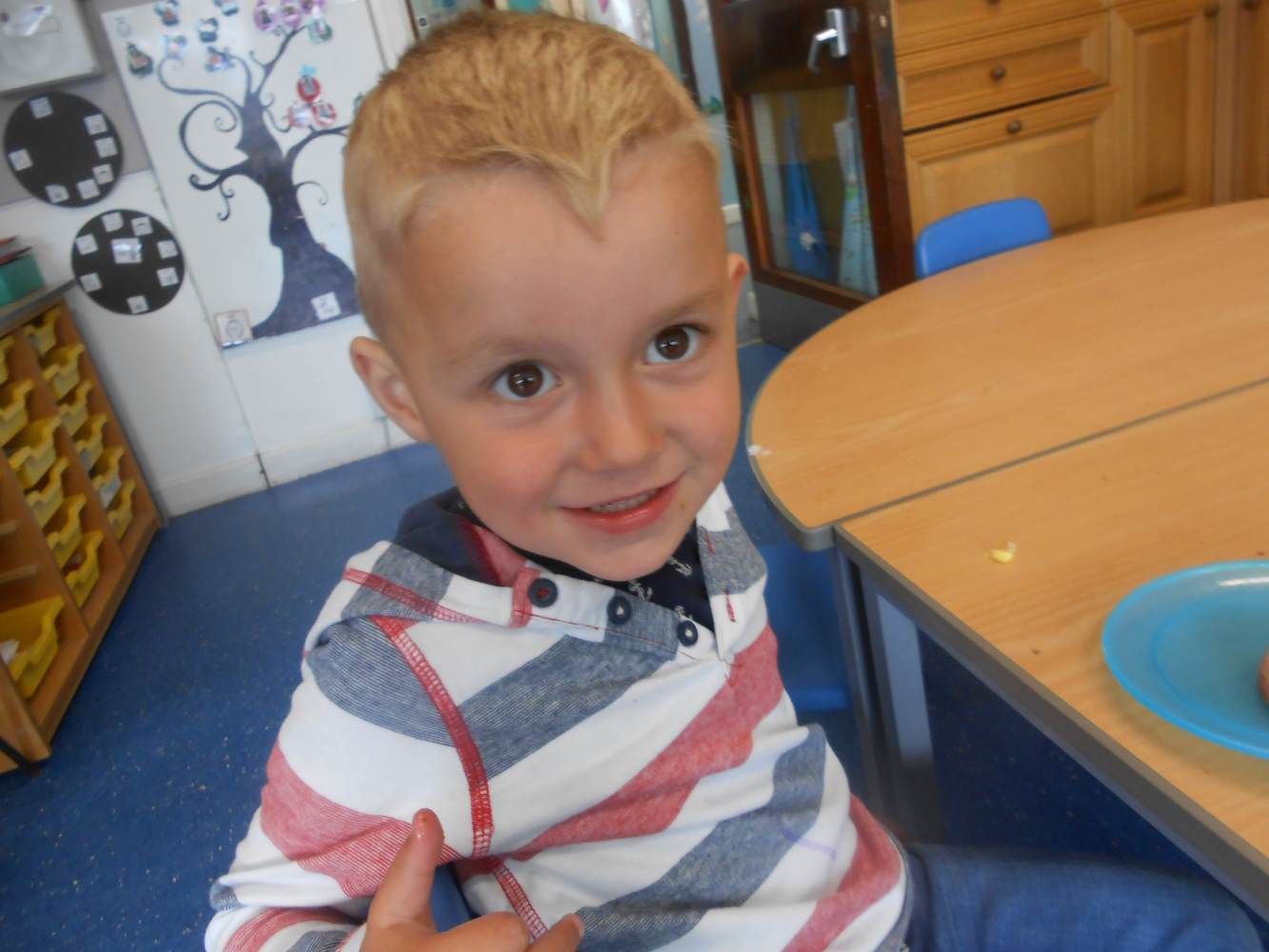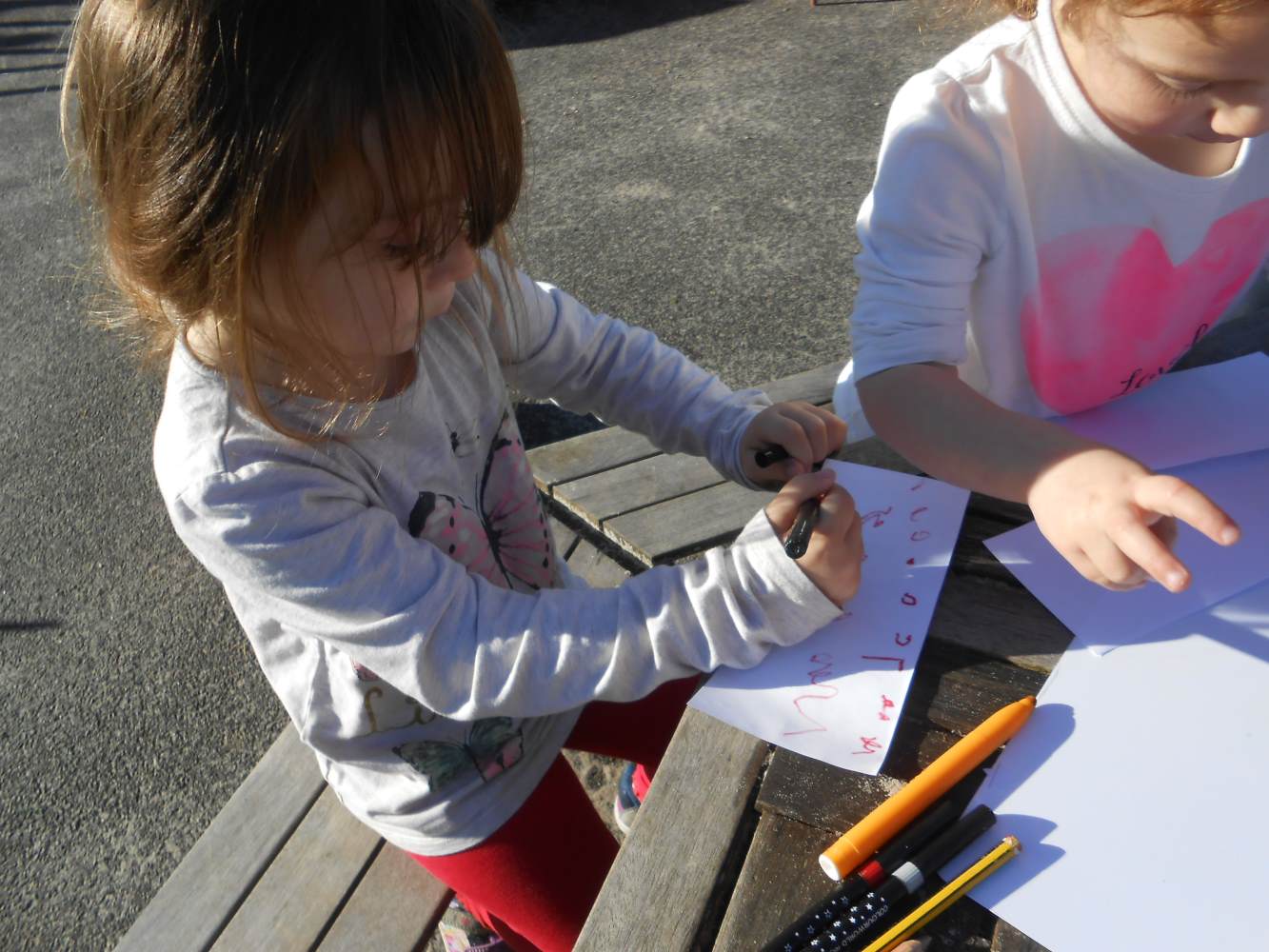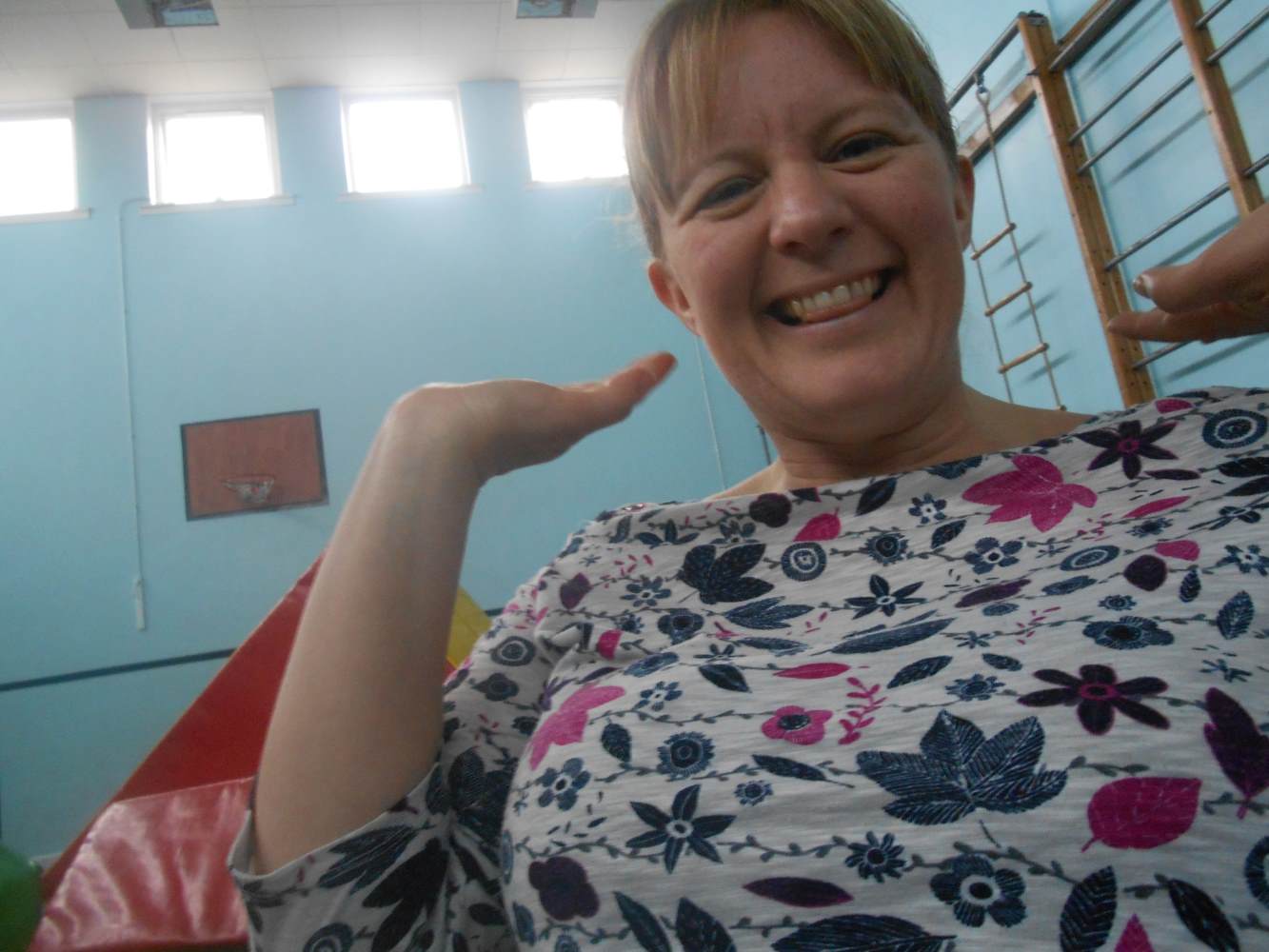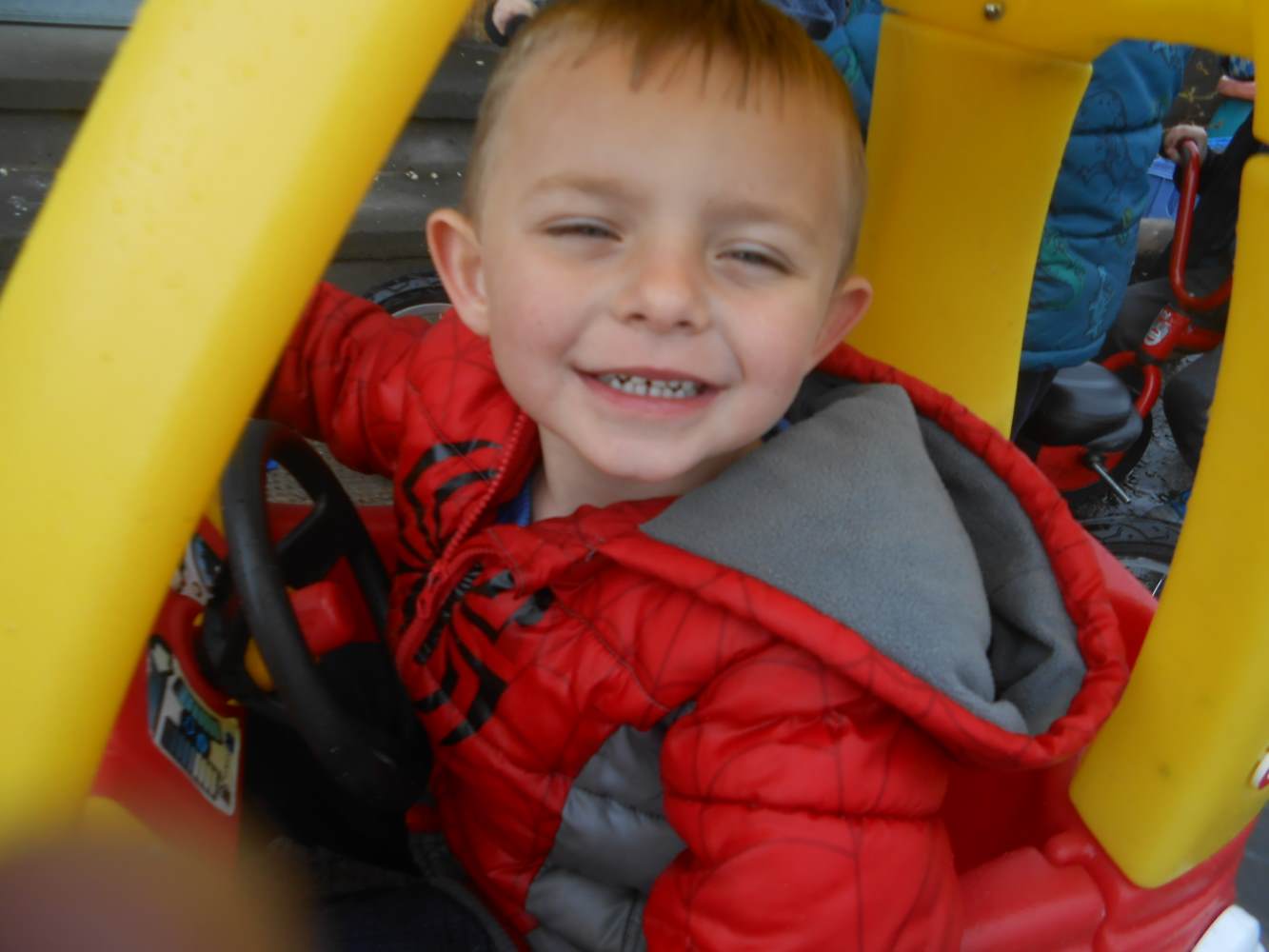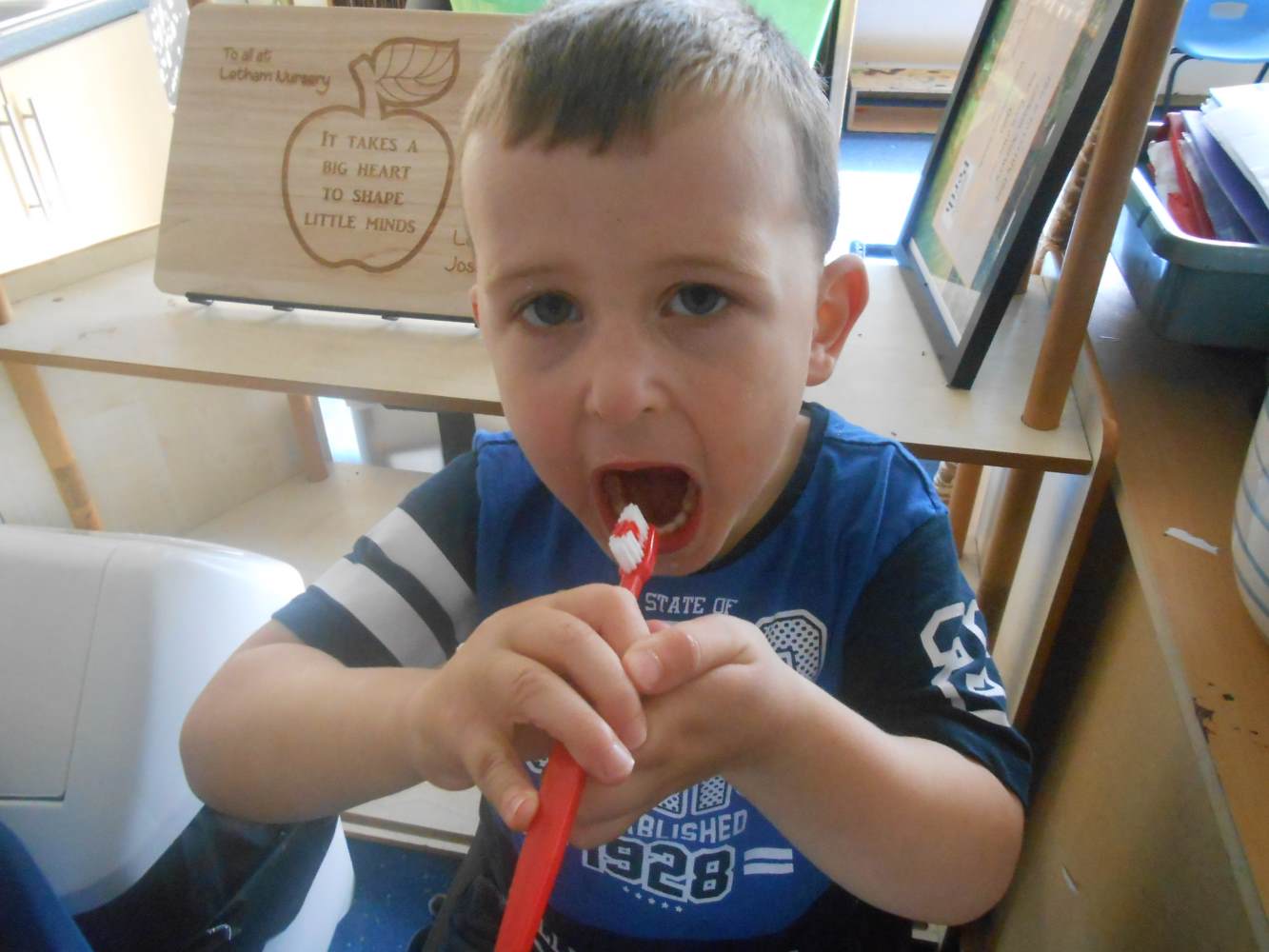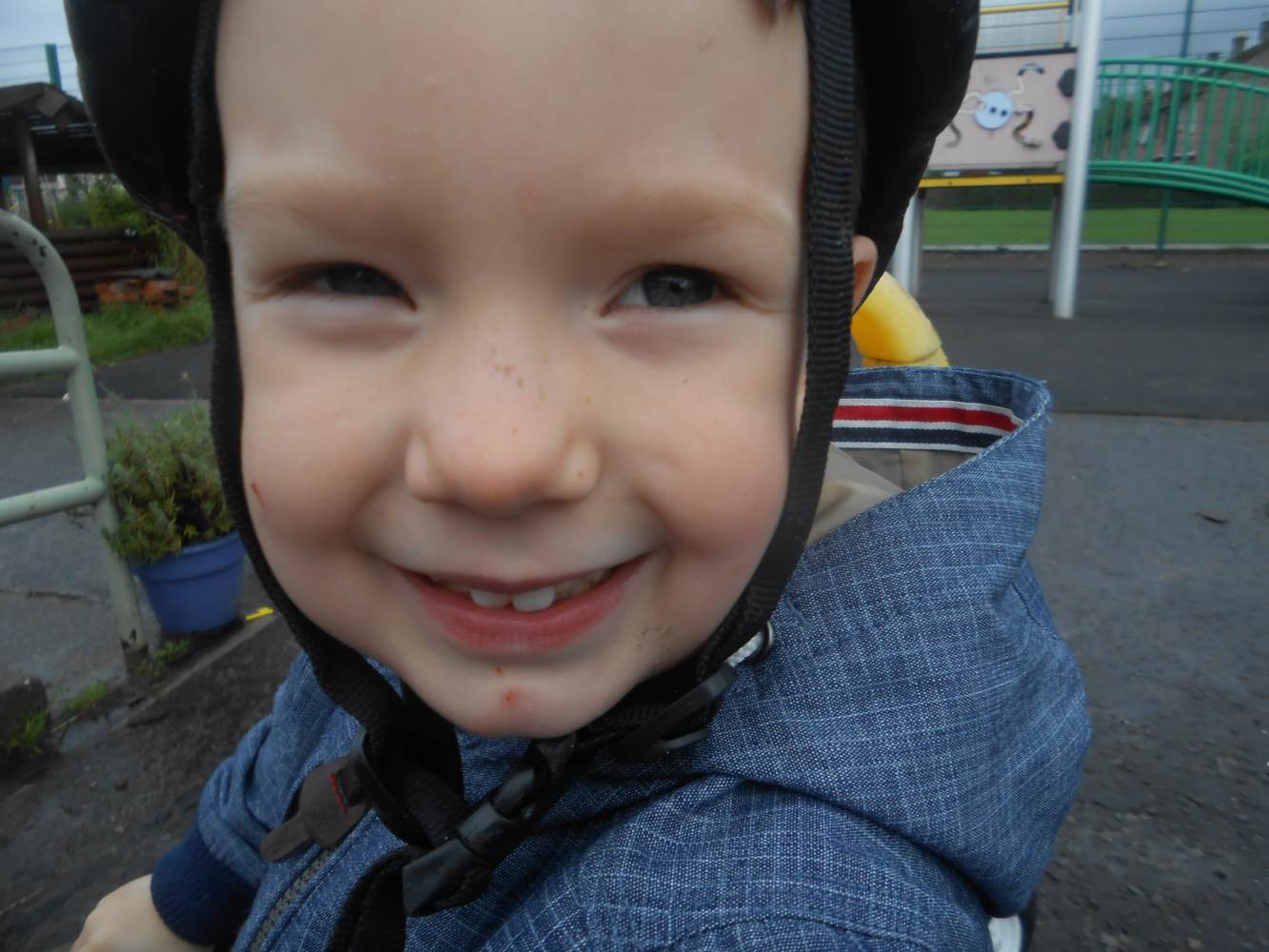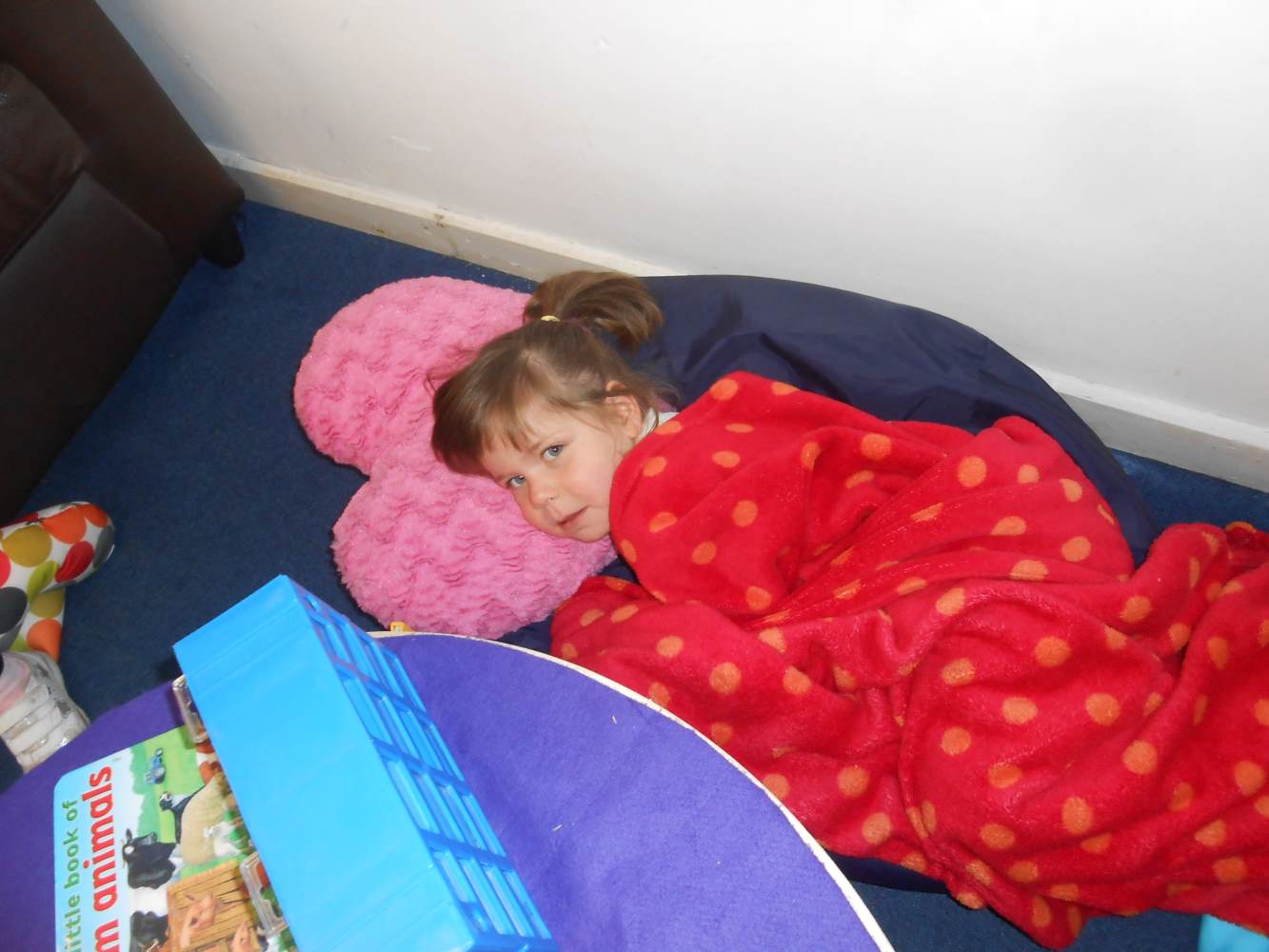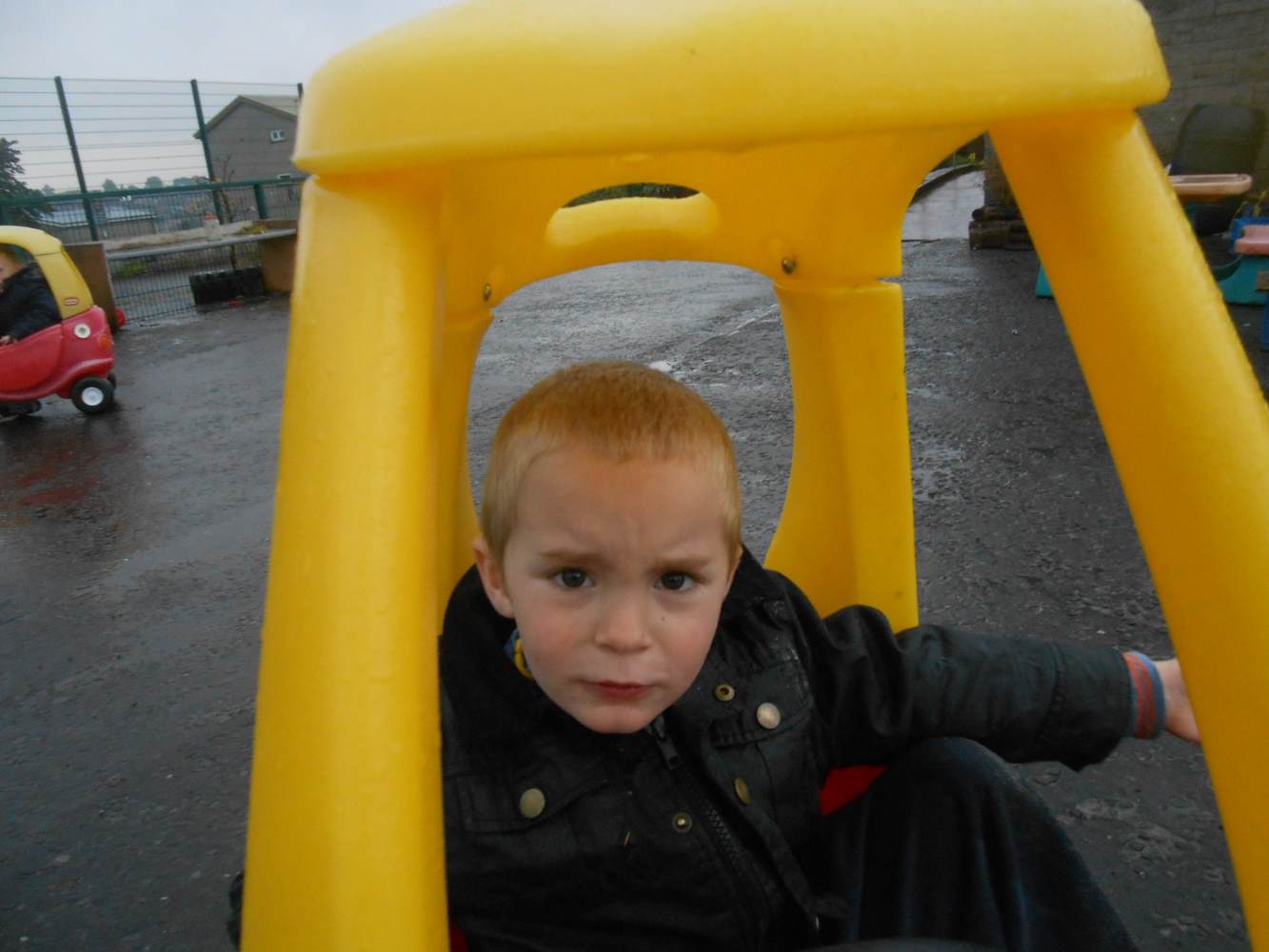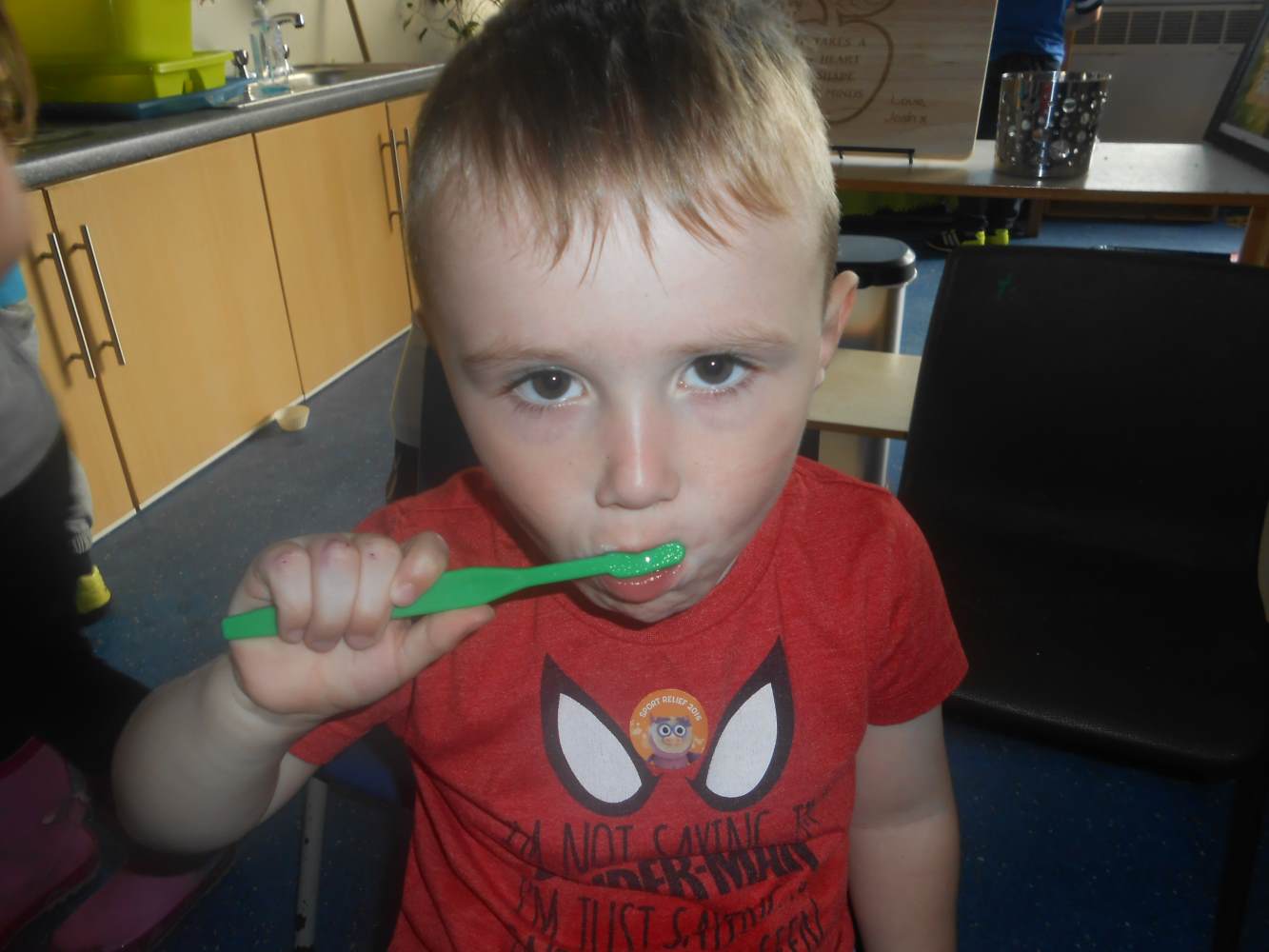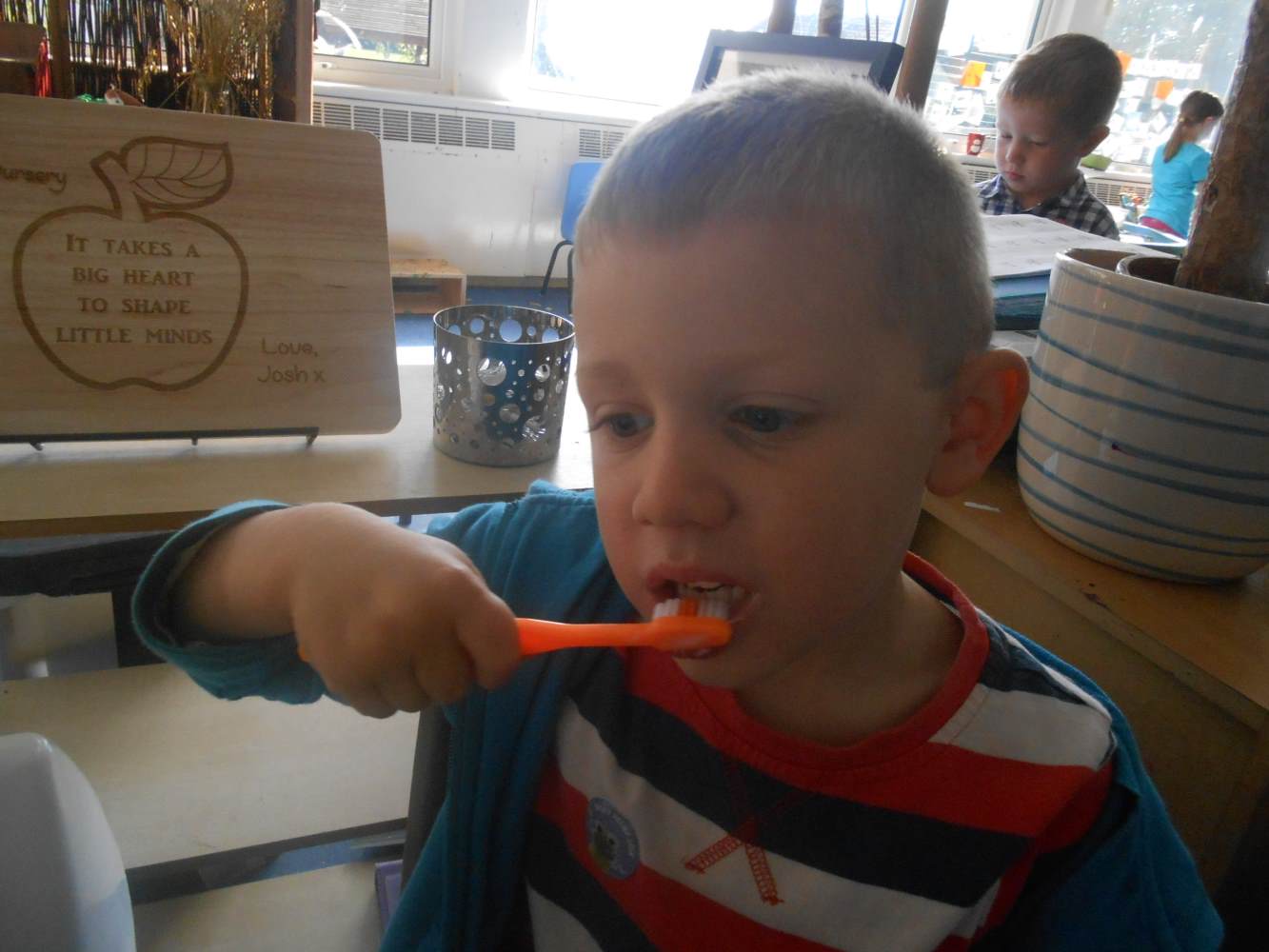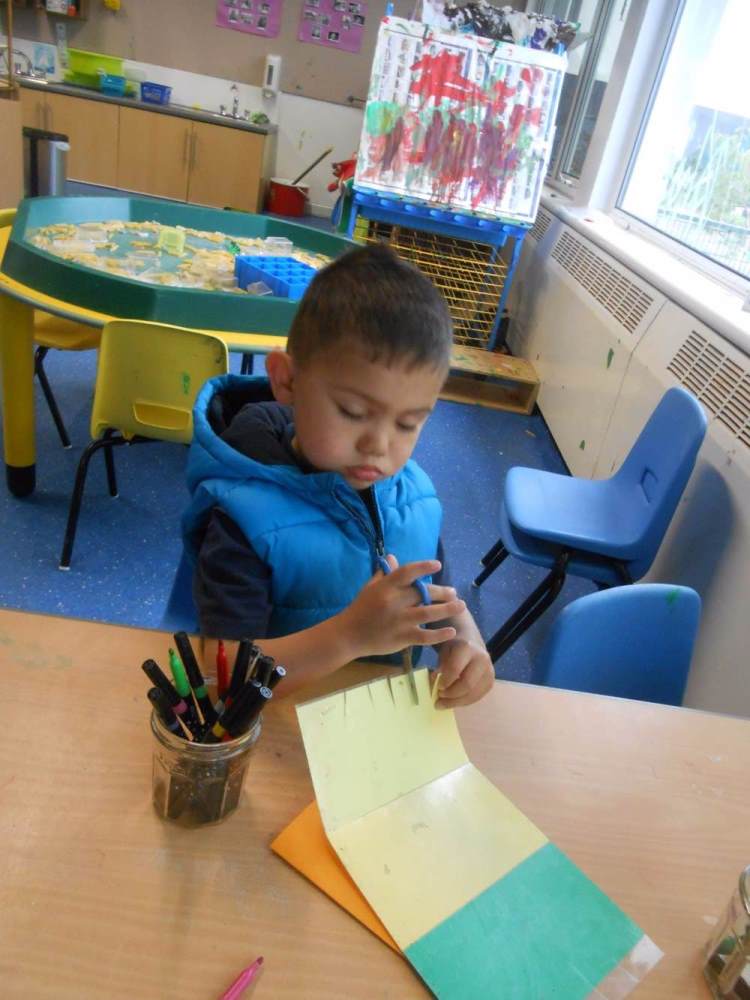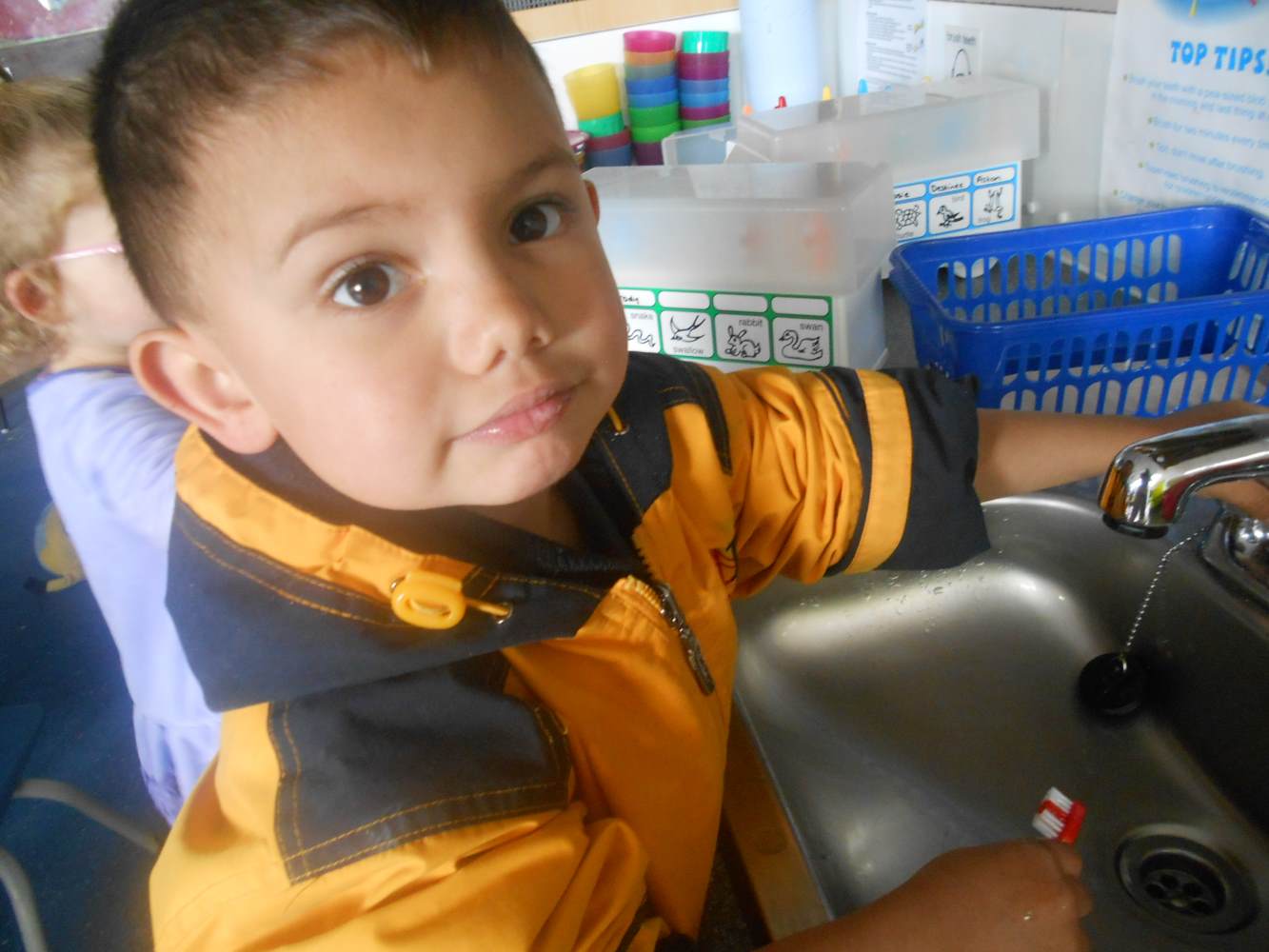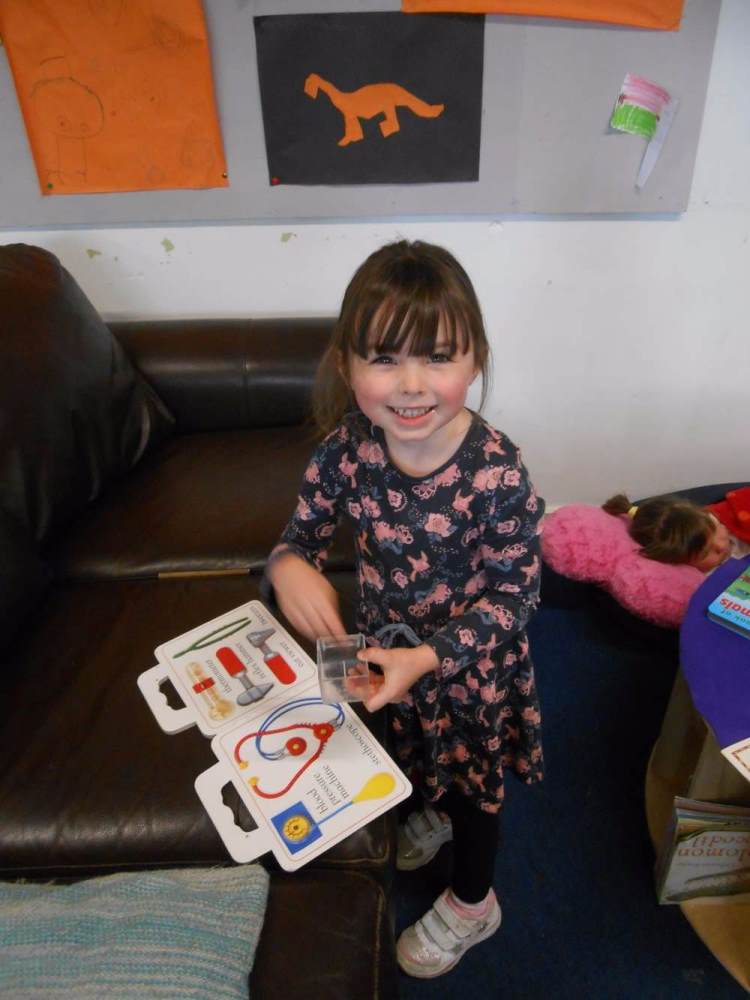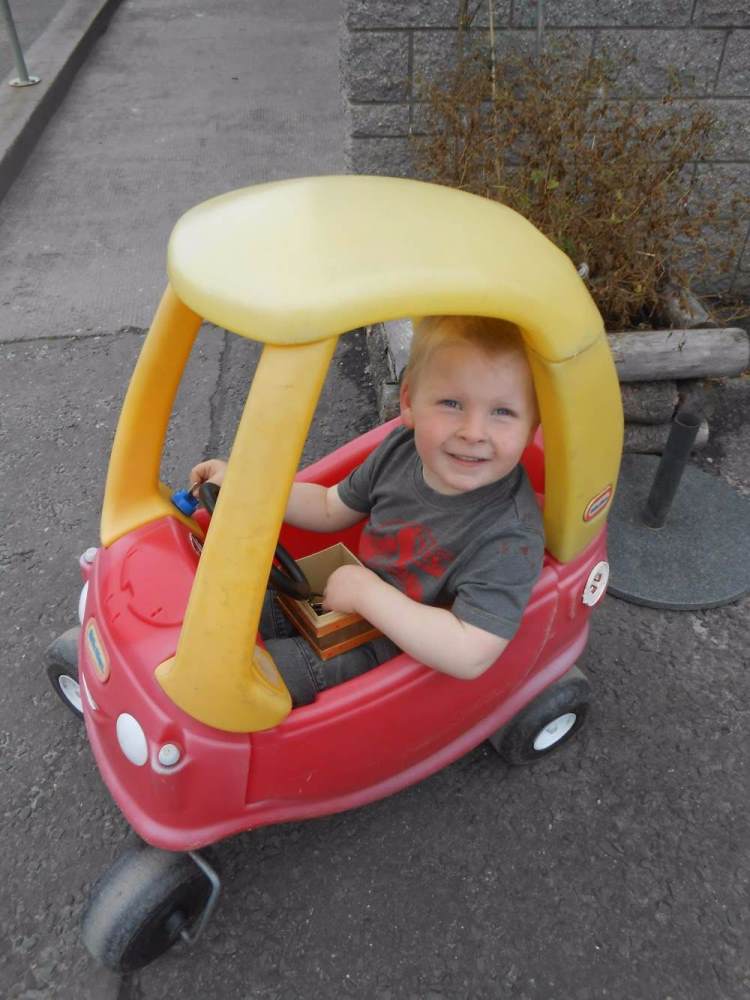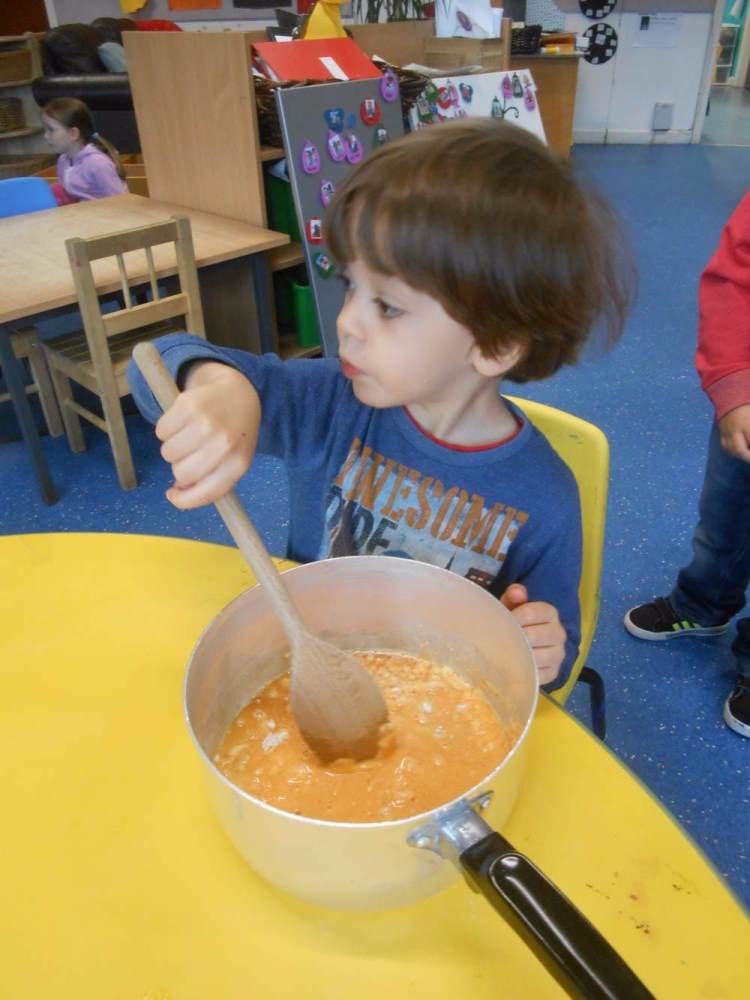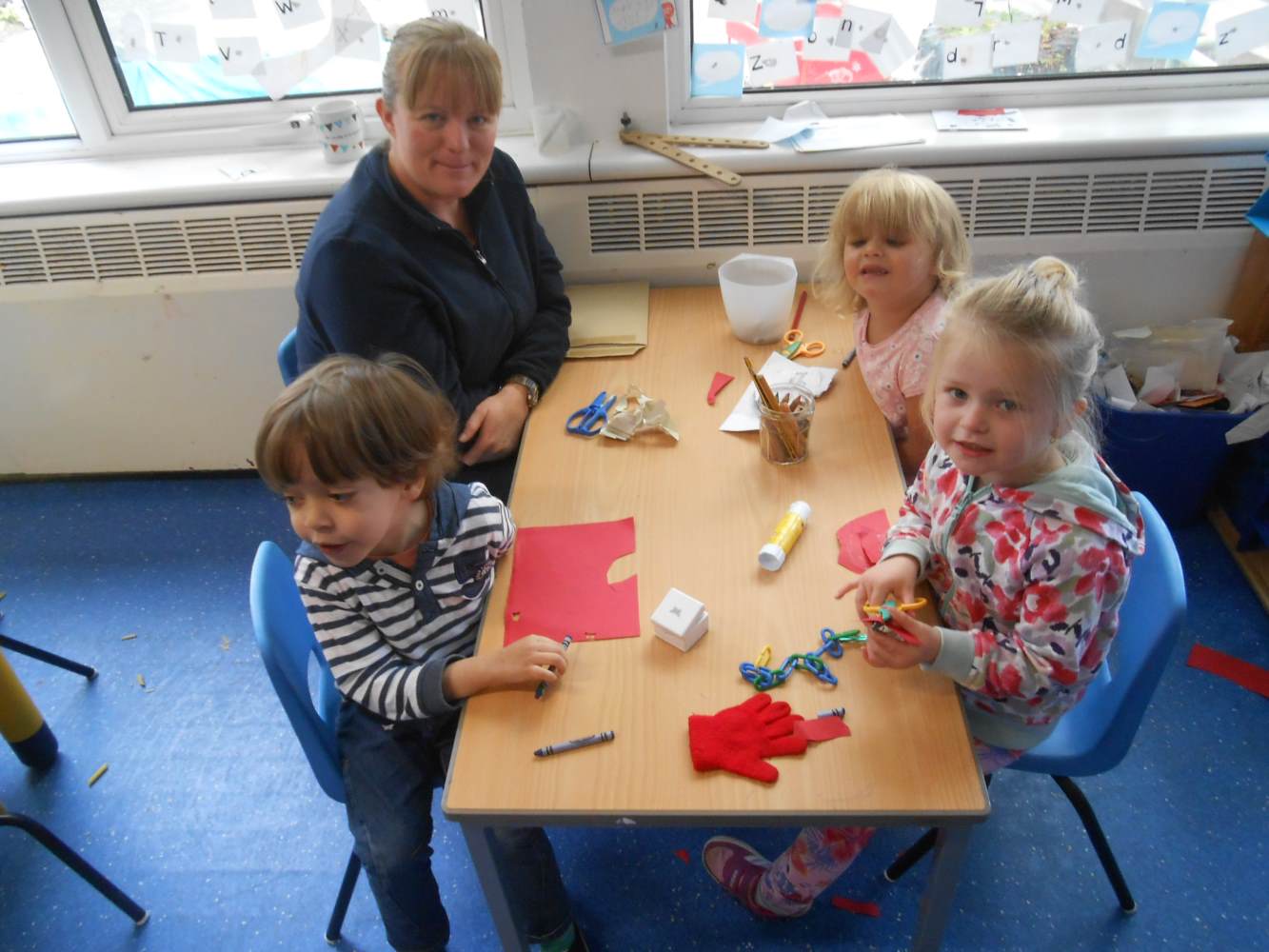 August and September 2016
Creating pictures and objects using different materials.
Exploring different materials to write with.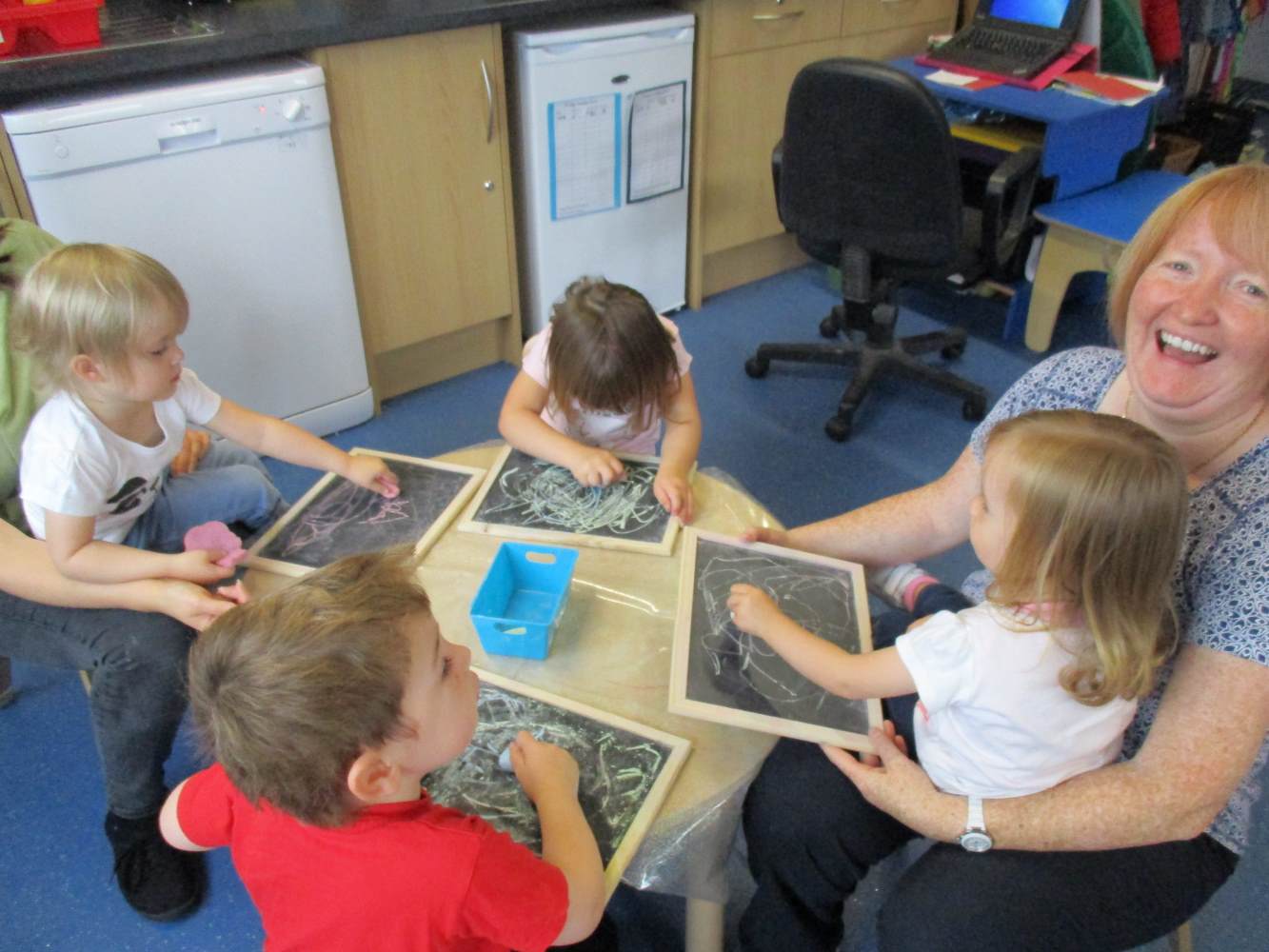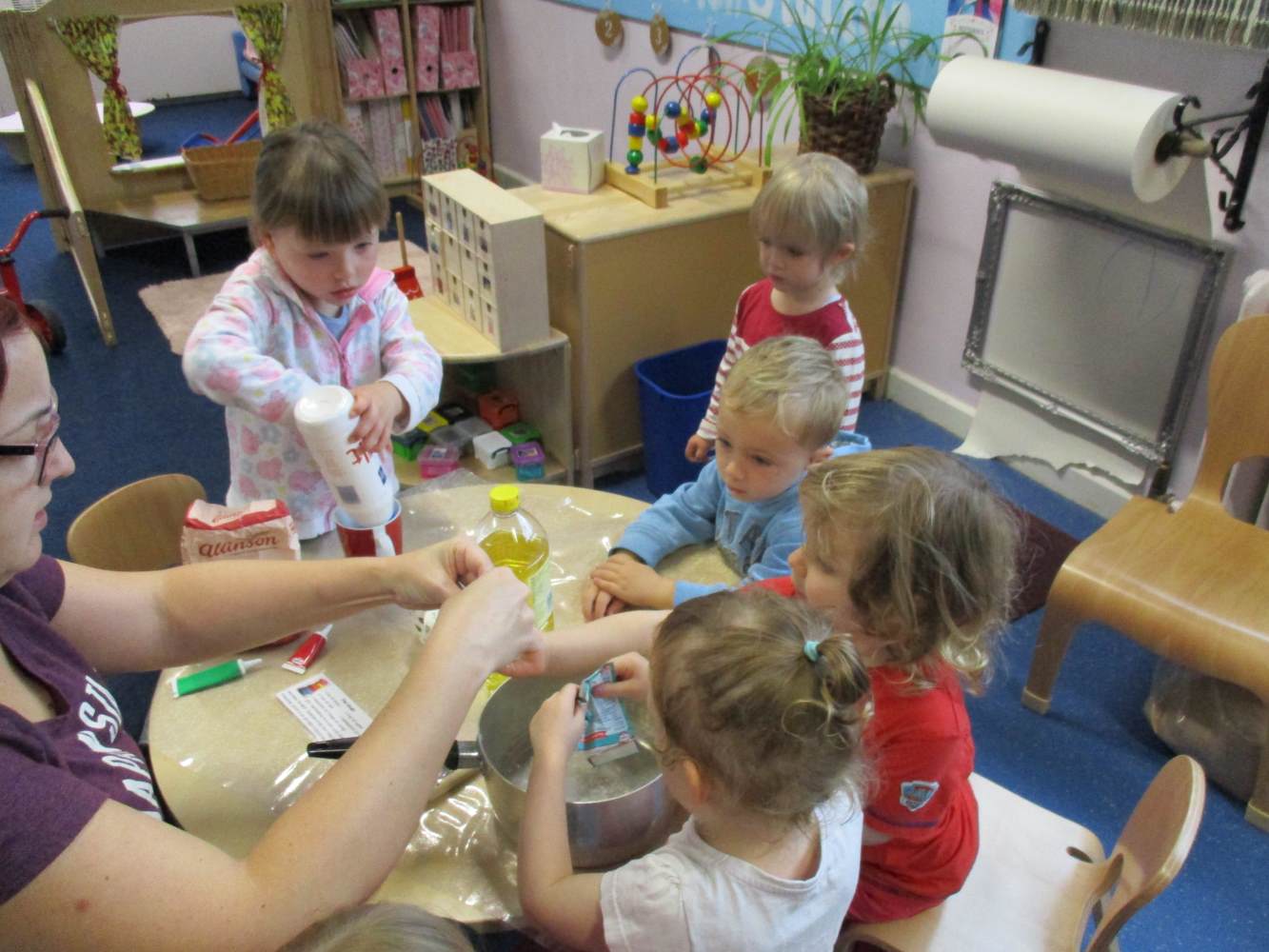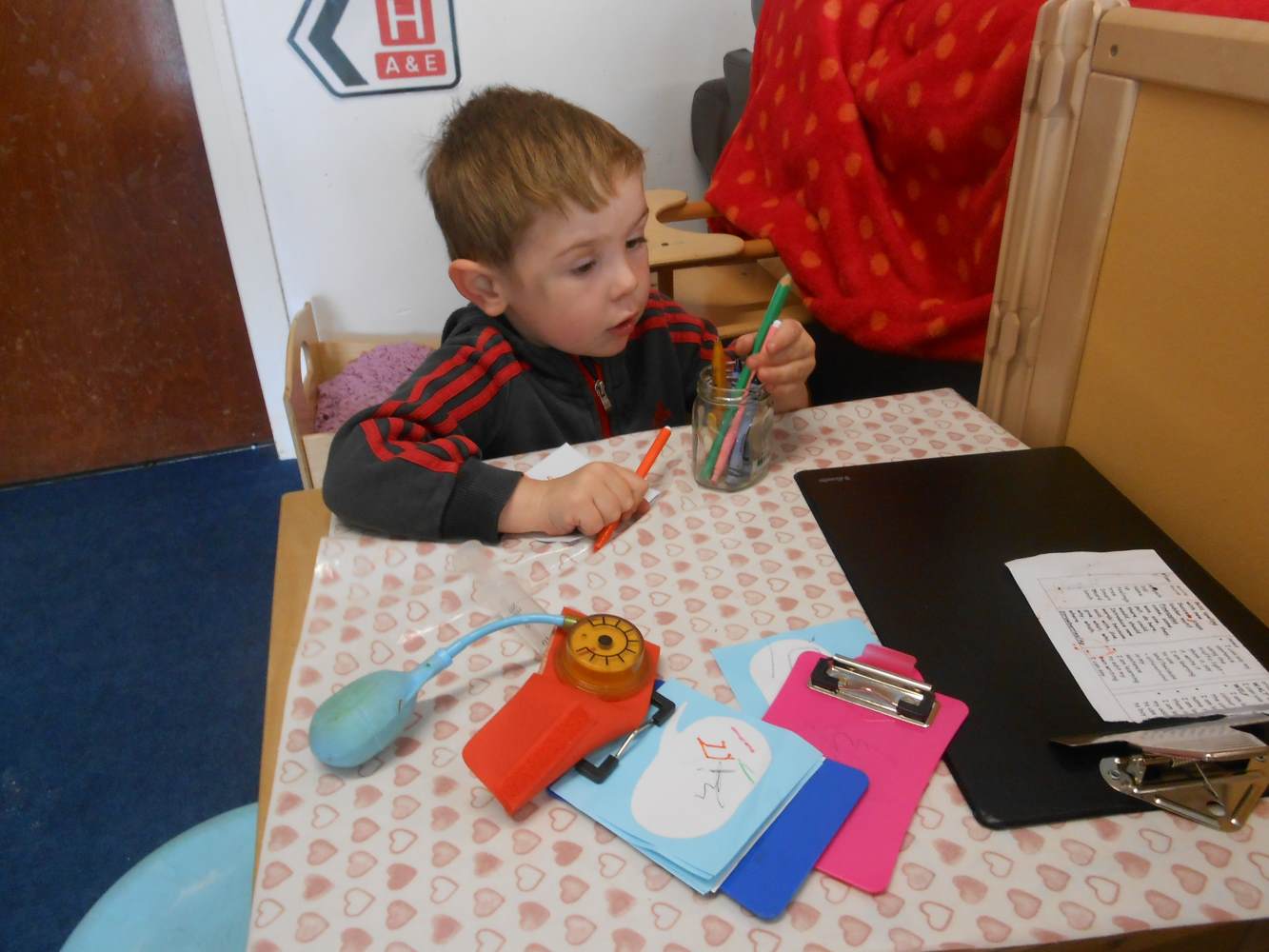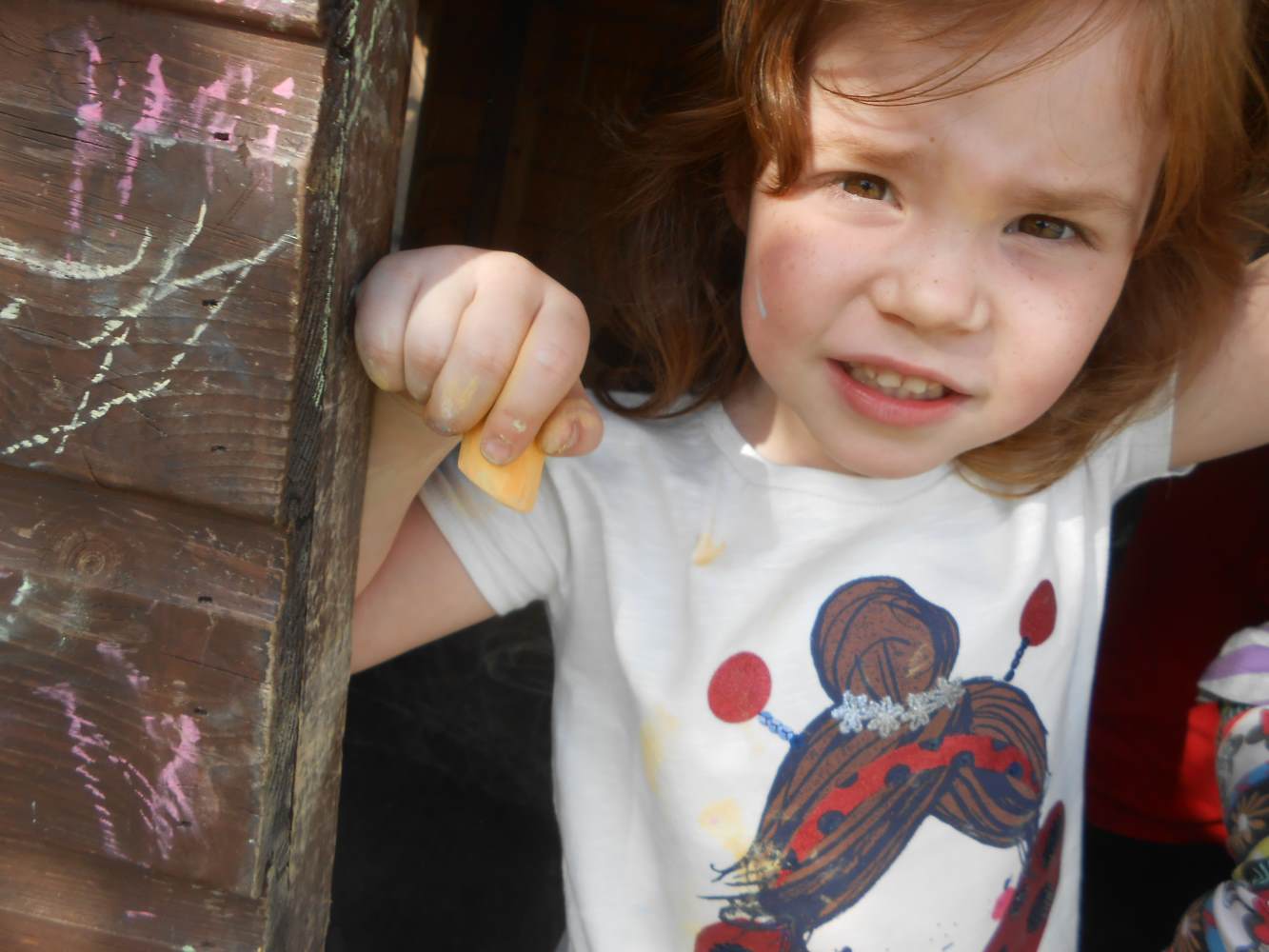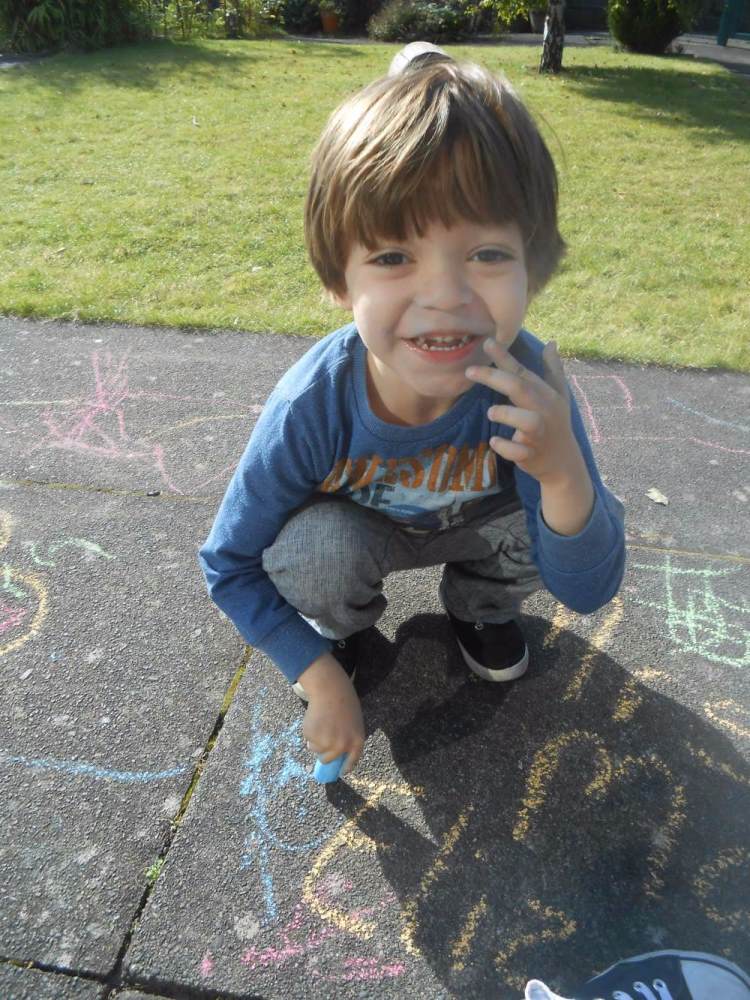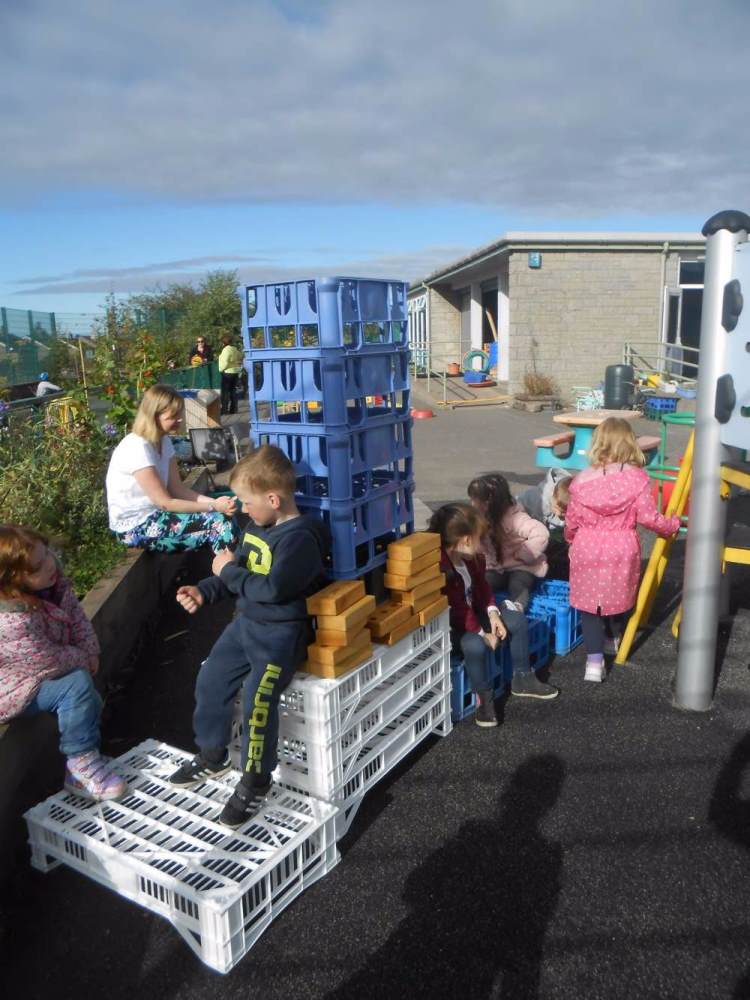 Creating the Enormous Crocodile and the muddy river.

Enjoying the rain and the puddles.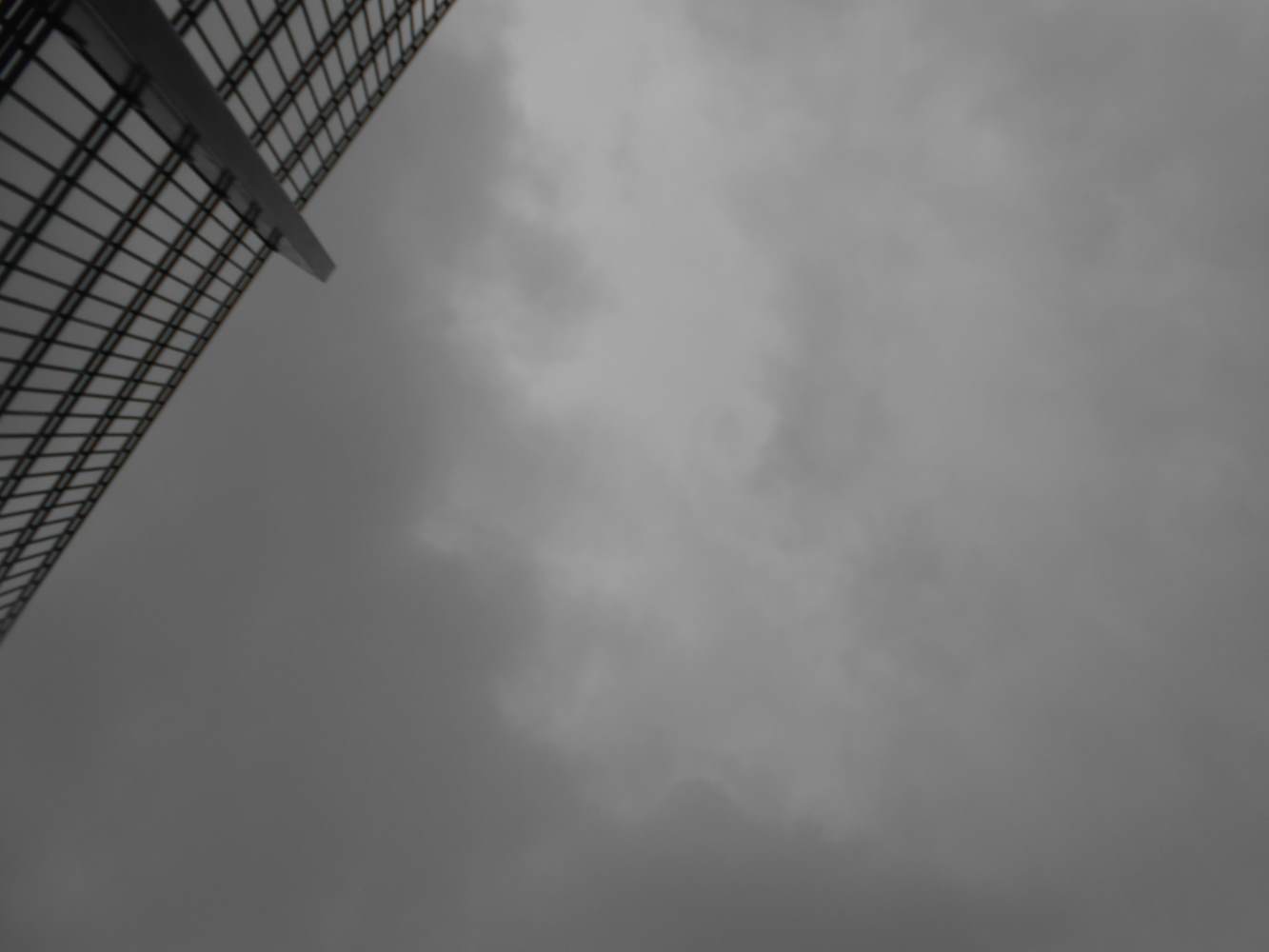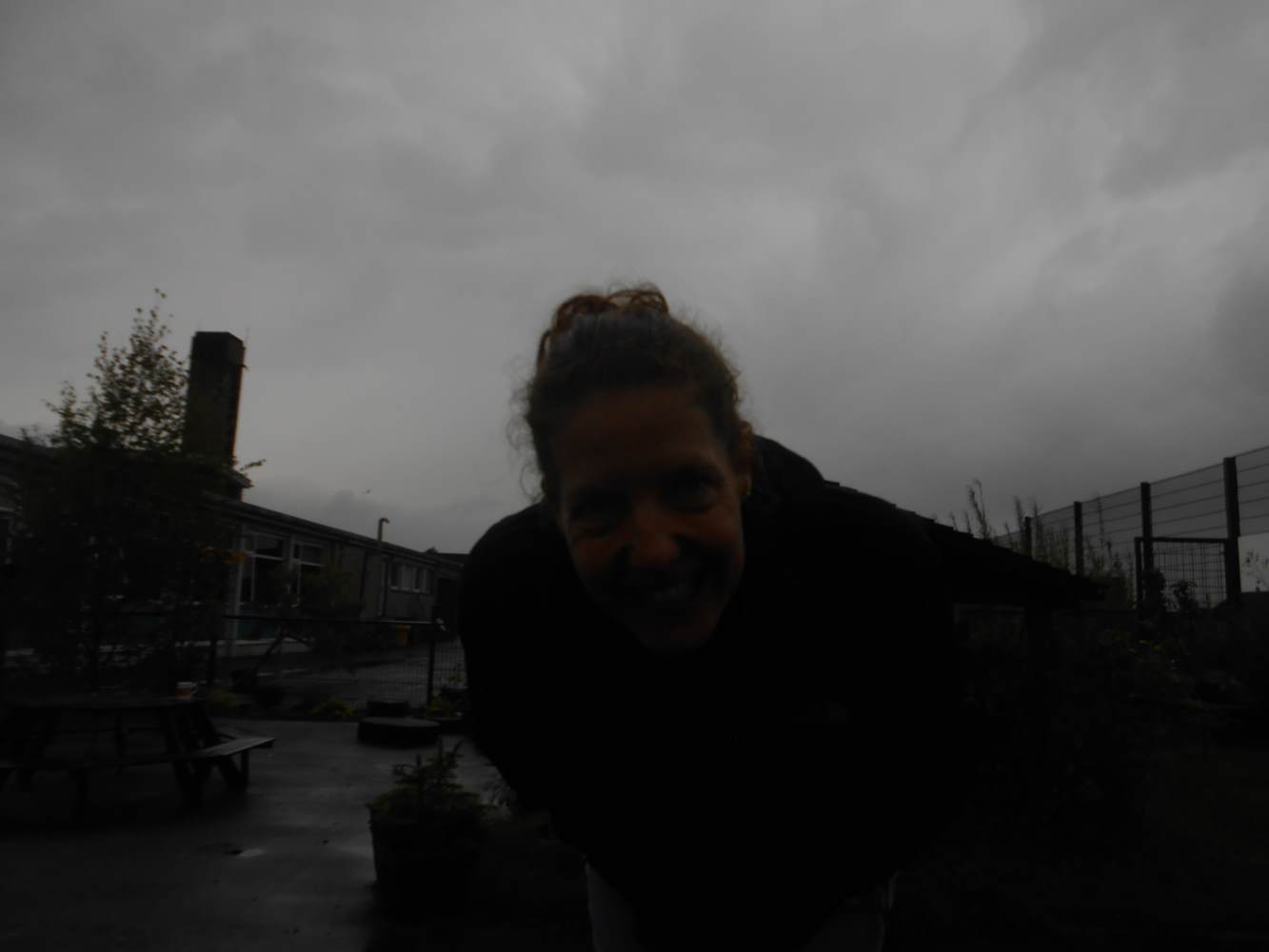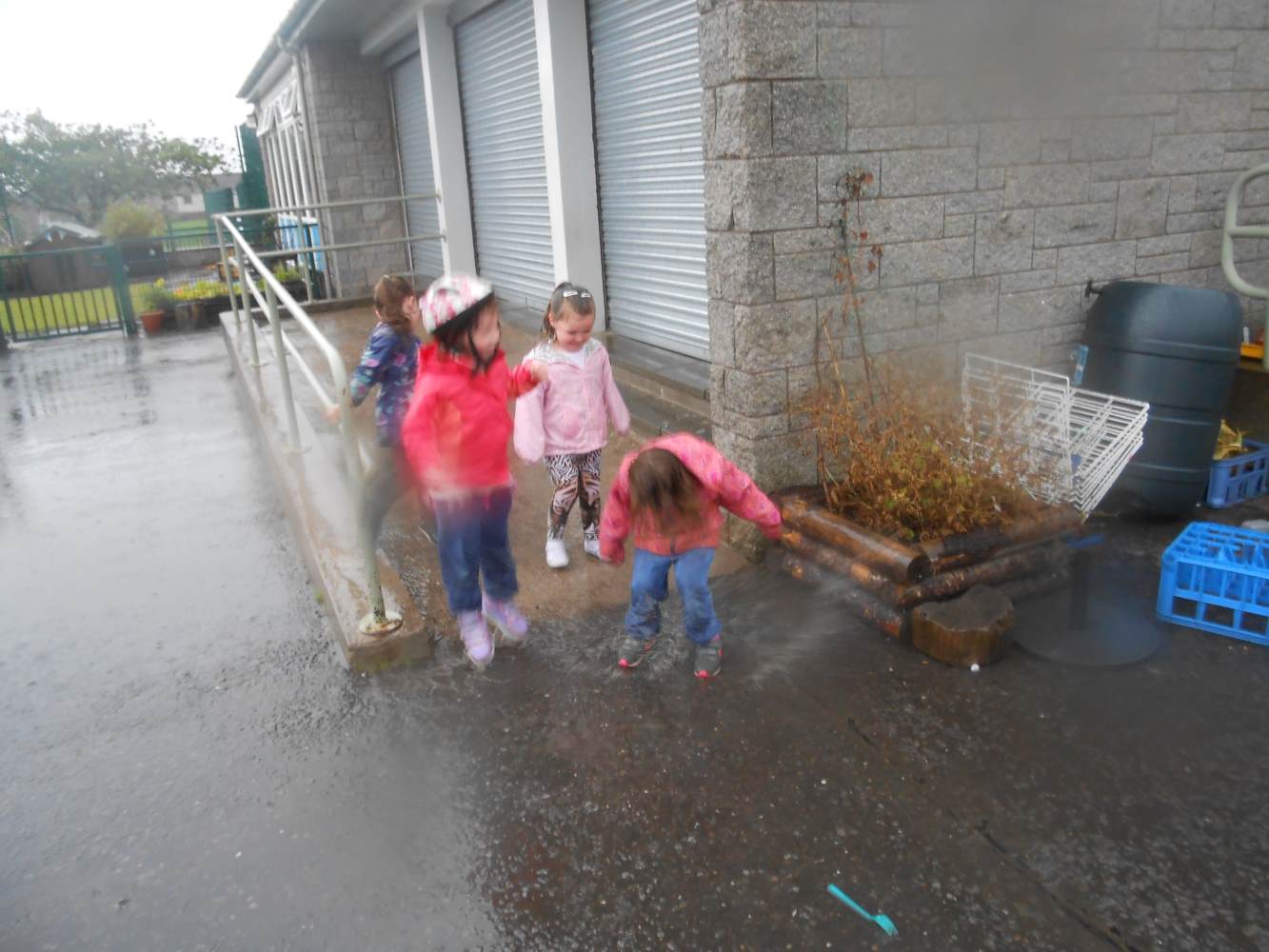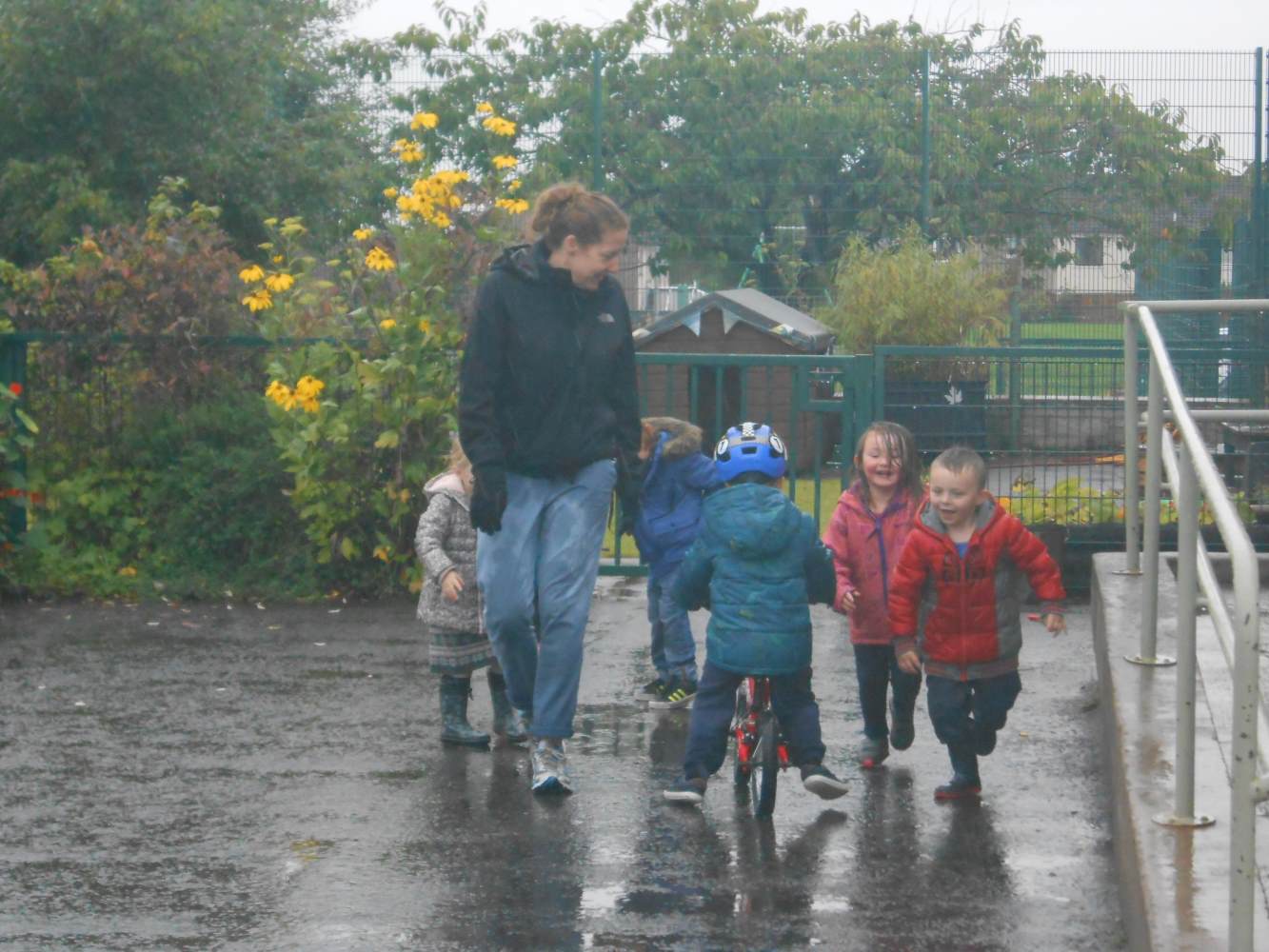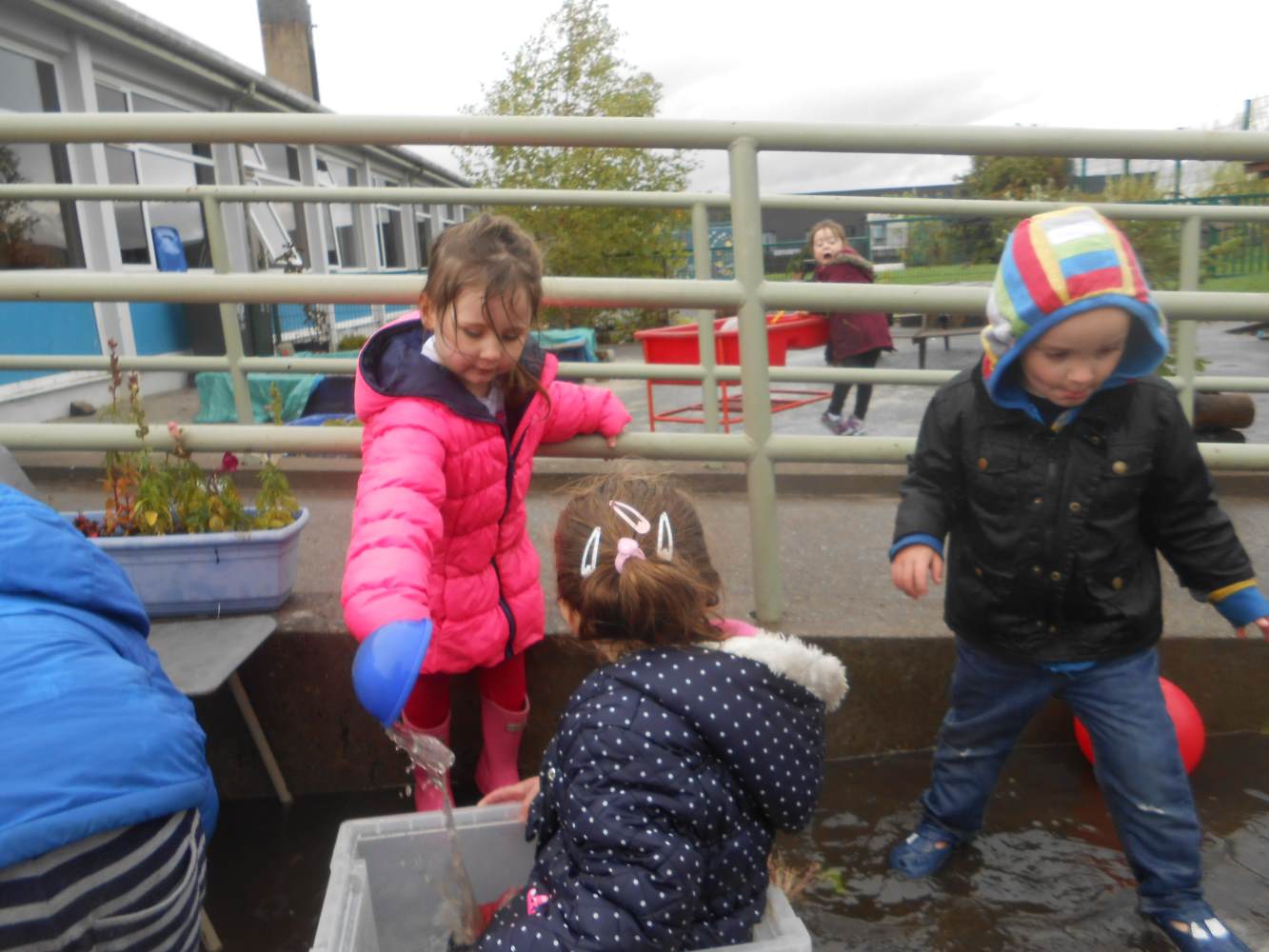 Some photos the children have taken.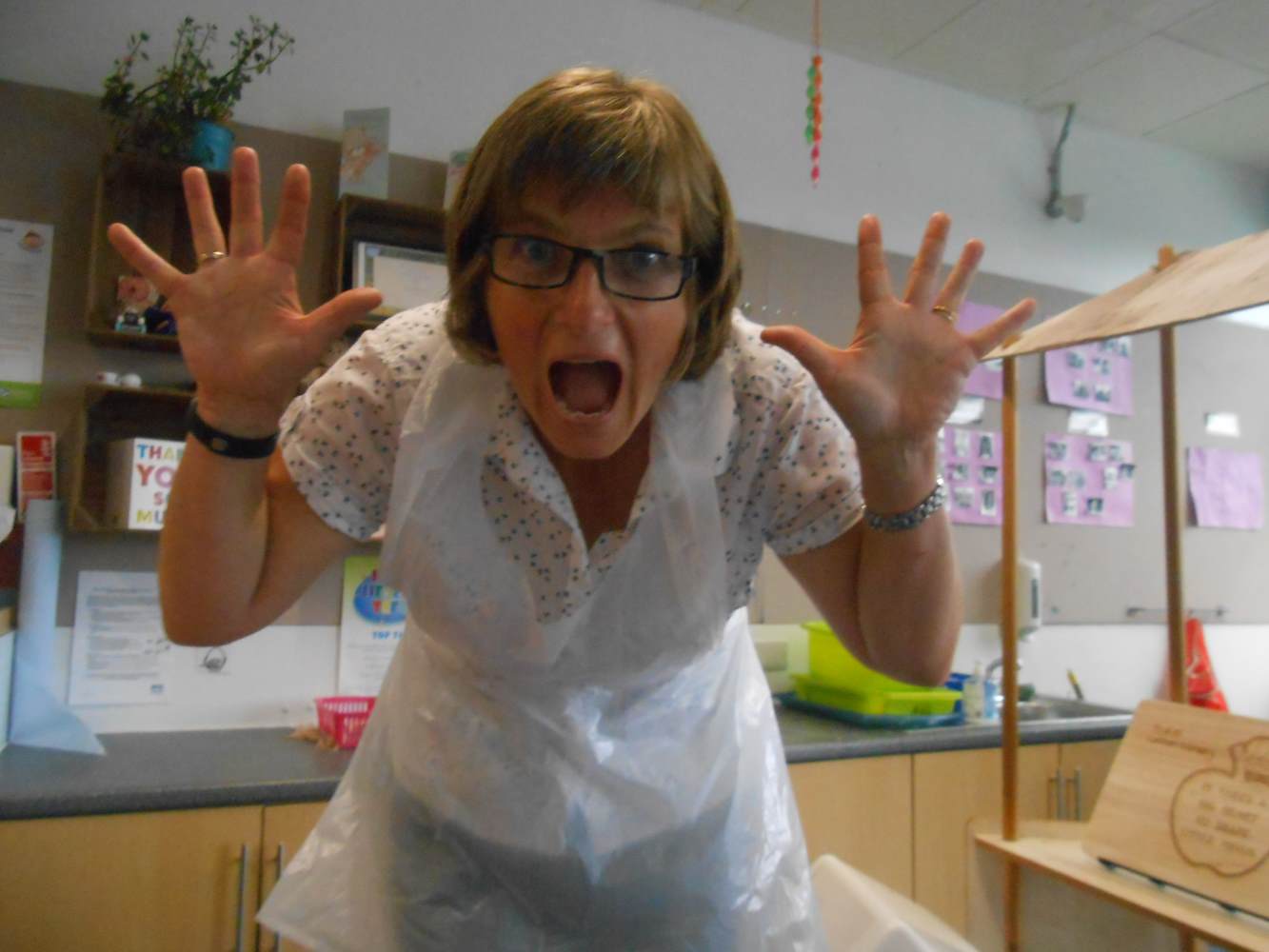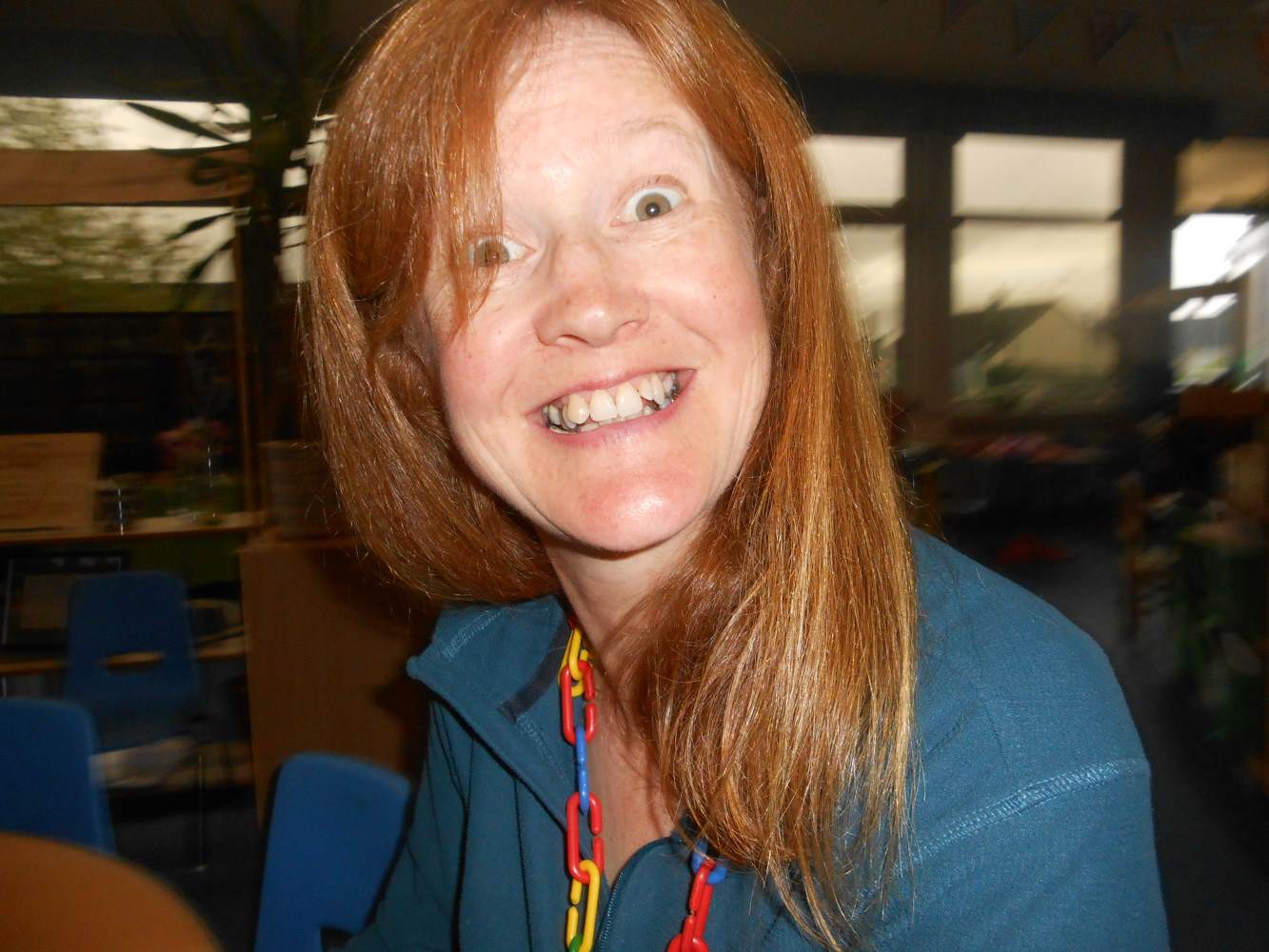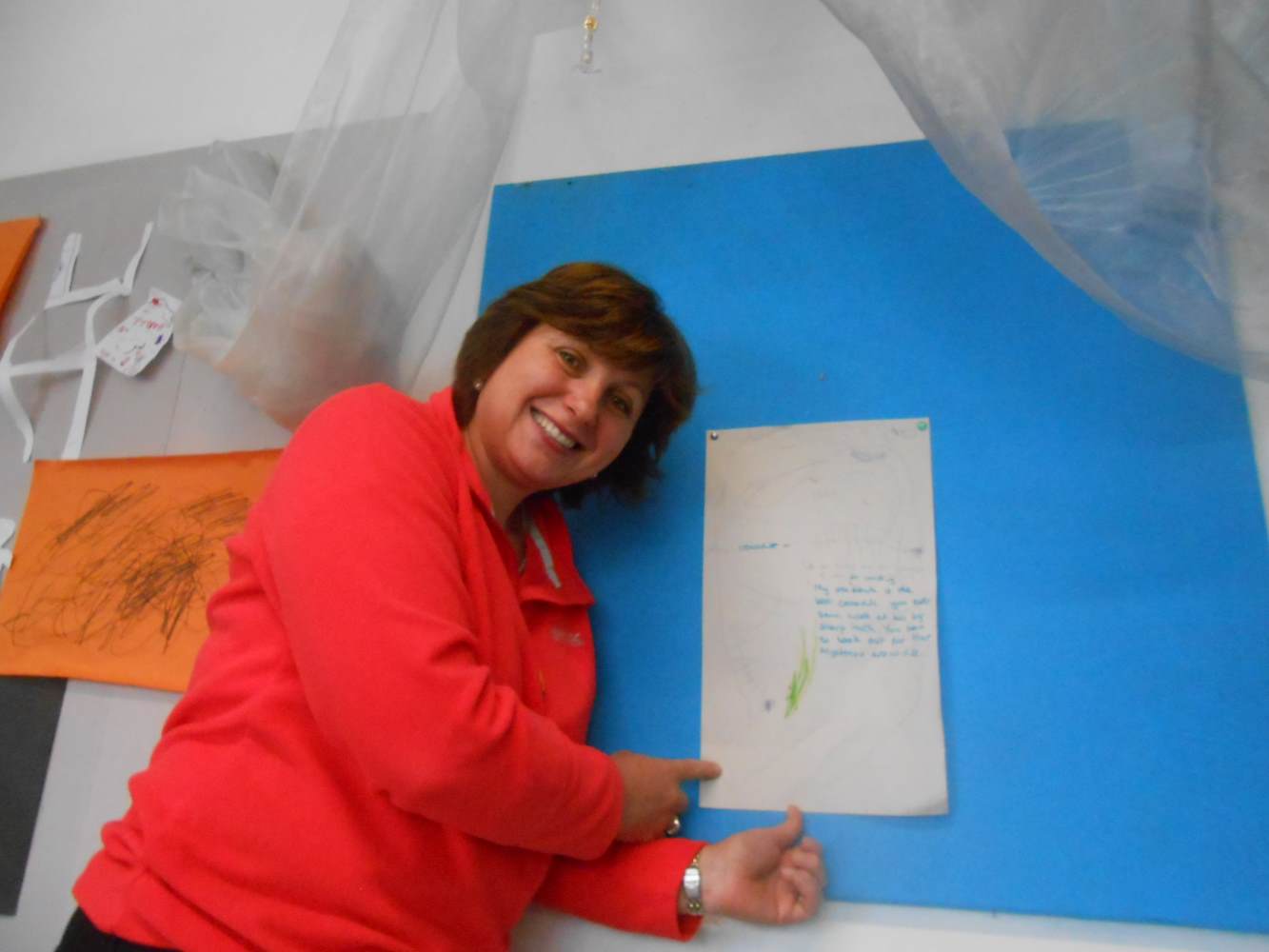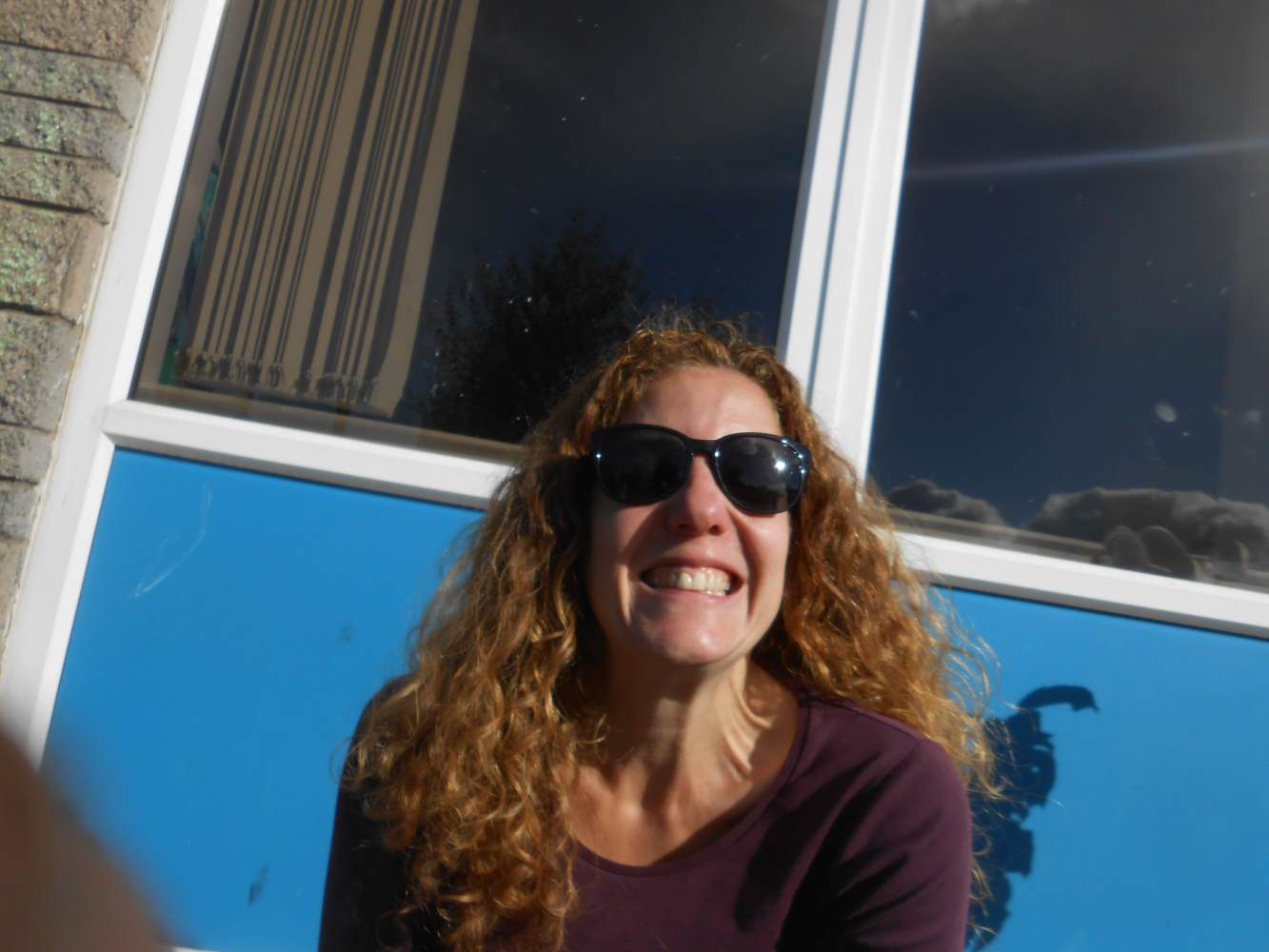 August 2016
All in Nursery have been having a super time making new friends and getting to know the nursery staff team.
Our nursery day -
Morning sessions: 8.45am – 11.57am
Afternoon sessions: 12.03 pm- 3.15pm
All day: 8.45am – 3.09pm.
We have group time at the end of each session. This is a really important time when the children spend time with their keyworker. If you need to collect your child early then please let us know in advance. If you are a bit early for pick up and no one is coming to the door when you buzz it is because we are with our groups but we will let you in at pick up time.
Please can you make sure that your child comes prepared to be outside in all weathers as the door to the nursery garden is always open no matter the weather outside. All children should bring with them a waterproof coat and a change of shoes (wellies would be great). Can you also make sure they have a full change of clothes, including pants/boxers and socks, as we do get some very big puddles in the nursery garden which are excellent for splashing and playing in.
Our planned learning can be found on our planning wall in the corridor and we welcome your input and feedback on this. Please speak to any of the nursery team or you can write a comment in your child's diary.
Term 1
So far this term we have been focusing on using our words to say how we feel and keeping ourselves and others safe whilst in nursery. We have been having lots of fun with messy play as this is something that the children have shown great interest in and is a fantastic way to develop many skills.
All children in nursery have will have individual learning targets and we would like you to help us with this. If there is something that you are focusing on at home with your child then please let us know. It may be encouraging them to say please, toilet training, using their words to say what they want, or trying new things.
All are very proud of the Enormous Crocodile and the muddy river that we made. Keep an eye on the corridor for more creatures appearing soon.
Remember remember the 5th of November, bonfire, hot chocolate and toasted marshmallows.