"Potato People" by Pamela Allen (16.05.18)
As part of our Mr Jazzy Potato Project we have been studying the story "Potato People". Primary 1 created their own potato people using the instructions from the book.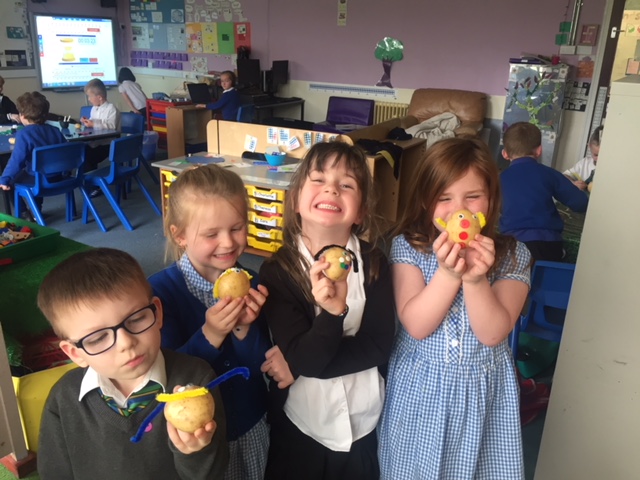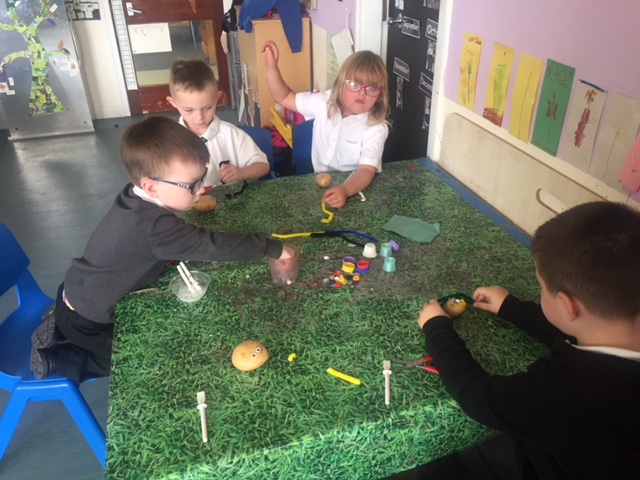 Our 5 Senses...(10.05.18)
We know that we have 5 senses and they are...
Sight (eyes)
hearing (ears)
taste (mouth)
touch (hands and feet)
smell (nose)
To explore our senses we had a walk around the school and sat under a blossom tree at the front of the school. We were able to talk about lots of things we uses our senses for...
"I smell the lunches." Riley C
"I see pictures of the giraffes on the wall." Brooke
"I feel the leaves from the (blossom) tree on my arms." Charlotte
"I hear the people talking at the bus stop." Theresa
"I see bus!" Laszlo
To explore our senses even more Miss McNamara made us a "senses picnic" with lots of different food that had different tastes, smells and even sounds when we were eating!
"The jelly is so slimy!" Alistair
"I can taste the sweets are bitter." Charlotte
"I hear the crisps crunching loud in my mouth!" Riley M
"The pickles are stinky! I can smell them over hear, it's a strong smell!" Dezstany-Rose
"The peach, grapefruit and pineapple are all like oranges and yellows." Theo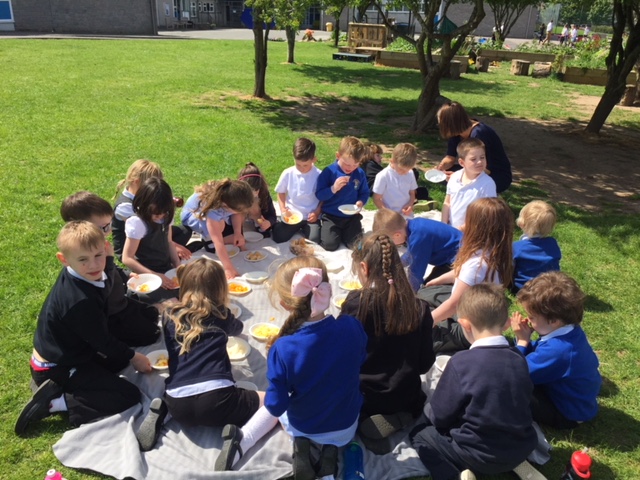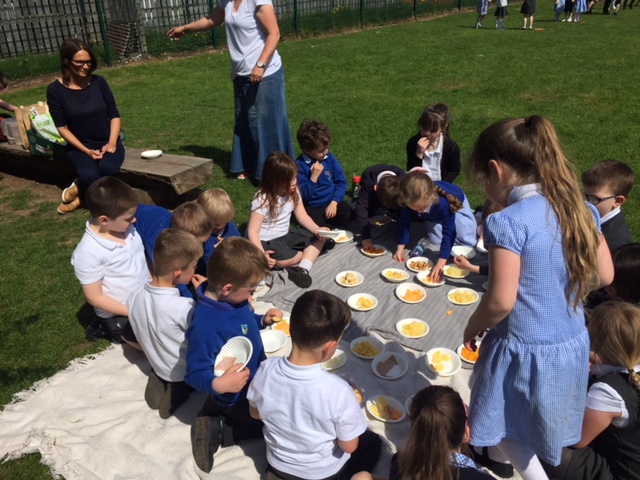 "One day I could be..." (02.05.18)
Primary 1 have been learning the amazing school song "One Day". We have been thinking about what we could be one day...
Miss McNamara wanted to be a zoo keeper and live in the zoo so she could look after animals all the time! She is glad she changed her mind and became a teacher :)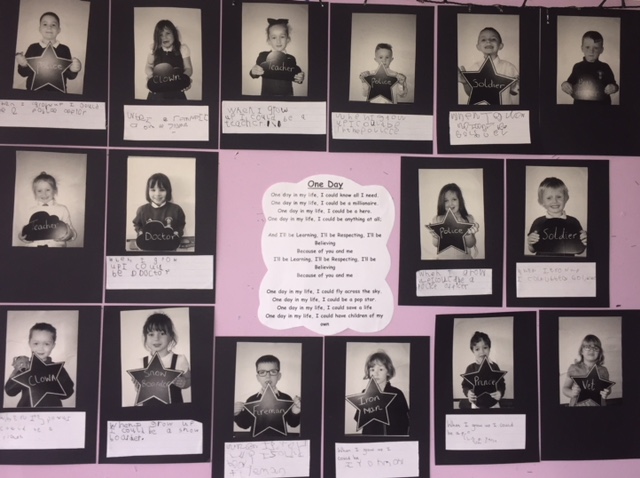 We have Primary 1s who want to be clowns, police officers, teachers, iron man, a doctor and even Iron Man...we can be anything one day...
Helpful Tips for reading (26.4.18)
Some of P1 have received their "Cats" reading book this week and we wanted to share some tips that might help at home...
Actions
We are great at using actions to help us remember our sounds...
Blending
Blending is when we read the word left to right. When we are learning new words it helps if we can break it down; have a look at these videos to see a simple way P1 are use to blend.
Reading
We have been really excited to take our books home to share with our adults, these are the tops tips P1 have to help them read at home:
1. "Be patient, some times you need to take time to read" Emily-Grace
2. "Use my finger to read each word, maybe mum will do that too!" Dezstany-Rose
3. "Say each sound then put them together (blending)." Theo
Giraffes can't Dance but P1 can... (23.4.18)
Primary 1 had lots of questions about the dances mentioned in our CHAT with stories book "Giraffes Can't Dance" and what better way to answer than have a go at the dances ourselves...
"The warthogs started waltzing"....
"The rhinos rock and rolled"...
"The lions danced a tango that was elegant and bold"...
"The chimps all did a cha-cha with a very Latin feel"...
"eight baboons then teamed up for a splendid Scottish reel"...
Giraffes Can't Dance (17.4.18)
Giraffes Can't Dance is our first CHAT with stories book this term; lots of children knew the story and think they have the book at home that they can read too!
Word Aware: Brave
Talk to your young person about the word "brave"
Brave means that we aren't being scared. Can you tell me when you have been brave?
-how many claps does brave have (1)
-is this a long or not a long word (not a long word)
- what sound do you hear at the start ("b")
Writing with Colourful Semantics (22.3.18)
We have been focusing on using our colourful semantics to build sentences. Some of us are writing our sentences while others are drawing using colourful semantics and self assessing their sentence using the colour code.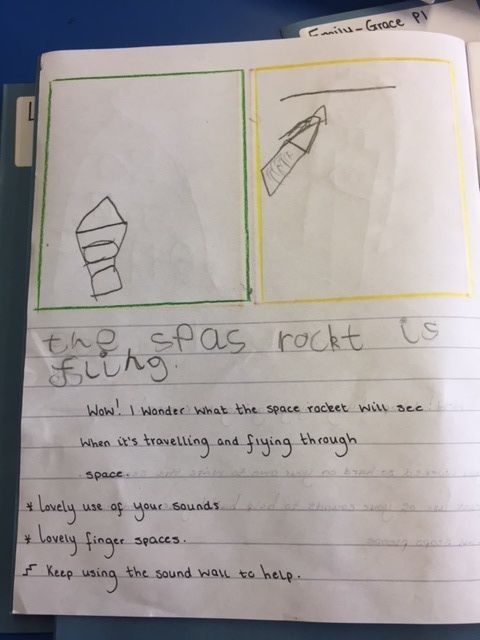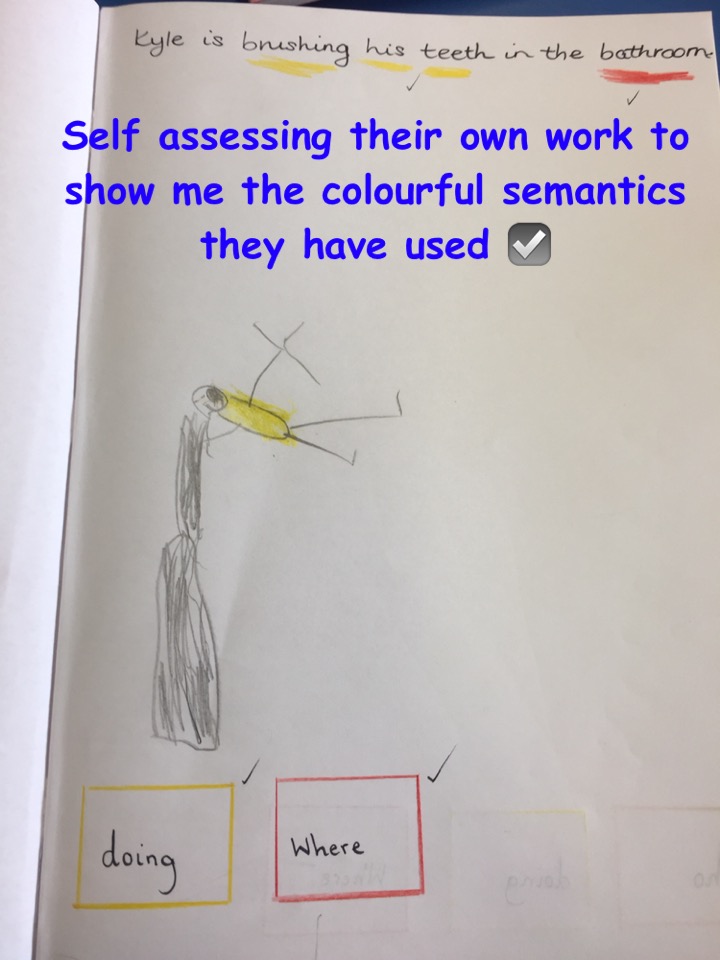 Using colourful semantics in our writing is supporting our confidence in making sentences and we like that we can self-assess if we have used the right semantics.
If you would like to talk about colourful semantics and how they are used to support writing please come and see Miss McNamara or come to Read and Play on Fridays, 2.30pm-3pm in primary 1.
Monkey Puzzle (20.3.18)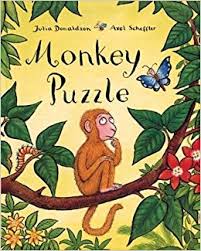 Monkey Puzzle is our fifth book for CHAT with stories. We are talking about the word discover.
Word Aware: discover
We know that discover:
-starts with a "d"
-has 3 claps
-we think this is a long word
-means to look and to find
Talk to your young person about the word discover:
-can they say it in a sentence?
-can they say it 5 times in a different way each time (shout, whisper...)
Draw a picture together of you discovering something...
There is even the Monkey Puzzle song that you can learn together. Julia Donaldson singing the Monkey Puzzle song with Makaton actions...
No Read and Play this Friday 16th March
As I will be out of school on Friday there will be no Read and Play this Friday. Thank you to those who have managed to join us, the class have loved sharing their stories!
Mr Jazzy Potato Project (15.3.18)
We are loving our Mr Jazzy Potato Project! Primary 1 planted their tubers on the 5th of March and we are seeing changed already!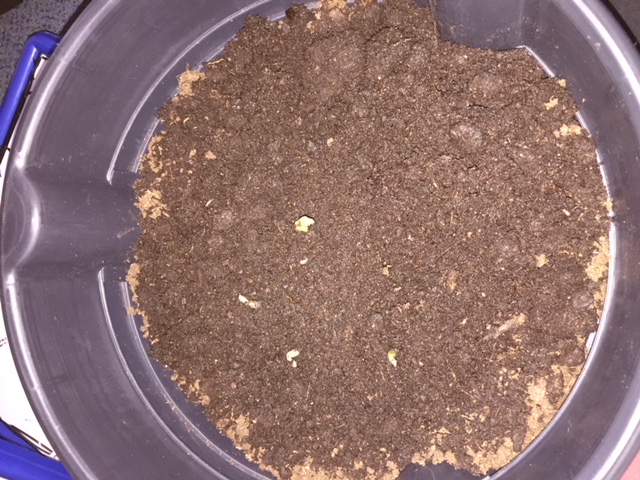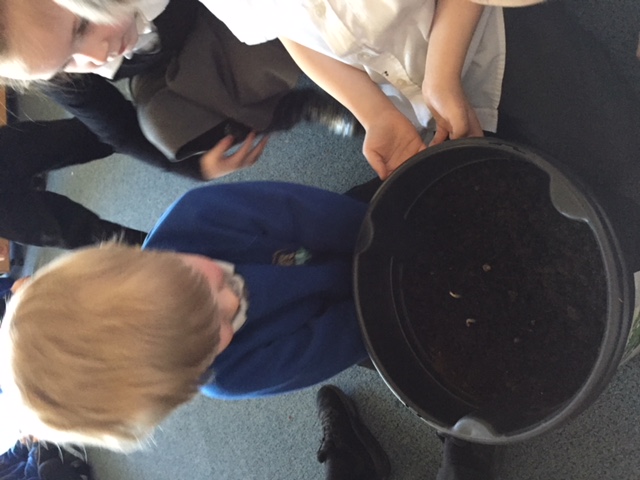 "I see the little leaves and a stem I think." Riley
"We planted the tubers and I think this is them growing." Charlotte
Primary 1 have loved learning about how the potatoes are going to grow and having the responsibility of looking after their "crop" that we decided to have a go at growing some other things....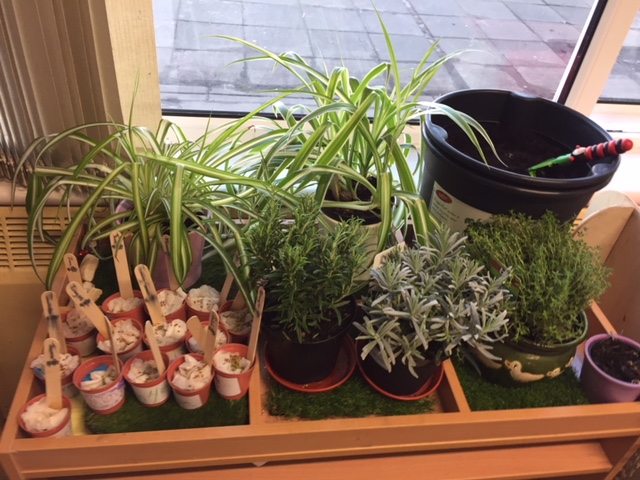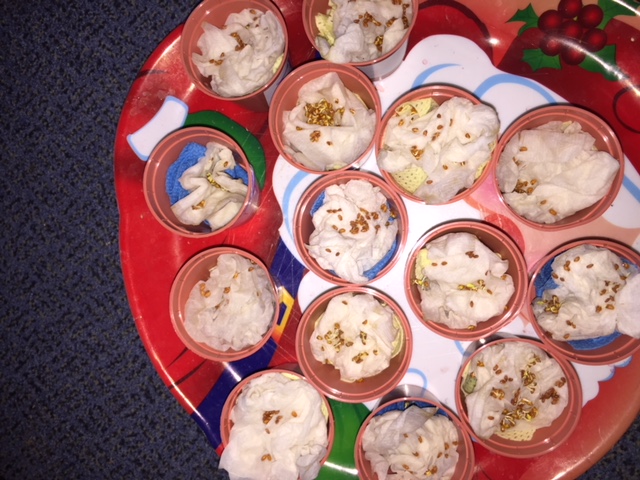 At the moment we are growing: our potatoes, cress, thyme, rosemary, lavender, sunflowers and carrots! We have learned that to grow all plants need water, sun (light) and air.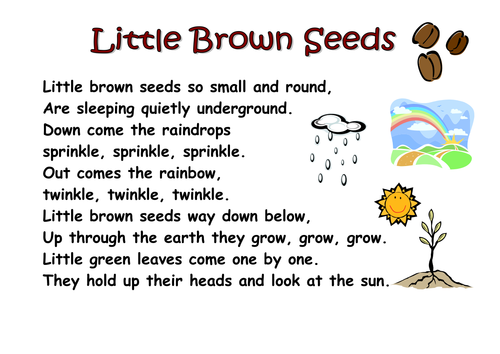 Peace in P1 (9.3.18)
Primary 1 have been practicing being peaceful, we know this means being quiet. At the end of every day we are doing relaxation to help us be peaceful; we get to find a space and think about our day. Miss McNamara puts on music and we can watch the fish swimming in the sea on the screen.
"I feel so sleepy after it" Cheyene
"I like watching the fish, fish party!" Riley M
Have your own relaxation time at home to talk about how you feel when you are being peaceful. We use a calm screen to help focus some who find it tricky to switch off, this is our favourite at the moment...
"Peace at Last" (07.03.18)
This is our fourth book for CHAT with stories. We are learning about the word peace, what is peaceful and what is not peaceful.
Word Aware: Peace
we know that peace...
-starts with the sound 'p'
-has only 1 clap
-is a short word
-means quiet
Talk your young person about the word peace:
-Can they say the word in a sentence?
-What words rhyme with peace? fleece, niece, Greece...
Story Telling Together (06.03.18)
Miss McNamara is looking forward to seeing parents on Friday (9th March) to share a story. We will try different approaches to story telling and you can share some learning with your young person!
Home Learning Books (06.03.18)
Home learning books have been sent out today, I have also included a Gruffalo word aware sheet to talk about the word "terrible".
Please return home learning books on Thursday 8th March.
Happy World Book Day (01.03.18)
We started preparing for World Book Day yesterday by creating a story telling corner in the classroom. Children led the move with their ideas and were very excited to read and share stories; I was delighted to see some reluctant readers with their nose in a book!
Unfortunately, the weather has stopped us getting into school, but won't stop us sharing a story! Here is our favourite story from our Book Bug Bag "Gorilla Loves Vanilla" being read by the author Chae Strathie.
Story Telling Together (21.02.18)
Parents are invited to join us on a Friday afternoons to share a story together. We will look at different ways to approach story telling that I use in class and can be done at home too!
This will start on Friday 2nd March, 2.30pm-3pm.
Calling all Parent's....come in and join us for soft starts! (20.02.18)
We would like to welcome all parents to join us for our morning soft starts from 9am-9.30am, stay for some play and a story!
We look forward to seeing you!
"Mr Jazzy Potato" Project by the Royal Highland Education Trust (RHET)
Primary 1 will be taking part in this amazing project which has been organised by RHET for schools across Perth and Kinross. Miss McNamara collected everything we would need for the project and was very excited to show primary 1.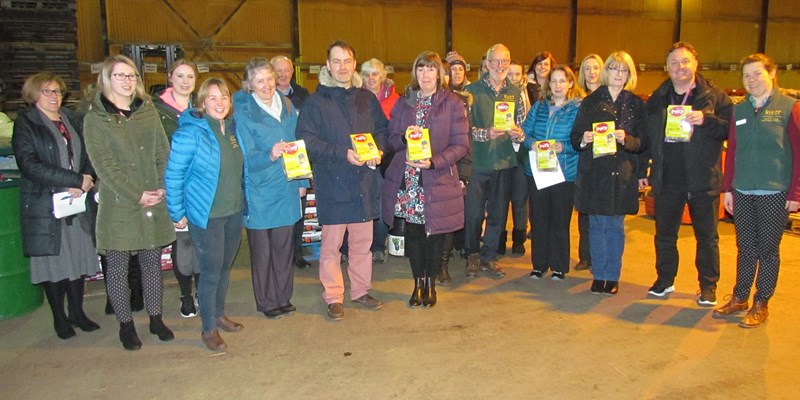 Primary 1 will be visited by RHET's Potato Professor who will teach the children everything they need to know about the mighty spud! The "story" of the potato will hopefully unfold in front of Primary 1's eyes before we harvest our potatoes; we will be assisted in our harvest by a local farmer who will come into the class and help us harvest and weigh our potatoes.
Primary 1 will also be entering competitions for: heaviest crop, best potato project and best healthy potato snack.
Cave Paintings (16.02.18)
Did you know that early humans were artists?
We read the story Cave Baby in class and learned that early humans didn't have story books to tell stories instead they painted stories onto their cave walls. We learned that they didn't have paints like we do so they had to use berries, mud, clay, coal and even animal blood!!
Listen Cave Baby at home and with your young person think about what early humans would paint on their cave walls, what would you paint...?
For a little extra fun have a listen to the Cave Baby song by Julia Donalson
"It's a Gruffalo!" (13.02.18)
Our third story for CHAT with stories is The Gruffalo, I think this is one of our favourite stories!
Word Aware: Terrible
We know that terrible...
-starts with the sound 't'
-has 3 claps
-it means when something is not good
You can help extend this learning at home with some simple activities...
-think of examples of what would be terrible
-use the word in a sentence
We have been learning The Gruffalo song with Makaton actions, you can watch the performance of the song by Julia Donaldson.
Story Telling Together (09.02.18)
Thank you to all of those that joined us in class to share a story. The class were delighted to share their learning with you
all!
The Big Bang! (06.02.18)
We have been learning about the Big Bang and what scientists believe created Earth. We have investigated what happened to cause the Big Bang and carried out experiments using a balloons filled with confetti...The balloon was our expanding universe and when we created our own Big Bang the confetti covered the floor; this was the stars and planets.
We have thought about and looked at what the Earth might have looked like back at the very start...
We think that Earth...
-didn't have any plants
-had no people or animals
- didn't have any houses
-looked like a dessert
Timelines have been helping us learn about how the Earth changed and what order these events happened.

"I think that when people started they didn't look like us" Riley
"Even the animals were different!" Lailiah
"I wonder how the fish got legs to come out of the water?" Charlotte
Our word of the week is: Evolve
We are beginning to understand that evolve means to change slowly over time.
Talk to me about...
The Big Bang and all my learning about the beginning of Earth.
Finger Gym (05.02.18)
Finger gym activities are part of the daily routine of primary 1. Writing is not just about holding a pencil and forming letters on a page. Development of writing skills also depend on:
-Balance- being able to sit independently with arms free to use pencils, crayons, pens
-Wrist stability- the ability to hold wrists in a stable and controlled position
-Grasp- the ability to grasp and release a writing tool
-Using both hands- the ability to use both hands at the same time e.g. right hand writes with the pencil and left hands hold the paper
-Co-ordination- the ability to co-ordinate the eyes with the shoulder, elbow, wrist and finger movements
-Attention- the ability to concentrate on a task
-Sensory experiences- the ability to tolerate sensory and motor experiences e.g. crayons, paint, sand, foam
Finger gym provides these experiences through fun problem solving activities and games. We love our finger gym time!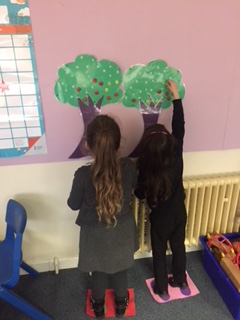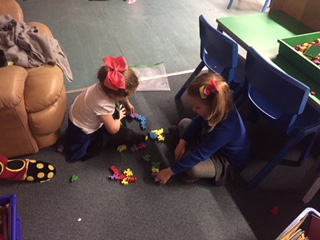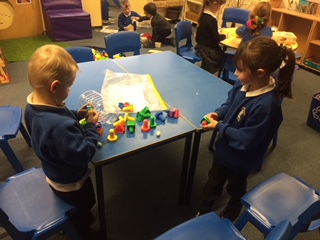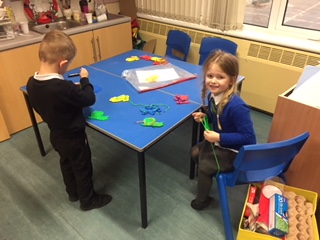 Sharing our Learning
Primary 1 are very lucky this term to be sharing their learning with lots of different people. As well as having Sophie for a story we are also delighted to have Miss Creedican and Mrs Thomson joining us on our learning journey this week!
Another busy week for Primary 1...(29.1.18-2.2.18)
In Primary 1 this week we have been busy learning our number bonds up to 10, some of us are even moving on to number bonds up to 20! We are enjoying working with a partner to move around number activities.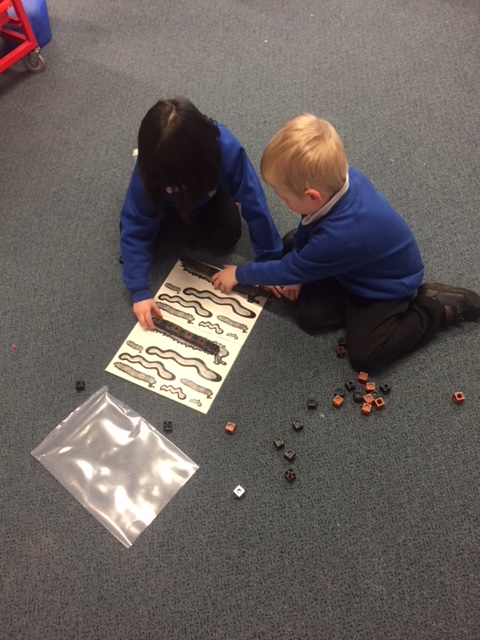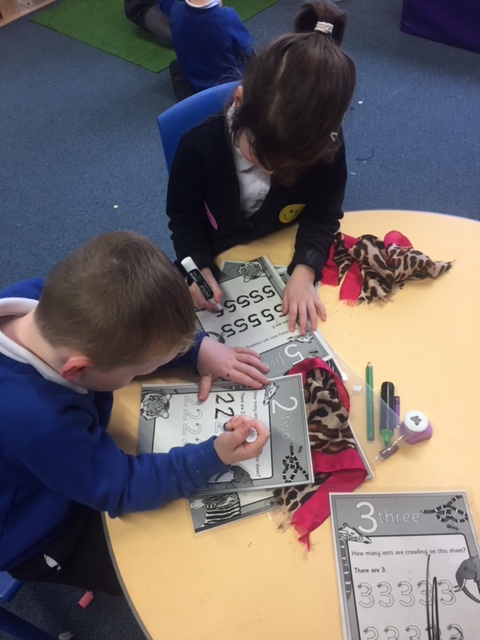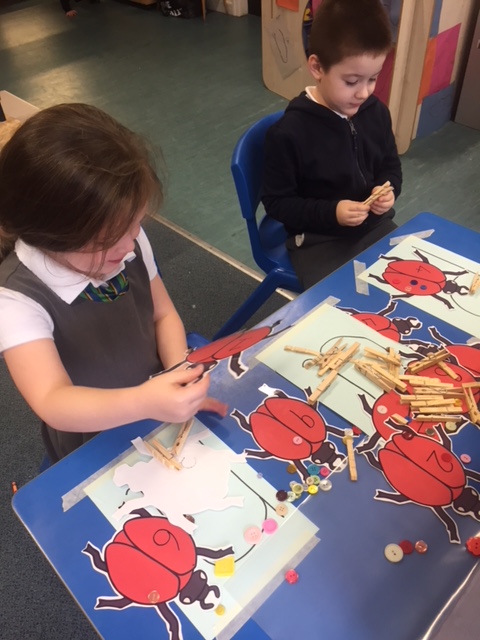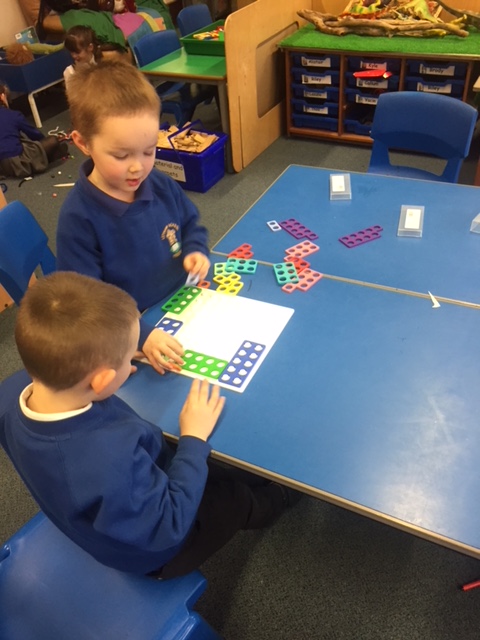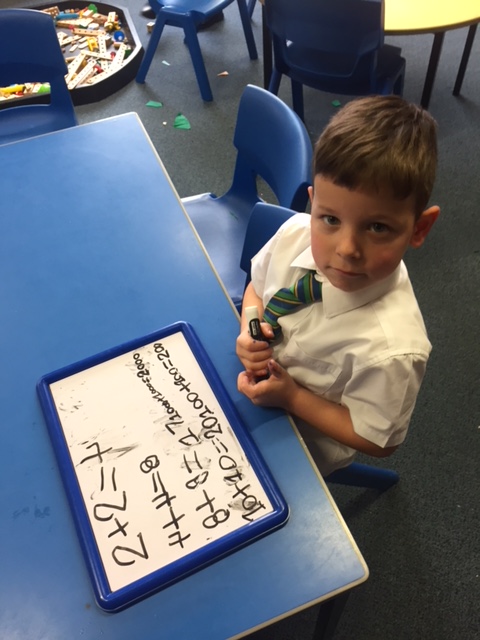 Our focus in maths at the moment is measurement. We have been talking lots about length and height: long, longer, longest, tall, taller, tallest. This can be carried on at home as a game "find me something longer than....".
CHAT with Stories continued this week and we love our new book "The Smartest Giant in Town". Sophie read us the story and introduced us to our word of the week, "smart".
We know that smart...
-has only one clap
-starts with a "s"
- means to look clean and tidy
-rhymes with cart
Primary 1 are developing their use of Colourful Semantics to make a sentence. We are using "who", "doing" and "where" to start building sentences, "the giant was walking in town." If you would like more information on Colourful Semantics and how we are using it in class please come and see me!
Archaeology in P1
Primary 1 will be working on a topic based around archaeology and challenging them to think about how we know what we do about the past. We will be looking specifically at the Ice Age and the Stone Age.
After looking at images of what the Ice Age and Stone Age might have looked like we had lots of questions.We will use the children's questions, thoughts and observations to direct us to what they want to learn.
"The animals look like animals today but so different!" Brody
"What are the people wearing?" Dezstany-Rose
"What did they eat?" Callum
"I think they would go hunting." Charlotte
"What did the children do? I don't think they had things like us." Emily Grace
There were many more great questions and thoughts which will be leading us into a very exciting topic of archaeology, excavations and exploring the way of life during these times.
Performance of Katie Bairdie had a Coo...(26.1.18)
Primary 1 performed their class song in front of pupils and staff today. They did fantastic!
Primary 1 worked in collaboration with Primary 1/2 to learn the song "Katie Bairdie had a Coo". They performed the song in front of pupils and staff at the Rabbie Burns Get Together.
Our experiences and learning outcomes
I have experienced the energy and excitement of presenting/performing for audiences and being part of an audience for other people's presentations/performances.
Learning opportunities
We worked in collaboration with P1/2 to learn the song. We worked as a large group in Miss Simpsons classroom which meant learning not to be distracted by new people or a new learning environment; there were lots of toys we hadn't seen before that we were keen to play with!
Primary 1 learned and used Makaton sign to support their song. This meant thinking about words and actions!
We shared likes and dislikes about the chosen song. We all had parts that we liked the best. We were able to share our thoughts in different ways: drawing, talking, role play, puppets, solo performances of our favourite parts.
We are learning to listen to each other while performing to stay in time. Primary 1 have learned that to be good performers you must work together and this means listening to each other.
A story map of the song helped us learn the sequence.
We enjoyed listening to the other poems and songs.
Home Learning Books (19.01.18)
Home learning books have now been sent home. Inside there is a guide that will help you with the chosen word aware words from the story. Have fun reading the story to your young person or maybe acting out some of your favourite parts!
Book and book bag must be returned on Wednesday 24th January. Books must be returned before a new one is given.
If you have any questions please come in and see me.
Katie Bairdie had a Coo...(18.01.18)
Primary 1 are learning a new song for our Rabbie Burns Get Together and we love it! I think some of you will become familiar with it very soon!
Our first piece of home learning are the song lyrics to look at with your young person. Have fun talking or singing through it.
Here is a great link to the Scottish Book Trust song and lyrics to the song...
http://scottishbooktrust.com/bookbug/resources/songs-rhymes/scots/katie-bairdie
CHAT with Stories (16.01.18)
We are delighted to have started our block of Fun with Narrative using the CHAT with Stories programme developed by NHS Tayside.
2 weeks will be spent on each selected book. The main areas targeted in these 2 weeks are:
Basic narrative signposting
Understanding and using question words
Introducing early sentence structure
Expanding vocabulary
Teaching skills for vocabulary learning
Phonological awareness
The first book we will be focusing on is the much loved book "We're Going on a Bear Hunt". In class we have made our own story map for the wall to help us remember the story and have had great fun acting it out! Our favourite part is going through the "thick, oozy mud"!
Word aware: scared
we know that scared...
-starts with the sound "s"
-has only one clap; we were surprised by that! some people thought it would be a long word
-means to feel worried or frightened
-we all have different things we are scared of
-Miss McNamara is scared of spiders (we realised this when we found one in the classroom...!)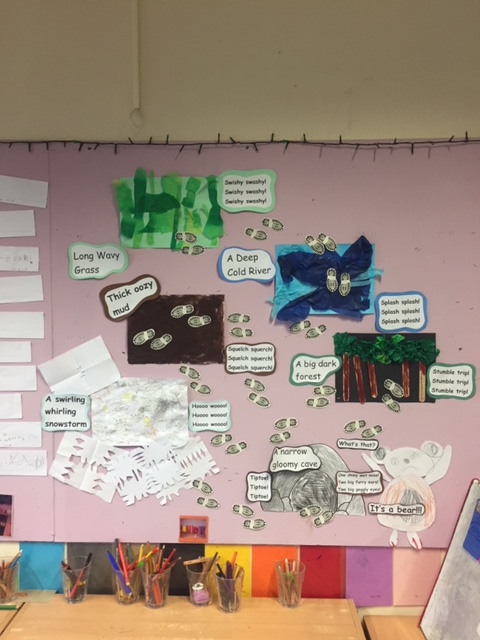 "We're Going on a Bear Hunt" story map by P1
Welcome back! (08.01.18)
Welcome back! Miss McNamara couldn't wait to hear all the holiday news!
This week we are reading Stick Man in class.

Word aware: beware
We know that beware....
- starts with the sound "b"
- has 2 claps; we think this is not a long word
-means to watch our or be careful there is danger
- it is a warning
Primary 1 made up their own sentences for Stick Man using "beware"....
"Stick Man, oh Stick Man beware of the snail!" Laszlo
"Stick Man, oh Stick Man beware of the dragon!" Kyle
"Stick Man, oh Stick Man beware of me!" Brody
"Stick Man, oh Stick Man beware of Miss McNamara!" Theresa
Word aware: lonely
We know that lonely...
-starts with the sound "l"
-has 2 claps
-lonely can be a feeling that everyone has when there is nobody with them.
-we can help people to not feel lonely
Primary 1 were able to discuss why Stick Man felt lonely without his family and how we would help him. We were also able to talk about when we feel lonely and what we do to feel better.
Word aware: float
We know that float...
-starts with the sound "f"
-has only 1 clap; "this is definitely not a long word" said P1
- you can float "things" on water, it doesn't fall to the bottom. When an object can float it will stay near the top of the water.
Word aware: predict
we know that predict...
-starts with the sound "p"
-has 2 claps
-is to think if something will happen before you know the answer
Primary 1 carried out an experiment to predict if they thought items would or would not float in water. We talked about each object and made predictions if we thought it would float or not. Once we made our predictions we tested object and checked to see if our predictions were right!
Frosty Morning Storytelling (11.12.17)
Where do you like to tell a story?
Primary 1 joined up with primary 1/2 for some frosty morning story telling next to the fire. We encourage our young people to have many different storytelling experiences and approach storytelling with a multi-sensory manner; we use actions, musical instruments to make a story more memorable, puppets and role play to bring the story alive, different indoor and outdoor spaces to change the storytelling environment. All of these approaches in P1 have been supporting our learning and re-telling of stories and hopefully making them more memorable!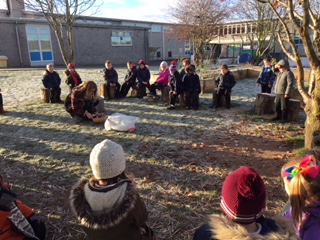 These are some of the stories we have been focusing on this term:
Goldilocks and the Three Bears
The Little Red Hen
The Three Billy Goats Gruff
The Three Little Pigs
Let Me Come In
Home Learning: Book No.2 (11.12.17)
The Fourth Bonniest Baby in Dundee by Michelle Sloan and Kasia Matyjaszek is book No.2. These have now been sent home with a home learning activity. If you have any questions please come and see Miss McNamara.
REMINDER: Please bring back your book bag on Wednesday 20th December for the third book to go.
Our Kindness Elf (8.12.17)
There has been a lot of excitement in primary 1 this week. We have received a letter and a package all the way from the North Pole...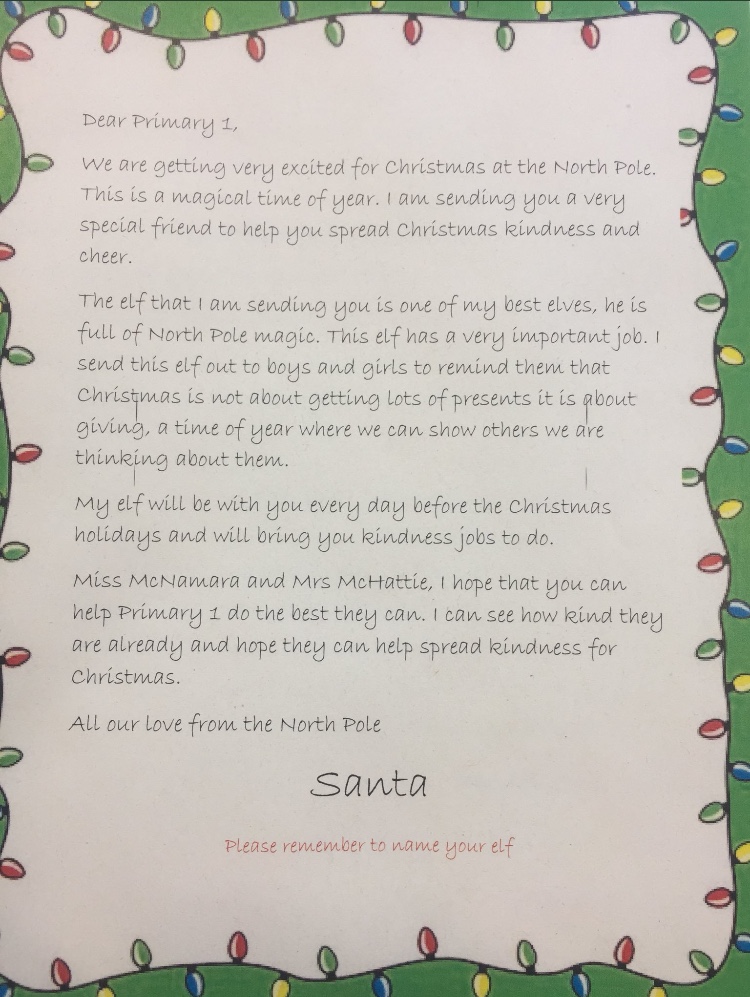 Inside the package we found our kindness elf....named Elfie by P1. Elfie has been leaving kindness jobs for P1 all week and helping us think about how it feels to be kind to someone else and how it feels when someone shows us kindness.
"I felt good when I gave Mason my chocolate Santa, because it made him smile" Theo
"I really wanted to eat my chocolate Santa but I gave it to Cheyene, because I was kind she gave me her chocolate Santa!" Theresa
"Riley gave me a surprise picture! I was so happy" Charlotte (Riley grinning behind her)
We are quickly learning how good it feels to share, be kind to others and have helping hands. Well done primary1, you are definitely spreading Christmas cheer in our classroom!
Follow @McNamaraMiss on Twitter for Elfie updates...
Scottish Book Week
(27th November- 1st December 2017)
What a busy week we have had celebrating Scottish Book Week. We have visited the Library and had a lovely time listening to stories and singing songs. We were all amazing at walking to AK Bell Library. We walked safely with a partner to the library and listened to an adult. We were very excited when we reached the library, some us have been before and others had not. We loved Jill's stories and songs especially when she used the puppets!
"I liked all the books" Callum
"I liked the puppets especially the big red hen!" Zara
"My favourite part was the stories." Mason
"All the books!" Riley
"The puppets were so funny!" Brooke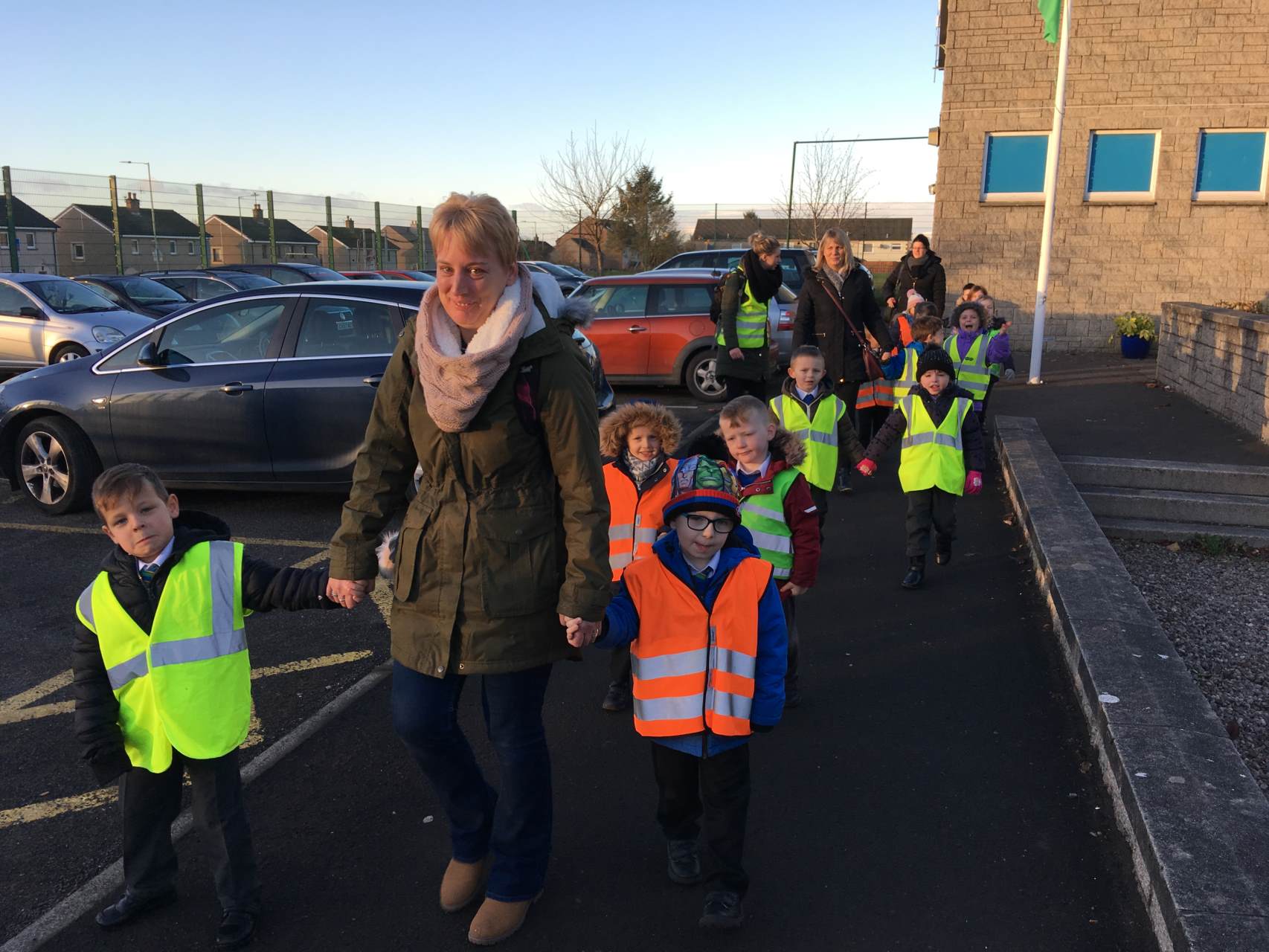 Little Owl's egg is the first book to be sent home with a home learning activity.
Loose Parts Play in Primary 1
In 1972, architect Simon Nicholson developed the Theory of Loose Parts; the idea that loose parts, materials which can be moved around, designed and redesigned, and explored; create infinitely more opportunities for creative engagement than static materials and environments.
In primary 1 we have extended play areas to include loose parts areas and the class have amazed Miss McNamara with their creativity!
The versatility of these materials provides children with virtually endless ways to create. Play and exploration aids in the following:
Problem Solving
Engineering
Creativity
Concentration
Hand-eye coordination
Fine motor development
Gross motor development
Language and vocabulary building
Mathematical thinking
Scientific thinking
Literacy
Social/emotional development
At home you can start extending your young person's experience of loose parts by introducing a junk modelling box, they will love it! Enjoy hearing all about their model and the stories they create.
Anti-Bullying Week (13th-17th November 2017)
"Proud to be different"
Word Aware: different
What we know about the word different...
- it starts with the sound 'd'
-it has 2 claps, we think it looks like a long word but does not sound like a long word
-it means not the same
-we are all different from each other.
As a class we read the story "We're All Wonders" by R.J Palacio. We read about a young boy called Auggie who looked different and because of this he was treated differently from other boys and girls in his school. Auggie doesn't feel different despite how he is treated.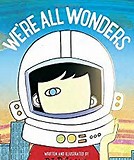 We did lots of thinking about being different....these were our thoughts....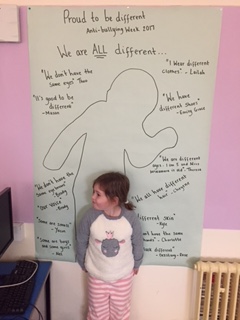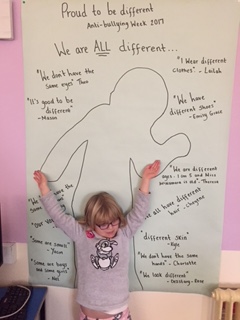 "We don't have the same eyes." Theo
"I think it's good we are all different." Mason
"Some of us and some of us are boys, we are different" Brody
"We have different shoes." Lailah
"We are wearing different clothes" Zara
"Lest We Forget" 11.11.17
We have been thinking about the word "thankful". Primary 1 could tell Miss McNamara lots of things and people they were thankful for and how they show they are thankful.
"My mum makes me food. I show I am thankful by tidying my room" Cheyene
"Emily-Grace and Nel are good friends. I show them I am thankful by sharing my pens." Dezstany-Rose
"I am thankful for all my toys. I look after them and don't let them get broken" Mason
"I am thankful for my classroom and all the bricks to build. I make sure my classroom is tidy." Theo
I response to learning what thankful means we created a Remembrance Day poster to thank soldiers past and present.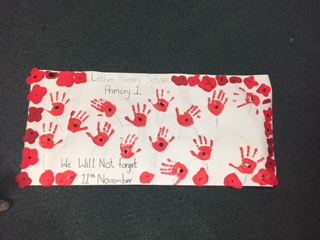 Miss McNamara shared our painting with the Black Watch Association. They were delighted to have received such a thoughtful gift.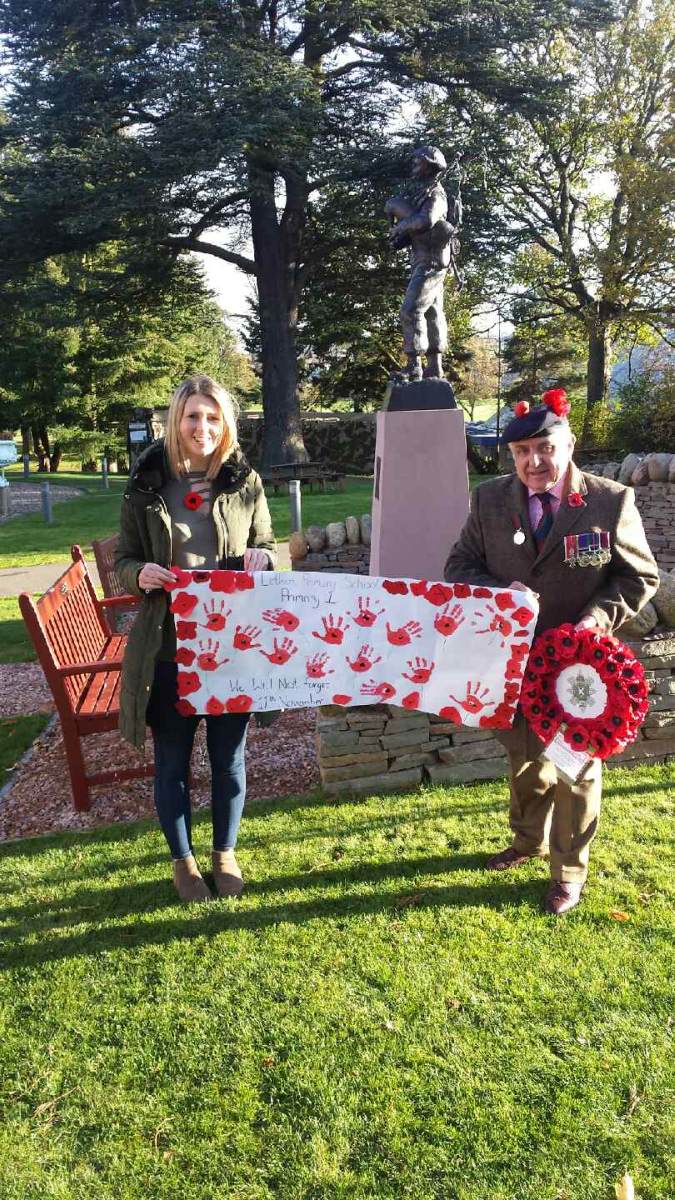 The picture of our poppies poster has been seen by people all around the world. Our painting has been seen in England, Wales, Ireland, Australia, USA, Canada, France, Dubai and Thailand.
Well done Primary 1!
Harvest (02.11.17)
Word aware: harvest
We know that harvest…
-starts with the sound 'h'
- is not a long word; 2 claps
-is when crops are cut and collected from fields
-countries have harvest festivals to celebrate food that has been grown.
We learned that when crops are growing farmers use scarecrows to scare away birds.
Some of us have seen scarecrows and others have read about them in books. We used information we read in "The Scarecrow's hat" and "The Scarecrows' Wedding" to make our own scarecrow.
We worked as a team to make "Jack" the P1 scarecrow!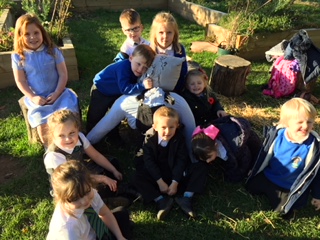 We learned about vegetables that are harvested at this time of year. There was lots of talk about how funny some of the vegetables looked, the smells and how they felt.
"It is so goooey!"- Theresa when scooping out a squash
"I can still smell it on my hands! I like the smell, it smells tasty!"- Riley after touching celeriac
"it looks like a monster!"- Mason looking at the celeriac
"it is a mouldy potato!"- Callum holding a sweet potato
"it is so smooth"- Dezstany-Rose holding a butternut squash
With all our vegetables we made our own homemade harvest soup served with homemade bread, all prepared and made by Primary 1.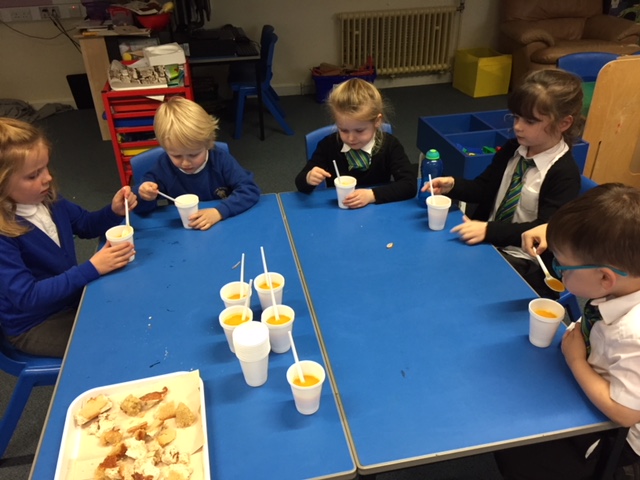 "Witches' Brew"....(30.09.17)
Spider web, moldy bread, mucky mud, too.
Stir them in my witches' brew.
I got magic! Alakazamakazoo
ooo - My witches' brew - ooo
What's it gonna do to you?
Boo!

Floor wax, thumb tacks, purple paint, too.
Stir them in my witches' brew.
I got magic, Alakazamakazoo.
Primary 1 decided that they would prefer to use fruit to make a witch brew.....
We practiced being safe and responsible when preparing our ingredients. A selection of fruit was used to make our witches' brew which started lots of discussion about being healthy and thinking about healthy snacks.
Everyone tried the witches' brew which received lots of feedback. A great use of language to talk about smells, how it looked, flavours and the texture...would you have been brave enough to try Primary 1 witch brew?

"ARGH a Spider!" (26.09.17)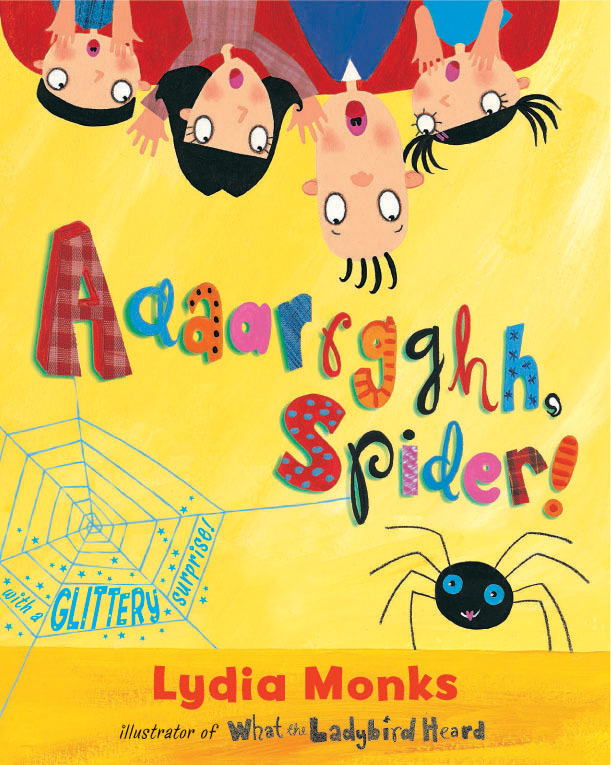 Word Aware: spider
We know that spider...
-starts with the sound 's'
-is not a long word; only 2 claps
-spiders have 8 legs
-spiders make webs
Word Aware: responsible
-responsible starts with the sound 'r'
-responsible had 4 claps; we think this is a long word.
-we know that when we are responsible we are caring for something or someone
-being responsible can keep us safe
After reading "Aaaaargh a Spider" we learned that this is the time of year that spiders like to come into our homes to be warm. We met our own classroom spider and were so excited when she brought us each a pet spider to be responsible for!
We talked a lot about the spider, built spider homes and painted pictures of our spiders (some even used the spider to paint!)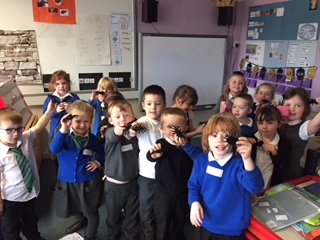 Word Aware (23.09.17)
Primary 1 have been learning about the word Autumn
We know that...
-Autumn is a short word; 2 claps
- Autumn is a season
-The trees start to loose their leaves in Autumn and the colours of the leaves change.
We took part in lots of activities to explore the word Autumn. Miss McNamara took us outside to explore all the colours of the leaves and to meet a tree! This was a very special tree, it showed us what happens to the trees in Autumn; we could see that it has lost lots of its leaves and they were all on the ground. When we closed our eyes we could hear the leaves rustle and the wind blowing.
We gathered up leaves of all different colours and were inspired to paint the leaves, draw leaves, print with leaves, make crowns and we even made our own Autumn tree for our classroom wall! We each chose our favourite Autumn colour and made a leaf for the tree.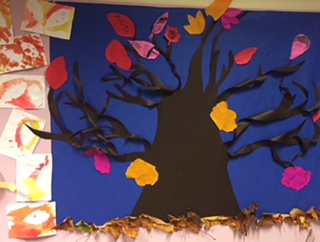 Welcome back! (23.09.17)
Miss McNamara is delighted to see everyone's smiling faces and hear all the holiday stories!
We have had a very busy first week back...
Primary 1 joined up with Primary 1/2 to perform the story The Little Red Hen to nursery and to Primary 2. They were fabulous! If you haven't been told the story of The Little Red Hen please ask to hear it!
In response to learning The Little Red Hen we made home made bread and butter, it was delicious! There was great language used to describe the bread and butter while making the bread and of course eating it!
"It looked like play dough!" - Brody "It smells like sweeties and popcorn"- Riley
"Look how big the bread is! It started so small!"- Dezstany-Rose "It is definitely ready! It is golden brown!"- Charlotte
Numicon (25.08.17)
Primary 1 have been exploring numbers using Numicon and we love it!
We are exploring numbers and pattern using our new Numcicon shapes, talking and showing our understanding of numbers through games and printing patterns. Miss McNamara is delighted with how well we are using Numicon and how much we are talking about numbers.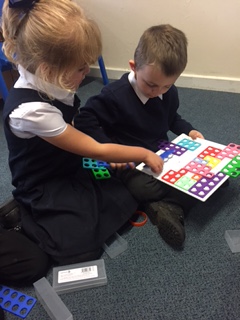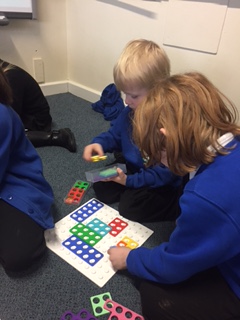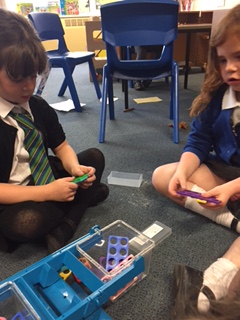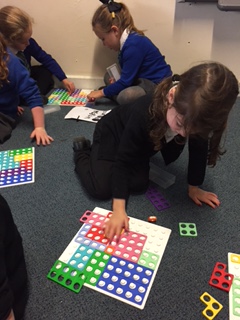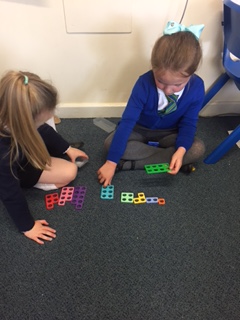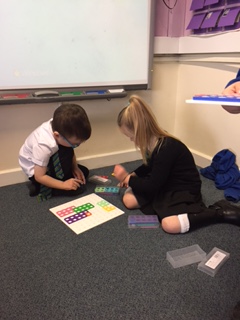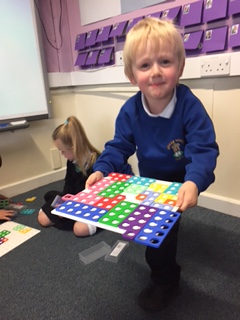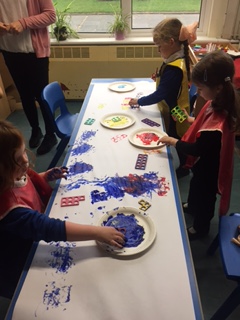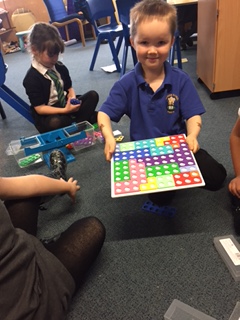 Primary 1 Parent Evening- Thursday 21st September and Tuesday 26th September
Miss McNamara is looking forward to meeting parents this week to discuss the children's first few weeks in Primary 1.
Here are some of the things we have been learning:
to develop some maturity in emotional literacy (recognise when feeling happy, sad, angry, tired)
to exercise more: daily activity time outdoors
to be kind (linked to mental health and wellbeing)
to develop social skills (to take turns)
to understand what a good listener is…To stop and listen
more about sounds: s a t i p n
about numbers and counting to 10 (and beyond)
more about words, what they mean, the sound they start with, how long they are…
about time (daily sequences, my daily routines)
we are all unique and… we are learning to work as part of a team!
't' for tortoise (28.08.17)
Have you heard about the visitor in Primary 1?
Primary 1 have been learning about the sound 't', but we needed a little bit of help. Tank the tortoise joined Primary 1 to help them with their sound lesson and it was all they could talk about!
Tank the tortoise loved meeting Primary 1 and lots of other pupils around the school. I am sure she will be back for more visits!