P1/2 Learning Blog
28 April 2017
We have been doing our Finger Gym.I was playing Pick up Sticks - AM
I was doing Finger Gym and guess what one I was doing. I was doing the finger the gym the ones that had the jewel one where you have to pick up jewels and coins - KW
We have got beans on the window from the Jack and the Beanstalk Giant. - JG We put the(beans) on the window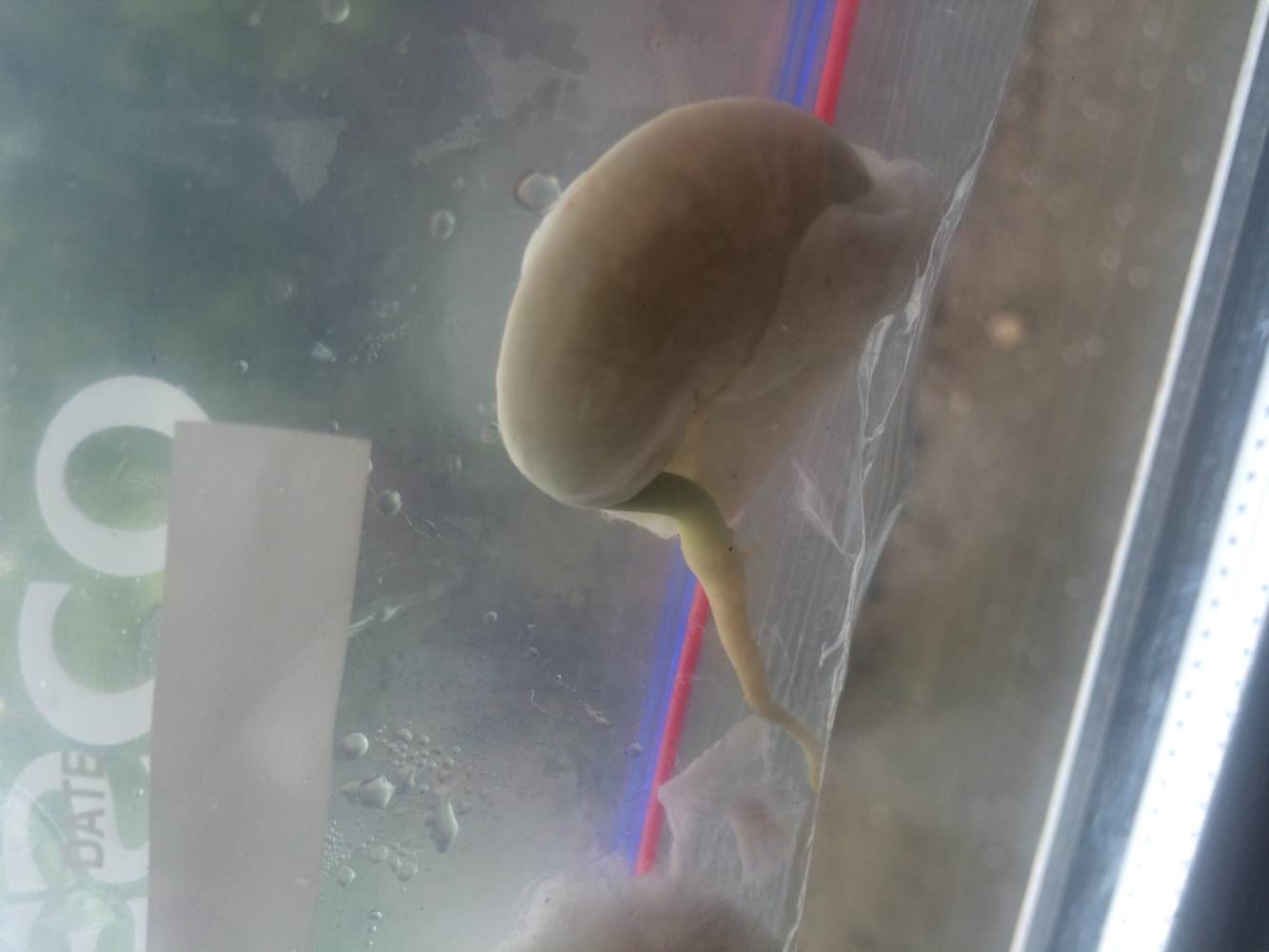 It has got bigger - EW
We put our bean in a little bag with wet cotton wool. It started growing. - KJ
We sawed a beanstalk - it growed long - CE
There is a beanstalk growing out of the bean - AP
We have talked about what the shoot will be. Some people think it will be the stem. Some people think it will be the roots.
This is a picture of a plant. All plants have flowers, roots, leaves and stems.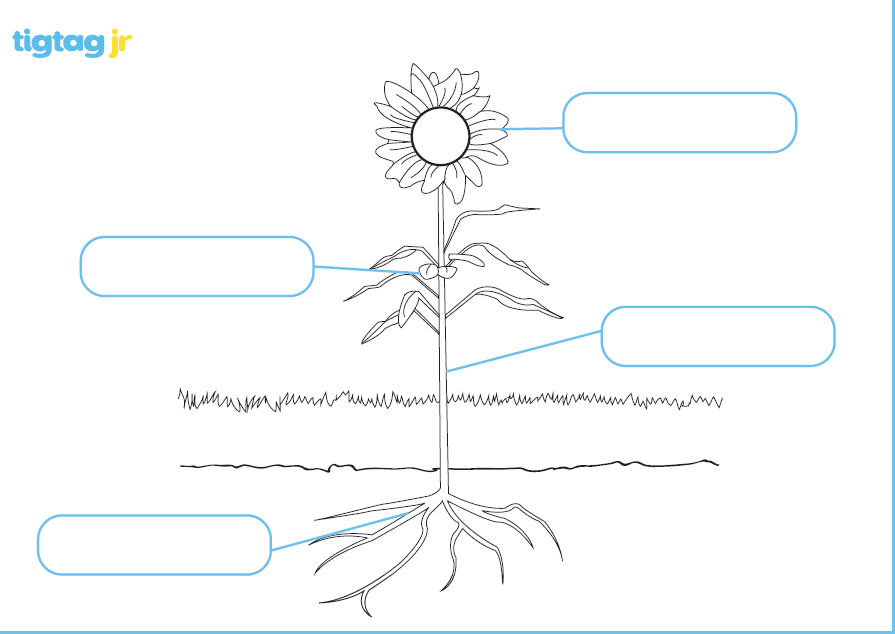 21 April 2017
We found a letter from the Giant. Fe-Fi-Fo-Fum! He gave us some magic beans and the letter told us to plant them. The beanstalk grew up the wall. It is made out of paper. We all made a leaf to go on it.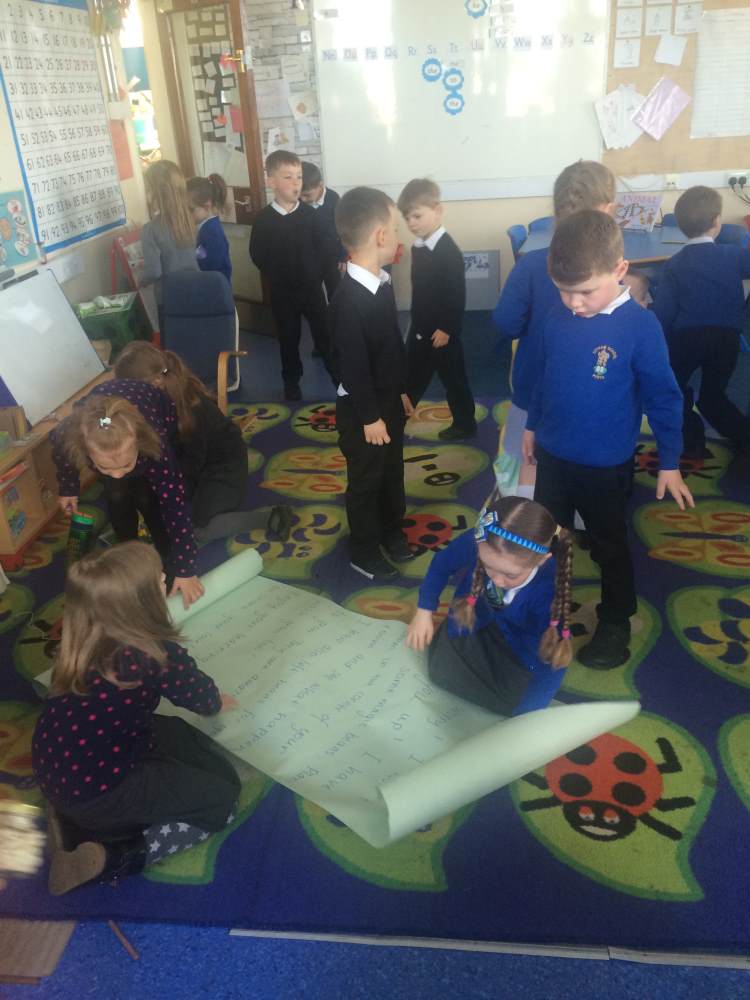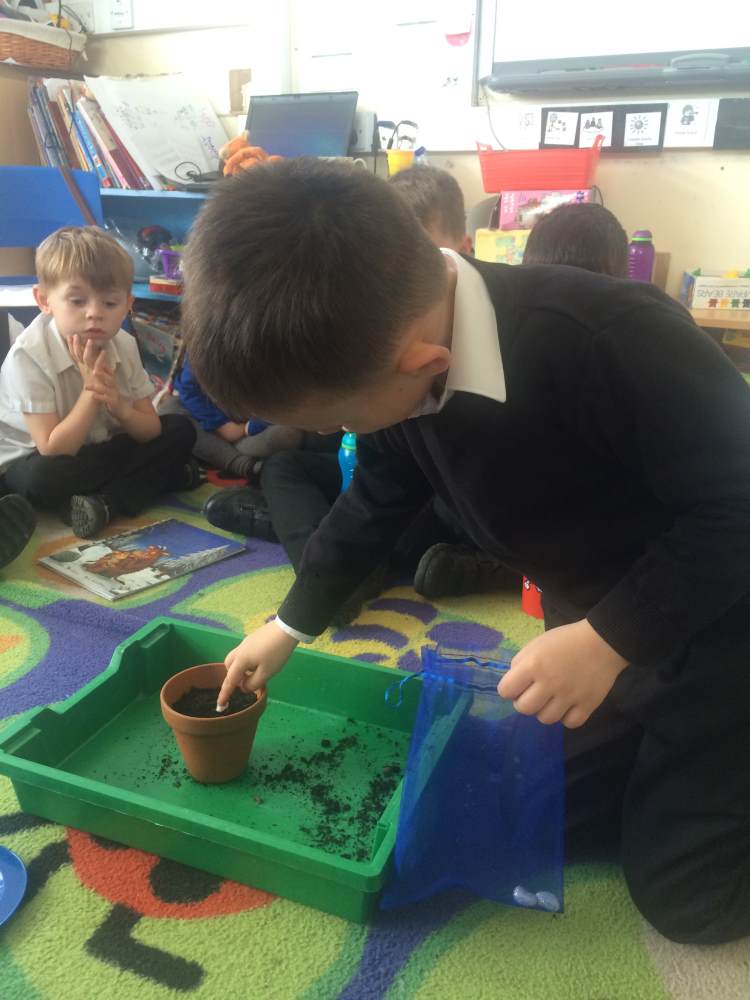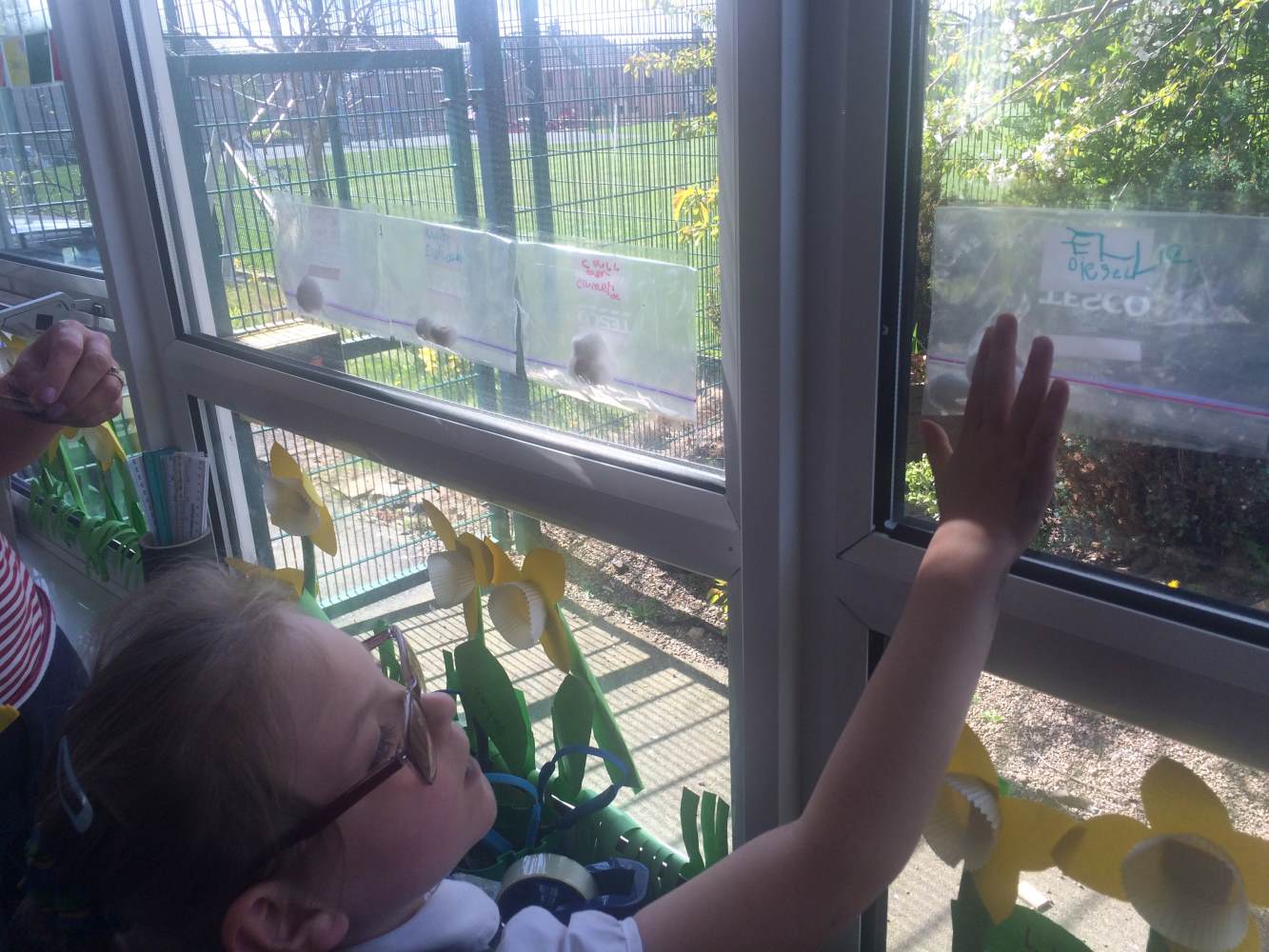 We were putting a seed in the bag with the cotton wool because there was a bag letter from the giant. We are going to check every day to see if our beenstalk is grown. Maybe if it does grow, we can climb up it!
24 March 2017
We have been continuing to read Fairy stories to help the dragon save Fairyland.
We read the 3 Billy Goats Gruff. We made bridges that had to hold the weight of a jar of marbles. WE also made our own paper bridges with characters to use to role play.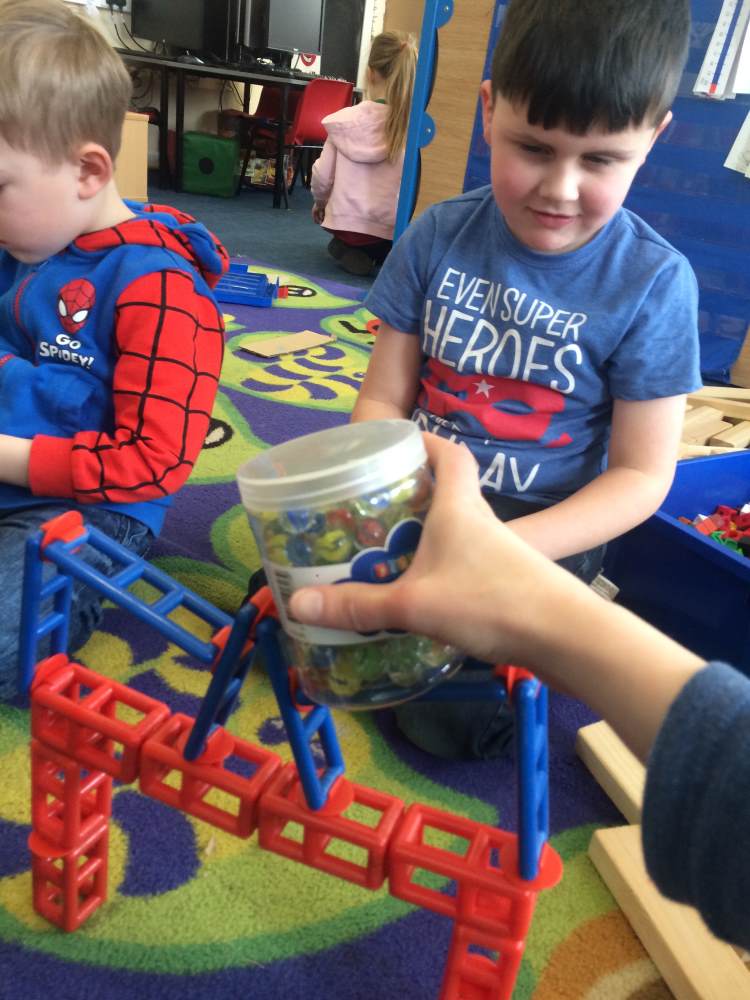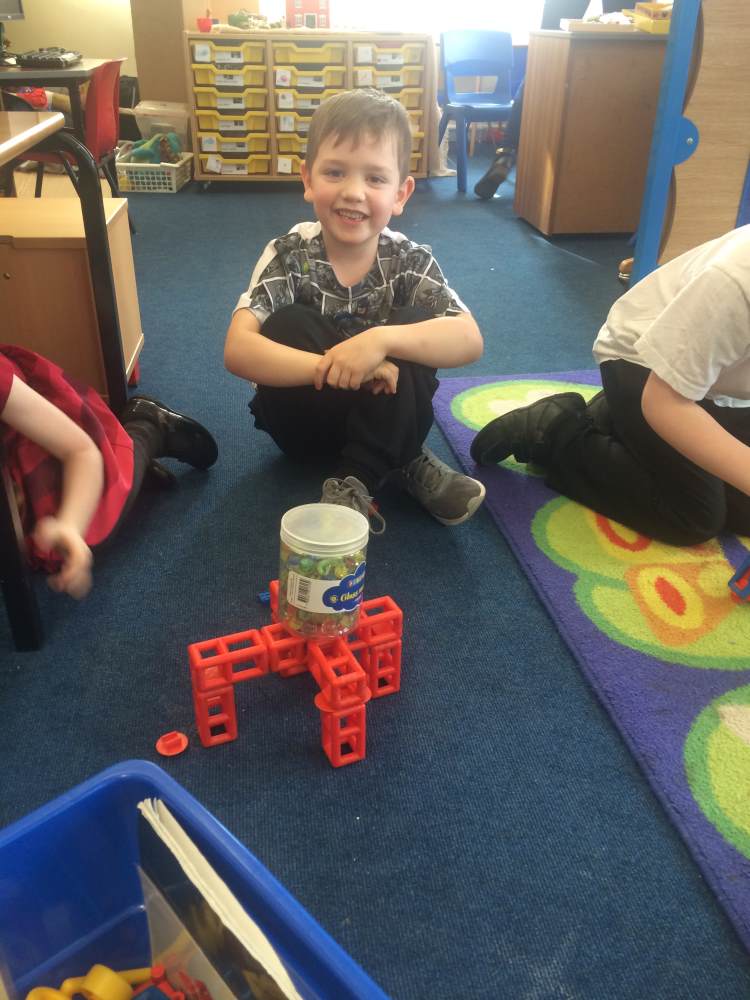 Numeracy
We have been learning to count on and back. "I liked the chicken game on the computer when you sort the eggs into the right order."
French
We have been doing lunches in French and our afternoon register. "I liked doing the bonjour word and the colours of the rainbow song." You will be able to hear (and join in with) the song on Wednesday afternoon.
Writing
We have been writing our own version of the 4 little pigs and thinking up new materials that the fourth pig could use to build his house.
17 March 2017
Our word of the week is Material. It means what something is made of.
Paper is a material, cardboard is a material, rock, metal, glass, brick, wood. and plastic. It has 4 claps. It starts with /m/.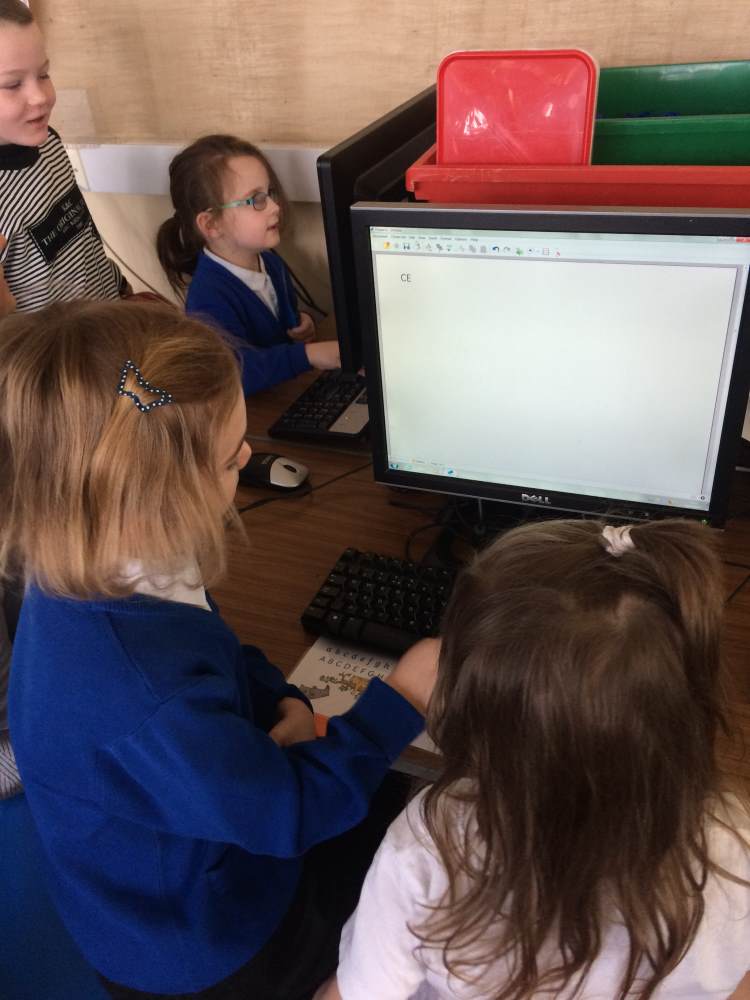 We were writing capital letters in our. It is hard to type your name on the computer because you don't know what your second or third name and the computer has all capitals.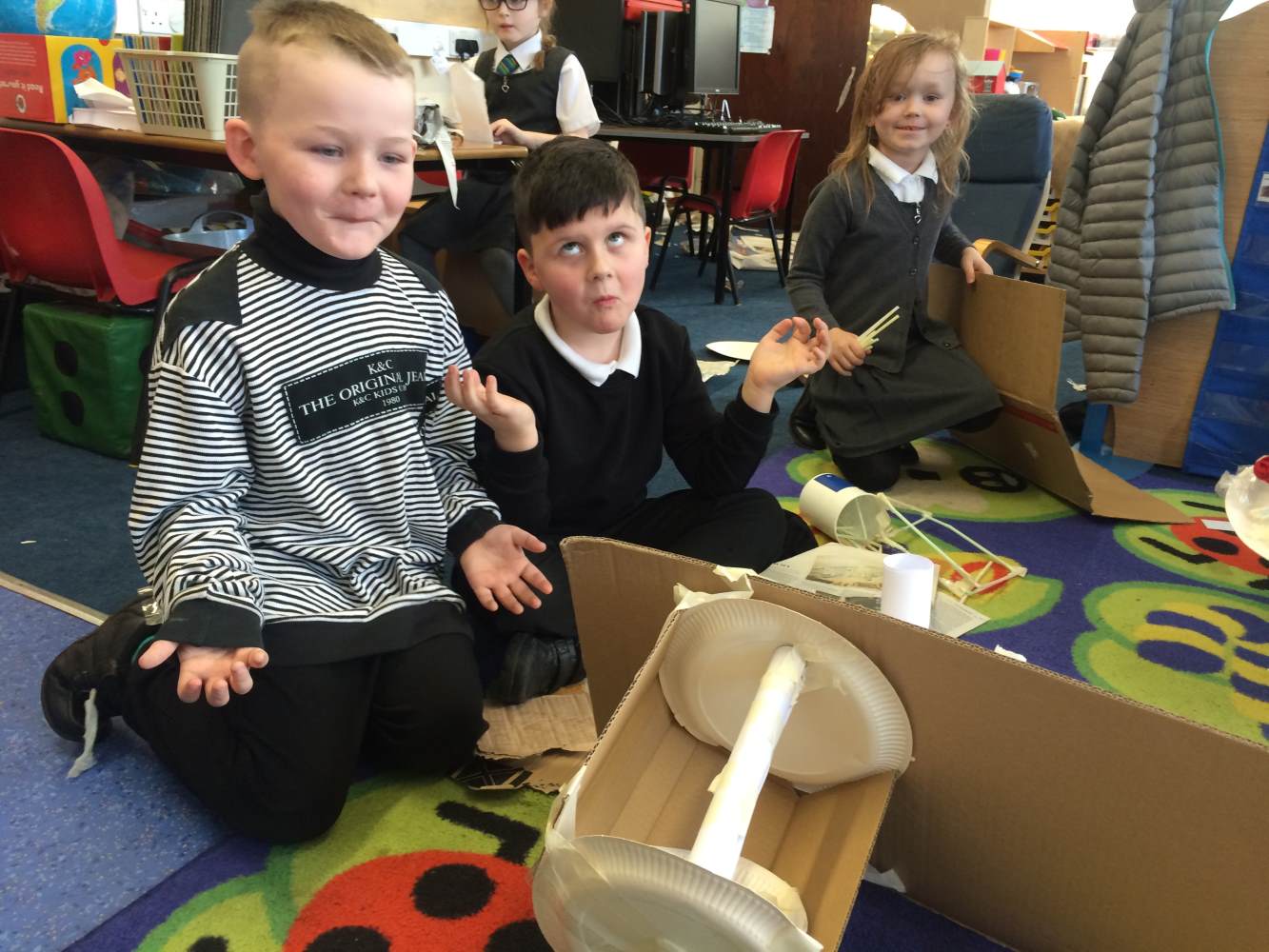 We doing the 3 little pigs house. We were making a house for the pigs and we got a hairdryer to try to blow the houses down. We had to make them really strong so the big bad wolf can't blow them down. Miss Simpson blew the house down! That means you (Miss S) are the wolf!
We were building a house for the 3 little pigs so we don't get the big bad wolf to blow the house down. I likes it when we were feeling the shapes. I liked when we were drawing around the shapes.
10 March 2017
It was fantastic to see everyone at Parent Contact this week. If you could not attend, just contact the office to arrange another time. Please ask us to retell the story using our signs.
Home Learning Suggestion
You could make a house for a Little Pig in any medium. When you have finished bring it into class to share,
Our Learning this week...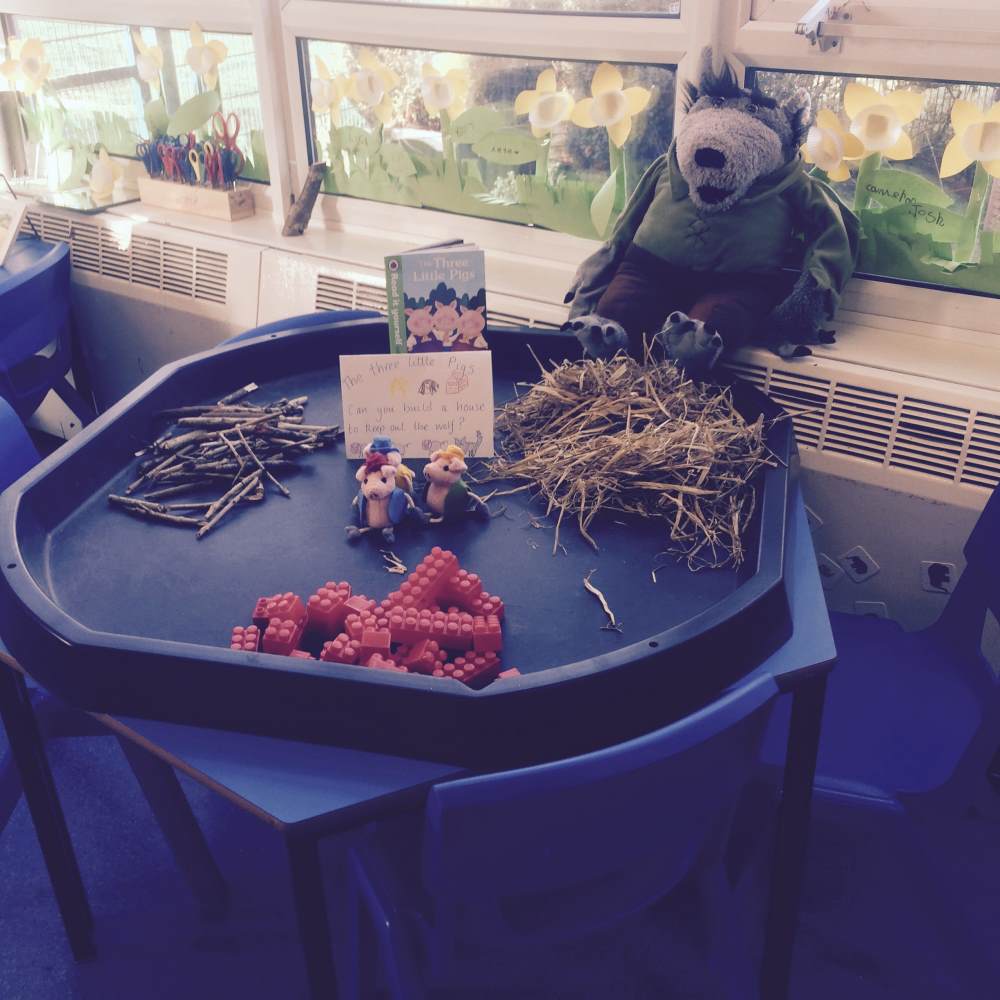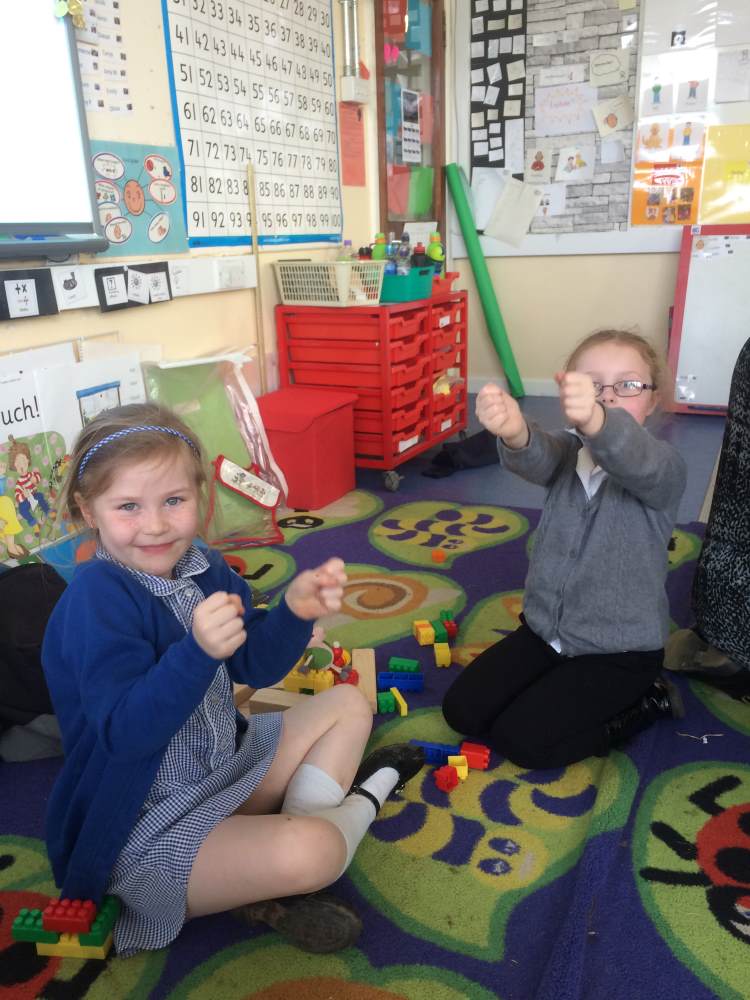 "We were doing the 3 Little Pigs Story and we were painting our pigs. My favourite part of the story is the Big Bad Wolf blow the house down. When the big bad wold falls into the pot. I liked the bit when they were running. I liked the house with the bricks in the 3 little pigs."
"We were painting pigs! That's me! I'm in the blue sky. But there's no pink. We made houses out of bricks. We made pigs with pink paper, drawed the face, We got to colour in our little pigs. We used chalk to draw on the ground and lay down. We drew The Big Bad Wolf and Pigs."
3 March 2017 P1/2 class blog
It was World Book Day on Thursday. We read Each Peach Pear Plum and talked about all the different characters. We made costumes: witches hats, robin hood outfits and animal ears. We tasted peaches, pears and plums and talked about what we saw, tasted, smelled and felt. We all were gifted with a book to take home! Have a lovely weekend everyone and happy reading! Why not go to the library with the library cards the children received? Have a great weekend!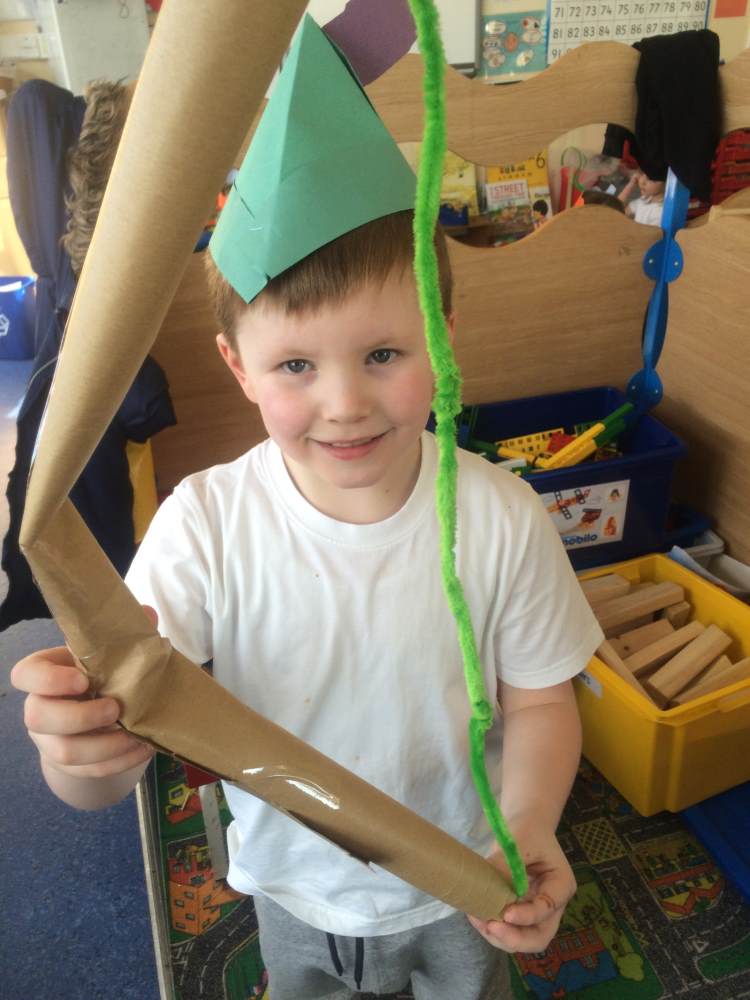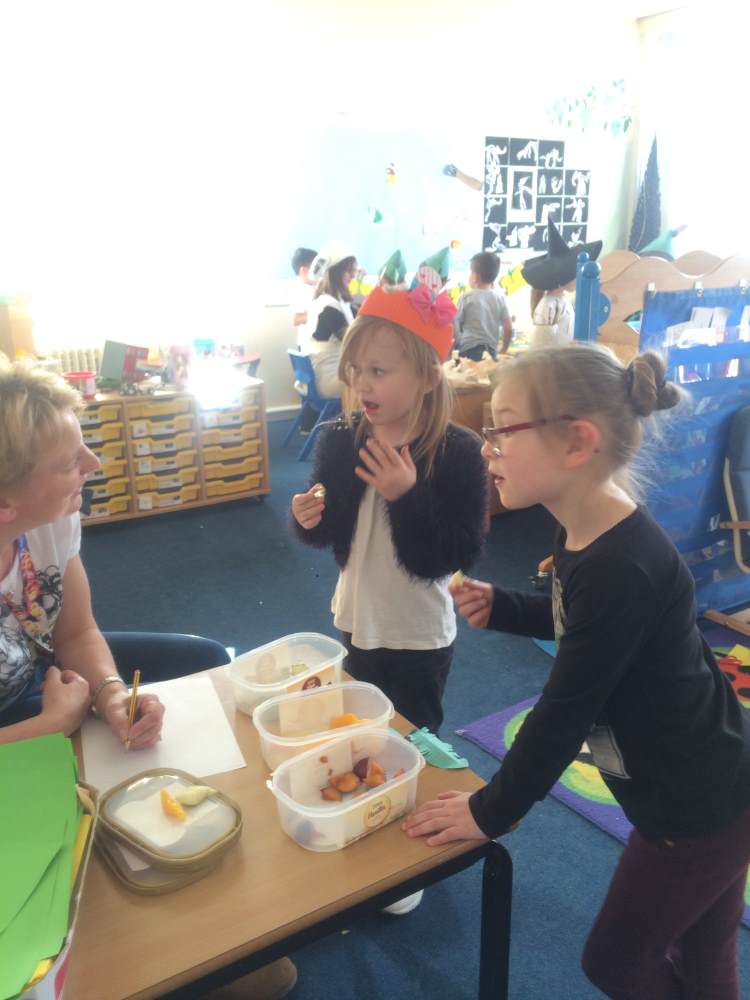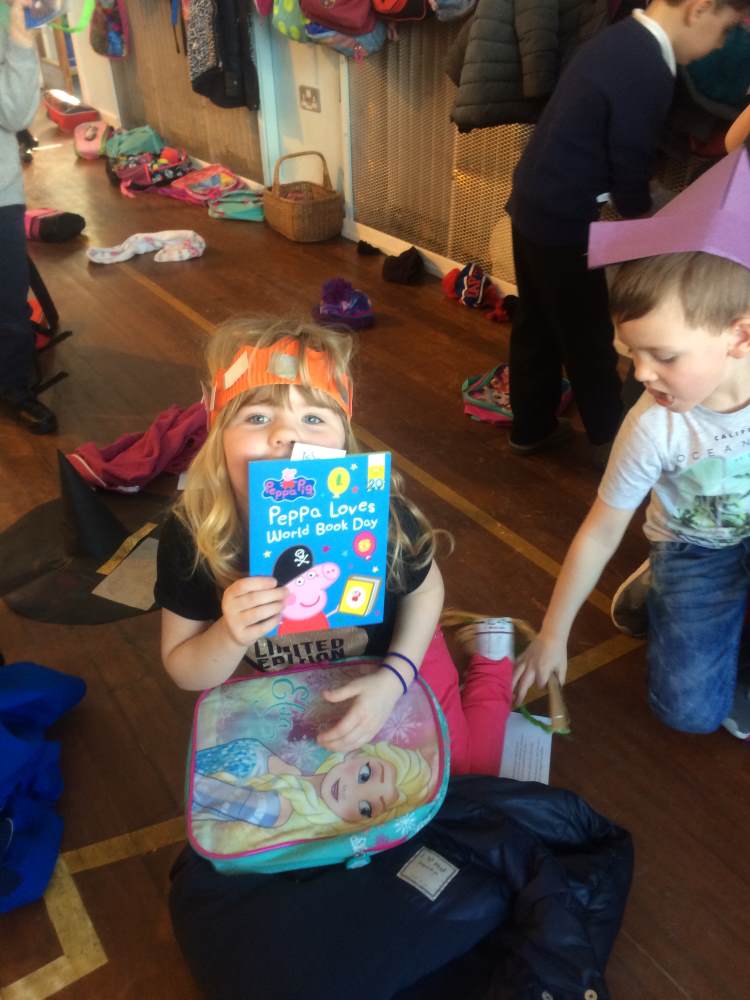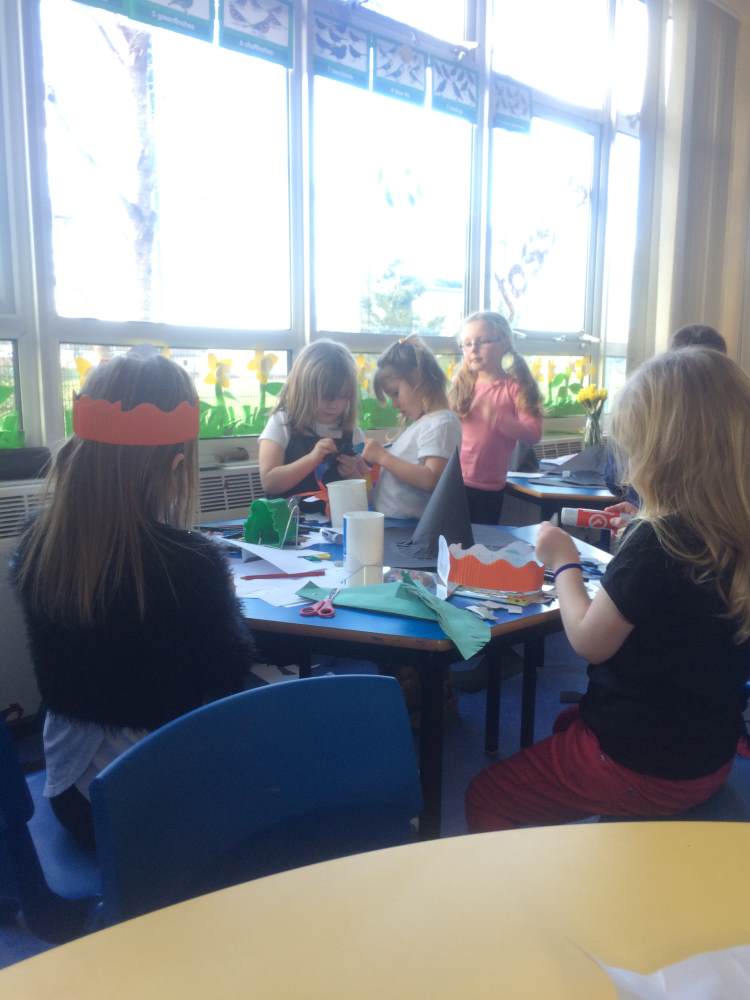 9 February 2017 P1/2 class blog
Today was our big outing to the Museum!
Beautiful Birds Workshop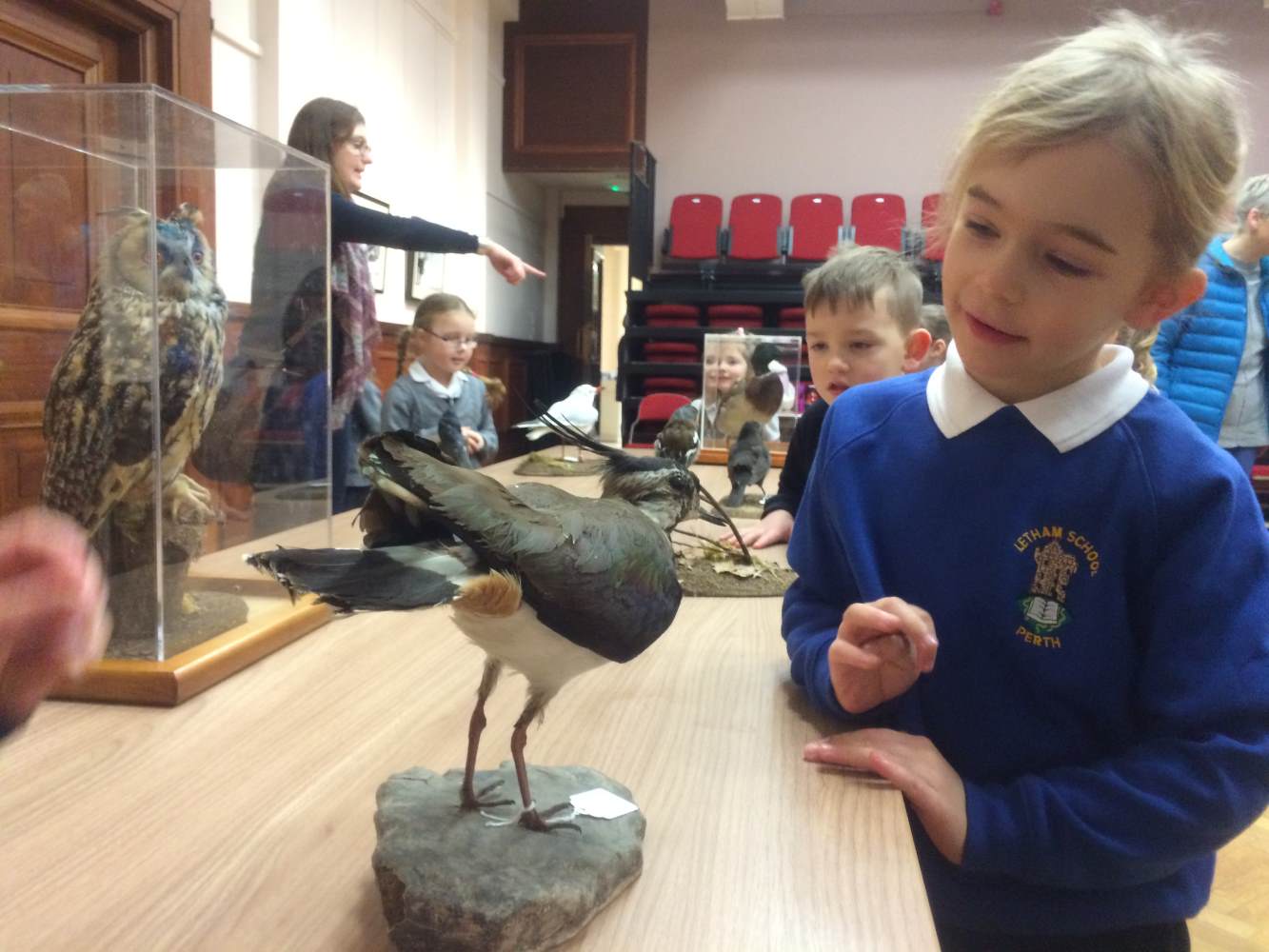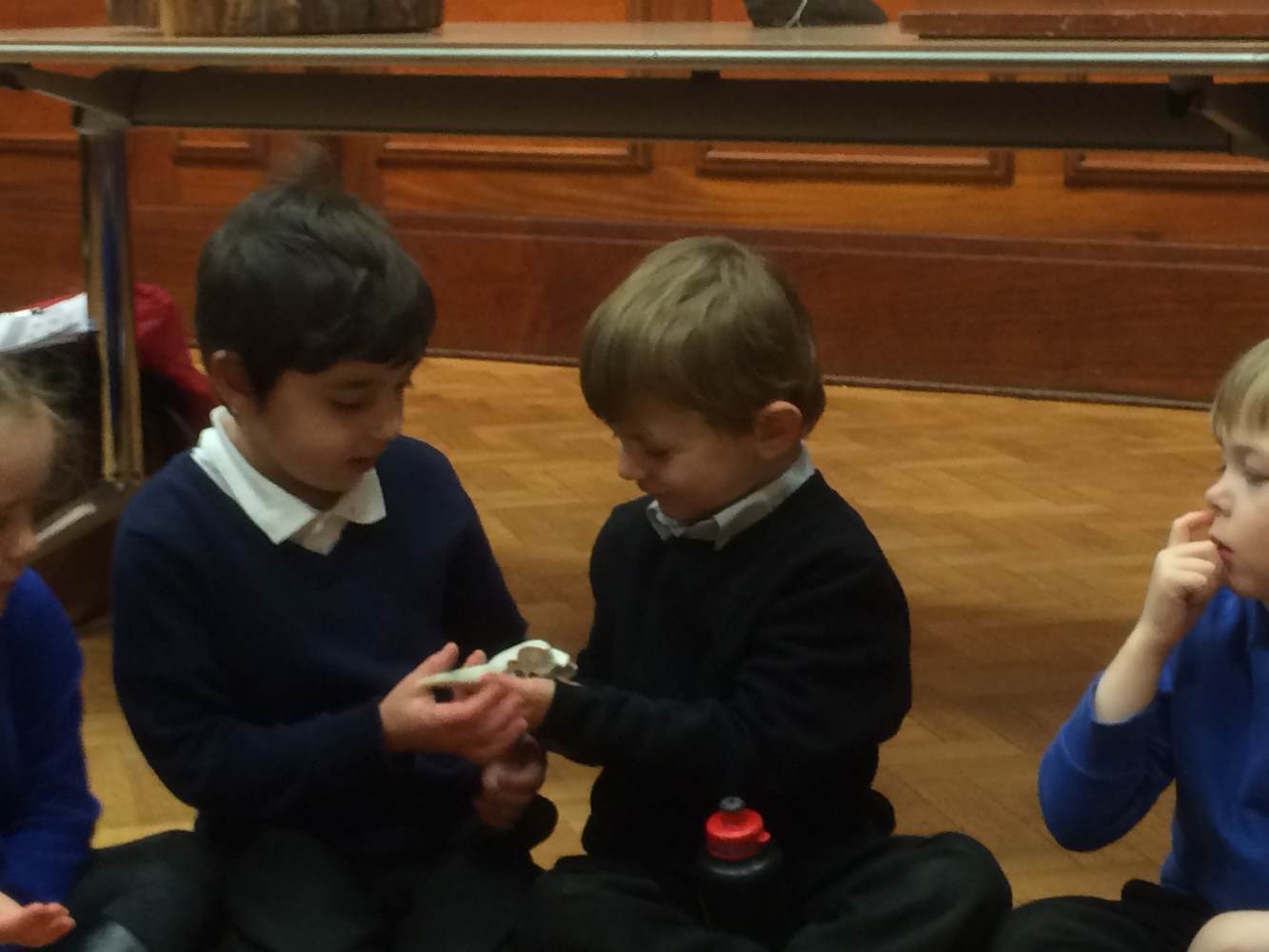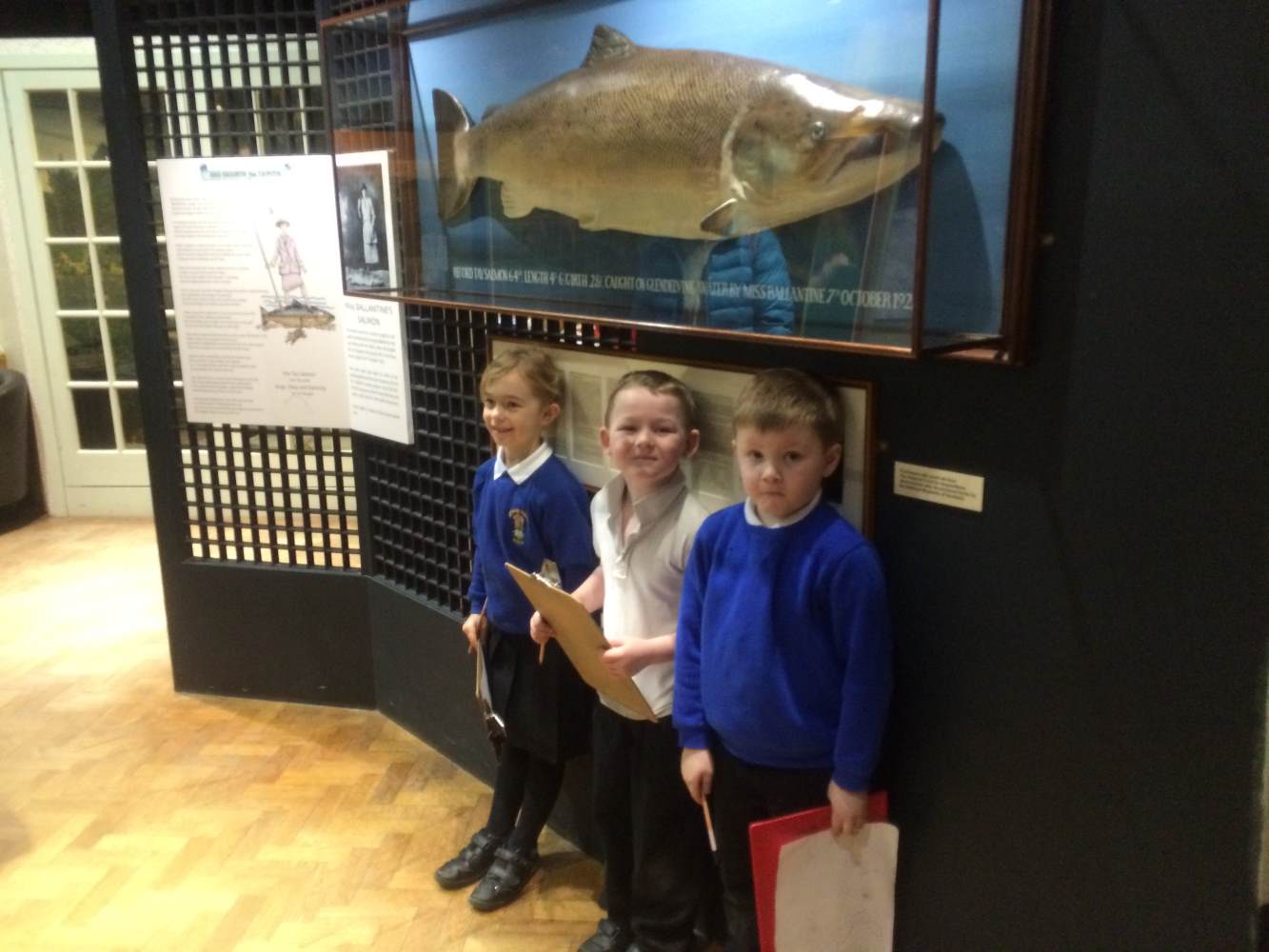 "I liked all the fossils. We drawed pictures of our favourite fossils and animals. We saw a big wild deer head!"
The children are so excited they would love to show their adults what they saw. Maybe you could take a trip there if you have time this weekend or while schools are closed (Wednesday 15, Thursday 16 and Friday 17 February). We would put any photos or comments in your child's Pupil Profile.
Word Aware: Did you use or discover any new words at the museum? Talk about them. We have been learning about new words.
Say the word. Whisper the word.
What sound does it start with?
Clap the syllables (e.g. excavating: ex-ca-va-ting = 4 claps)
Is it a long word or a short word?
Where would you find or use the word?
Use a Makaton sign for the word (if you know it)
The Big Bedtime Story challenge
We challenge you to share bedtime stories with you child. How many will you read before World book Day on Thursday 2 March? If you wish to borrow a book each night please pop along to our book box in the library at the end of the school day with your child.
P1 and P1/2 parents' L.I.F.T. (Literacy is fun Together) group We have a busy Friday morning group. The children are enjoying sharing their learning with their parents. We are hoping to offer another day to parents who can't make Fridays. Come along and find out more during a week of drop in soft landings:
| | |
| --- | --- |
| Monday 20 February | 2.30 – 3.00pm |
| Tuesday 21 February | 2.30 – 3.00pm |
| Wednesday 22 February | 2.30 – 3.00pm |
| Thursday 23 February | 2.30 – 3.00pm |
We have decided as a class not to bring in our toys and pencil cases from home. Children have been upset if they are lost. Please support us in this
Friday 3rd February 2017
We liked learning about maths. I liked doing my doubles.My favourite is 5+5=10.
I liked learning about fossils. The dinosaurs died and they turned into a fossil.
I like learning sounds. The sounds we learned this week were ch and sh and ng which is a g and an n.
I liked learning about dancing the one when we did the clapping.
I liked learning about looking at the book with my sister and my mum.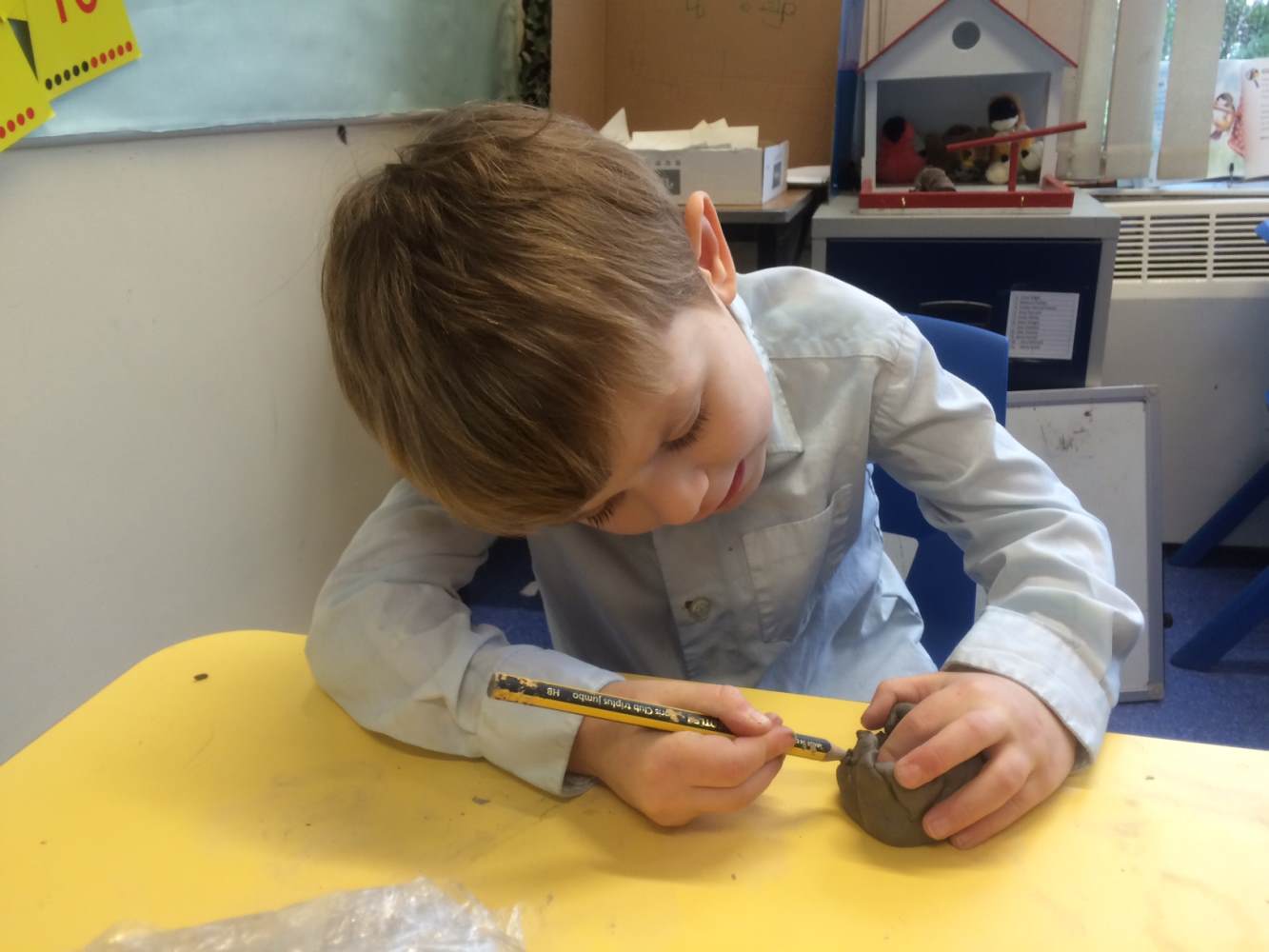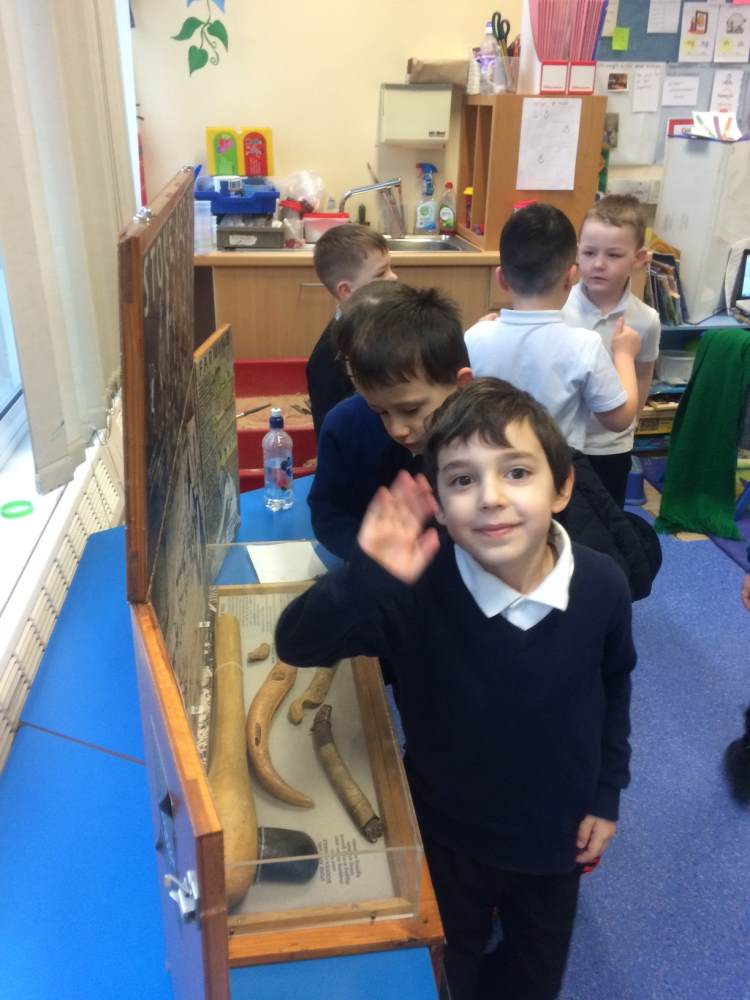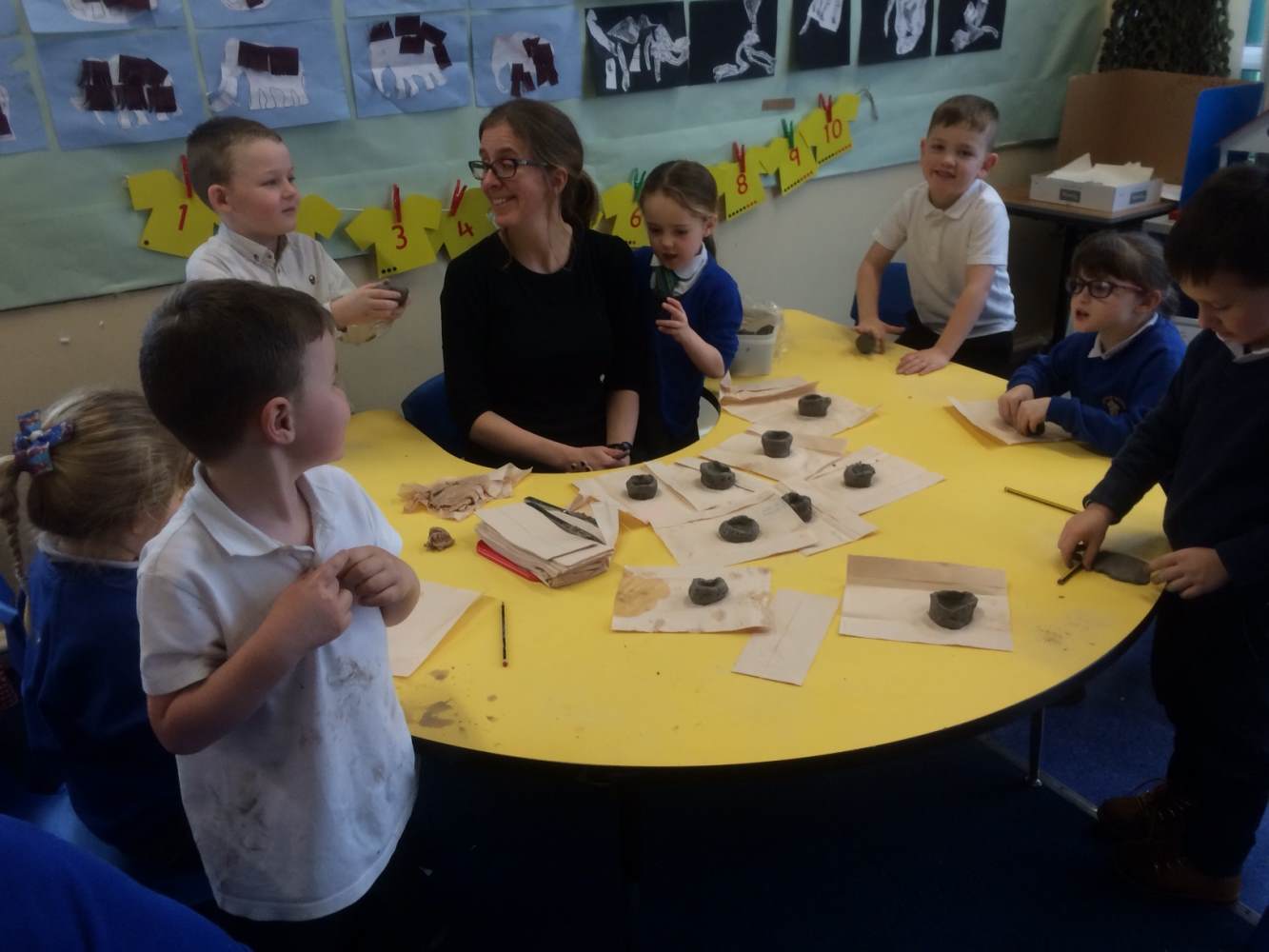 Friday 27th January 2017
"We have enjoyed learning about archaeologists. We've been excavating fossils and bones. We found a bone and we are still excavating to find it. We done the Woolly Mammoth song. We liked swinging our woolly hair in the air and swinging our trunks."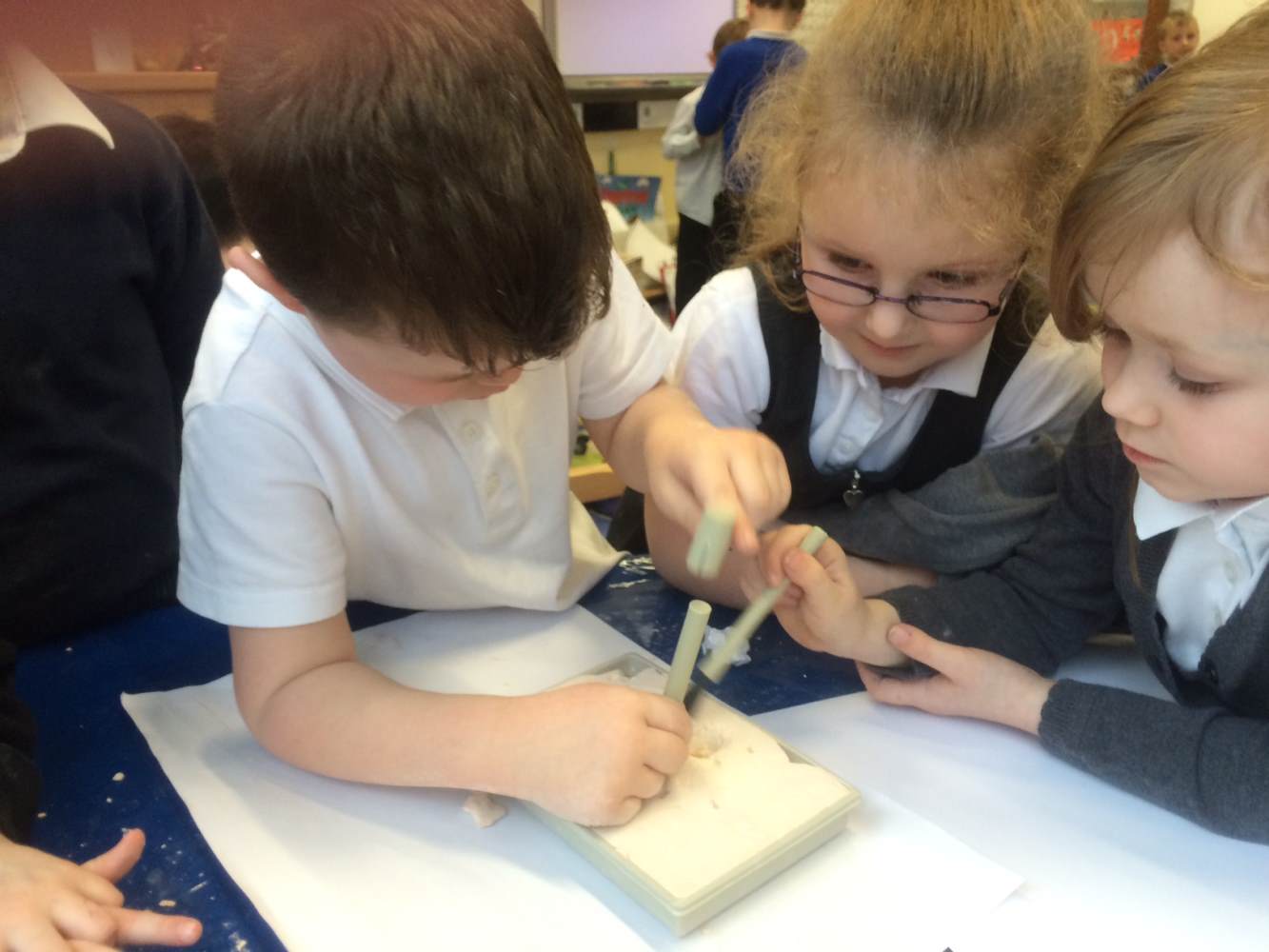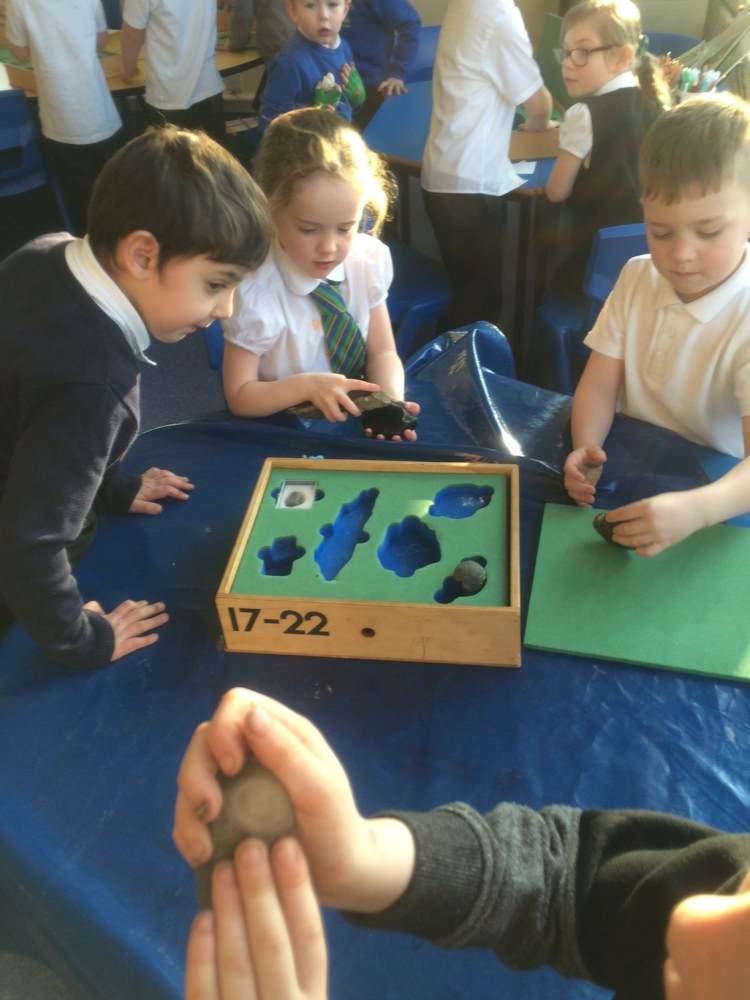 Outdoor Activity Time
We were doing hula-hooping.We played Simon Says. We were playing with hula hoops and balls.
We played with bones and balls and I liked being with everyone.
20th January 2017
Colourful Semantics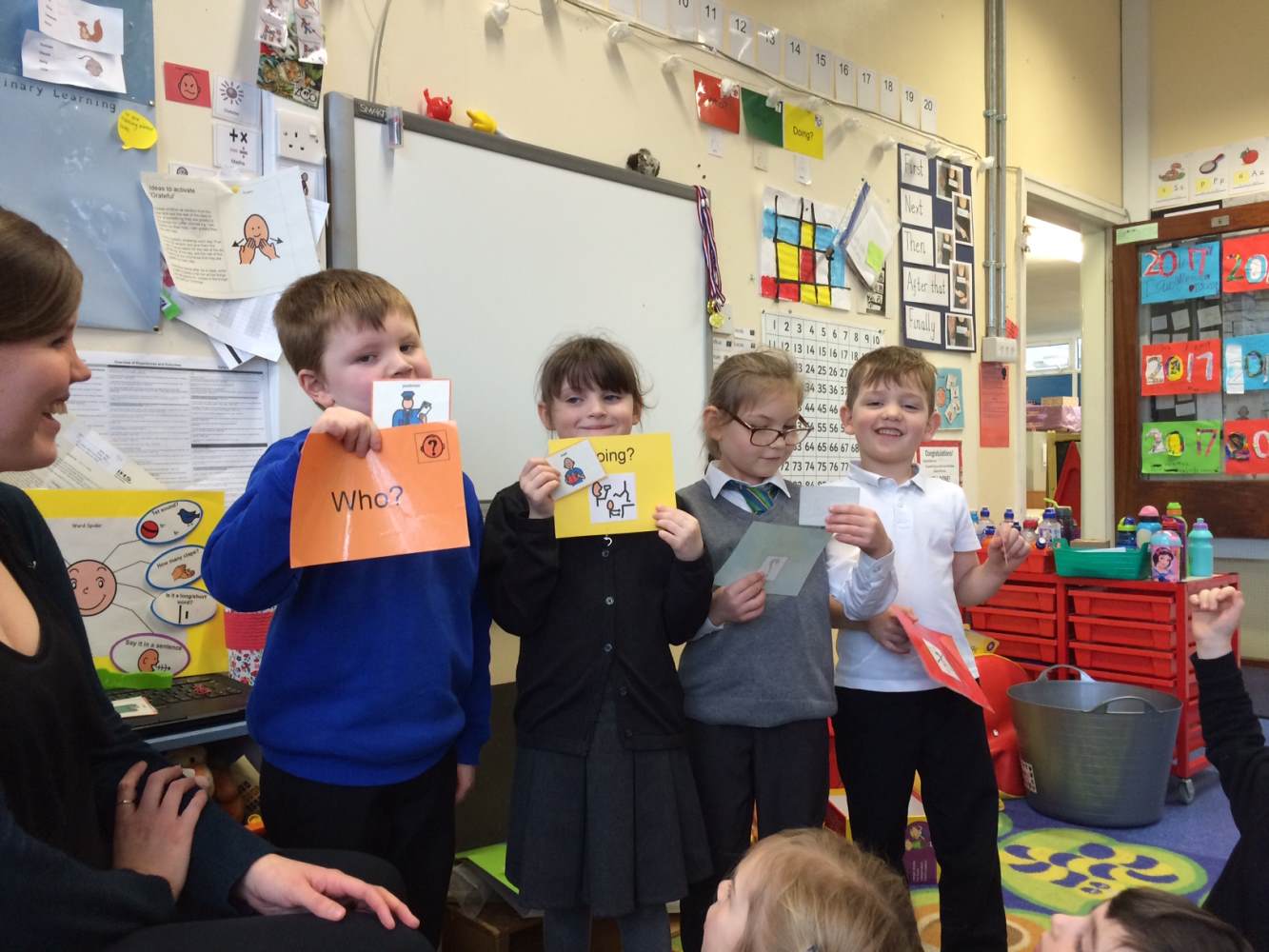 "The boys and girls are up. They were holding up pictures. The pictures were signs. J was holding up where do you find it?"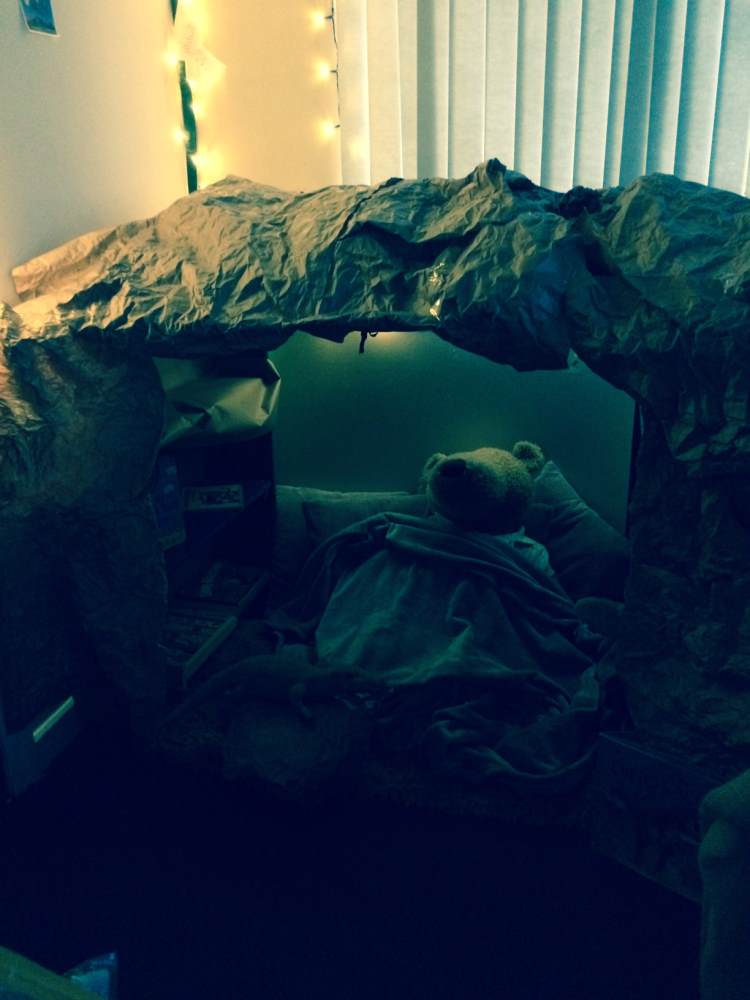 "We made a cave"
We are learning about animals from a long long long long time ago!"
"We were pretending to be archaeologists."
13th January 2017
Happy New Year everyone! This is the first day of our class blog. Please find below some of the comments the children have made about their learning and experiences this week.
Bird Seed Feeders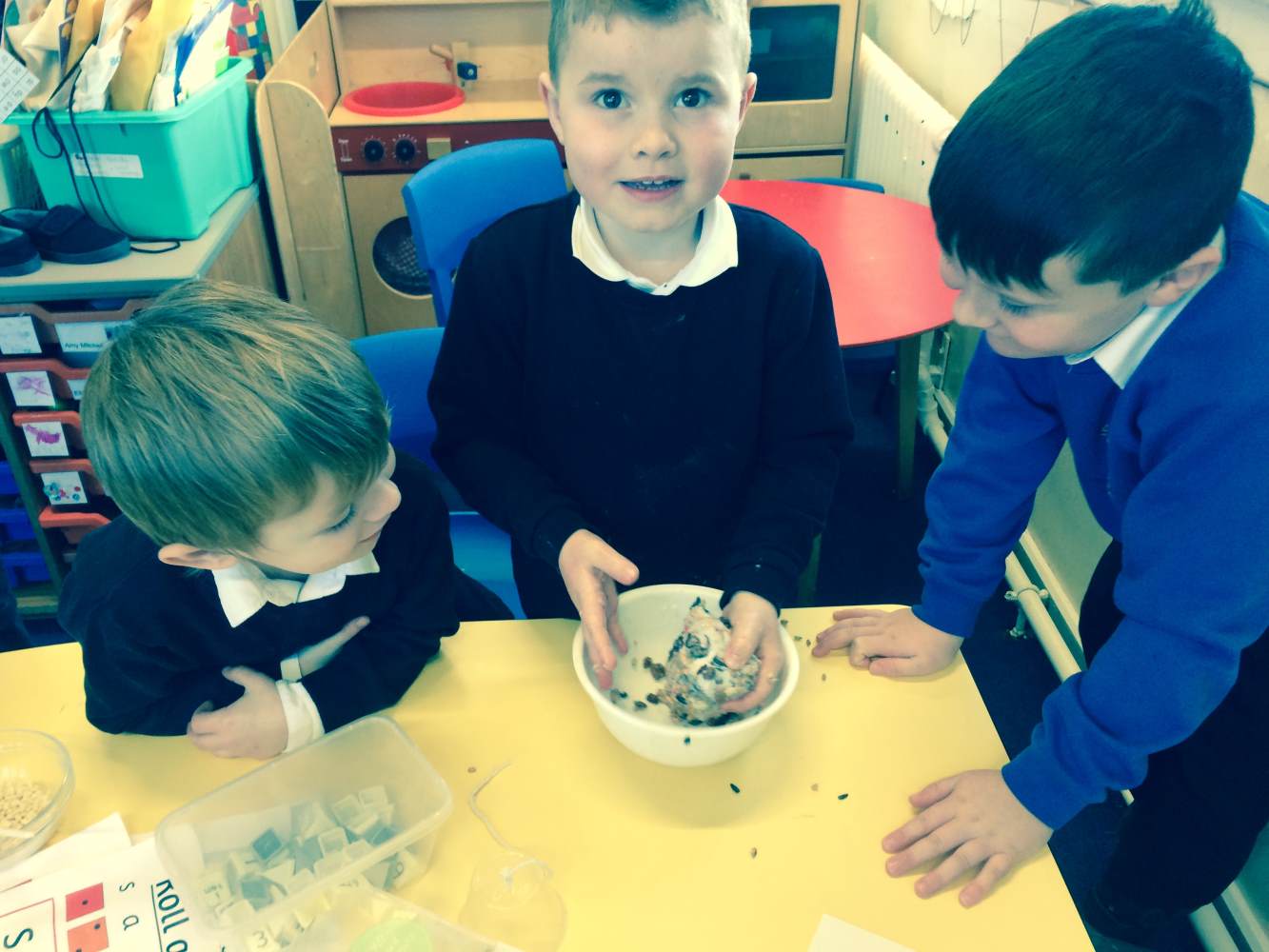 "We really liked making bird feeders. "
"We made them because they were for all the birds incase they don't get hungry. They come to our tree all the time 'cos they think it is good."
"We made them at the yellow table. We putted fat and raisins and other stuff in them."
"We made the bird feeders with rope and little pots."
"We put them in the fridge to keep them together."
The Snow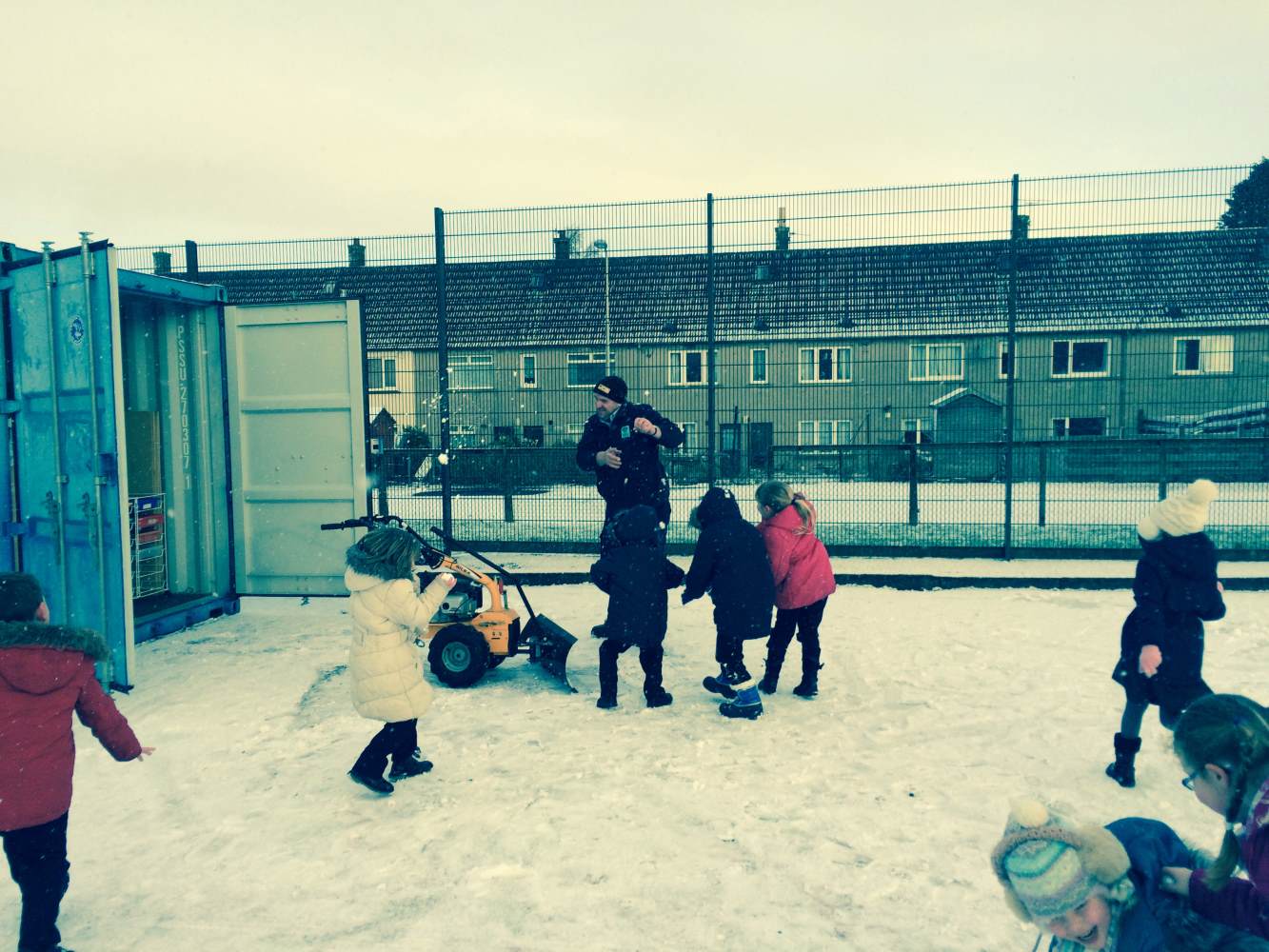 "We loved the snowballs. We were playing outside in the snow. We were playing with Derek with snow balls. He had a little snow plough. He was gathering all the snow and then all the people went and got the snow."
"I loved snow."
"We loved to play in the snow and threw snow balls everywhere but not in people's faces or their eyes will get sting."
Monday 16th January
P2 reading books issued today. Please read and enjoy the story at home and try out some of the activities that are detailed inside the front and back covers. Also please practise sounding out the new word lists.
7th December
Home Learning
For Primary 1 pupils the Hare and Tortoise book will be in your Home Learning pack this week. P2s you will have your normal reading book to read, enjoy and talk about for the weekend.
Our work of the week is GRATEFUL. Ask your child if they can tell you anything about the word: what does it start with, how many claps, what does it mean, is it a long or short word. We have all made a picture to show what we are grateful for in class.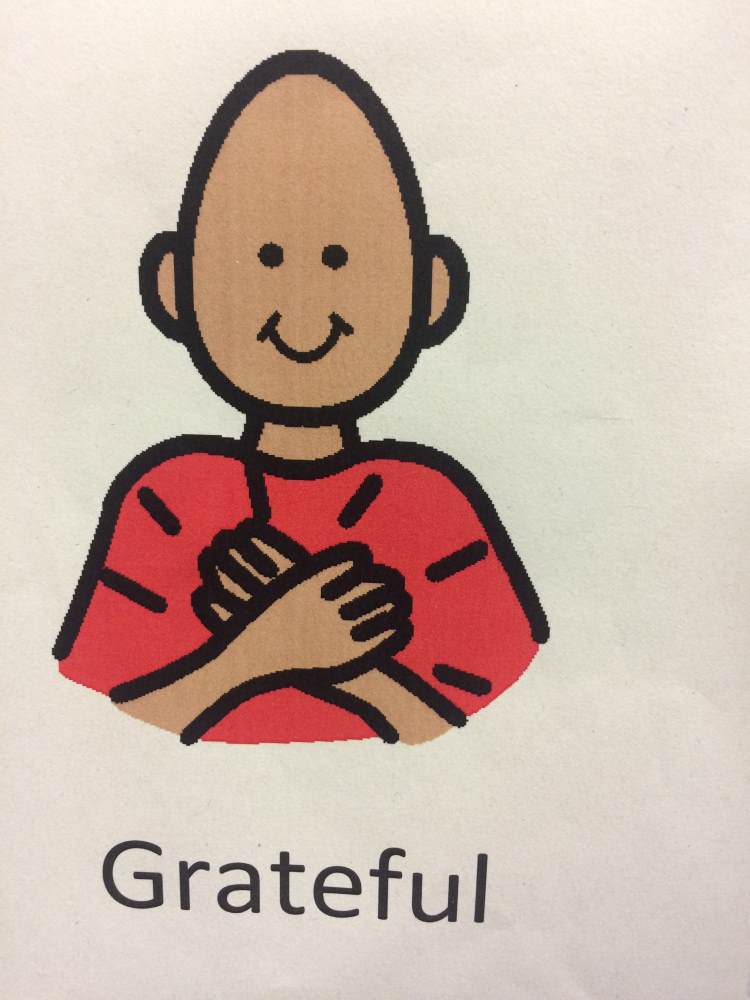 We have also been learning the words and signs to Merry Christmas Everyone! Please have a go at home too!
Learning links:
We read Hare and Tortoise in class. We loved it! This is the 3rd book from our book bug bag to keep at home. Read the book to me at home. Look at the pictures together.
Your learning suggestions for home:
Look at the page which gives information about 'The Hare'. Choose your favourite animal (in the world) and ask an adult to help you make a fact sheet about it.
Have a chat about the word past. Things to do:
Say the word: past
Clap the word: past (How many claps is it? One clap)
Whisper the word: past
Is it a long or short word? (short)
Can we think what it means?
Now you can vote for your favourite book!
Seasonal dates for your diary:
Monday 12th: P1-7 Beauty & the Beast @1.30pm, £2.50
Friday 16th: Rookie Rockstars Reunion & Christmas Jumper Day, £1
Monday 19th: P1-P3/4 Carol Concert** @2pm (2 x free tickets per pupil)
Wednesday 21st: P1 and P1/2 family afternoon. Pupil Profile sharing and Christmas Coffee Afternoon from 2pm – 3pm
Friday 23rd December: Dress down day, school finishes 12noon
7th December
Home Learning
For Primary 1 pupils the Hare and Tortoise book will be in your Home Learning pack this week. P2s you will have your normal reading book to read, enjoy and talk about for the weekend.
Our work of the week is GRATEFUL. Ask your child if they can tell you anything about the word: what does it start with, how many claps, what does it mean, is it a long or short word. We have all made a picture to show what we are grateful for in class.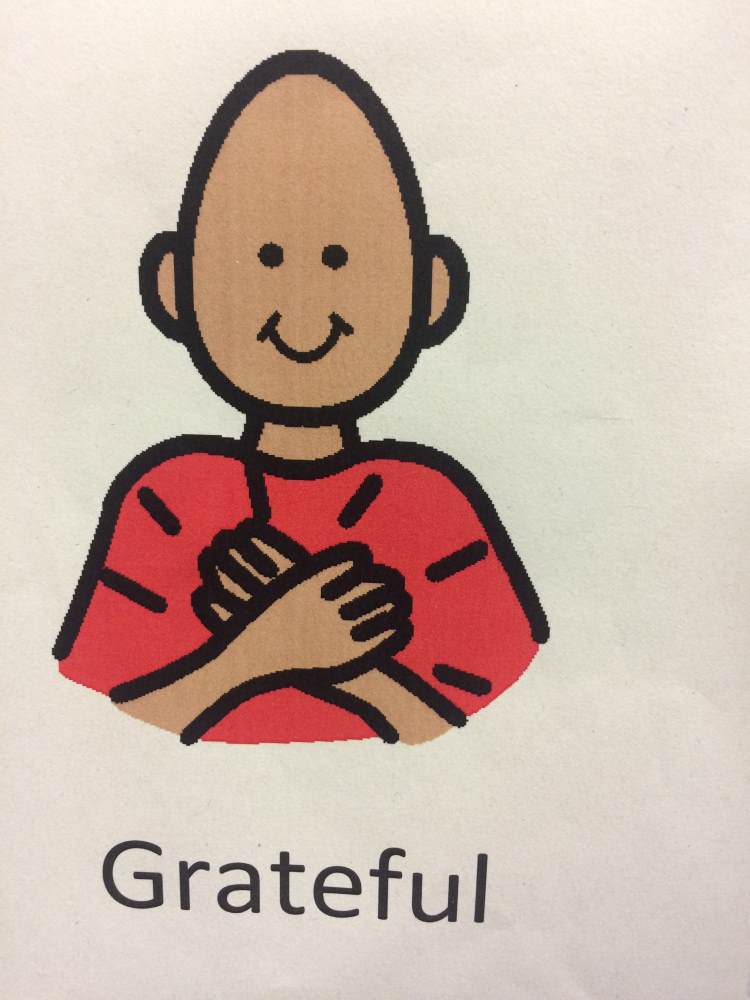 We have also been learning the words and signs to Merry Christmas Everyone! Please have a go at home too!
Primary 1/2 Class News - November 2016
What a busy bunch of learners we have been! We continue to watch the changes to our tree out the window and we now have a bird feeder. Primary 1/2 have become keen Bird Watchers and have been very excited to see lots of sparrows, a few blue tits and one day a robin! The SSPCA lady told us that it is important to keep the feeder filled as sometimes birds can make long journeys to eat the seeds.
Our pupils all loved their book bags and Scottish Book Week. Following our class visit to the library, all our pupils are now members of the library and can take out books on their very own card. Please take your children down to A. K. Bell Library and enjoy a free experience together.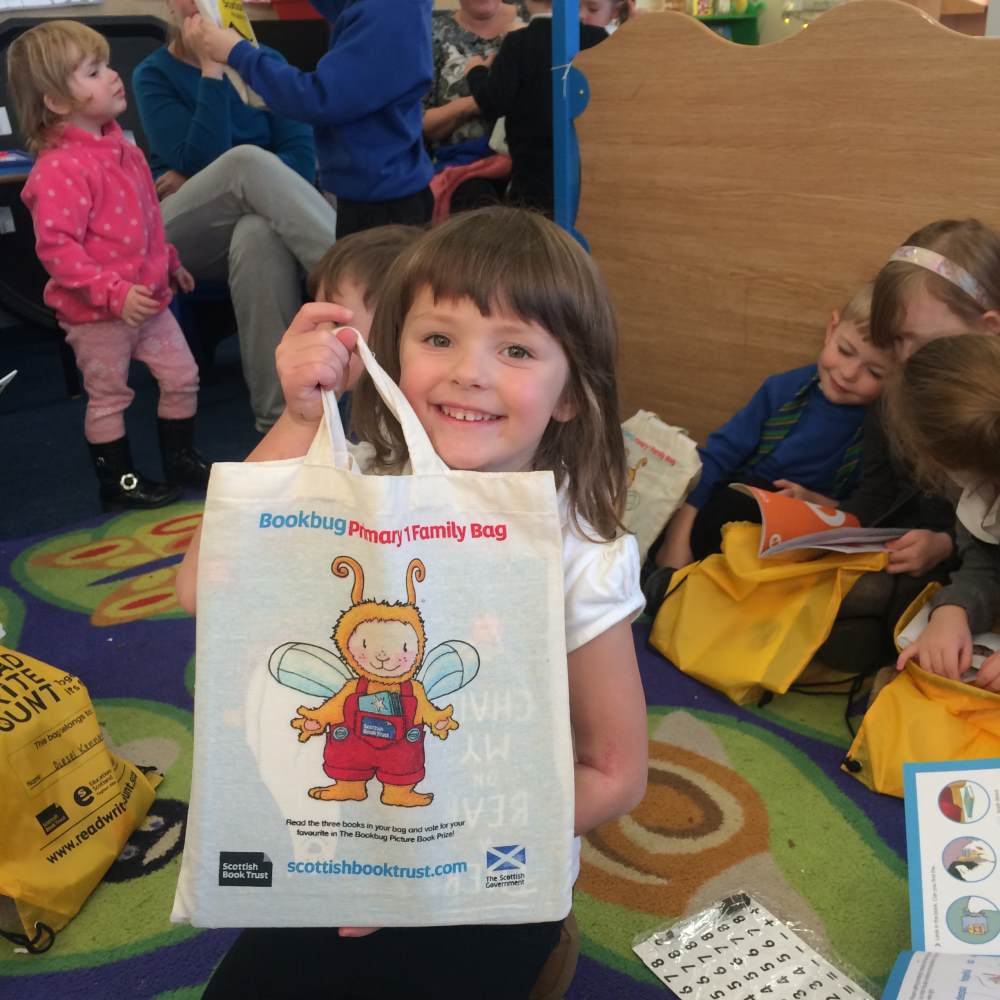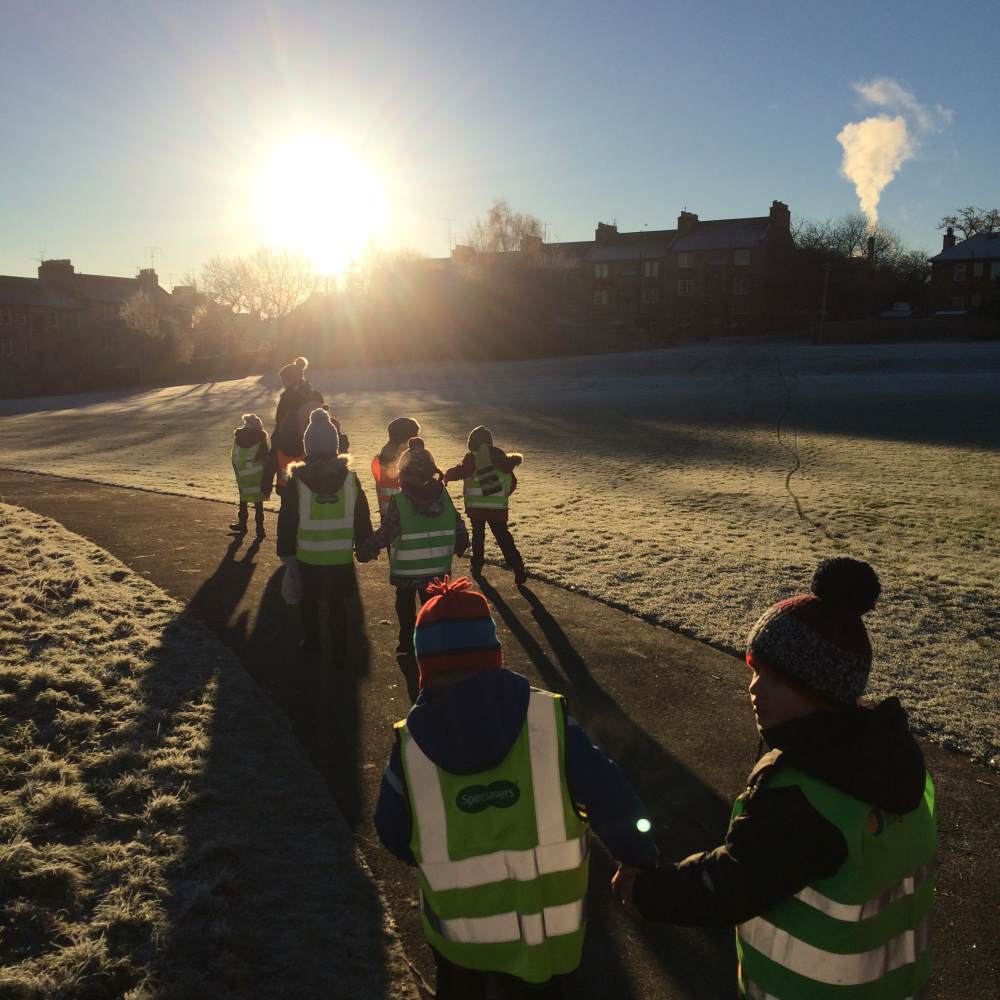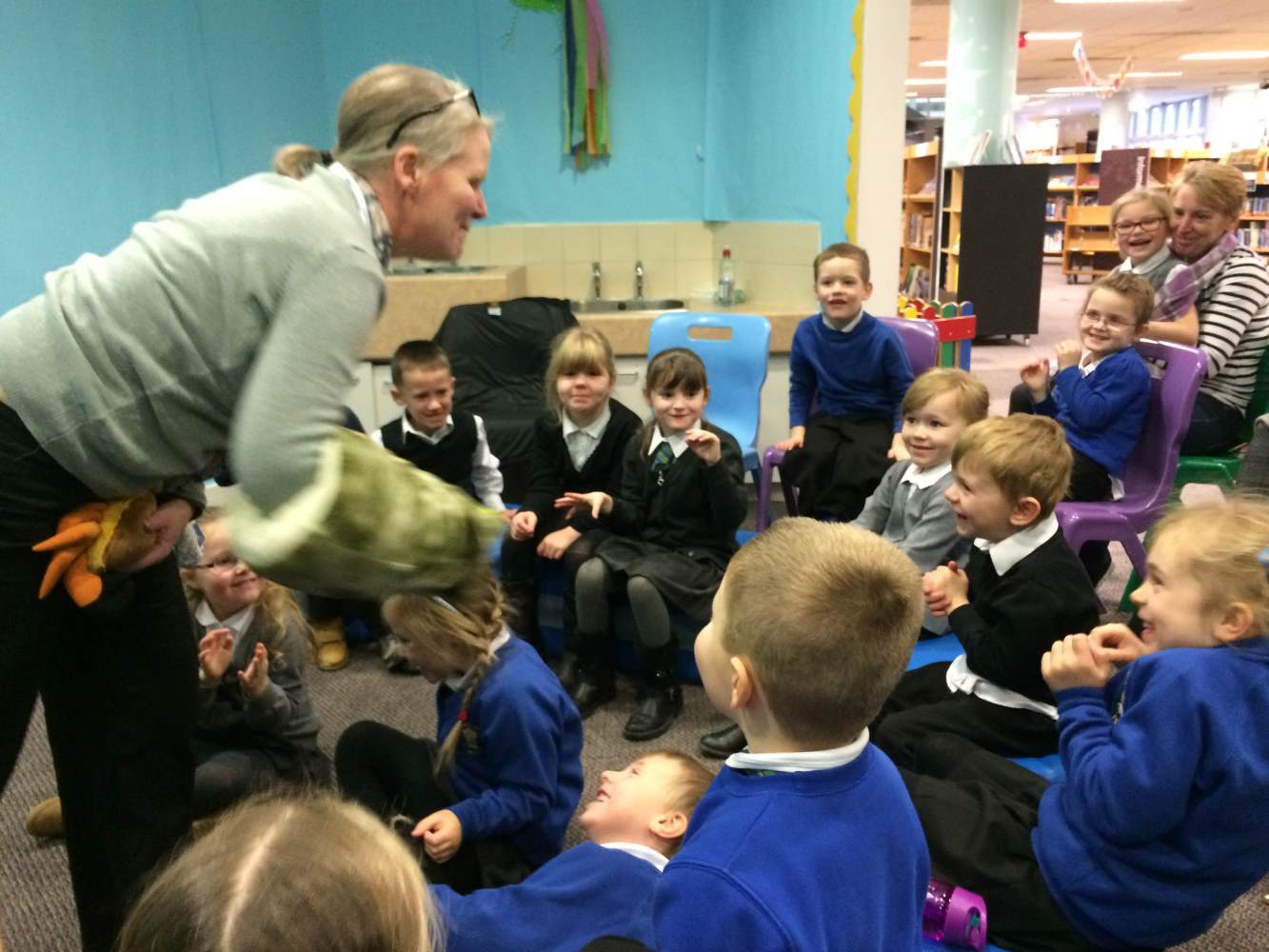 In weekly sessions we have been learning even more signs for Makaton and we use them in class all the time. Thanks to all the parents who have supported the Word Aware and Makaton stay and play activities.
Snack
Our Social Snack trial went really well. The children love sitting with friends to eat at 10:30 and then have time to go and play after with friends or siblings. We listen to the children's thoughts. After so many positive comments from parents we are going to continue. All you need to do is give your child is a refillable bottle of water each day and £1 per week.
PE Kits
Our gym days are Tuesday and Wednesday. Please help your child to remember their gym bag.
Home Learning
Home learning will usually be handed out on Thursday and collected back in on Tuesday. Can you please use the Book Bug Bags as their Home Learning bags. Please look out on our weekly blog on the website, where information about learning in class and home learning will now be posted.
Kind regards
Miss Simpson
Primary 1 - 1

st

week news
It has been great getting to know all the Primary 1 children. What a busy few mornings we have had! The children have enjoyed investigating their new rooms and playground. We had a wonderful morning den building.
Family lunch time has been going well.
This Friday morning parents are welcome to come into school at 11.30 for games and stories in the P1 rooms and our school library area.
Free events to attend in Perth:
Sunday 21 August: The Treaty of Perth Celebrations
The Royal Edinburgh Military Tattoo will join some local bands in a parade from the South Inch to the North Inch Parade at 11am. The tattoo starts at 11.40am.
Poppy Weeping Window at the Black Watch Museum.
This art display is well worth a visit. It is also free. If you go into the museum and your child makes a poppy in the craft room we would love you to bring them to school for our very own little display in our class.
Please, please, please, if you take any photos hand in a copy and we will happily put it in your child's Pupil Profile.
We have thoroughly enjoyed this week,
Miss Johnstone, Miss Mainland and Miss Simpson