Primary 1/2 - Miss Lang & Miss Simpson
10/12/18
P1/2 have been very busy in the run up to Christmas. We have been making ornaments/snowman bags for the Christmas Fayre, we have been learning to write/complete number sums to 10 and we are exploring our book bug books. Below we will give a more detailed look into our classroom focuses and include a list of additional information.
Literacy
Phonics - We are learning to read, write, say and play with our new sounds. New sounds include m, d, g, u, o, l, ll, f, ff and j.
Reading - The P1/2s are looking at the book bug stories. We are retelling them, creating character portraits and predicting what will happen.
Numeracy
After spending some time looking at number formations to 10 and patterns, we are moving on to adding.
We are continuing to revise the numbers to 30 and we are also looking at adding numbers within 10 e.g. 2+2=4 and 9+1 = 10.
Health and Wellbeing
The Bounce Back focus this week is on co-operation.
Important Information
- The homework bags will be given out and updated on a weekly cycle. The bags will be handed out every Thursday containing a new story and phonics flashcards to be used with your child. These bags must then be returned on Tuesday to rotate and update. Happy Reading!
- The permission trip forms for Wednesday must be signed and returned by 11/12/18.
- P.E is on Thursday. Please ensure that your child has a full and labelled P.E for these days.
- The P1/2 Christmas party will be on 11/12/18. Pupils have the option to bring party clothes in their bag to be worn at the party in the afternoon.
- The Christmas Fayre is on Friday so come along to see some of the build a snowman bags, our pin the nose on the snowman game and Christmas ornaments made by the P1/2 class.
19/11/18
To celebrate book week, P1/2 will be taking a trip to the library! We will be travelling down to the AK Bell library on the 22nd of November 2018. It is essential that your permission slips, library card forms and a £1 bus fare are returned tomorrow if your child is going on this trip.
Please also write on your form if you are available to accompany the class on the trip. It would be great to have you along!
9/11/18
P1/2 have had a great start to this new term. We've looked at a range of stories, learnt our doubles to 10 and also practised how to write and say our letters.
Phonics
We have been revising the s, a, t, p, i, n, c, k, ck, e, h and r sounds in class. We have also been looking at new sounds for m, d, g and o.
Word Aware
This term we have started looking at the story 'Farmer Duck' by Martin Waddell and have a fun time figuring out the animals plan.
The words we are focusing on within this story are: who (is in the story) , doing(action), plan and goal. We even made actions to go along with these.
Numeracy
This week in numeracy we have been looking at writing our numbers to 10 and learning the doubles to 10 i.e. double 1 is 2; double 2 is 4…
Home Learning
Literacy - Please continue to read stories with your child at home.
Numeracy – Ask your child to find some numbers around the house. Golden tickets can be given for pupils who come in to tell us about all the numbers they found.
It is fantastic that so many pupils in the class have now water bottles; this is just a reminder that it should be water being brought into class as we are a health promoting school
Please ensure all school wear are labelled.
Due to the weather, can we please ensure that all the children are coming to school with a warm jacket (and if possible other weather suitable clothes), as we will be continuing to use the outdoor classroom this term.
24/09/18
Over the last few weeks P1/2 have got stuck into learning and we've done so much!
We've been practicing our names, finding mini beasts, learning Makaton signs and discovering lots of new words such as through, nibble and respect.
Numeracy
Currently, P1/2 are looking at counting forward to 20. We've found a great song that we like to sing to help us count. You could even ask your children to sing it to you.
Literacy
P1/2 have made a great start on their phonics and have already looked at the sounds for: s, a, t, p, i and n.
This week we are focusing on the story of the Little Red Hen. We've already drawn all of our characters and have started recording ourselves retelling the story.
Home Learning
The class are looking at counting to 20 this week. In order to continue this at home, you can ask your child to help you count around the house e.g. when you walk up and down stairs or reading numbers around the house to 20.
Useful Information
It is fantastic that so many pupils in the class have now water bottles; this is just a reminder that it should be water being brought into class as we are a health promoting school
Parent contact – Tuesday 25th and Thursday 27th of September
Please ensure jumpers and cardigans are labelled.
22.8.18
Our P1/2 Class on the First Day back! Lots of smiling, happy faces!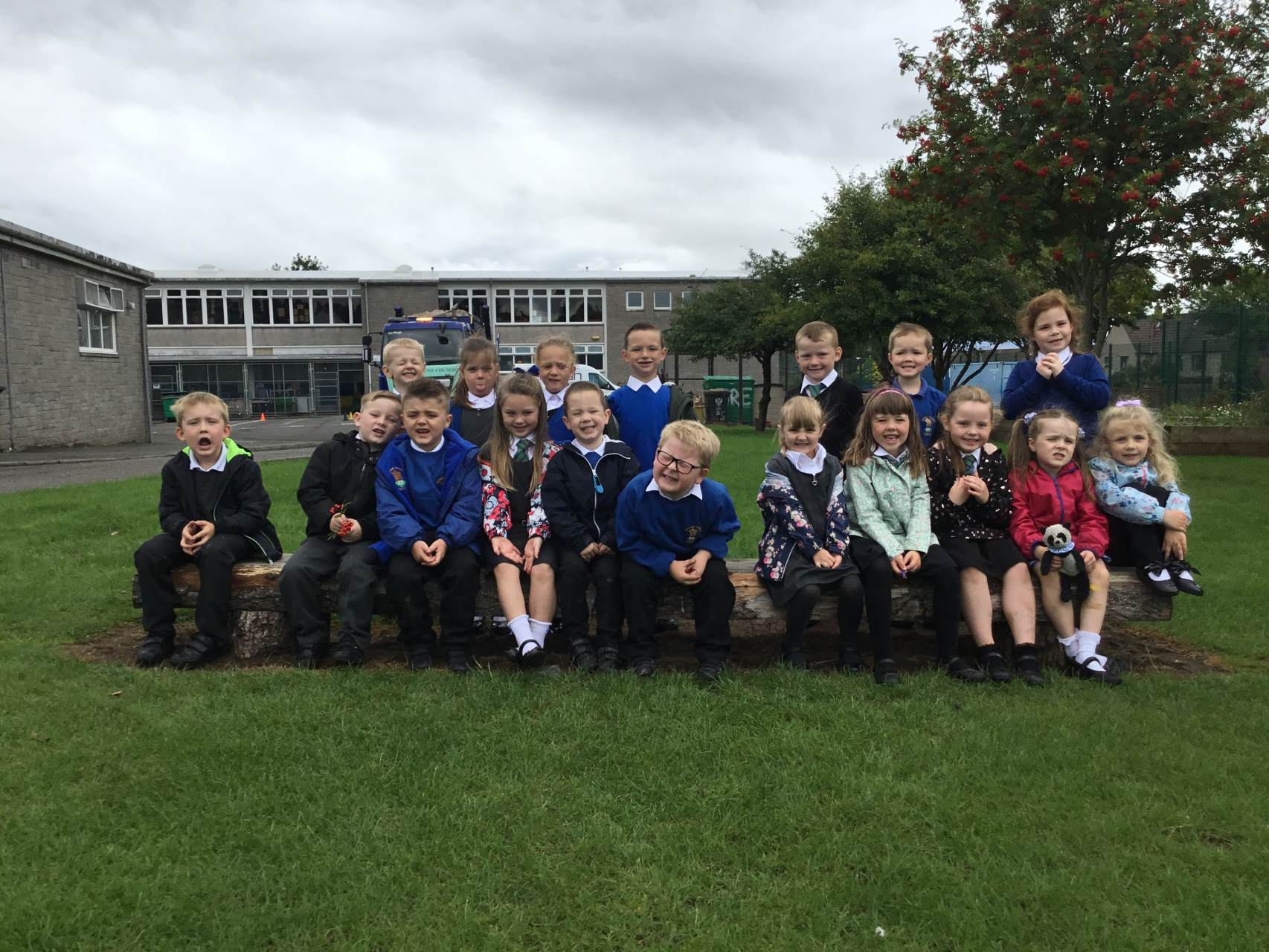 Welcome to all the new P1s and returning P2s as we start our new term together.
We've had a great week meeting all our new classmates and exploring our new class! Below are just snapshots of some of the activities that took place: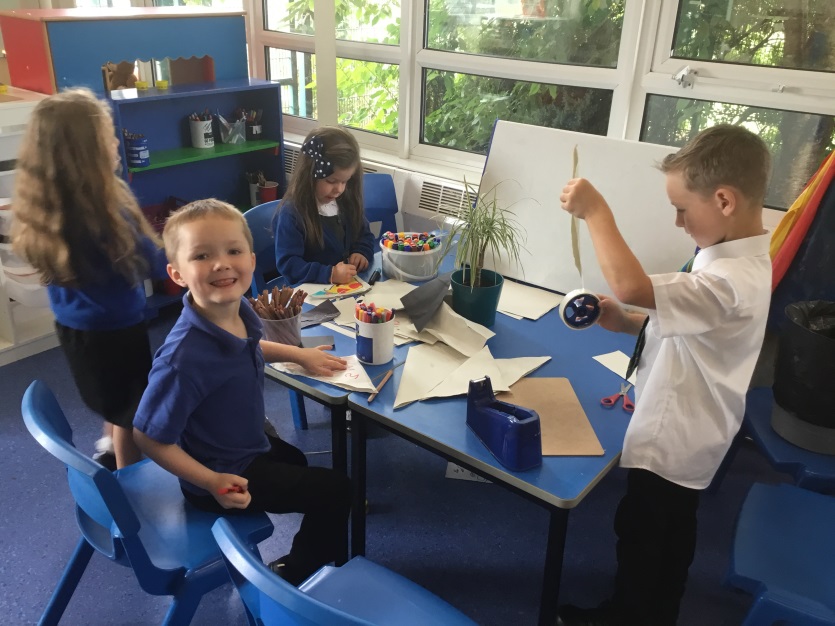 Creating pirate hats on Wednesday at the art table.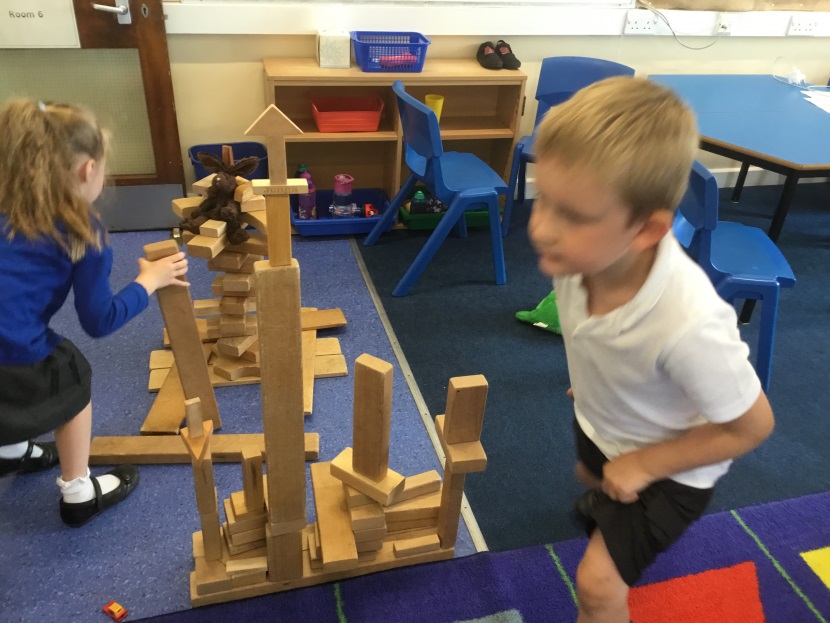 Some of the class were using the building blocks on Thursday.
"I created a seat for my bunny toy, Hoppity!"
"I built New York!"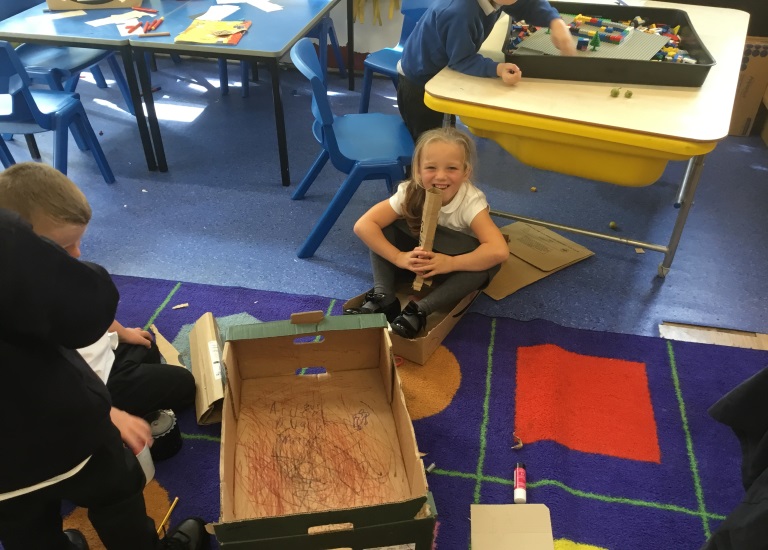 Ahoy what's this we see? After reading 'The Night Pirates' together, the P2s decided to build pirate ships.
P1/2 have also been working on their 4S line as we walk through the school. The 4S line stands for still, straight, silent, and smiling. We were off to a great start last week and it was great seeing everyone smiling as we walked through the school.
Home Learning
Please read and enjoy stories with your child daily.
Useful Information
Please ensure your child has a fresh water bottle daily.
Music will take place on Thursdays with Mr Stephen
P.E will take place on Wednesdays (P.E kits for these days) with Mrs Thompson
Please make sure that jumpers/cardigans are named.
We will be taking part in lots of outdoor learning. Please ensure your child has a waterproof jacket and, on wet days, a pair of welly boots would be ideal.
Miss Lang and Miss Simpson