Primary 5
Primary 5 Learning Blog 26 May by letham6313 on Scribd
Primary 5 Class Blog – Week Beginning 24/4/17
We are settling back at school after a lovely Easter holiday.
This term our context is about The Animal Kingdom. We are going to be thinking about how we can respect and value the diversity of The Animal Kingdom.
"I'm looking forward to doing this topic because I love learning about animals" – Nicki .
"I can't wait for this topic because I love dogs!" – Yasmin
We started this week discovering what vertebrates and invertebrates are.
"A vertebrate has a backbone and invertebrates don't." - Skye
"We found out that we are mammals," –Aimee
Another thing we have been thinking about is having a positive attitude!
" When I find things hard I normally say to myself change your mind set, it means if I think I can't do it I change my mind set and just try my best" – Cole
Art
We are learning to draw animals, this week we have drawn elephants and tigers.
Here are some of our elephants!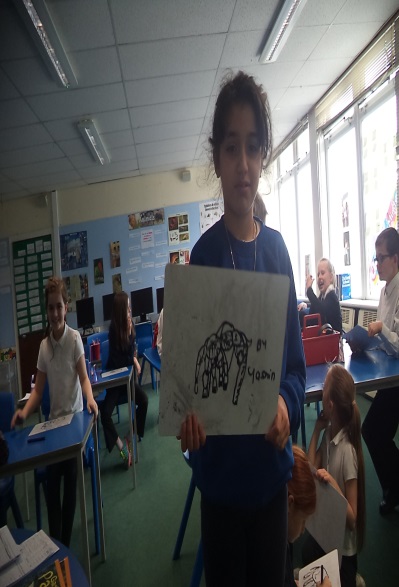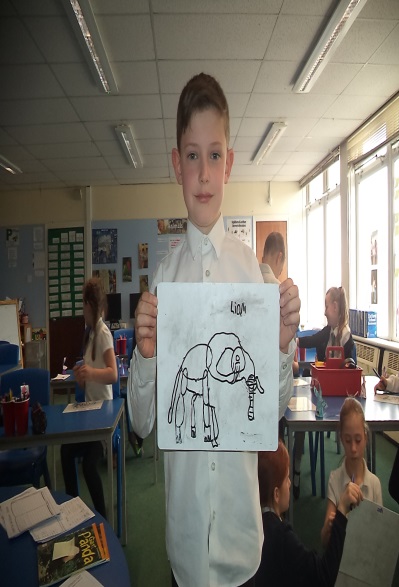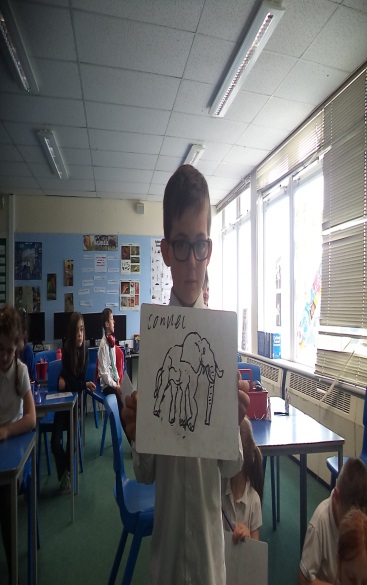 27.03.17: Class Blog - Primary 5
Over the past week we have been showing our artistic side! We have been learning about a famous French painter called Henri Rousseau.
Did you know that he never had any art lessons?
"He never visited a jungle, but he painted lots of pictures of jungle scenes,"- Casey
"He looked at pictures of jungles in books for ideas," – CJ
"I really enjoyed painting the jungle pictures and it didn't take me that long to do," - Charlie
"I liked mixing the colours to make different colours," – Connel
"It was really cool because if you had a bright colour you could change it into a dark colour," – Cole
We have our work displayed in the corridor near our classroom.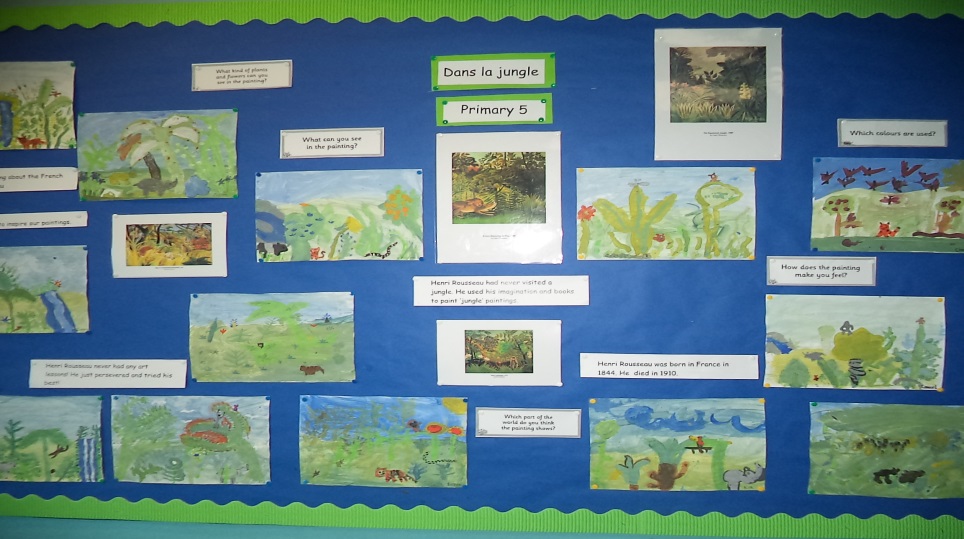 Please continue to work with your child on their 'Learn It's' in maths. Your child knows which step they are on. Also encourage reading as part of family time!
We are all looking forward to our Easter break as we have worked so hard this term!
Miss Nicoll and Primary 5
Class Blog w/b 6/3/17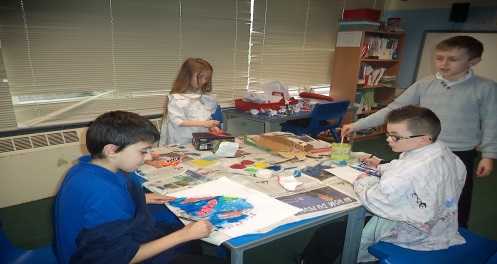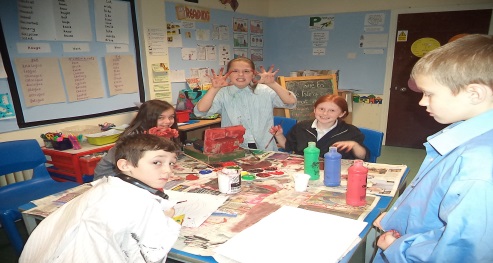 In maths we have been continuing to work with shape. We have been learning about symmetry. We have learned that symmetry can be found in lots of different things even road signs and the alphabet.
"Lines of symmetry can be horizontal, vertical and diagonal. Patterns should fit exactly on top of each other if you fold them on the line of symmetry" Dylan
"You can use a mirror to find symmetry this is reflective symmetry" – Charlie Anne
Drama –
"We have been acting out funny scenes from 'How To Train Your Dragon' – where 2 Vikings have been insulting each other. This was fun!" – Liam
"This work has helped us with learning about using speech marks, speech bubbles and expression" – Casey
Art – We have used our context 'How to Train Your Dragon' to inspire some art work.
In the story Hiccup fell into the dragon's mouth. We used our imagination to create our art.
"We made 3D models and we made drawings of the inside of the dragon's mouth" – Kieran
"We had to work together to make the models so we had to share and use each other's ideas and not just our own" – Skye
"We had make sure our drawings had texture" – Samantha
Please ensure Spelling jotters are brought to school every Monday.
Please visit the home learning section of the website to do home learning with your child. Your child knows what 'learn it's' they are on. Thank you to all who attended parent contact evenings
Thank you – Miss Nicoll and Primary 5
February 2017
Our new context for this term is a novel study. We will be reading 'How to Train your Dragon' by Cressida Cowell.
We have already started to enjoy finding out about the main character Hiccup Horrendous Haddock the Third and his Viking friends as they undertake the challenges of the Dragon Initiation Programme to become a fully -fledged member of the Hairy Hooligan Tribe!
Our studies will involve lots of varied literacy work including story writing, instructional text and expanding our knowledge of descriptive language.
We will be exploring some aspects of the Viking age including rune writing, weaponry and map skills.
Please if you have any cereal boxes, cardboard materials or any unwanted material (table cloths, etc.) at home I would greatly appreciate if the children could bring them in. We will use these to bring our book study to life through drama activities and using our technology and art skills to make props from the story and the Viking age.
A big focus this term will be on handwriting skills, as we all know we live in a society now that is driven by computers, tablets and social media. However handwriting is still a skill that needs to be encouraged and developed. Over dependency on word processing/ computer use can lead to a lack of legible handwriting. Primary 5 are trying really hard to write neatly and to join their handwriting when I feel they are ready.
As an incentive, if your child shows great effort with their writing they will be given a special pen to do some of their work and I would be delighted to photocopy some lovely writing to send home to share with you! Please encourage your child to form their letters correctly, remind them where letters should sit on/below a line - should you need any guidance please let me know.
Finally, a child asked me "Why can't we just watch the DVD of 'How to train your Dragon' instead of the book?" We had a discussion as a class,
I started with this quote
'Reading is to the mind what exercise is to the body'
Joseph Addison
All of the children in primary 5 are engrossed in our class book, they love a good story, they laugh, ask questions, make suggestions and are inspired to use their imaginations. Please continue to encourage reading at home as family time.
Thank you
Miss Nicoll
27.01.17
We have had a super week of learning! Here is a little of what we have done this week.
In maths this week we have been using our 2 times table facts to help us with doubling and halving numbers. We know that doubling means adding a number to itself or multiplying by 2.
Some of us have been halving and doubling single digit numbers.
Some of us have been partitioning 2 digit numbers into tens and units. We have used partitioning to help double 2 digit and 3 digit numbers.
We have found partitioning helps us to do calculations quickly in our heads.
Partitioning example - double 87
Double the tens first 80 + 80 = 160
7+7 = 14
Then add 160 + 14 = 174
French
We have been learning more French in class. Our focus over the next couple of weeks will be language of The French Café!
We are getting excited about our shared learning on the 14th February (a letter will be sent home closer to the time) and alongside learning French words and phrases we have been baking. This week we have learned how to bake chocolate croissants. We will be making more for our shared learning so you can taste them!
A fun activity for your child would be to find a simple French recipe and to do some baking at home! We would be happy to have your child bring in something they have made at home to explain to the class.
November 2016
We have had a super start to the school year learning about The Sixties. The class have enjoyed finding out about life in this era and about some of the significant events and people during this time.
Primary Five have produced some great art work in the style of Andy Warhol which is on display in the corridor. I was so proud of the effort all of the class put into their home learning assignment of either making a model or poster showing Neil Armstrong landing on the moon . (Thank you to parents and carers for support at home!) A few models are shown in the picture below!
This term we are moving on to learning about France. We will be looking at all things French from the geography of France, famous landmarks to French food. ( Perhaps a little French baking for home learning!!!) We will be continuing to improve and expand our French language learning. We will look forward to sharing our learning about France later in the year.
All the children in the class have a login for Studyladder and I set tasks regularly to reinforce the learning we do in class. Please continue to support your child at home with this. BBC Dancemat is another website which I would encourage the children to visit - helps them to pick up quick keyboard skills.
P.E continues to be on Mondays and Tuesdays. Please check your child has a P.E kit as it is important the children change for physical activity.
Should you need to contact me please don't hesitate to contact school
Miss Nicoll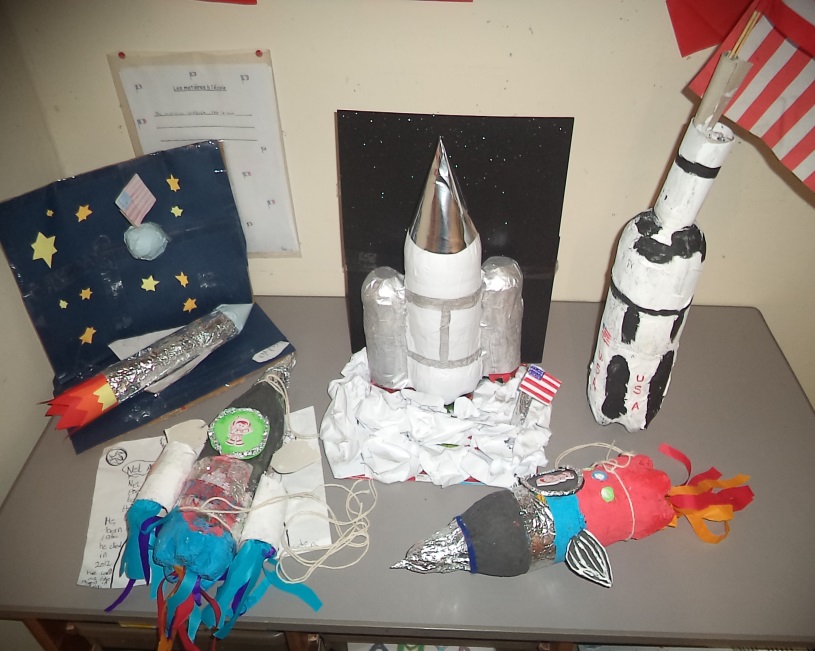 August 2016
Welcome back!
Primary 5 are busy settling back into school life. We have been creating a class charter and are trying to earn lots of points so that we become 'Class of the Week'!
During our Getting to Learn fortnight we have been deciding what we'd like to learn about our new context- The Sixties! We are interested to find out what school life was like back then compared to now. We think it might have been more strict back then but there would be no computers to use so we think we prefer going to school now! We are going to be learning some sixties songs in music and will be creating our own pop art. There may even be a chance to dress up during our shared learning at the end of term!
In Numeracy and Maths we will be working on number- recognising numbers to 3, 4 and 5 digits, rounding to 10 and 100 as well as addition and subtraction.
We are keeping fit with GoNoodle and by taking part in the Daily Mile. Please make sure to have a pair of running shoes! Our PE days are normally on a Monday and Tuesday.
Home learning will be issued on a Monday and is due on the Friday. All pupils will be given a Sumdog and StudyLadder login to support learning at home.
Please don't hesitate to get in touch if you have any questions.
Miss Nicoll