P.E Days - Tuesday, Thursday and Friday
Homework - Due in every Monday.
Weekly spelling task. Maths and Topic tasks at times.
Context - Save our World
Primary 5/6 - Mrs Mollison
As we are now using SeeSaw to share our learning journey, we will no longer be updating this page. You can find out what we are up to and the fantastic progress we are making via SeeSaw. Please see me if you are not signed up already and would like more information.
BLOG 5
Stay and Learn
Thank you to everyone who managed to come along this morning to the P5/6 Stay and Learn session.
The children shared their learning in numeracy, reflective reading, Art, ICT and our new context - 'Save our World'.
Some parents had a go at creating a bonfire night picture, making a trailer for a movie using IMovie, testing their mental maths speed in a Learn It's challenge and helping to create an ECO BRICK.
If you didn't manage to come along, please remember to log into your child's SEESAW account to catch up with their learning.
Here are some photos ........
We are still collecting empty WALKERS crisp packets and would be happy to take an non-recyclable plastics to use to create our ECO BRICKS. For more information on ECO BRICKS - click here
Blog 4
Primary 5/6 have settled back into the new term well. We have been getting used to the classroom rules and are trying very hard to stick to them at all times.
This week we have been talking about our new context - Save our World.
We have talked about some ideas on what we can do in the school and at home to help look after our environment.
1. We are going to encourage people to put litter in the bin.
2. We will do more recycling of paper, cardboard, plastic and cartons.
3. We are going to use non-recyclable plastic and fill bottles to make ECO BRICKS.
4. We are going to collect empty WALKERS crisp packets. From December, we can send the empty packets back to Walkers for them to be recycled.
5. Put bins in the dinner hall to collect recyclable items.
We hope you can help us!
P5/6 Stay and Learn
Thursday 20th September
2-3pm.
Come along and let your child be your mini-teacher for the hour!
Find out about SAFE maths, French, SEESAW, Medieval Writing and Mary Queen of Scots!
Blog 2
We have been talking a lot this week about the school Core Values ....... today we focussed on-
Fairness & Inclusion and Cooperation
As a class we recognised that these were 2 values that we find very tricky.
We talked about what they both sounded like, felt like and looked like to help us get better at demonstrating these values.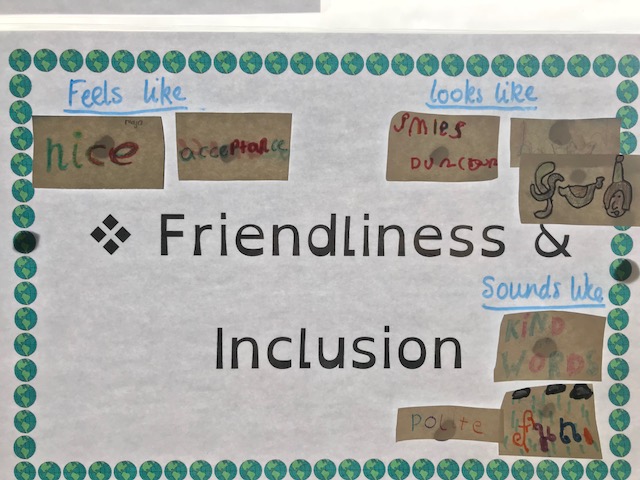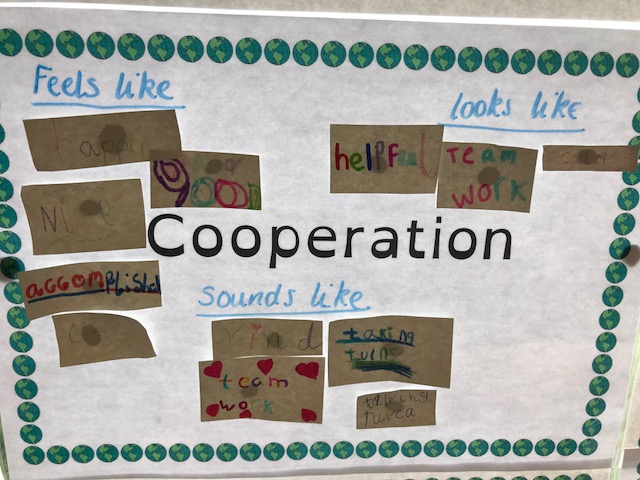 Blog 1
Welcome back P5/6!
We have started the term very positively and have already began learning some new things and re-capping over some old things.
Our class novel is called The Twits by Roald Dahl.
Ella - I think the novel is good so far, but the tricks that they do are disgusting!
Aimee - I think The Twits novel is disgusting, interesting and weird!
Sophie - I think The Twits novel is weird because they do disgusting things.
Alfie - I like it because it's disgusting but good.
We created our own Classroom Charter and have decided that our rules are.....
1. Show respect to others
2. Listen when another person is talking
3. Walking, be safe in the classroom
4. Line up in a 4s line - in order
5. Put your hand up to talk - do not shout out
We are trying very hard to stick to these rules!
For curriculum information sheet for this term - click here and here